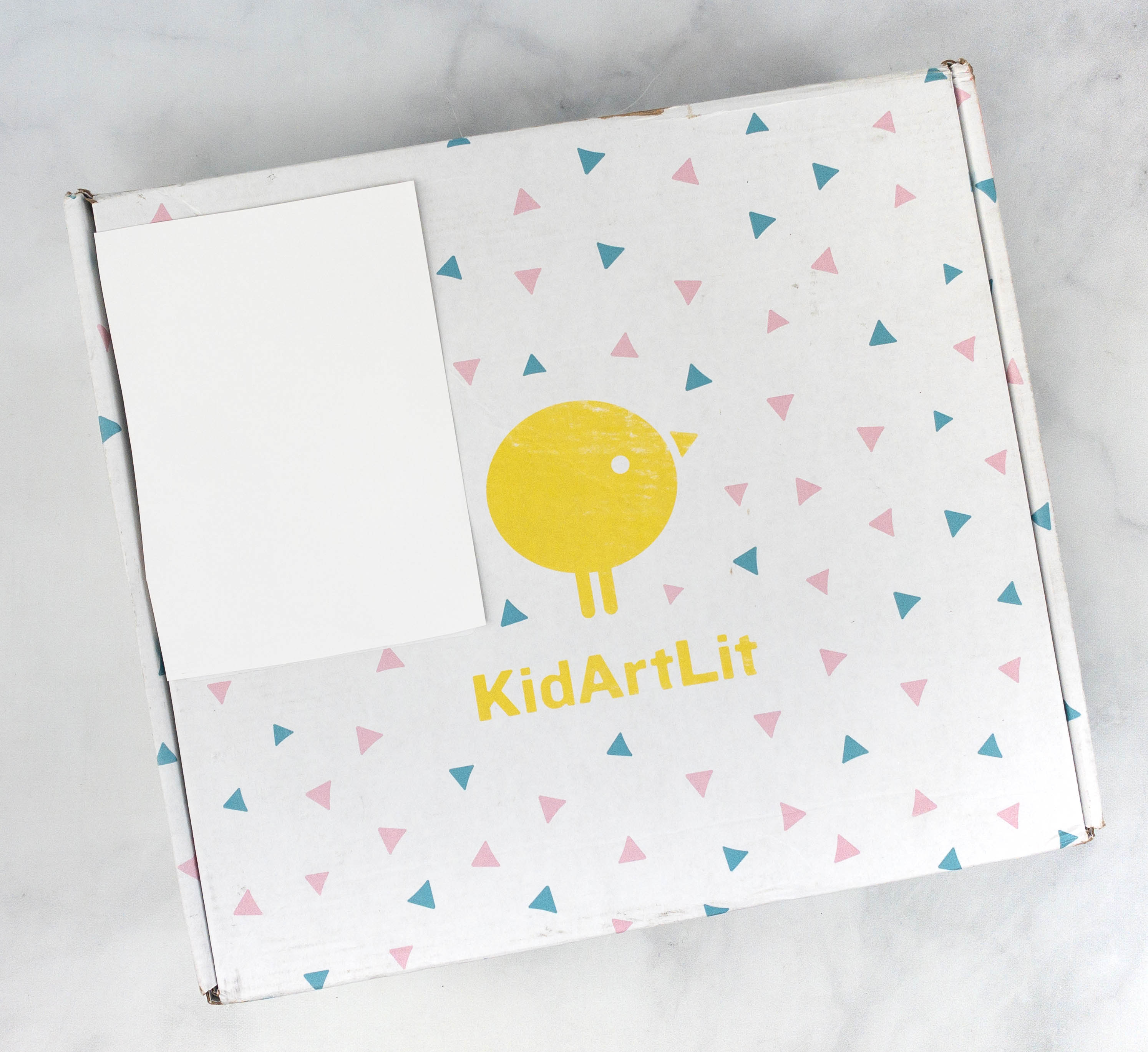 KidArtLit brings art and literature together through a monthly subscription box. They currently offer two subscription types: Spark Membership with a hardback book + 1 art kit ($39.95 per month, $37.95 on a 3-month prepaid plan, or $35.95 on a 6-month prepaid plan) and Deluxe Membership with a hardback book + 2 art kits ($55.95 per month, $52.95 on a 3-month prepaid plan, or $49.95 on a 12-month prepaid plan). The books they send are ideal for children ages 3-8. Each box will also include illustrated guides and notes from the book's author.
This is the review of the KidArtLit Deluxe Membership.
DEAL: Get 10% off your first month and all gift orders. Use coupon code HELLOSUBS.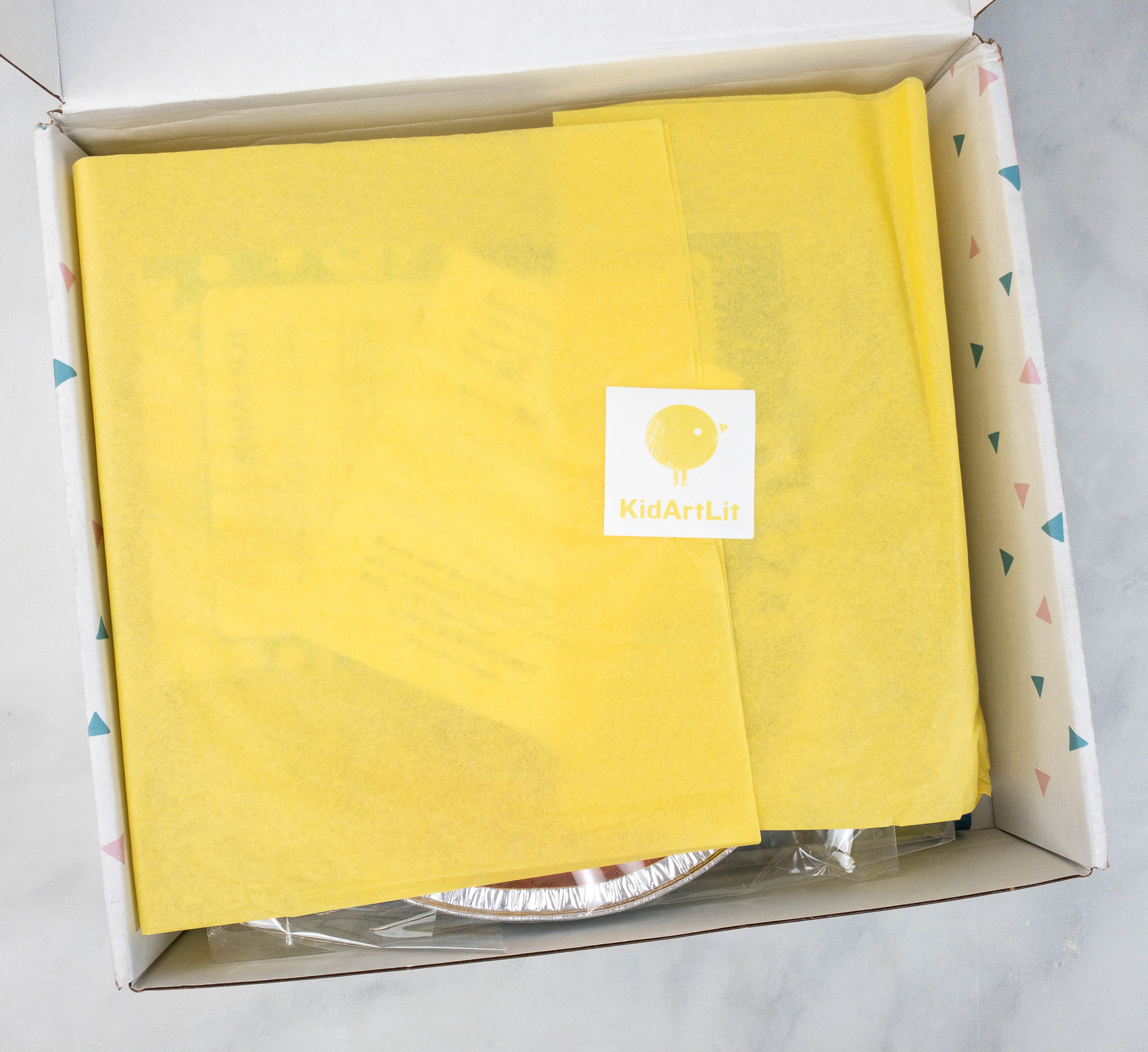 The items are covered in a bright yellow tissue paper sealed with a KidArtLit sticker.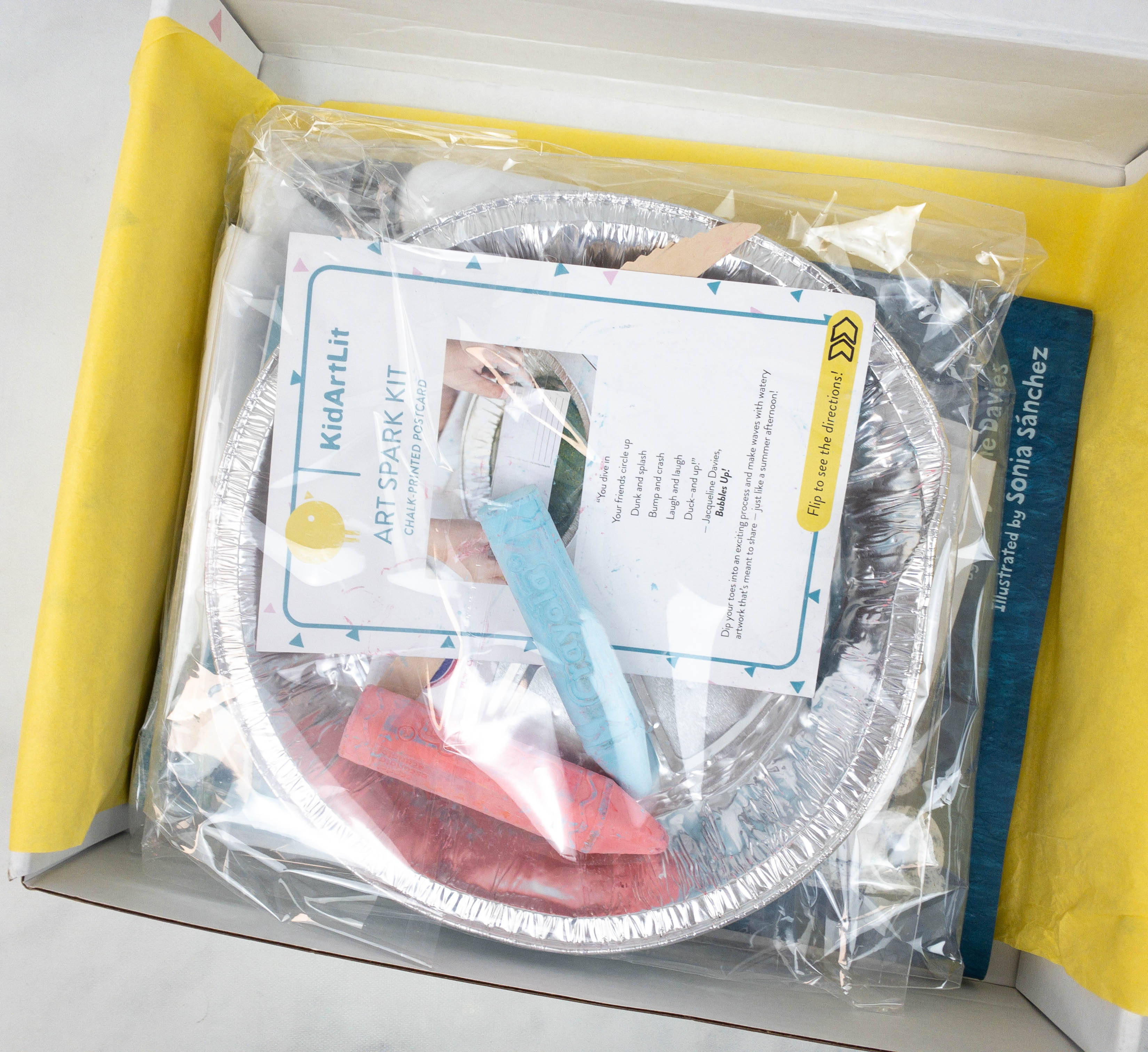 Some of the items were wrapped in plastic.
The card sets us up to have a wonderful experience with the activities that are in store for us. There are lot a lot of things to learn in this box.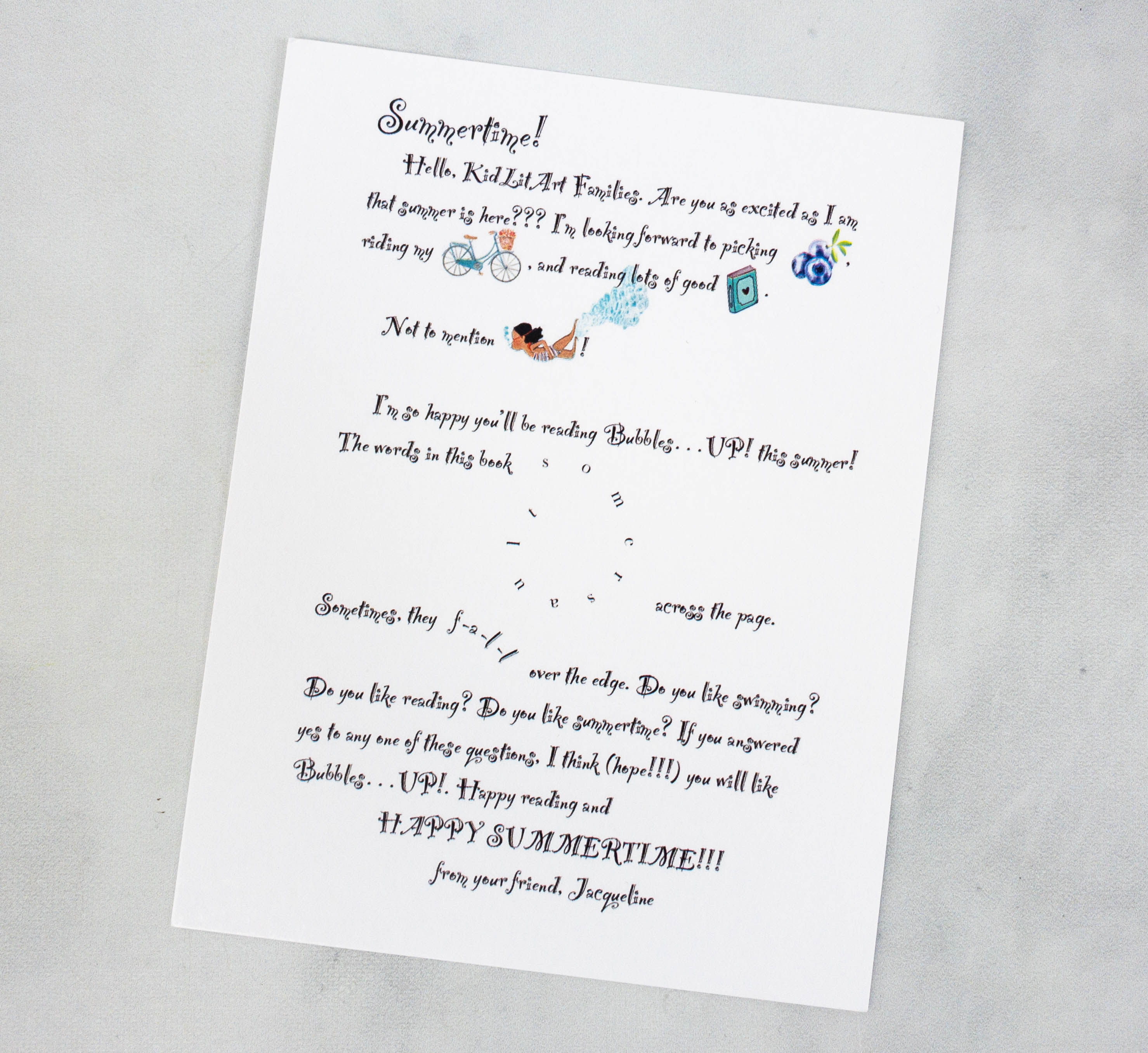 Another card contains inspiring words for the KidArtLit readers.
At the back, there's a list of all the items in this month's box.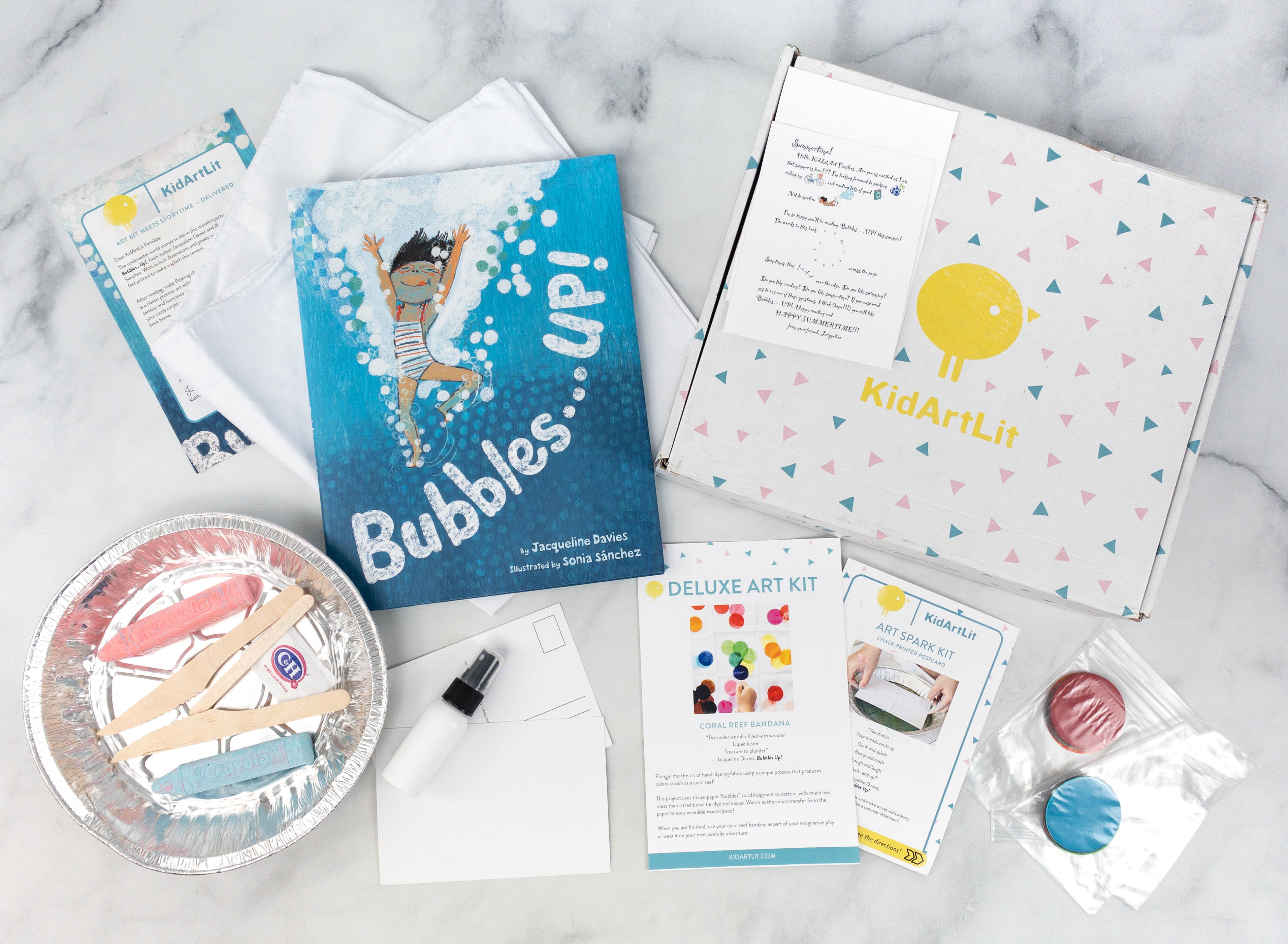 Everything in our box!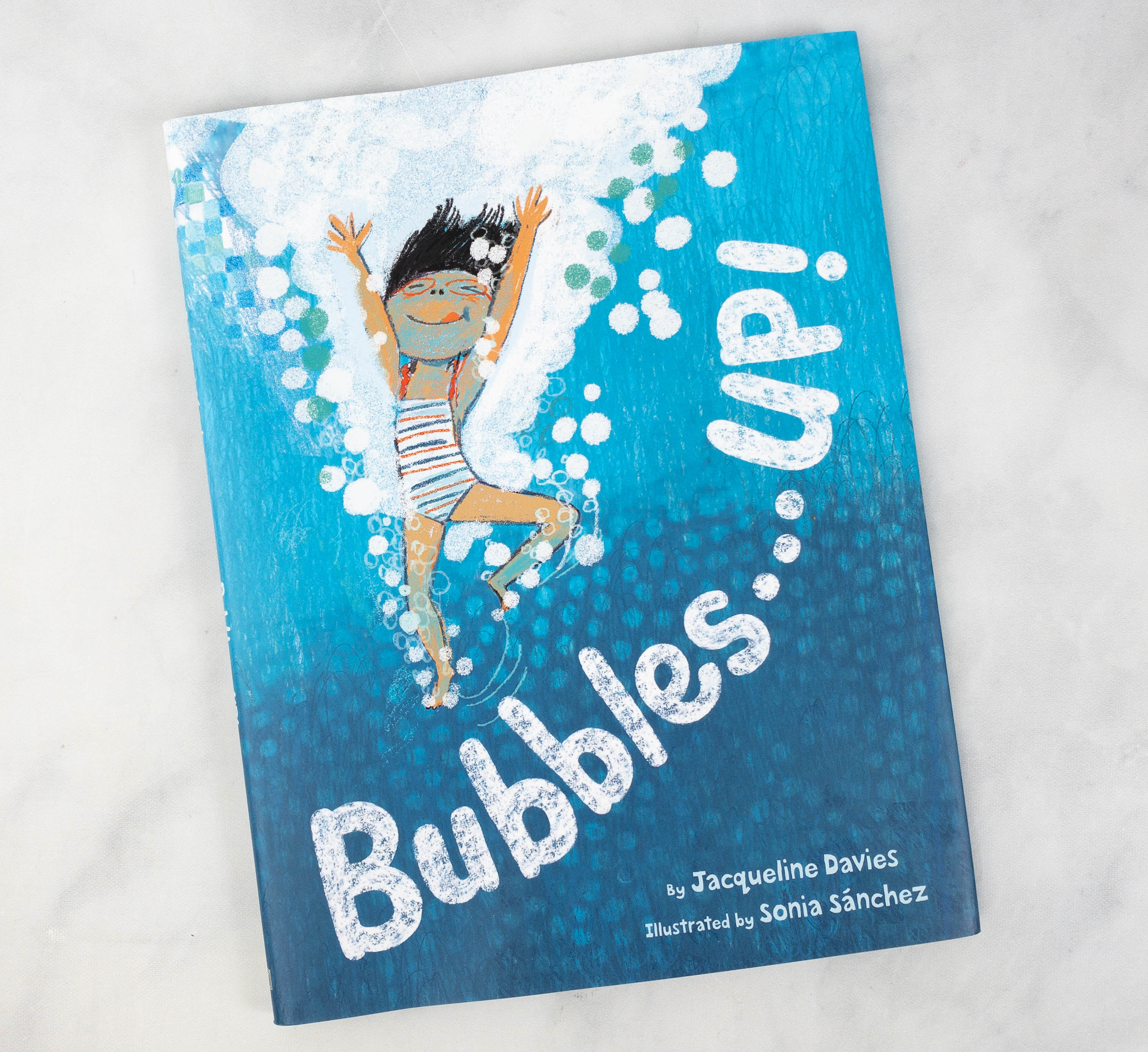 Bubbles…UP! by Jacqueline Davies ($13.99)
An everyday visit to the pool transforms into an unforgettable celebration of the water in this remarkable picture book from Jacqueline Davies, the award-winning author of children's classic The Lemonade War, and Sonia Sánchez, the illustrator of Meg Medina's Evelyn Del Rey Is Moving Away.

A day at the community pool is full of unwater magic—dunking and diving with friends; somersaulting, walking on your hands, and bursting up through the surface like a tortoise. But when a thunderstorm comes and a little brother ventures too close to the pool's edge, will our main character be quick enough and brave enough to save the day?

In this energetic read-aloud, the words swim off the pages as the underwater world comes to life through lush, dynamic illustrations and visual poetry. Journey to an imaginative world where, always and forever, bubbles . . . rise . . . UP!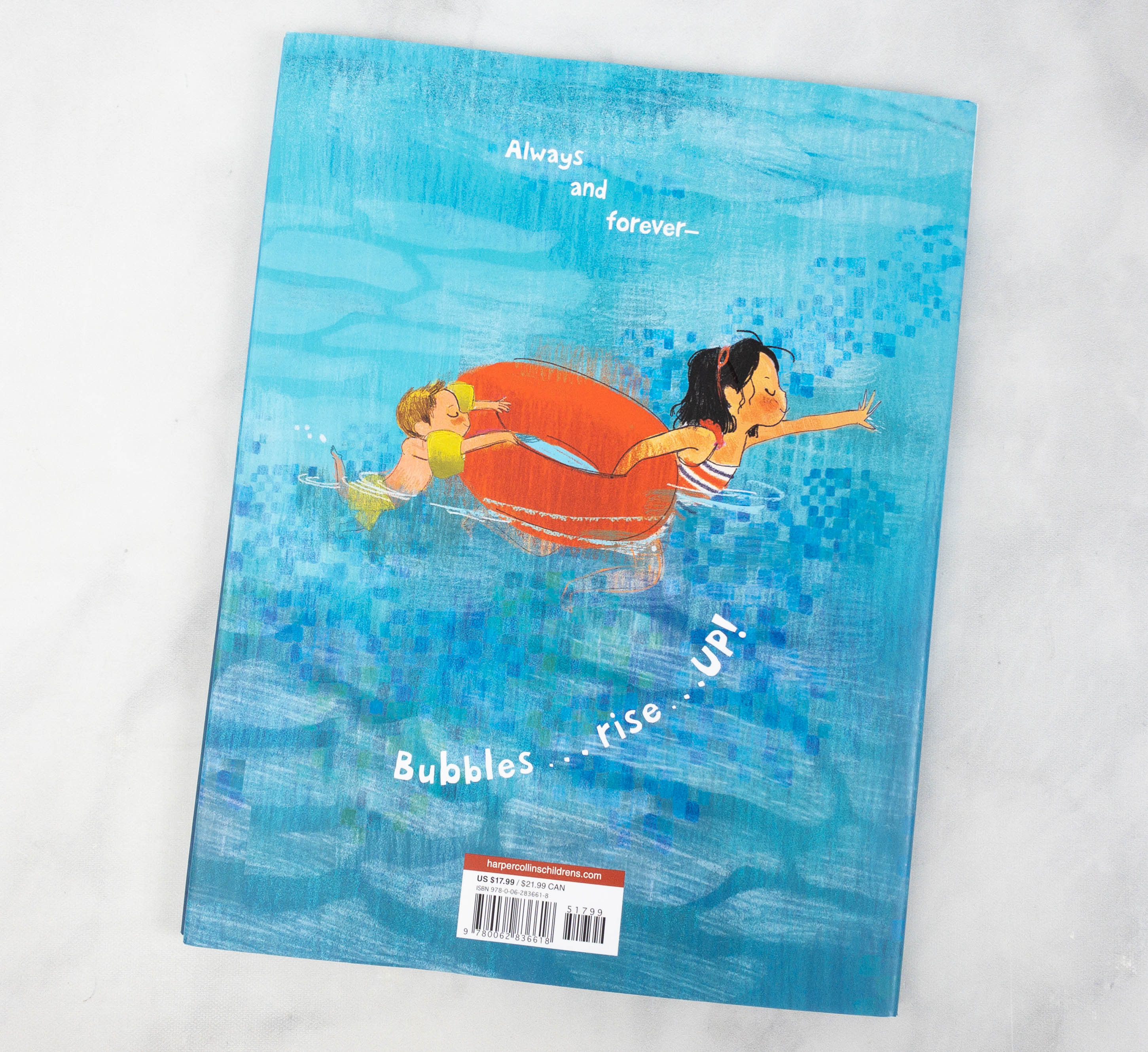 It's a fun picture book, set in a community pool!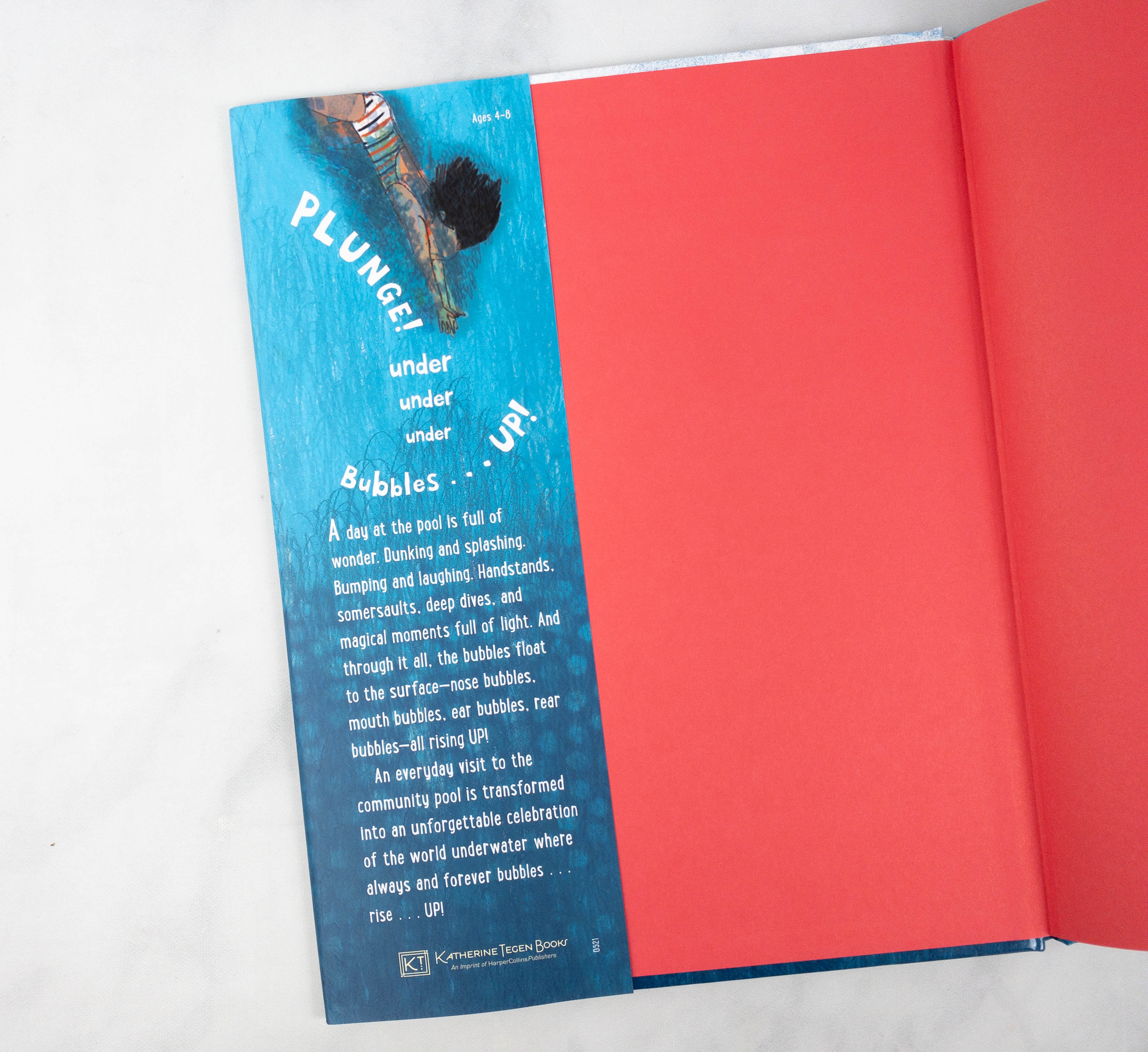 The synopsis is printed on the flap of the dust jacket.
This is an ideal read for summer! It also features a combination of visual and verbal narratives.
My kids love the full color illustrations, as it's all about bubbles and of course, swimming.
There's also a part of the story that kept my kids on the edge of their seats!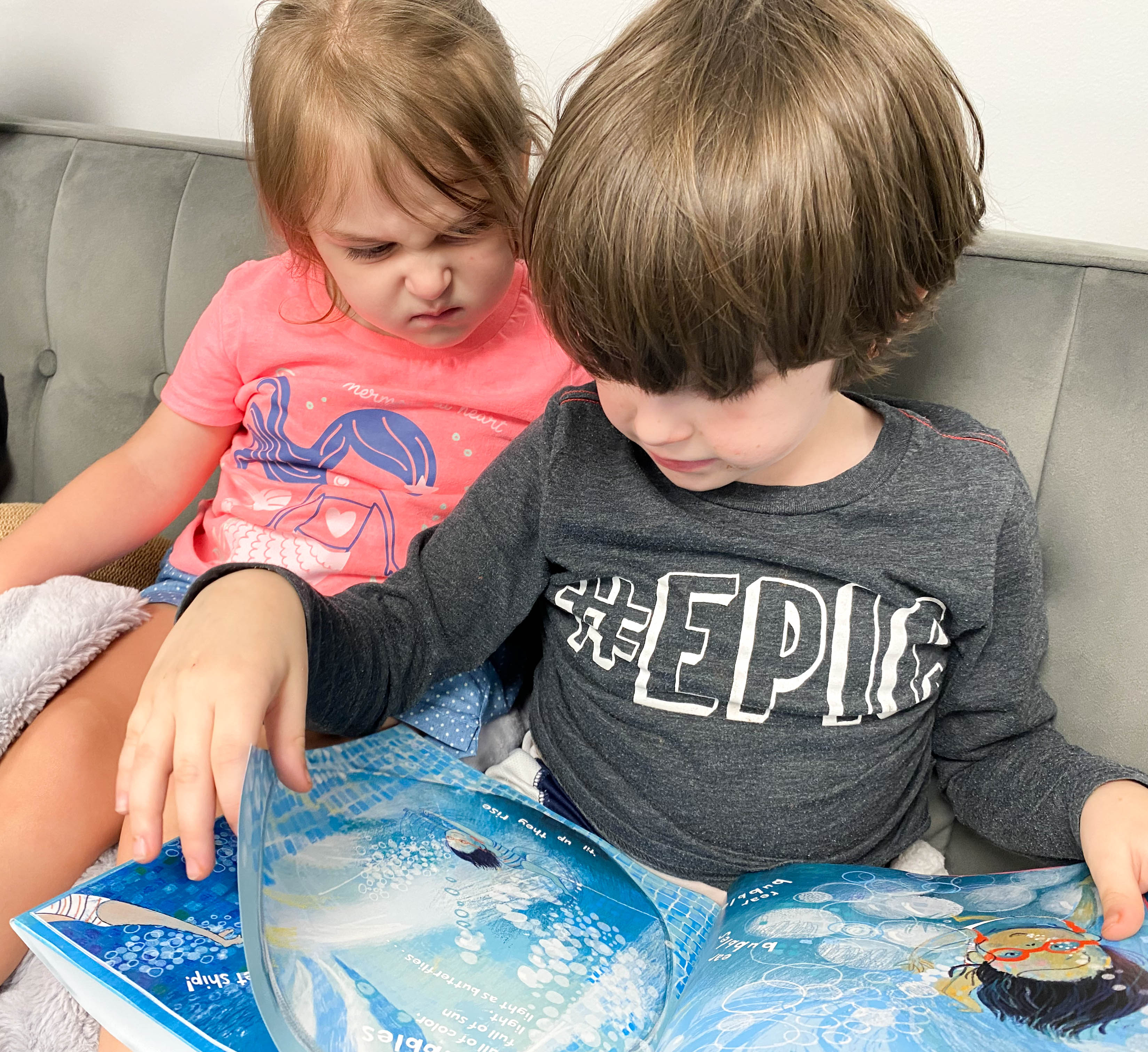 This is such an engaging story overall and it's perfect for reading aloud!
The activities for this month are packed separately using plastic.
Activity #1: Art Spark Kit. The first activity is about making a chalk-printed postcard! Materials include two blank  postcards, a plate, chalk, pure cane sugar, and wooden tools.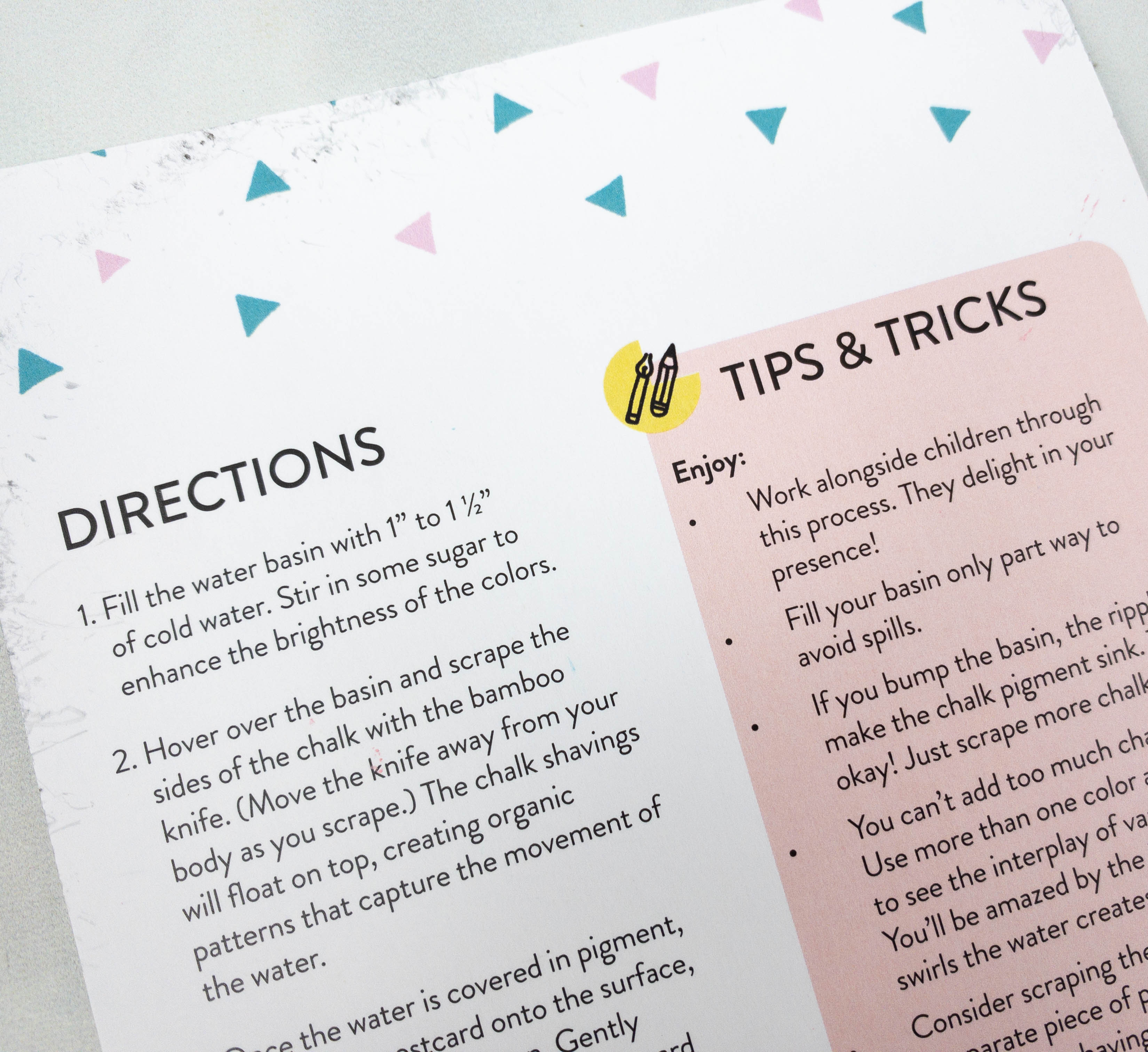 This sheet lists the instructions for the activity, as well as some tips. They encourage parents to join kids in scraping the chalk to make it more fun!
This is a great activity for enhancing fine motor skills and for encouraging creativity as well. My kids had fun scraping the chalk on a container with water. Once it was filled with pigment, all they had to do was to put the postcard onto the surface of the water so the colors will stick to the paper.
The finished postcards are great for display or for sending to loved ones!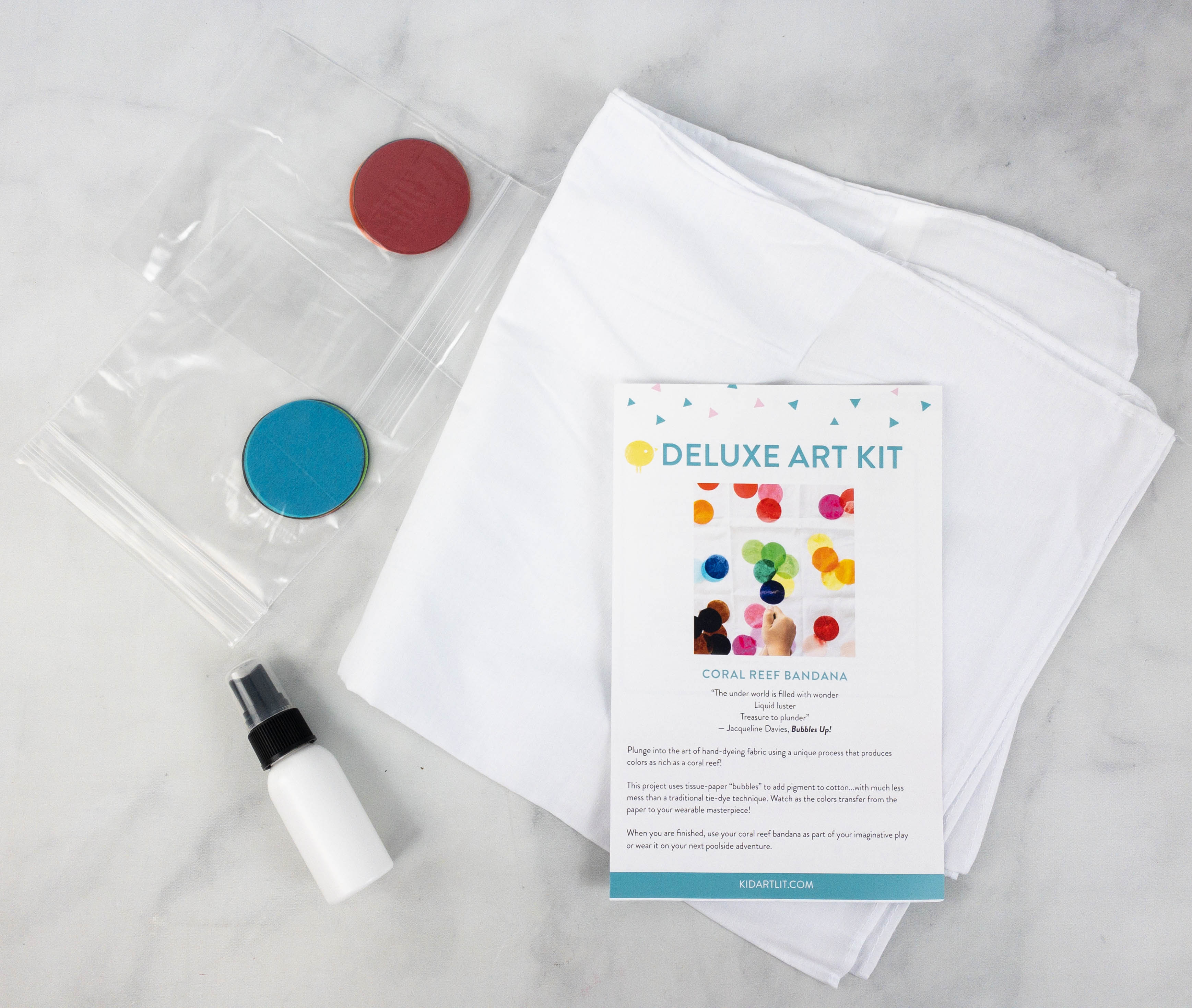 Activity #2: Deluxe Art Kit. We have the Deluxe box, so we also received a second art kit. It's all about bandana making! The kit included bandanas, color bleeding "bubbles," and a spray bottle.
The booklet suggests for kids to begin the activity using the colored tissue paper and dry fingers before parents introduce other materials. According to the booklet, this helps kids focus.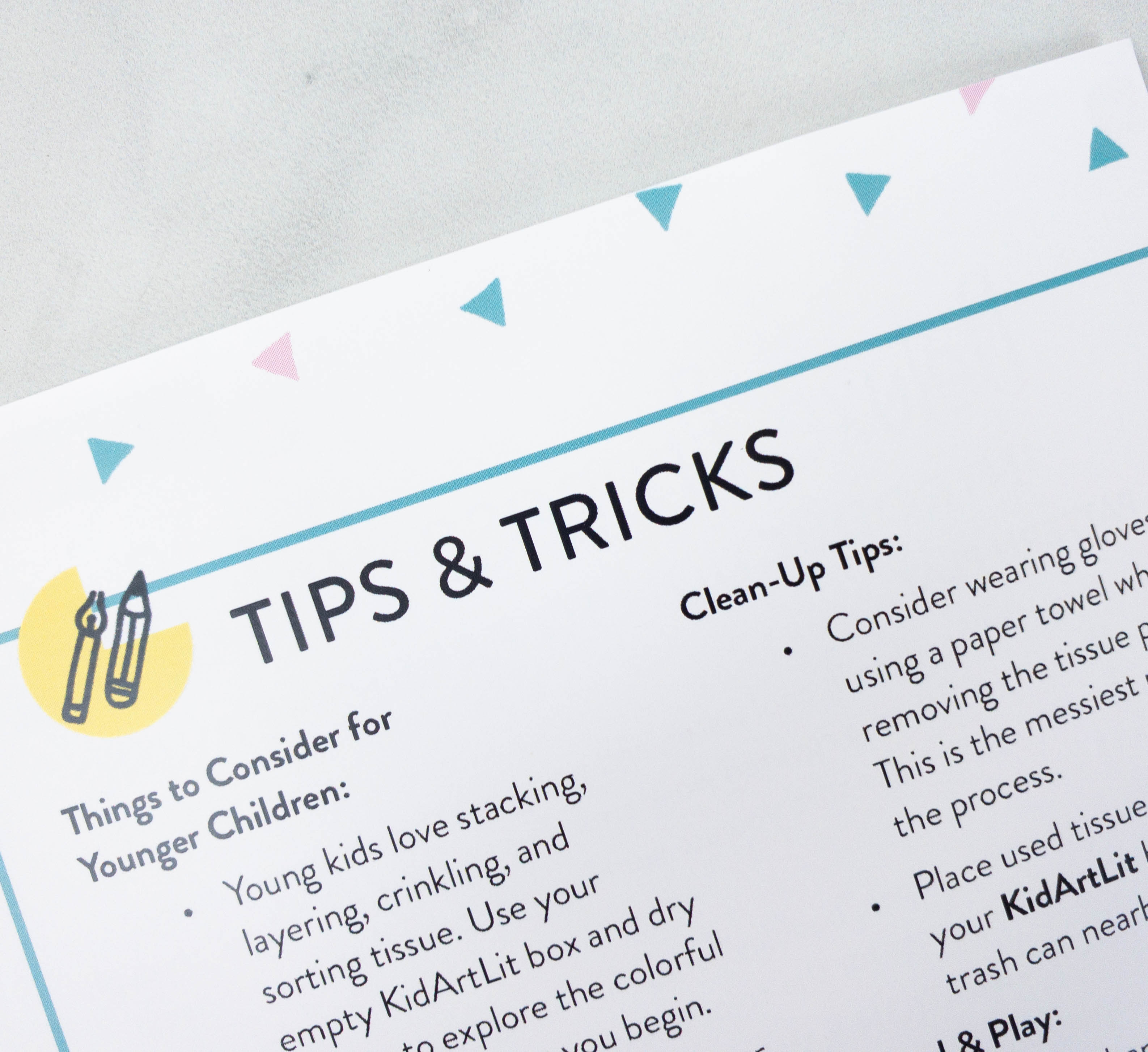 As always, tips and tricks are included to guide the kids and even parents when doing the activity.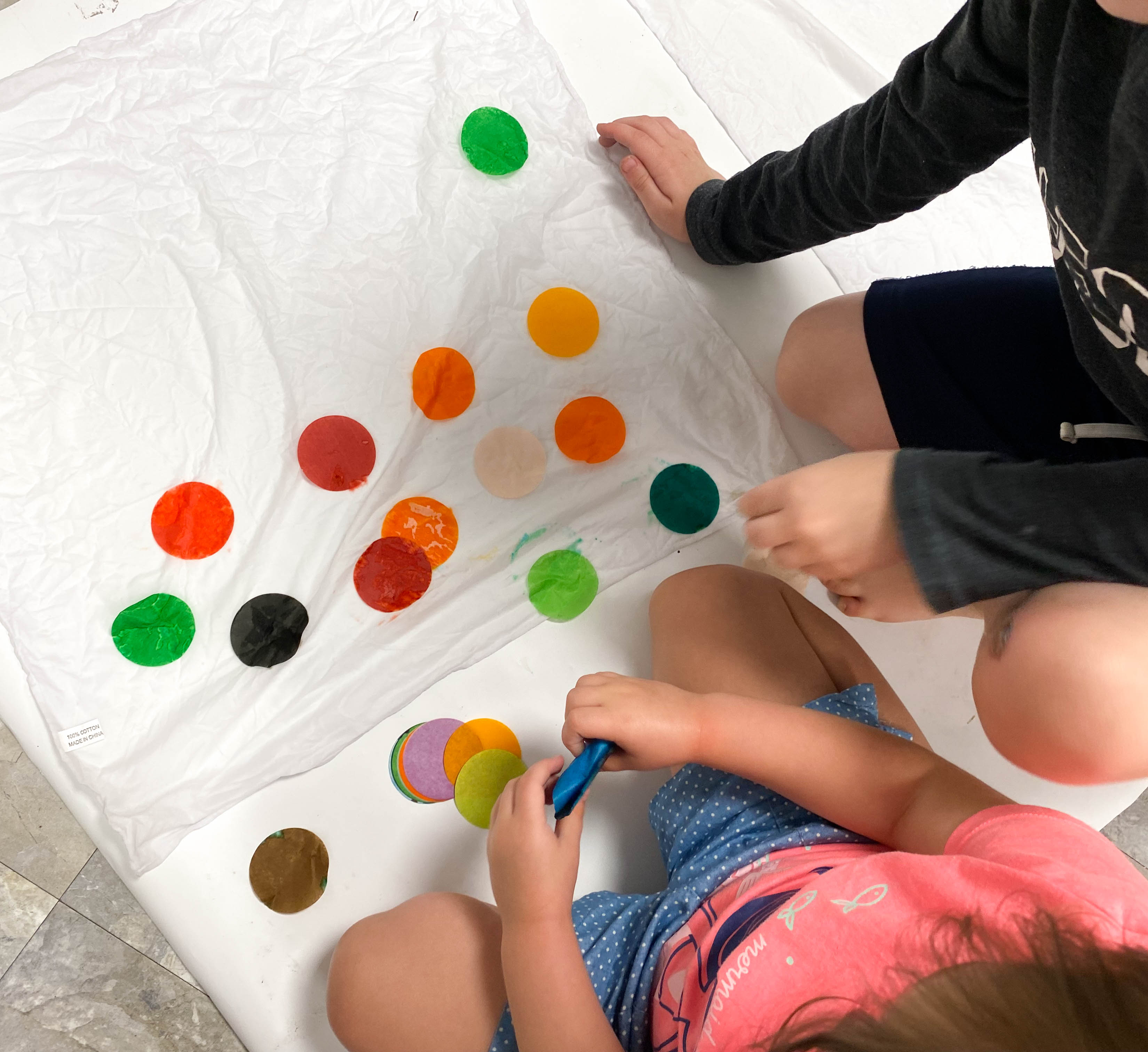 This activity is a bit messy, but my kids had so much fun with it! We used a vinyl sheet to protect our floor.
They chose the which color goes to what part of the bandana, and they also watched closely as the colors transferred from the paper to the cloth!
We waited for the cloth to dry and here's how the finished products look!
This activity was a great way to learn about hand-dyeing and for younger kids to get familiar with colors as well!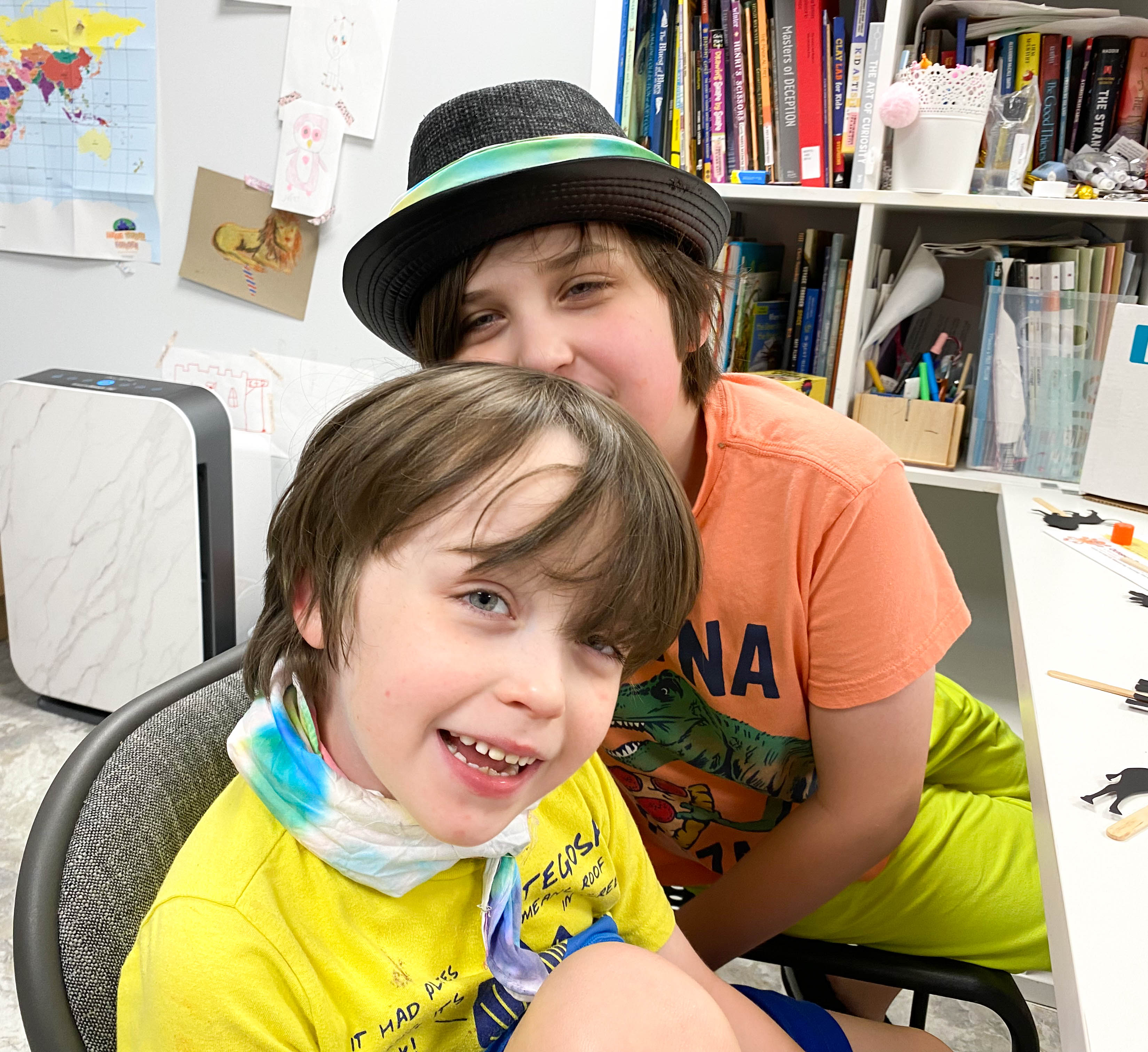 The boys wanted to wear the bandanas. They look pretty rad and I am pretty pleased with the hat decoration!
KidArtLit brings art and literature together in every box! This month, it includes a picture book that my kids enjoyed because of the engaging illustrations and lyrical text. A good read for summer, it captures the fun of being in a community pool really well. As for the art activities in our Deluxe box, they were fun and easy to make! My kids loved creating postcards and bandanas and coming up with their own designs. The booklet provided per activity was also helpful! Aside from instructions, it has tips for parents on how to maximize each art activity. This is a great subscription choice if you're looking for fun activities to do at home. Most materials are provided and you'll only need a few basic things from home. Their book picks are also always kid-friendly!
What do you think of this month's box?