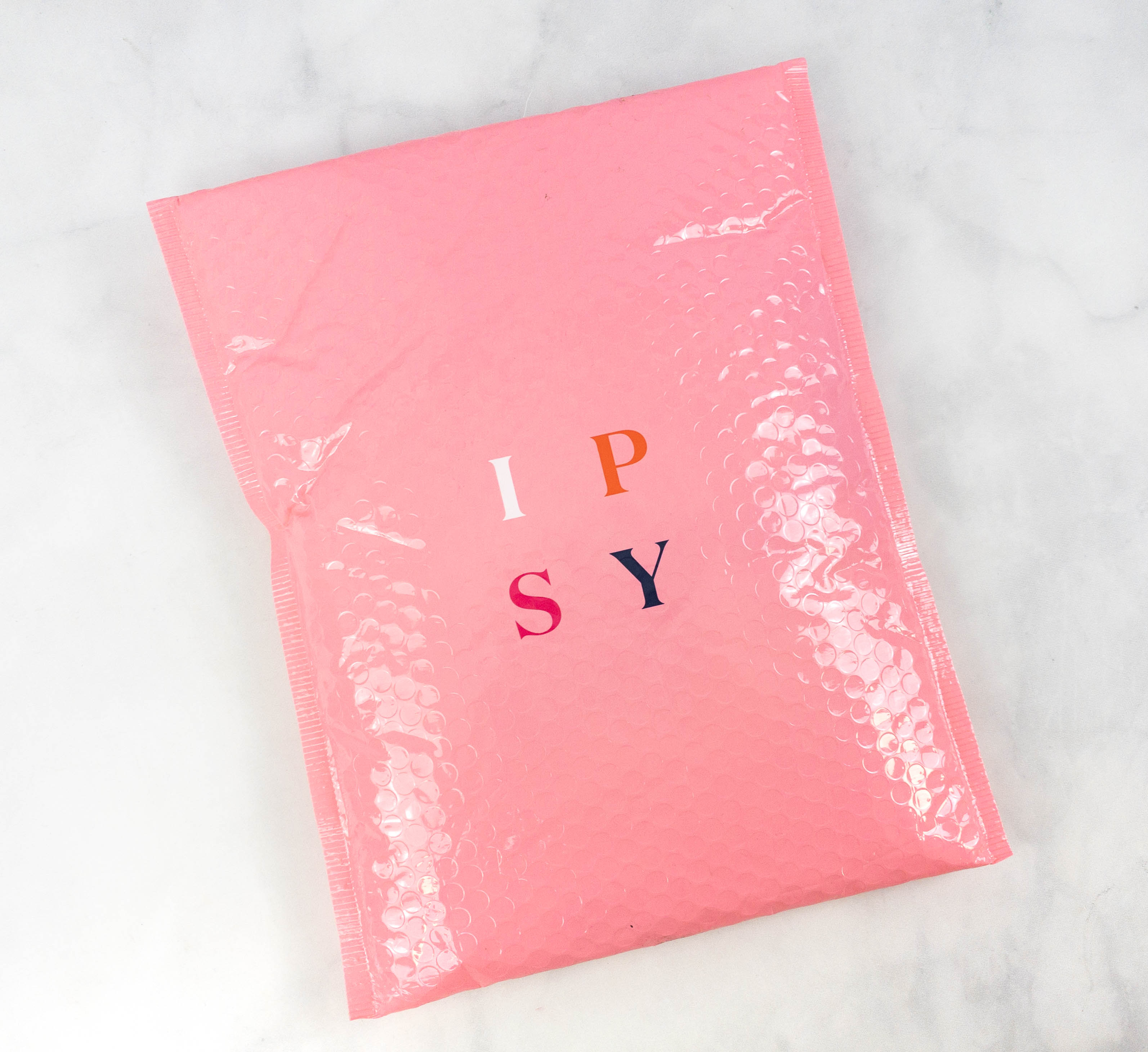 Ipsy Glambag Plus is the upgraded version of the monthly Ipsy Glam Bag. For $25 a month, it contains 5 full-size products from brands you love, plus a deluxe makeup bag with every shipment. The promised value of each box is $120 worth of products. It will contain variations, but there are far fewer compared to the regular Ipsy Glam Bag. Be sure to continue to rate and review your bag to help personalize it to your needs. Check out our Ipsy Glam Bag Plus explainer to find out every detail of this subscription! Glam Bag Plus is definitely a Hello Subscription reader fave – it's in five different lists in our readers' selections for the best subscription boxes!
Ipsy Glambag Plus subscribers choose three items for their bag – Ipsy selects two!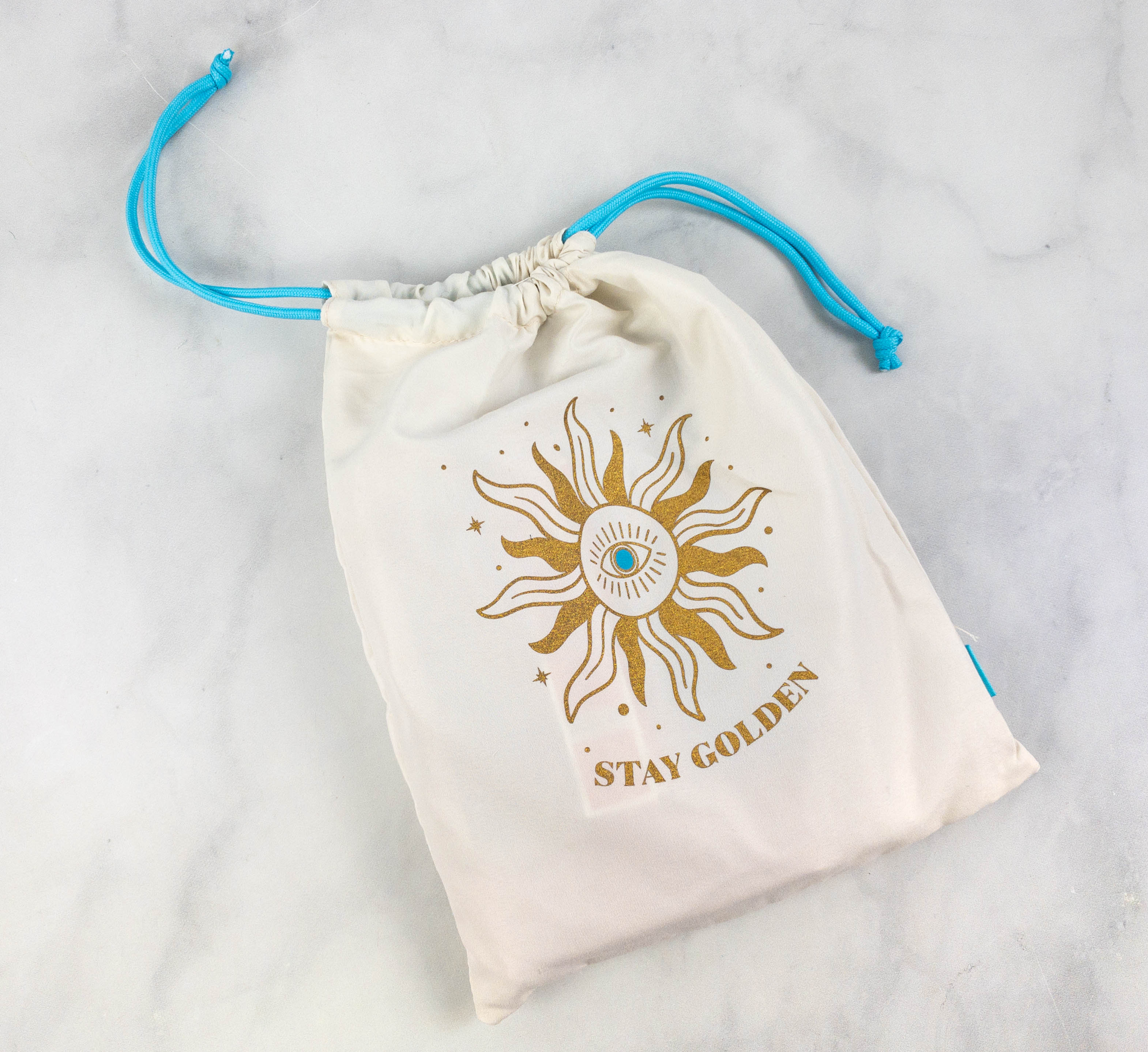 The items were packed in this cute drawstring pouch.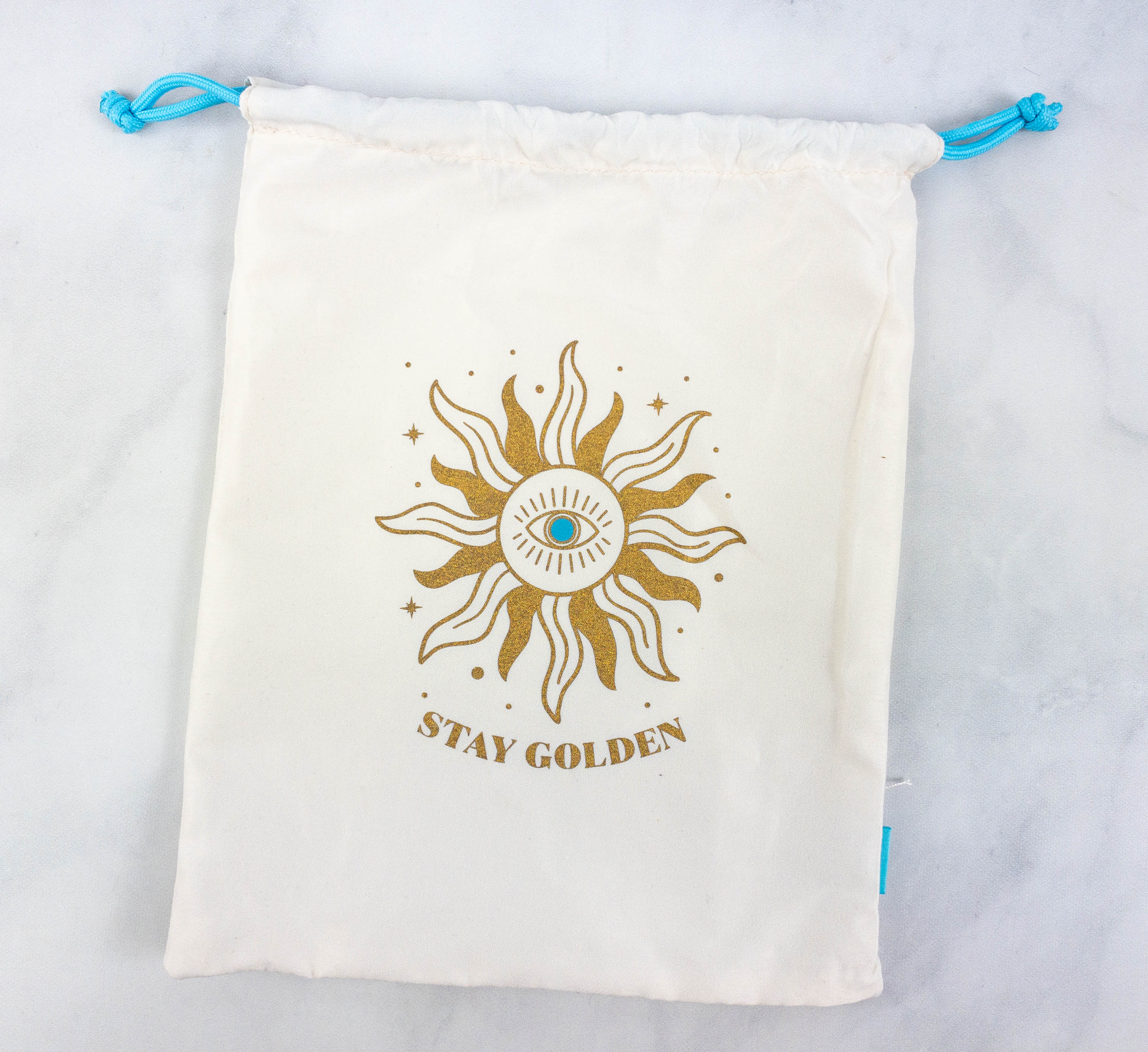 In the middle, there is an illustration of the sun with an eye in the middle that reminds me of the Eye of Horus.
This month's theme is STAY GOLDEN.
The back of the card has information about bronzing!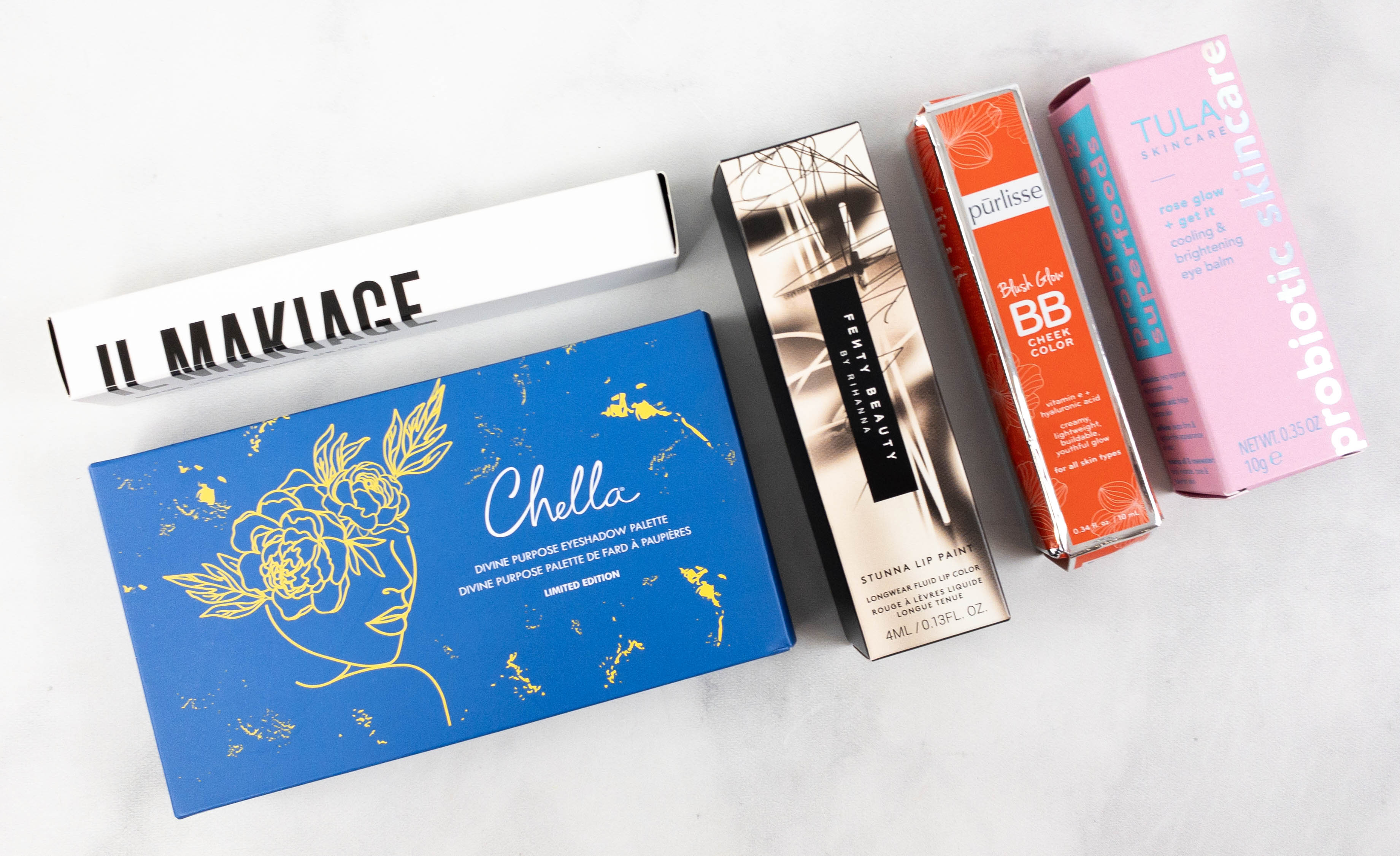 Everything came in the original boxes, but the Purlisse was banged up.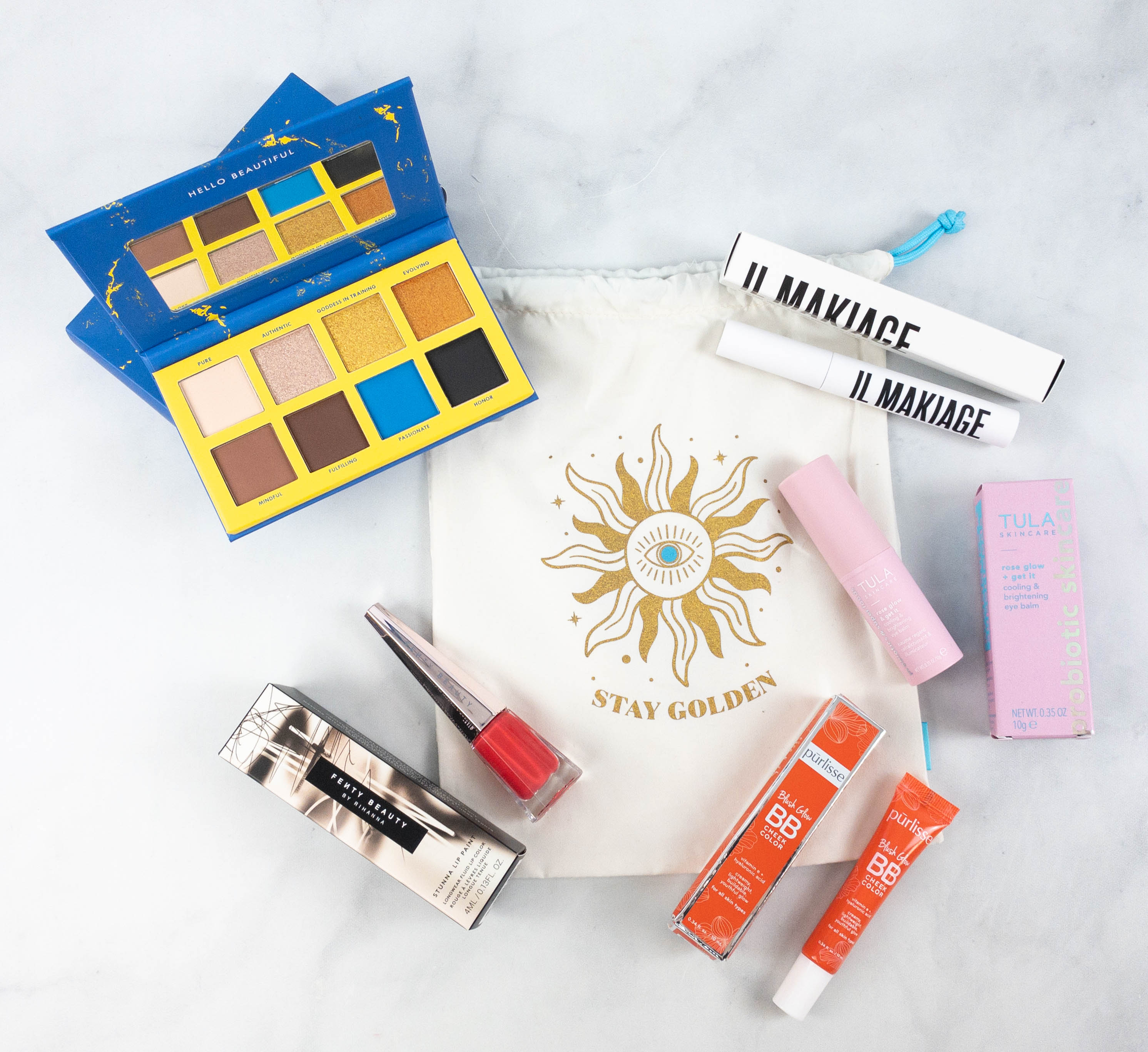 Everything in the box!
Ipsy Picks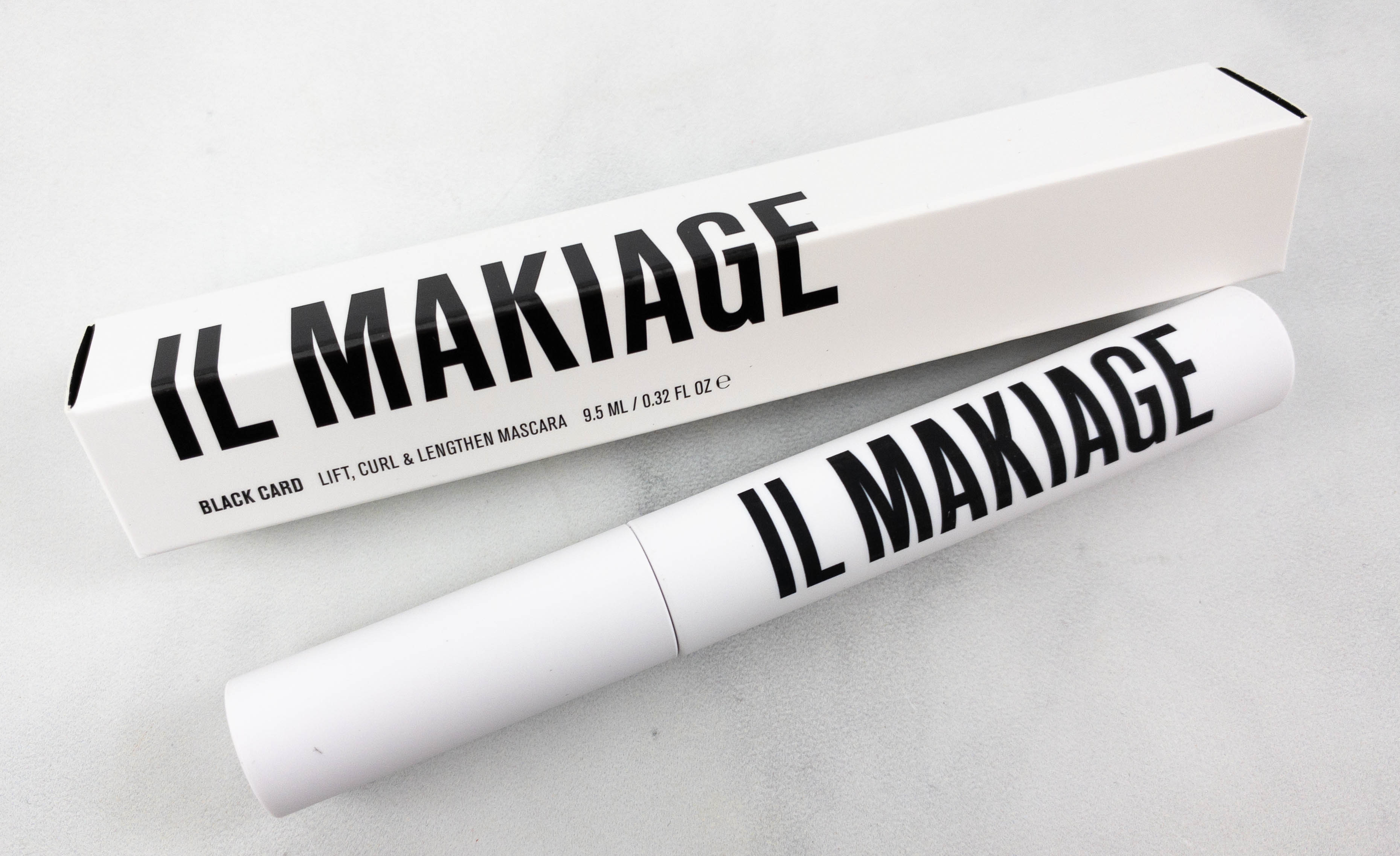 Il Makiage Black Card Lift Curl & Lengthen Mascara ($25). For defined eye looks, here's a highly-pigmented mascara with a rich formula! It makes the lashes look longer and fuller, plus it doesn't smear or crumble so it lasts for a long time. It's even infused with flaxseed oil that nourishes and strengthens the strands with each coat.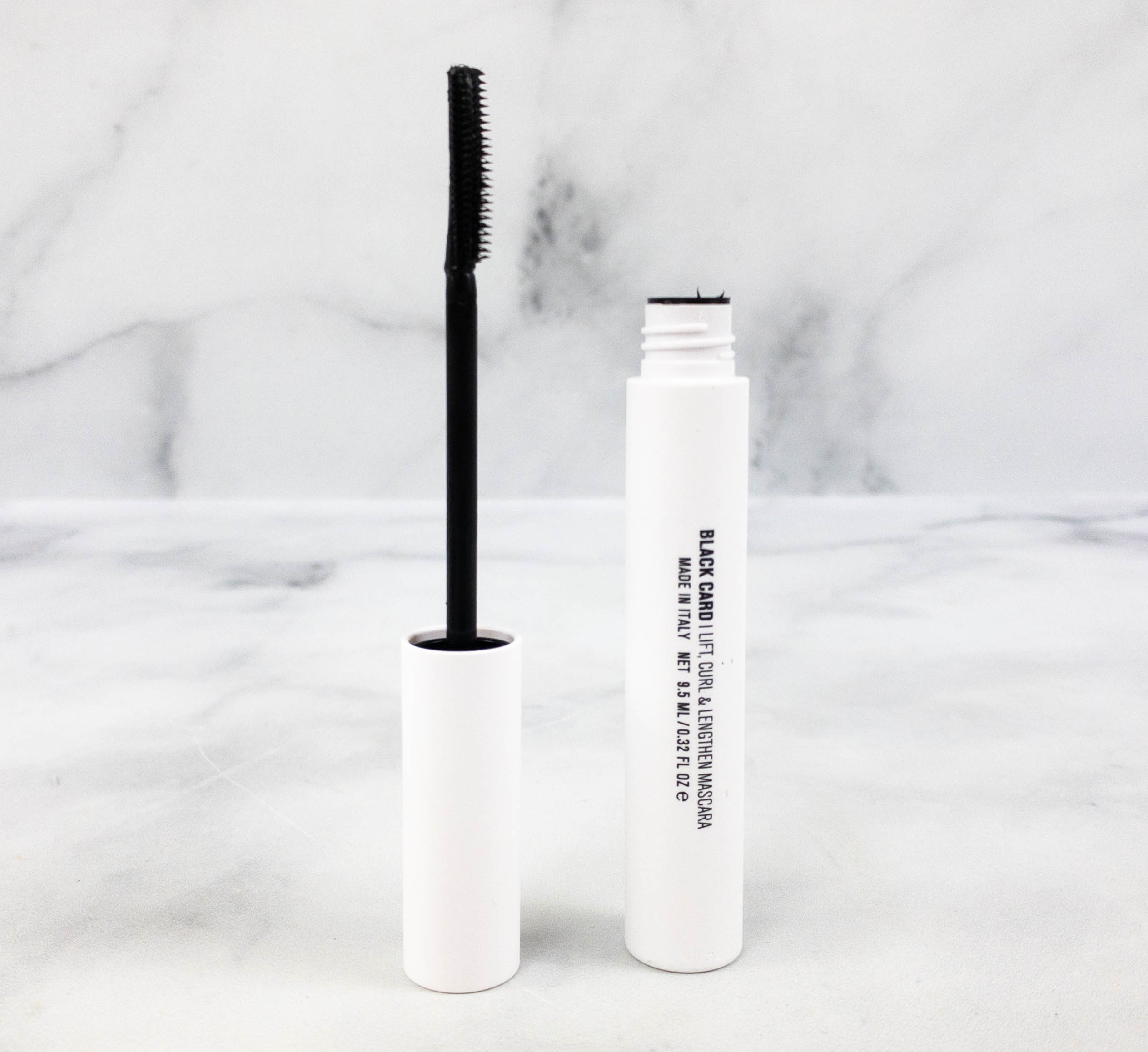 The fine bristles of the applicator help coat my lashes evenly without clumping, which is great. It also enables me to lift and curl my lashes without much fuss. But, I'm so confused by this product. It's not on their site at all. Is it a made-for-Ipsy product? Seems likely. I have to admit – I'm happier with a made-for-subscription product that's only made for the subscription, rather than a different formula that's manufactured for the subscription but the brand is pretending to be the exact same. It would be helpful if Ipsy labeled this stuff New Drop or Just for Ipsy, or whatever is relevant.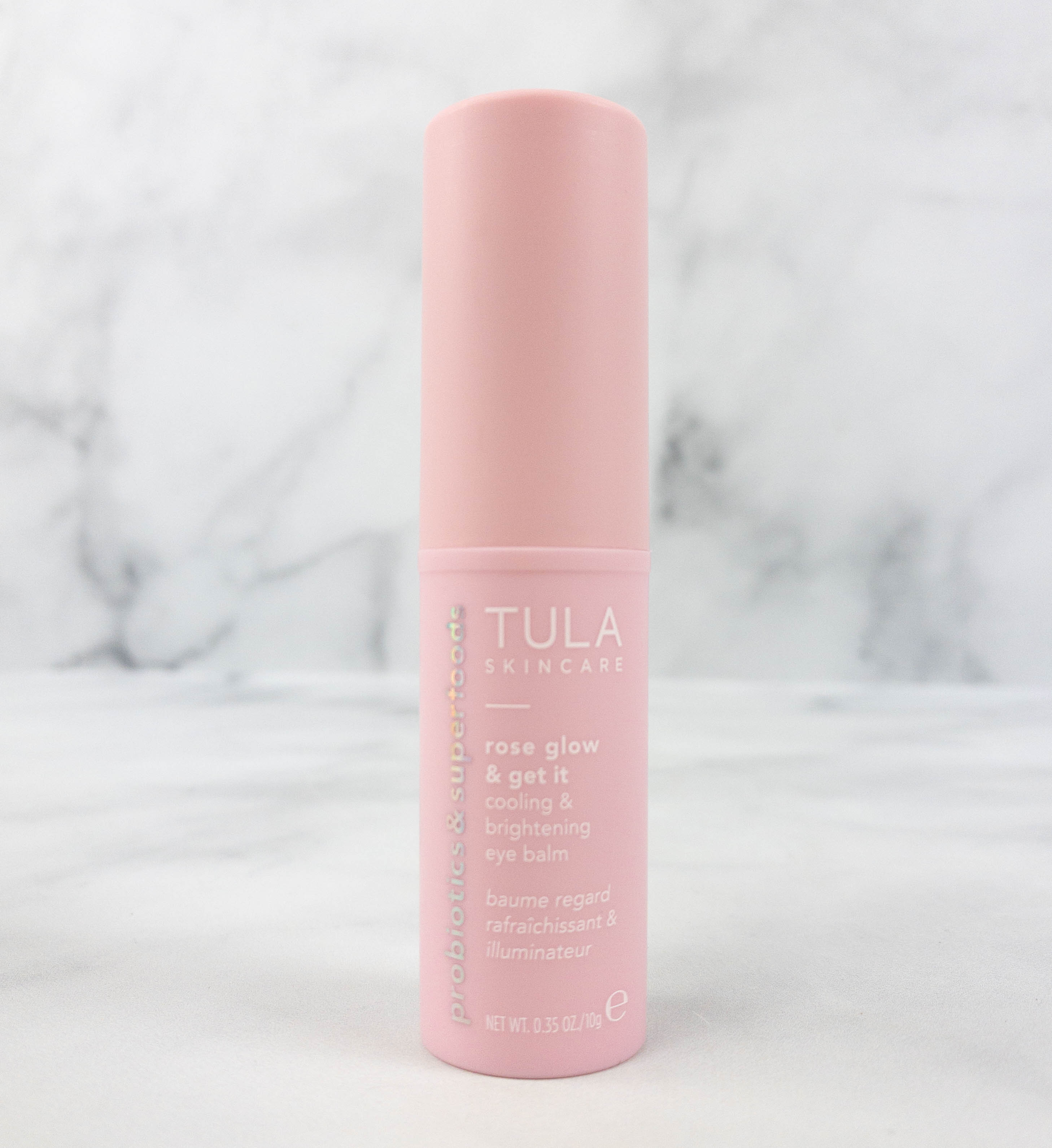 Tula Skincare Rose Glow & Get It Cooling & Brightening Eye Balm ($30) Here's another product for the eye area, a cooling and brightening balm! Formulated with caffeine, it helps improve the appearance of dull and tired skin with a few swipes. It also contains hyaluronic acid, rosewater, and rosehip oil which keep the skin hydrated and glowing.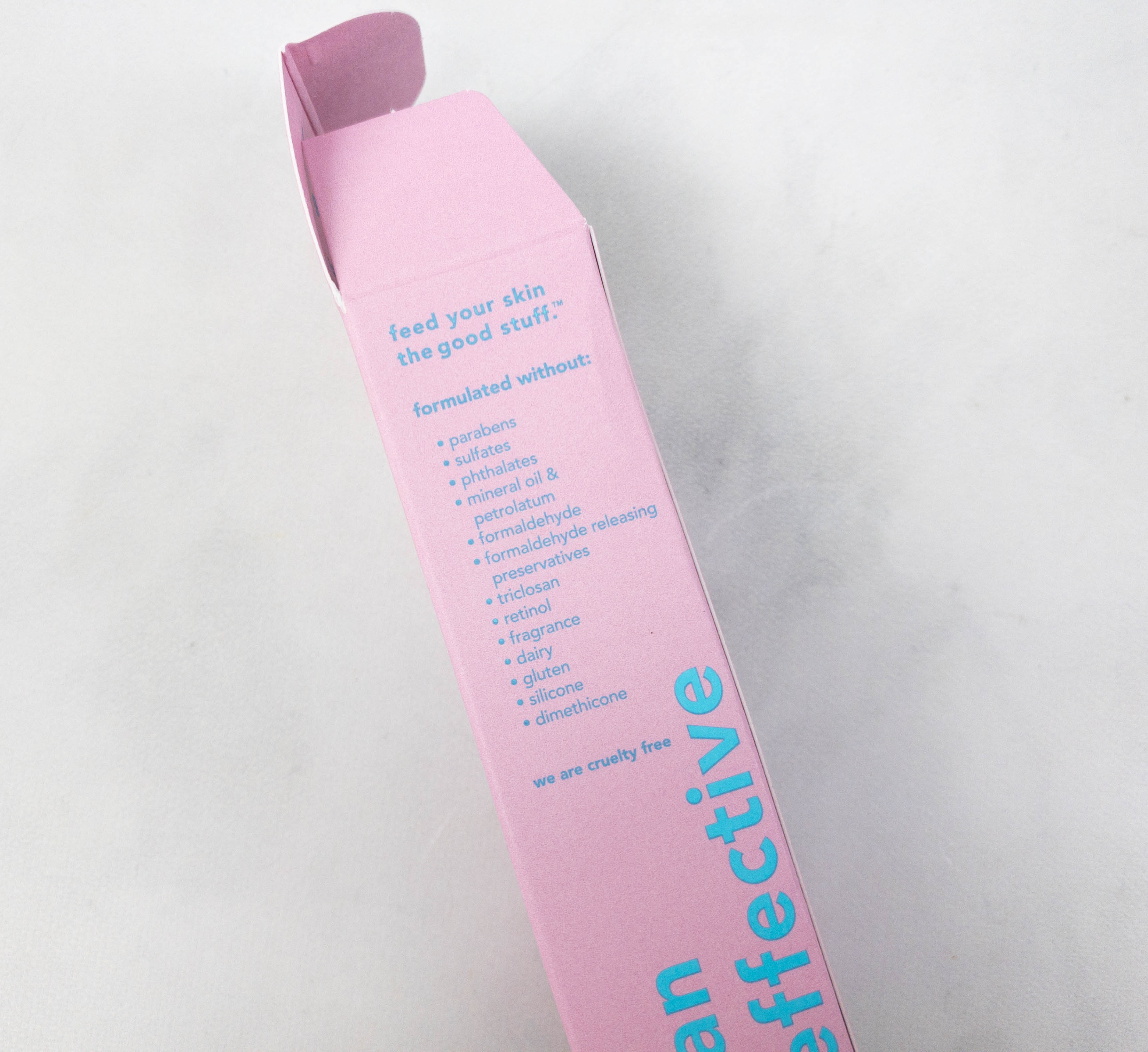 On one side of its individual box, there's a list of harmful ingredients that this product is formulated without. The packaging also indicates that it's cruelty-free.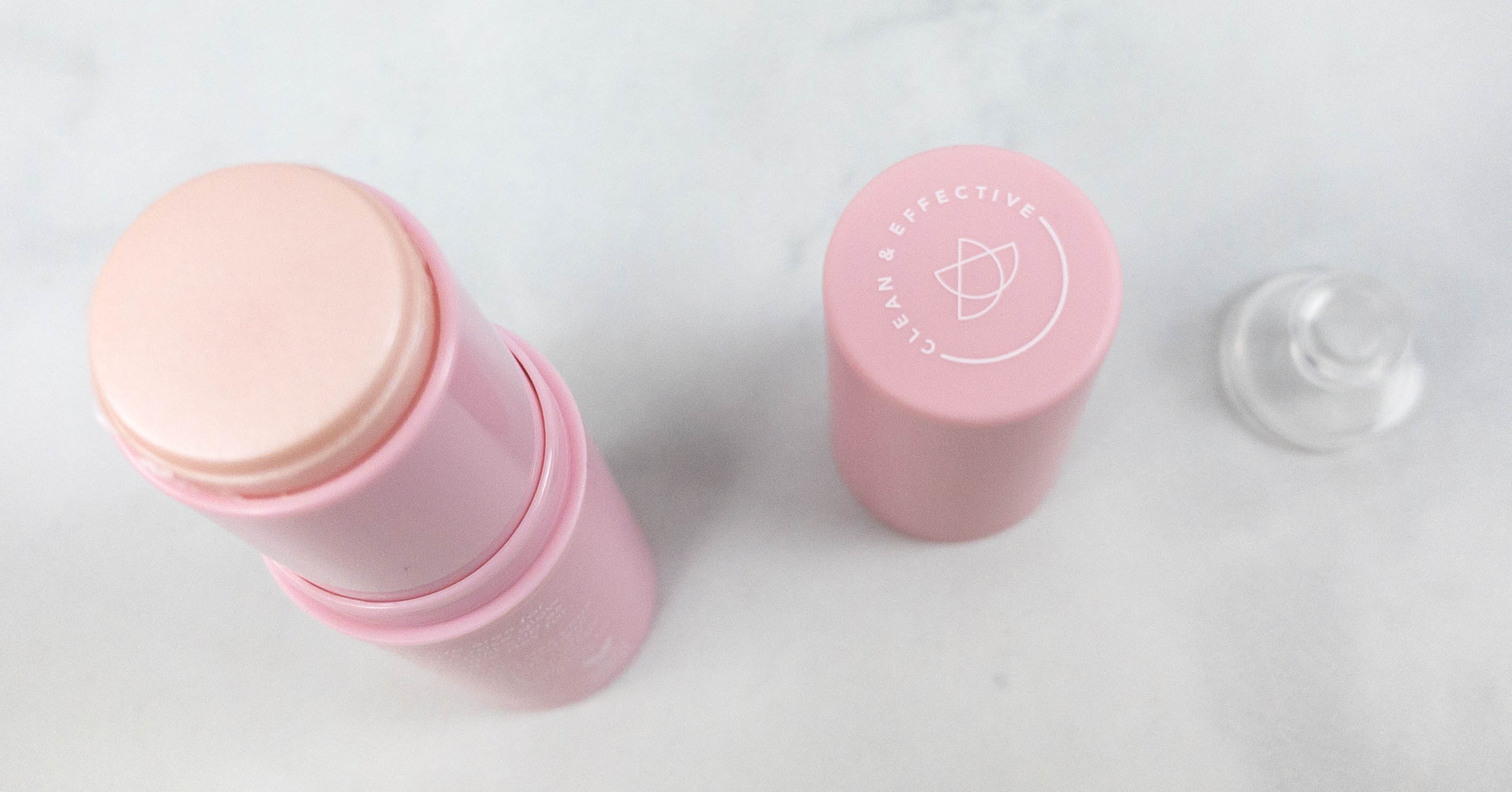 The balm comes in a handy twist tube, so application is totally mess-free. It's great to use or reapply even when you're out and about.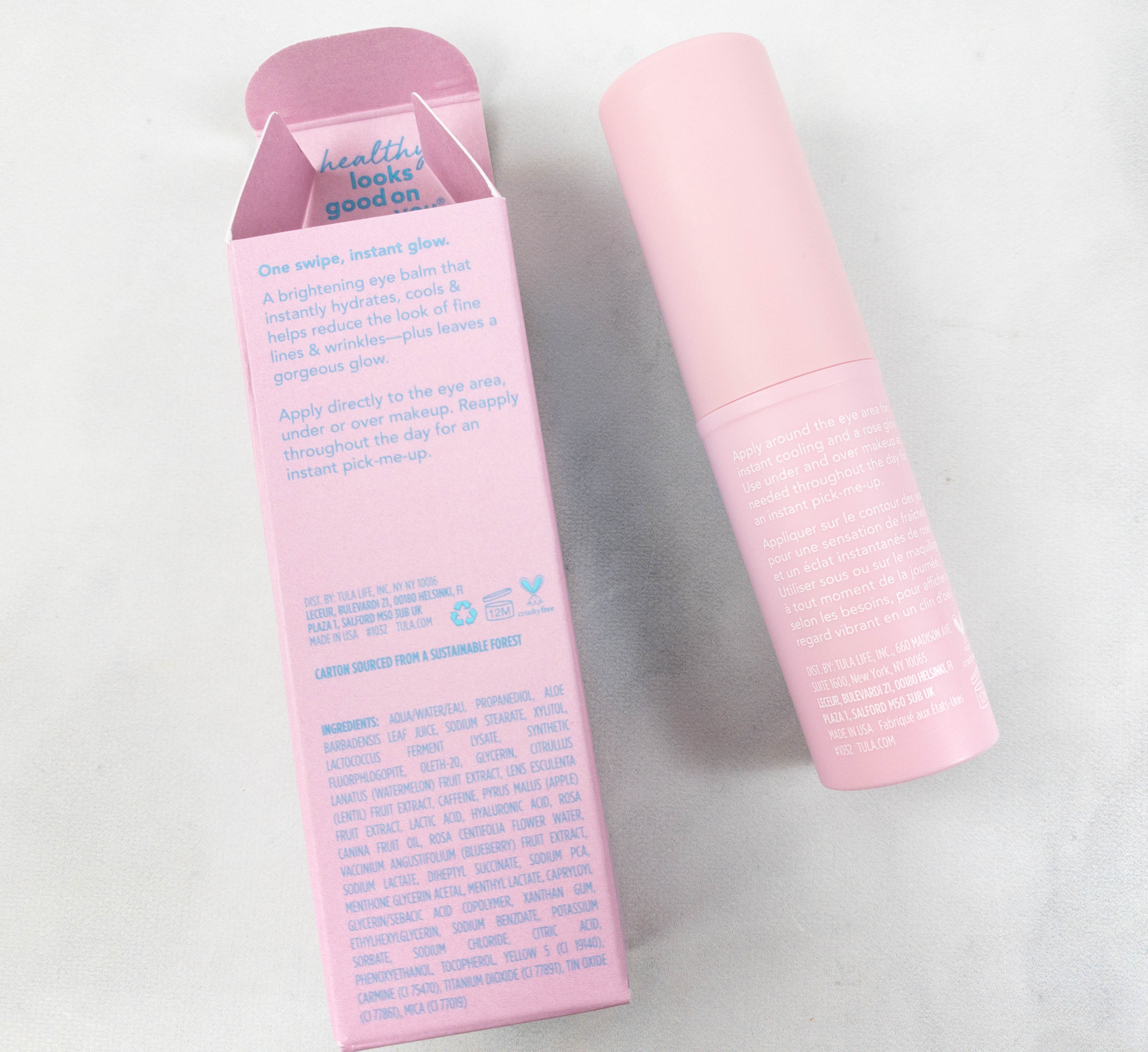 This works whether when over or under makeup. It's weightless and it applies smoothly like butter. The balm can also be used as a highlighter if you want a glowing makeup look. I like this because I sometimes have issues with applying products near my eyes (so many tears) and this was super controllable.
My Choices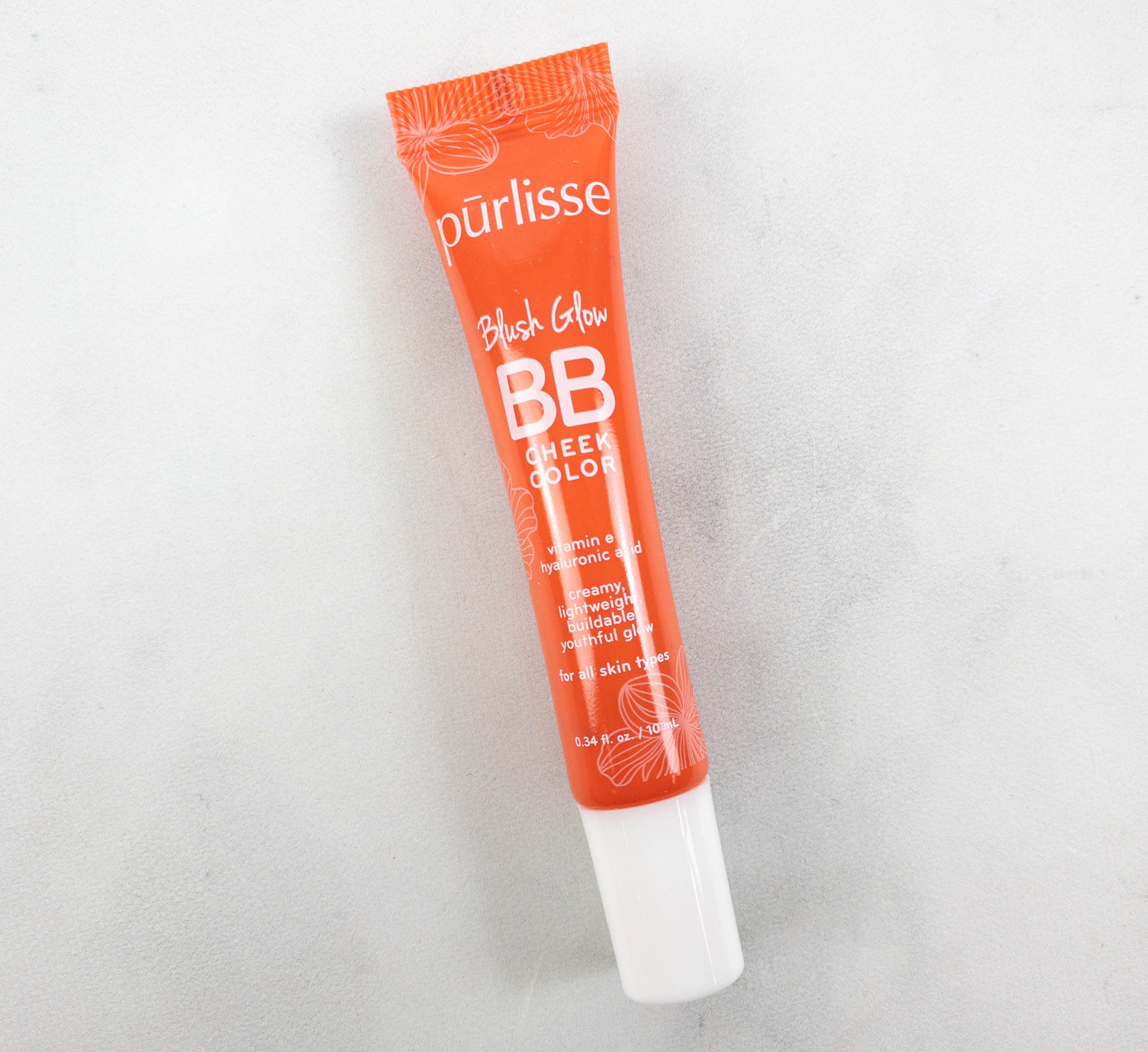 Pūrlisse Blush Glow BB Cheek Color ($18) For my first pick, here's a blush in a bright coral shade. I love using this for an effortless pop of color on cheeks!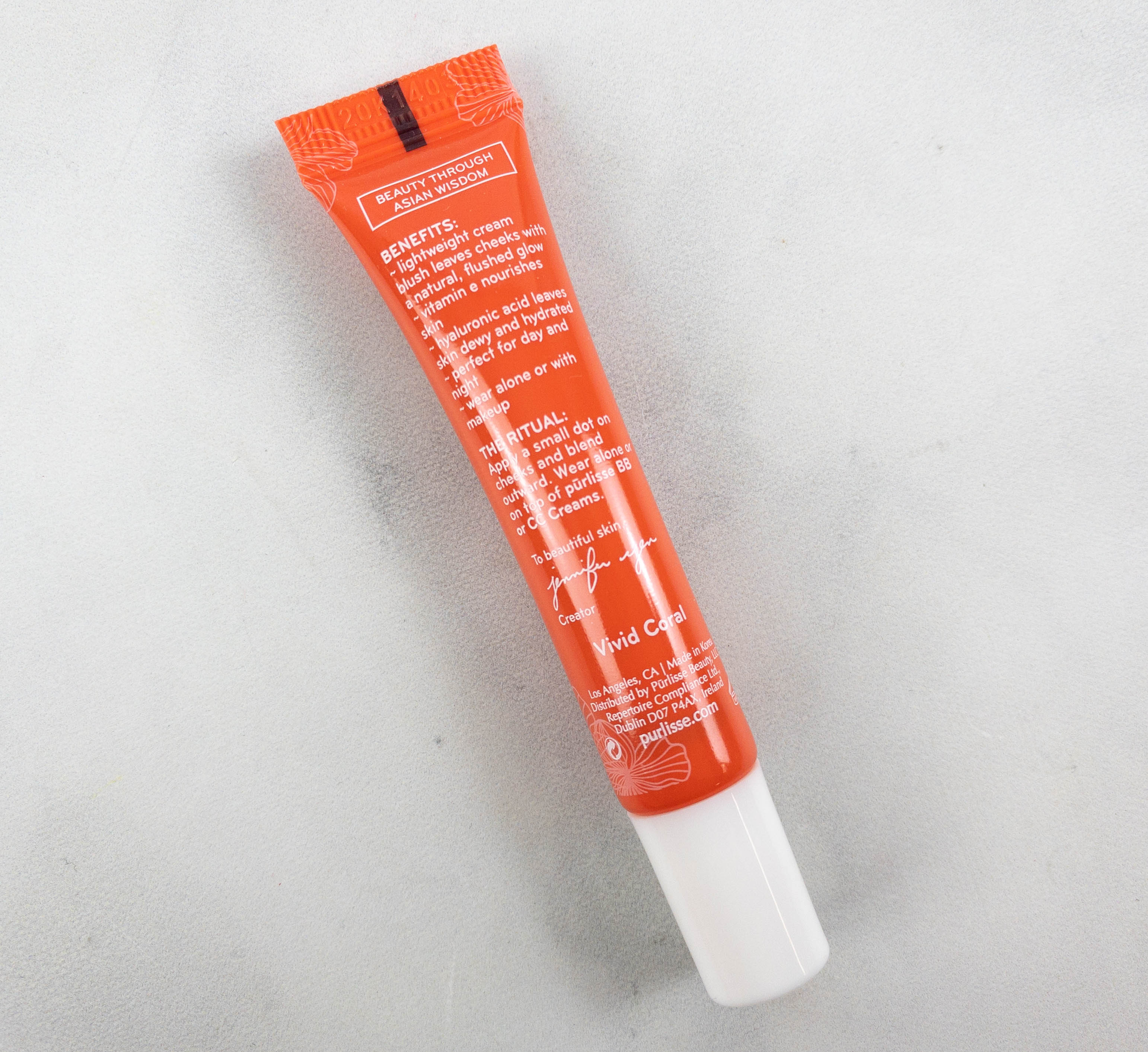 Ingredients include hyaluronic acid for a moisture boost and vitamin E that helps keep skin looking young and healthy. I love how lightweight this product is. The pigment is also buildable, so you can decide whether you want it subtle or intense.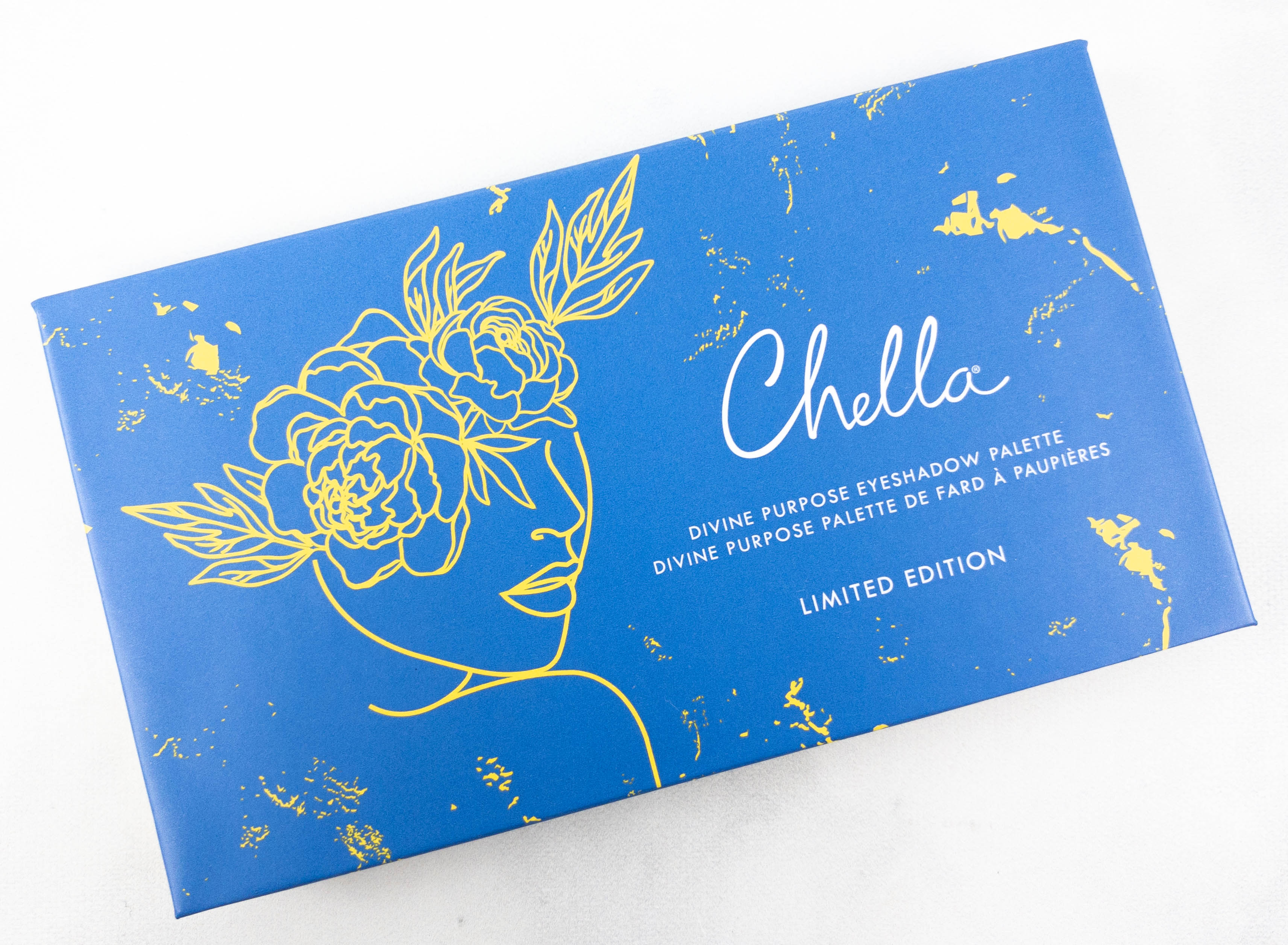 Chella Divine Purpose Eyeshadow Palette ($35) I also picked this eyeshadow palette which came in a lovely blue packaging.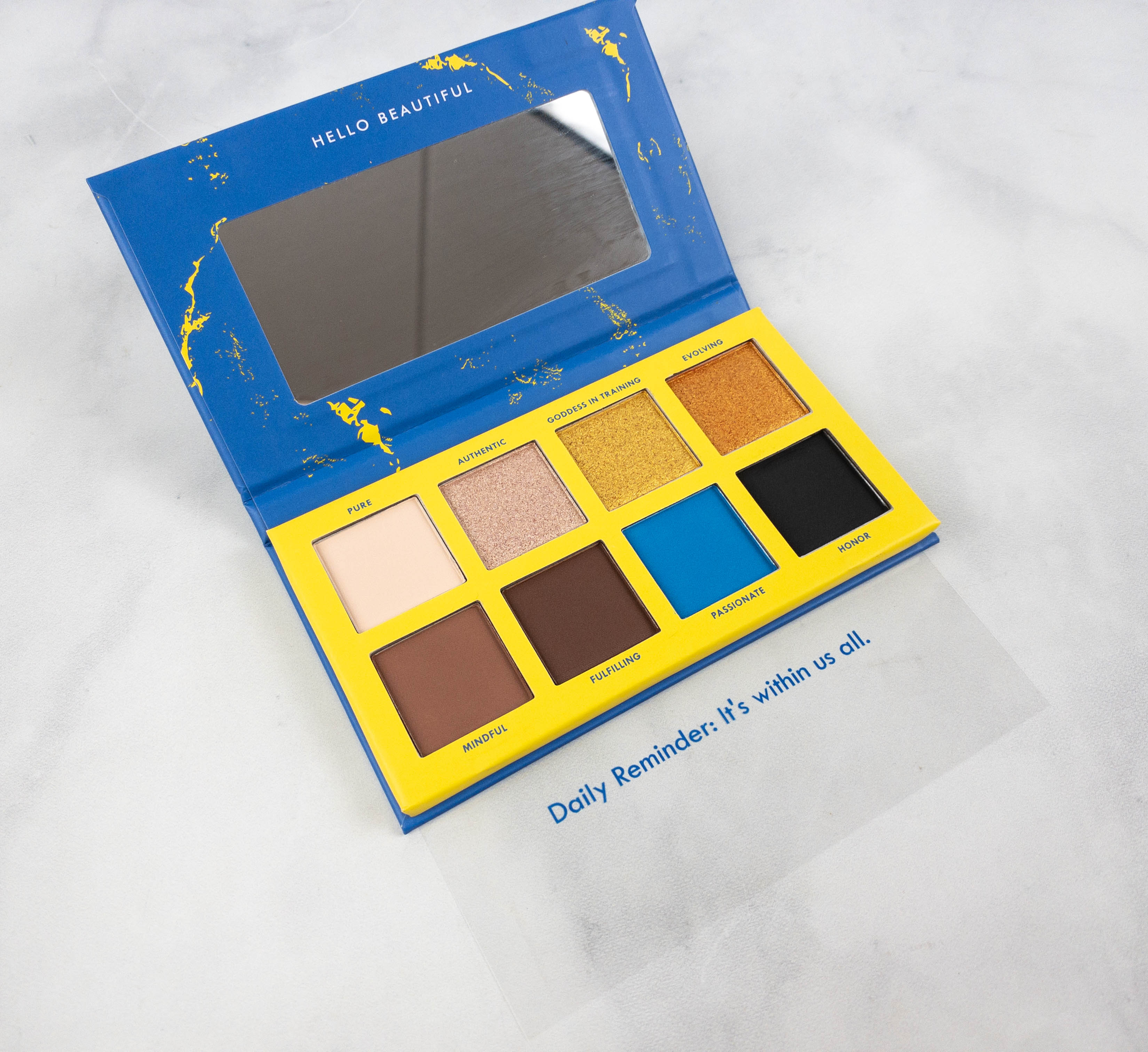 There's a mirror inside, with a text that says "HELLO BEAUTIFUL" above it.
There are 8 shades in total. It's good selection of bold and neutral colors, which I can mix and match to create different kinds of makeup looks. Some shades have a matte finish and the others have shimmers.
The formula is pigmented and easy to blend. I prefer the matte ones for the everyday look but I like adding the pearl shades for that extra sparkle during the evening! And oh boy. That's really an 80s blue isn't it? It's fun!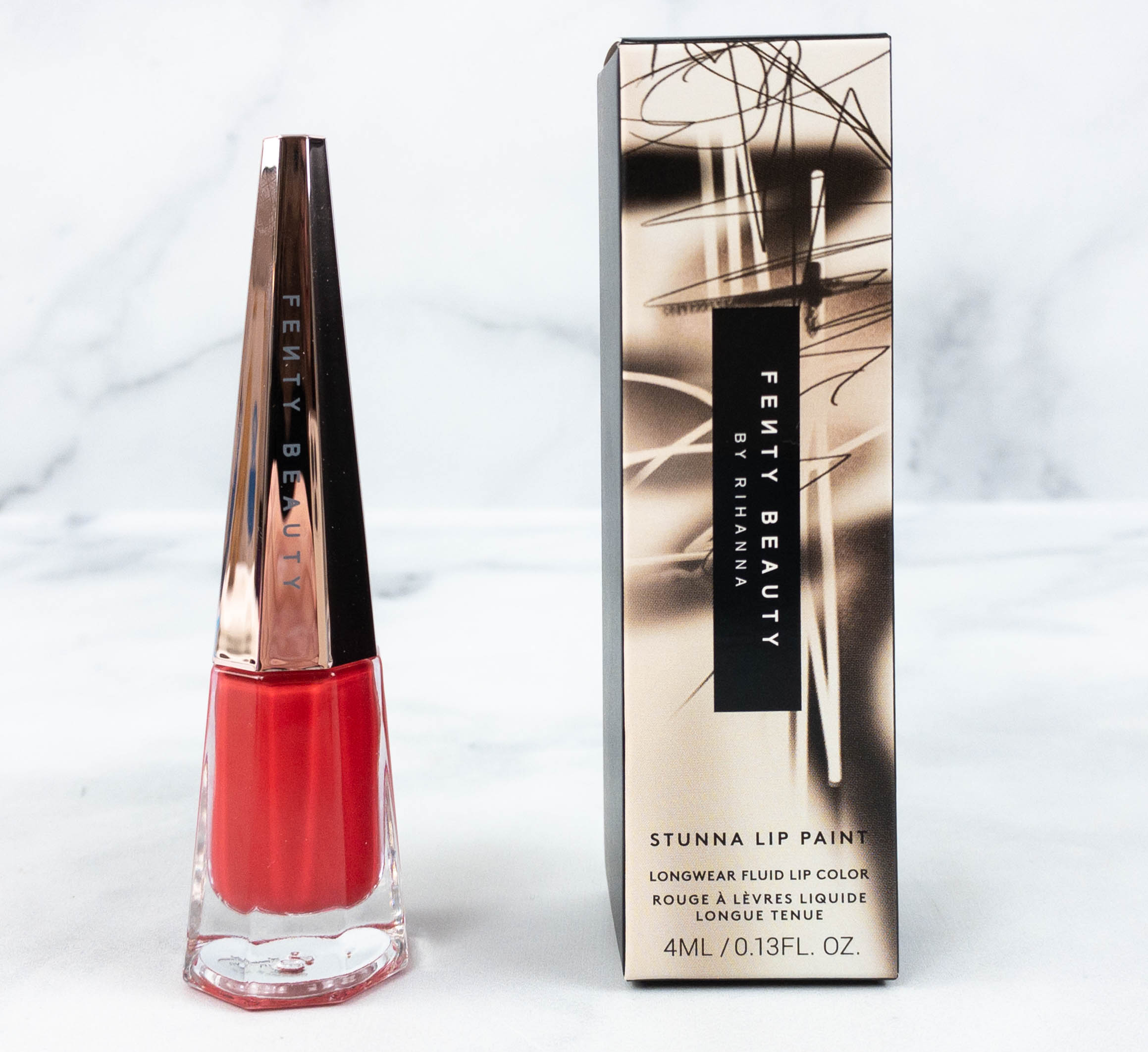 Fenty Beauty by Rihanna Stunna Lip Paint ($25) To complete my box, here's a lip paint in bright coral from Fenty! How could I not pick this?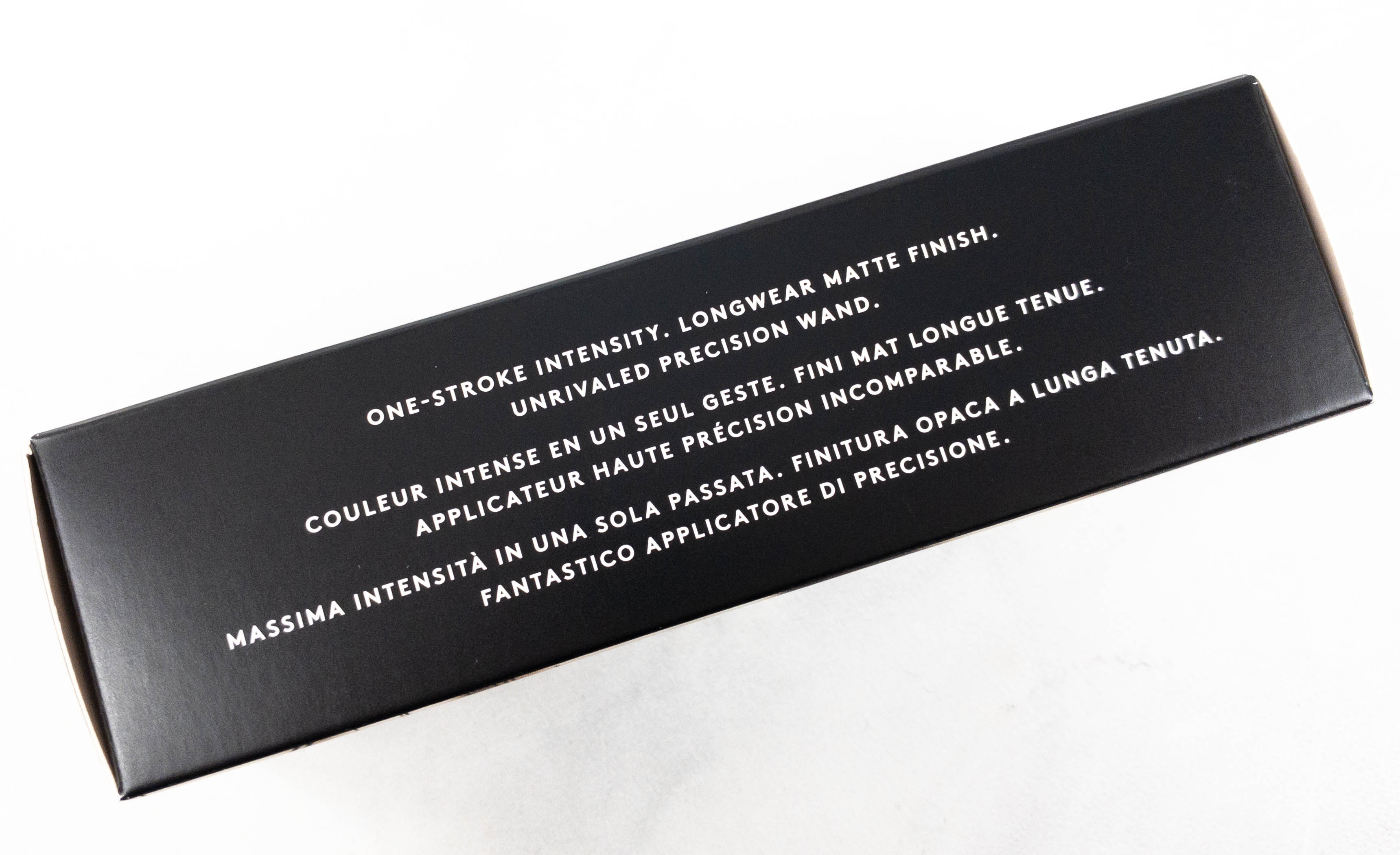 It's a lightweight liquid lipstick with a vibrant pigment and great color payoff! The soft matte finish looks really pretty on the lips, but what I like the most about it is that it doesn't bleed on the edges. It's super easy to maintain.
The small doe foot applicator makes it easy to apply. A couple of swipes really gives a full opacity. It was exciting to select this item and exciting to get it!
With over $108 worth of items, this month my bag had great value for money! The items are also high-quality, so I couldn't ask for more. The Ipsy Picks are both promising even though I'm still wondering about the Il Makiage. The mascara helps lengthen my lashes, while the cooling and brightening eye balm is my life saver on days when I don't have enough sleep (all days). As for my choice items, my favorite would have to be the lip paint! If you want to receive full-sized products, this subscription is a good alternative to the regular Ipsy Glambag, Of course, they also include a nice little drawstring bag every month that you can use as a makeup or traveling pouch!
What do you think of this month's Ipsy Glambag Plus?