Highlights 15 Minutes to School Success is a monthly subscription created to help kids get excited for school, in just 15 minutes a day! Each box includes 2 practice books that integrate skills practice with fun activities, bonus book to extend the fun and learning, and a quick start guide to provide information and support for parents. There are three box choices, depending on the child's current level: Preschool, Kindergarten, and First Grade. Each box costs $24.98 each + FREE shipping.
This is the review of the Preschool Box.
DEAL: Get your first box for just $4.95 + plus FREE shipping and handling + FREE 4-piece School Success Starter Kit (Program Guide, Wall-Sized Progress Poster, Sticker Rewards Sheet and Double-Sided Wipe-Clean Letter Practice Board)! No coupon code needed, just use this link to sign up!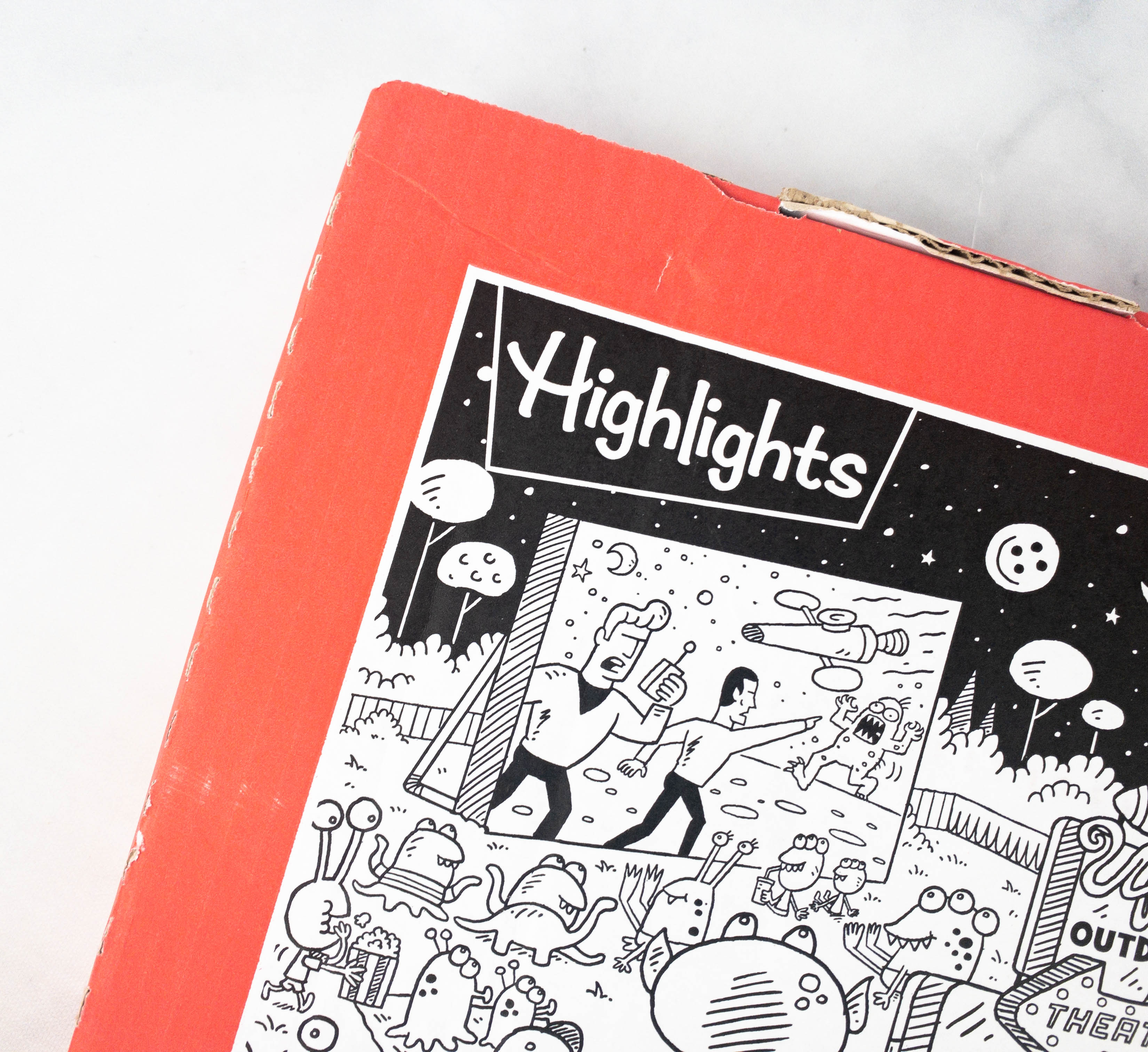 The box has a fun comic-themed design.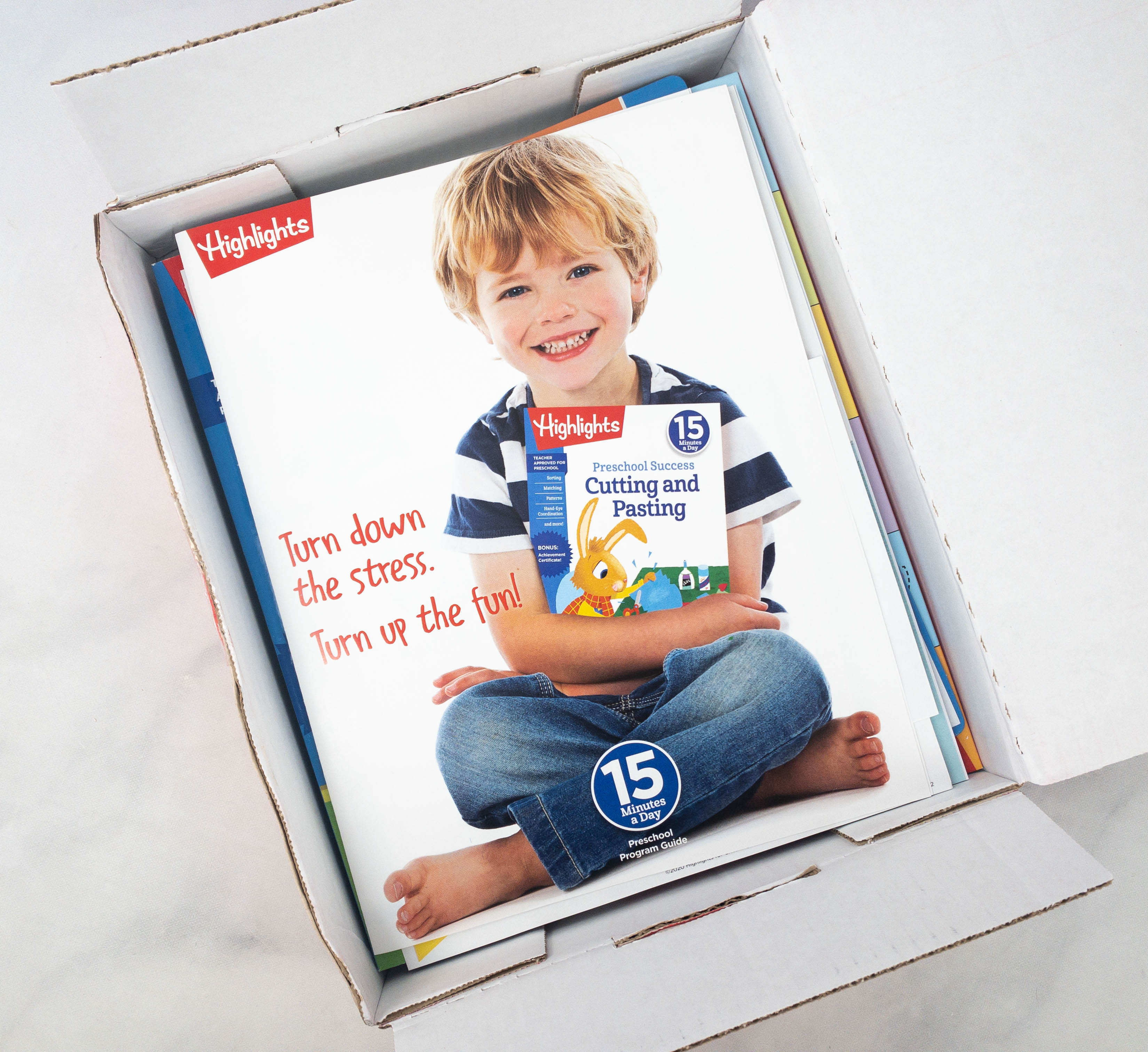 The educational materials were nicely stacked in the box.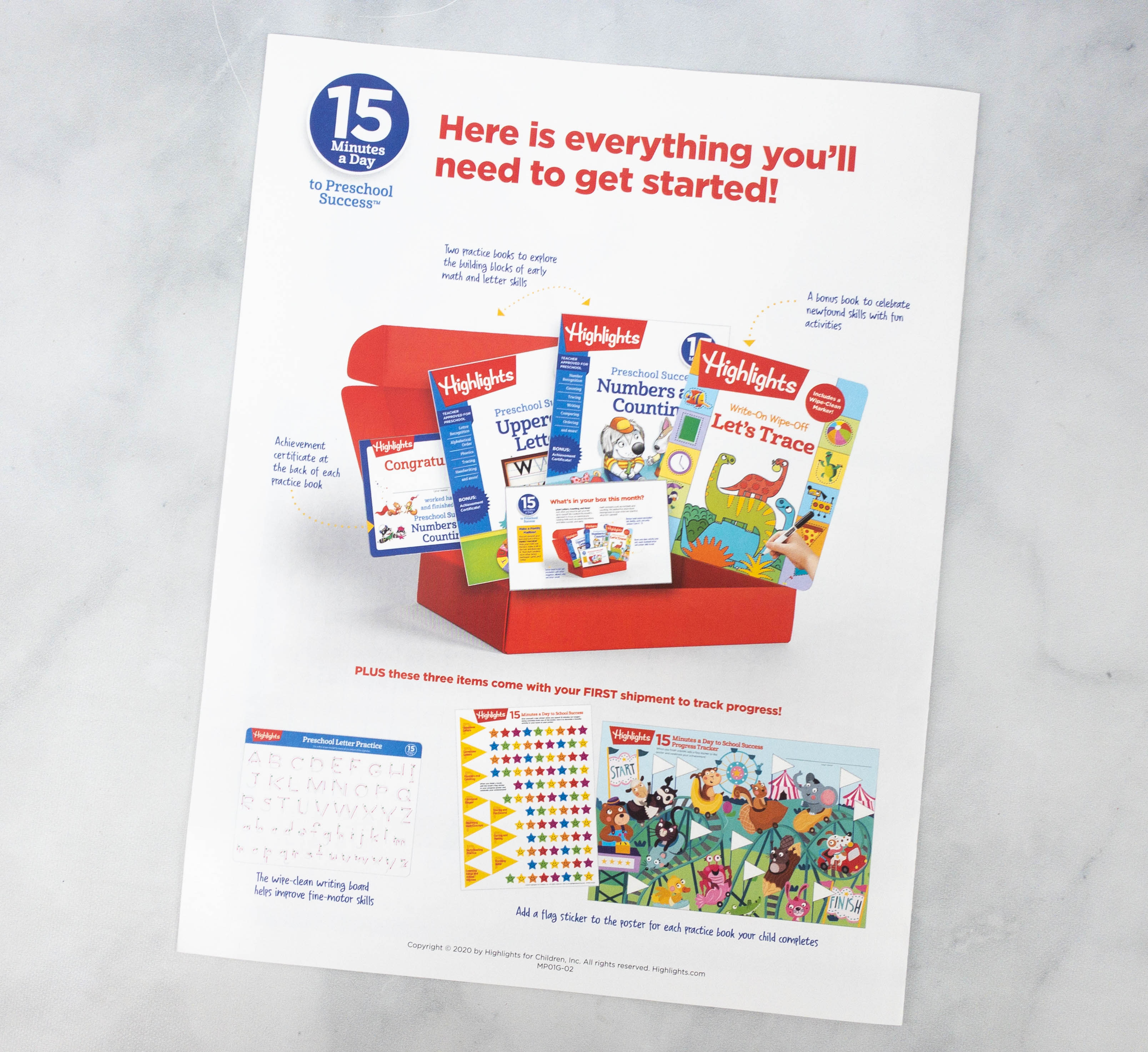 This sheet has everything you need to know about the subscription.
It discusses the things that can be accomplished with their 15 minute session program.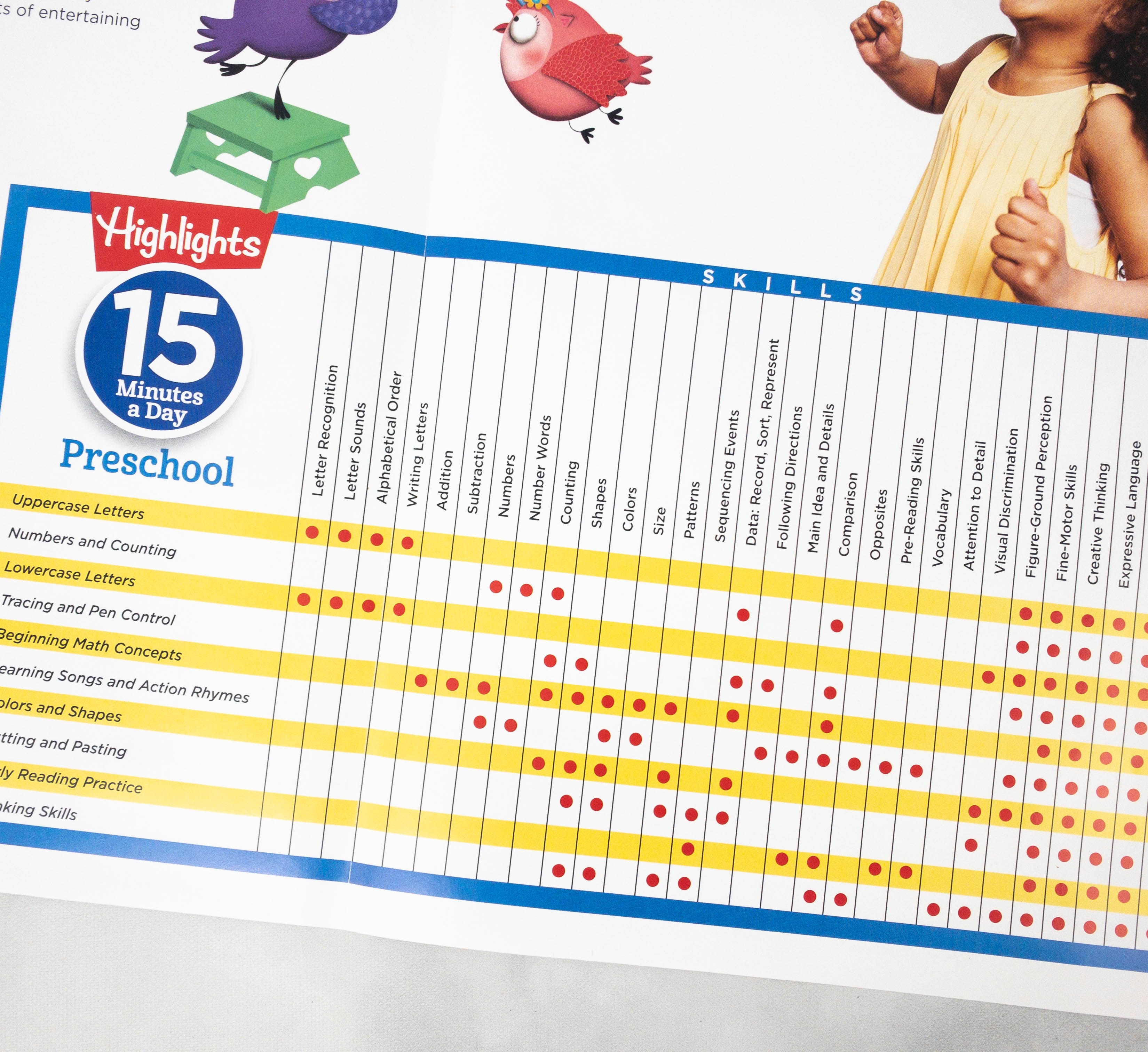 It also highlighted the categories that every preschool can learn from every 15-minute session.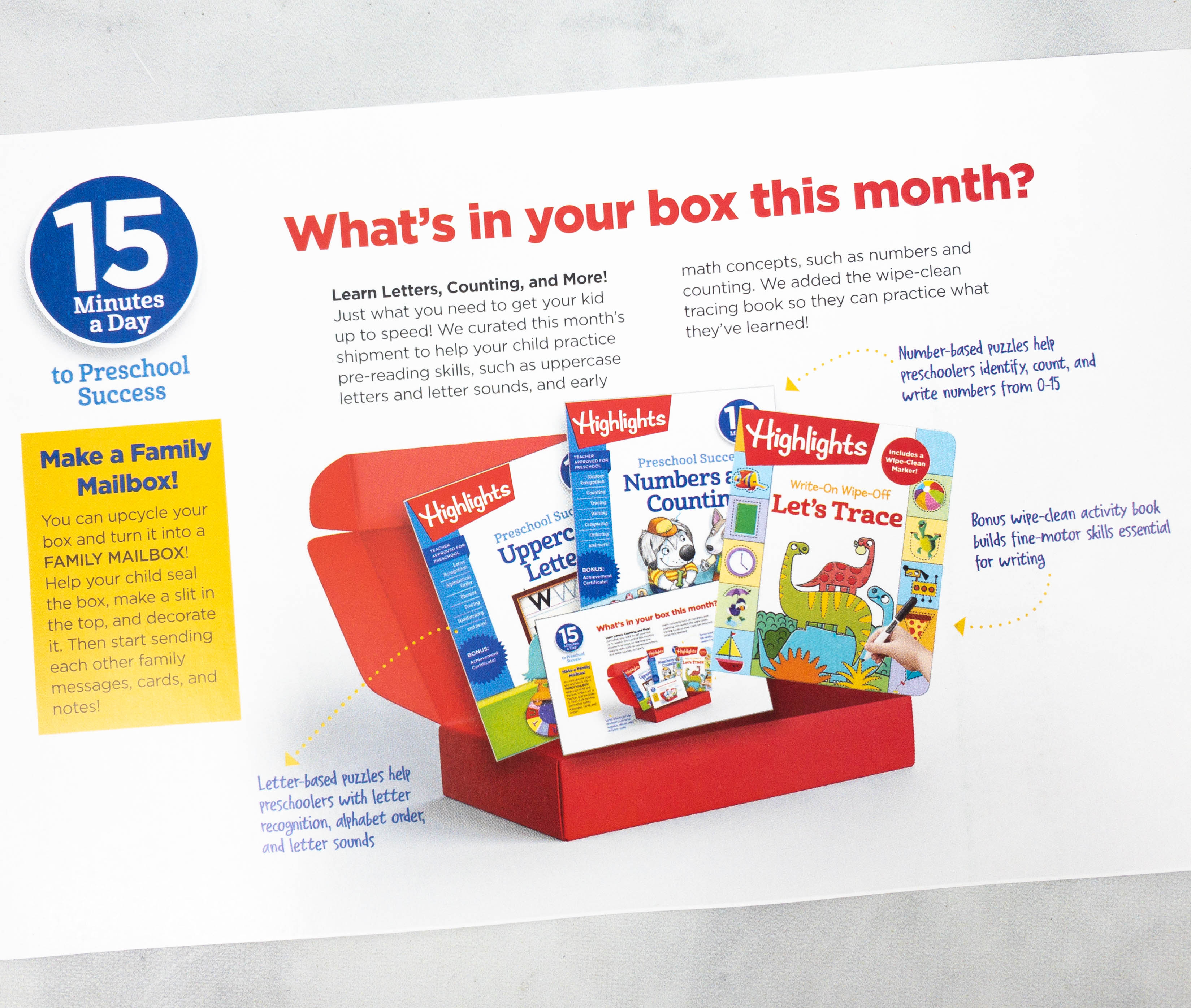 Here's a list of all the learning materials for this month!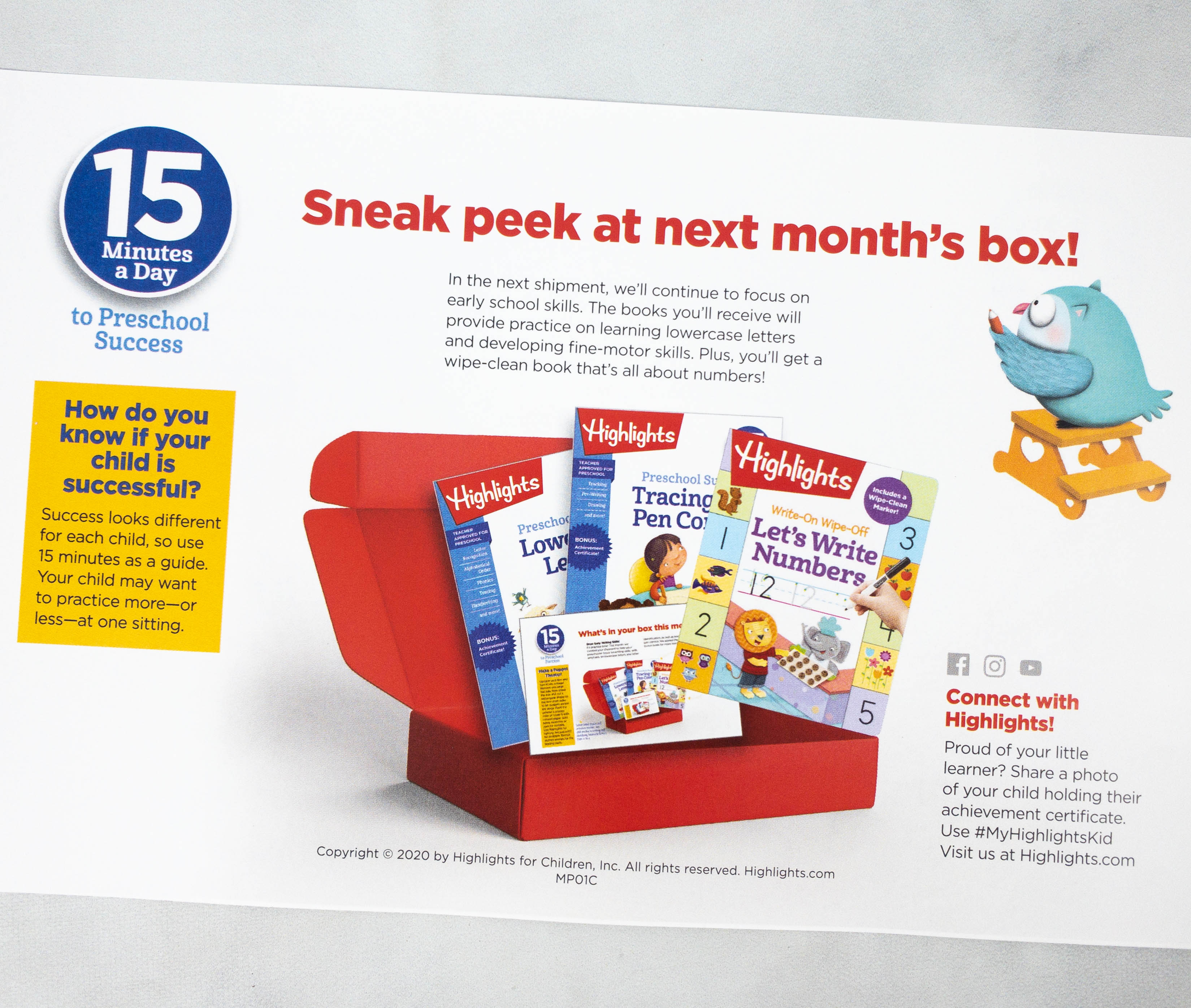 At the back is a sneak peek for next month's box!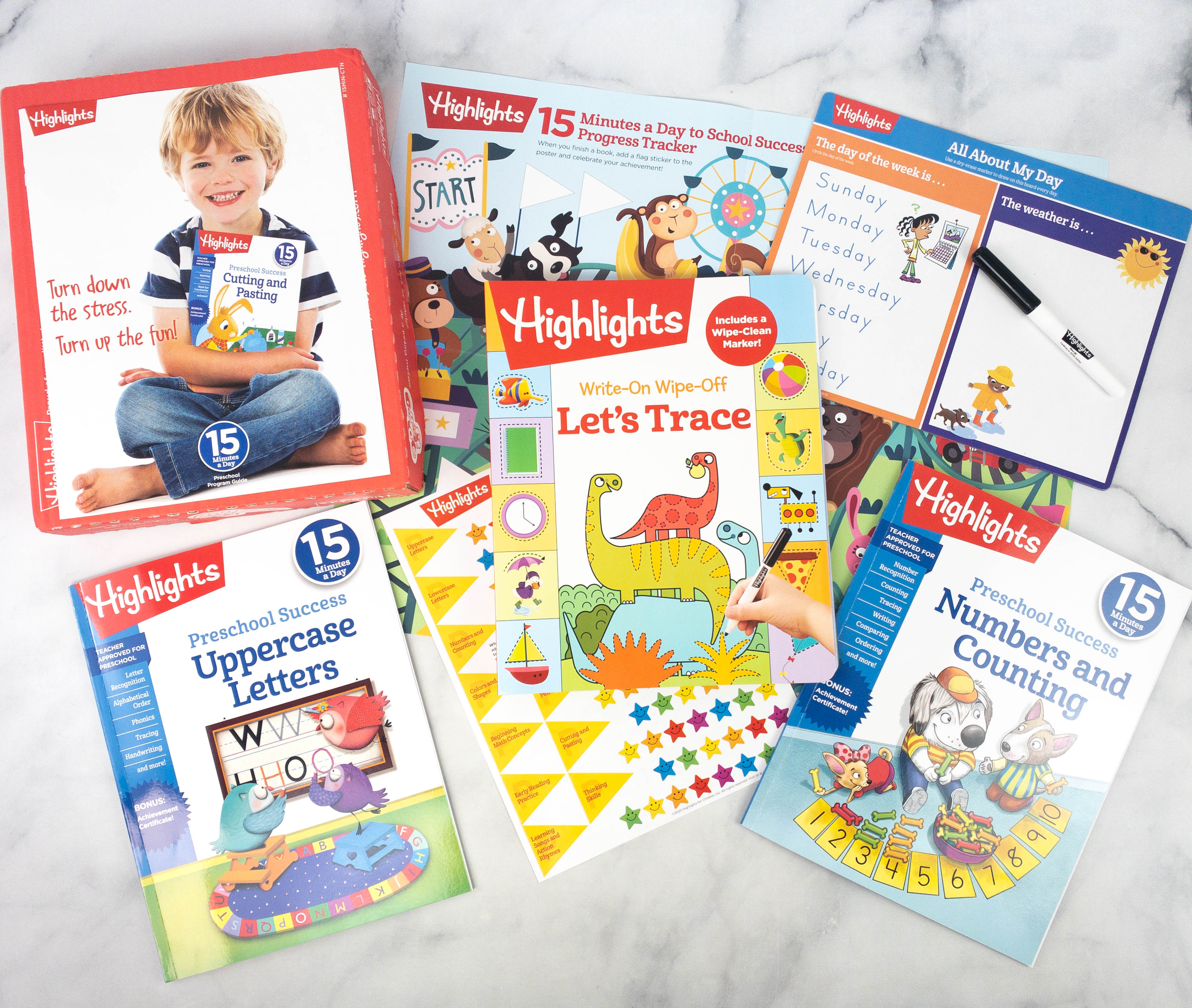 Everything in my first Preschool box!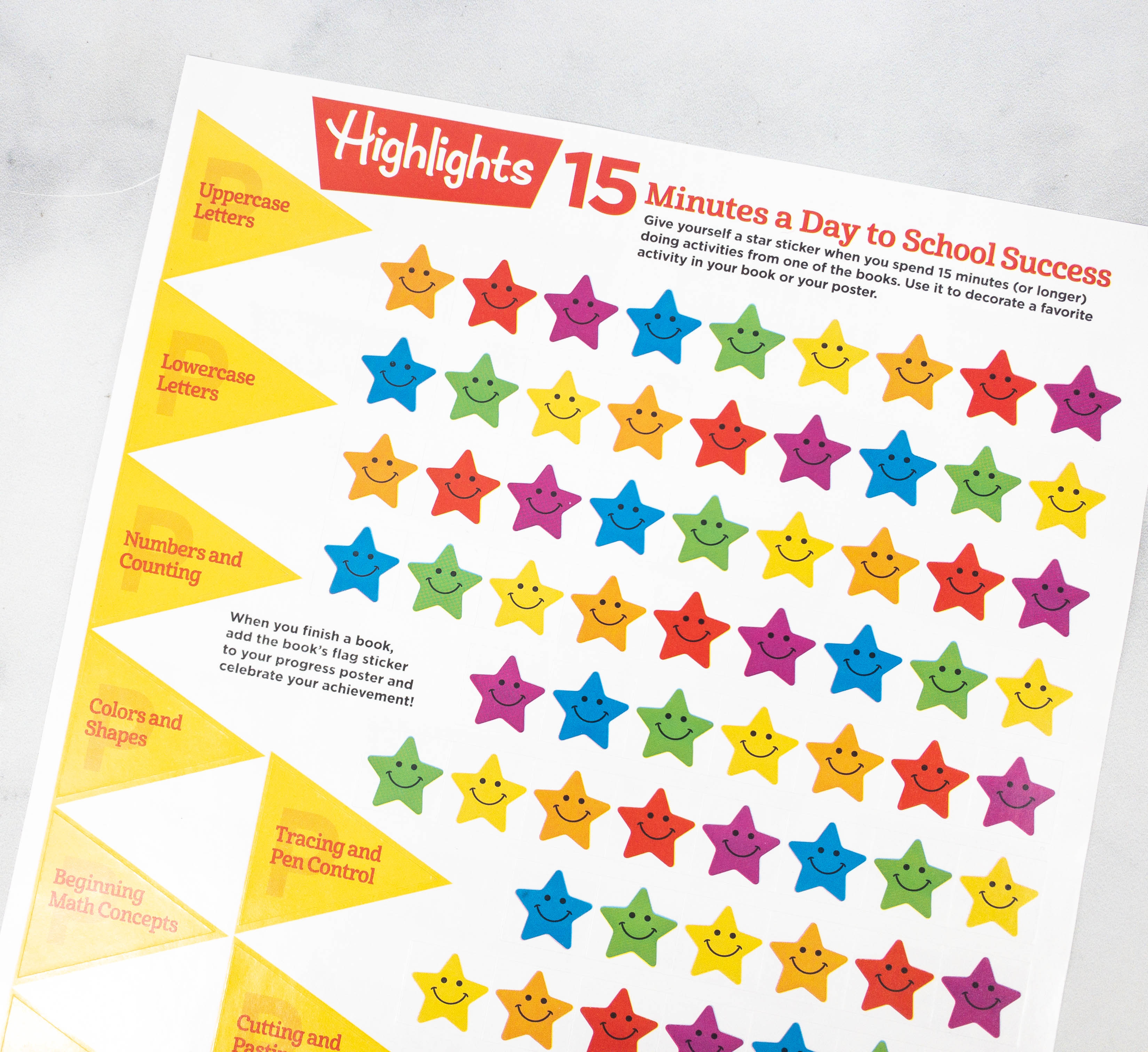 There are two kinds of stickers in the sheet: the flags and the stars. The stars are for rewarding the kids when they spend 15 minutes or longer doing one of the activities from the books. Meanwhile, the flags go to the progress tracker!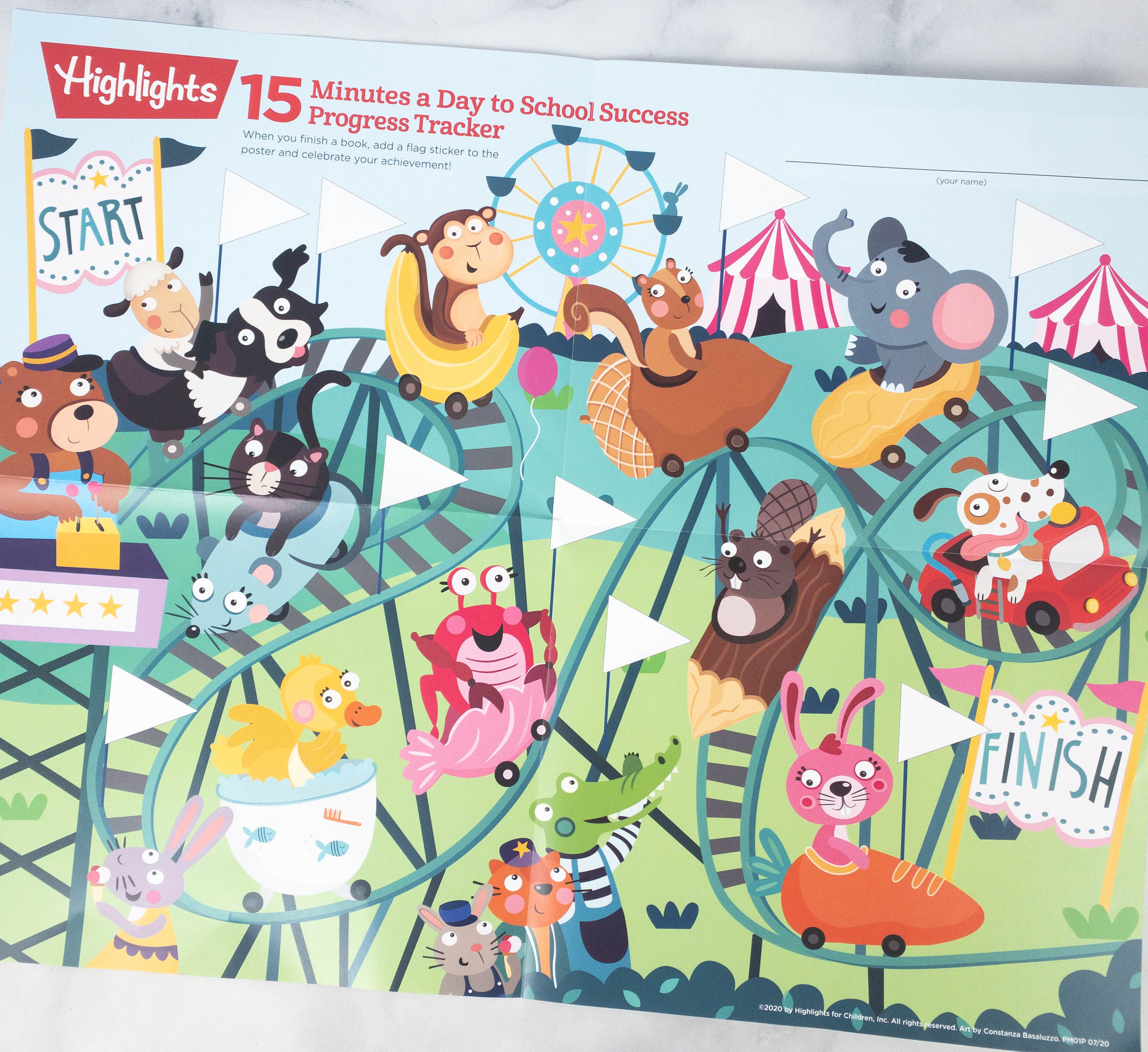 Here's the cute roller coaster-themed progress tracker, where kids can put their flag stickers whenever they finish a book from the box.
The first item is a board where kids can draw about their daily experiences or even about the weather!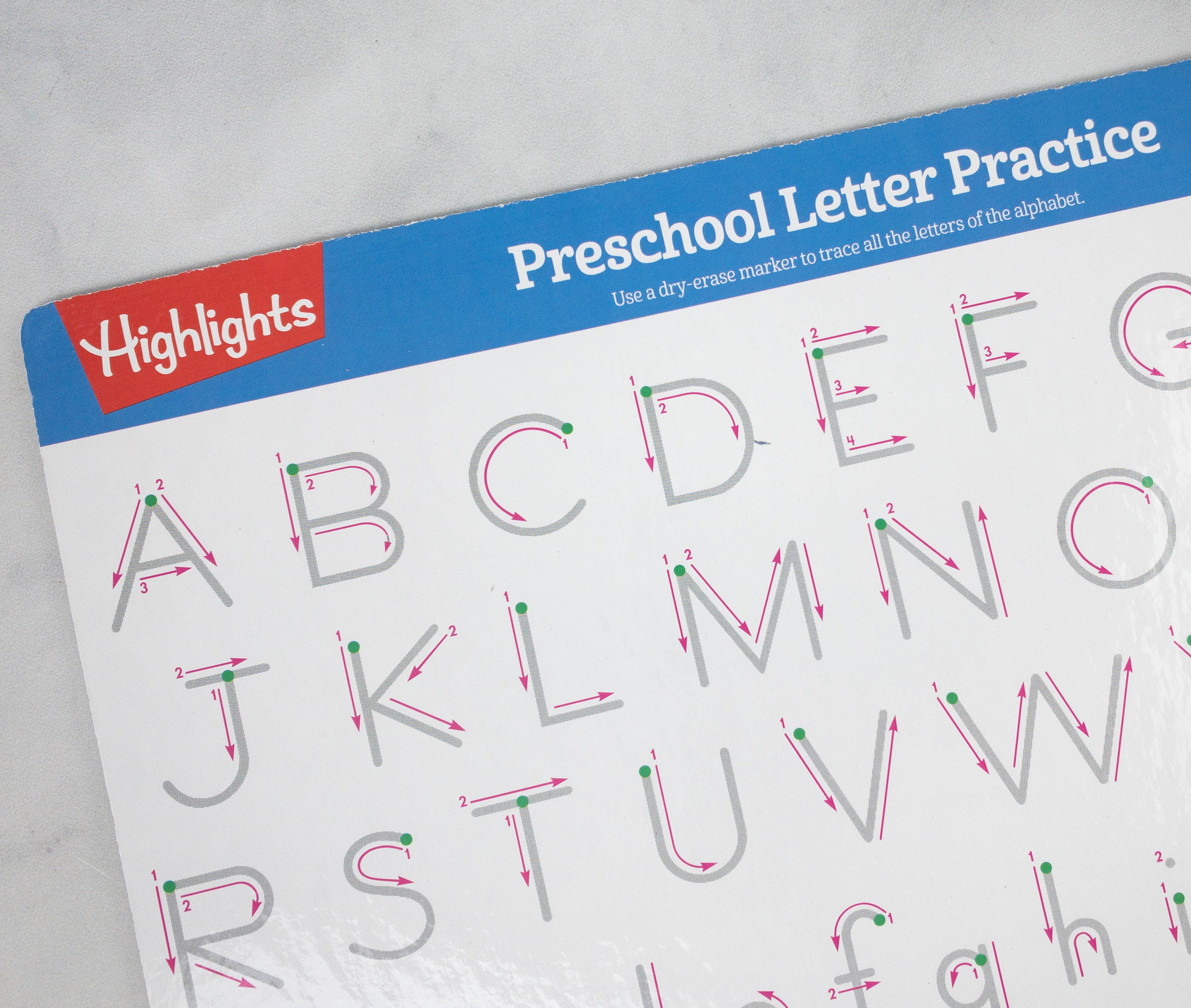 Another board will help them practice writing letters. It's recommended to use dry-erase marker when tracing.
Here's my son giving the tracing board a try! He found it easy to follow because of the arrows on each letter, indicating the strokes. We subscribed to this box with a preschool level for my 3 year old, but this 6 year old was really excited about the goodies – we couldn't say no!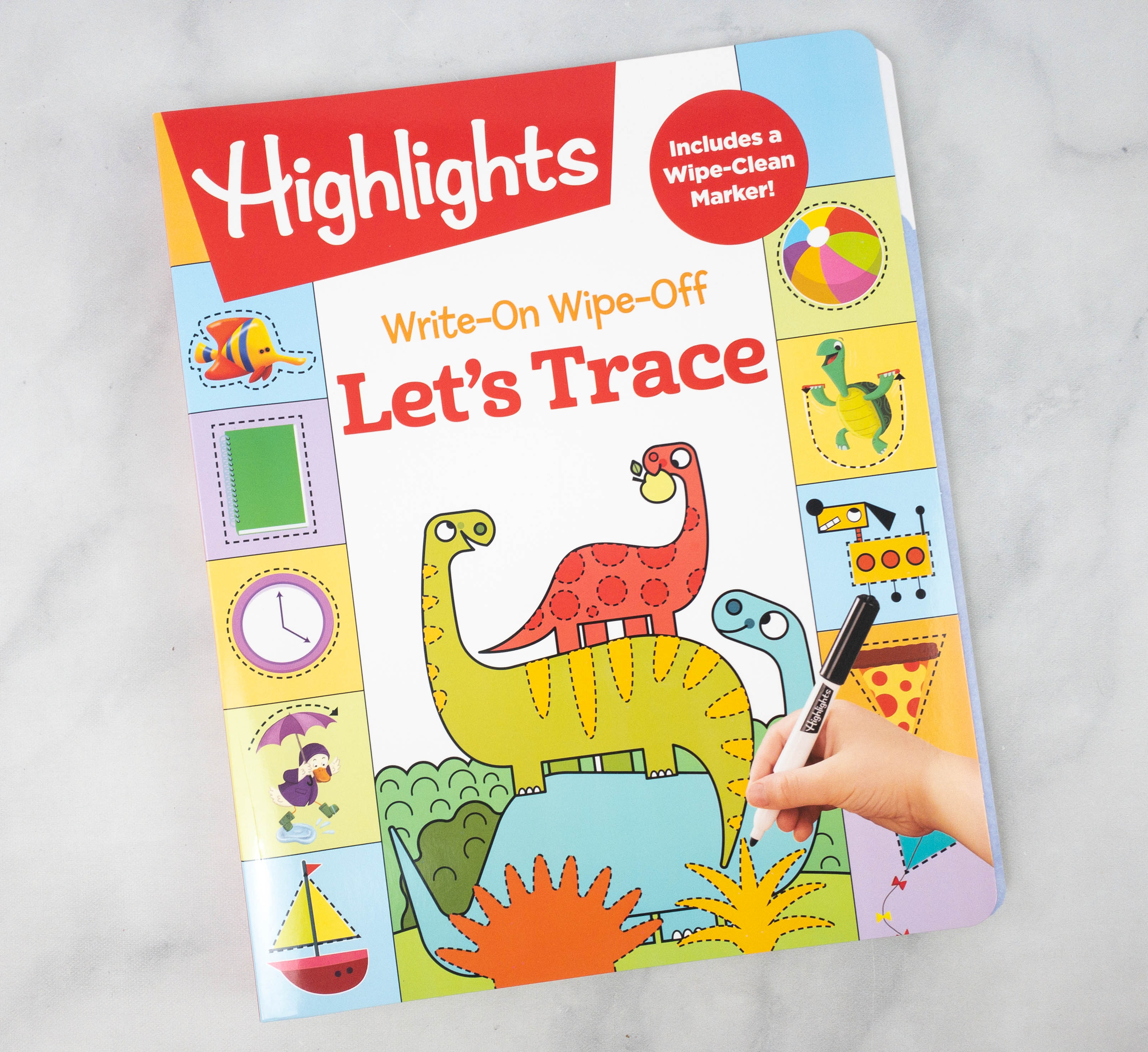 Write-On Wipe-Off Let's Trace ($7.64)
Tracing is an important step toward handwriting readiness, and Highlights infuses Fun with a Purpose™ into this activity. With vibrant art and fun prompts, Write-On Wipe-Off Let's Trace progresses from simple and short lines to more complex, age-appropriate mazes and other puzzles. A variety of activities, including dot-to-dots and finish-the-drawing features, will engage and entertain kids and build their confidence as they practice skills essential to getting ready to write. Kids love that they can draw all over these books, and parents love that the write-on wipe-off format lets kids trace over and over again and again.
The first book is all about tracing. The back cover has a guide to help the parents use the book with their kids. This book also comes with a wipe-clean marker!
Inside are tracing activities for children! The pages have vibrant and fun illustrations that help keep kids stay engaged.
My youngest daughter did the simple activities like tracing lines to make flower stems. She enjoyed it!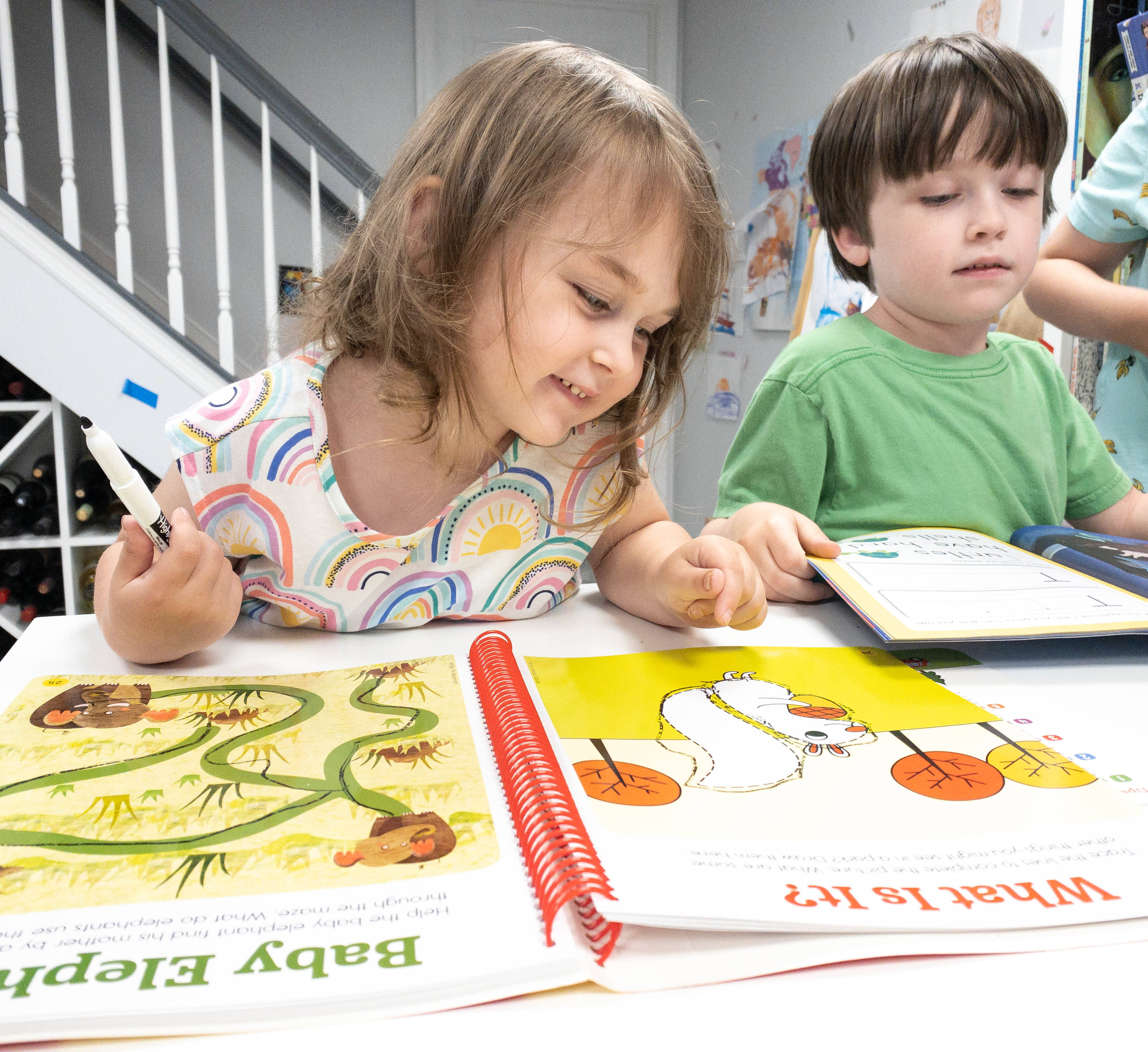 Another page she liked is about tracing animals!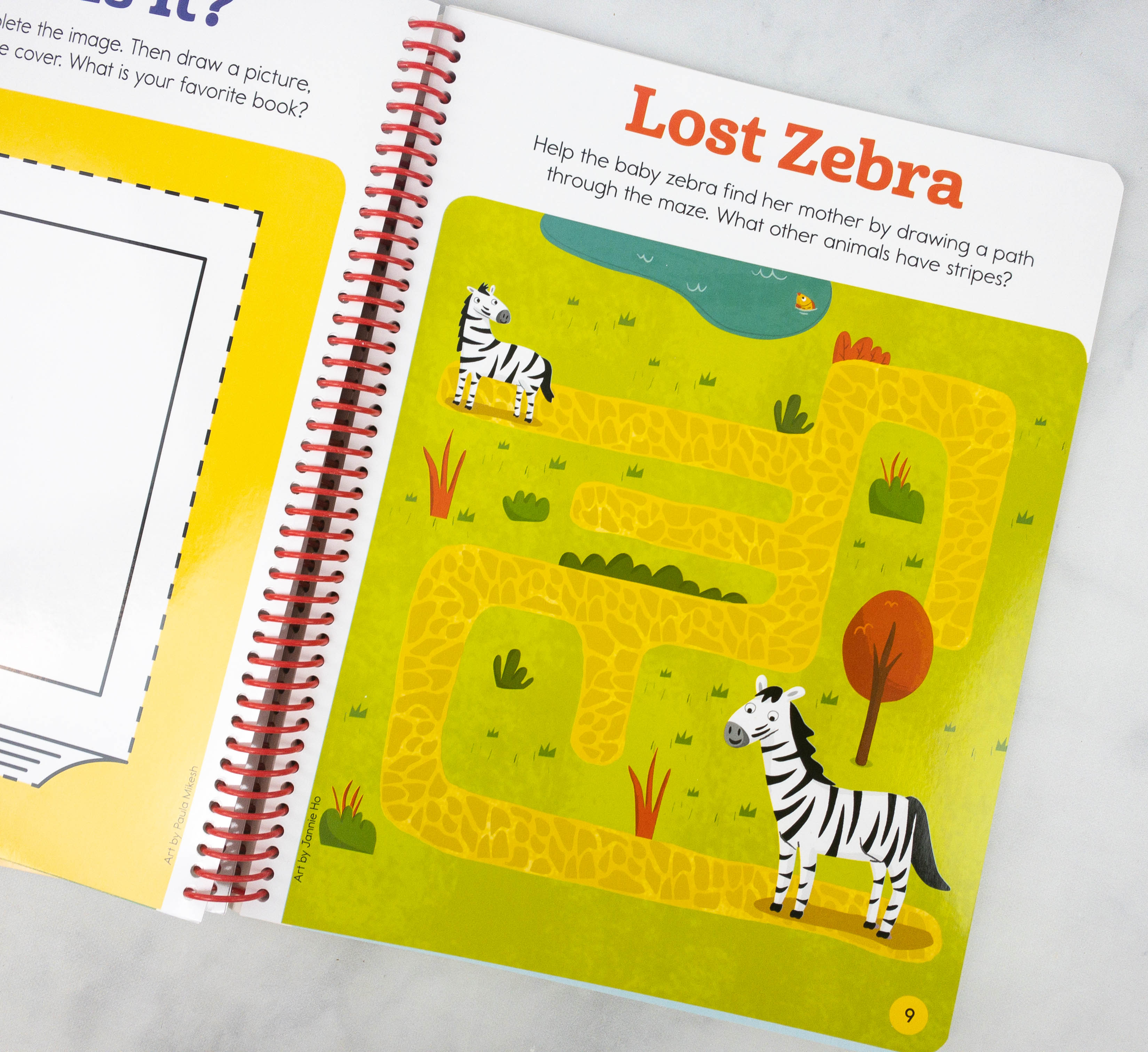 The activities are not limited to tracing lines. There's even a page that features a maze!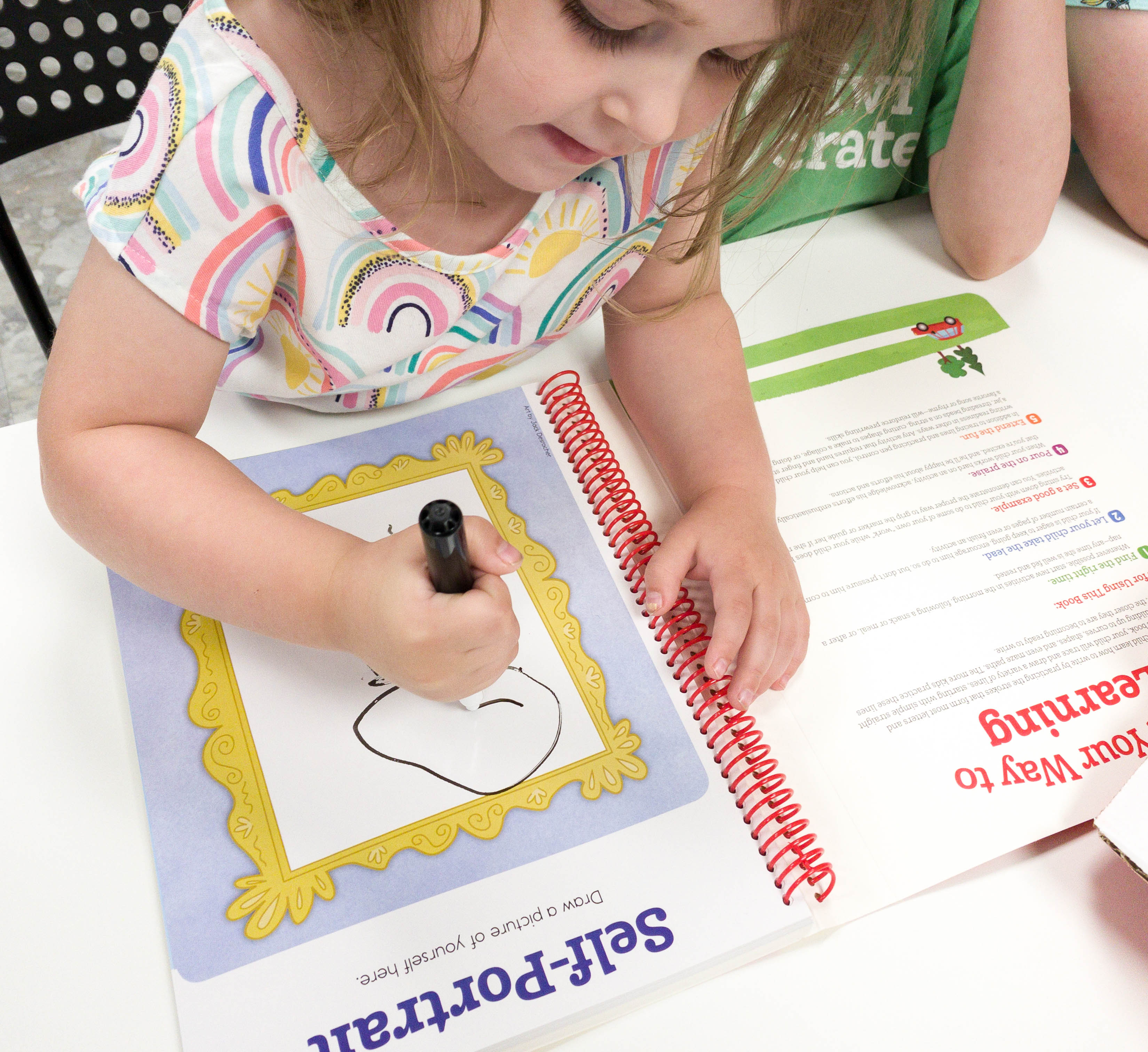 Another fun activity that my daughter enjoyed is making a self-portrait.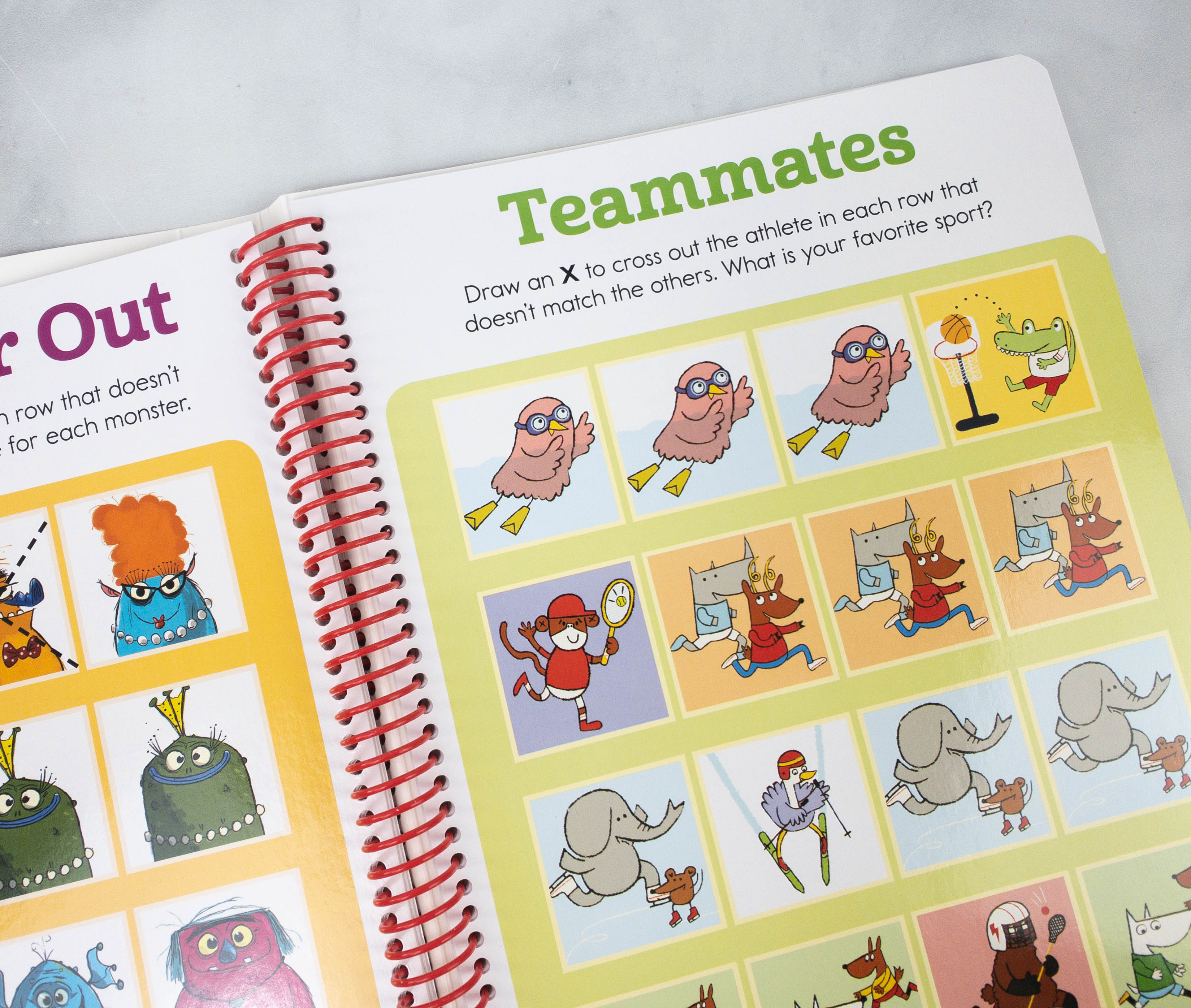 This page has a matching activity! Kids just need to put a cross on the image that doesn't belong to the row.
For the next activity, kids need to find hidden pictures in an illustration. This helps enhance a kid's observation and analyzing capabilities.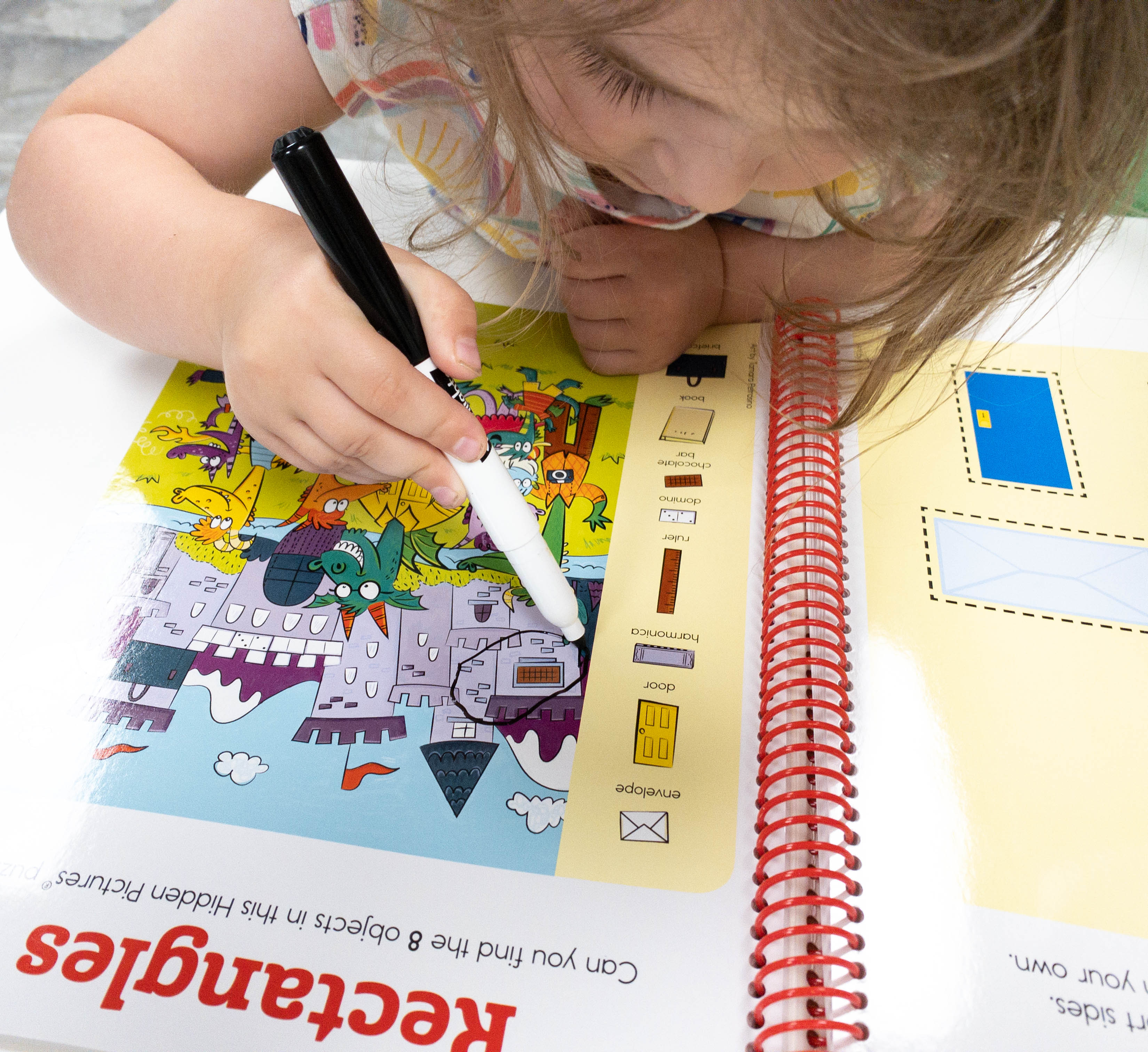 My daughter gave it a try and she easily found the objects!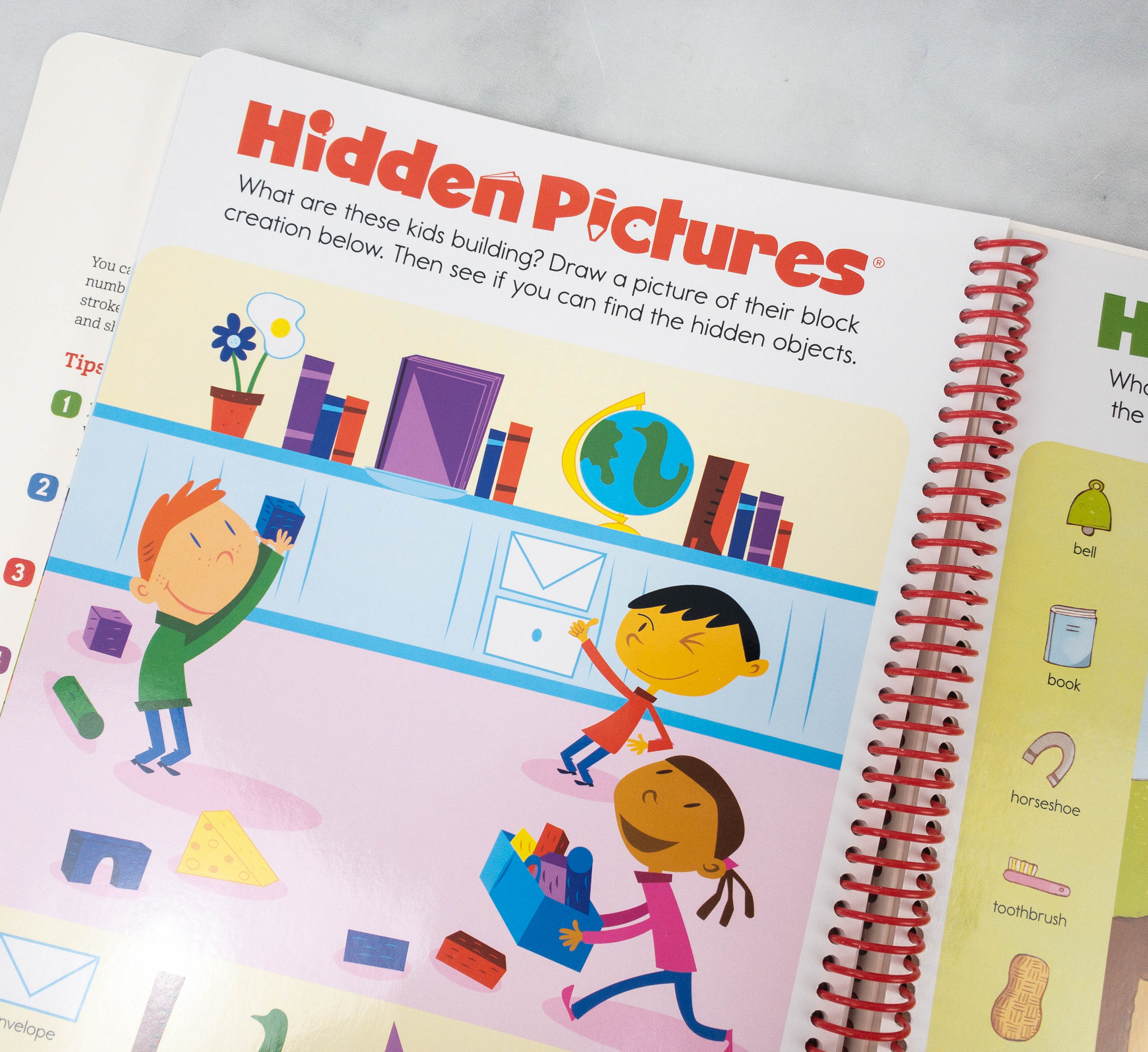 Some pages also encourage the kids to use their imagination and creativity!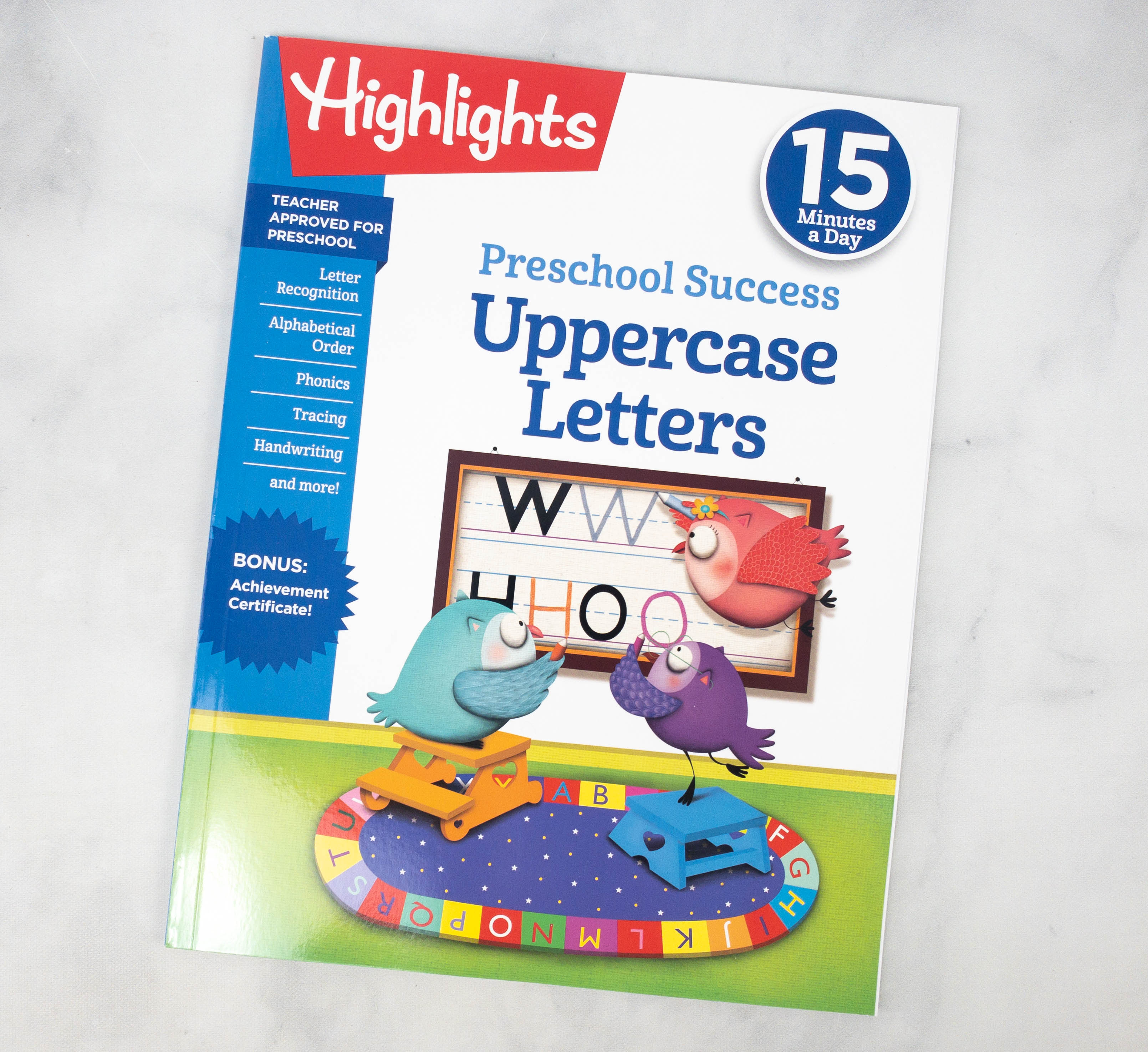 Uppercase Letters. This activity book provides a fun way of learning how to write uppercase letters. It also includes other lessons like letter recognition, alphabetical order, phonics, tracing, handwriting, and more!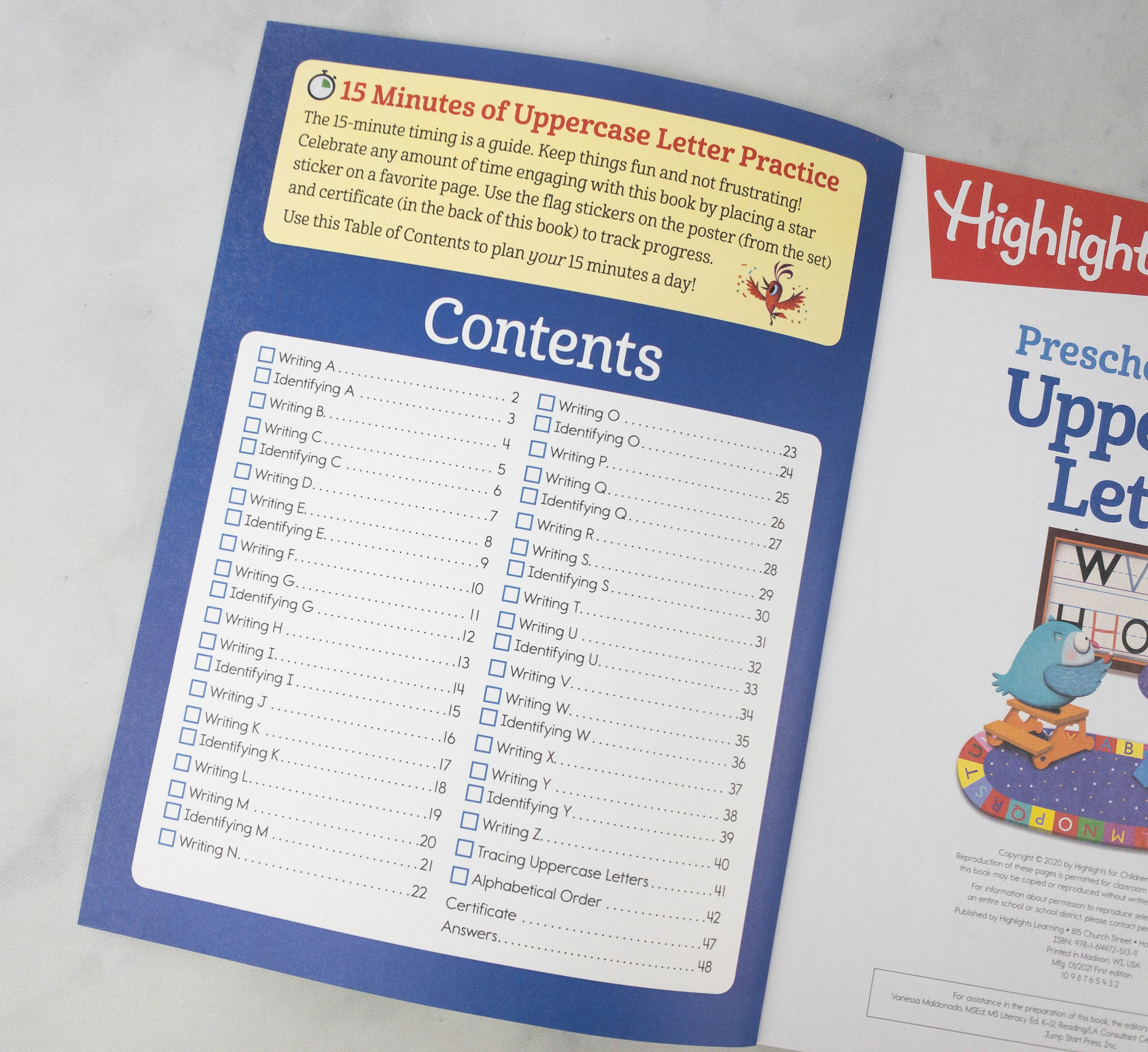 Opening the book reveals a table of contents where you can easily see the activities per page.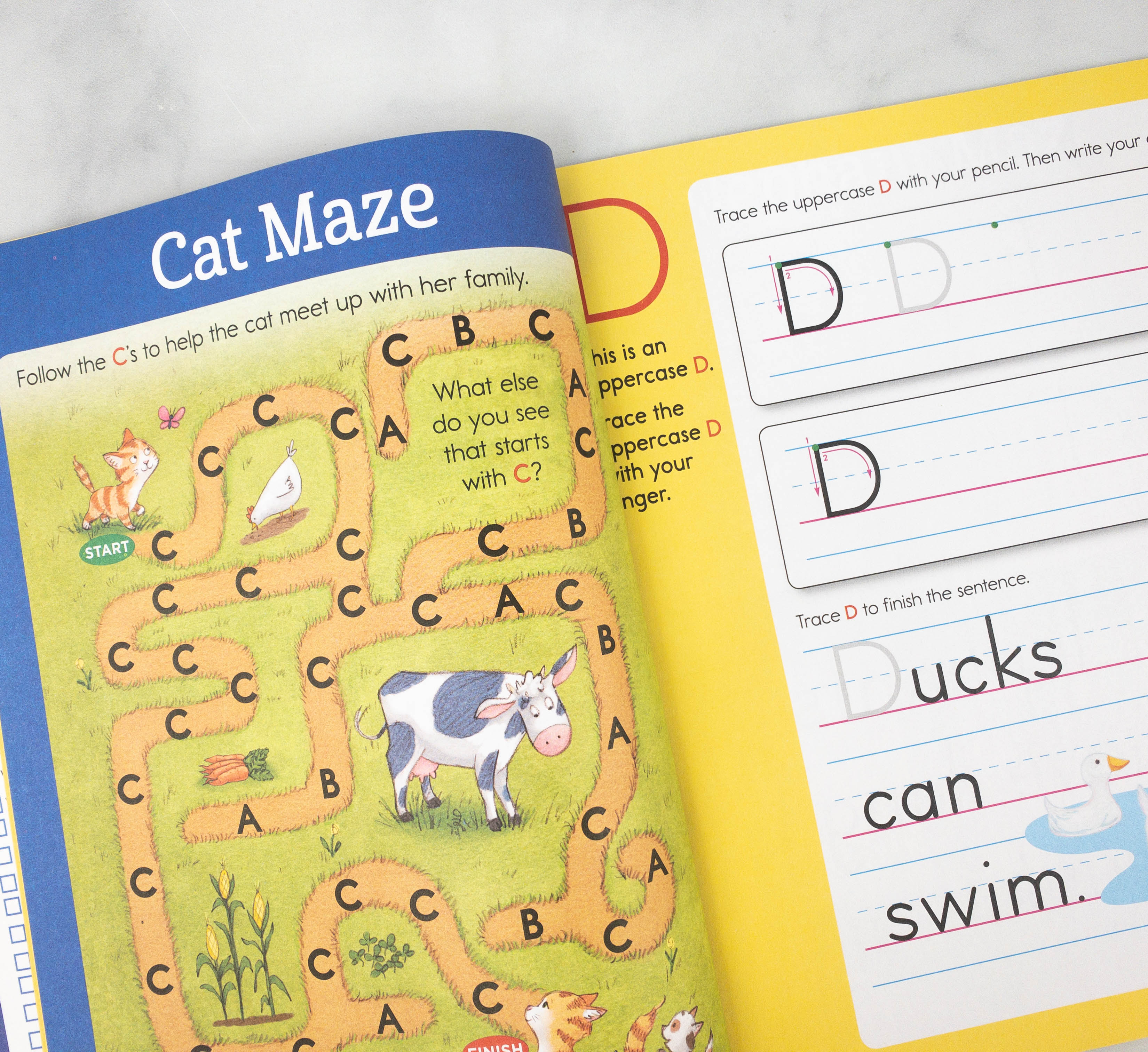 They incorporated writing practice with fun games such as mazes and puzzles!
There are also sample sentences, but kids only need to write the first letter in order to familiarize them with the uppercase letters.
This is such a fun way of learning about letters and my son thinks so too.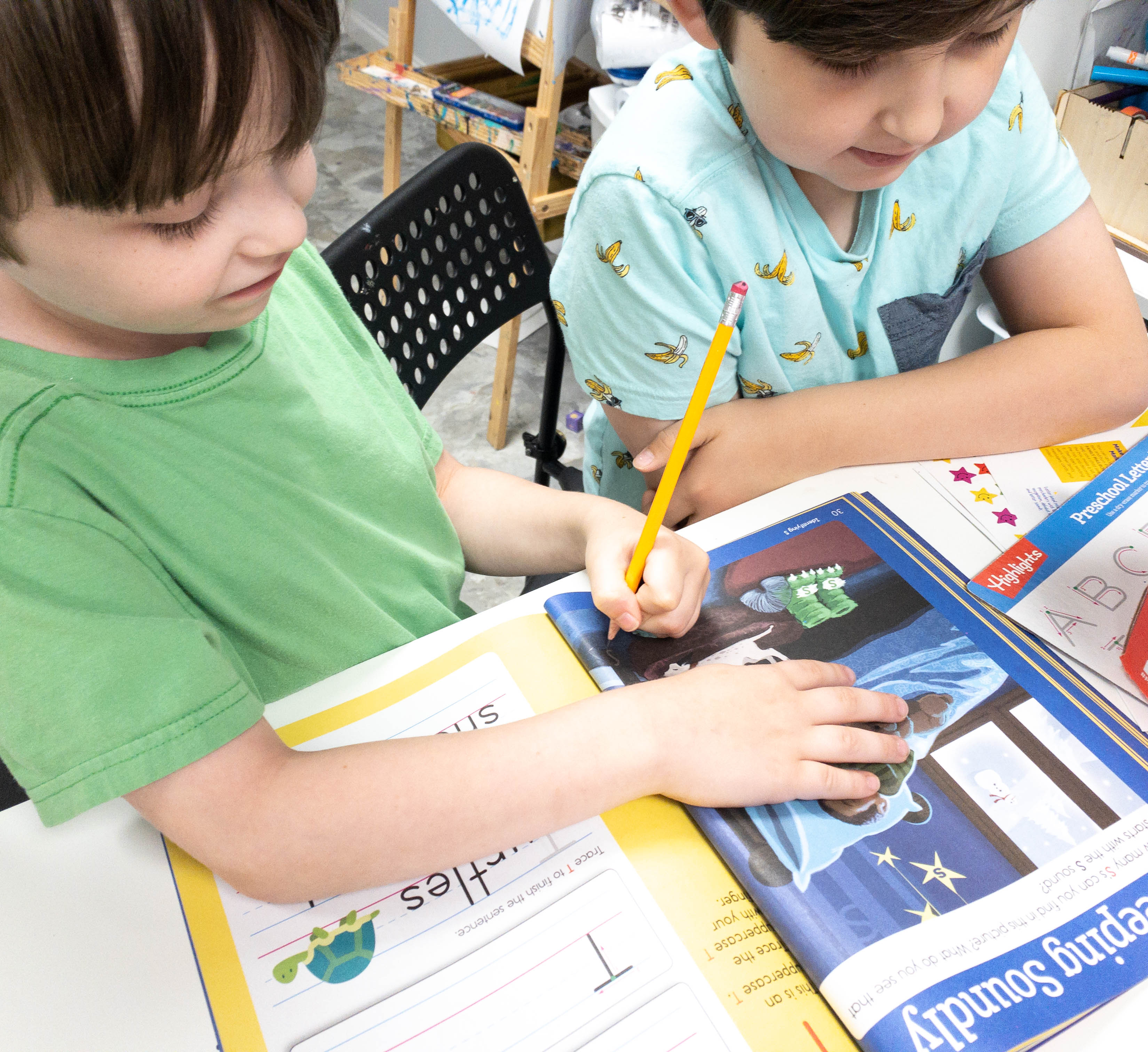 His older brother guided him in the activities as well!
Numbers and Counting ($1.95)
A unique blend of age-appropriate tracing and writing activities are combined with puzzles to make learning fun while helping preschoolers build number recognition and develop lifelong learning confidence.

Identifying numbers and counting are important steps toward math readiness, and Highlights(TM) infuses Fun with a Purpose® into this essential learning activity. With vibrant art and engaging prompts, Numbers exposes preschoolers to numbers through counting, tracing, and comparing practice and the fun of puzzles and other activities, including That's Silly!(TM) and Hidden Pictures® puzzles.
This book is all about numbers. Just like the other books, it has a table of contents that makes it easy for parents to monitor and track the lessons for each day.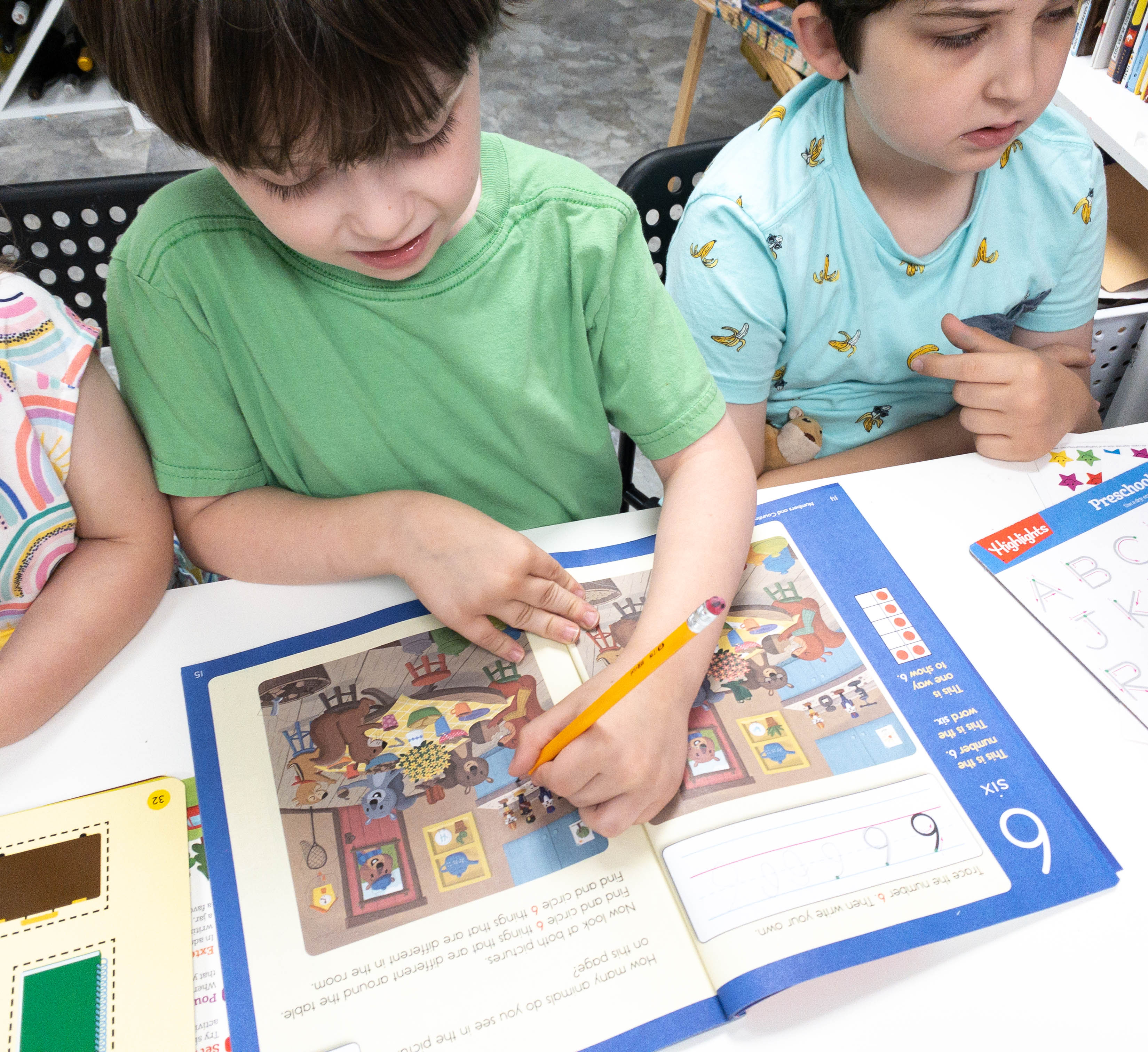 The colorful illustrations help keep kids engaged with the activities.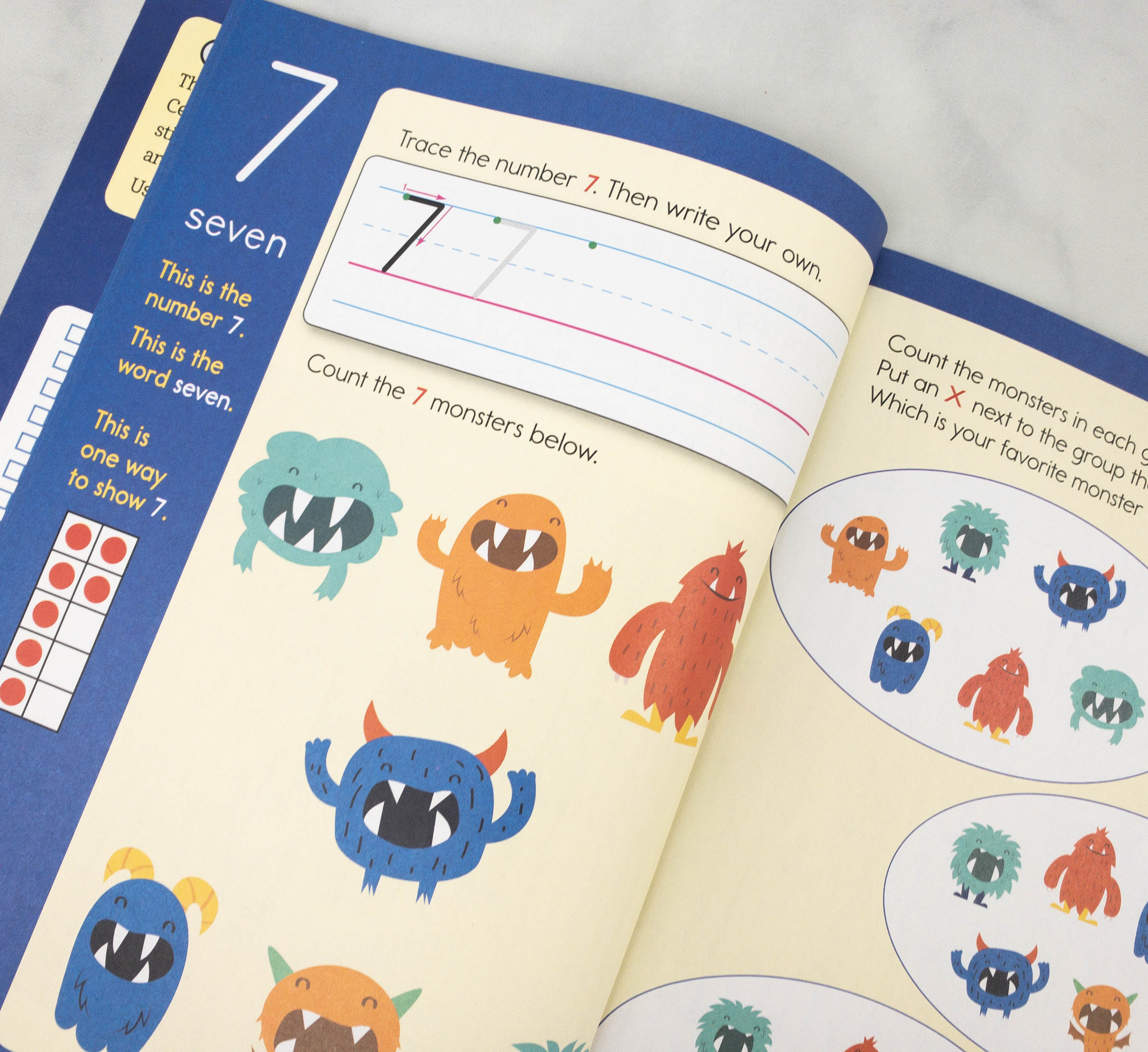 Cute and colorful illustrations are also used to make learning numbers more fun!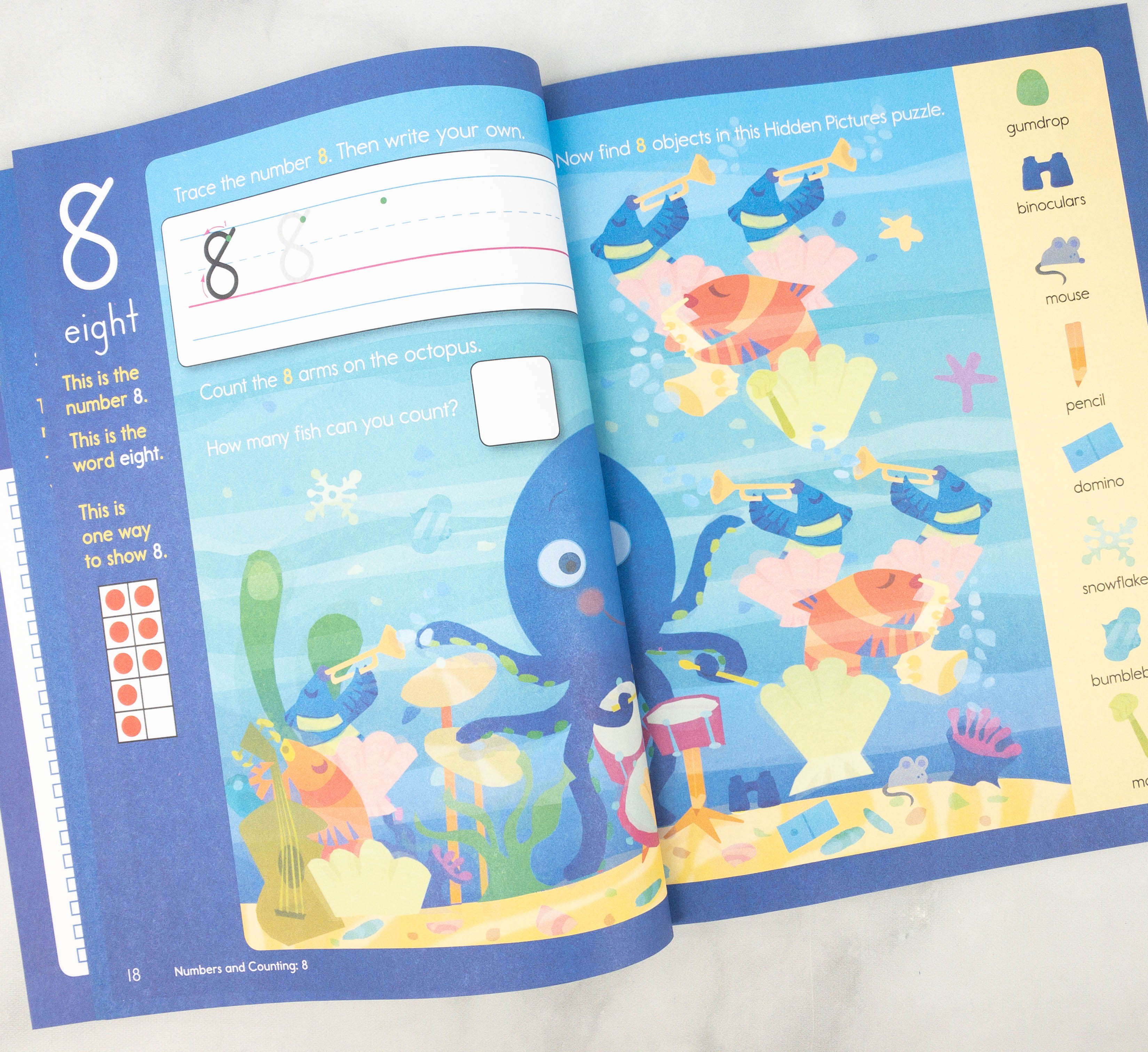 There are also pages where children can practice writing numbers.
Another fun page in the book is this counting activity that involves ants!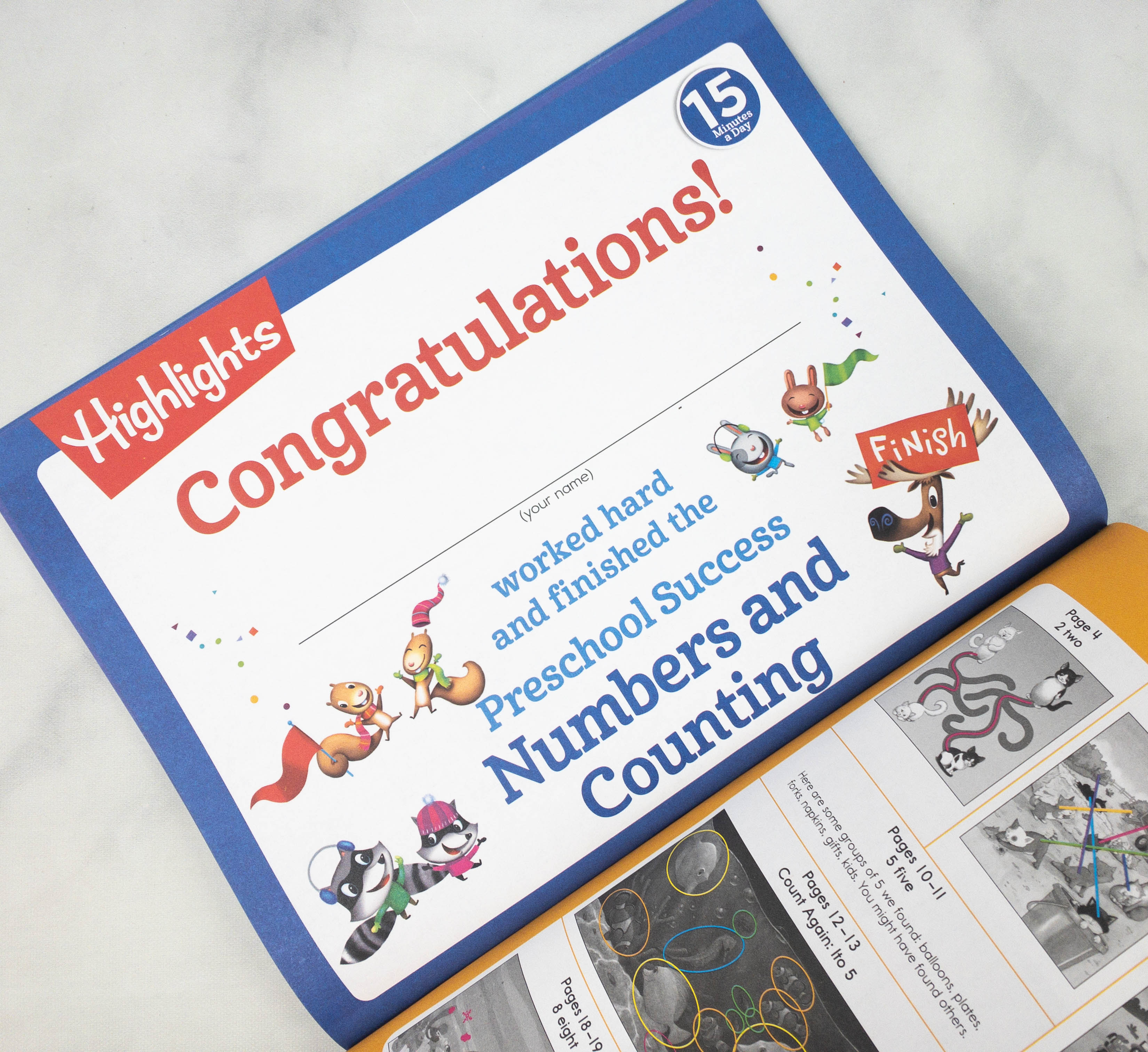 Lastly, here's a certificate for the kids! It can be customized with their name, and awarded upon completion of all the learning materials.
This educational subscription is perfect for young learners! It prepares them for school, with fun and engaging materials where they can practice basic writing and reading skills and more. It's great that they made separate subscriptions for different age groups, so kids will only receive what's appropriate with their current learning level. The books are colorful and filled with adorable illustrations. All the on-page activities are kid-friendly as well. They even have guides for parents, so learning at home can go as smooth as possible. Also, everything is made from high quality materials so all the learning materials can be used over and over again! As a parent, I'm really satisfied with what they provide. Doing the activities for 15 minutes a day may seem like a small thing but when done consistently, it can help kids retain and improve skills!
What do you think of Highlights 15 minutes to school success?