Fit Snack is a monthly subscription box delivering healthy nutritious snacks directly to your door. Each snack they send should at least fit 2 of these criteria: GMO-free, high in protein, low in sugar, gluten-free, organic, raw, vegan, and all-natural. They also add in bonus items such as energy boosters, nutritional supplements, or refreshing beverages. It's $29.90 per box on a month to month plan, $28.90 per box on a 3-month plan, $27.90 per box on a 6-month plan, and $26.90 per month on a 12-month plan. If you sign up for a 6 month or 1-year plan, you will also receive exclusive fitness inspired bonus items!
Our readers voted FitSnack as one of their favorite snack subscription boxes for 2021!
DEAL: Save $3 on your first box! No coupon code needed, just visit and subscribe.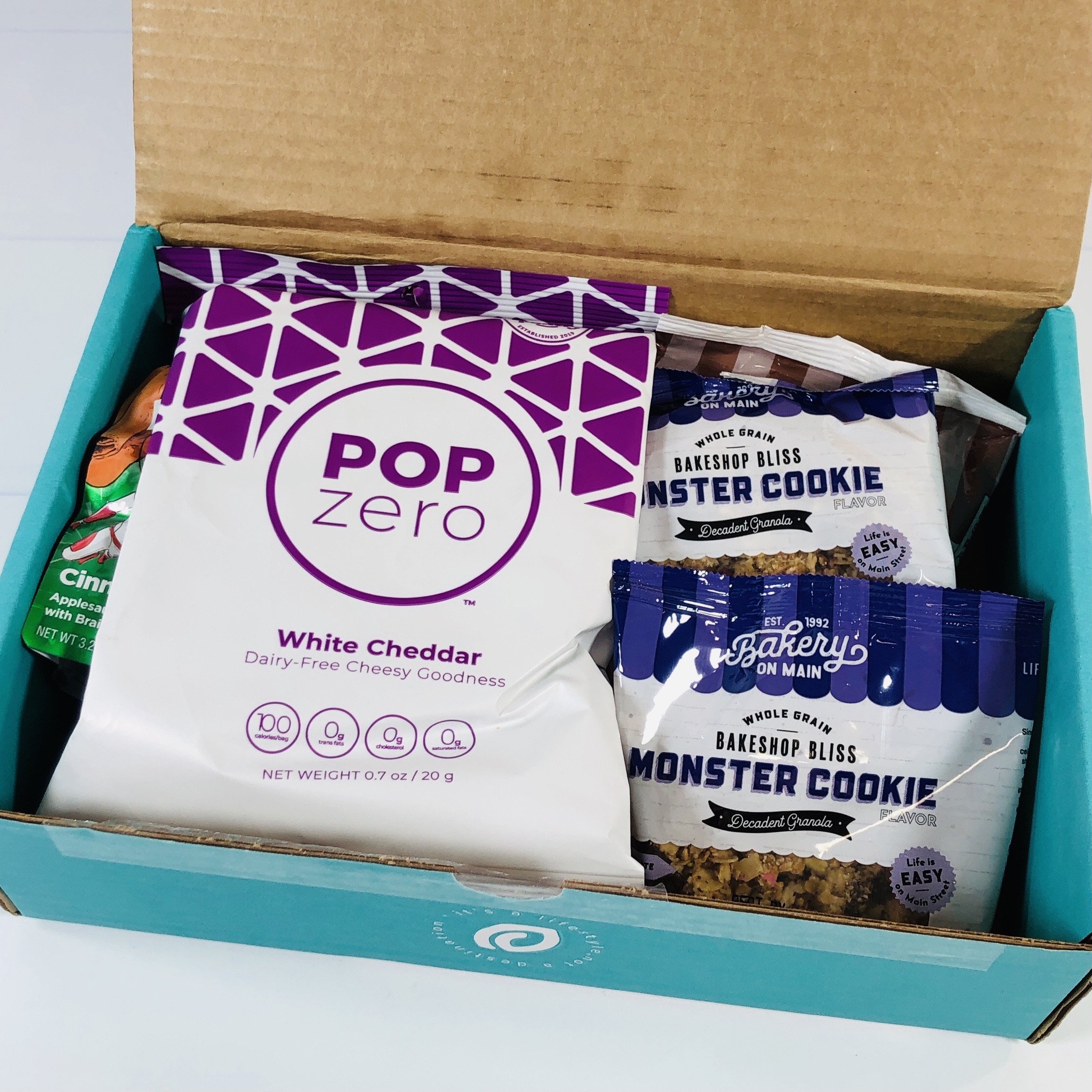 As usual, the box is full to the brim!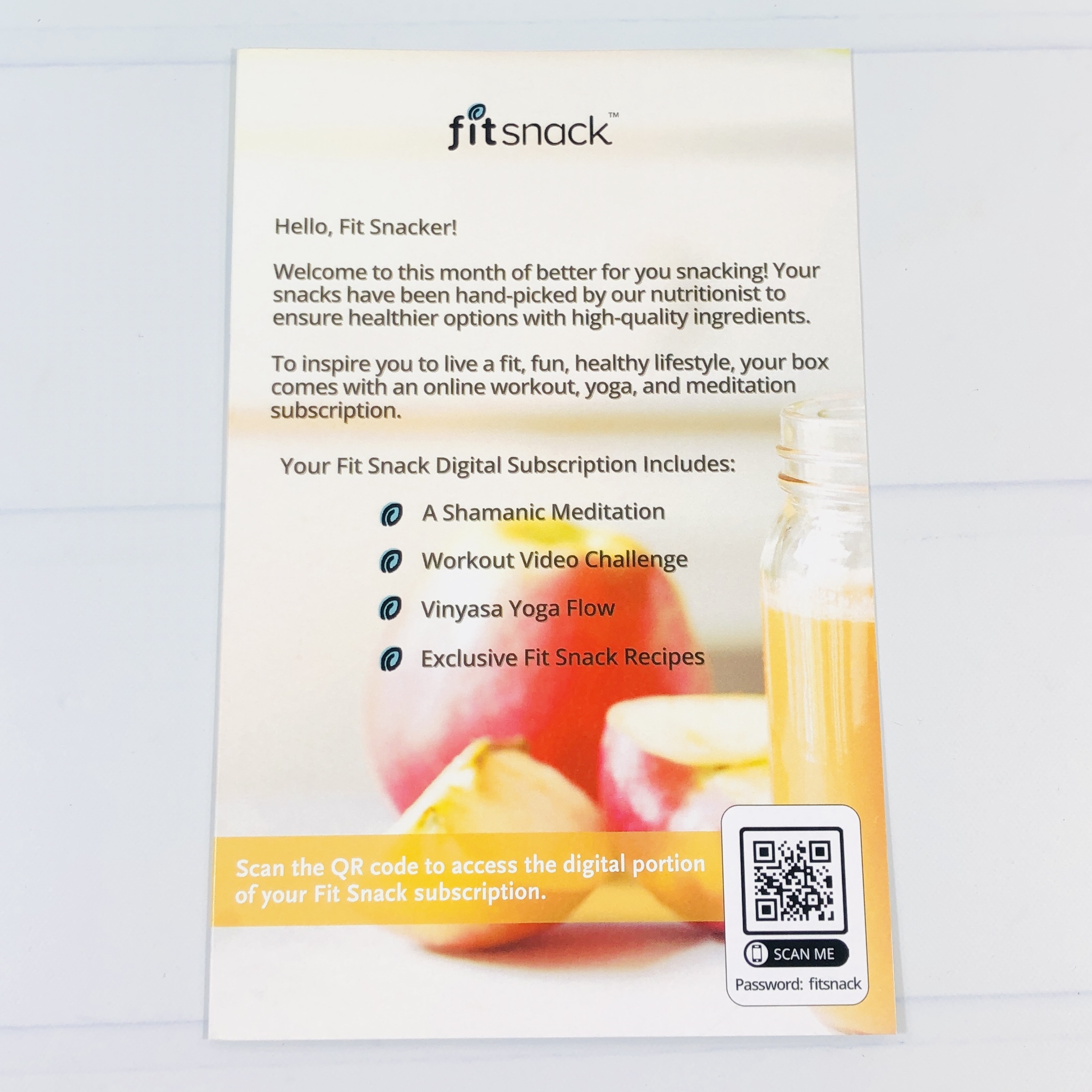 The information card tells me what's in the box. A quick scan of the QR code brings up the digital content (except mine didn't work this month).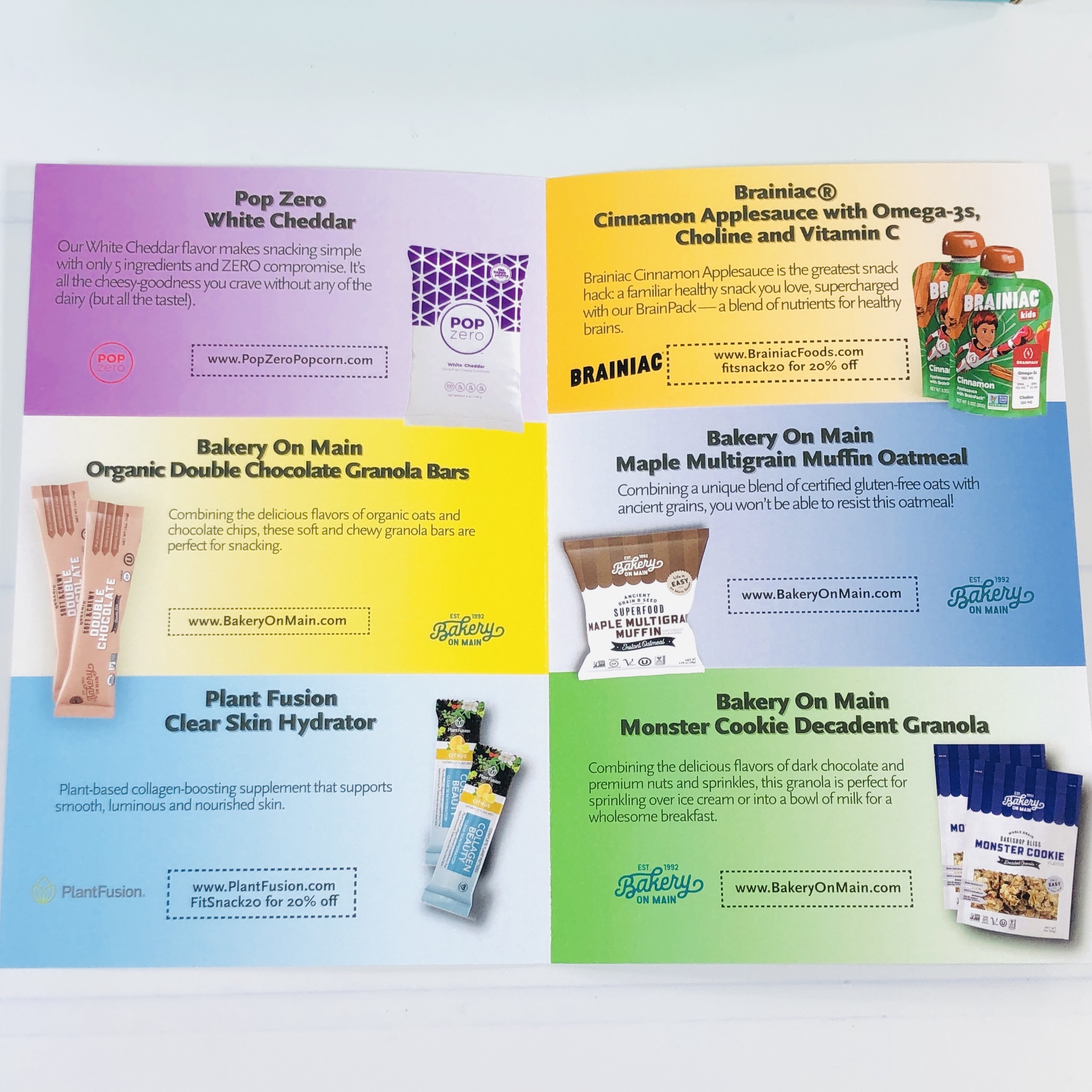 Inside the booklet, we have a list of all this month's snacks. Five out of six snacks are doubles.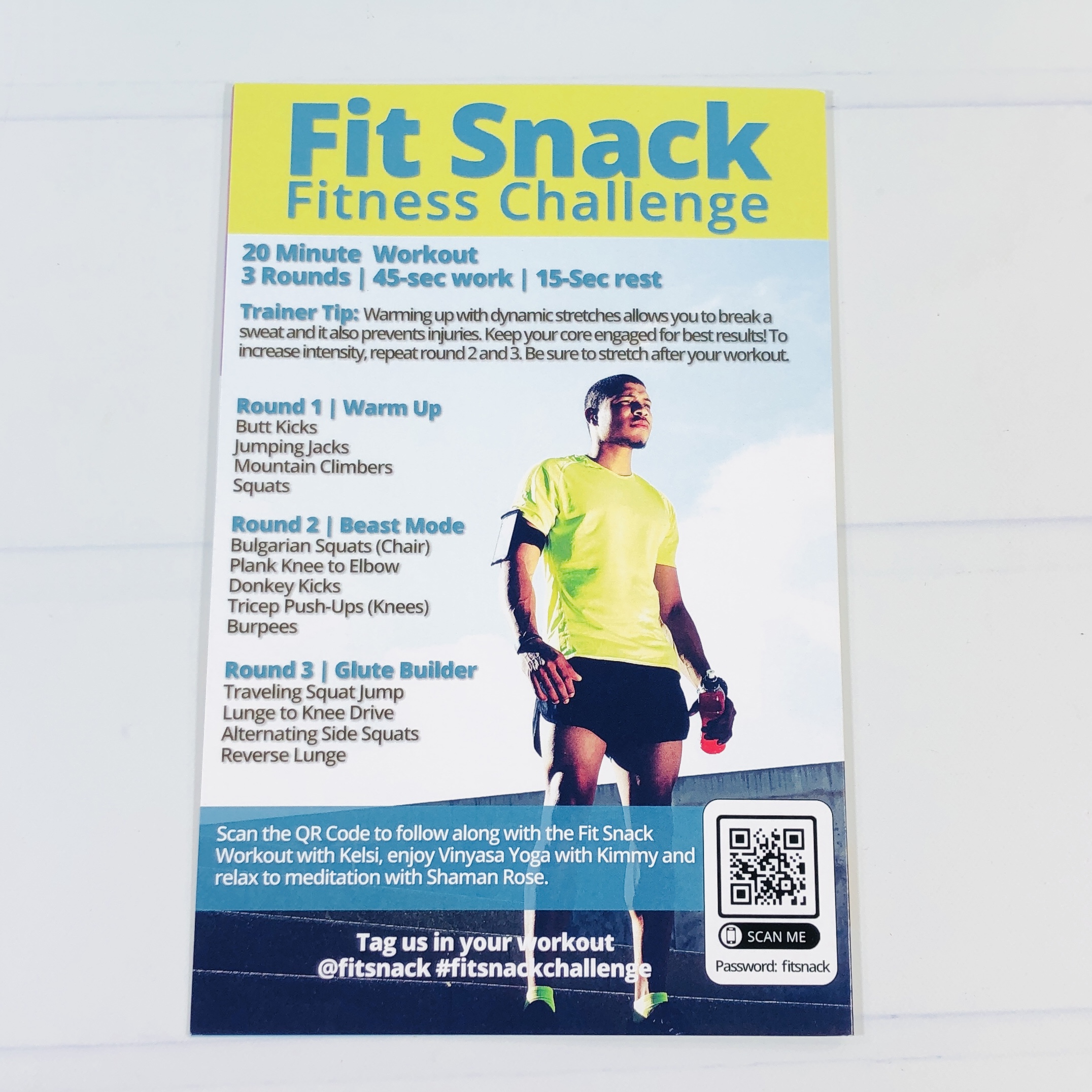 On the back of the booklet, we have our Fitness Challenge / 20 minute workout. There's also a QR code to watch the live video demonstration of the workout.
Everything in the box!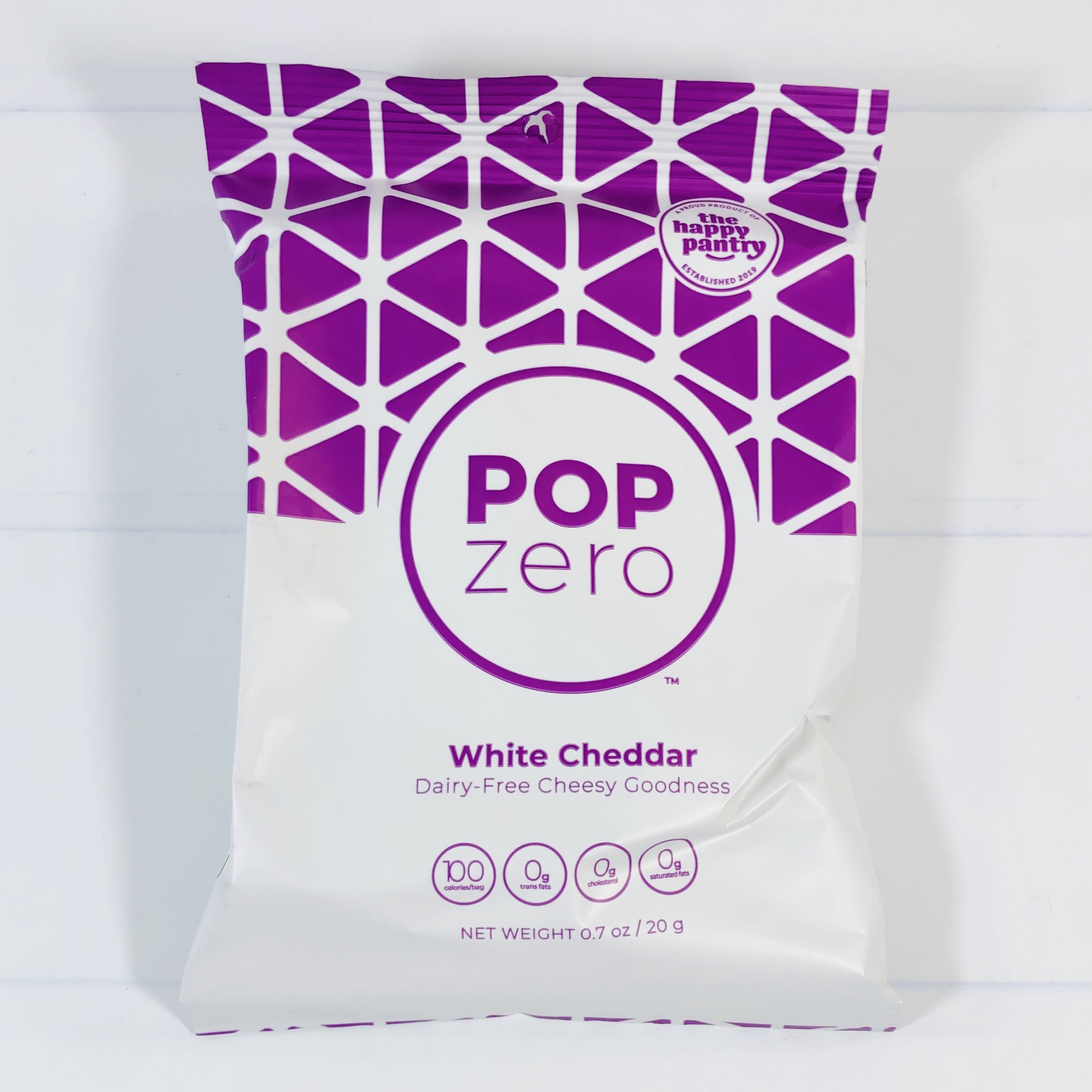 Pop Zero White Cheddar ($2.23) I was really surprised to find that this popcorn really did taste like cheesy popcorn, except it doesn't have any actual cheese in the ingredients! I guess this is accomplished with yeast extract but all I know is that I was licking my fingers afterwards and even my cats seemed interested in how good the bag smelled after the snack was gone.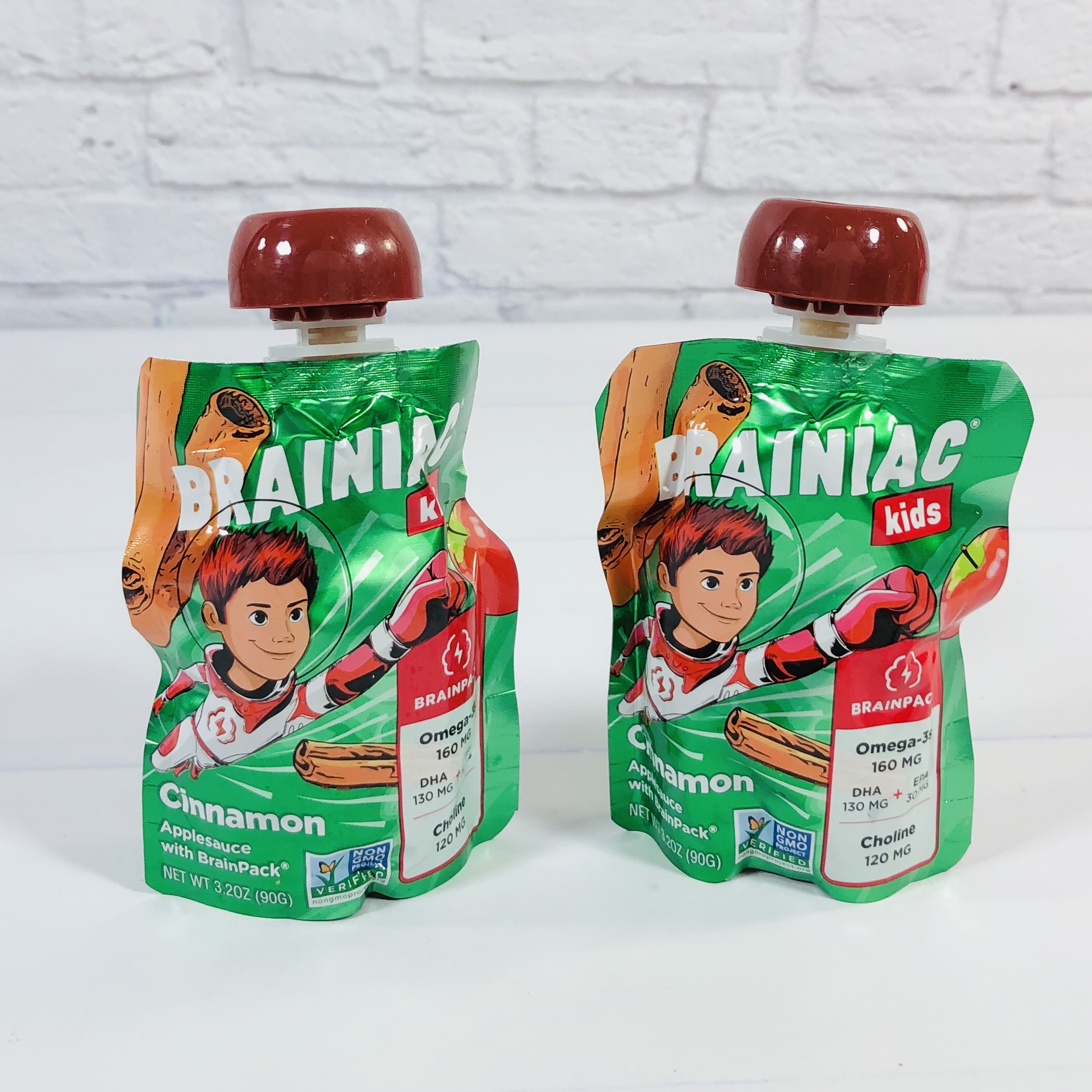 Brainiac Kids in Cinnamon To me, applesauce is either a food you eat when recovering from a stomach issue or something to be used in baking fall desserts. My daughter, however, loves to eat fruits from a pouch and this one is basically cinnamon applesauce without added sugar but with added Omega-3 fish oil and choline to help promote brain health. I decided to taste it because I wanted to see if there was any hint of a fish taste (the Omega-3 is from fish) and I couldn't detect any kind of aftertaste. The texture was super smooth.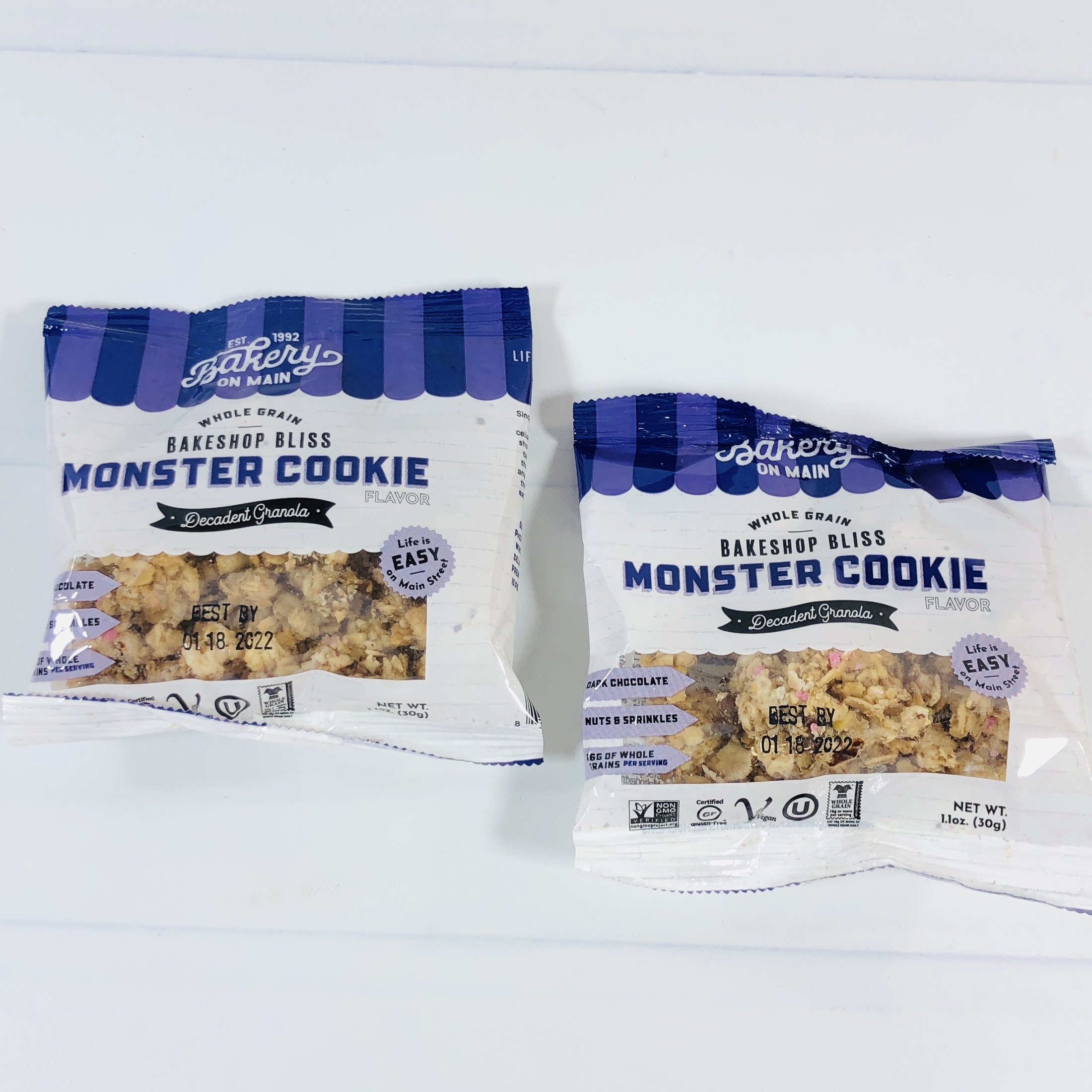 Bakery On Main Monster Cookie Out of the 6 different snacks sent this month, three of them are from this brand and they are all things I've tried before. I like this granola — I eat it straight out of the bag like trail mix and it has clusters of oats and a few almonds and then there's some chocolate chip bits in there too.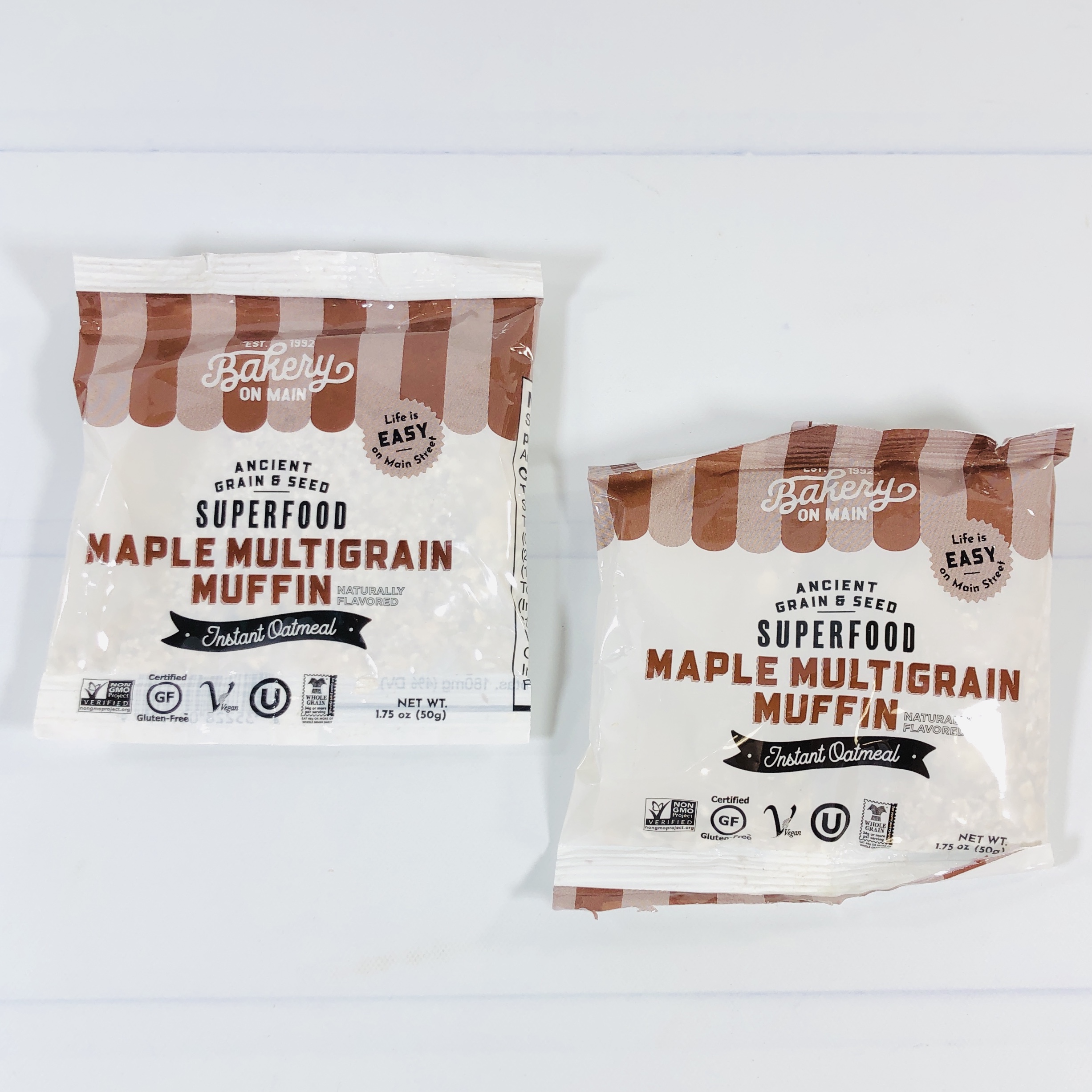 Bakery On Main Maple Multigrain Muffin I like the flavor of this oatmeal and it is a pretty generous portion. It has flax, chia, and amaranth as well as oats and is sweetened with maple sugar, no extra sugar needed.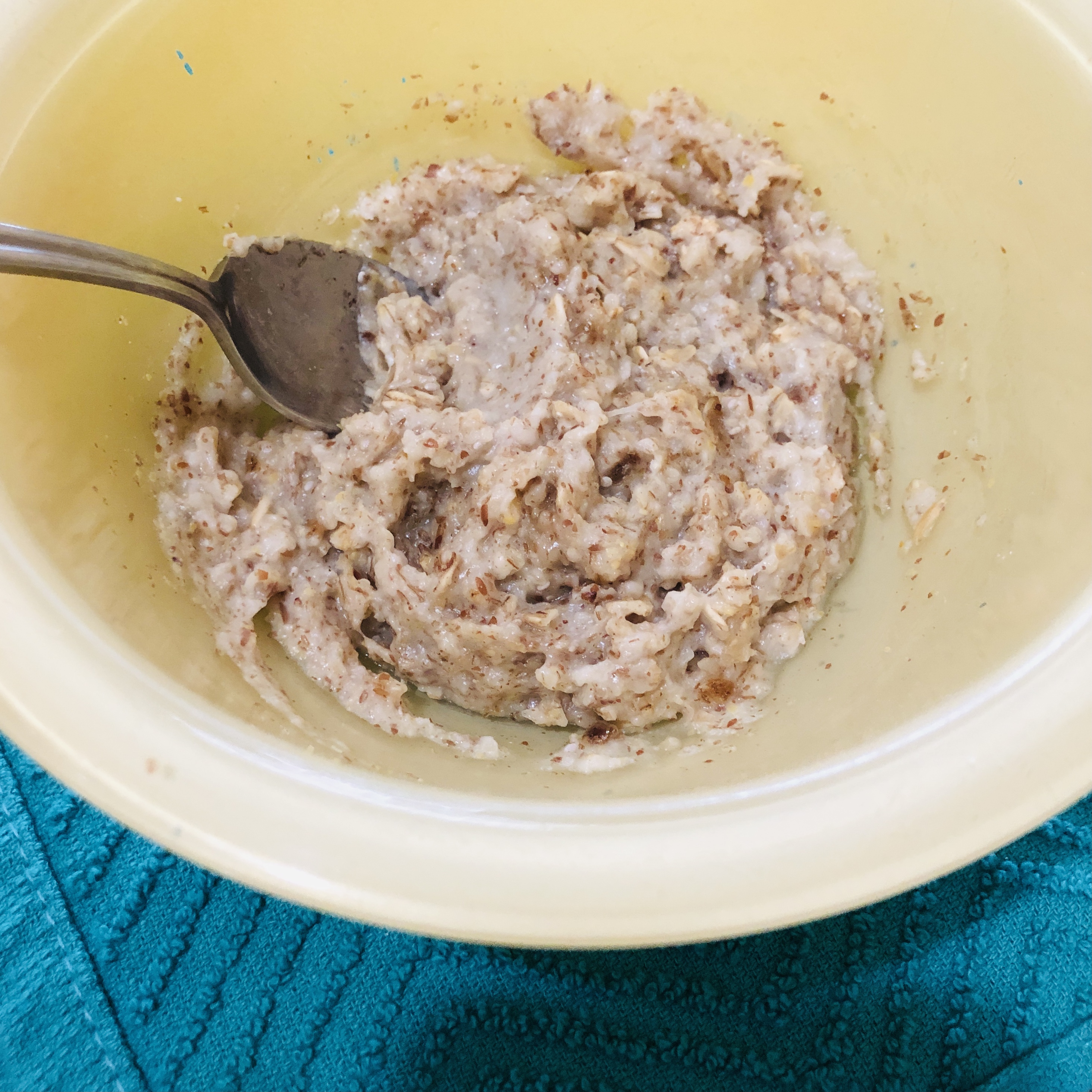 The consistency reminds me of a combo of oatmeal and Malt O Meal. I added milk but you could also gussy it up with apples, pears, toasted nuts, or raisins.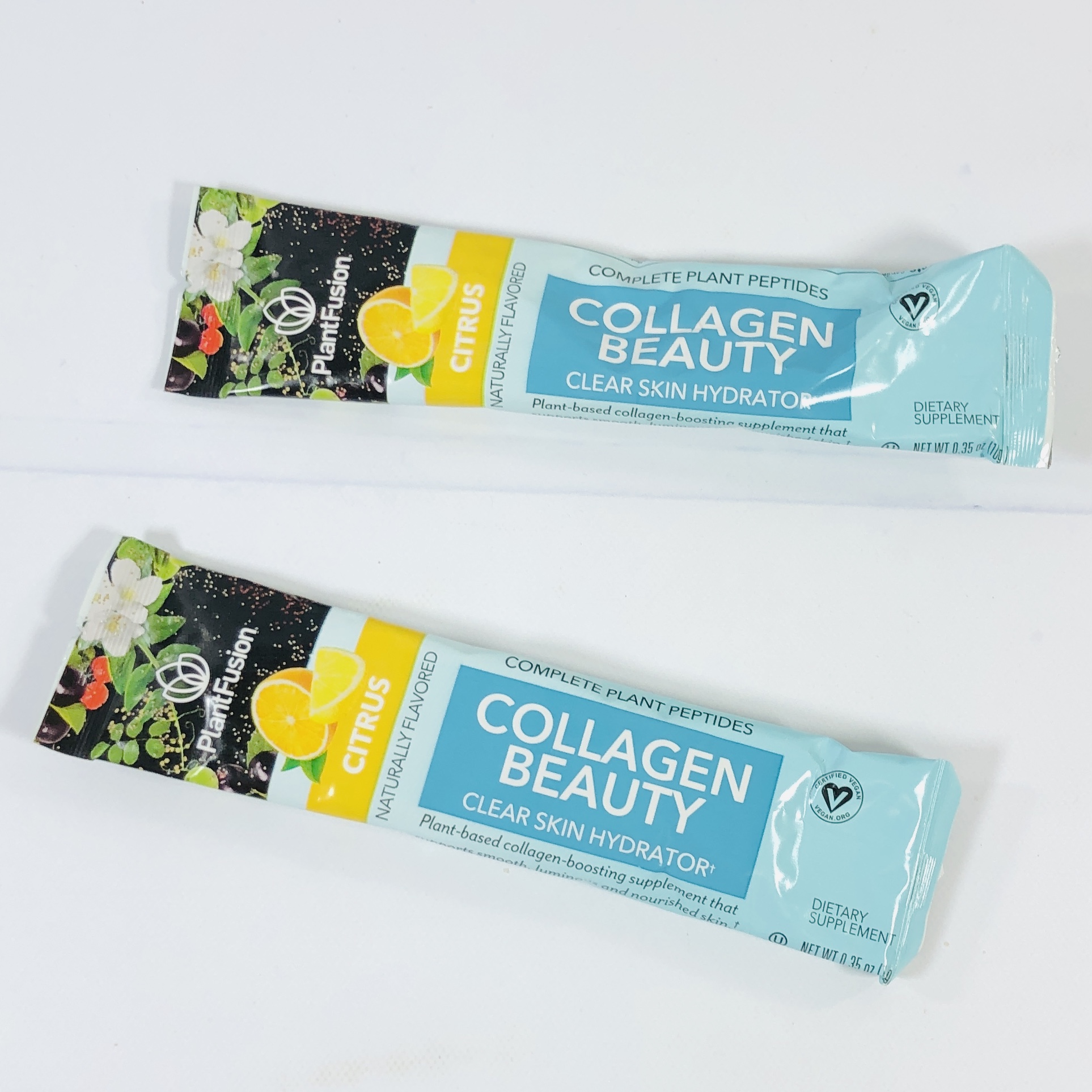 PlantFusion Collagen Beauty Clear Skin Hydrator ($4.78) The idea behind these packs is that the plant-based collagen may support glowing skin by boosting the body's ability to produce its own collagen. Hyaluronic acid is supposed to keep skin moist (I guess from the inside out) and there are some vitamins that may help support skin too. Just mix one packet into 8 ounces of water then stir and sip. It's sweetened with stevia (not my fave) so I just drank it down super quickly. It had a mild citrus flavor and wasn't all that bad.
Bakery On Main Double Chocolate Granola Bars I generally like to eat granola bars as breakfast, but since this one didn't have nuts in it I decided it would be better as an afternoon snack.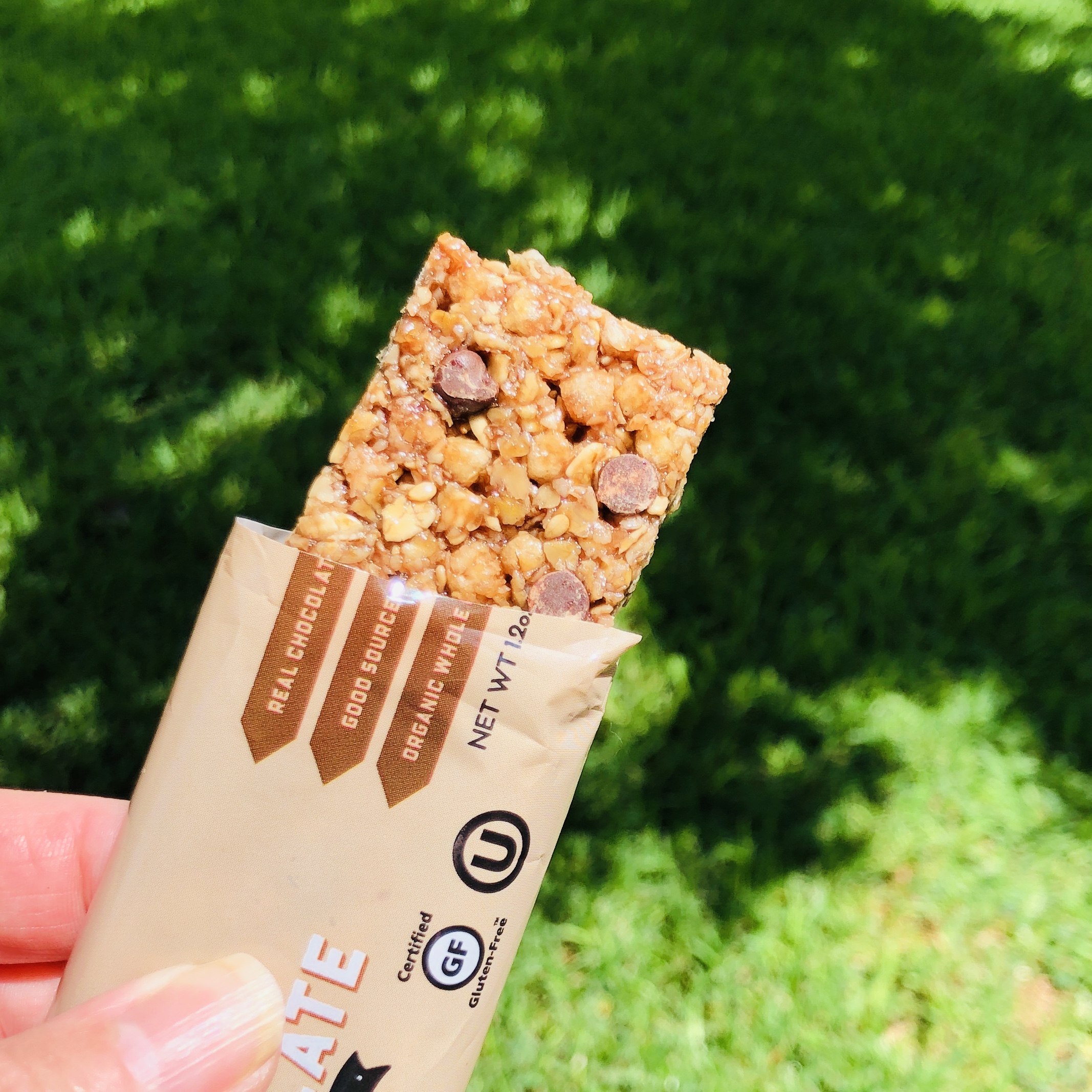 This is a chewy bar and it has oats, brown rice, sesame seeds, and quinoa. It's supposed to be double chocolate flavored but I didn't taste any chocolate flavor at all, and yes I can see the chocolate chips there. It's just sweet and chewy.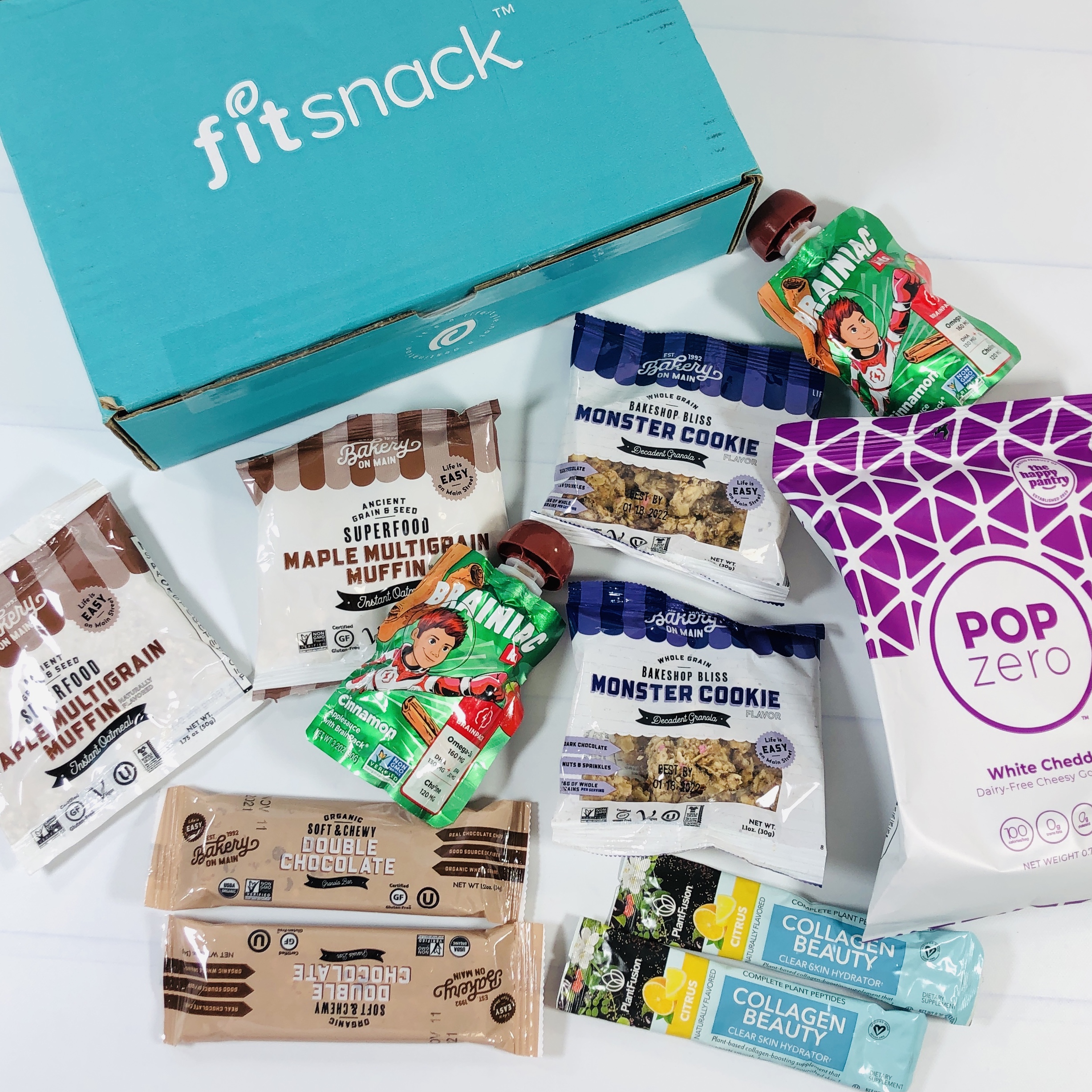 FitSnack sent multiples of their snacks this month and that's pretty much par for the course. The one snack I wish they had sent more of was the popcorn, it was delicious! My daughter liked the applesauce and I ate the breakfast stuff. The collagen packs were fine too. I don't know why the QR code didn't work, but if that happens to you I would encourage you to reach out to see if they can send the link directly via email.
What do you think of this month's box?