Firstleaf Wine Club has a special bundle this Summer – summer-worthy wines to drink by the poolside! The Poolside Sippers Wine Bundle is $39.95, plus FREE shipping!
Thirst-quenching. Deliciously refreshing. Relief from the heat. Whatever you call them, these lower alcohol Poolside Sippers are made for hot summer days. They'll keep you feeling fun all day long—no drink umbrellas required. Join the club now and get 6 different wines in a mix of red, white, and rosé for $39.95 plus free shipping.

From sweet and aromatic to rich and spicy, this bundle contains wines that will go with any dish (yes, that includes eats from your fave drive-through).
Get the Poolside Sippers Wine Bundle for just $39.95, plus FREE shipping – that's 65% savings! No coupon needed, just use this link to get the bundle!
When you grab this Introductory Pack, you'll be subscribed to the Firstleaf Wine Club, a wine subscription that learns your exact taste preferences!
Get the Poolside Sippers Wine Bundle at Firstleaf Wine Club!
The Poolside Sippers Wine Bundle includes:
Wisdom Point 2020 Sauvignon Blanc from Western Cape, South Africa Expand your horizons with this bright tropical-noted and Gold Medal-winning South African expression of Sauvignon Blanc
Inkscape 2017 Red Blend from Central Coast, California Toast the Central Coast with our deep, dark Inkscape Red Blend!
Iron Arrow 2019 White Blend from Columbia Valley, Washington Our 96 point "Best of Class" White Blend is a gorgeous balance of mouthwatering acidity and creamy texture
Color Wash 2020 Pinot Grigio from California A sweet and aromatic Pinot Grigio that will please all palates
Penrose Hill 2019 Rosé of Pinot Noir from Napa Valley, California This award-winning rosé is delicately sweet, bright, and mouthwatering
Sirenia 2019 Tempranillo from Spain Like Spain itself, our exciting Tempranillo is rich and spicy
Please note: We may, at our discretion, substitute one or more of the wines in this bundle based on inventory.
See all our Firstleaf reviews to find out more about this wine subscription that learns your preferences!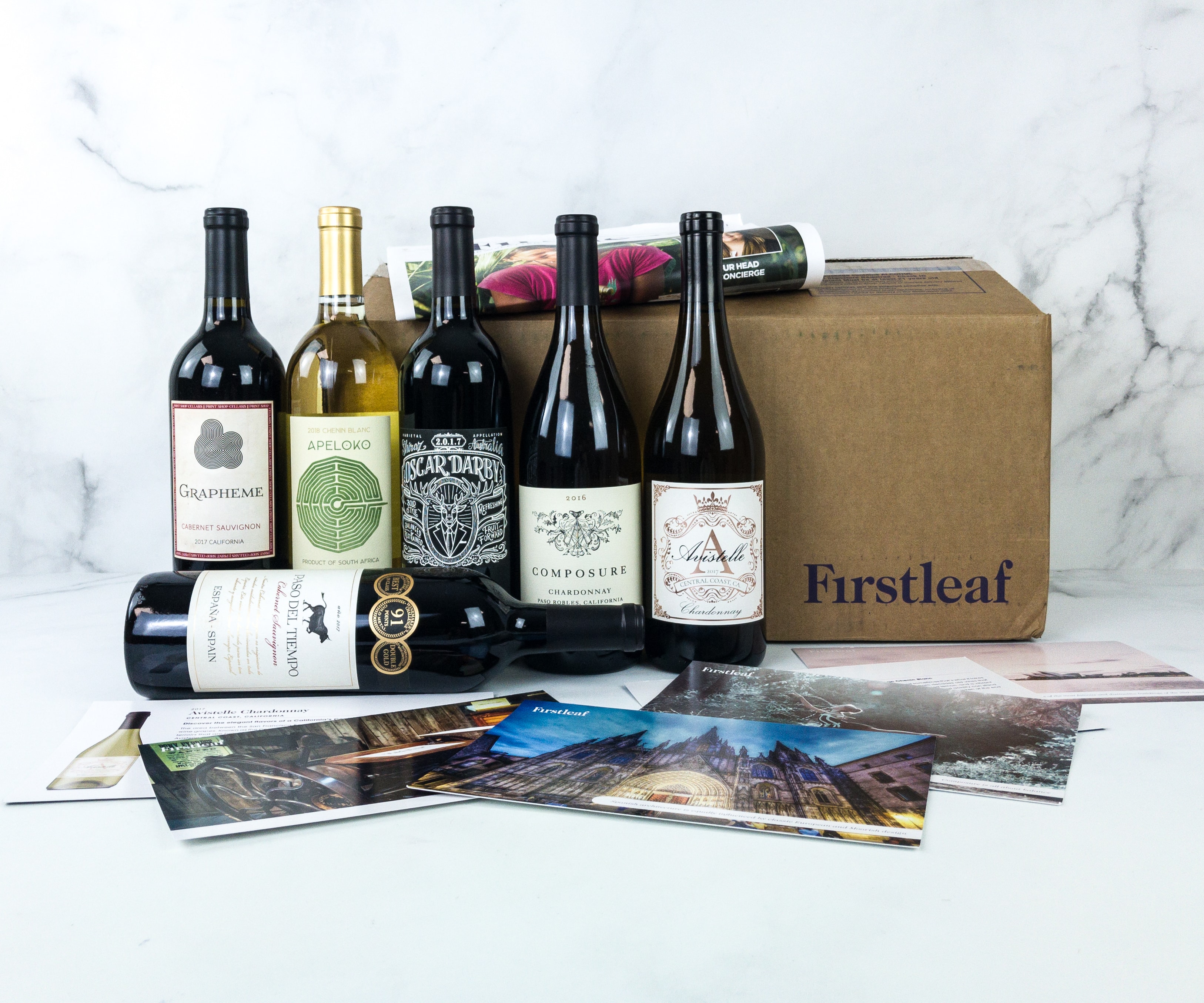 Firstleaf offers over 200 award winning wines. But don't let that overwhelm you — Firstleaf curates your wine boxes to match your palate profile so you can enjoy only the bottles that are matched for you.
You can choose your first selections from these options, or use the quiz!
Firstleaf is unable to ship to P.O. boxes or to the following states: Alabama, Alaska, Arkansas, Delaware, Hawaii, Kentucky, Michigan, Mississippi, Rhode Island, and Utah.
Are you trying Firstleaf Wine Club subscription?