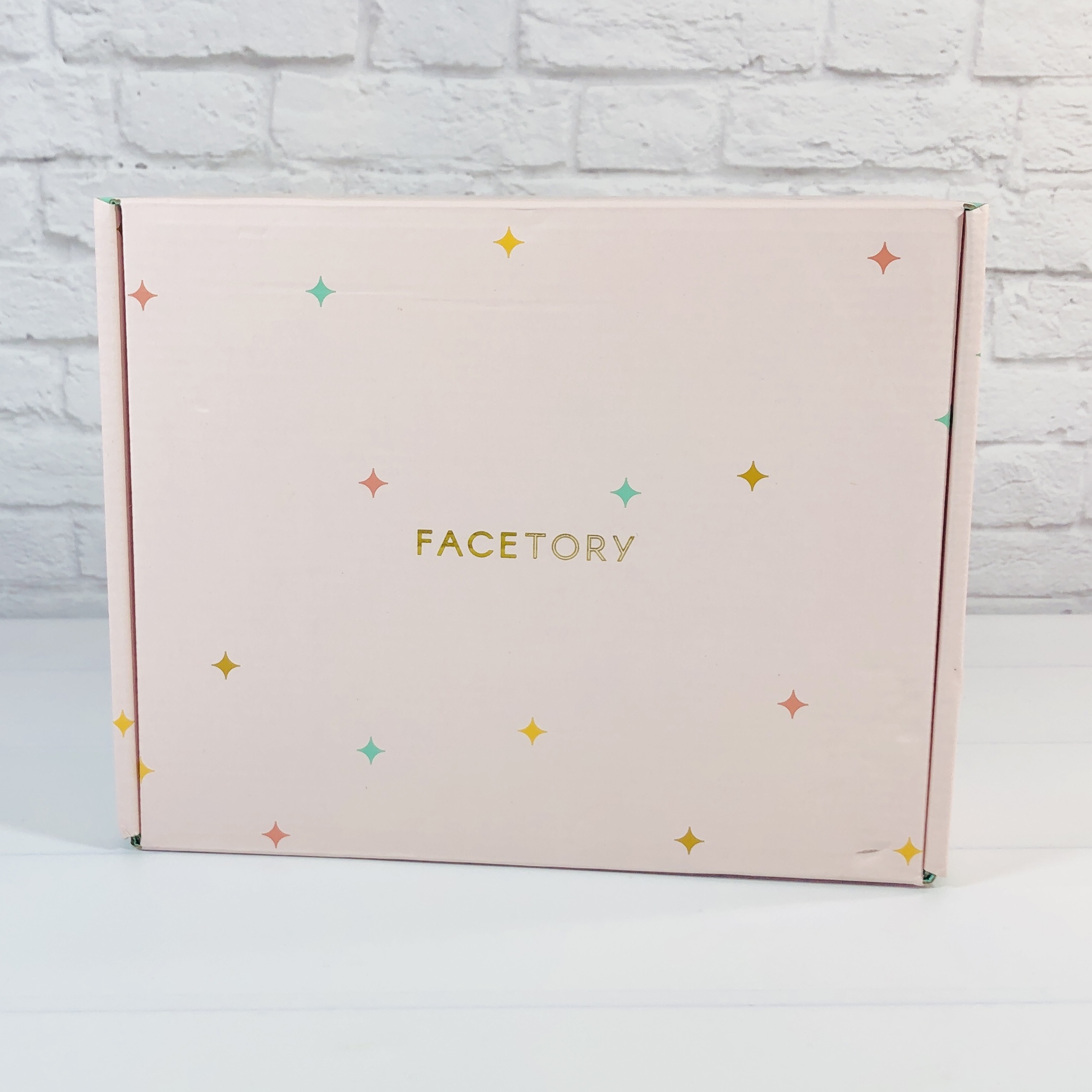 FaceTory Lux Plus is a quarterly subscription box filled with luxurious Korean beauty products! This seasonal shipment has 10-12 products: 5-6 skincare products and 5-6 sheet masks. The Lux Plus is $49.95 a box and shipping is free to the US and will be determined at checkout for other countries.
It's vacation season! Sit back, relax, and let these featured products treat your skin. We're talkin' face and body products that deliver a must-have glow for the sunny months ahead! We hope you enjoy Summer's Lux PLUS! <3
Please note: All new subscribers will be receiving the Lux PLUS Welcome Edition!
DEAL: Use the coupon code LUXPLUS4 to get 4 free masks with your Lux Plus Subscription! OR Get 20% off your FaceTory order! Use coupon code HELLO20.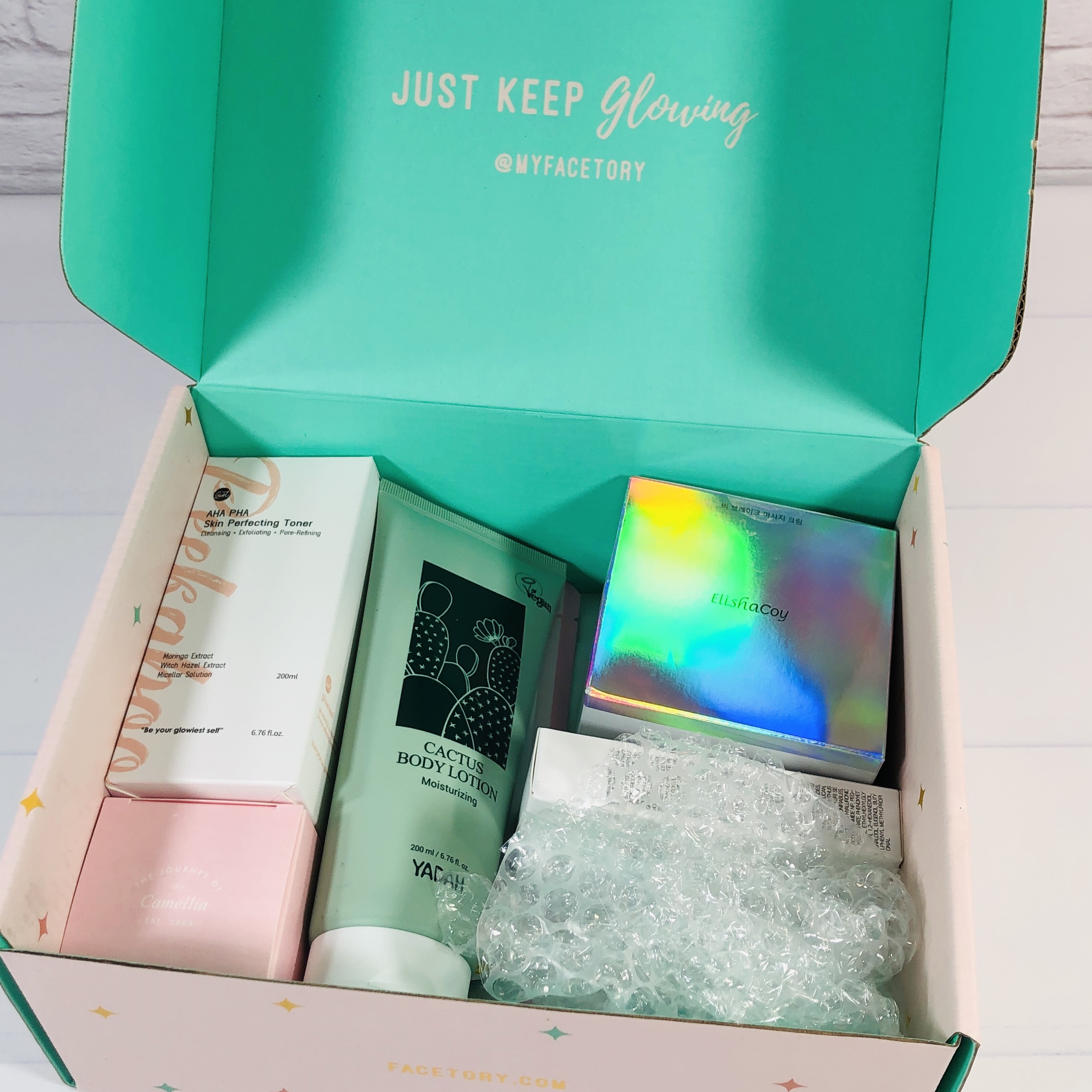 The presentation was simple and yet I was also excited, the colors speak to me!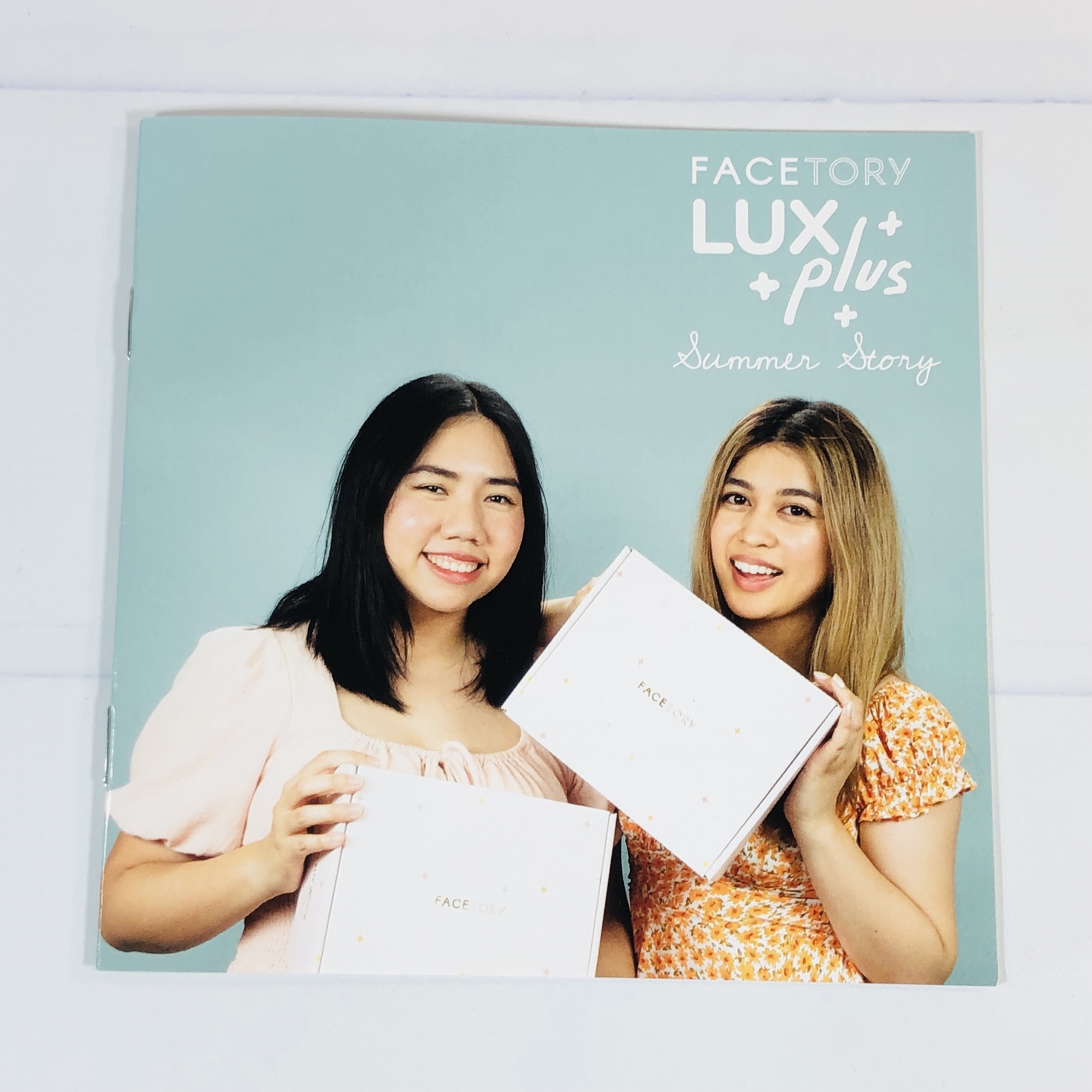 There was a colorful product information booklet.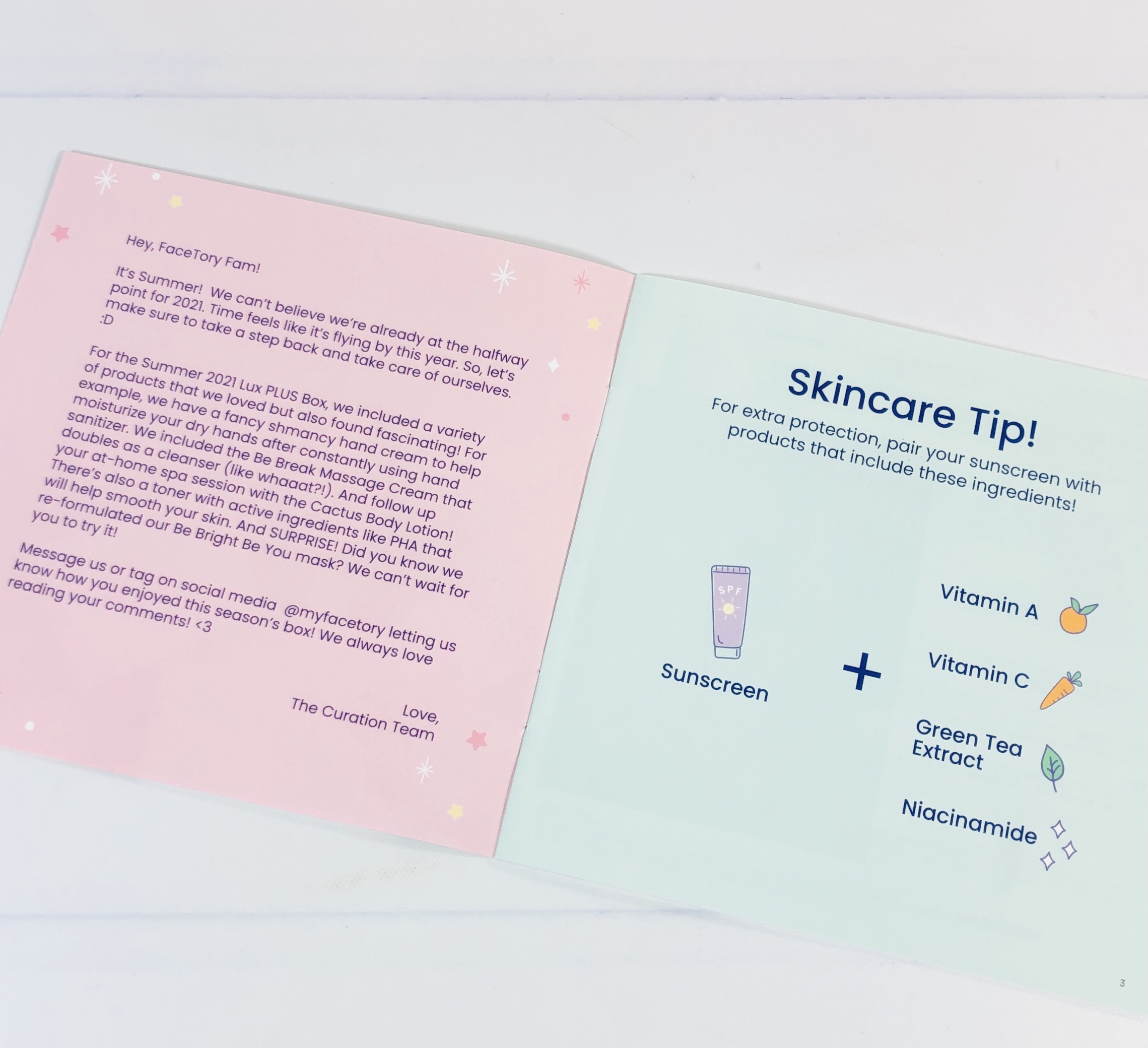 The first spread discussed a few of the products in the summer box and why they were chosen. They also suggested some pairings to help boost sunscreen.
Each product was listed and they talked about why they love it, the key ingredients, and directions for use.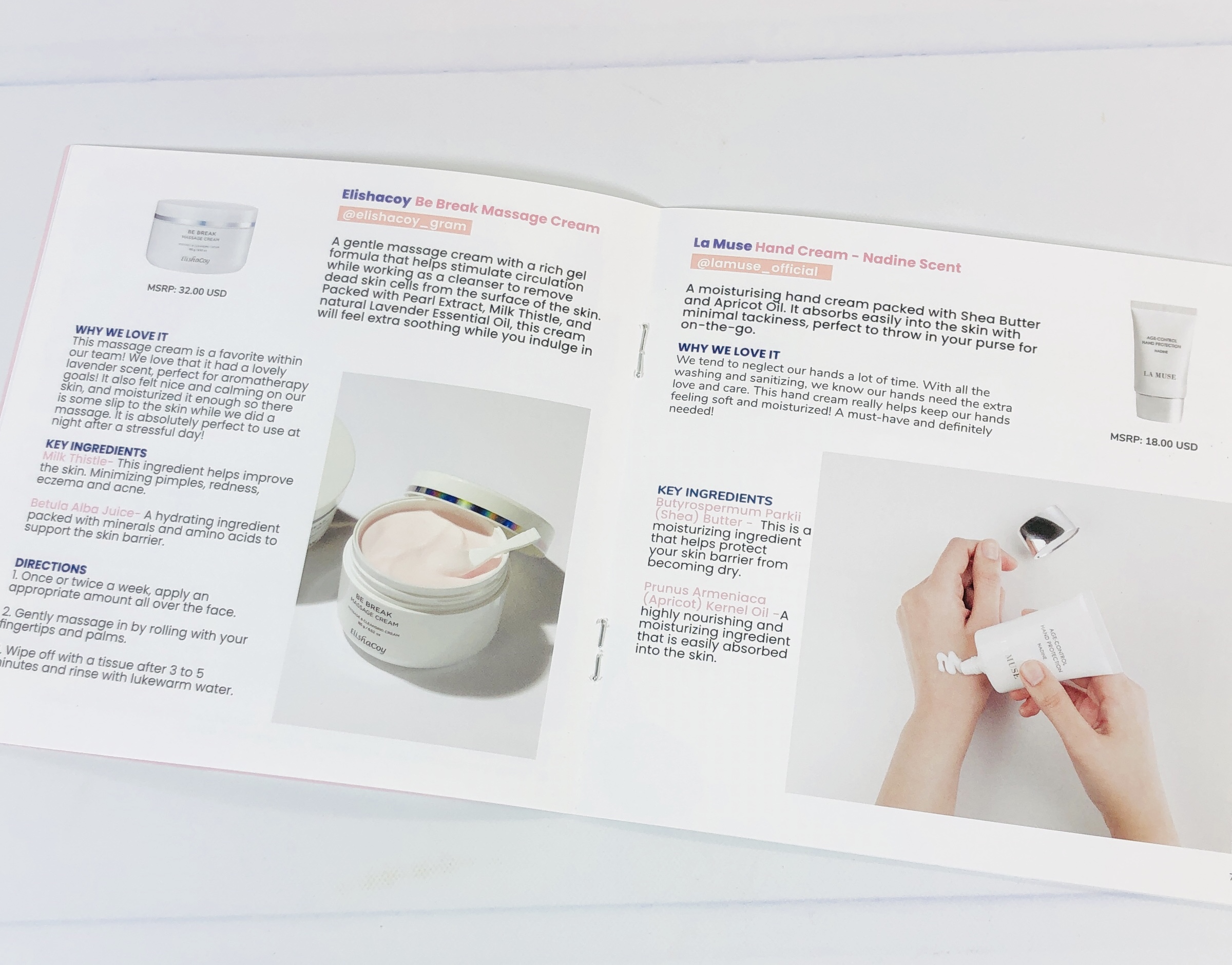 I was thrilled to see a couple of body care items in this box too!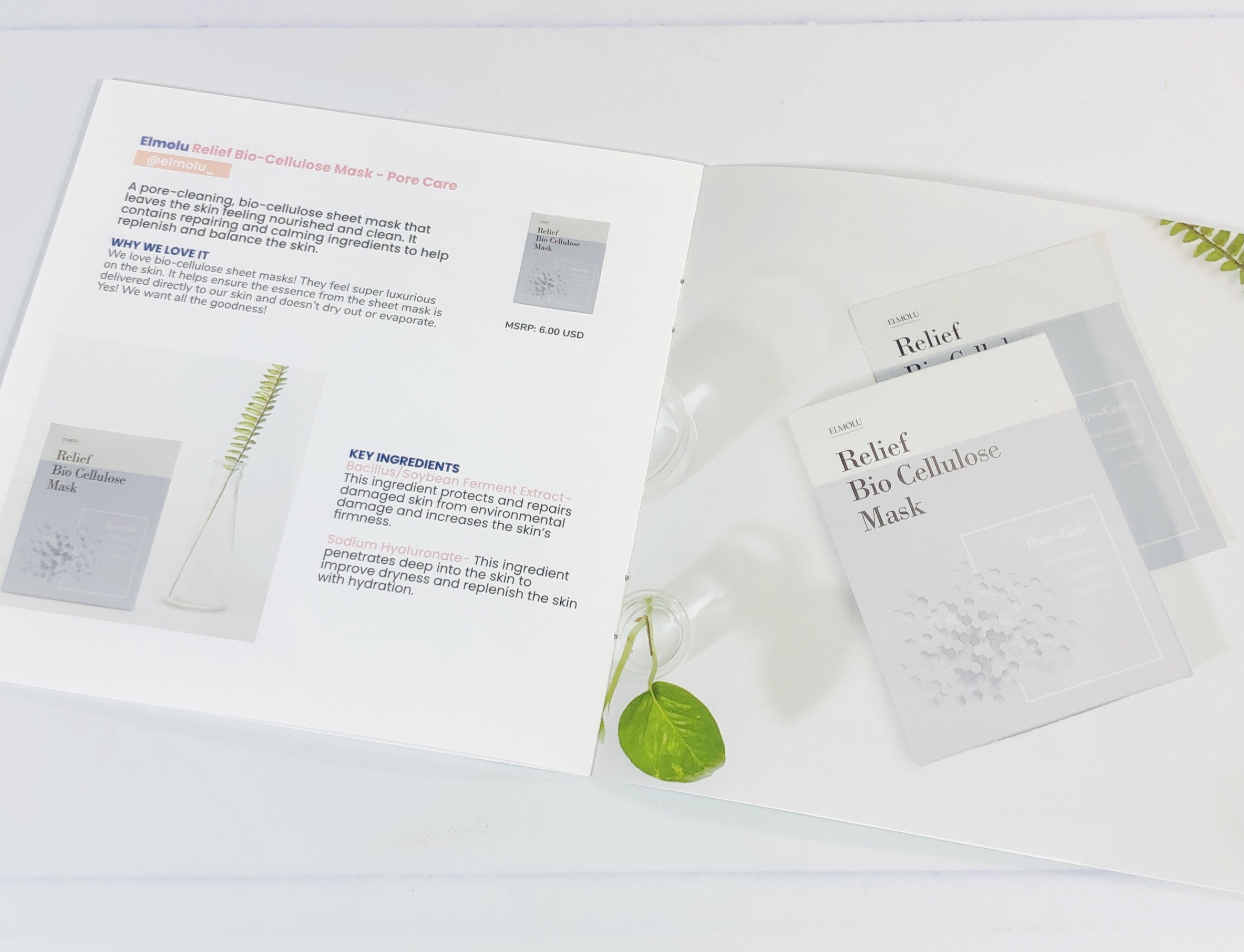 Sheet masks comprise about half of this box's contents. If sheet masks are your thing, then keep in mind that FaceTory has a separate subscription that sends 7 sheets masks plus a bonus item!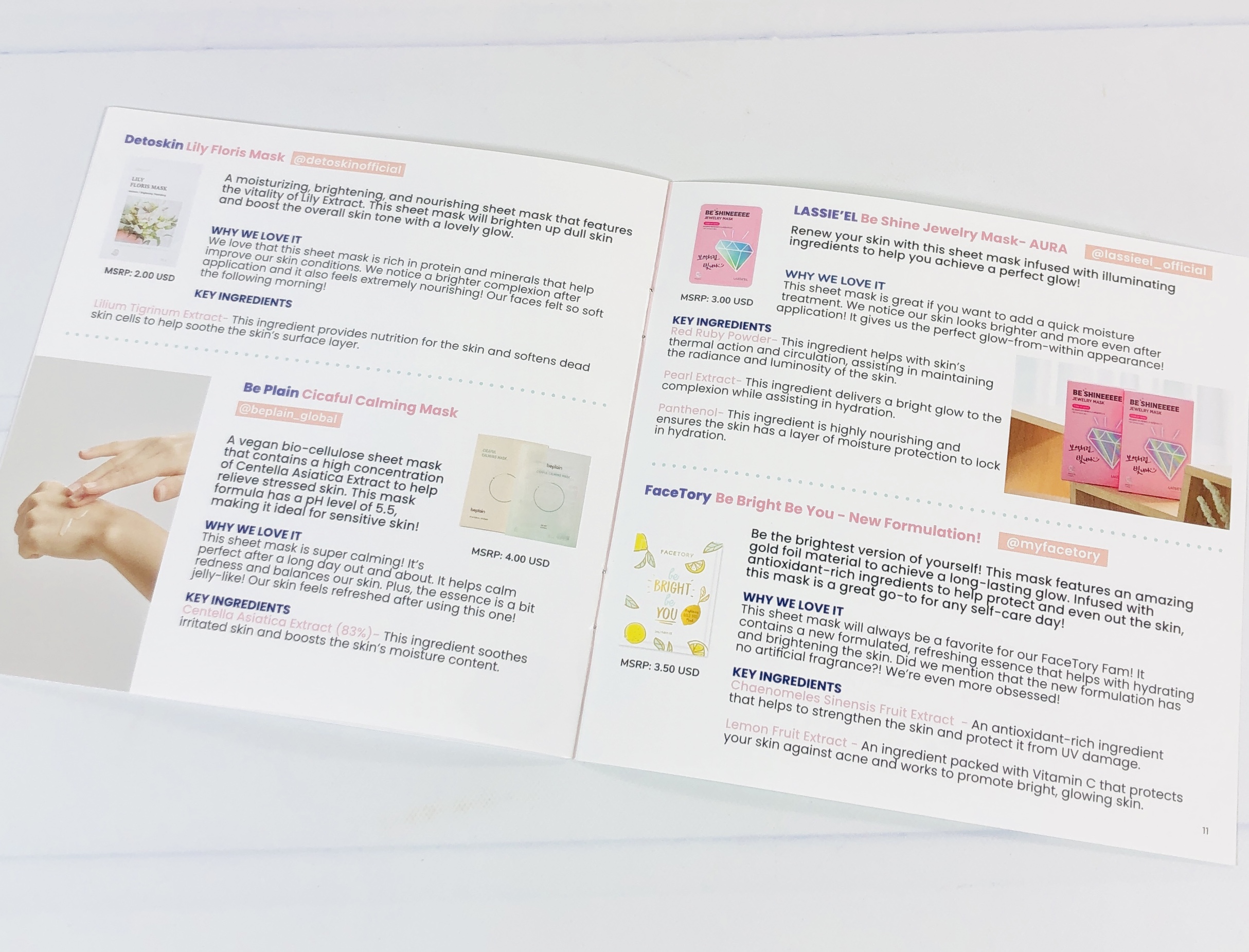 Here's the rest of those masks.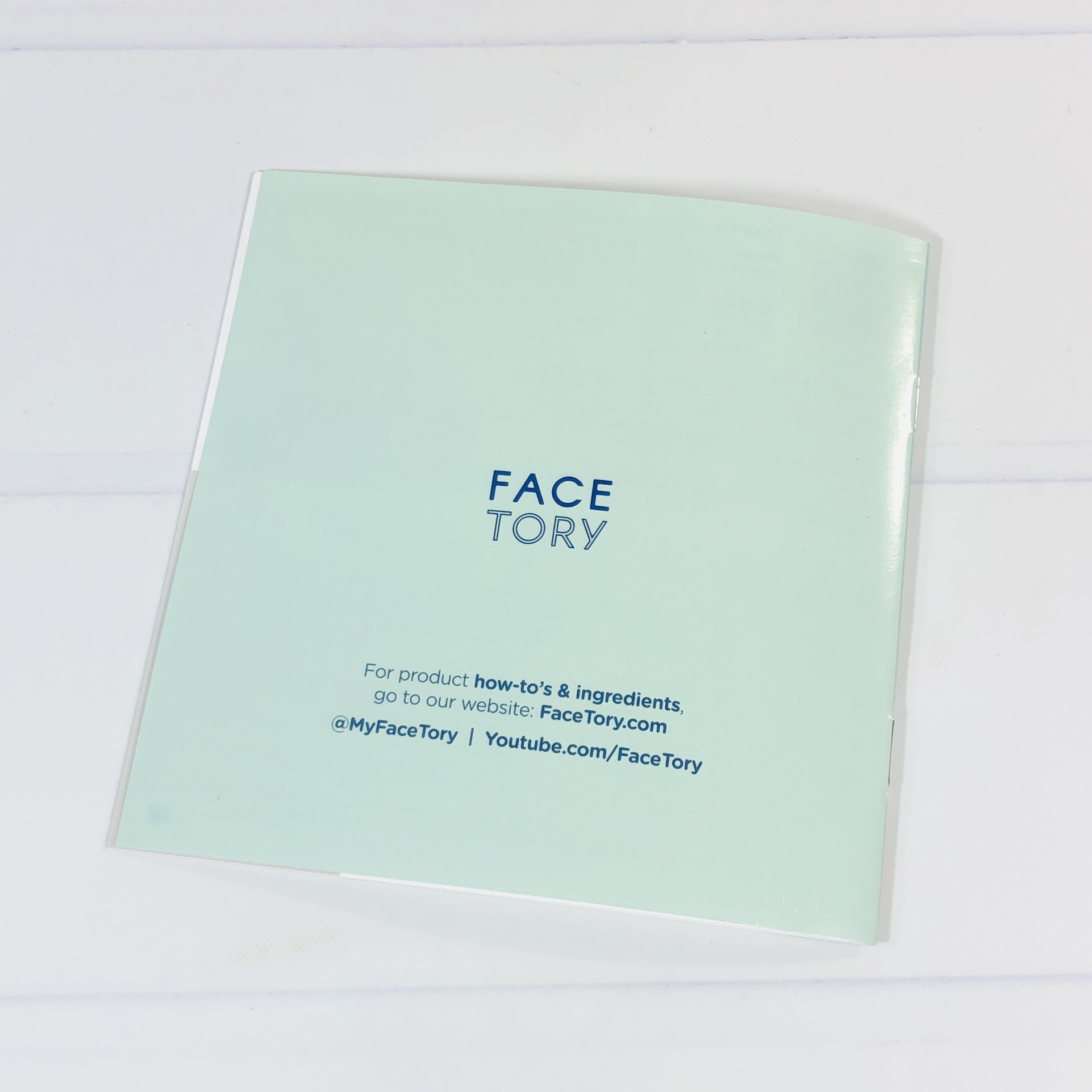 The back showed the social media sites.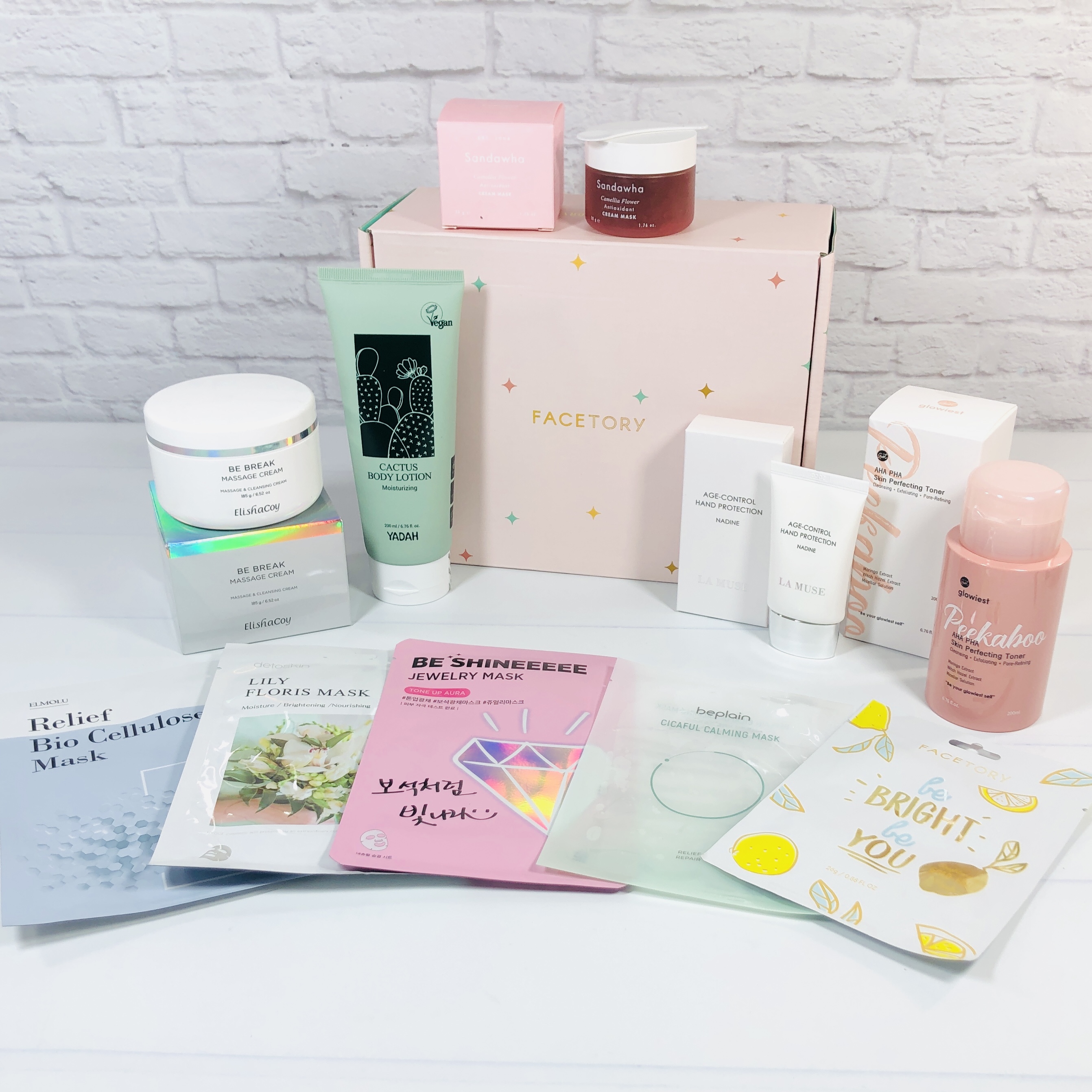 Everything in my box!
ElishaCoy Be Break Massage Cream ($26) At first I thought this was meant to be used on the body but it's a massage cream for your FACE!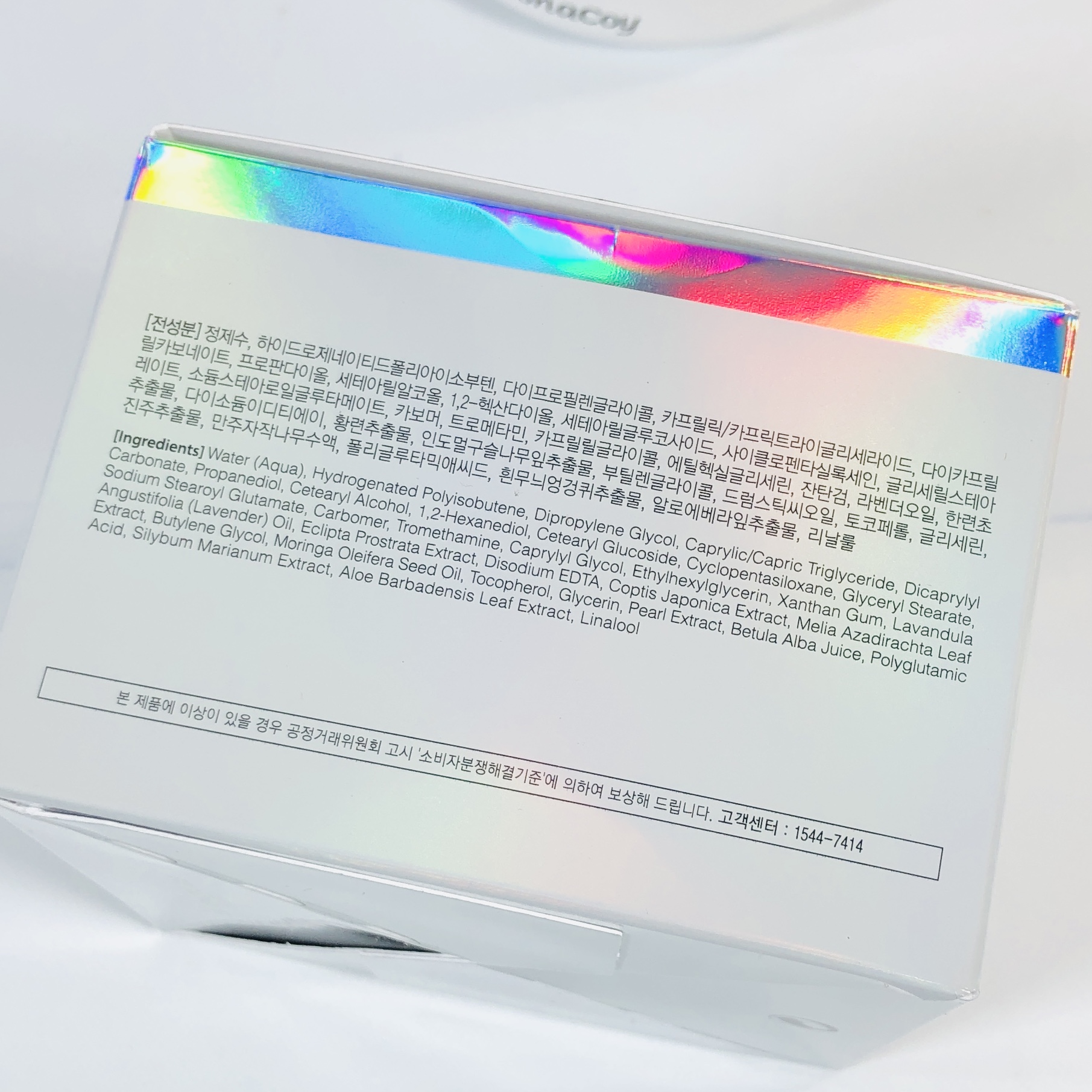 Some of the celebrated ingredients in this cream are pearl extract, silver birch, and aloe.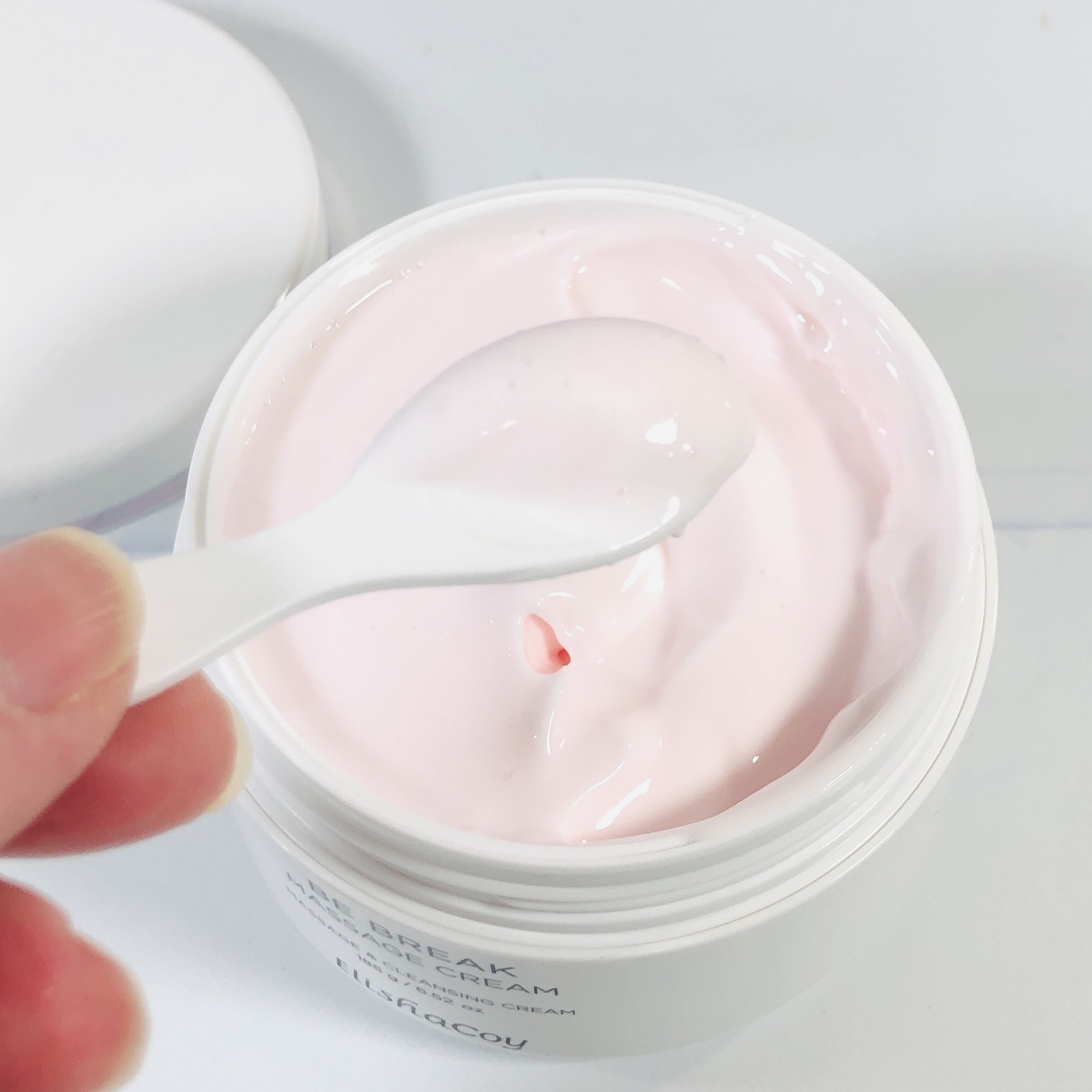 It looks like yogurt to me! This was a creamy, non-sudsing cleanser and it smells lightly of lavender. I rubbed it on my face for a minute or two before rinsing and it felt nice on my skin. As soon as it was touched by water it rinsed away without leaving a greasy film.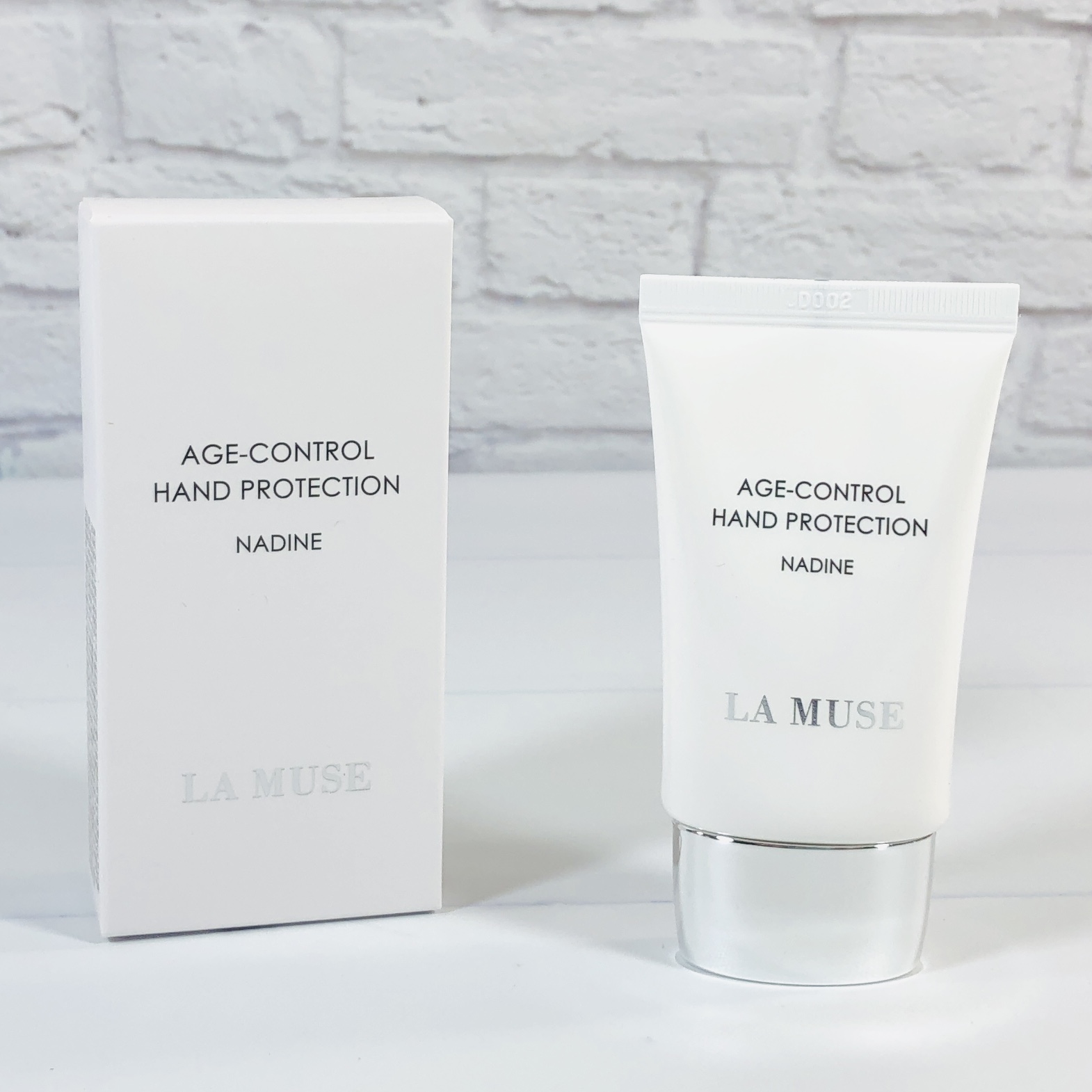 La Muse Hand Cream in Nadine ($18) Usually creams that smell this good come in a flowery type of tube. This scent reminds me of Tocca or Margot Elena products, with a floral fragrance that smells of honeysuckle and jasmine. It goes on creamy but doesn't feel greasy. The scent is long-lasting.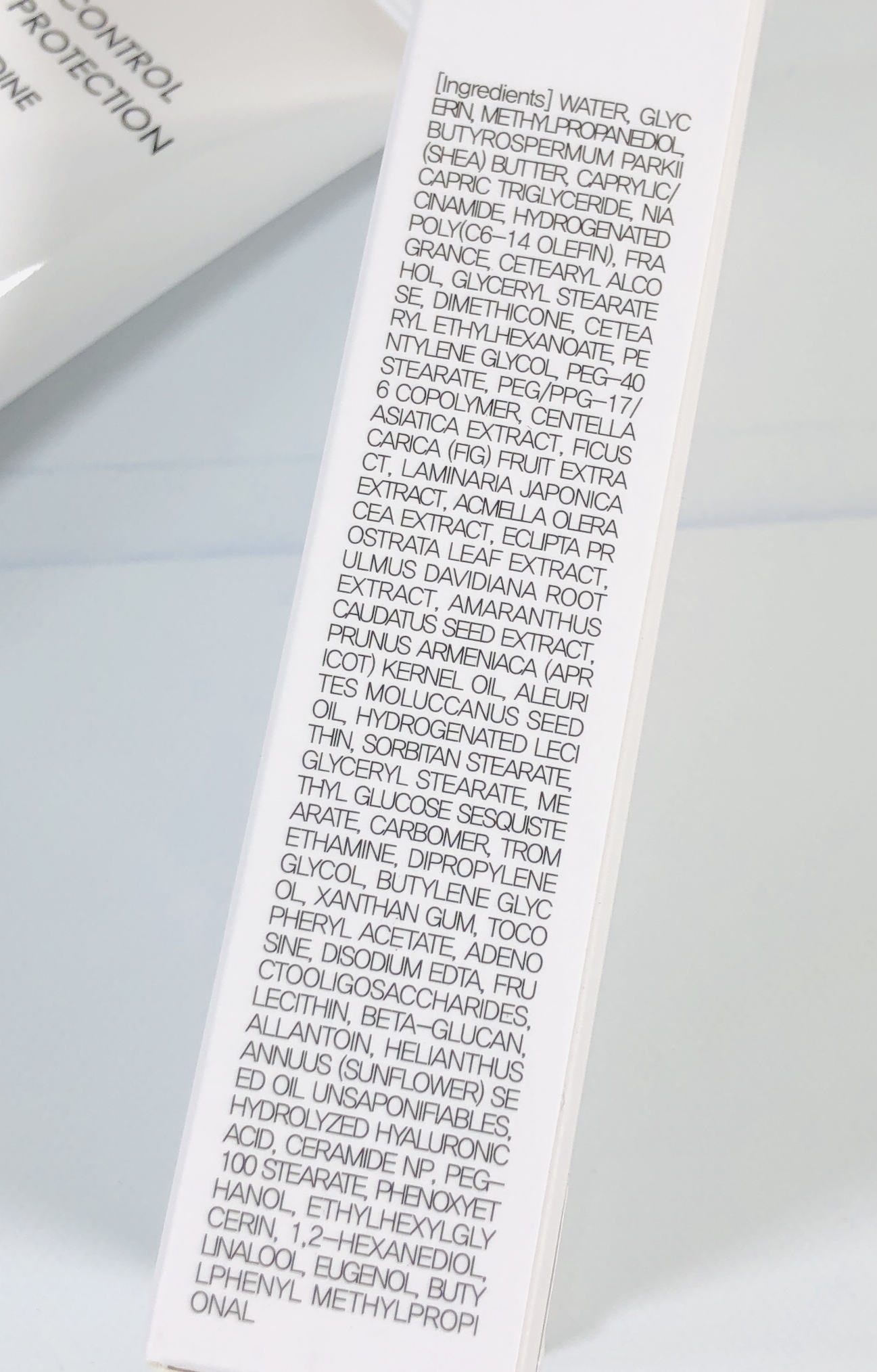 Some of the ingredients found in this cream are shea butter, niacinamide, cica, and various plant extracts. There is dimethicone, which gives it a slippery feeling.
Yadah Cactus Body Lotion ($17) Body lotions are one of my most favorite products to receive in subscription boxes! This one was only slightly heavier than my usual lotion and it took only a few extra seconds to rub it in all the way. It didn't feel sticky and it smells like natural lavender, but it's a light scent so it fades quickly.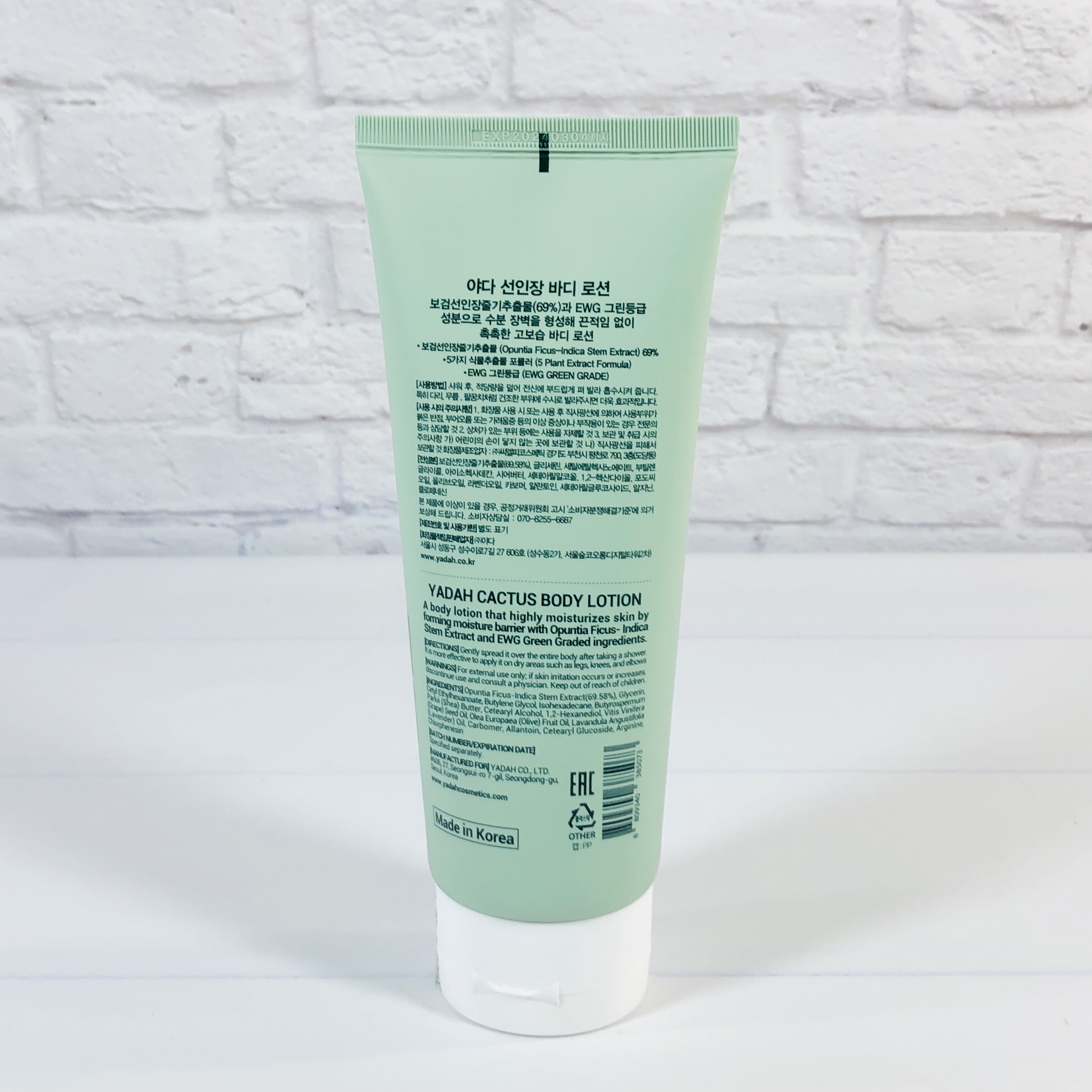 The ingredients list is short (yay!) and includes things like shea butter, cactus extract, glycerin, grape seed oil, and olive oil. The scent is provided by lavender extract.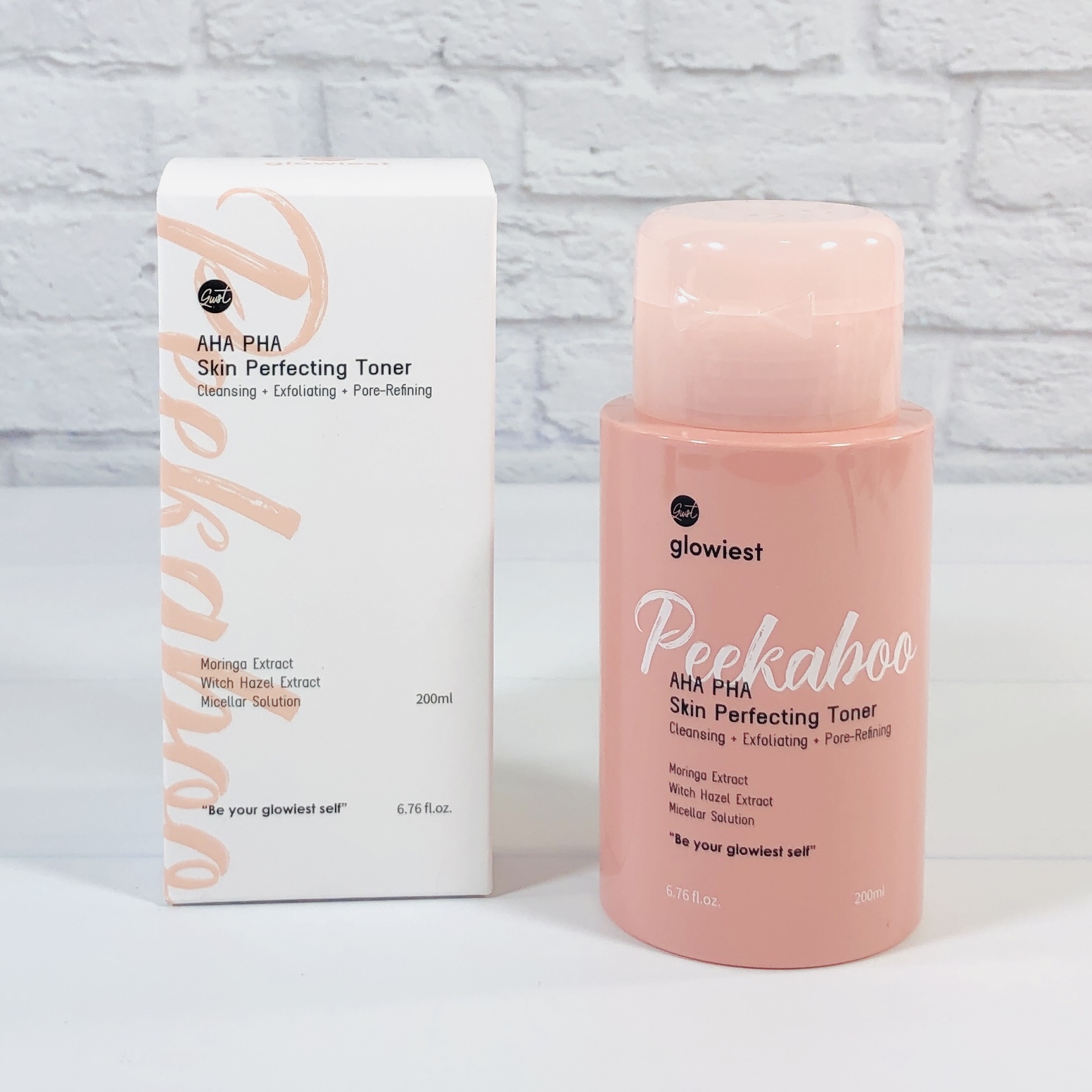 Glowiest Peekaboo AHA PHA Skin Perfecting Toner ($30) A toner is almost always recommended for use after cleansing and before masking. This toner exfoliates with AHA's and PHA's. Both are chemical exfoliators that dissolve the "glue" that holds dead skin cells together, however, PHA's tend to be gentler. The PHA used here is called gluconolactone.
Some of the other ingredients are glycerin, niacinamide, lactic acid (an AHA), fragrance, witch hazel, sodium hyaluronate, and on and on.
This was the first time I have encountered a dispenser such as this. The white pin in the middle came out and I placed a cotton pad (or try a reusable pad if you prefer) against the applicator, turned it upside down, and pushed down. The toner ends up on the pad and I can wipe away those dead skin cells. The scent is very light and it picked up some makeup that was left over after cleansing. The product is supposed to improve the appearance of acne, hyperpigmentation, and pores.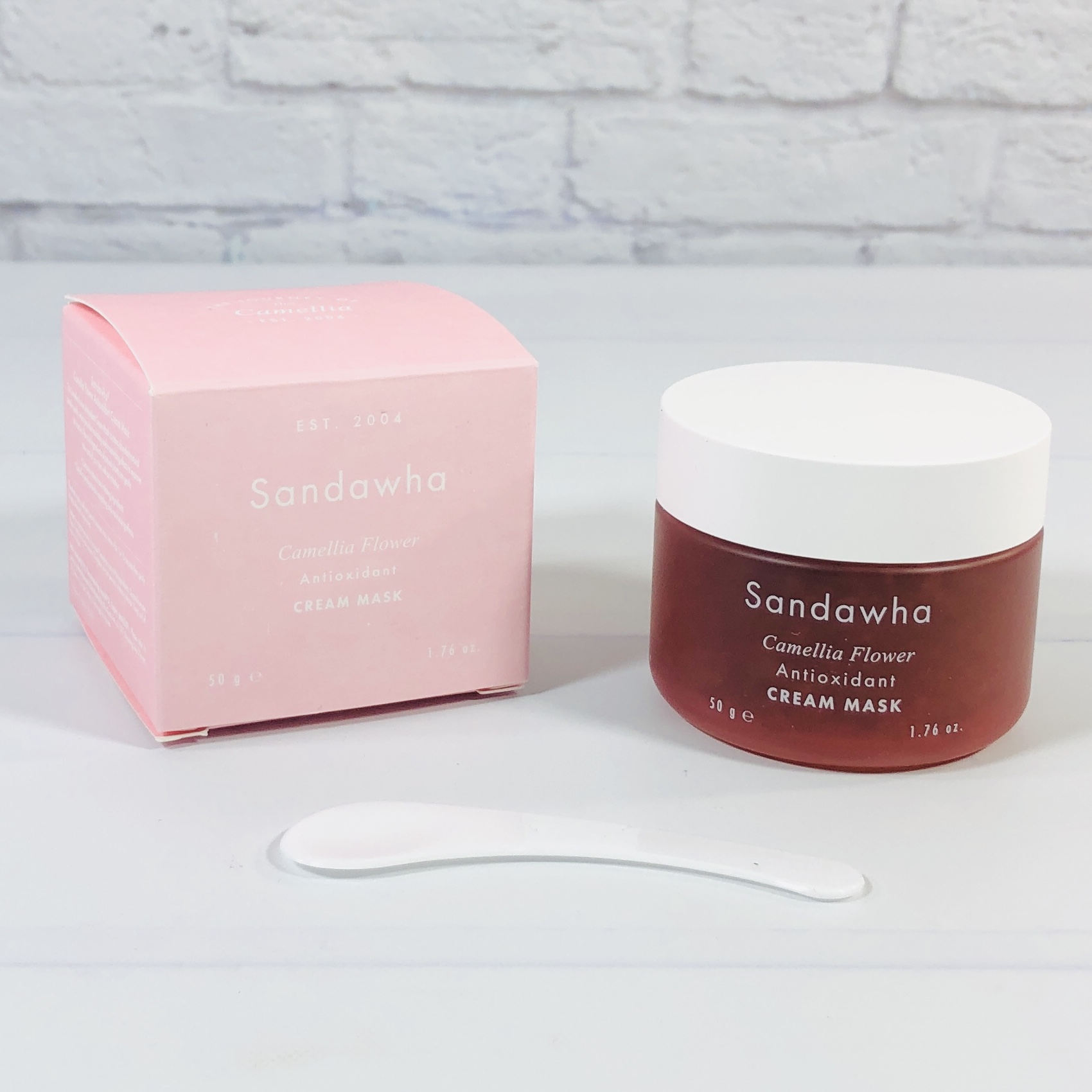 Sandawha Camellia Flower Antioxidant Cream Mask ($19) There are several sheet masks in this shipment but this product is a wash off mask that you apply to clean skin and rinse off after 10-20 minutes.
Please note that the ingredients listed on the box are different from the ingredients listed on the FaceTory website. Glycerin, camellia flower powder, sodium hyaluronate, aloe, and broccoli extract are some of the ingredients shown here.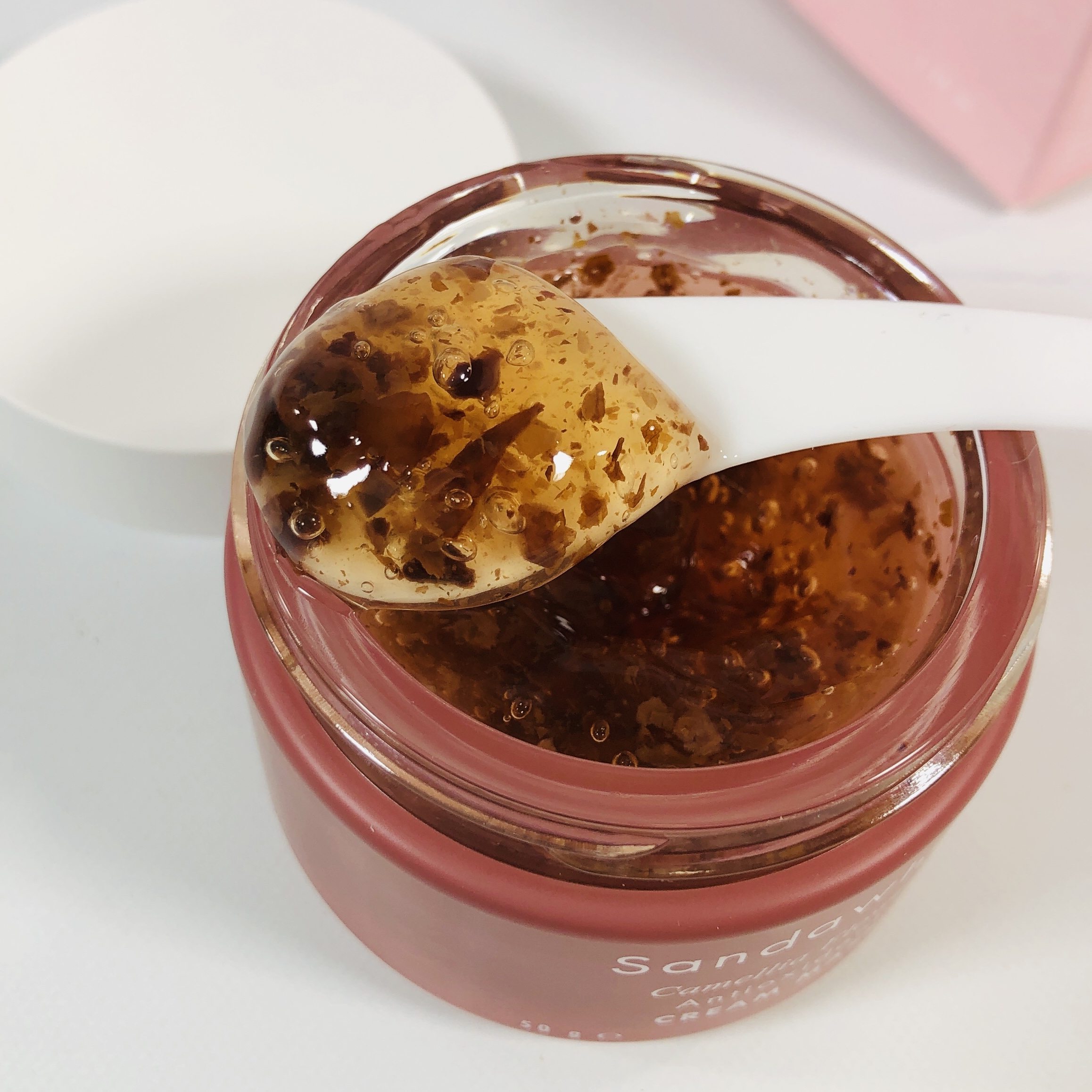 Check out that texture! It smells lightly of natural lavender and has a gel texture with chunky bits of flower petals throughout. I would suggest using before taking a shower and then rinse it off under the stream of water.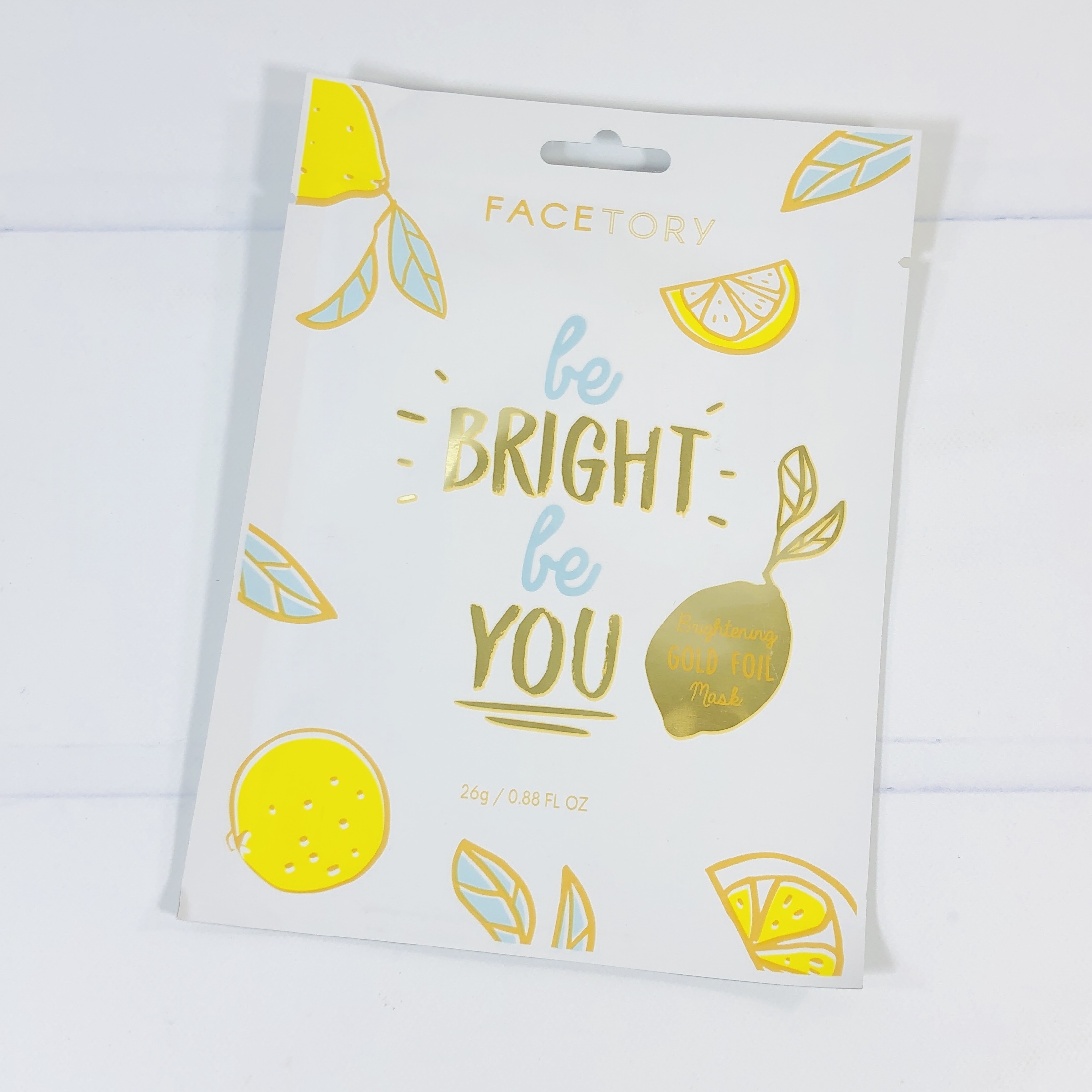 Facetory Be Bright Be You ($3.50) According to the booklet this is a new formulation and not only that, it's a gold foil mask!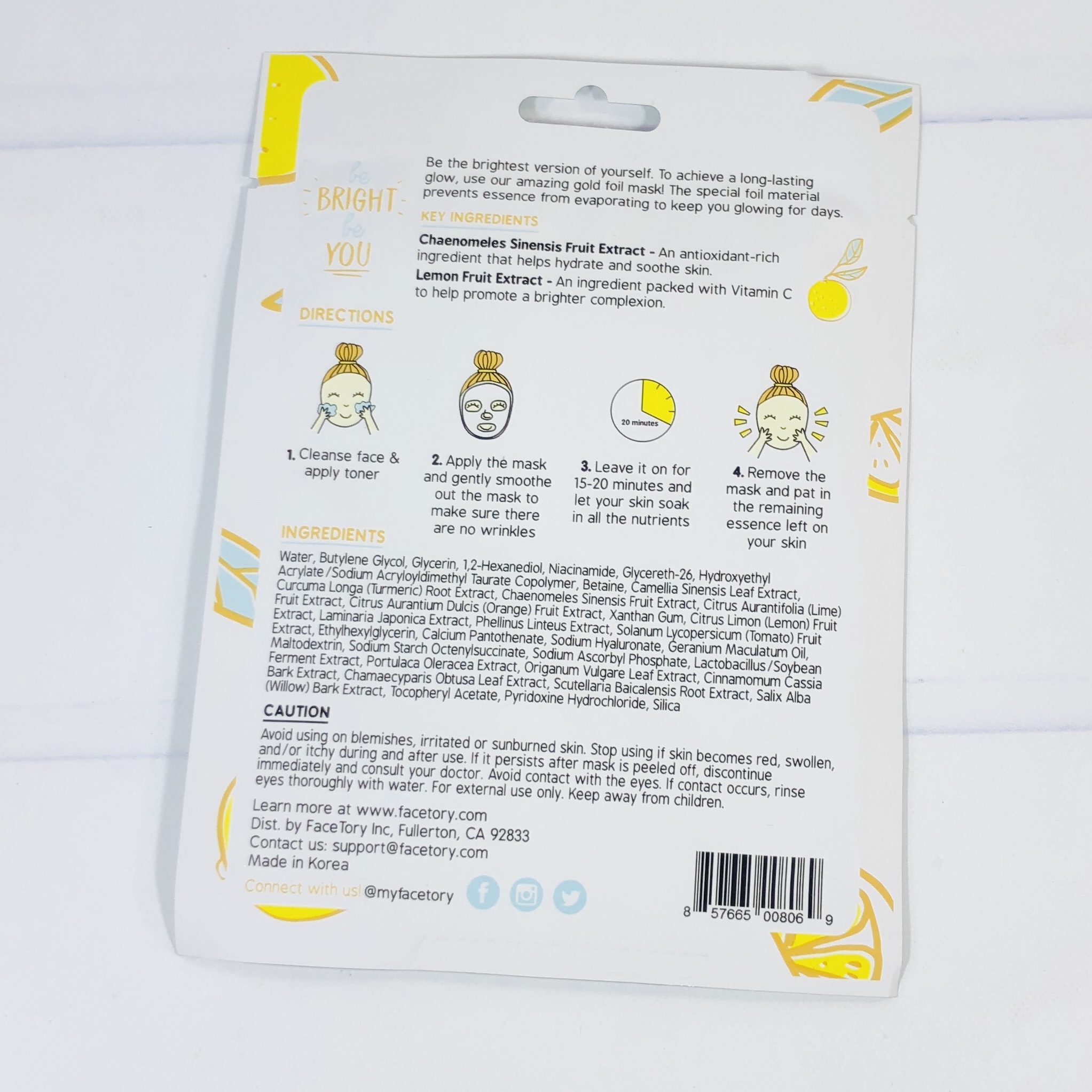 Ingredients include Chaenomeles sinensis (which I believe is quince), Camellia sinesis (which is tea), lots of citrus extracts, sodium hyaluronate, and fragrance. It is supposed to help brighten the skin. The instructions for using this mask are probably going to be similar for all of the others: wash face, apply toner, apply mask, leave on for the designated amount of time, then pat in remaining essence.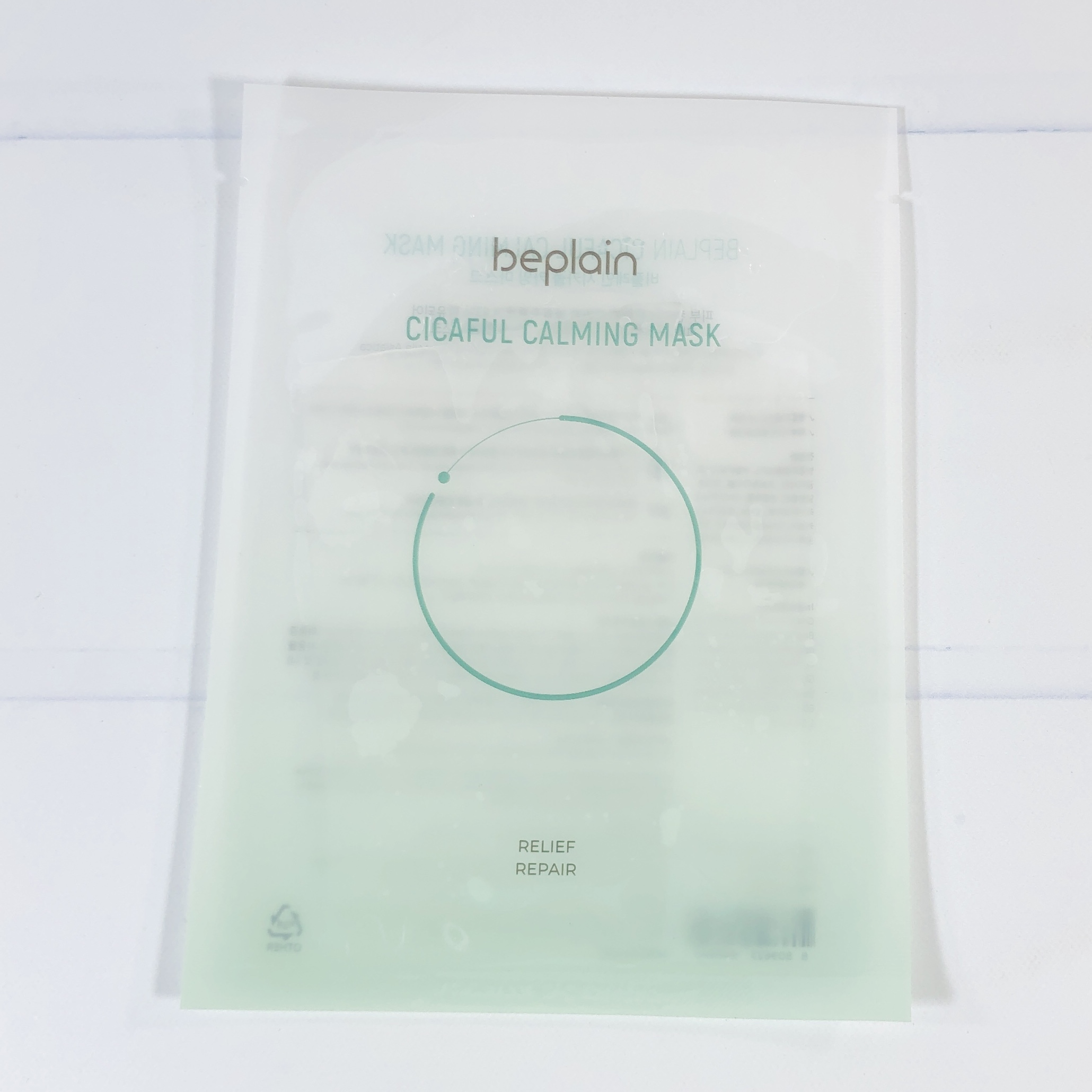 Be Plain Cicaful Calming Mask ($4) is supposed to relieve irritated skin and help it start to repair thanks to the first ingredient, cica. Cica is supposed to help restore the skin barrier.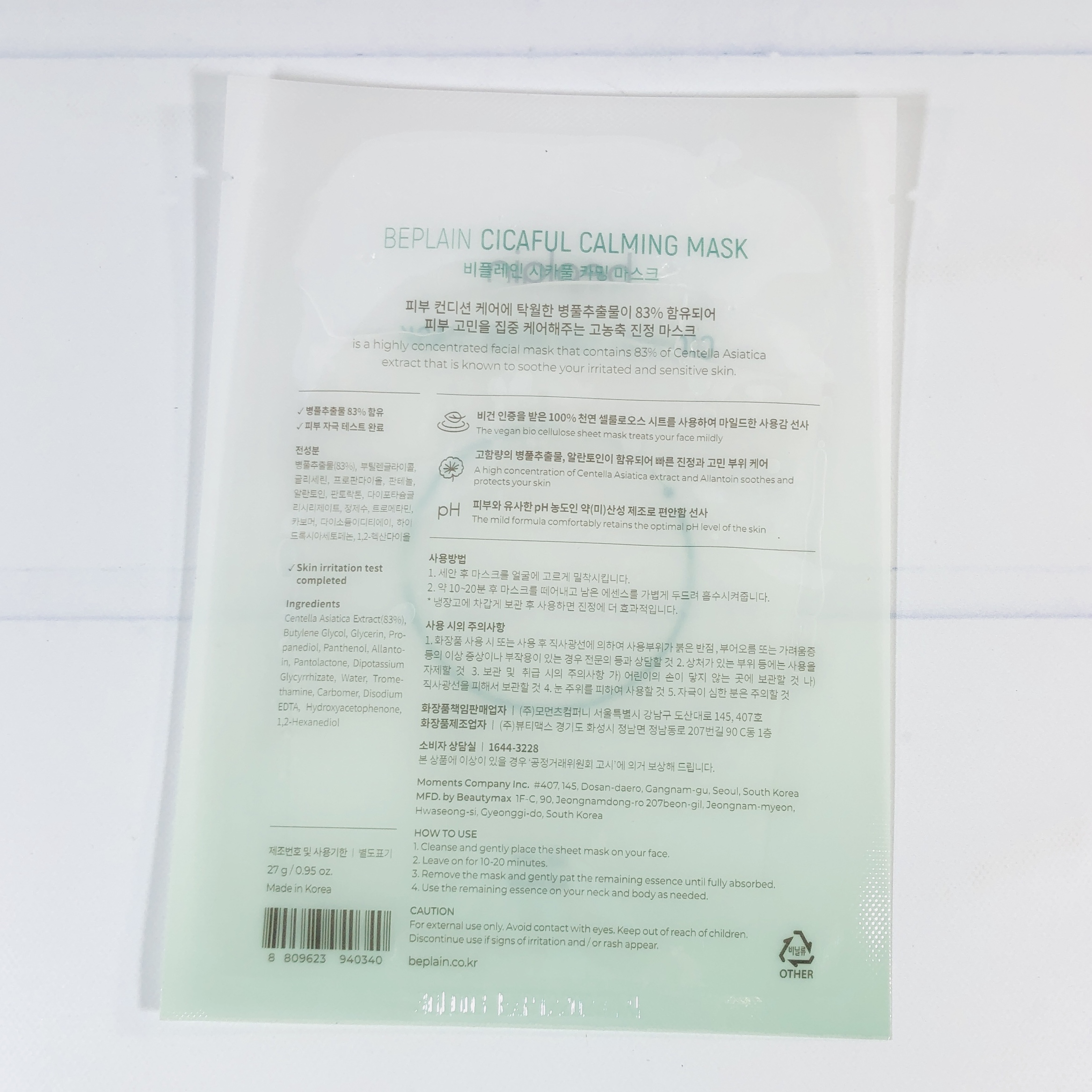 There's also glycerin, which helps seal in and attract moisture, and panthenol, which is anti-inflammatory.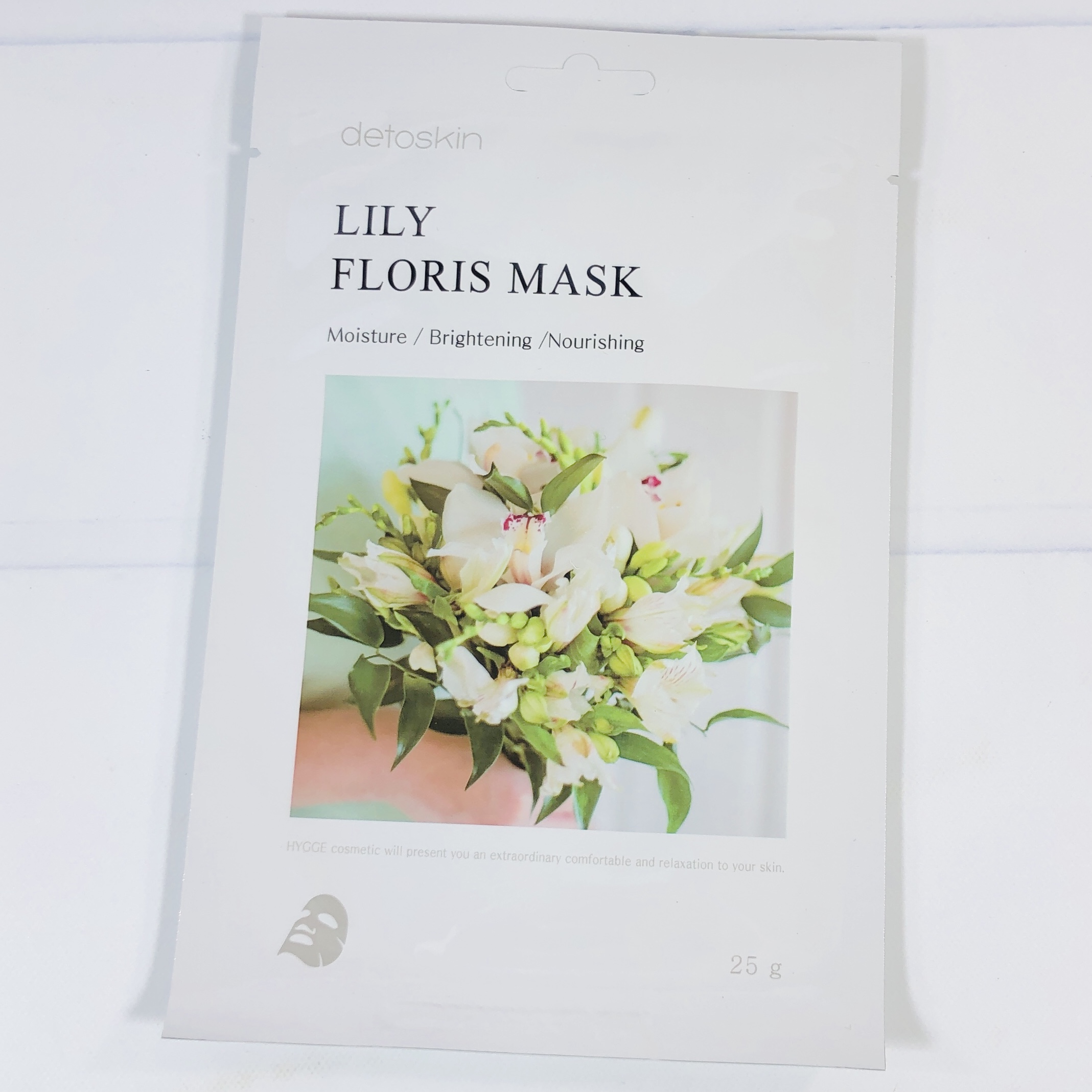 Detoskin Lily Floris Mask ($2) Here is another brightening mask but this one is also supposed to nourish and soften skin.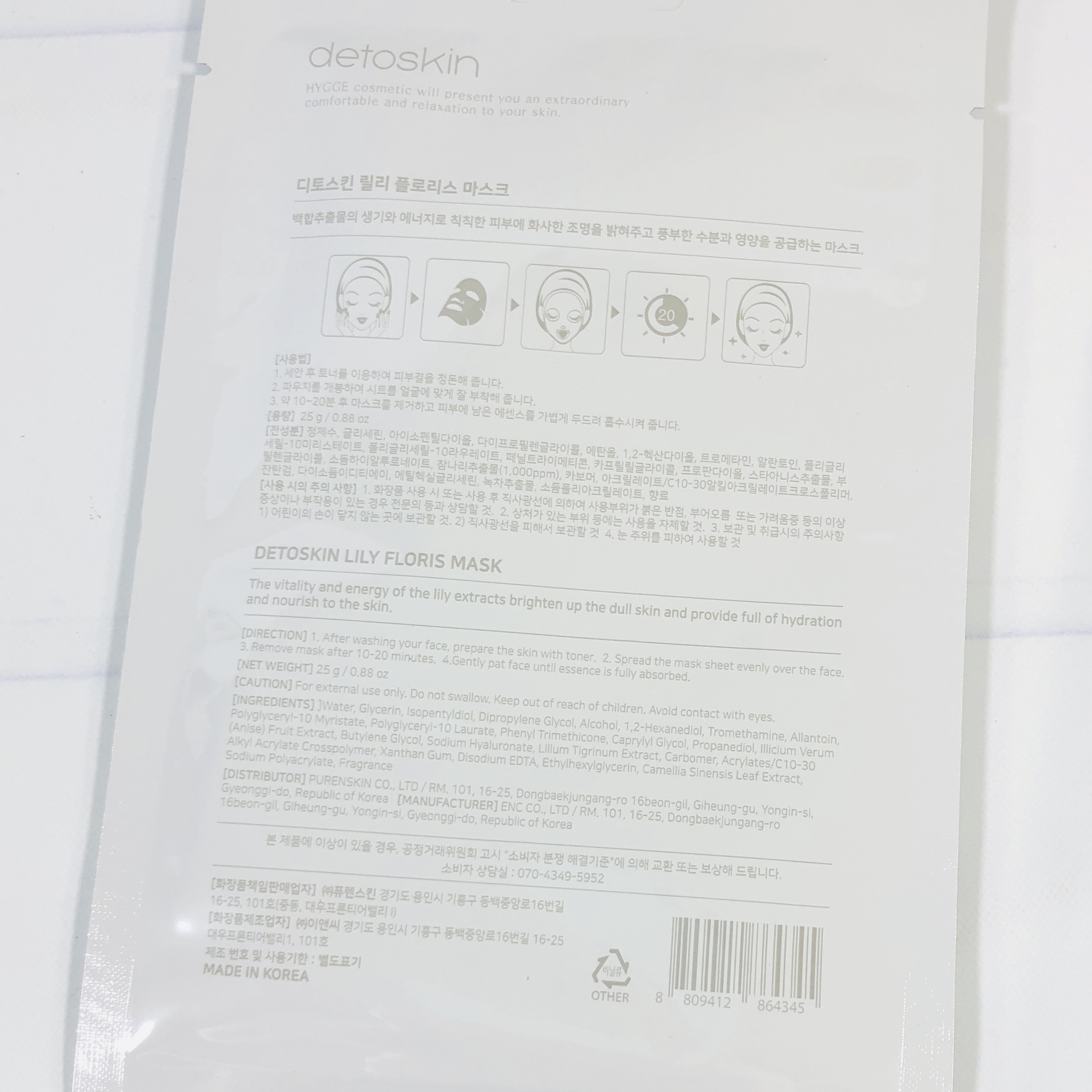 This one has tiger lily extract for its nourishing benefits. Other ingredients include glycerin, allantoin, sodium hyaluronate, and tea extract. Sadly alcohol is the fifth ingredient so I will pass it along to my daughter as my dry skin can't take that.
Lassie'el Be Shine Jewelry Mask – Aura ($3) Glowing skin is very important in the K-beauty world, and here is another mask to help me achieve that goal.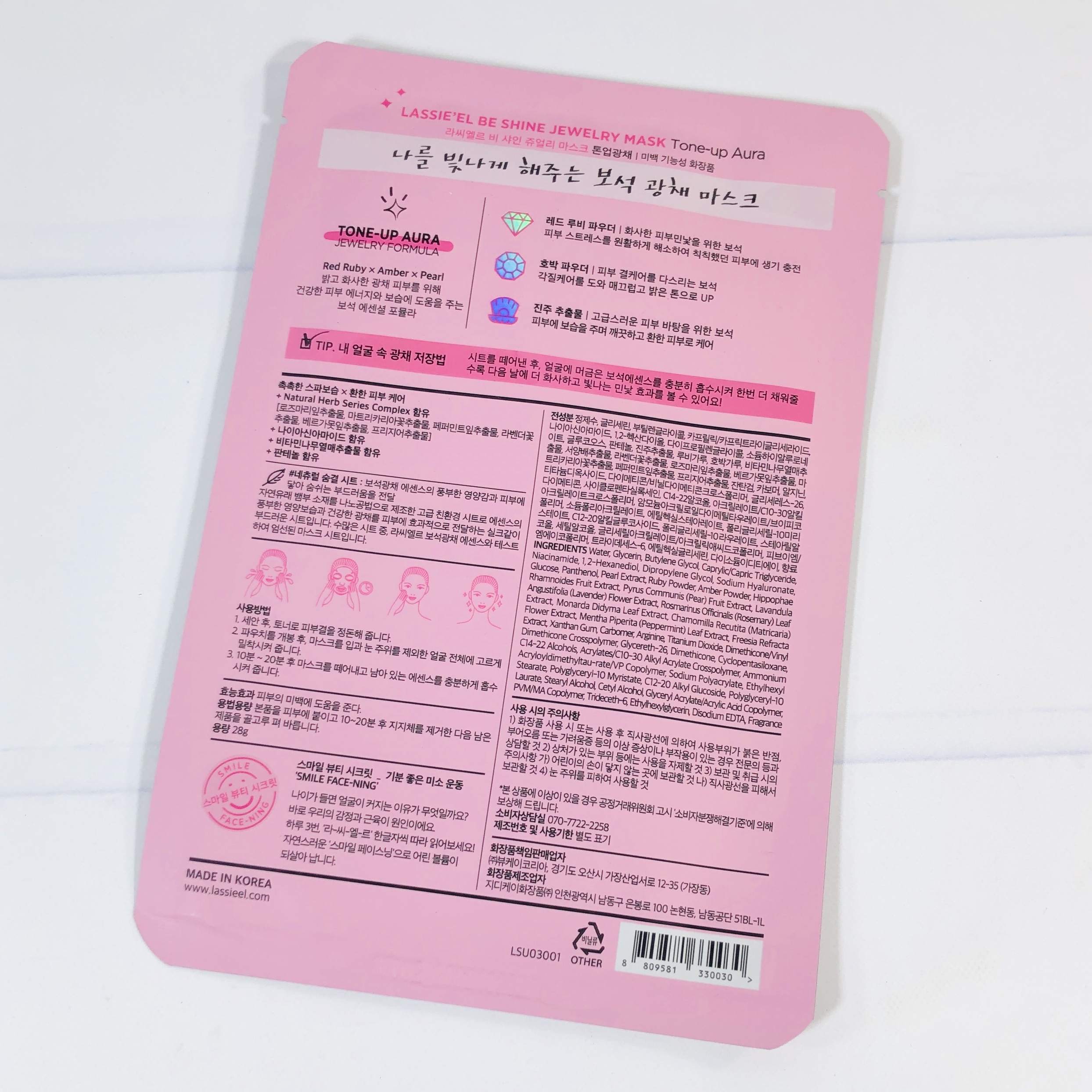 Some of the ingredients in here are glycerin, niacinamide, sodium hyaluronate, panthenol, pearl extract, ruby powder, amber powder, and so much more. Fragrance is listed last but there are all kinds of extracts from fruits and herbs.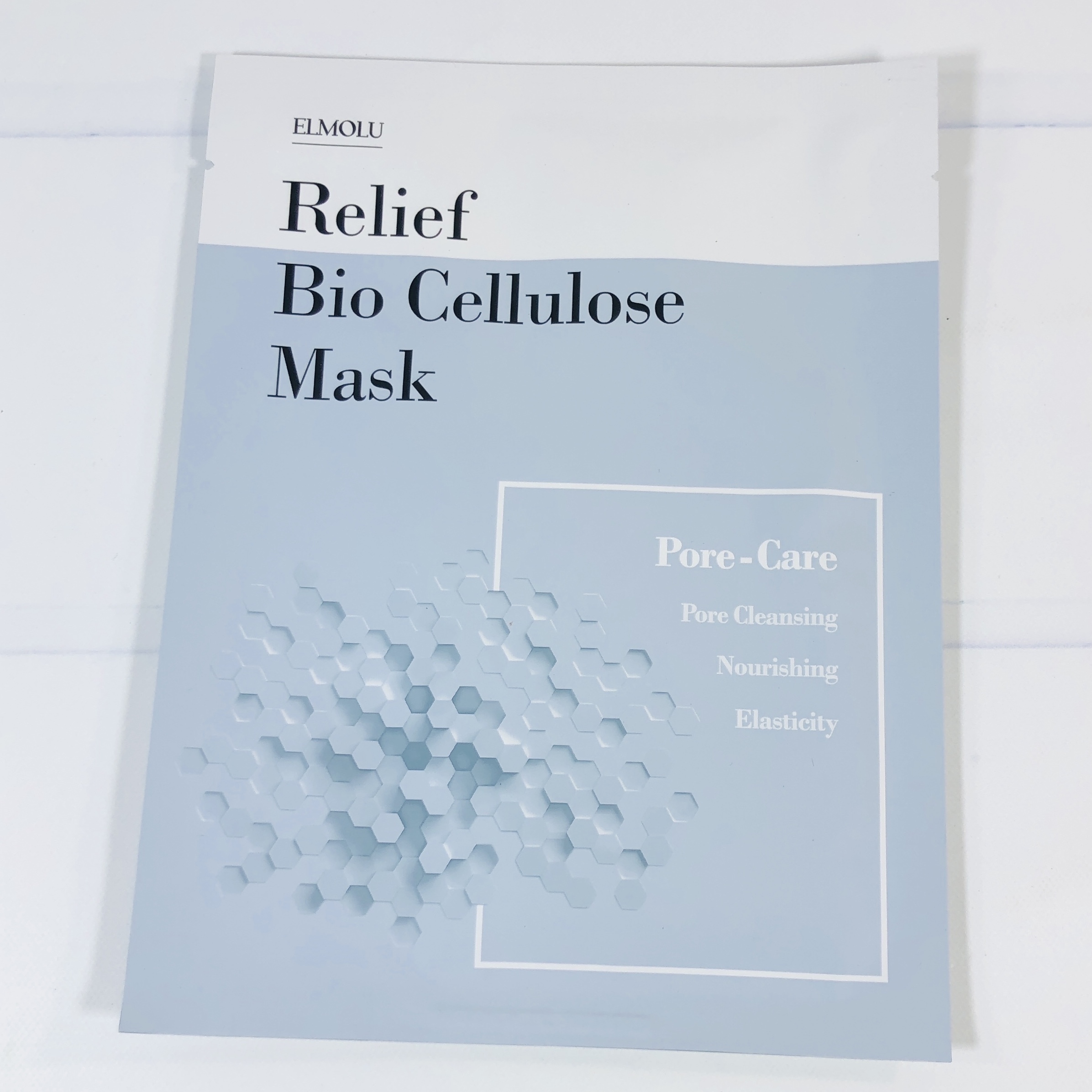 Elmolu Relief Bio-Cellulose Mask – Pore Care ($6) According to FaceTory this mask is pore-cleaning, nourishing, and calming.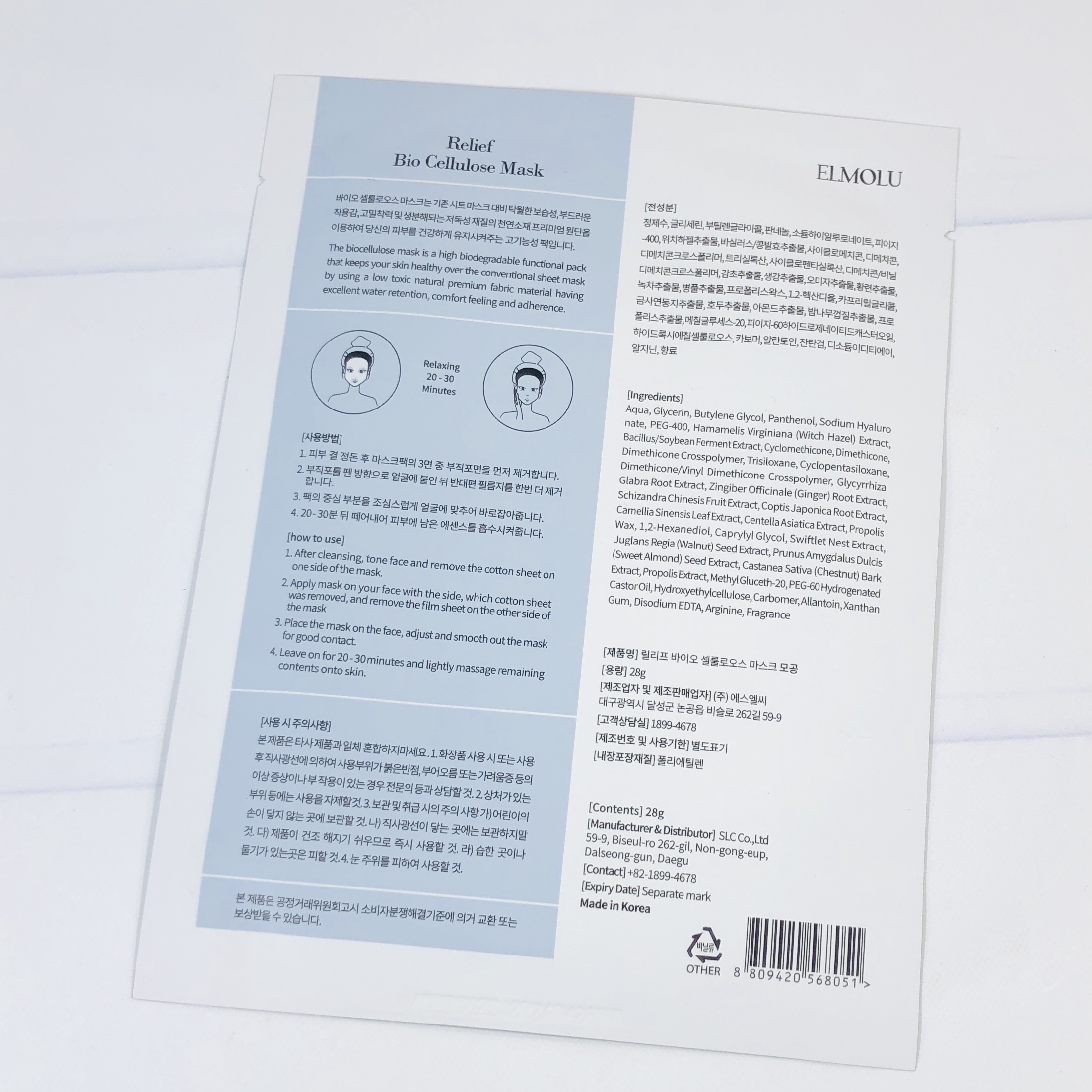 Sodium hyaluronate shows up again, it is supposed to hold on to water to keep skin moist. Glycerin, witch hazel, soybean ferment, plant extracts, and sweet almond oil also make up some of the ingredients and are used for their soothing properties.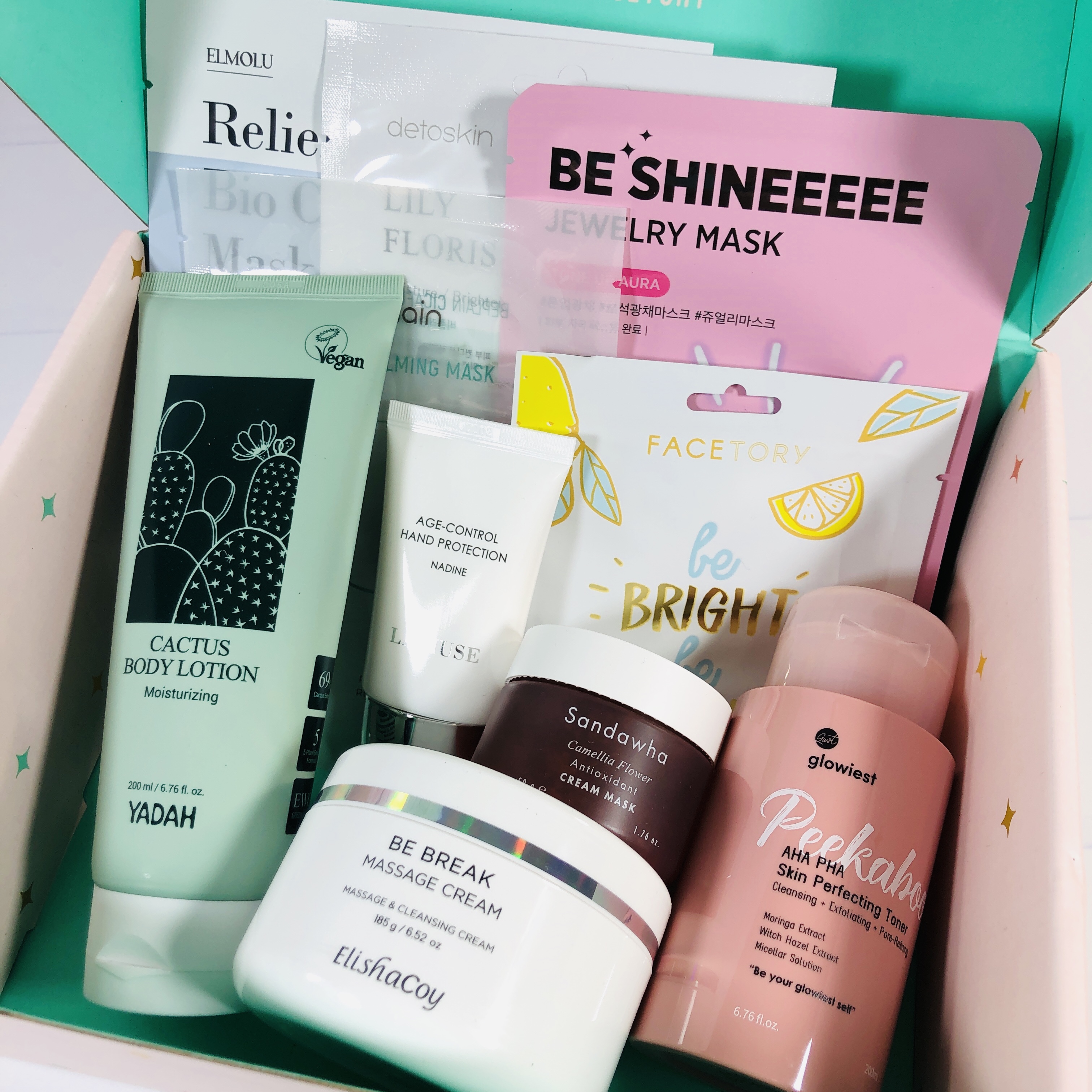 The FaceTory Lux Plus box was full of exciting skincare products and a variety of different sheet masks. Some of the ingredients, like hyaluronic acid and cica, show up in several of the products so skin should be moist and repaired after using them for a while. Of course, the sheet masks are one time use only but they are such a great way to stop, take a break, and put your feet up, since it's kind of hard to do much else while wearing one. My favorite item was the lavender-scented body lotion, it smelled wonderful and felt great on my skin! All of the products felt luxurious. I am going to get a lot of use out of all of the other items too, they should hold me over until the next box gets here!
What do you think of the FaceTory Lux Plus?