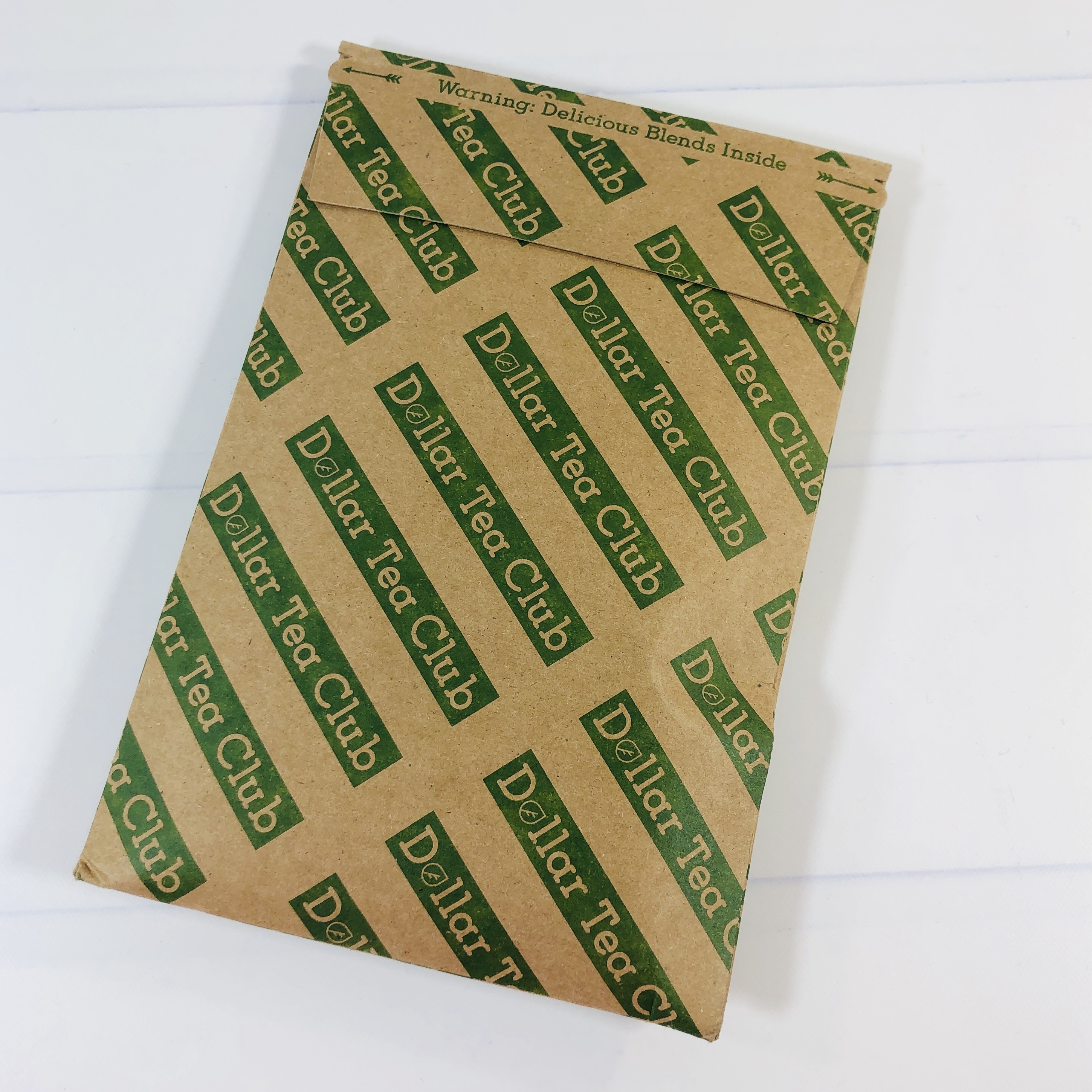 Dollar Tea Club is a monthly subscription that sends loose-leaf teas in an amount that works for you. They have a few different plans to choose from and all of the teas are made without artificial flavors. The teas are ethically sourced through direct trade, which means better quality tea while knowing the farmers are paid reasonable wages and treated with respect.
Hate waiting in line just to get your name spelled wrong? We're on a journey to make exploring new tea blends fun for everyone.. yes, even coffee drinkers.
Everything in my recyclable mailer! I am reviewing The Explorer plan, which is $1 for 3 samples of tea, which is enough for 6-8 cups. You can also add additional sample packs of tea, those also cost $1 each. Shipping is extra. They offer two other plans: The Sensei and The Sommelier. Both of those plans include filters, a strainer with your first order, and varying amounts of tea based on which plan you choose.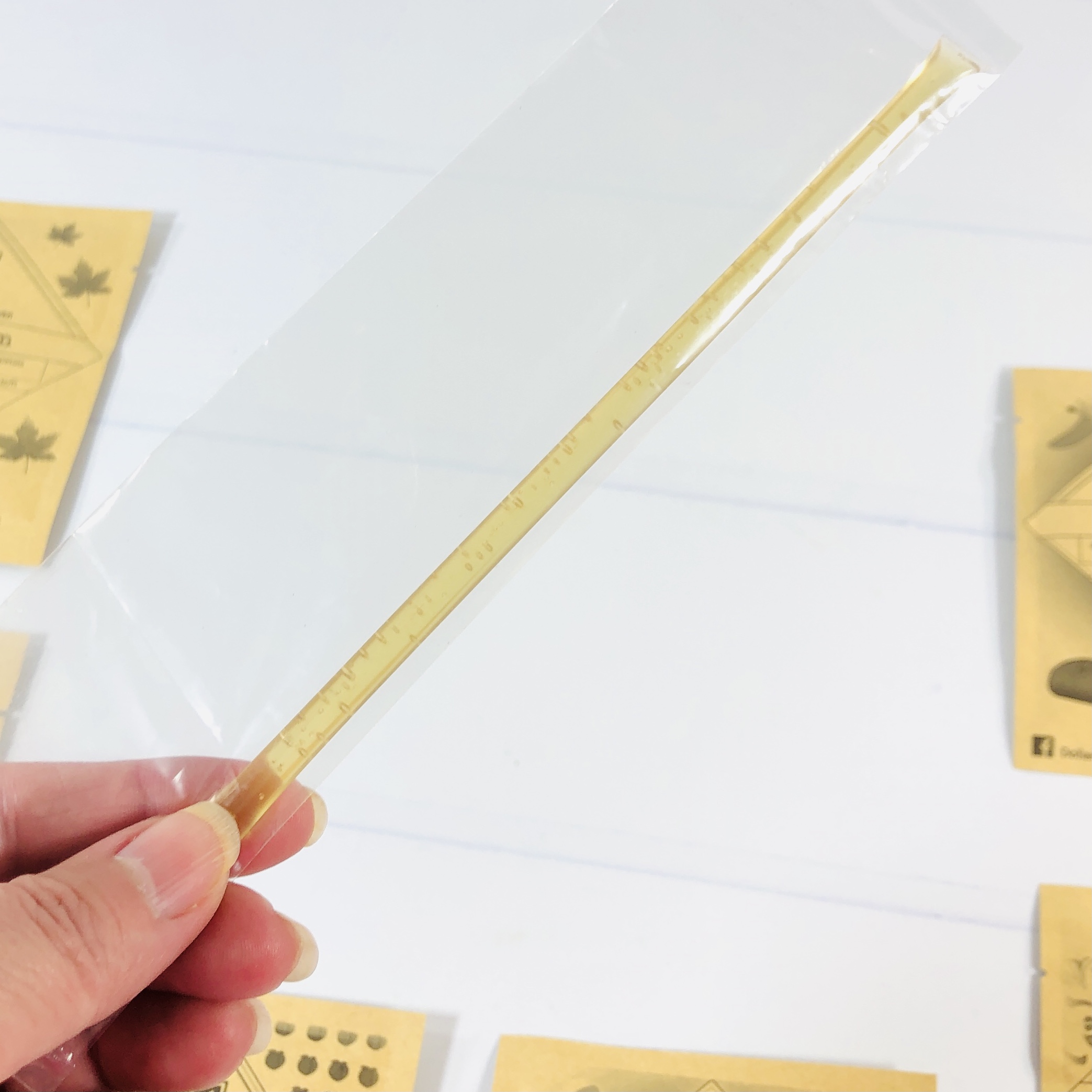 I received a HoneyStix (75 cents). You can add on 3 HoneyStix or order them in a larger amount. The straw is free of BPA and the honey is unpasteurized. It tastes like liquid gold, if gold was made of sweet, sugary goodness.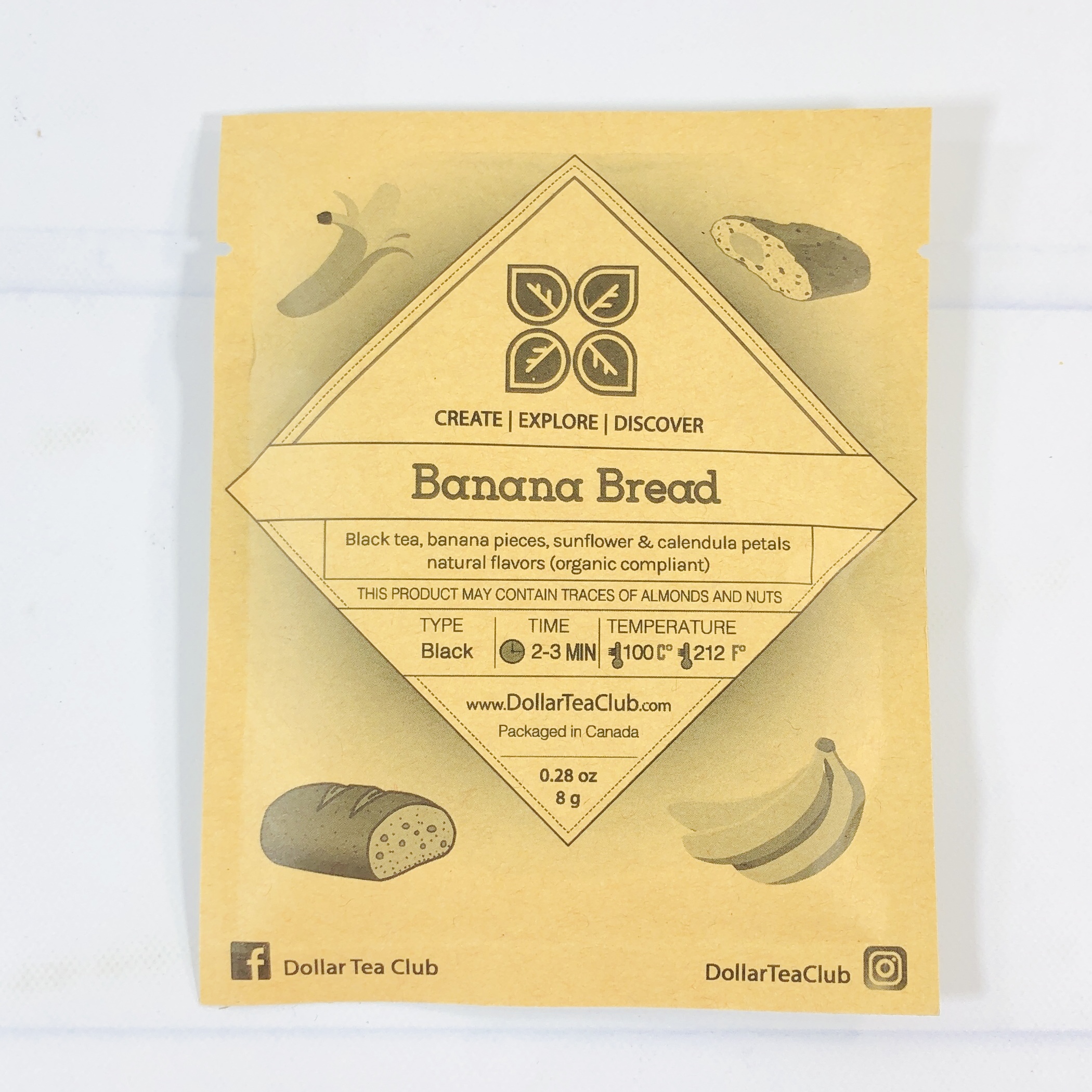 Banana Bread If you asked me which flavor I would want in a tea then this would have been at the bottom of the list but you know what, I liked it!
The base is black tea combined with banana pieces, sunflower and calendula petals, and natural flavors. The black tea was strong and I added sugar and milk and this was like having that banana bread with a glass of milk. It was definitely on the tropical side and while they suggest serving it iced I thought it was wonderful hot, and would be super comforting on a cold day in winter.
Lavender Fields I think this tea is a study in contrasts: the lavender is supposed to help one relax while the green tea provides some stimulating caffeine!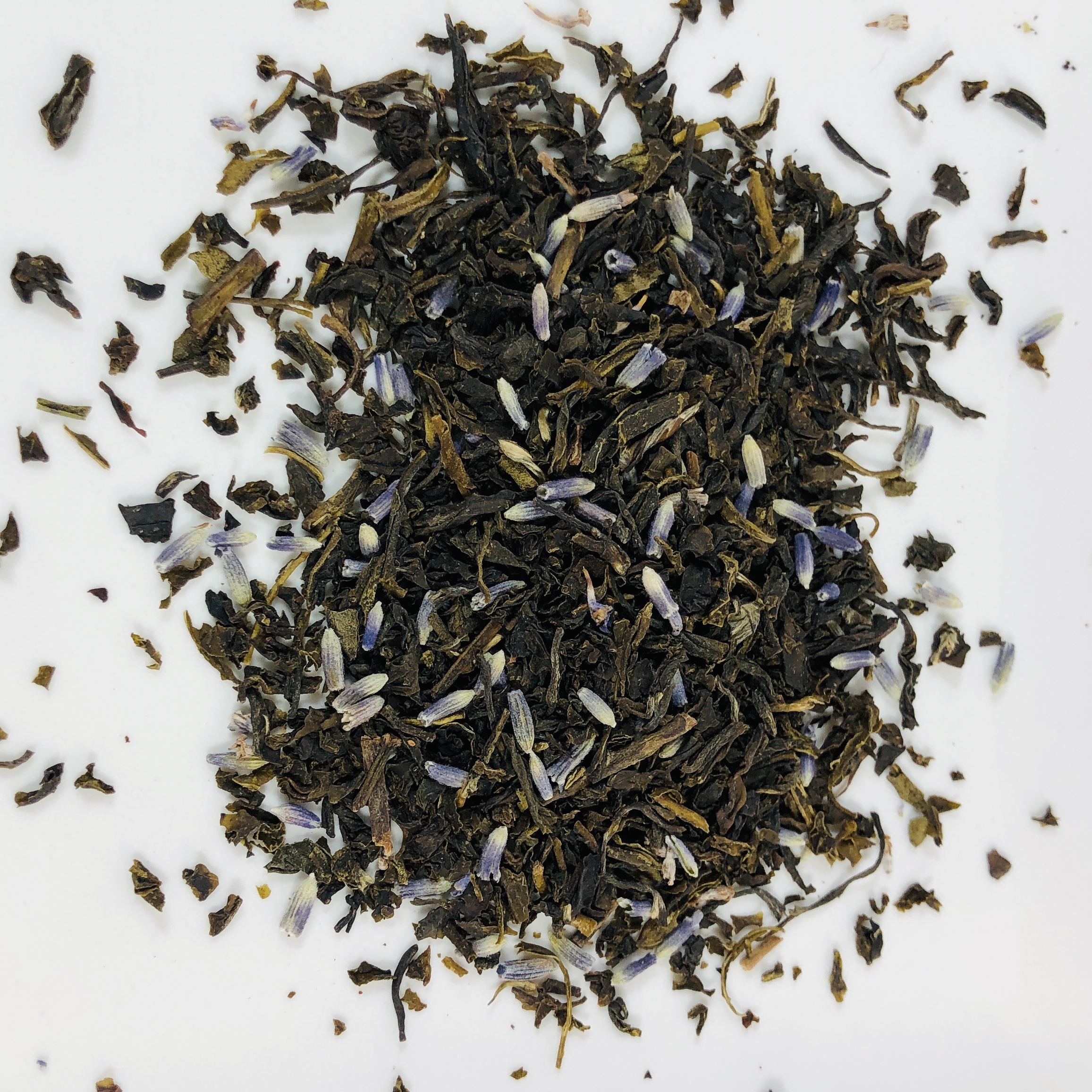 I kept my water under boiling and steeped for less than three minutes but the tea was still a tad on the bitter side, so I added sugar. It's herby and floral, considering that is it comprised of lavender and green tea. I think this would also be good iced on a hot summer's day.
Maple Dream I thought this sounded like a tea for fall and the cooler months but it was actually really nice for summer, and for some reason it reminded me of a berry-flavored tea, I have no idea why.
The base is black Assam tea and there is green tea, flower petals, and "natural flavors". When I clicked the link to the Dollar Tea Club's website they mentioned that this tea has a "blackberry pungency". I knew it tasted like berries! It would be good over ice too but I drank it hot with sugar and milk.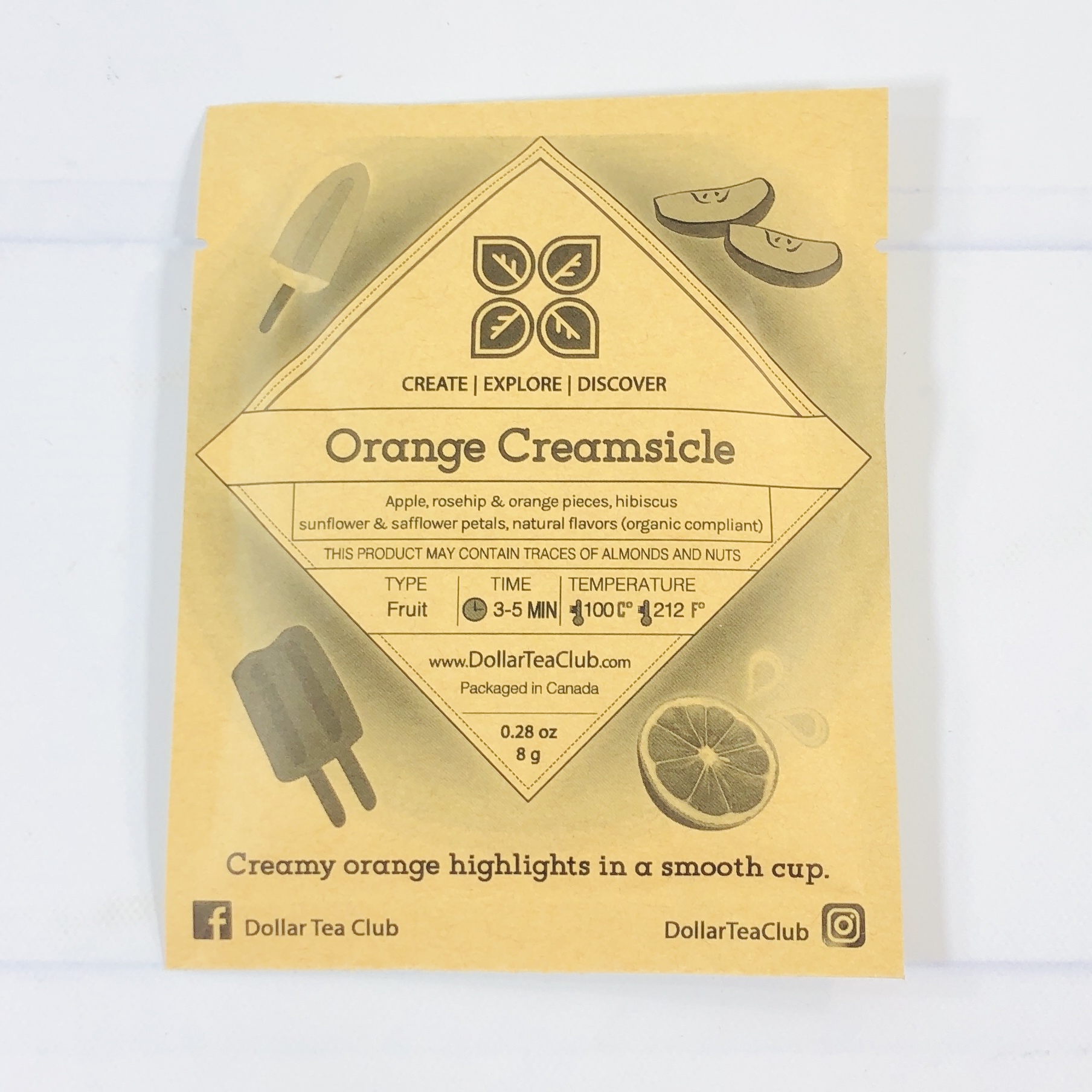 Orange Creamsicle I think this blend is supposed to be a take on a classic vanilla ice cream and orange sherbet dessert bar.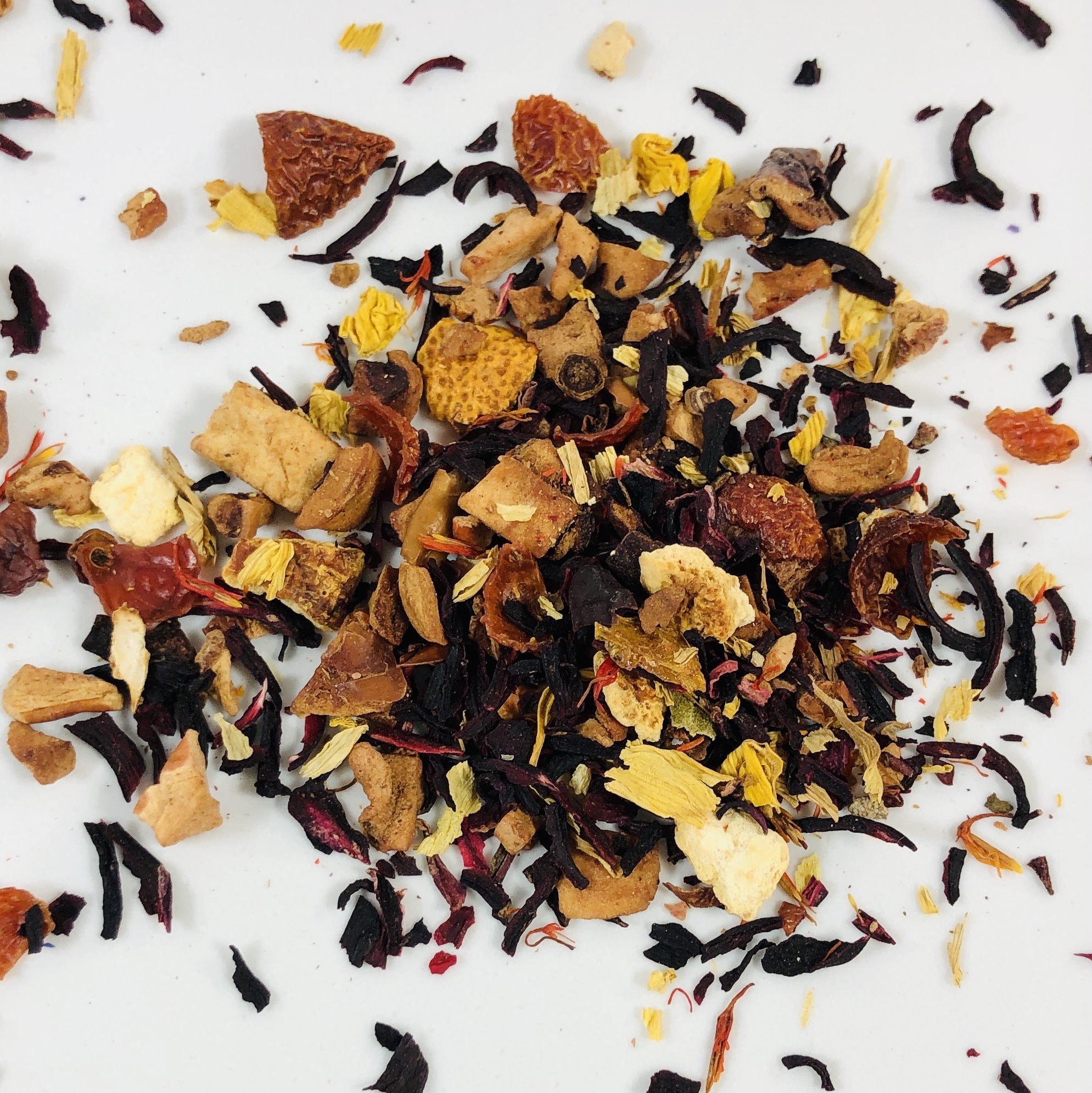 It has apple and orange pieces, rosehips, flower petals, and hibiscus. This is a hibiscus-forward blend which means to me, all I taste is hot cranberry juice. I added a generous amount of sugar to take away the tartness, and the orange flavor came through somewhat.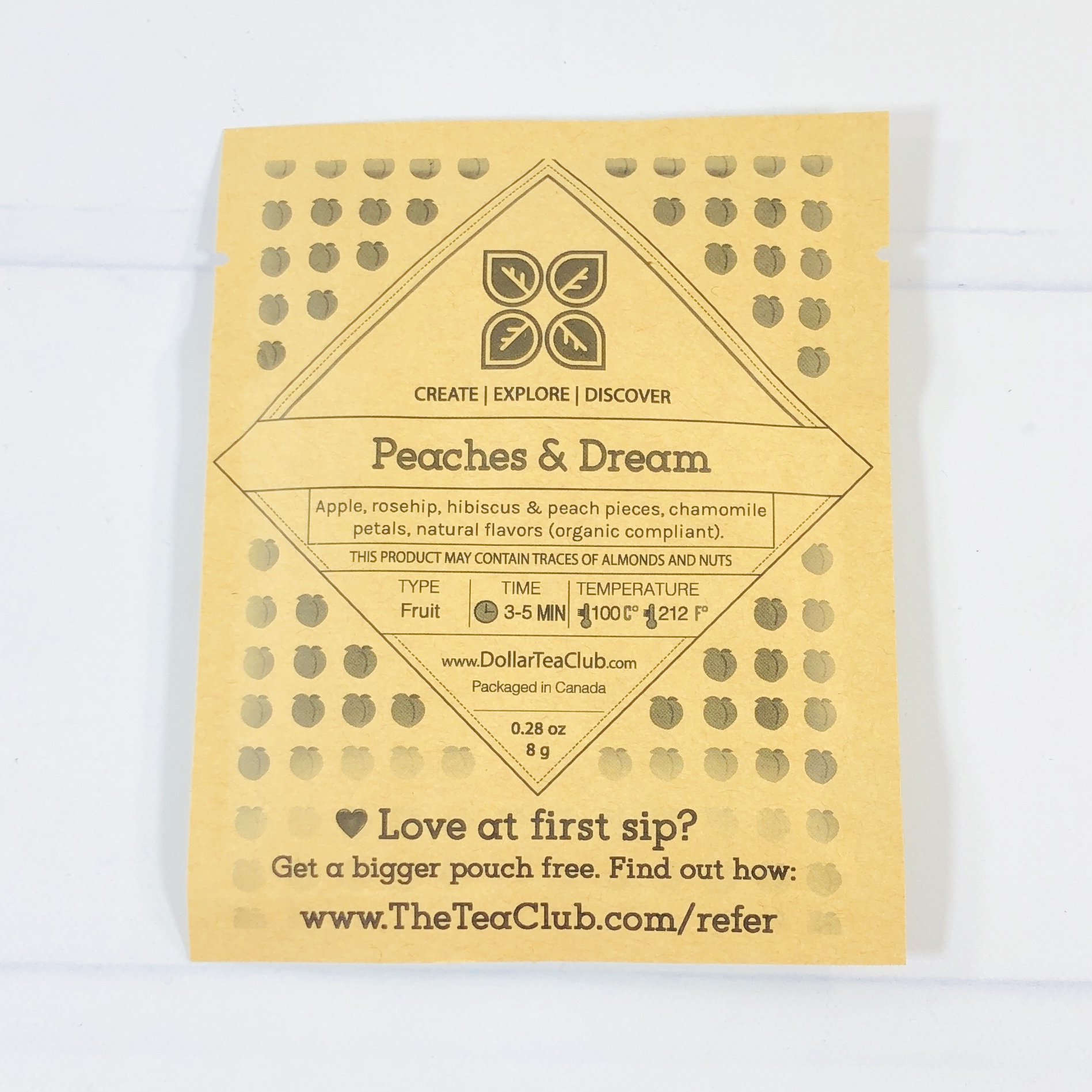 Peaches & Dream Here is another hibiscus heavy sip but the peach flavor is also there and gives this a very fruity flavor.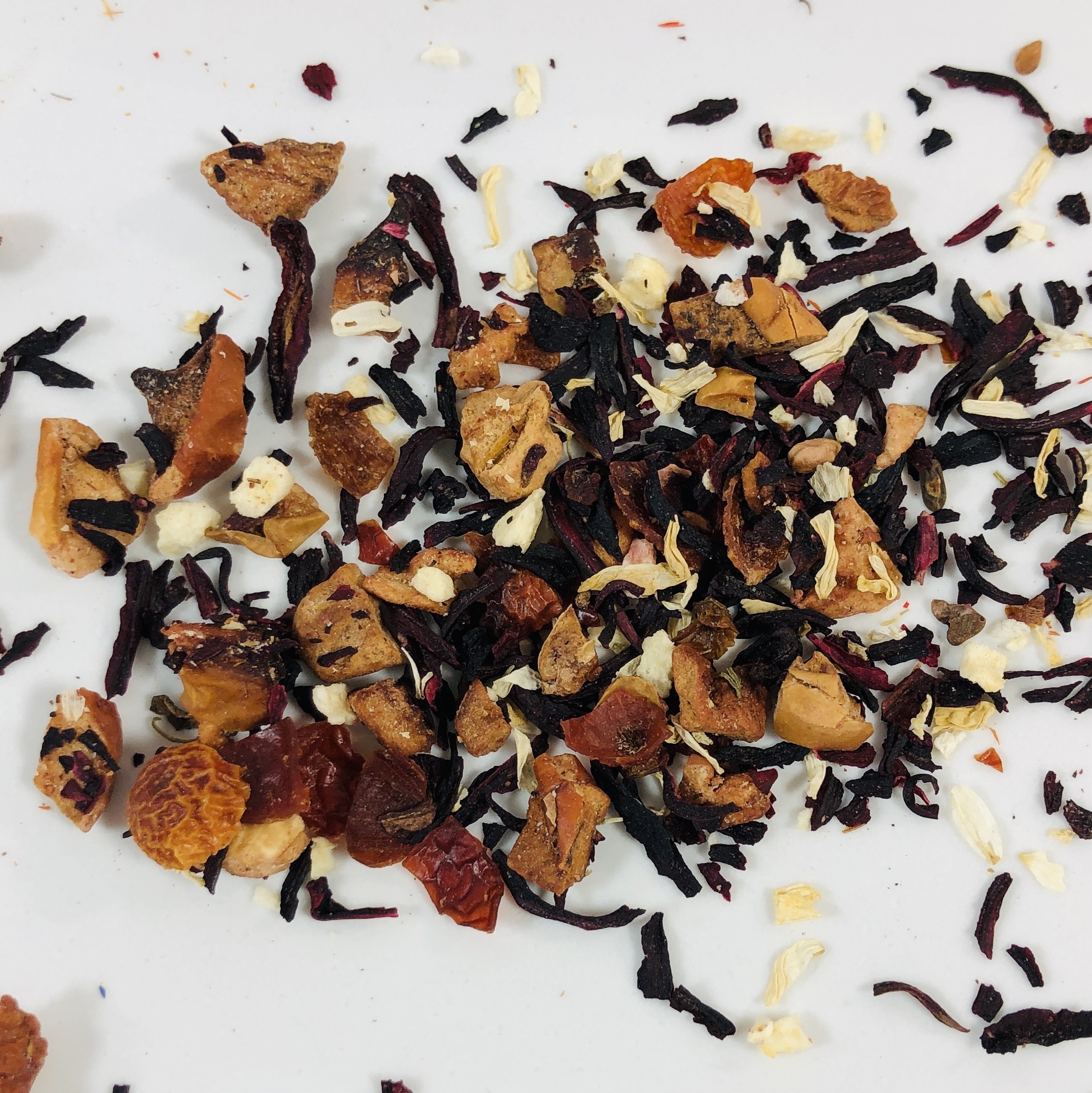 Other ingredients include apple, rosehips, and chamomile. Hibiscus teas tend to be thick, like a full-bodied wine, and this is no exception, but this one is summer in a cup and would also taste excellent over ice, which is how I plan to drink it next time.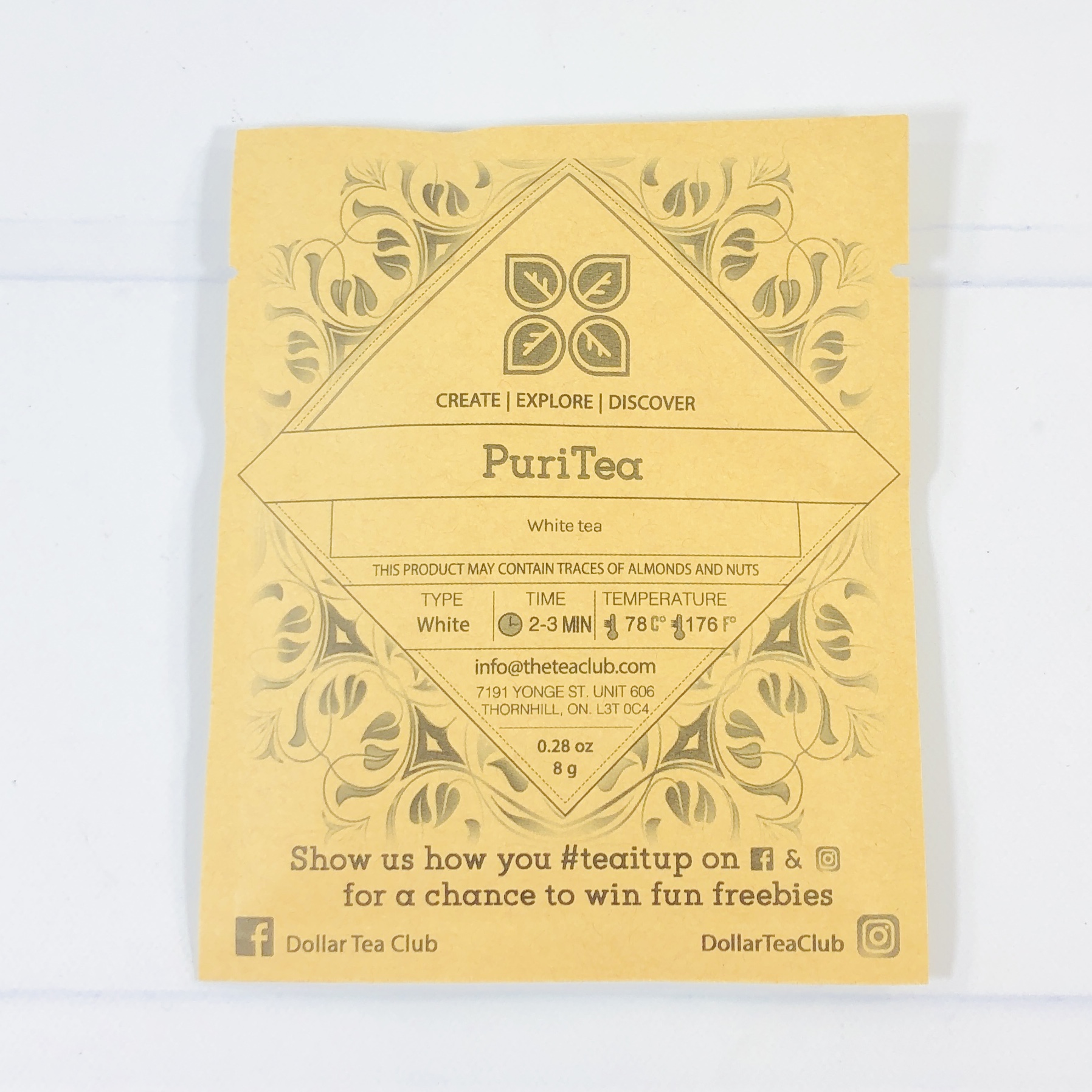 PuriTea I was very surprised by the flavor in this single ingredient tea — it's just white tea, which I usually find mild and light in flavor, but this was bold and I was surprised to see that it isn't roasted.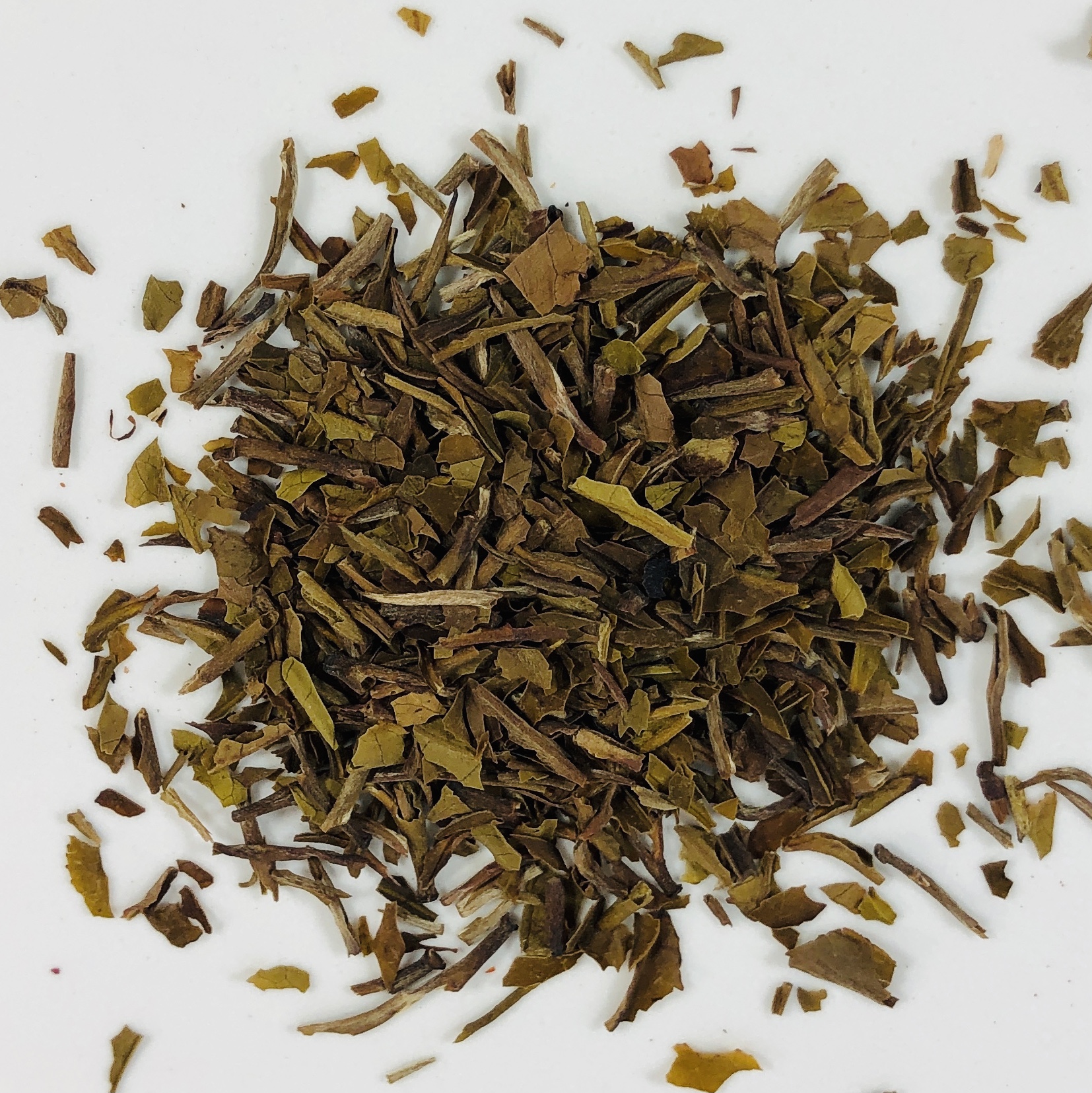 The flavor was much closer to a traditional green tea and was slightly tannic after steeping so I added some sugar but I was very surprised at how flavorful it was, it reminded me of Hojicha tea.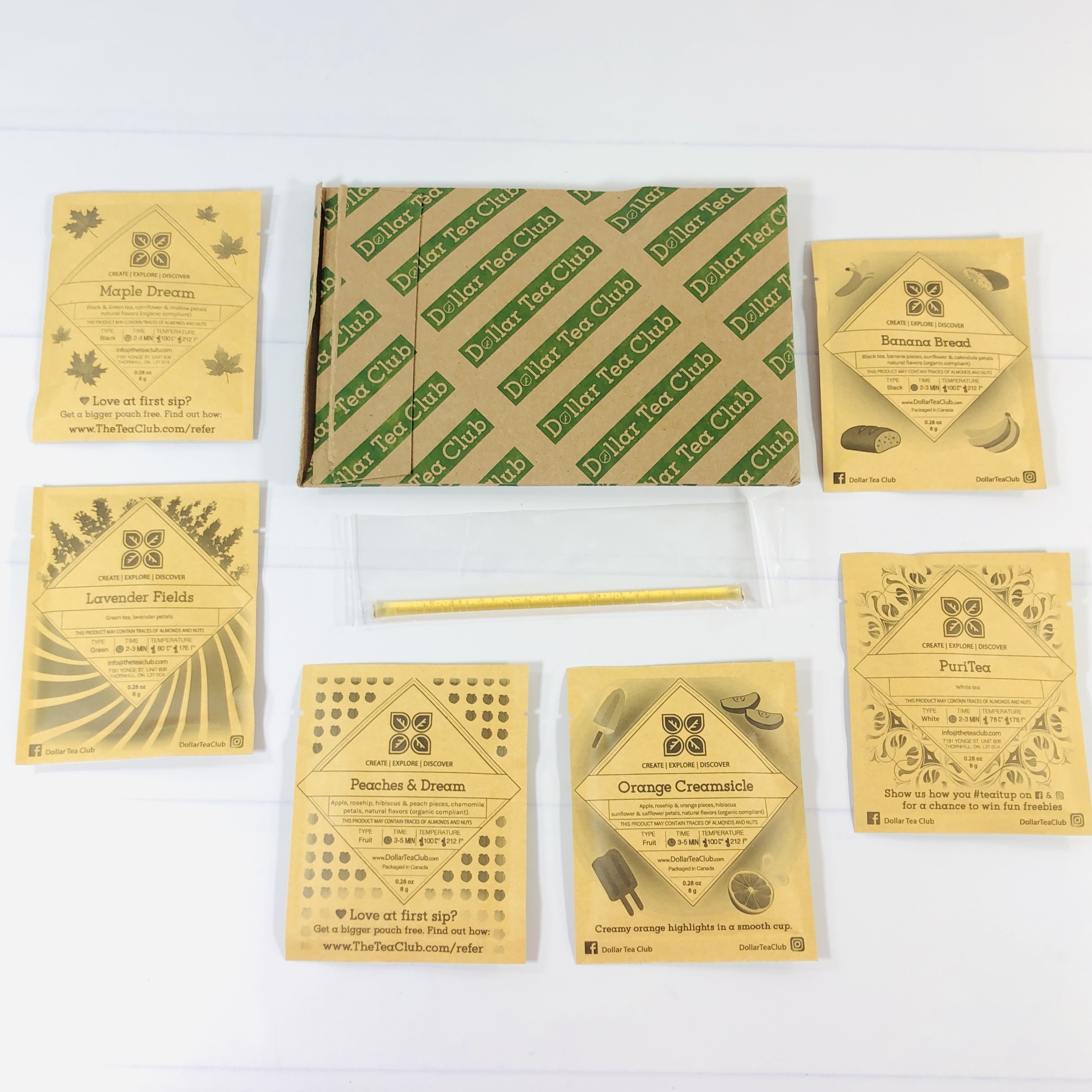 Dollar Tea Club is a great way to try different tea blends so you can see if you would like to purchase bigger packs in the future, so no more wasted teas. I was also pleased with the variety — I found black, white, green, and herbal represented here. A couple of the flavors have me ready for fall (yes, already!) but most seemed like they would also taste yummy iced. The quality was lovely and the HoneyStix was tasty and portable.
Do you like tea? What do you think of this tea subscription?