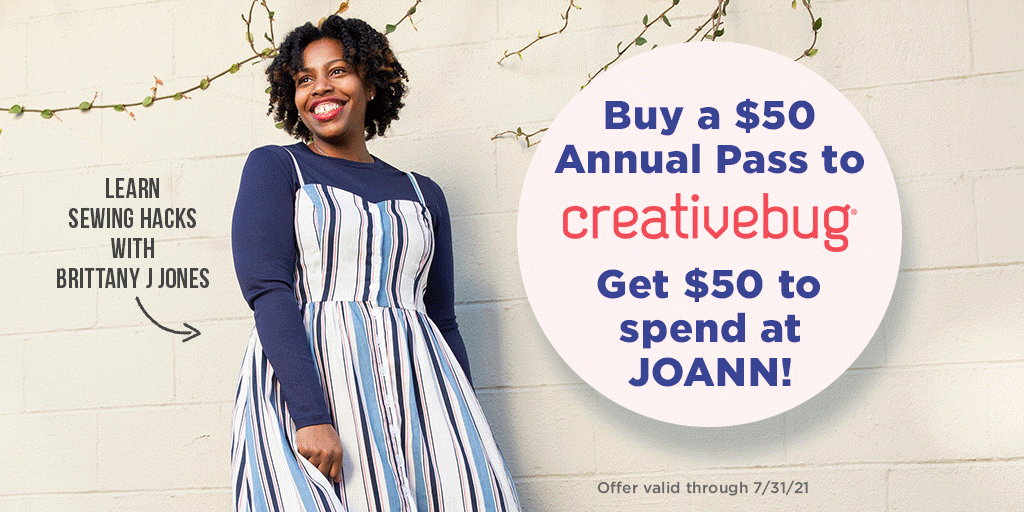 Creativebug has a great deal for new subscribers to their online classes for crafting.
Keep your hands active and your mind engaged with Creativebug. Unlimited access to thousands of classes. New classes release everyday plus downloadable patterns, templates and recipes.
Get $50 credit at Joann Stores when you sign up for an annual subscription! Just use this link and use the coupon code JOANN50 at checkout. Ends 7/31.
Get $50 Credit at Joann Stores when you get Creativebug annual subscription!
OR grab any of these deals:
Get 2 months FREE! No coupon needed, just use this link to subscribe!
Enjoy FREE Classes! No coupon needed, just use this link to watch.
NOTE: After the promo period or trial, you'll be charged $7.95 per month for the Creativebug Unlimited plan.
Here's a peek at what's coming in July:
Here's how it works:
By signing up for Creativebug you'll enjoy unlimited access to thousands of online art and craft classes. Watch our classes anytime, anywhere. Since our classes never expire, you can start and stop projects at your own pace. No pressure, just possibilities!
Here are the plans and what you'll get:
New classes from top artists released every day
Soul-feeding screen time for as little as 25¢ a day
Downloadable patterns, templates and recipes
Access to Creativebug community galleries and forums
Exclusive discounts to JOANN
Choose 1 class each month to keep forever (only on Unlimited Plus & Annual Unlimited Plus plans)
Here are some of the classes available:
Everyday Sketching: 31 Still Life Prompts by Jon Stich
Landscape Embroidery by Lauren from Lark Rising Embroider
Botanical Watercolor Illustration by Jess Park
Sew the Seabright Swimsuit by Chelsea from Friday Pattern Company
Daily Creativity at Home by Creativebug
Sew the Adrienne Blouse by Chelsea from Friday Pattern Company
Unconventional Book Structures by e bond
Eat Your Fruits & Veggies Crochet-Along: Orange and Slice by Twinkie Chan