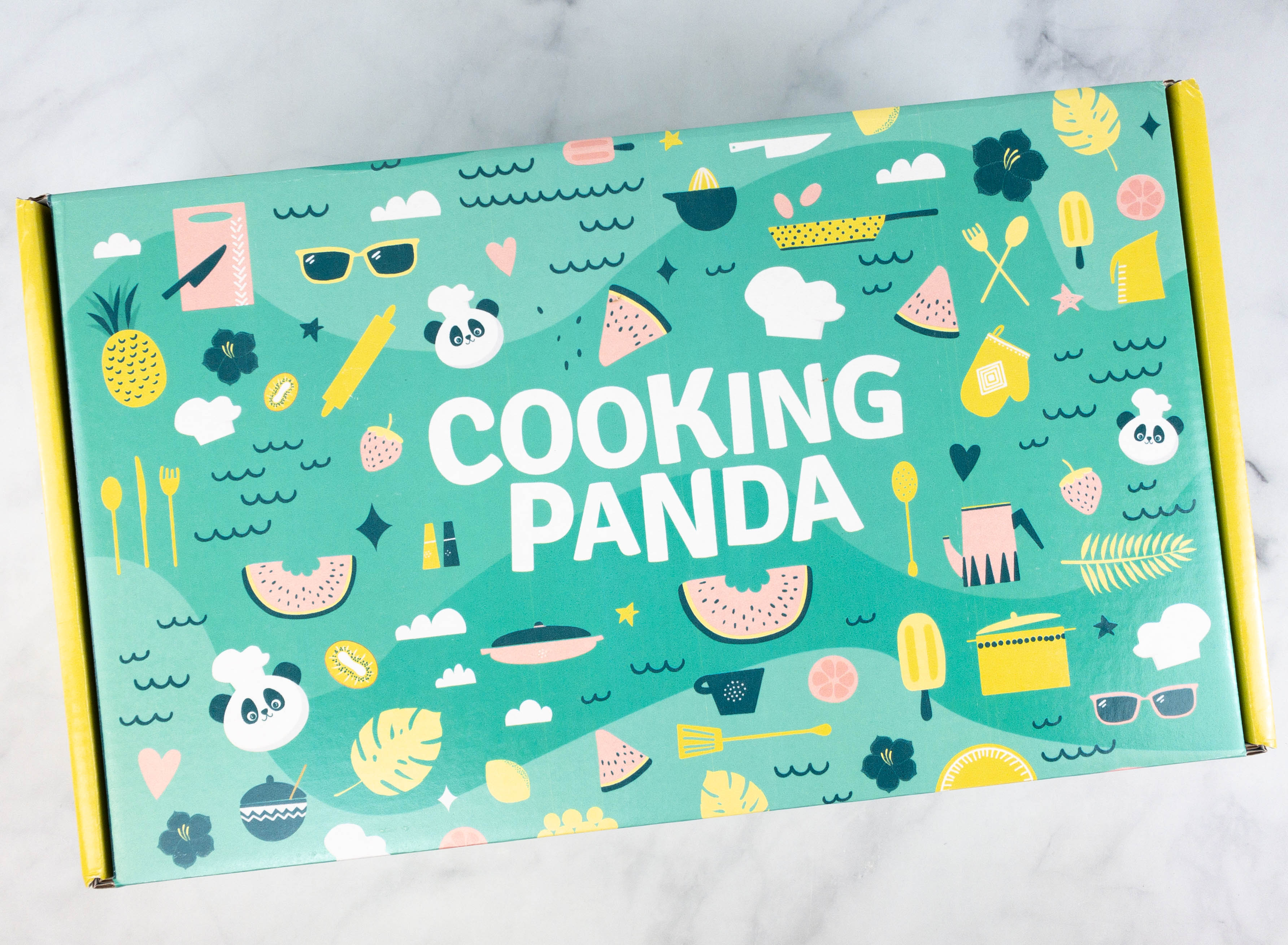 Cooking Panda Box is a quarterly subscription box for foodies, from the same people behind the Cooking Panda YouTube channel. The box will include 25+ food and beverage products from popular and trending brands. It may include everything from snacks and desserts to sauces and other cooking ingredients.
A Seasonal subscription (pay-per-box) is $44.99, while an Annual subscription (prepay for 4 boxes) is $159.99. Each box has a promised retail value of $150! It comes in a SERIOUSLY big box with an outer cardboard box.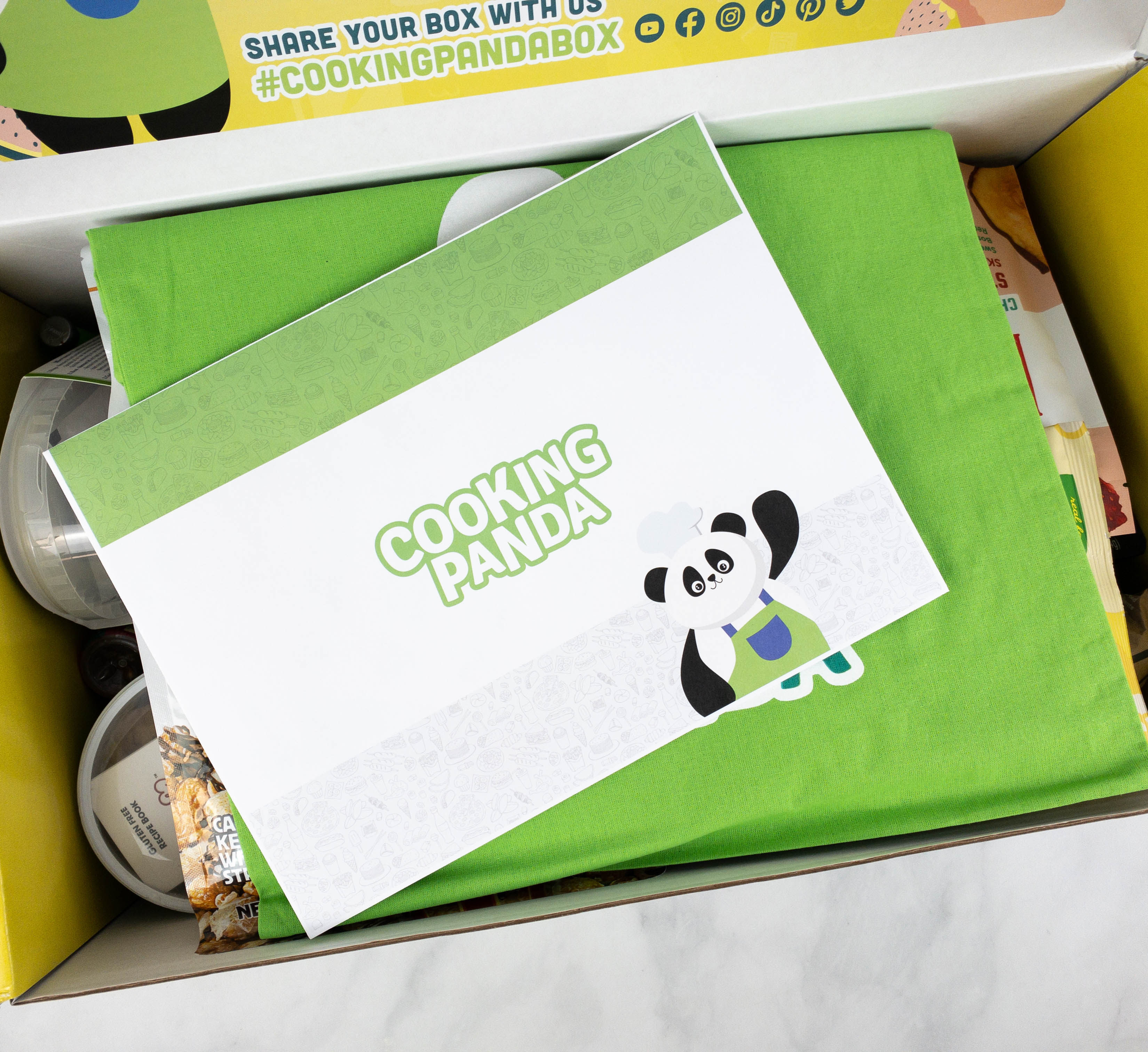 The box is filled to the brim!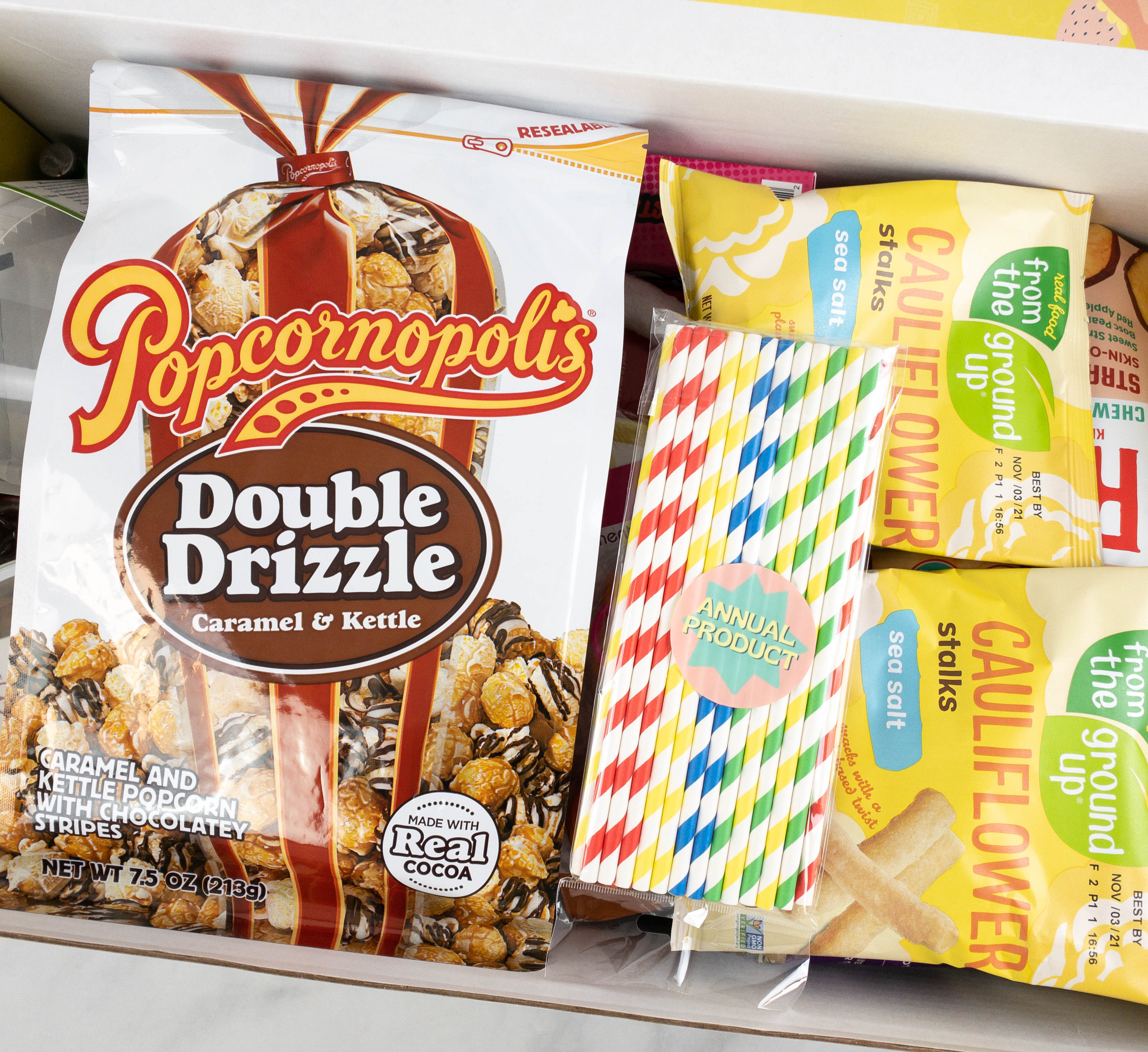 There's a lot of snacks, beverages, and cooking ingredients inside. I'm excited to try them all!
The box includes a card from Cooking Panda. It will be hard to stay hungry with so many goodies!
At the back of the card there is a QR code that you scan to see recipes!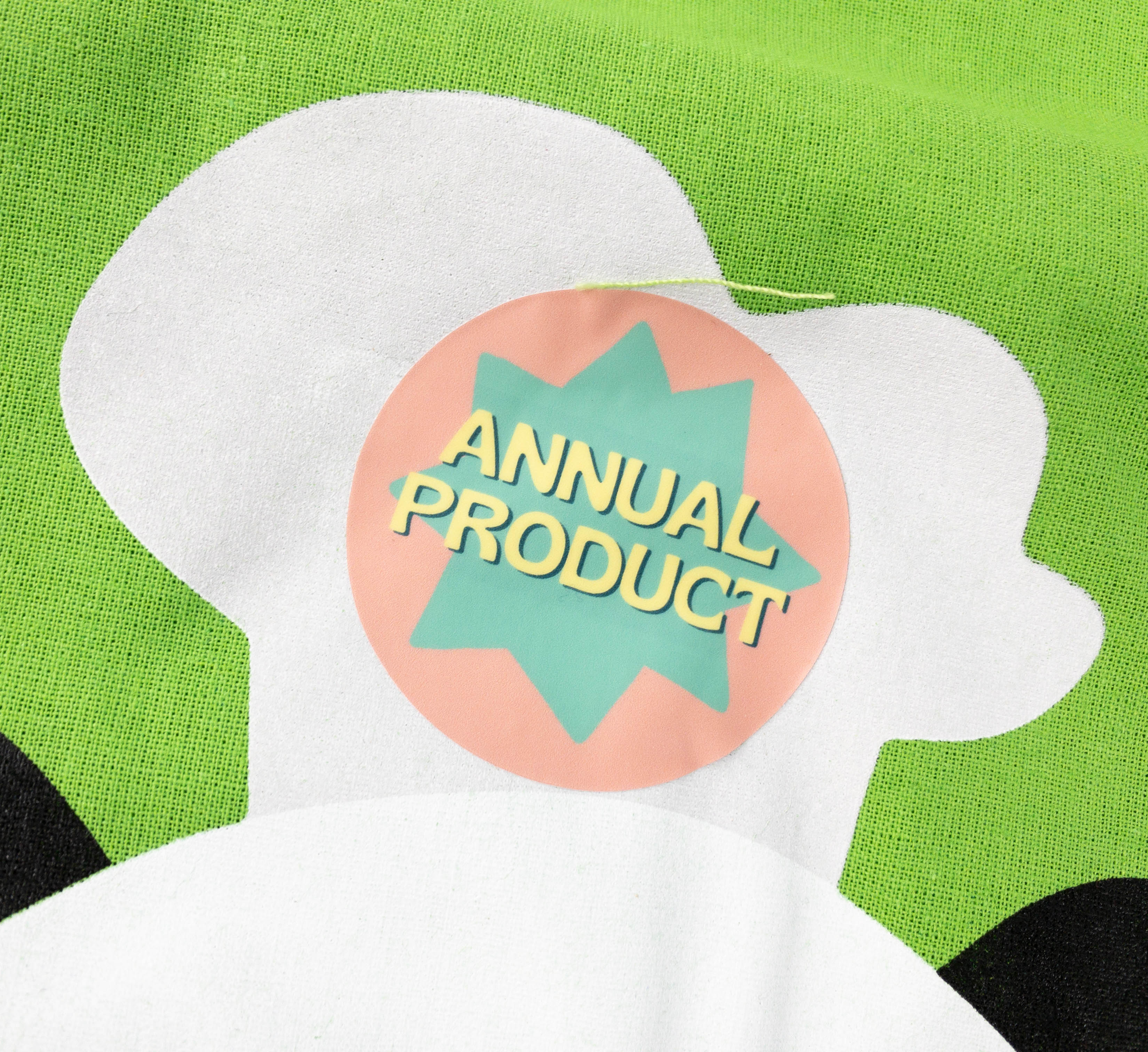 Some items have Annual Product stickers on them – they are bonuses for annual subscribers.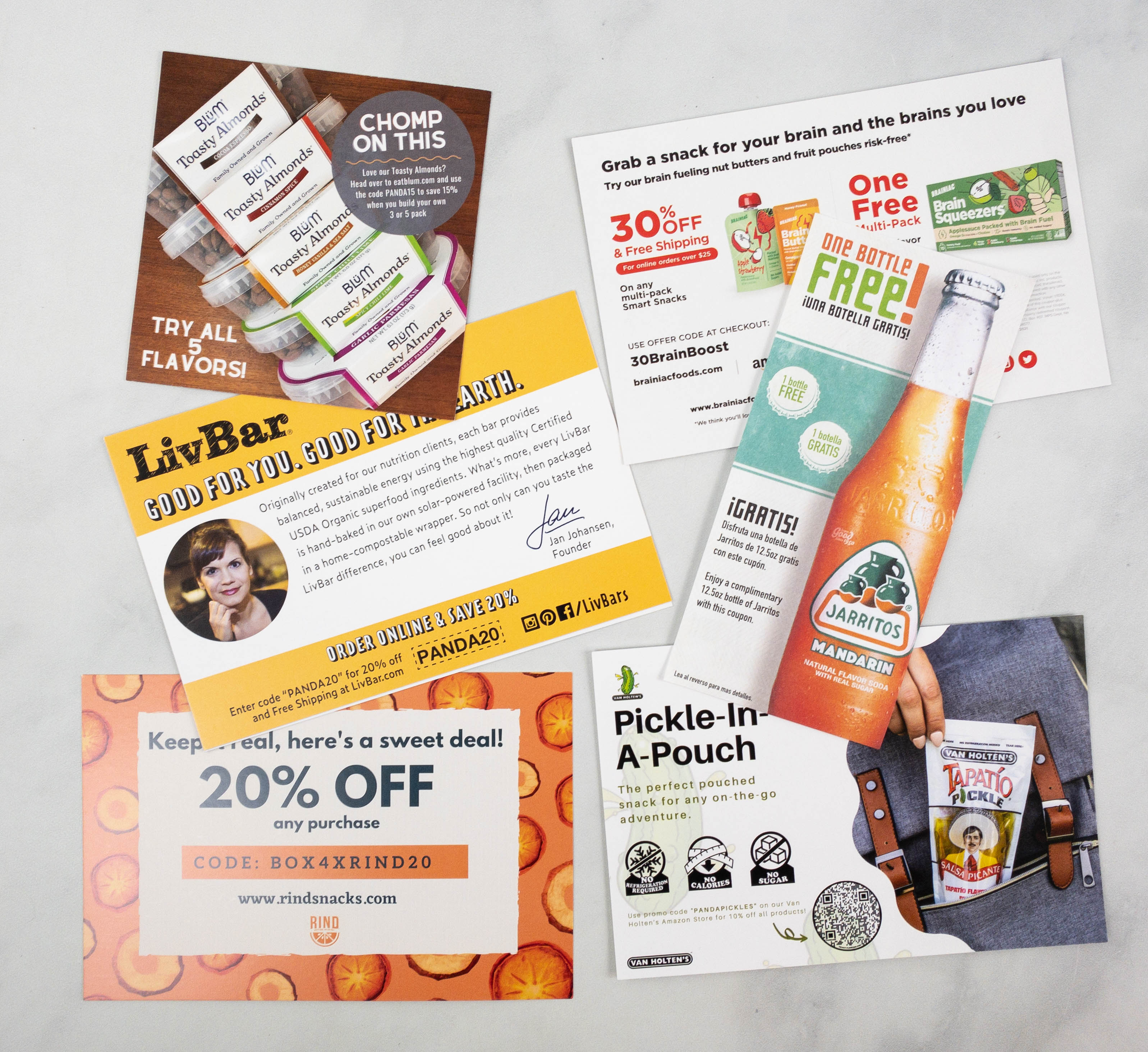 There are also recipes, coupon codes, and other promotional cards!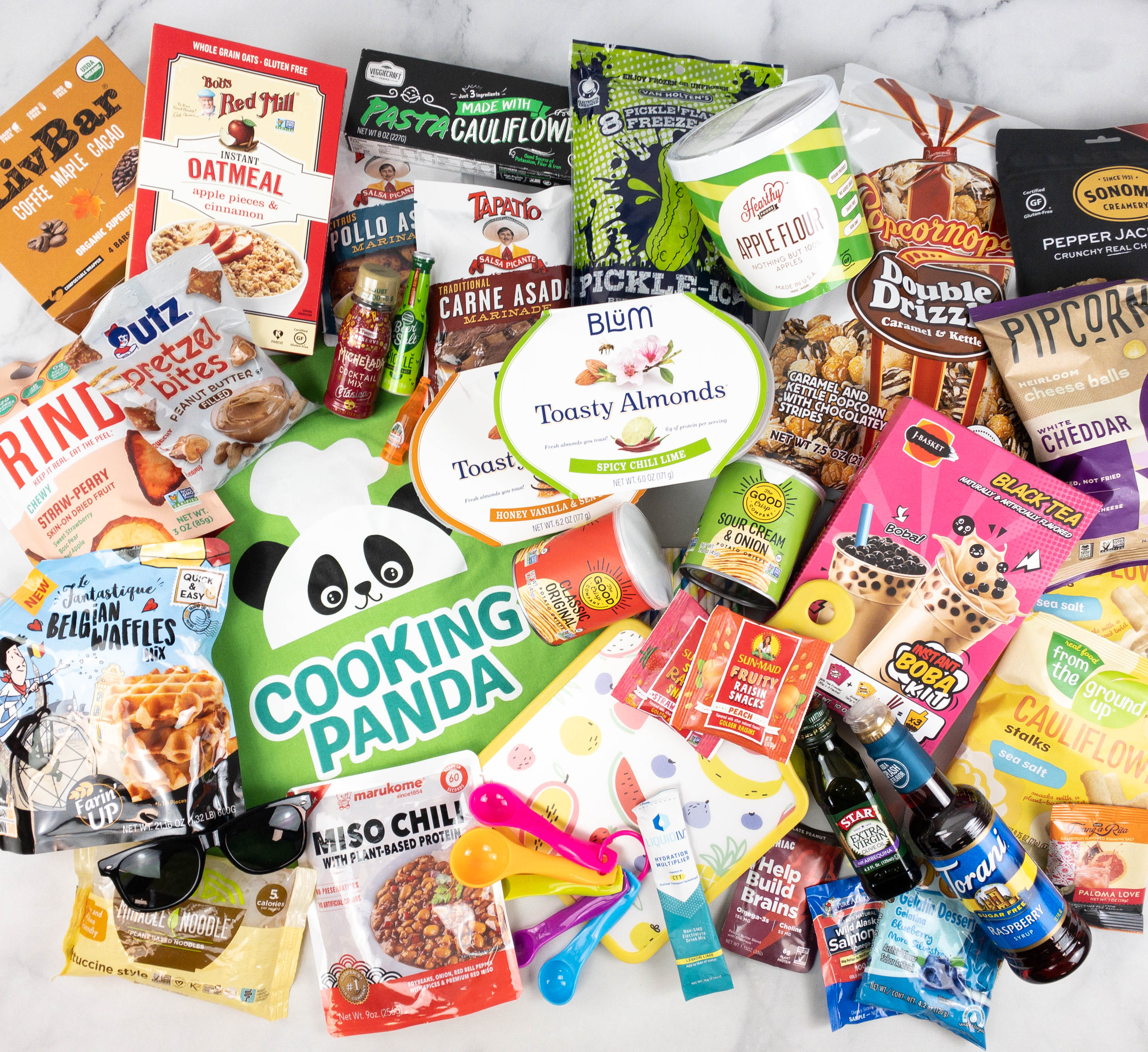 Everything in my box!
Tote Bag. This is an annual subscriber bonus item. Here's a tote bag in green, featuring the logo of Cooking Panda! It can be used to pack snacks or when grocery shopping. It's reusable so it's also eco-friendly.
The panda is so cute, and it's even wearing a chef's hat.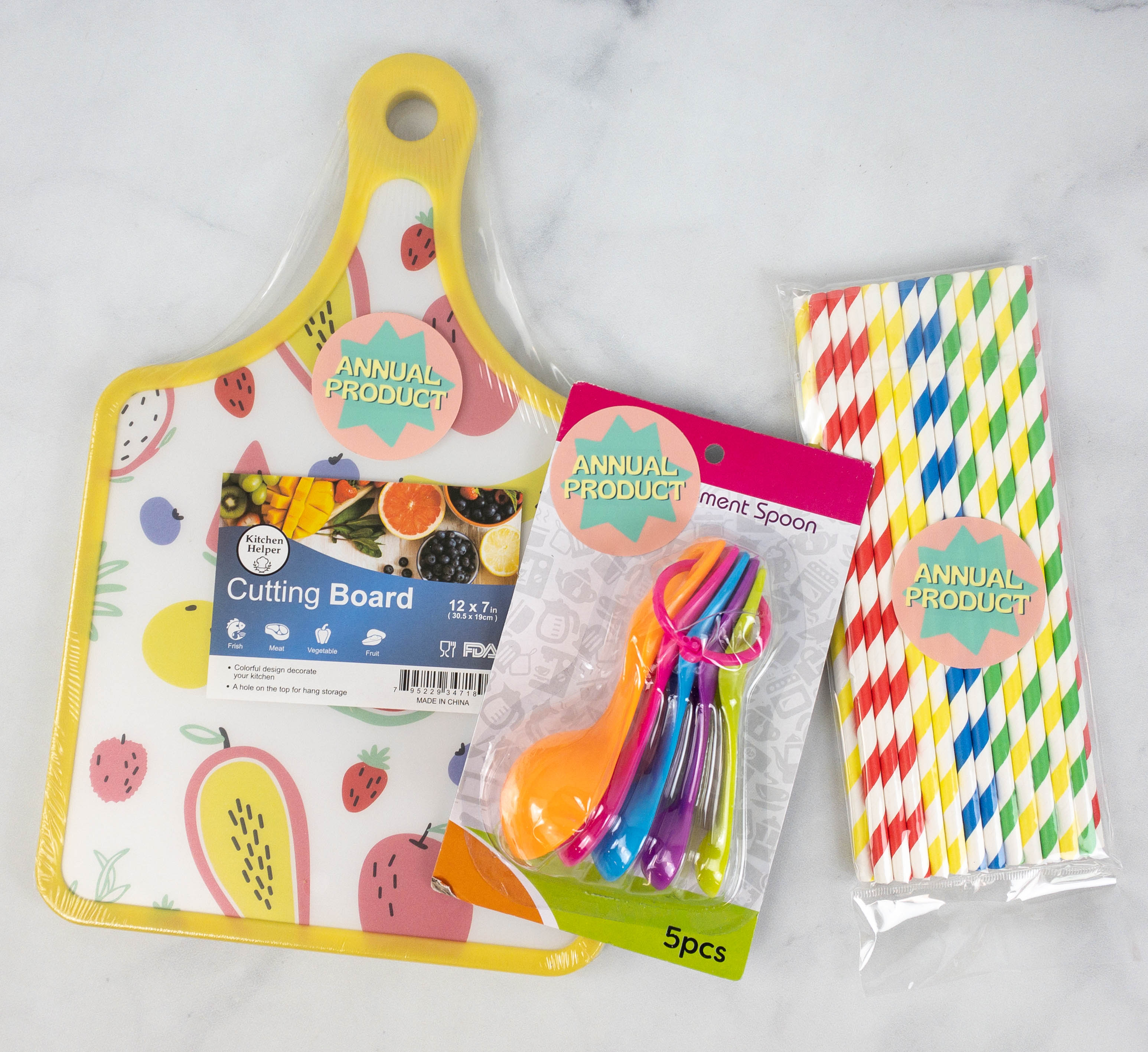 All annual subscriber bonus items!
Cutting Board. Here's a small cutting board that I can use whenever I slice fruits and vegetables. It has yellow edges, plus colorful fruit prints!
Measuring Spoon. It's a set of measuring spoons in different colors. These are useful in the kitchen, especially when baking. I love that the spoons are color-coded so it's easier to remember which color corresponds to a specific measurement. They are all attached to a ring for easier storage.
Paper Straws. These paper straws are way better than their plastic counterparts! They came in nice colors, including yellow, red, blue, and green.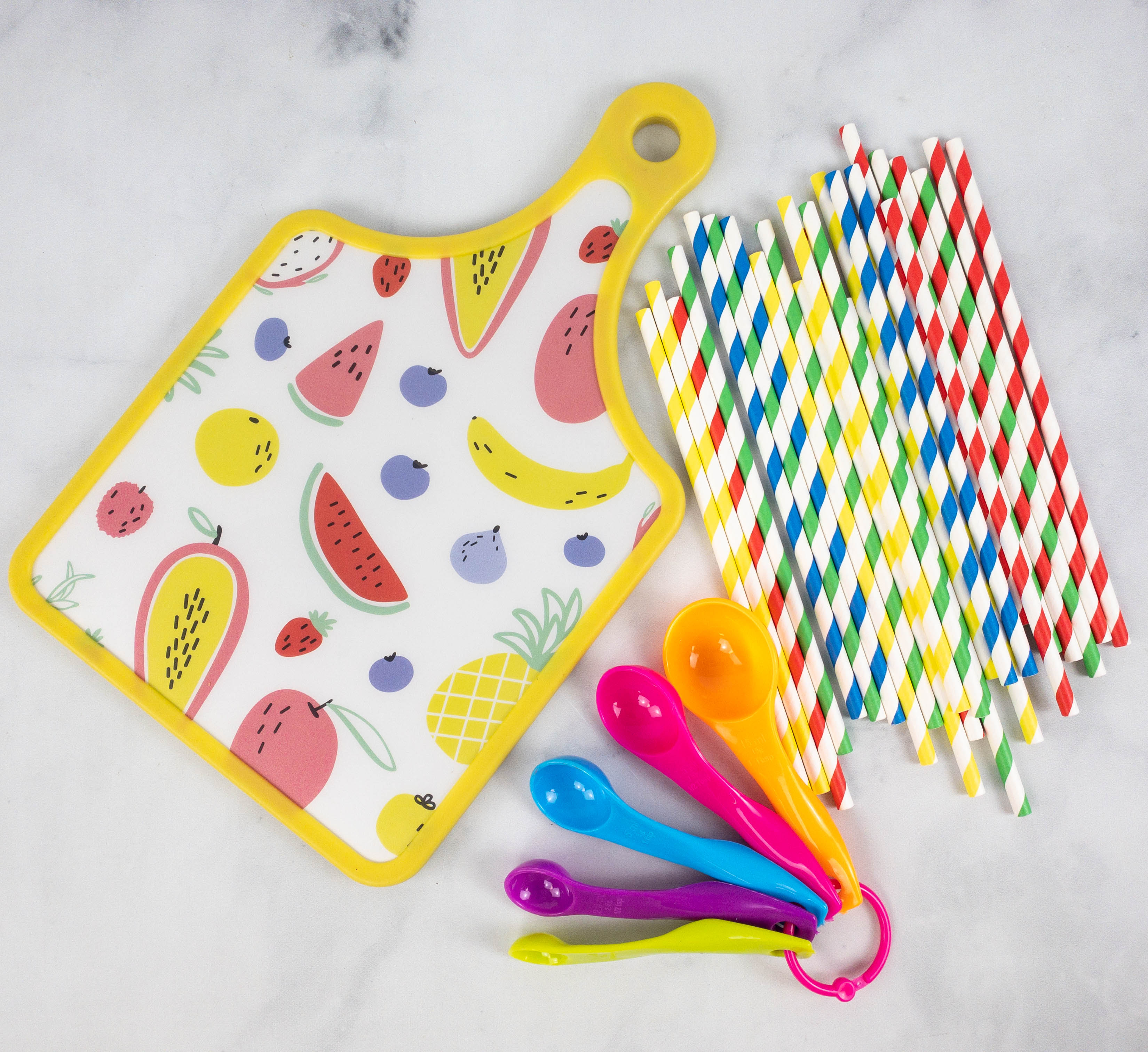 All three items are labeled as Annual Products. They are all colorful and fun for summer!
Popcornopoli's Double Drizzle Caramel & Kettle ($5) For those who love their popcorn sweet, here's a popcorn snack flavored with caramel and smothered with chocolate. It's made with non-GMO corn and it's also gluten-free. Each bite has the perfect amount of sweetness. They were also puffy and not hard nor too chewy.
The Good Crisp Company Sour Cream & Onion ($1.83) My box has two flavors of these potato crisps! First is sour cream and onion, which came in a green container. They're already good on their own, no need for salsa or a dip. The chips were also light and crunchy!
The Good Crisp Company Classic Original ($1.83) They also included classic potato crisps, which are lightly salted. I like this variant too because it's not overwhelming on the palate. If you like pairing your potato crisps with different dips, this one is for you.
I got a friend absolutely HOOKED on these better-than-Pringles crisps!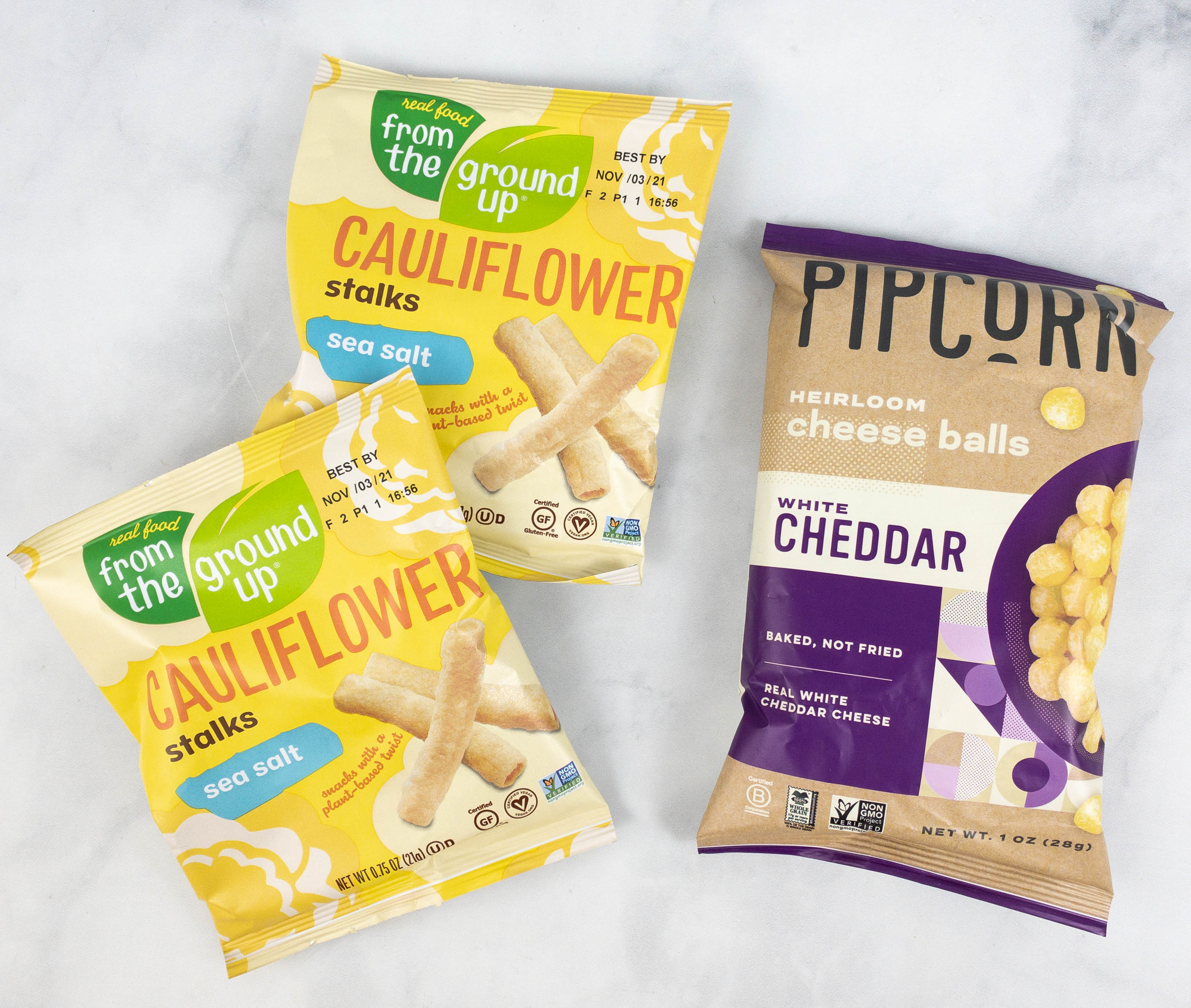 From the Ground Up Cauliflower Stalks Sea Salt ($0.78) Gluten free. Made from cassava and cauliflower, this snack is a healthier alternative to your usual puffed snack. They are shaped like stalks and they are lightly salted so they don't taste artificial.
Pipcorn Heirloom Cheese Balls White Cheddar ($0.89) These cheese balls are baked, not fried. They are made with whole grain heirloom corn and flavored by delicious white cheddar cheese. Each piece was light, crunchy, and flavorful. This is a fun movie time snack and because I love white cheddar, this also goes on top of my favorites list!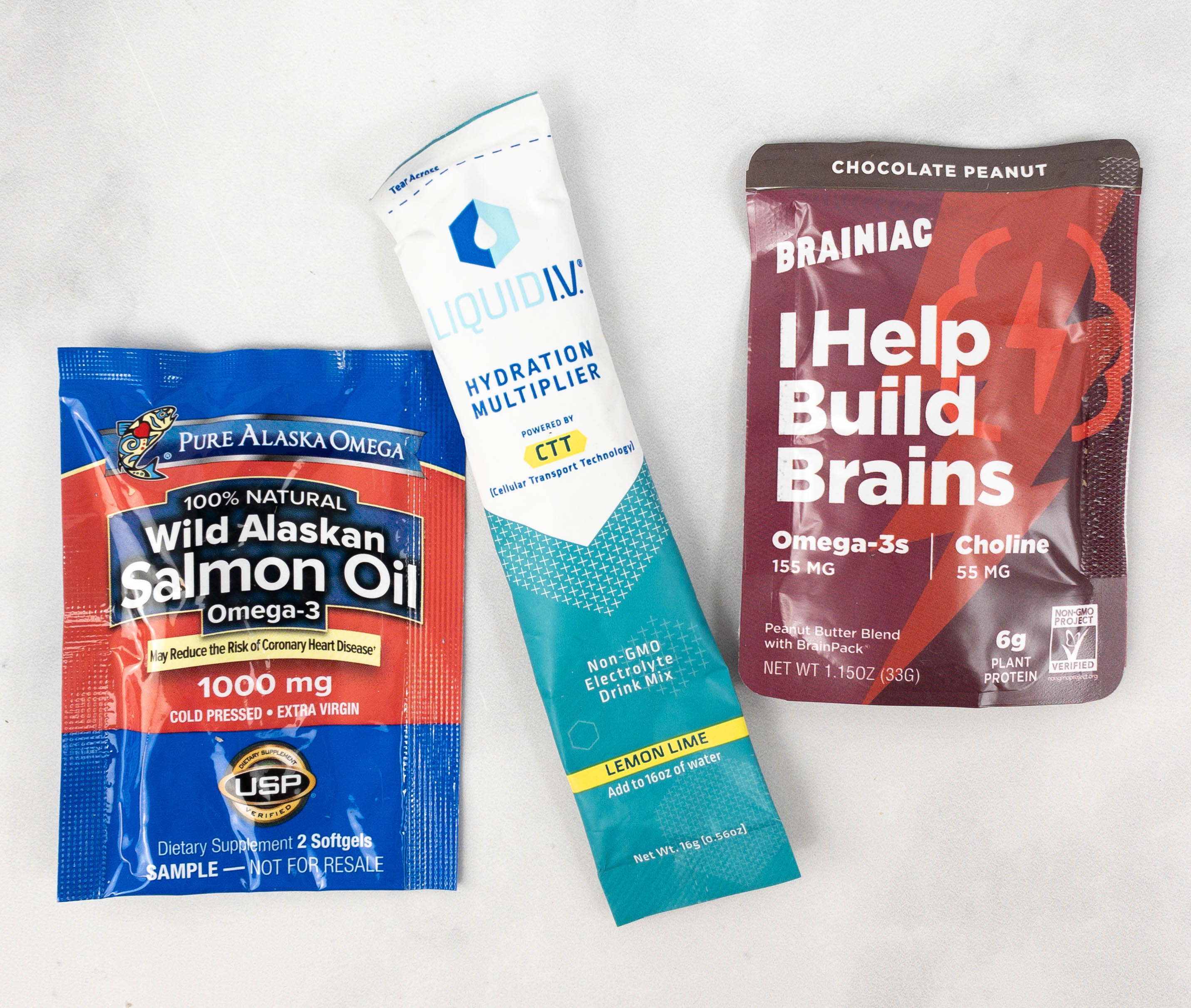 Pure Alaska Omega 100% Natural Wild Alaskan Salmon Oil. They also sent health supplements in this box, including some soft gel capsules. Each capsule contains omega 3 from salmon oil which is known to help lower blood pressure and to reduce the likelihood of heart attack and stroke.
Liquid I.V. Hydration Multiplier Lemon Lime ($1.53) This one is a lemon-flavored hydration multiplier and it tastes quite good. It helps in delivering hydration to the bloodstream faster than water. This electrolyte drink mix is also great for travelling because it comes in a portable packet. Just add water and it'll be ready to drink!
Brainiac I Help Build Brains ($1.70) Here's a brain-boosting chocolate drink! It contains choline that produces important neurotransmitters, helping with brain function and other nervous system functions. I love the combination of chocolate and peanut butter flavor on this one.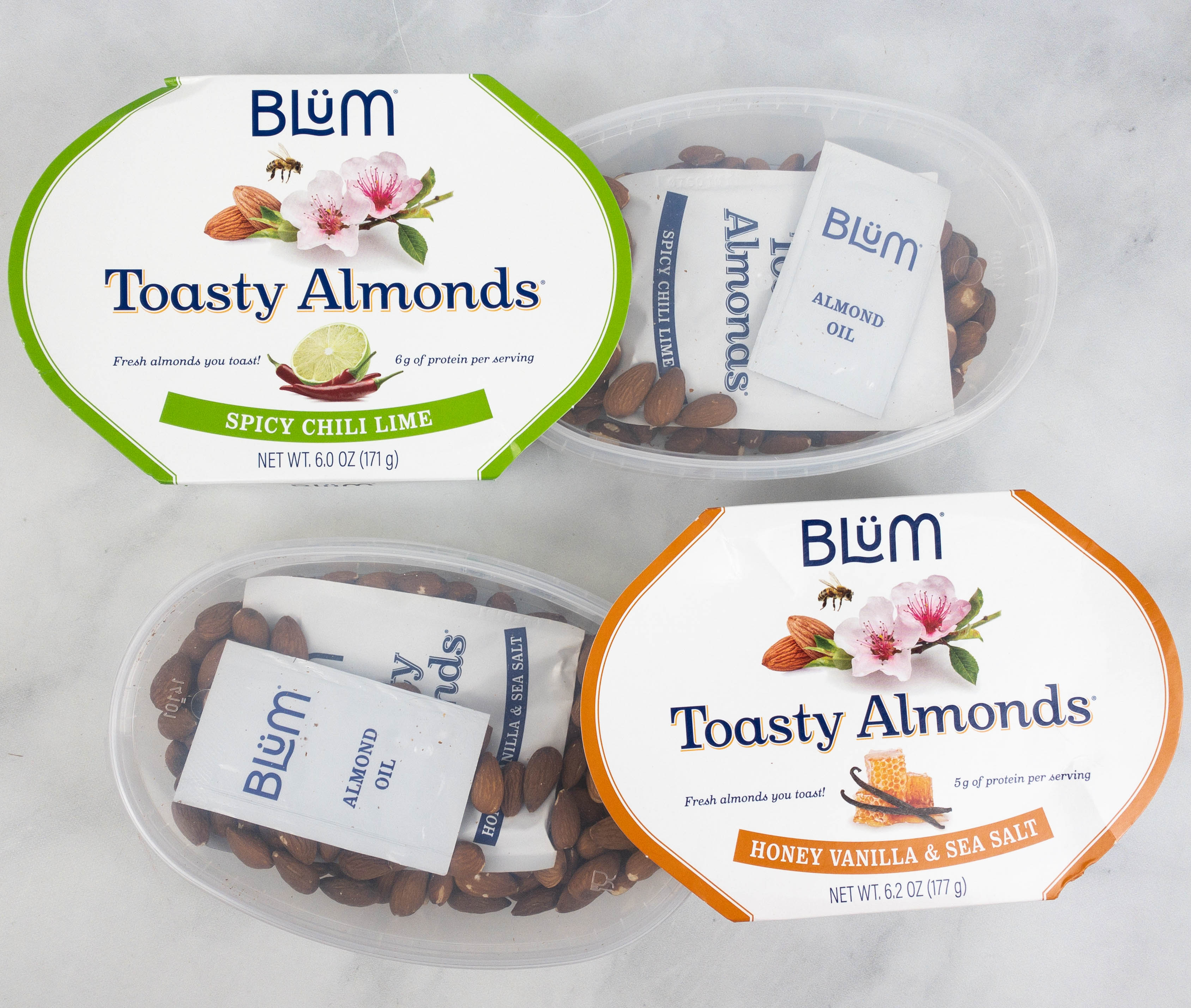 Blüm Toasty Almonds Spicy Chili Lime. I received two packs of Toasty Almonds in this box and the first one is chili lime flavored. It's tasty and crunchy, with just the right amount of heat!
Blüm Toasty Almonds Honey Vanilla & Sea Salt. The other flavor is on the sweet and salty side! They are flavored with honey vanilla and sea salt, which help balance each other. Just like the first pack, it also boasts of perfectly crunchy almonds.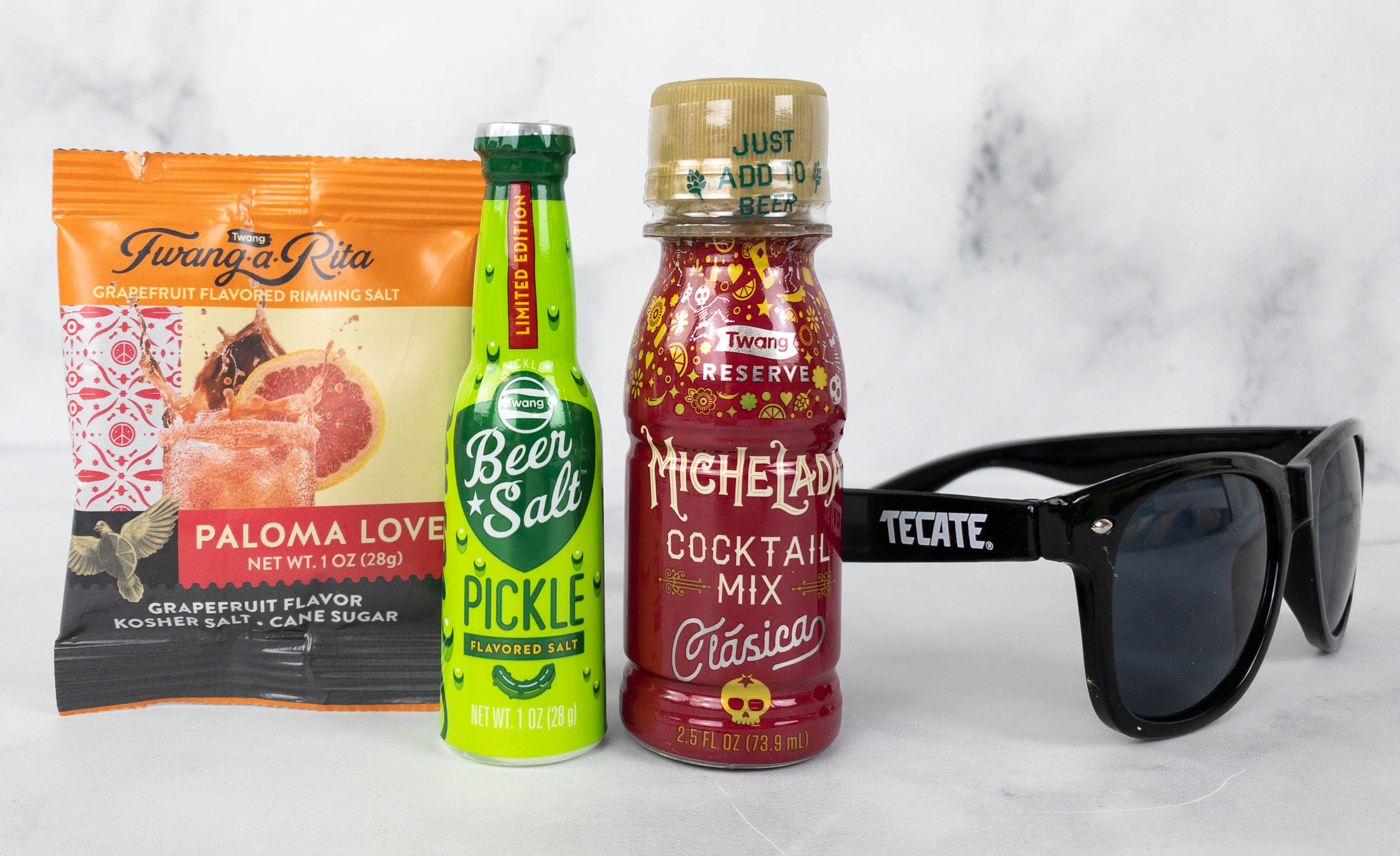 Twang-a-Rita Paloma Love Grapefruit Flavor ($1) Cocktails, anyone? This powder adds a refreshing grapefruit flavor to your favorite drinks. It's great to use for summer cocktails!
Twang Beer & Salt Pickle Flavored Salt ($2) This is a delicious citrus-flavored salt that you can use for tequila or even beer. You can also put this on the rim of your cocktail glasses!
Twang Reserve Michelada Cocktail Mix Clasica ($2.53) It's a unique cocktail mix for making michelada, a Mexican drink made with beer and lime juice plus sauces and spices. This can be used for making Bloody Mary as well.
They also included a pair of black sunglasses which are perfect to wear in summer!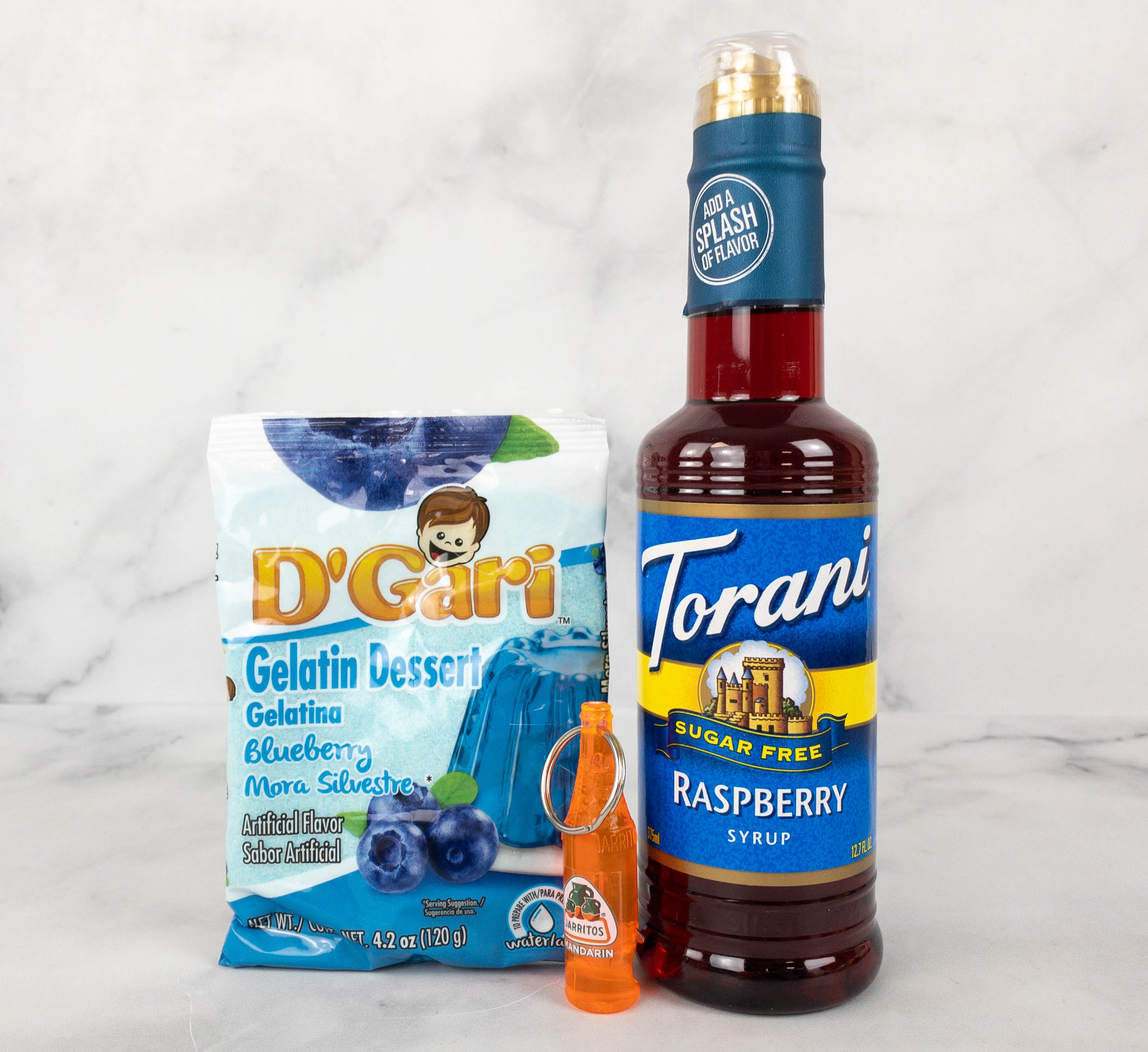 D'Gari Gelatin Dessert Blueberry Mora Silvestre ($1.99) Now, we're onto the dessert ingredients! Here's a gelatin in blueberry flavor, which can be used for jelly salad, jelly cake, and other yummy desserts.
Torani Sugar free Raspberry Syrup ($6.29) I'm loving this sugar-free syrup. It has a raspberry flavor and it goes great with any milk-based beverage. You can also add this to coffees and even carbonated water for a punch of berry flavor!
Keychain. They also included this orange keychain shaped like a bottle. Upon closer look, it's actually a bottle of Mandarin Jarritos!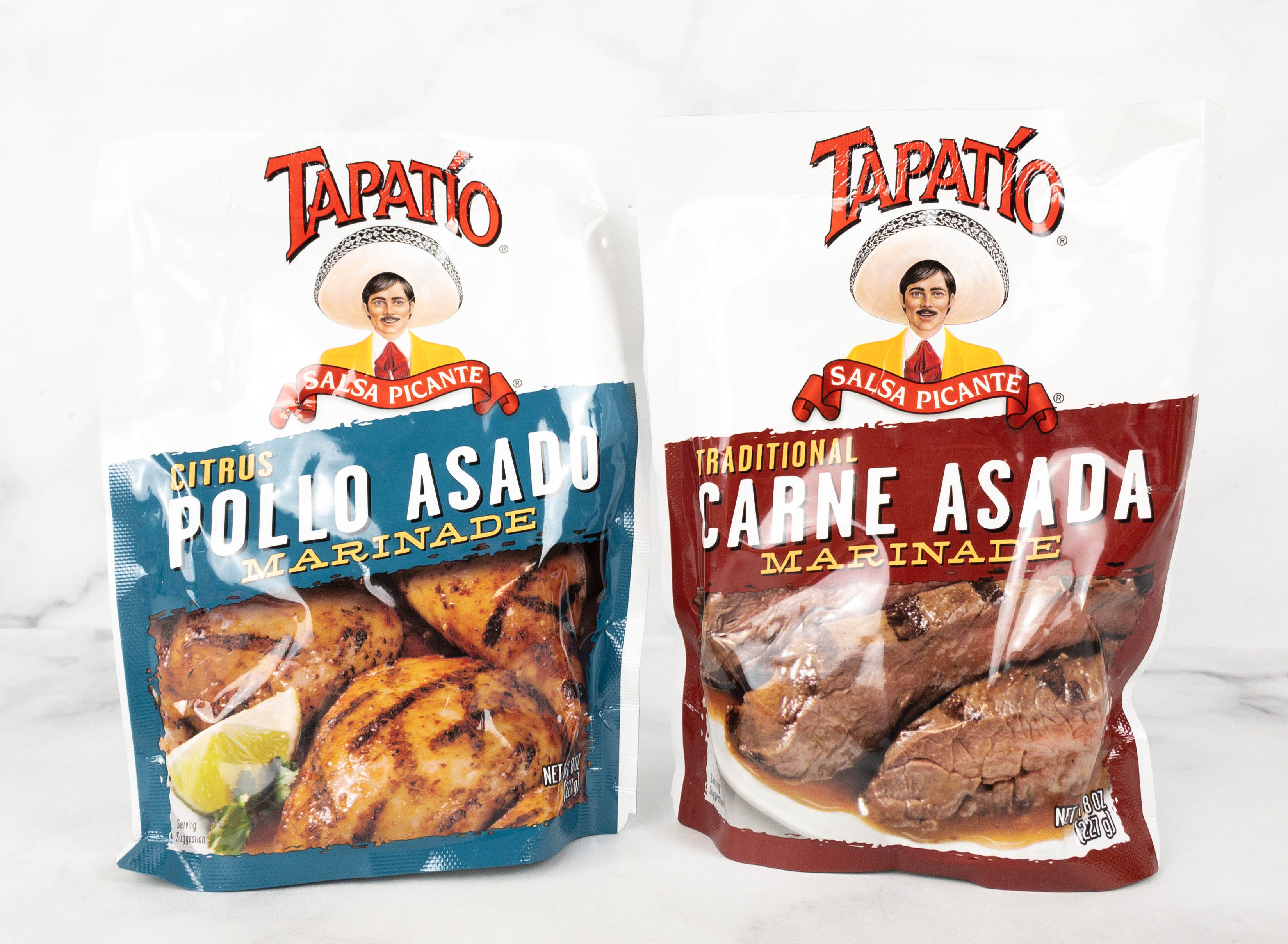 Tapatio Citrus Pollo Asado Marinade ($6) This pollo asado marinade turns regular chicken into something really tasty and spicy! It really reminds me of authentic Mexican restaurant-quality flavors. Also, this pack is already enough to marinade 2 pounds of chicken.
Tapatio Citrus Carne Asada Marinade. I also received a carne asada marinade, which is great for thicker cuts of meat, including flank steak and hanger steak. This one is also pretty spicy! It came in the same pouch size as the pollo asado marinade, and it's also good for 2 pounds of meat.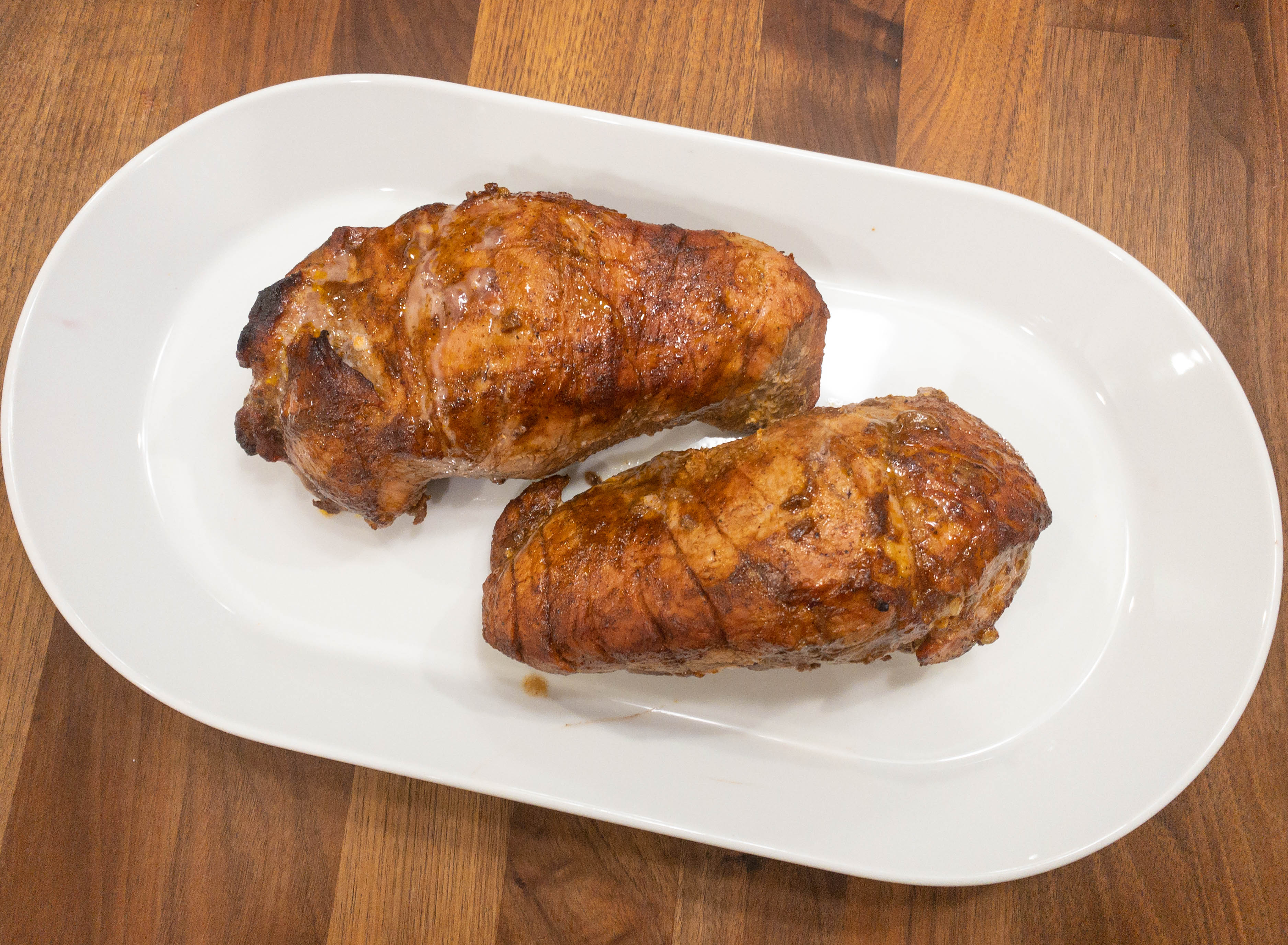 We used the pollo asada marinade on pork loins from Butcher Box and it was just absolutely fantastic. I didn't take photos of the cap sirloin (also from Butcher Box) I marinaded in the carne asada. It was AMAZING!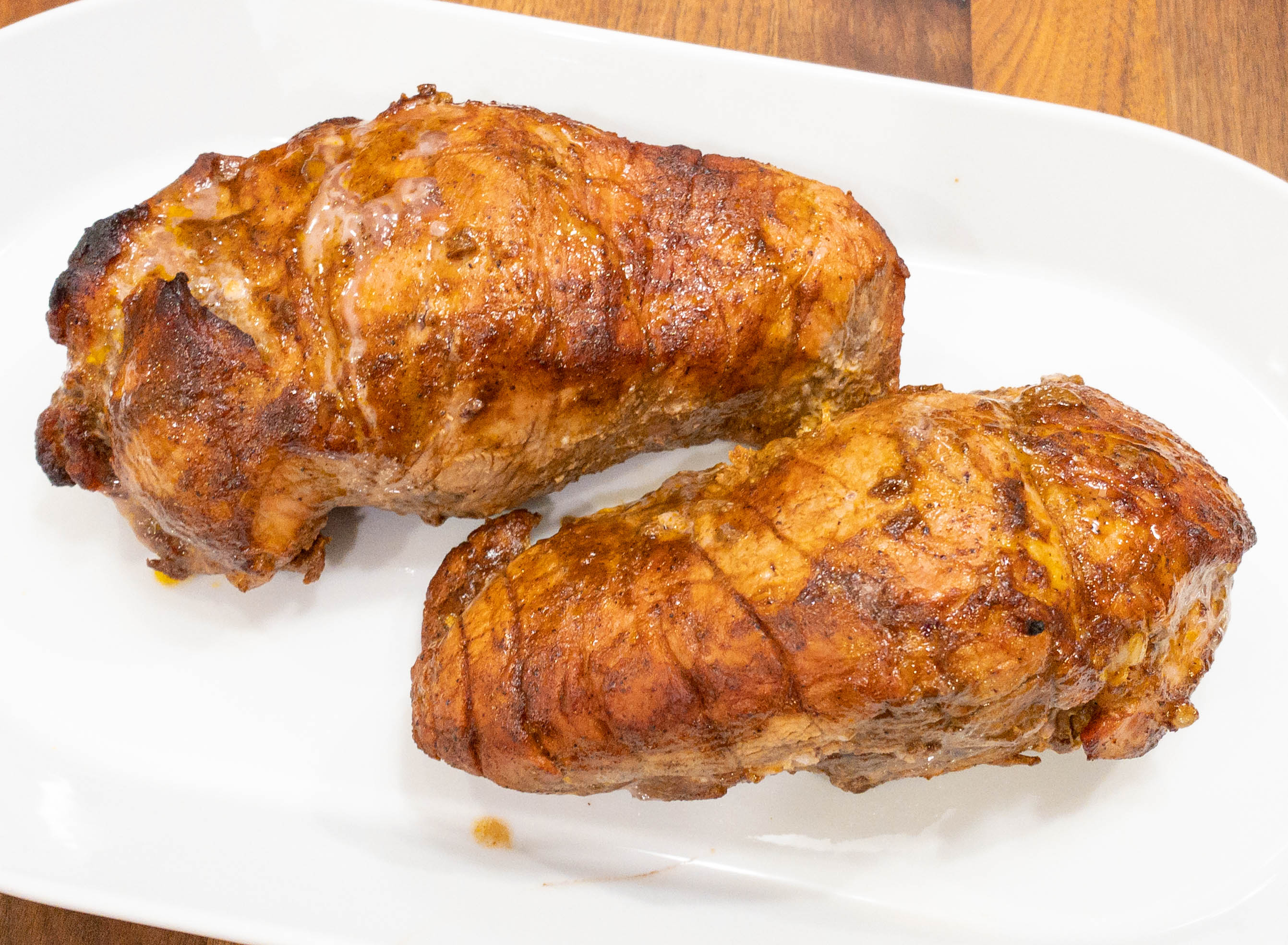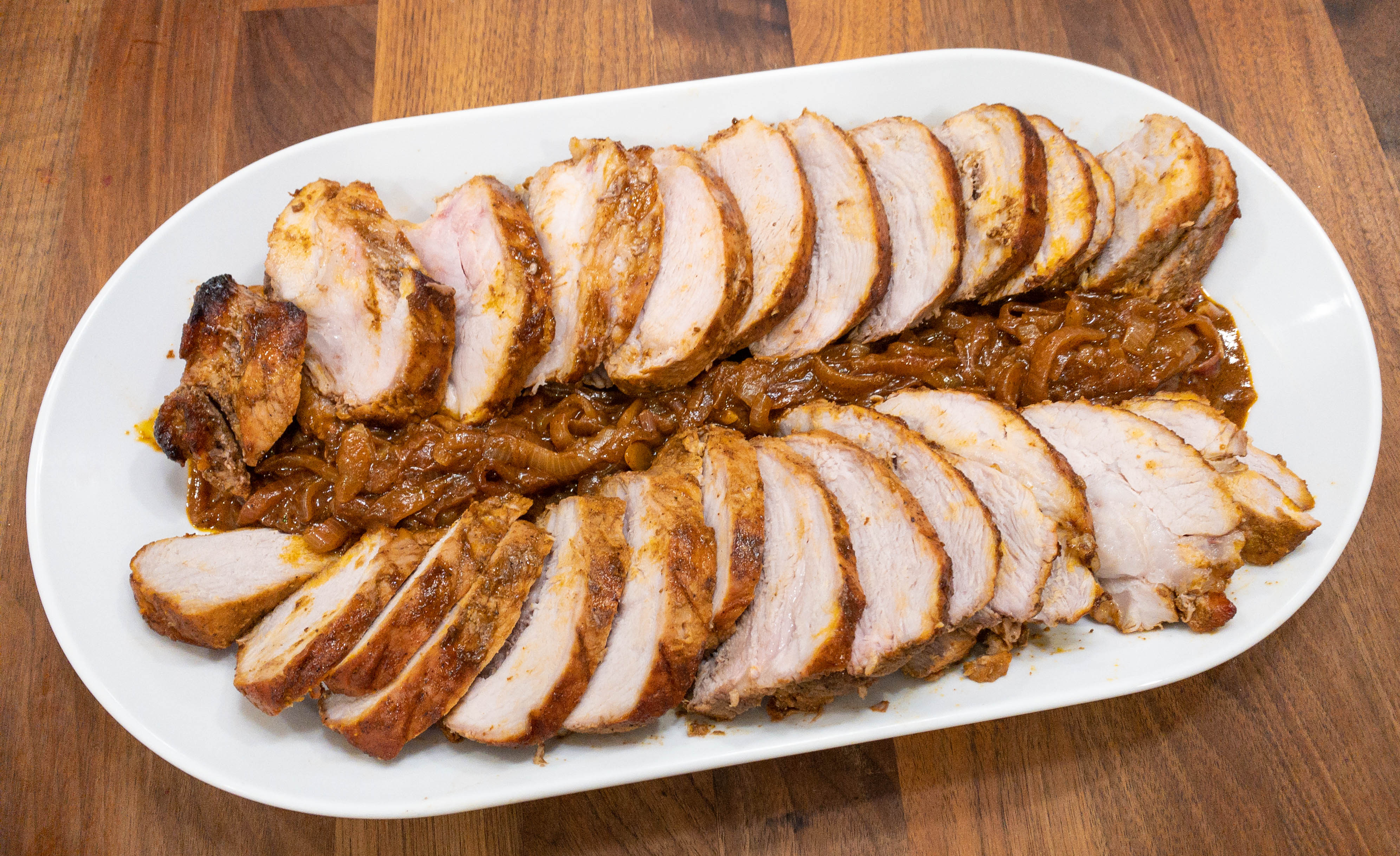 The meat came out really tender. We sliced them up before serving, and they made such a nice dinner!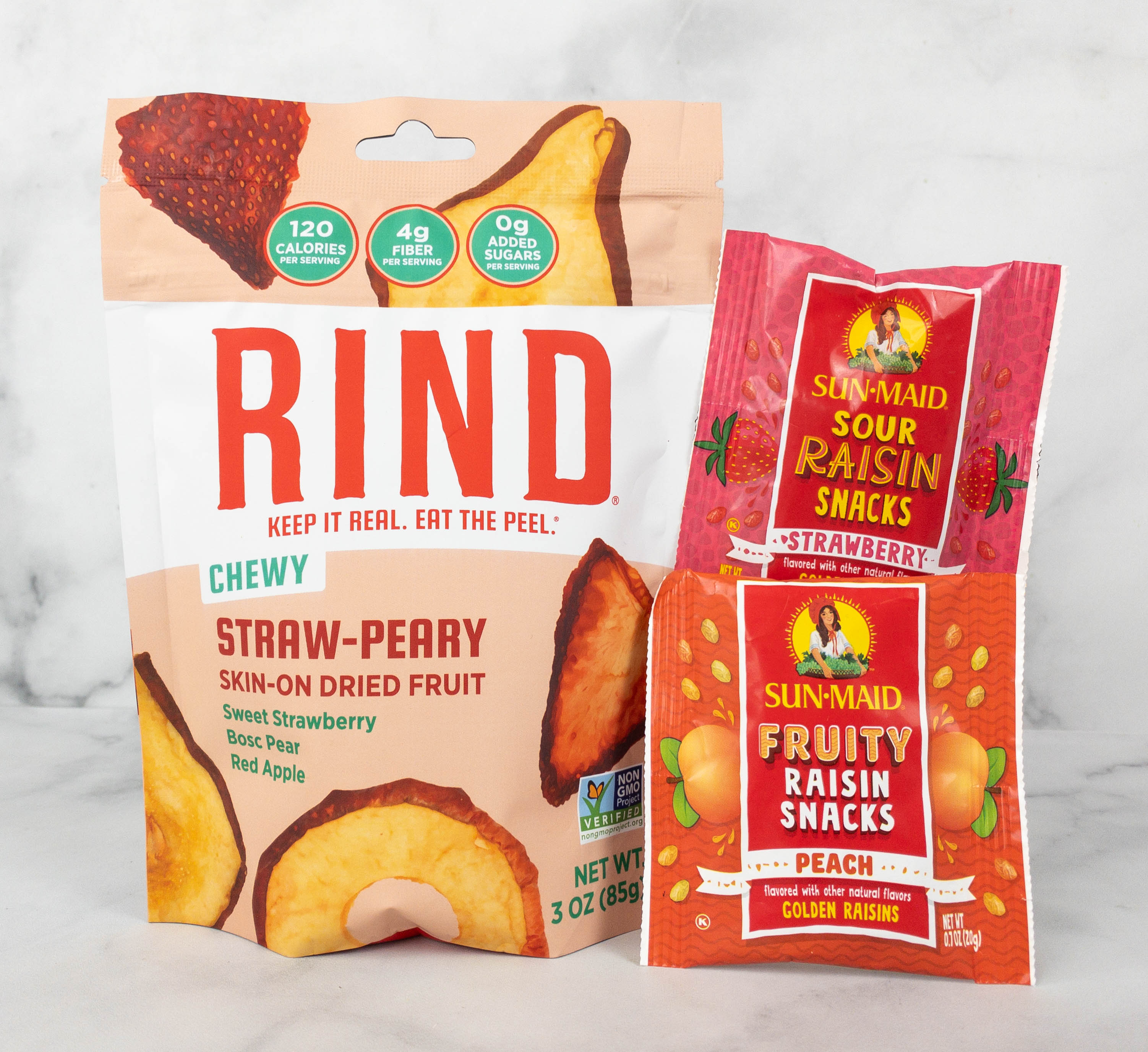 Rind Chewy Straw-Peary Skin-On Dried Fruit ($6.33) We love dried fruits, so this is such a treat! The packet includes skin-on dried fruits that are great for snacking, including apple, strawberry, and pear. They taste sweet, but guilt-free.
Sun-Maid Sour Rasin Snacks Strawberry ($0.48) Strawberry raisins are actually quite good! It has the perfect balance between sweet and sour but I feel like the strawberry flavor is more pronounced. This is a fun new snack that I find myself craving for every once in a while!
Sun-Maid Sour Raisin Snacks Peach. Aside from the strawberry raisins, they also sent peach raisins. They have the perfect texture and each piece has a fun peach flavor. I'm surprised that there's more to raisins that just dried grapes and I'm loving it.
J-Basket Black Tea Instant Boba Kit. If you are in a hurry and you want a milk tea on-the-go, this is perfect for you! The kit includes everything you need to create instant milk tea at home From the milk tea powder to the boba pearls, and even the straw, you can have everything ready in less that a minute and without putting too much effort!
Van Holten's 8 Pickle Flavored Freeze Pops ($4.33) They also included freeze pops in this month's box and they're pickle flavored! It's fun to eat and it's even loaded with electrolytes to help keep the body hydrated even through the heat of summer! Only for the bold!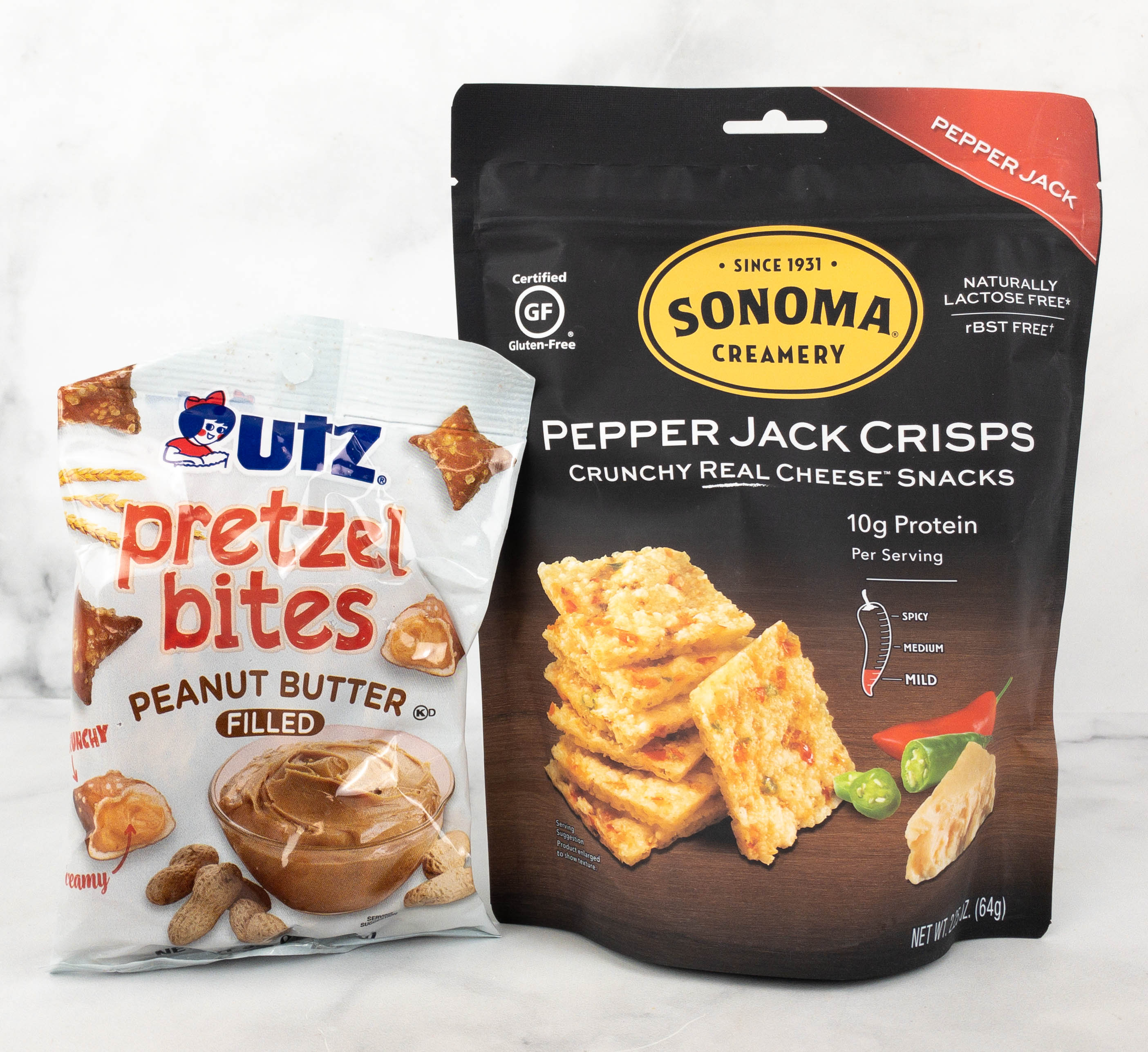 UTZ Pretzels Bites Peanut Butter Filled ($9 – Full Size) I also received a pack of pretzel bites! Each piece has a nice, crunchy texture and inside it is a perfectly creamy peanut butter. It's even seasoned with salt for a balanced flavor. This is a great snack when watching movies, or even for snacking on the go.
Sonoma Creamery Pepper Jack Crisps ($2.93) Thin and crunchy, these cheese crisps are also perfect for snacking any time of the day. I like how each bite gives a little kick of heat! It has a lovely combination of flavors from the cheese and the chilis. This is a savory snack that's also on top of my favorites from this box! I barely got any – my husband took these.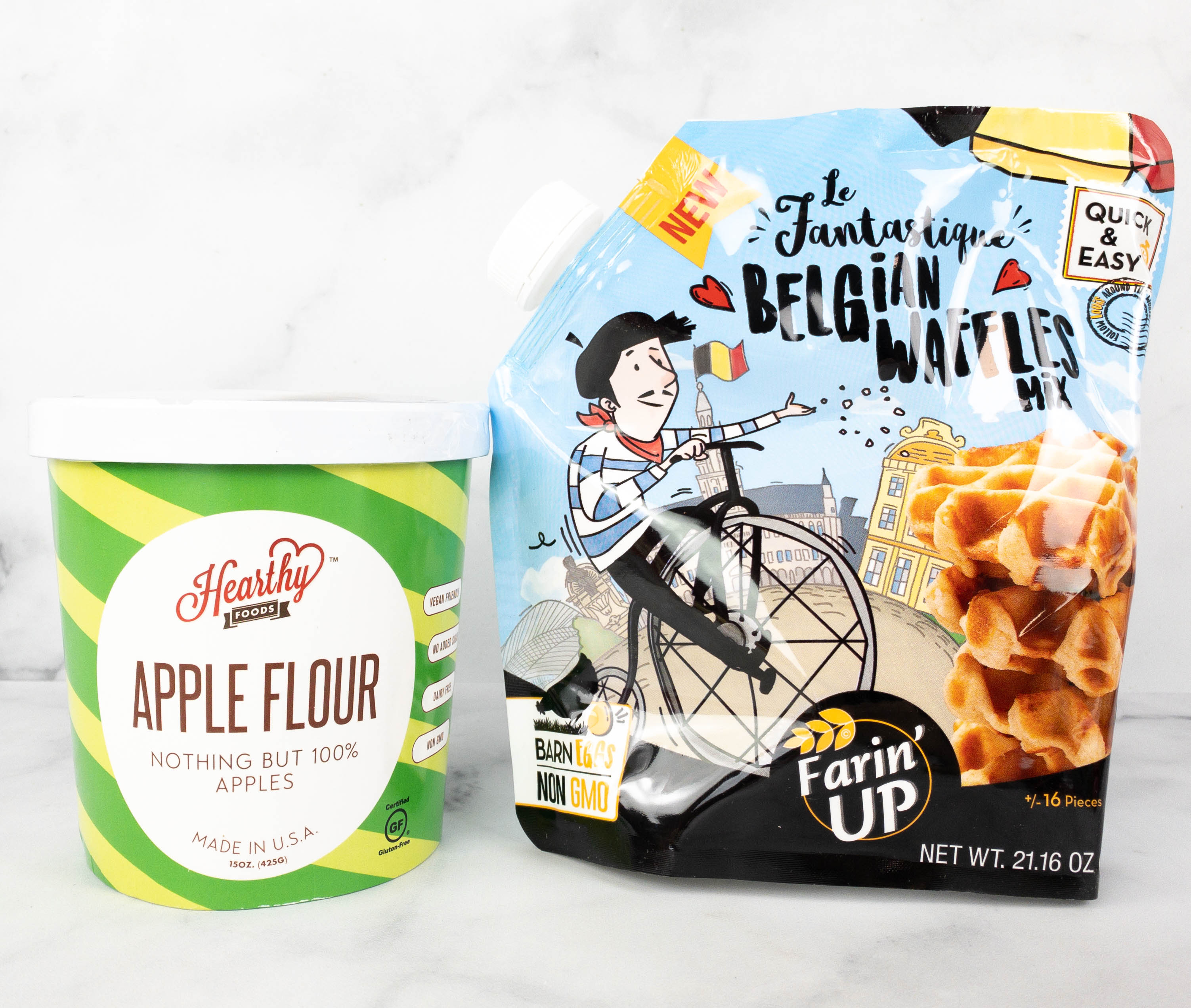 Hearthy Foods Apple Flour ($15.99) This flour is made from apples, so it adds natural sweetness to baked goods. It's packed with vitamins and minerals, and also gluten-free and grain-free. This is ideal for muffin recipes, and also pancakes!
Farin' Up Belgian Waffles Mix ($5.99) Another breakfast favorite is this Belgian waffle cake mix. It's very easy to prepare so it saves me time and energy during the start of the day and it actually tastes really good even when eaten simply with butter and/or syrup. What makes it unique is that it contains pearl sugar, which melts and caramelize when cooked. Yum!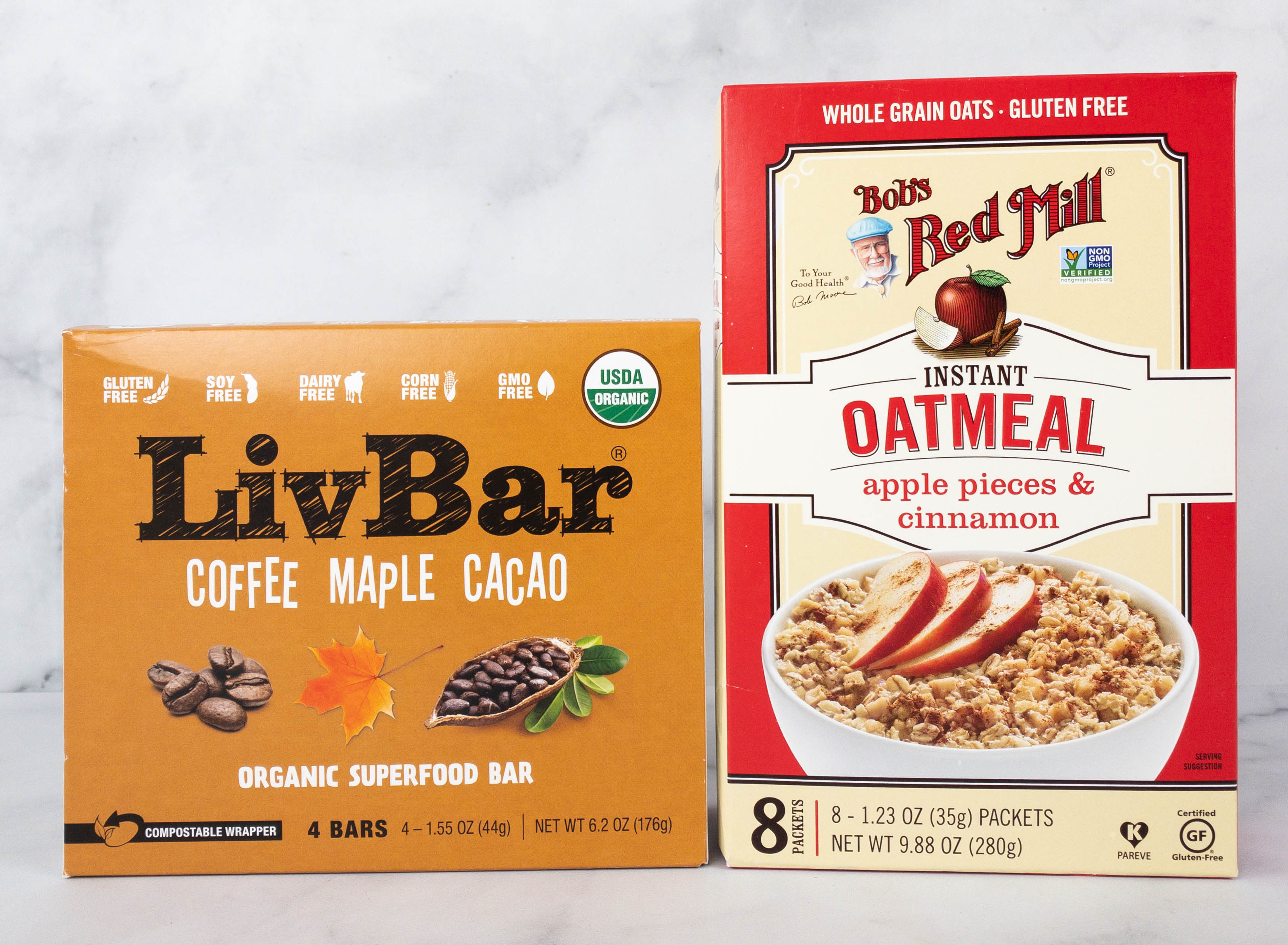 LivBar Coffee Maple Cacao ($11) If you are a coffee lover, you'll probably enjoy this energy bar. Aside from organic coffee, it contains other organic ingredients such as honey, sunflower, pumpkin seeds, coconut shred, dates, sesame, hemp seed, and coconut oil.
Bob's Red Mill Instant Oatmeal Apple Pieces & Cinnamon ($4.99) This oatmeal is also a great breakfast option. It's made with whole grain oats and flaxseed meal. The apple and cinnamon flavors compliment each other really well and I'm really happy that there are 8 packets inside the box. You can cook them in the microwave, by using the stovetop, or by pouring in boiling water and the contents of one packet in a bowl.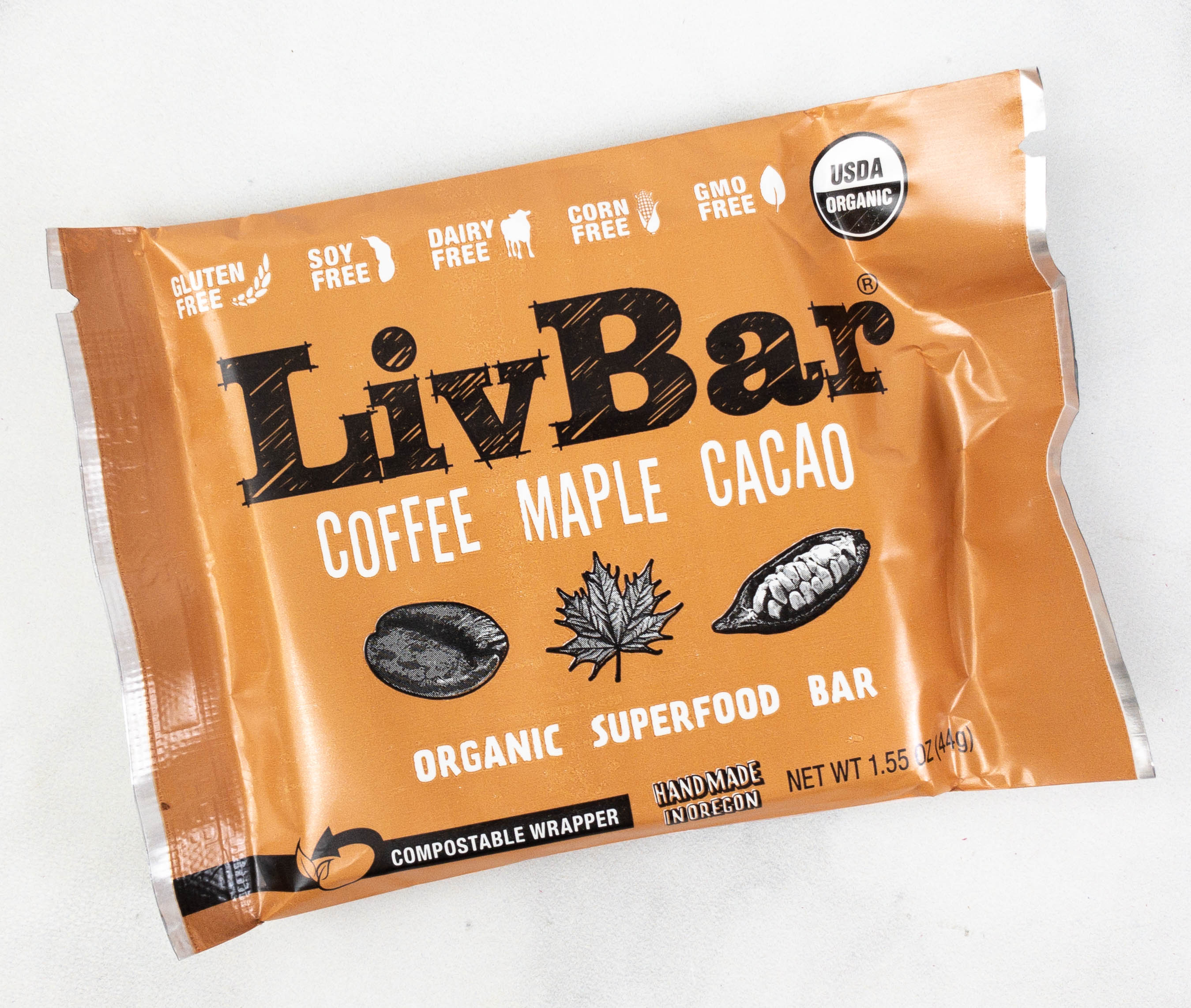 Inside the LivBar box, there are 4 individually wrapped bars which is great to bring on the go. The wrappers are also compostable which is great for the environment because it means that these little packets won't end up in the land fill.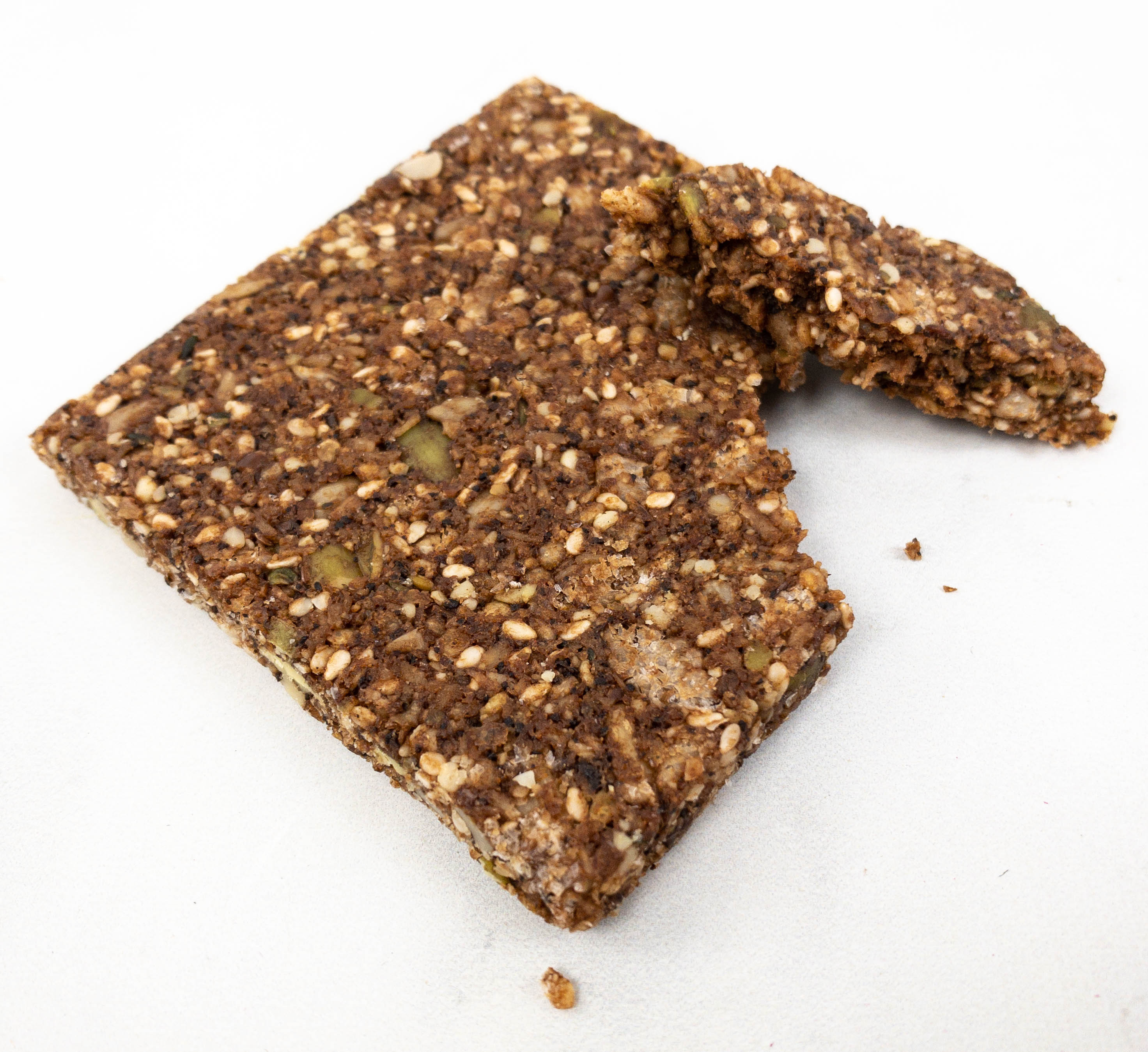 Here's what the bar looks like! It's easy to eat and it's not too hard nor too chewy. It's also filling!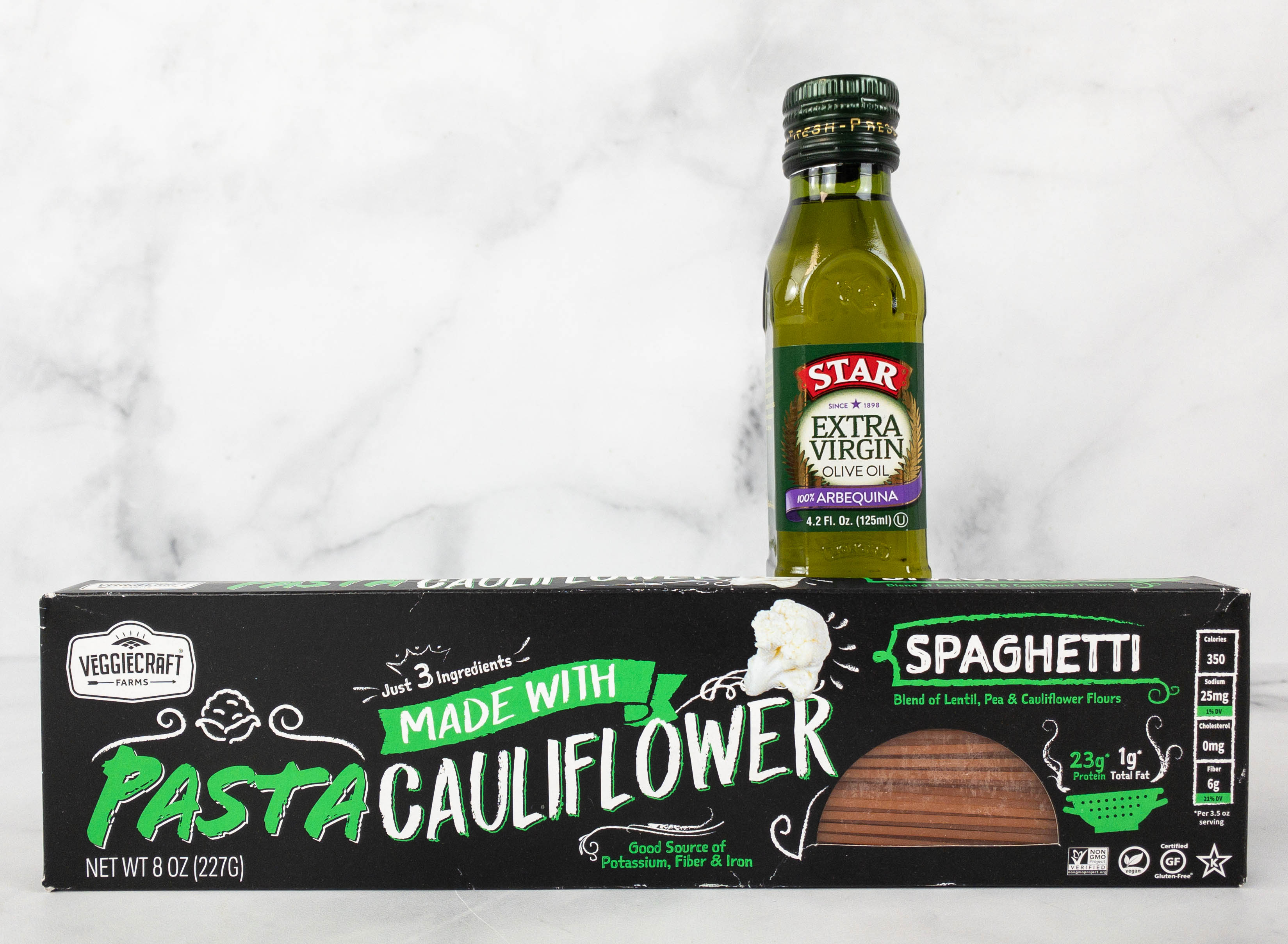 STAR Extra Virgin Olive Oil Arbequina. It's a bottle of extra virgin olive oil. It's light and smooth, with a fruity flavor and a green hue. This is great for pastas and for salad dressings!
Veggie Craft Farms Spaghetti Pasta Made with Pasta Cauliflower ($6.99) They also included a veggie pasta which is made with cauliflower. It's also gluten-free and non-GMO. Now, all I need is a bunch of crushed garlic and I'm ready to make some Aglio e Olio.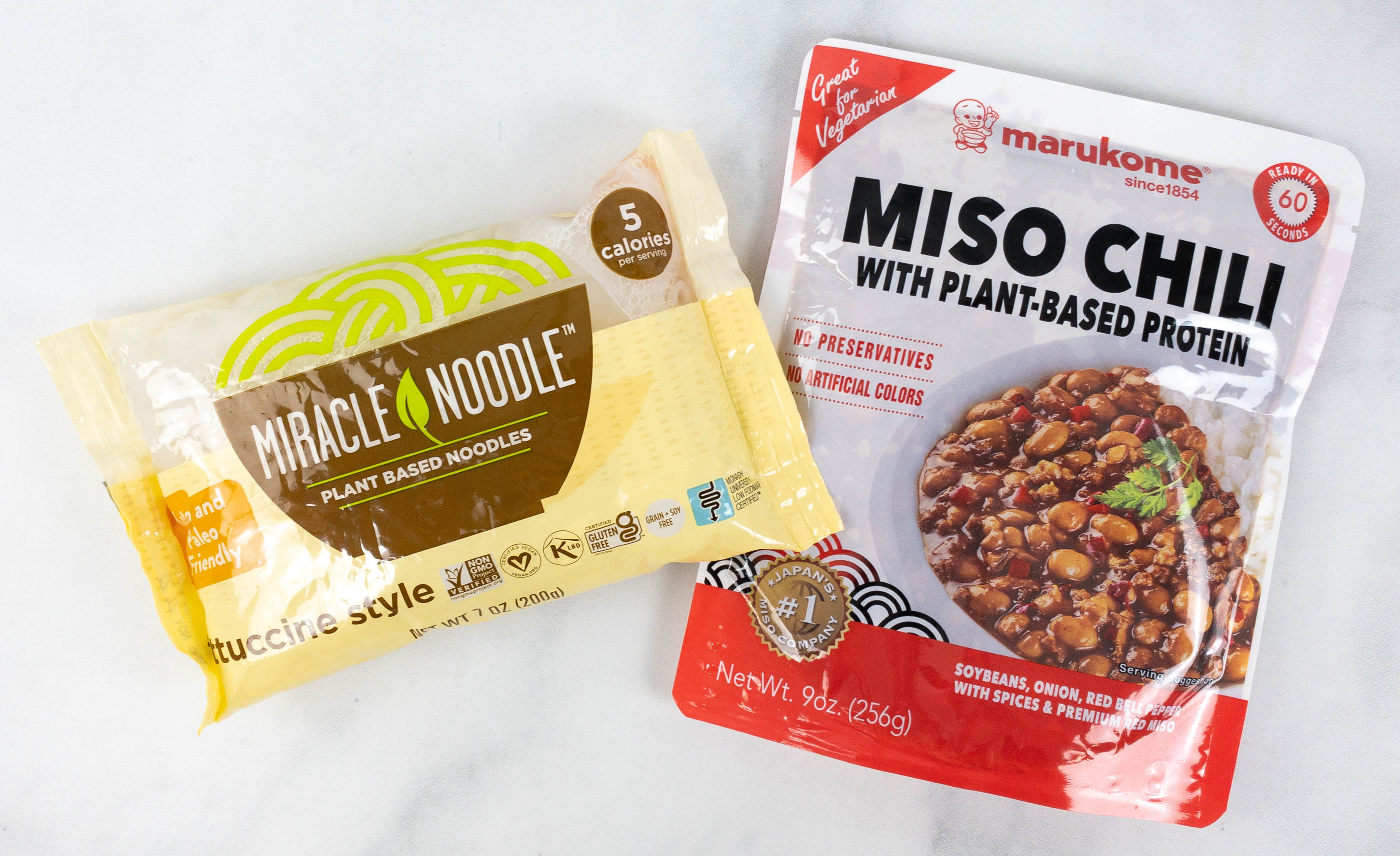 Miracle Noodle Plant Based Noodles ($3.70) This plant-based noodle is low in calories, low in carbs, and has zero sugar. It's a great alternative to regular pasta and noodles especially if you're in a diet or you're watching your weight! It's also plant-based so it's great for vegans as well.
Marukome Miso Chili with Plant-Based Protein ($5) Here's another food that is low in calories and made with all natural ingredients. It's a plant-based miso chili that you can serve along with rice or even the noodles from this box!
Cooking Panda definitely wowed us with the number of items they included in this box! The box included everything from snacks and desserts to cooking ingredients and breakfast items, and even dietary supplements. Some of the items are quite new to me, like the strawberry and peach raisins. There are also some healthy food items, like the cauliflower stalks and the cauliflower pasta. I appreciate the inclusion of the Mexican marinades as well. They are perfect for recreating classic Mexican dishes at home! All in all, this big and jampacked box is a great treat for any foodie, and it has lots of gluten-free options, too! It only ships once every quarter, but it's a fun and easy way to stock up on pantry items and unique finds!
What do you think of the  Cooking Panda Box?