BOXYCHARM is a makeup and beauty subscription box that sends out 5 full-size items every month. Products include makeup, skincare, and beauty tools and each box has an average value of around $175. BOXYCHARM is $25 a month with discounts for those who prepay for longer terms.
Charmers will receive specially curated products from well-known, popular, chic and up-and-coming brands. Our beauty experts carefully select each item based on current and emerging trends, so you're always in the know about the latest shades and styles. With BoxyCharm and BoxyCharm Premium, we like to focus on beauty! That means makeup, skincare, haircare, and much more. To add lifestyle items to the mix, we offer the dreamy BoxyLuxe upgrade. Being a Charmer is where it's at!
DEAL: Subscribe now and get a free gift: Ciate Woman Power Palette ($45 value), Violet Voss Olive You Forever Palette ($30 value), or Lavido Age Away Hydrating Cream ($55 value) PLUS $10 credit to July Add-Ons!
Use this link and coupon code SOFISHSTICATED to get the Ciate Woman Power Palette, SEASTHEDAY to get the Violet Voss Olive You Forever Palette or VITAMINSEA for the Lavido Age Away Hydrating Cream AND get your exclusive $10 Popup code via email within 24 hours of subscribing.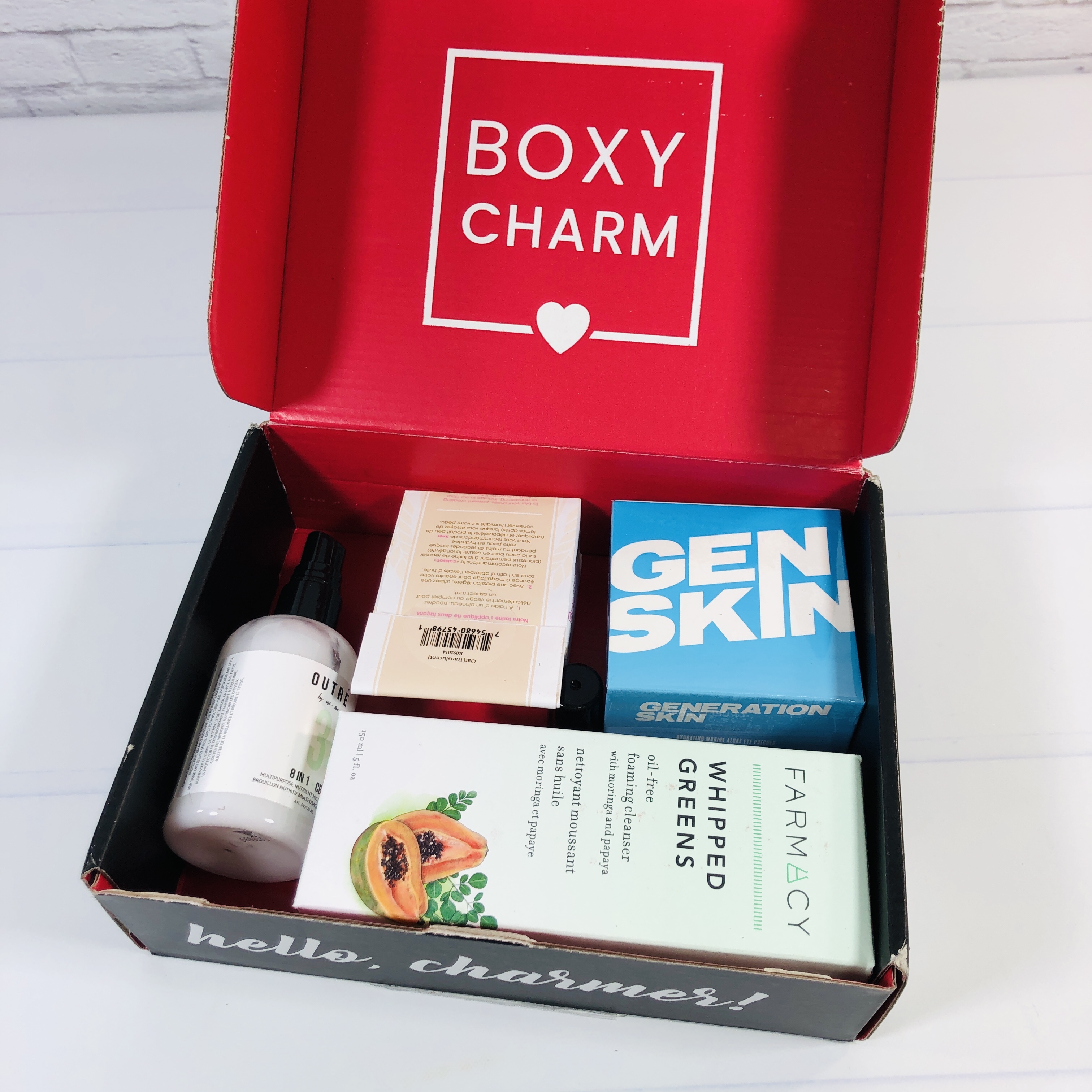 The presentation is very simple and most items came in their original boxes.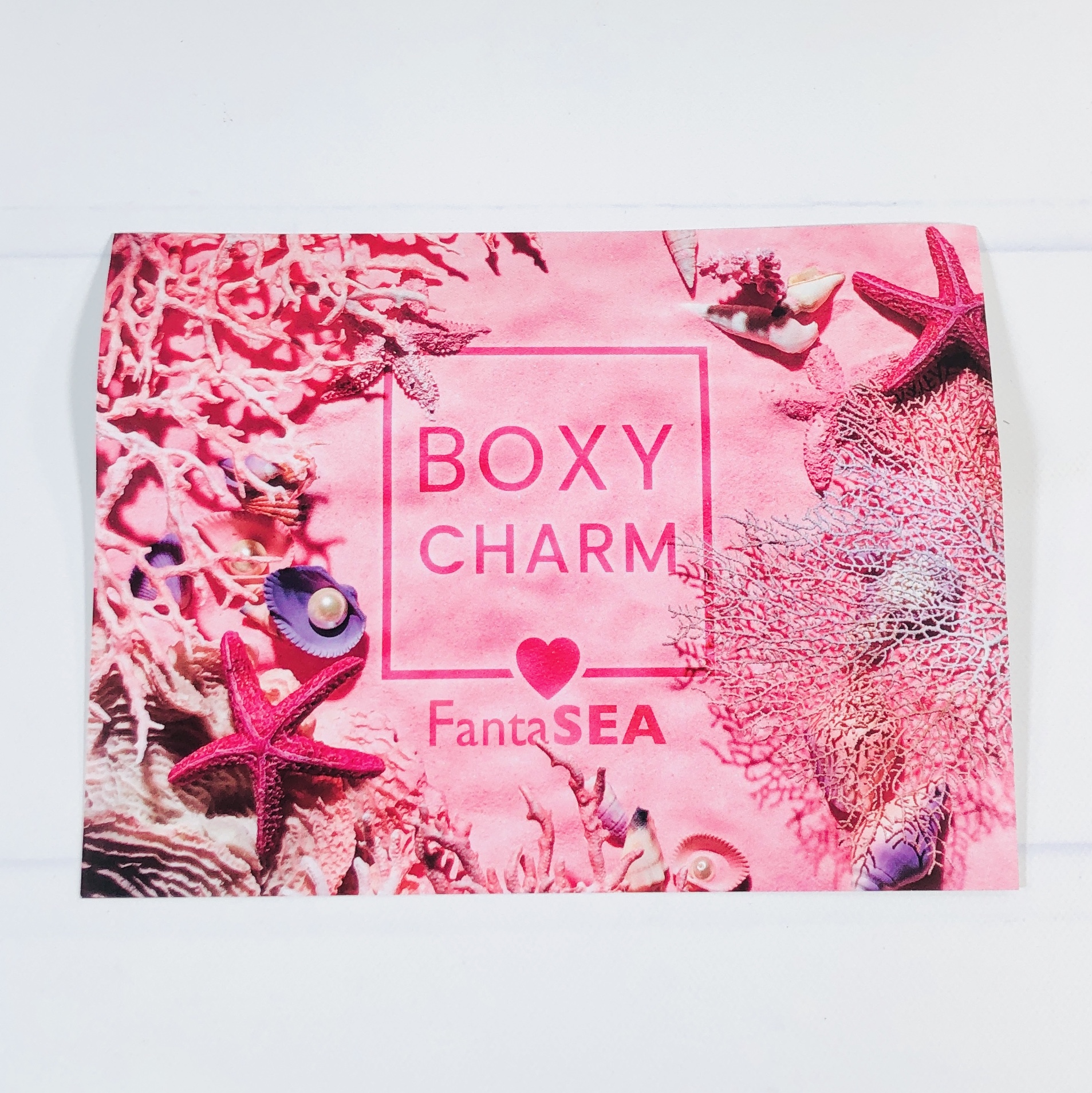 I received a card with the theme — FantaSEA!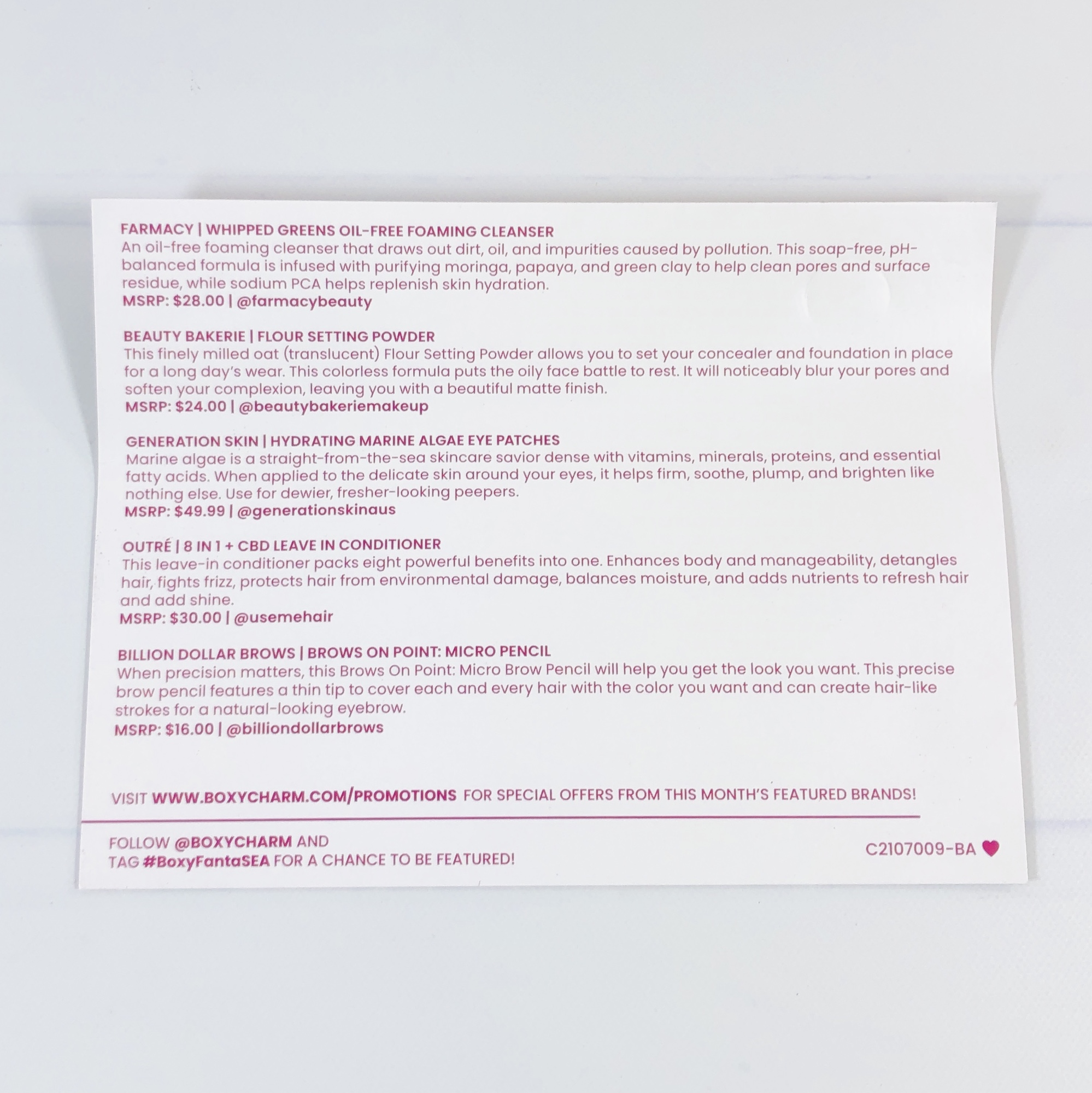 The back of the card listed the items and MSRP's plus a brief description.
Everything in my July 2021 BOXYCHARM! Keep in mind that BOXYCHARM sends many box combos so your box items and value may be different than mine. There are variations in the box – see them here.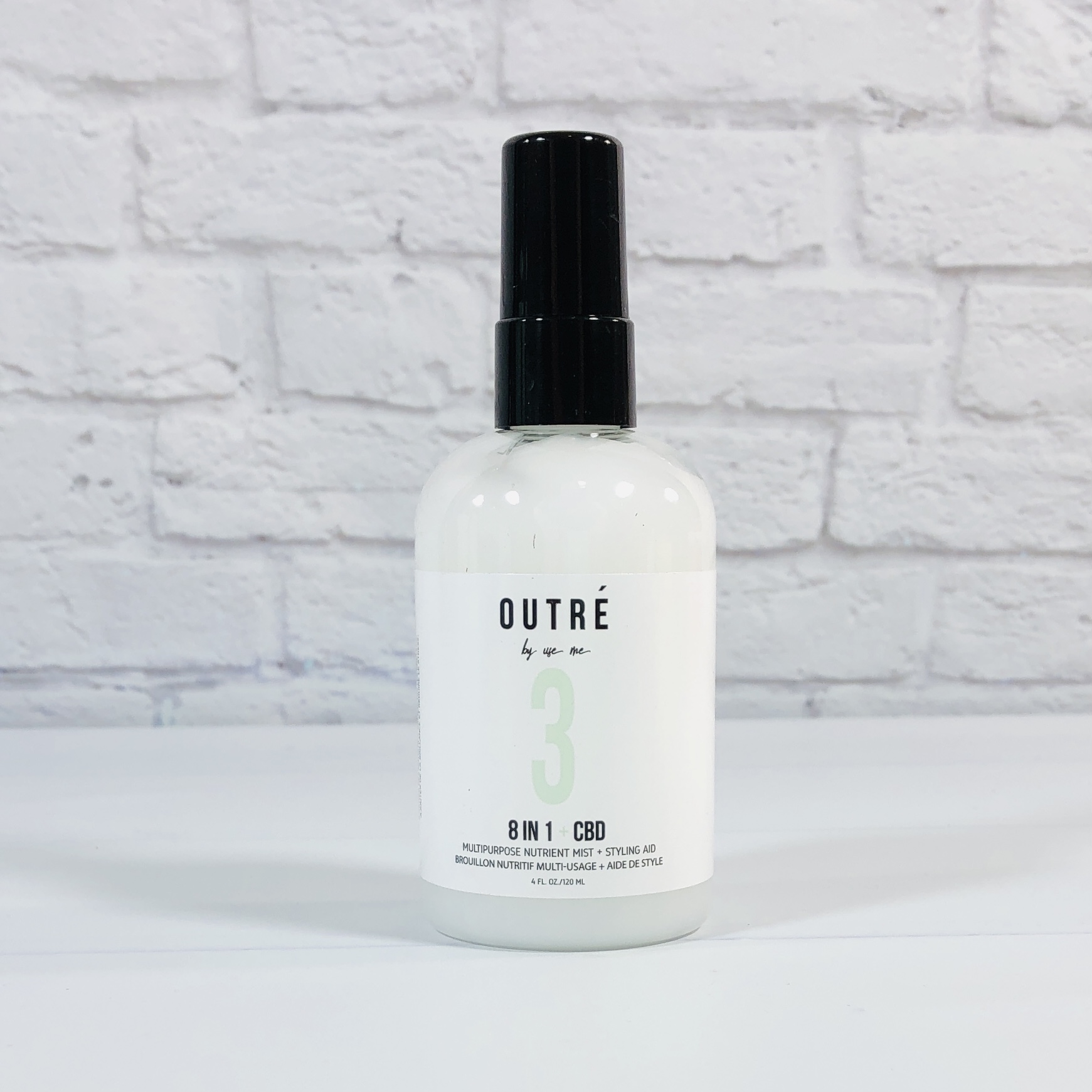 OUTRÉ CBD 8 IN 1 + CBD Leave In Conditioner ($30) Because it doesn't say so on the front, I will state that this is a leave-in conditioner. I have fine hair and probably would have skipped my regular in-shower product if I had known that so here's your heads-up.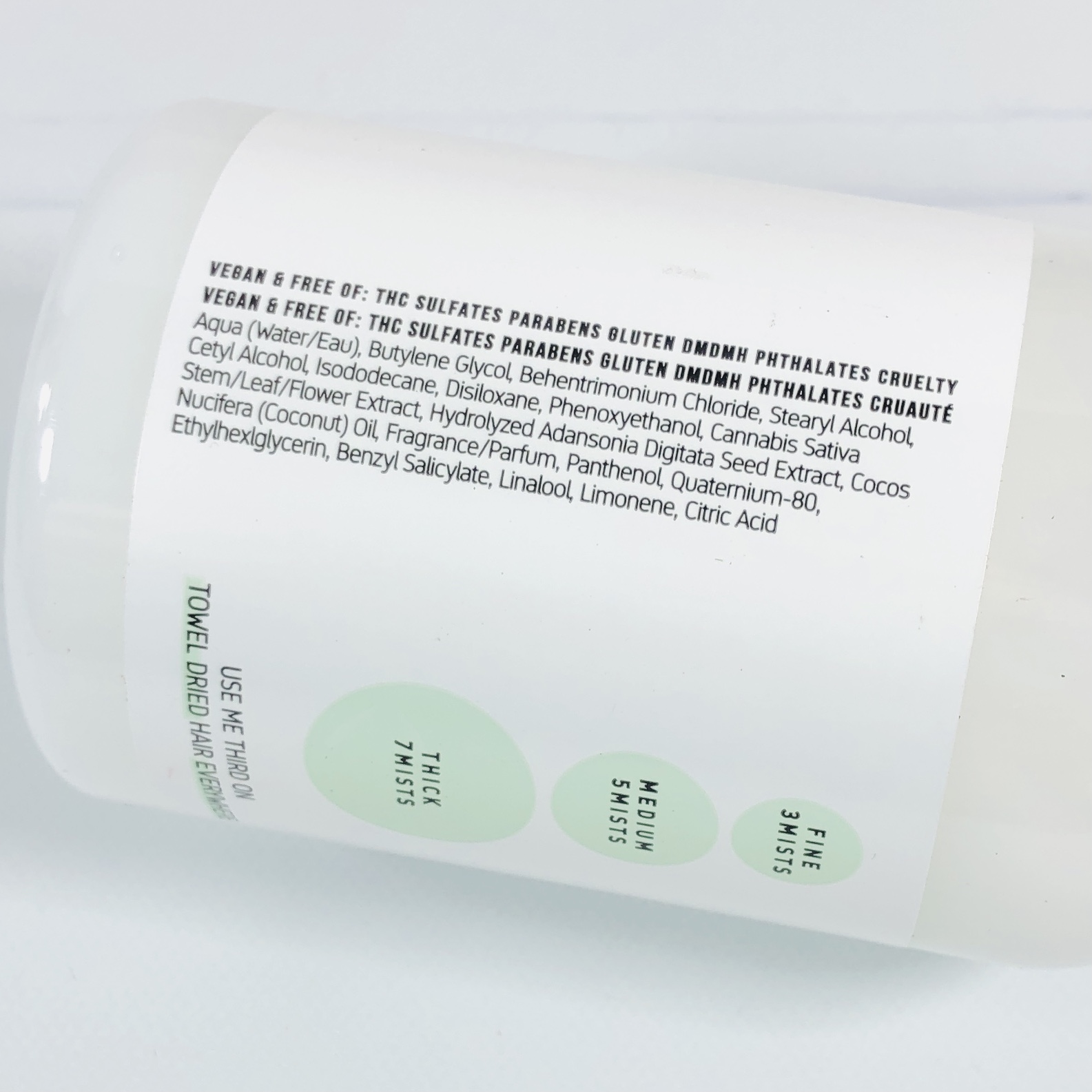 It has coconut oil and cannabis extract and there are 8 benefits although most of those benefits are things like it's cruelty-free and works for all hair types. What is really does is makes hair easy to comb out, adds shine, and fights frizz. The suggested use depends on your hair type and while it says 3 sprays for fine hair I used only 2 and had no problems detangling my fine hair. The product smelled good and reminded me of a tropical drink, something with pineapple perhaps. I used a blow dryer and my hair was soft and silky afterwards. This is kind of my natural hair texture anyways but this made it even more so and it didn't weigh my hair down.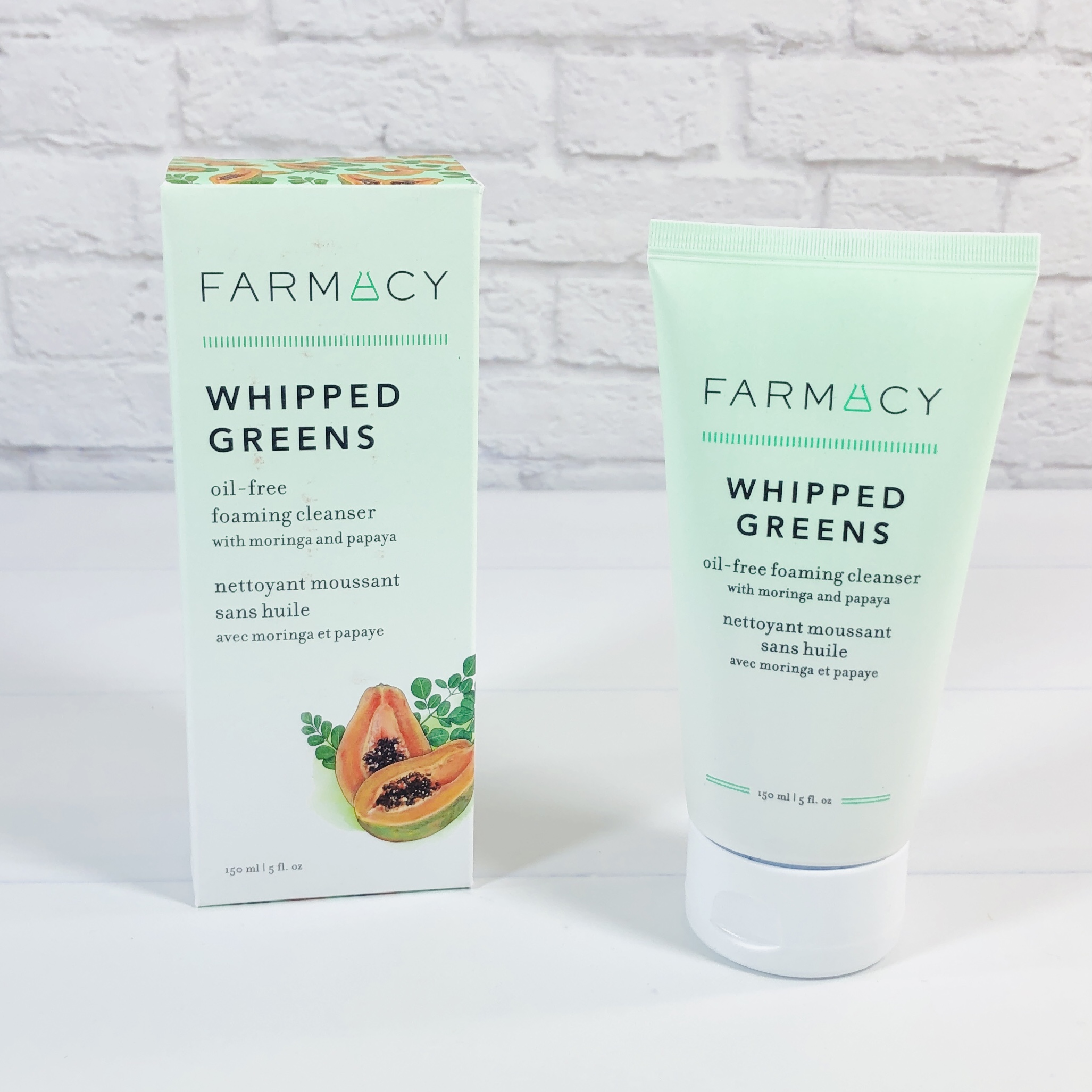 FARMACY Whipped Greens Oil-free Foaming Cleanser ($28) is listed as a Clean at Sephora product which means it has no phthalates, parabens, etc. It is a creamy cleanser that removes makeup and I used it as part two of a double cleanse after trying the powder shown later in this review.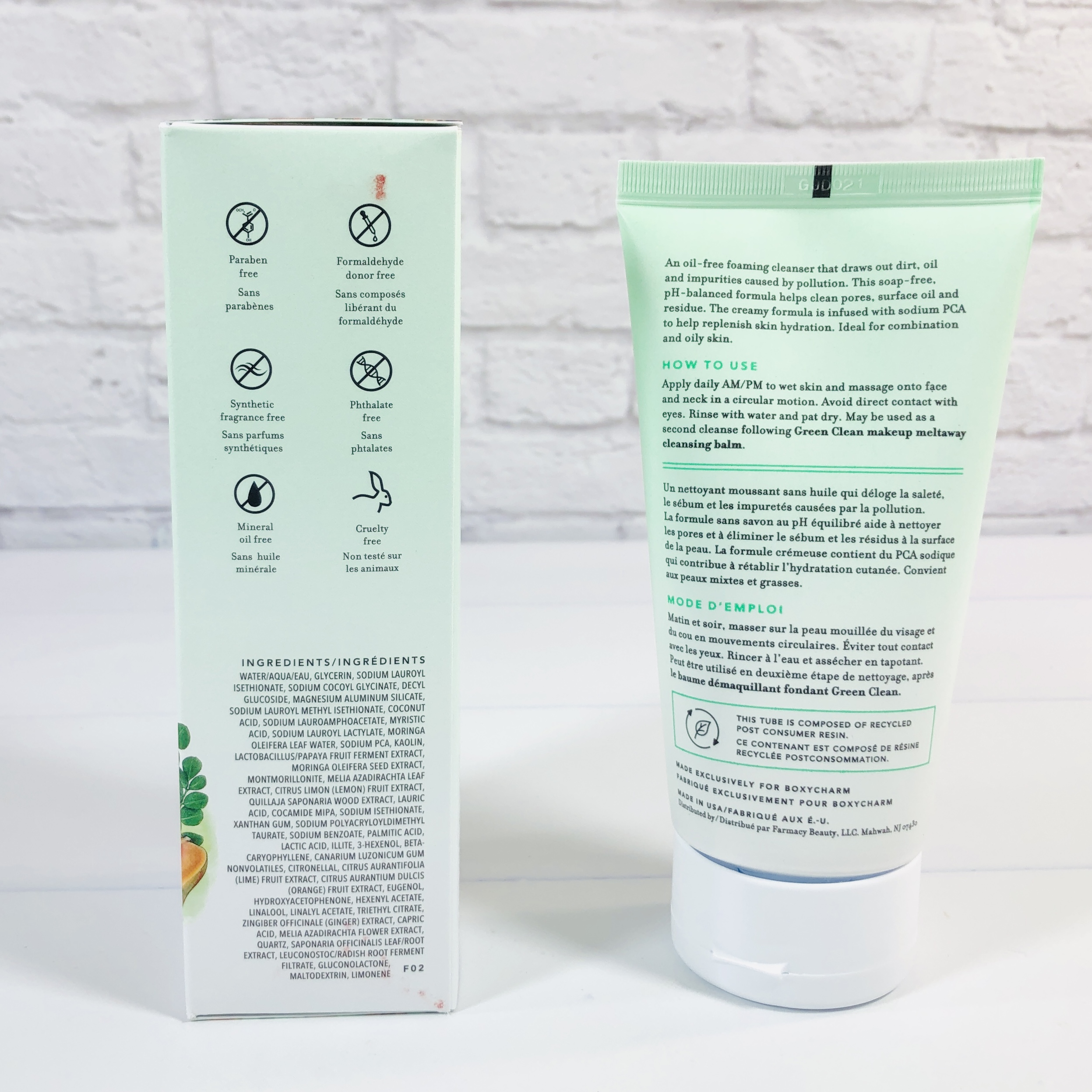 Some of the ingredients include plant extracts such as moringa, citrus, and ginger. It also has green clay. It is light green in color and I used it at night after an oil cleanse and was surprised at how much extra makeup it removed from my skin. It lathered well and rinsed away without leaving a film. It smells like a combo of the citrus oils and ginger.
GENERATION SKIN Hydrating Marine Algae Eye Patches ($28.49) I like wearing eye patches, they don't irritate my skin like full face masks sometimes can. This brand is new to me.
Ingredients include glycerin, seaweed, algae, cica, sodium hyaluronate, and plant extracts.
There was a spatula included to help scoop up one patch at a time.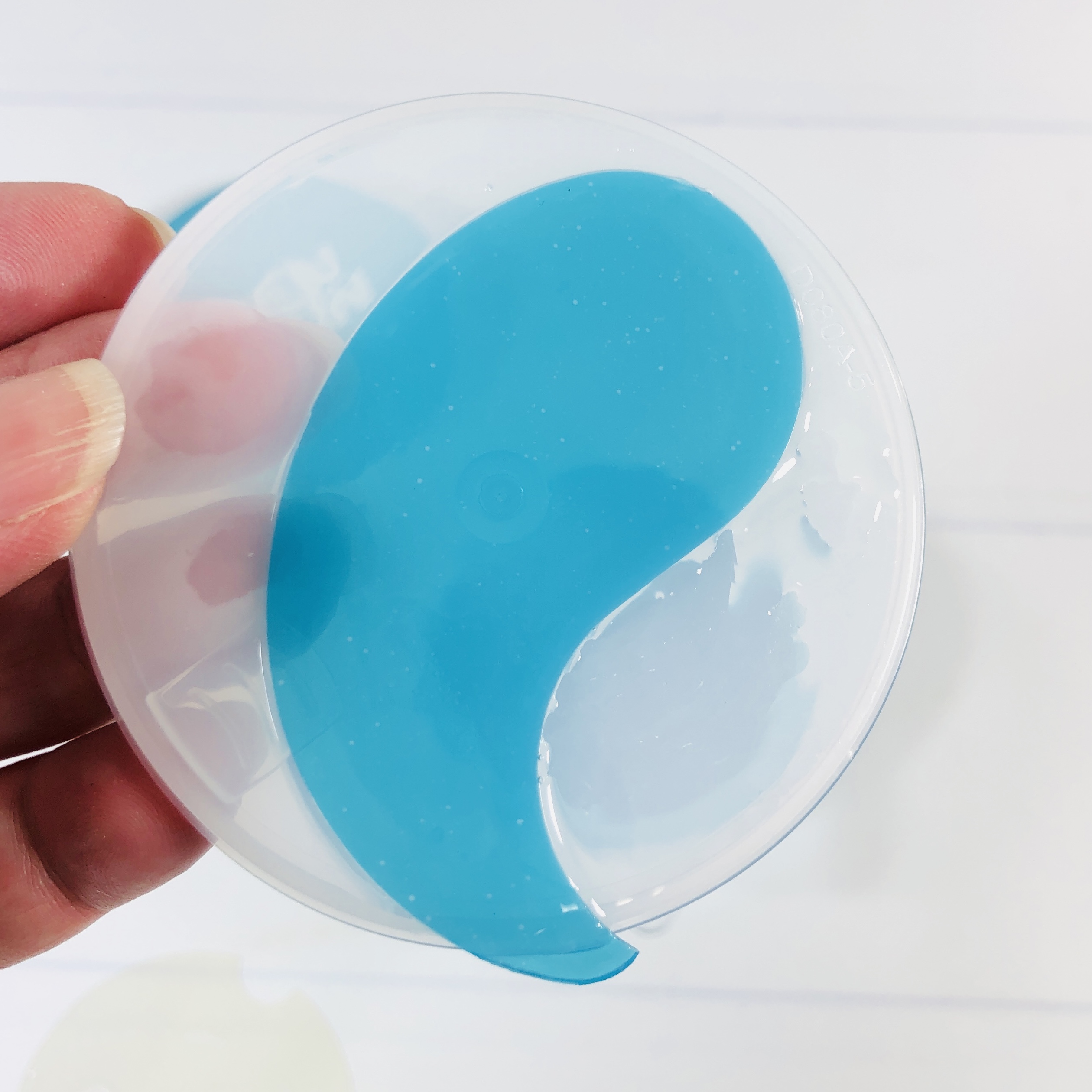 I applied the patches and was able to go about my morning routine without having the patches fall off. The area felt cooled and soothed while I wore the patches and while the instructions said to pat in any remaining essence there really wasn't anything left after removing. I didn't notice any scent at all.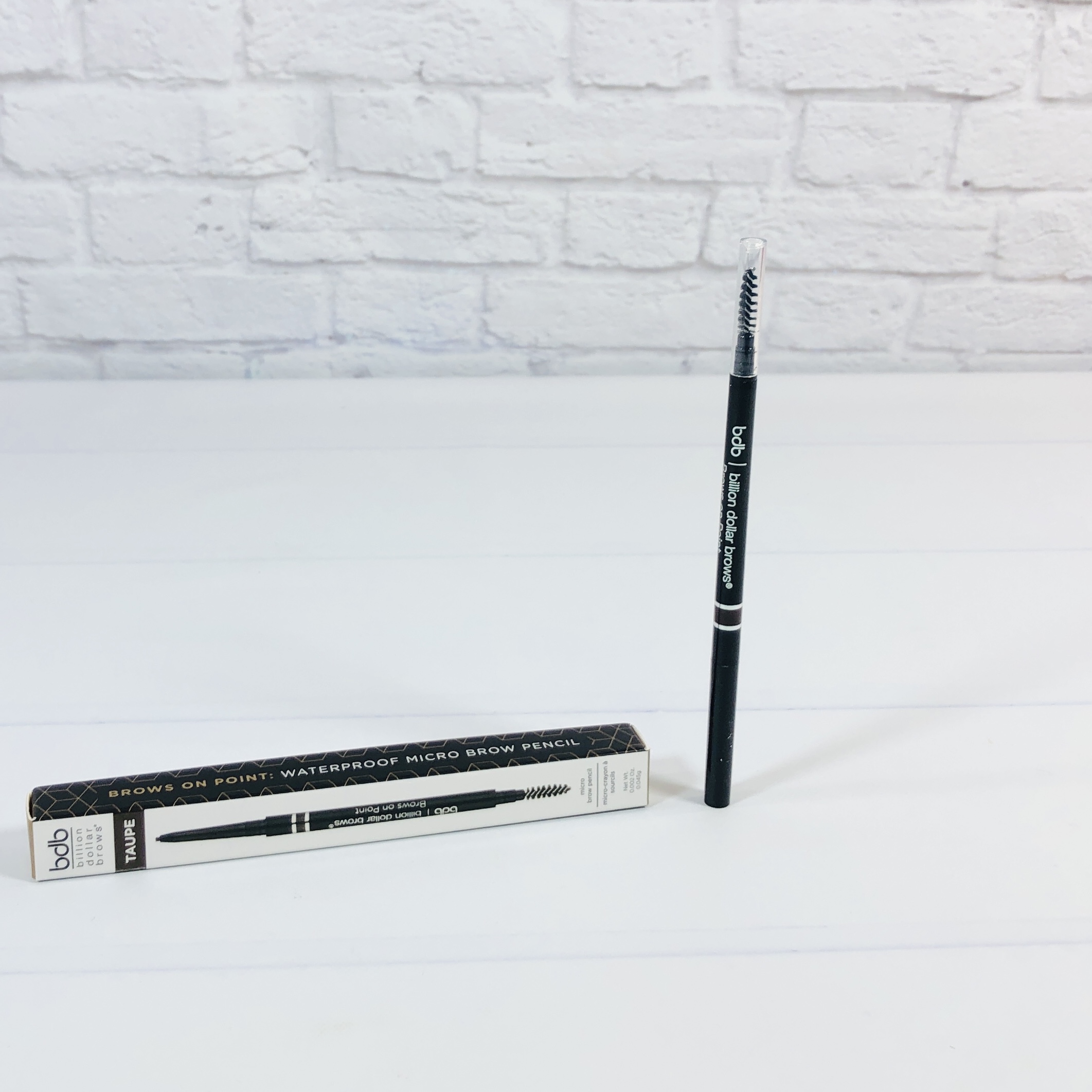 BILLION DOLLAR BROWS Brows On Point: Micro Pencil Taupe ($16) I just had my eyebrows waxed so I was happy to try this to help play them up a bit.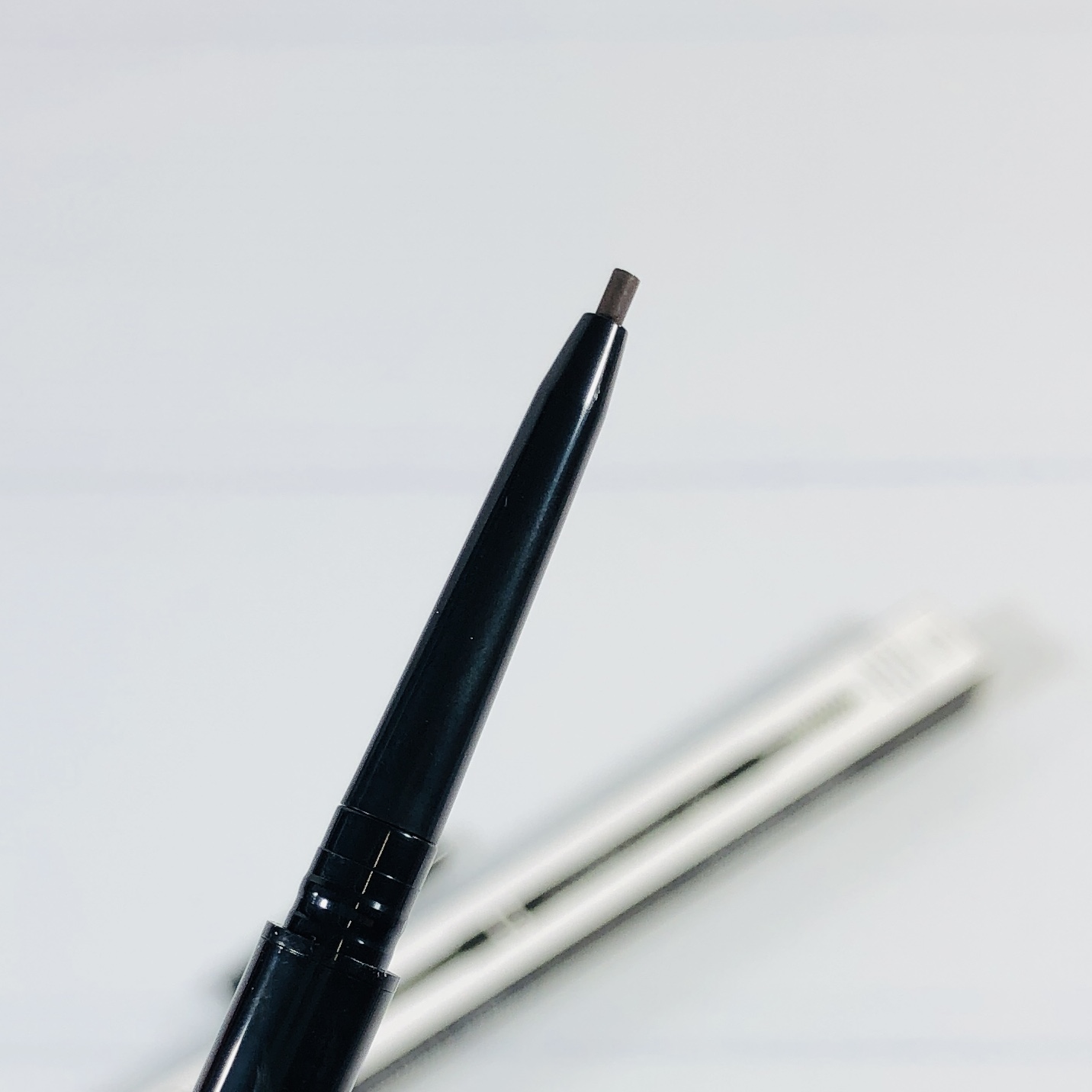 The pencil tip is pretty fine and it helps to make short strokes over the hairs.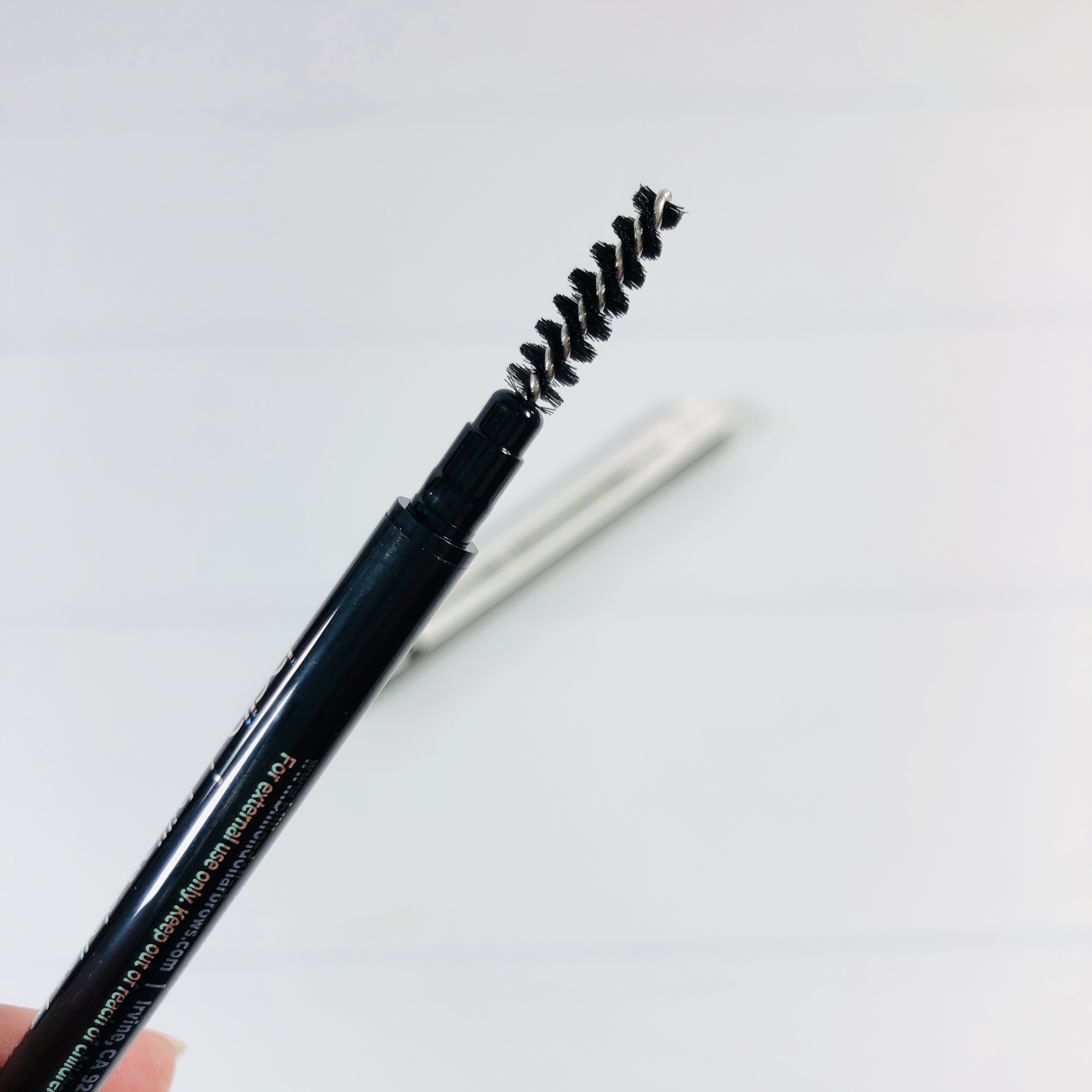 The back end has a spoolie brush to get all of those hairs in place.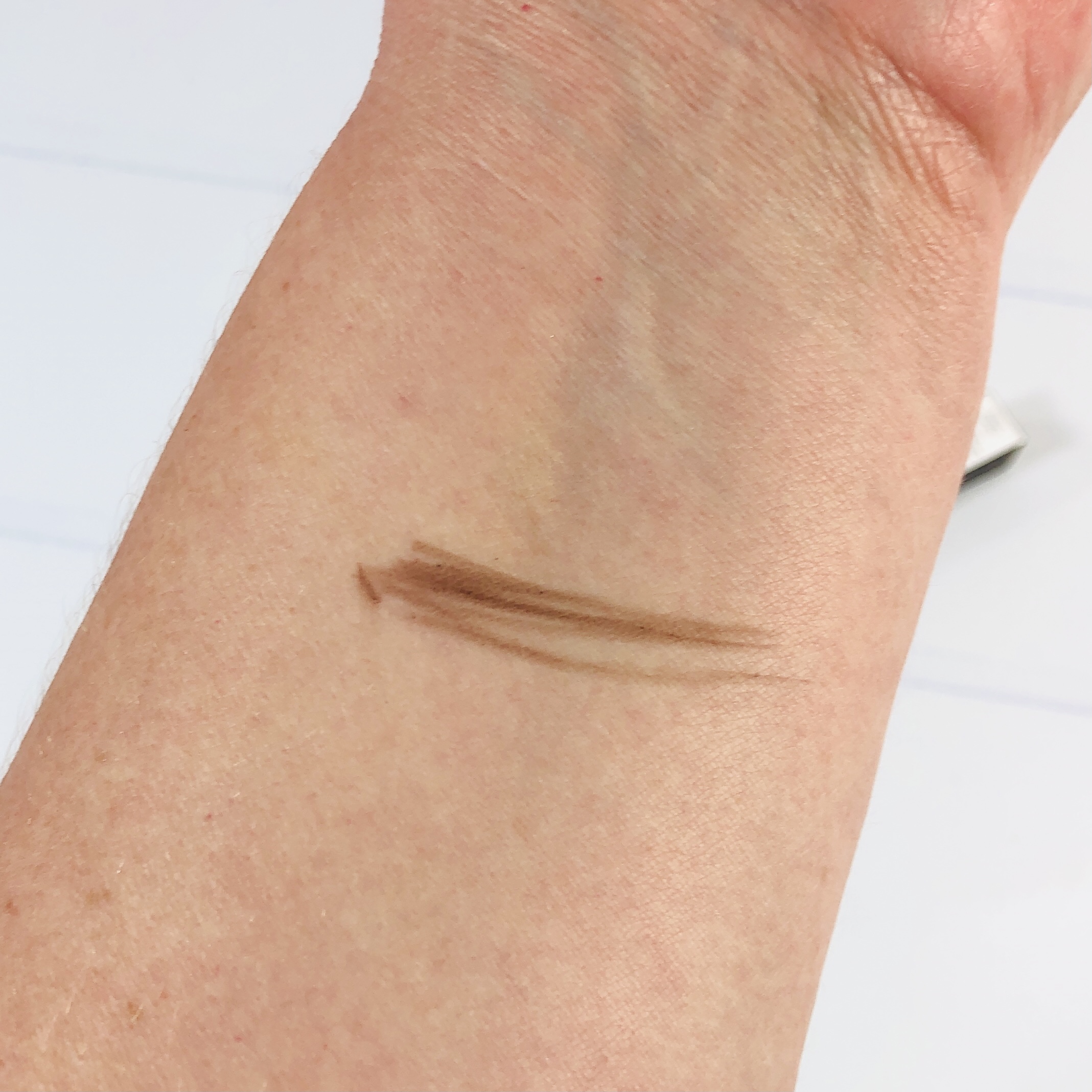 I pressed down too hard and broke the pencil but when I used shorter, softer strokes it worked much better and this color, Taupe, worked well for my coloring.
BEAUTY BAKERIE Flour Setting Powder 14 Translucent ($24) I had to wonder if this was a diet supplement when I received it, the packaging seems like something from my grocery store!
They even had a nutrition facts label, which doubled as an ingredients list.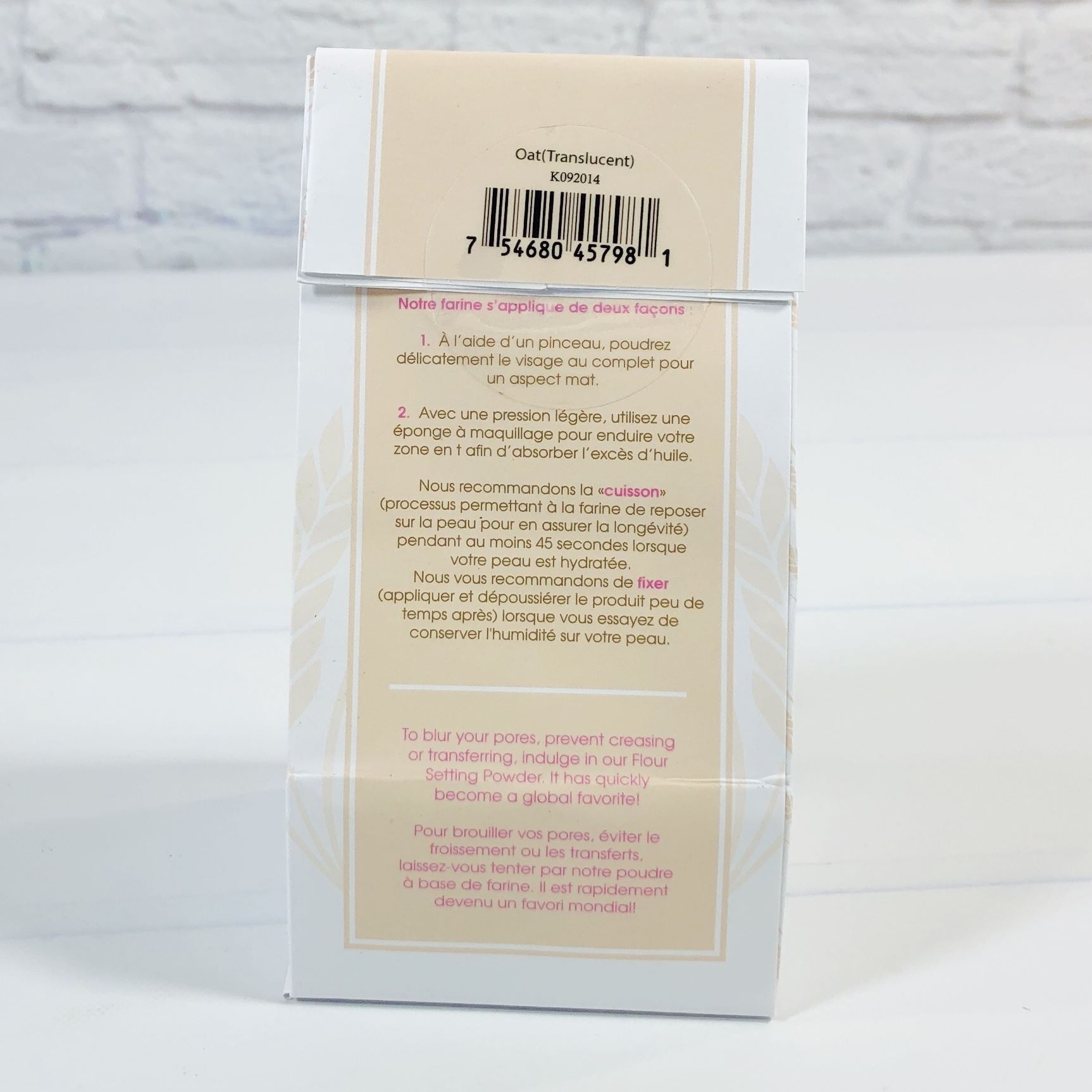 The instructions say to brush it all over your face after using foundation to blur the pores, set makeup, and keep the face from looking greasy.
I received the shade Oat, which is translucent. I normally wear a powder foundation so I don't reach for setting powder, but I had a sample liquid foundation and wore it today so I could try this out. It was easy to buff into my skin and my makeup stayed in place all day long.
My July BOXYCHARM had some helpful items that were effective and that worked well for my needs! While I don't normally wear setting powder, it is a good product to have on hand and I will get the most use out of putting a coat of it under my eyes before applying shadow and then I can just sweep it away afterwards, along with any fallout. The hair product smelled good and left my hair soft and shiny. The eyebrow pencil worked well too and the cleanser was pretty nice and lathered well. I always enjoy using under eye pads and these were so pretty with their cool blue color. My box had a value of around $127!
What's your favorite item in this month's BOXYCHARM?