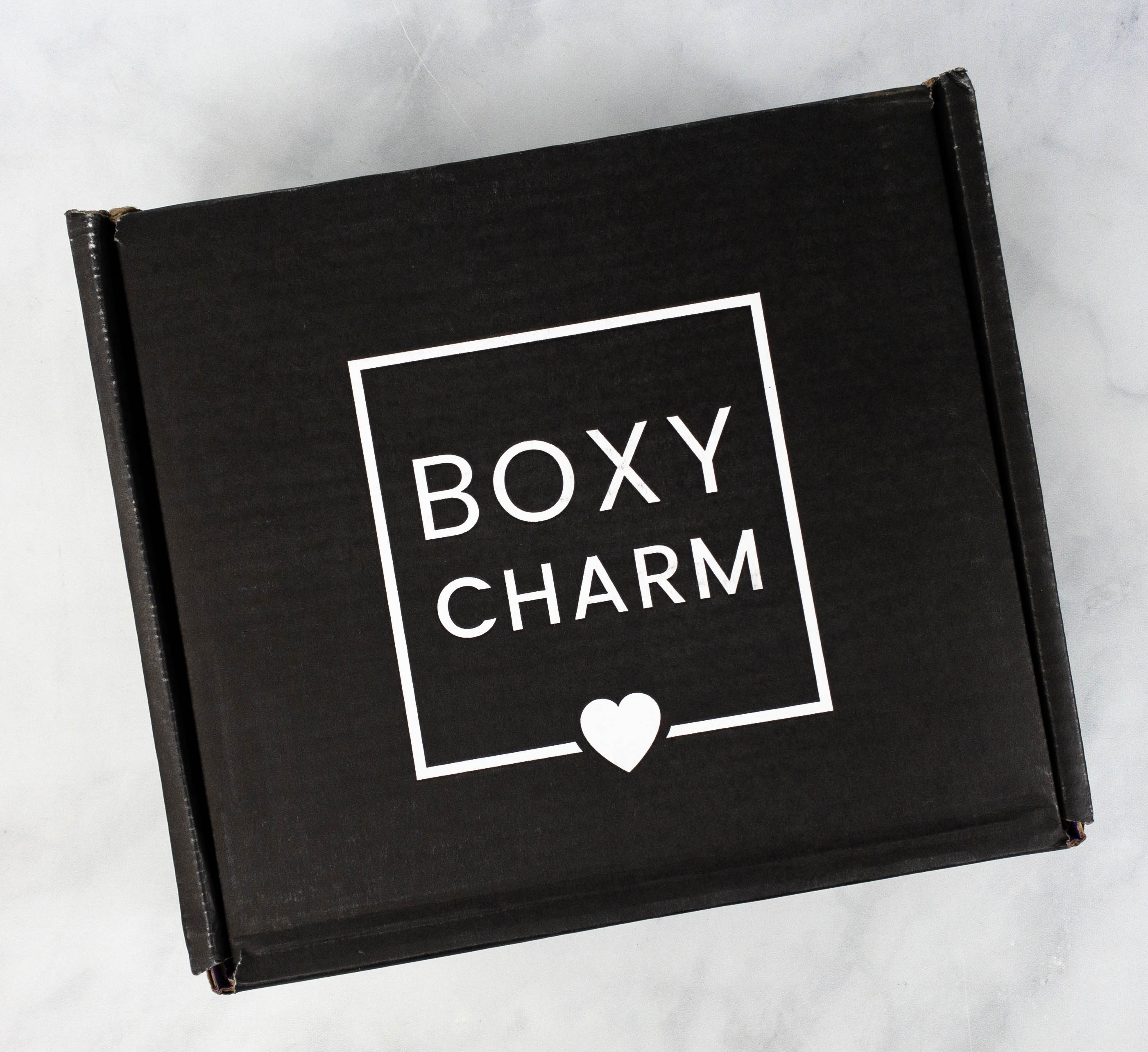 BOXYCHARM Premium is a beauty box from BOXYCHARM, separate from the regular/base BOXYCHARM and BOXYLUXE upgrade. For $35 per month, you'll receive 6-7 items with 1 item chosen by the subscriber. They also promise $175+ value in every box and no product overlaps. When you sign up for Premium, you must get the base/classic box for the month you signed up for and stay subscribed to that until you're off the waitlist for Premium. After you score Premium, you can let go of the base box if you choose. Not only does BOXYCHARM's base box top the list in our reader's picks for best makeup box, BOXYCHARM Premium made that list and is a favorite skincare subscription and beauty subscription for our readers!
The items arrived in the black BOXYCHARM box, but its interior is in purple!
The items were cushioned with purple squiggles.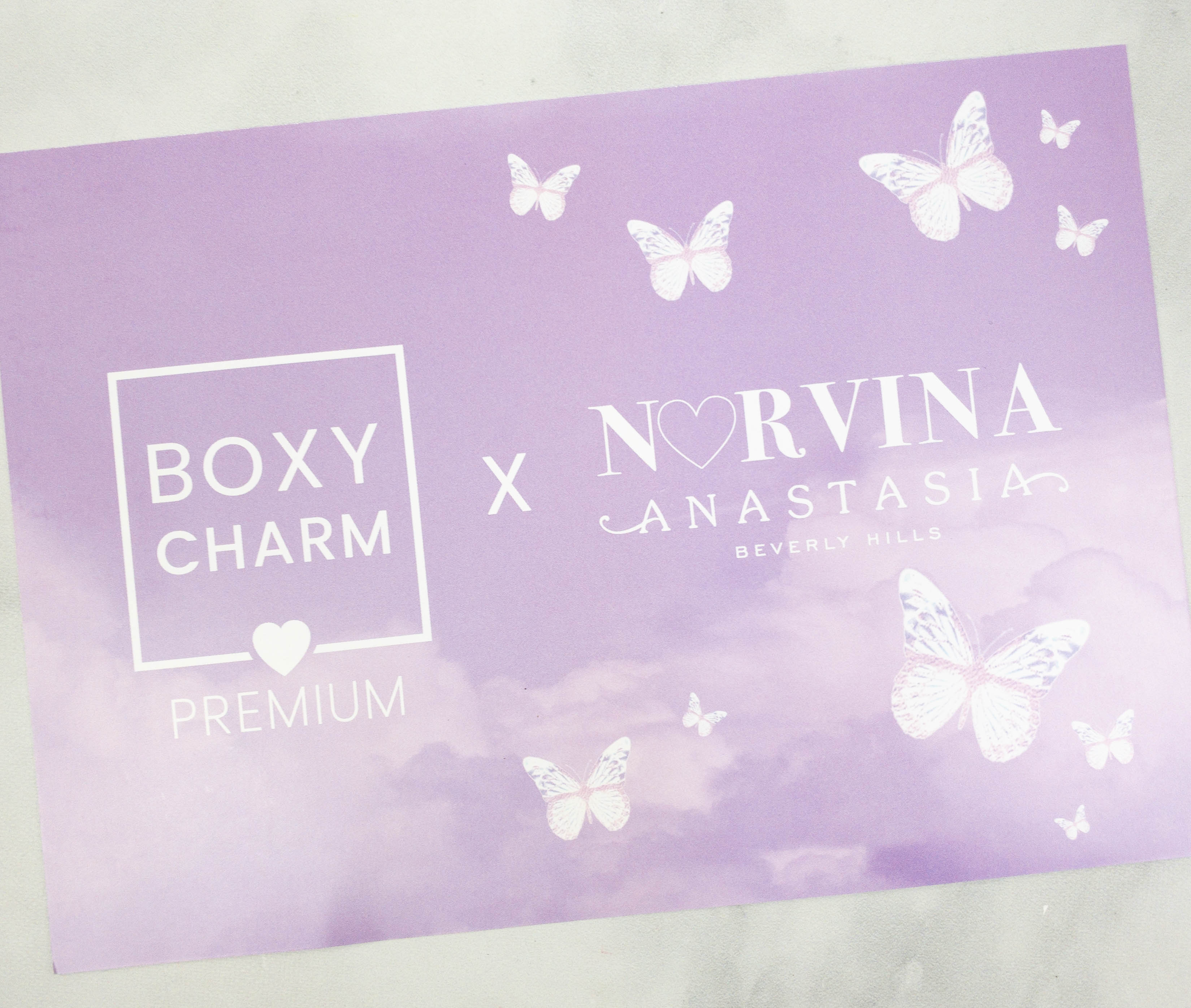 This month, BOXYCHARM Premium collaborated with Norvina and Anastasia Beverly Hills! It's a total brand takeover!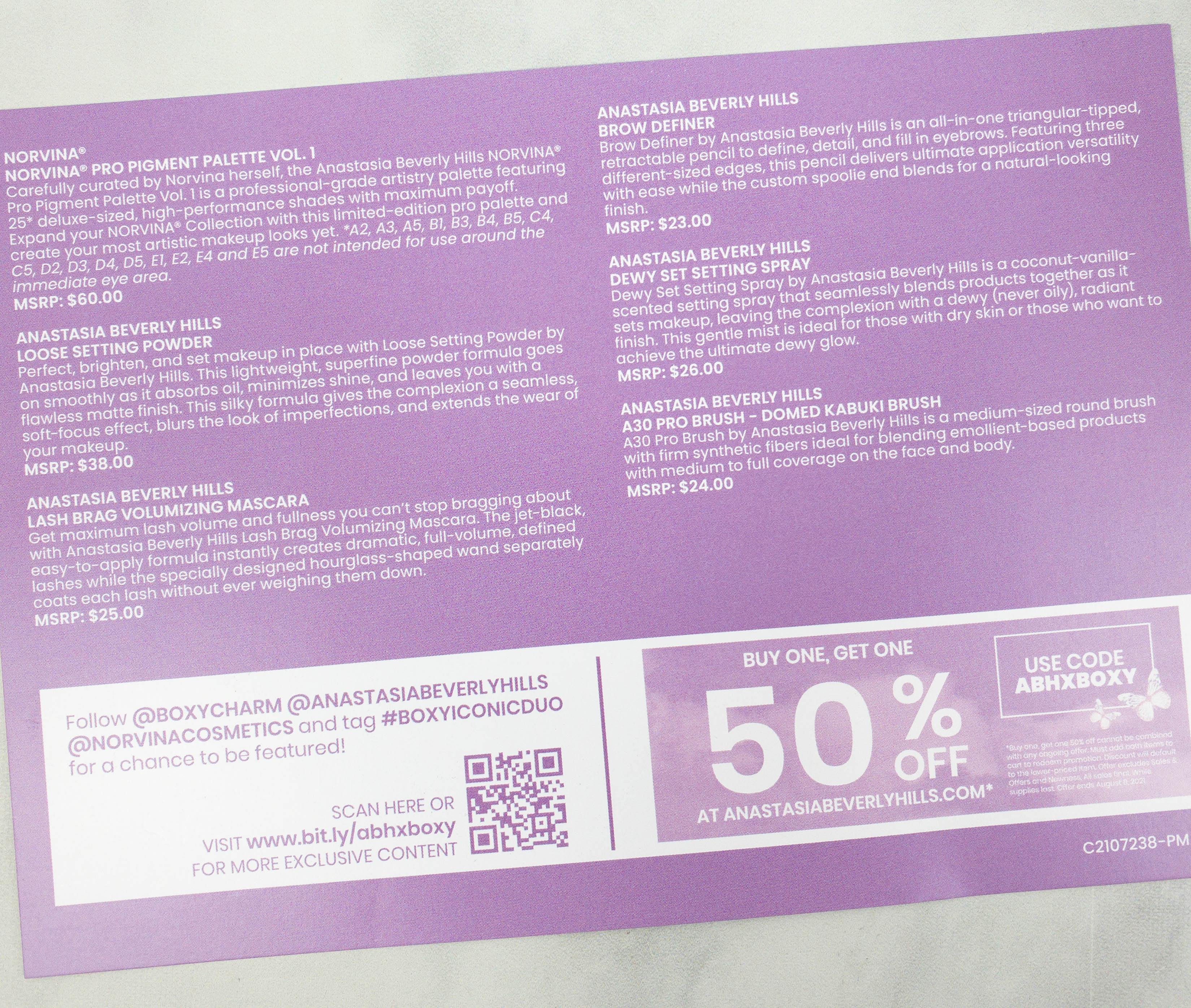 There's a card that lists the products in the box along with MSRPs.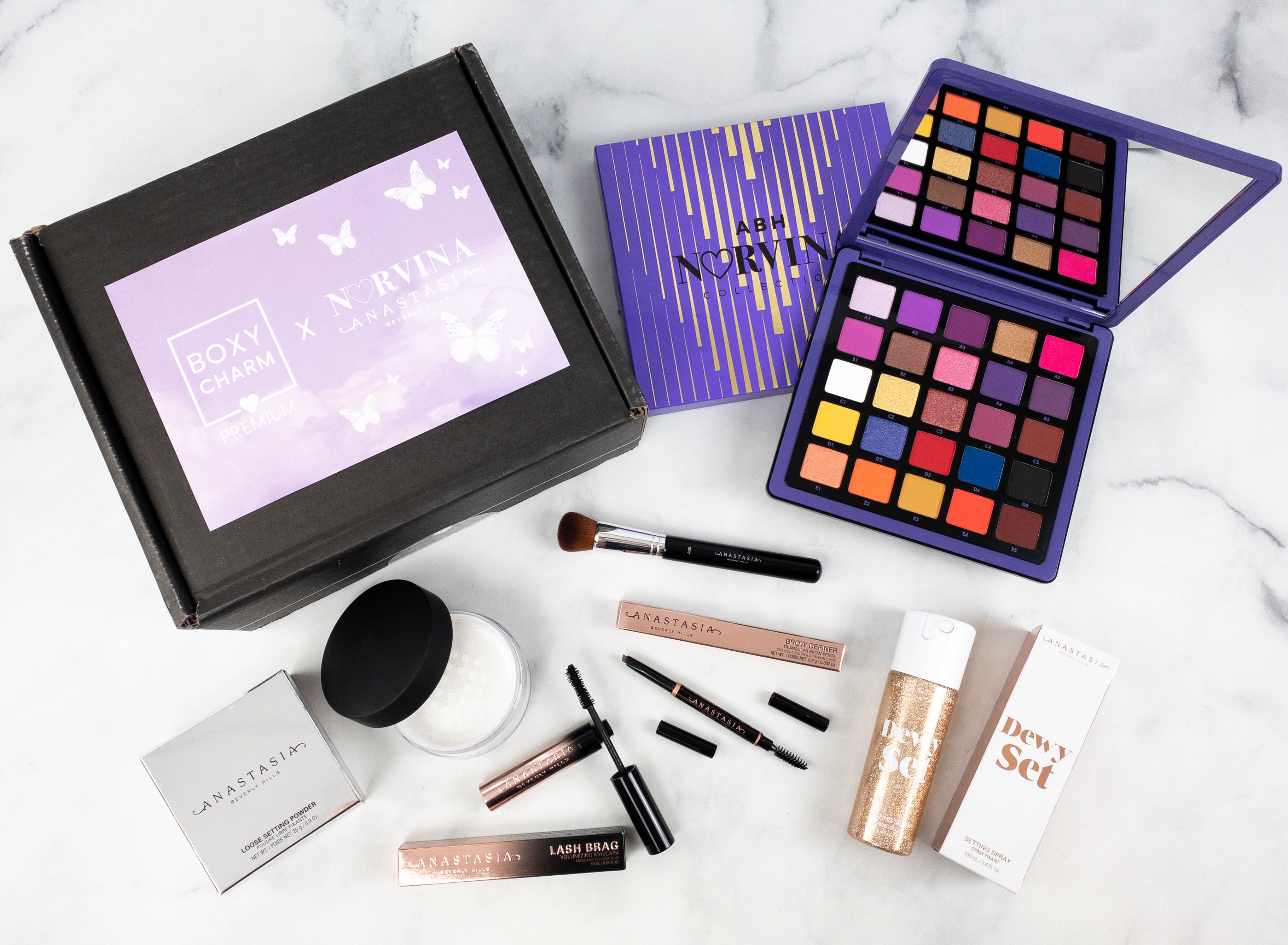 Everything in my July 2021 BOXYCHARM Premium! There are variations in the box – see the full spoilers here.
The July 2021 BOXYCHARM Premium boxes contain six (6) of the following items:
ANASTASIA BEVERLY HILLS Lash Brag Volumizing Mascara $25
ANASTASIA BEVERLY HILLS Liquid Lipstick $20
NORVINA® False Lashes Snasy $12
NORVINA® False Lashes Lengthy $12
ANASTASIA BEVERLY HILLS Loose Highlighter $25
ANASTASIA BEVERLY HILLS Dewy Set Setting Spray $26
ANASTASIA BEVERLY HILLS Clear Brow Gel Clear $22
ANASTASIA BEVERLY HILLS Dual-Ended Shadow Brush $16
ANASTASIA BEVERLY HILLS A30 Pro Brush – Domed Kabuki Brush $24
ANASTASIA BEVERLY HILLS Brow Definer $23
ANASTASIA BEVERLY HILLS Tinted Brow Gel $22
ANASTASIA BEVERLY HILLS Waterproof Crème Color Jet $18
ANASTASIA BEVERLY HILLS Darkside Waterproof Liner $18
ANASTASIA BEVERLY HILLS Shimmer Body Oil $38
ANASTASIA BEVERLY HILLS Loose Setting Powder $38
ANASTASIA BEVERLY HILLS Powder Bronzer $28
ANASTASIA BEVERLY HILLS Hydrating Oil $45
NORVINA® Pro Pigment Palette Vol. 3 $60
NORVINA® Pro Pigment Palette Vol. 1 $60
Here are the items that I received: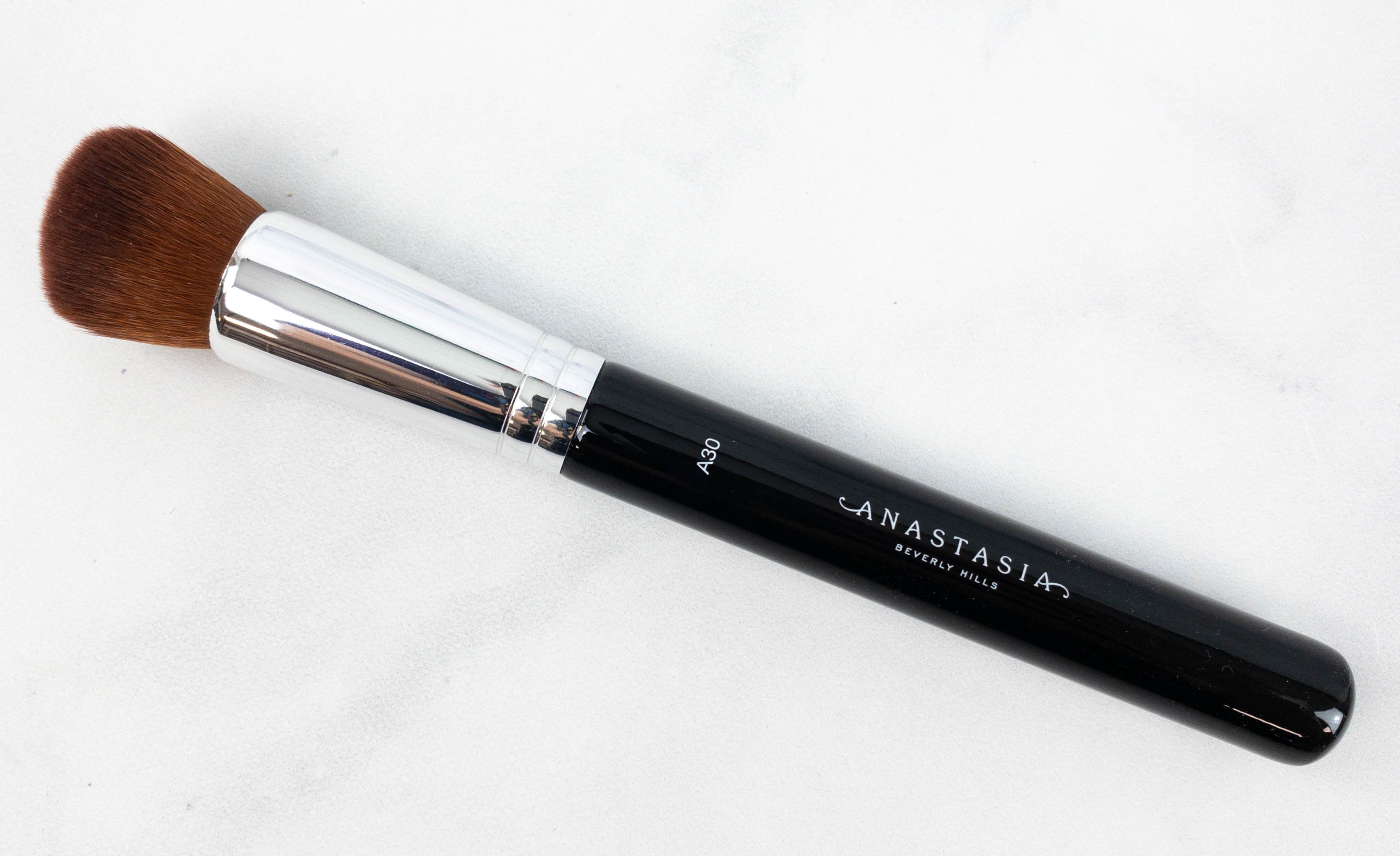 ANASTASIA BEVERLY HILLS A30 Pro Brush – Domed Kabuki Brush ($24) It's a domed kabuki brush ideal for applying contour because it gives me great precision in dispersing the product right where I want it.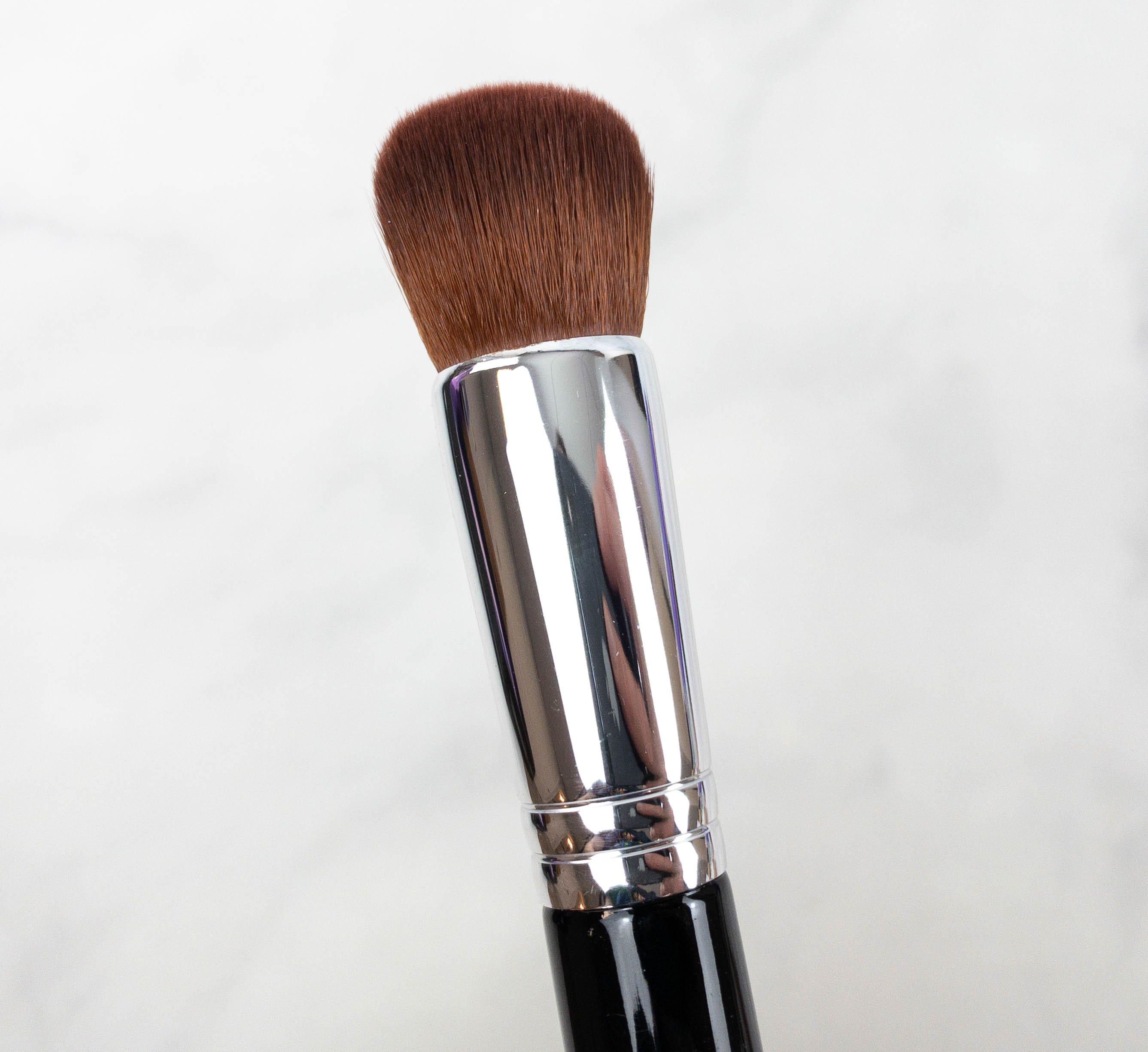 The bristles are soft and delicate, so they don't irritate my skin. This brush is also very versatile! It works with powder, cream, and even with liquid products. This is great, it's a nice brush, but on to the stars!
ANASTASIA BEVERLY HILLS Dewy Set Setting Spray ($26) To help us achieve a dewy makeup look, here's a water-based setting spray! It helps boost the longevity of makeup and also leaves the skin hydrated and glowing. Compared to other setting sprays, this one is weightless and non-greasy, so I have no problems using it. Another thing I love about it is its coconut-vanilla scent that I just can't get enough of! In case you're wondering, the bottle features glitter for decorative purposes, but the formula itself is free from glitter.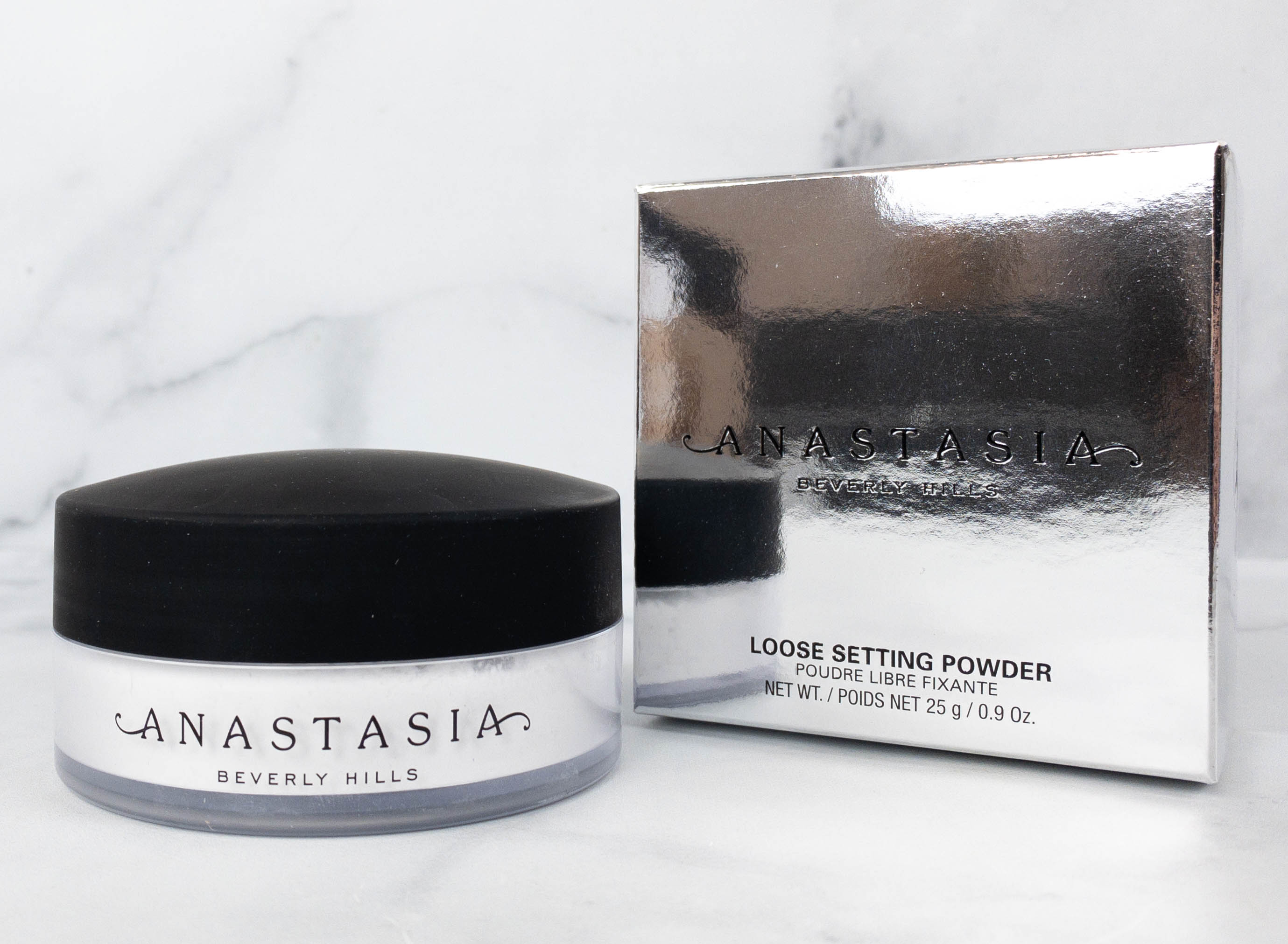 ANASTASIA BEVERLY HILLS Loose Setting Powder ($38) From the setting spray, we're now onto the setting powder! This translucent setting powder that helps keep my makeup looking nice and matte. It absorbs excess oils and minimizes the shine.
I love this super-fine powder because it goes on smoothly. It also feels velvety and rich. I sometimes use this on its own because it does a great job of mattifying my face while blurring imperfections. The powder even gives my skin a soft-focus effect so it looks smoother, healthier, and more radiant.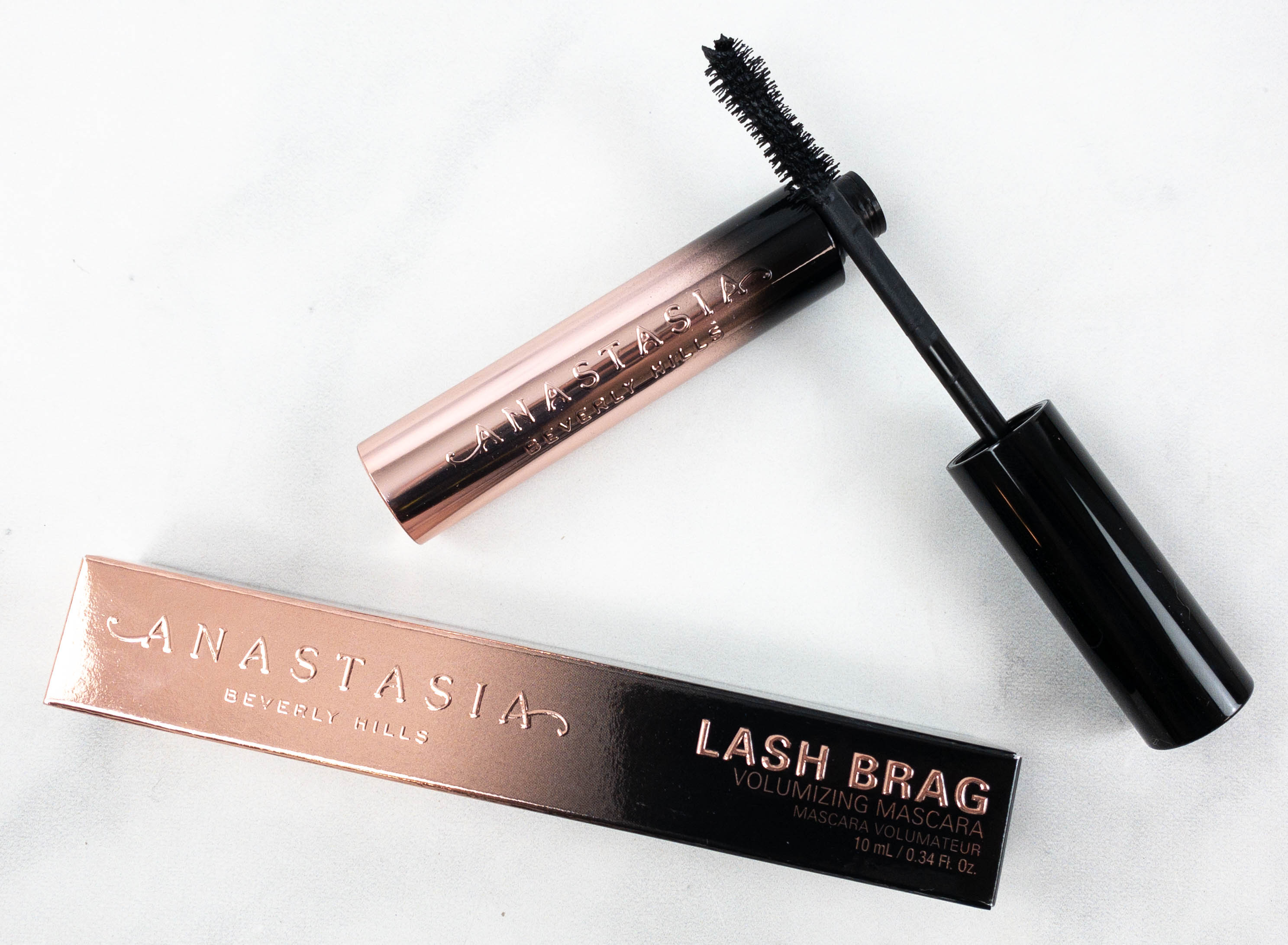 ANASTASIA BEVERLY HILLS Lash Brag Volumizing Mascara ($25) For the eyes, here's a mascara that provides great volume and a lengthening effect to my lashes. It has a jet-black pigment, and a coat or two easily makes my eyes look brighter. It doesn't clump up either, so it's really easy to use. Another thing I like about it is that it's lightweight! I don't have to worry about heavy lids all night long!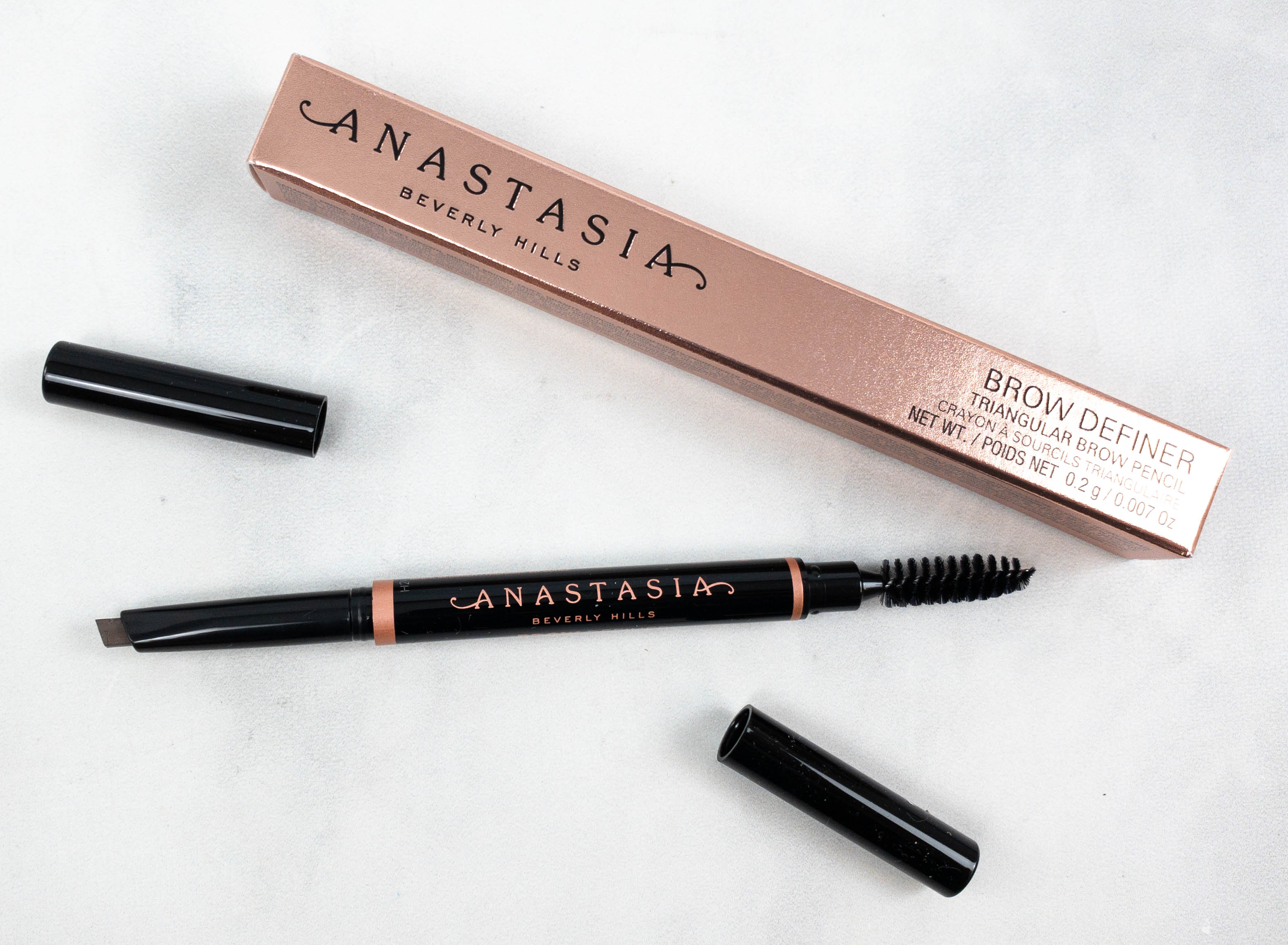 ANASTASIA BEVERLY HILLS Brow Definer ($23) Anastasia Beverly Hills is known for their wonderful brow products so I'm really happy that they included one in the box! This brow definer pencil is dual ended. One has the pencil itself and a spoolie on the other. It's compact and lightweight, making it convenient to bring when traveling. The spoolie is soft. It does a great job of taming my unruly brow hair. As for the pencil, it has a nice and creamy formula which draws on beautifully. I like the angled pencil because it helps give me more precision when shaping my brows!
ABH x Norvina Cosmetics Pro Pigment Palette Vol. 1 ($60) Here's the star of the box, a full-sized palette! It came in a bright purple packaging with gold accents.
This palette has 25 shades and they are all highly pigmented. The wide variety of colors is perfect for makeup enthusiasts who love the experiment with makeup looks.
And, it has at least twice as many shades as other full palettes. This is a beast! The palette itself looks really nice and sleek. I love that it came with its own mirror but it's not an on-the-go type of deal. This is set it up at your vanity and dig in and play!
The eyeshadows are buttery soft! Some of them have a matte finish, while the others are shimmery. You can also use a wet brush on the metallics to enhance the pigment if you want to really get that molten metal look.
With $196 worth of products in retail, this BOXYCHARM Premium box didn't disappoint – it's a stunner of a brand takeover! All Anastasia Beverly Hills products in my box are high-quality. It includes eye makeup, like the mascara and the eyeshadow palette. Plus, while the palette is really loud, there's so many colors that you can really experiment with, and all the other items are completely normal. There's even a brow definer that makes it easy for me to keep my brows set all day long. Both the setting spray and the setting powder are promising as well. Of course, let's not forget the makeup brush that works whether on powder, cream, or liquid. I'm thrilled with this collaboration overall, it gave me great value for money and the products are all useful for me!
Did you get BOXYCHARM Premium? What's your favorite item?