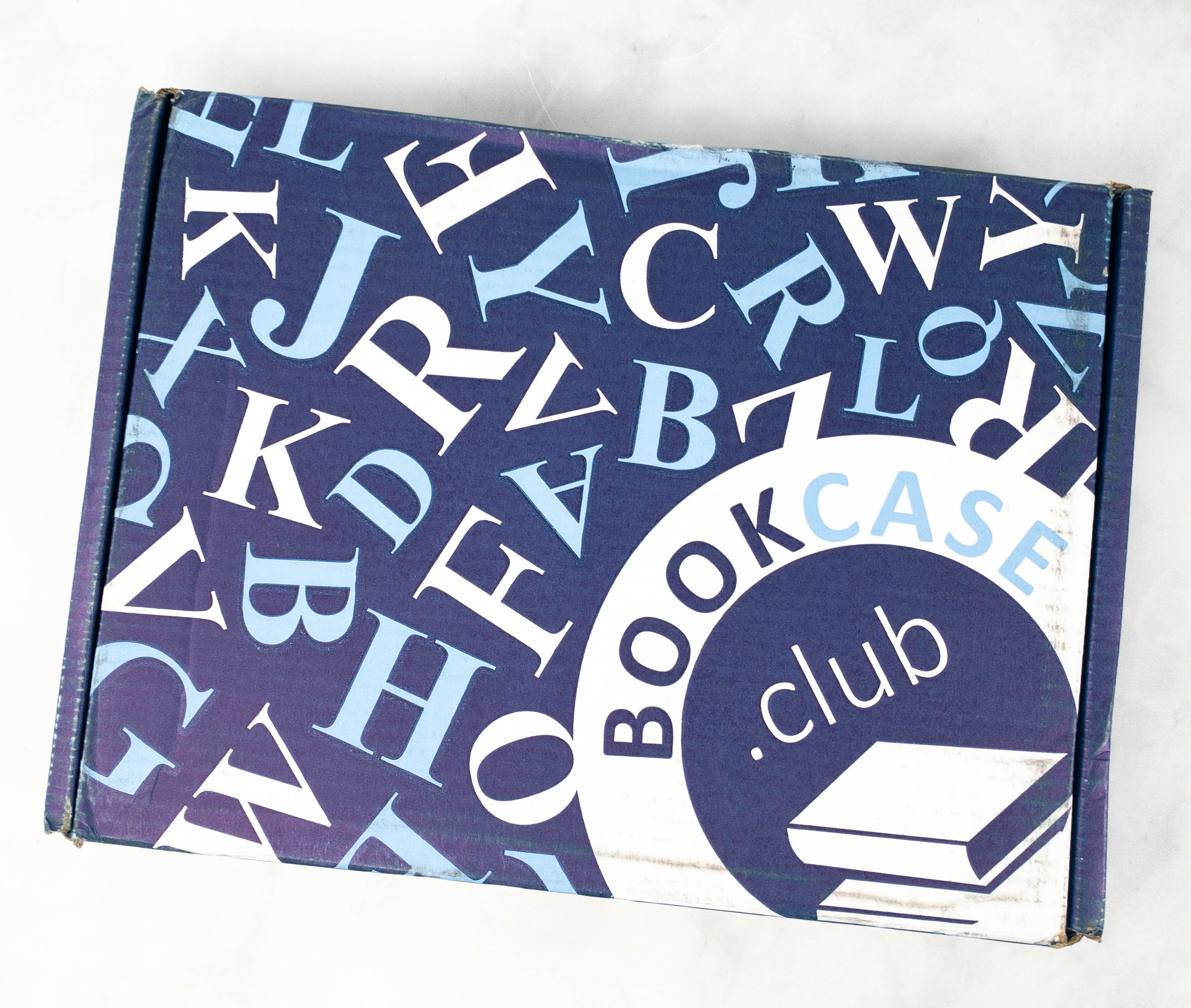 BookCase.Club is a monthly book subscription box offering different genres: Children's, Young Adult, Mystery/Thriller, Sci-Fi/Fantasy, Romance, and Historical/New Age/Contemporary Fiction. Each box contains 2 hand-picked books, except for the Children's box which includes 3 books. It costs $9.99 per month, making it one of the most inexpensive book subscriptions out there. Bookcase Club is one of our readers' top selections for the best subscription book boxes for 2021!
This is the Strange Worlds Case, which is all about Sci-Fi/Fantasy.
DEAL: Save 50% on your first month! Use coupon code HELLOSUB501M. OR Get 10% off your entire order! Use coupon code HELLOSUB10.
When you sign up, you'll pick the genre.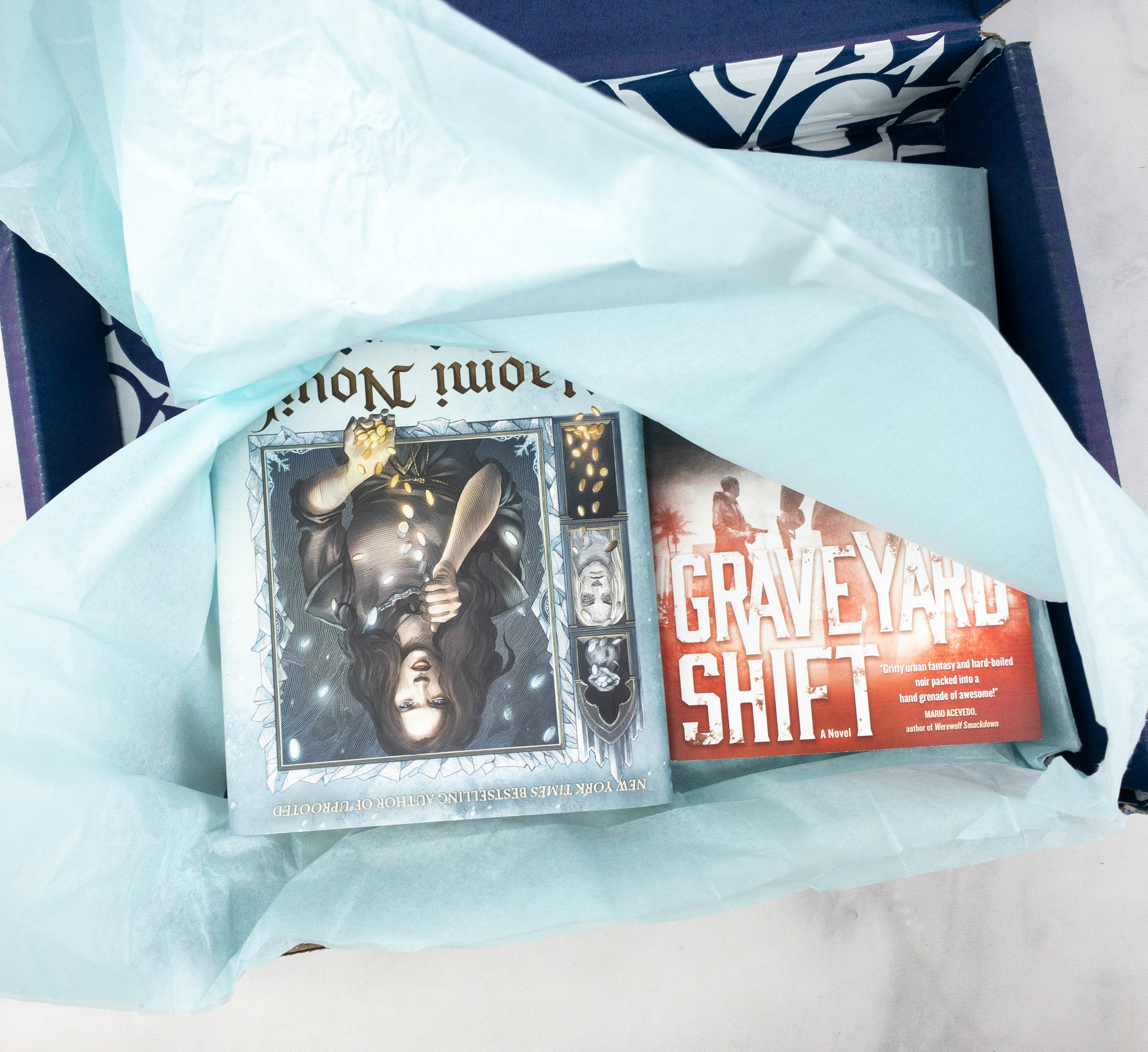 This month's Strange Worlds book picks are Graveyard Shift by Michael F. Haspil and Spinning Silver by Naomi Novik .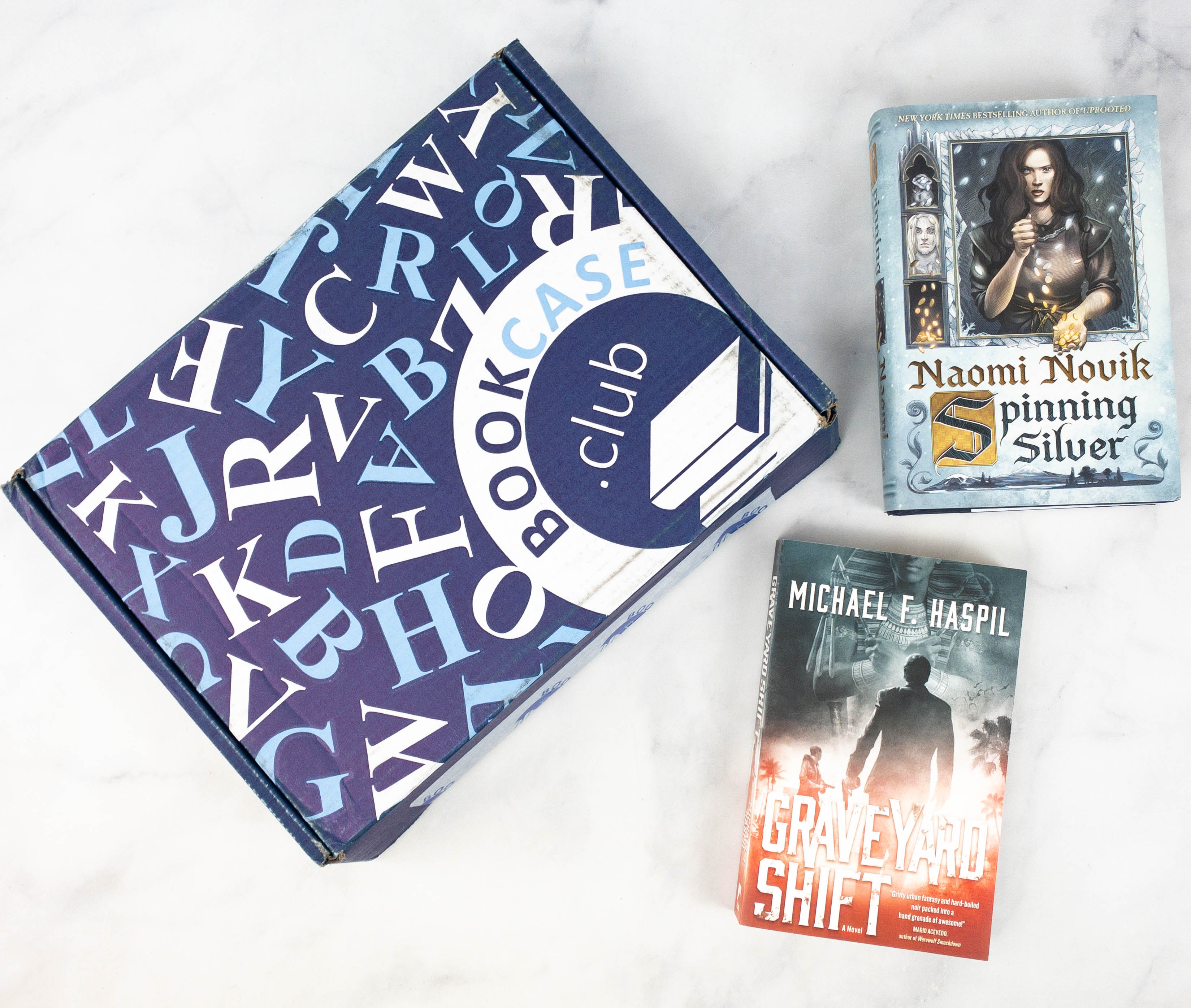 Everything in my box!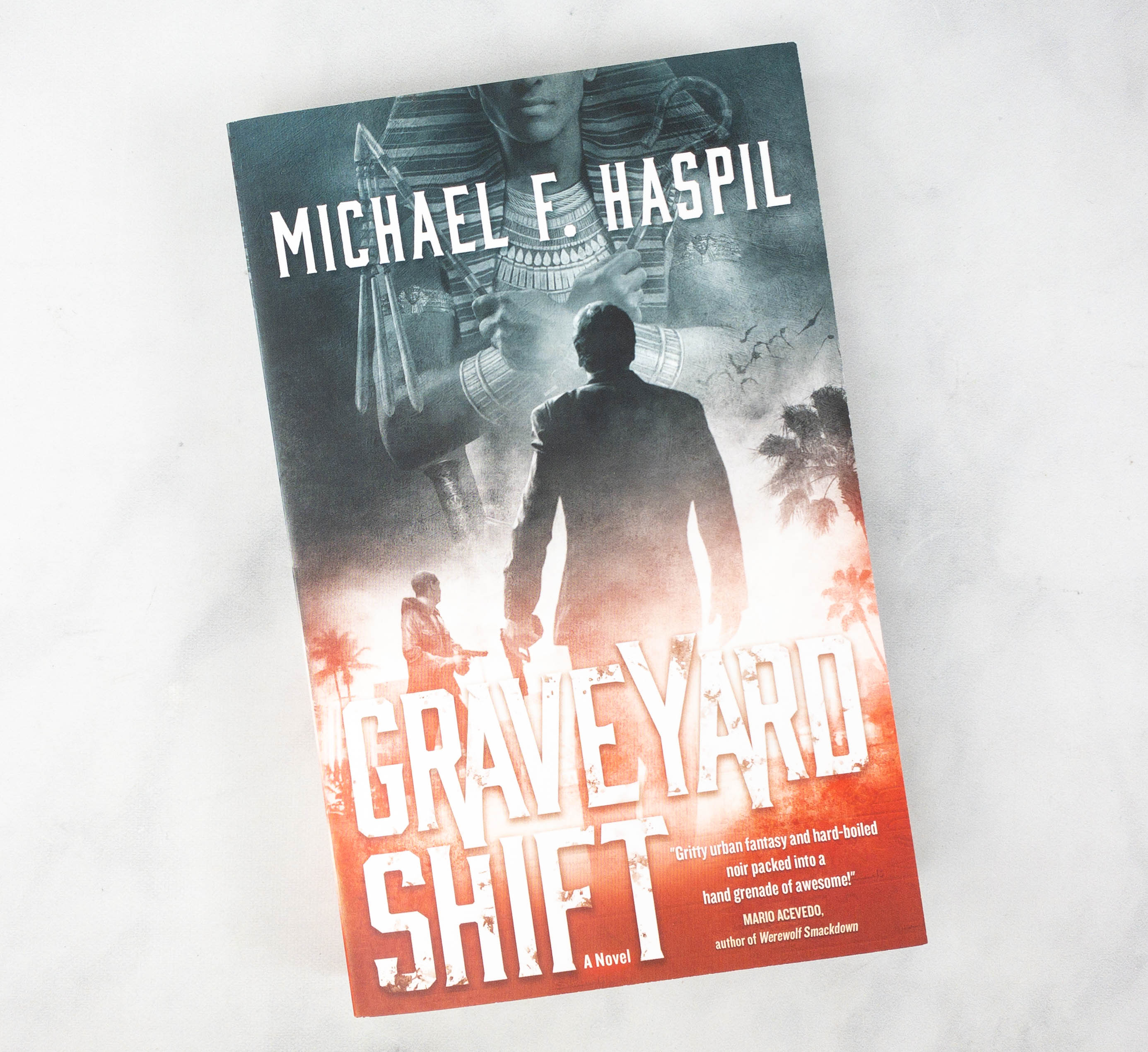 Graveyard Shift by Michael F. Haspil ($16.48)
Police procedurals go supernatural in this gritty urban fantasy debut by Michael F. Haspil in Graveyard Shift

"Part crime novel and part fantasy, Graveyard Shiftis a bloody good read." ― Booklist

Alex Menkaure, former pharaoh and mummy, and his vampire partner, Marcus are vice cops in a special Miami police unit, keeping the streets safe from supernatural threats.

When poisoned artificial blood drives vampires to murder, however, the city is pushed to the brink. Only an unlikely alliance with old enemies can give Alex and Marcus a fighting chance against an ancient vampire conspiracy.

If they succeed, they'll be hunted by everyone. If they fail, the result will be a war far bloodier than any the world has ever seen.

"Gritty urban fantasy and hard-boiled noir packed into a hand grenade of awesome!" ―Mario Acevedo, author of Werewolf Smackdown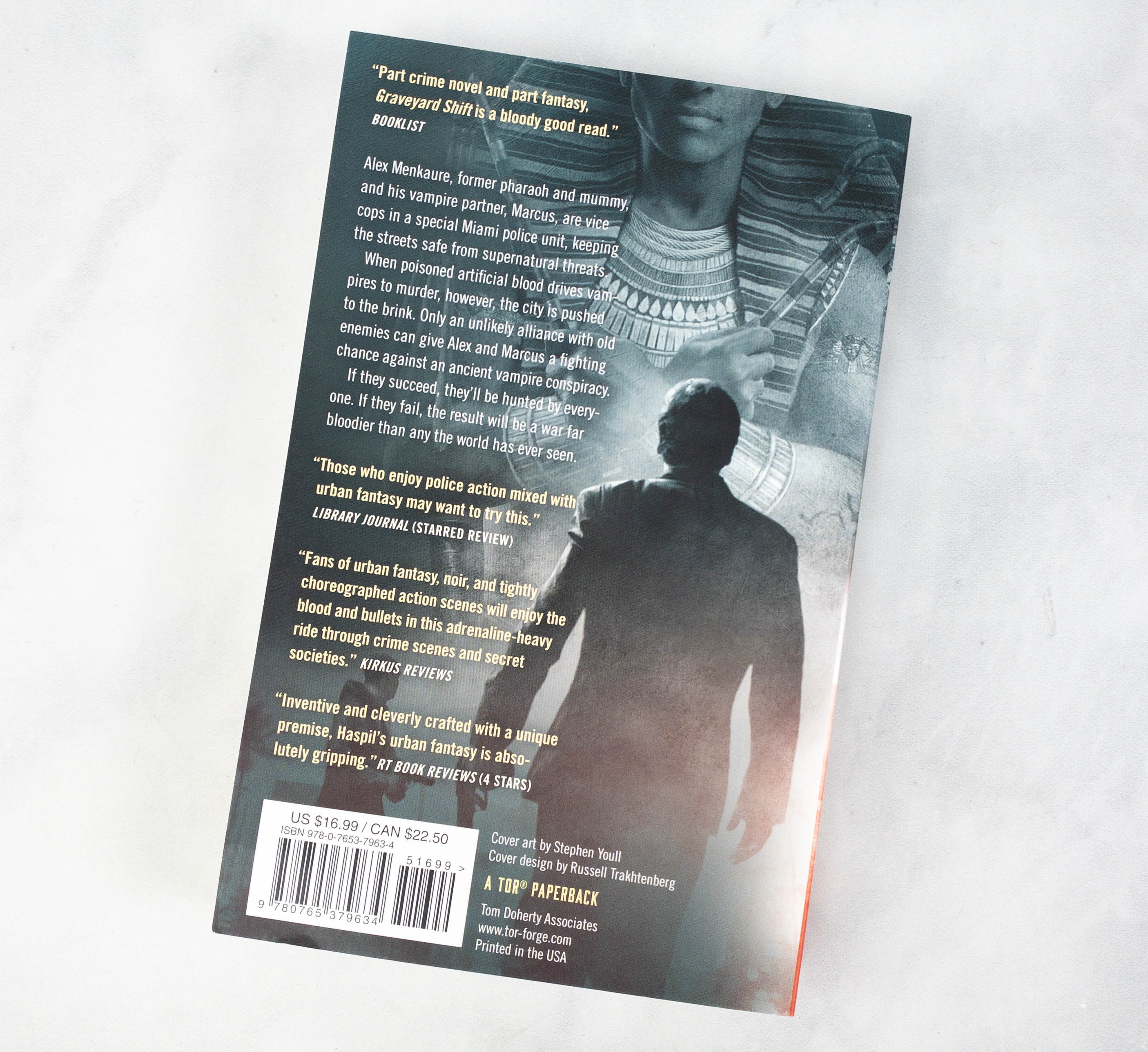 This book is for fans of urban fantasy novels and also for those who love paranormal stories.
The story highlights the adventures of Miami cops Alex Menkaure and Marcus against supernatural threats in Miami. They may be old enemies, but their unlikely alliance is the only chance to battle an ancient vampire conspiracy that threatens the city and all the people that live in it.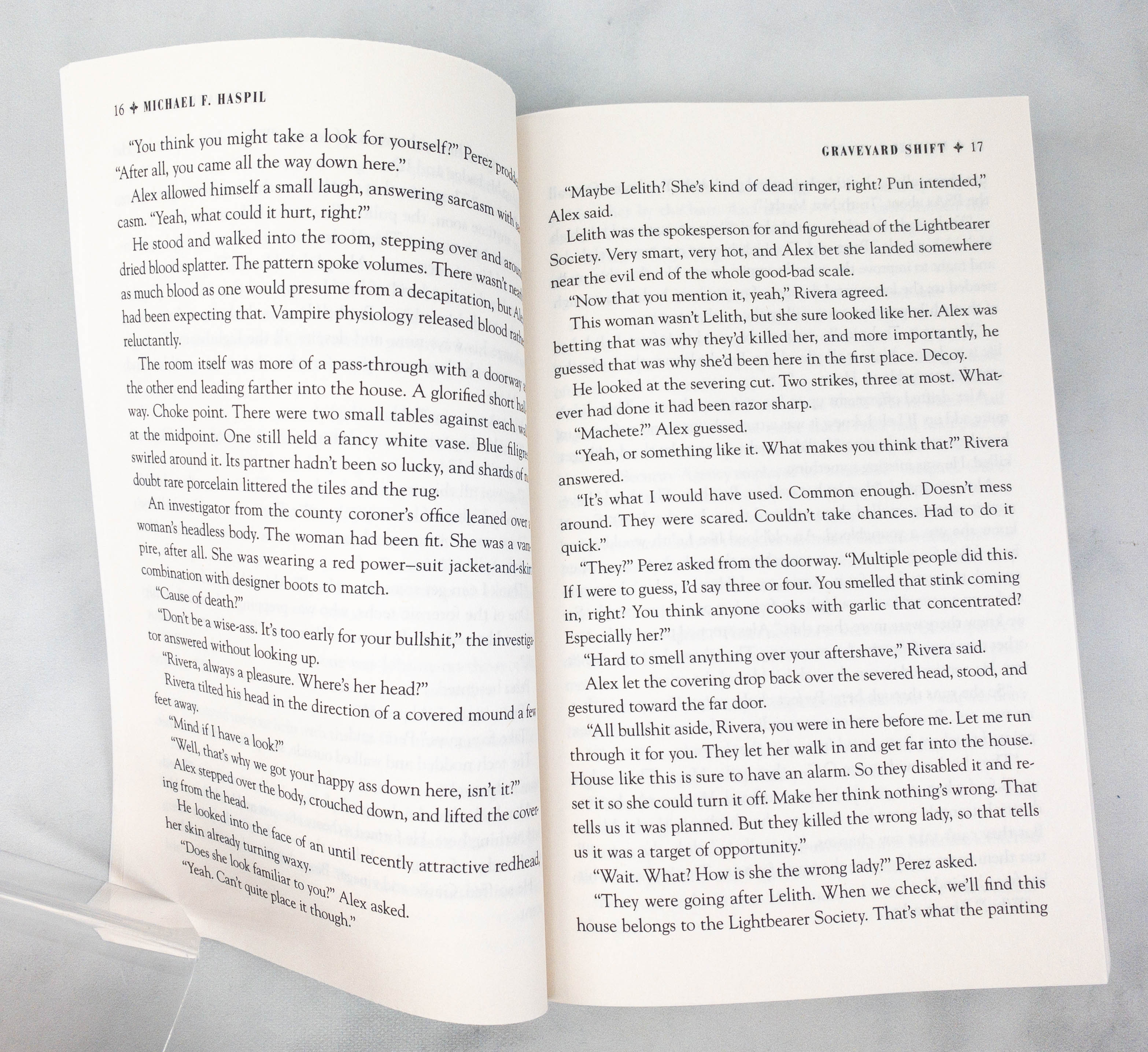 The story involves pharaohs, mummies, and even vampires! The descriptions were on point, from the setting to the characters and even to the smallest details. The story is written in different POVs, which can be confusing at times, but overall, I like this thrilling story that tackles supernatural beings!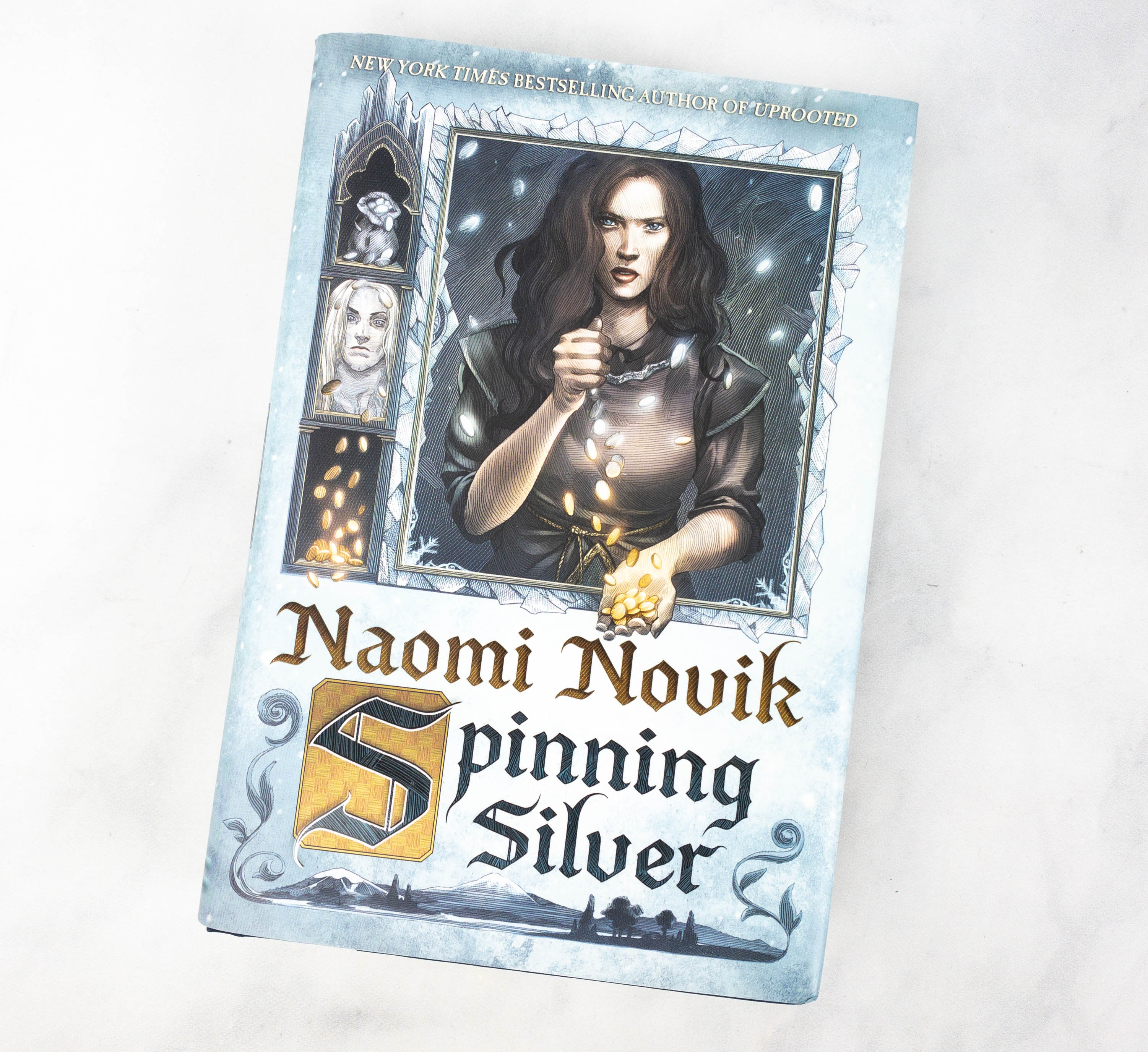 Spinning Silver by Naomi Novik ($9.16)
NEW YORK TIMES BESTSELLER • "One of the year's strongest fantasy novels" (NPR), an imaginative retelling of the Rumpelstiltskin fairy tale from the bestselling author of Uprooted.

NEBULA AND HUGO AWARD FINALIST • NAMED ONE OF PASTE'S BEST FANTASY BOOKS OF THE DECADE • NAMED ONE OF THE TEN BEST BOOKS OF THE YEAR BY THE NEW YORK PUBLIC LIBRARY AND ONE OF THE BEST BOOKS OF THE YEAR BY The New York Times Book Review • NPR • Time • Tordotcom • Popsugar • Vox • Vulture • Paste • Bustle • Library Journal

With the Nebula Award–winning Uprooted, Naomi Novik opened a brilliant new chapter in an already acclaimed career, delving into the magic of fairy tales to craft a love story that was both timeless and utterly of the now. Spinning Silver draws readers deeper into this glittering realm of fantasy, where the boundary between wonder and terror is thinner than a breath, and safety can be stolen as quickly as a kiss.

Miryem is the daughter and granddaughter of moneylenders, but her father's inability to collect his debts has left his family on the edge of poverty—until Miryem takes matters into her own hands. Hardening her heart, the young woman sets out to claim what is owed and soon gains a reputation for being able to turn silver into gold. When an ill-advised boast draws the attention of the king of the Staryk—grim fey creatures who seem more ice than flesh—Miryem's fate, and that of two kingdoms, will be forever altered. She will face an impossible challenge and, along with two unlikely allies, uncover a secret that threatens to consume the lands of humans and Staryk alike.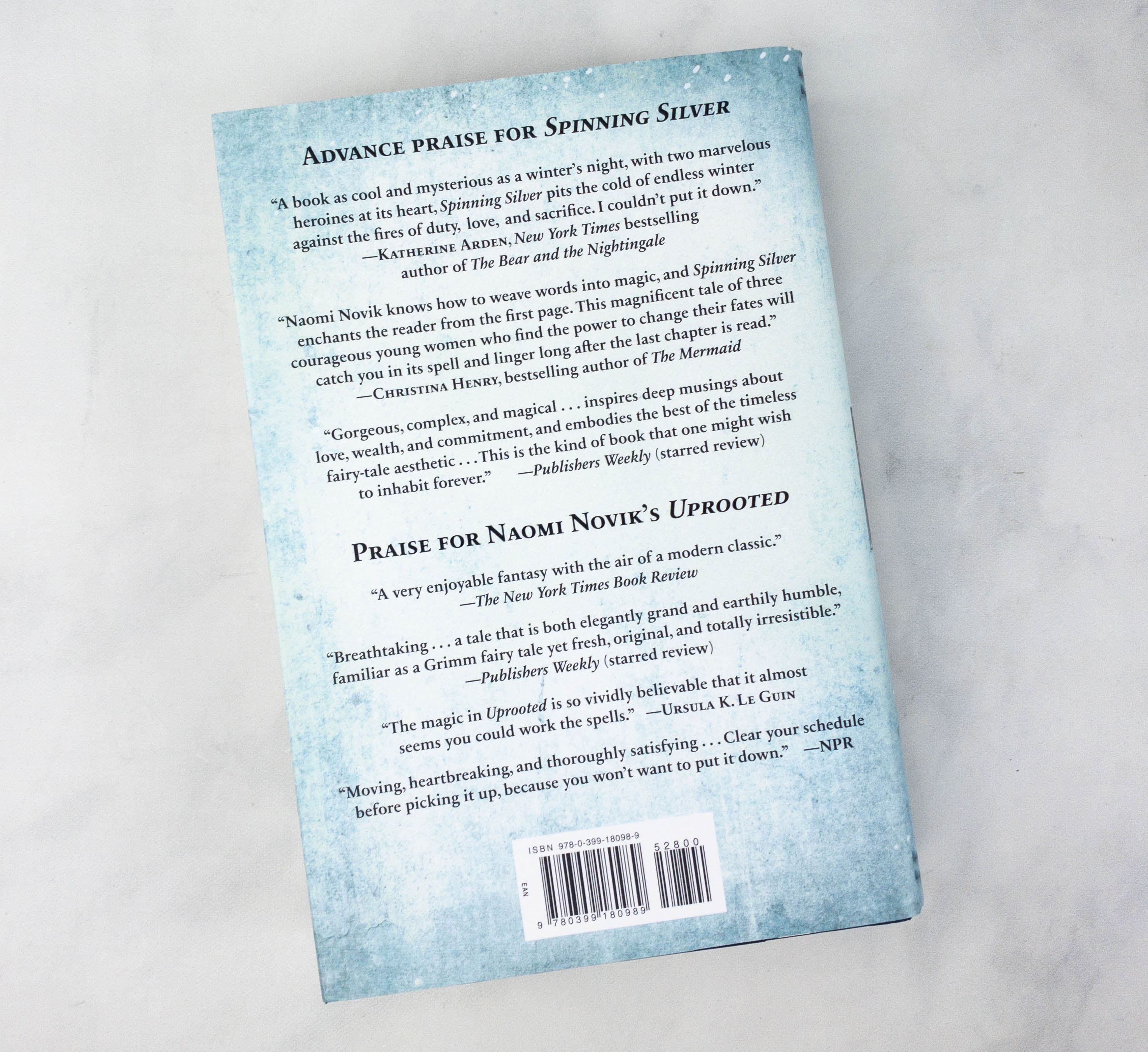 This is a retelling of Rumpelstiltskin, and it would make a great read for fans of fantasy and fairy tales.
There are also elements of Eastern European folklore in this story!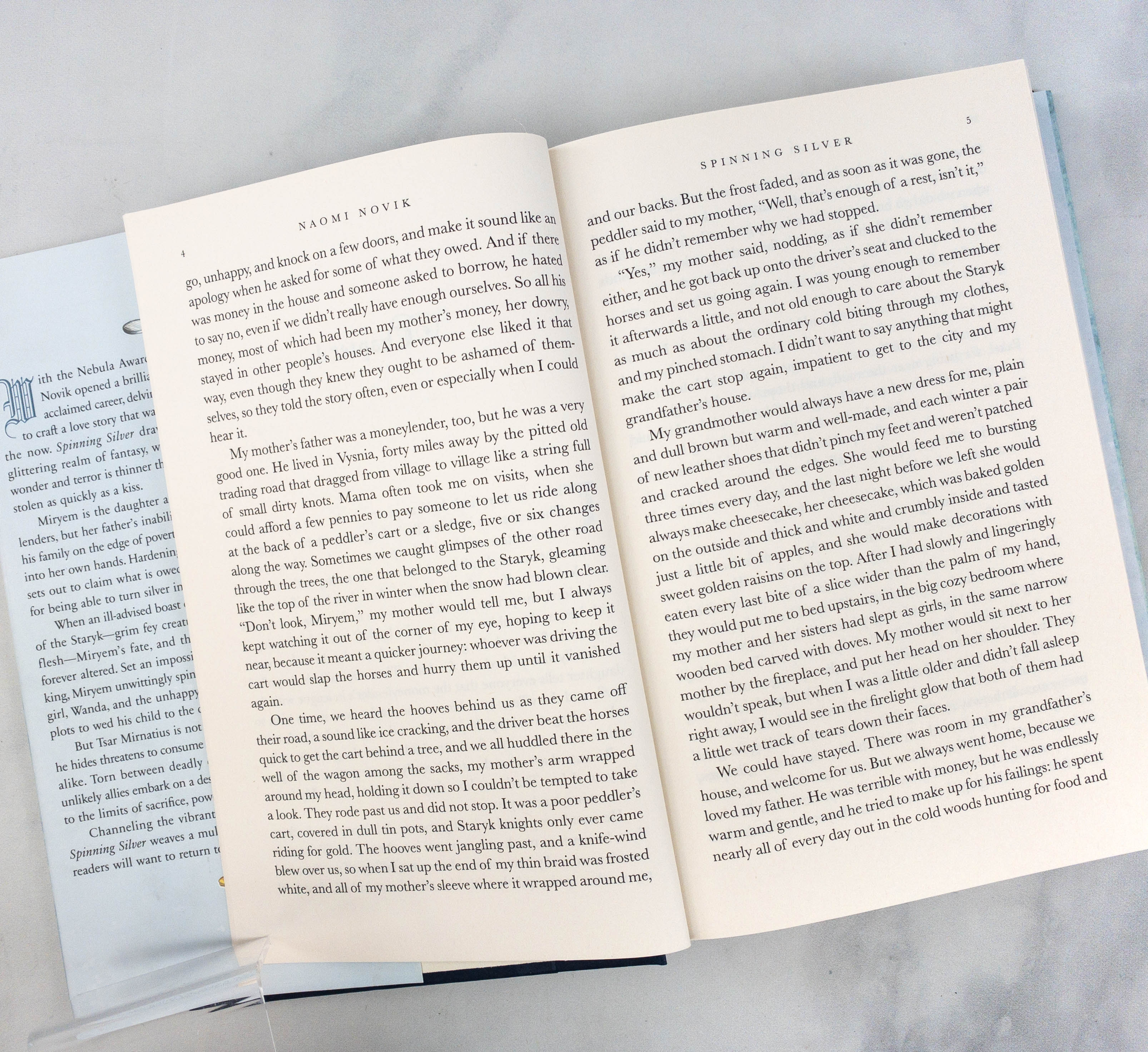 It's an inspiring story that taught a lot about sacrifice, power, and love. Miryem, who earned the reputation for being able to turn silver into gold by collecting all the debts owed to her family embarked on a journey with 2 unlikely allies against Tsar Mirnatius' secret that threatens to consume the land of humans and Staryk.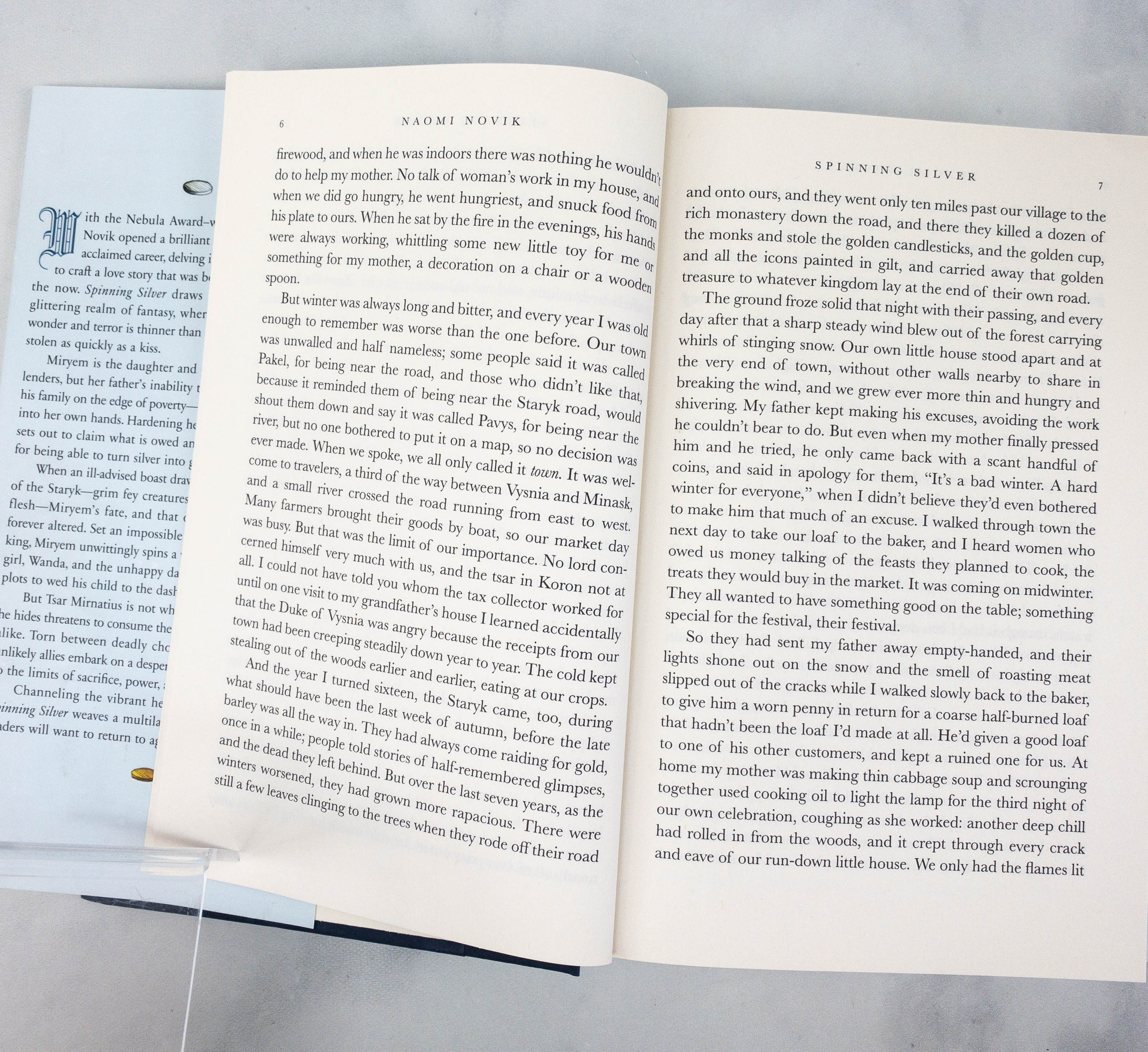 I really enjoyed the book so much! All the characters were amazing specially Miryem who is willing to do everything for her family and other living creatures.
This month's Strange World titles from BookCase.Club are filled with so much magic and action! The books featured magical creatures and the adventures are so thrilling that I can't stop turning the pages until the end. There are also important life lessons that can be learned from the stories. This is definitely a nice subscription for book lovers like me, as they send titles from established and up-and-coming authors plus your preferred genre can be switched every month!
Have you tried BookCase.Club? What are you currently reading?