Beauty Heroes is a healthy beauty discovery service featuring one clean beauty brand each month. They send a full-size Hero product in every box, plus a deluxe size Sidekick. Sometimes, they send more than one Hero or Sidekick, depending on the featured brand. Boxes are always $100+ in total value. Beauty Heroes members also receive a 15% discount in the Beauty Heroes Beauty Store, insider exclusives, and early access to new product launches. They currently offer 1-, 3-, 6-, and 12-month membership subscriptions. Here are the prices: 1-month – $58.95 ($58.95/month), 3-months – $137.85 ($45.95/month), 6-months – $251.70 ($41.95/month), 12-months – $479.40 ($39.95/month).
The items came in a simple white box with Beauty Heroes branding. For this month, the featured brand is LILFOX!
Usually, Beauty Heroes incorporates products from previous months to provide a customized beauty ritual. Your ritual can change monthly with the seasons and with new products – I absolutely love this feature.
Aside from the card, there's a booklet that tells us more about this month's products and the featured brand.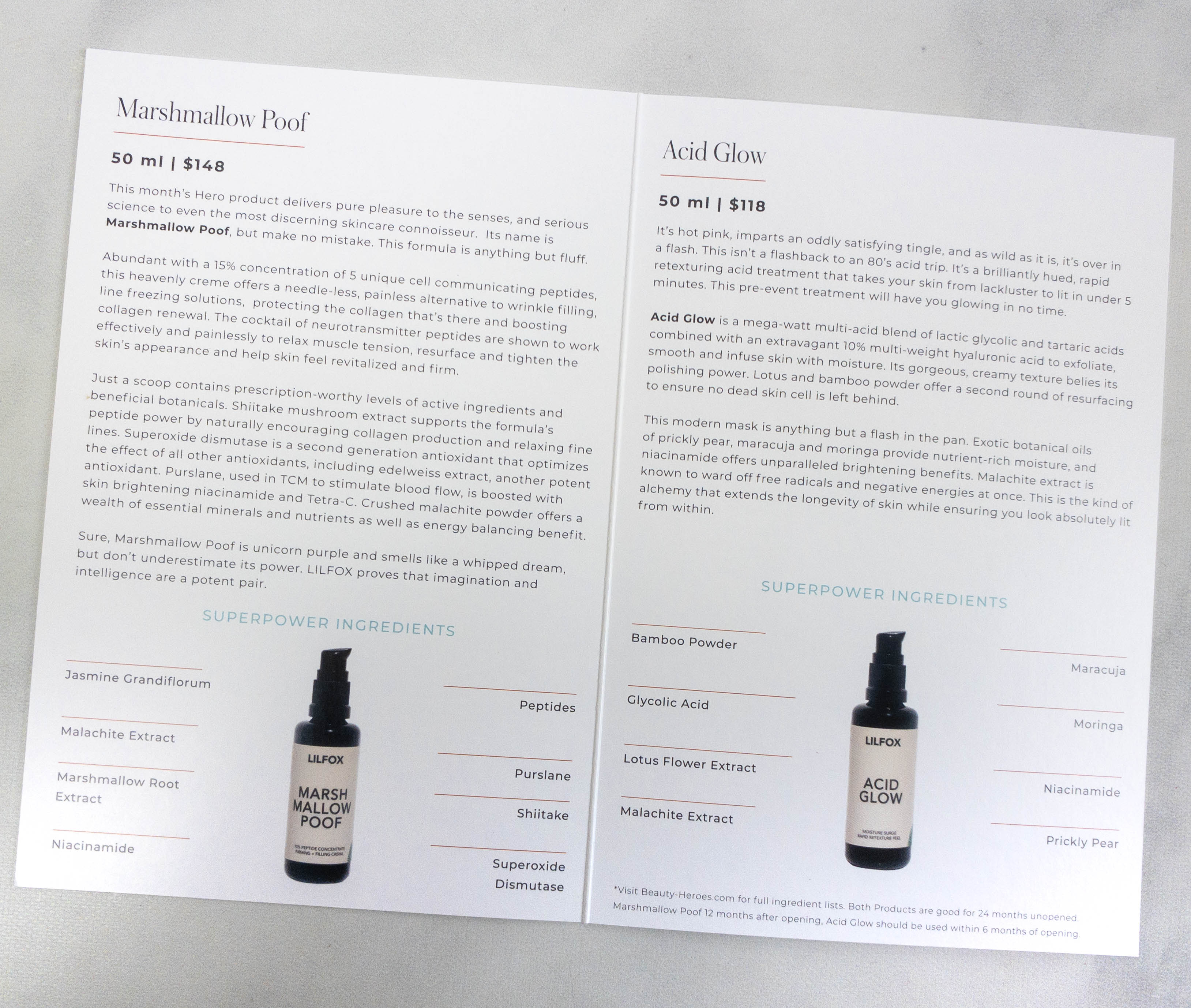 As usual, it's jampacked with useful information. The booklet comes with an item photo, plus a brief description and a reason why they chose to include it in the curation.
There's a lot to discover about this brand and they are all indicated at the back of the card!
The items came in their original packaging and they were also cushioned with white squiggles.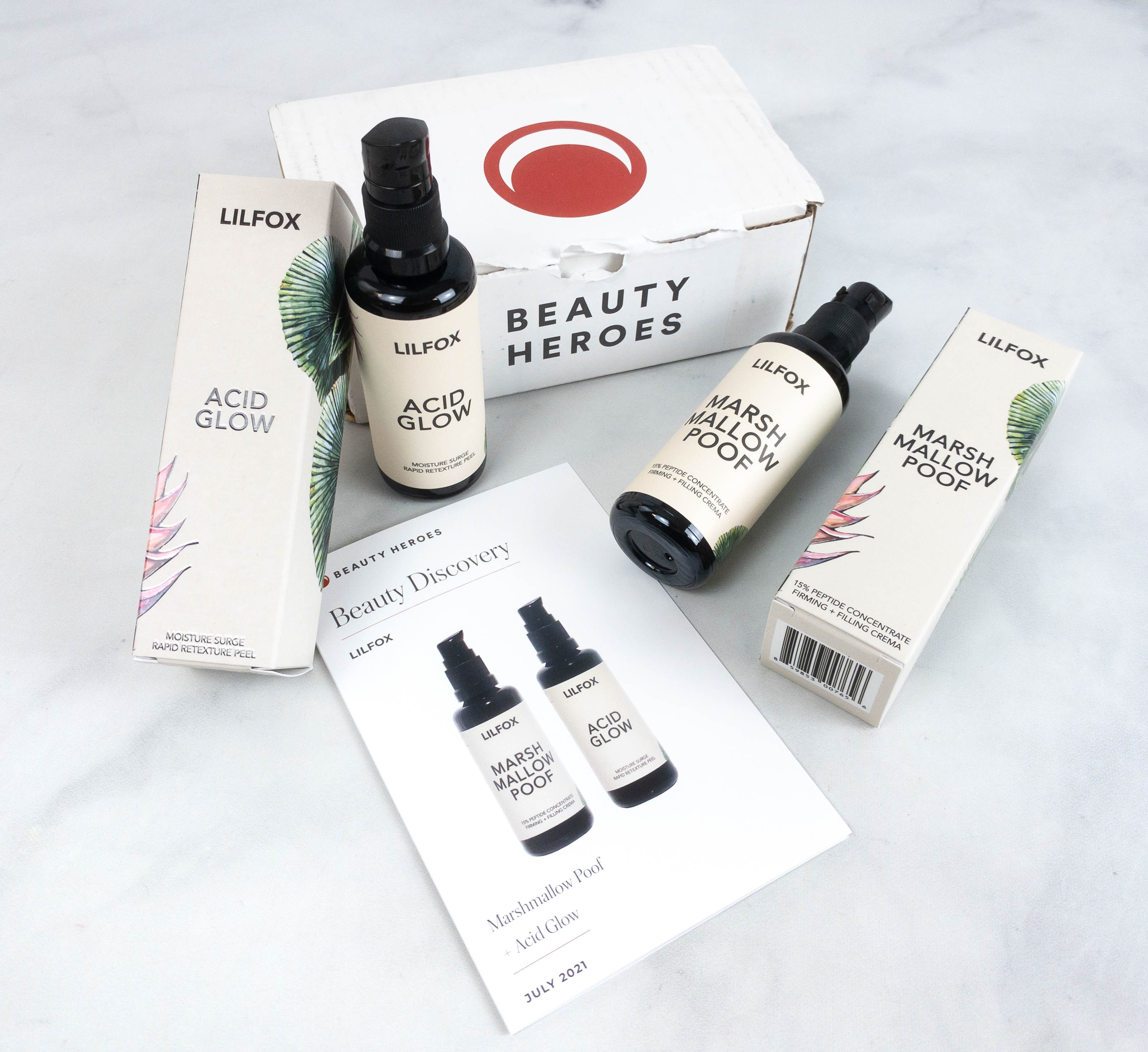 Everything in the July 2021 Beauty Heroes box!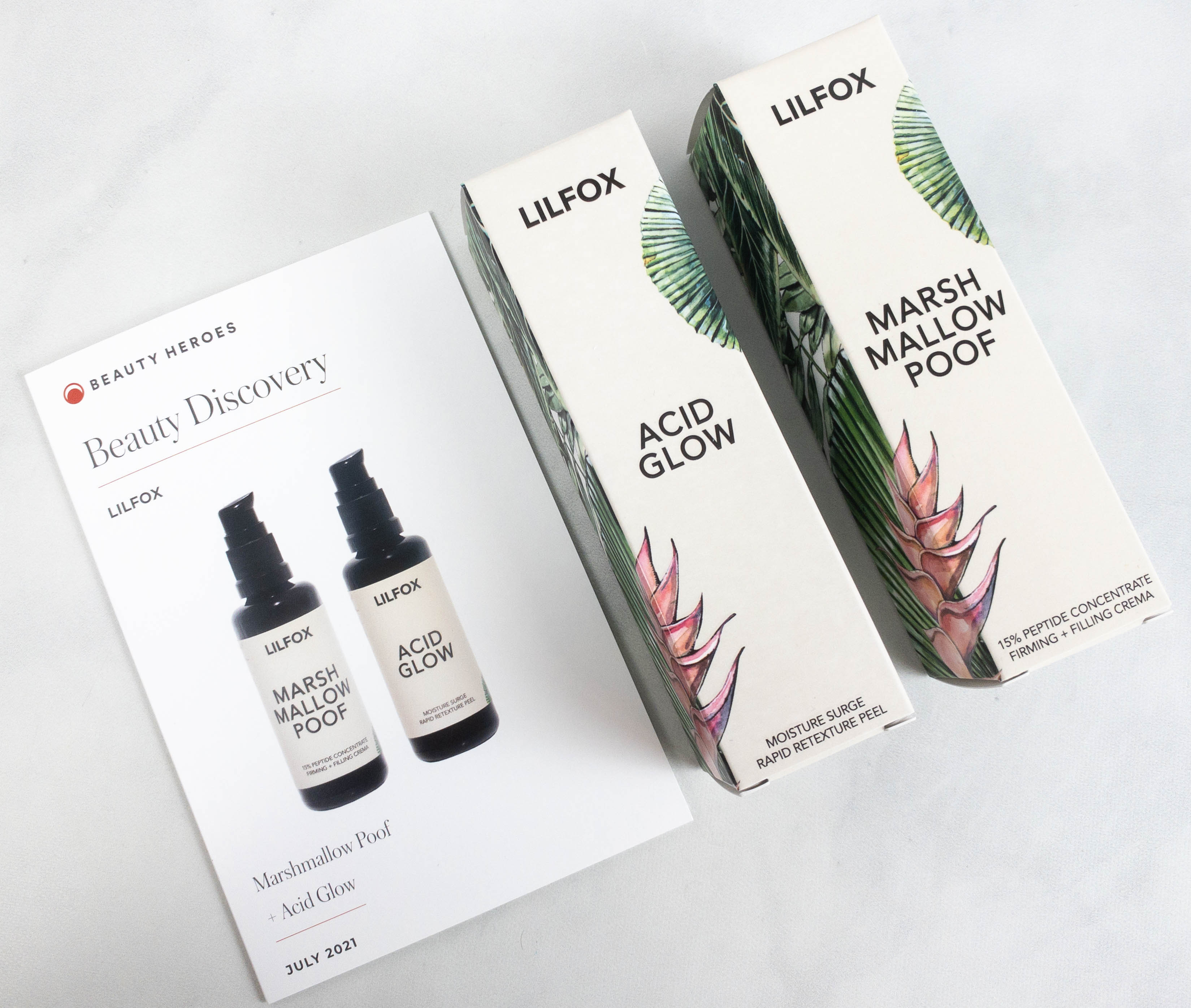 I received two items in this month's box, Acid Glow and Marsh Mallow Poof from LILFOX.
I love the tropical design of their individual boxes, with cute leafy patterns on the sides!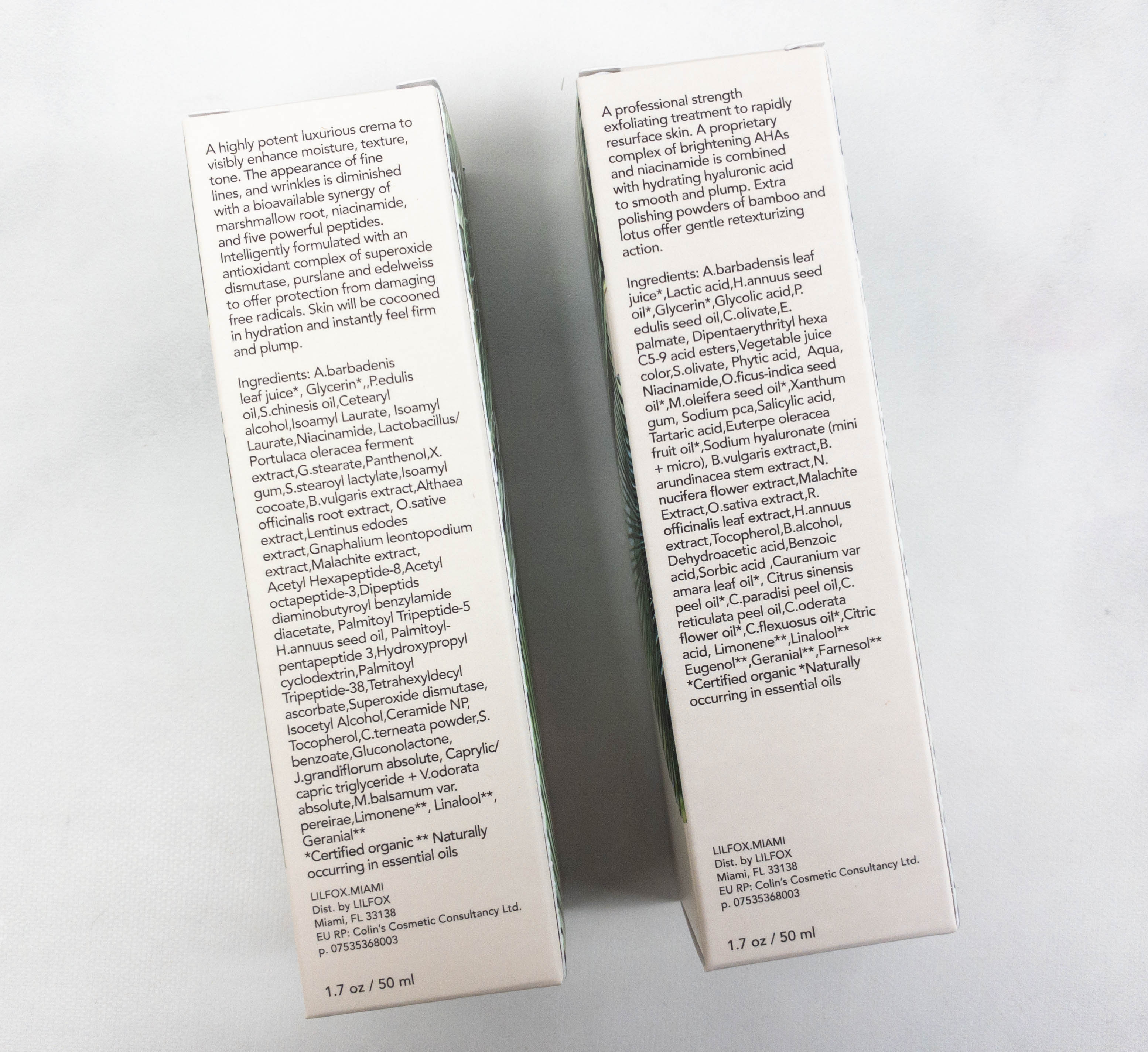 You'll also see a complete list of ingredients on the other side of the box.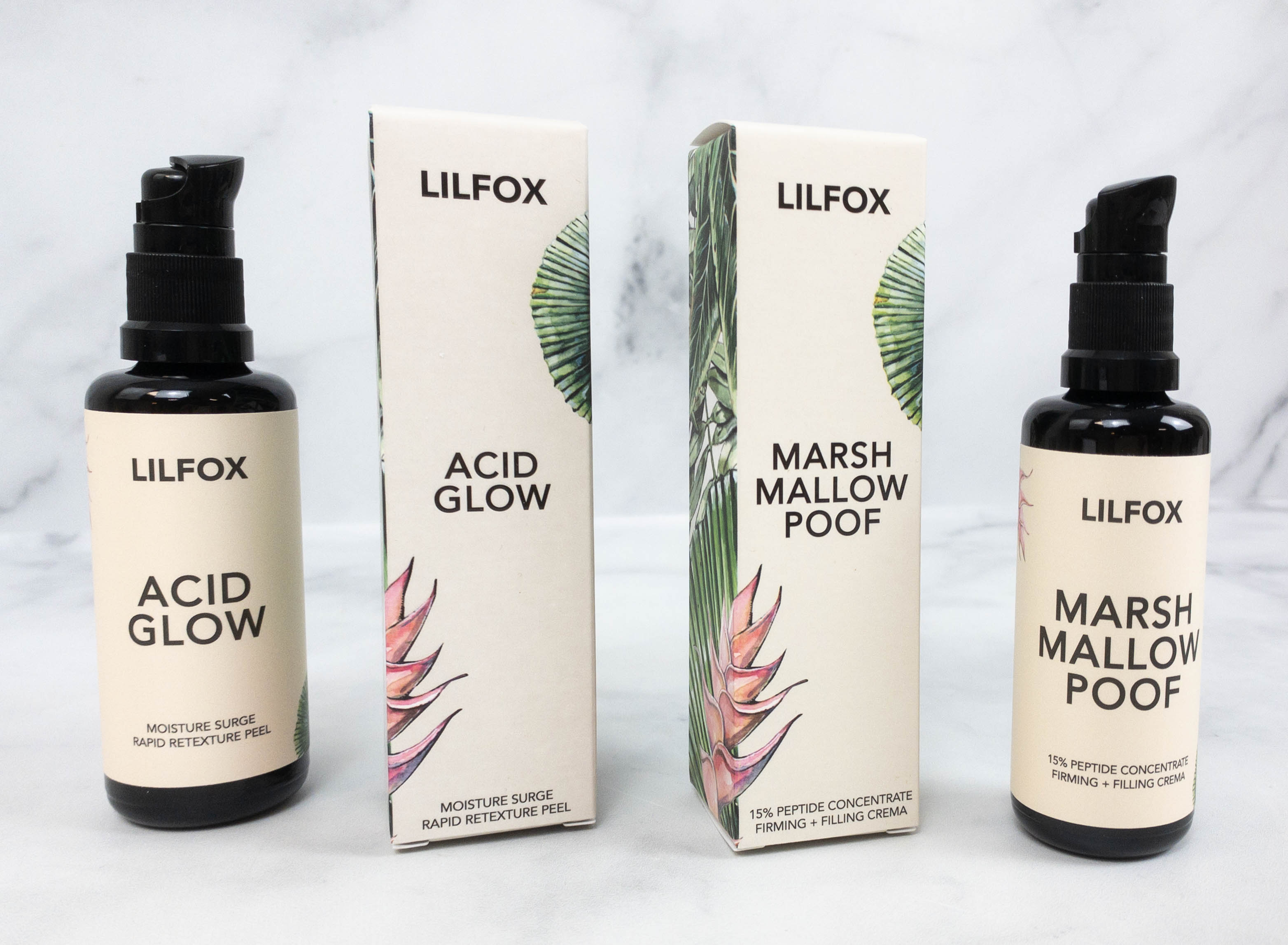 Each product is crafted with "loving intentions in high vibrational environment." What I like about this brand is that they focus on creating skin care without chemicals, and that they make products that are potent yet gentle on the skin.
LILFOX Acid Glow ($118) Acid Glow is a rapid retexture peel formulated with a blend of lactic, glycolic, tartaric, and hyaluronic acids. It provides the skin with intense moisture while improving the skin's texture. It's pretty unique because it has a bright pink color, plus it smells like (and looks like) raspberry creme. When you have an event or an important occasion coming up, it's great to use this treatment if you want a glowy look!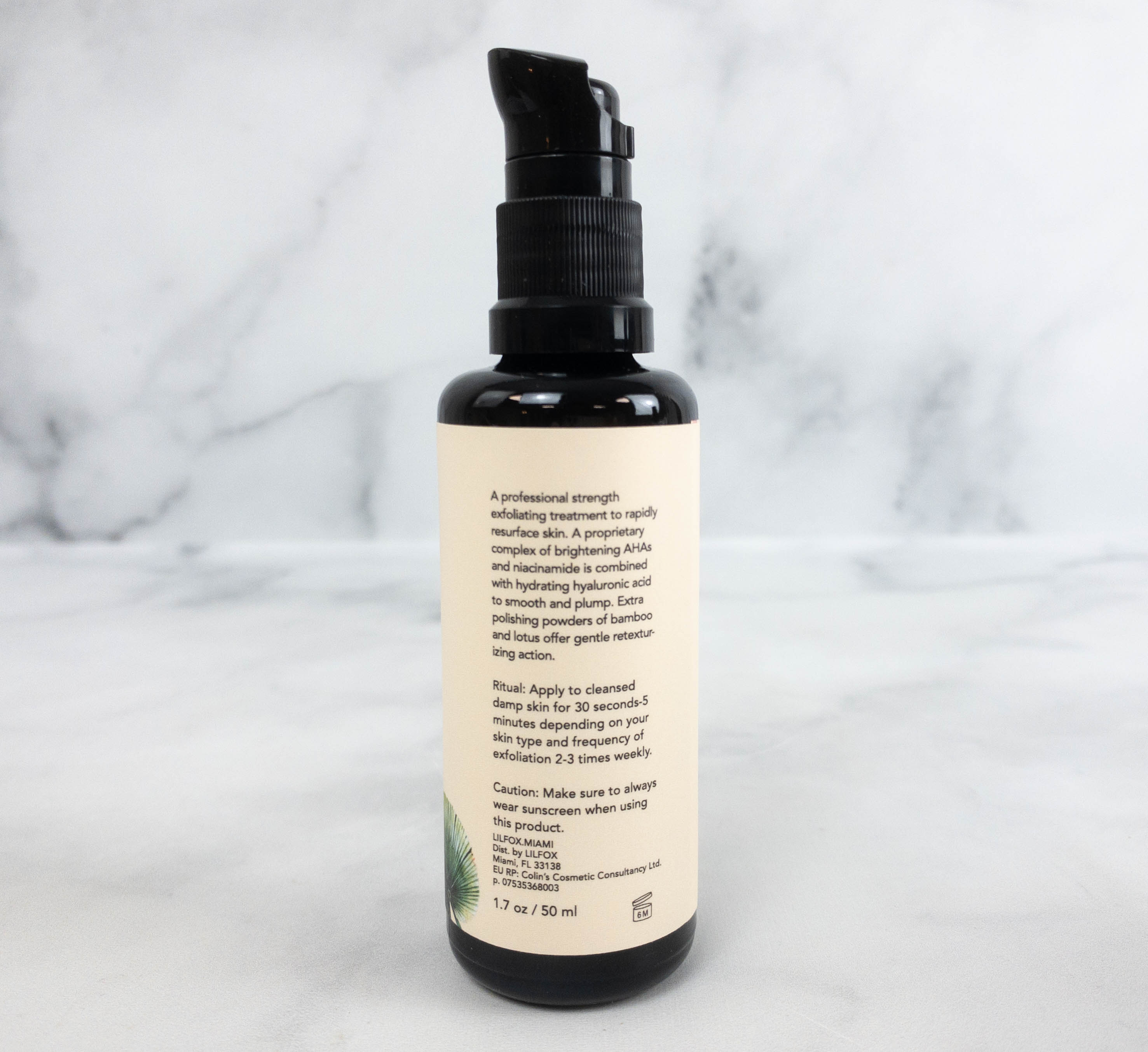 It also contains lotus and bamboo powder, which has resurfacing benefits! These ingredients help remove dead, dry, and dull skin cells to make way for younger looking skin. This is balanced with prickly pear, moringa, and maracuja oils for rich hydration. It's recommended to do a patch test first before applying the product on your full face. When you're ready, all you need is to apply a thin layer, leave for 2-5 minutes, and then apply a small amount of water before massaging your skin. The last step would be to remove it completely with warm water (this isn't entirely clear on the bottle). There may be a tingling sensation once it's applied, but it's bearable and it also goes away quickly. The bottle notes that you should wear a sunscreen when using this product, and that bears repeating!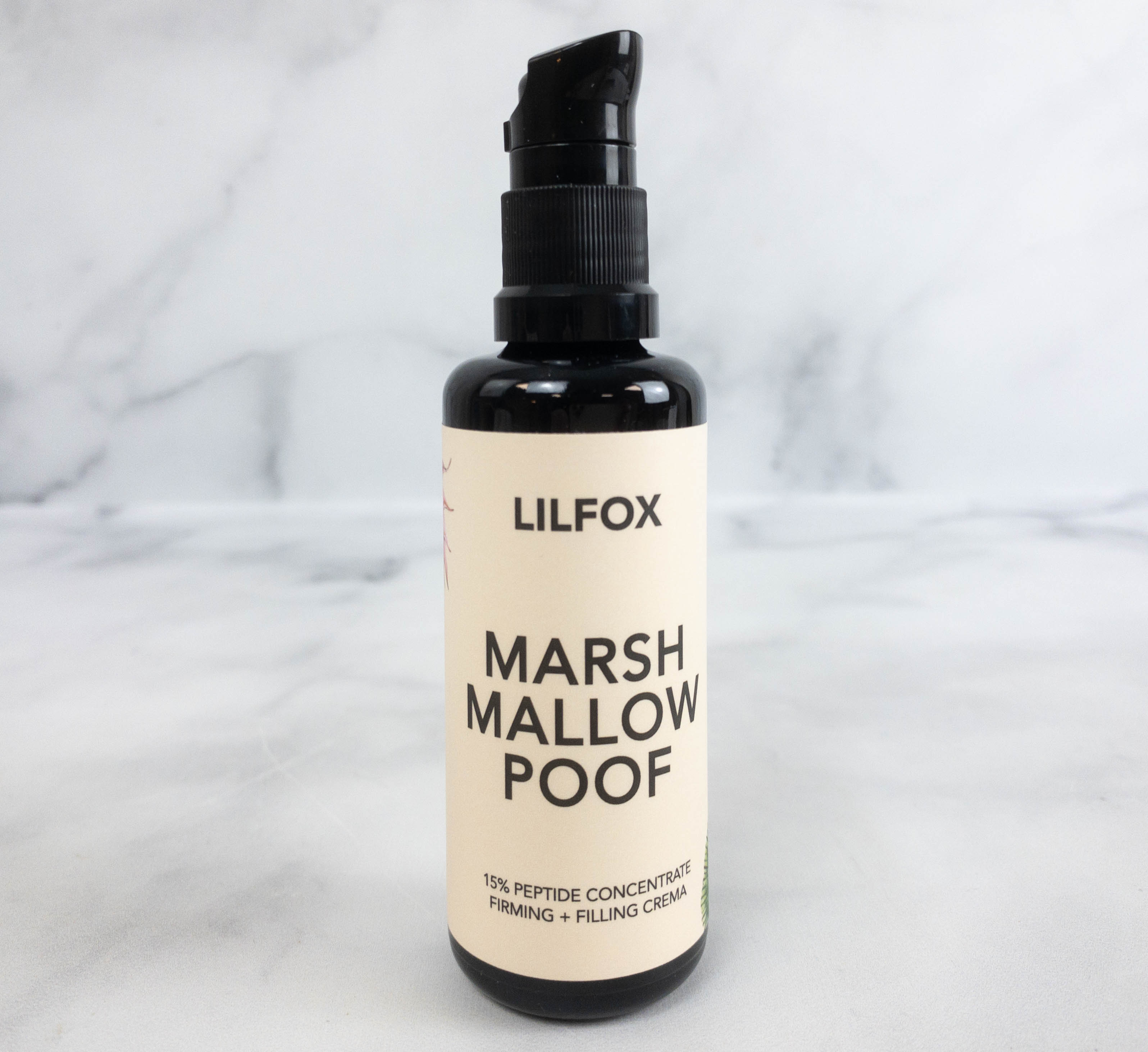 LILFOX Marshmallow Poof ($148) Here's this month's Hero product, a cream with a 15% peptide concentrate that tightens and firms up the skin. The formula also contains shiitake mushroom that helps increase collagen and marshmallow root extract that boosts moisture. It has a periwinkle color and it smells really good. Scent notes include crushed violet leaves and jasmine grandiflorum blooms.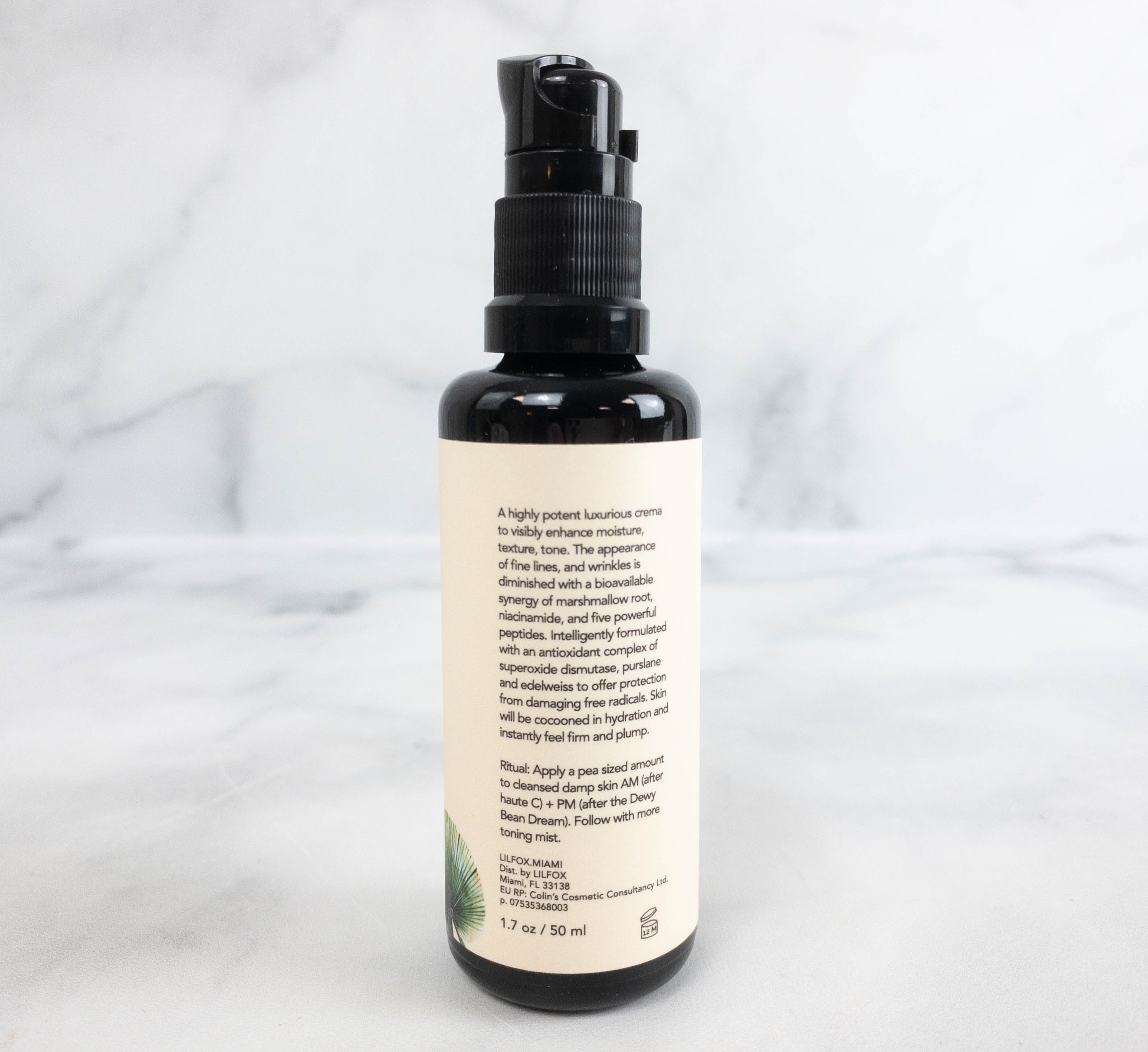 Other key ingredients are niacinamide and tetrahexyldecyl ascorbate (a derivative of vitamin C) that helps minimize the appearance of pores, treat hyperpigmentation, and brighten the skin. This cream is recommended to be used both day and night for best results. I like using this in the morning before I get my makeup done and at night after cleansing my face. Just a pump or two will do. A little goes a long way, so this bottle will last me a long time.
I have tried several filling creams over my years in reviewing boxes, and this is the one I really want to use – just a touch to smooth things out (with promises of boosting collagen and relaxing my face, too).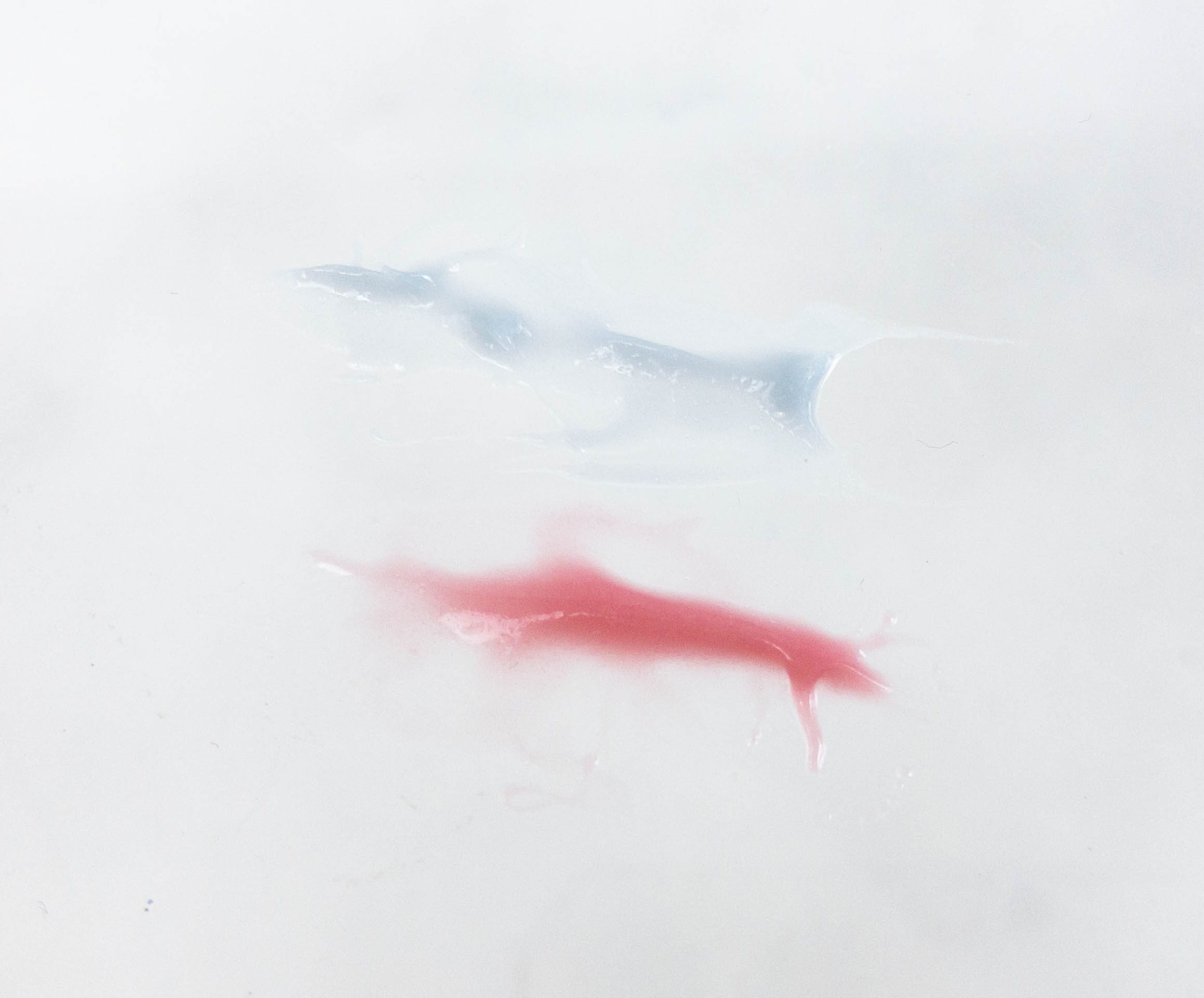 Here's the Marshmallow Poof and the Acid Glow side by side. I like the consistency of both products. They are both creamy!
This month's Beauty Heroes box introduced great skincare items from LILFOX, and this month's curation induced me to resubscribe after a wee break! The Hero item is a peptide-rich cream which promises to keep the skin tight and firm for a youthful look, while the Sidekick item is a retexturing peel that smoothens the skin and keeps it well moisturized. Both products would take consistent use before visible results, but they are easy to use so it shouldn't be a problem. The total retail value of the box is $266, which is more than 4 times the monthly price of the box. If you want to discover new healthy clean beauty items to add to your current routine, Beauty Heroes is a subscription truly worth considering. They offer a different brand every month and they also make sure to include useful information to help you maximize each Hero and Sidekick product, along with expert advice how to use (and use up!) your products over each month.
What do you think of this month's Beauty Heroes box?