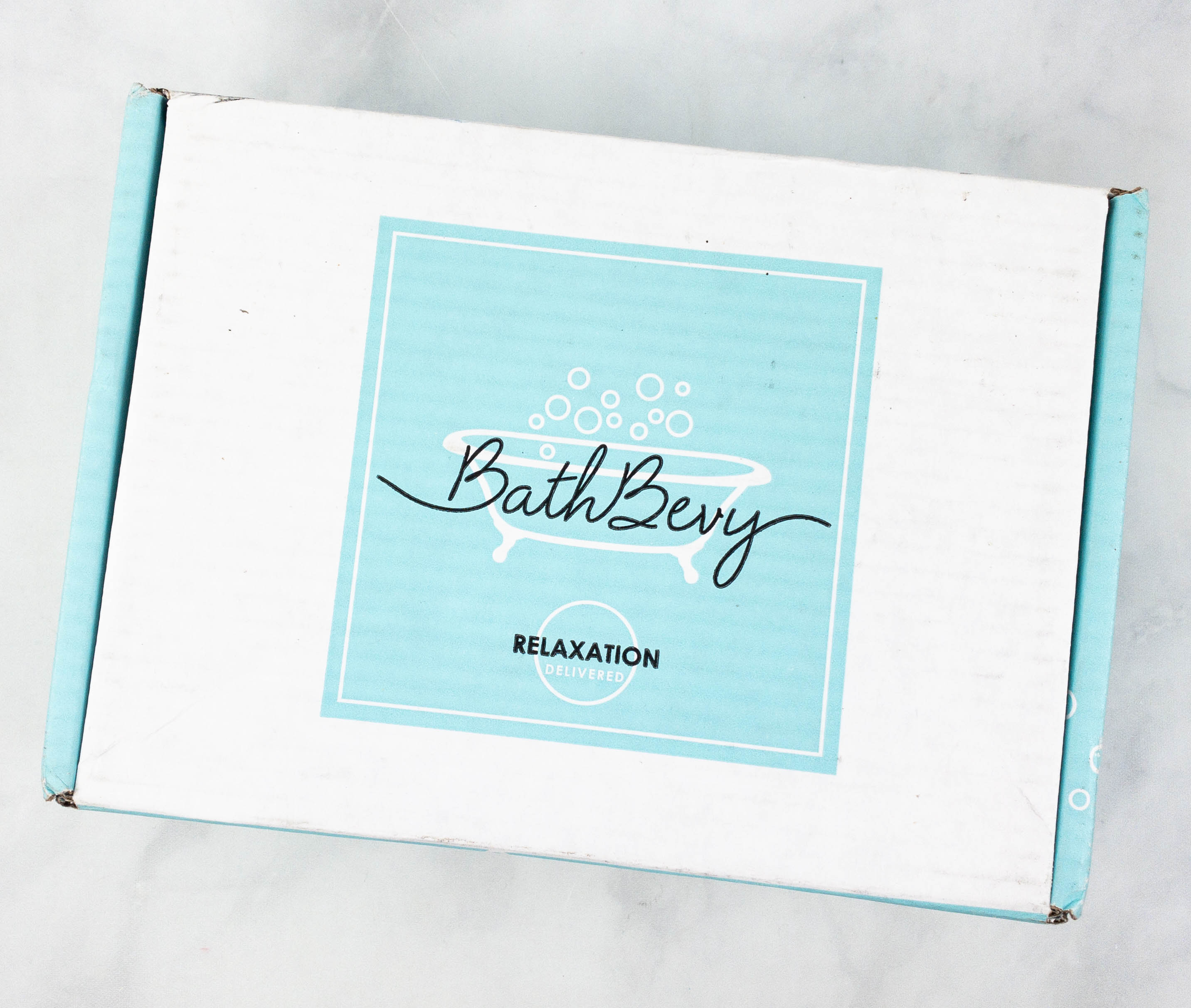 Bath Bevy curates boxes for bath lovers! Each themed box has 6-10 bath items, which may include bath bombs, bubble bars, bath salts, body scrubs, handmade soaps, and more! Most of these items are from indie bath and body brands. A monthly subscription is $34.95 per box and a quarterly subscription is $36.95 per box. A new option is the Tubless subscription which sends bath and body products but no items for the bathtub like bath bombs and bath soaks. It's $37.50 per month. Some of the items you can expect from this option are body washes, whipped soaps, sugar scrubs, lotions, and shower steamers.
DEAL: Save $4 on your first box! Use coupon code HELLO10.
Bath Bevy's bath subscription box topped the list in our 2021 readers' choice picks of best bath subscription boxes!
The items were wrapped in a tissue paper, sealed by a Bath & Bevy sticker.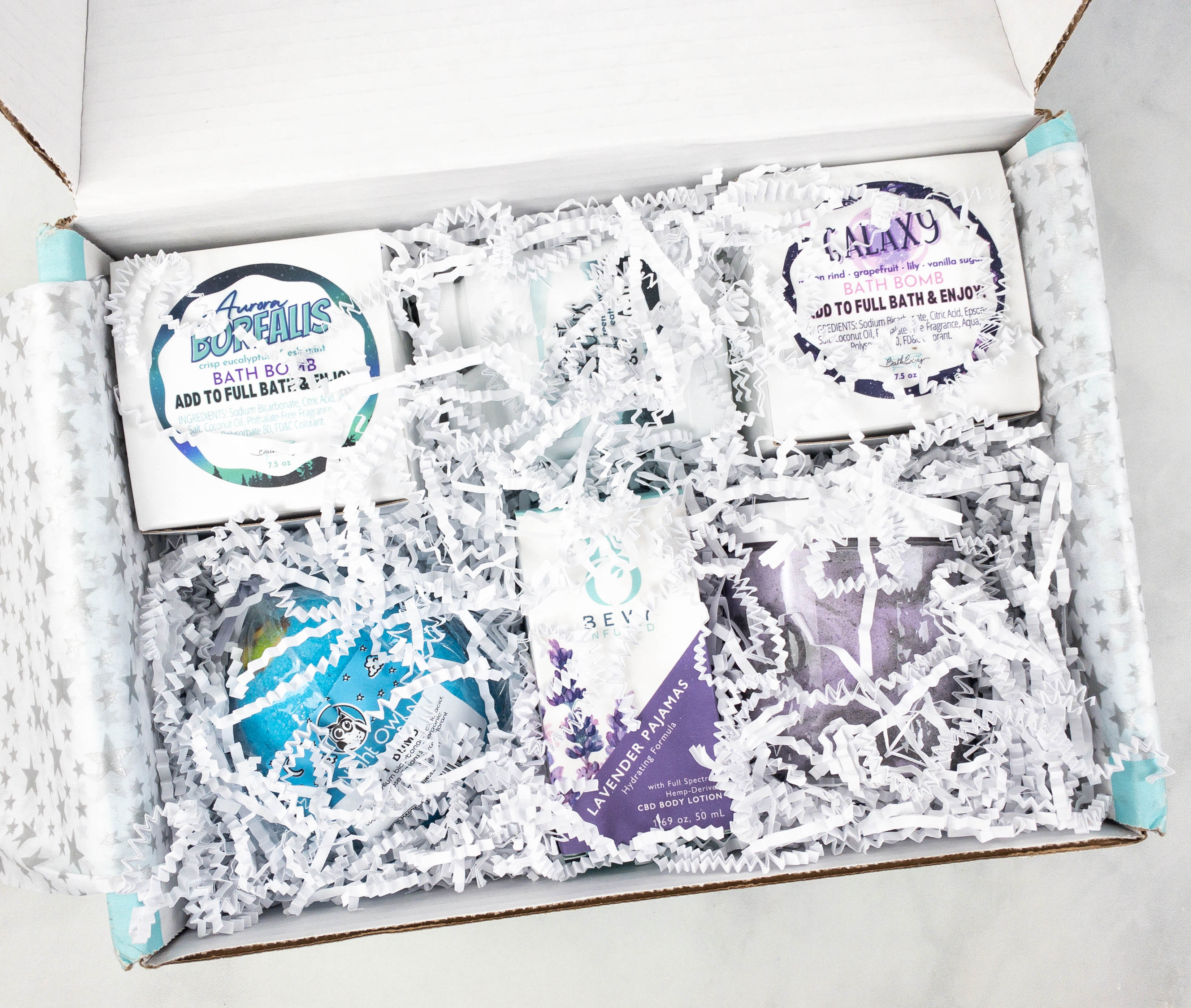 There were also paper squiggles to cushion the items.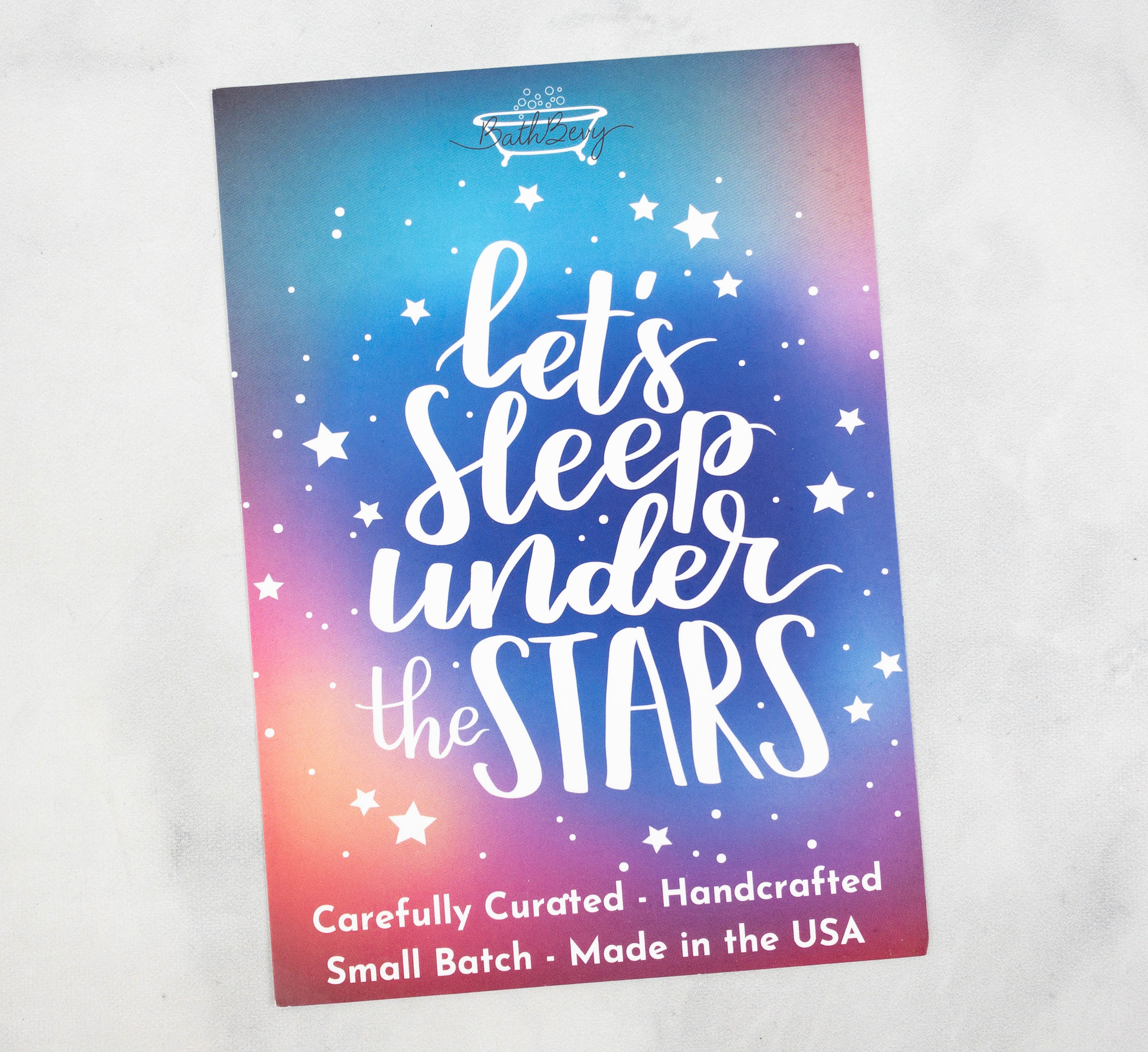 This month's theme is Let's Sleep Under the Stars!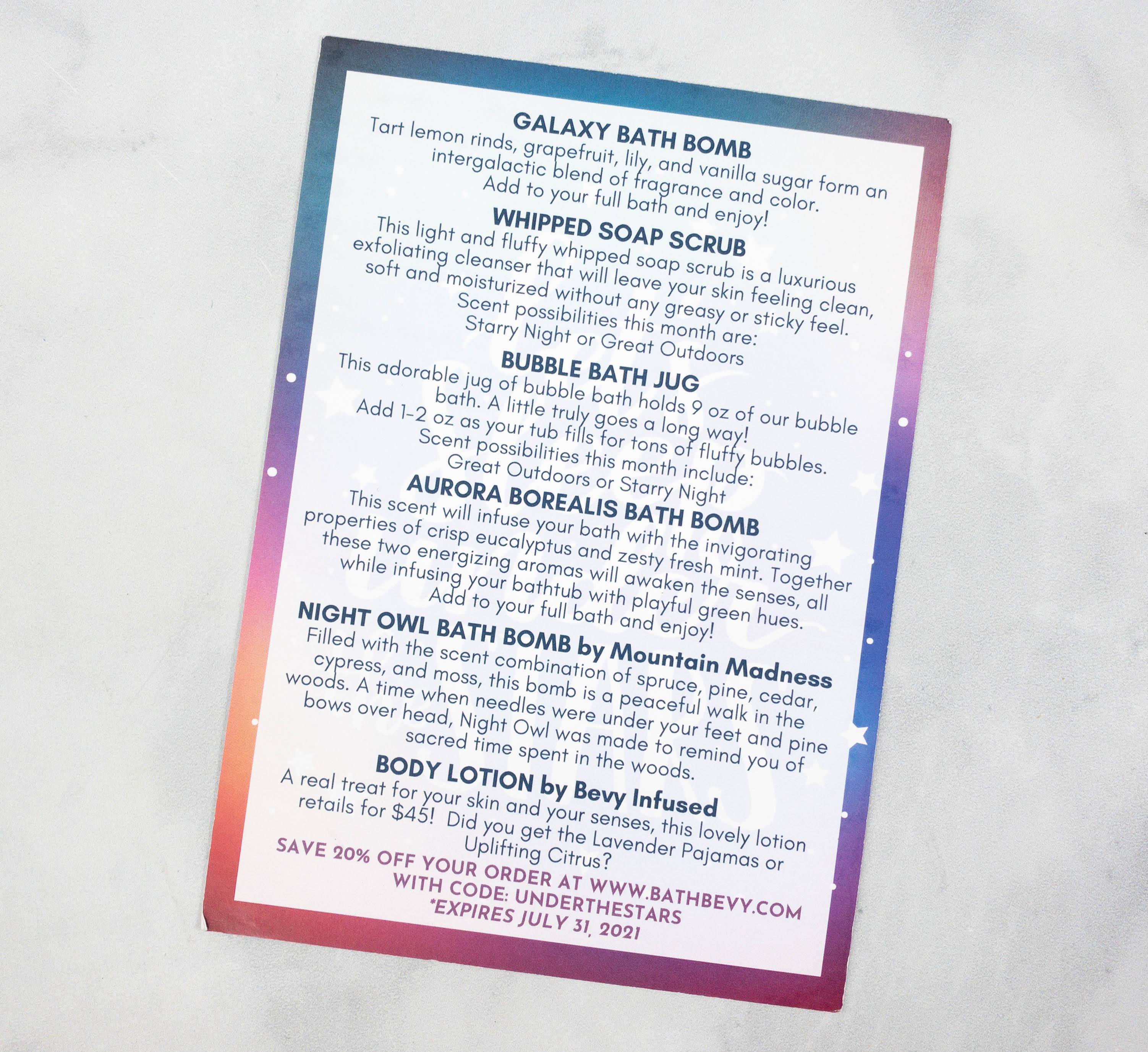 The card lists all the products along with a short description for each one.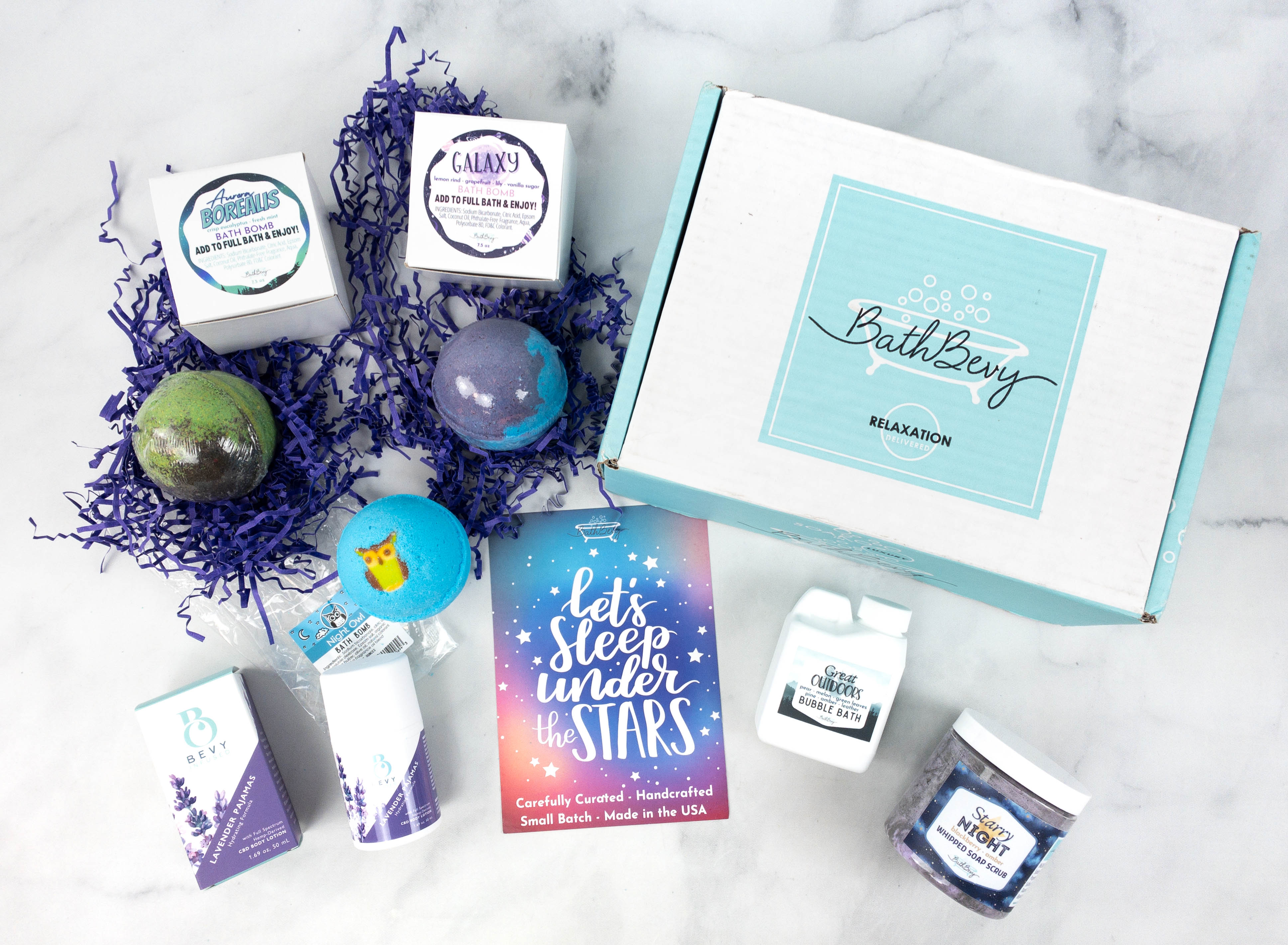 Everything in my box! I'm so excited to use them all.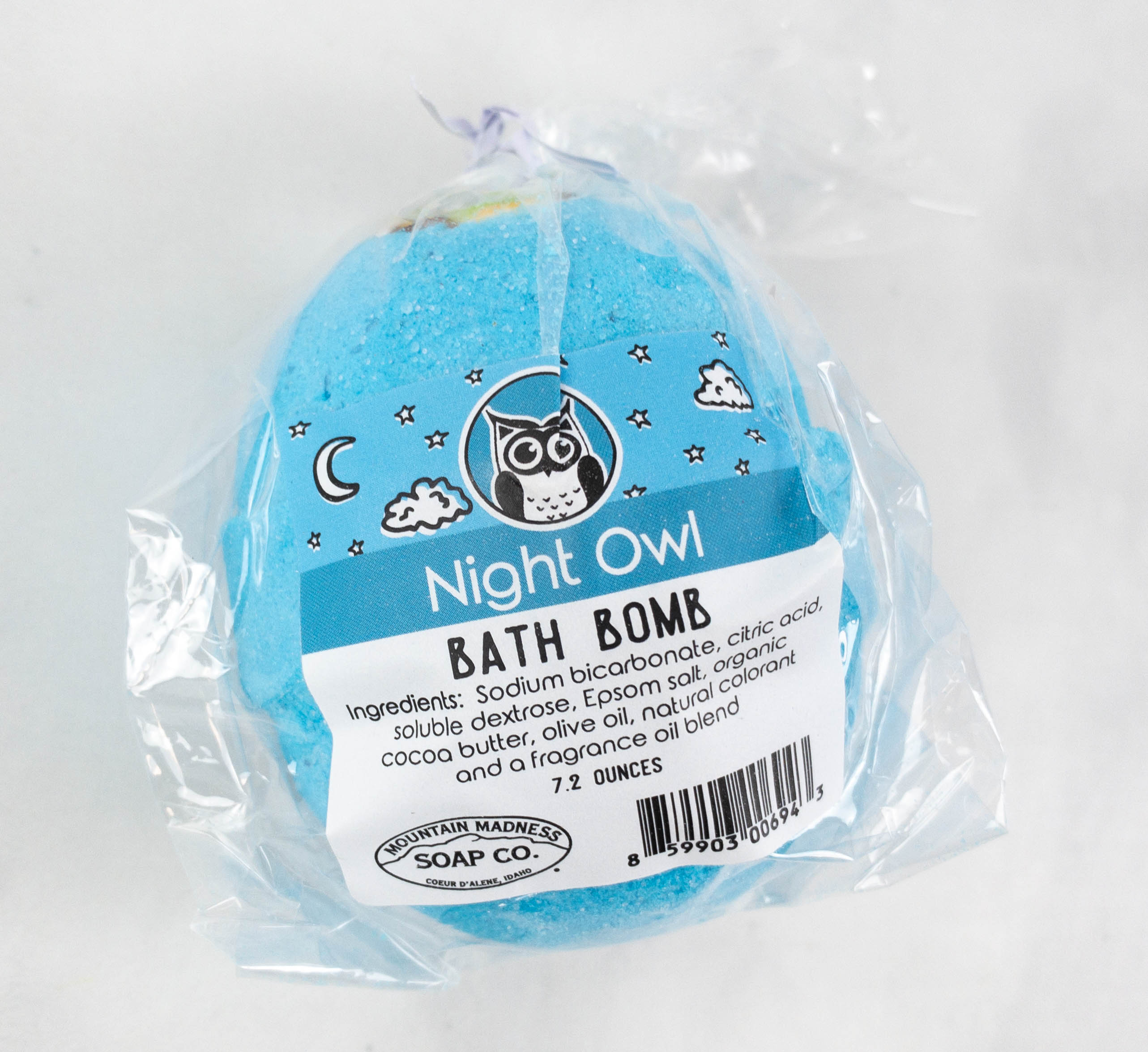 Mountain Madness Night Owl Bath Bomb. It's a blue bath bomb with refreshing scents of spruce, pine, cedar, cypress, and moss.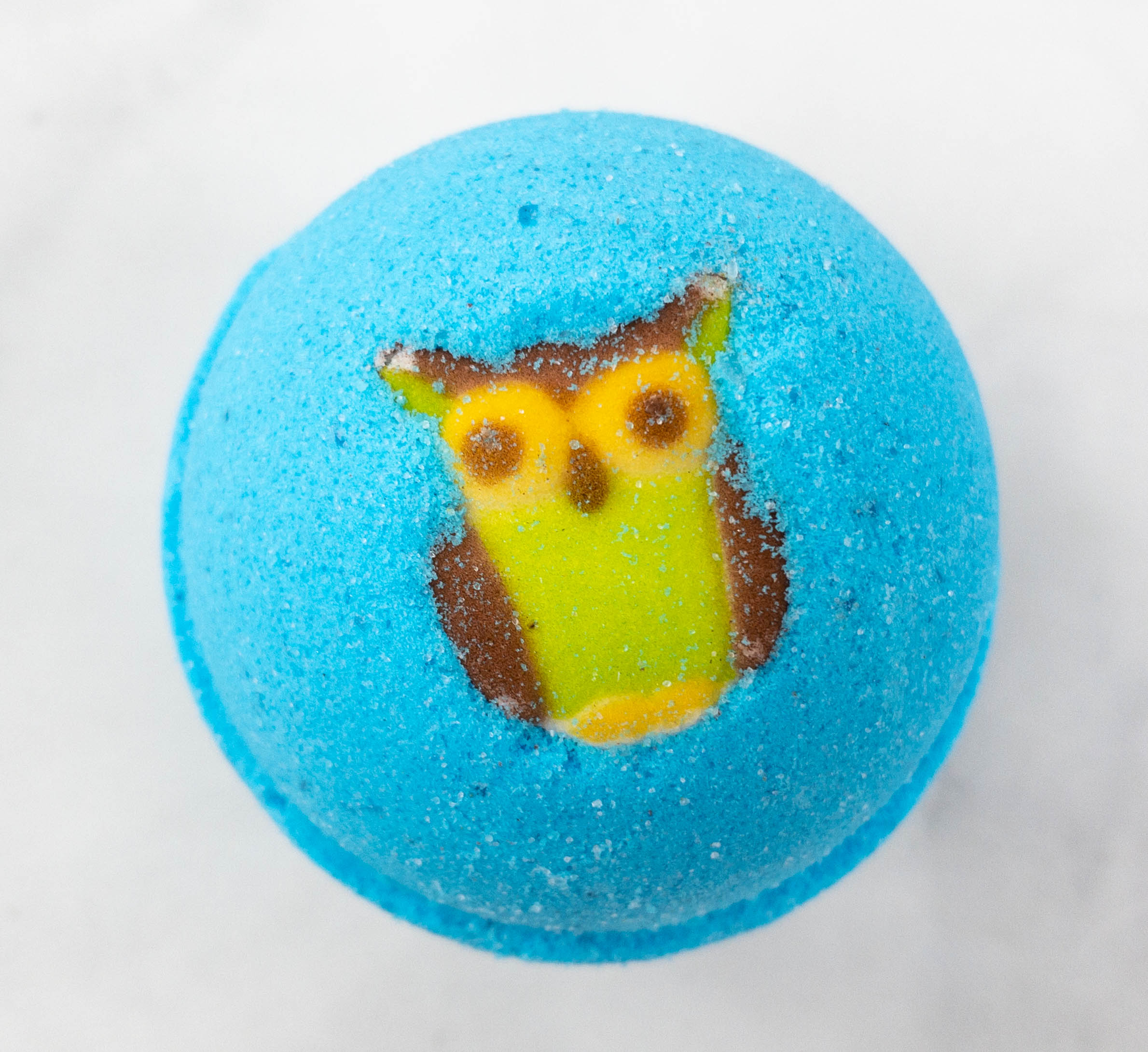 It's called the Night Owl Bath Bomb because it has a cute owl design in the middle. Aside from making the bath smell good, it was also gentle on skin! Ingredients include Epsom salt and organic cocoa butter.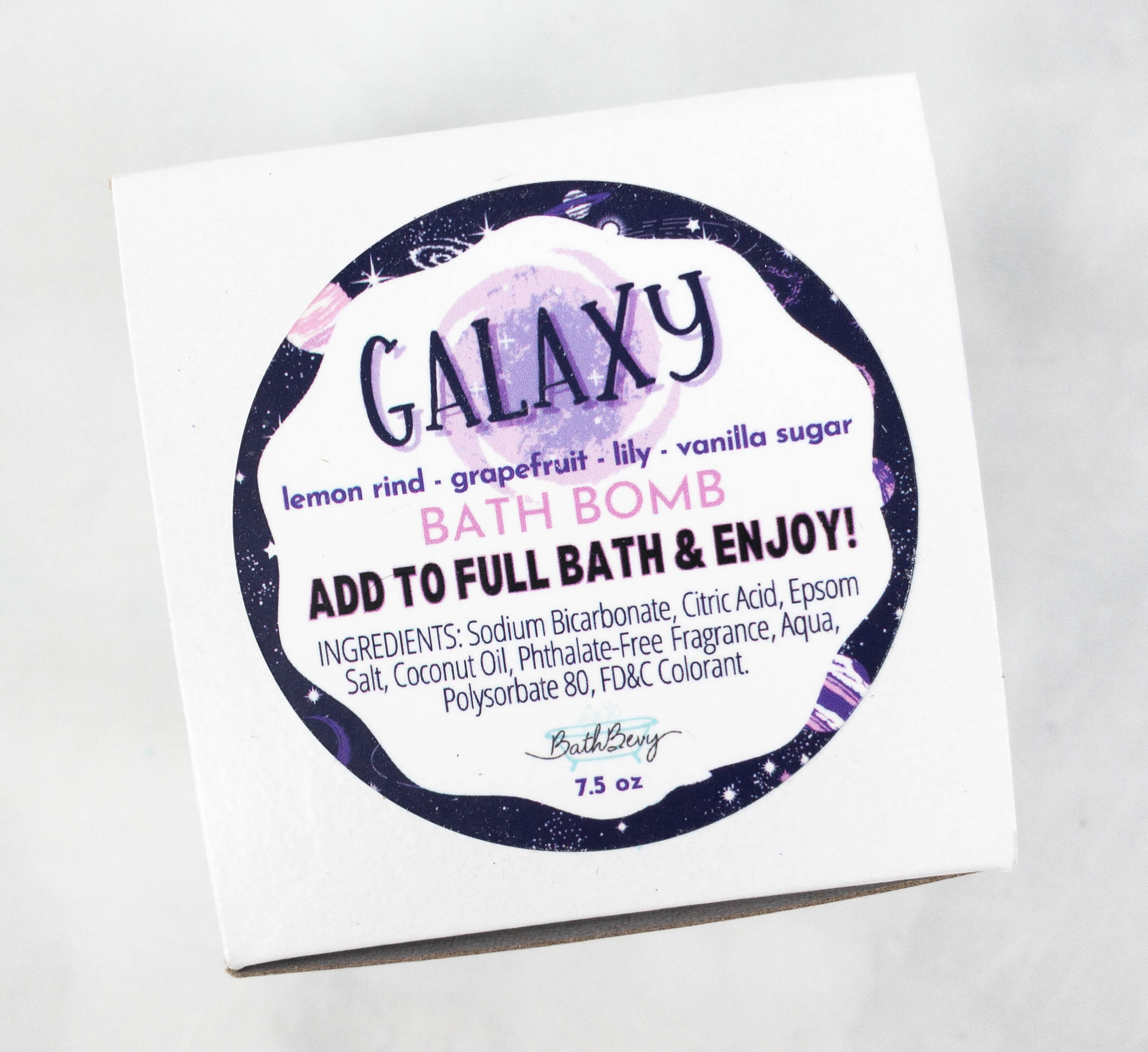 Galaxy Bath Bomb. Here's another bath bomb, but this one came in its own box packaging. It has a scent notes of lemon rind, grapefruit, lily, and vanilla sugar. I can easily get a whiff of the scent, even before opening the individual box!
It comes in a combination of dark violet and blue colors. It also looks amazing while fizzing up as it paints the water like the night sky and it's just so pretty!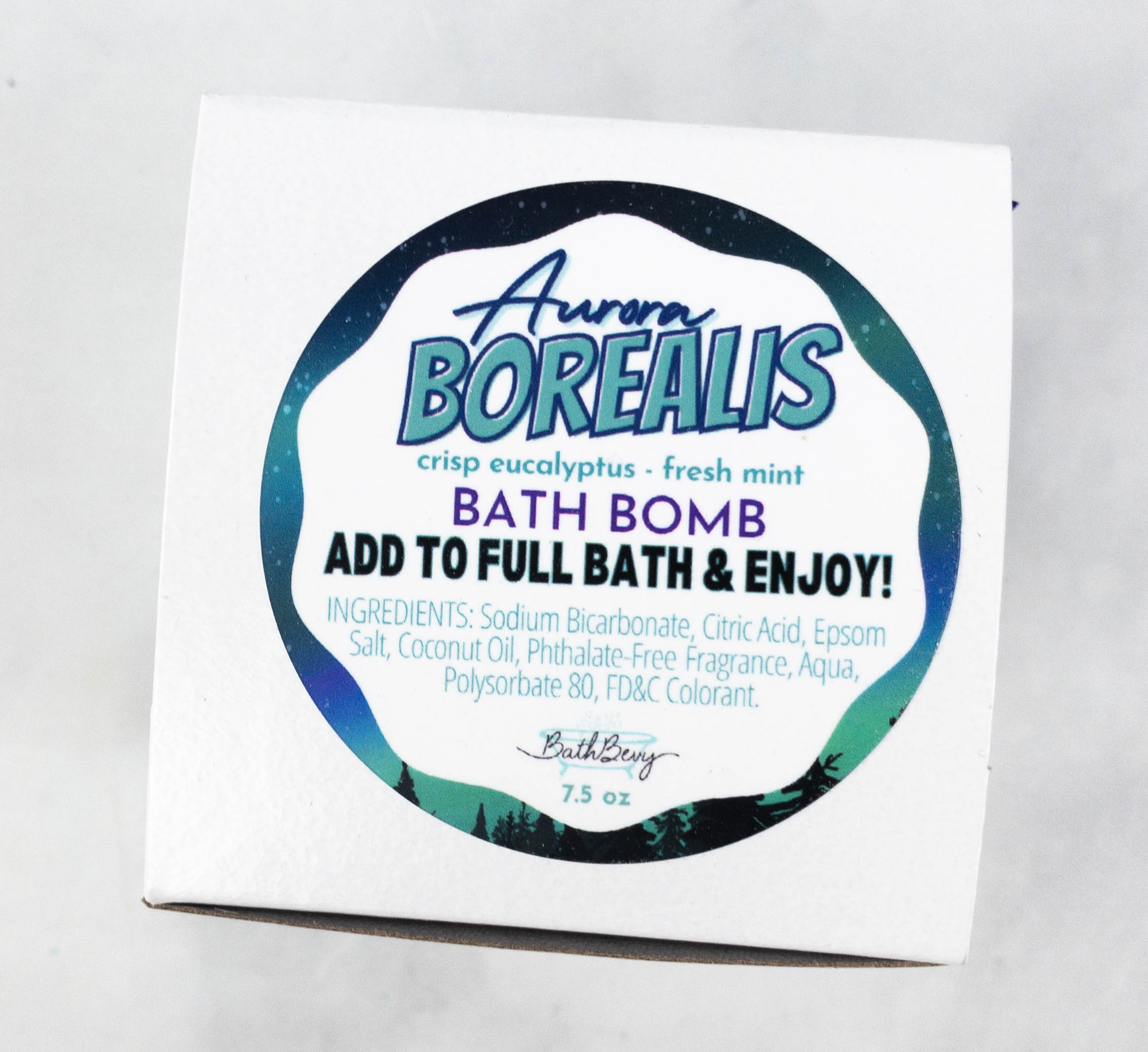 Aurora Borealis Bath Bomb. The next bath bomb is Aurora Borealis themed! Scent notes include eucalyptus and fresh mint, which easily invigorates the senses. It also came in an individual box packaging.
The yellow green color really stands out against the stark black background, which is how the Northern Lights are usually seen! My kids also had a great time watching this fizz and dissolve in our tub.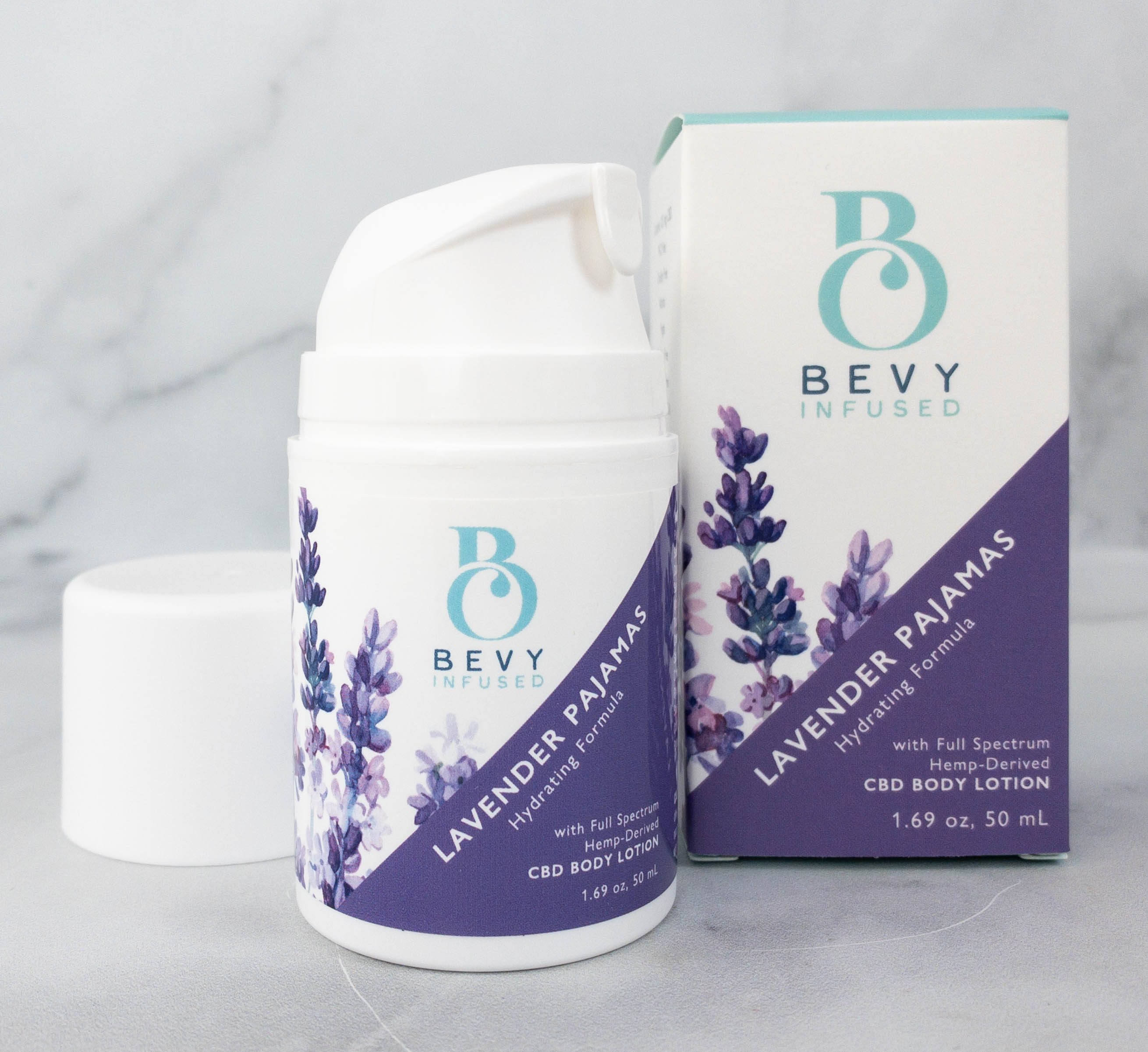 Bevy Infused Body Lotion. They also sent this CBD infused body lotion. It came in its own box with a pump bottle so it's easier to dispense. Subscribers will receive either Lavender Pajamas or Uplifting Citrus! I received the lavender one.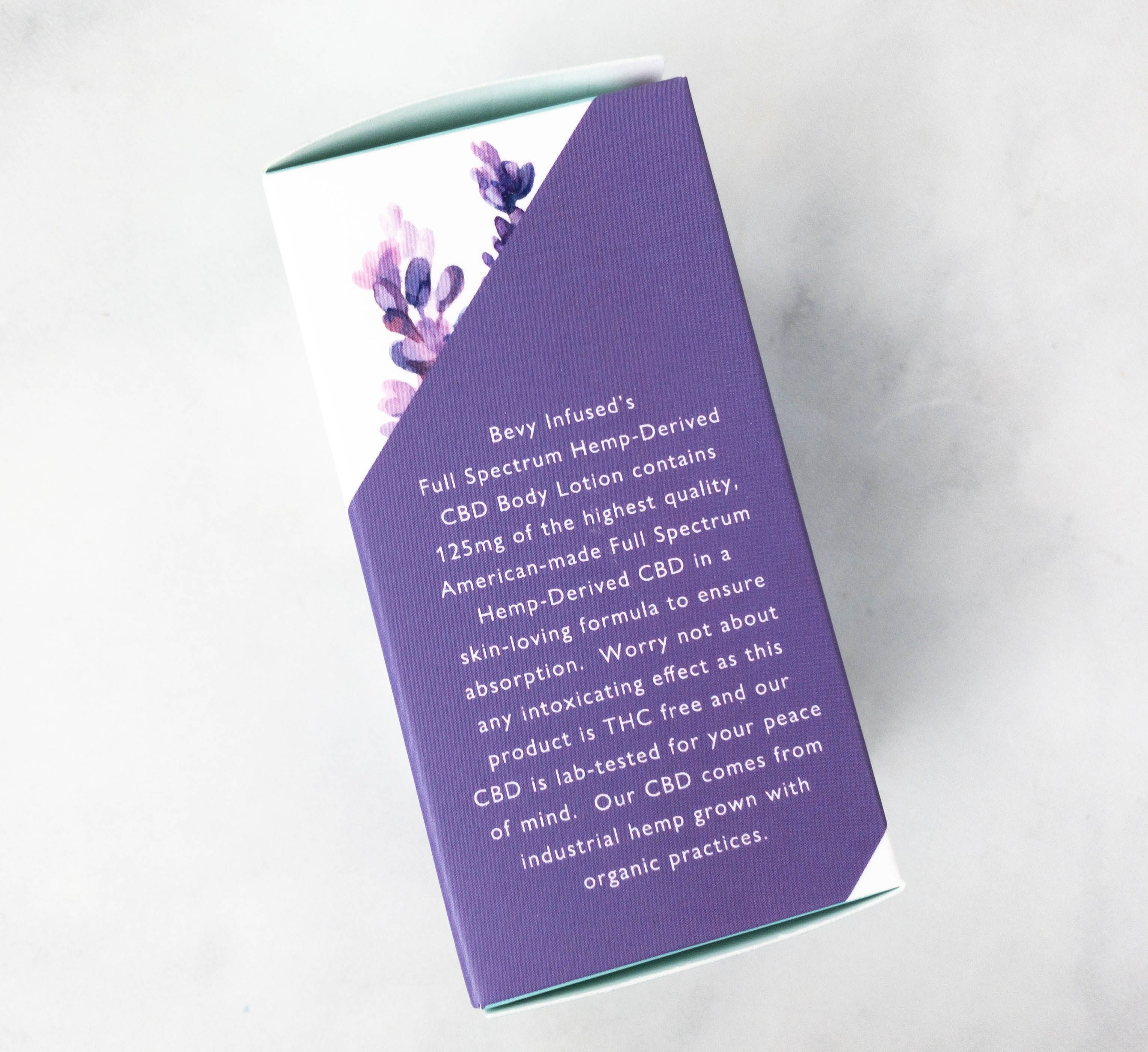 Lavender is known to be calming and soothing. Since the formula also includes CBD, it helps soothe and relaxe tired and aching muscles. Another thing I like about this lotion is that it's hydrating but really light!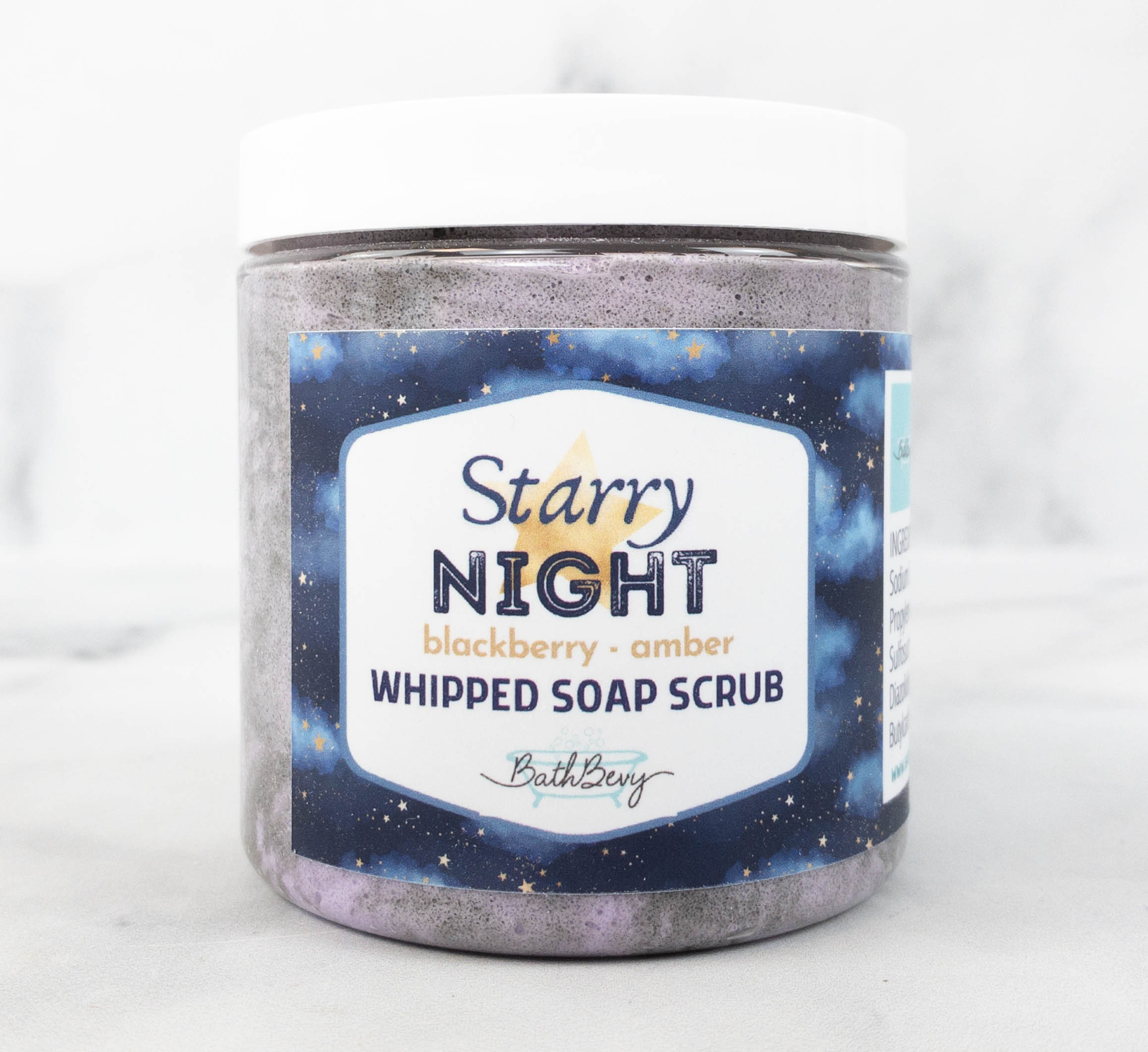 Whipped Soap Scrub. Subscribers will receive the whipped soap scrub in either Starry Night or Great Outdoors. I received the latter, which smells sweet and fruity but not overpowering. Scent notes include blackberries and amber!
The whipped formula feels really nice on my skin. It provides a gentle, non-abrasive exfoliation that helps me get rid of dead and dry skin. It leaves me feeling refreshed, while me skin is soft and moisturized.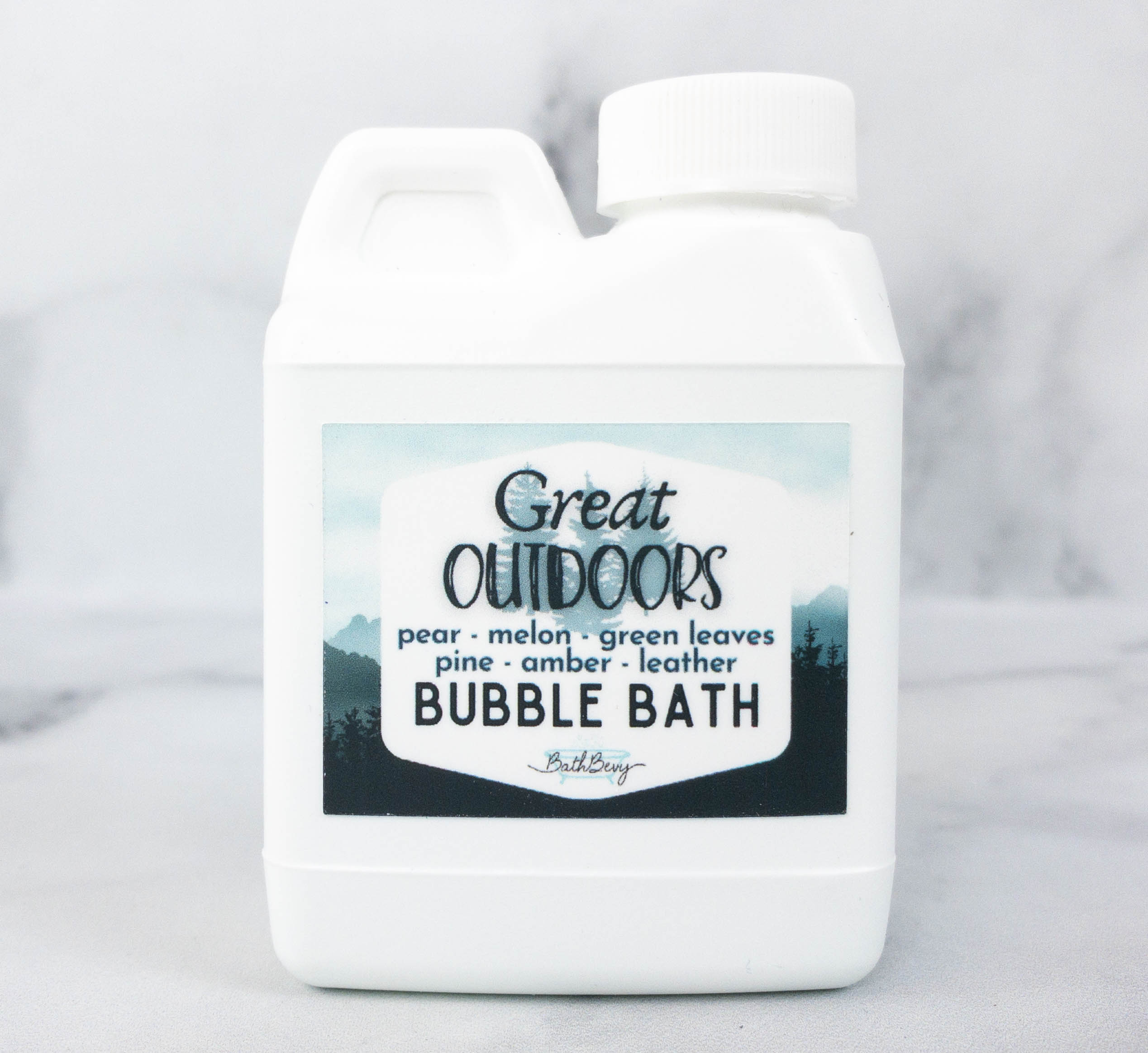 Bubble Bath Jug. Lastly, here's a small jug of bubble bath! Again, scent possibilities include Great Outdoors and Starry Night. I received Great Outdoors, which is a lovely combination of pear, melon, green leaves, pine, amber, and leather scent notes. My kids are obsessed with bubble bath so we love having this in our box. Just a splash of this formula fills our tub with lots of bubbles!
This month's Bath Bevy box has a lot of outdoor inspired products! My favorite from this bunch would have to be the aurora borealis bath bomb. The combination of mint and eucalyptus was amazing and it did a really great job of keeping me feeling refreshed, not just during bath time but even afterward. The CBD infused lotion is also promising. It's great to use after bath and before going to bed because its scent is really soothing. Overall, this is another impressive box filled with great smelling bath products! If you're looking to elevate your bath experience, this subscription is for you. They also have a tubless option in case you don't have a tub at home or if you simply prefer showers!
What do you think of this month's Bath Bevy box?