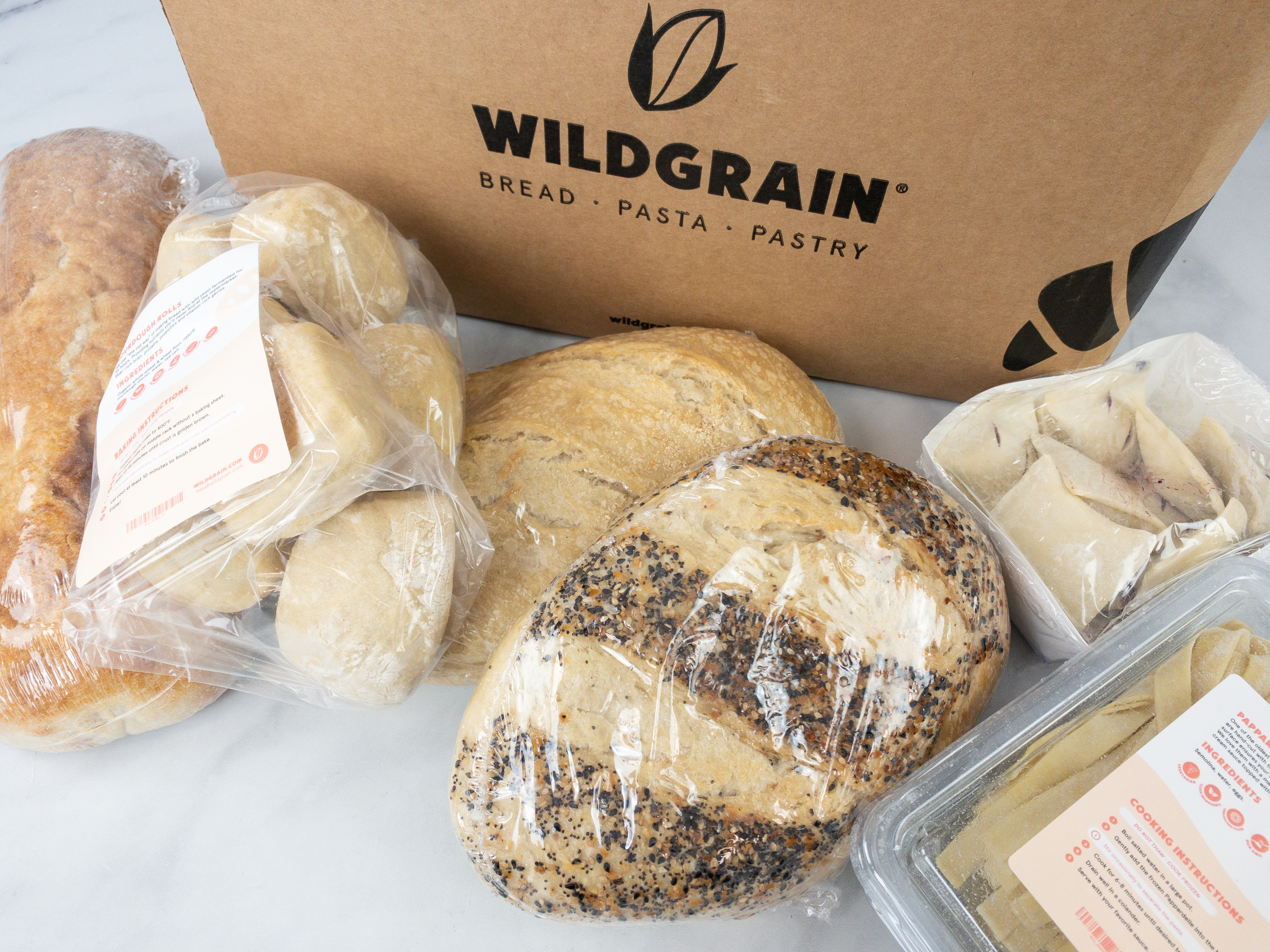 Wildgrain has an exclusive deal for Hello Subscription readers!
Meet Wildgrain, the first-ever, bake-from-frozen subscription box for sourdough breads, fresh pastas, and artisan pastries. All of our products are baked within 30 minutes (no thawing!) and are made with clean ingredients.
Get $30 off your first box + FREE 8 Sourdough Rolls in every box! Use the coupon code HELLOSUBSCRIPTION at checkout.
Wildgrain bread, pasta, and pastries subscription is $89 per month that sends healthy ready-to-bake goodies. For every Wildgrain subscription, they also donate 6 meals to The Greater Boston Food Bank.
Is it healthy?
All of our food is made with clean ingredients that are easy to understand and contain no preservatives. Beyond being clean replacements for your favorite carbs, our sourdough bread provides many health benefits. Our fermentation process digests the majority of the gluten; for this reason, some people with gluten sensitivities find that they can digest and enjoy sourdough bread. Sourdough bread also contains lactic acid, which helps your body absorb more nutrients (e.g. calcium, magnesium, and iron) than your body would from non-sourdough bread. Lastly, it contains prebiotics, which keep your gut biome healthy and also increase the bioavailability of nutrients.
Is Wildgrain worth it?
We have to say a resounding yes! When we received a box for review, we immediately subscribed! See our Wildgrain review – the flavors are amazing!
We also have spoilers for the June 2021 box!
Each box includes:
1x Walnut Sourdough Loaf
1x Three Seed Slow-Fermented Loaf
1x Sourdough Loaf
1x Fresh Tonnarelli Pasta (12 oz.)
1x Fresh Pappardelle Pasta (12 oz.)
4x Croissants
8x FREE Sourdough Rolls in every box
About Wildgrain:
Your Wildgrain Box includes an assortment of healthy sourdough bread, hand-cut pasta, and artisanal pastries. All are ready-to-bake from frozen, with no prep required. Some items in your Wildgrain Box will rotate monthly based on the seasons!
How it works:
Start your Wildgrain subscription.
Your Wildgrain Box gets delivered right to your door every month.
Store the bread, pasta, and pastries in your freezer. When you're ready, cook or bake in under 25 minutes!
Eat and ENJOY!