Tummy Thyme is a meal subscription service that focuses on toddler food. All the meals they offer are handmade and nutrient packed without harmful ingredients like additives, preservatives, concentrates, and fillers. For babies, they have soups, compotes, and purees, while for toddlers there are different kinds of finger food. Currently, there are three subscription types available: Mini Subscription ($44.50 per week) with 6 Tummy Thyme packs, Medium Subscription ($57.50 per week) with 8 Tummy Thyme packs, and Mighty Subscription ($70 per week) with 10 Tummy Thyme packs. All of these subscription plans allow subscribers to choose the meals they want in their box. Each pack contains between 3 and 7 servings of food crafted from ingredients from USDA Certified Organic producers.
DEAL: Get 5% off your first order! Use this link and coupon code TUMMY5.
There's a note on top of everything in the box! It says that Tummy Thyme is perishable, so you should put the frozen items in the freezer and the fresh jars in the refrigerator as soon as they arrive.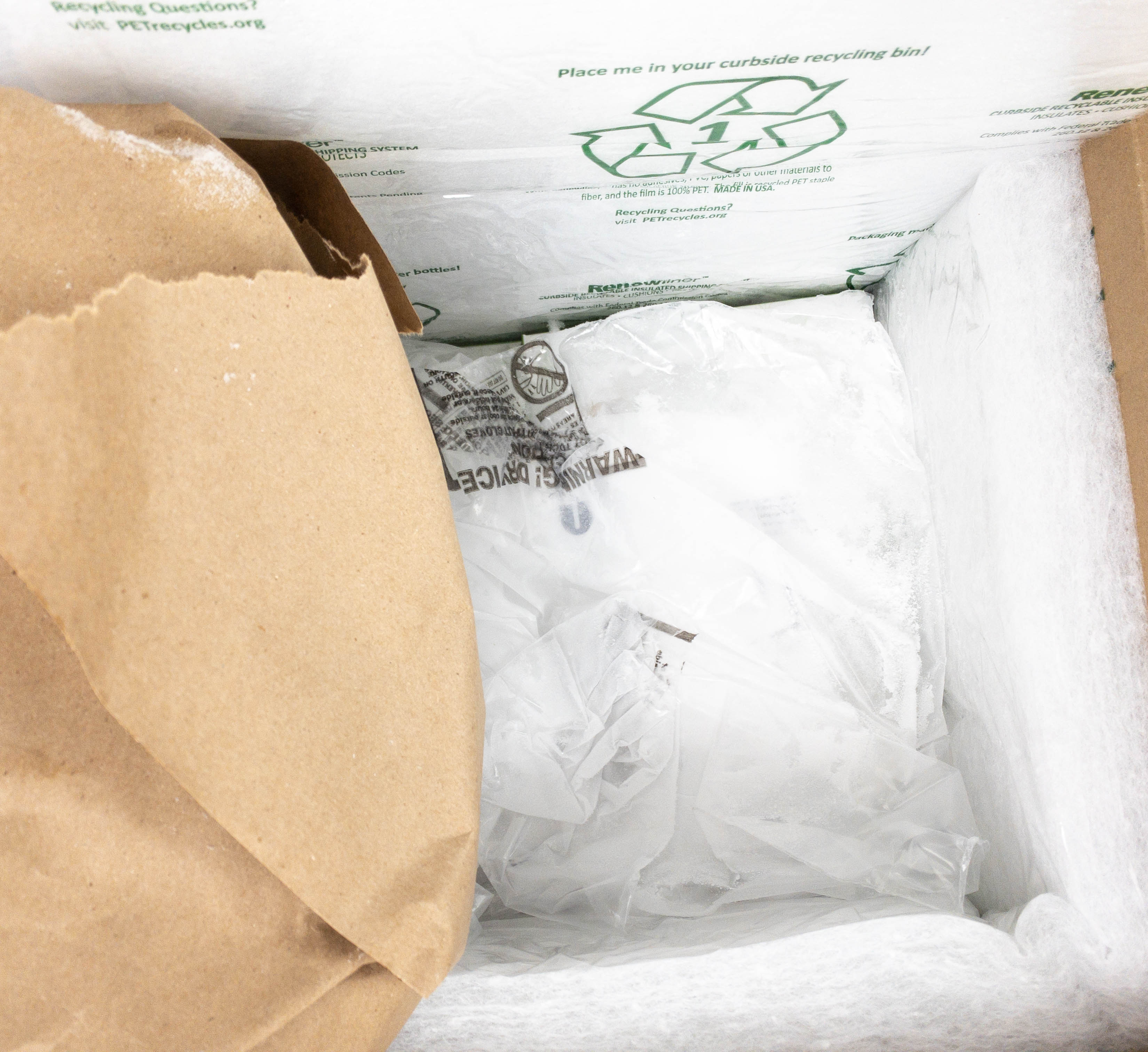 The meals were packed in an insulated box with dry ice with a recyclable insulated liner.
The meals were packed in individual boxes as well.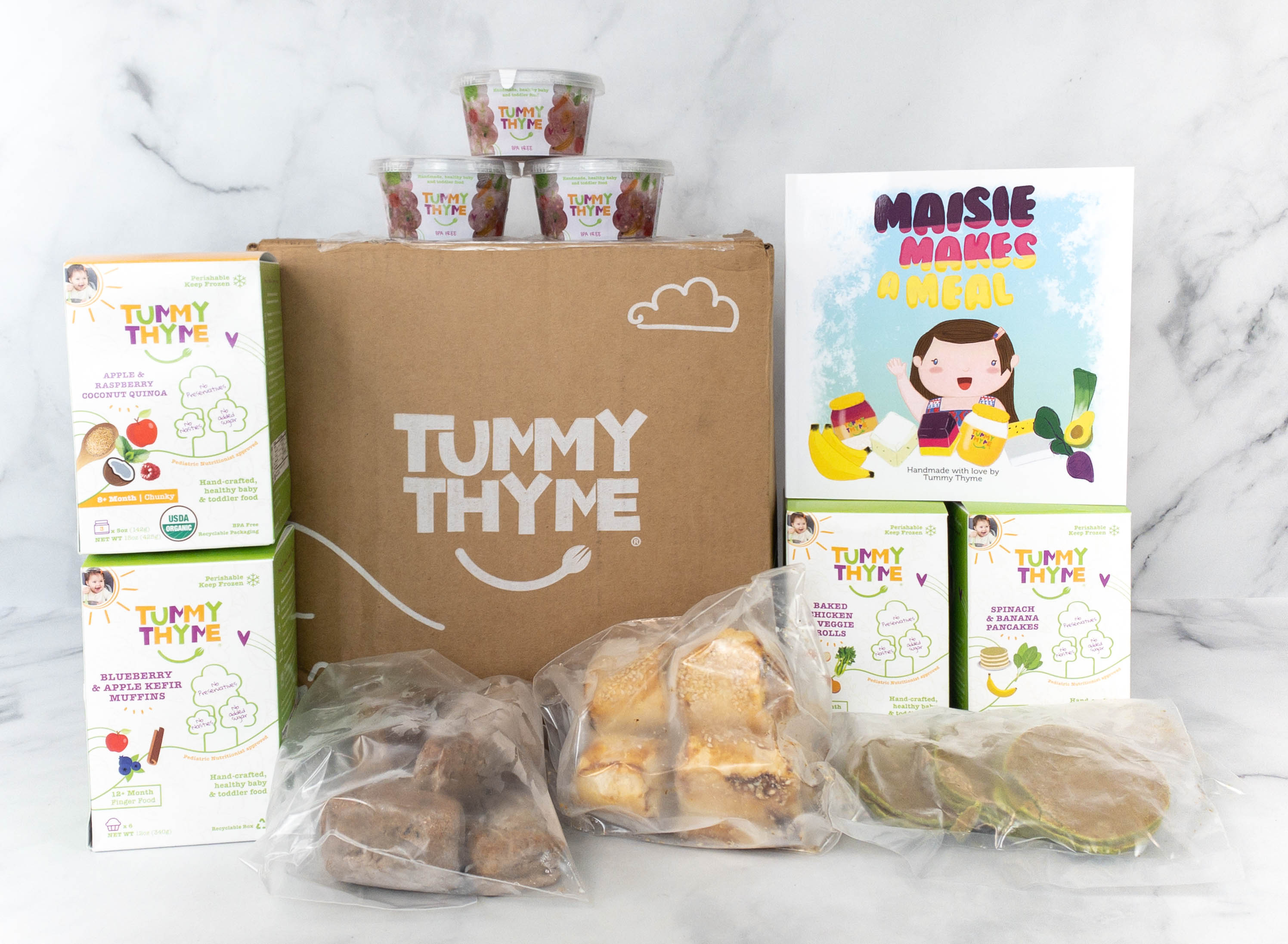 Everything in my box!
Maisie Makes A Meal Book. The box included a book for kids! On the front cover, it has a cute illustration of a little girl waving hello! There are also healthy food items and Tummy Thyme products with her.
Inside, it features the story of how Tummy Thyme came to be, what inspired it, and the brand's vision and goals.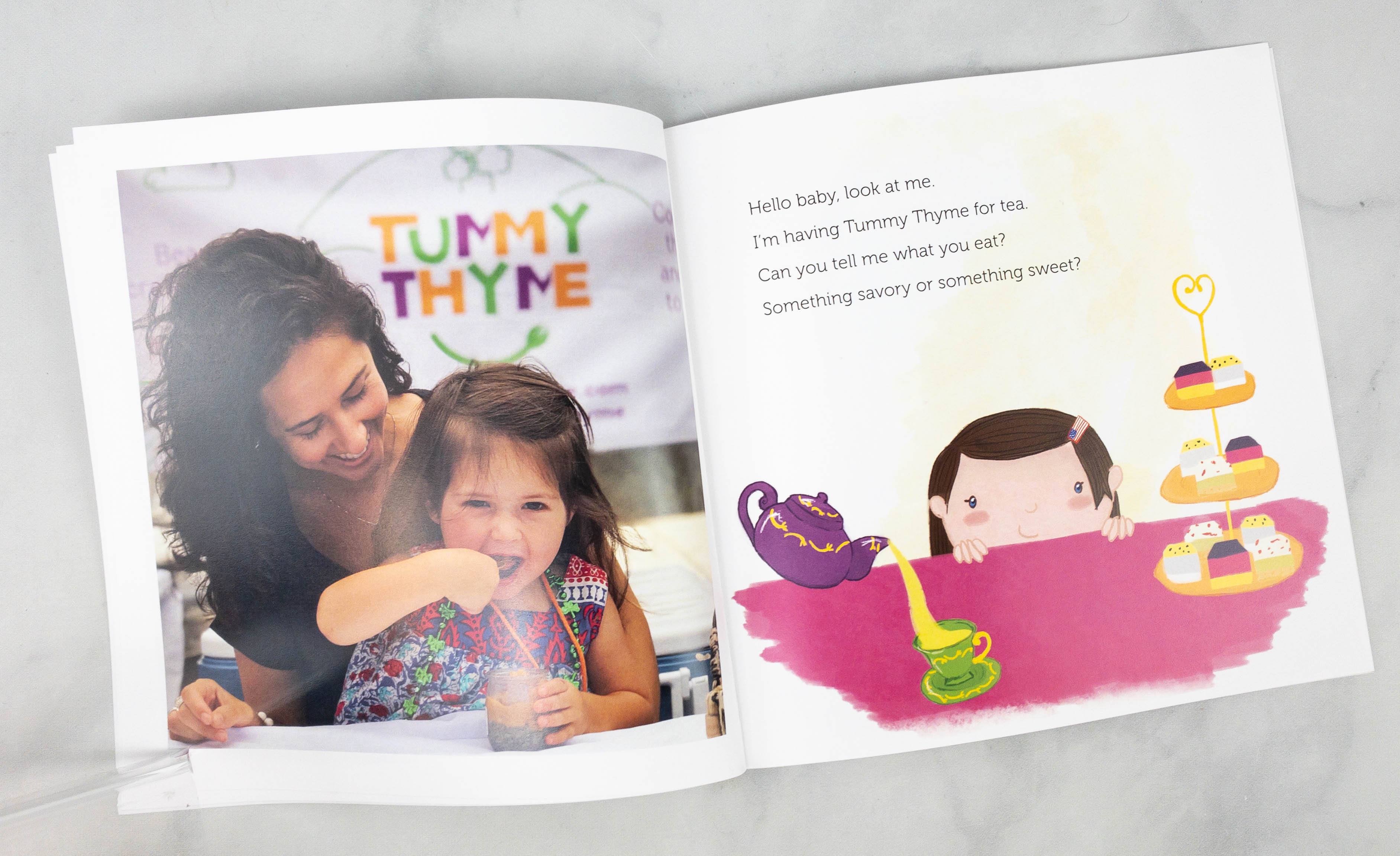 It's also filled with word play and cute illustrations!
They even showcased the most common meals for kids from different countries around the world.
This introduces children to the diversity of the meals all over the world with a short rhyming poem and a very cute illustration!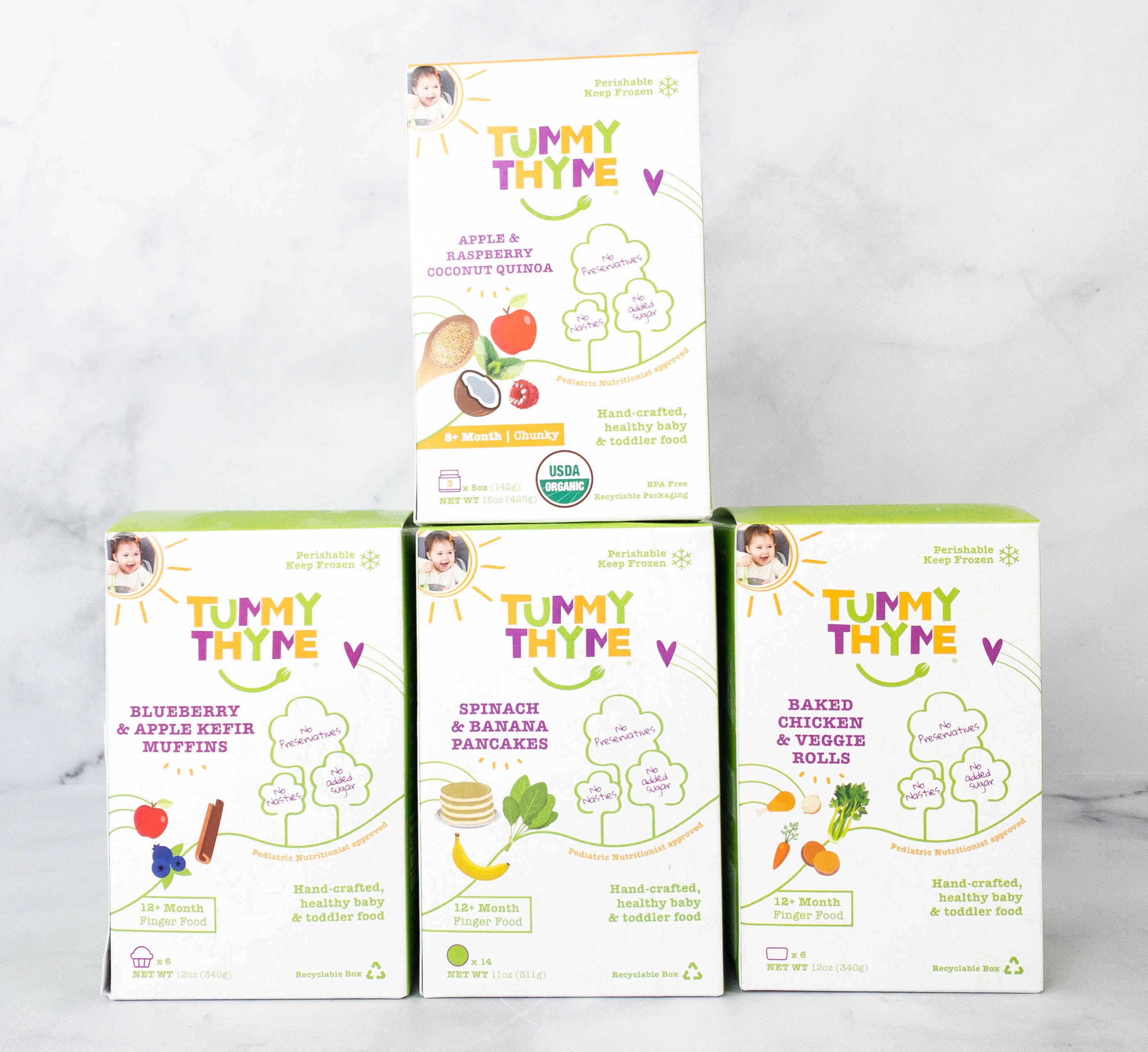 The meals were nicely packed in these colorful boxes.
Each one is properly labeled and they even came with fun illustrations of what to expect inside.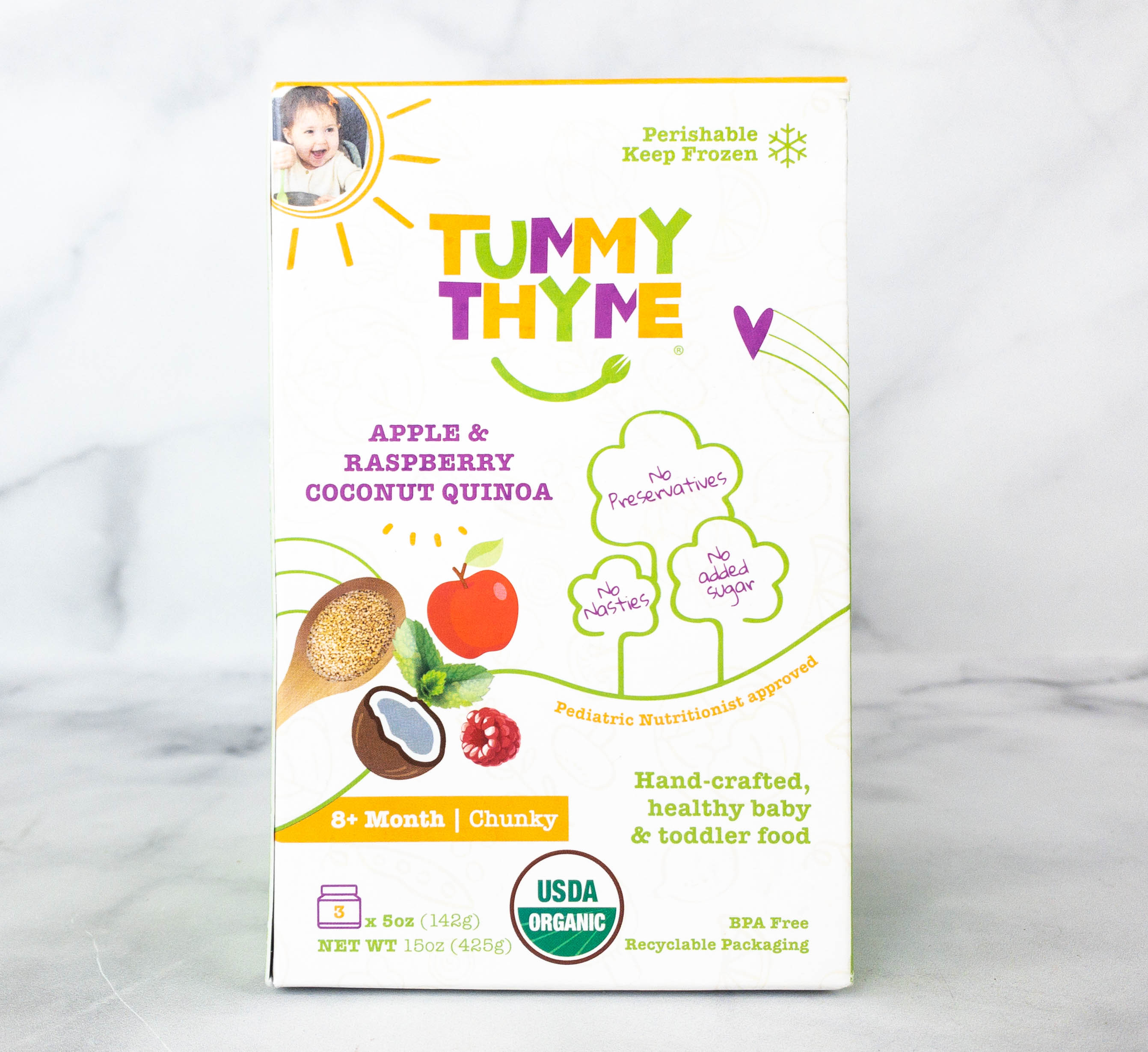 Apple & Raspberry Coconut Quinoa Hand-crafted Healthy Baby & Toddler Food ($15) It's a chunky blend of organic apples, organic raspberries, and organic quinoa. It also contains organic coconut milk and organic mint to make each bite more flavorful!
The box also has a short intro as to how Tummy Thyme started.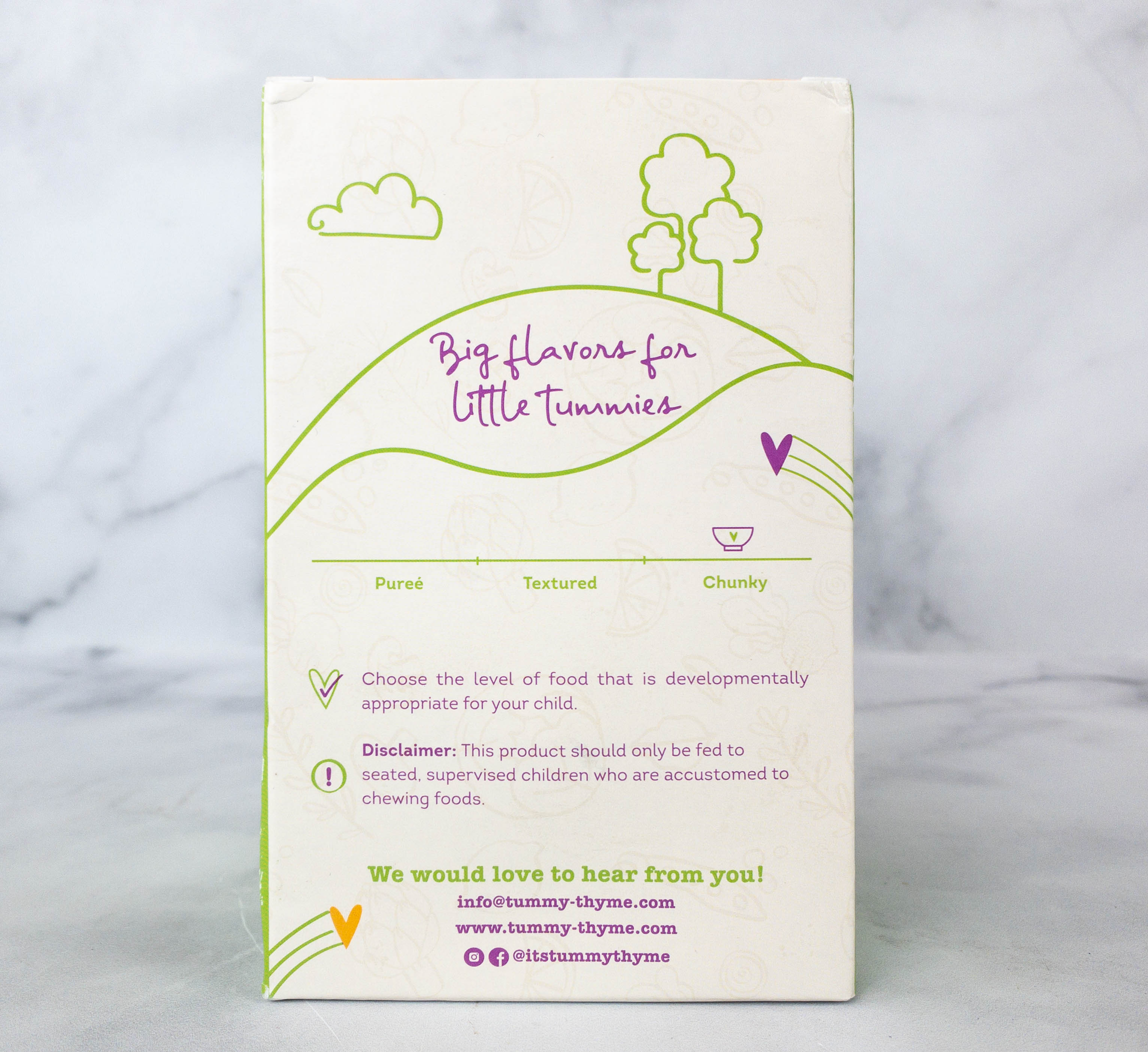 Chunky meals like this one are ideal for children who are already accustomed to chewing food. If your baby is just starting out with foods, choose pureé or textured.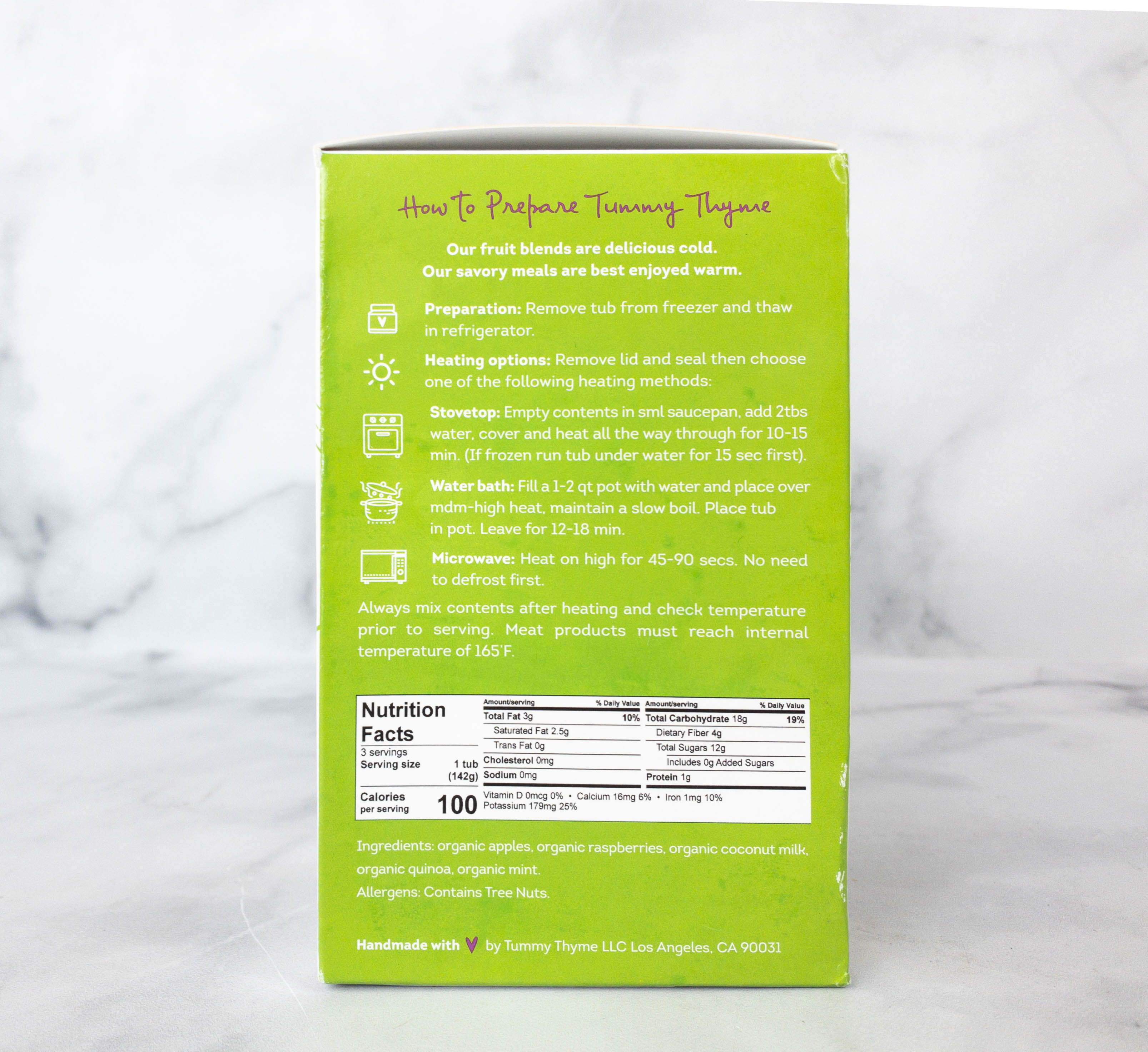 On this side of the box, there are instructions on how to prepare the meal.
Here's what's inside! The containers are BPA free so they're safe to use.
Each small tub also has the preparation instructions along with instructions on how to heat them up. I love that there are multiple options for multiple kinds of households.
There are three ways to reheat this meal: using a stovetop, a water bath, or a microwave. Don't forget to stir and check the temperature to makes sure it's properly and evenly heated.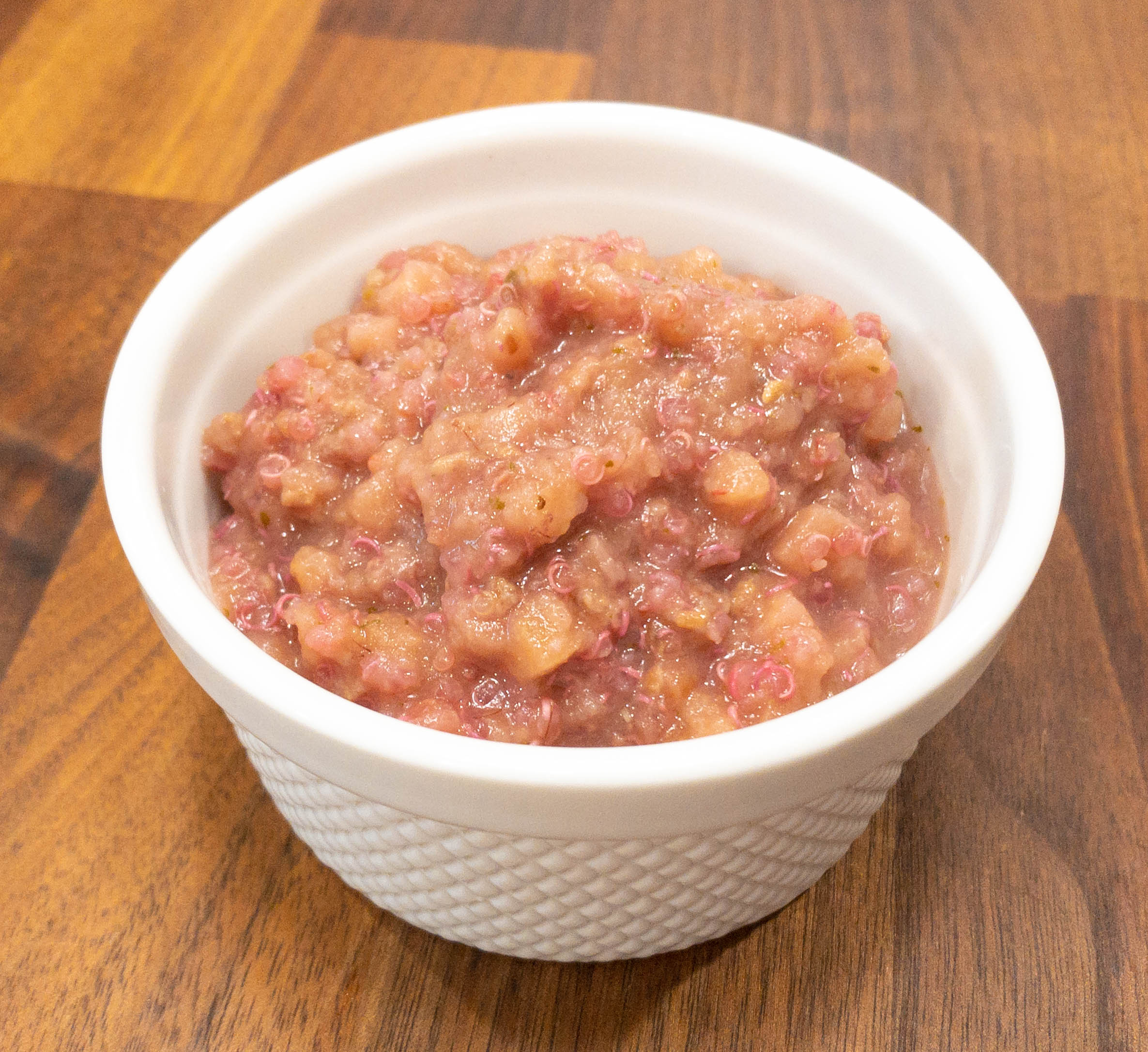 I thawed this before placing it in a microwave safe container and reheating. It's super easy!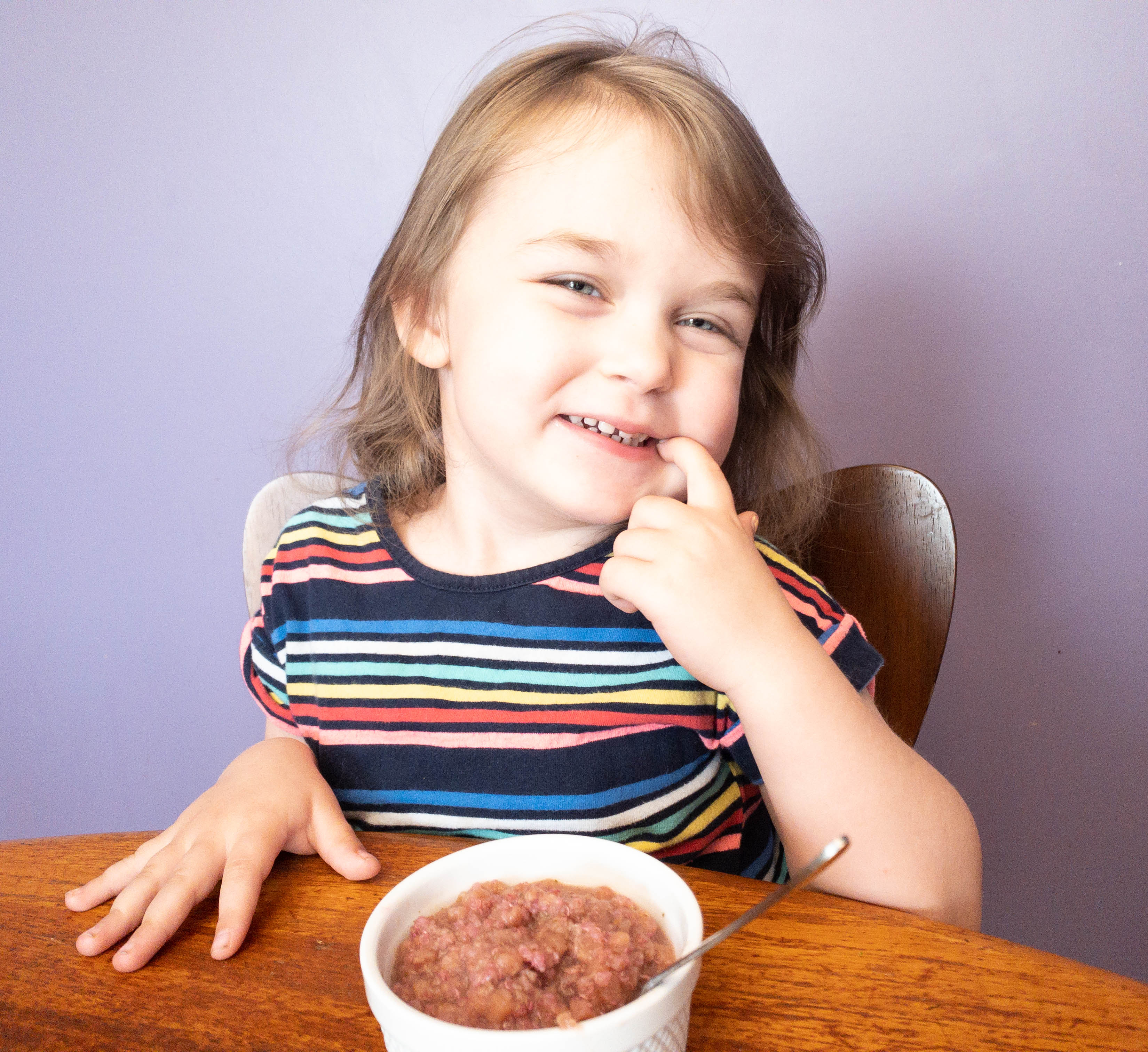 It smelled amazing as I was reheating it! My daughter loves how sweet and chewy everything was. It made such a tasty and filling meal for her, and I can't believe it only took a few minutes to prepare it!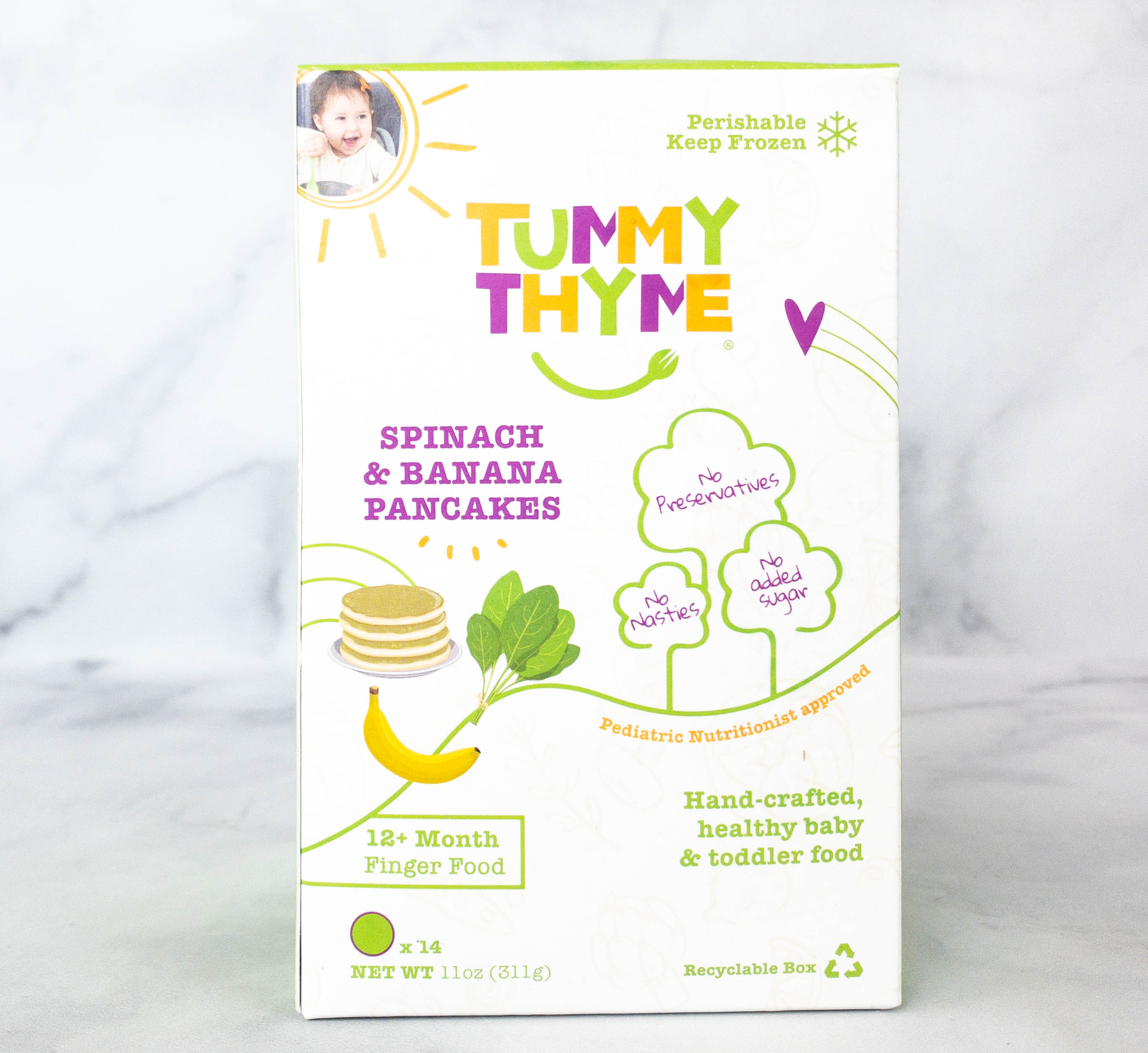 Spinach & Banana Pancakes Hand-crafted Healthy Baby & Toddler Food ($15.50) Next up are pancakes! The ingredients for this yummy snack are organic flour, organic spinach, organic banana, organic coconut oil, organic cinnamon, organic nutmeg, organic eggs, organic milk, baking powder, and sea salt.
This finger food is great for kids 1 year old and up. The box also has a nutrition facts guide for your reference, as well as preparation instructions.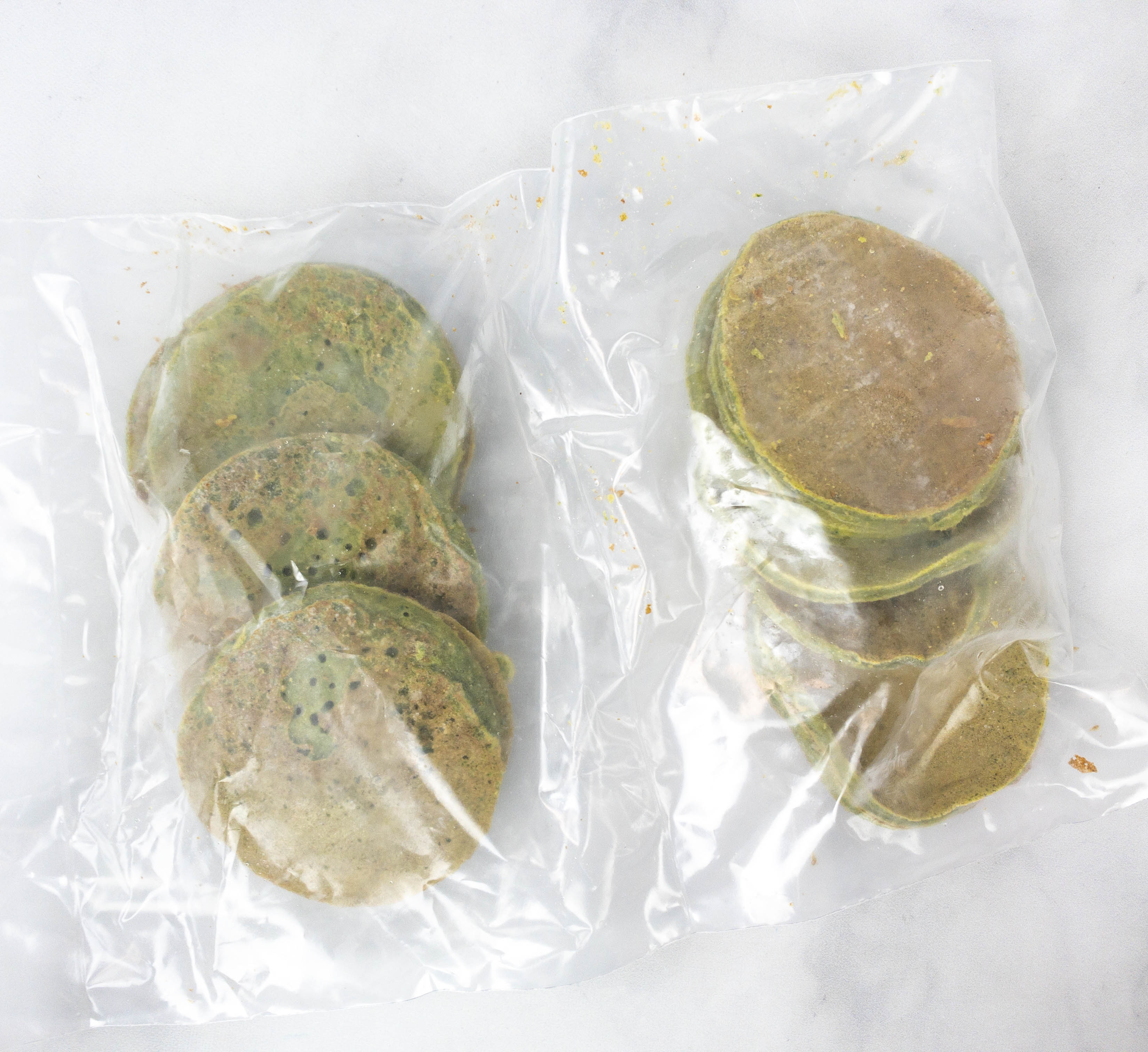 Inside, the pancakes came packed in a plastic pouch to ensure safety and freshness! The serving size is two pancakes – we made all of them because it makes nicer photos – our preschooler would eat two of these pancakes for a meal.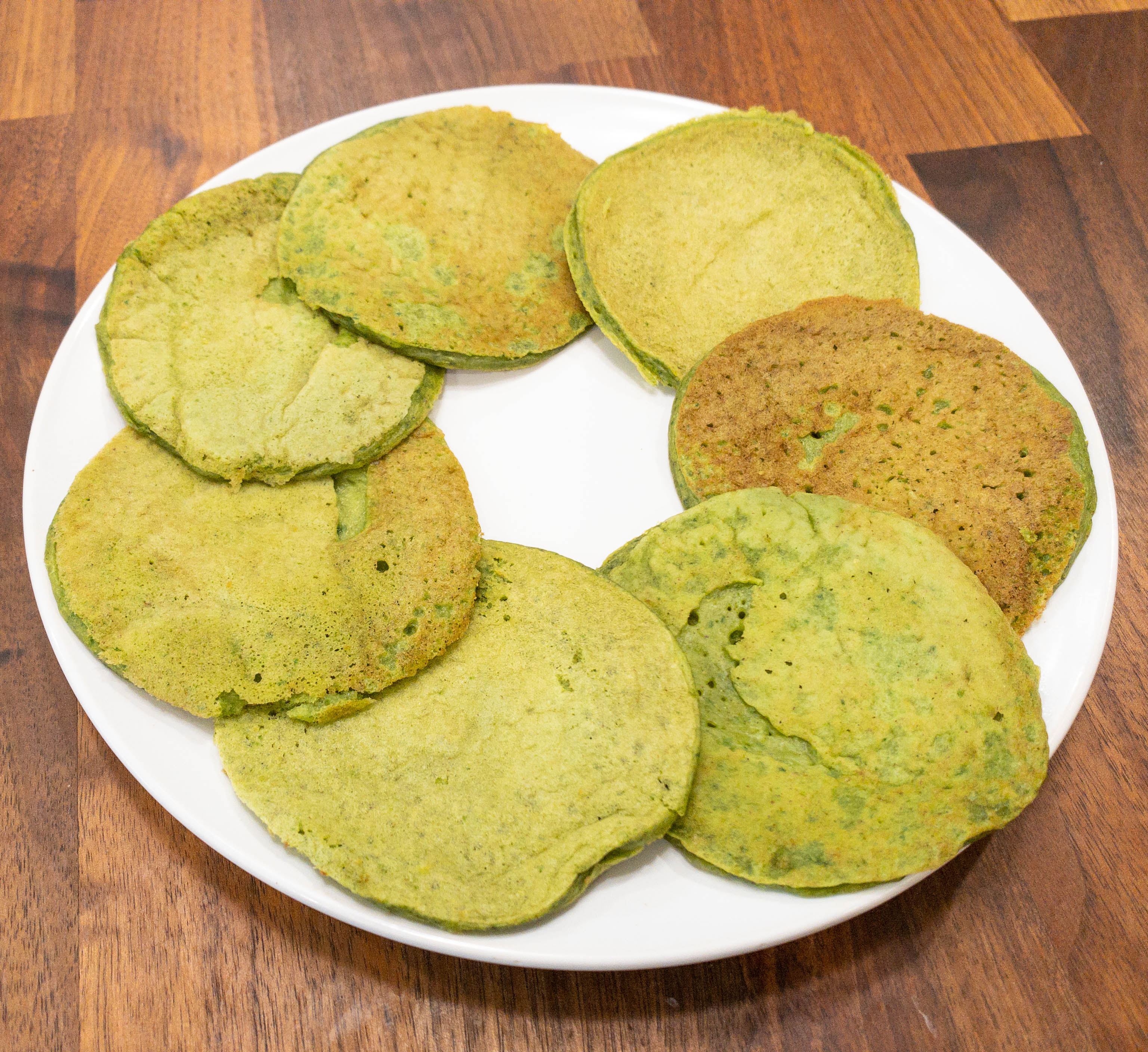 You can prepare this using a microwave or a stovetop oven. I used the microwave method and it turned out well! The green hue on the pancakes is because of the spinach. This green leafy vegetable is rich in vitamins A and C! It's also super funny for kids!
Blueberry & Apple Kefir Muffins Hand-crafted Healthy Baby & Toddler Food ($15.50) Here's another delicious finger food for toddlers,  muffins. It contains organic apples, organic blueberries, organic kefir, organic flaxseed, organic dates, organic milk, organic flour, organic eggs, organic coconut oil, organic cinnamon, organic ginger, organic nutmeg, baking soda, and sea salt.
Just like the other boxes, it also has nutrition facts as well as a preparation guide. The serving size is 1 muffin.
The muffins are small sized, so toddlers can easily eat them. They were also packed in plastic.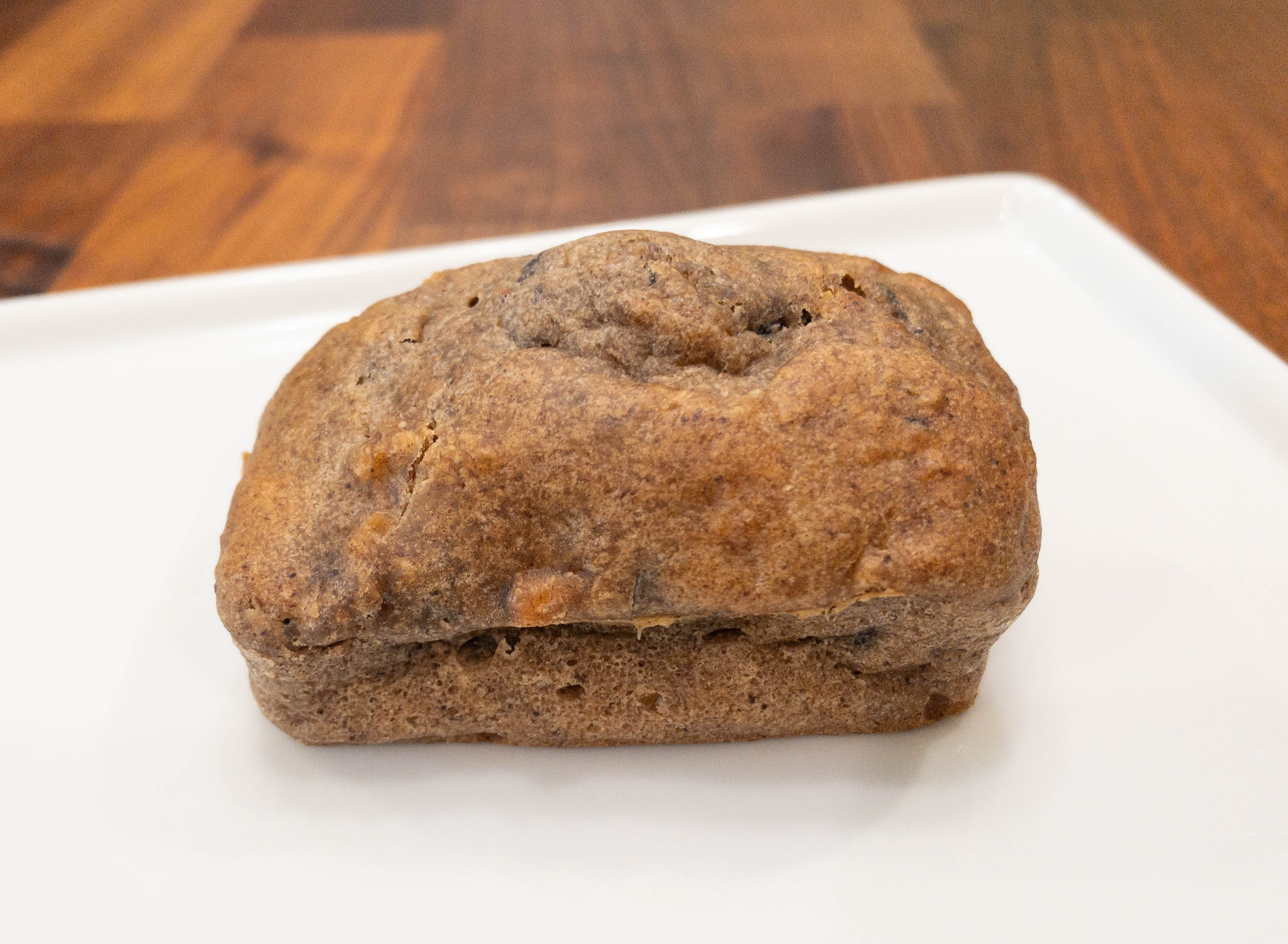 It looks so good already! This can be heated using the microwave or a conventional oven.
This muffin contains kefir which promotes a healthy gut. There's also no sugar added, so the sweetness is all natural!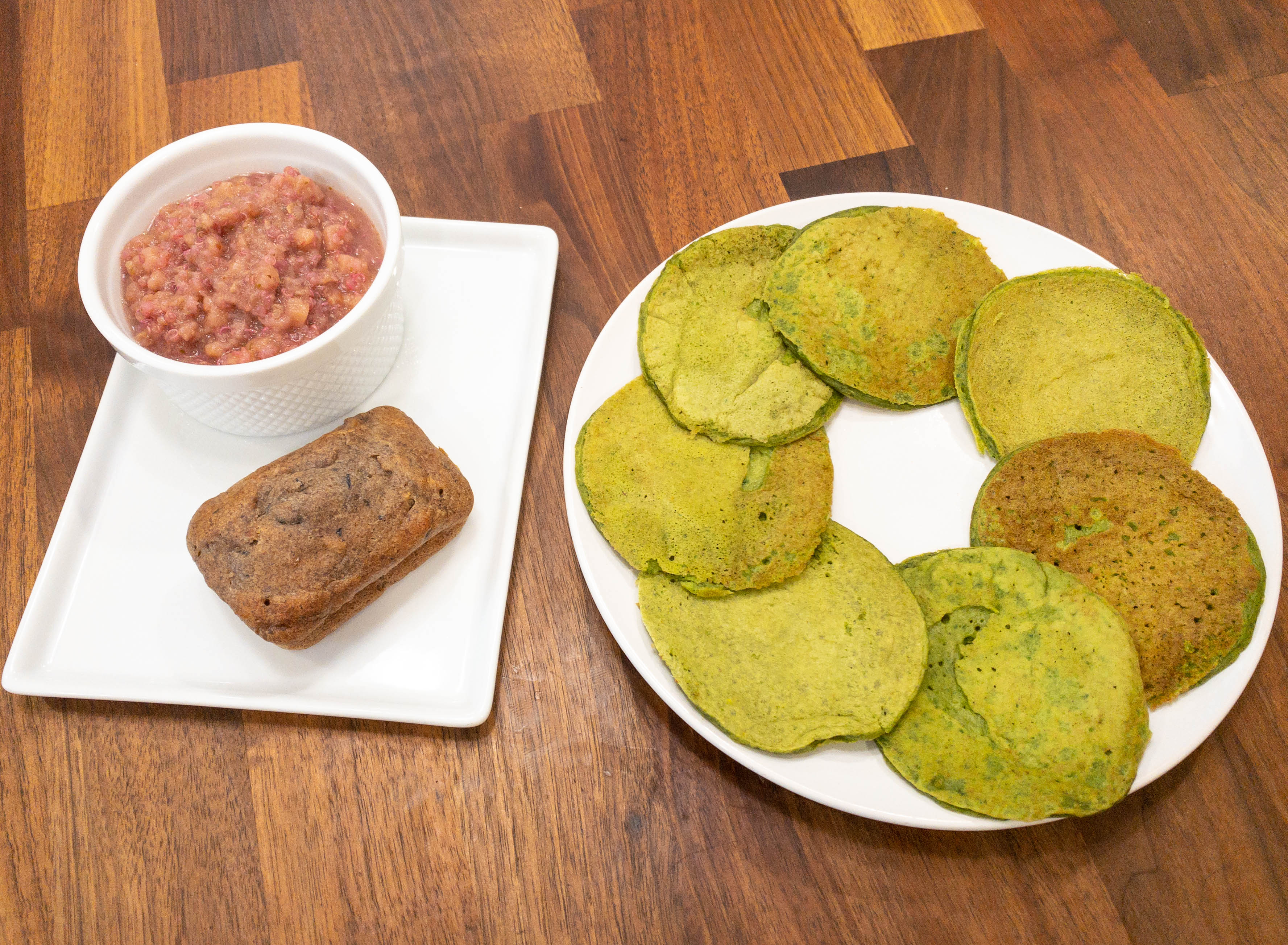 It's time to taste these finger food items from Tummy Thyme!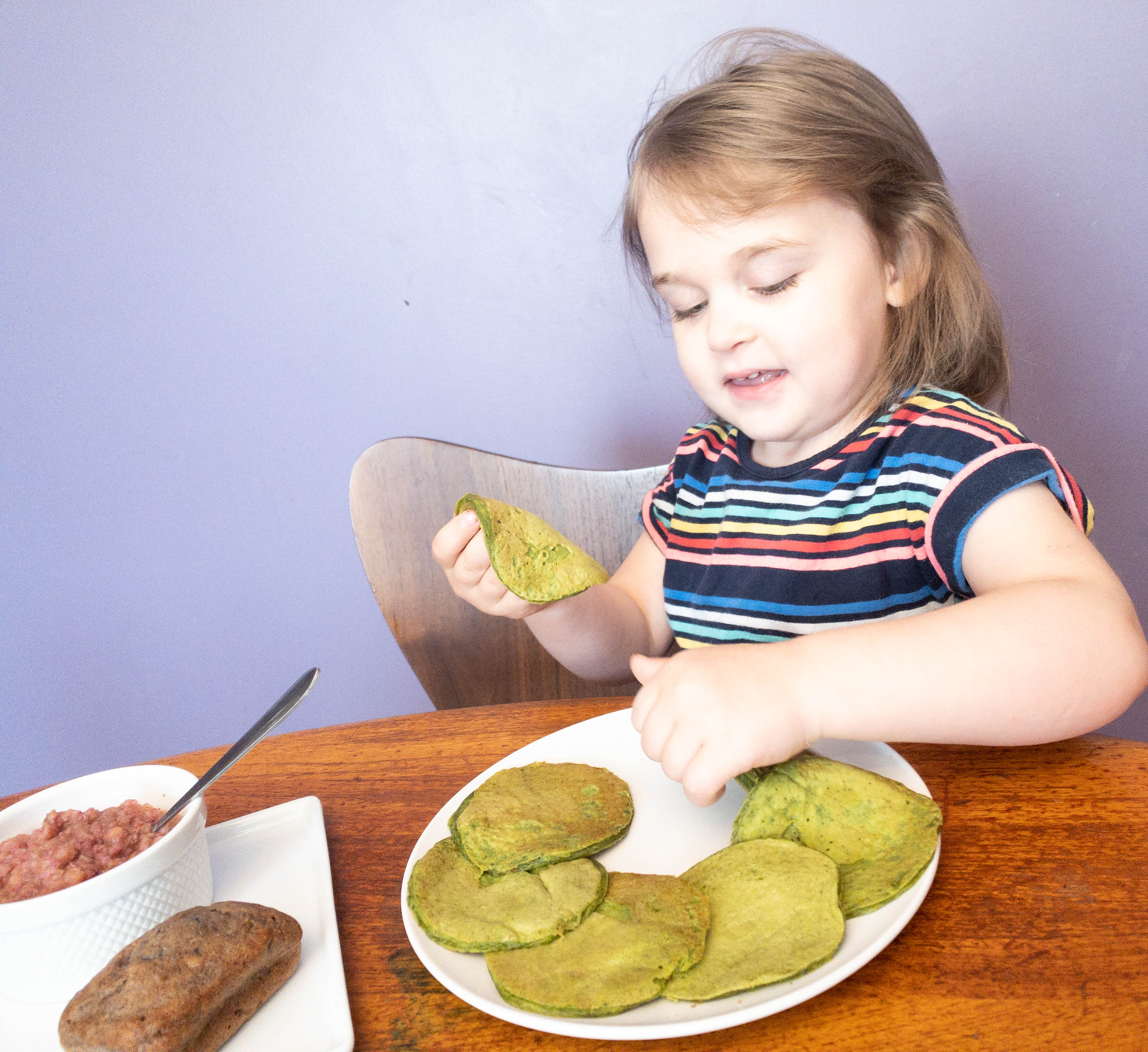 The pancake turned out really good, plus they didn't turn soggy after heating!
My daughter loves the pancakes!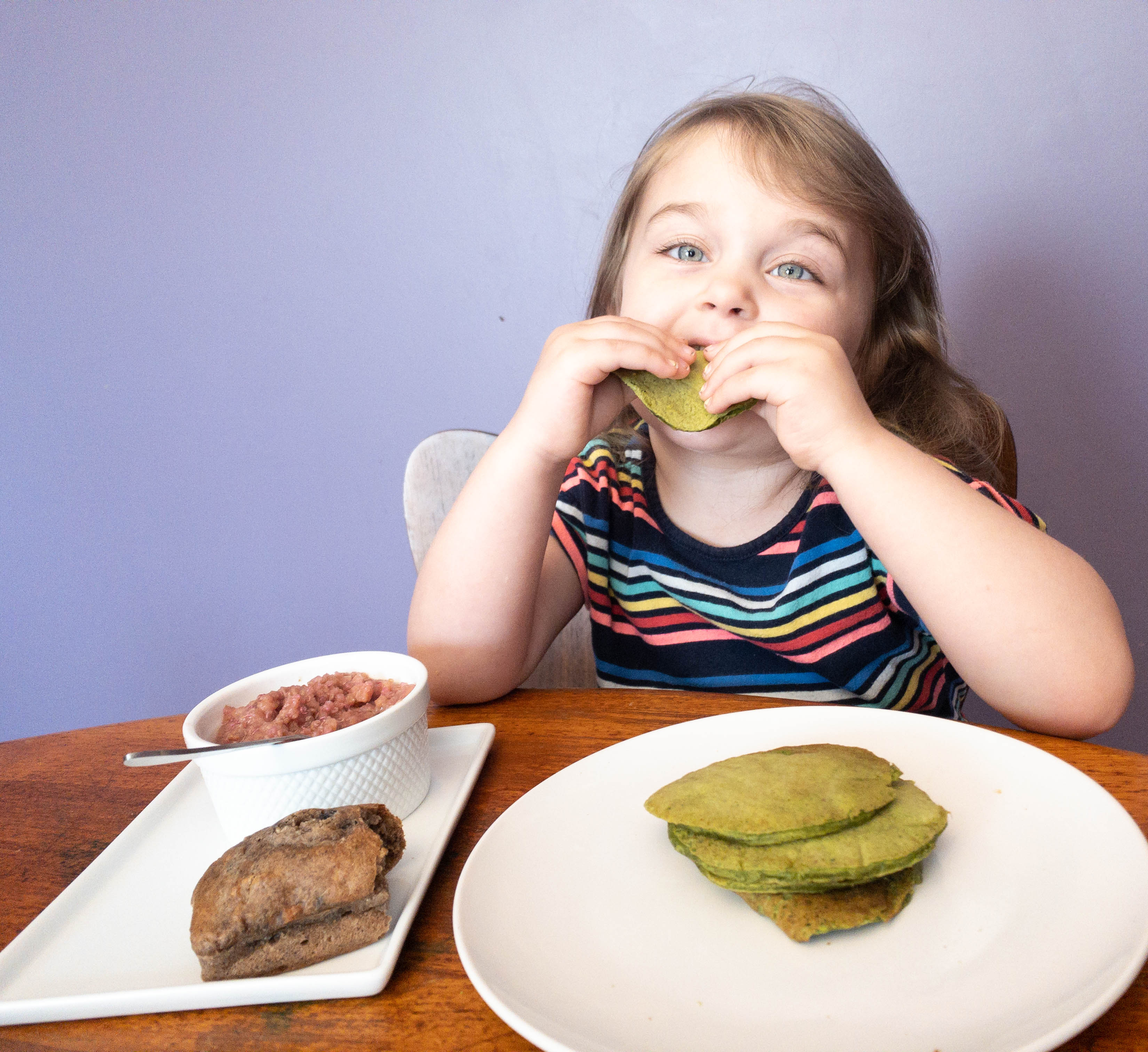 This is such a great way of incorporating green leafy vegetables to kids' meals.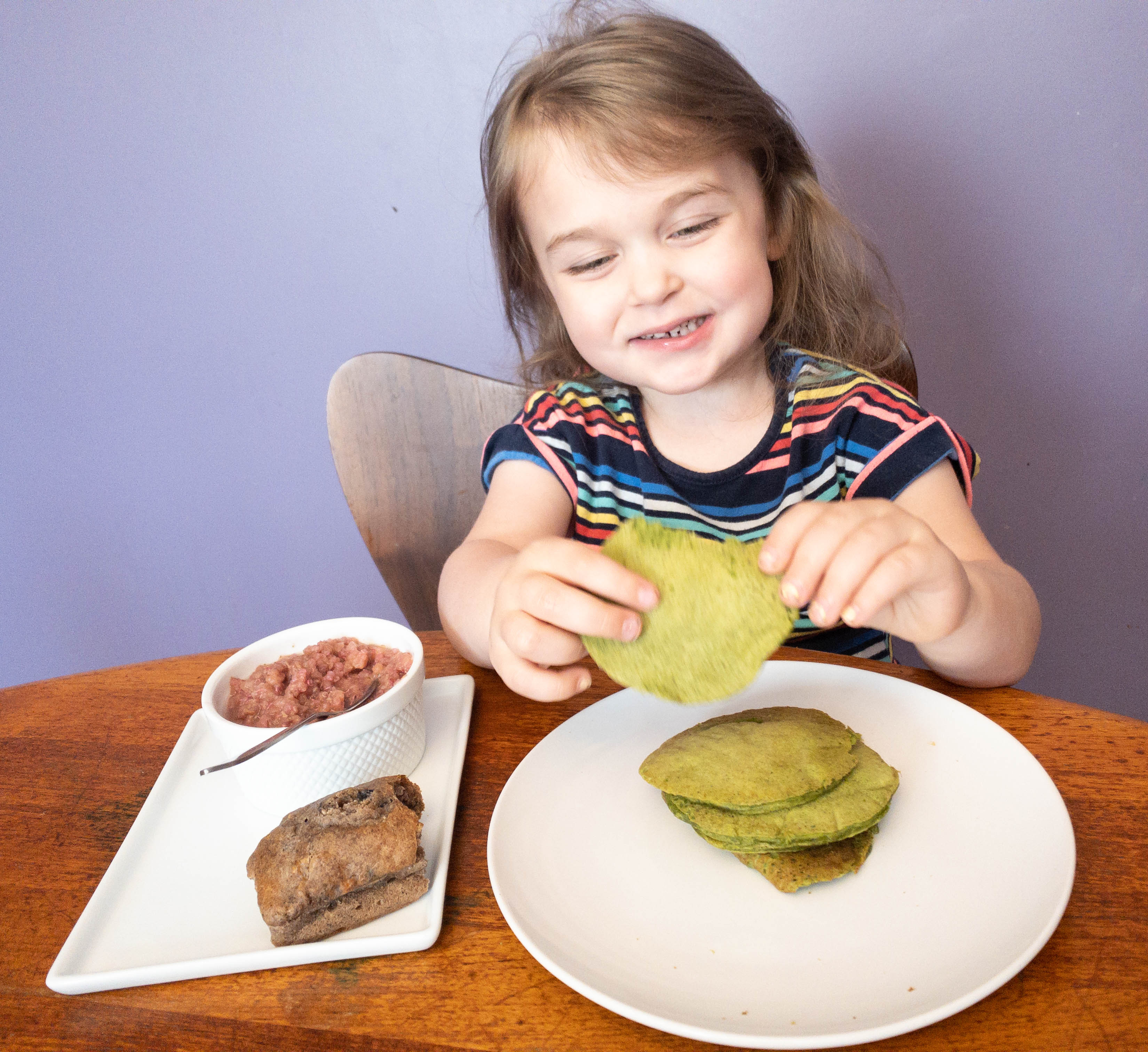 This is definitely better than store bought pancakes, in terms of taste and nutritional value. Plus, they're easy to grab and heat.
The muffin was also great. It's densely packed and very filling. One bite and you can really taste the sweetness of the apple. This is a great breakfast meal or you can even serve it as a snack!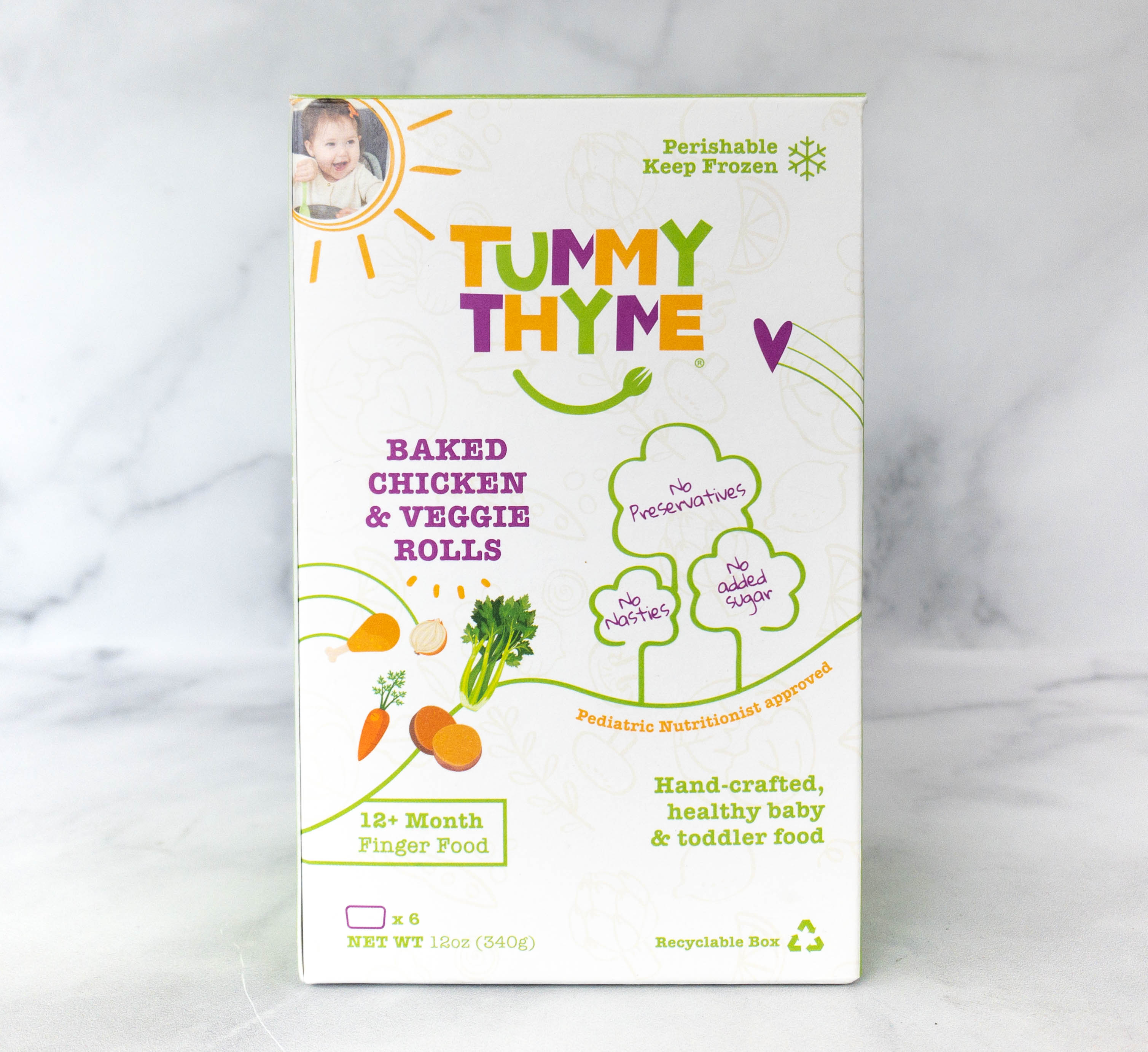 Baked Chicken & Veggie Rolls Hand-crafted Healthy Baby & Toddler Food ($16.50) These savory rolls are made with puff pastry and a filling made with antibiotic-free chicken. They also contain other organic ingredients such as sweet potato, onions, garlic, celery, carrot, sesame seeds, and eggs, plus salt and pepper.
According to package instructions, this can be served with tomato ketchup on the side. Serving size is 1 roll.
This can be heated using either the microwave or using the oven. If you want to make the exterior a bit crunchy, it'll be better to use the oven method.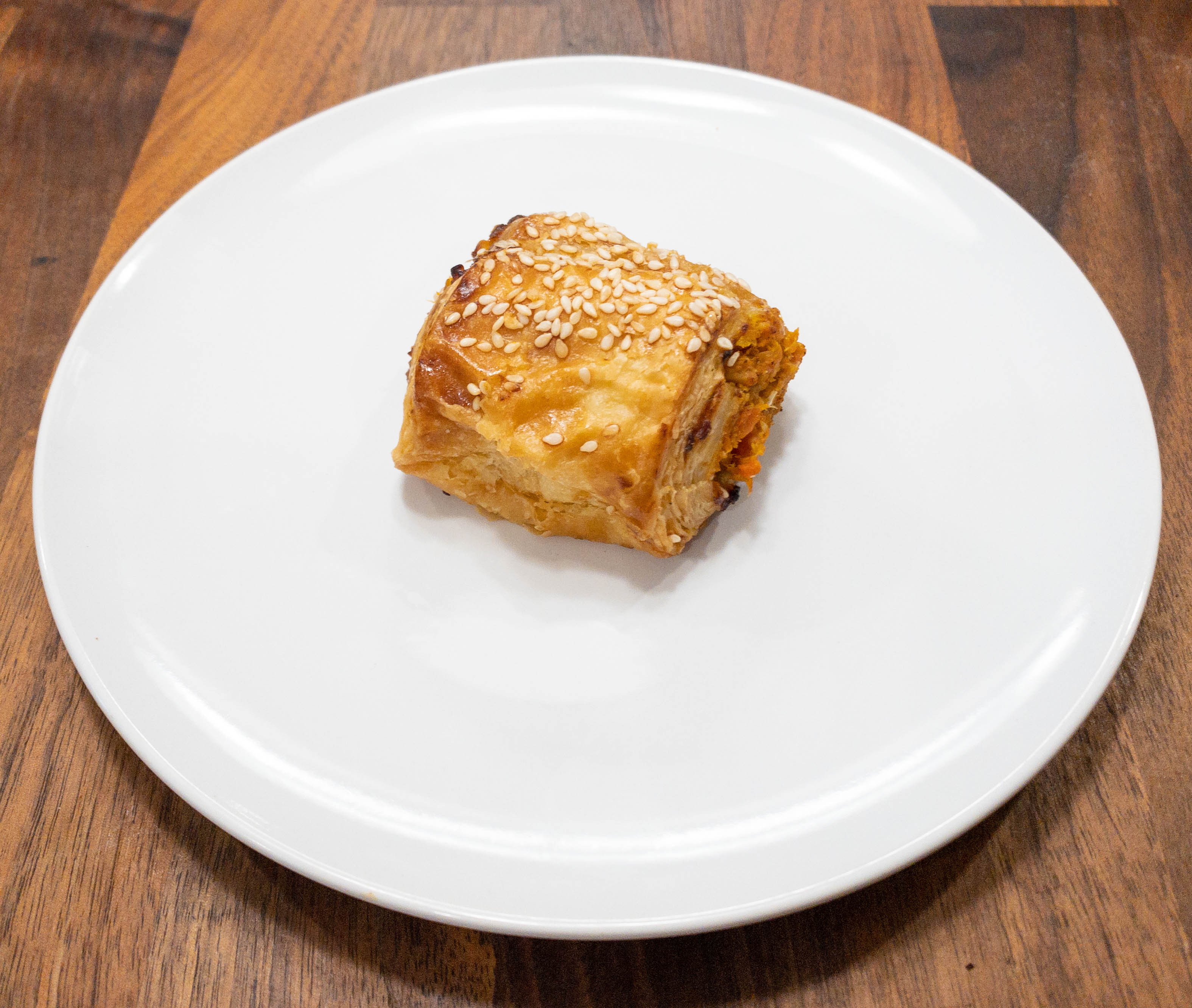 This is what it looks like after reheating!
The puff pastry is flaky on the outside but soft on the inside, which is great as it introduces more texture to kids.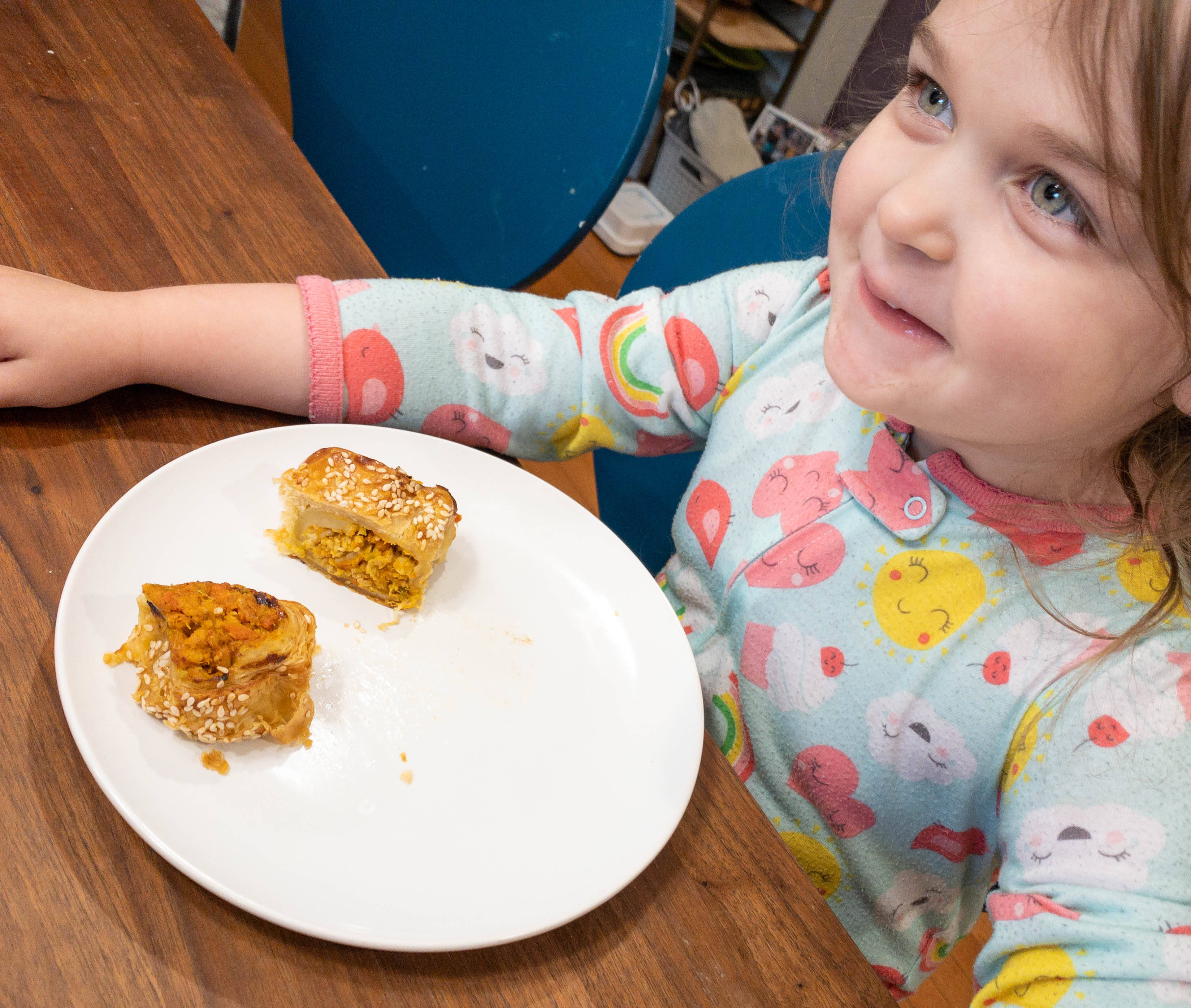 One roll contains protein, grains, and vegetables, and the best thing is that it's tasty. This one is another hit with my daughter!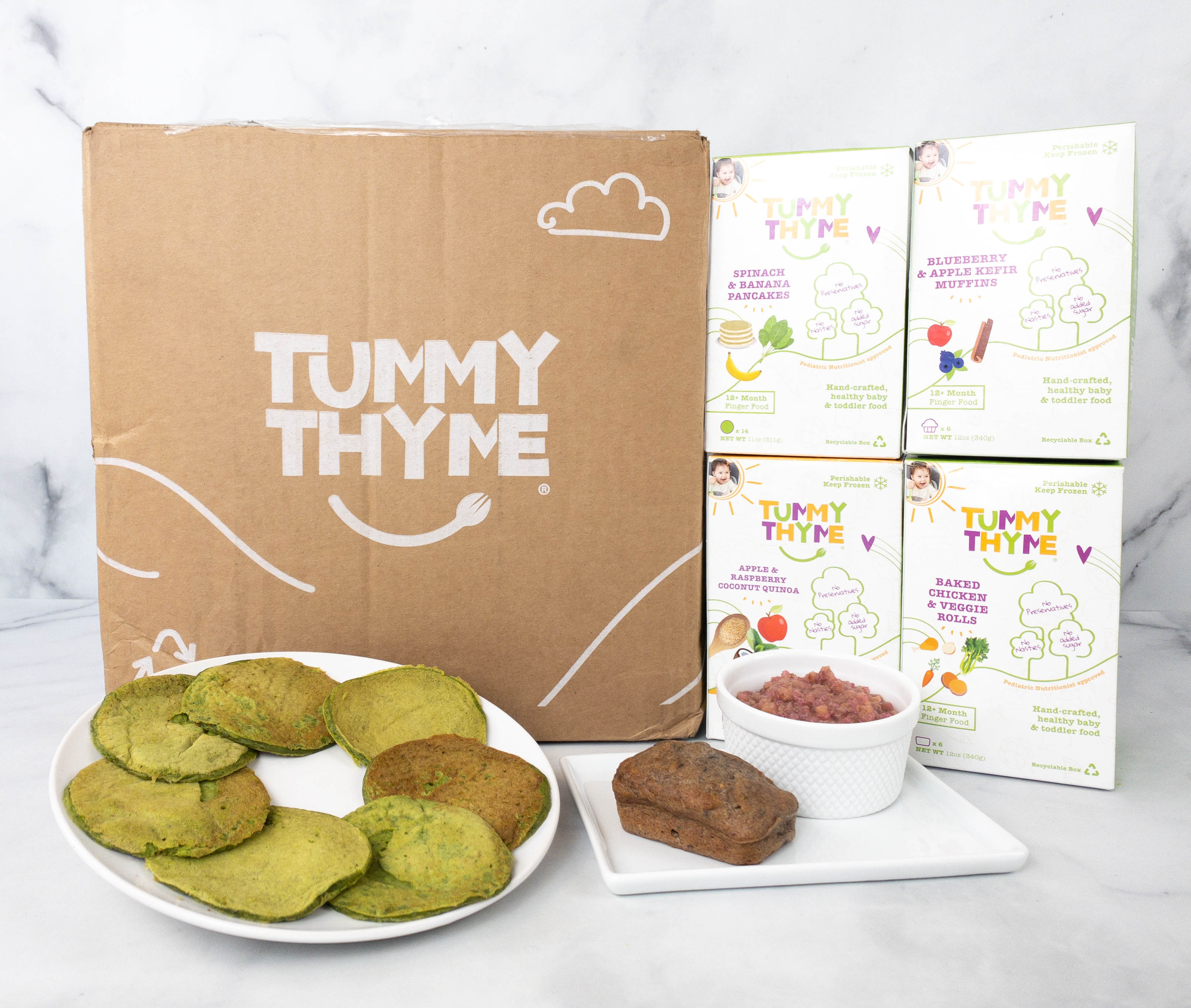 Tummy Thyme is a great meal subscription for kids especially if parents don't have the luxury of time to prepare healthy meals everyday.  Whether you have a child that's younger than the other(s) or just one, it will also save you from frustration over making multiple meals. They make sure that the consistency of the food they offer is appropriate for children's age and readiness, which includes puree, textured, chunky, and finger food. Everything is also made with organic ingredients and none of the nasty stuff! My daughter's toddler and preschooler box includes mostly finger food such as spinach and banana pancakes, blueberry and apple muffins, and tasty chicken rolls. There's also a fruity compote, which was really filling because it contains quinoa. Of course, these kid-friendly meals were quick and easy to prepare. Most of them can be heated in the microwave, so they're really convenient! They are definitely crafted with love and attention to kids' needs.
One of the things we really loved is that the food philosophy here was close to our own, with flavors and approaches to food that we'd serve as a regular meal, but with the appropriate nutrition, texture, and ingredients for younger kids. I personally tasted all of this food and it was great – but with less sugar, salt, and seasoning than we'd use for adult meals. The meals we didn't review here sound equally delicious: chicken mushroom oregano bites, a comforting shepherds pie, risotto with squash, parmesan & rosemary, grass-fed beef & ricotta meatballs with risoni, butternut squash mac n' peas. This is comforting, classy food for kids, and not "kid food!"
What do you think of Tummy Thyme?