Personalized recipes for your dog's best life.
Tailored Pet Nutrition has great deals for new subscribers to their dry dog food subscription personalized to your pup!
The meal of their dreams. Priced for your reality. We believe quality shouldn't have to come at a cost. Our recipes are health-first, lick-the-bowl-clean delicious, and always fairly priced.
Get 50% off + FREE carbon-neutral shipping on your first subscription order! Use the coupon code TAILORED50 at checkout!
Get 50% off + FREE Shipping at Tailored!
OR Get 20% off + FREE Shipping with one-time purchases! Use the coupon code TRY20 OR use the coupon code SAVE10 to get $10 off SITEWIDE + FREE Shipping!
Tailored Pet Nutrition is a subscription that delivers personalized kibble recipes for dogs. Upon sign up, you just have to answer a quiz for your pup's health profile, including age, size, and activity level, as well as ingredients that you'd like to avoid. From the results, they would recommend a recipe and send it to your door along with feeding instructions. You can decide how often you'd like to receive your order, and you can change or cancel at any time. The price depends on your dog's personalized plan, it could range anywhere from $26 per month to $54 per month. Read the Tailored Dog Food review to find out all the details of this subscription!
Tailored's dog food is safely cooked in the USA in qualified facilities. Their ingredients are sourced from trusted producers and include
Delicious, High-Quality Proteins Real, quality proteins like chicken, salmon, bison and lamb are packed with essential nutrients to help support healthy muscles and strong bones.
Farm-Grown Veggies & Fruits Nutrient-rich fruits and veggies like sweet potatoes and butternut squash are excellent natural sources of fiber, essential vitamins, and antioxidants.
Wholesome, Healthy Legumes Protein and fiber-rich legumes, like lentils and peas, are naturally gluten-free and help support healthy energy levels and digestive health in your pup.
About Tailored Pet Nutrition:
We're a group of pet nutrition experts and pet parents who spent decades (centuries, in dog years) studying pet health and nutrition. Together, we set out to solve a problem: Every dog has their own unique wellness needs, but with so many overwhelming options in the pet food aisle all claiming to do different things for our dogs, it's difficult to find the one that checks all the boxes.

So Tailored was born — a company that crafts health-first, personalized recipes, delivers quickly to your door, and does all of these things at a fair price.
How it works:
Build a quick profile. You know your dog best. Take 3 minutes to tell us your pup's age, size, breed, sensitivities and wellness goals. Image of quiz question about breed size
We make it personal. Based on the information you provide, we'll personalize an expert-formulated blend for your dog's unique needs and exclude any sensitivities.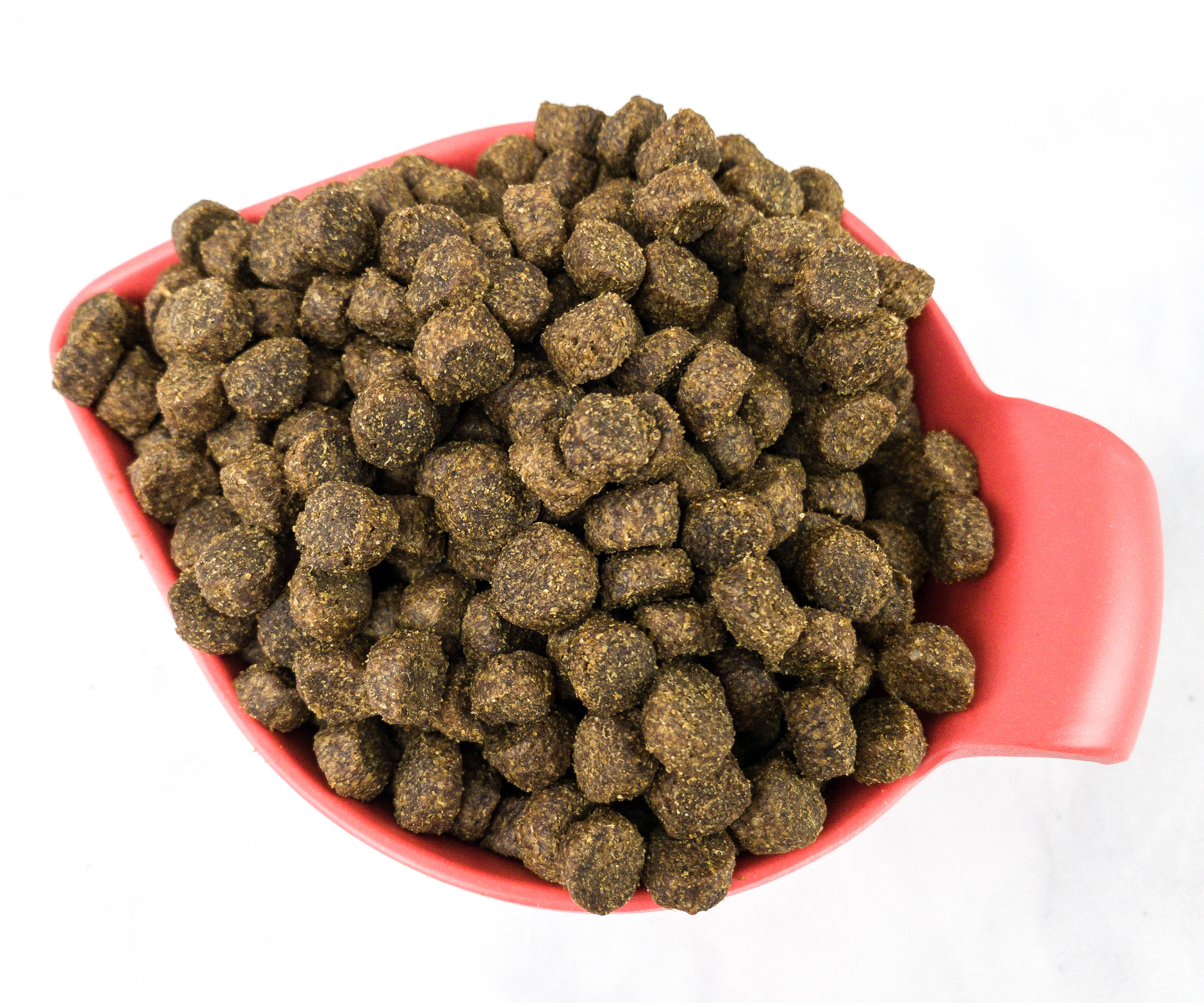 Our dog's food (shown above) is customized just for their small breed size and needs. Big dogs have different needs, and you'll find adjustments just for them including kibble size, and nutrient profiles to maximize healthy mobility, lower caloric density, and lower fat content.
Get fast, free delivery to your door. Get your pup's blend delivered as you need it or as a one-time purchase. With our hassle-free subscriptions, you can make changes or cancel any time.
Yum, guaranteed! Your pup not digging their blend? Our team of well-trained pet nutrition experts will help get it right, or your money back.
Tailored has partnered with Terracycle to provide free recycling for Tailored's packaging. Plus, the scoop (included in all first time orders) is both biodegradable AND dishwasher safe – it's 100% bamboo!
Are you getting Tailored Pet Nutrition?