We have July 2021 spoilers for Stickii's sticker subscription clubs! Join by 5PM Pacific on the 7th!
Happy July! We hope you're all drinking lemonade and enjoying the sunshine as much as you can. This month's packs are a perfect blend of down-to-earth and fantasy so you can give your brain the vacation it deserves while still getting your s*** done:  our Cute theme "Daily Kawaii" is your everyday life but way, way cuter, our Vintage theme "Far Away Realms" will give your mind the break it deserves in magical fantasy realms, and our Pop theme "Plants & Noods" is somewhere in-between, bringing you leafy, noodly worlds with just a touch of the surreal.
July's Cute Pack features the cutest of the cute making the mundane tasks of everyday life into something extraordinary:

🥧 Get ready for some seriously cute baking with some seriously cute animal friends by @houkiboshii

🧼 Clean your home until it's sparkling clean with these happy fox pals from @jinyjinjin

🌊 Have some tea and toast with these stunning boba girls of waves and night created by @fresh_bobatae

✏️ Working from home would be twice as nice with these adorable bunny and kitty pals by @pocket.peaches around to kawaiify the desk!

🌱 Stay clean with @pusheen ! Though they make their fair share of messes, there are certainly no cuter kitty cleaners than @pusheen and her friends.

🐯 An adorable tiger stamp from @eriliselee doing what adorable big cats do – being adorable. In stamp form.
Vintage Pack – Far Away Realms
Pack your sword and your spellbook and come adventuring with us in July's Vintage Pack:

🖼️ You could imagine a whole story of your own looking at these fantasy court portraits with historical influence from @septemberwildflowers

🏹 Hunt with mysterious creatures from @ariafawnart that are far away lands unto themselves, along with a mini mystical stag notebook.

🌿 Some call them faeries, some kings and queens of nature – no matter what you call them, the tails and tentacles and antlers of these magical folk from @martas_reveries are stunning and powerful.

🐉 Dragons and deer and owls, oh my! These wispy creatures from @spmlaw look as if they were plucked directly from a fairy tale daydream.

🔮 Stories strips in silhouette from STICKII will instantly transport any project to the land of once upon a time.
July's Pop Pack is for ramen-loving plant parents everywhere:

😼 Cat-girl ramen monsters. If that doesn't make you want this pack? Nothing will. @cellsdividing giving us absolutely everything we ever wanted.

🌵 When it's not enough to have plants and ramen, you need to BECOME the plants and ramen. @naoshisunae 's surreal girls are sublime.

🍳 Are these sentient noodles from @yanyancandyng keeping their own houseplants? If so, they're doing better than we do.

🐰 We really want to live in @niniwanted 's world of animal florists and ramen shop owners, don't you?

🐟 The serenity radiating off @rebeccaterborg_illustration 's cool girls eating ramen, surrounded by lyrical plants is *astronomical*.

🍜 This month's stamp is of the only kind of noods we feel good about sending you. 😂
Stickii Club is $10 per month, and has 3 subscription themes you can choose from – Cute, Pop, and Vintage!
Check our Stickii Club reviews to find out more!
About Stickii Club: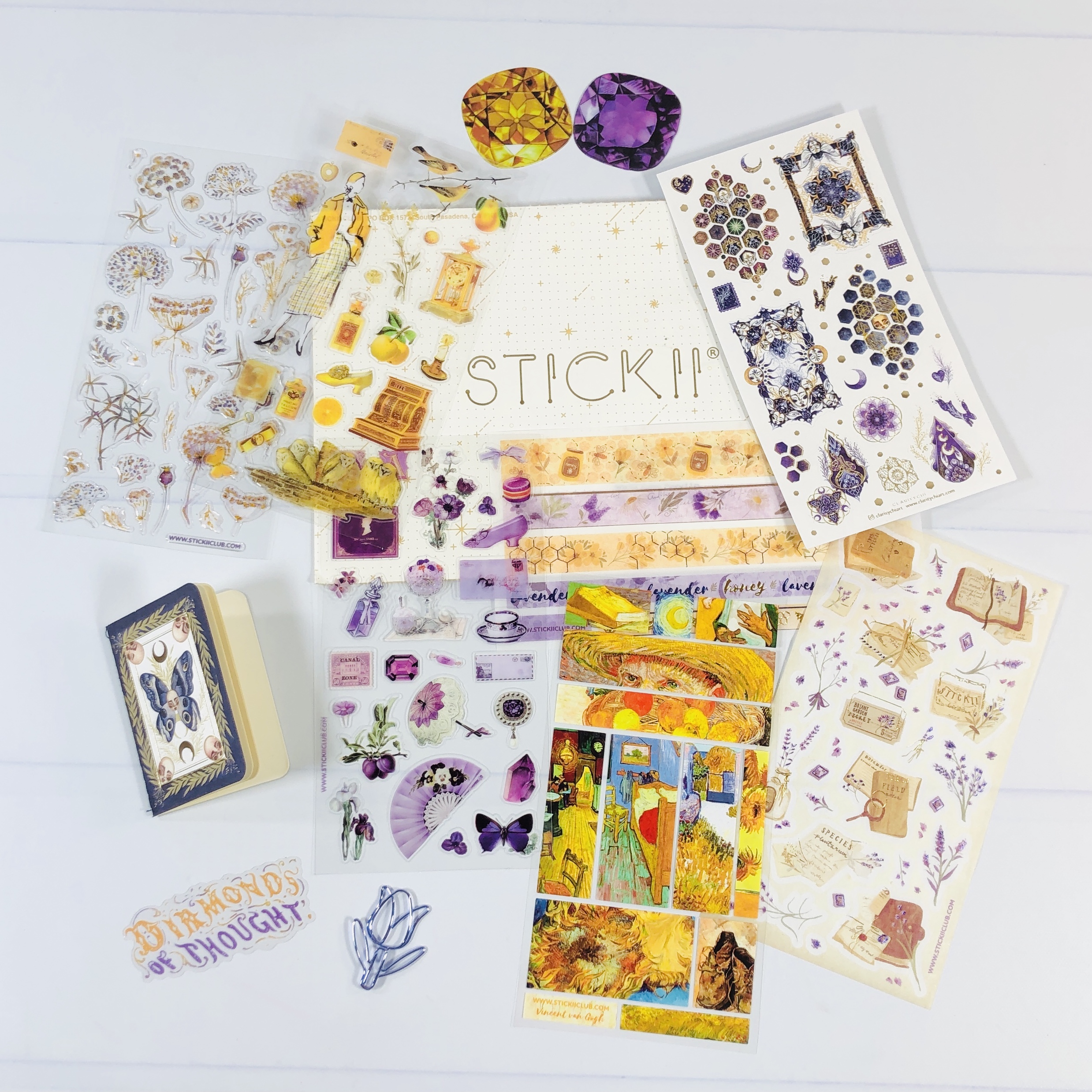 At STICKII, we're all about creating beautiful stickers for you to love that are more like miniature works of art. We have different subscription options so you can choose your packs based on which theme you like and get a cohesive set of stickers and stationery that is perfect for decorating your journals, cards, planners and anything else!