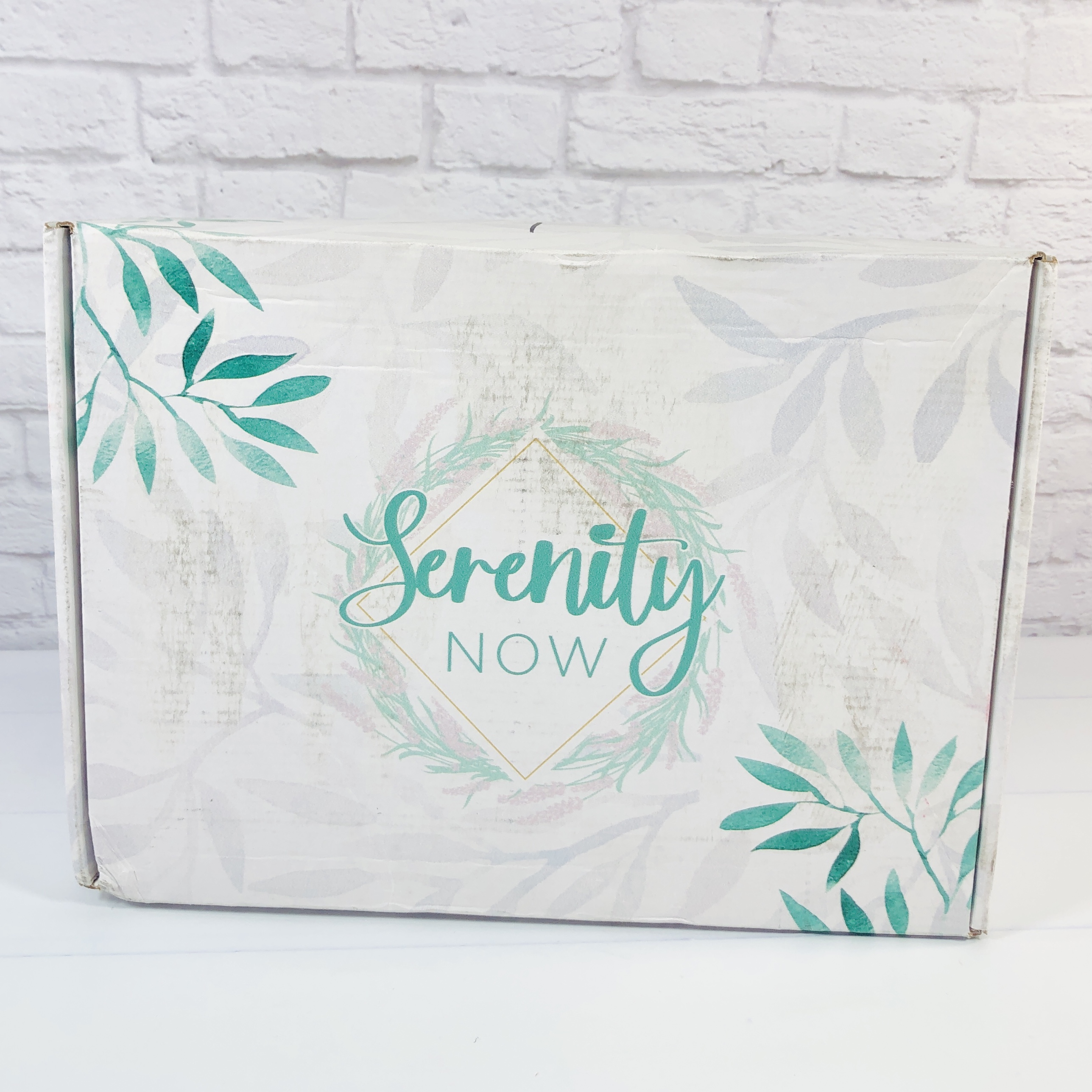 Serenity Now is a quarterly subscription that sends 6-10 items that contribute to relaxation and help soothe anxiety. The items sent may include interactive mood-boosting activities, self-care items, motivational books, essential oils, and more to bring serenity into your life. Serenity Now is $54.95 a season or save a bit by subscribing for a year's worth. Shipping is free to the US, $20 to Canada. Boxes will ship in March, June, September, and December.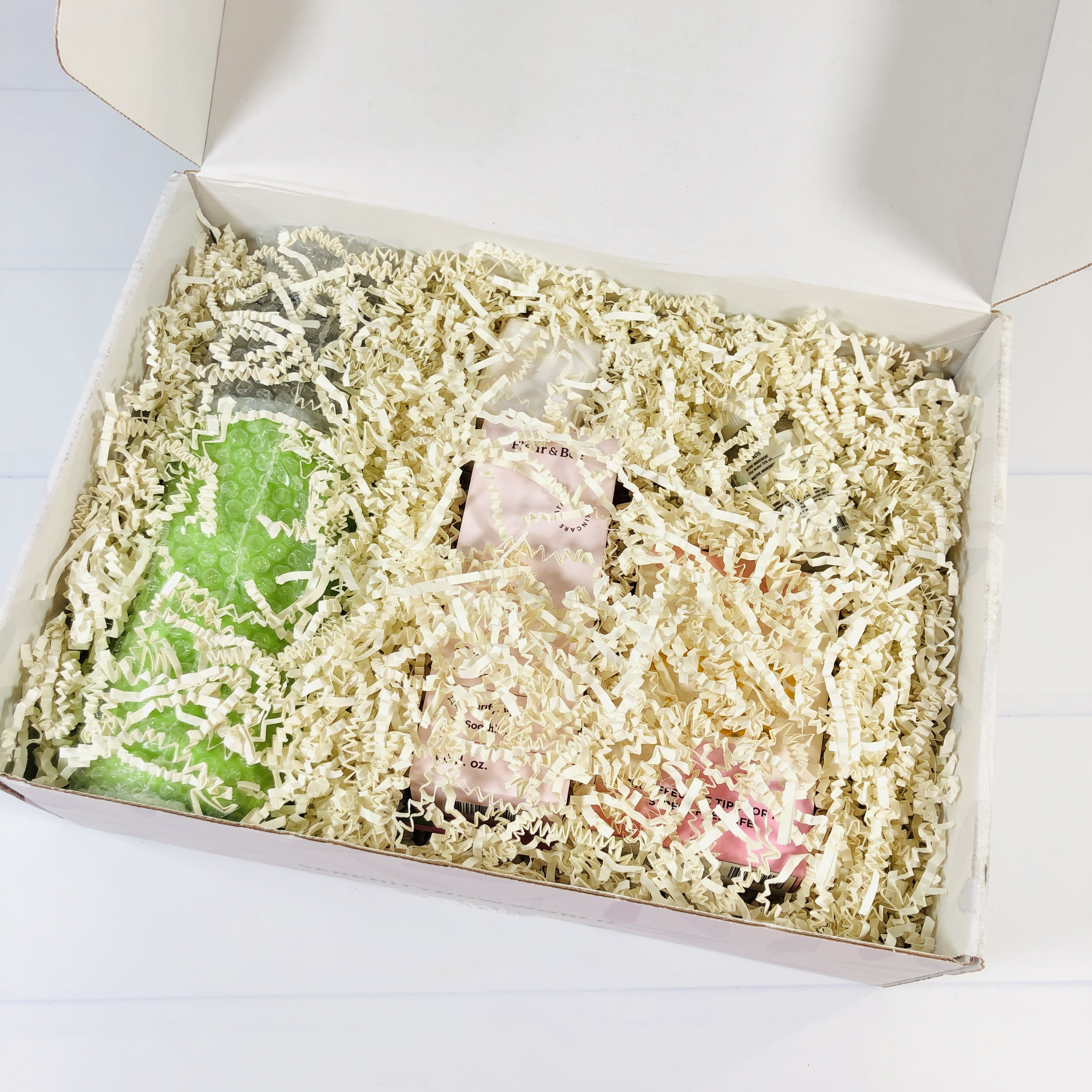 This is my very first box from Serenity Now and I can't help hearing George Costanza's dad's voice every time I read those words! My items were tucked into shredded paper squiggles and everything arrived safely to my mailbox.
I received a card that says sharing box pictures on social media may result in a surprise gift.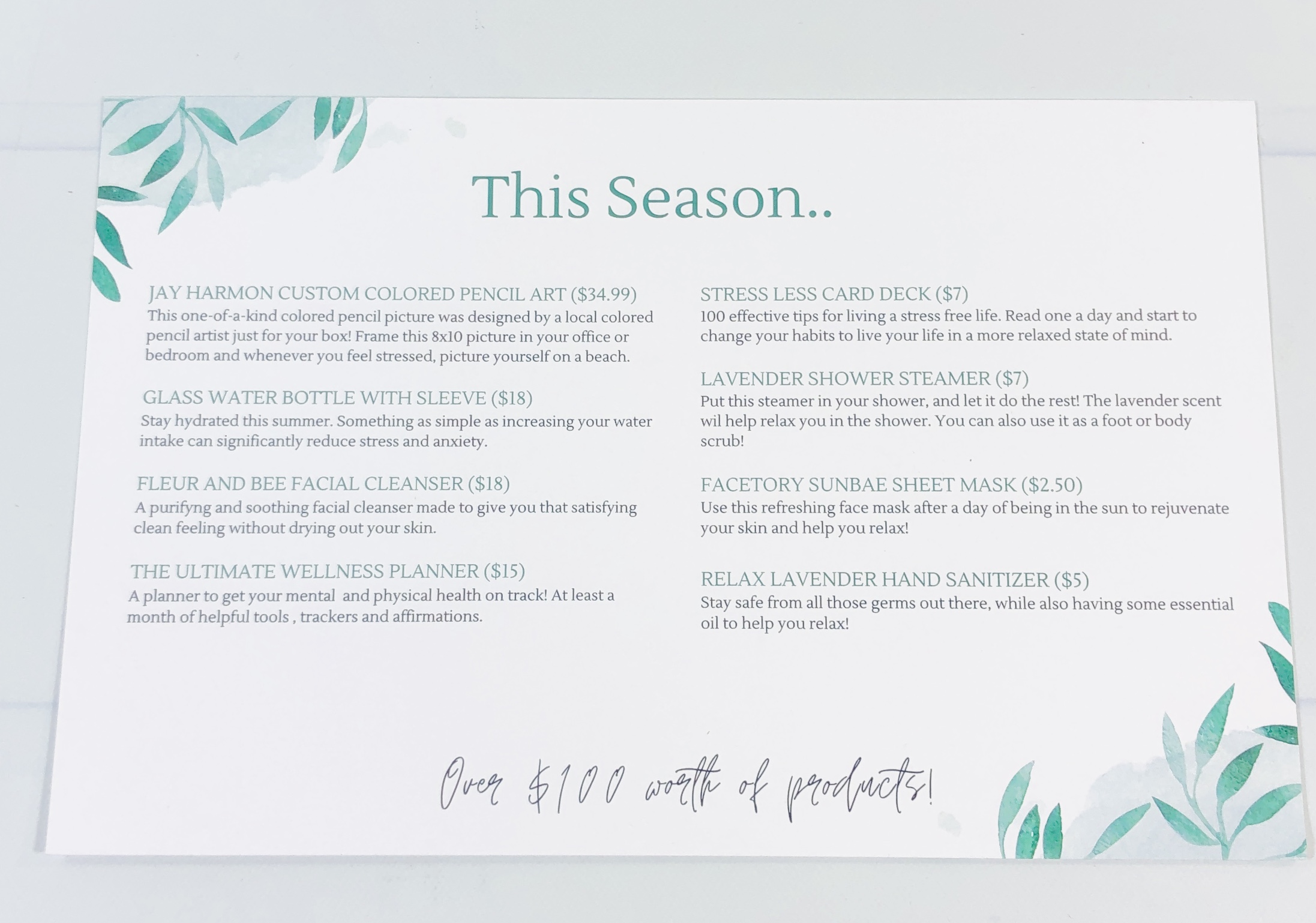 Here are the items in this season's box!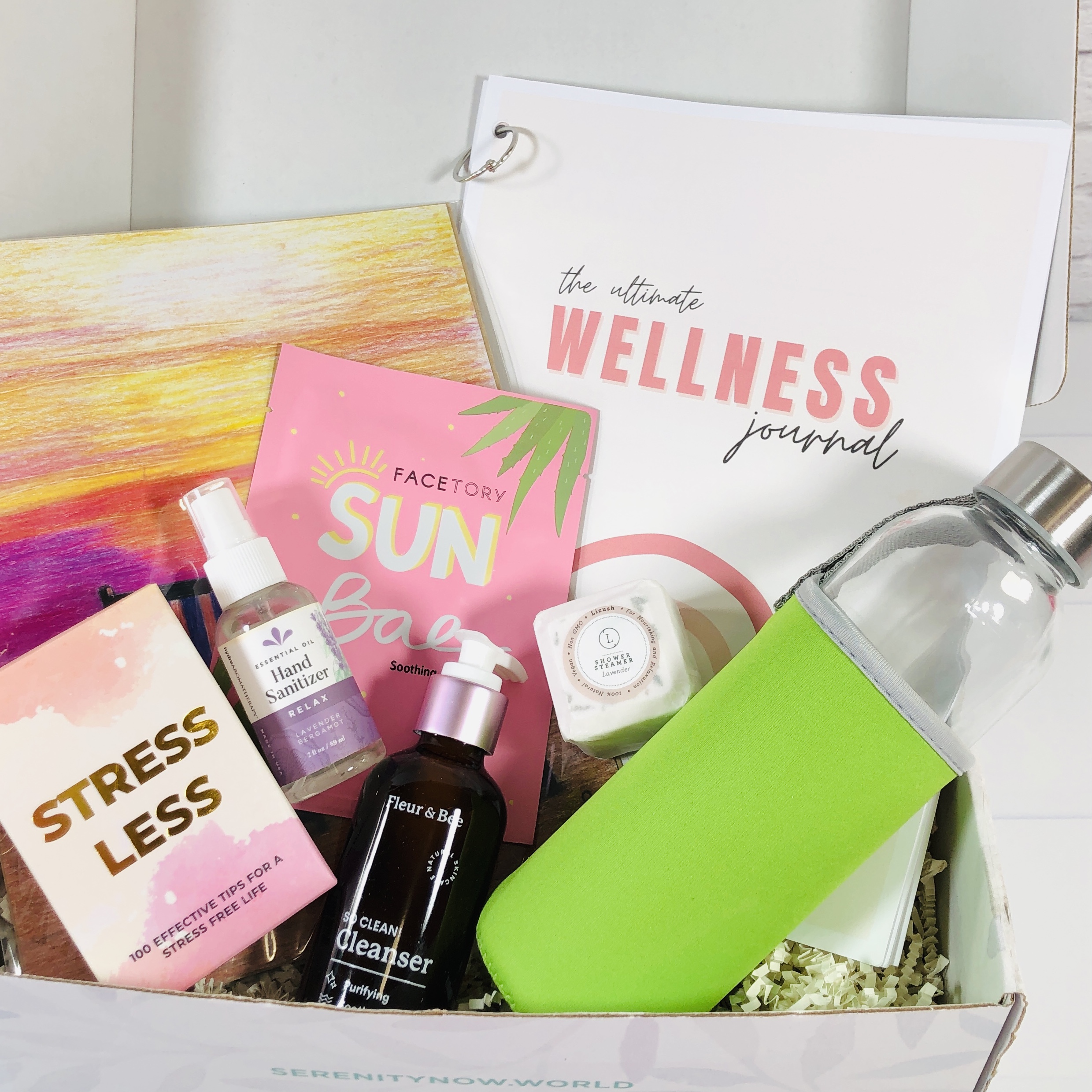 Everything in my box!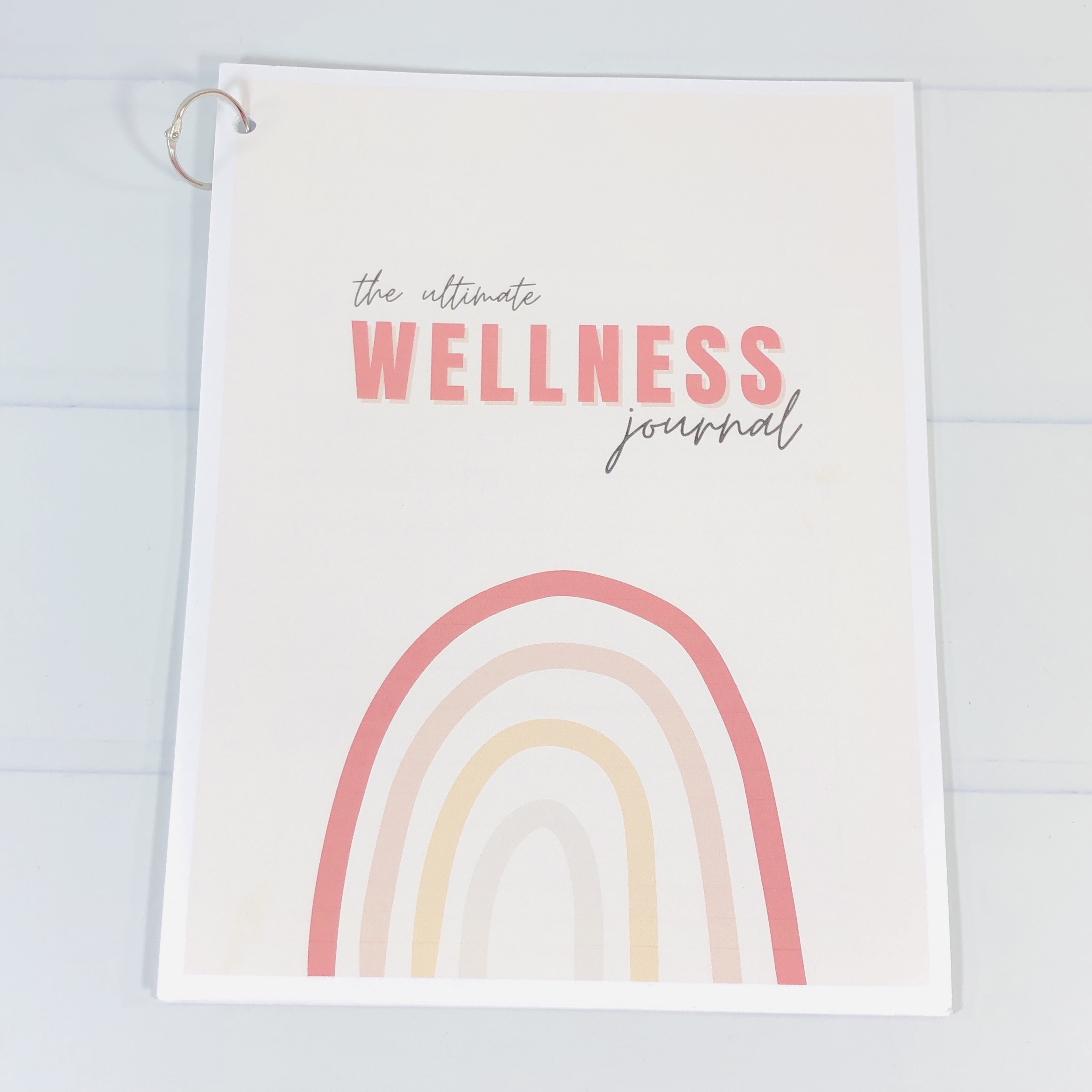 The Ultimate Wellness Planner by Pretty Pink Planners Co. ($15 listed value, find the digital download here for either $4.60 or $1.38 if it's still on sale) is a wellness planner that is already printed out on high quality paper and it is secured with a binder ring.
If you suffer with anxiety or have trouble taking care of your mental and physical health, then our Self Care Journal is going to make your day! Designed with anxious women in mind, it allows you to plan our self care in ALL areas of your life (because we know that living with anxiety is stressful enough).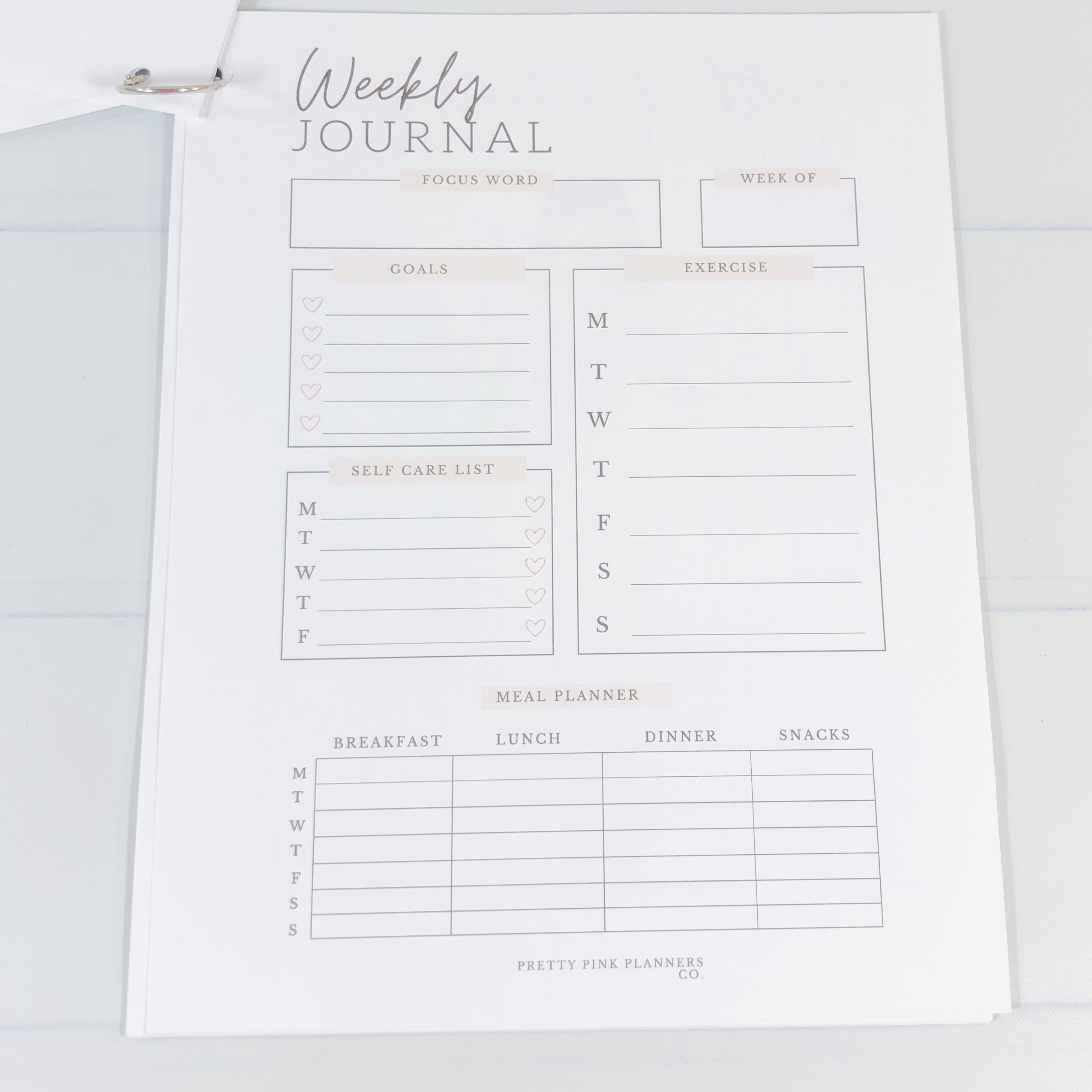 There are 14 pages of trackers and places to write down goals and all kinds of info such as medications, sleep tracker, and a bucket list. An additional 10 pages have an affirmation on them. This is a helpful way to focus on the self and on what changes you can make to get you to your wellness goals. Measures 11″ x 8.5″ and could also go into a binder, I think that might make it easier to use.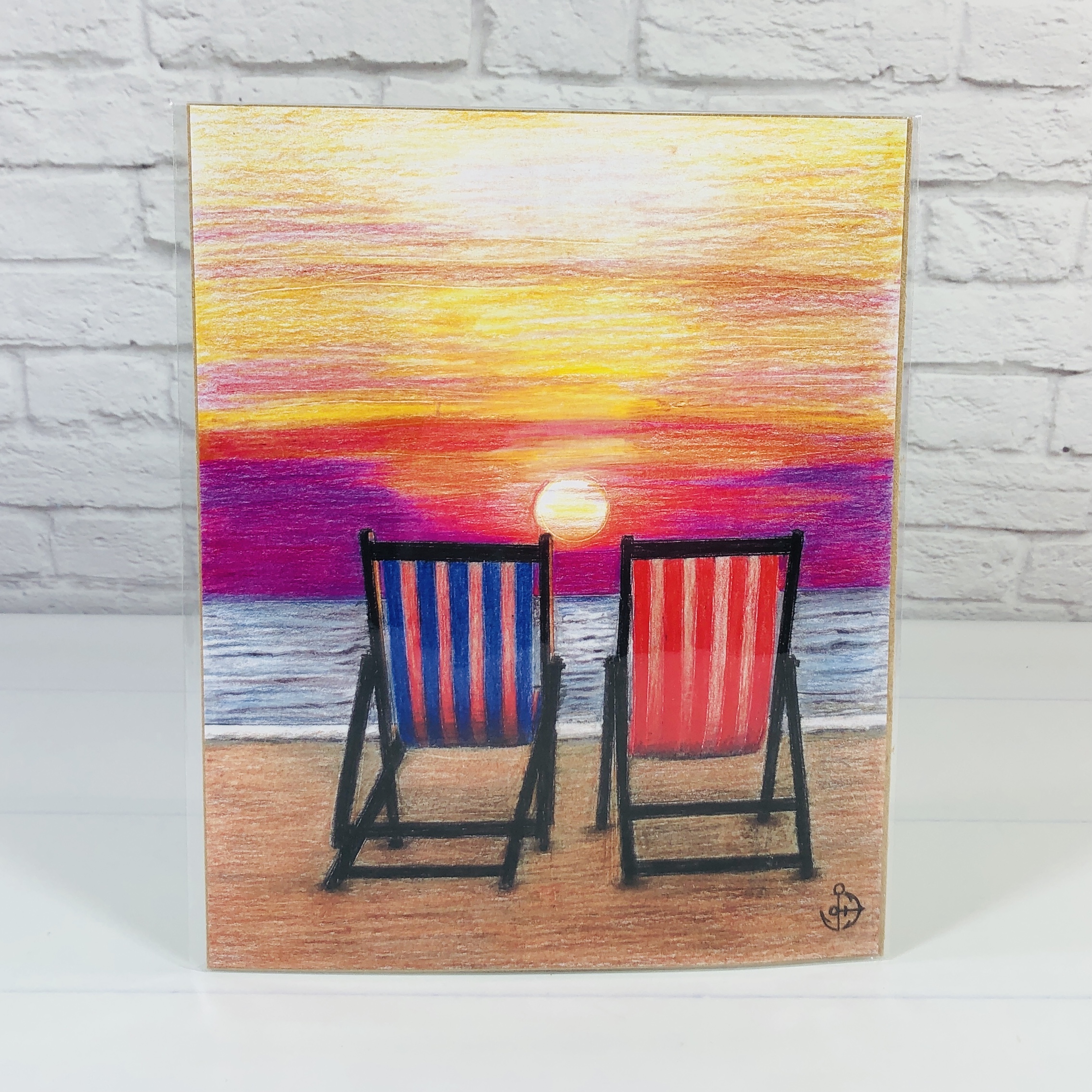 Jay Harmon Custom Colored Pencil Art ($34.99 listed value) We received a print of a pencil drawing that reminds us to stop, take a deep breath, and imagine ourselves at the beach as the sun goes down. It measures 8″ x 10″ and is suitable for framing.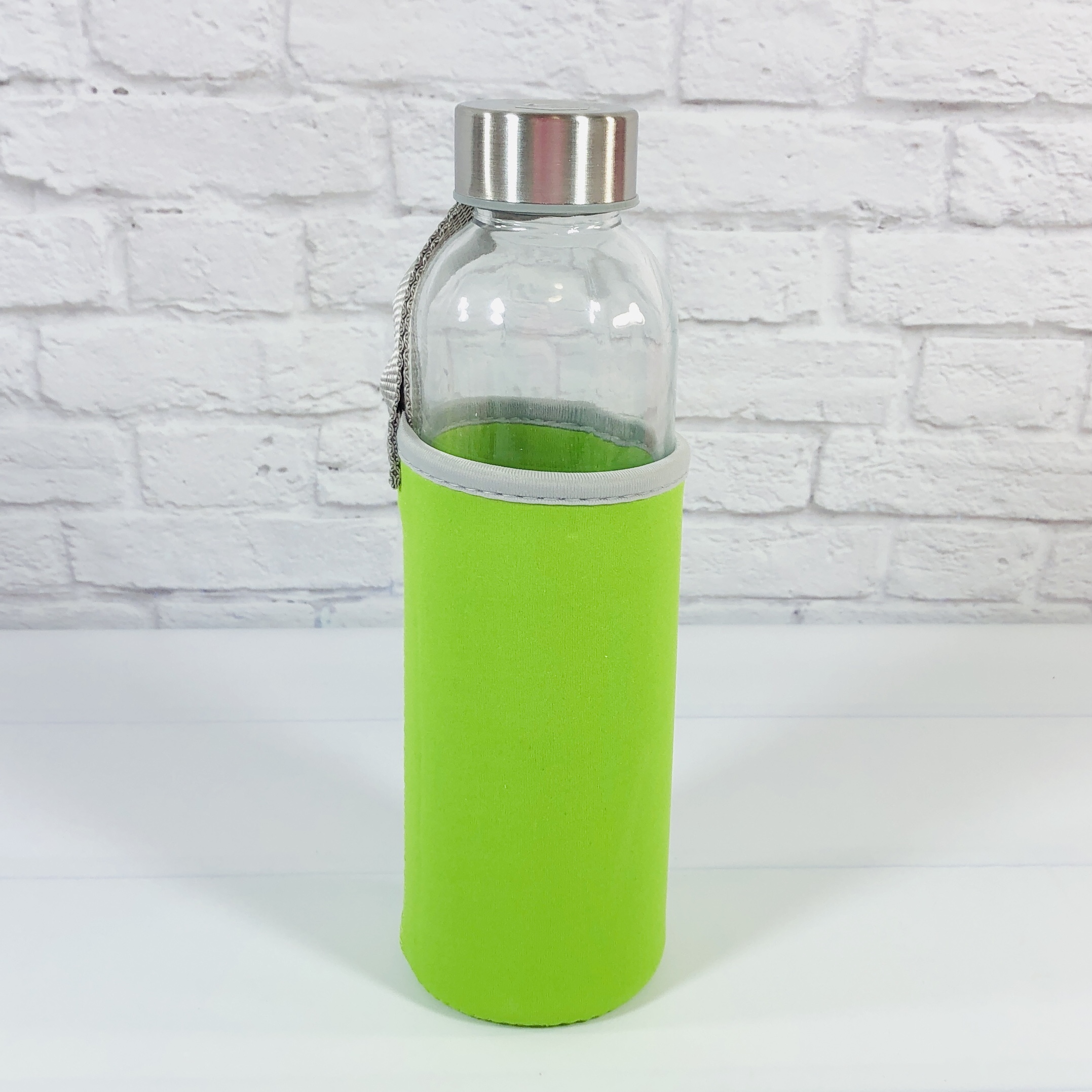 Yeboda Glass Water Bottle With Sleeve ($3 — the listed value is $18 but both Amazon and Yeboda sell a set of 6 bottles for $18 and $12.99 respectively, so the listed value was incorrect) I really only drink out of glass so I am happy to add a travel-friendly glass water bottle to my collection.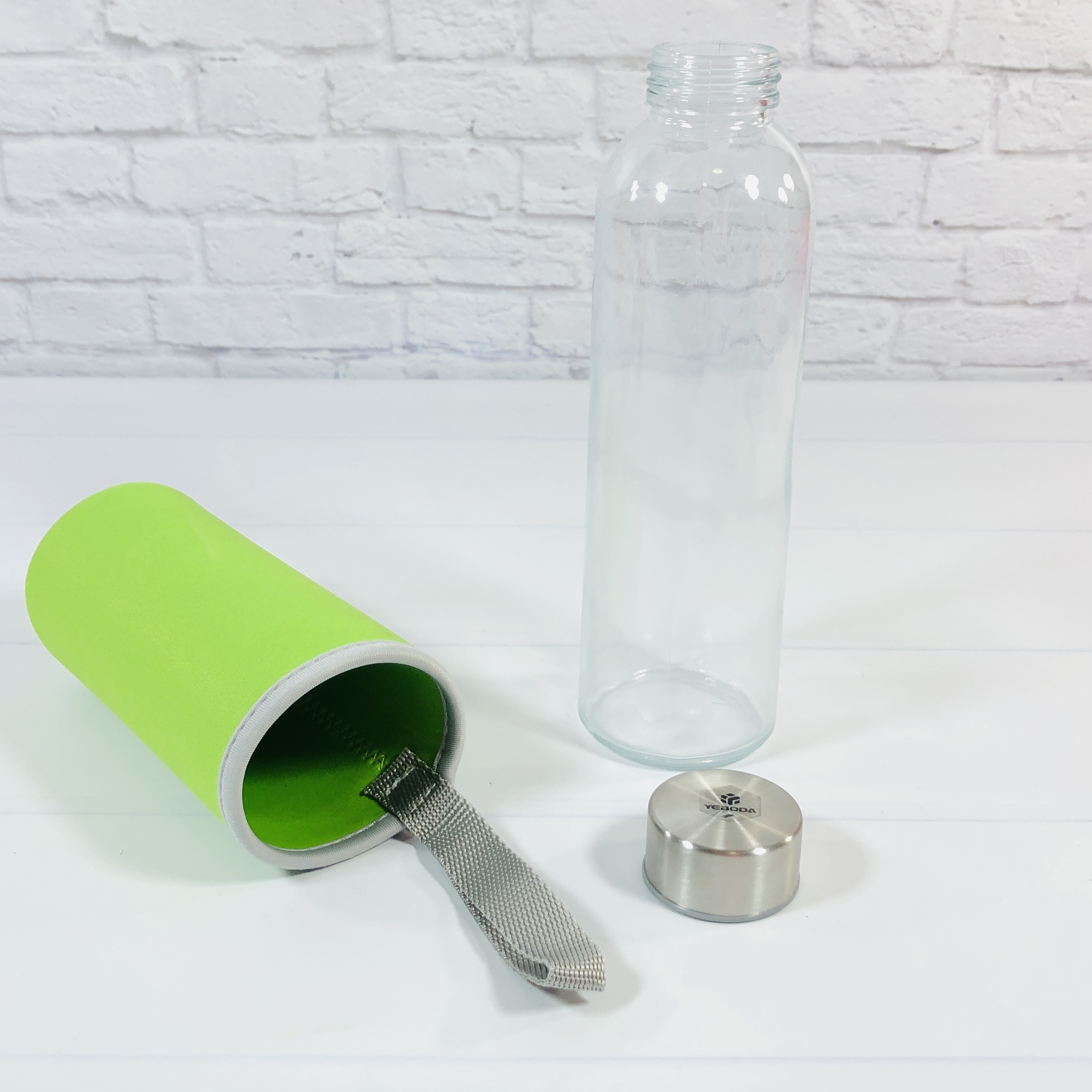 The 18 ounce bottle comes with a neoprene sleeve to hopefully keep it intact should it fall. It has a metal cap with a silicone gasket that may need to be removed to be cleaned. These are always kind of hard to wash so I only use them with water but you could fill it with other beverages if you want.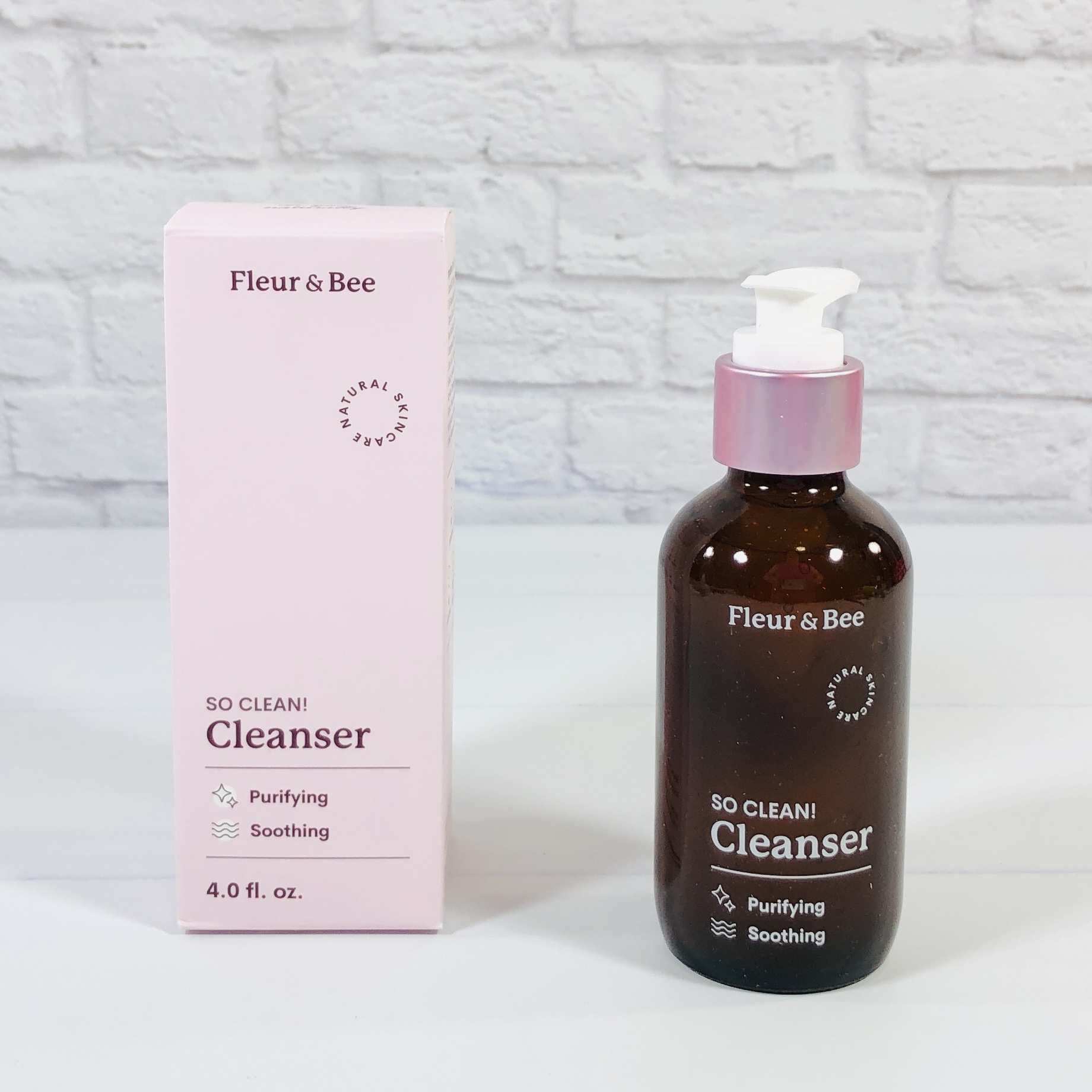 Fleur & Bee So Clean! Cleanser ($18) I've tried Fleur & Bee before and am happy to get this cleanser! It foams but isn't drying and I appreciate that it doesn't have any added scent.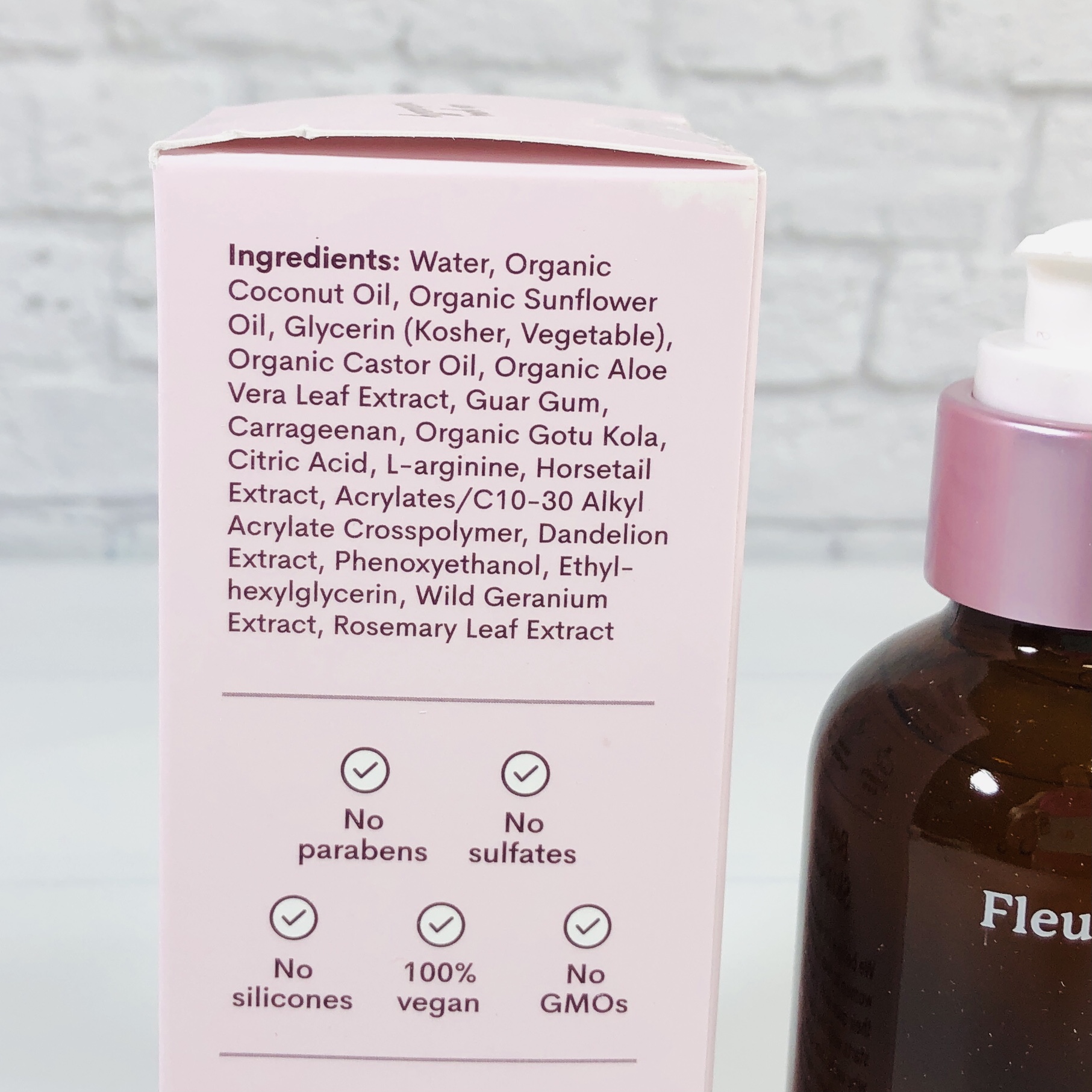 Coconut, sunflower, and castor oils head the ingredients list and there's glycerin to keep skin moist and it also has aloe, gotu kola (also known as cica), and rosemary. I used a full pump and that was probably way too much, but it was pretty sudsy and I felt like it removed all of the stuff from my face, no double cleanse needed (I didn't use it near my eyes).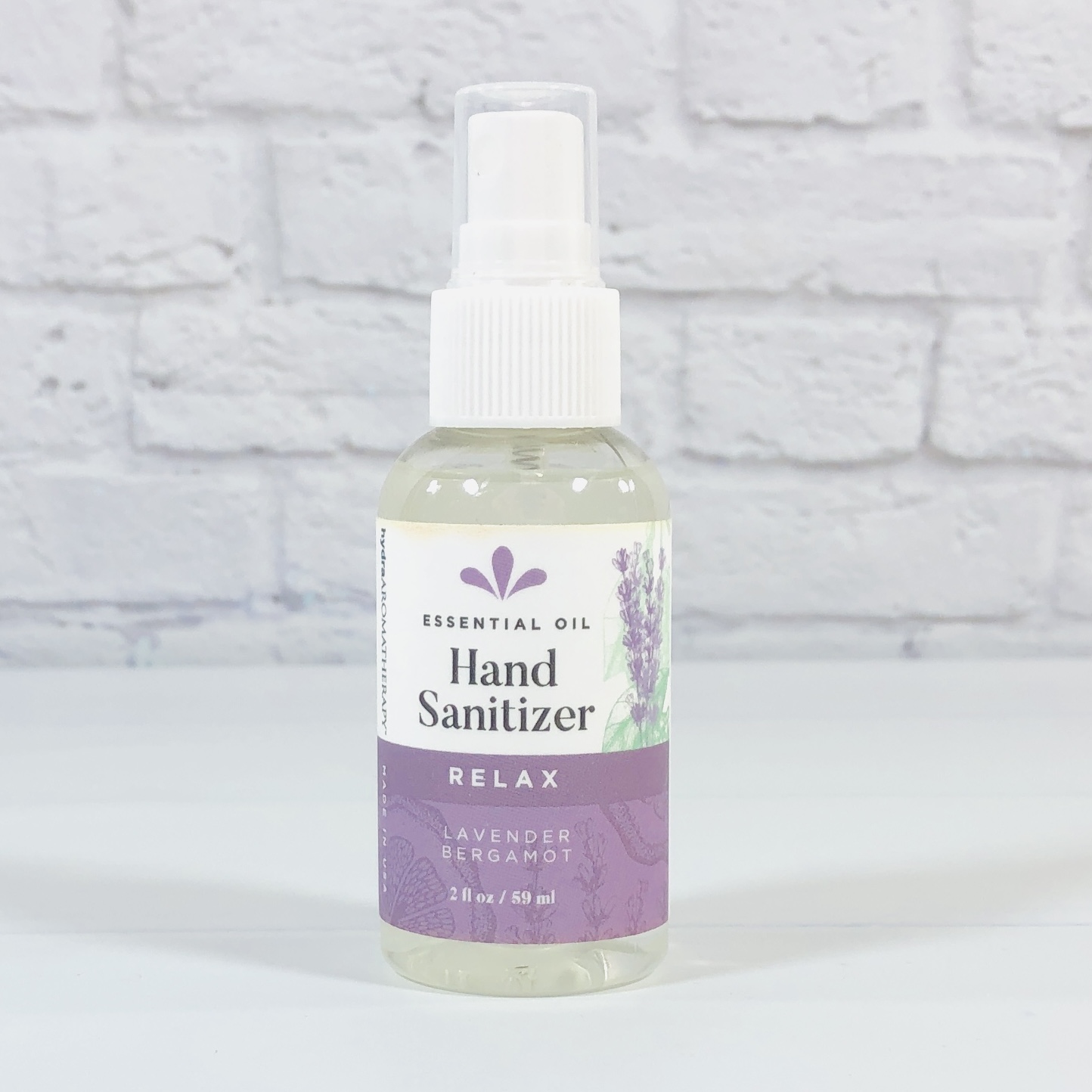 hydraAROMATHERAPY Relax Lavender Hand Sanitizer ($5) Even back in BC times (Before Covid) I carried hand sanitizer with me at all times and I have no plans on stopping now.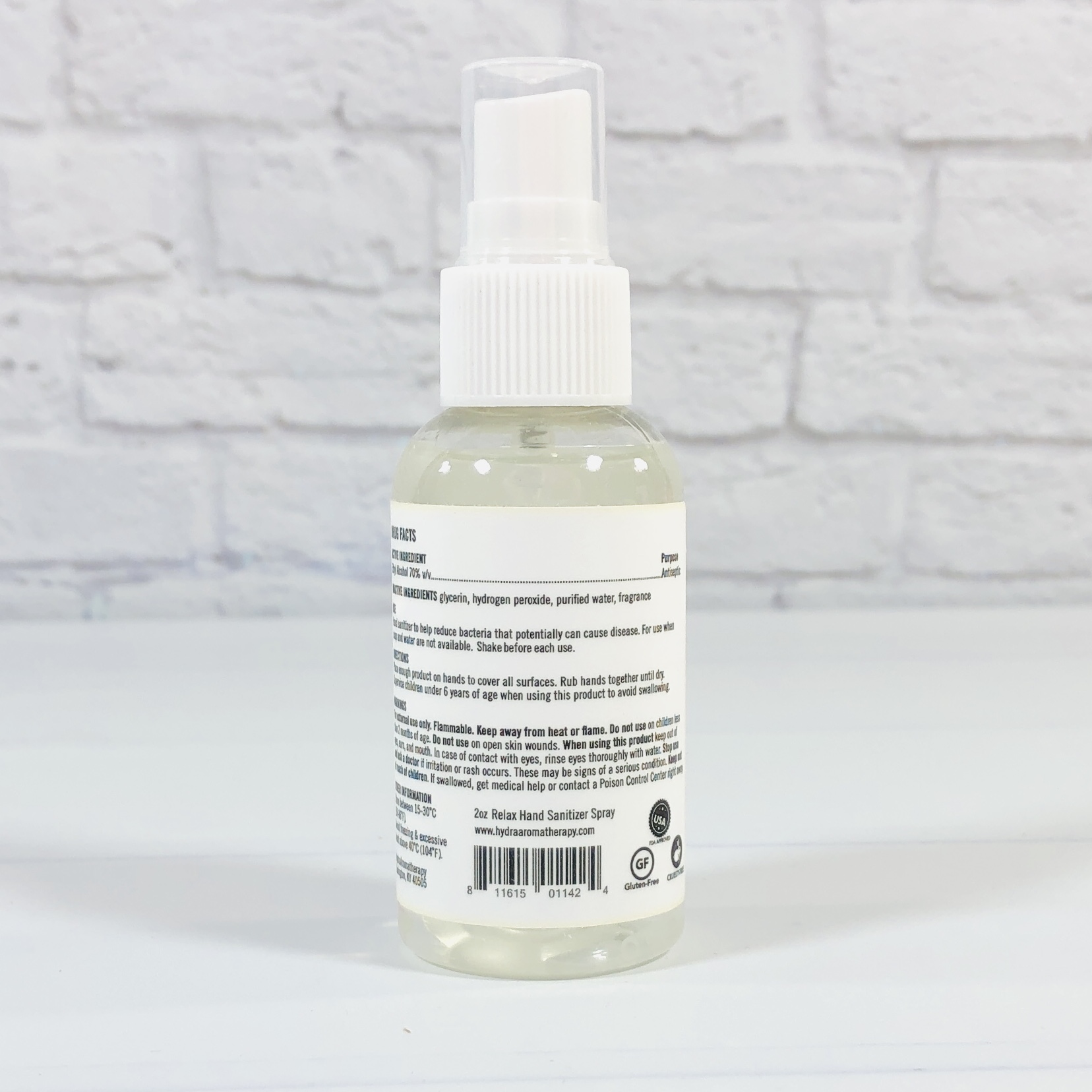 Here we have a spray that starts with 70% ethyl alcohol and the only other ingredients are glycerin, hydrogen peroxide, purified water, and fragrance. According to the brand's website, the fragrance is from lavender and bergamot essential oils and so the scent is natural and not super strong, you won't have a lingering perfume smell like those Bath and Body Works hanitizers leave behind. I sprayed it 2-3 times in my hand and the alcohol evaporated almost instantly, it works quickly!
FaceTory SunBae Sheet Mask ($2) FaceTory has their own subscription box of Korean beauty products as well as their own beauty line (which also happens to come from Korea). This is a soothing sheet mask that is supposed to be perfect for use after a day at the beach. Hey, I just so happen to be going to the beach next month so I am going to stash this in my suitcase to take along!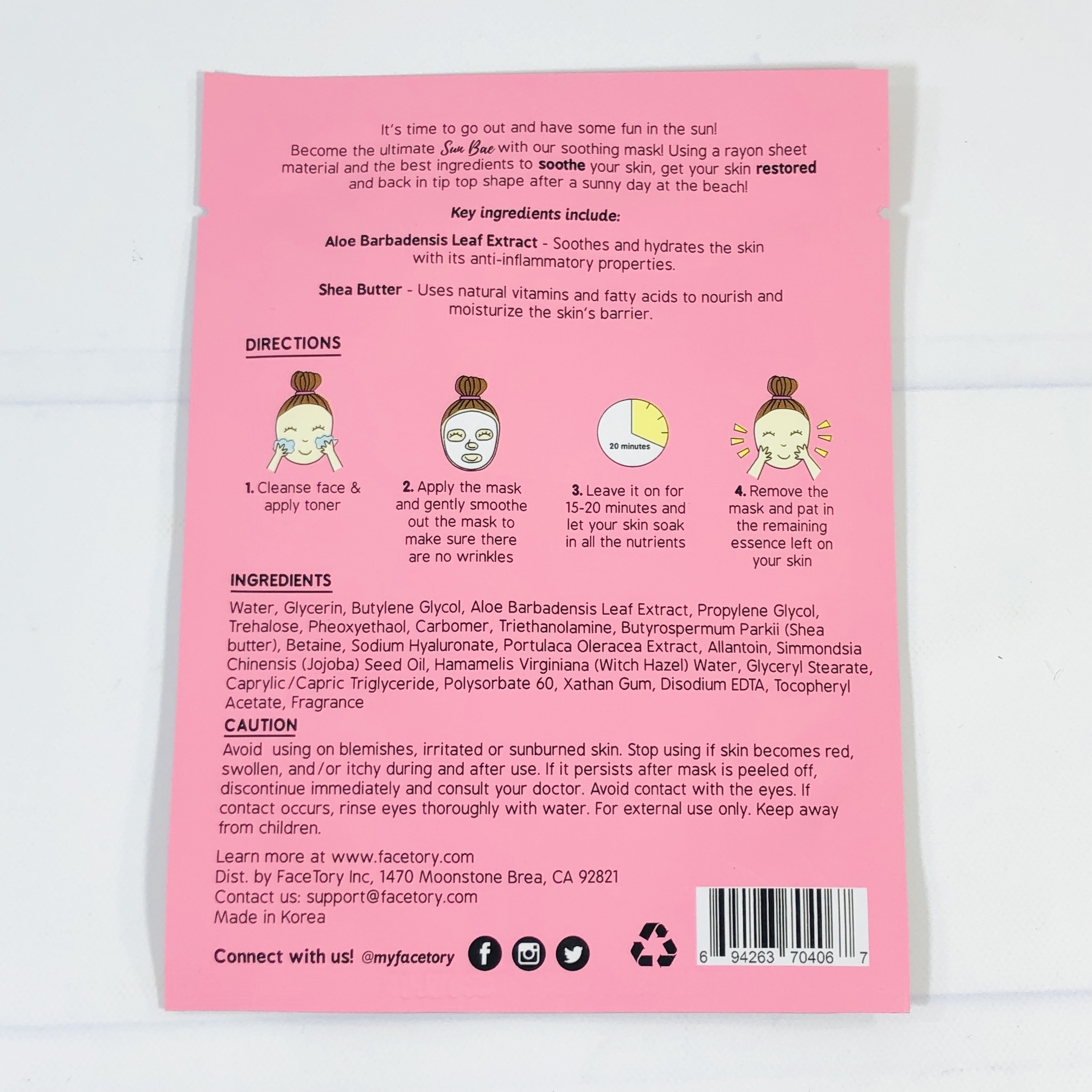 The ingredients include glycerin (such a popular ingredient, cause it helps keep skin moist!), aloe, shea butter, and sodium hyaluronate. I watched their video on this product and it says it's supposed to help treat acne, dry skin, and sunburn but as you can see on the pack above it says to avoid using on blemishes and sunburns so I will make sure to use my SPF and wear a big floppy hat and if all goes well I can use this after my beach day.
Lizush Lavender Shower Steamer ($7, find similar product here) I take a shower every single day and I much prefer shower steamers to bath bombs for obvious reasons.
This one is lavender scented and you can see lavender buds on top. The steamer is made of baking soda and citric acid so it fizzes once it gets hit with water. Epsom salt and olive oil are a couple of the other ingredients and it is scented with essential oils. I placed it in the corner of my shower and it was still intact by the time I finished. It wasn't very strongly scented and in fact I couldn't smell it at all, but be careful, the oils made the shower floor slippery. One of the suggestions was to use it as a body scrub but it was too rough for my body, but I bet it would be perfect for the bottom of the feet.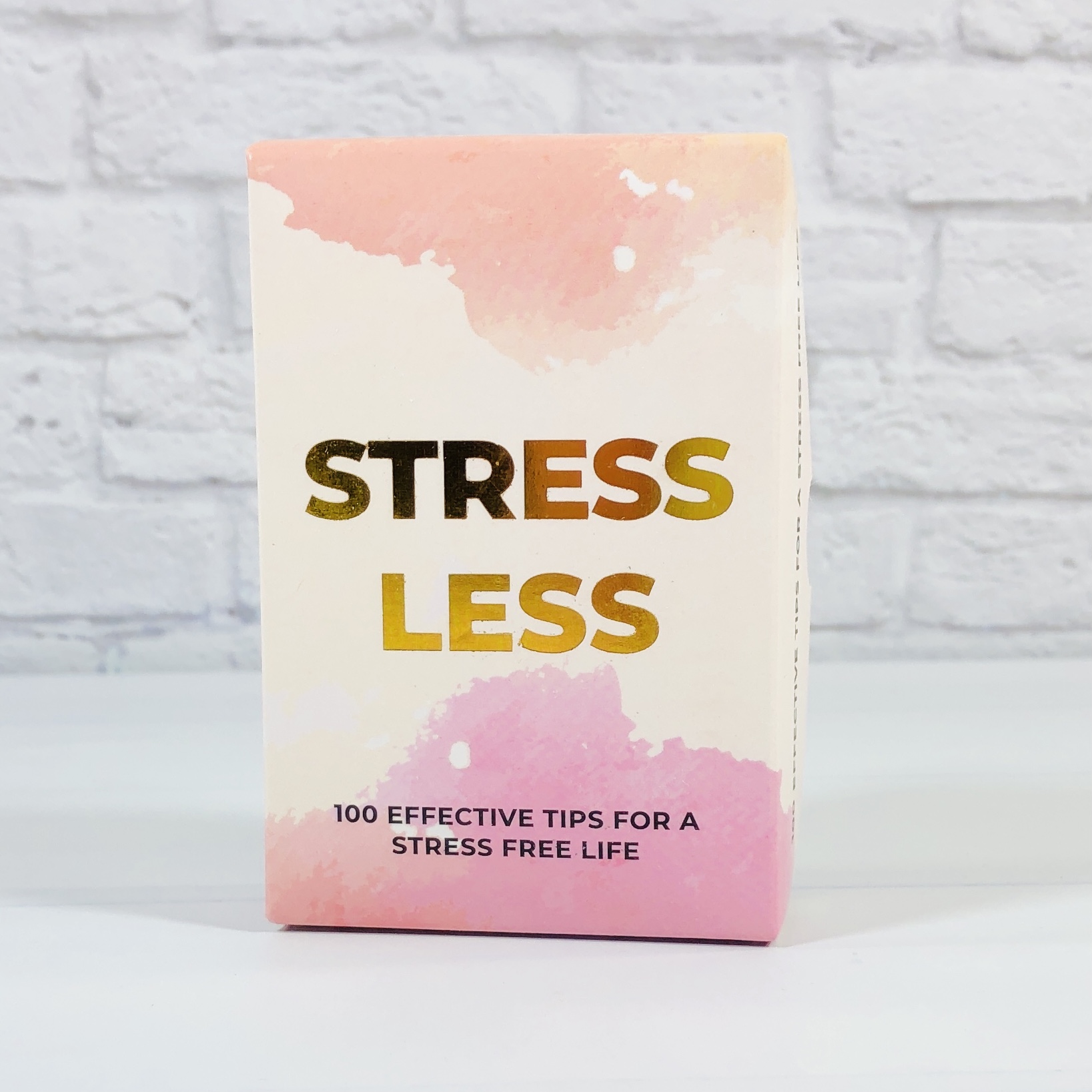 Gift Republic Stress Less Card Deck ($12.49) There are 100 cards in this box and you can draw one a day and then complete the activity.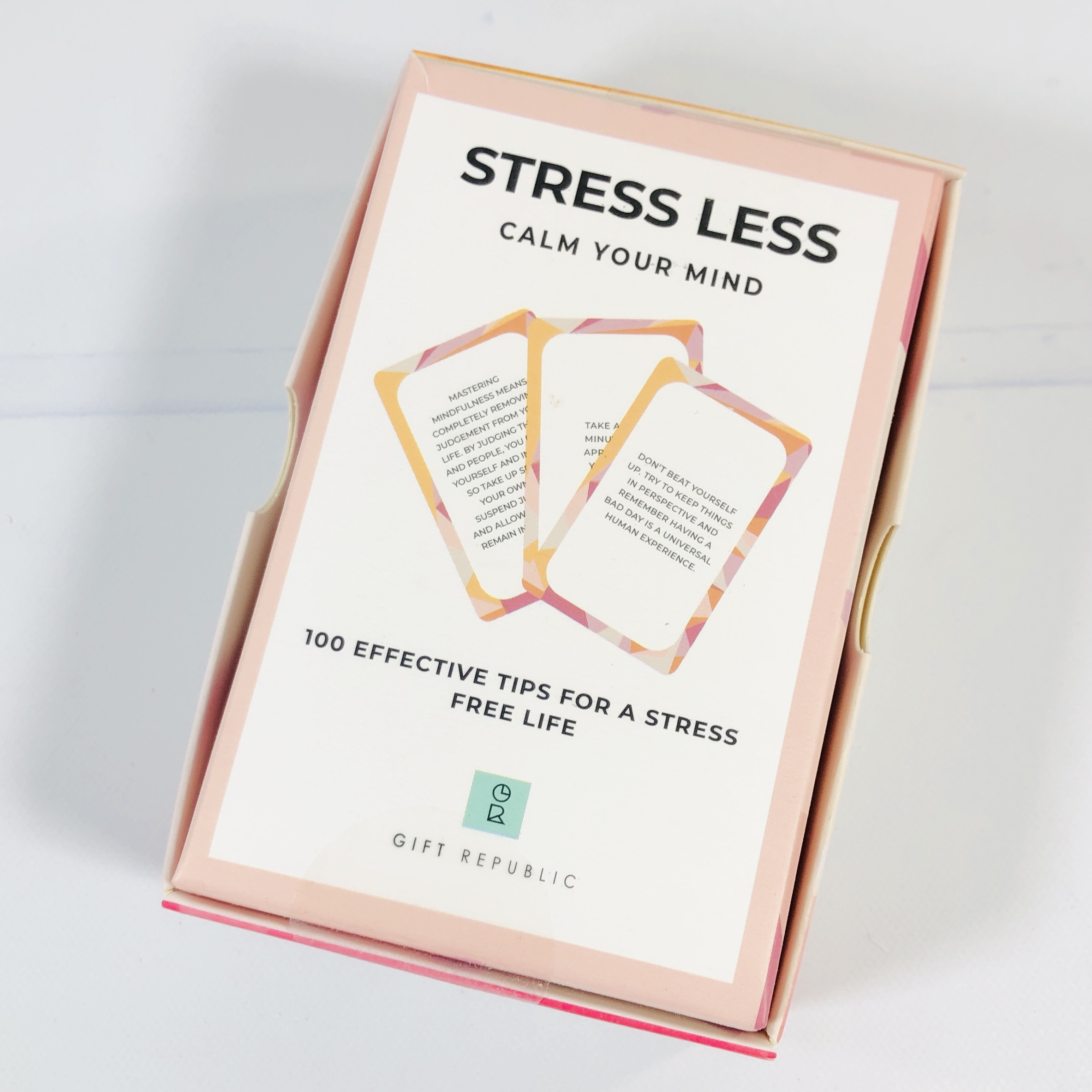 Are you stressed out all the time? Do you struggle to relax? This pack of 100 cards will help to manage and remove stress from your life. A step in the right direction towards your new carefree life.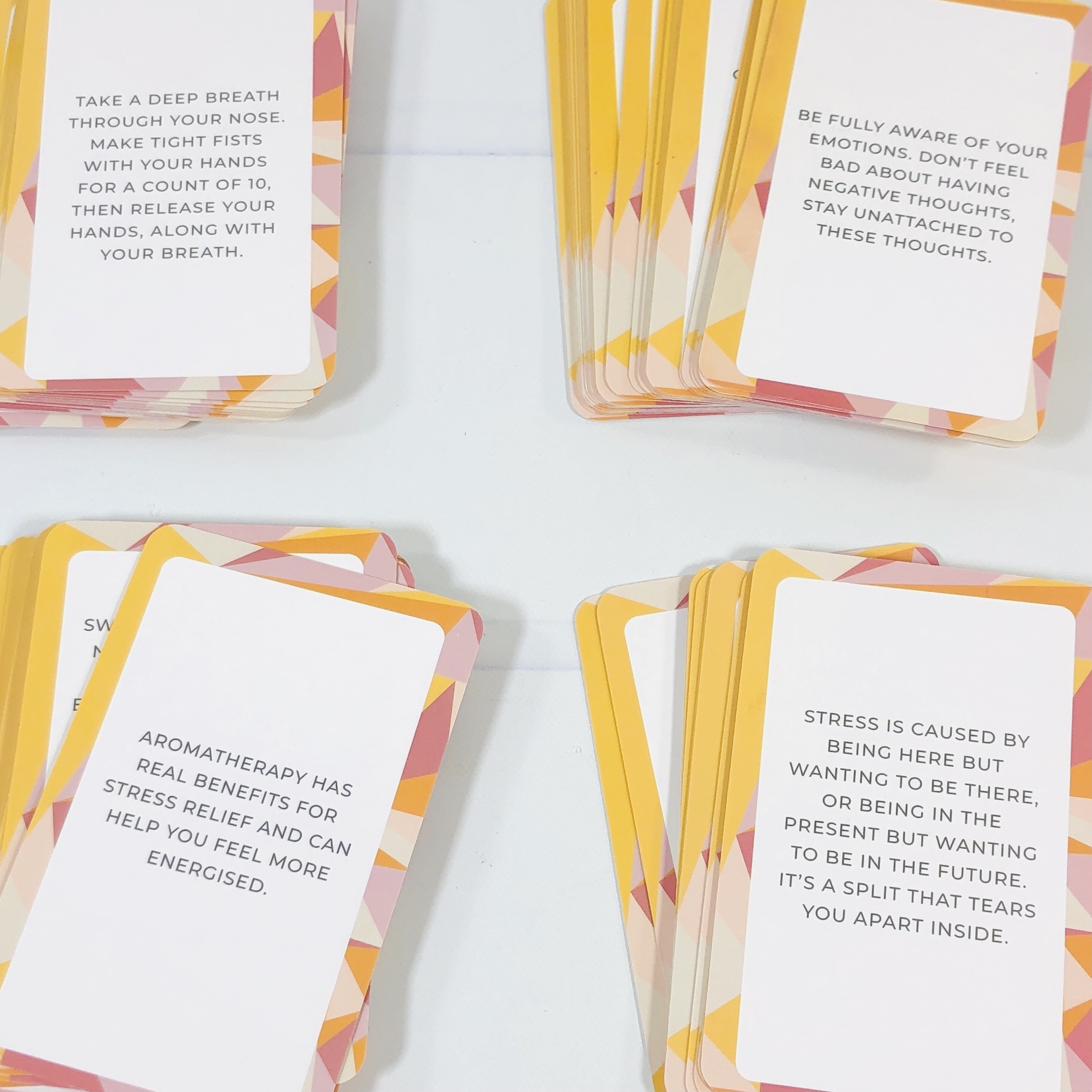 The cards touch on some ways that you can de-stress your life, although you may have to delve deeper to find out how to extend some of the activities. For instance, aromatherapy can be as simple as smelling a bottle of vanilla from the kitchen or you can get into oils and diffusing to take it further.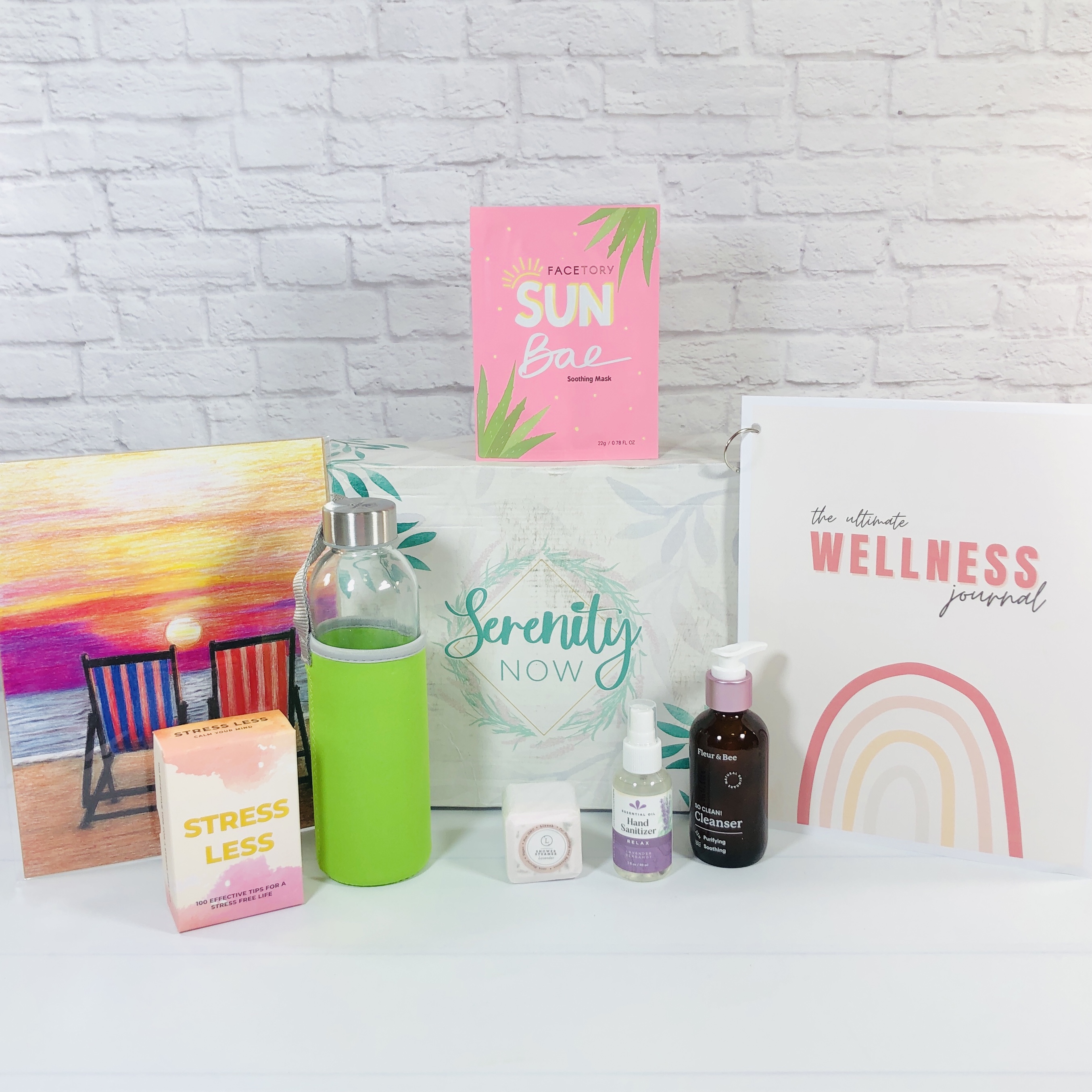 This was my very first box from Serenity Now and I thought they did a great job of selecting helpful items to help bring some peace into my life. I really liked the wellness planner, and I'm glad I didn't have to print it out myself, ink is expensive! The beauty items included a face wash from a brand I adore, the hand sanitizer is helpful for obvious reasons, and the shower steamer was so pretty, with an ombre color thing going on. The art print is so colorful, the cards are helpful and remind me to do something nice for myself, and the water bottle is perfect because I prefer to drink out of glass and it is portable. I will get so much use out of every product!
What do you think of this month's Serenity Now box?