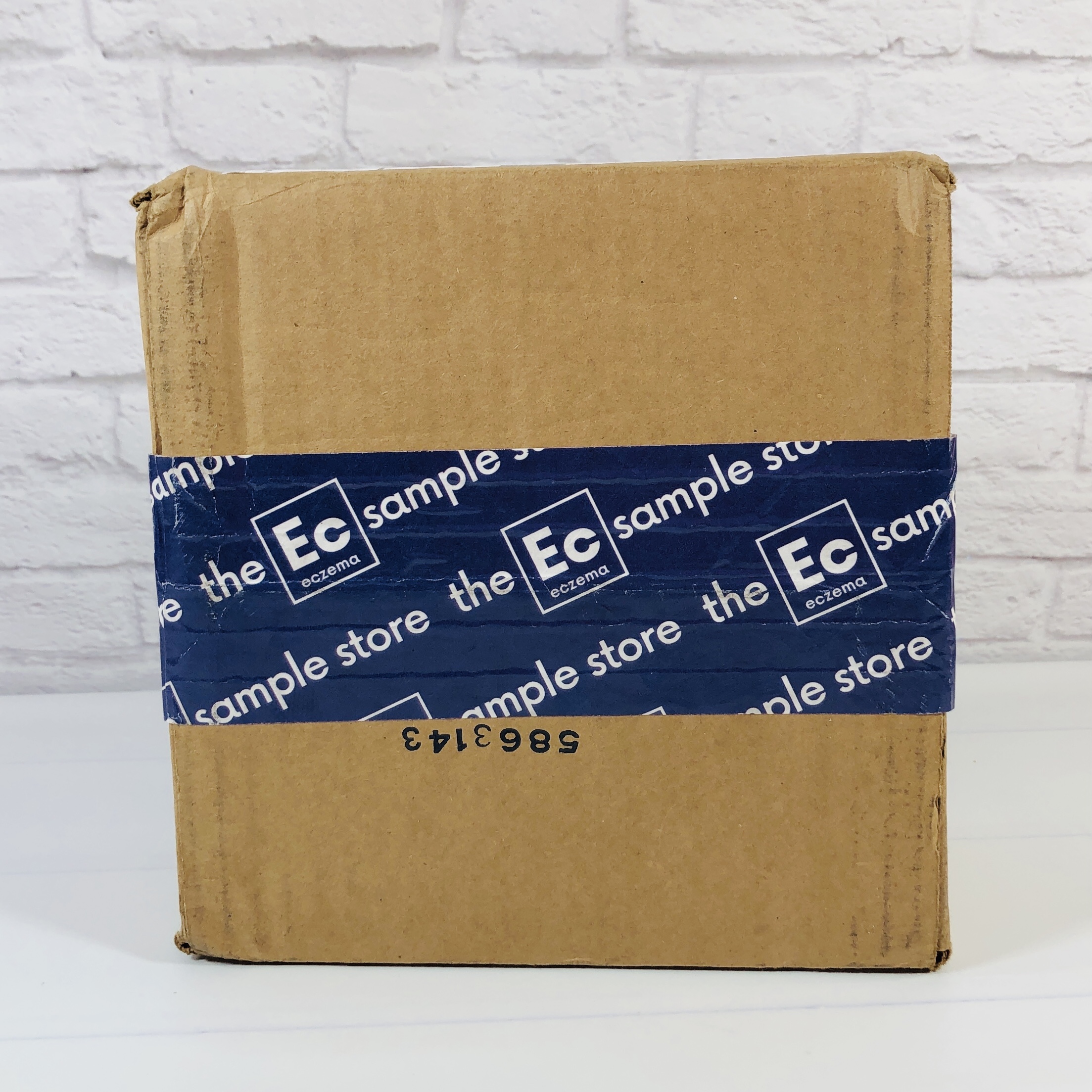 The Seasonal Eczema Boxes is a sampler of items from The Eczema Sample Store and features amazing skincare products from well known brands and in several product categories to help you discover products that won't set off your sensitive skin or eczema. You can sign up for a one-time box or get a discount on a yearly subscription. There are also a few other pre-made boxes to choose from, such as a box specifically for children. The box in this review is $45. Here's some info about their mission from Stephanie, the company's founder:
No matter a person's age, skin color, allergies, condition of their eczema, or income, we are here to make the process of find the best skin care products easier and more cost effective for those with eczema and other skin conditions. Whether you want to try more traditional companies or some of the latest organic products on the market, our aim is to help you find the best products for you.
DEAL: Get $5 off your first box! Use coupon code HELLO.
This is the Spring Box, although they are now selling the Summer Box too. The products in the box are meant to be gentle for those who have sensitive skin but consult your doctor if you have questions or concerns. As for me, I suffer from rosacea and was recently diagnosed with what is basically eczema of the scalp, so I prefer non scented items when possible.
I received a thank you card that welcomed me to the community.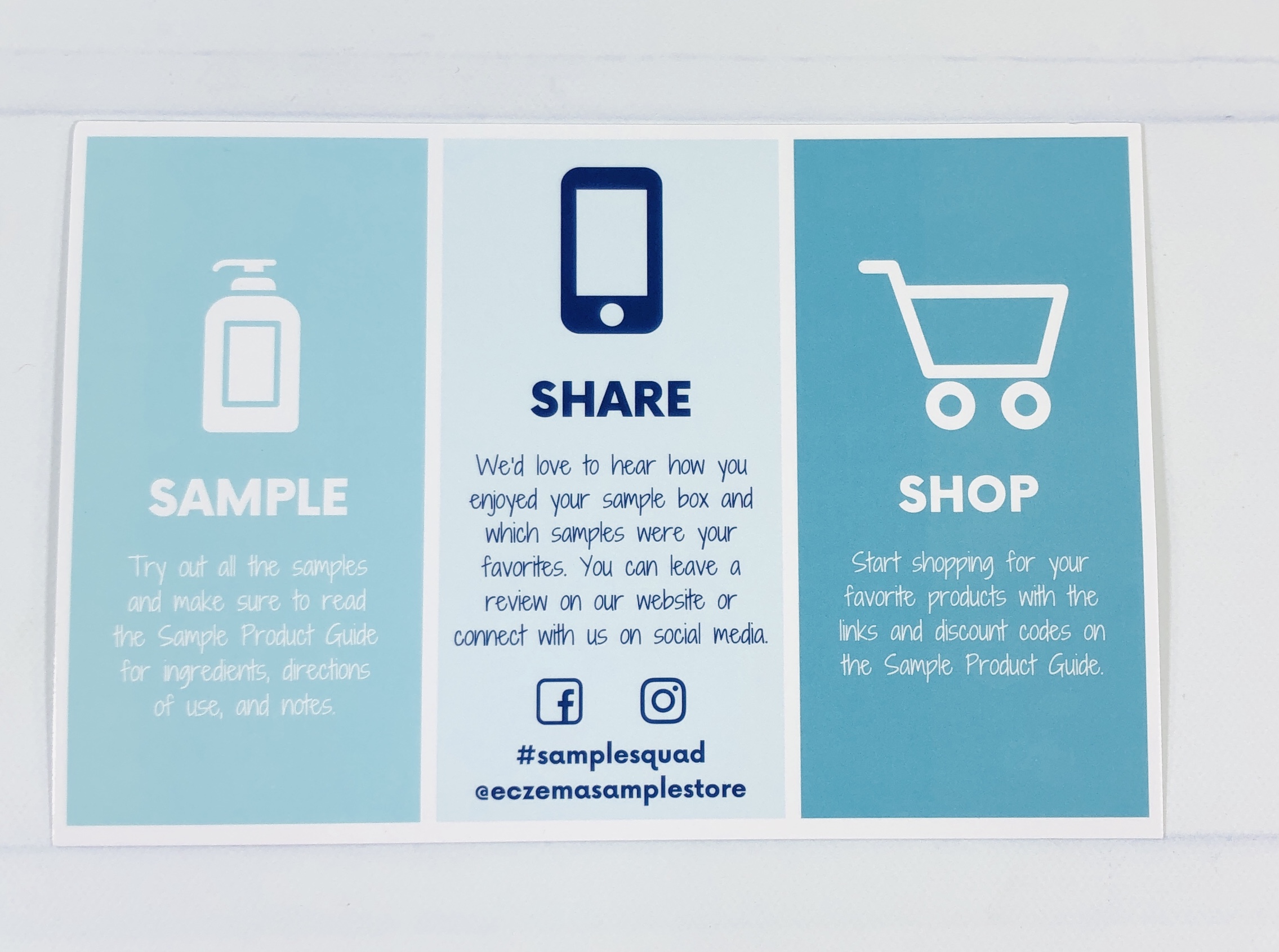 The back of the card reminded me to read the Sample Product Guide for directions and asked for feedback on samples.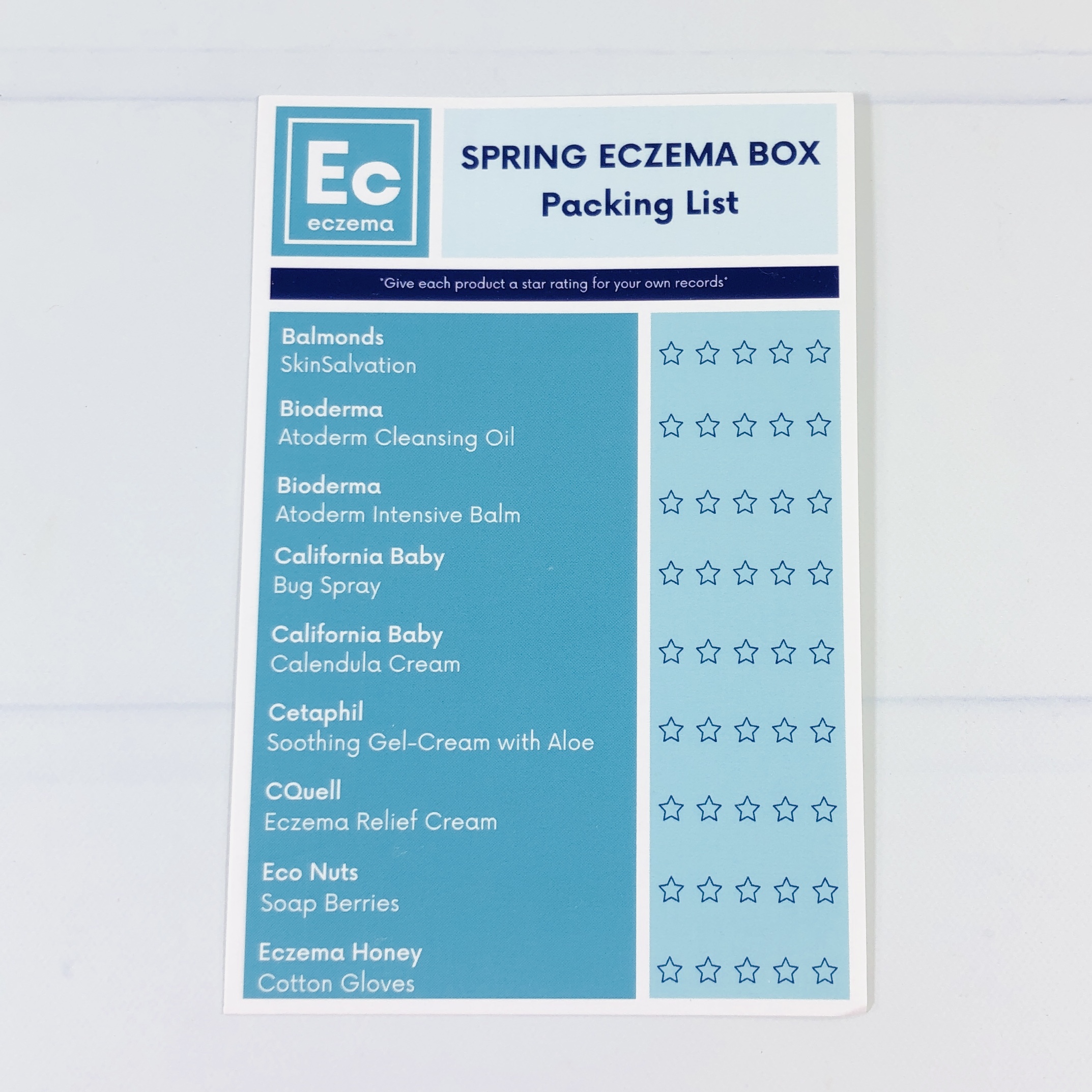 There was a second card that listed the samples in this box. You can color in the star ratings as you give the products a try.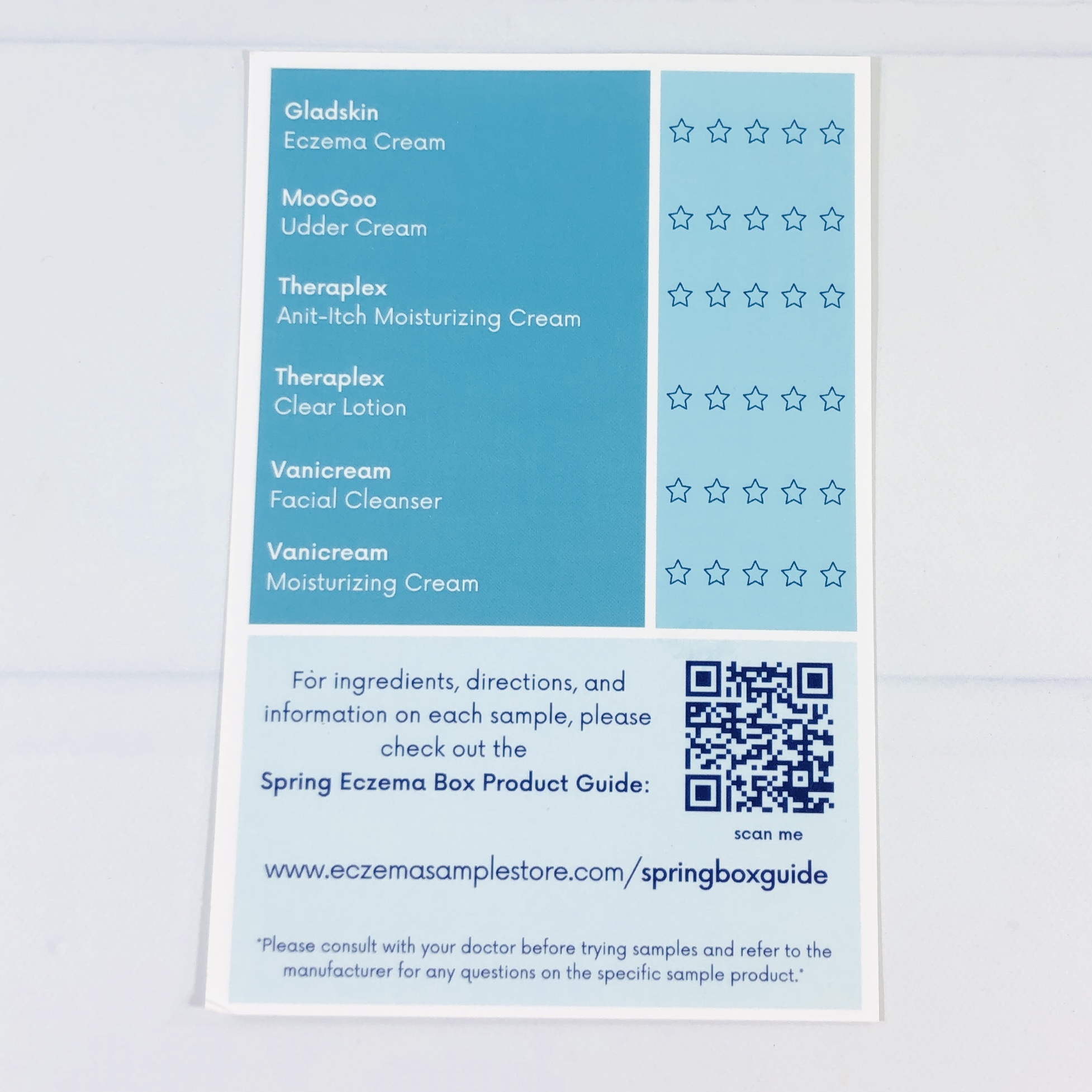 You can also find a guide on the website and it is super helpful. They have quick links to the products along with discount codes.
I also received a 3″ magnet!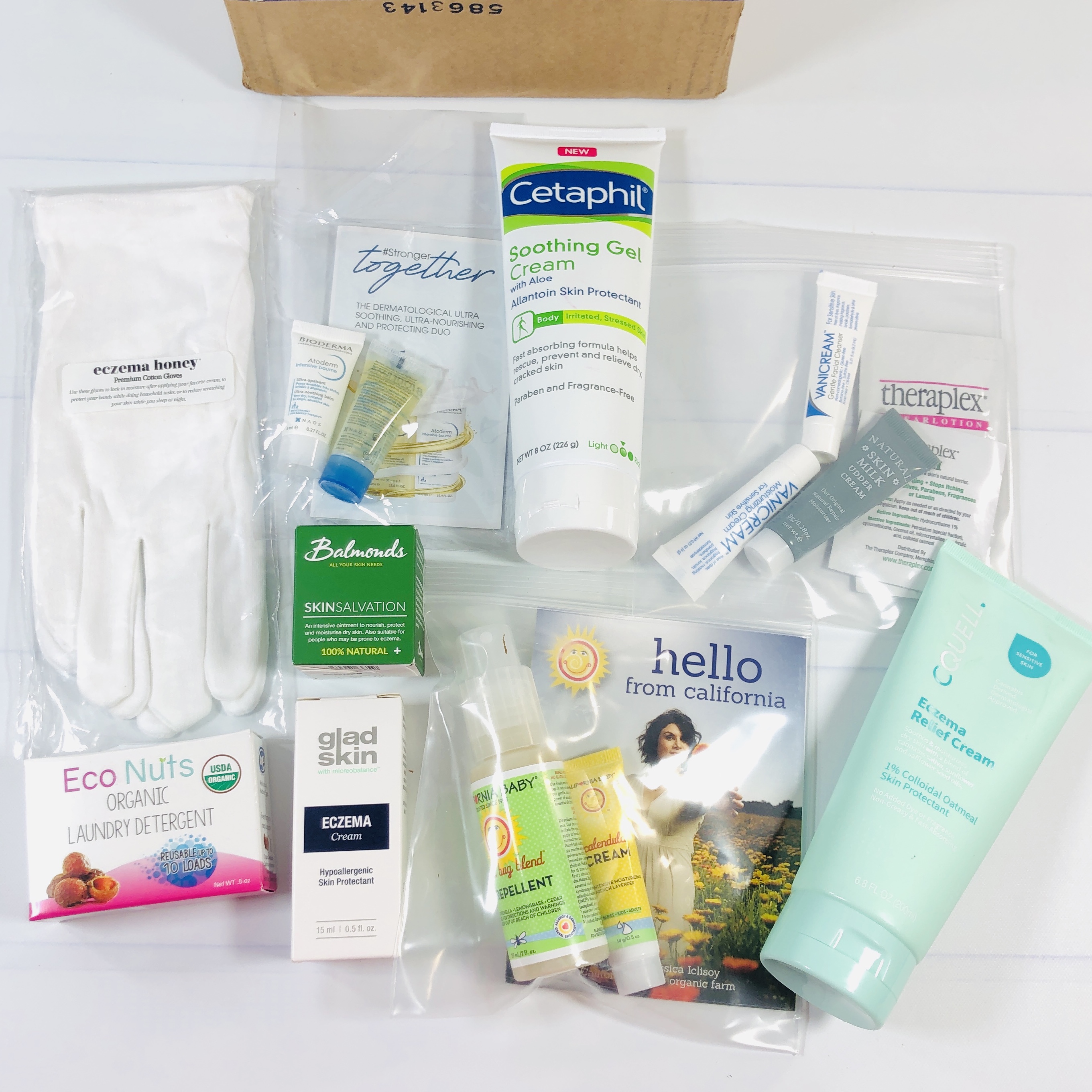 Presentation was simple with the items packed into the shipping box and wrapped in tissue paper. Everything arrived in perfect condition. Not only did I find samples in the box, but there were some larger items too!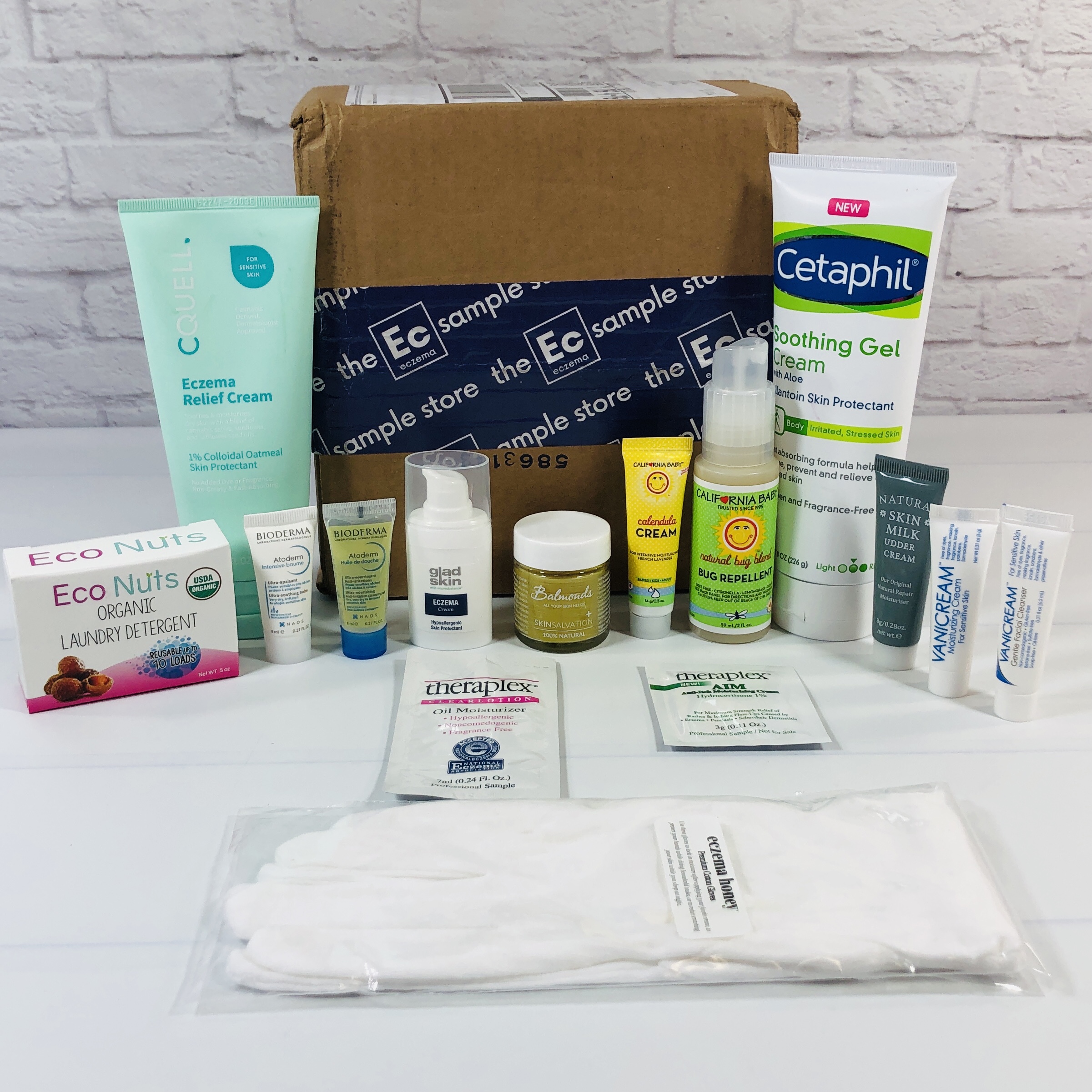 Everything in my box!
Cetaphil Soothing Gel Cream ($11.99) There were two full-sized bottles of body lotion in this box and they were both perfect for my skin. This lotion had no scent and my arms soaked it up quickly and it wasn't greasy at all. It has aloe vera as the first ingredient and the back of the container says it may help relieve sunburn. Shea butter, allantoin, and glycerin are a couple of the other ingredients and I would buy this again.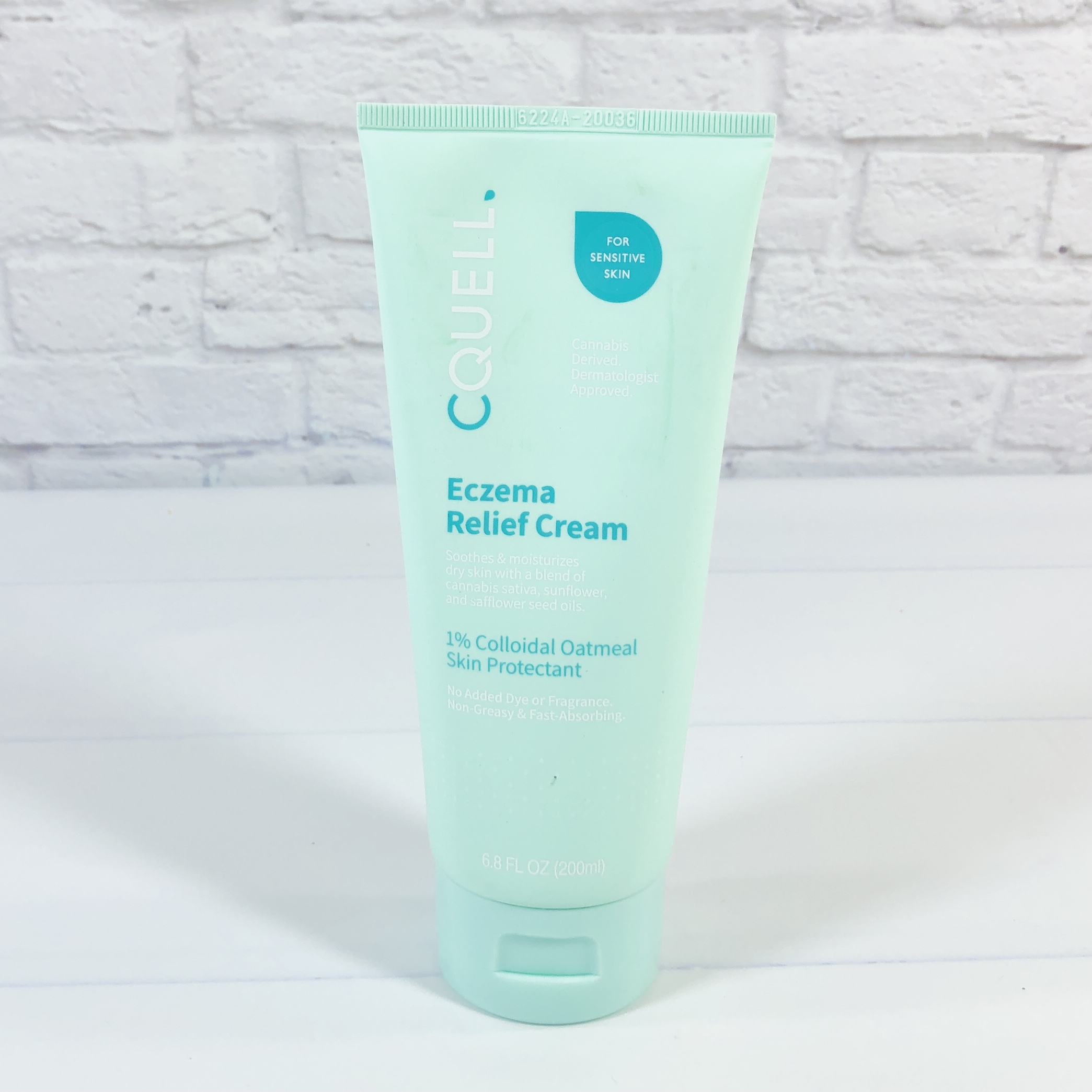 CQuell Eczema Relief Cream ($14.99) The active ingredient in this body moisturizer is colloidal oatmeal and that is supposed to relieve itchy skin. Some of the other stuff you'll find inside are petrolatum, hemp seed oil, and sea buckthorn oil. Again, there was no fragrance and I am a fan!
Balmonds Skin Salvation ($16) is a multi-use salve that can soothe skin issues such as diaper rash, eczema, minor rashes and burns, irritated skin, dry heels, and more. It can be used on the face and has all-natural ingredients such as olive oil, beeswax, hemp oil, calendula, and chamomile.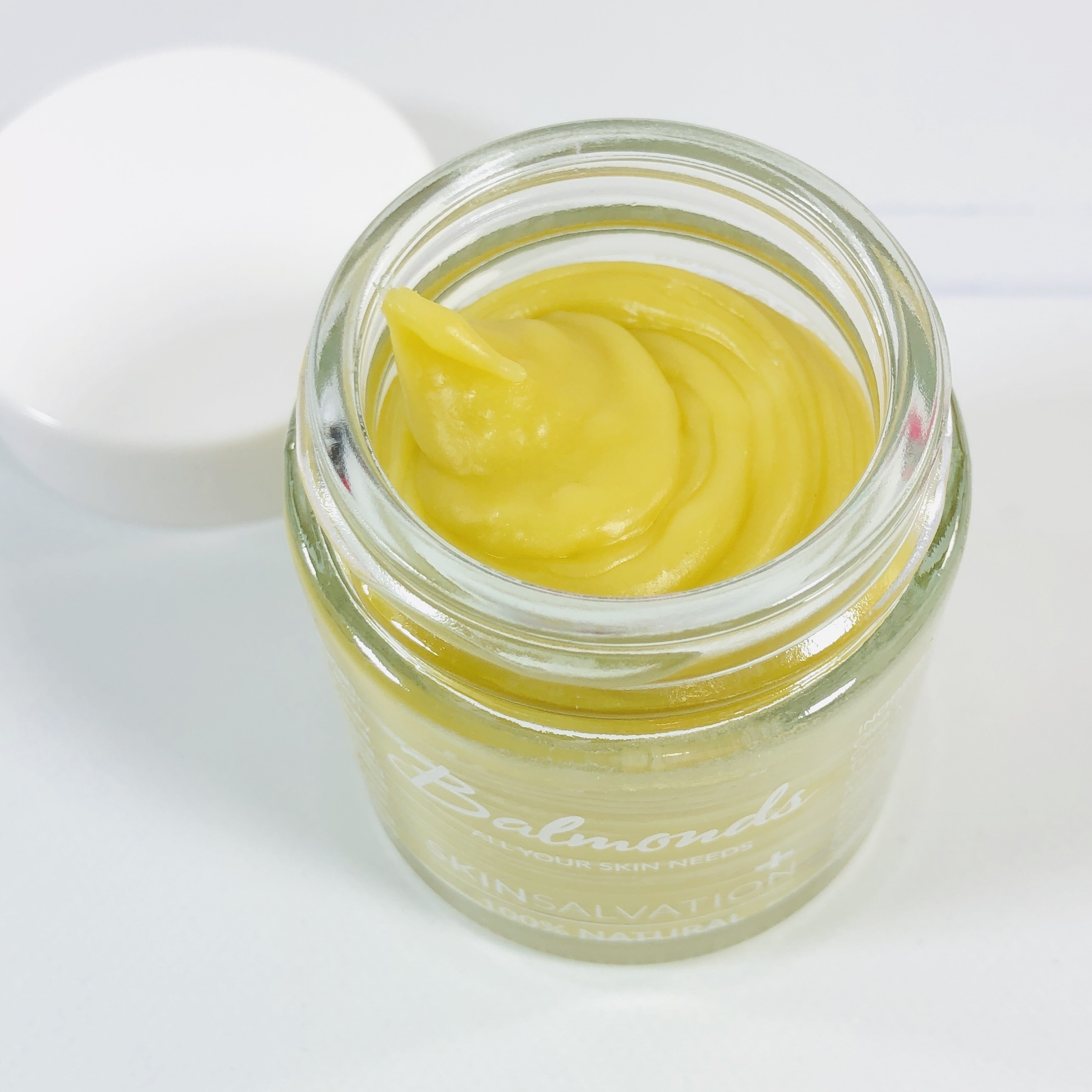 This is a thick, protective balm that will probably lock in moisture and keep out everything else! I'm going to use this on everything, and can report that it has very little scent, just a very light herbal note that is barely noticeable.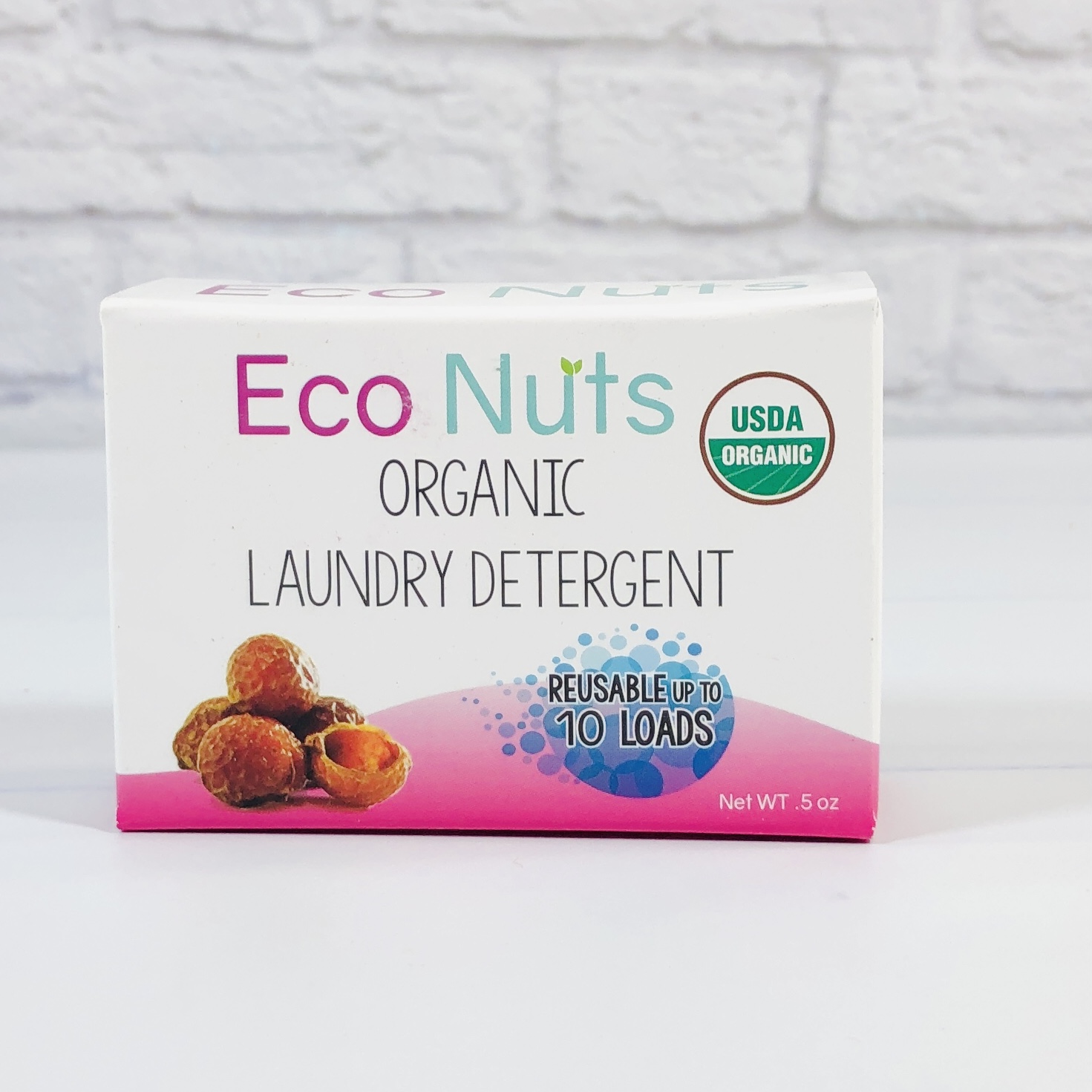 Eco Nuts Laundry Detergent ($6.99) Soap berries are a natural alternative to traditional laundry detergents — they come from a plant and will produce suds once they hit water! It came with a sheet explaining how they work.
Hmm, they're not too pretty, right? I found the following notice on the brand's website, and as my HE machine is less than a year old I won't be trying the product out, I don't want to void the warranty.
Note: if you are using an HE (front loading) machine, we recommend our Liquid Detergent. Eco Nuts soap nuts will get the job done, but the liquid works better and is specially formulated for HE machines.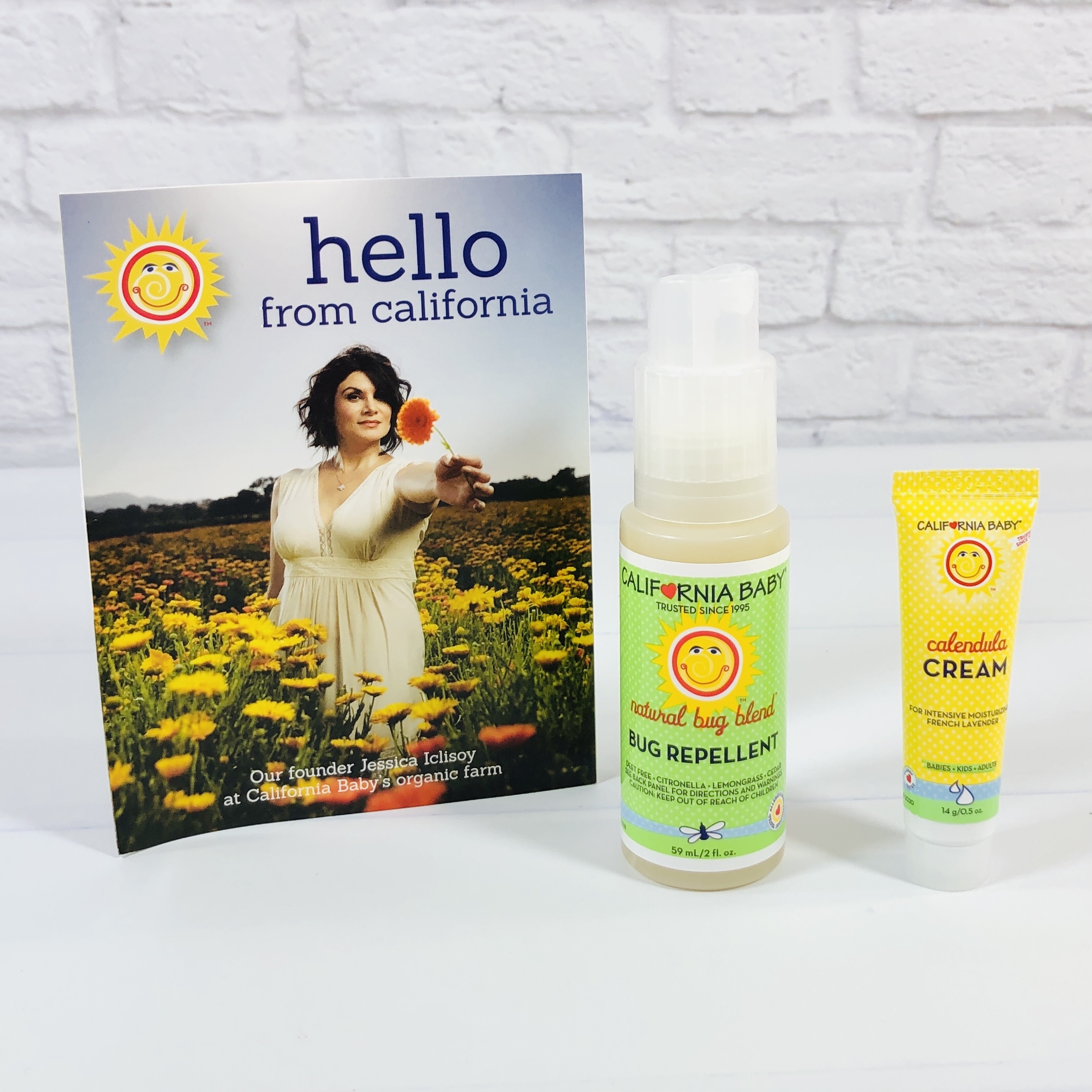 California Baby Bug Repellent ($5.84) is a DEET-free bug repellent that is safe for babies as young as 6 months old. It isn't strong or long lasting and needs to be reapplied every 30 minutes but it can be applied to the face (use your hands to apply) and sprayed on hair too. The main ingredients (besides water) are citronella, lemongrass, and cedar essential oils and it smells like citronella. Five/ten/fifteen minutes after spraying and I can still smell it on my skin! Twist the top to spray, then twist back to lock.
California Baby Calendula Cream ($4.47) is a light, daily moisturizing lotion that has a light scent and feel that is non-greasy and absorbed quickly. It has aloe and a lot of plant extracts but no parfum and smells like herbal tea! This duo came with an info card about the brand.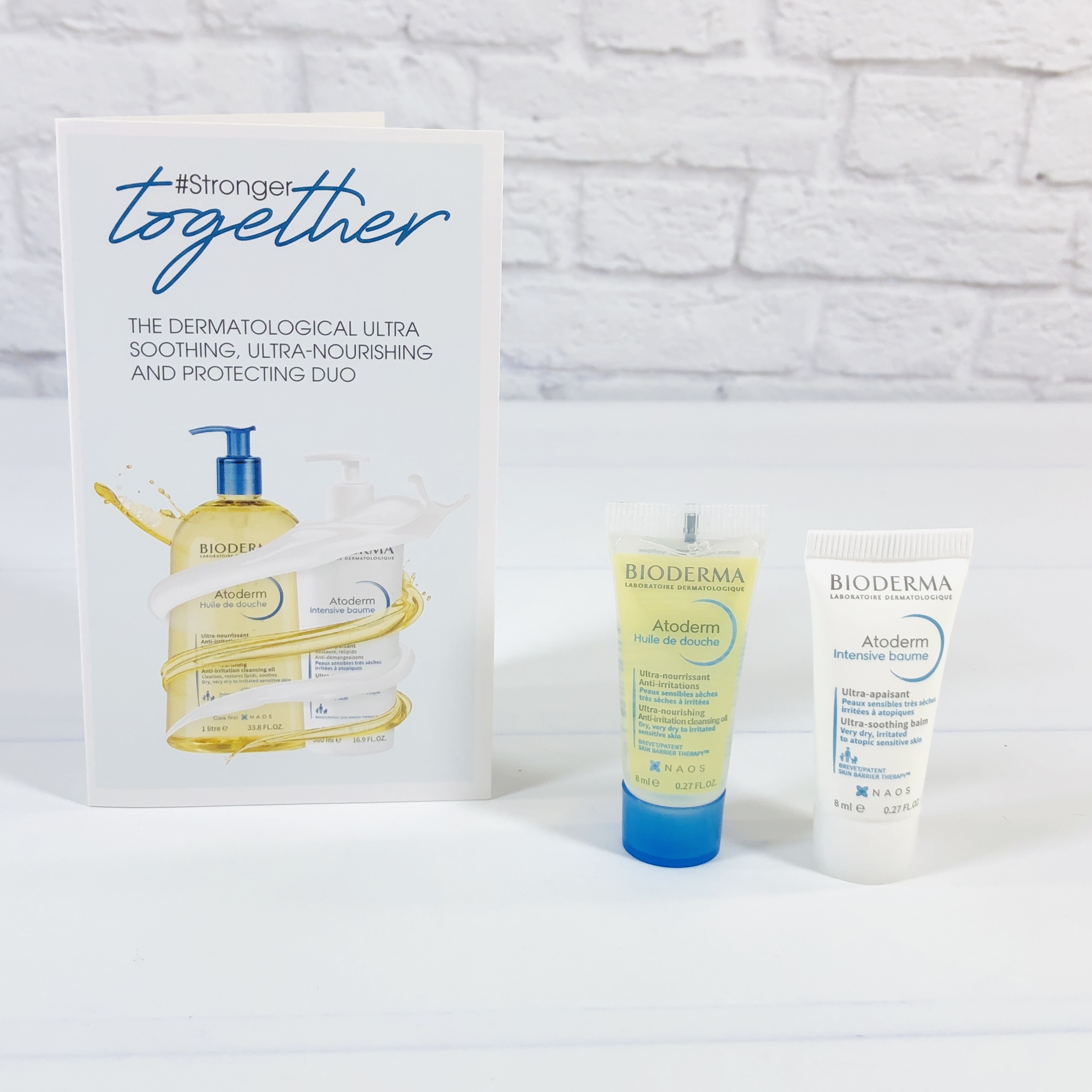 Bioderma Atoderm  Ultra-Nourishing Anti-Irritation Cleansing Oil ($0.55) and Bioderma Atoderm  Ultra-Soothing Balm ($0.71) The cleansing oil can be used on the face or body but it has fragrance and only you know whether that is a trigger for your own skin. I gave it a try and followed it with a separate cleanser and didn't have any problems. It is one of those cleansers that doesn't stay oily once water hits it. As for the Balm, I expected it to look like petroleum jelly (which is the third ingredient after water and glycerin) but it was a creamy white lotion, although it has a slightly thicker texture compared to the full-sized lotions shown earlier in the review. After it soaked in, my skin felt soothed and this product is fragrance-free. This duo came with a coupon for $3 off the purchase of either product.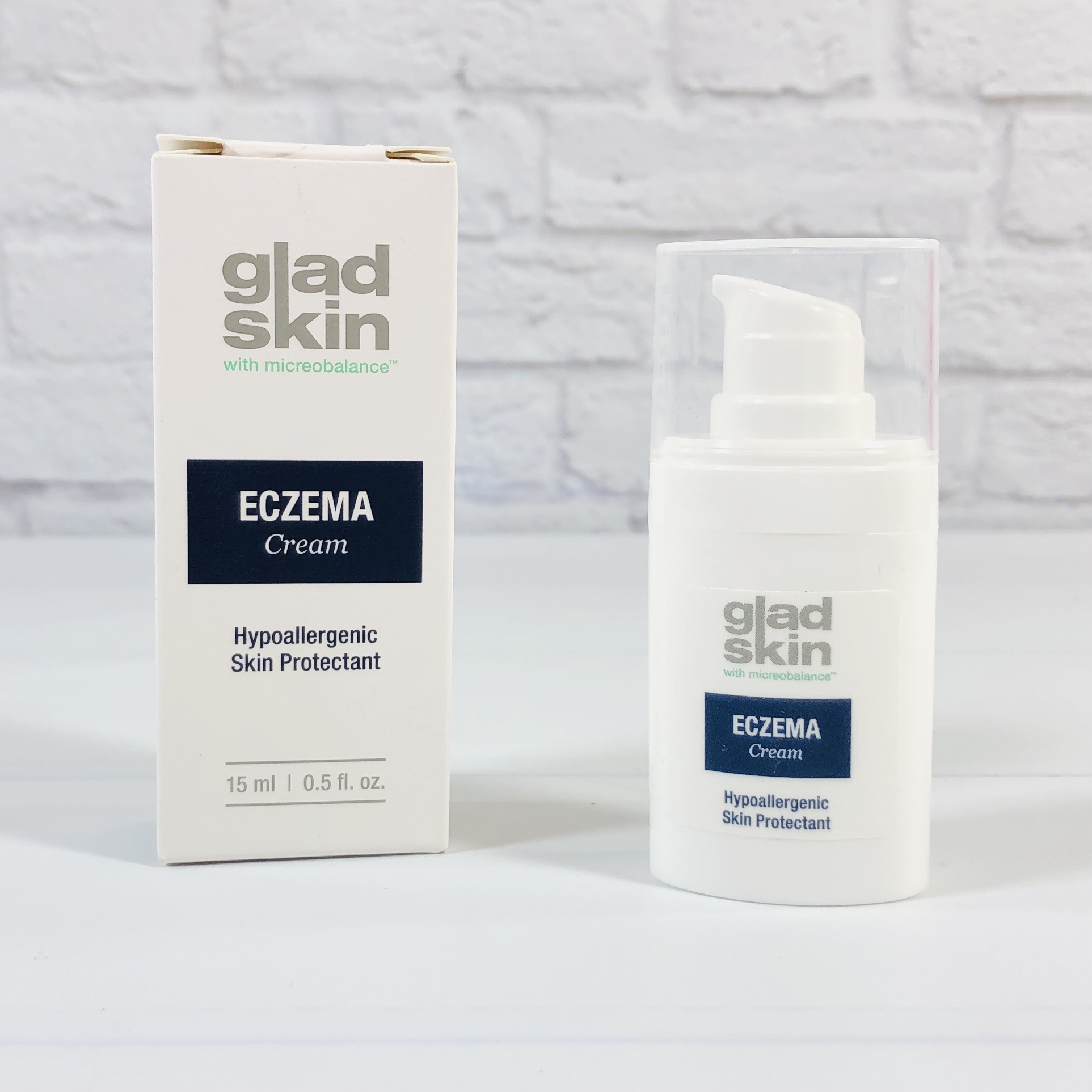 Glad Skin Eczema Cream ($10.29) I would buy this cream again, it is so rich and yet non-greasy. There is no scent at all and I was able to rub it over my skin so quickly, it was absorbed in seconds. It has stuff like water, glycerin, and petrolatum, but it also has something called Microbalance, which is supposed to keep the microbiome in check. Even this travel size comes in an airless pump so there's no need for preservatives, as those can be irritating to sensitive skin.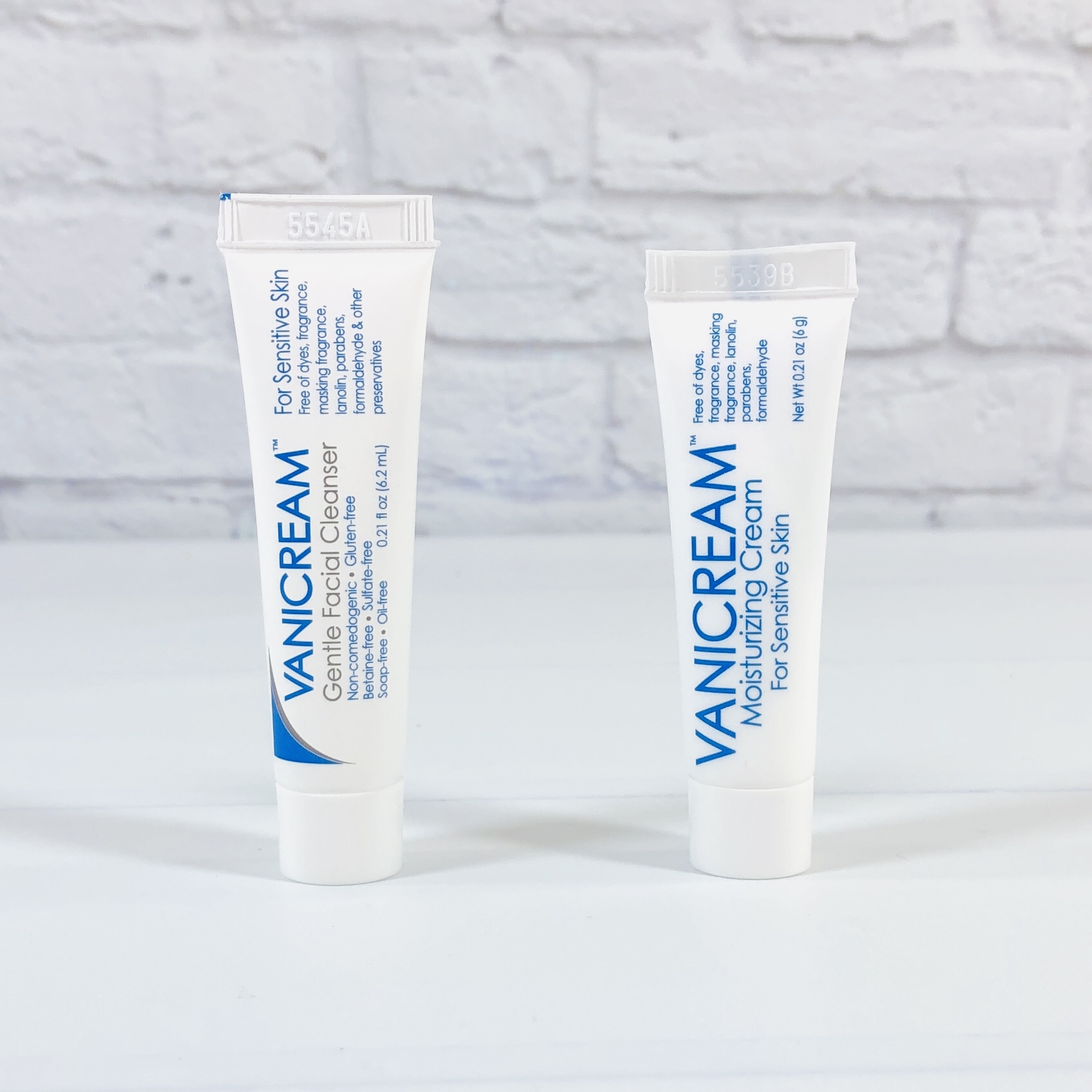 Vanicream Gentle Facial Cleanser ($0.31) and Vanicream Moisturizing Cream ($0.50) I really like the Vanicream line of products, it rates way up there with Cera-Ve as my preferred skincare lines. The cleanser was pearly and was a better cleanser than my usual Cer-Ve, mainly because it had a thicker, more soap-like feeling and removed all of my makeup (I can only use Cera-Ve in the morning or after using a cleansing oil). Thanks to this sample, I will switch to this as a night-time cleanser. The moisturizing cream was also a bit thicker than Cera-Ve and I may switch it up in the fall, when I need something a bit thicker to get me through the cooler months. Both products are fragrance-free. On a side note, if you have a sensitive scalp, try their haircare line. It may not be luxurious, but the shampoo, conditioner, and styling gel have been lifesavers in treating my scalp problems.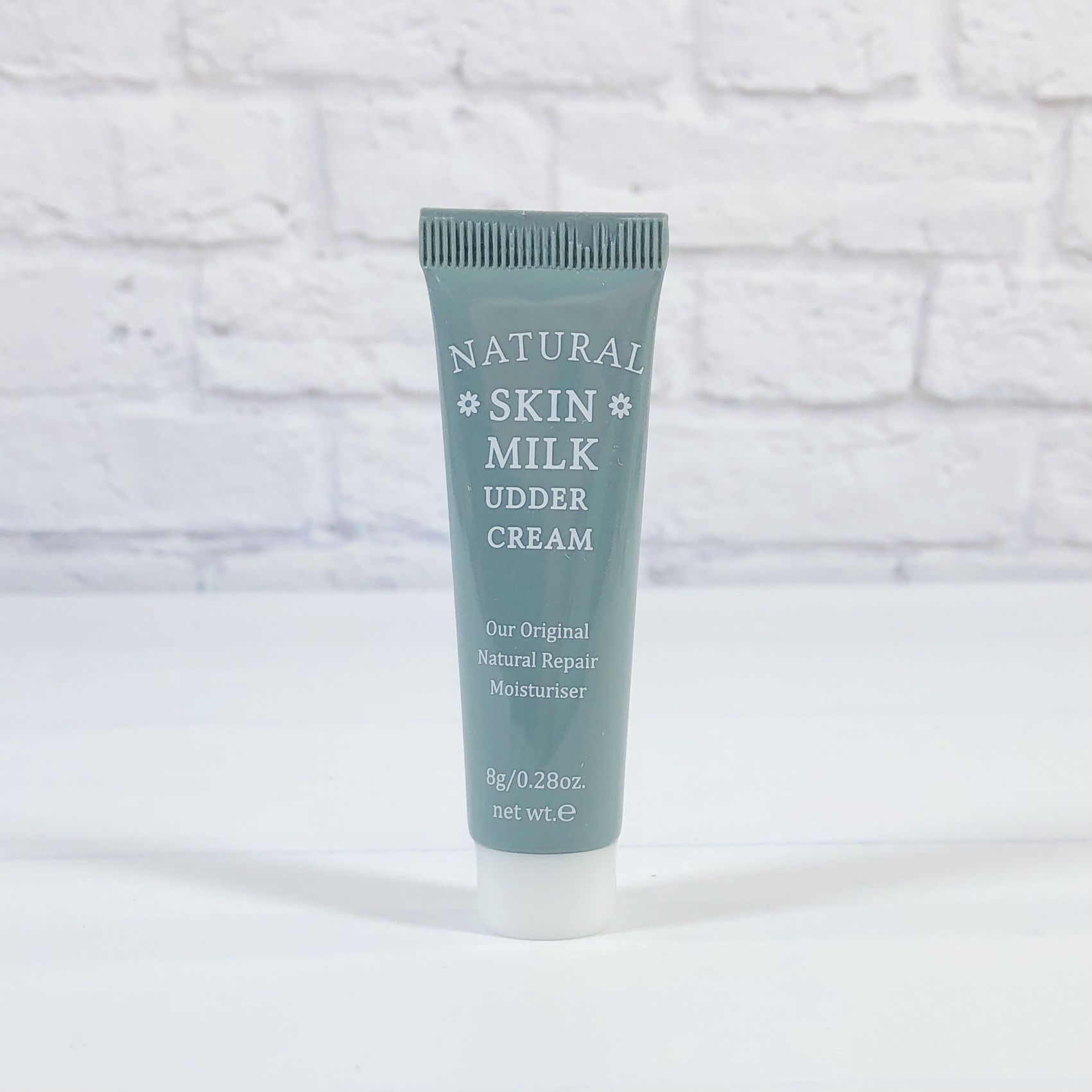 Moo Goo Natural Skin Milk Udder Cream is a lightly scented moisturizer that is also good for every day use, as it absorbs quickly without leaving skin greasy. The first few ingredients are water, sweet almond oil, olive oil, and aloe. There is also rice bran oil and phthalate-free fragrance. I think the scent is supposed to smell like "oatmeal" but it is light and not bothersome to me.
Theraplex ClearLotion Oil Moisturizer ($0.72) was one of the nicest body oils I have ever tried! It's made of petrolatum, mineral oil, cyclomethicone, and jojoba oil and I used it on shower damp skin. There's no scent and it's lightweight so I didn't leave greasy spots on my table or chairs or anywhere I rested my arms. This is perfect for summer, when I don't need something heavy.
Theraplex AIM Anti-Itch Moisturizing Cream ($1.02) I haven't had a need for this anti-itch cream yet but the active ingredient is hydrocortisone and there's also petrolatum, coconut oil, and colloidal oatmeal. It is meant to stop the itch of eczema, psoriasis, and seborrheic dermatitis.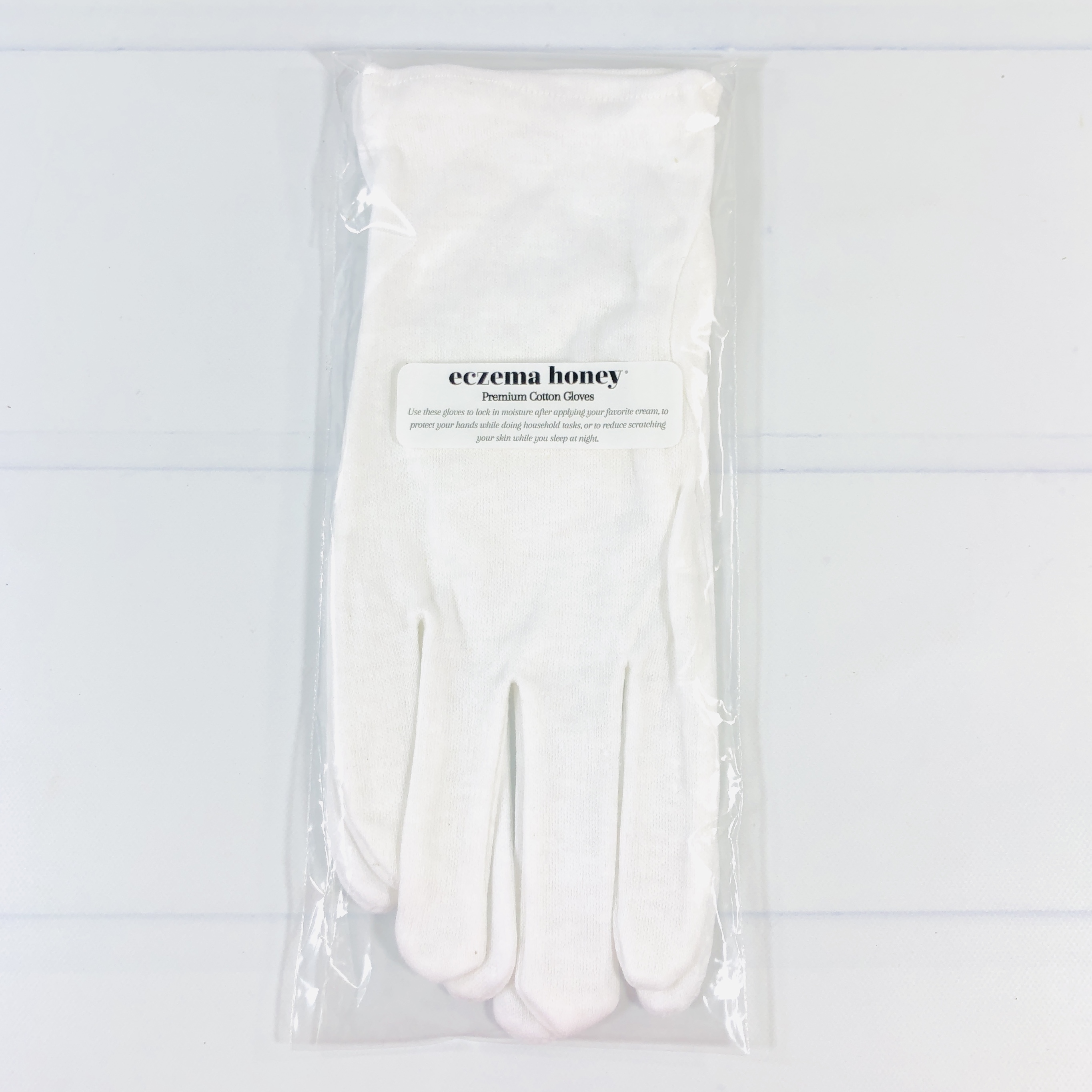 Eczema Honey Premium Cotton Gloves ($1.03) are cotton gloves that you can wear while cleaning the house or working with chemicals to keep them from touching the skin, like when you are spraying cleaners or furniture polish, that kind of stuff. They can be washed and used over and over.
They are one size fits most. I usually reach for large when using disposable gloves and these fit my hands fine! These can also be used after applying hand lotion or to keep nails from scratching skin while you sleep. I once had eczema so bad that I would wake up with bloody scratches on my arms and I think these would have helped cut down on that.
Once again, I was very impressed with all of the products in my sampler box from The Eczema Sample Store! There were a couple of full-sized products, some generous travel sizes, and a few smaller sample sizes. Only one foil pack was one-time use, but it was enough to know that I would like to purchase a bigger size. Most of these items will give me at least three uses, and I've recently discovered that that's probably enough time for my skin to react to any irritating ingredients. Almost every item in here was fragrance-free, which is generally how I like my face care items. My body can take parfum but my face not so much, my scalp not at all. I'm generally ok with a bit of essential oils, and most of those were found in the body items. I appreciate learning about new-to-me brands as well as classics like Cetaphil and Vanicream. The value was around $76!
What do you think of this box?