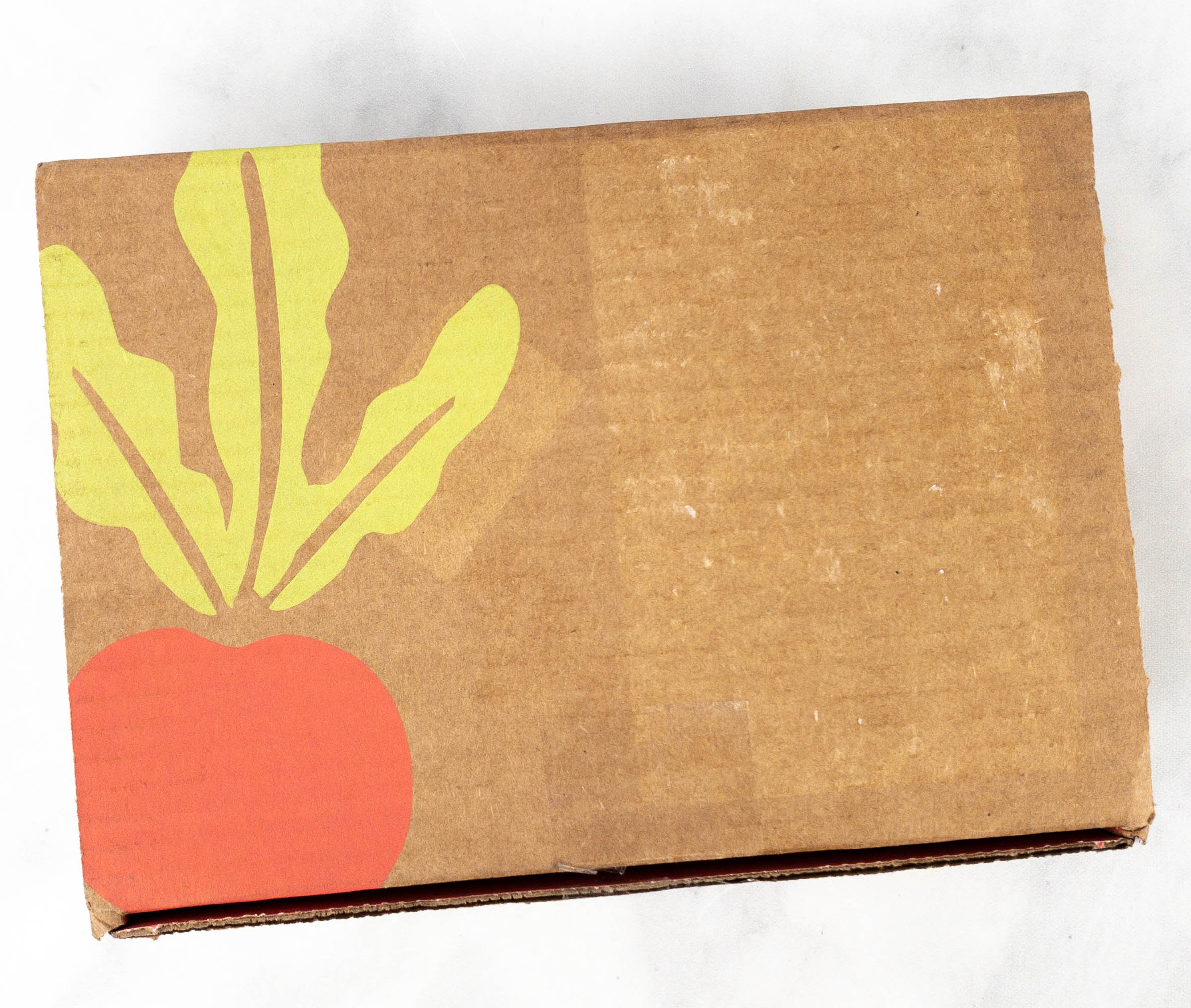 Raddish is a monthly kids' activity box centering around food and cooking! Designed for kids 4 to 14+, each themed box will include 3 illustrated recipe guides, 3 culinary skill cards, a creative kitchen project, kid-friendly tools and collectibles such as Table Talk cards, a culinary tool, and an iron-on Raddish patch. Themes range from Seasonal Spotlights to Global Cuisine and Creative Cookery to Holiday Celebrations. Although the ingredients are not included, they email you a shopping list for each month's recipes before your kit is shipped. Raddish made the list in our 2020 and 2021 readers' choice picks of best subscription boxes for kids!
DEALS:
Get $15 off when you sign up for a 6 month subscription! Just use this link and use the coupon code ATHOME at checkout.
Get $20 off when you sign up for a 12 month subscription! Just use this link and use the coupon code CHEF20 at checkout.
PLUS Get a FREE apron with your first box when you sign up for a 6+ month subscription!
This kids cooking club offers a monthly membership for $24/month, a 6-month membership for an upfront payment of $132 ($22/month), and a 12-month membership for an upfront payment of $240 ($20/month). For those who are getting the 6 and 12-month memberships, expect a free apron in your box.
Featured on the inner part of the box's flap are Raddish Kids' social media handles where you can share your cooking experience.
All the items were neatly packed in the box.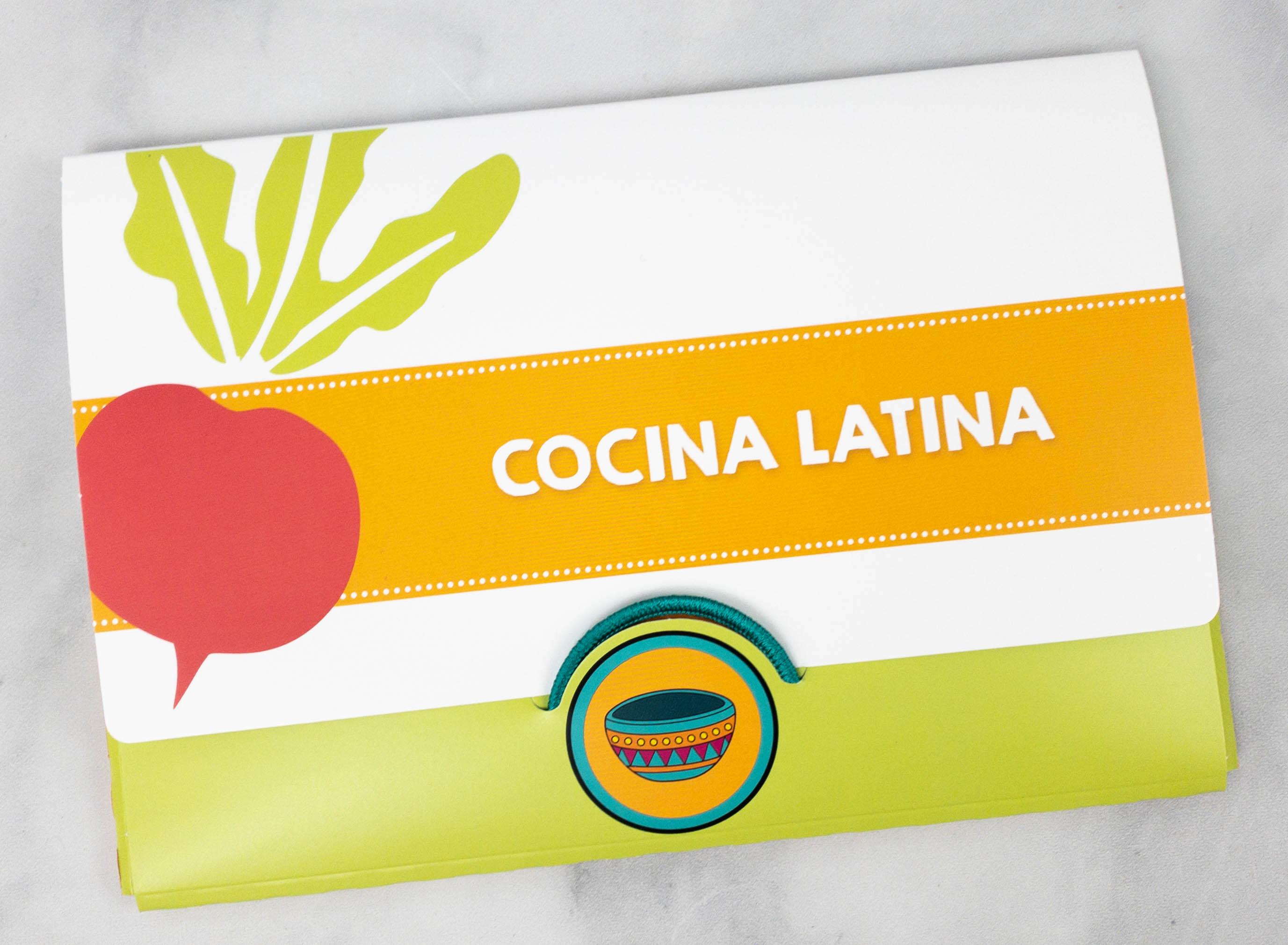 This month's theme is COCINA LATINA! Inside the envelope are small cards containing some culinary skill lessons, guides with fun and exciting activities.
They also have bonus content on their website, called Bonus Bites, which includes a Spotify playlist that the kids can listen to while cooking, dietary modifications for the recipes in the box, and even lesson plans to accompany the kit.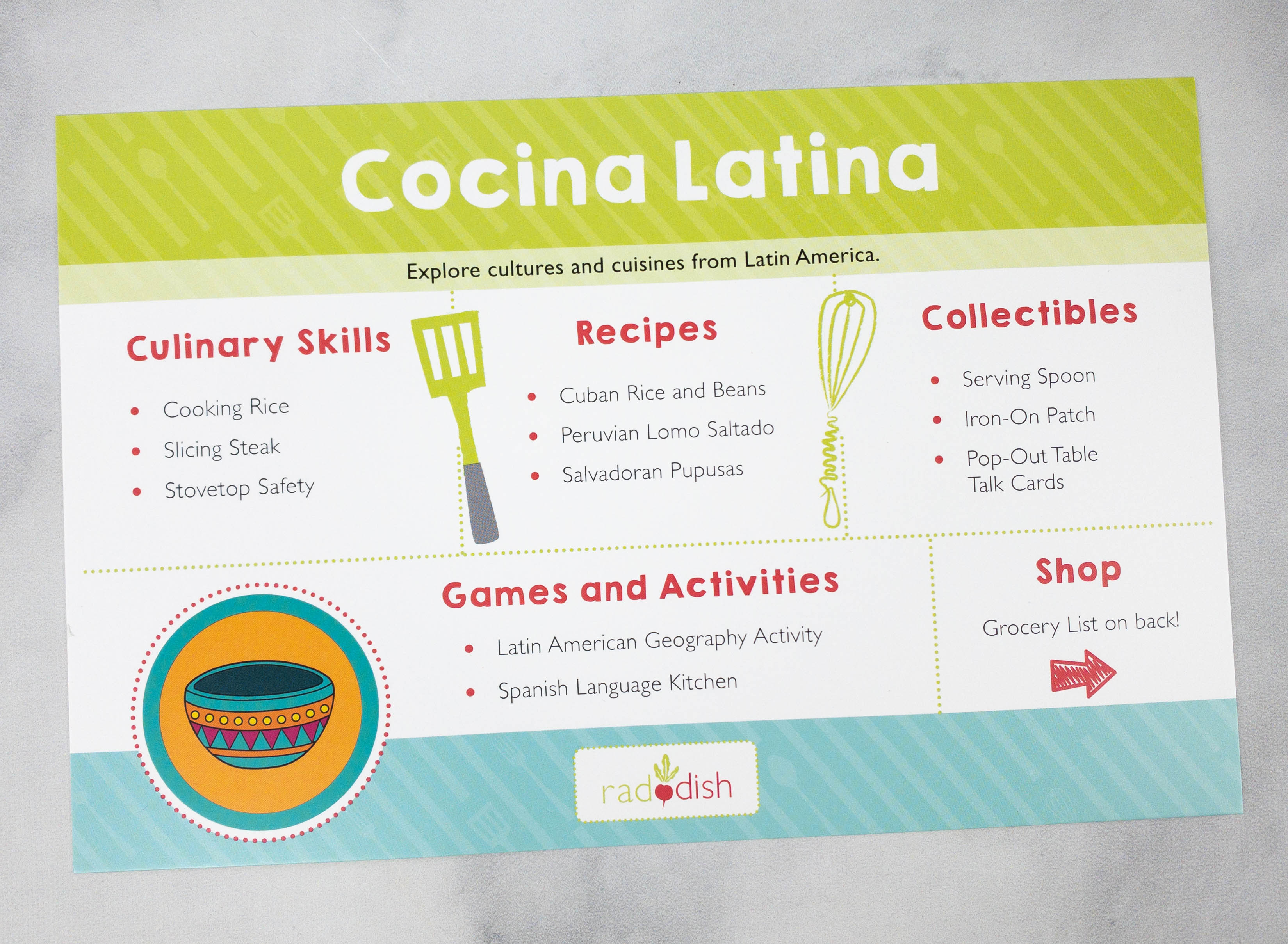 This card contains all the information you need to know about this month's box.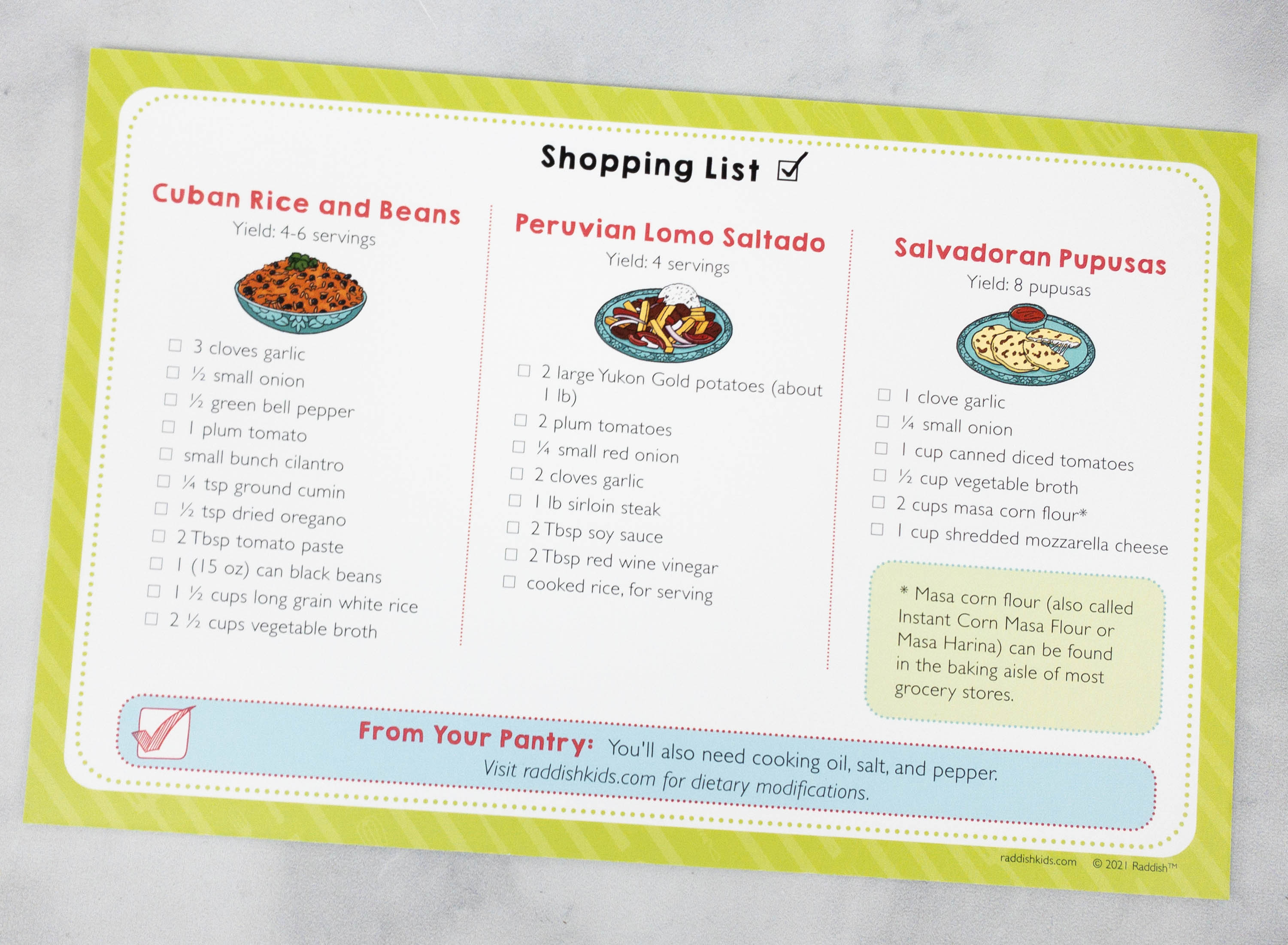 The back of the card provides a complete grocery list for all the featured recipes this month. The recipes are Cuban Rice and Beans, Peruvian Lomo Saltado, and Salvadoran Pupusas.
There's also a card that features Spanish terms for kitchen items!
Meanwhile, this card has information about Latin American geography.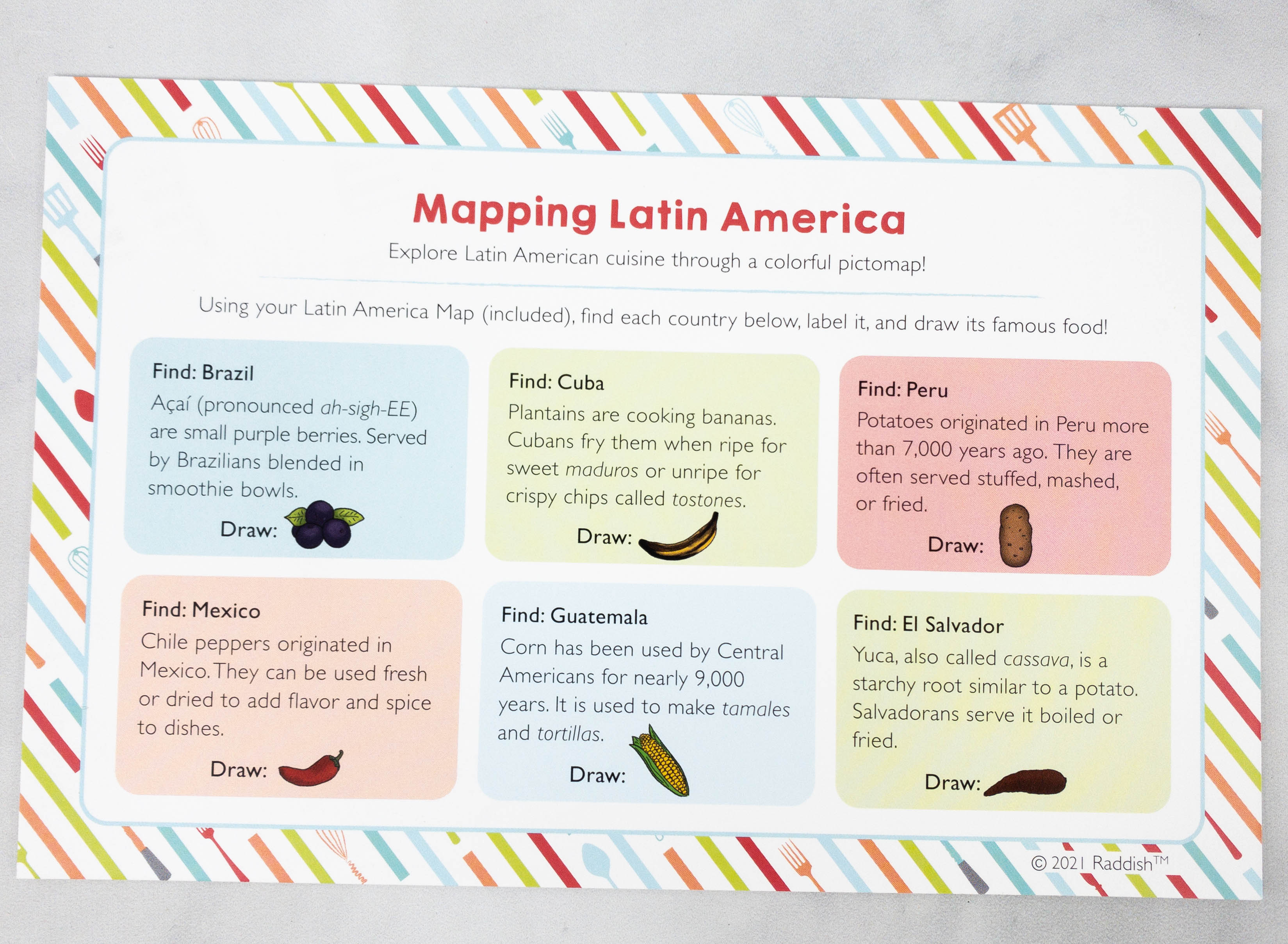 There's also a suggested activity! They provided information about different countries in Latin America, which kids need to match with the map.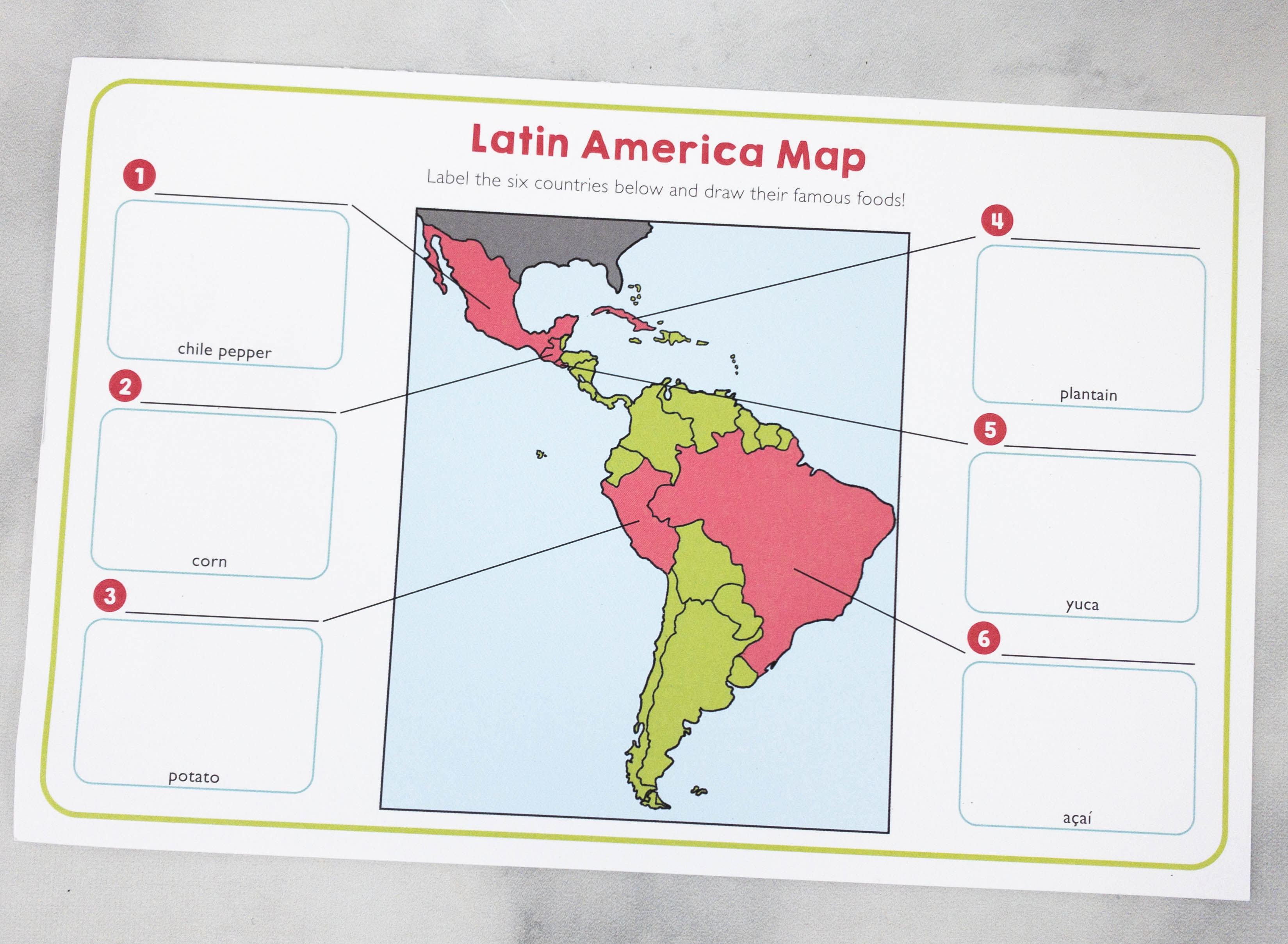 Here's the map! There's also a space for drawing each country's famous food item.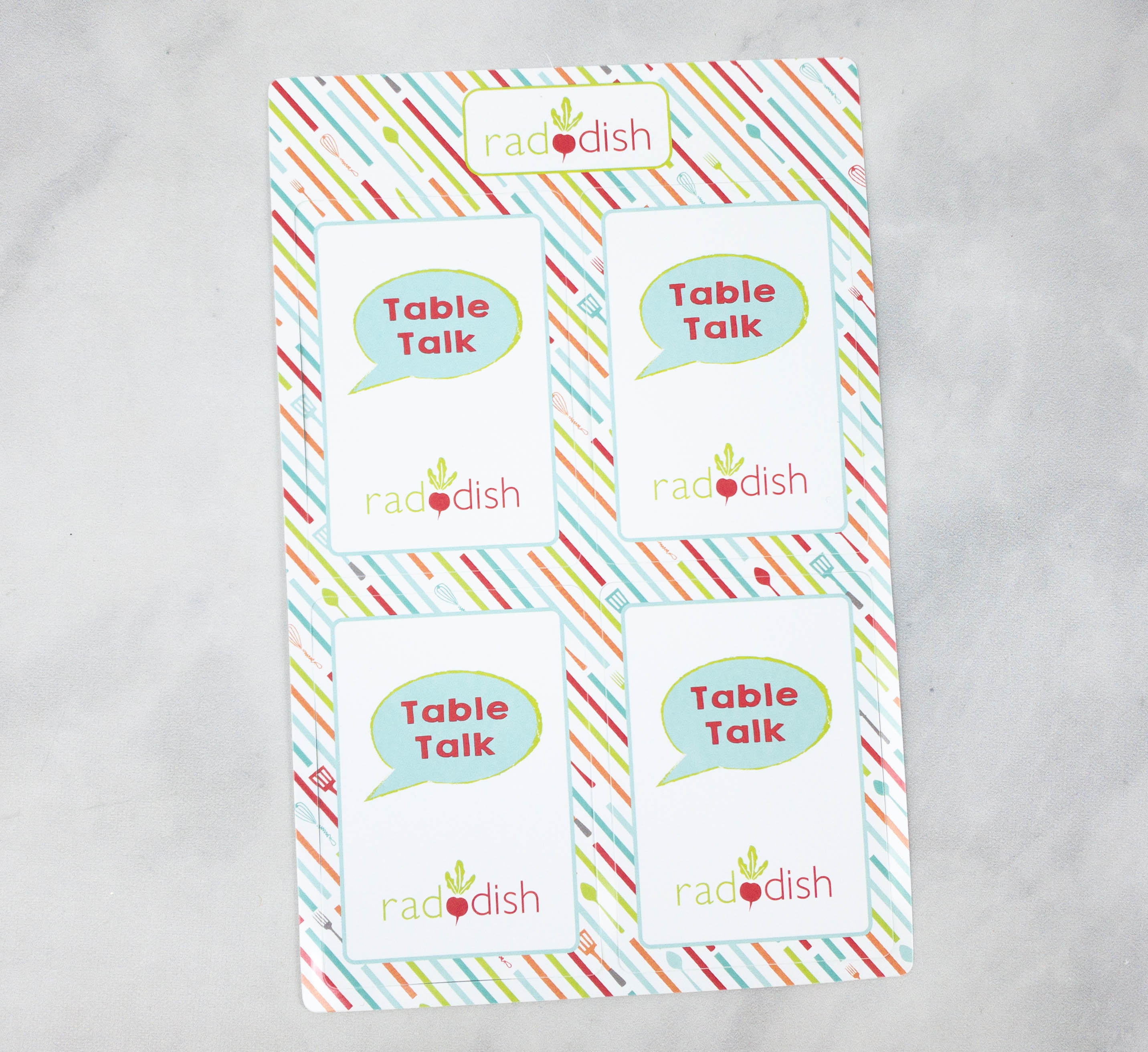 Each box also includes exclusive Table Talk conversation starter cards.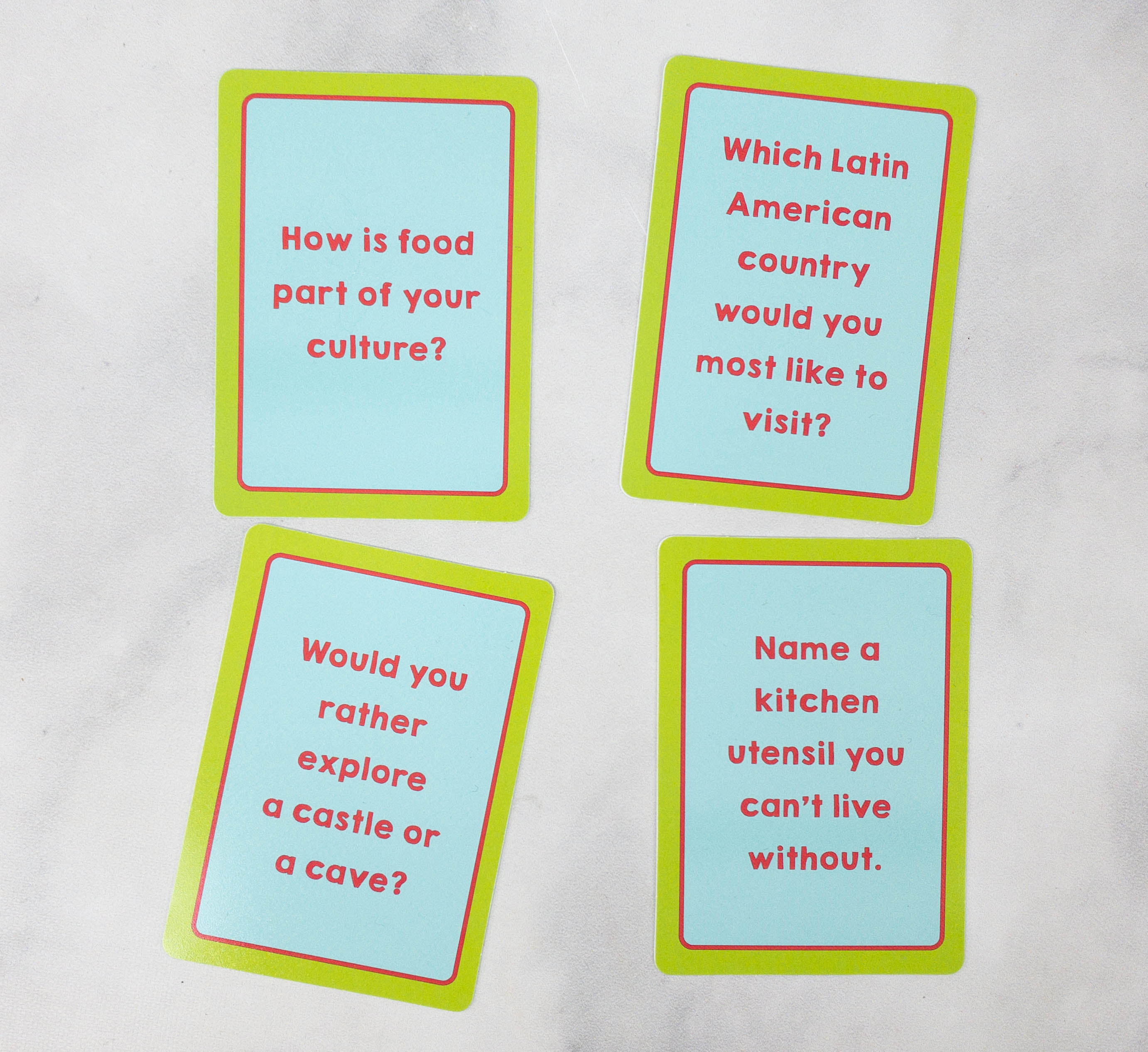 The cards contain questions for a great table talk conversation. They come in a sheet and you can easily tear them down.
Everything in our May 2021 box!
The patch represents this month's theme! It features a colorful patterned Mexican bowl on an orange background.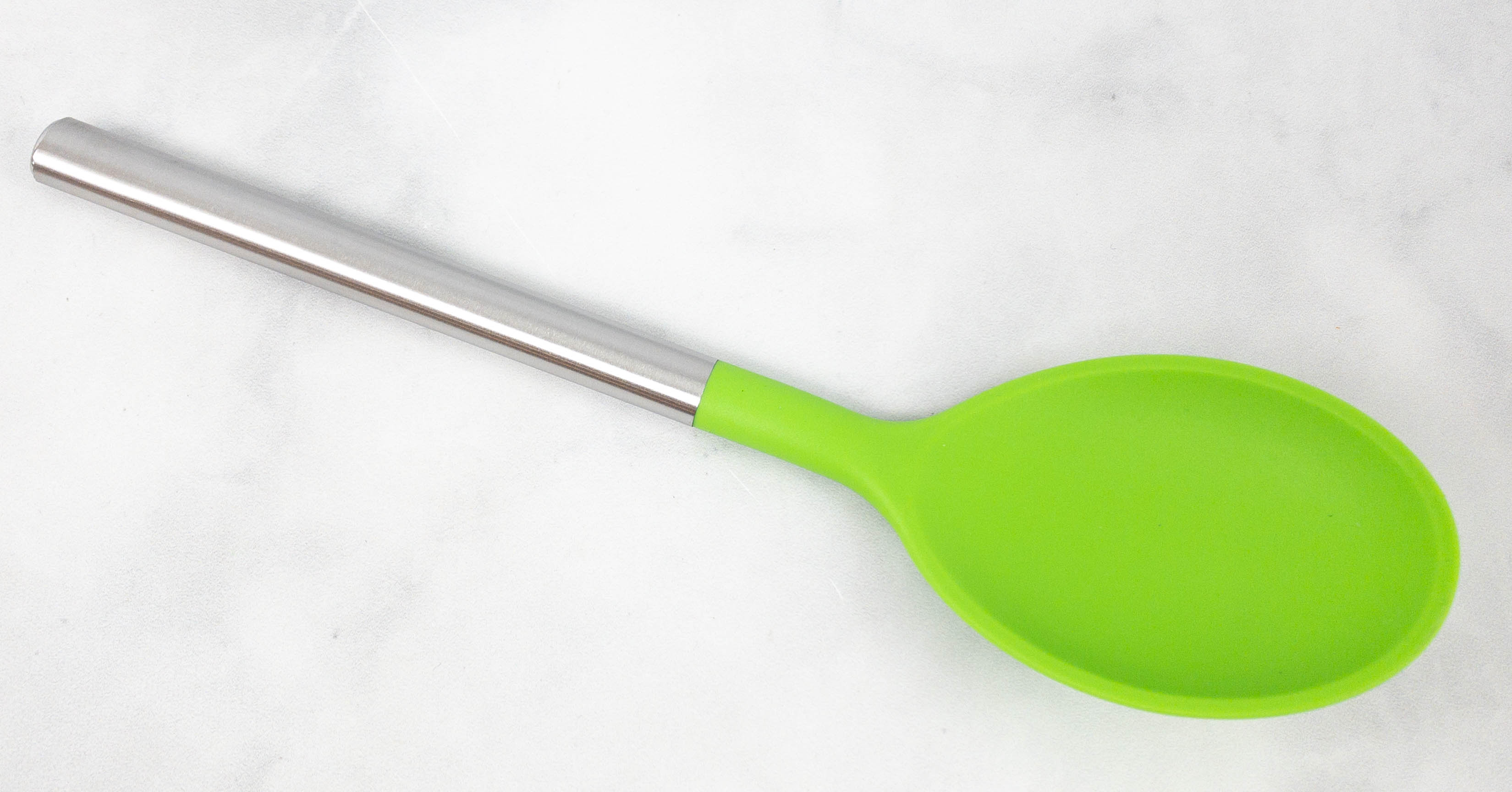 This month's featured tool is a serving spoon with a stainless steel handle and a silicone spoon bowl.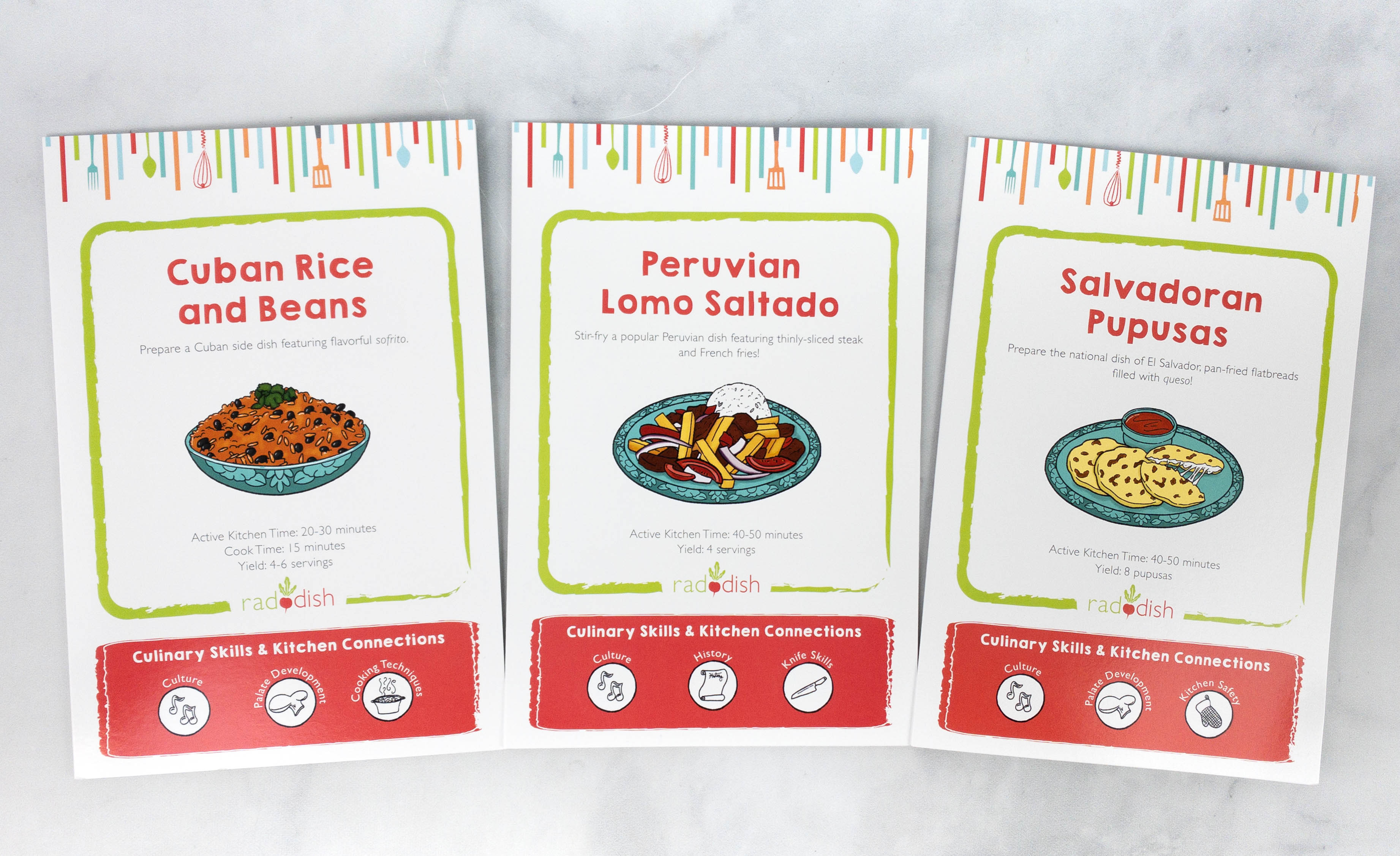 Here are this month's recipe guides!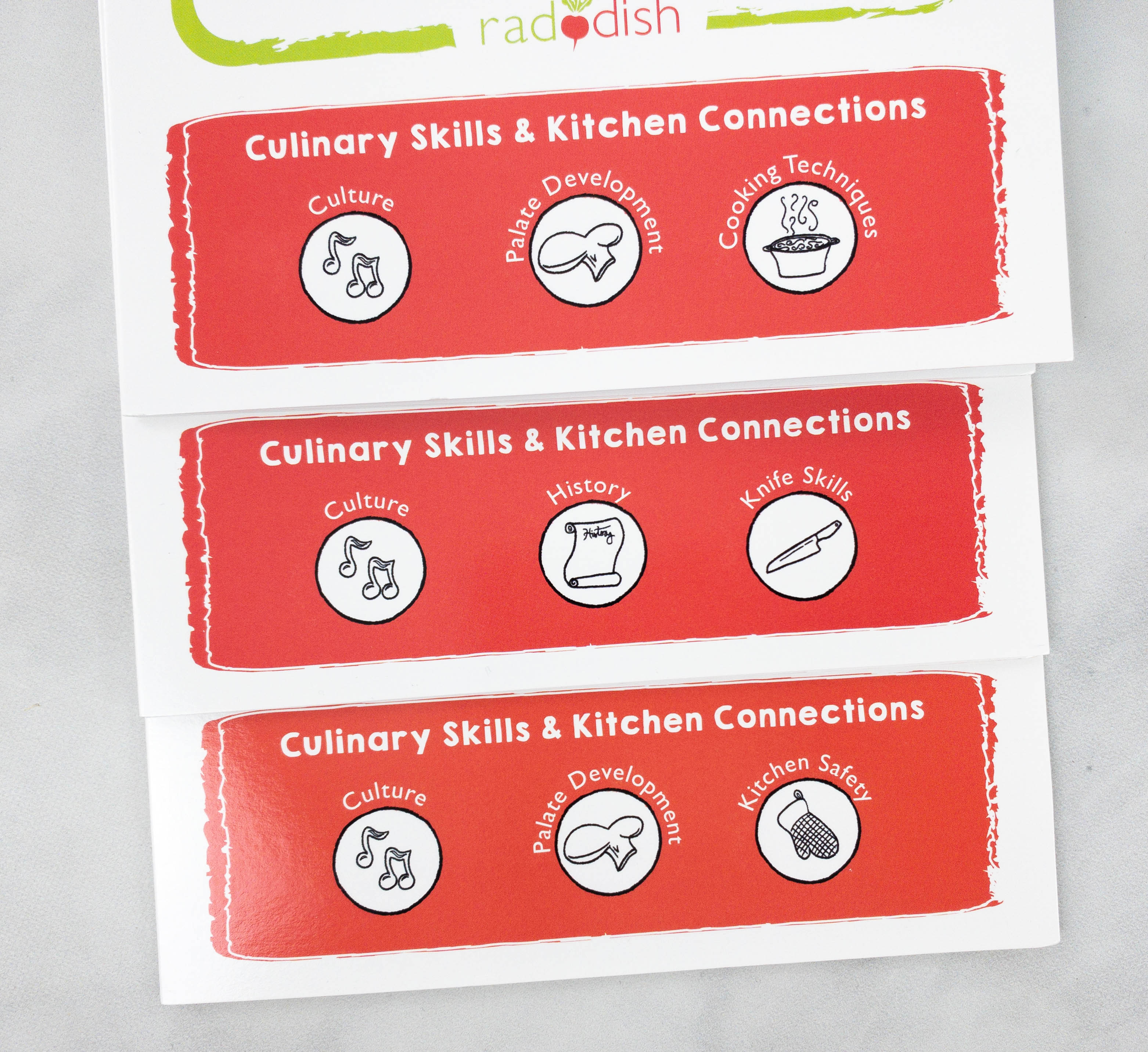 Each recipe has corresponding culinary skills and kitchen connections.
Cuban Rice and Beans. The first recipe is popular Cuban side dish, made with sofrito!
Active Kitchen Time: 20-30 minutes

Cook Time: 15 minutes

Yield: 4-6 servings
In this recipe, kids will learn how to properly cook rice.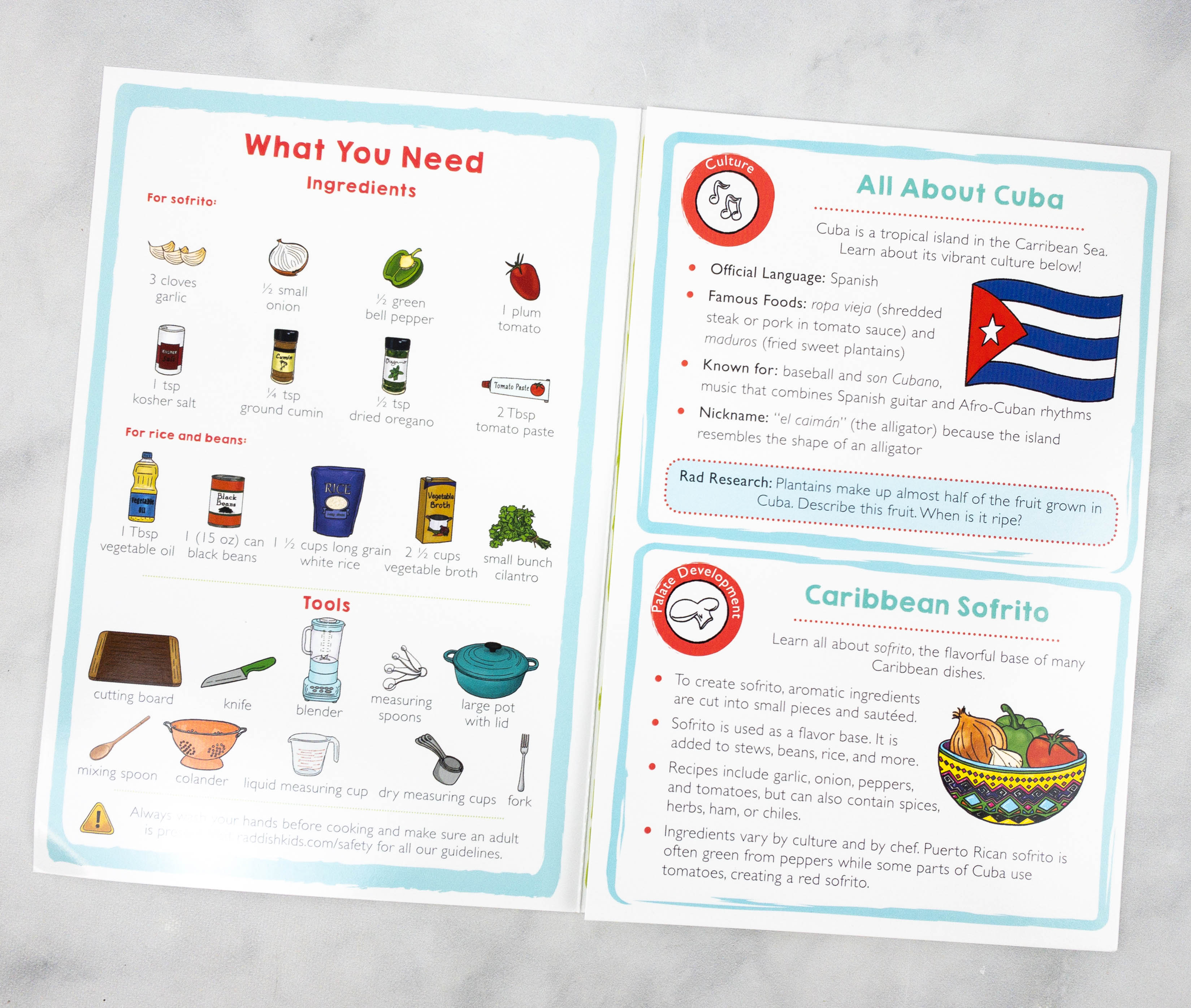 Inside the guide is a list of the ingredients and the needed tools. They even included fun facts about Cuba along with more information about the Caribbean Sofrito which is used as a flavorful base of many Caribbean dishes.
The ingredients include garlic, onion, green bell pepper, plum tomato, kosher salt, ground cumin, dried oregano, and tomato paste. For the rice and beans, the ingredients include vegetable oil, black beans, long grain white rice, vegetable broth, and cilantro.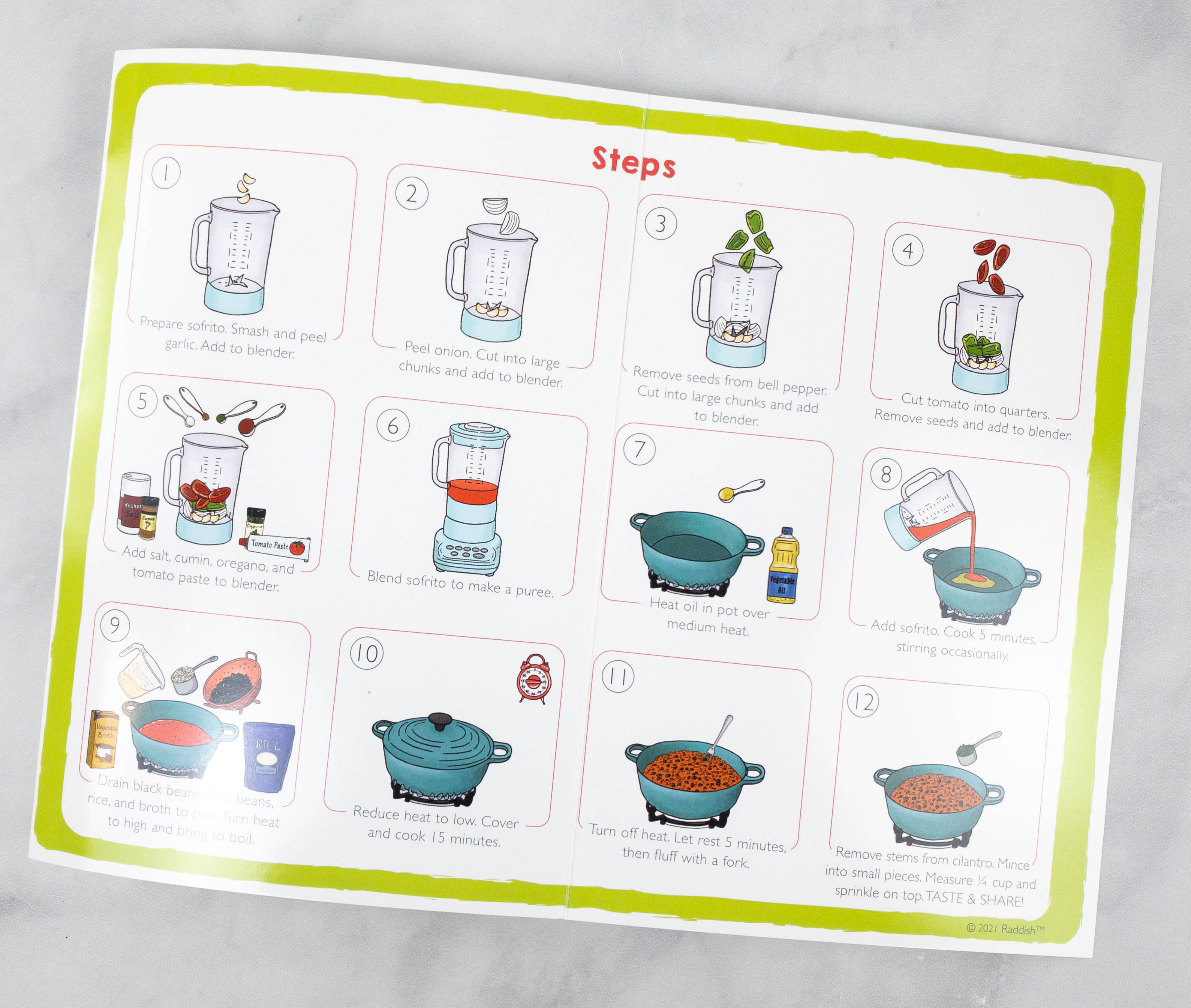 Each step in the recipe guide is accompanied by an illustration.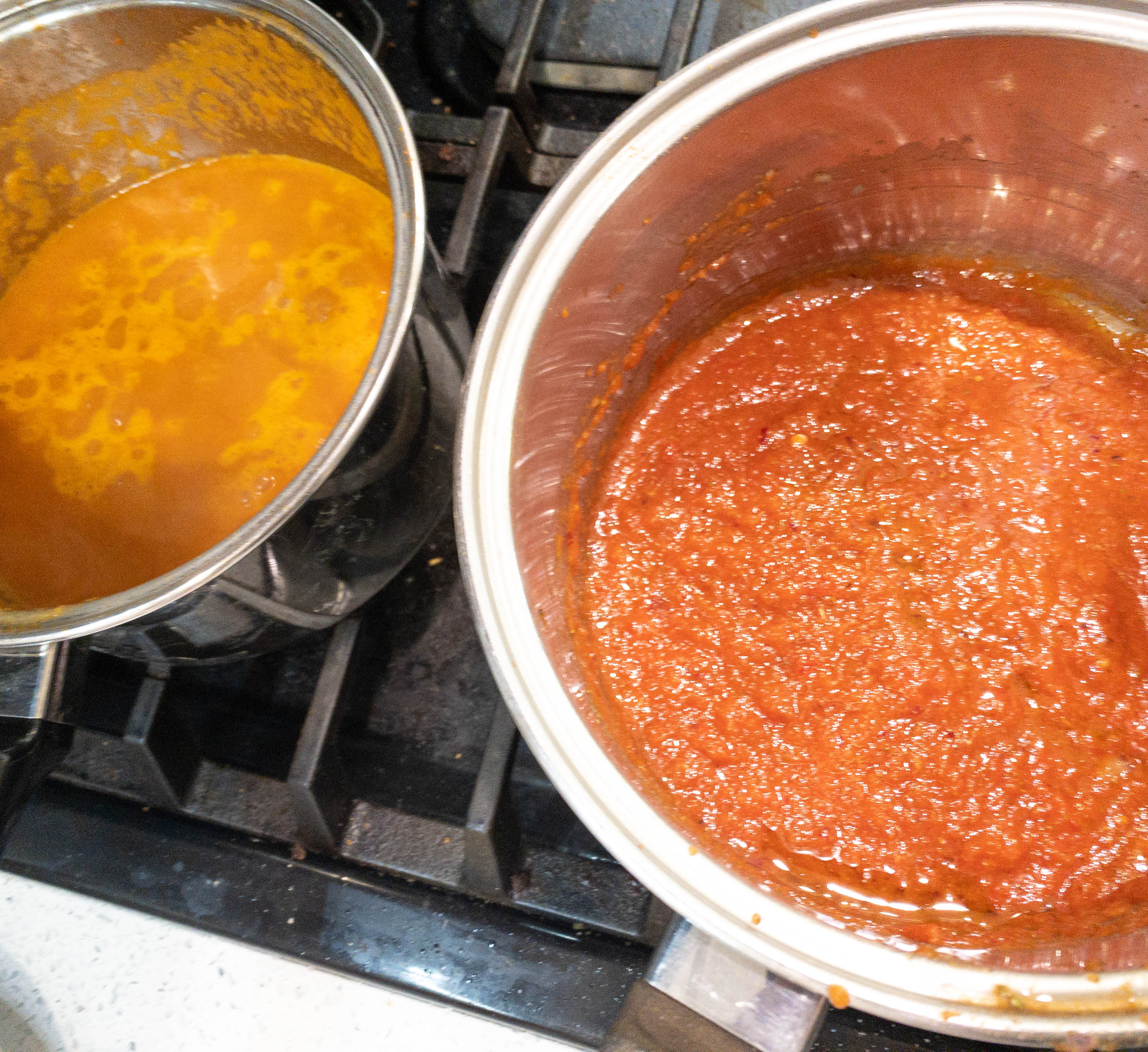 This recipe involves the use of a blender. My kids enjoyed using it to make sofrito (with adult supervision, of course!). After making the sofrito, my kids proceeded to cooking the rice which is the featured culinary skill for this recipe. They learned how to cook plump rice using the stove top, as well as some techniques including the right ratio of rice to liquid and to cover the pot while the rice is cooking.
This dish was pretty quick to make and it also turned out really good. It's packed with flavor and even a small serving is already so filling!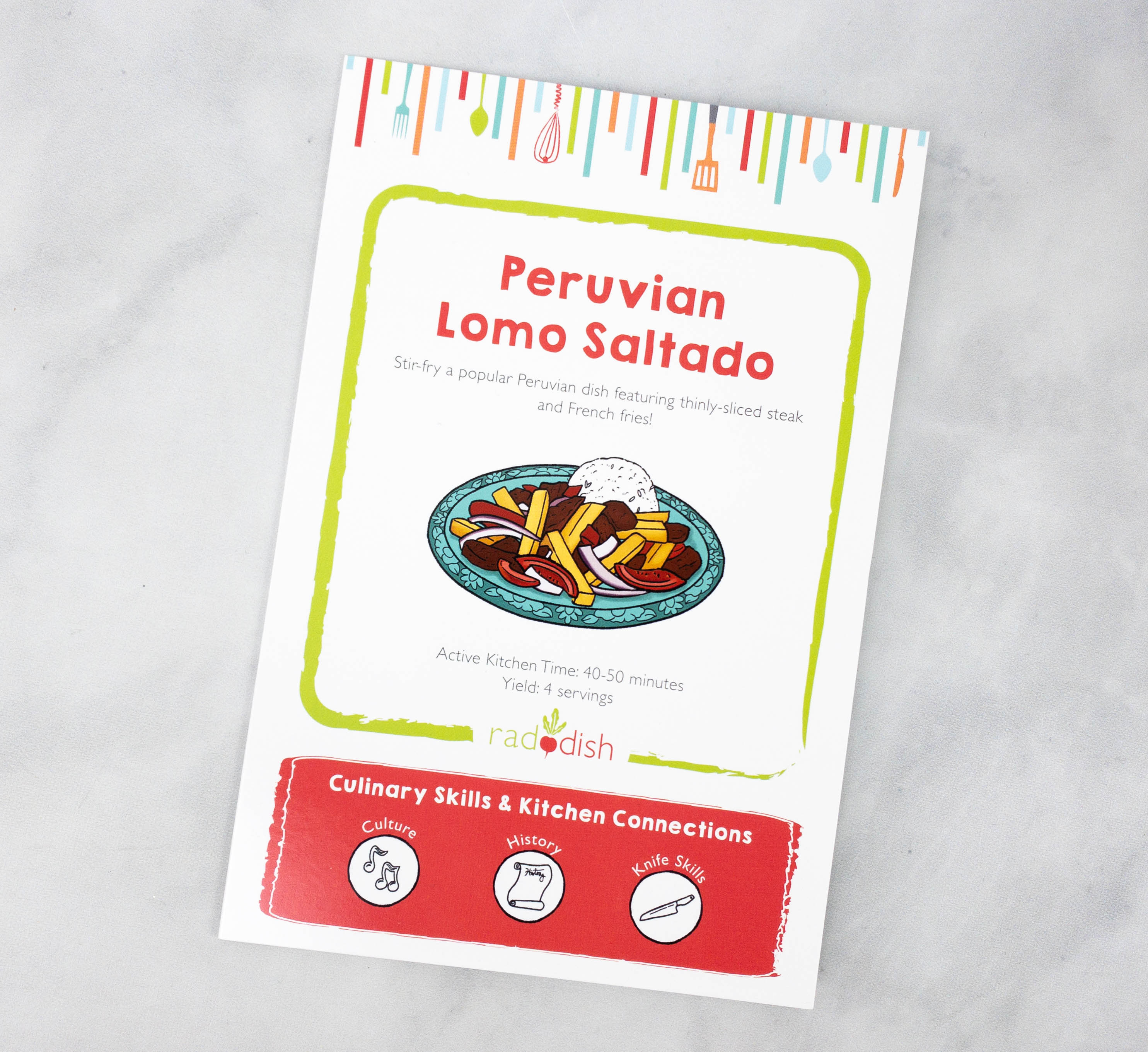 Peruvian Lomo Saltado. The next recipe is called Peruvian Lomo Saltado, which is a steak served with French fries!
Active Kitchen Time: 40-50 minutes

Yield: 4 servings
This recipe helps enhance knife skills, particularly the proper way to slice a steak.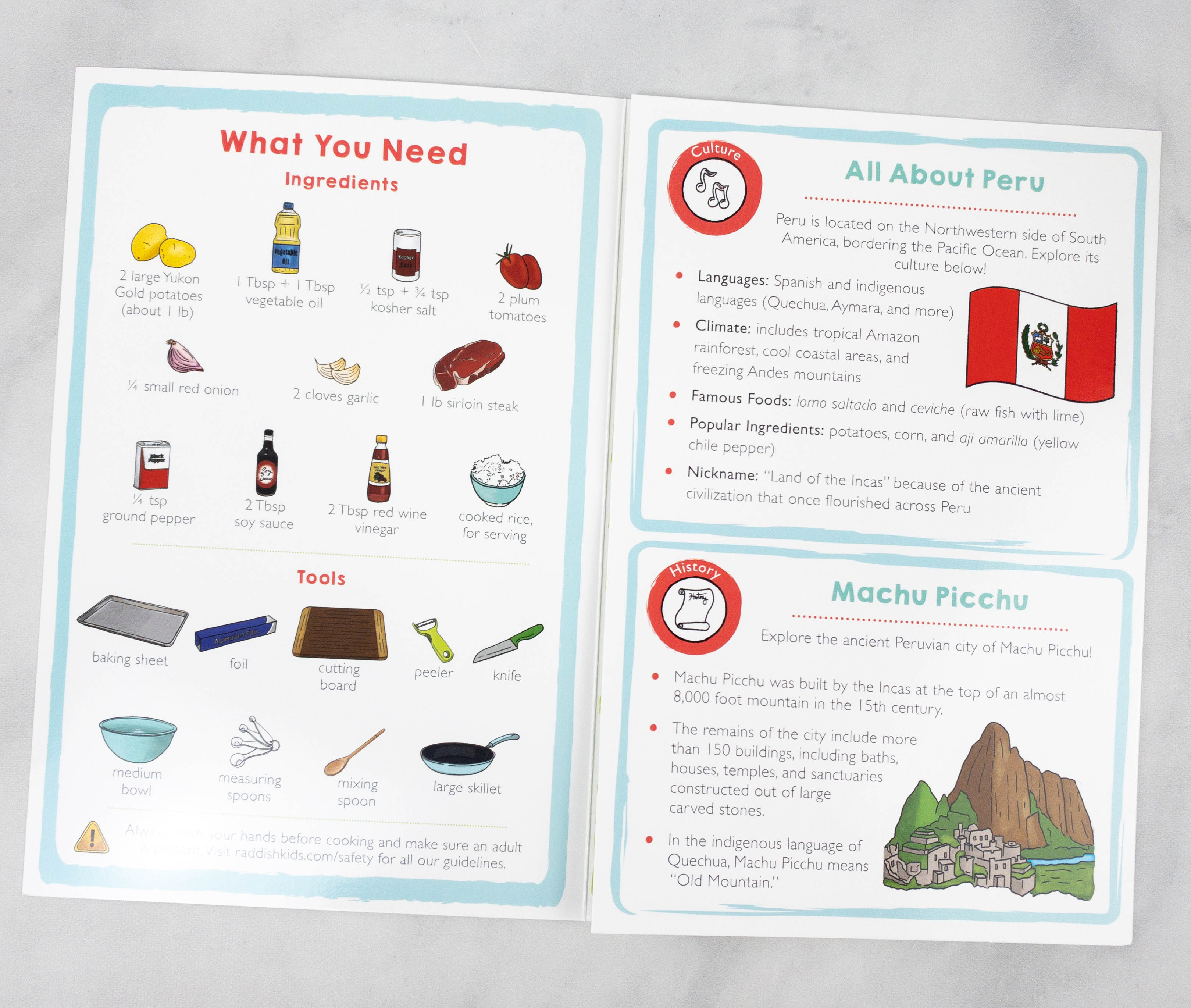 Aside from the list of ingredients and the needed tools, there's also information about Peru and the Macchu Picchu!
The ingredients for this dish are Yukon Gold potatoes, vegetable oil, kosher salt, plum tomatoes, red onion, garlic, sirloin steak, ground pepper, soy sauce, red wine vinegar, and cooked rice for serving.
This recipe requires the use of an oven.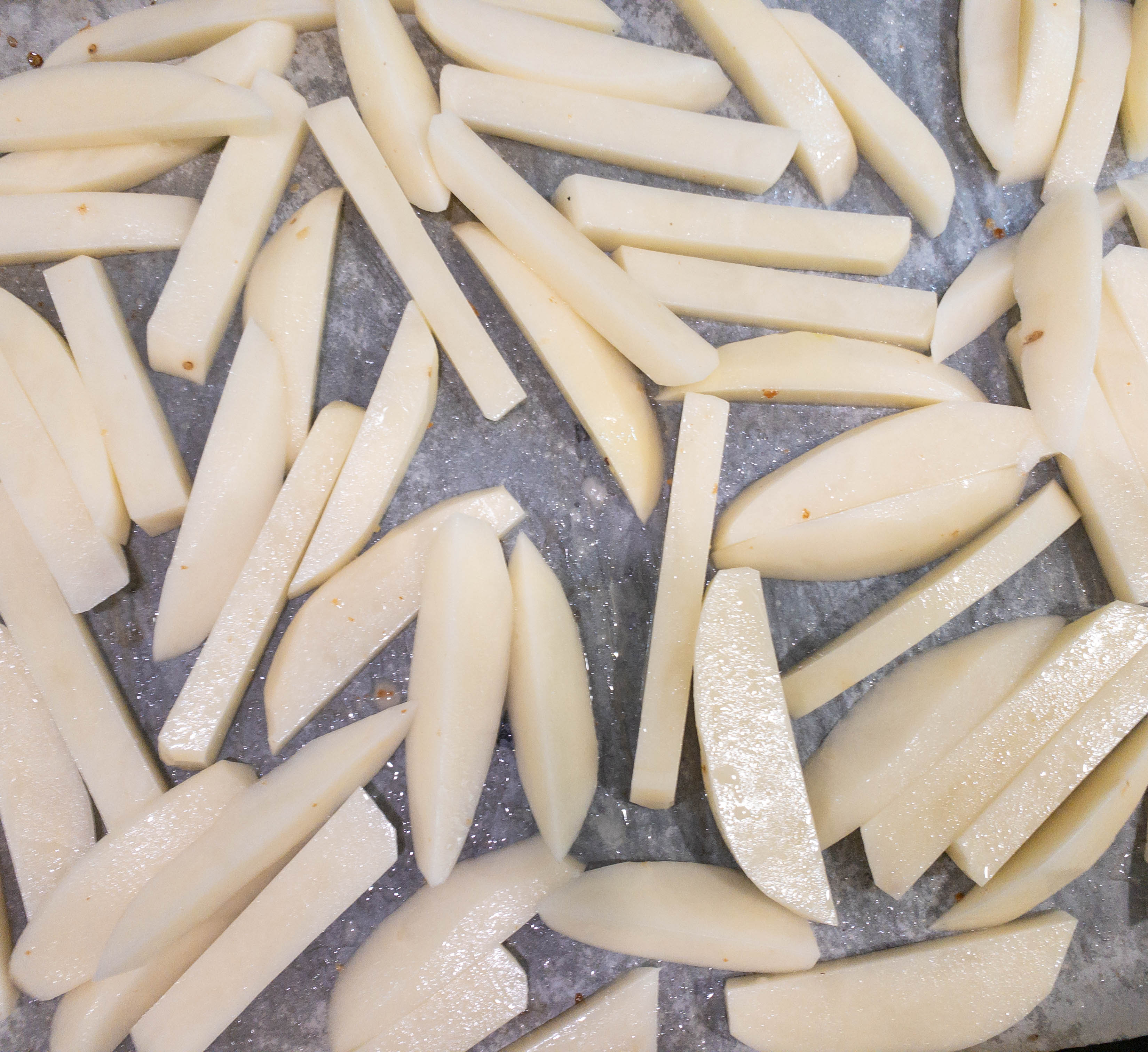 My husband helped the kids cut the potatoes for the fries, as well as in slicing the steak into half-inch thick strips.
My kids followed the tips from Raddish Kids, including slicing against the grain, and cutting carefully and consistently. It was a bit challenging, but the tips were really a great help. For the last part, they seared the steak strips and added the remaining ingredients.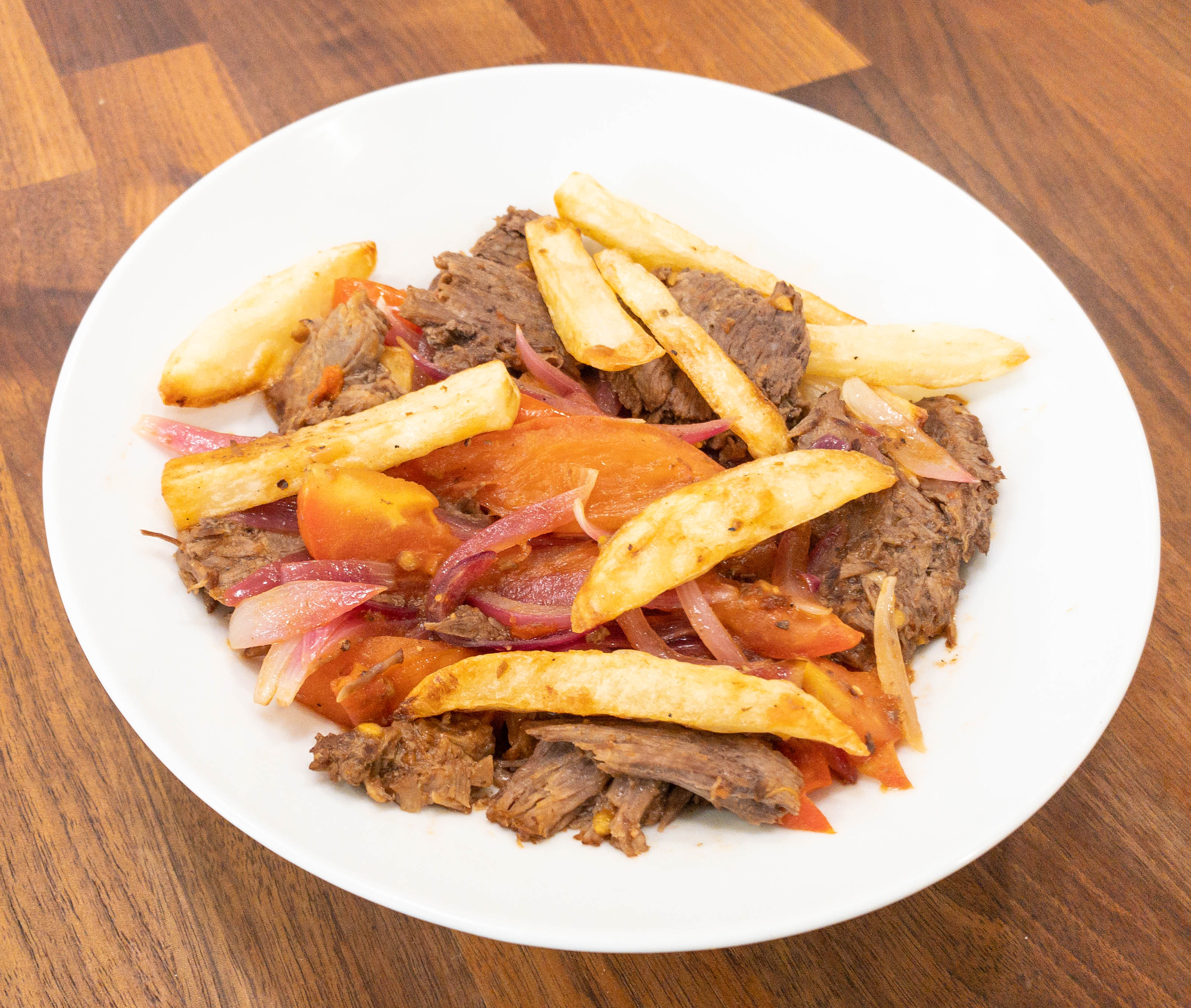 After adding the French fries, you can now serve it with rice. This looks good and tastes so good as well! You can never go wrong with steak and potatoes!
Salvadoran Pupusas. For snacks, they included a recipe for pupusas. It's a pan-fried flatbread with cheese!
Active Kitchen Time: 40-50 minutes

Yield: 8 pupusas
This time, the kids will learn about stovetop safety!
Of course, the ingredients and tools needed for the recipe are provided. There's also a feature about El Salvador, the country where this dish originated, and more information about authentic pupusas!
Ingredients include garlic, onion, vegetable oil, canned diced tomatoes, vegetable broth, kosher salt, masa corn flour, water, and shredded mozzarella cheese.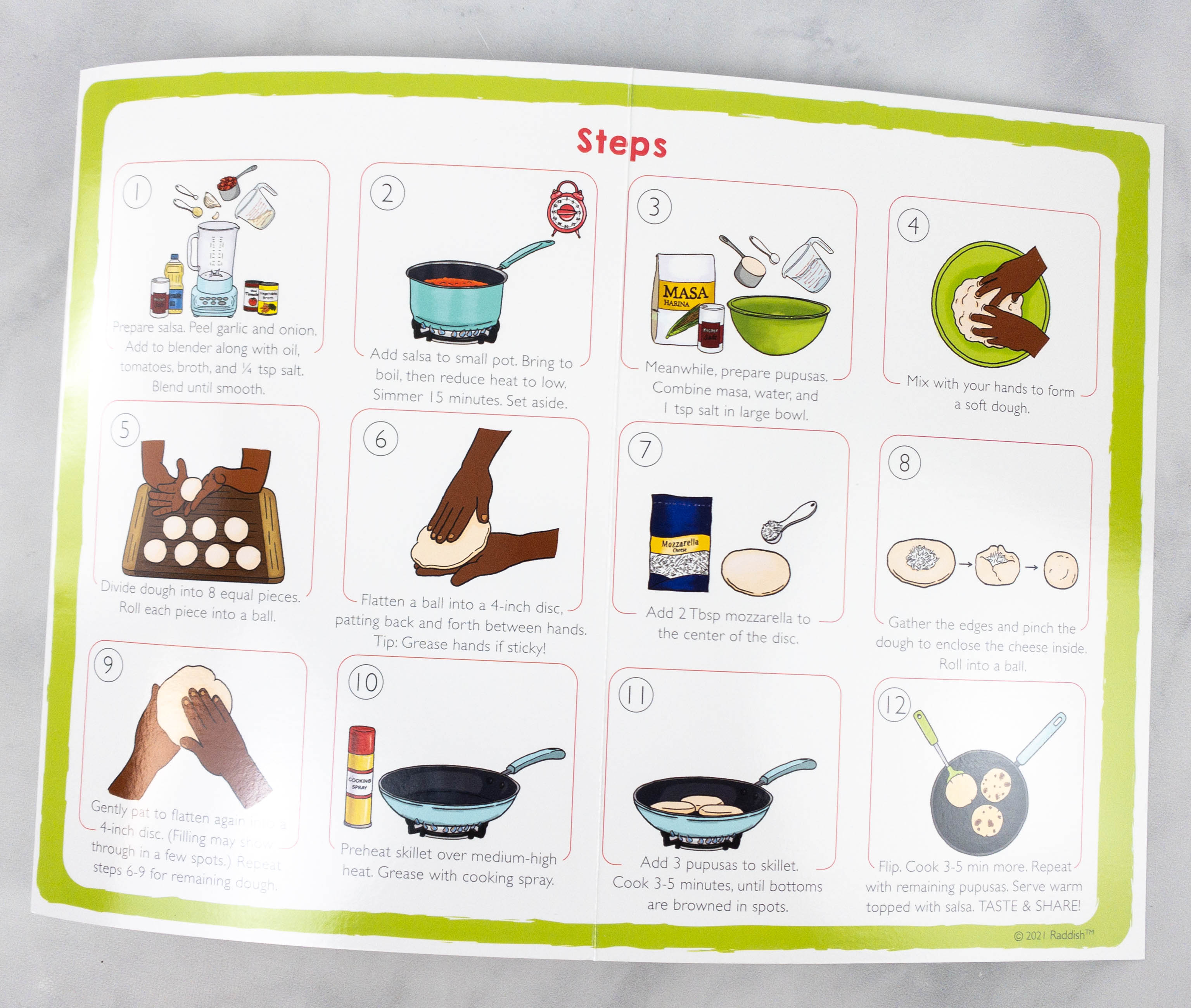 Here are the steps in making the pupusas! It involves preparing the salsa first, and then making the dough.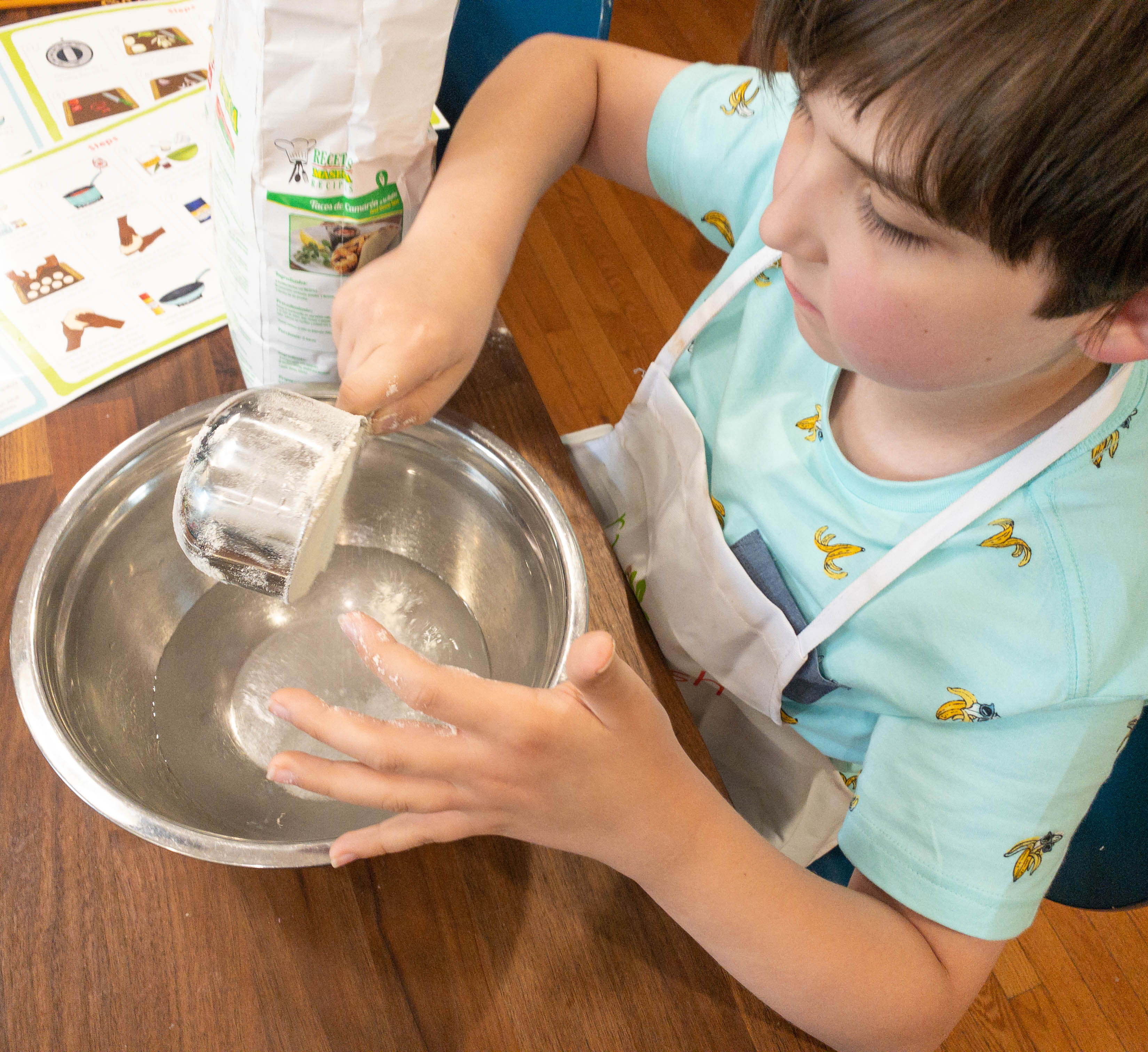 Preparing dough is no longer new to him because he already learned it from past Raddish Kids recipes. Still, it's fun and it's good to refresh skills once in a while!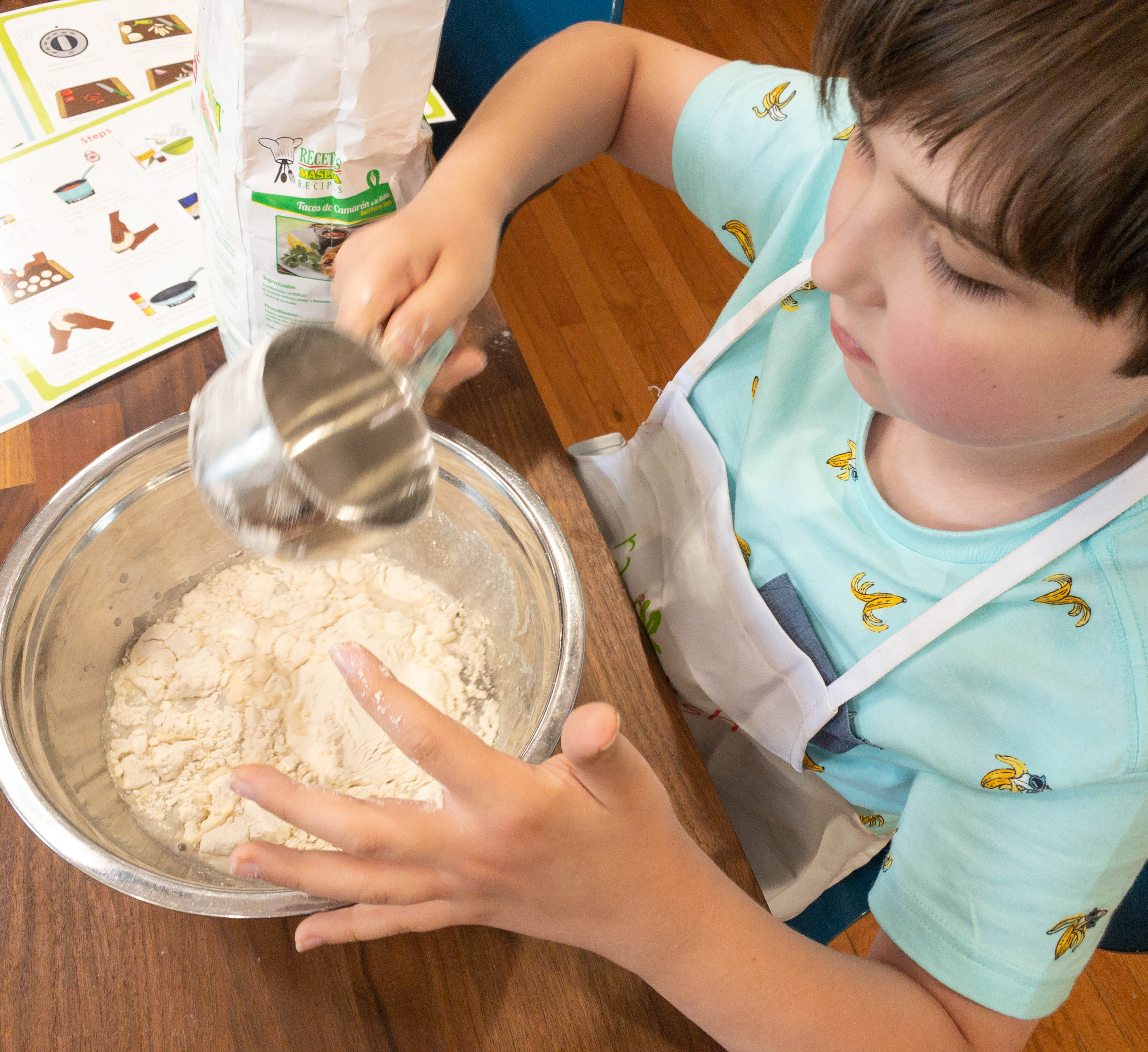 Raddish Kids often includes recipes that involves making dough, so it's great for kids who want to learn basic baking skills as well.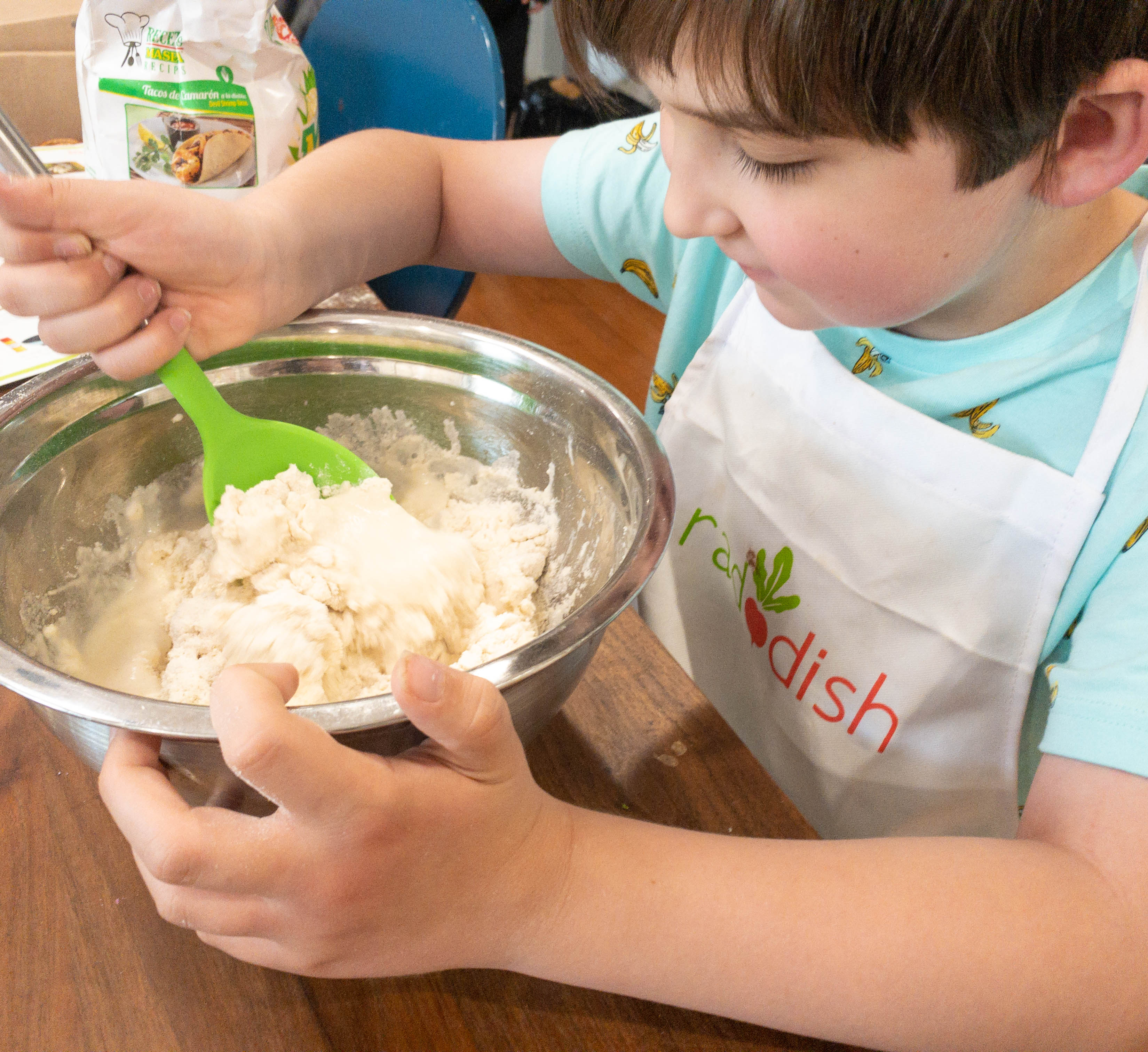 My son also learned how to properly mix the dough through this subscription!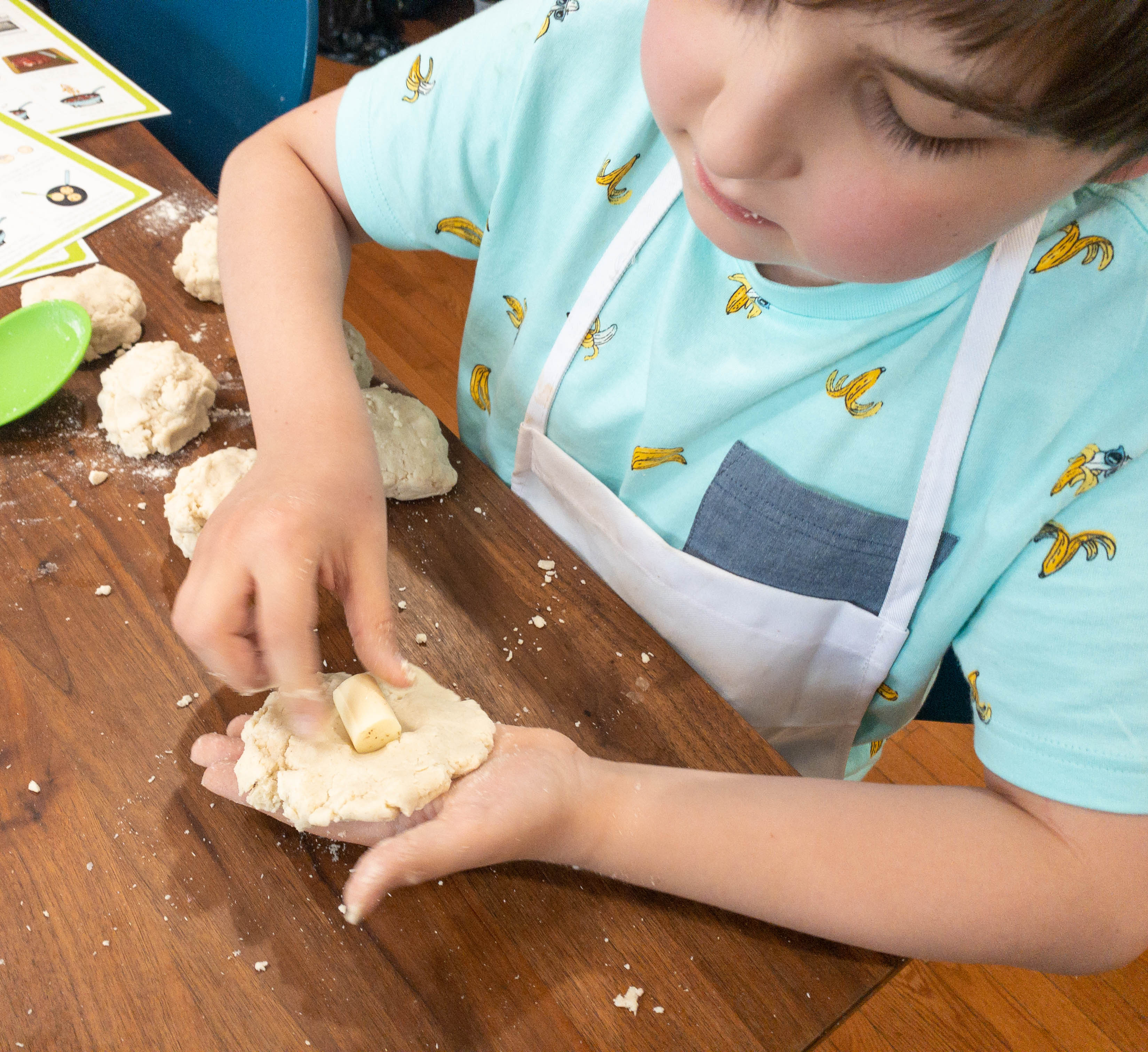 This dish is going to be cheesy!
Now, it's time to practice stovetop safety, which is the corresponding culinary skill for this recipe. With adult supervision, my kids preheated a skillet over medium-high heat, greased it with cooking spray, and then cooked all the pupusas. This is also a good opportunity to teach kids how to keep the stovetop clean and how to
The pupusas are so yummy and they are great as finger food. They are best served warm because the mozzarella cheese inside is gooey and melty!
Here are all the dishes my kids made using the recipes in the box!
It's a plate full of amazing dishes from Latin America!
This month's Raddish Kids box introduced new flavors to my kids and they really loved it! All the recipes were fun and easy to follow, plus they are a great way to learn new culinary skills. My kids' favorite among the three Latin American dishes is the Salvadoran pupusas! The stretchy mozzarella cheese makes it really special and the flavor of the salsa also matches it well. My kids' version of Cuban rice and beans and the Peruvian Lomo Saltado were also tasty! If you're looking for a unique food-focused activity subscription box for kids, this one is fantastic, and after about a year of boxes, I can also report that it has indeed expanded my kids' interests in trying new food. Even if we make the same food, there's something about it being directed squarely at the kids that makes it super attractive for them. Raddish never fails to come up with kid-friendly recipes and they even send a new tool in each box!
What do you think of this month's Raddish Kids box?