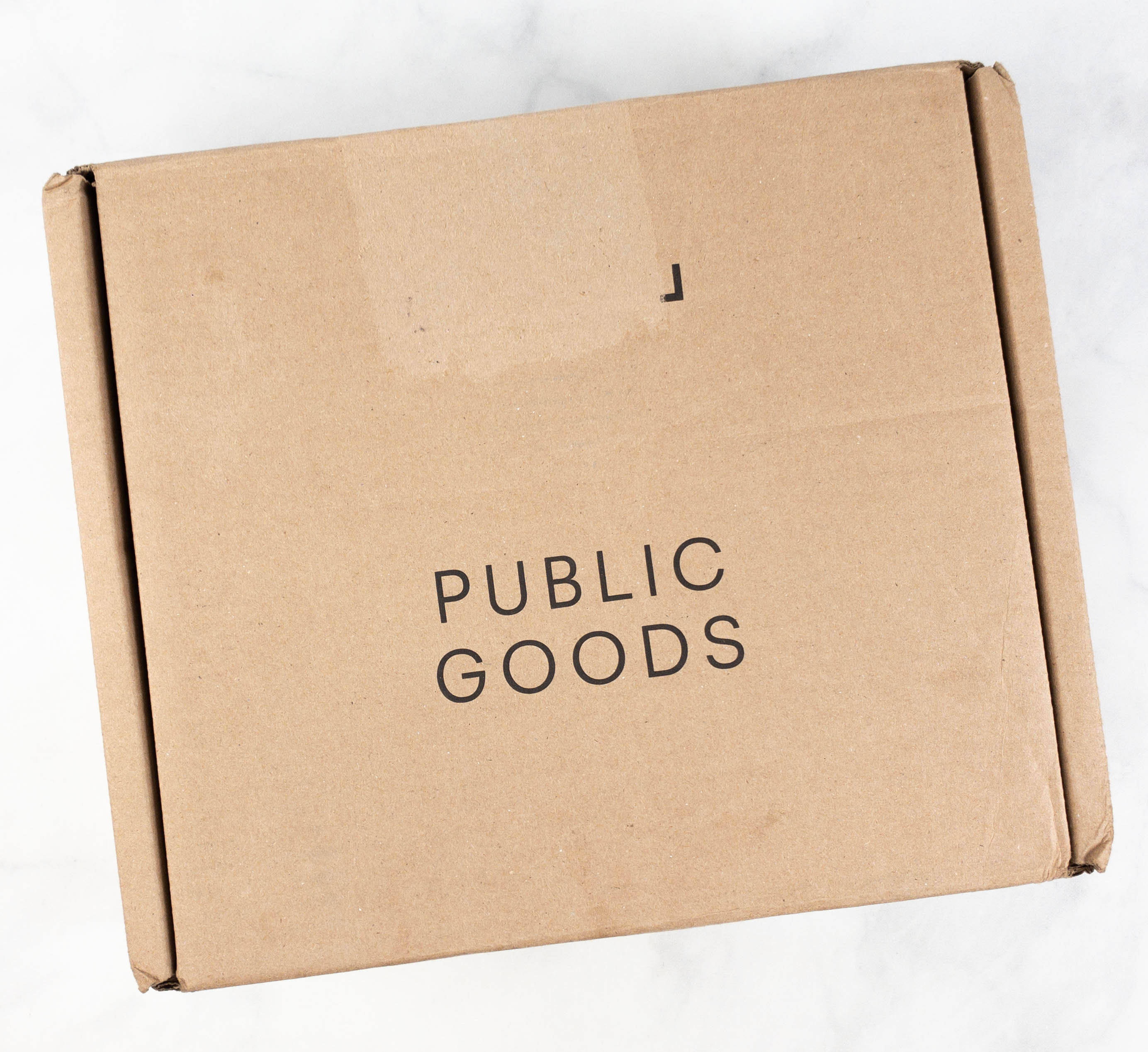 Public Goods is one of our favorite direct-to-your-door membership services. I picked out a pile of summer-friendly basics to check out – everything that would be perfect for summer fun, cleanup, and everyday sunny bliss!
Public Goods is a membership service that offers essentials, including personal care, household items, grocery, and vitamins, and supplements. For a $59 annual membership fee, you get access to an entire line of high-quality essentials at well below retail prices. Most products are organic, and there are also vegan-friendly, gluten-free, and tree-free options.
Public Goods, in partnership with Eden Reforestation Projects, plant a tree every time you place an order. They do it to offset the carbon used in the creation and shipment of their products. At present, they've planted nearly 100,000 trees and counting!
DEAL: Get 25% off your first order. Use this link and the coupon code HELLOPGA.
NOTE: You'll automatically be subscribed to Public Goods Membership when you order – that's 2 weeks FREE. After the trial, you'll be charged $59 annual membership fee. Once you sign up for your membership – you're IN! There's free shipping on $45+ orders in the US – $100+ in Canada.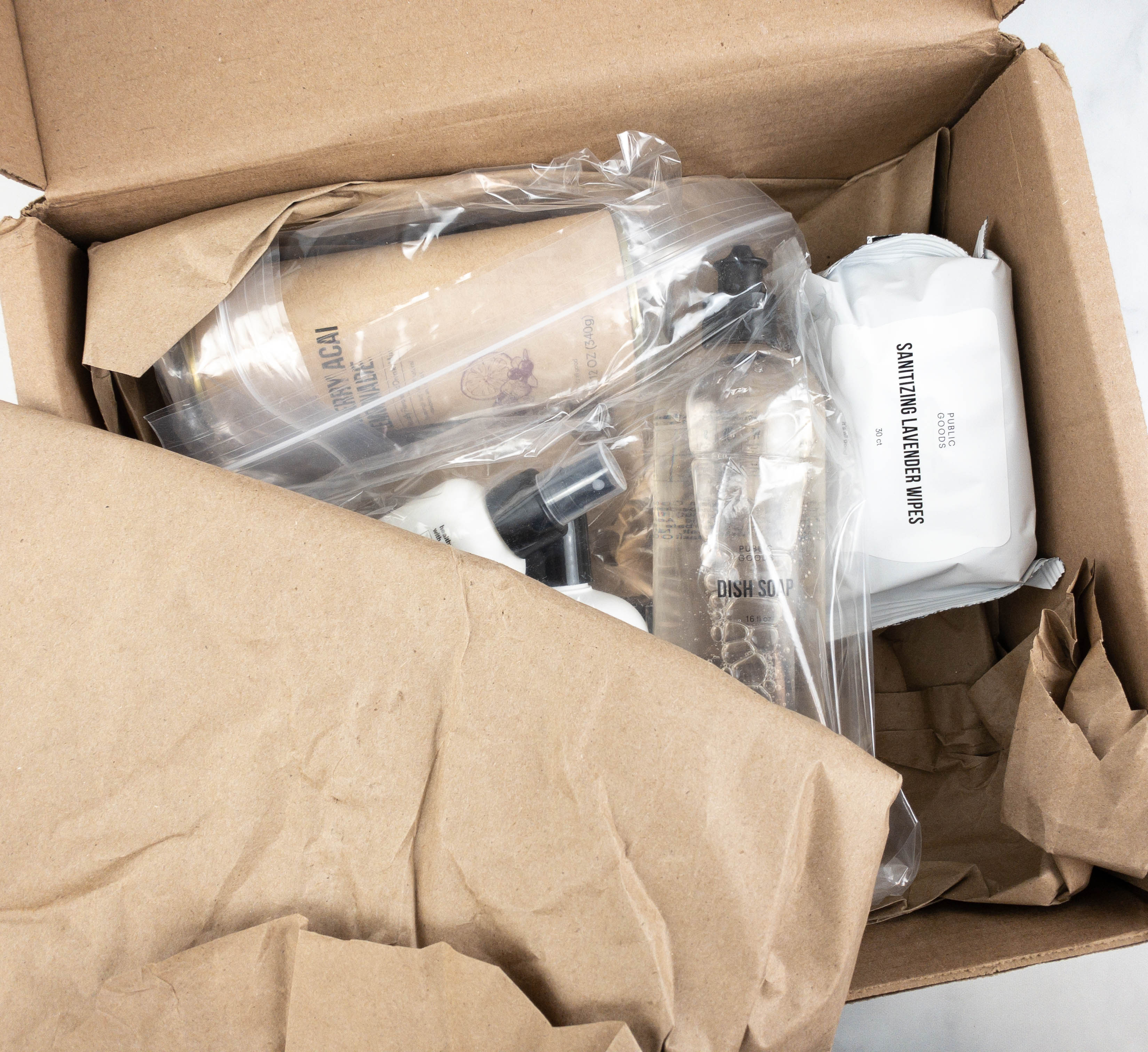 In line with their zero-waste efforts, Public Goods continues to invest in biodegradable or compostable materials, like sugar cane bottles, tree-free paper, and toxin-free ingredients. They also currently use boxes and packagings from sustainable sources. Some of the zero-waste products you can find on their website are food products in glass containers and with metal lids, reusable bags, bar soaps, washcloths, shampoo bars, vacuum bottles, and wool dryer balls.
For some of their personal care and household products, Public Goods offers refills. If it's your first purchase, get the full-sized bottle first (unless you have a refillable container already!) and then save money and help reduce waste next time by just buying the refills. Personal care refills come in recyclable pouches, while household product refills come in recyclable tubes.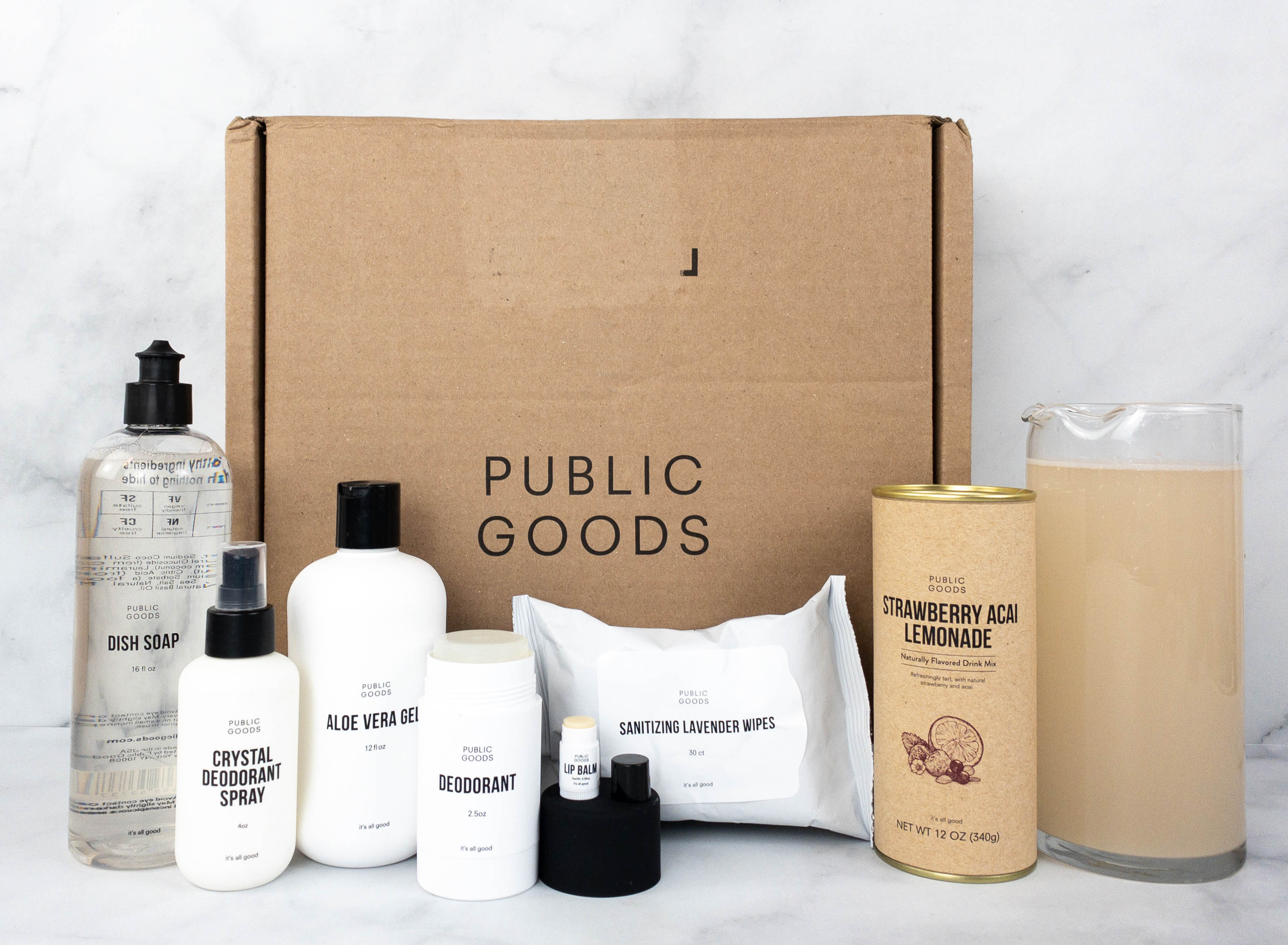 Everything in my box!  I know it doesn't scream summer because of the neutral branding, but read on!
Public Goods Sanitizing Lavender Wipes ($3) These lavender-scented sanitizing wipes helps eliminate germs from your hands, especially when soap is not available. They come in a resealable pack, making it perfect to bring anywhere you go. They're great for festivals, quick cleanup at BBQs, and more!
Key ingredients include anti-microbial ethyl alcohol, organic cucumber, chamomile, white tea, and aloe.
The wipes are also eco-friendly because they are compostable. They are even cruelty-free to boot! They smell great!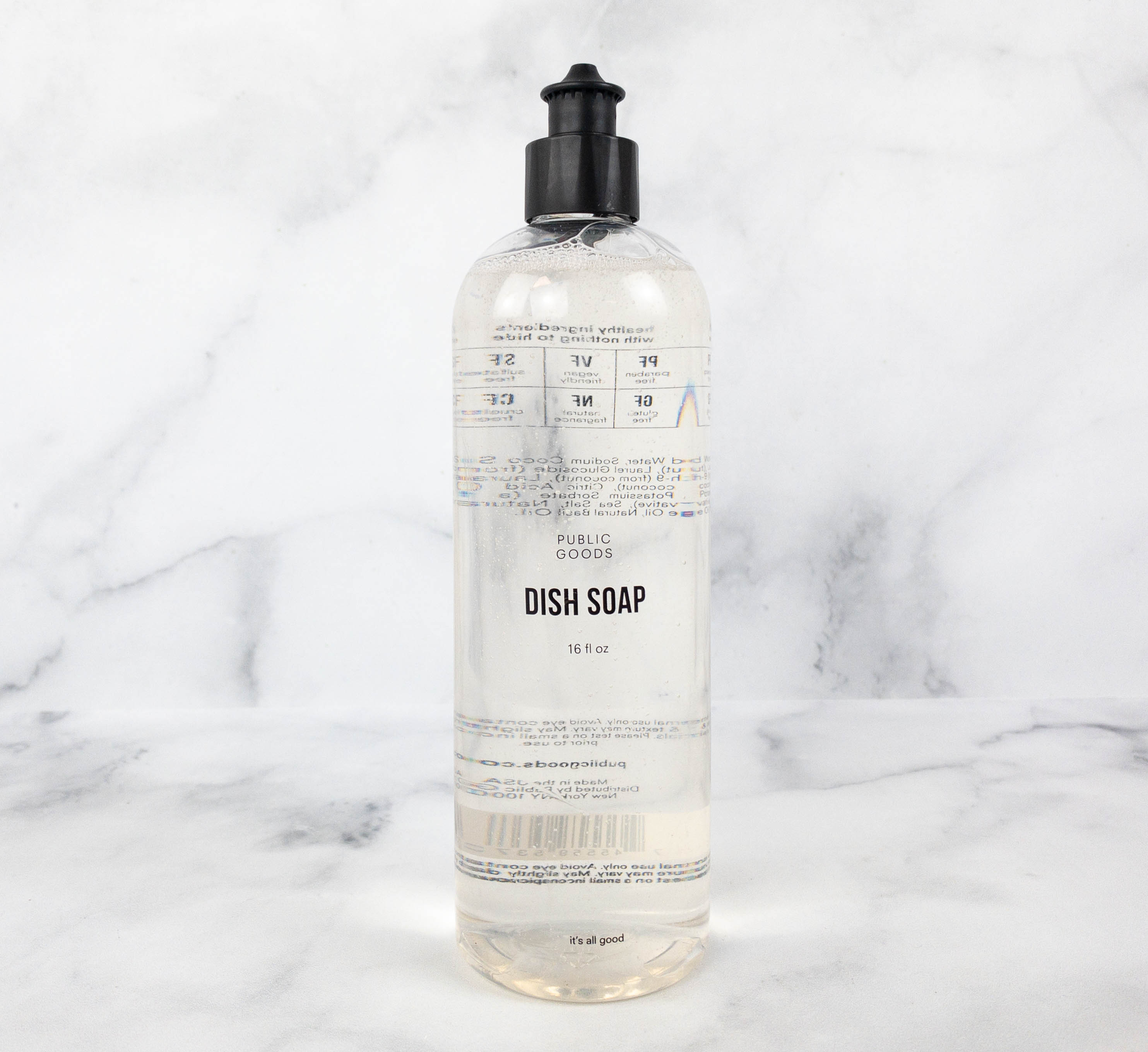 Public Goods Dish Soap ($4.25) Another entry in the smells great category! Here's a plant-based dish soap capable of removing grease, grime, and stubborn dirt on plates without being harsh on your hands. Unlike regular dish soaps, this doesn't have synthetic fragrances, dyes, synthetic foaming agents, unnatural preservatives, water softening agents, and other harmful substances.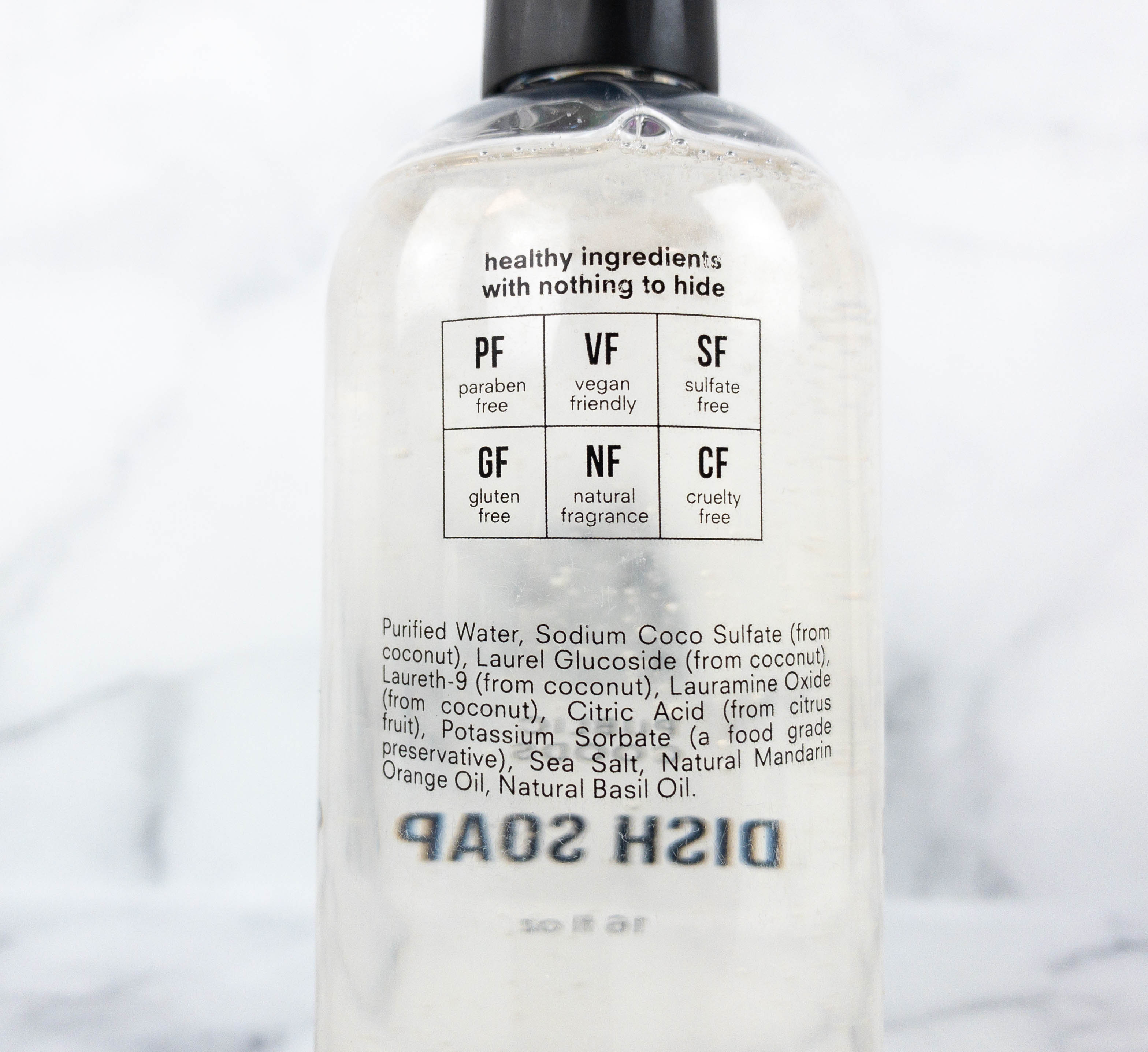 It's formulated with purified water, coconut-based active ingredients, citric acid, sea salt, mandarin orange, and basil essential oils. Another great thing about this dish soap is that it's waste water-friendly and biodegradable!
I've been using this on my dishes and the scent is invigorating and fresh! Just what I need to lighten the mood when it comes to summertime dish scrubbin!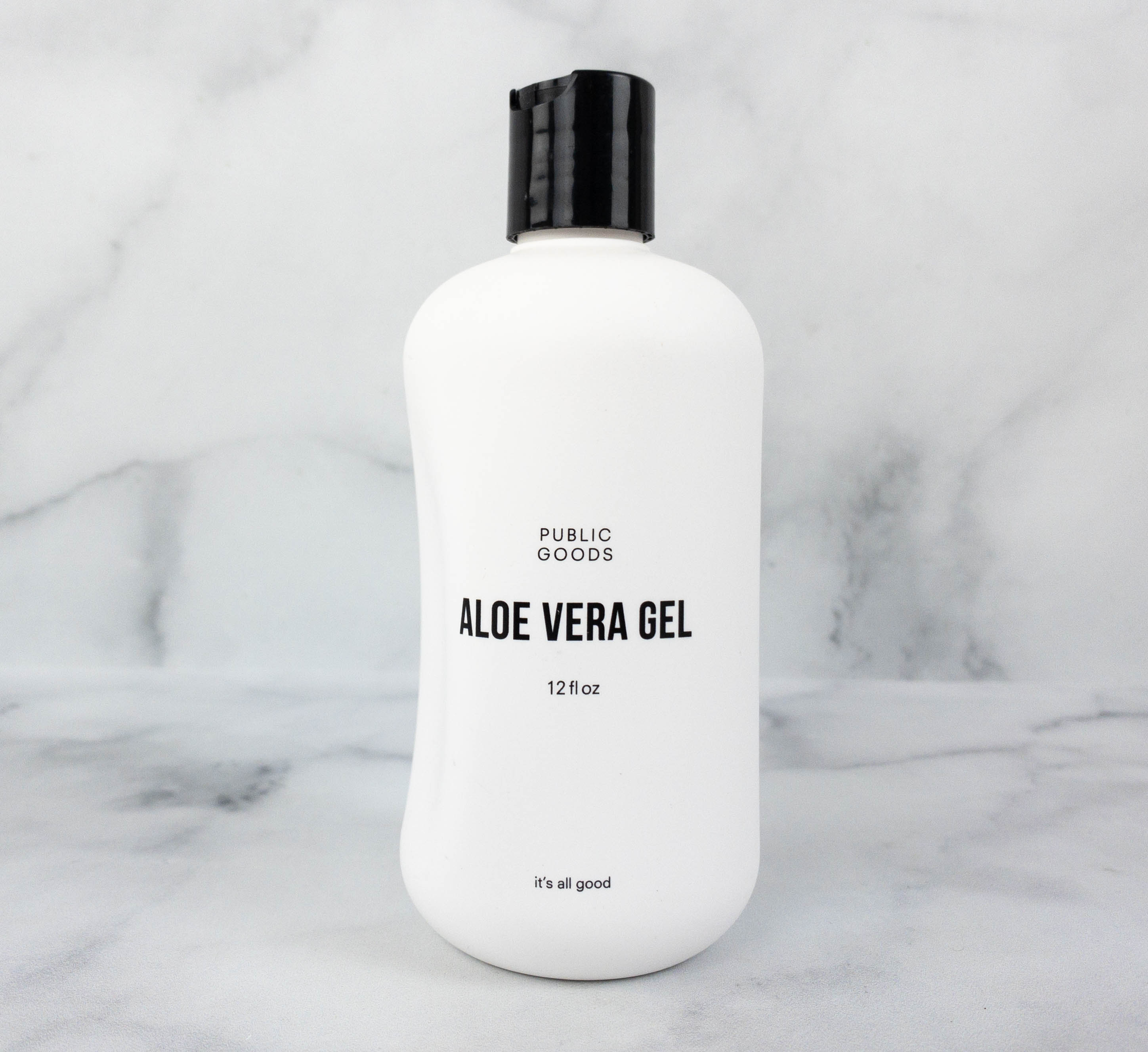 Public Goods Aloe Vera Gel ($6) My number on summer skin repair essential – aloe! This is a multi-purpose aloe vera gel that moisturizes and soothes the skin, and even helps repair damage. It's made from all natural ingredients that's quickly absorbed by the skin without leaving grease or stains.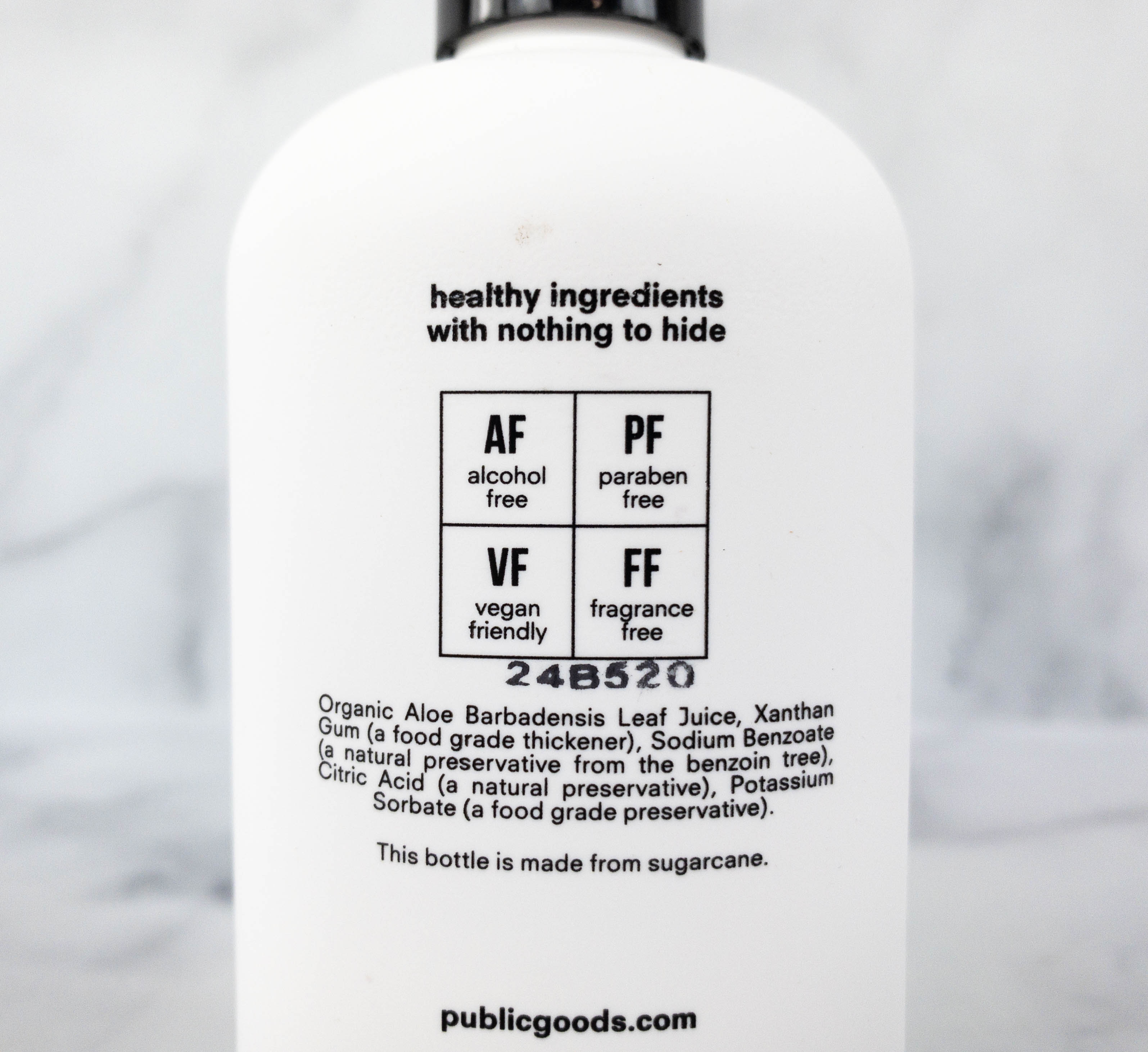 It can be used with minor burns, sunburns, and skin irritations, as well as for insect bites, chafing, itching, and dry skin. It's also worth noting that the bottle itself is eco-friendly because it's made from sugarcane!
I find aloe so soothing and seriously healing. If you have a burn, don't just put it on once – keep on adding more as soon as it's soaked in.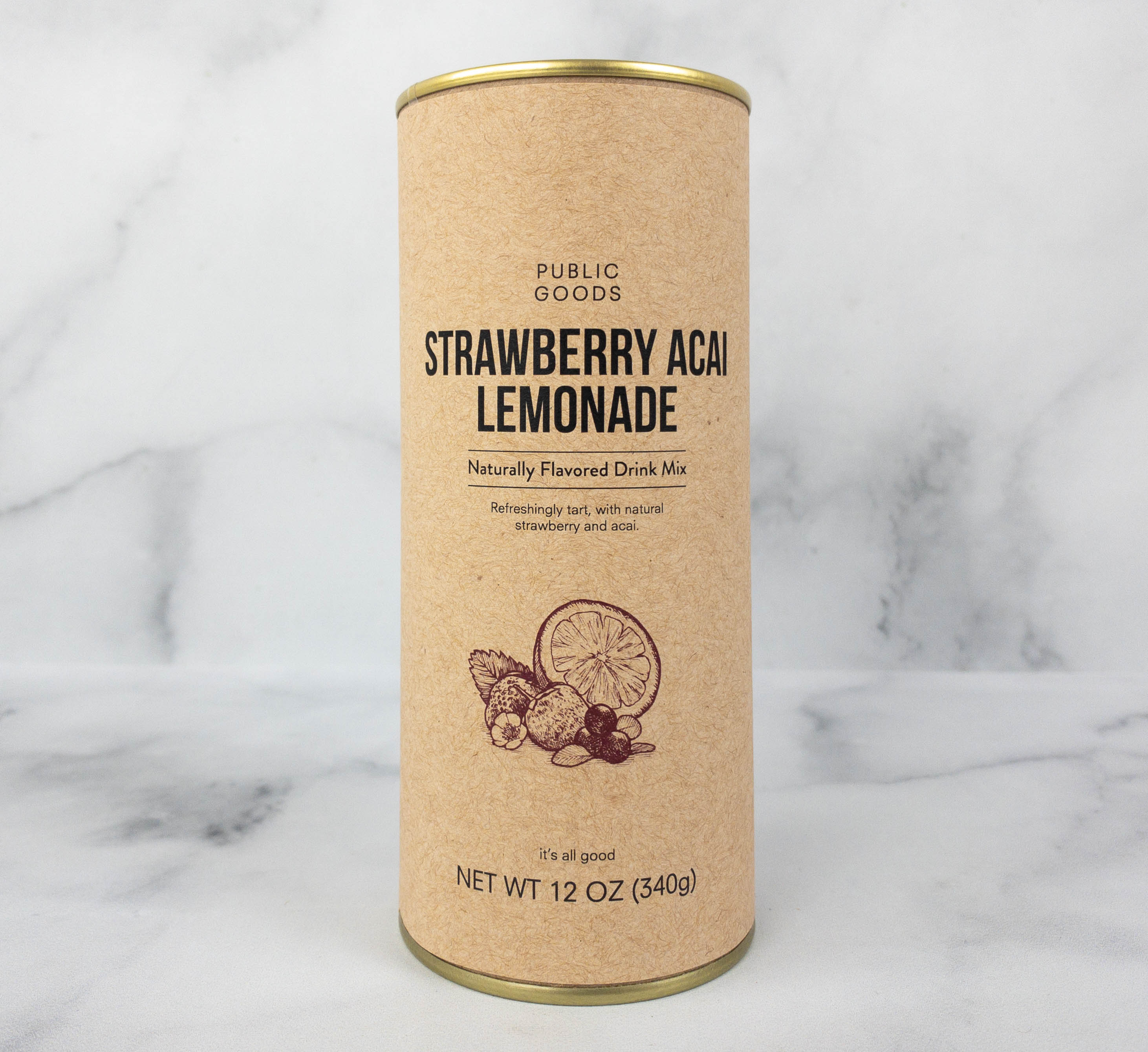 Public Goods Strawberry Acai Lemonade ($8.75) This refreshing and delicious strawberry acai lemonade mix is a great summer refresher or mixer. It comes in a recyclable container.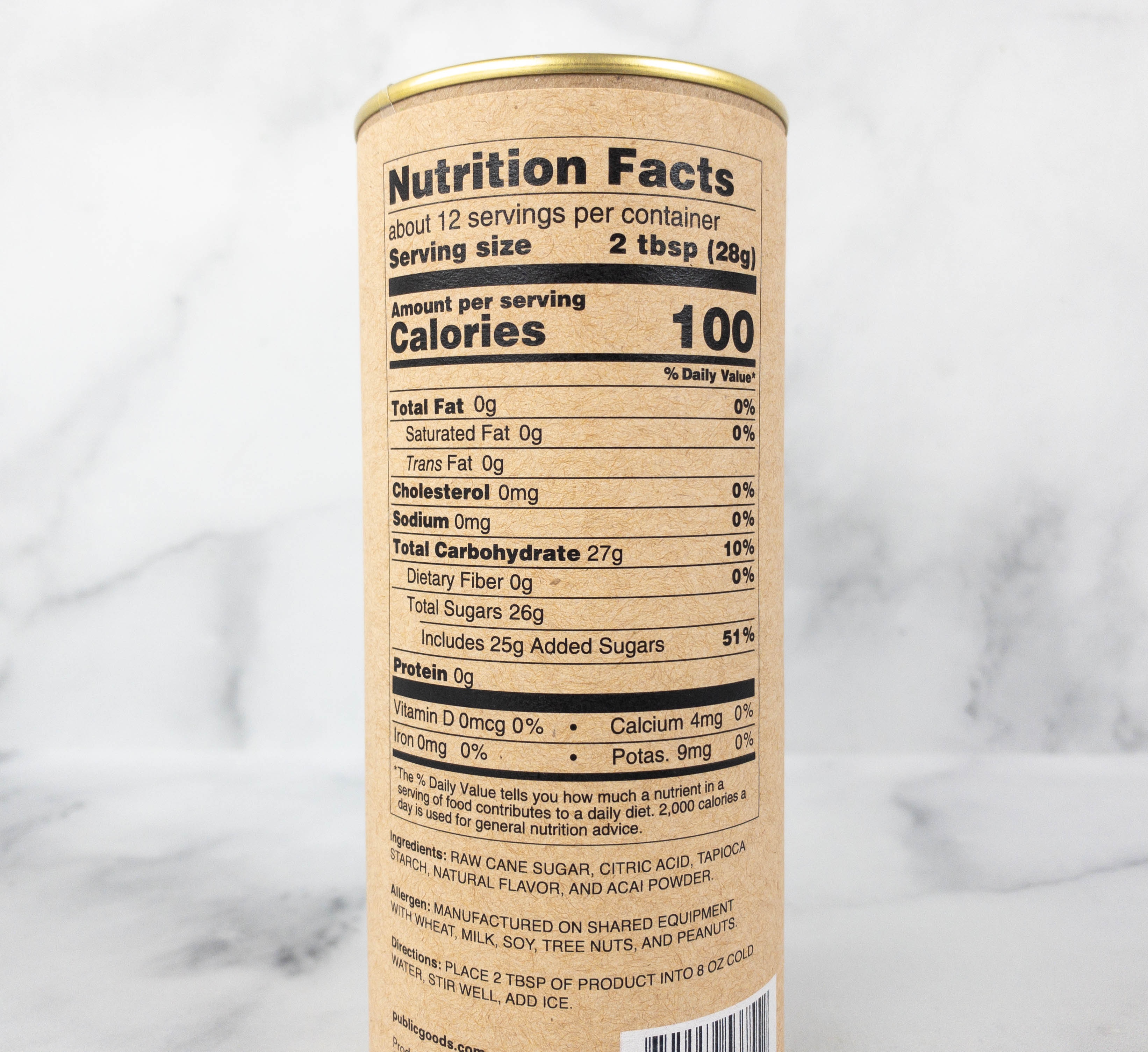 Ingredients are raw cane sugar, citric acid, tapioca starch, natural flavors, and acai powder. It's also easy to prepare, just put 2 tablespoons of the drink mix into 8 oz of cold water, stir well, and add ice.
This makes a great thirst quencher for summer! It has a tart flavor from the Brazilian fruit acai, balanced with sweet and juicy strawberries.  Whoops – we forgot an individual photo of the drink mixed up. It's in the main photo above. No artificial coloring! This is a fun bbq no-alcohol drink, but you could for sure make it a mixer!
Public Goods Crystal Deodorant Spray ($4.25) Formulated using only potassium alum and purified water ingredients, this crystal spray deodorant offers 24 hour odor protection and freshness. Unlike antiperspirants, it doesn't contain aluminum that may irritate the skin. It doesn't leave marks and stains on clothes either.
To use, just pump it 4-6 times on your target area. There's a note on the bottle packaging that in case the sprayer becomes clogged, you can place the nozzle under hot, running water.
This dries really quickly, and it's unscented. I think this one works really well, but everyone's body is different.
Public Goods Deodorant ($4.25) Don't like spray? We tested this deodorant stick, too. It features a crisp and subtle botanical scent and it's also gentle on the skin.
Its natural fragrance is made with a combination of essential oils including orange, geranium, cinnamon, mandarin, nutmeg, petitgrain, rosewood, celery seed, grapefruit, and vetiver. Public Goods says this is a unisex scent, we thought it was pretty "masculine" – so if you like that style, you might like this deo!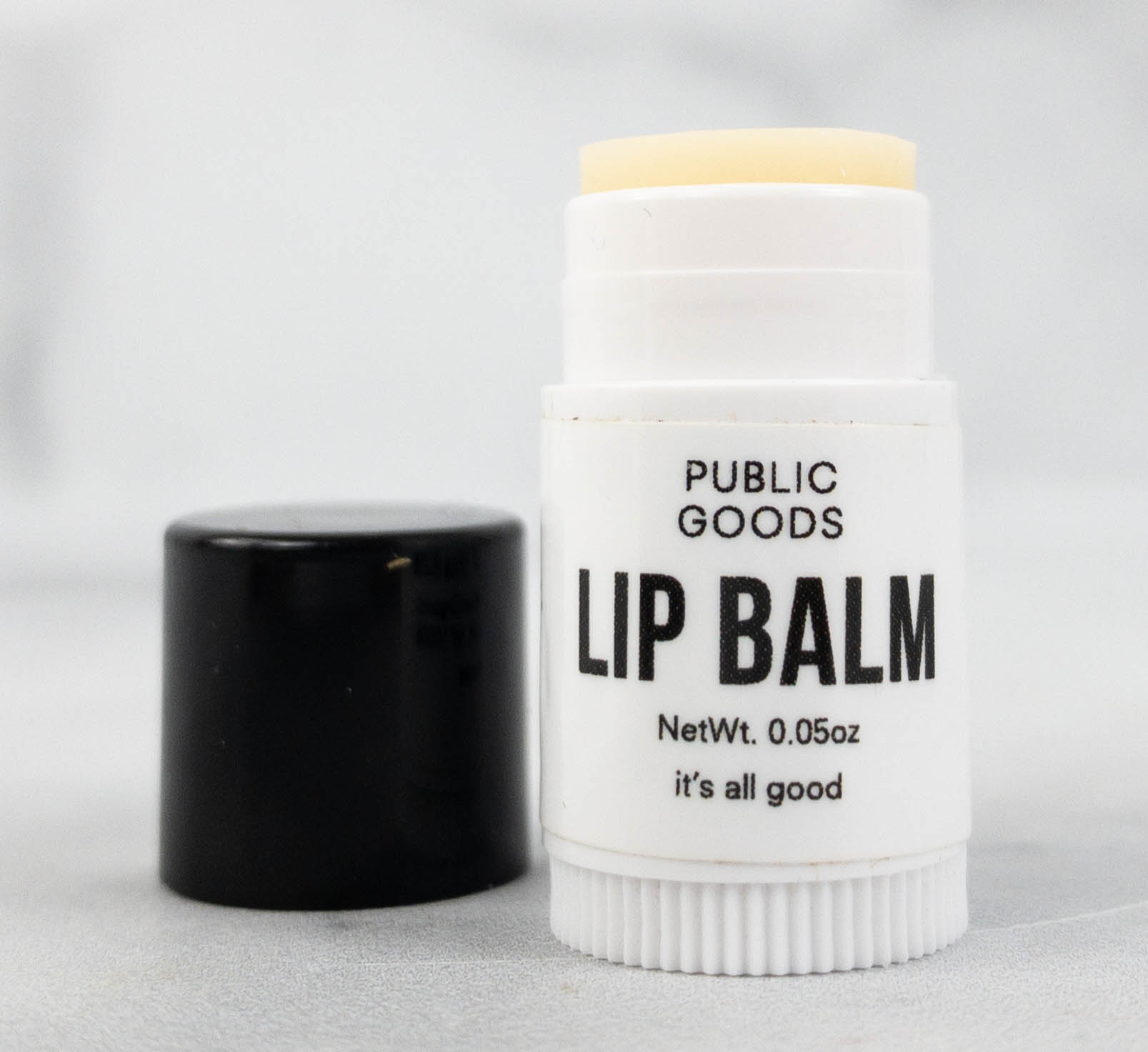 Public Goods Lip Balm ($1.25) It's always great to have a lip balm in handy, especially if you want to keep your lips feeling smooth and soft. This one is made with certified organic coconut oil, shea butter, and candelilla wax. It also comes in a small twist tube that's easy to use. We had to try this teeny weeny one out, but they've also got the full size for $2.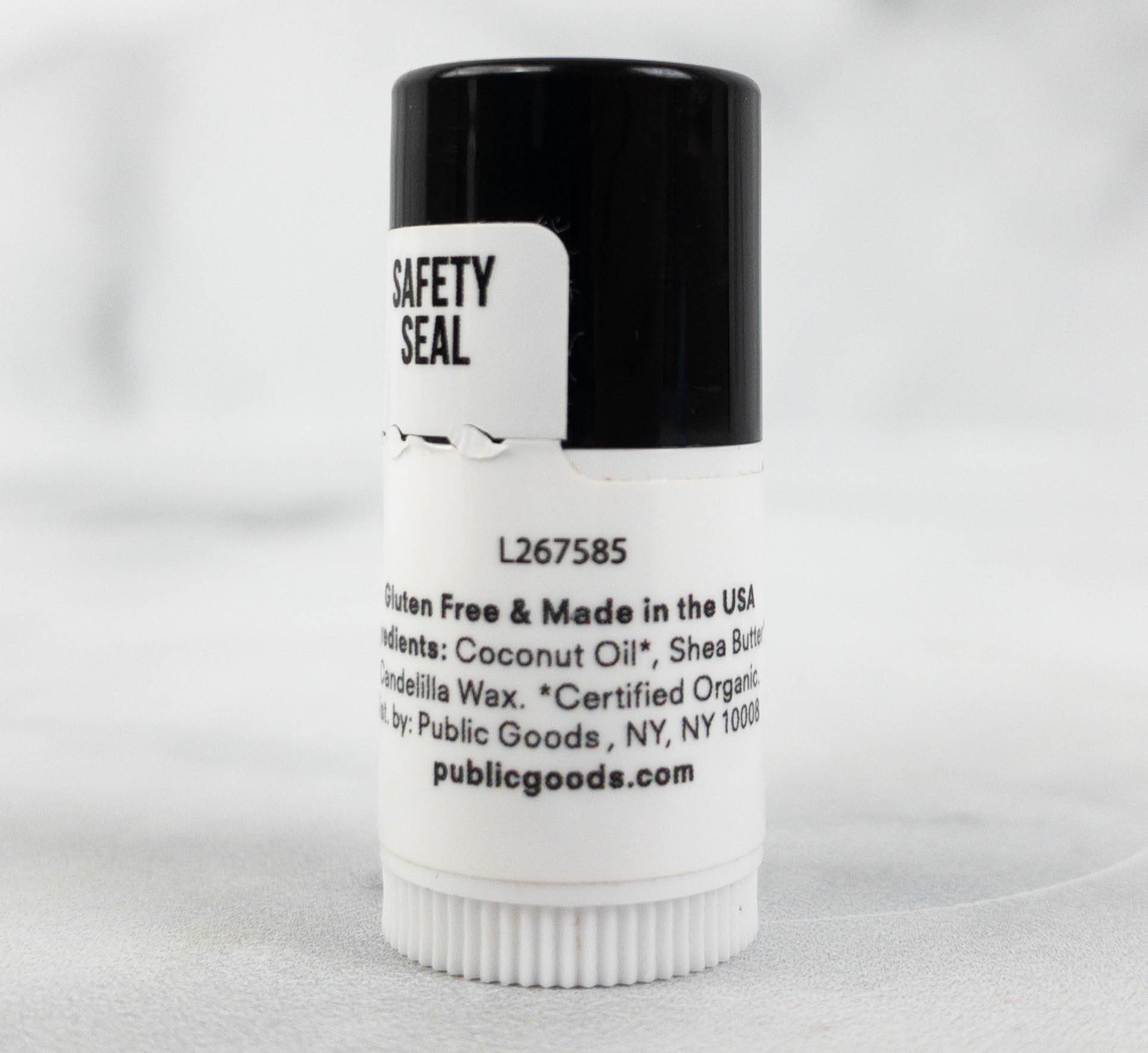 The formula is also vegan and gluten-free and really a must-have for any wristlet contents!
I loved curating a box of summer eco-friendly goodies from Public Goods. This month, we chose a mix of warm weather friendly personal care items and some household essentials as well that fit with the season. The deodorants, both the spray and the stick version, are as high-quality as expected. They are gentle on the skin and they don't cause stains either. My favorite item in my selection is probably the aloe vera gel because it is really my number one top summer item. It moisturizes, it helps soothe the skin and it can even help relieve sunburn. I'm happy with the lemonade mix too because it's so refreshing, especially when served with ice. For sure there's a ton of other items I could've selected from their curated easy-to-browse shop, but I'm really happy with what I picked out! Of course, no need to restrict these excellent finds to just the summer season!
If you want eco-friendly, cruelty-free, and natural alternatives for your everyday essentials, Public Goods is for you. There's an annual membership fee, but it's worth it especially if you're planning to get most of your personal and home essentials from them.
What do you think of Public Goods?