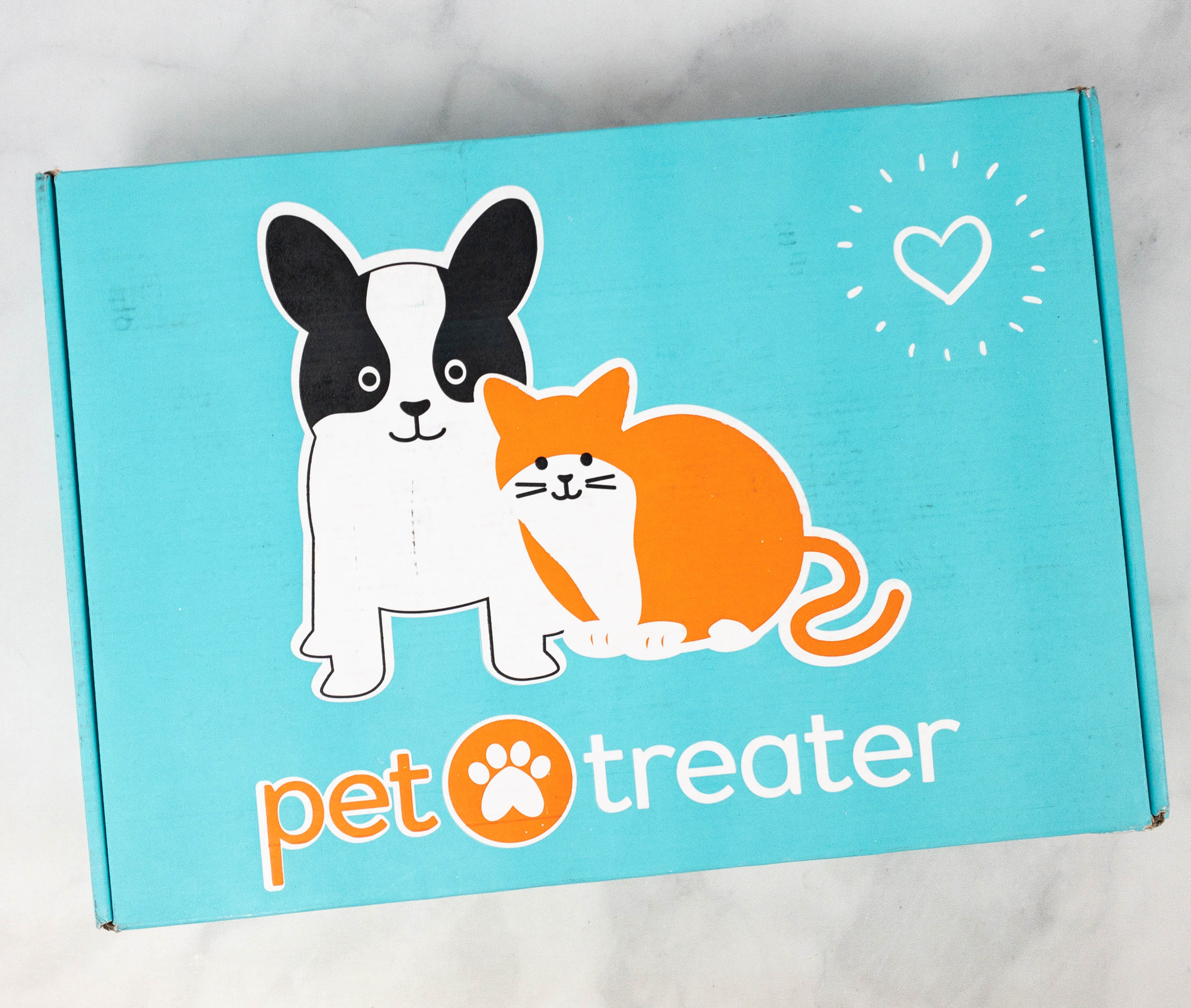 Pet Treater Deluxe Dog Pack is a monthly dog subscription. For $25 a month, each box is filled with 5-8 hand-selected items which may include fun toys, mostly USA & Canada made treats, and extra goodies! Small, medium, and large dog options are available. They also offer a smaller version for $15 called Pet Treater Dog Pack. Both of these subscriptions for dogs made our reader's list of their favorite dog subscription boxes for 2021 and 2020!
DEAL: Get 10% off your first month with coupon code DOGPACK10.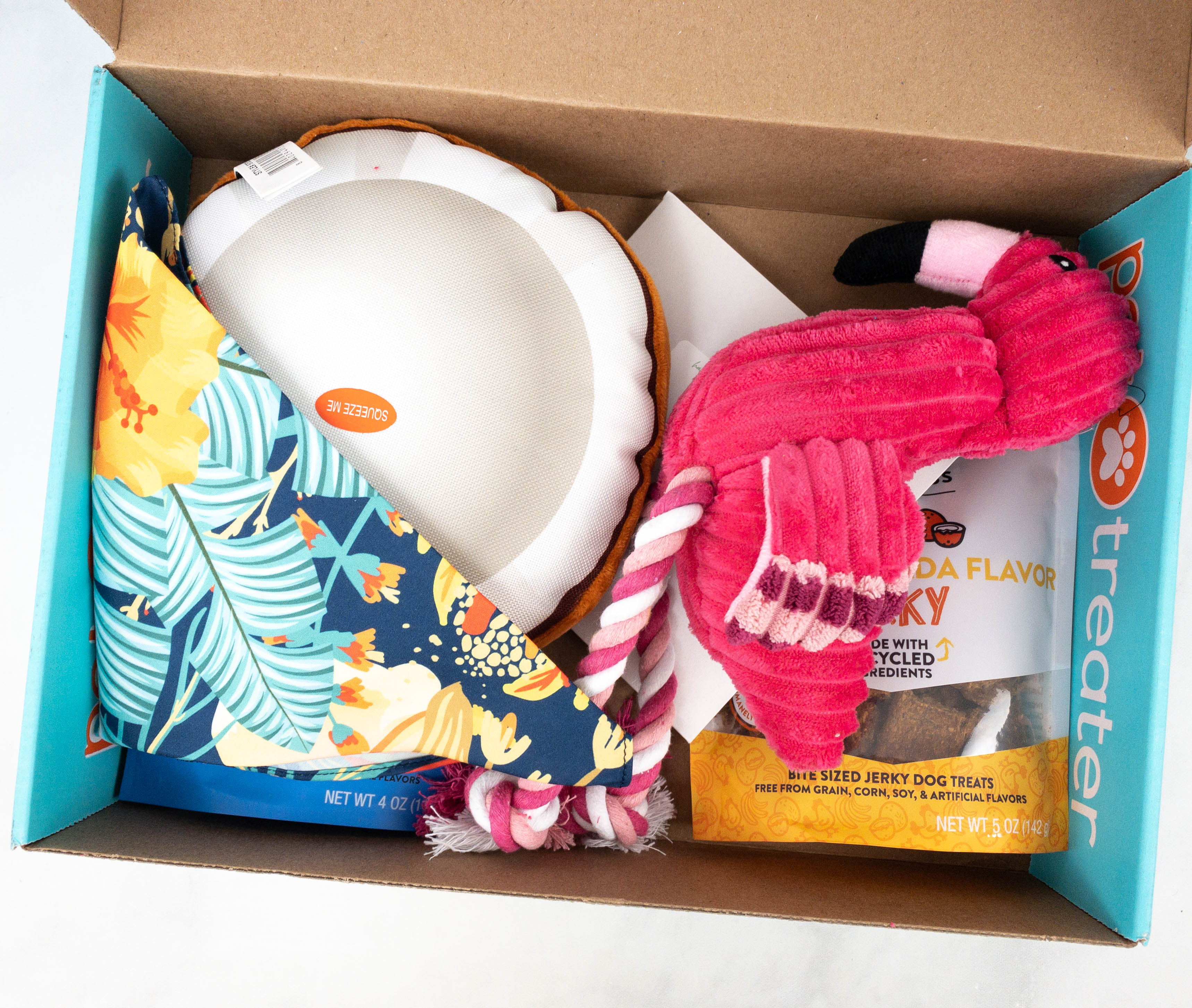 There were no fillers or extra packaging materials, just goodies for pets!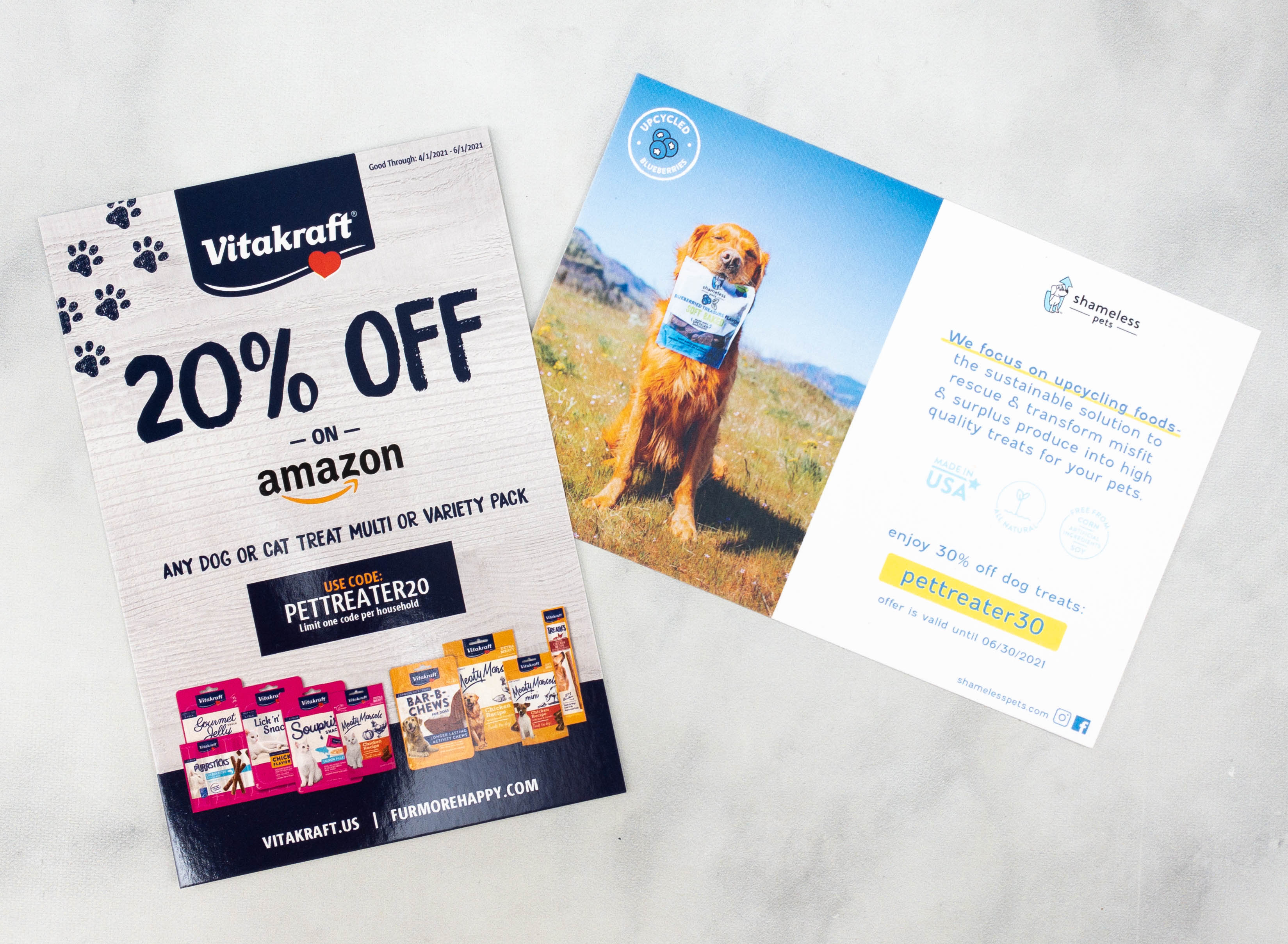 There are also promotional cards with deals.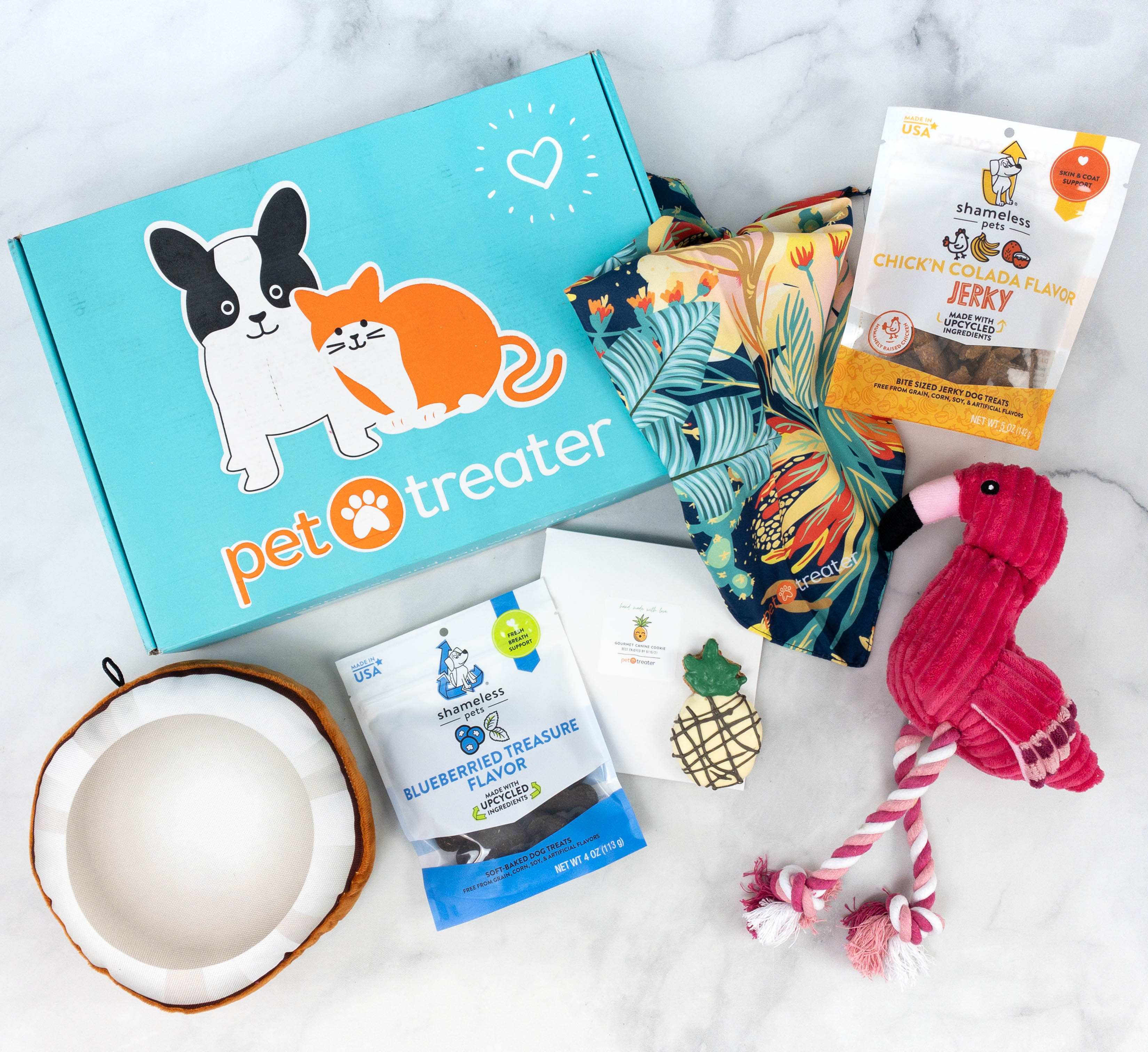 Everything in the May 2021 Deluxe Box!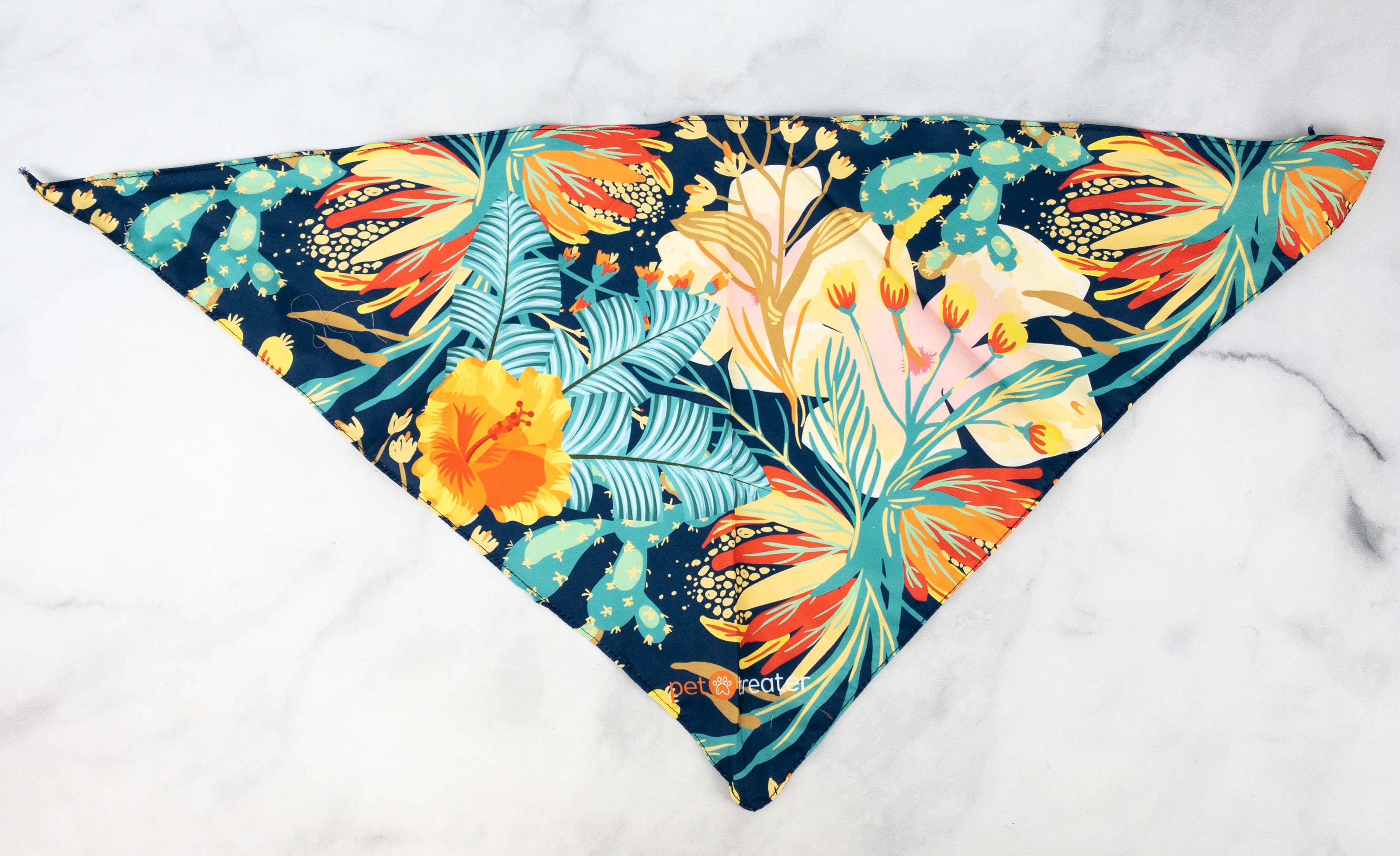 Bandana. This month's bandana is summer-themed. It has colorful leaves and flowers all over!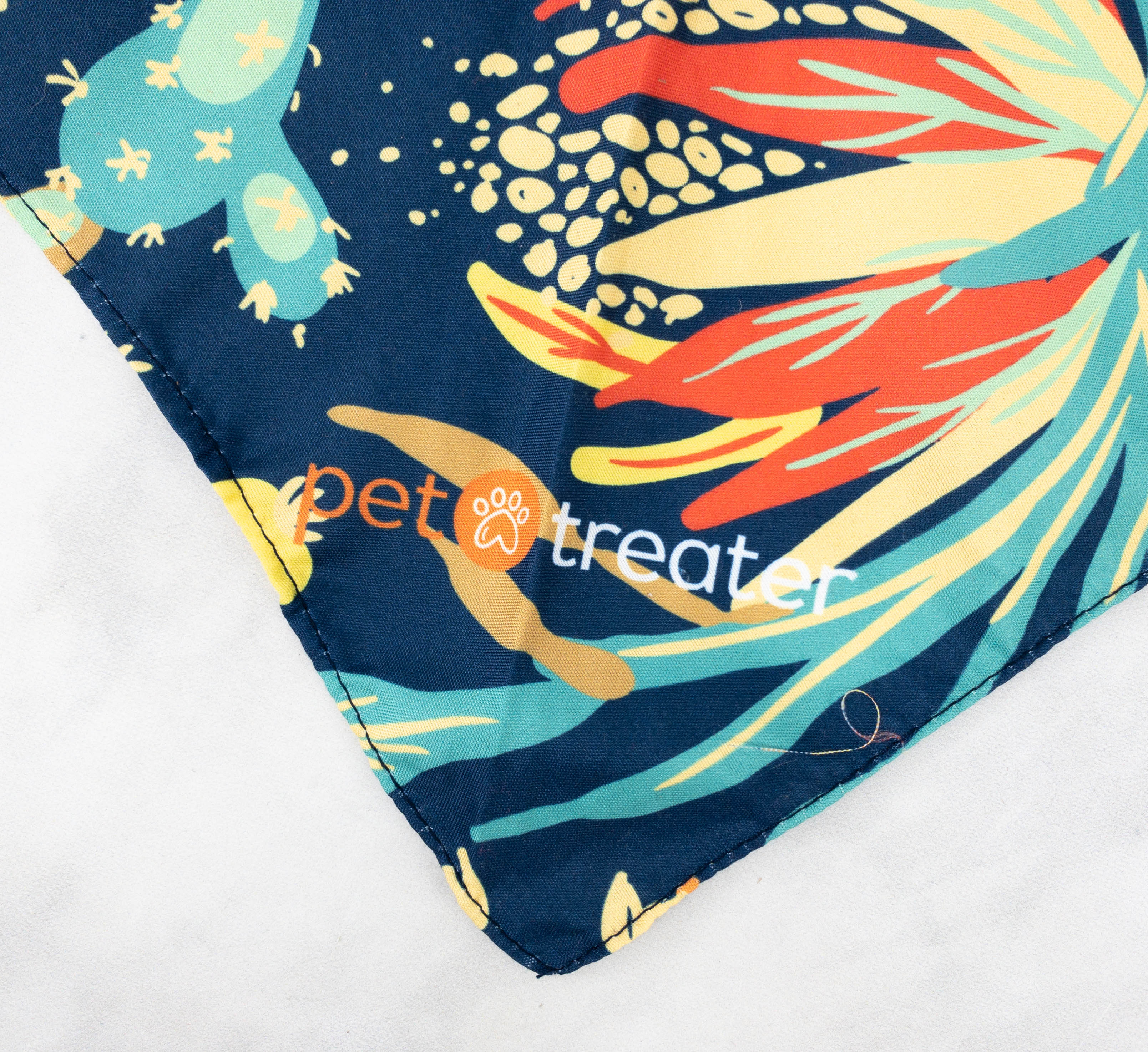 Like the previous bandanas from Pet Treater, this one is soft and lightweight!
It's easy to put on my dog's neck, so we've never had problems with it!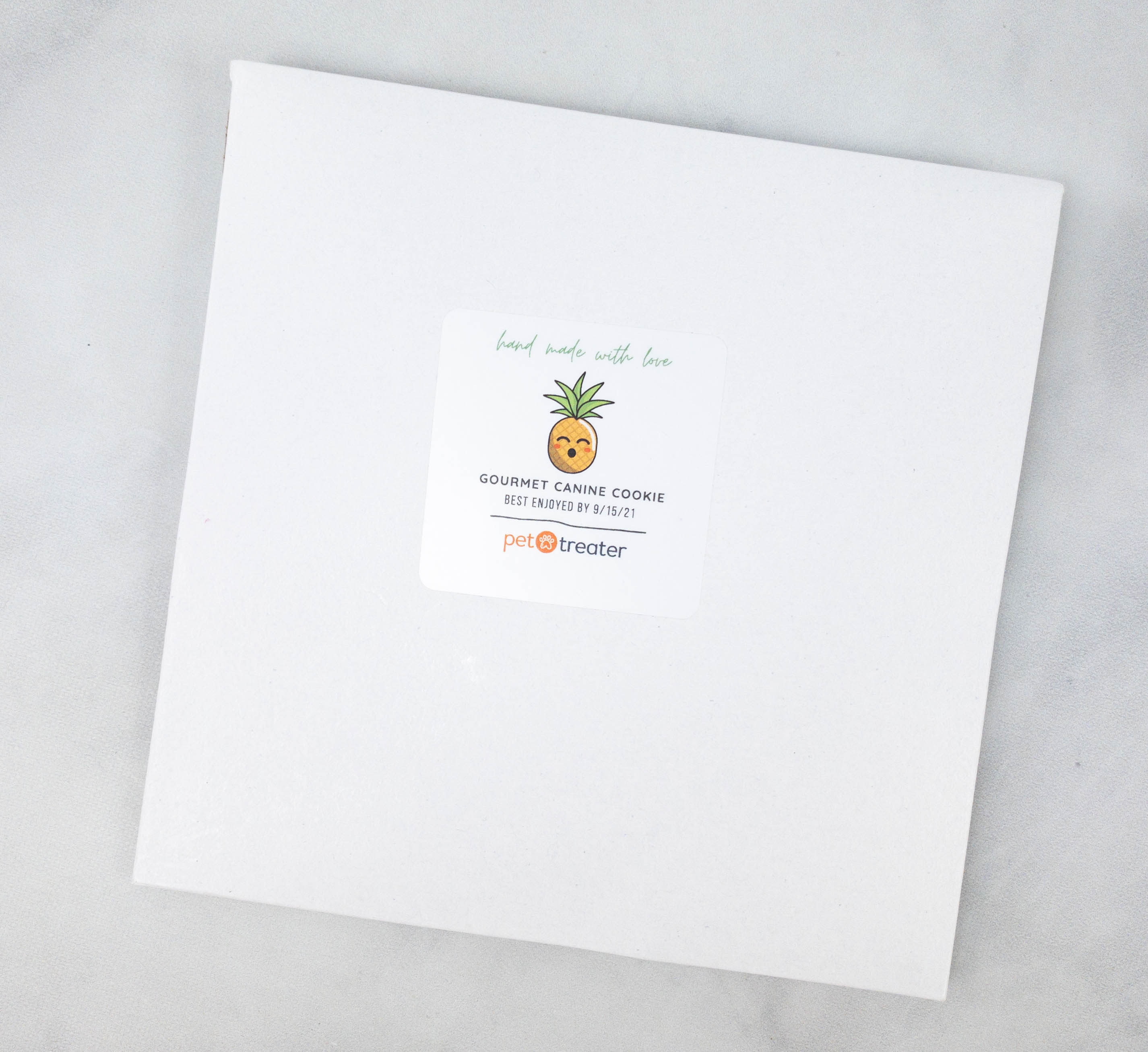 Gourment Canine Cookie. They also included a delicious gourmet cookie for dogs!
According to the label, the biscuit is made from premium ingredients that include whole wheat flour, oats, canola oil, and honey.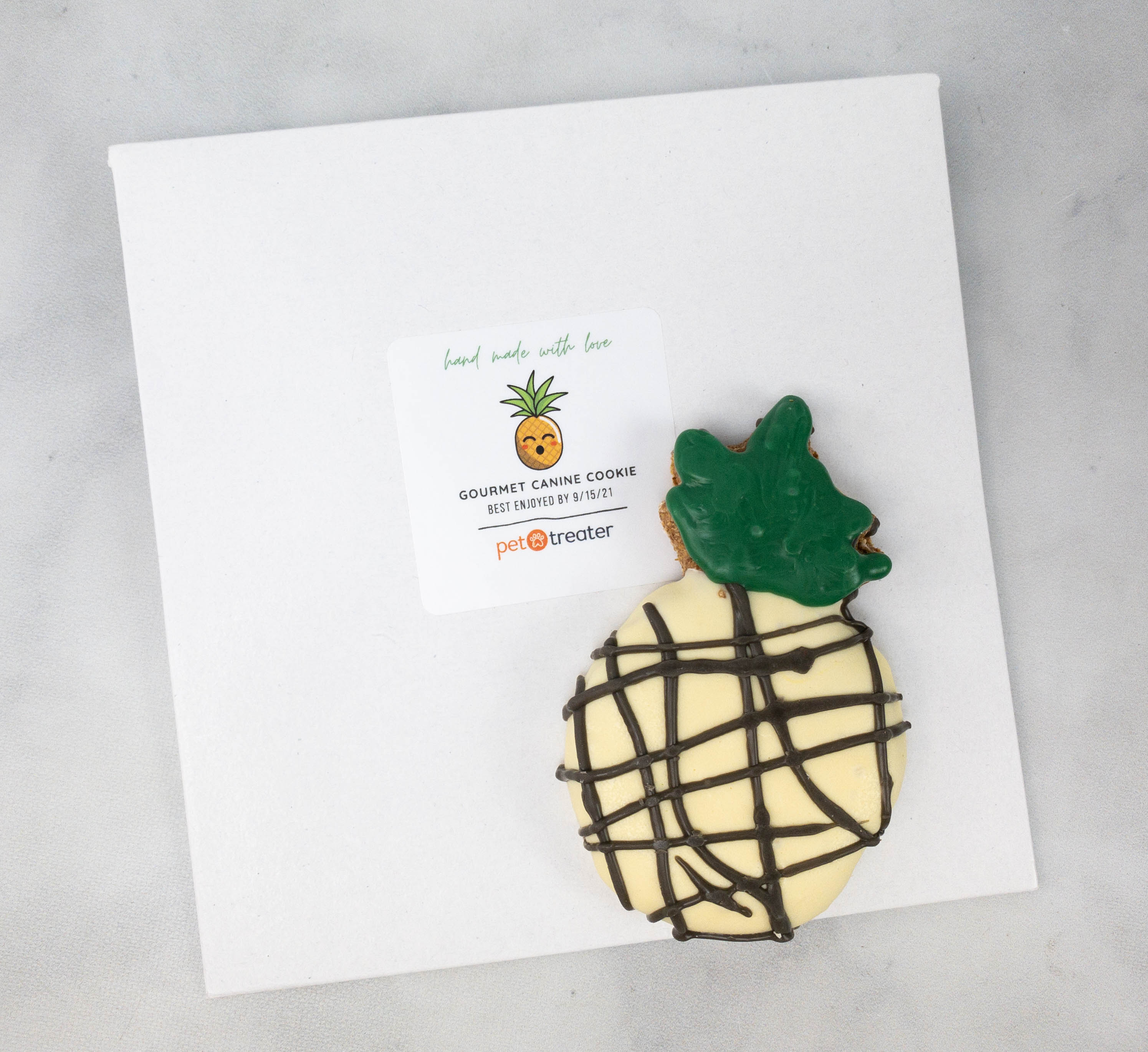 The cookie is shaped like a pineapple!
Bow Wow Pet Squeezable Fruit Friends Dog Toy. The first toy in this month's box is great for playing toss and fetch! It also resembles a tropical coconut fruit.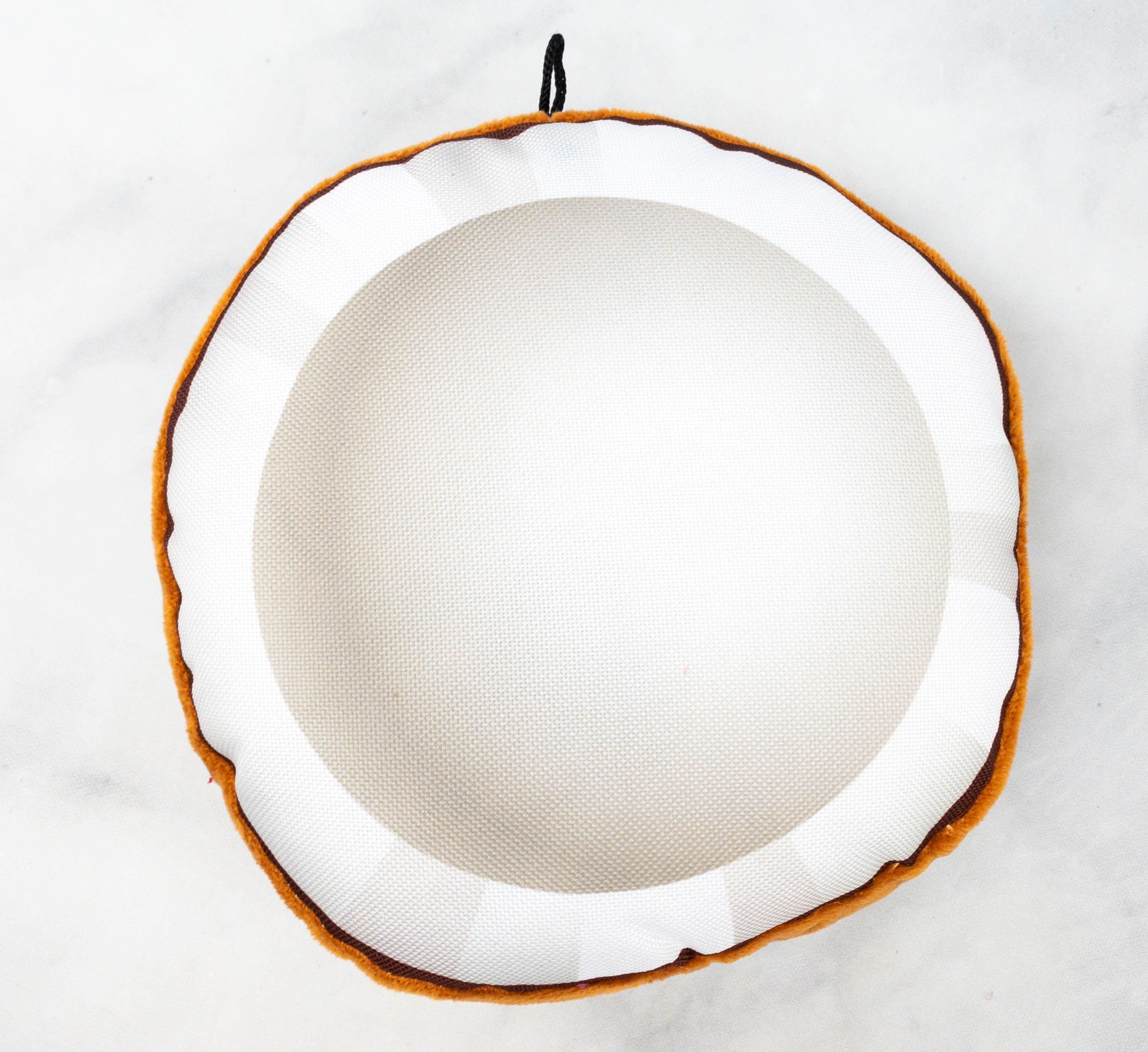 Aside from the squeezable feature, it also has built in squeakers to make play time more fun.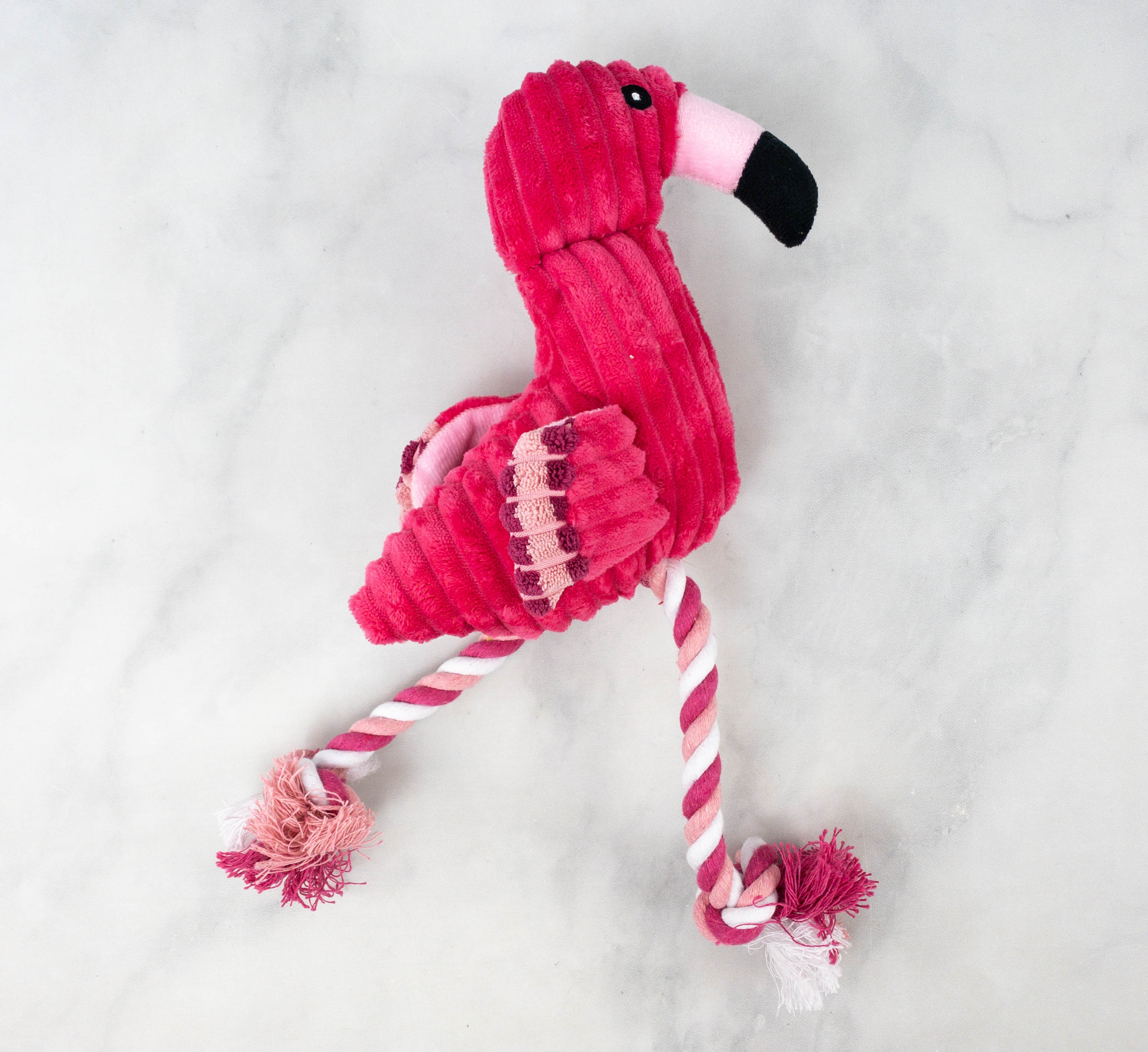 Dog Toy. Next up is a dog toy that looks like a flamingo! It's made from durable materials and built for intense activities and games.
The legs are made from rope which makes this a great toy to play tug of war!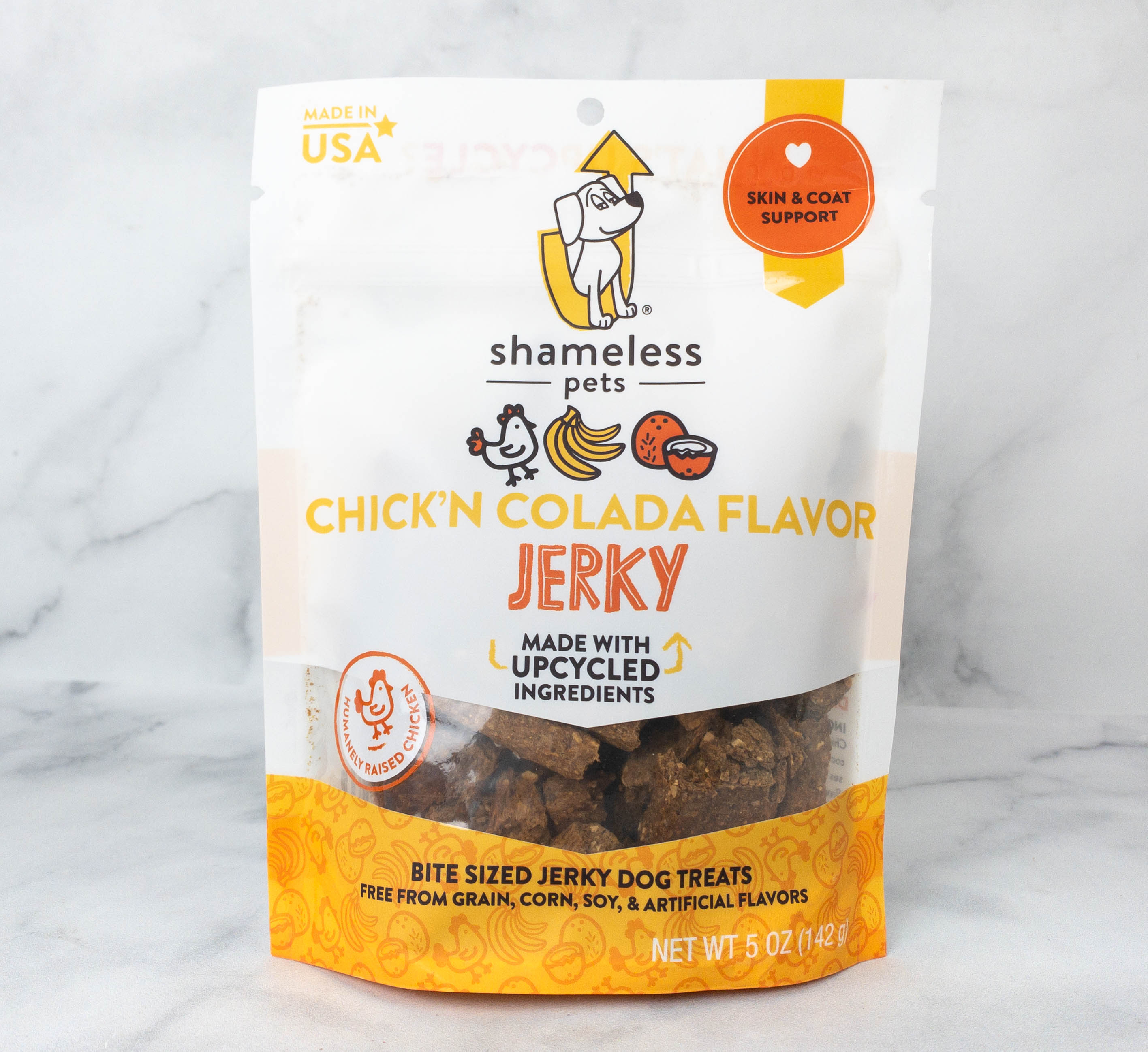 Shameless Pet Chick'n Colada Flavor Jerky Dog treats ($6.99) This bag of jerky treats has a combination of chicken, bananas, and coconut! According to the packaging, it's made with upcycled ingredients and it's also free from grains, corn, soy, and artificial flavors.
The ingredients of these treats promote better skin and coat health!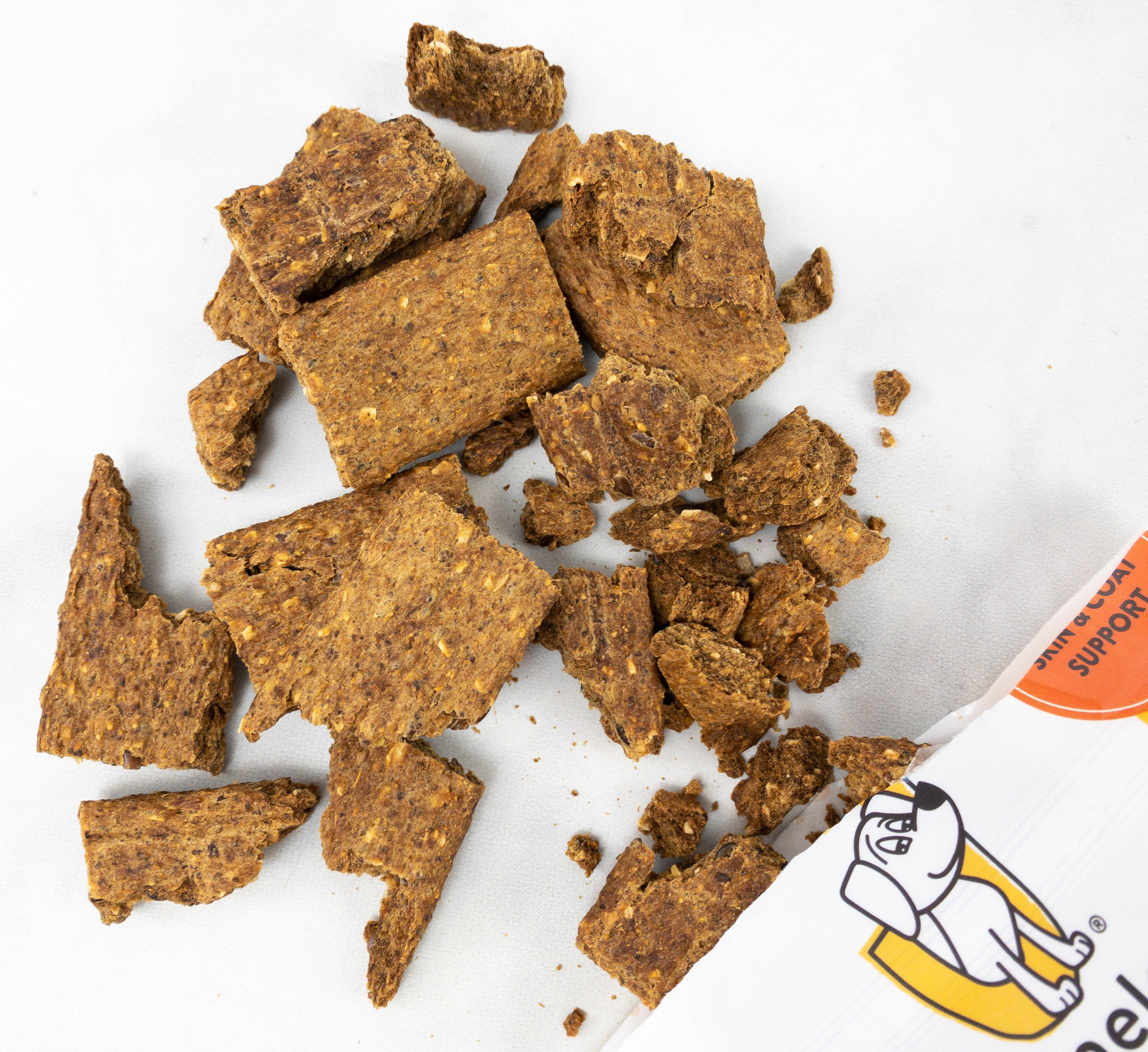 You can serve them as is, or break them down into smaller pieces.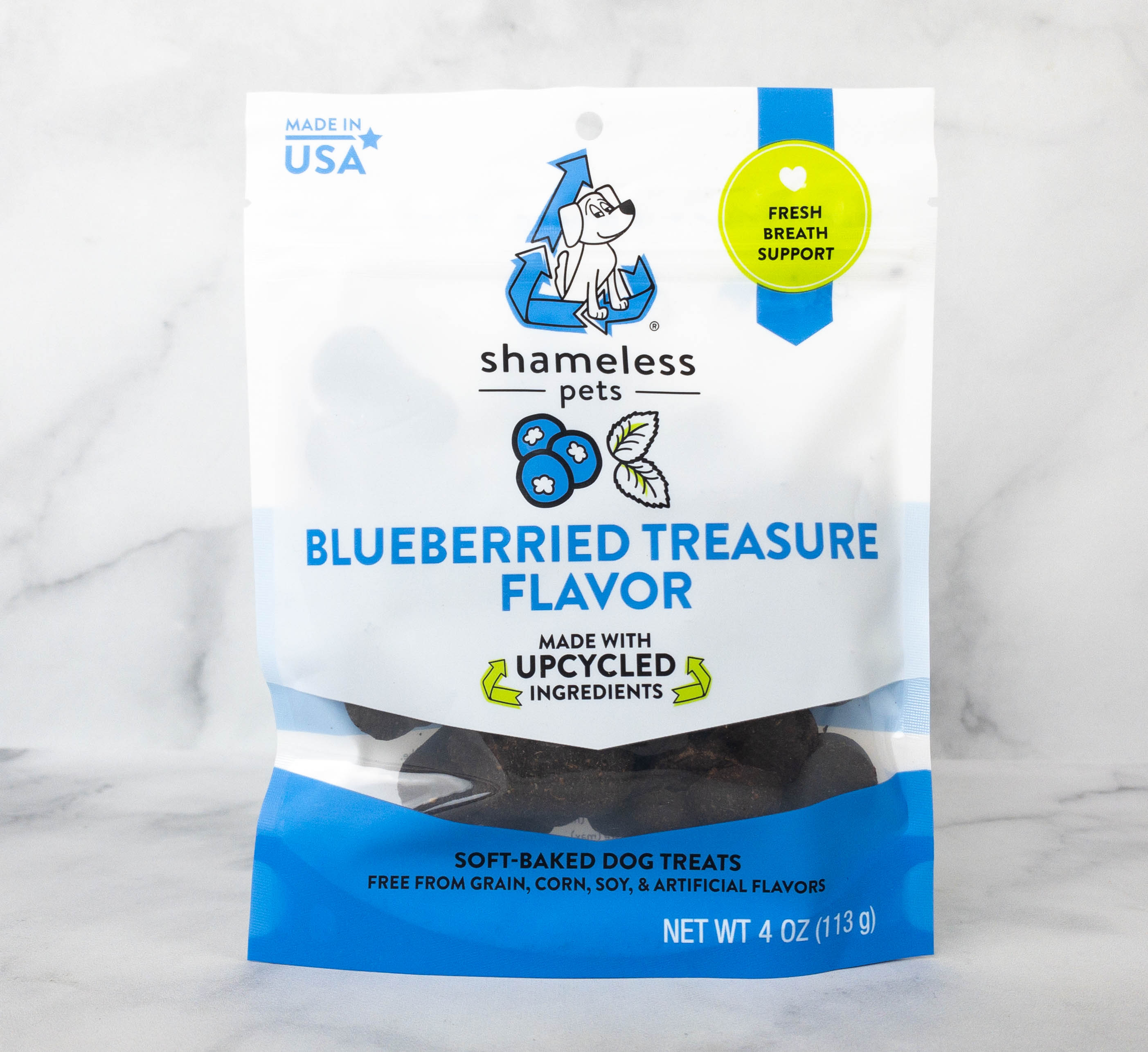 Shameless Pets Blueberried Treasure Flavor Dog Treats ($3.99) Another bag of treats is made with antioxidant-rich blueberry to boost dogs' health and mint flavor to help freshen their breath!
Just like the other bag of treats, these are also made from upcycled ingredients, but without grain, corn, soy, or artificial flavors.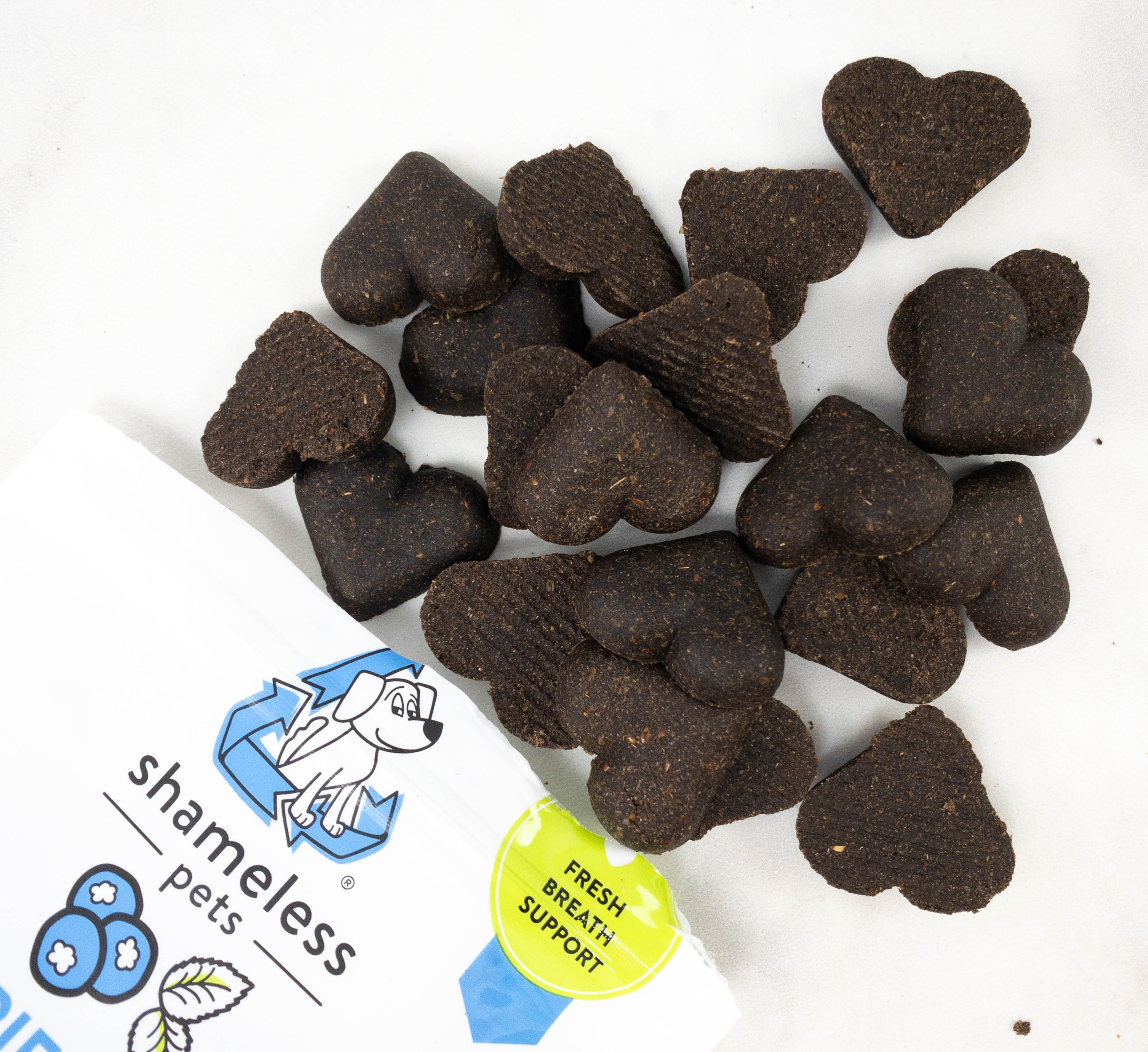 Each piece is heart-shaped. They have a nice texture and they are not too crumbly!
It was another full of amazing toys and treats for Dean!
Pet Treater Deluxe Dog Pack is a great way to get new treats and toys for dogs. This month, it includes 2 fun and durable toys. They are summer-themed, as one of them resembles a coconut and the other is a flamingo. There are also 2 bags of treats and a gourmet cookie, which my pups loved munching on. Another fun thing about this box is the bandana! It's made with good quality materials and it's easy to tie on a dog's neck. Overall, it was another good curation that had my furbabies wagging their tails!
What do you think of this dog subscription?