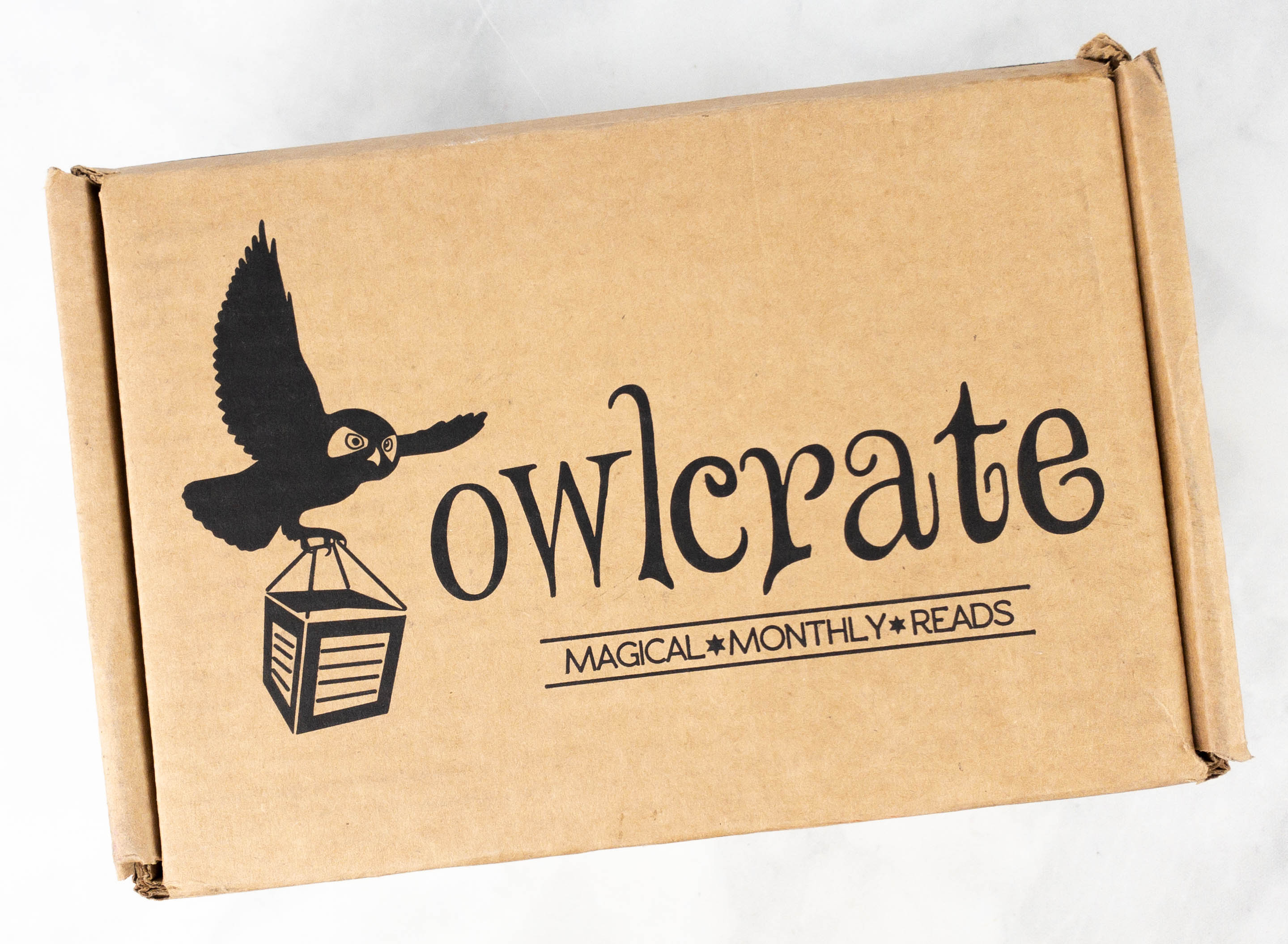 OwlCrate is a monthly subscription of YA books and bookish items. Each OwlCrate contains one new Young Adult novel, as well as 3-5 other bookish items all matched to the monthly theme. OwlCrate always sends the best items to go along with their theme with the hottest new books. OwlCrate's YA book subscription made the list in our 2021 readers' choice of the best subscriptions for teens!
DEAL: Use coupon code HELLO15 to save 15% on your first subscription!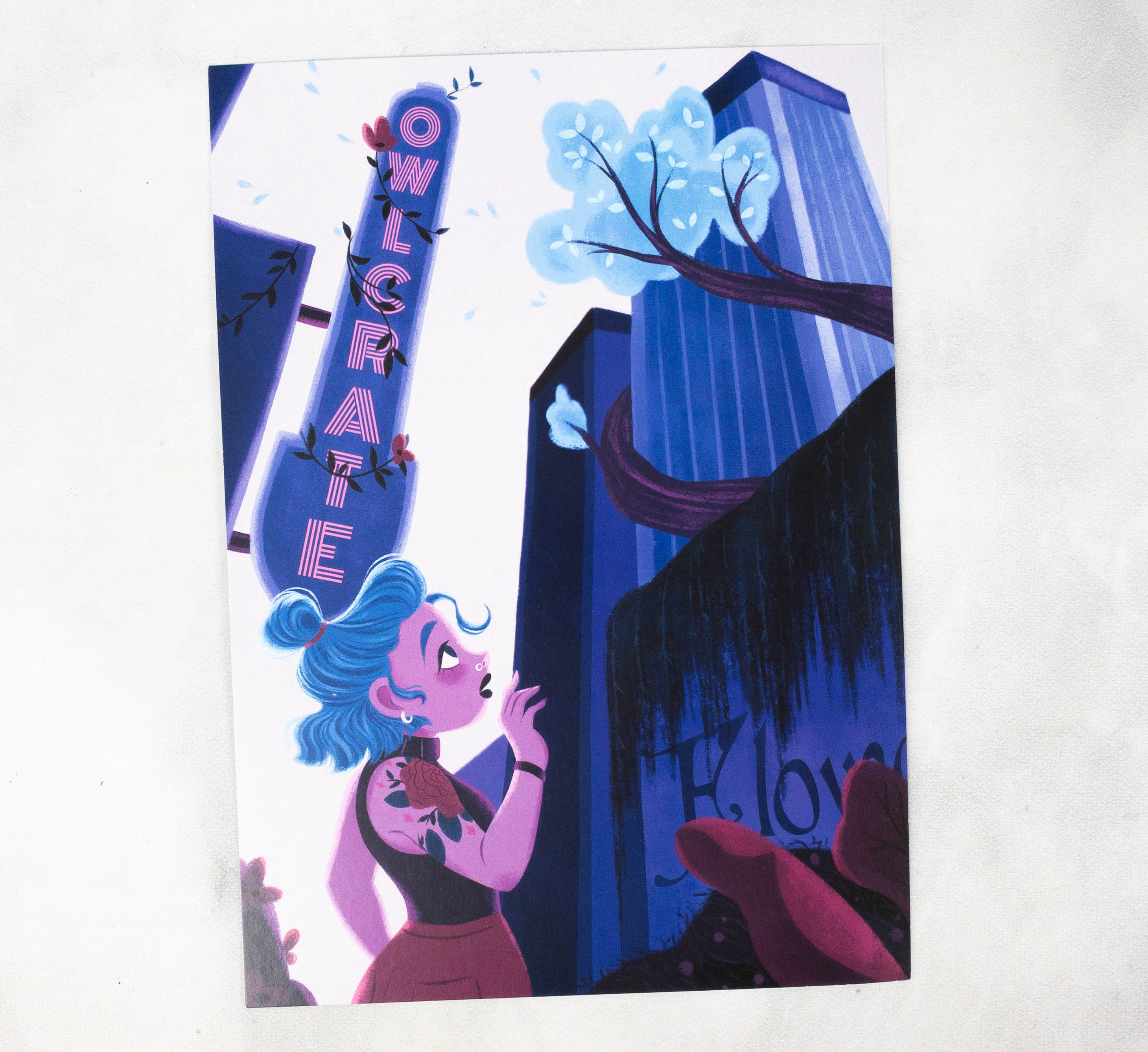 OwlCrate always has the best info card prints! May's theme is EXPECT THE UNEXPECTED!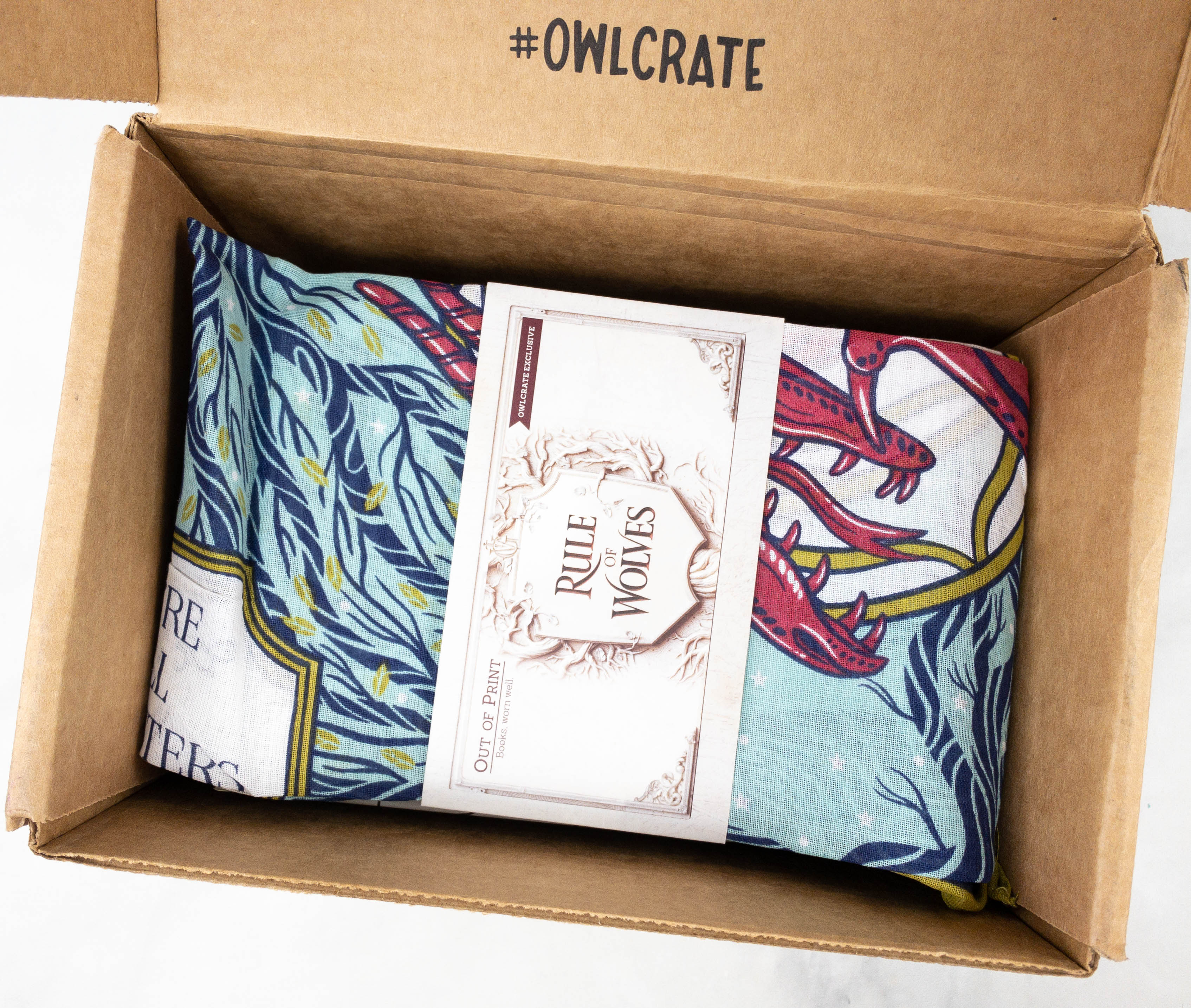 The items were neatly tucked inside the box.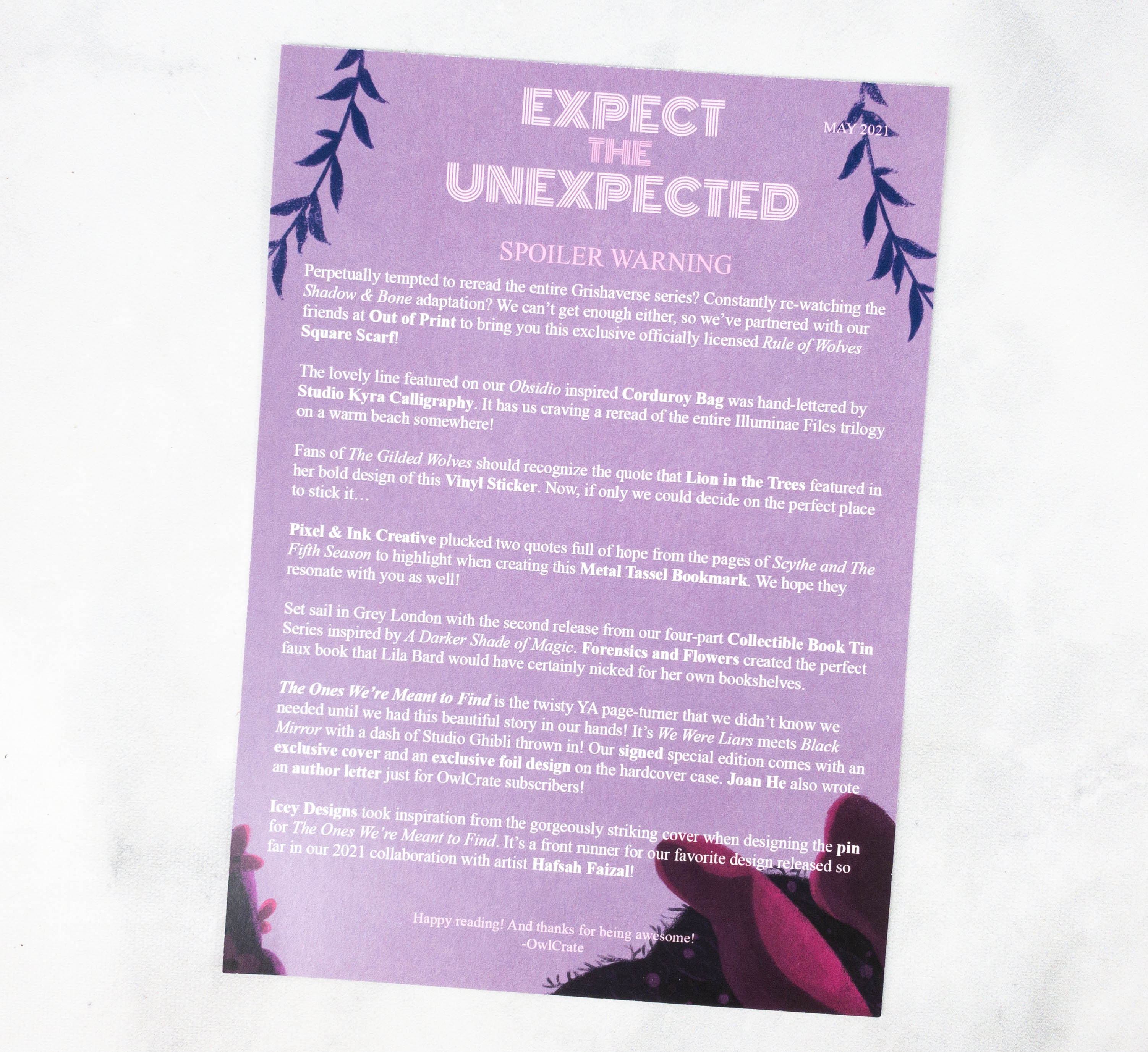 The flip side of the info card contains some spoiler warnings.
Owlcrate altered the original color palette of the featured book's cover into a much vibrant color: ocean waves into deep navy blue and the sky into a mix of purples and pinks. A comparison is provided in the booklet.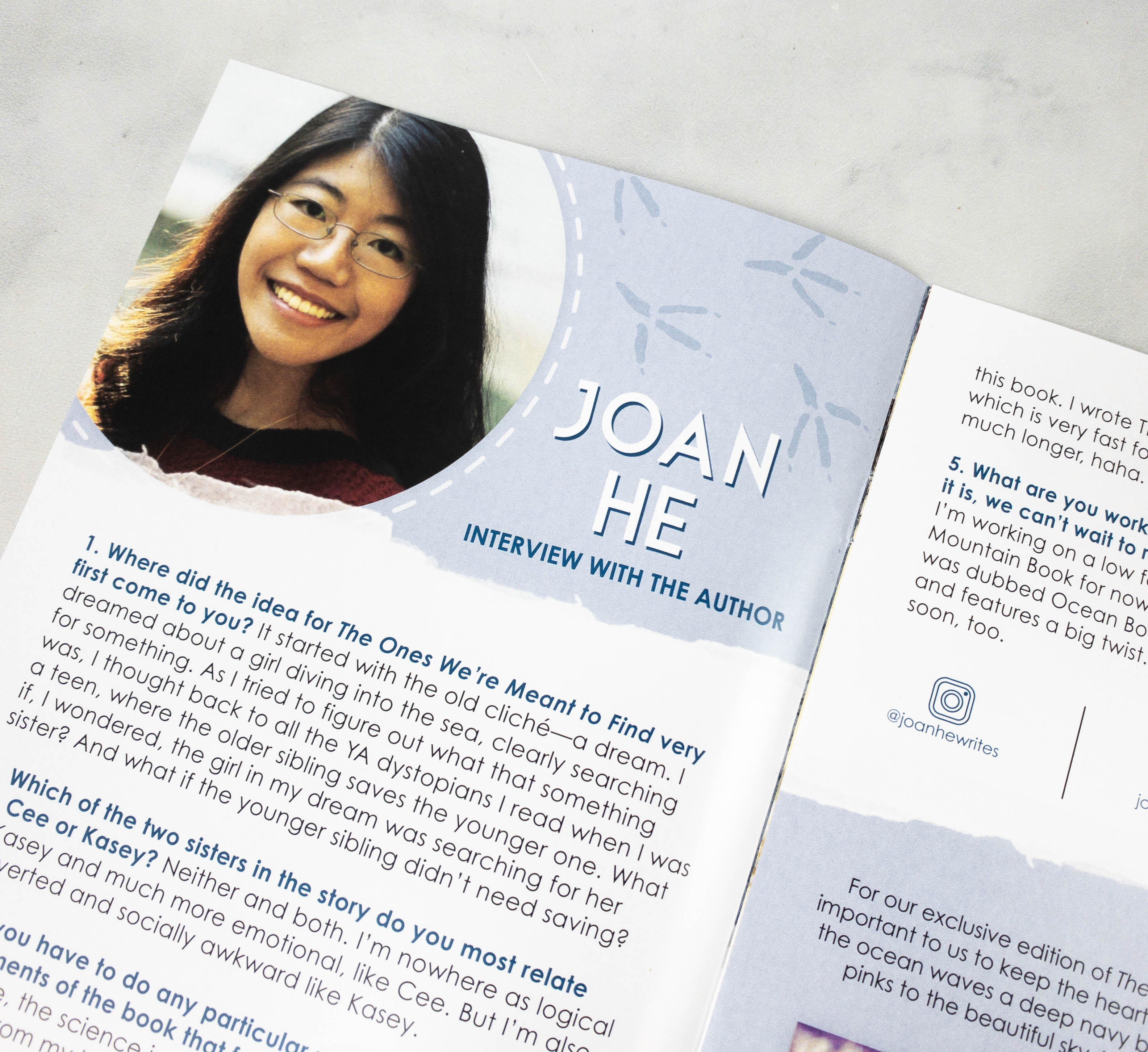 The mini-magazine includes an author interview. This month's featured author is Joan He. Knowing what inspired the author to pen a story can help us understand the book better.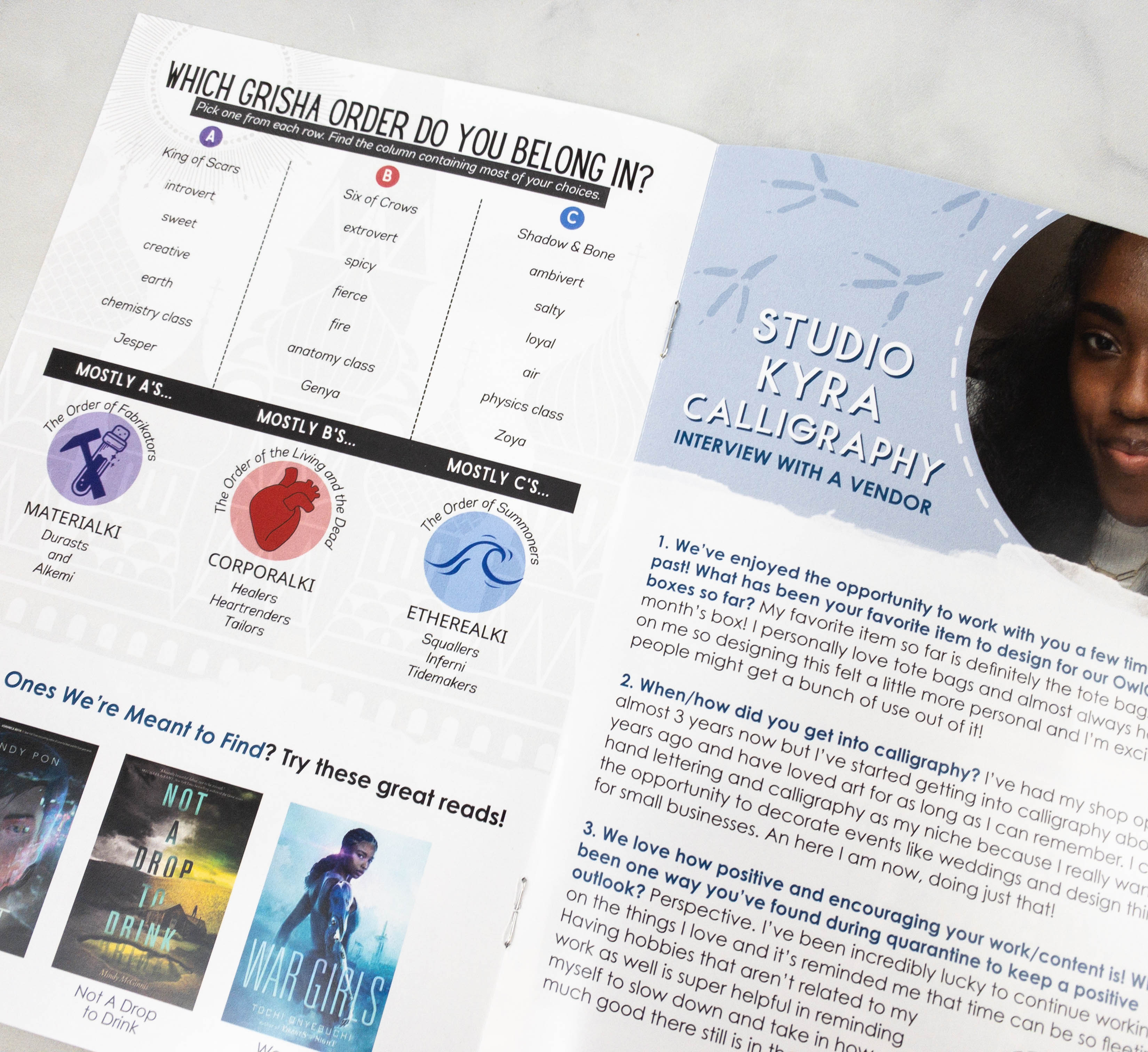 The mini-magazine also included some fun activities, while the other page is another interview with a vendor, Studio Kyra Calligraphy. There are even book suggestions for those who liked the featured book this month, and it includes Want by Cindy Pon, Not A Drop To Drink by Mindy McGinnis, and War Girls by Tochi Onyebuchi.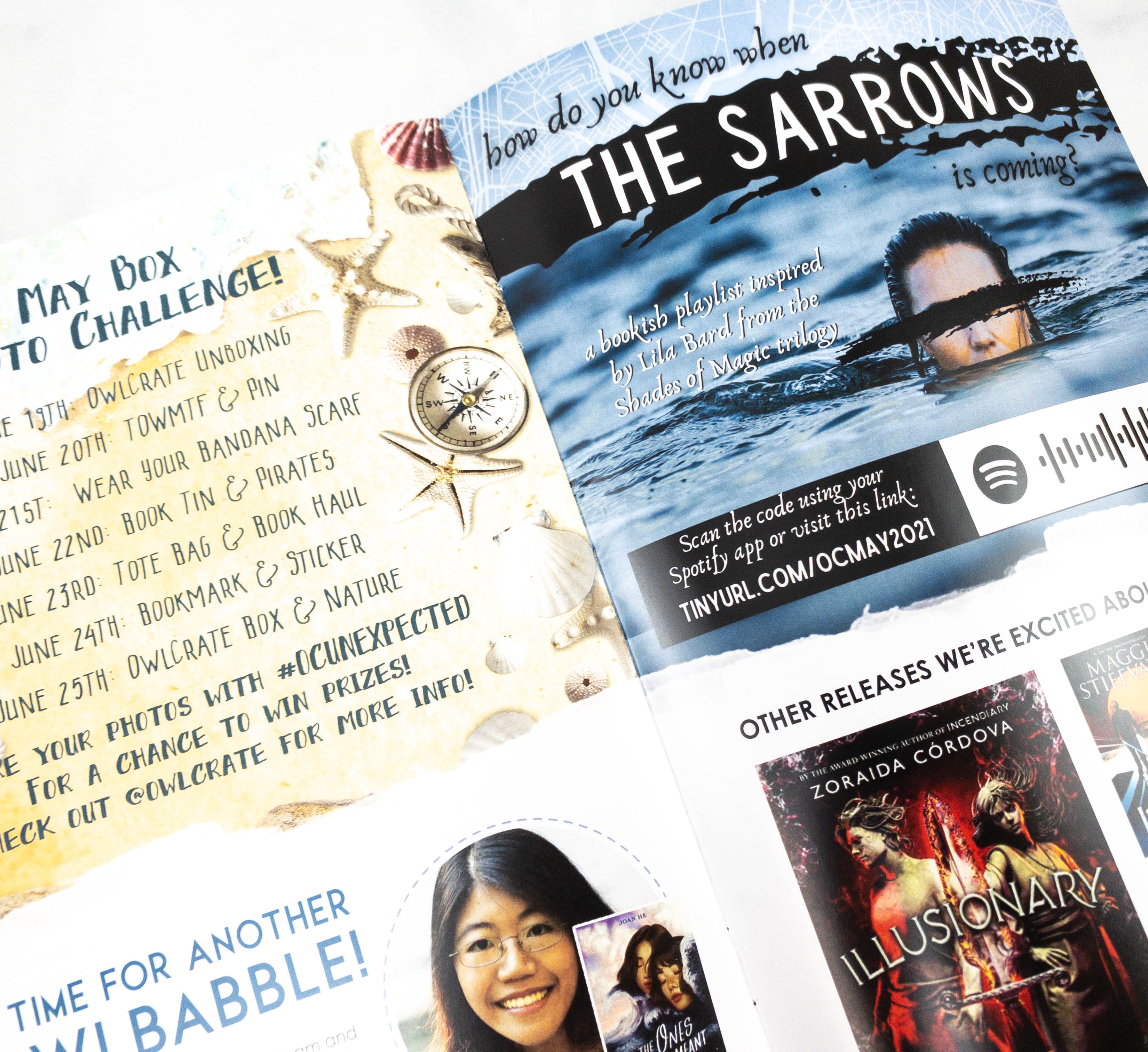 There's also a box photo challenge that you can join, plus a Spotify code/link to a bookish playlist inspired by Lila Bard from Shades of Magic Trilogy.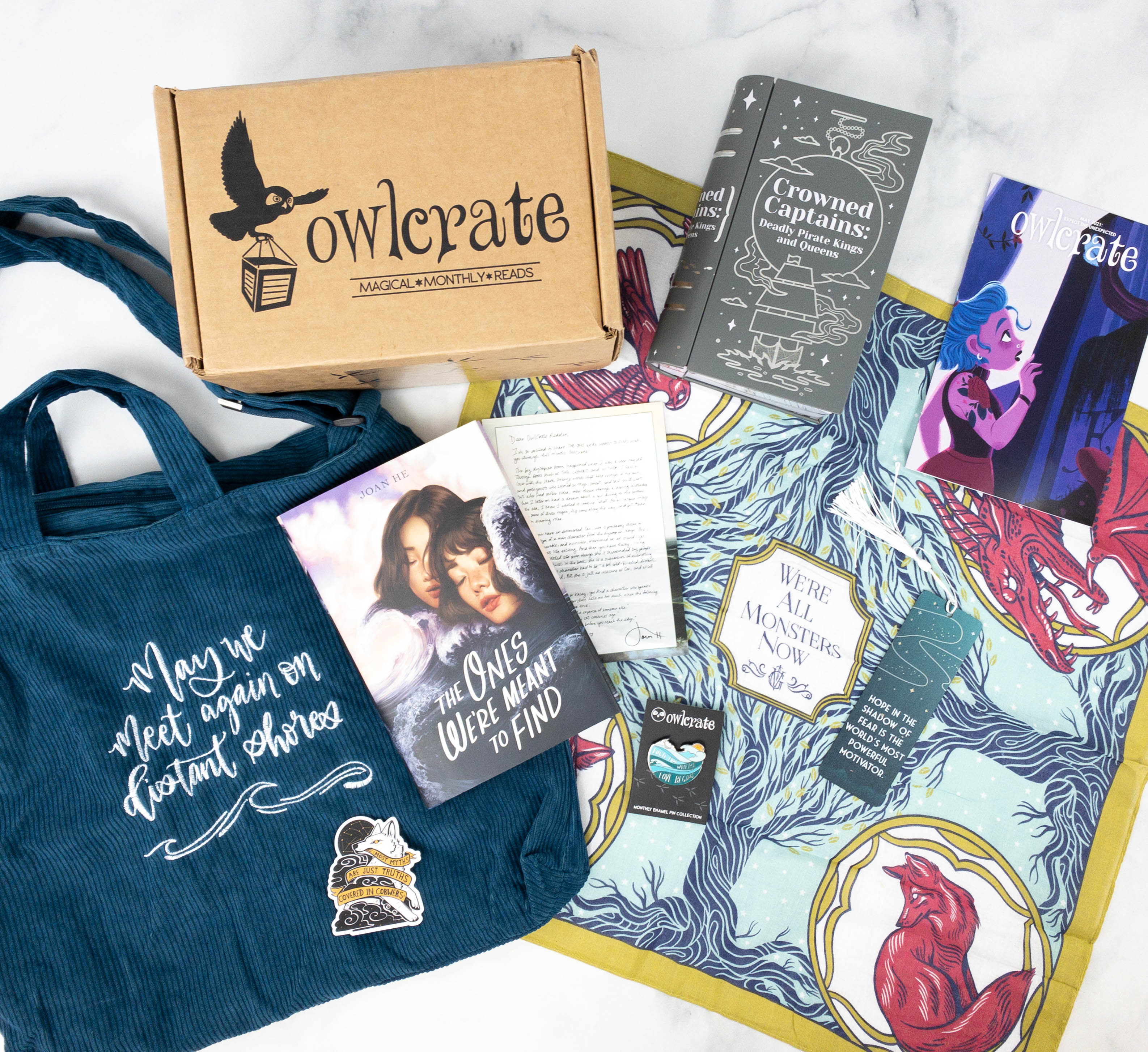 Everything in our May 2021 OwlCrate!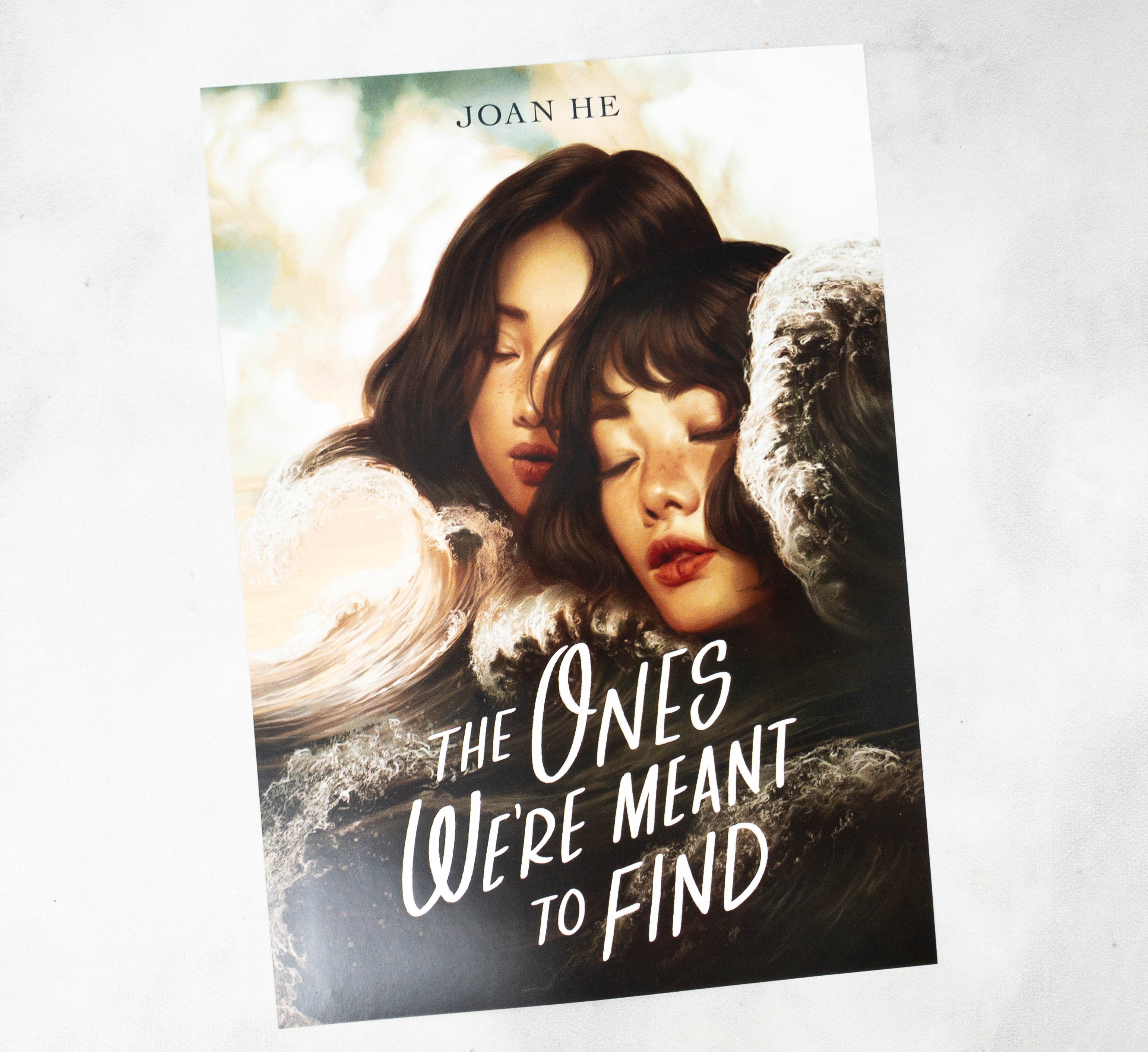 The book comes with a card that features the same design as the cover. This one has the original colors of the regular book.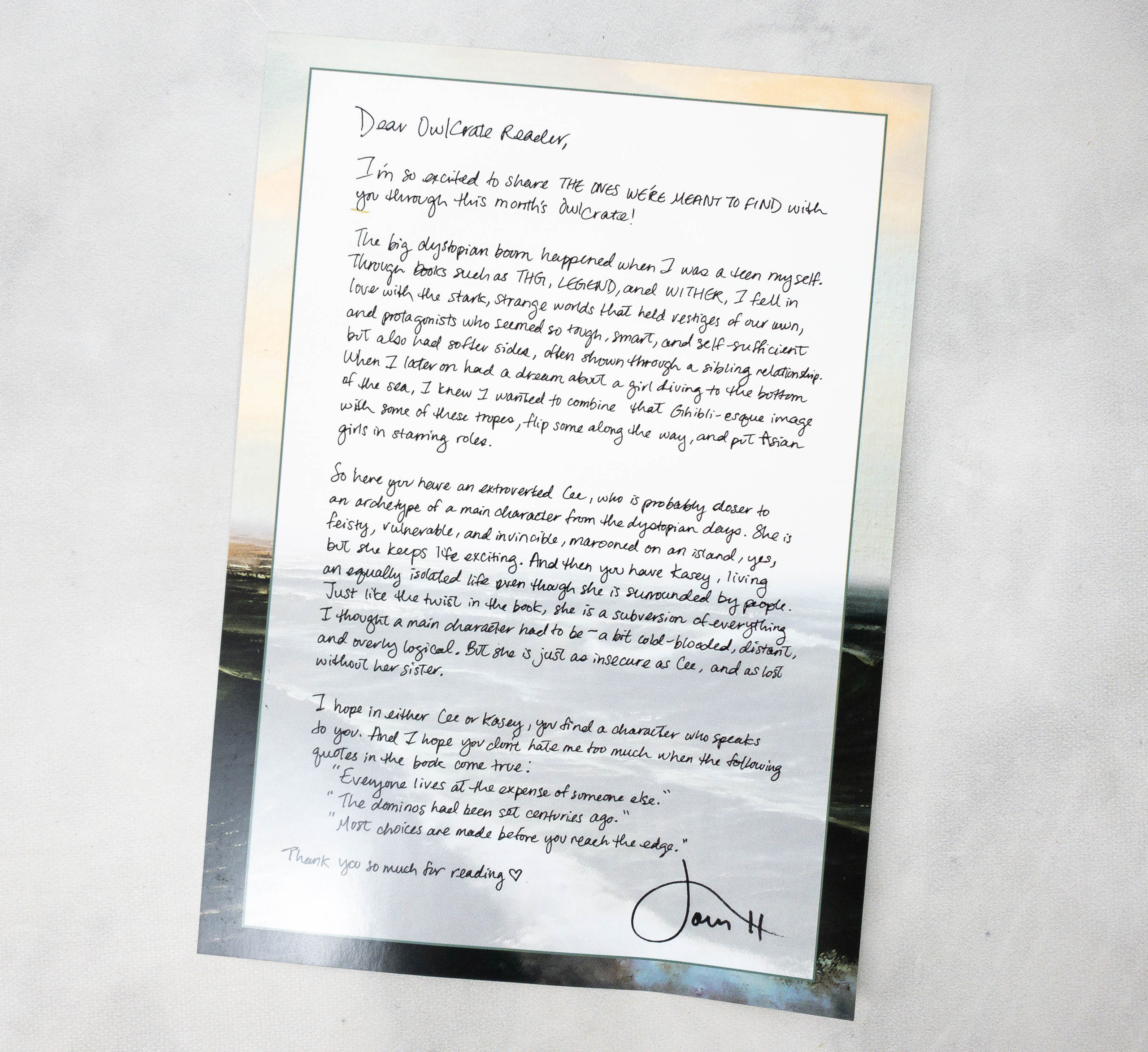 At the back of the card is a letter from the book's author, Joan He!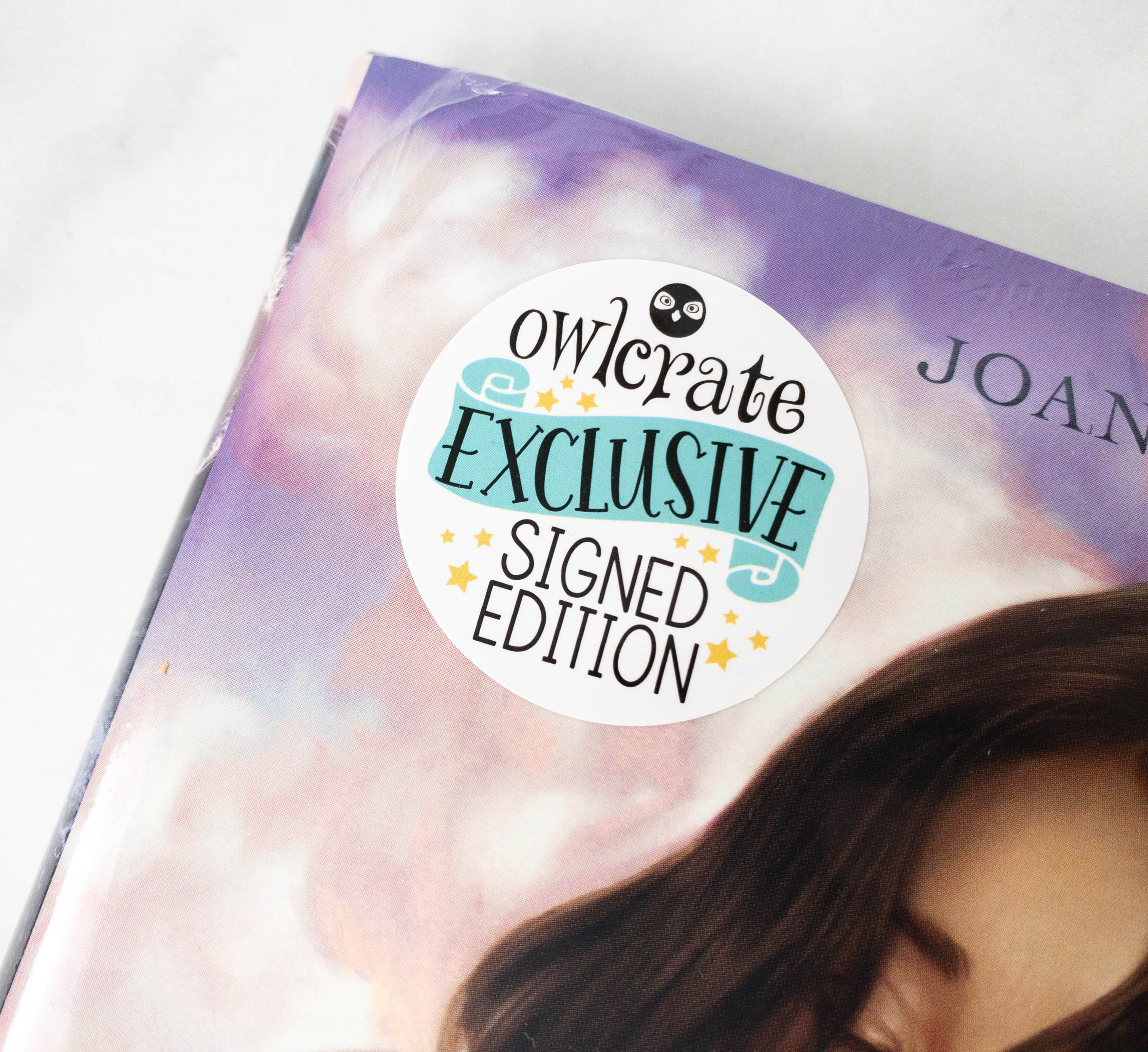 This sticker indicates that the book is an OwlCrate Exclusive signed edition.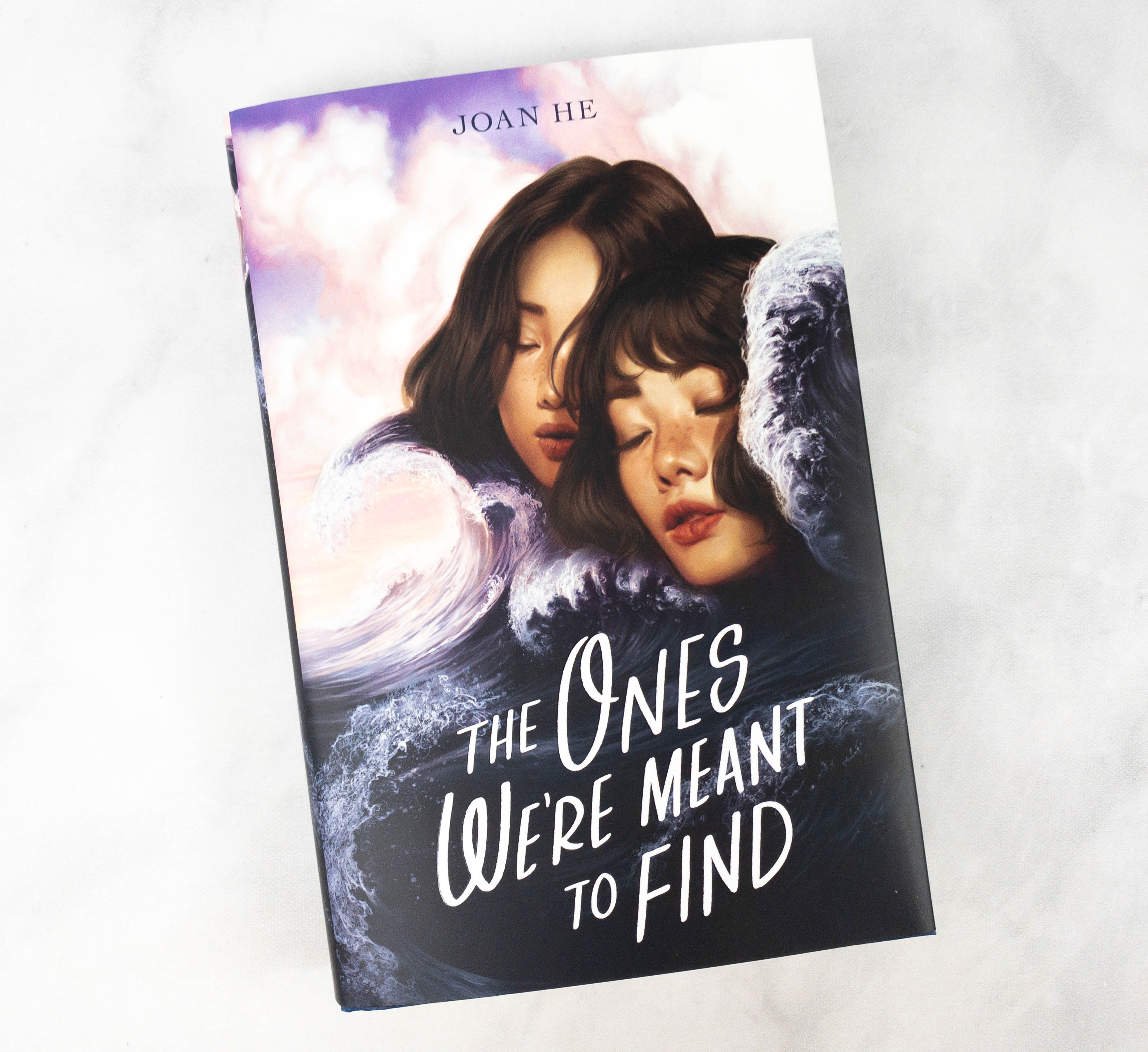 The Ones We're Meant to Find by Joan He ($14.95)
AN INSTANT NEW YORK TIMES BESTSELLER

Perfect for fans of Marie Lu and E. Lockhart, The Ones We're Meant to Find is a twisty YA sci-fi that follows the story of two sisters, separated by an ocean, desperately trying to find each other in a climate-ravaged future.


Cee has been trapped on an abandoned island for three years without any recollection of how she arrived, or memories from her life prior. All she knows is that somewhere out there, beyond the horizon, she has a sister named Kay, and it's up to Cee to cross the ocean and find her. In a world apart, 16-year-old STEM prodigy Kasey Mizuhara lives in an eco-city built for people who protected the planet―and now need protecting from it. With natural disasters on the rise due to climate change, eco-cities provide clean air, water, and shelter. Their residents, in exchange, must spend at least a third of their time in stasis pods, conducting business virtually whenever possible to reduce their environmental footprint. While Kasey, an introvert and loner, doesn't mind the lifestyle, her sister Celia hated it. Popular and lovable, Celia much preferred the outside world. But no one could have predicted that Celia would take a boat out to sea, never to return.Now it's been three months since Celia's disappearance, and Kasey has given up hope. Logic says that her sister must be dead. But nevertheless, she decides to retrace Celia's last steps. Where they'll lead her, she does not know. Her sister was full of secrets. But Kasey has a secret of her own.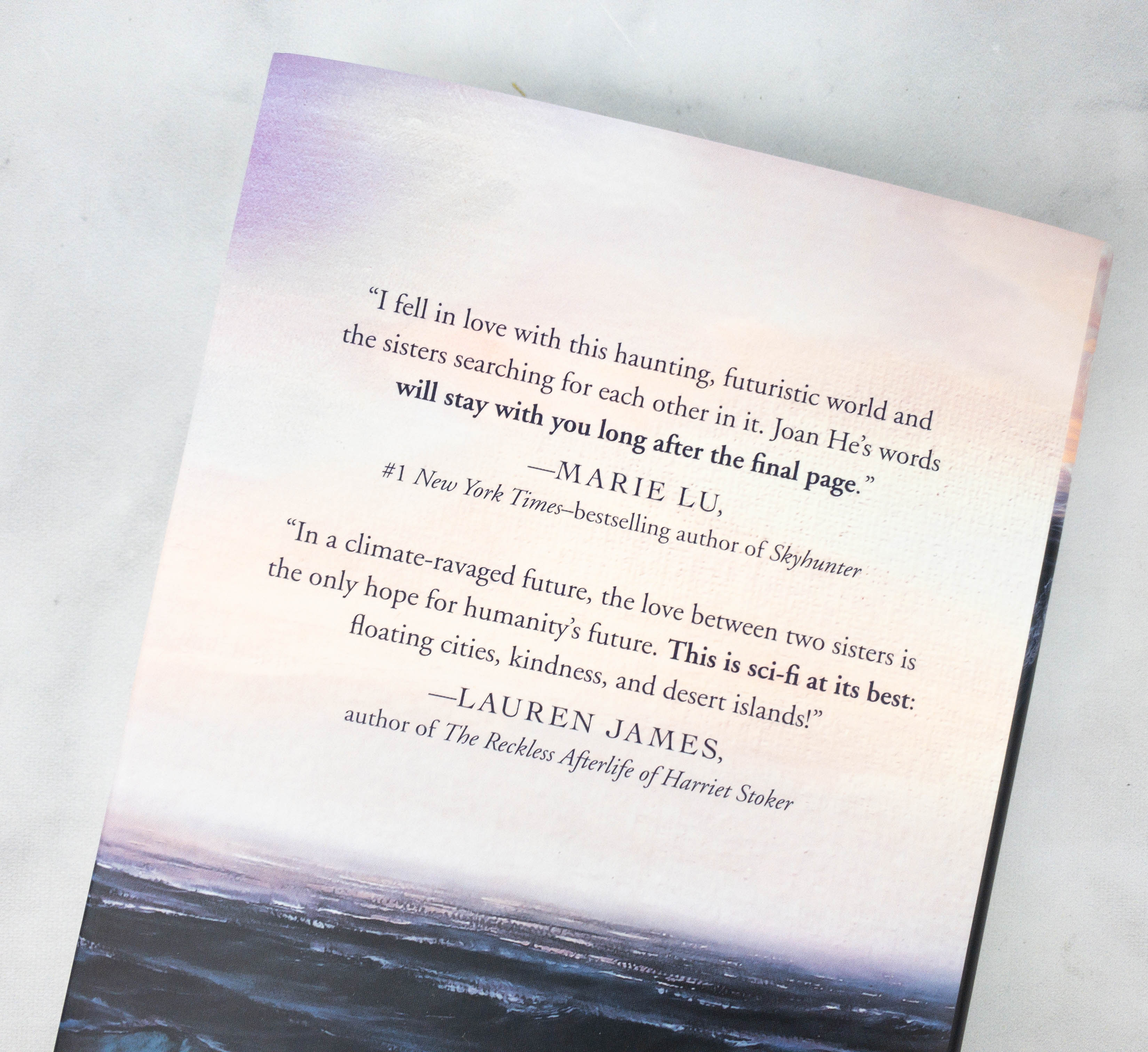 The back cover shows reviews from other authors.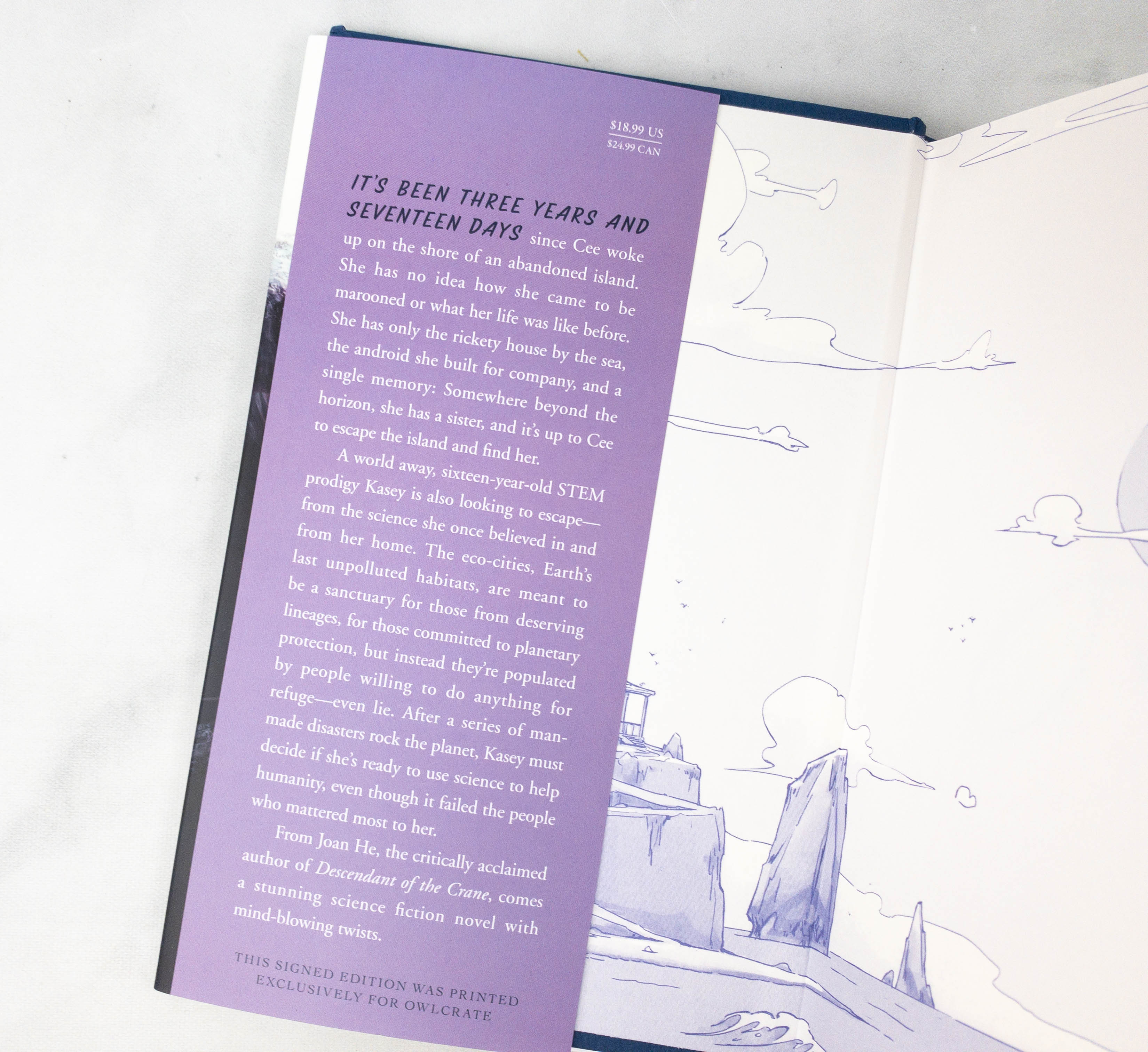 The inside flap of the book's dust jacket has the story synopsis. The endpaper has some nice illustrations of what seems to be an island in the middle of the ocean.
Yes, this is a signed copy! It's a great addition to our mini library at home.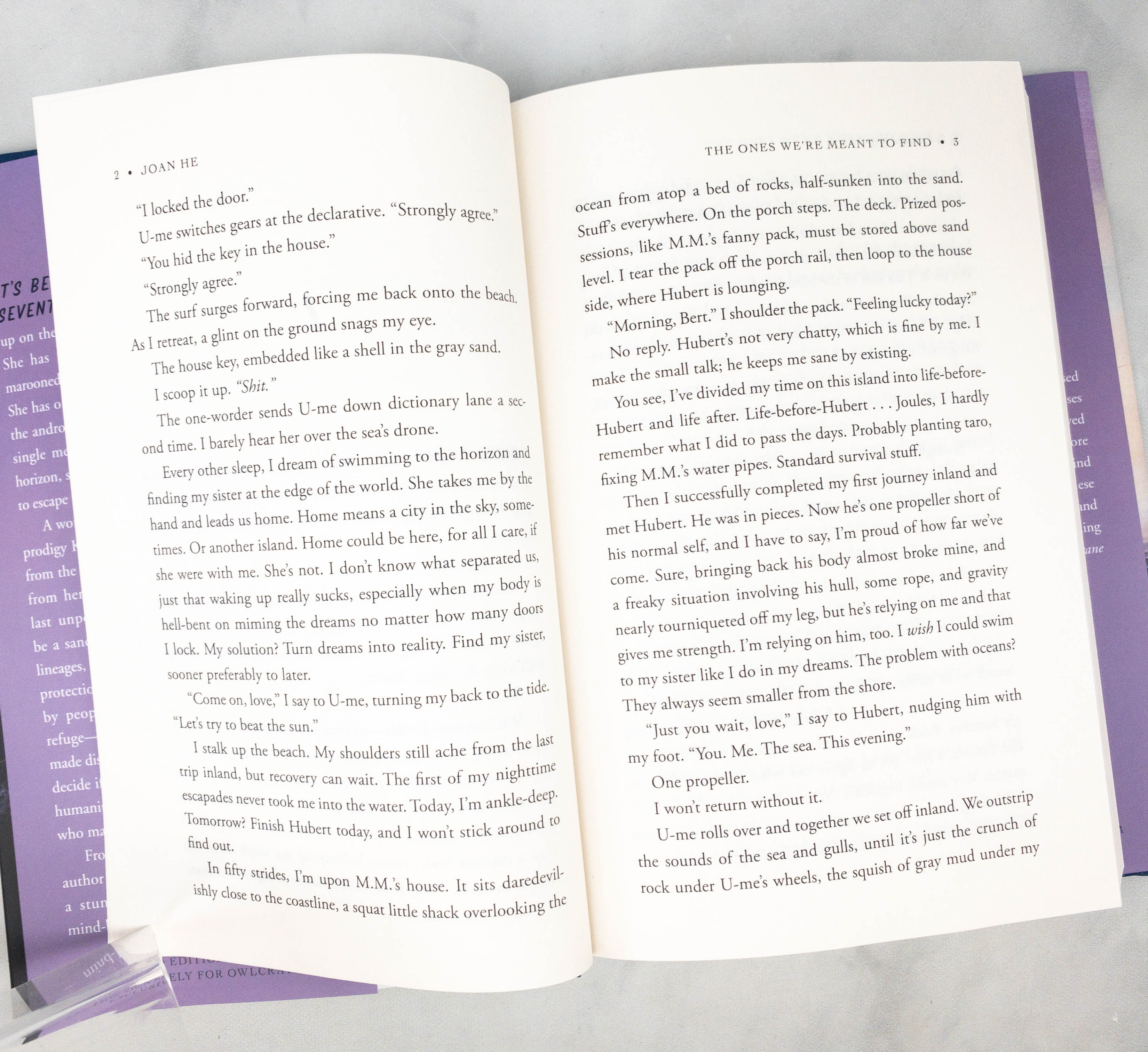 The sci-fi thriller story is about sisters Kasey and Celia, and it's written in their alternating POVs. The setting is in a futuristic world, where the earth has been damaged due to environmental factors.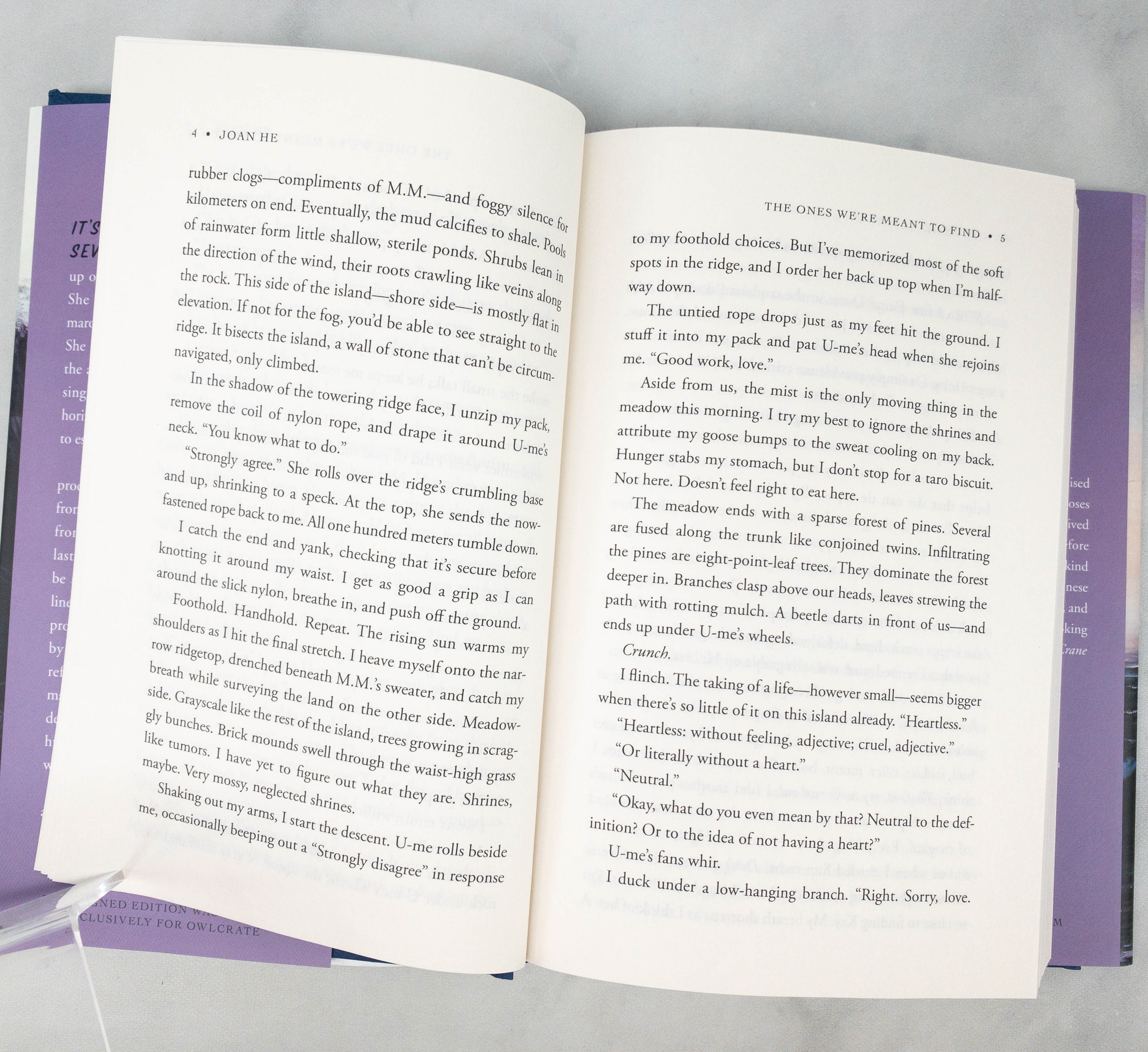 It has a quiet beginning, but as you read further, twists and turns unravel. I love the mix of futuristic views and sisterly bond this story gives off. It's definitely worth a read!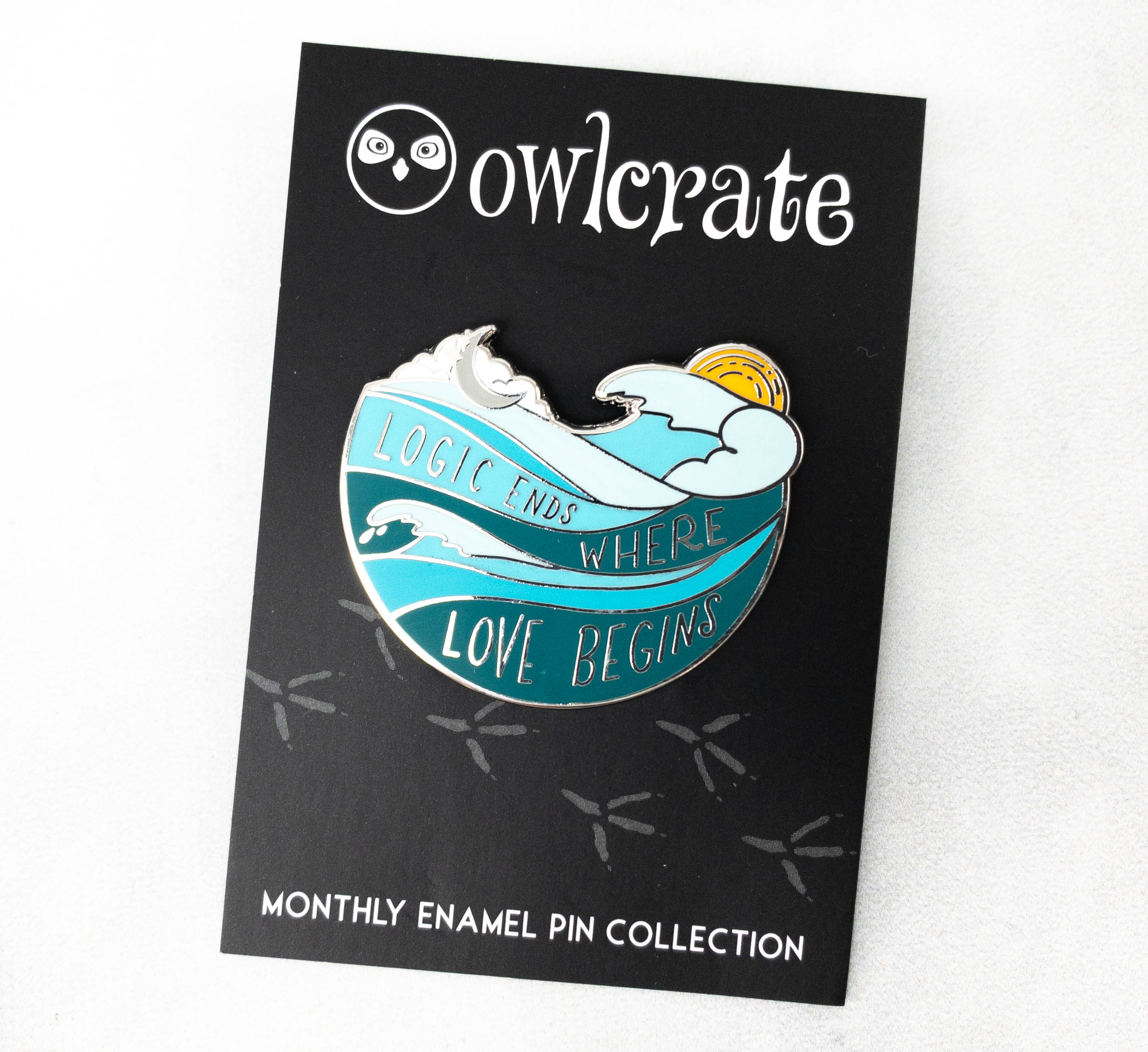 Monthly Enamel Pin. Owl Crate collaborated with Icey Designs to send subscribers cute enamel pins to collect every month! This month, the pin is inspired by the book's cover with a sun and a moon cresting on top of the waves.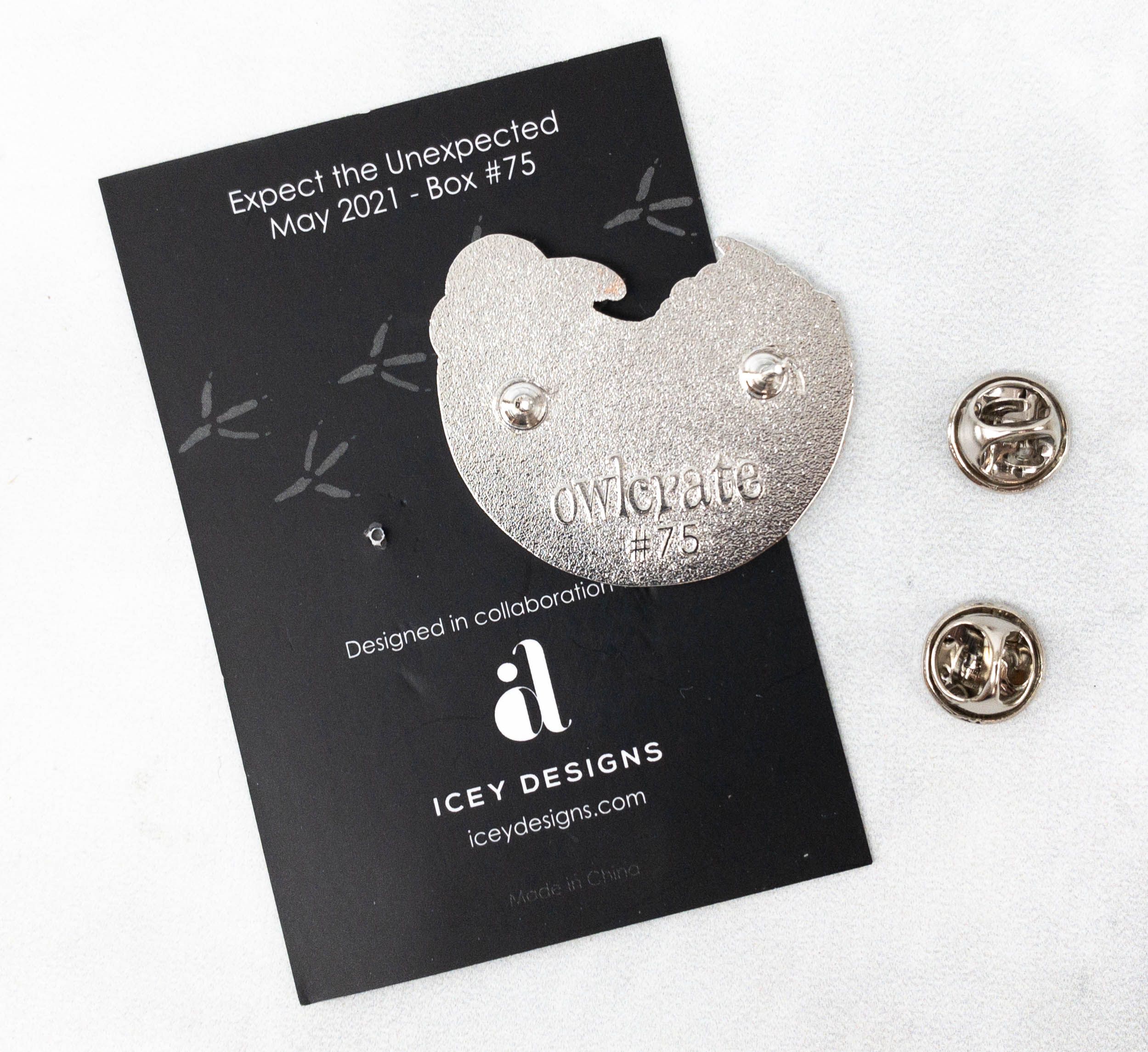 The pin is a bit heavy, so it's supported by two posts.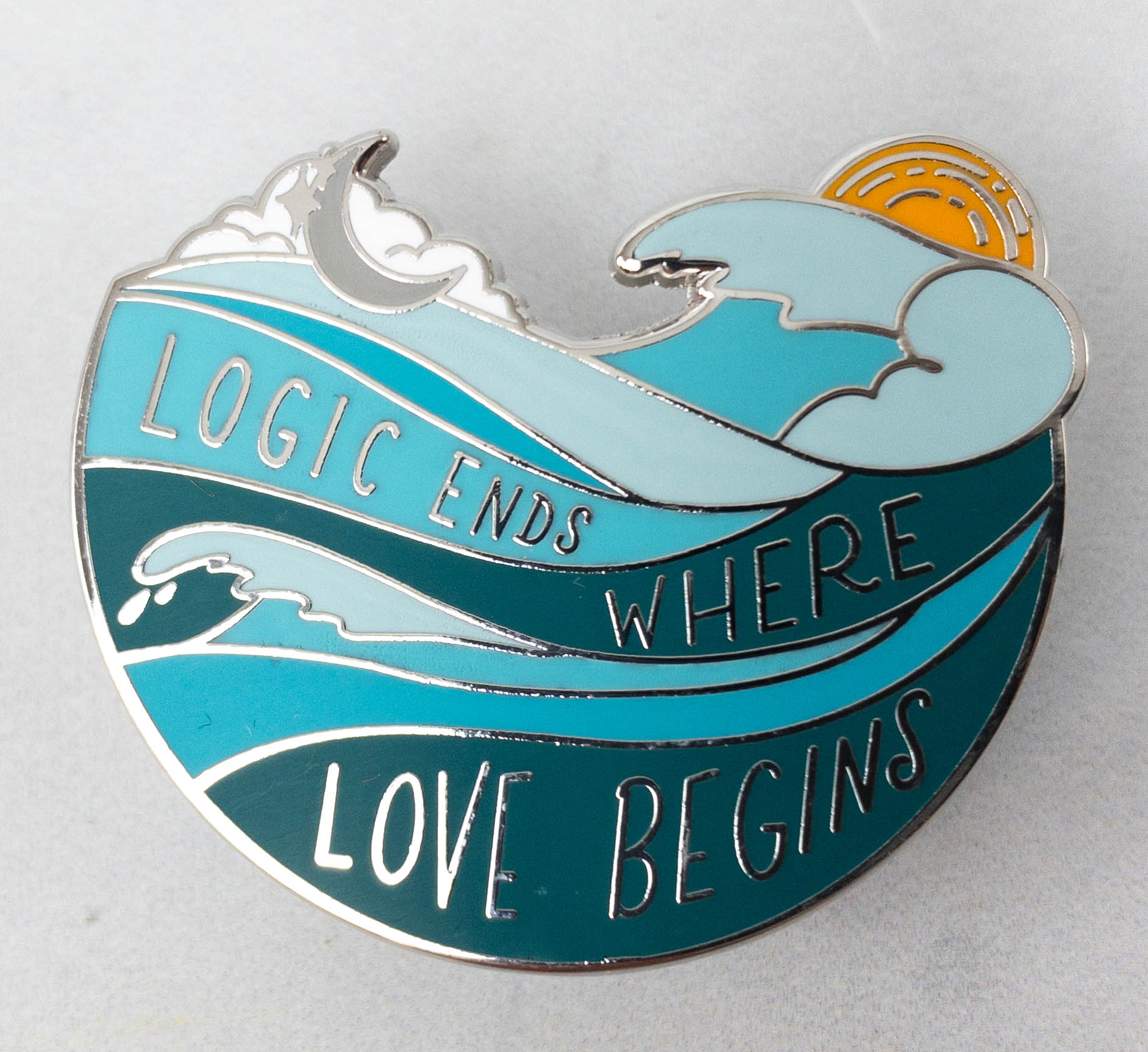 I love the design on this pin, especially the colors they've used which reminds me of the beach! There's also a text along with the waves: "Logic ends where love begins."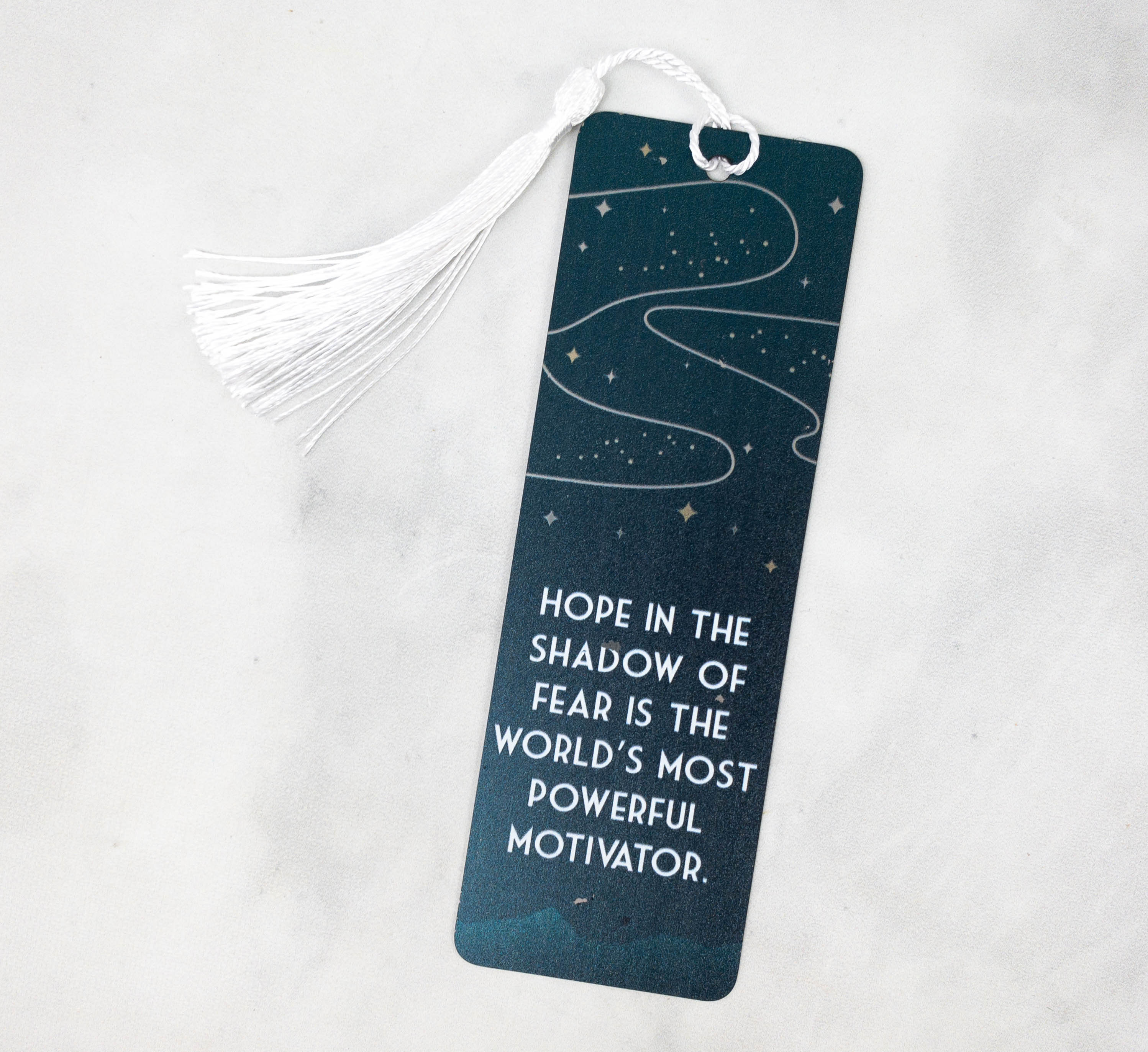 Metal Tassel Bookmark. This metal tassel bookmark from Pixel & Ink Creative looks simple but pretty, with quotes full of hope printed on it. One side has a quote from Scythe:
Hope in the shadow of fear is the world's most powerful motivator.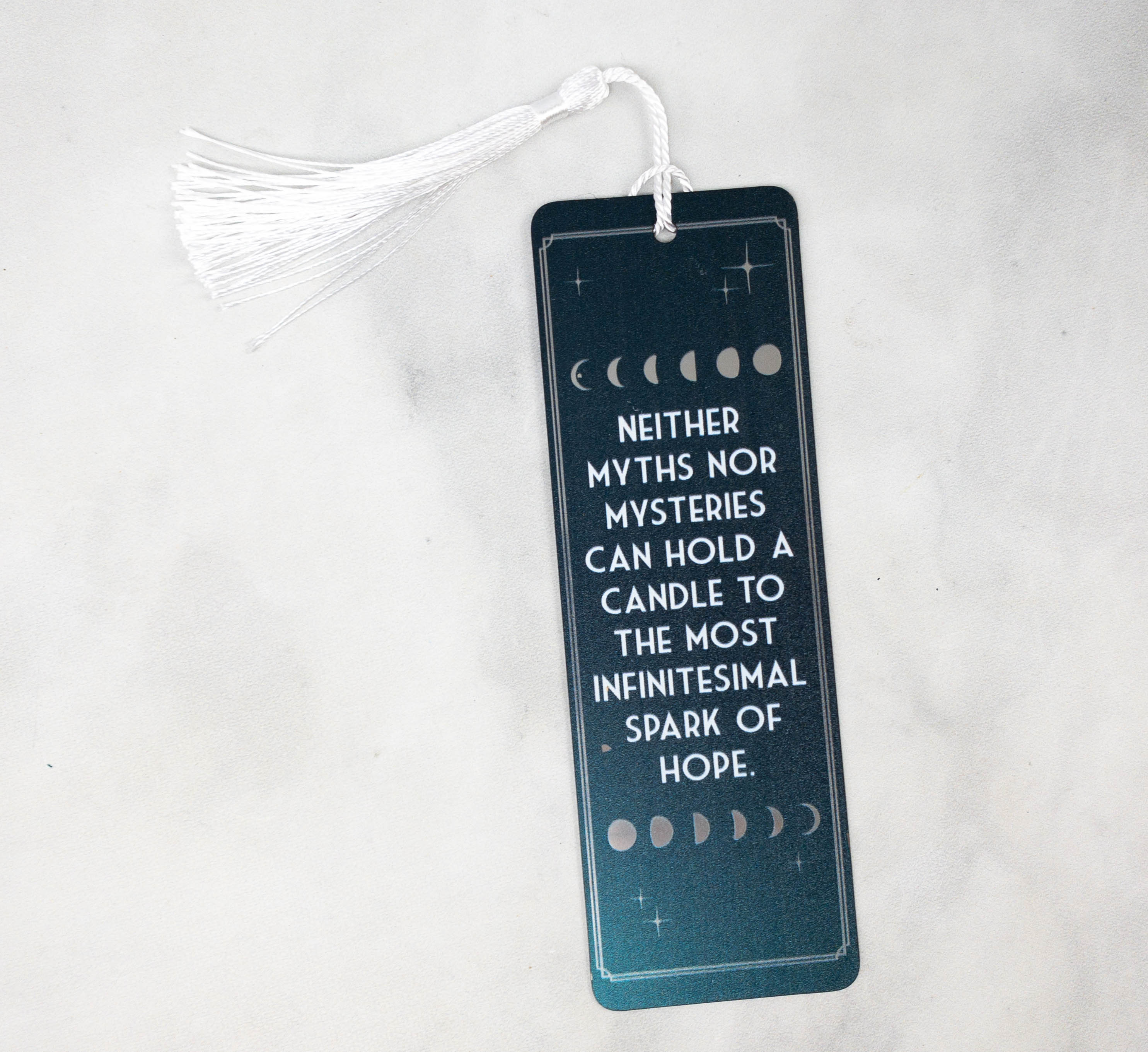 The moon phase design on this bookmark is so cute. The flip part has a quote from The Fifth Season:
Neither myths nor mysteries can hold a candle to the most infinitesimal spark of hope.
Square Scarf. There's also an exclusive, officially licensed Rule of Wolves square scarf from Out of Print!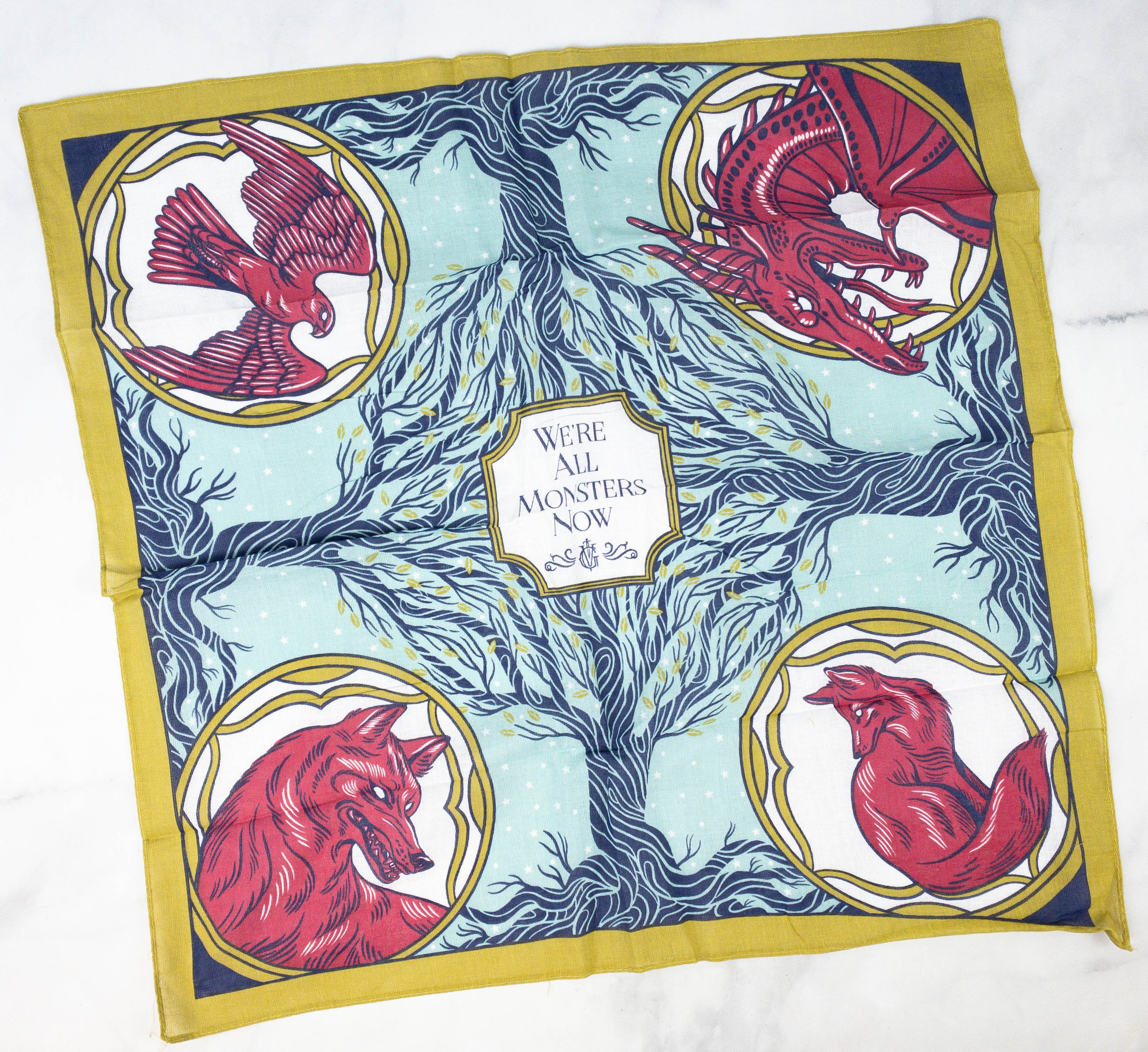 The cloth is lightweight, and it's a little thinner than I've imagined, but the prints are high quality! A text printed on the center says "We're all monsters now."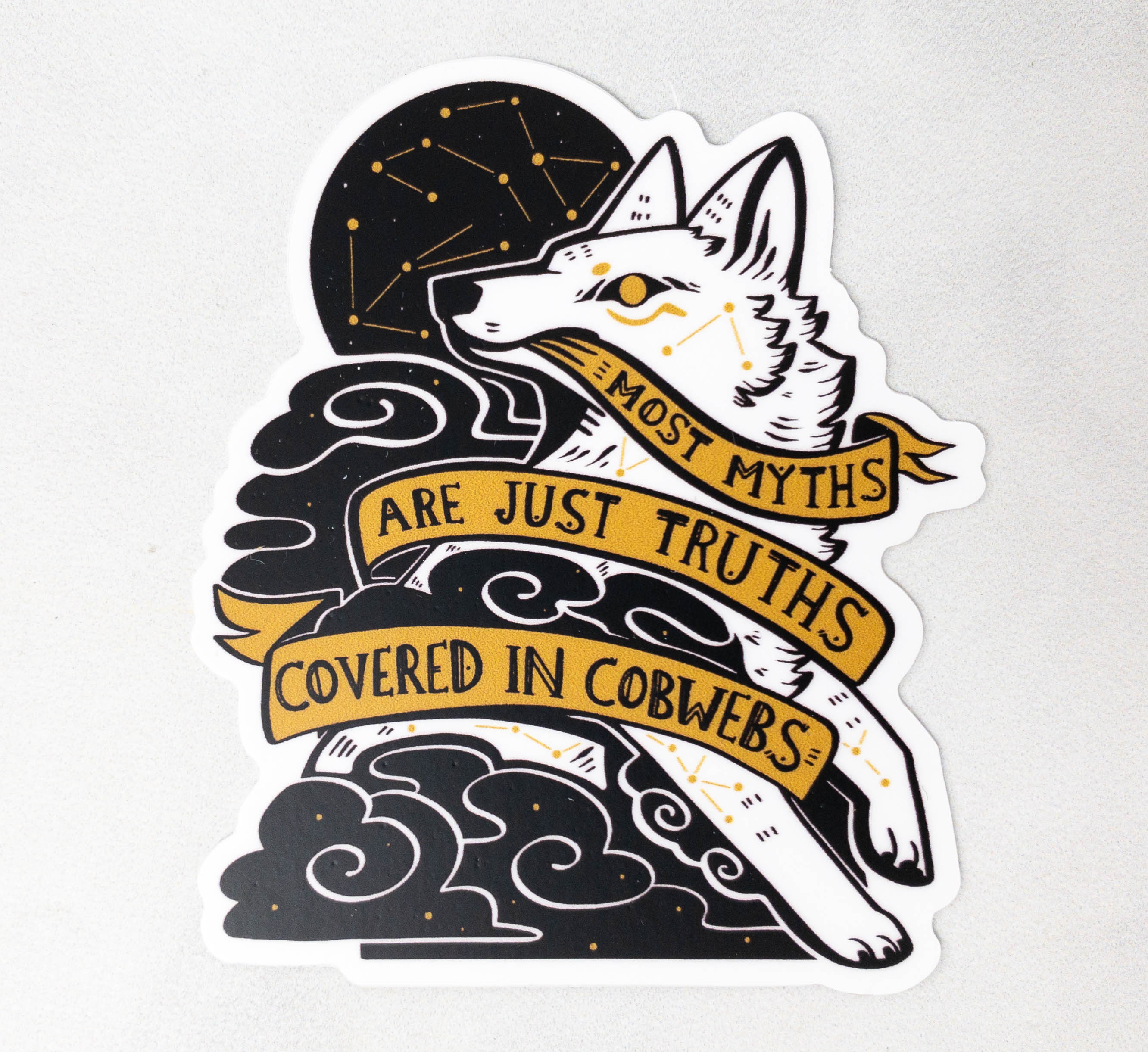 Vinyl Sticker. It's another perfect addition to my sticker collection! This vinyl sticker features a wolf biting on a banner with a quote from The Gilded Wolves.
Most myths are just truths covered in cobwebs.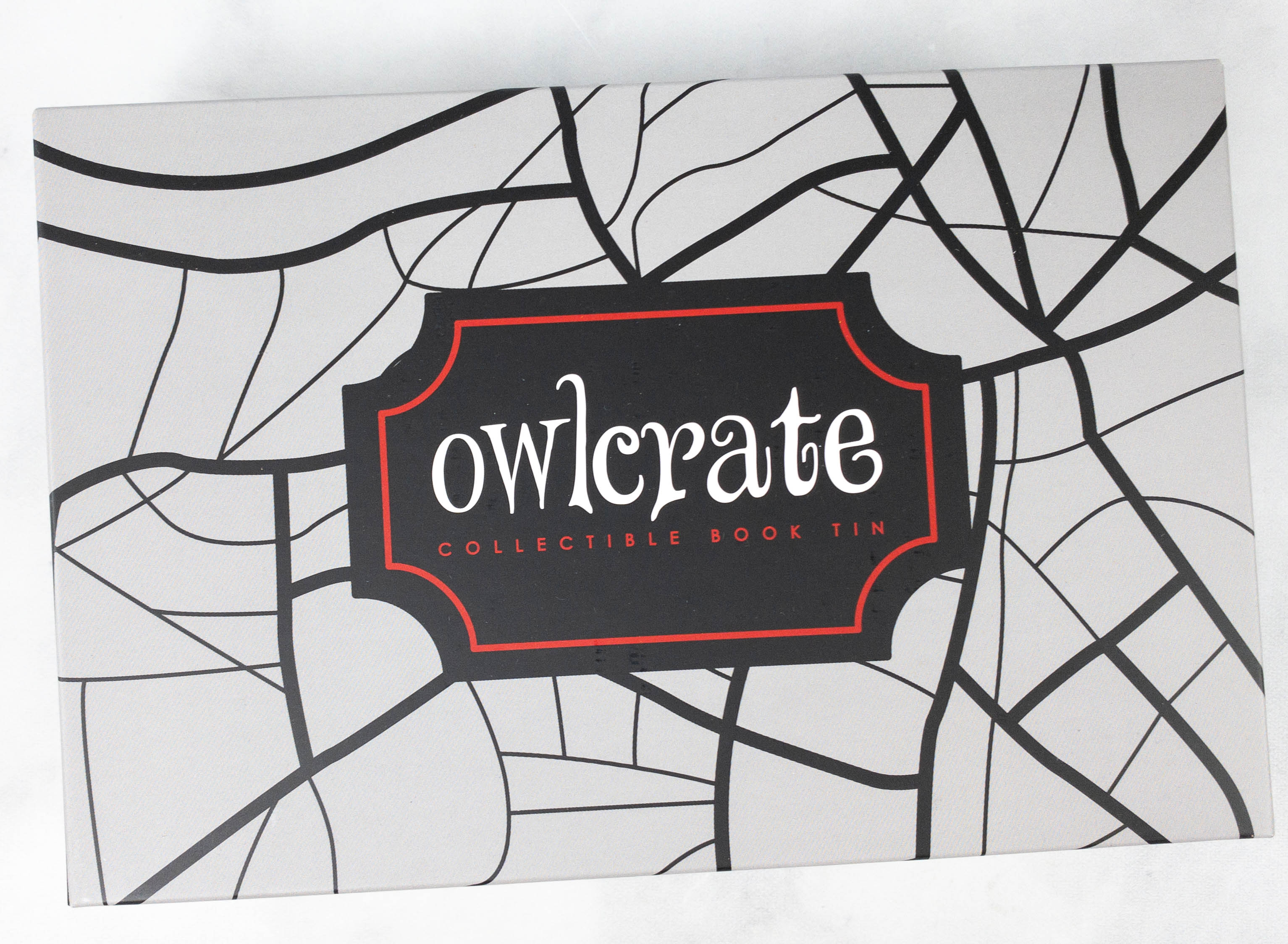 Collectible Book Tin. This month, I received the second release of the four-part Collectible Book Tin Series from Forensics and Flowers. I already received the first one back in February, so I'm excited to see the design on this one as well.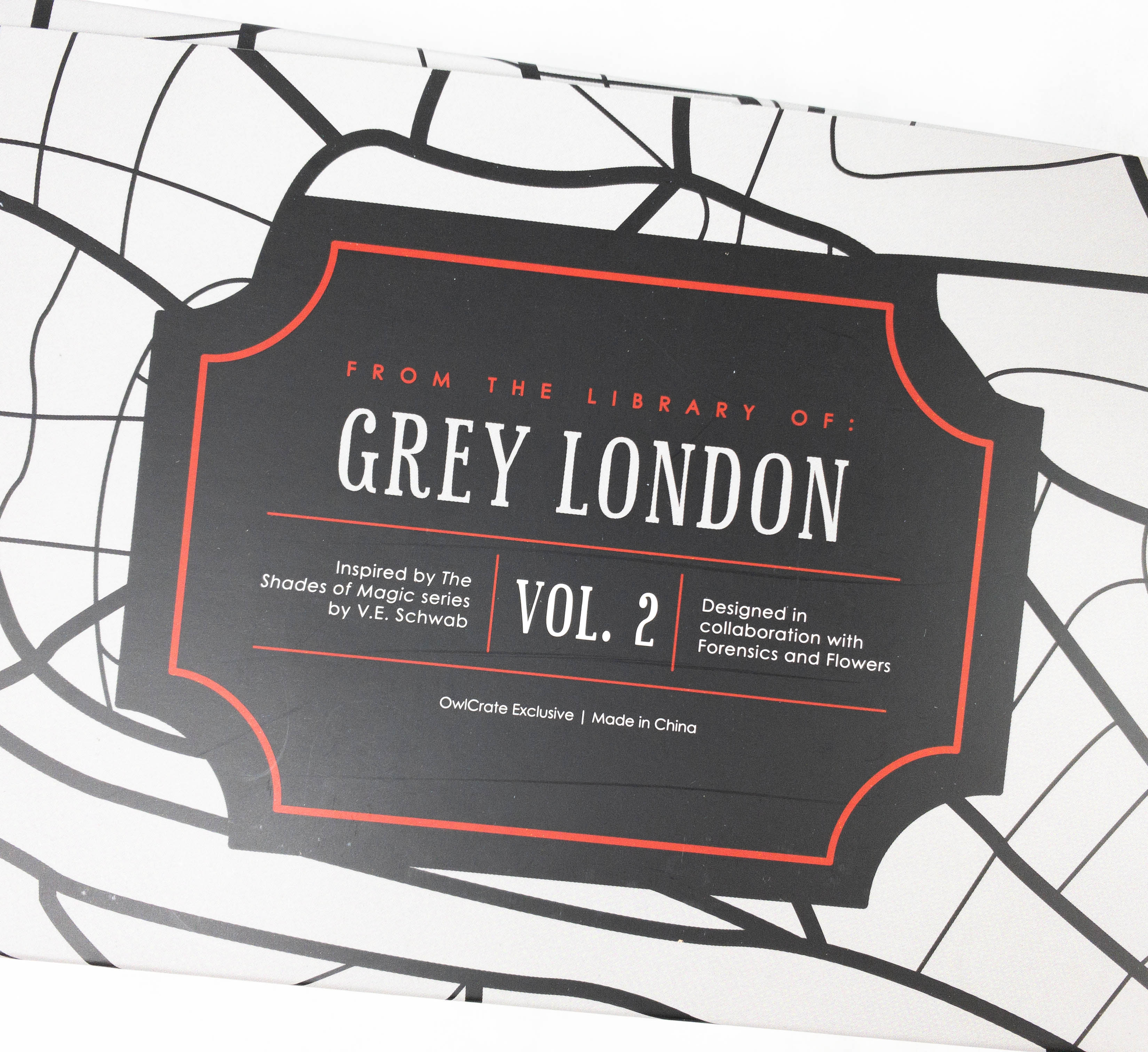 It even came in its own box packaging! It is inspired by The Shades of Magic series by V.E. Schwab.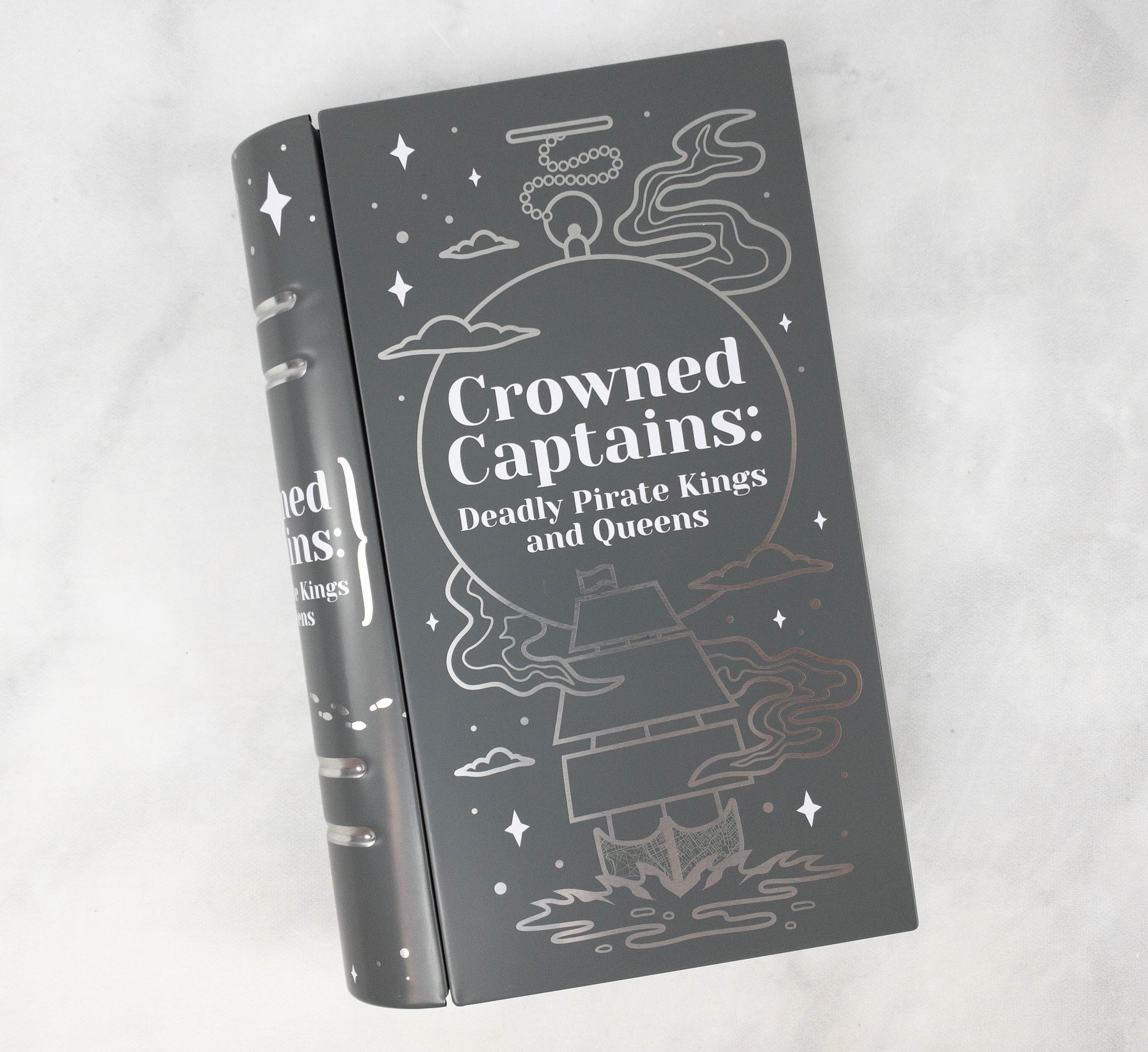 Each tin in the series represents a book that could be found on the shelves of libraries in the four different Londons. This time, it's Grey London!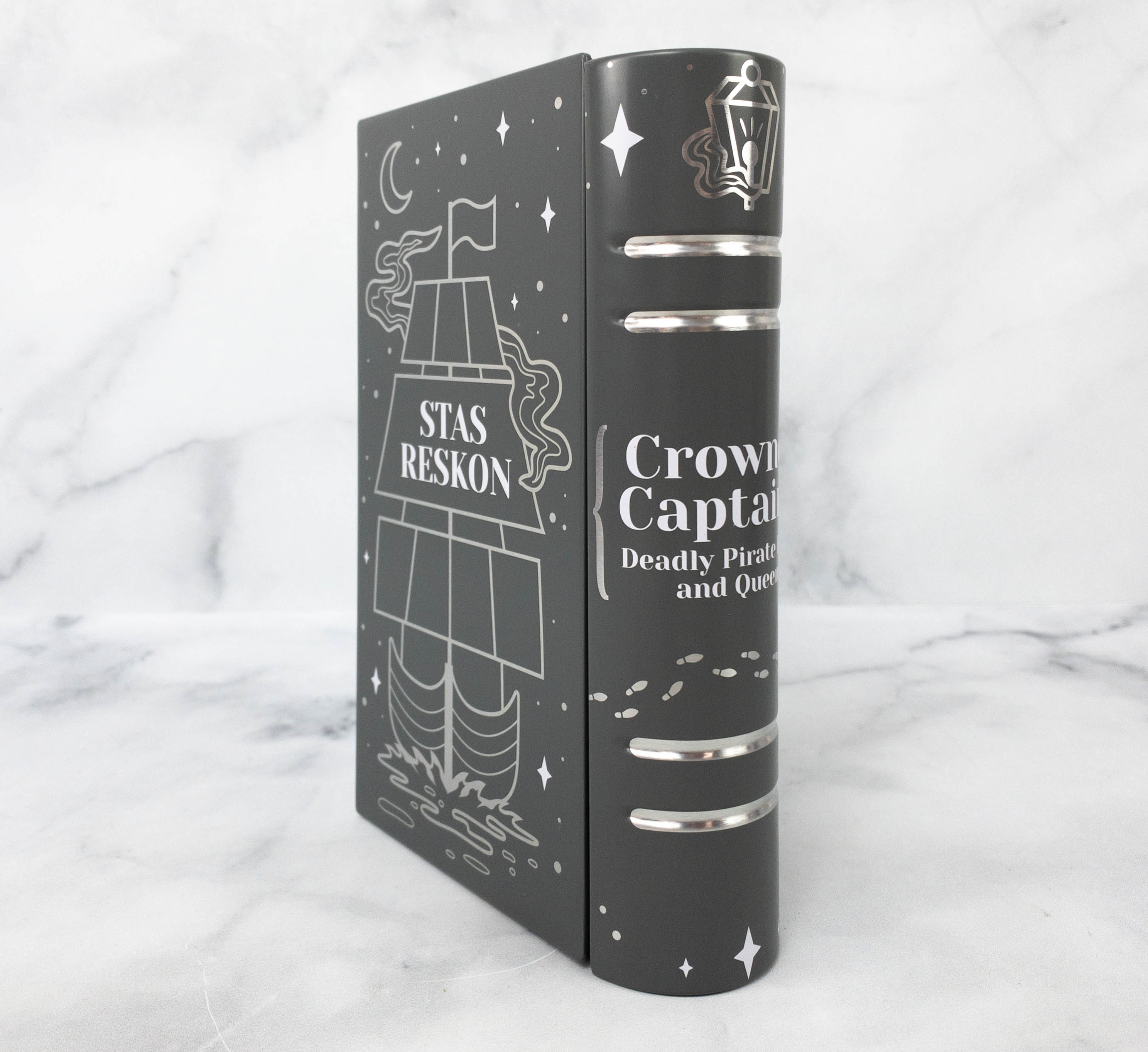 I love the ship design on this tin case! It's so pretty with a grey background and silver accents, plus little white sparkles. It's really shaped like a book, so it'll definitely blend in with some of the real books we have!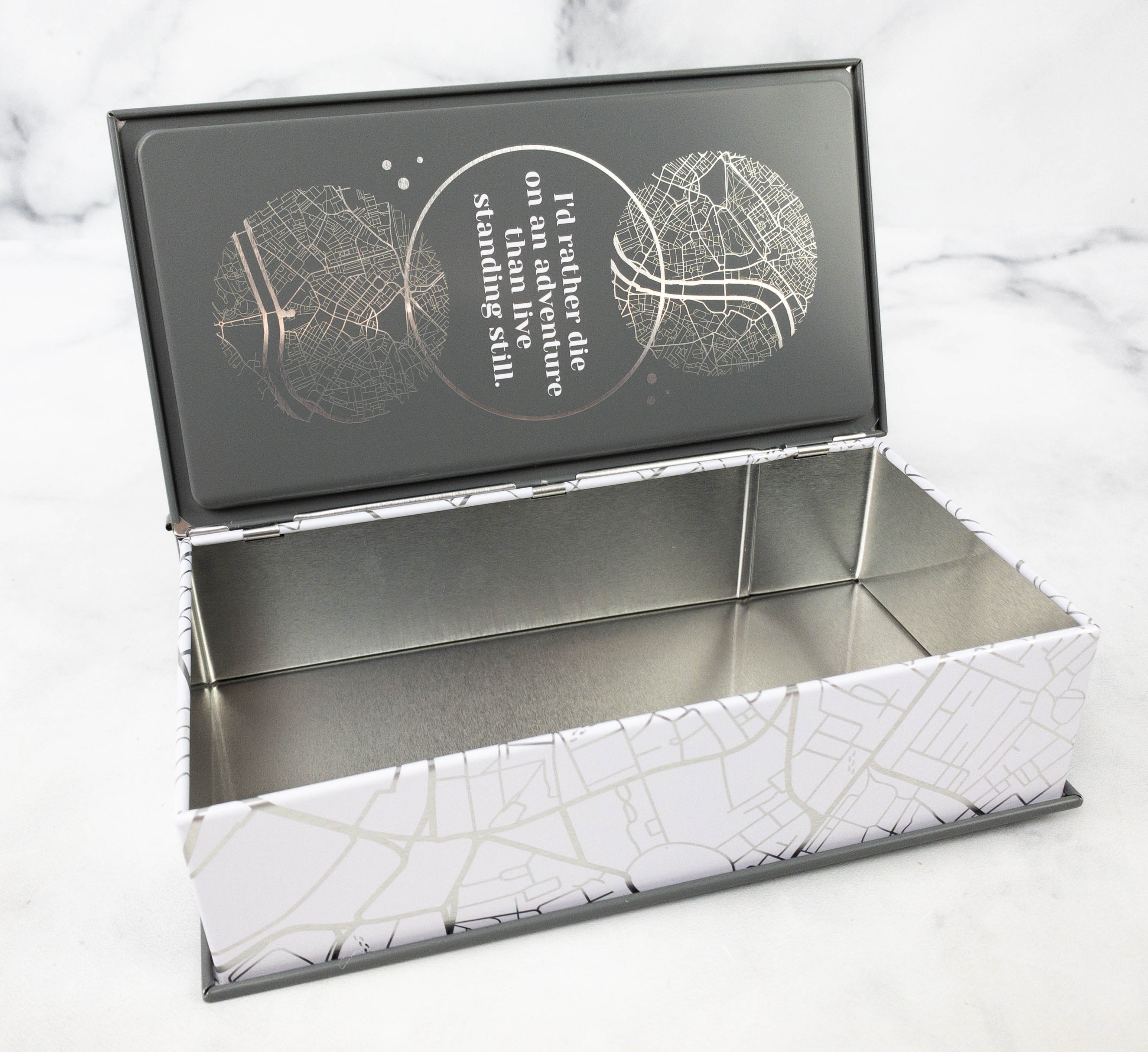 It's pretty spacious, and I could use this to keep some accessories or knick-knacks. There's also a quote on the inside cover.
I'd rather die on an adventure than live standing still.
Corduroy Bag. The last bookish goodie included in this month's box is a bag! It came protected in a black drawstring pouch.
It's an Obsidio inspired corduroy bag in the same shade as the bookmark!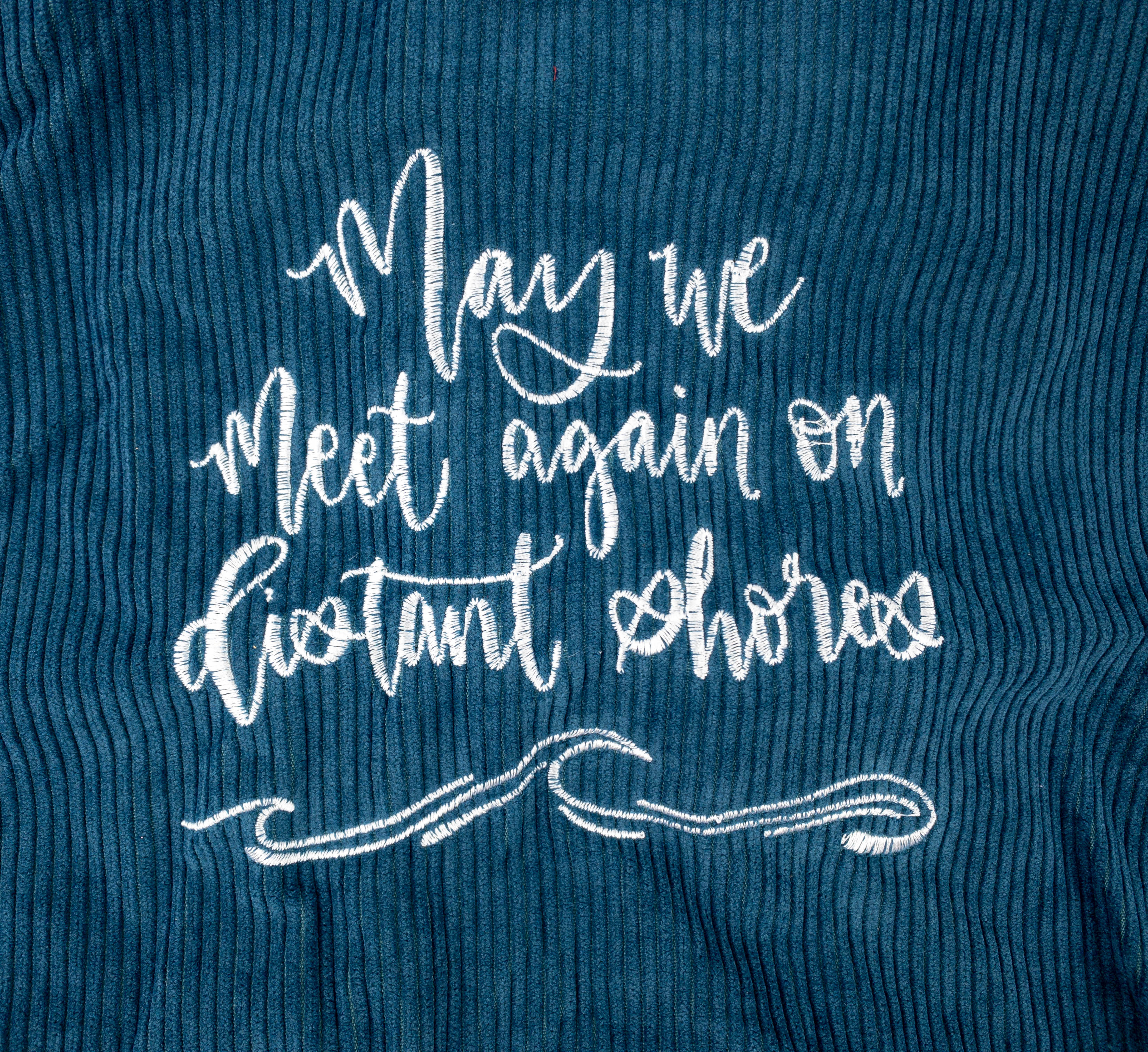 It has a hand-lettering done by Studio Kyla Calligraphy, and it says "May we meet again on distant shores."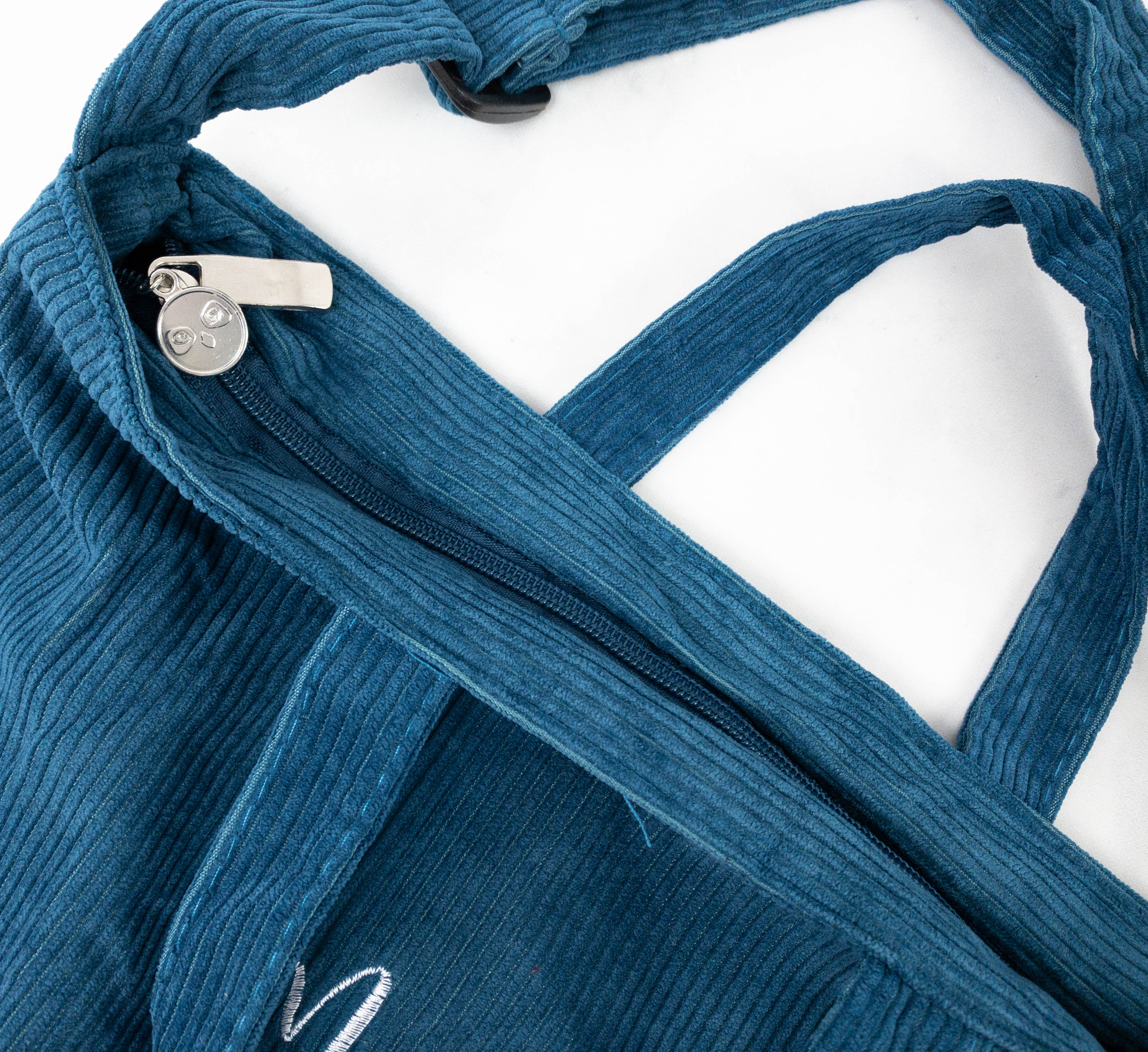 I also love that it has a zipper on it! I could definitely use this to carry books and other bookish stuff wherever I go.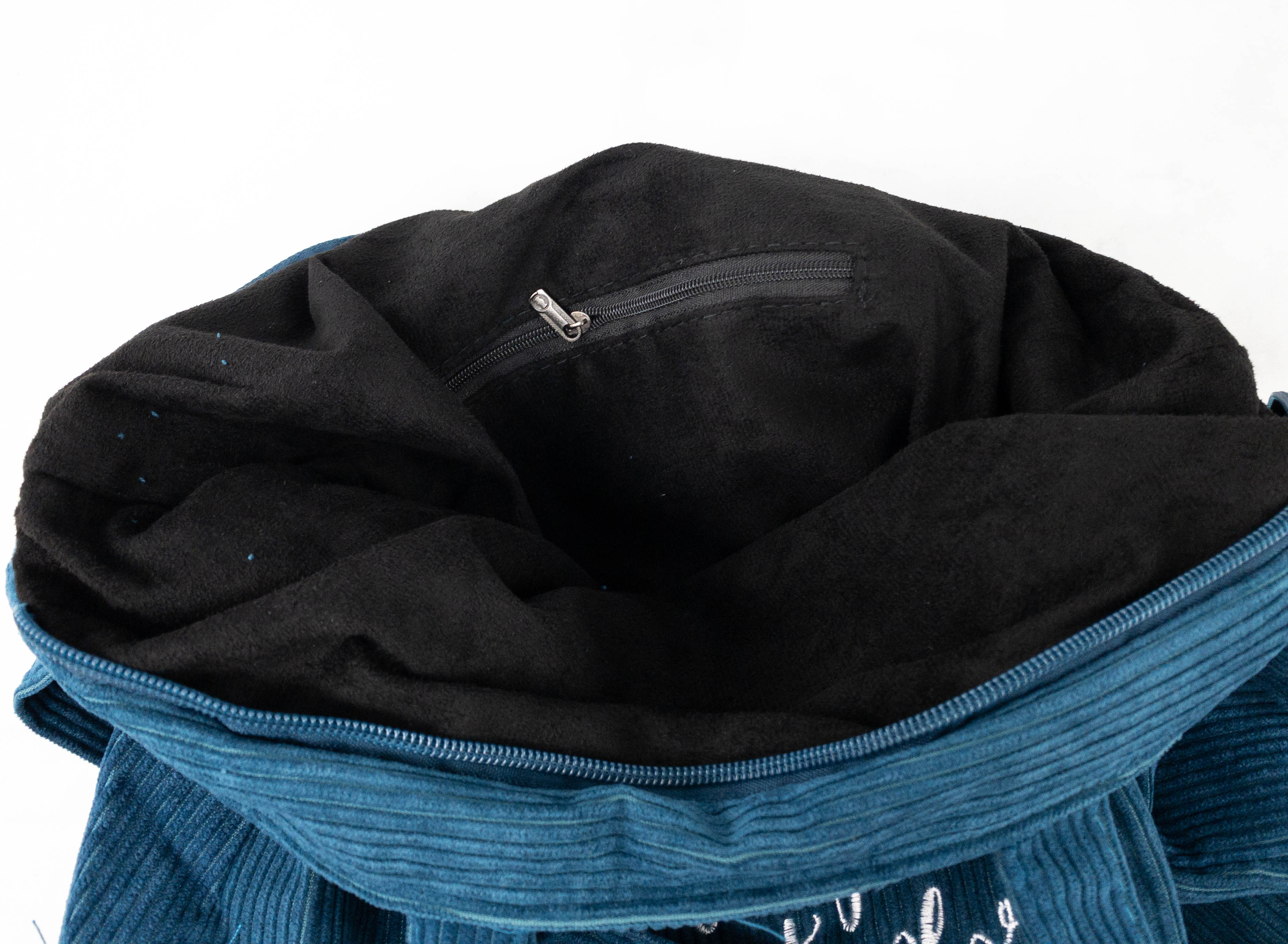 It also has a double lining inside and a small zipped compartment for keeping small valuables.
Here's a sneak peek for next month's box!
According to the card, every June box will include an enamel item from Pineapple Sundays!
OwlCrate's book picks are always on point, as well as the book-related items they send every month. In this box, I received a YA sci-fi book which is perfect for fans of dystopian stories! Meanwhile, my favorite among the bookish goodies are the enamel pin and the metal tassel bookmark. I'm also excited to complete the four-part collection of the book tin! Another thing I appreciate about this subscription is that they support various local designers and vendors by collaborating with them!
What did you think of this month's Owl Crate theme? Are you excited for next month's theme?