OwlCrate Jr. is a monthly book subscription box for young readers ages 8-12 with a middle-grade book plus fun gender-neutral bookish items designed to enhance your little reader's experience. It's from OwlCrate, a super popular YA (young adult) fiction subscription.
Owl Crate's middle grade readers box made our readers' choice list of best book boxes for kids!
DEAL: Save 15% on your first 1, 3, or 6-month subscription or gift with the promo code HELLO15 at checkout.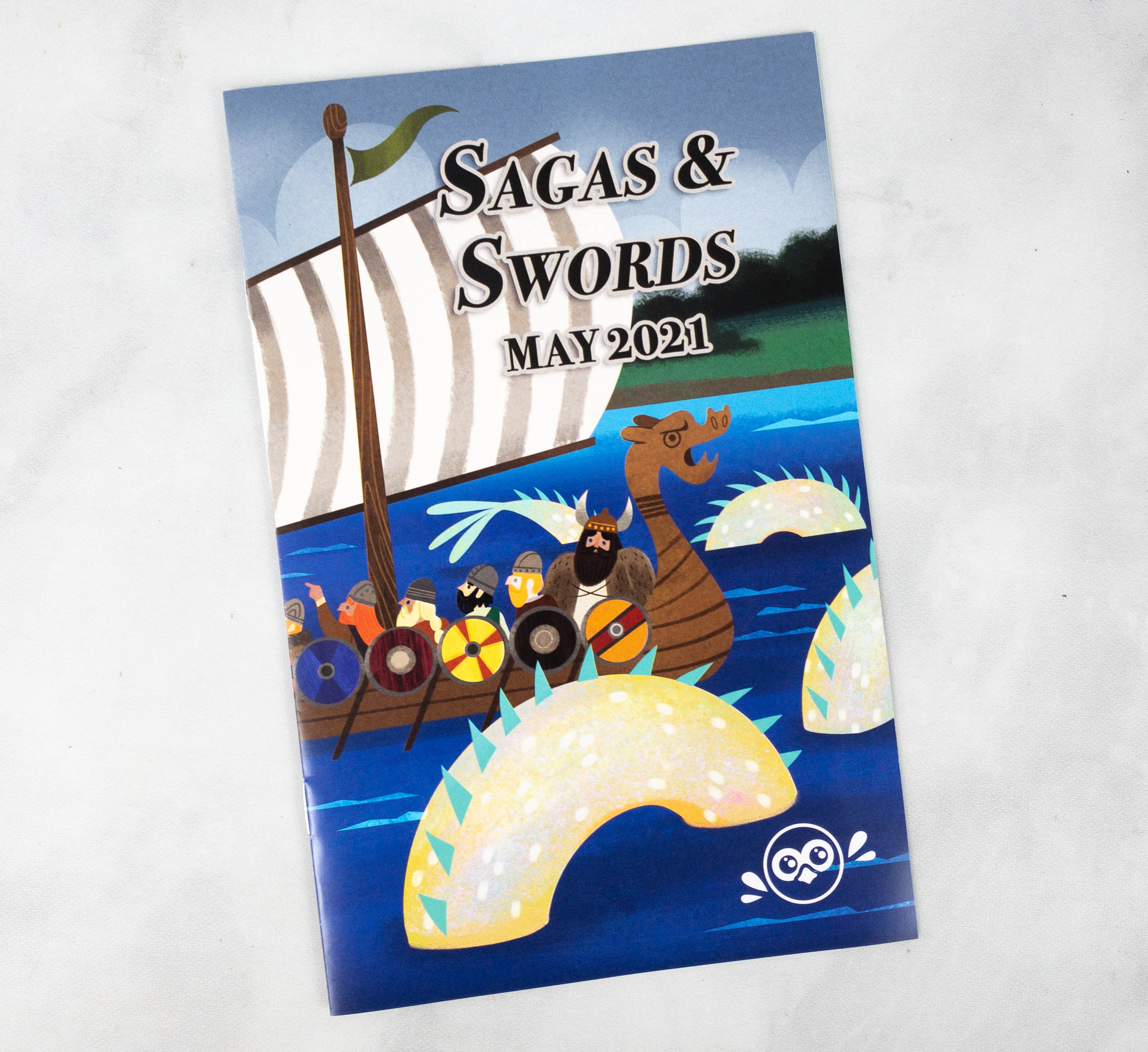 The theme for the May 2021 OwlCrate Jr. box is SAGAS & SWORDS!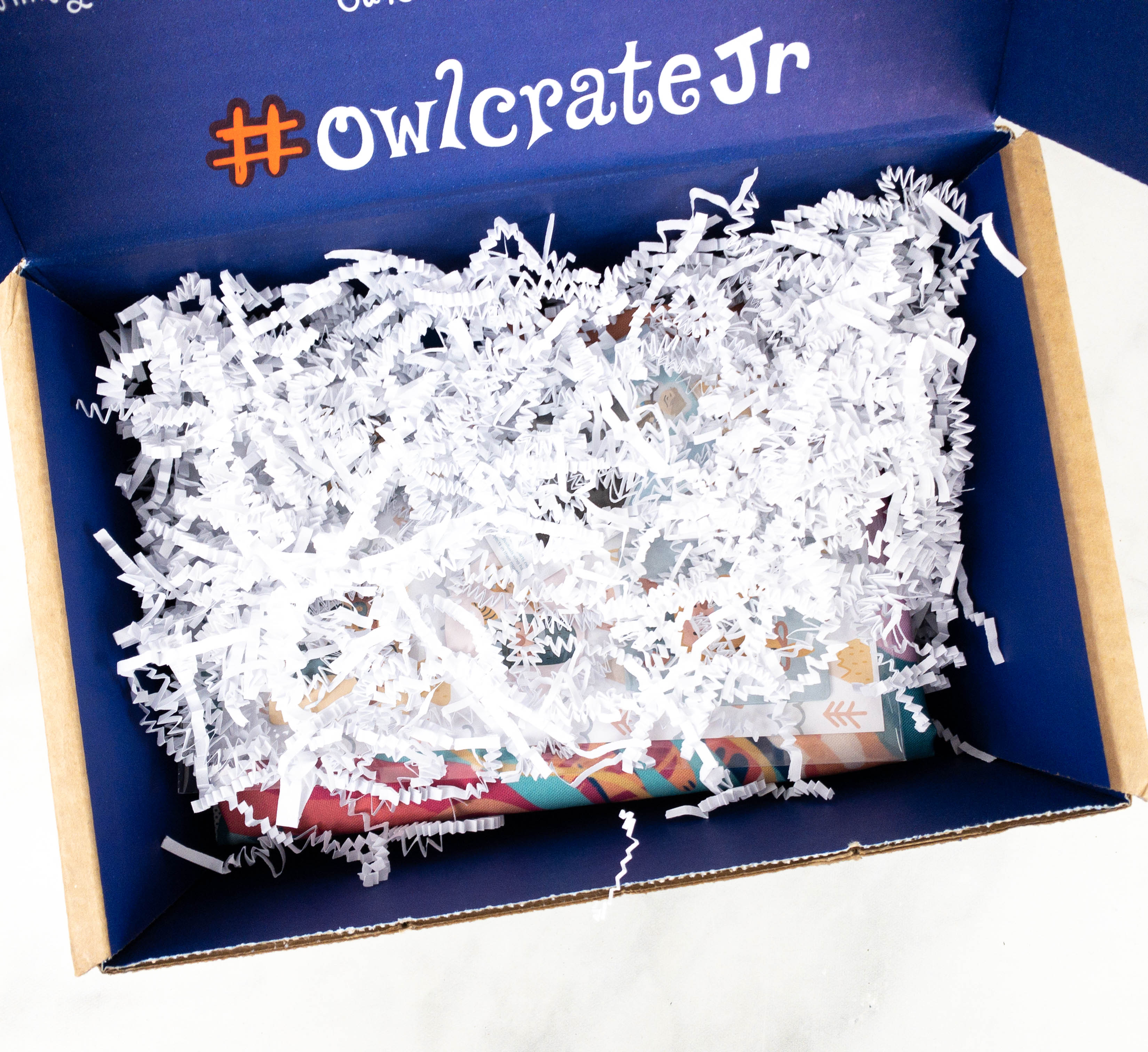 The items were packed with white squiggles.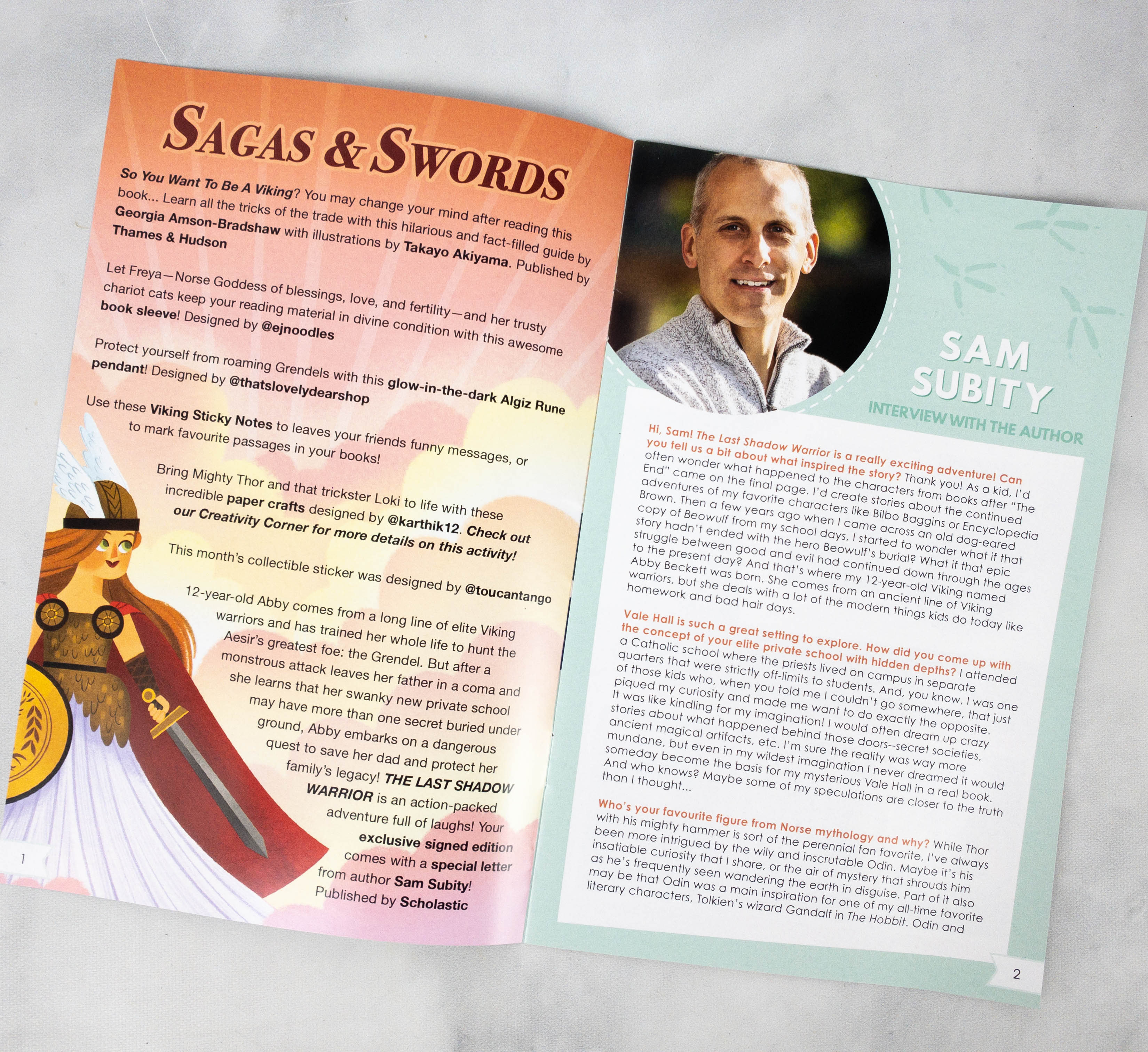 Inside, there's a list of all the items in the box, as well as an interview with this month's featured author Sam Subity.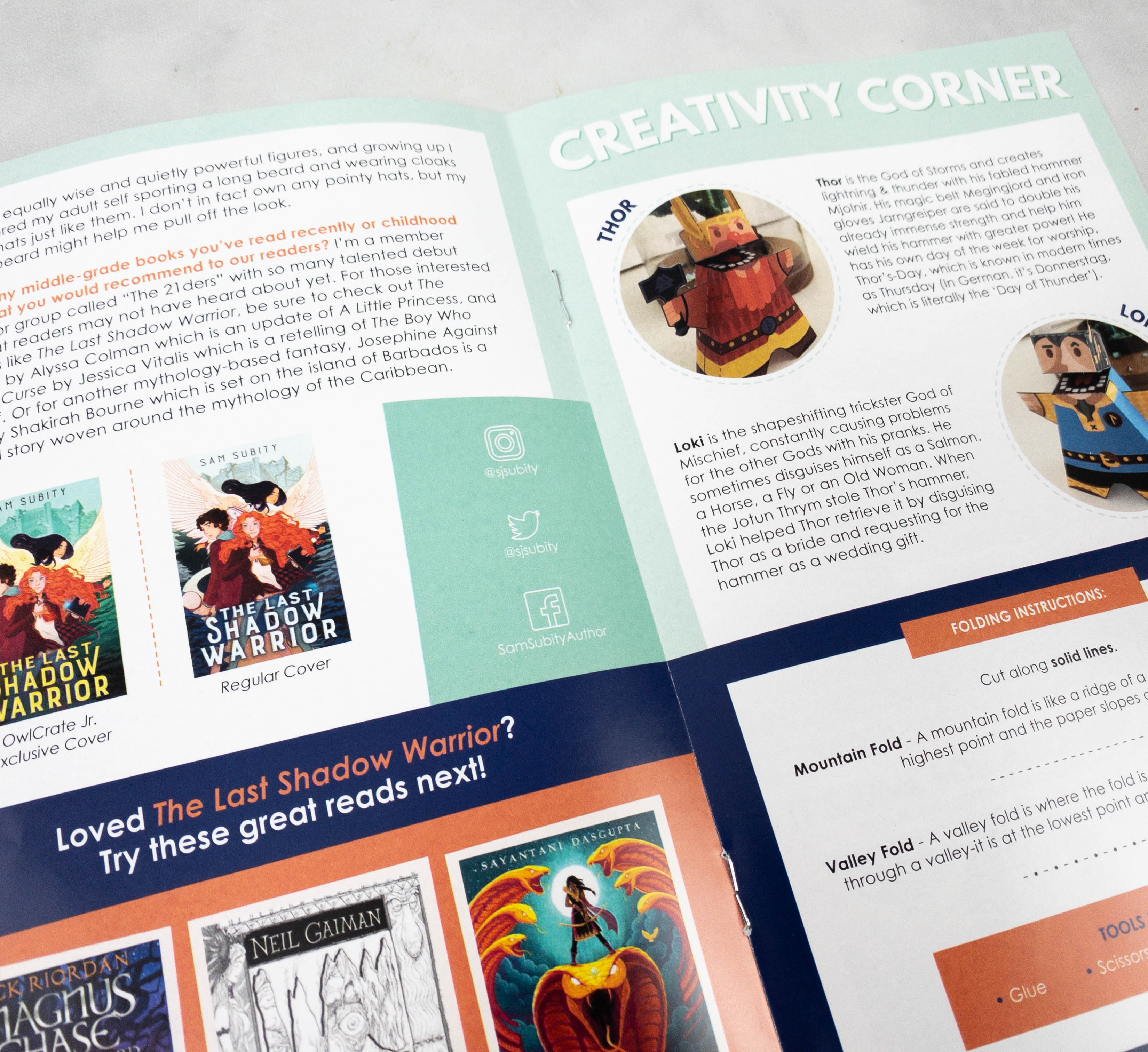 Knowing what inspired the author to pen a story can help children understand the book better.
They also suggested some titles for further reading, especially if you love this month's book: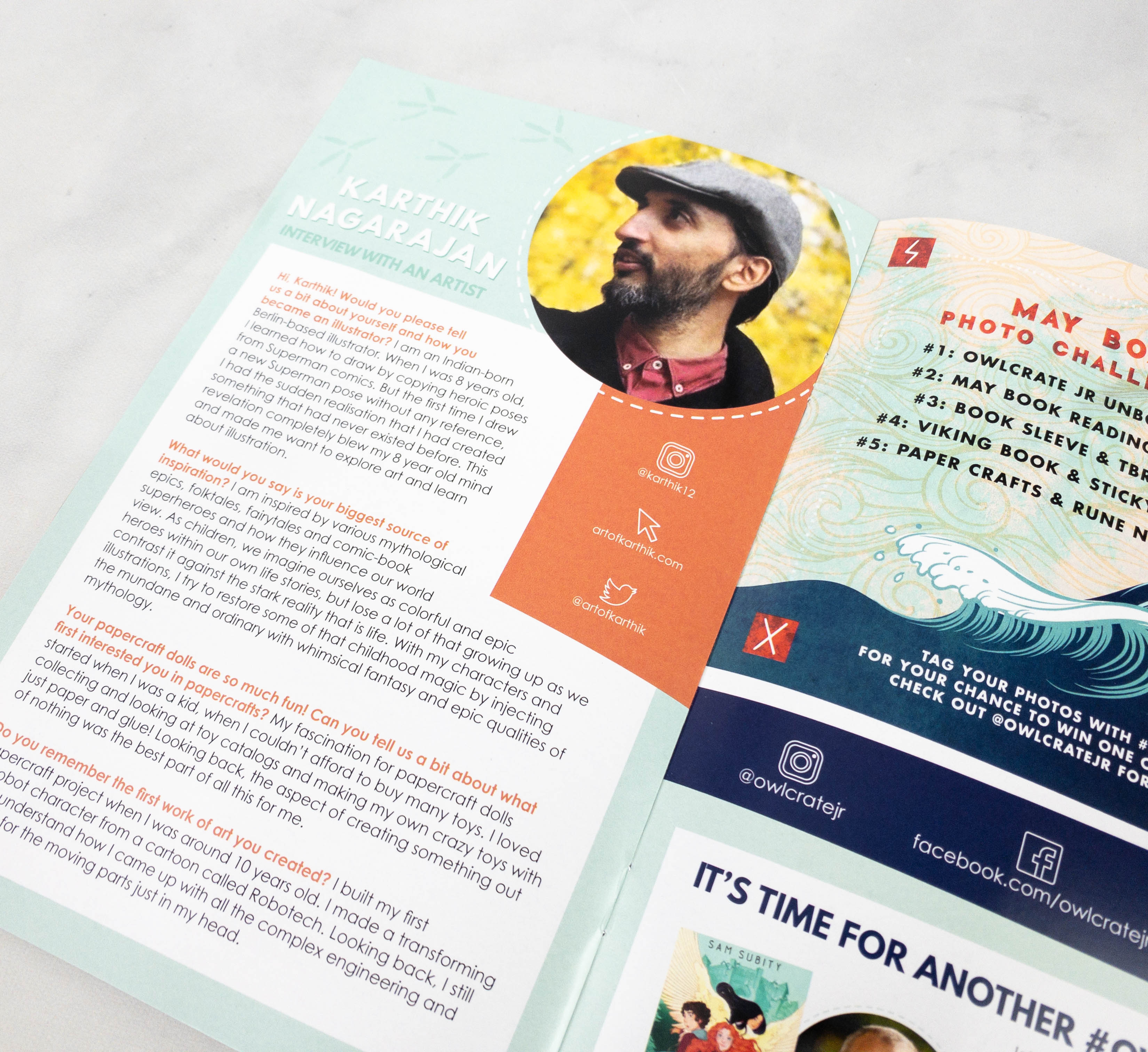 The booklet also included an interview with artist Karthik Magarajan.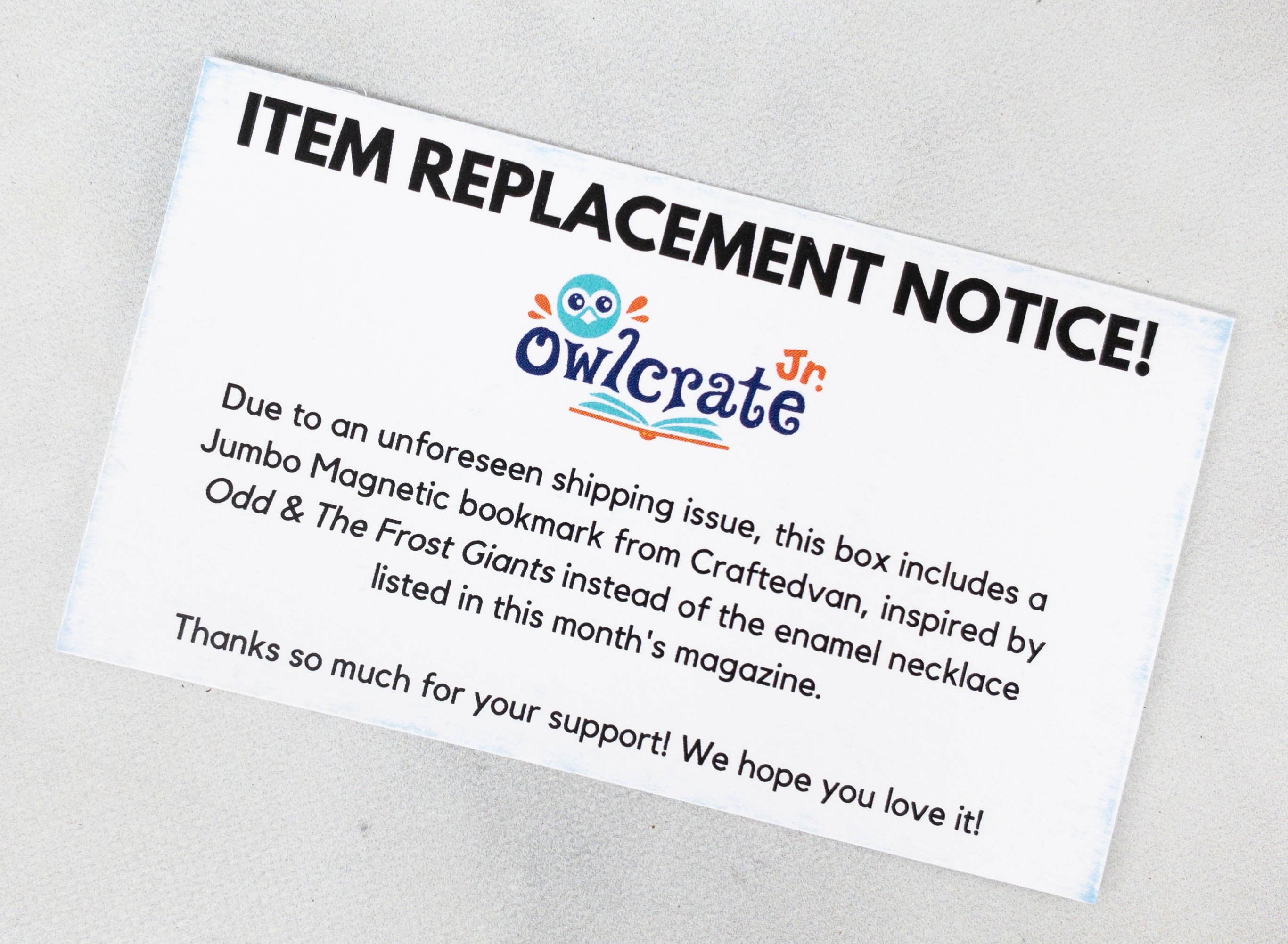 They included this little card with an item replacement notice explaining why the box doesn't include the enamel necklace listed in the magazine (it was due to an unforeseen shipping issue!).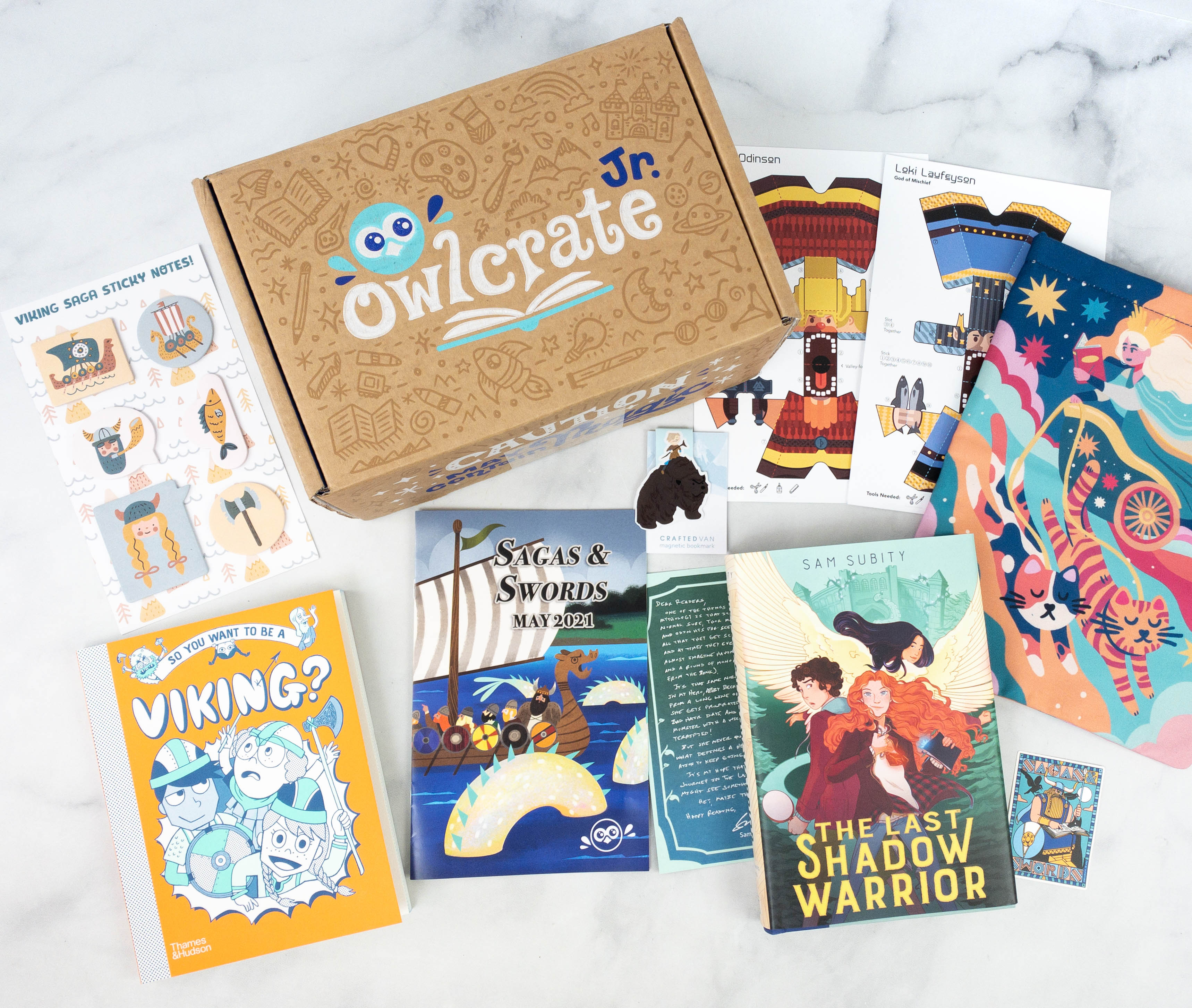 Everything in the May 2021 OwlCrate Jr. box!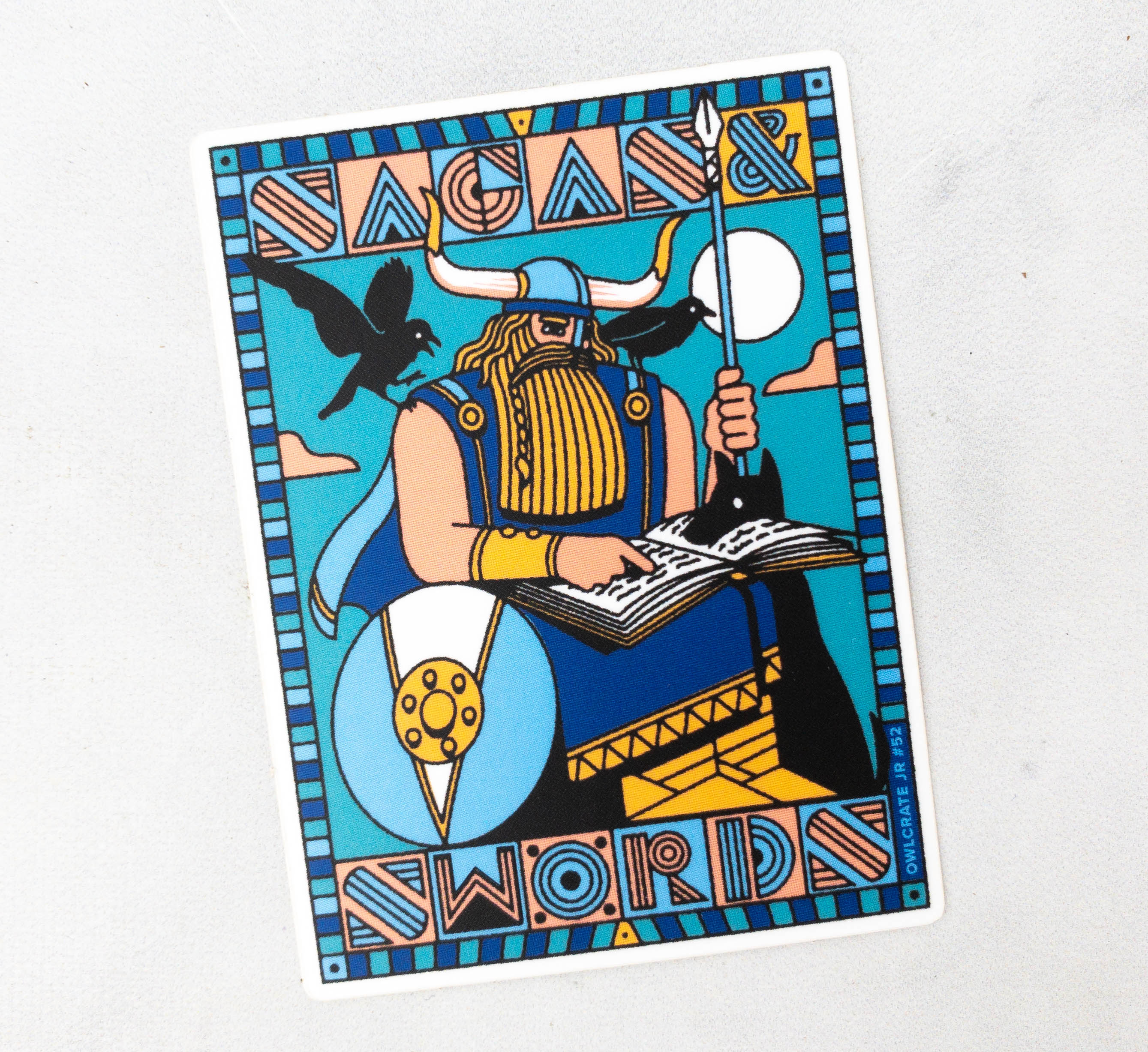 Sticker. This month's box includes a sticker featuring the theme. It has a Viking reading a book, with his shield and spear with him. It's designed by @toucantango.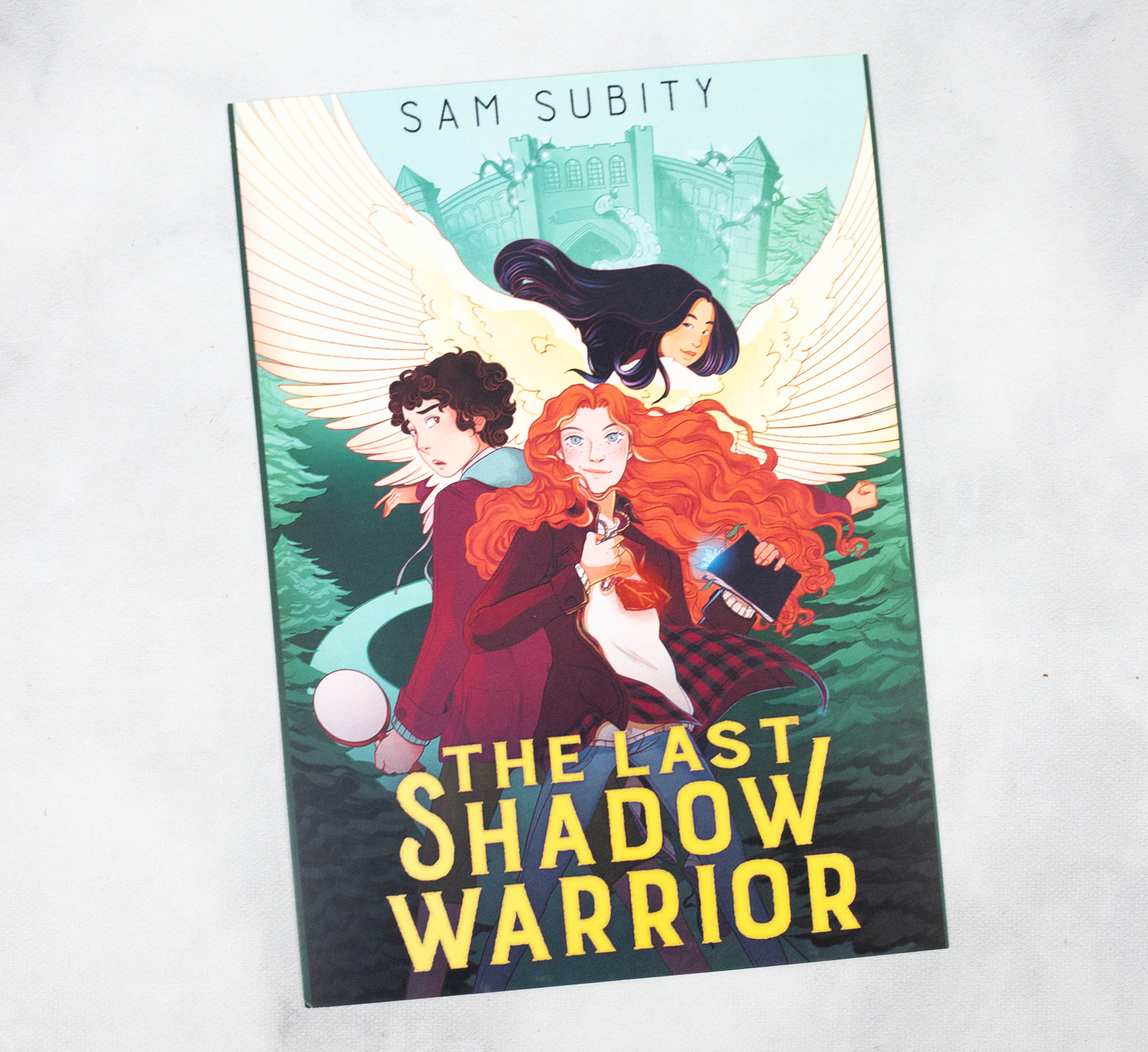 This card's design features the featured book's cover.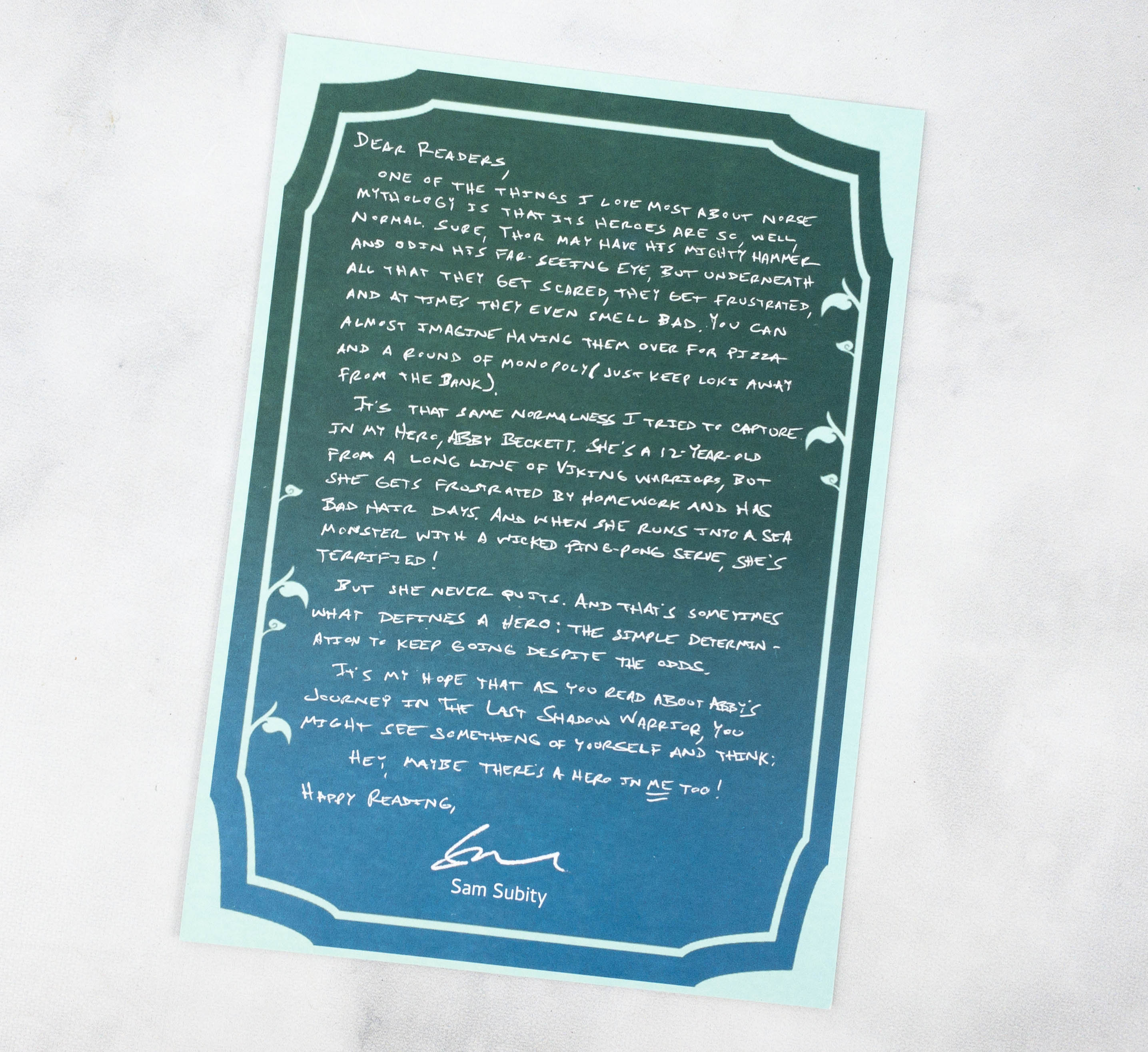 At the back is a message from the author, Sam Subity.
A sticker on this month's book indicates that it's an Owl Crate Jr. exclusive edition!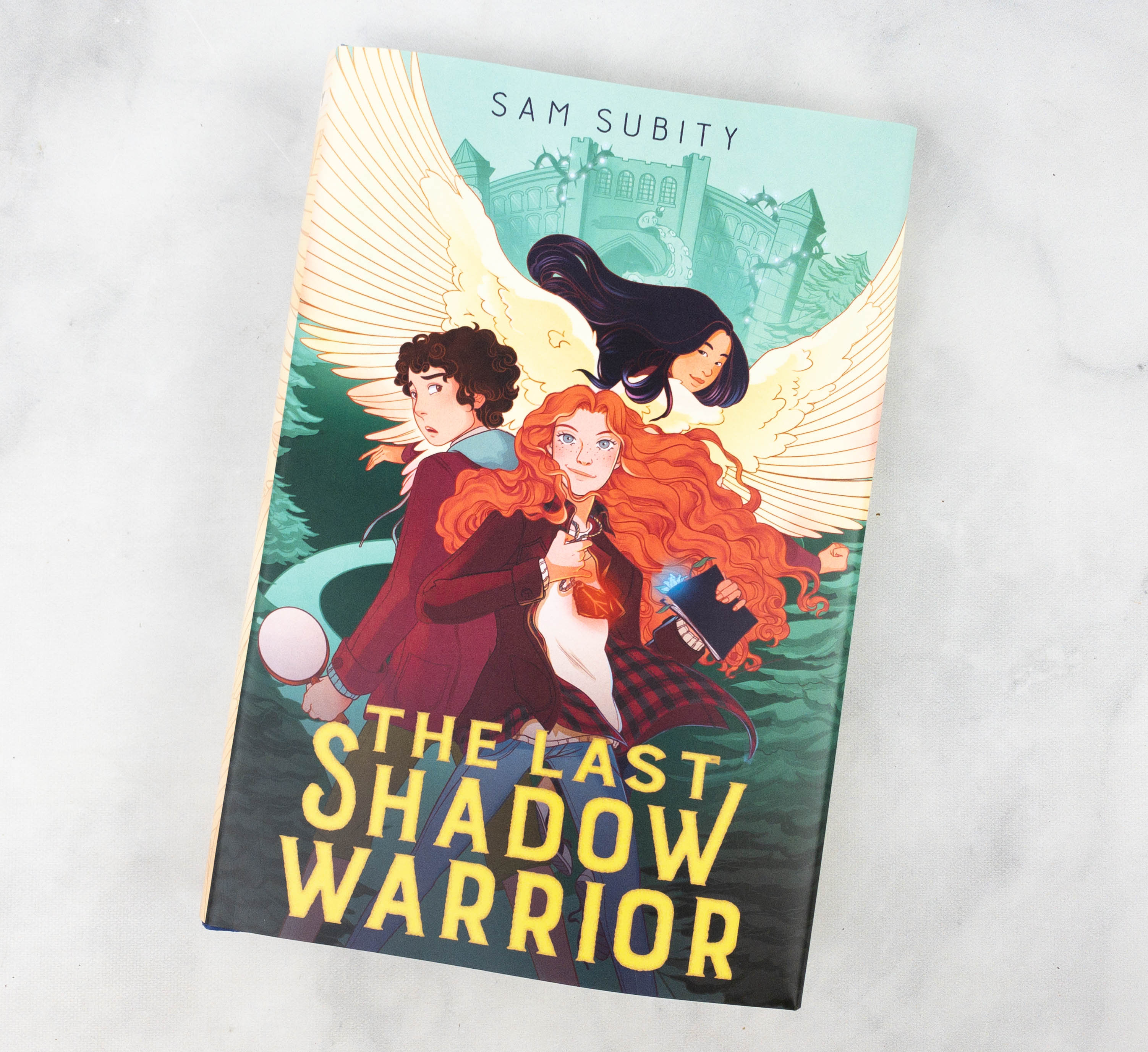 The Last Shadow Warrior by Sam Subity ($15.49)
Percy Jackson meets Thor in a laugh-out-loud, action-packed adventure inspired by Norse mythology.

Twelve-year-old Abby Beckett is proud to come from a long line of elite Viking warriors known as the Aesir. She's spent her entire life training to hunt the horrific creatures known as Grendels–the ancient foe of the Aesir–just like her mother did before she died. But there's just one, small problem: No one has seen a Grendel in centuries, and the Viking Council wants to disband the Aesir . . . forever.

When her father is injured in an attack that leaves him in a coma, Abby is forced to take refuge at Vale Hall, a mysterious school in Minnesota where nothing is quite as it seems. She soon discovers the tables have turned and a Grendel is hunting her, but when she tries to alert the Viking Council, they accuse her of making up stories for attention . . . just like her mother did.

Desperate to protect her father and clear her mother's name, Abby goes on a dangerous quest to discover the truth–a journey that brings her face-to-face with some unlikely foes, including a Ping-Pong-playing sea monster with a wicked backhand, and a dark Valkyrie with a fondness for bingo. Abby quickly realizes that someone at the school is trying to stop her progress and destroy the Aesir for good. And only she can unravel the sinister plot before it's too late.
The back cover has an excerpt from the book.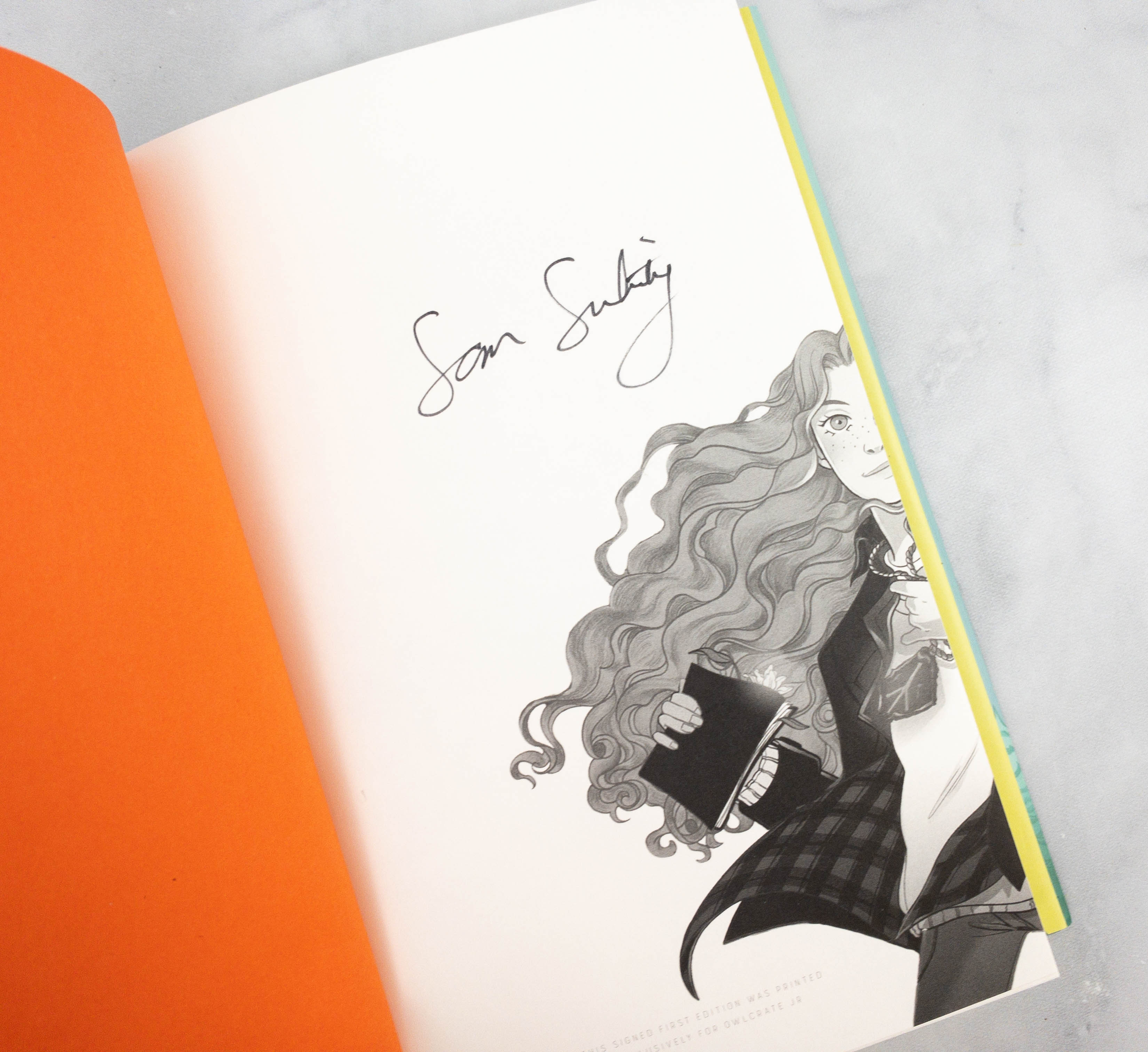 And yes, this is a signed copy!
A short synopsis is printed on the book's dust flap jacket.
The story follows Abby Beckett, a girl who is still grieving the loss of her mother who died while battling a Grendel. She had always wanted to follow in her mother's footsteps so she was devastated when they lost her. In her journey, she meets Gwynn and Grimsby and together, they fought off sea monsters, dark valkyries, and many more!
This fast-paced action/adventure book is fun to read. It's a nice twist on Norse Mythology! It also teaches readers the value of friendship!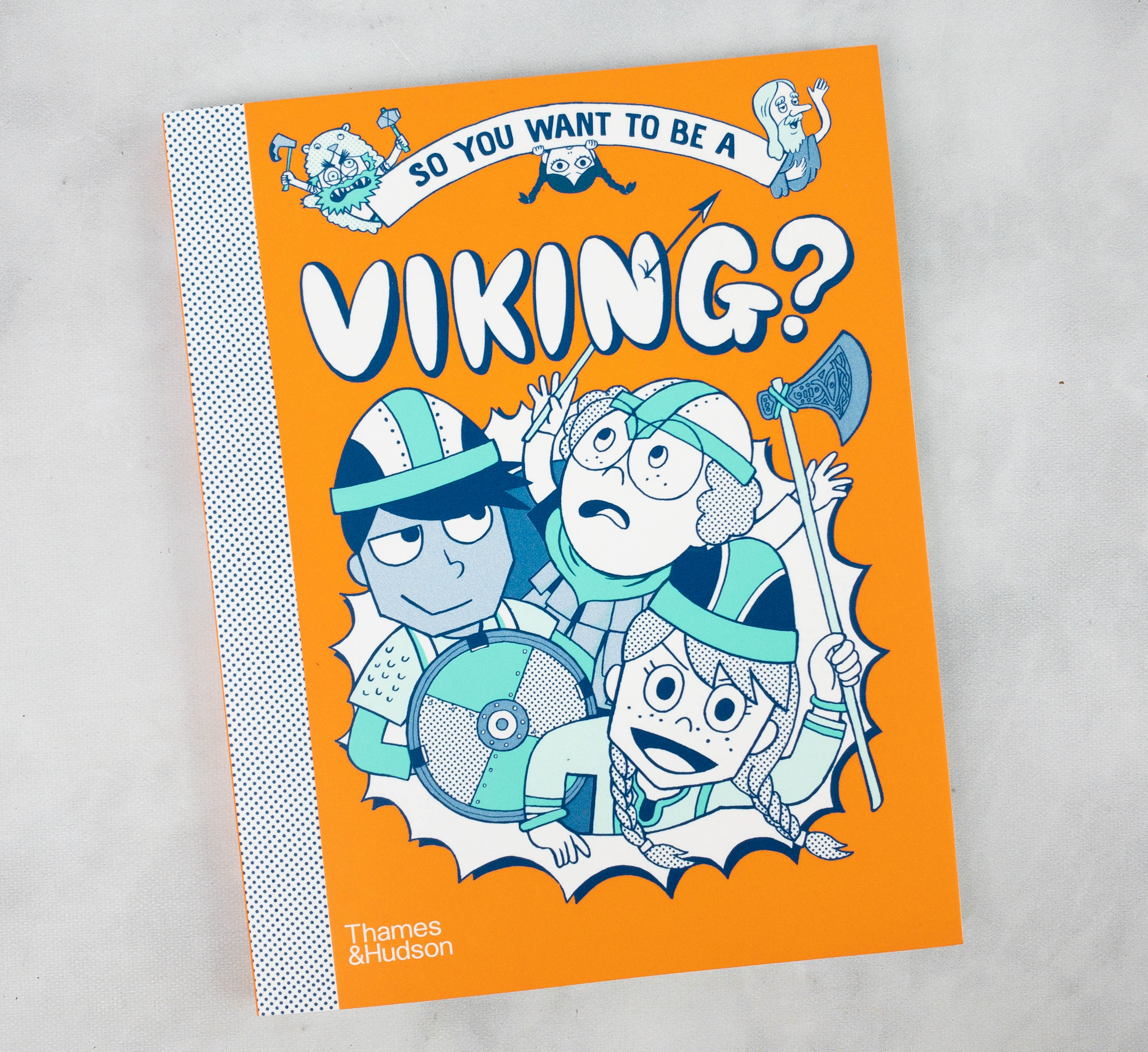 So You Want to be a Viking? by Thames & Hudson ($14.95)
An essential guide for wannabe Vikings―and fair warning for those courageous, or crazy, enough to pledge allegiance to the cause.

Kate, Eddie, and Angus are dazzled by pictures of Viking warriors' deadly axes and blingy swords in their library books. But when they're transported back in time to Scandinavia in 991 CE, they must figure out if they have what it takes to become Vikings themselves.

A big, burly Viking called Bjorn initiates the kids in the ways of wielding a battle ax, plundering and looting, and soon they learn all sorts of other tricks as well, including how to get shipshape and navigate the seven seas with just a stone, how to recite rude poems, and how to scare enemies into submission before a battle even begins. Hervor, the haunted shield-maiden, is also on hand to share her tips on how to take off with a handsome ransom and how to make it into Valhalla in the afterlife.

So You Want to Be a Viking features the field's latest scholarship and is illustrated throughout with zany illustrations by Japanese cartoonist Takayo Akiyama. Any kid who's ever daydreamed about being a fierce Norse warrior will love this interactive guide.

Illustrated throughout in two pantones
The back cover has illustrations that tells us how we can be a Viking to be reckoned with!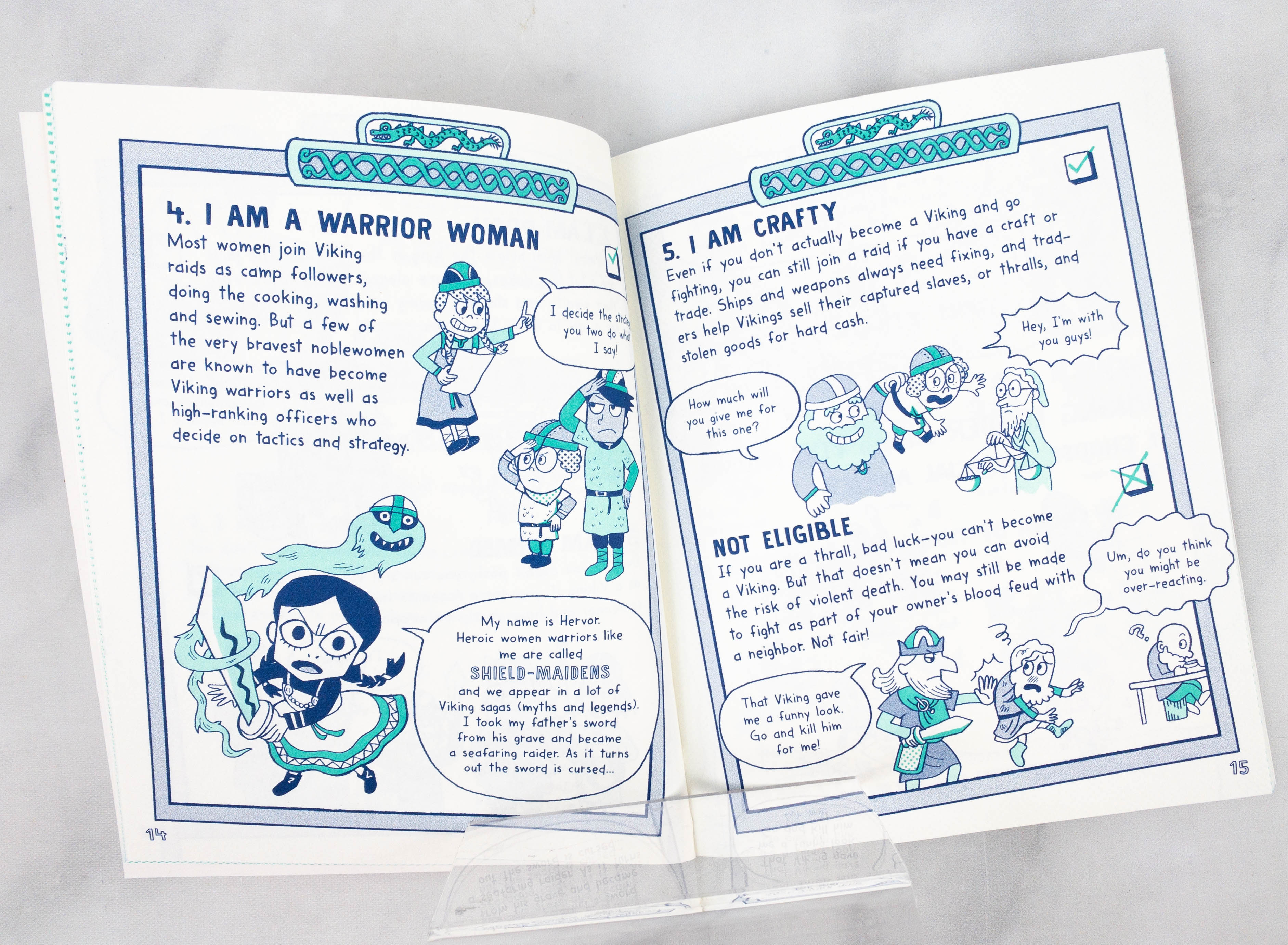 The illustrations and the text are in shades of blue, making it unique compared to other books which are either full colored or in black and white. I'm not really sure, but I think these illustrations might be difficult for those with color blindness.
This is a fun way to learn about the life of Vikings. It even shares how to survive a shipwreck, how to pick a weapon, and all the other stuff you need to learn to be a Viking!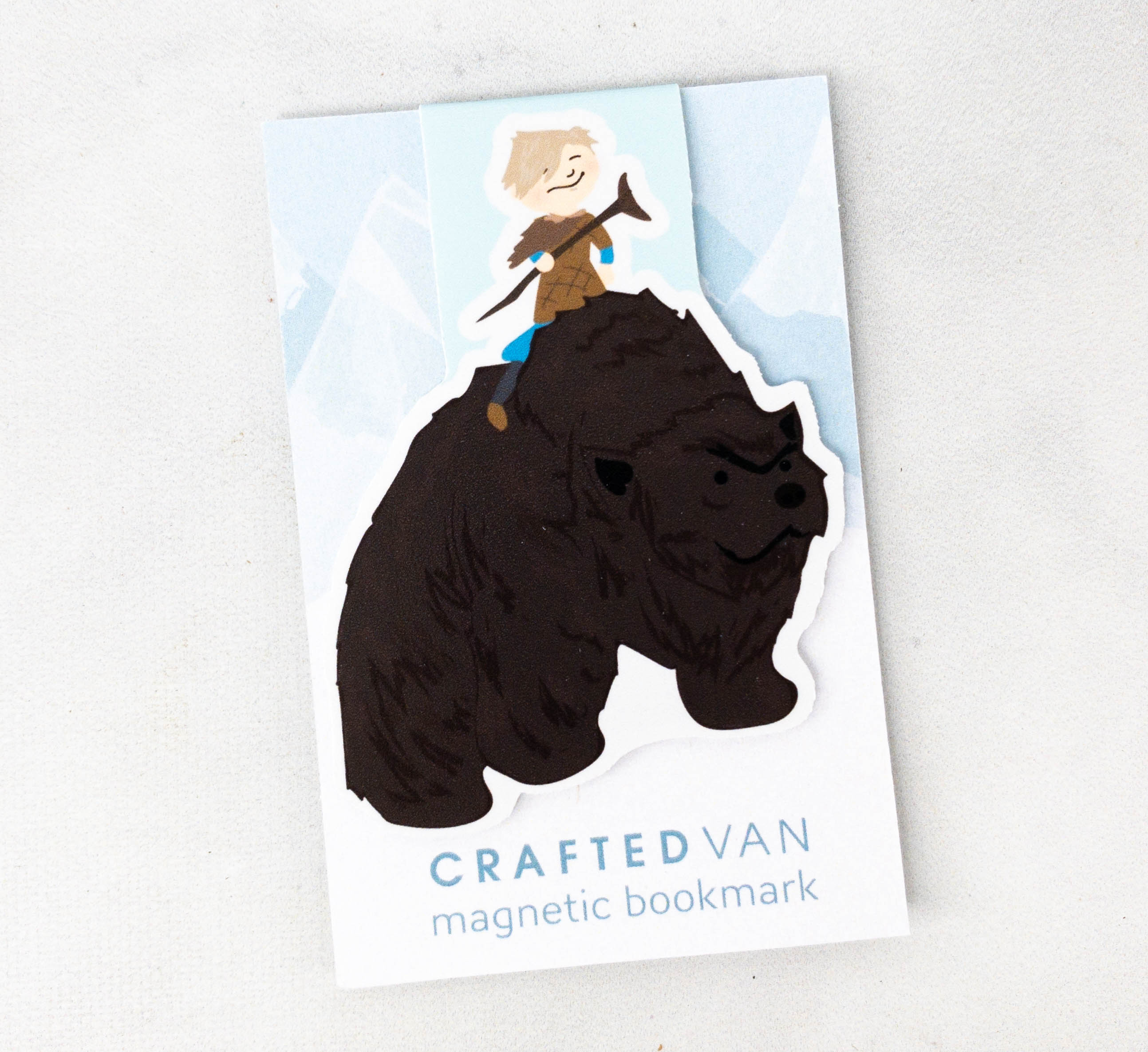 Magnetic Bookmark. This magnetic bookmark is the substitute for the enamel necklace.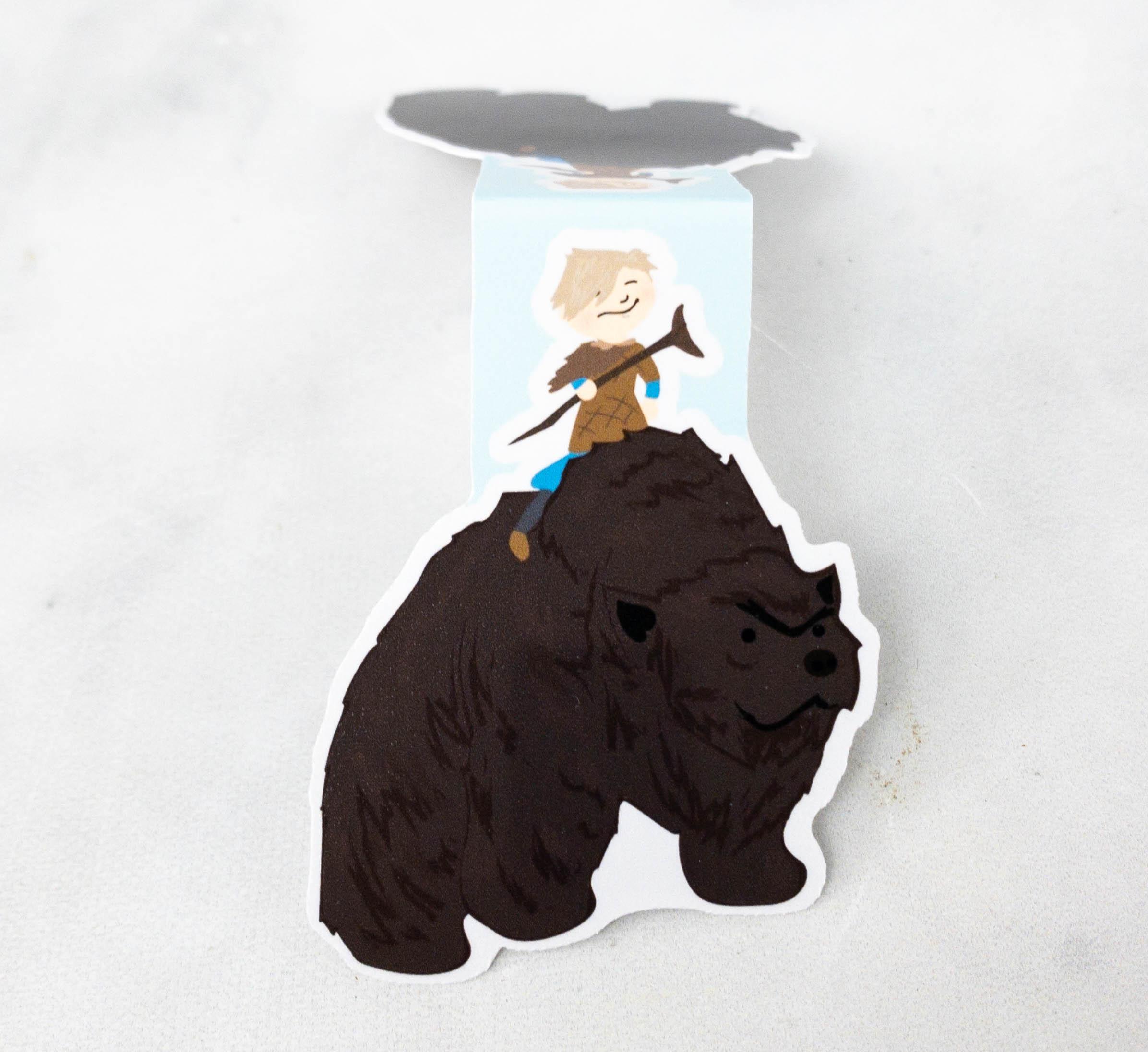 It's a bookmark inspired by Odd and The Frost Giants!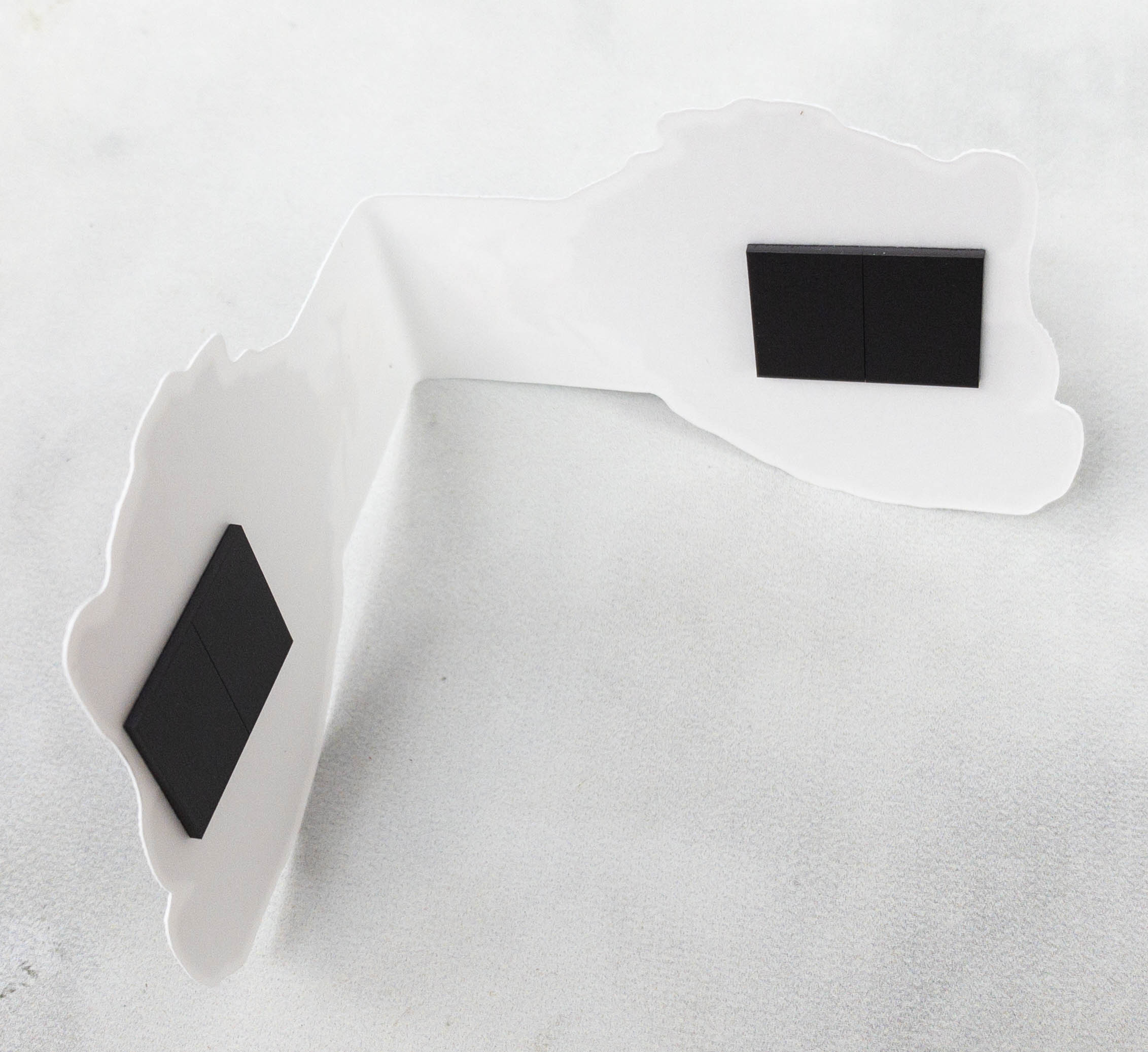 It can be opened up and there's a thin piece of magnet on each side so you can use this to mark the page you're in without ruining the pages of your book!
Viking Saga Sticky Notes. You can use these sticky notes for a lot of things, like writing reminders for yourself or messages for loved ones. They came in cute Viking designs as well. My daughter's favorite is the curly-haired Viking girl, smiling sweetly with her hair ribbons and Viking hat!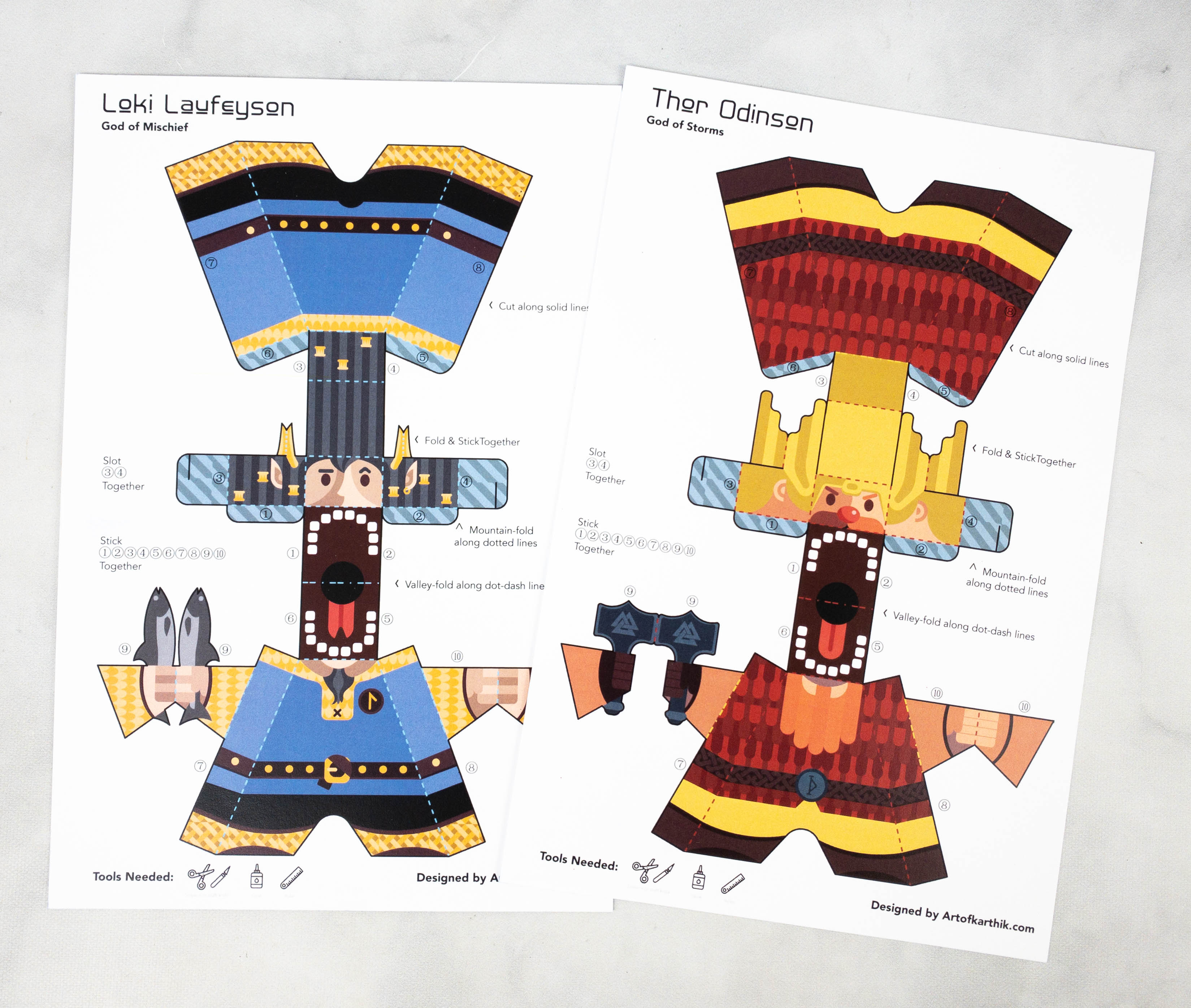 Paper Crafts. They also included these cut-out sets! Just cut and fold according to instructions and they'll be ready to be displayed or played with. This box includes Loki Laufeyson the God of Mischief, and Thor Odinson the God of Storms. Both are designed by @karthik12.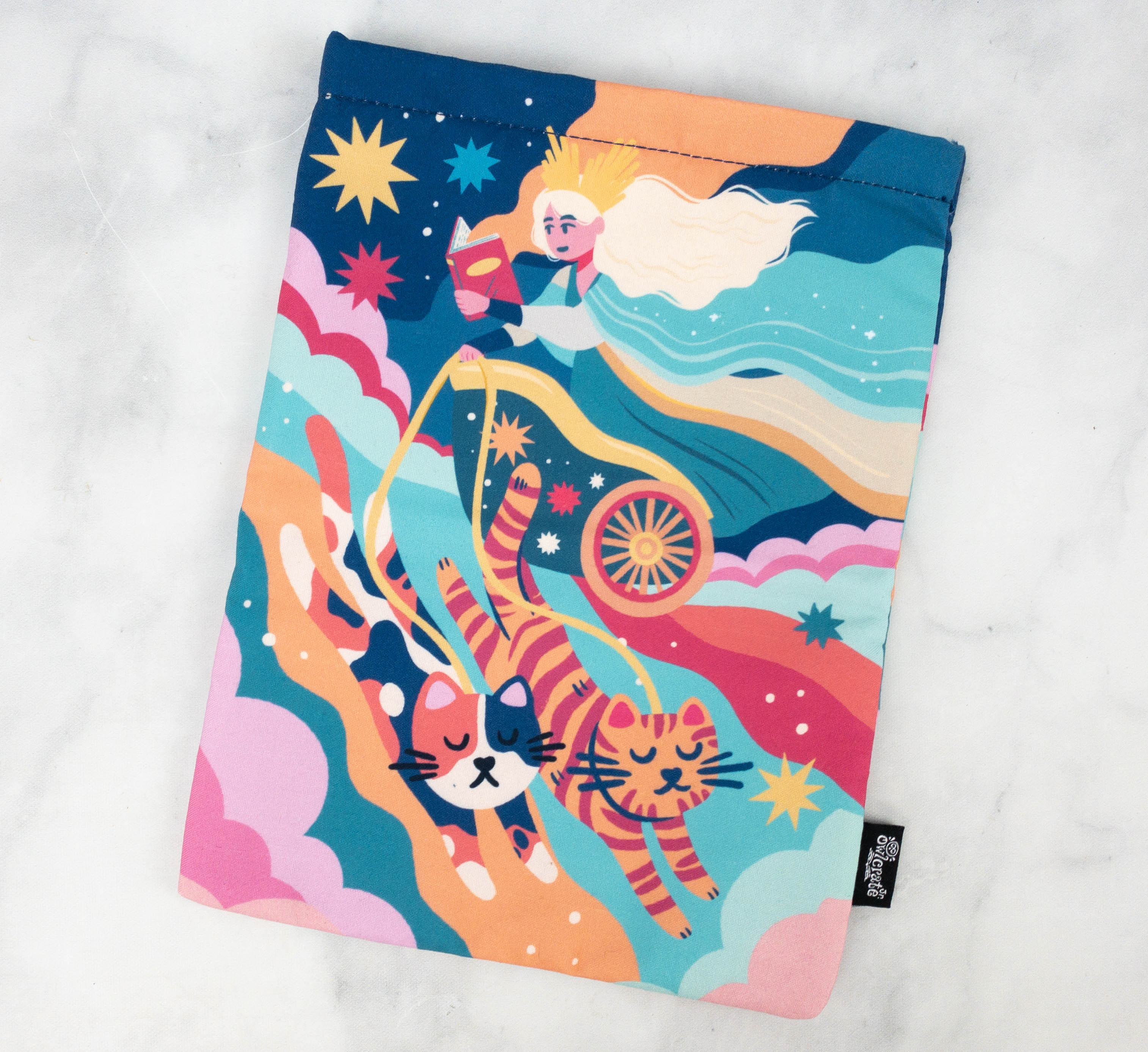 Book Sleeve. This colorful book sleeve features Freyja, the Norse Goddess of love, beauty, and fertility. She looks really happy reading her book as she is being pulled in her chariot by the two male cats Thor gave her. This is a cute way to protect a book, especially when you're bringing it with you during commutes or travels. The design is by @ejnoodles.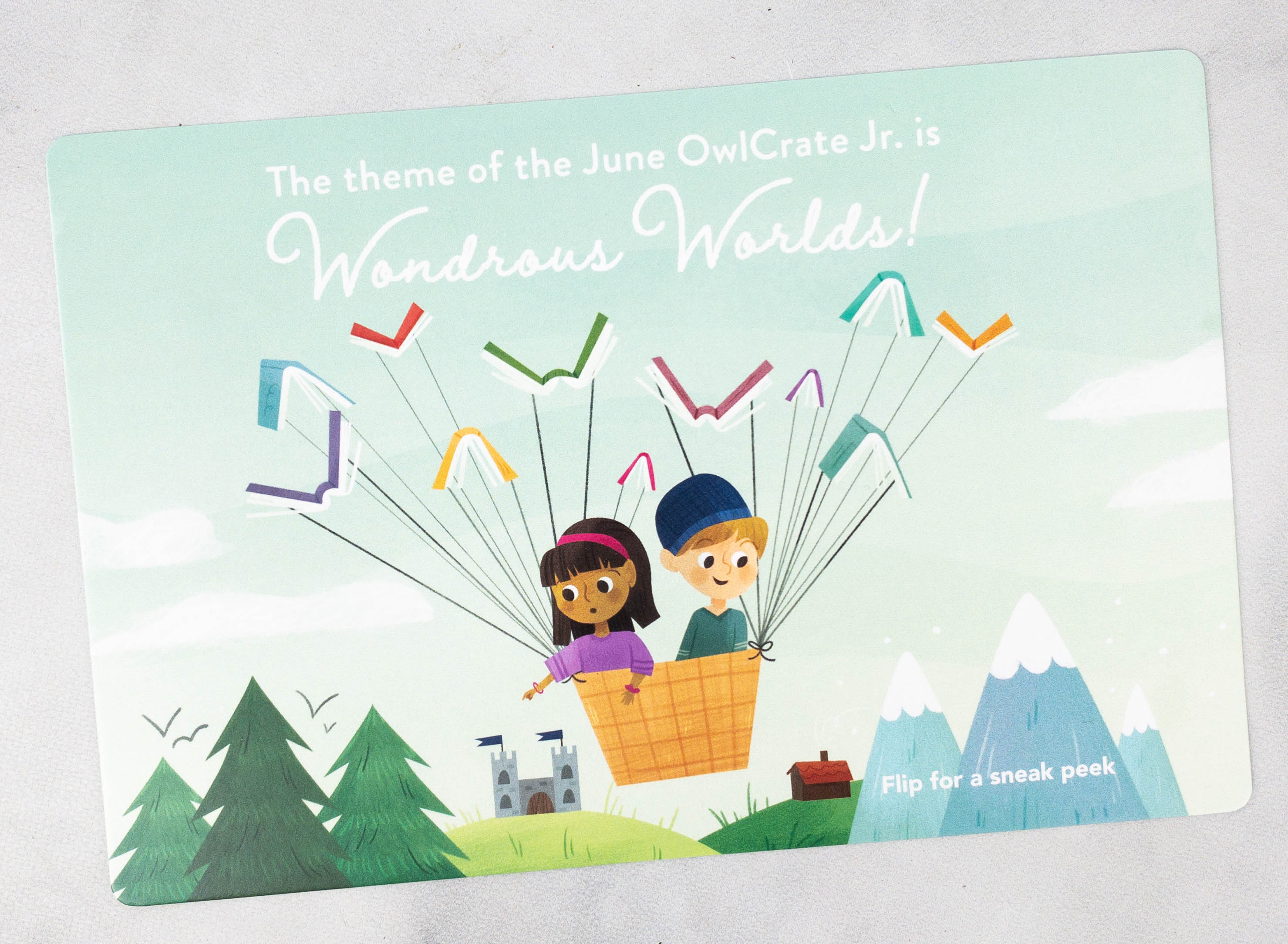 There's another card and it includes a sneak peek for next month's box!
Pack your bags, we're going on a journey–from the comfort of our own reading nooks, of course! Next month'x box is a celebration of wondrous worlds and literary locales from just a few of out favorite middle grade classics. June's book is the first in a scintillating new series, perfect for fans of The Train To Impossible Places, Nevermoor, and A Wrinkle In Time!
My daughter liked both books in this month's box but her favorite is the main featured book, which is The Last Shadow Warrior. It's filled with action and adventure, and it even has elements of Norse Mythology in it. The bookish gifts were also pretty useful like the book sleeve and the sticky note set. The necklace wasn't included in the box, but there's a note about it and they replaced it with a magnetic bookmark. Another thing my daughter liked is the paper crafts set featuring Thor and Loki (tbh, me too!)! If you're looking for a fun book subscription for kids, this is a great choice! They don't just send a book to read, they also curate bookish items related to the main theme.
What did you think of the OwlCrate Jr. box this month?
Visit OwlCrate Jr. to subscribe or find out more!