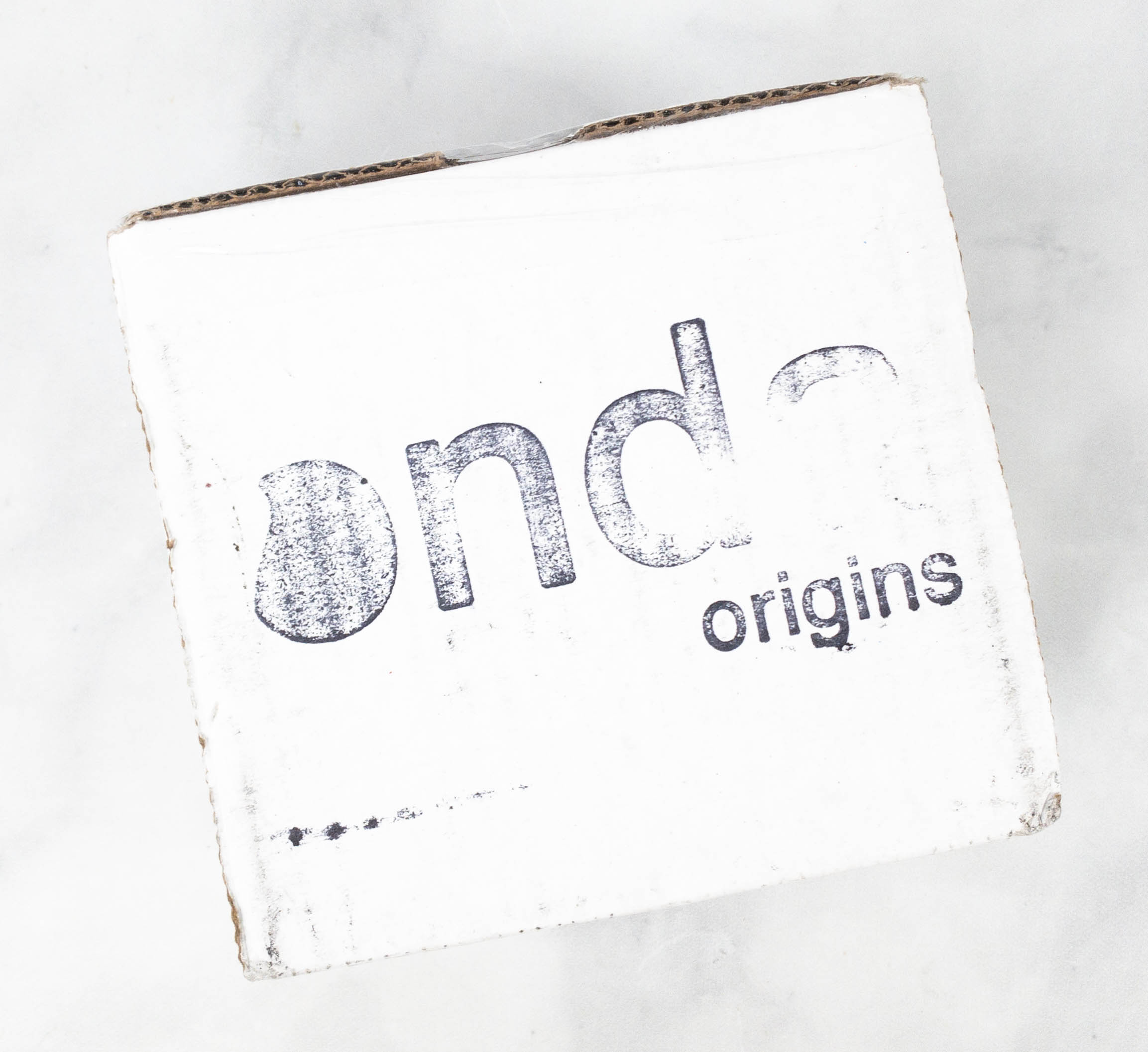 The Onda Origins subscription sends revolutionary, freshly-roasted coffees straight to your door! They offer Whole Bean, Ground / Drip, and Ground / French Press for $20 each bag. You can also choose to receive your coffee every 1 week, every 2 weeks, every 1 month, or every 2 months, depending on your preference or caffeine needs. According to them, each bag can last up to 2 weeks for 2 people or 1 single heavy coffee drinker.
Onda Origins is commited to showing you the origins of your coffee – who grew it, and where – and to sharing the revenue with these farms. The subscription is a mystery – a new coffee each shipment – that will take you on a world tour of coffee from specialty growers around the world. With every shipment, Onda's farmers get a bonus that's 12x more than Fair Trade wages.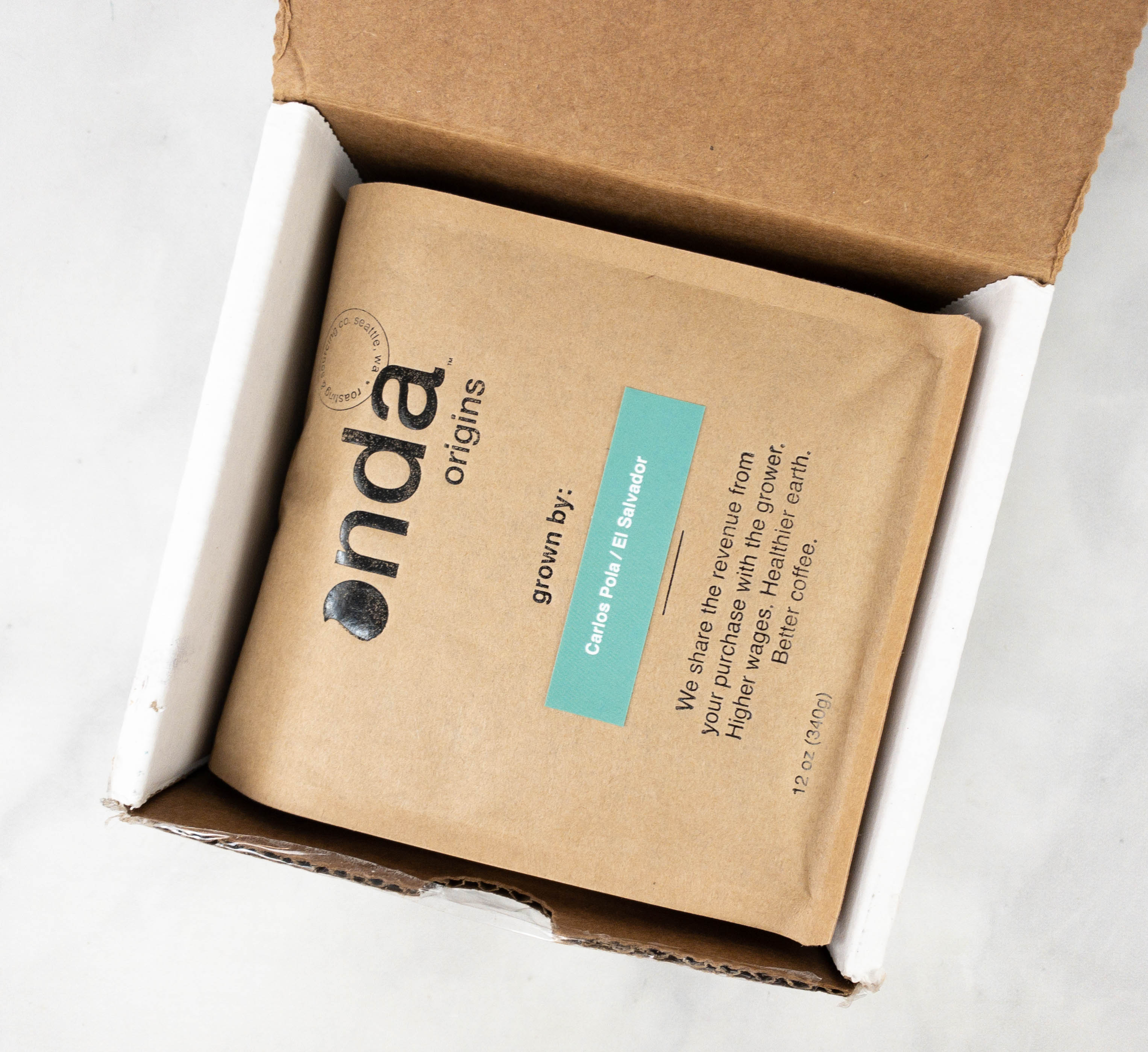 The coffee beans are packed in a brown stay-fresh bag and shipped in a protective cardboard mailer.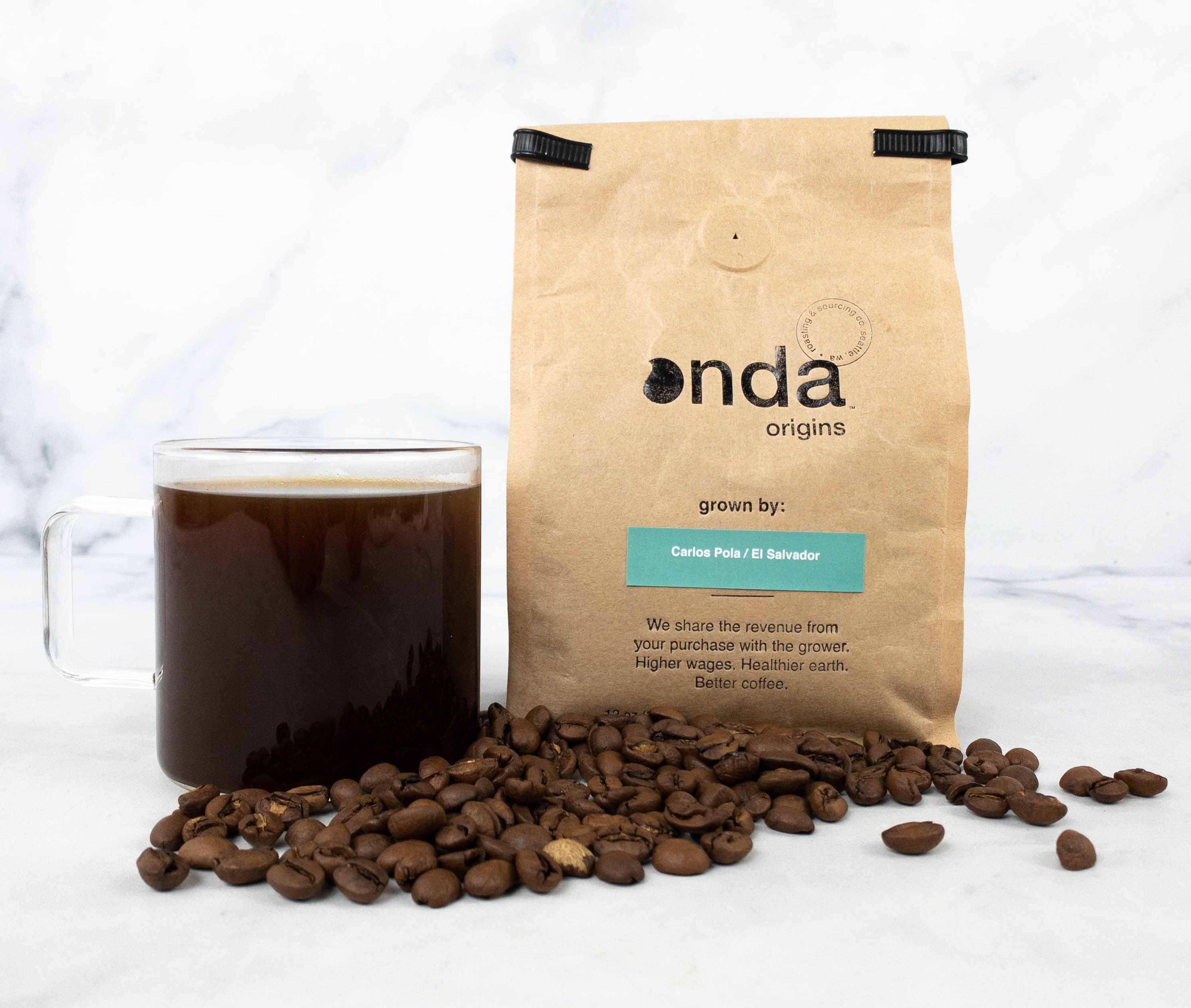 Here is a view of the coffee both as it arrives and ready to drink! We chose whole bean coffee and ground for use in an Aeropress.
Carlos Pola/El Savador. This batch is produced by the Carlos Pola farmers who have been in the coffee industry of El Salvador for five generations. I love that Onda Origins goes straight to the growers to source their beans.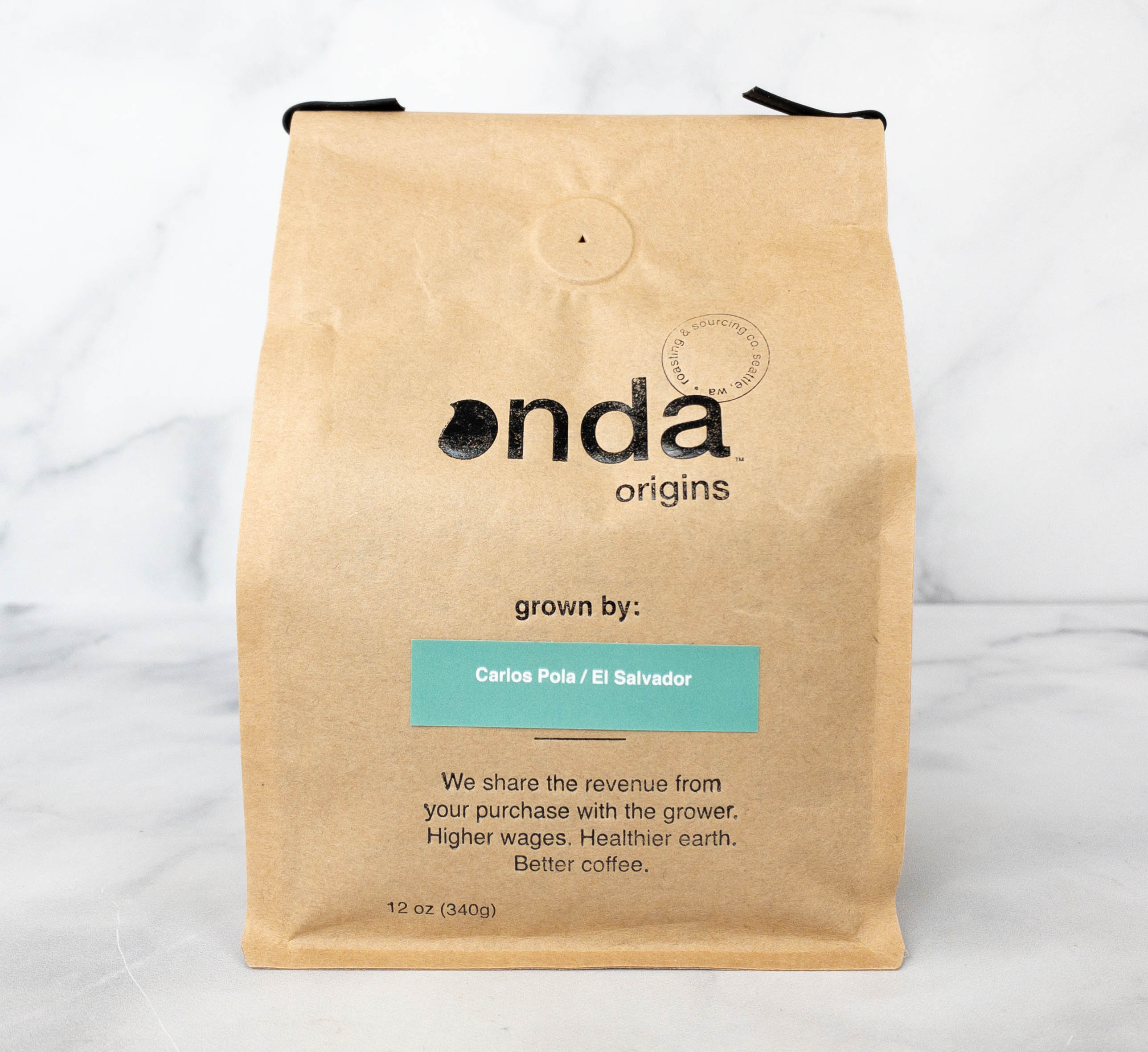 Onda Origins shares their revenue with the growers. You get better beans, and the farmers get a share of the proceeds from your purchase.
Featured on the label of the bag are all the information you need to know about the coffee beans including their tasting notes, origin, process details, variety, and more! I love how they shared Carlos' origin story – and how he supports his community, too. Each of Onda's farm and co-op partners commit to social and environmental practices that improve their communities.
These naturally processed beans were sourced from Juayua Sonsonate, El Salvador, and roasted in Seattle, Washington.
They look so fresh and the aroma is sublime! The roast is nice and even.
This coffee features complex tasting notes, including lemon drop, caramel, honey, and lemon thyme. I didn't find the citrus of herbal notes to be too intense — they were mild and very subtle. The brew had an overall sweet character with a nice rich body.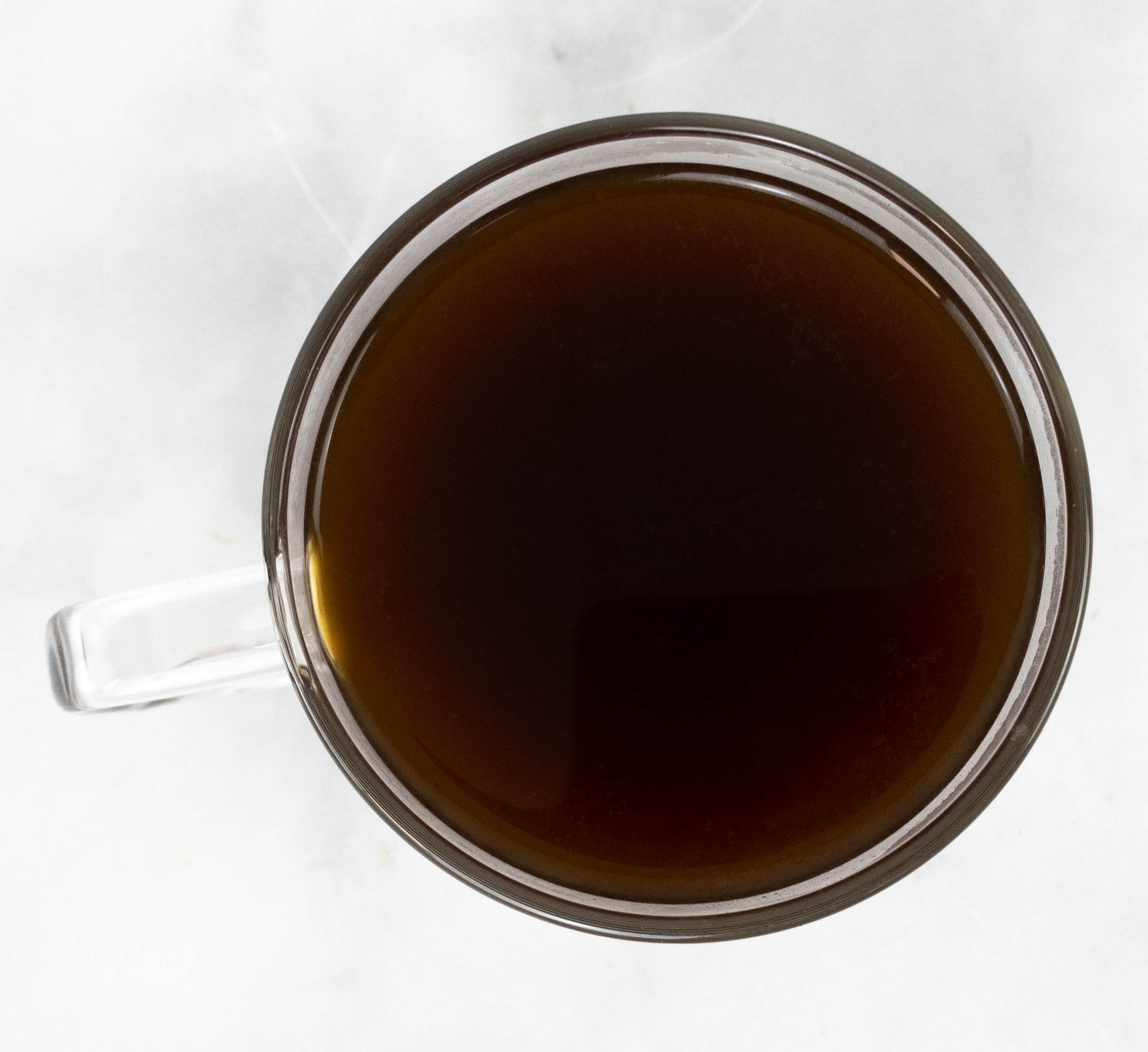 Every sip has a noticeable honeyed sweetness, and I was surprised at how well balanced the flavors were. I tend to not add sweetener to my coffee, so I love beans that have a bit of natural sweetness.  Every great day starts with a great cup of coffee! This month's coffee from El Salvador is perfect to enjoy in the mornings, as it's rich, flavorful, and aromatic. It easily wakes up my senses! I also love that the coffee beans arrive fresh from roasting. I received whole bean coffee that I grind at home, but you can also opt for pre-ground coffee milled for either drip or French press methods. Another great thing about this coffee subscription is that they feature coffee from different locations and a portion of their revenue is shared wih the growers. It was an amazing first box overall and their cause is definitely worth supporting!
What do you think of Onda Origins?