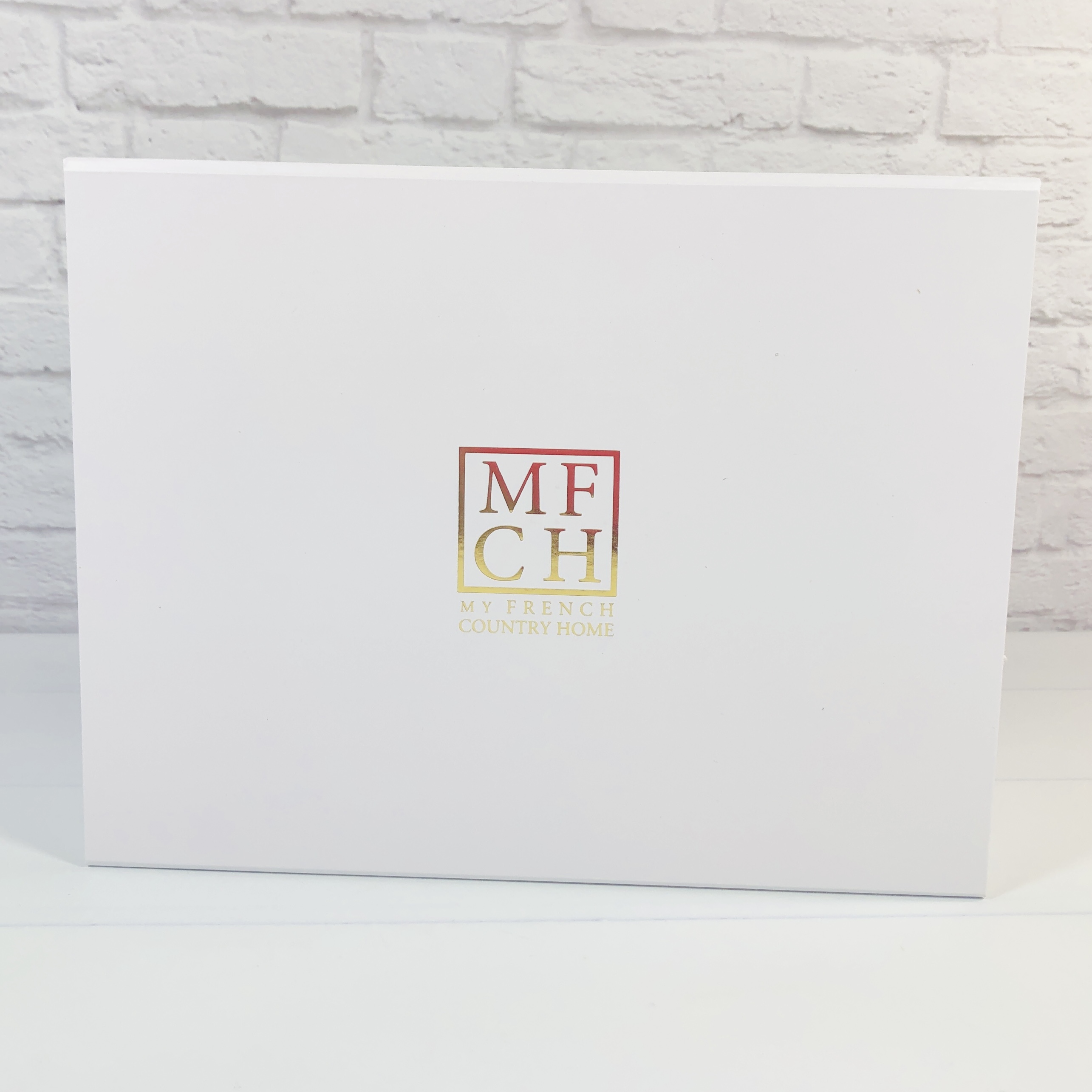 My French Country Home Box (formerly My Stylish French Box) is a quarterly lifestyle box that sends authentic and stylish items all the way from France! The box is curated by Sharon Santoni, an author and the blogger behind My French Country Home. This box is based in France and they work directly with highly coveted and timeless French brands to create a box that will help chic up your home and self. They send 6-8 items in each quarterly box.
A luxury subscription box filled with authentic French gifts, curated for you and your home.

While we do tease the theme of each box, the fun is in the surprise. We ensure that every beautifully-wrapped, sweet-smelling box – delivered straight from France to your door – is for you to open, discover and enjoy.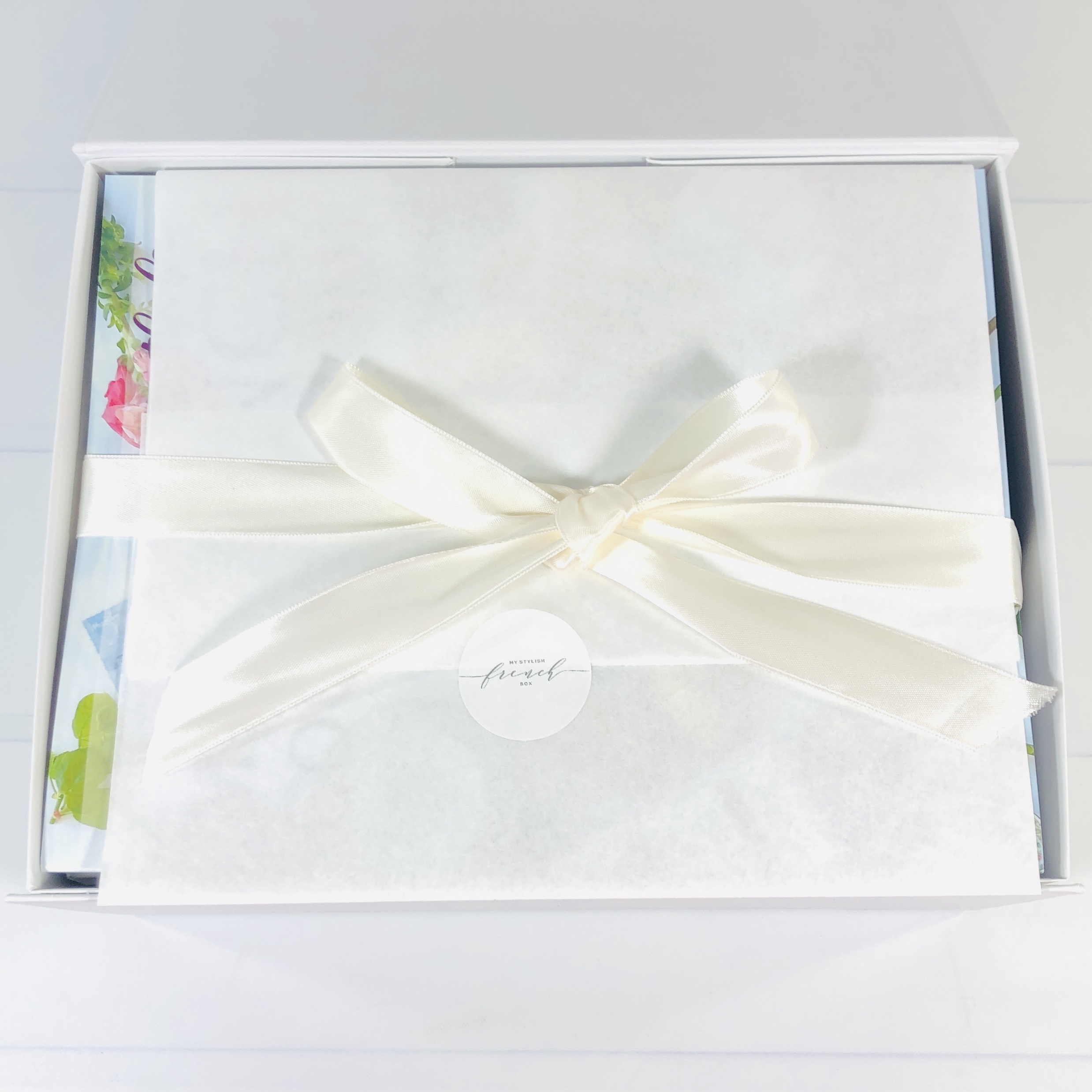 My items were shipped directly from France and came in a reusable white box. The box has a hidden magnetic closure and it makes a good storage box. It's simple and I like that I can reuse it. I opened it up to find my products wrapped in tissue paper with a satin ribbon around the parcel.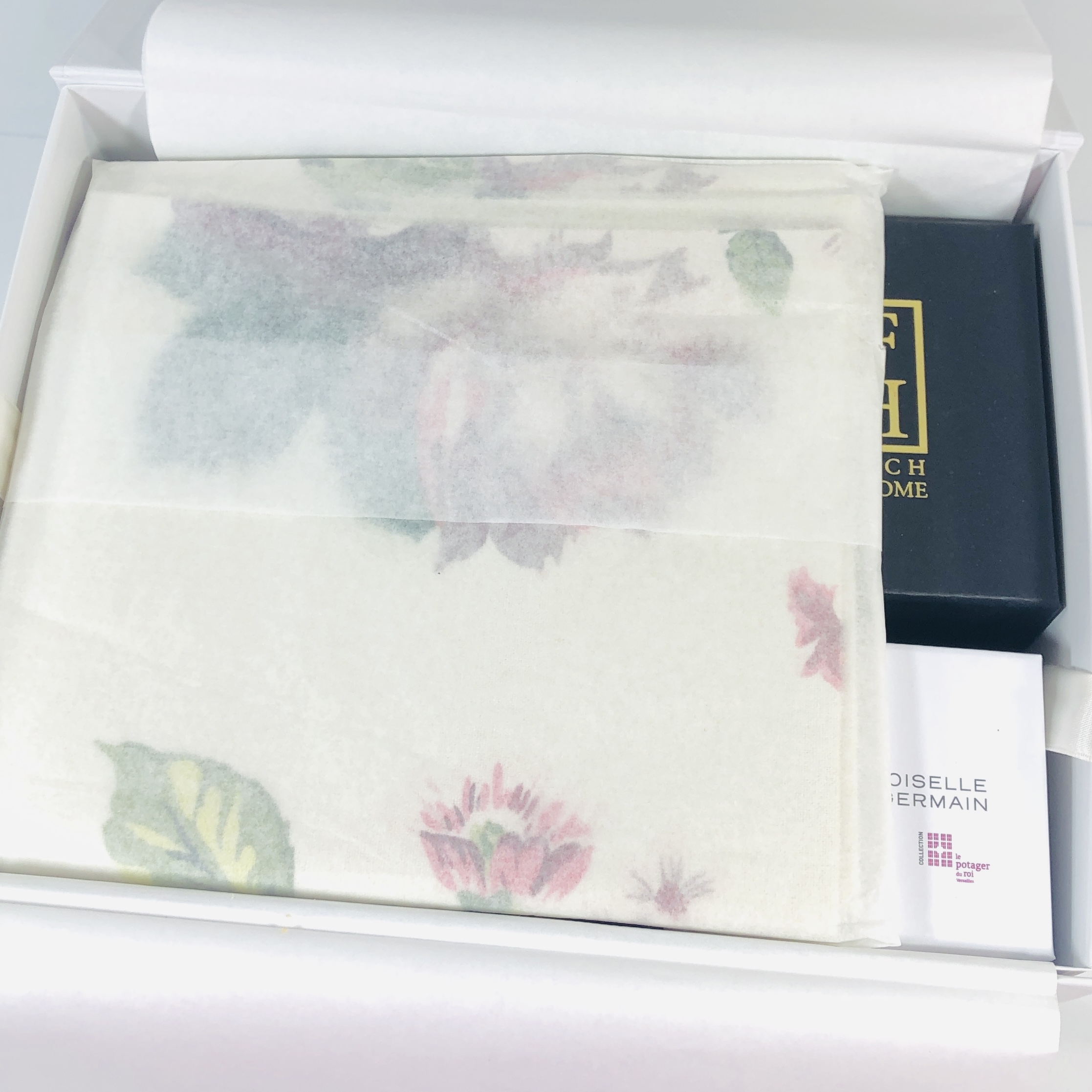 Some additional items were wrapped in tissue paper, so it was like opening a box full of presents!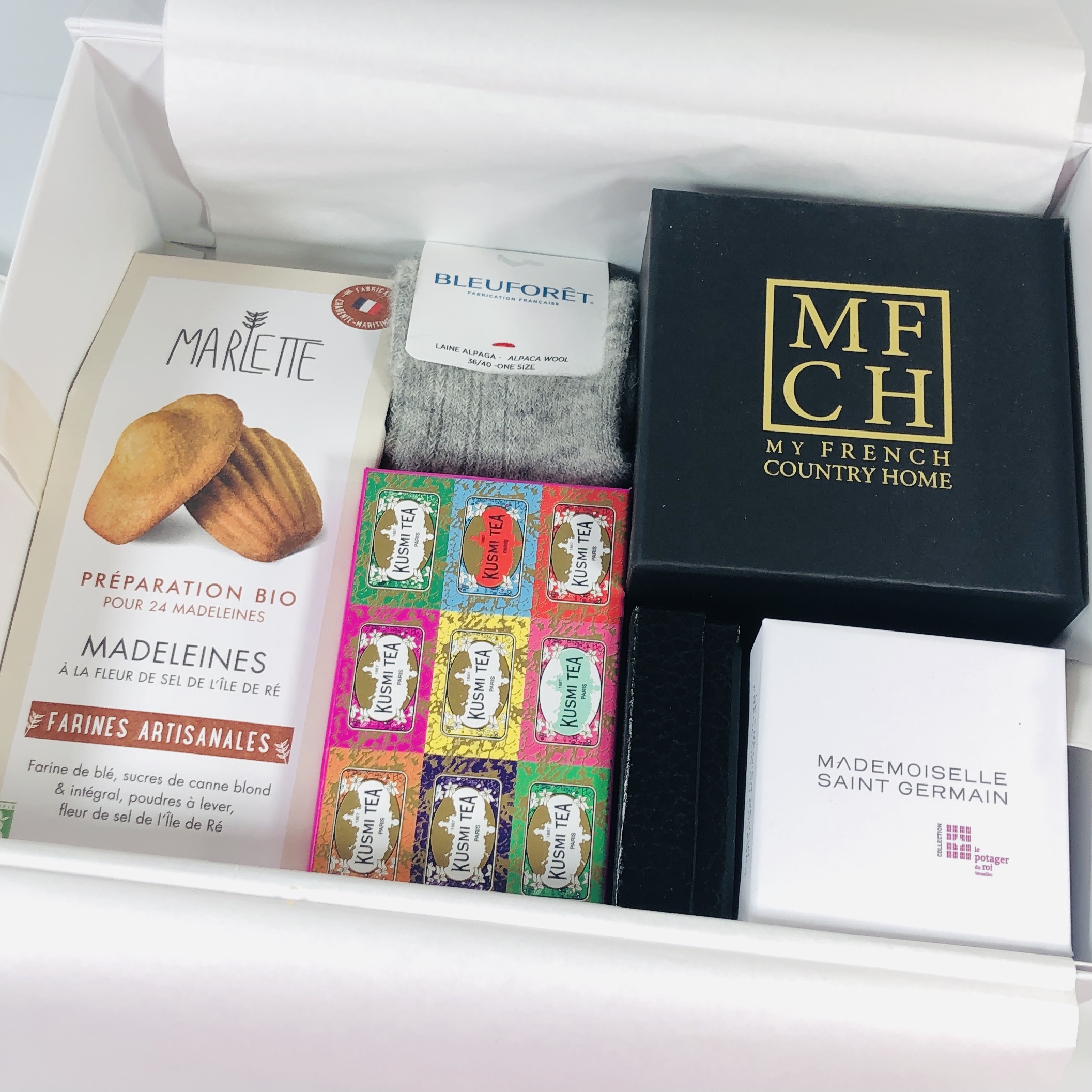 My Stylish French Box is $255 a quarter. A one-time, non-recurring gift box shipment is $275, while a year's prepaid subscription brings the price down to $245 a box. Shipping is free to the USA and other countries, with Australia and New Zealand paying an additional $15. Some countries may need to pay customs fees and taxes, please check the FAQs.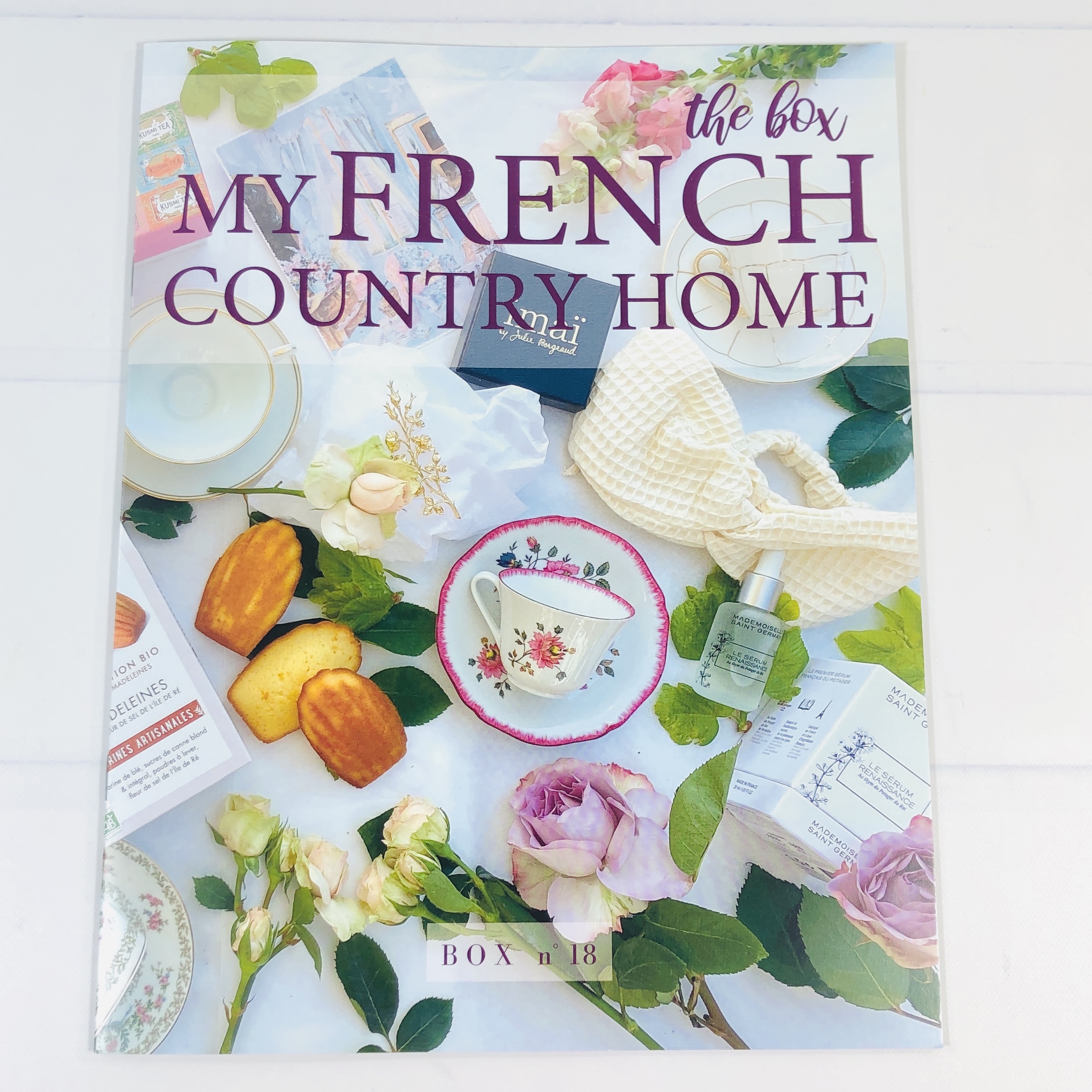 Each box comes with a beautiful full-color brochure showing each item.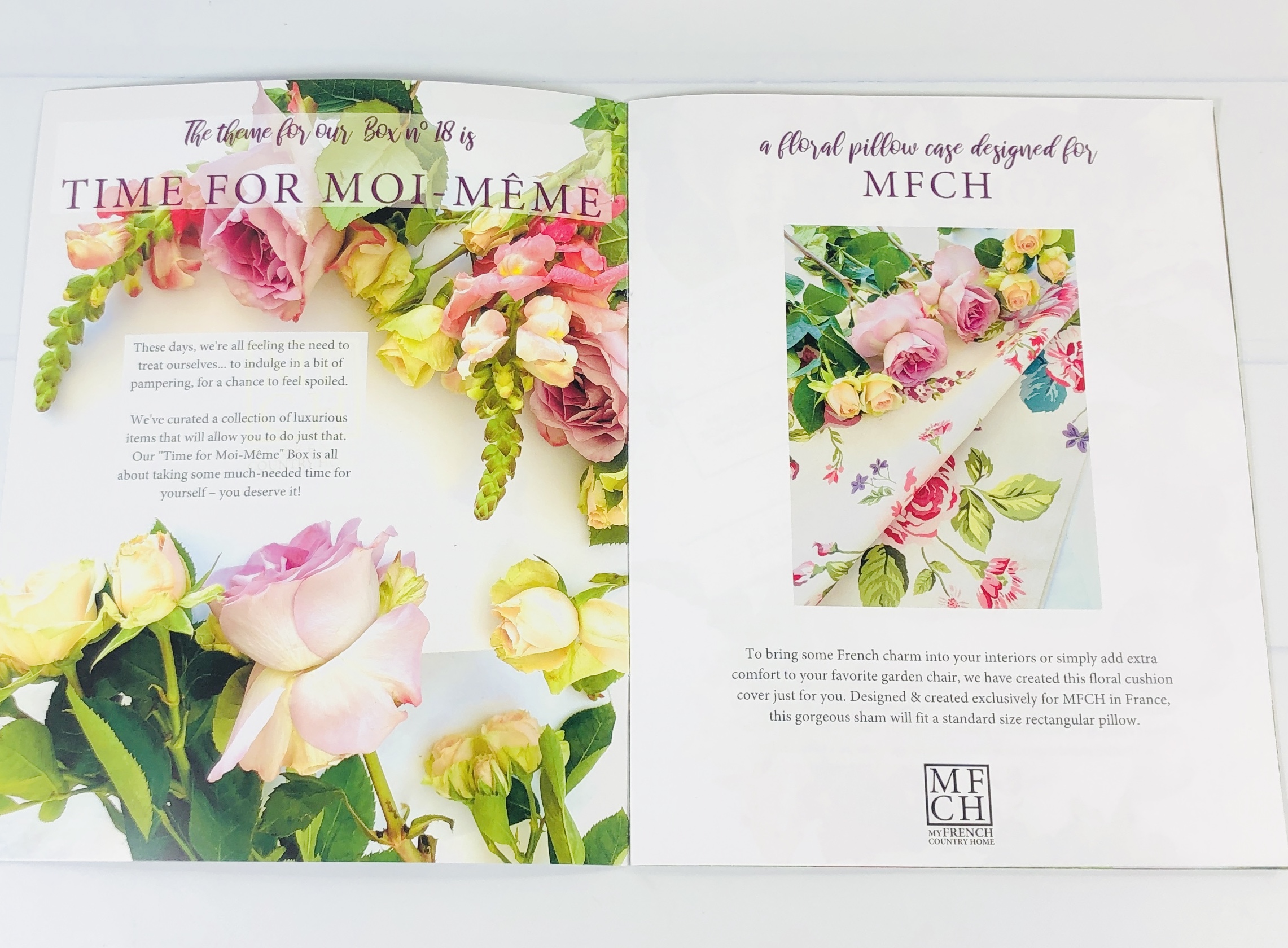 The theme for the May 2021 box is Time For Moi-Même!
Each item is shown and mentions the maker.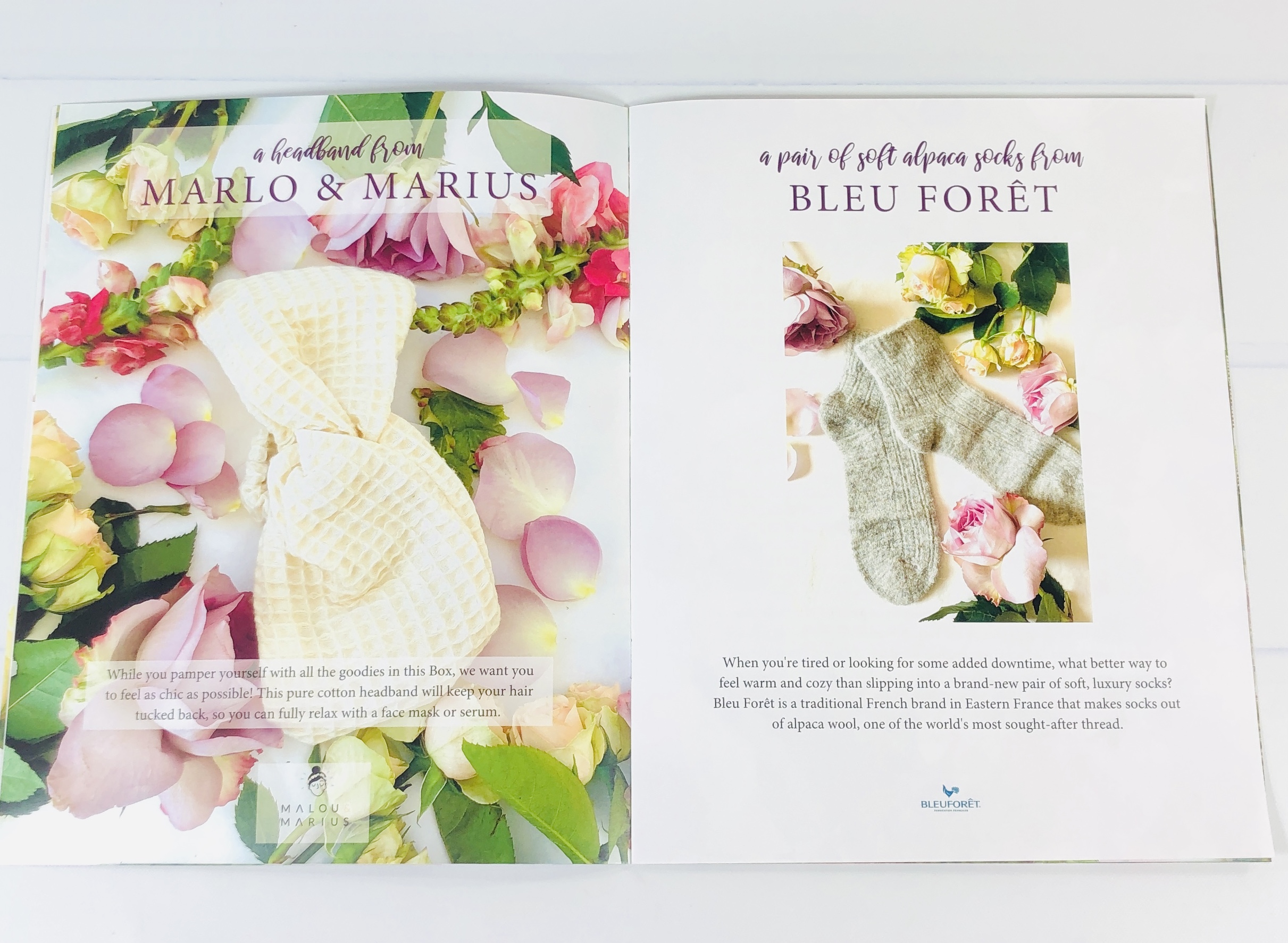 I love seeing how each item is styled, it gives me ideas on how I might put the pieces to use.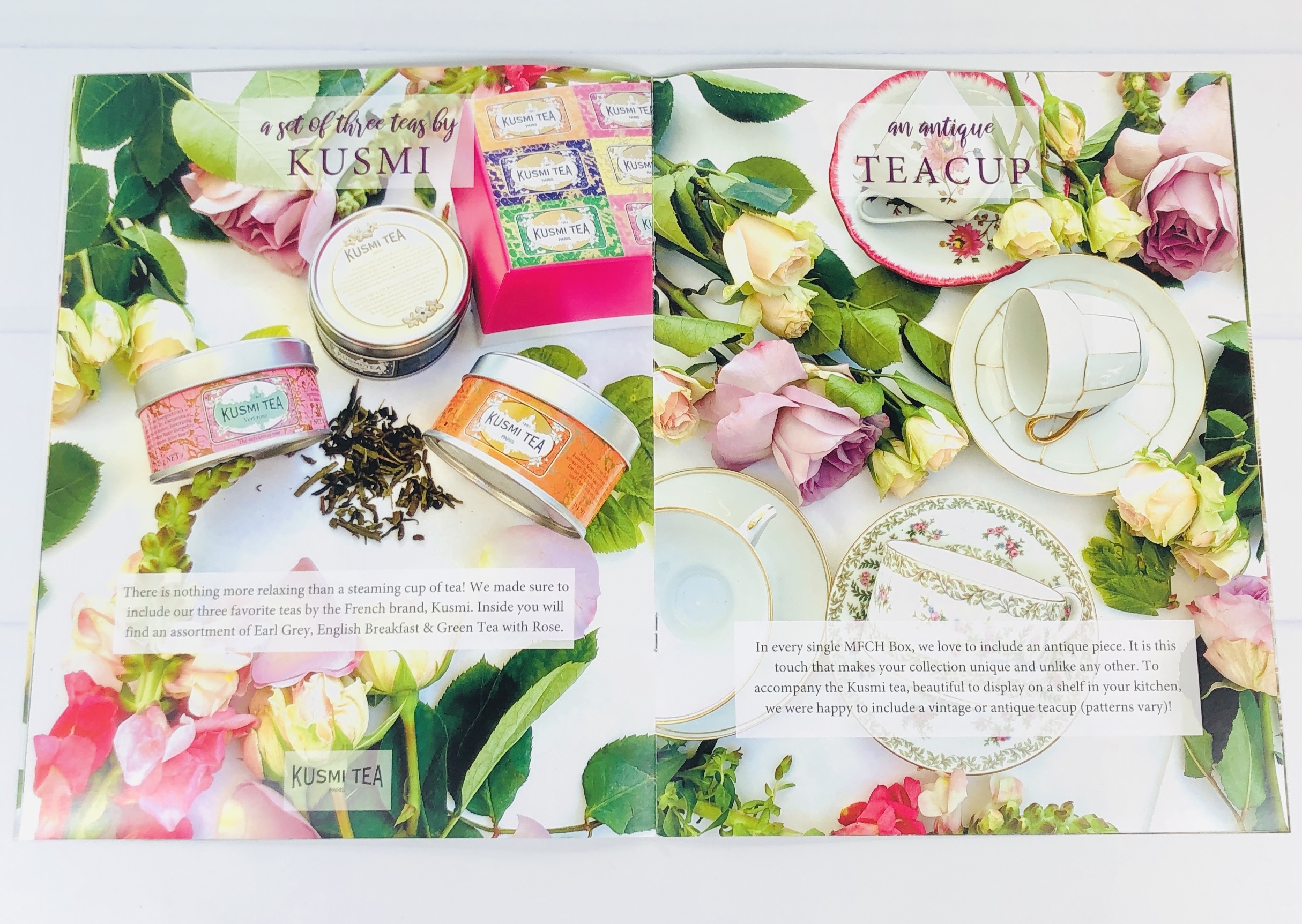 It's the most beautiful product brochure of any box!
A brief description is so helpful. Annual and quarterly subscribers always receive a bonus gift — this time, it's a mix to make madeleines.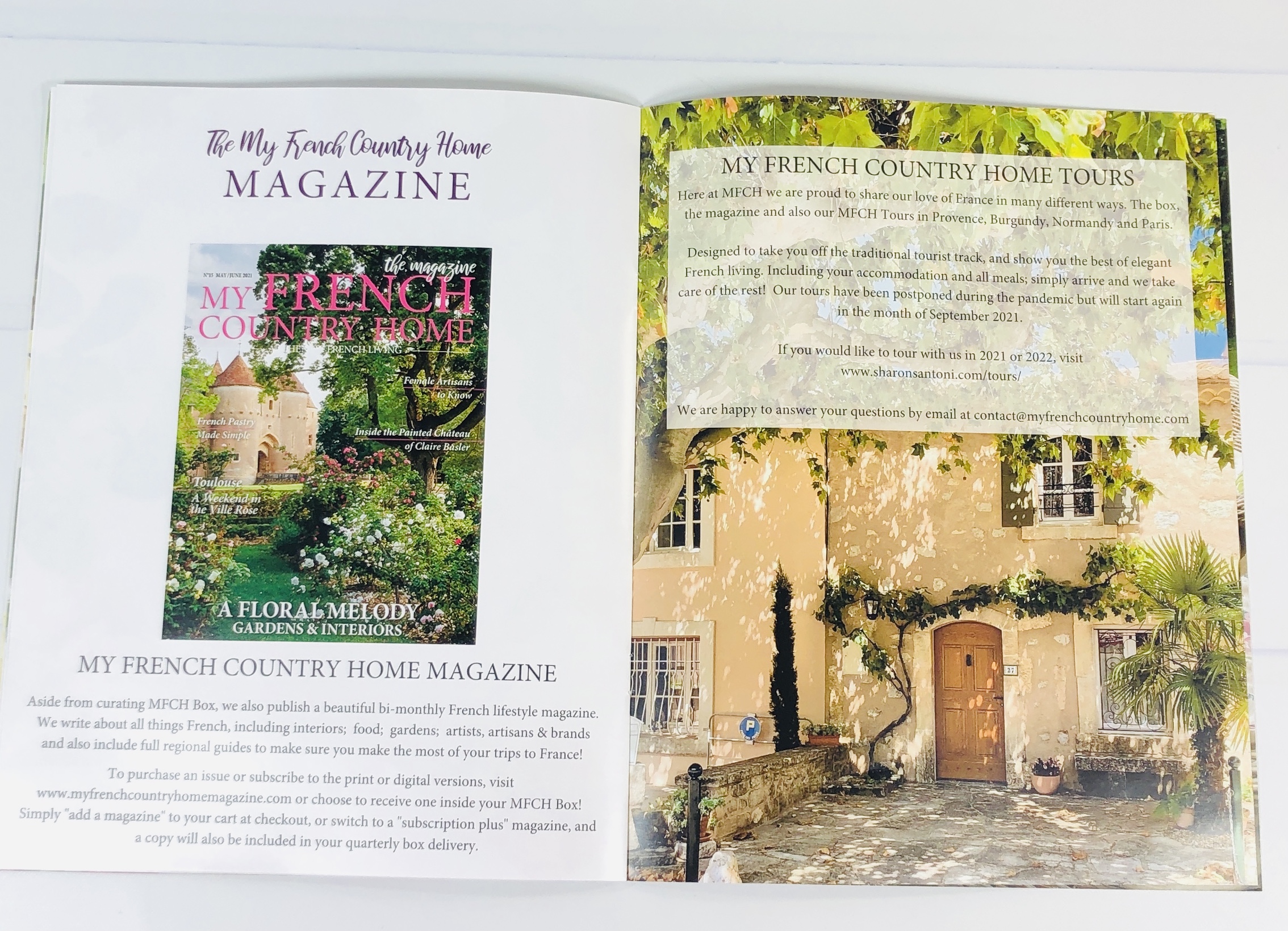 My French Country Home Magazine was mentioned, and luckily a copy of the latest edition was included. MFCH also does tours of homes throughout France, and the trips will resume this September.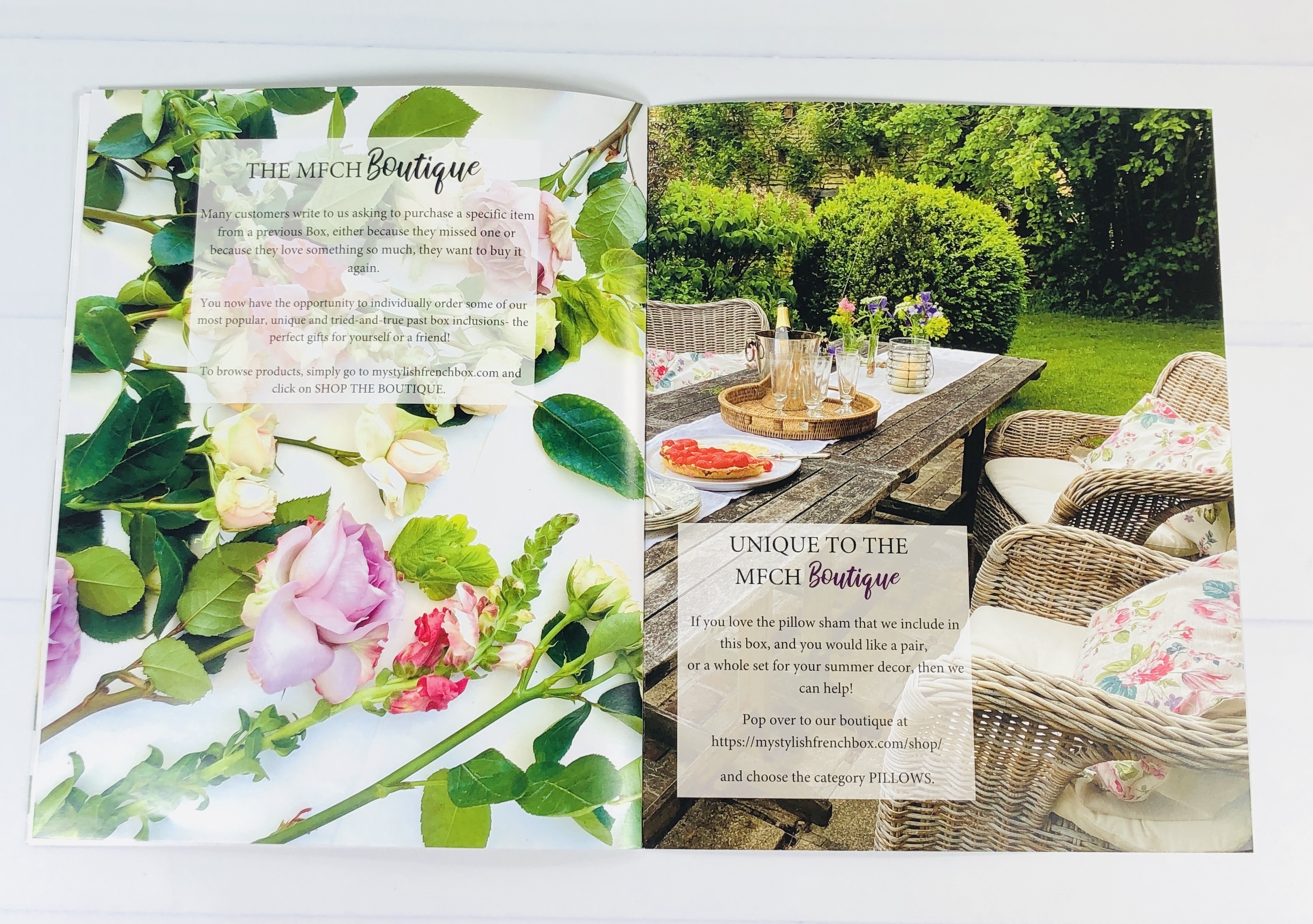 You can find merchandise from this box and previous boxes, as well as a selection of other high quality French made products, at the online boutique.
Some websites with more info were listed on the back.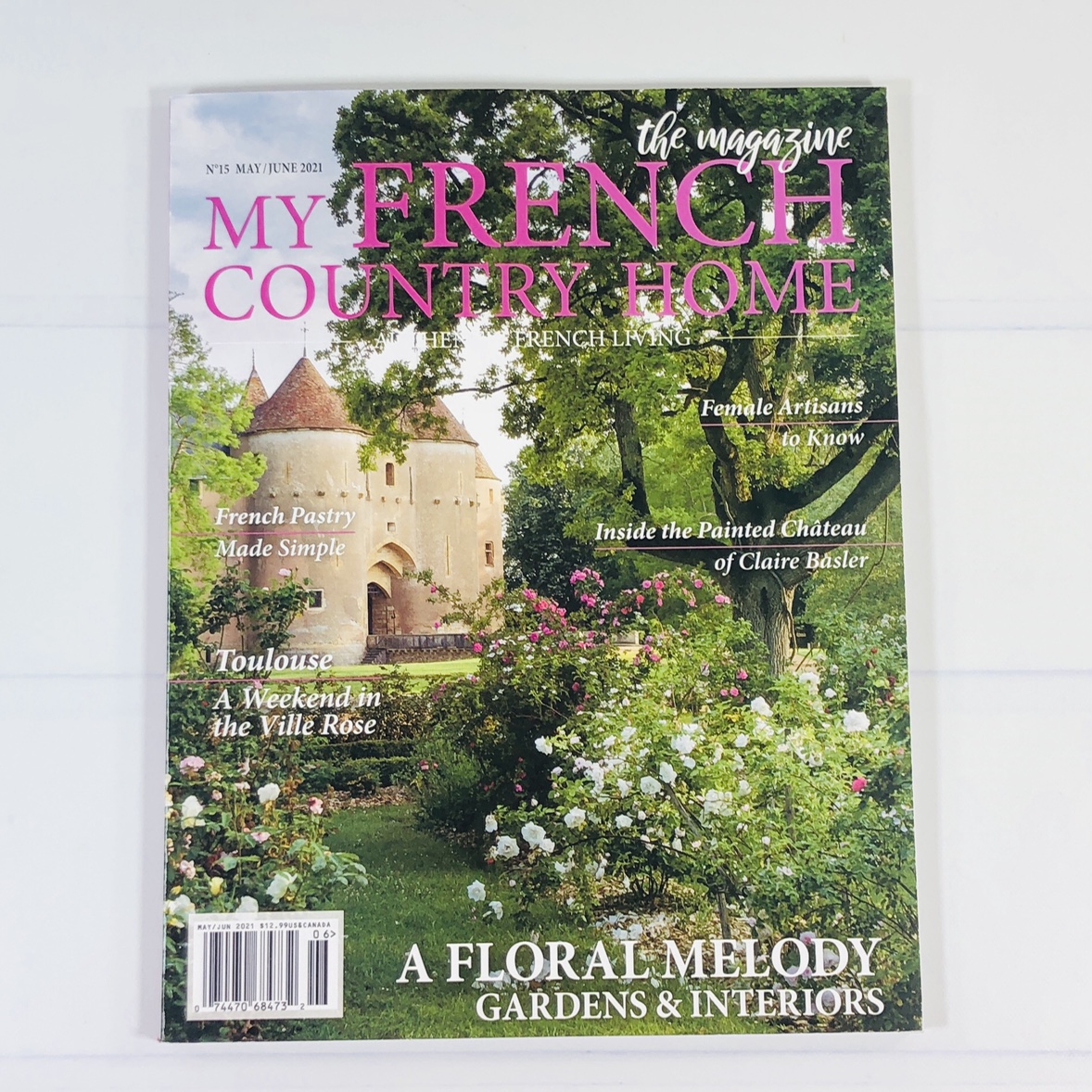 My French Country Home Magazine, May/June 2021 ($12.99) The latest issue of this luxurious lifestyle magazine was included and it is a feast for the eyes.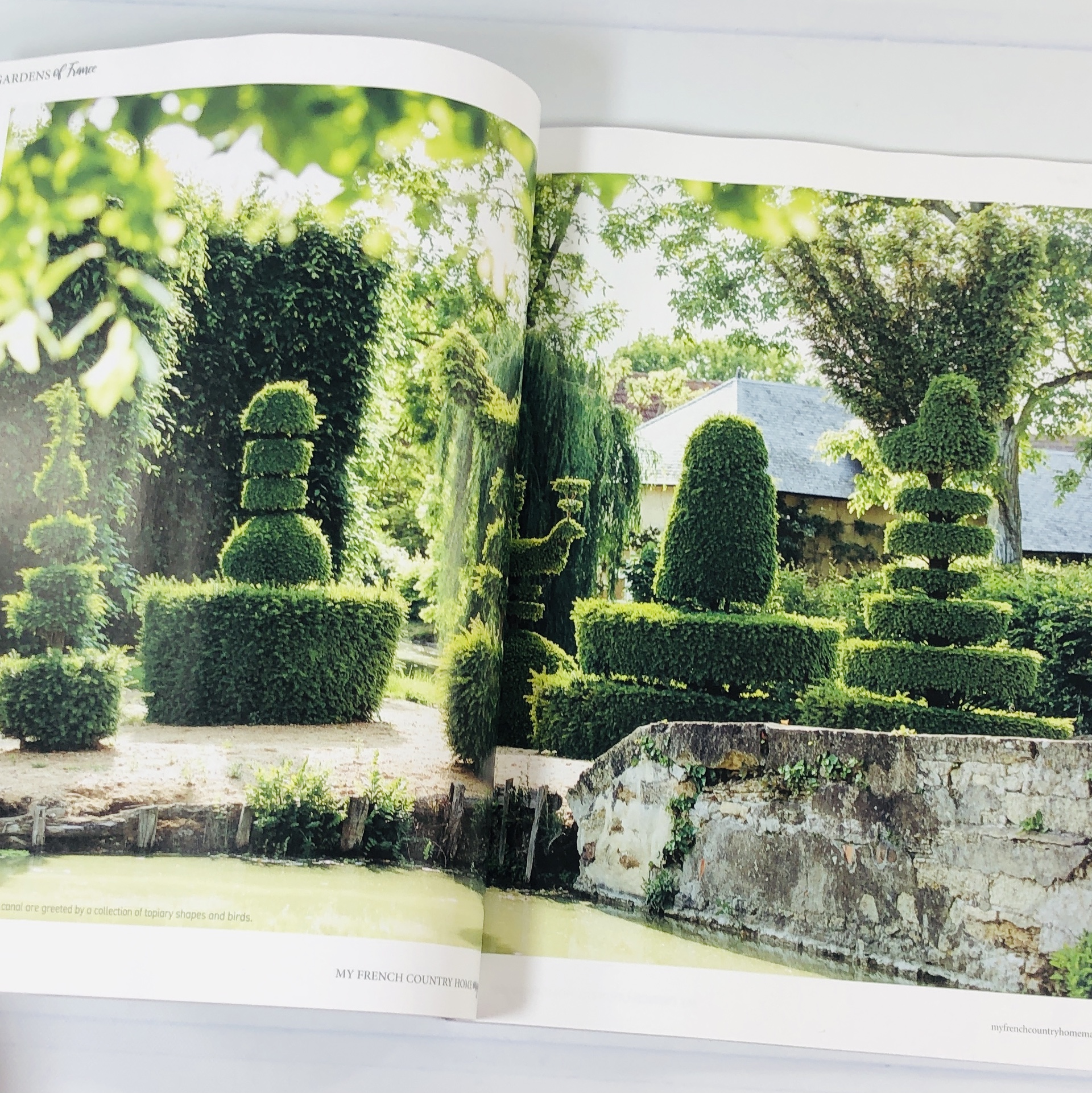 I love to look at the chateaus and beautiful gardens in each issue.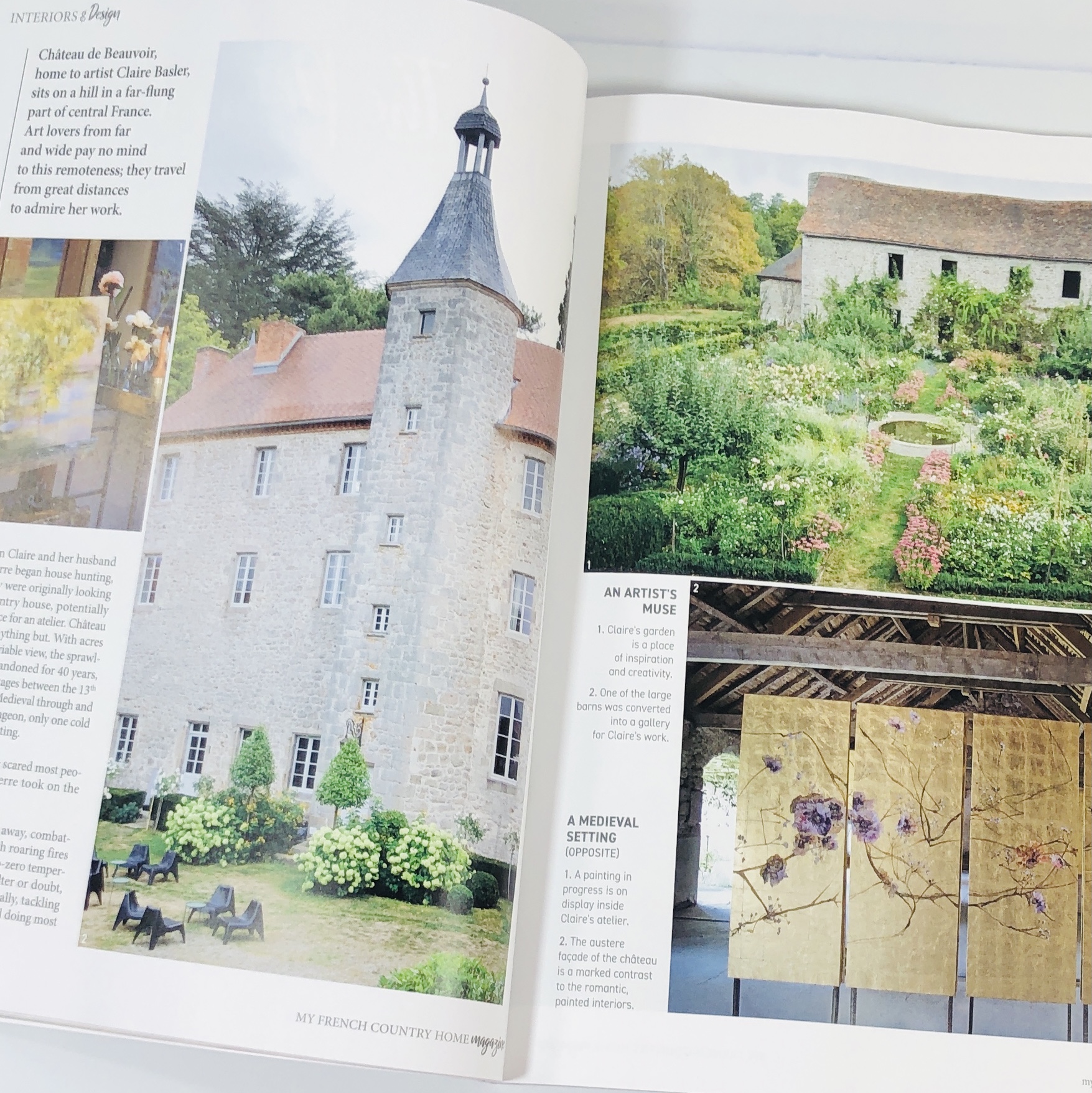 It is pure escapism.
Some of the items came in their original boxes, others were wrapped in tissue paper.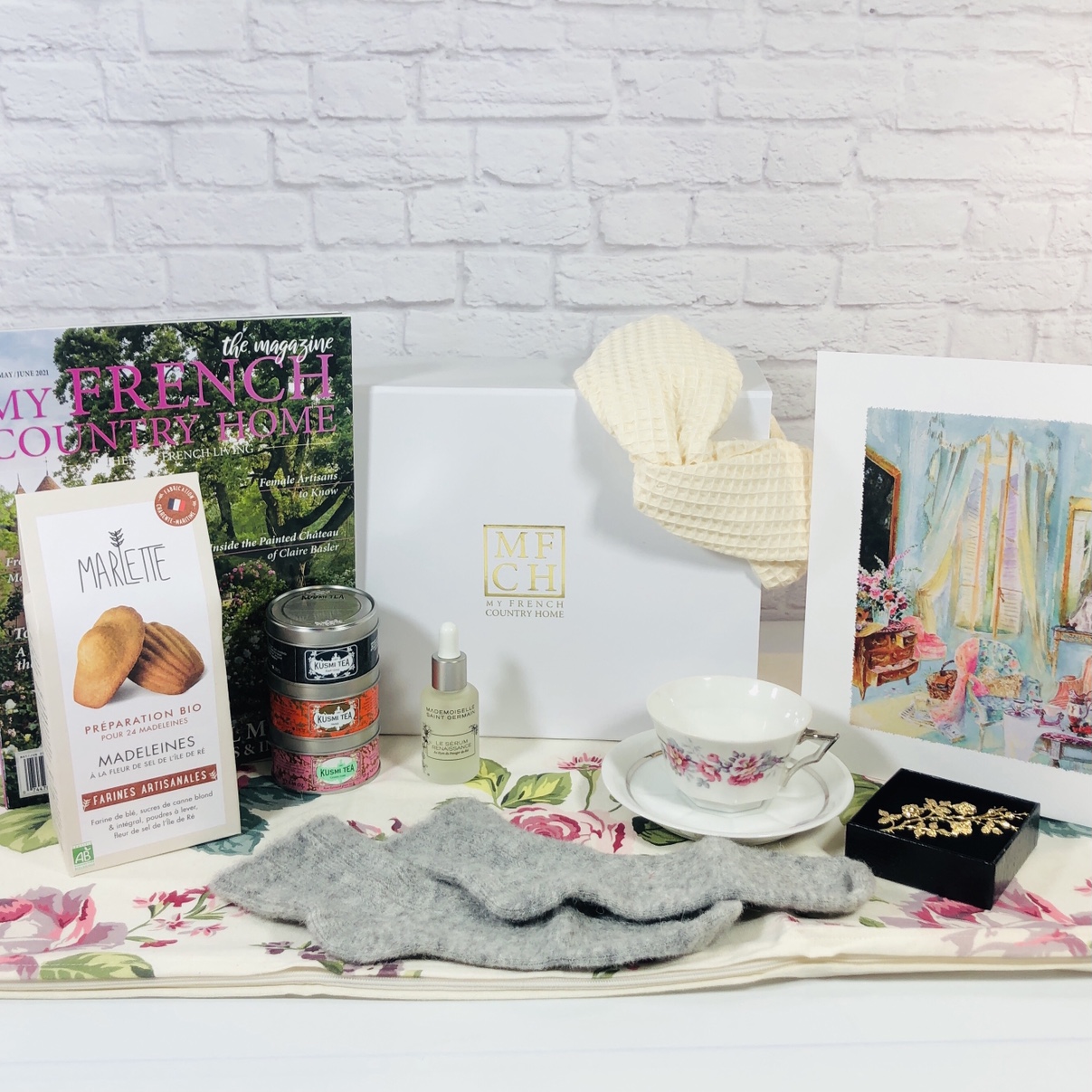 Everything in my box! I must say the experience of opening this box and learning about each item is magnificent! It is an elegant box and would make a super special treat for yourself, or an exceptional gift for a friend or loved one.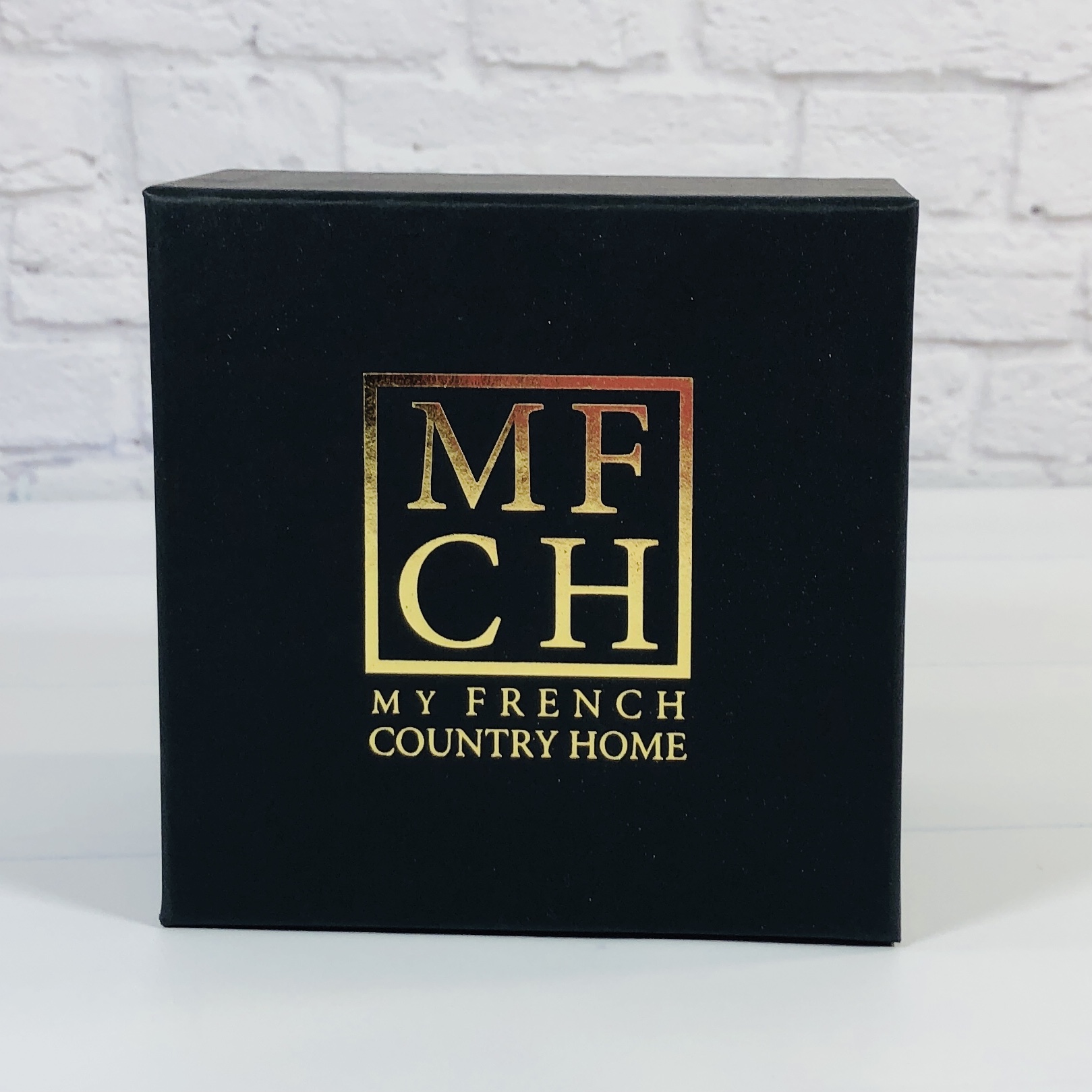 An Antique Tea Cup The first item came in a lovely box.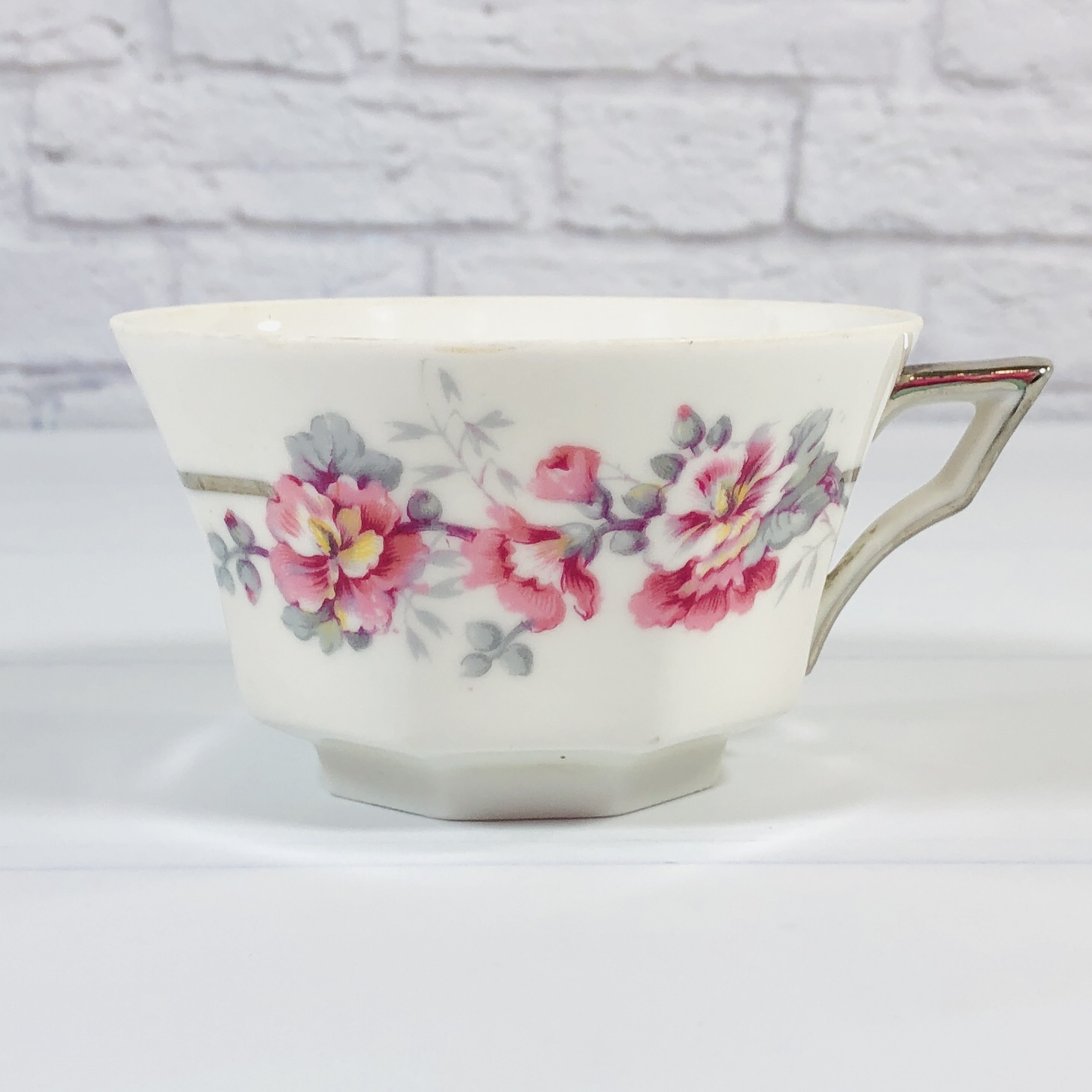 Inside was a beautiful teacup! It has a sweet floral pattern along the middle. There is a silver line all the way around the middle and the handle is silver too.
Here is the mark on the bottom. I don't know the brand.
It came with a matching saucer.
What a cute duo!
Kusmi Tea To go in the teacup, we have tea!
There were three mini tins of three different flavors. I've never tried Kusmi Tea before, but they are blended in France.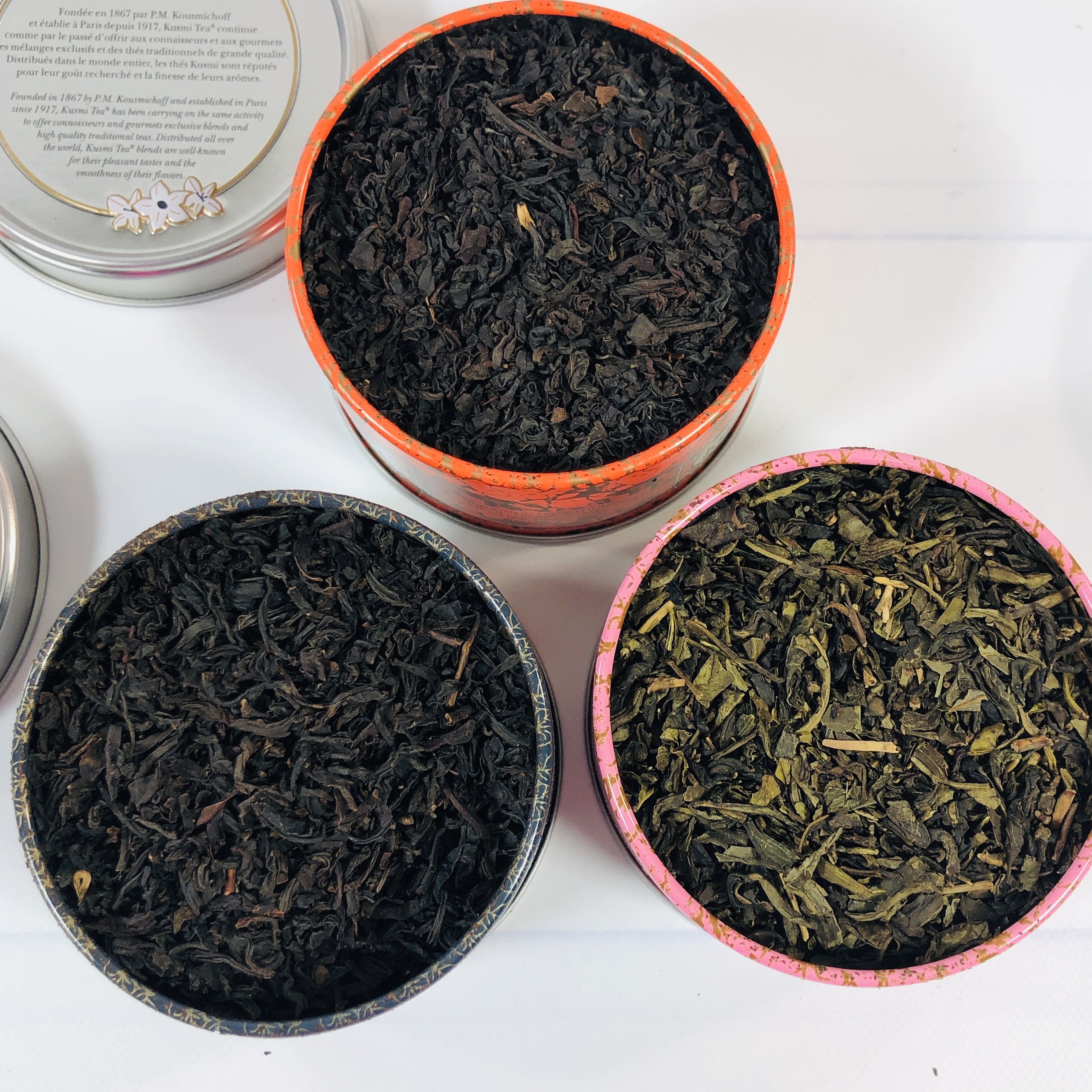 On top is English Breakfast tea; on the bottom left is Earl Grey, bottom right Green Rose. So far I have tried both of the black teas and they are superb, you can tell they are skillfully blended. The Earl Grey was one of the best I have ever tried, the bergamot wasn't overwhelming.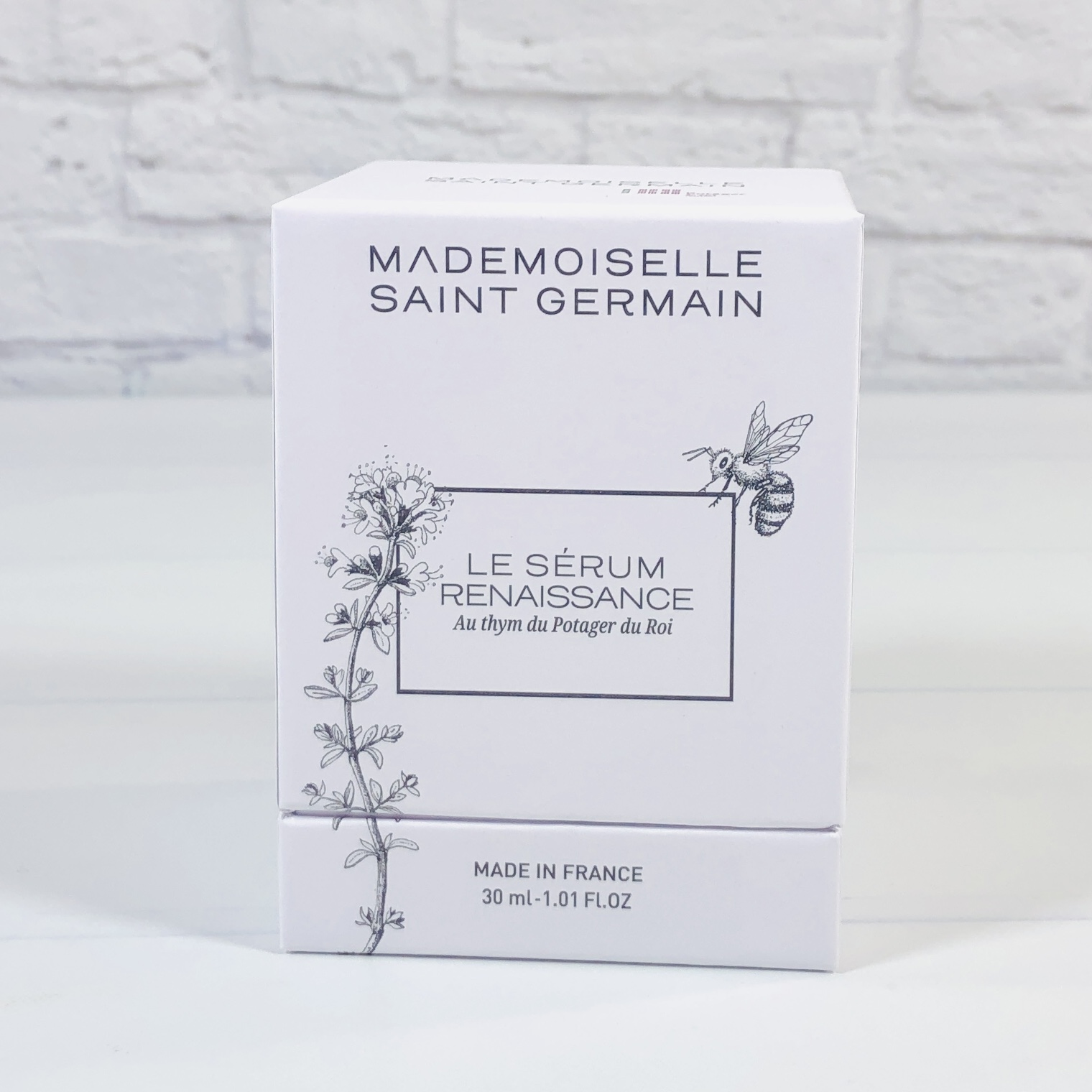 Mademoiselle Saint Germain Renaissance Serum (€45, about $55) I always think that French beauty items seem so luxurious, and this price tag helps reinforce that notion!
The ingredients are mostly natural and sourced from France (98% and 96% to be exact). Some of those ingredients include sunflower oil, grapeseed oil, thyme extract, royal jelly, and hyaluronic acid. The thyme is sourced from Versailles! I've visited there before, and it is indeed a special place.
The serum is supposed to fight free radicals and plump up wrinkles while providing anti-inflammatory benefits.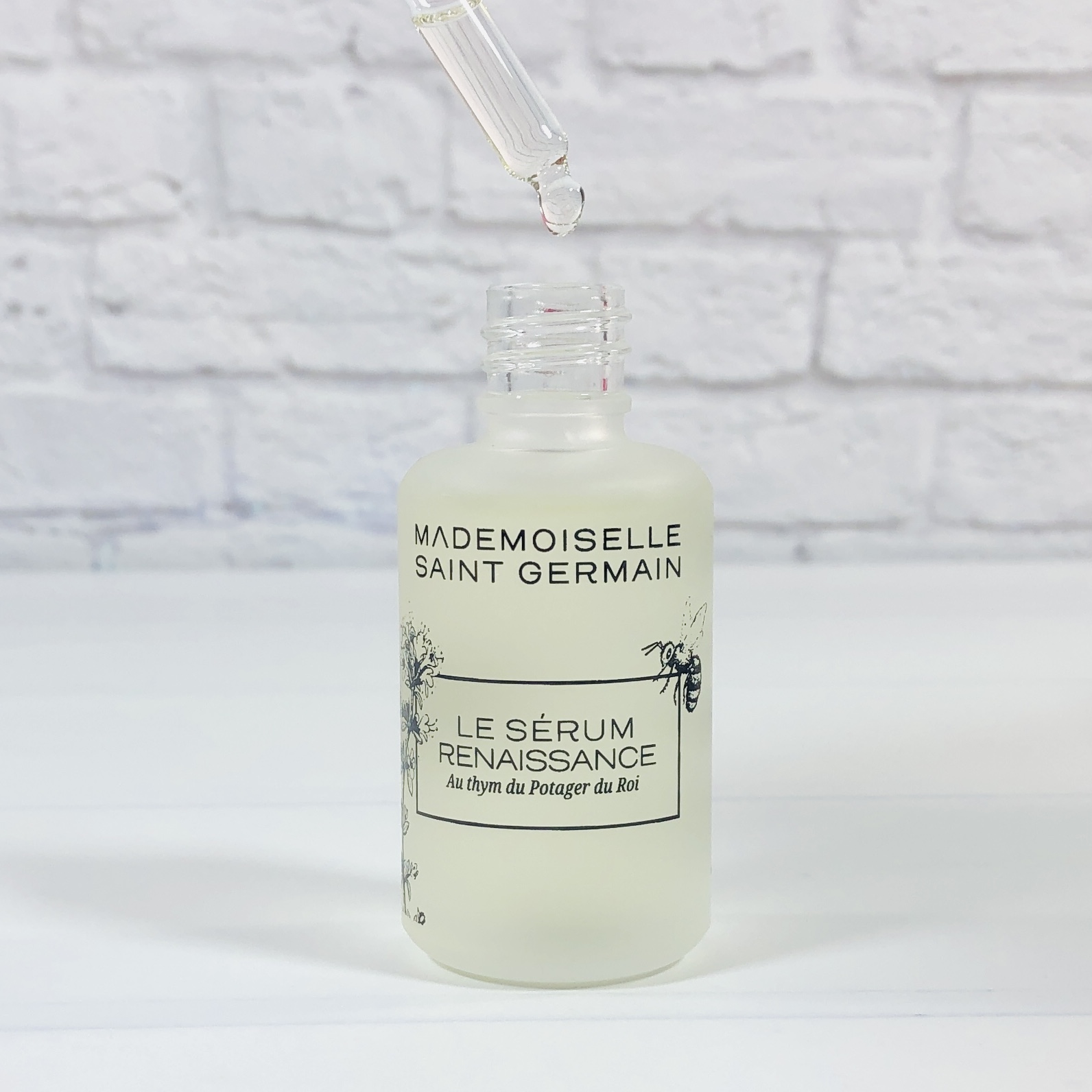 It is an oily serum and only a drop or two is needed. It has parfum and a light floral scent that fades quickly. It left a sheen on my skin but didn't feel oily after it was absorbed. It should be used day and night after cleansing and toning and before moisturizer.
Marlette Madeleines ($5.35) is the bonus item and it's a mix to make madeleines! While the box has everything in French, you can also check the website and use Google translate to get the instructions in English.
Imai Rosier Brooch (€95, about $116 USD) came in its own box.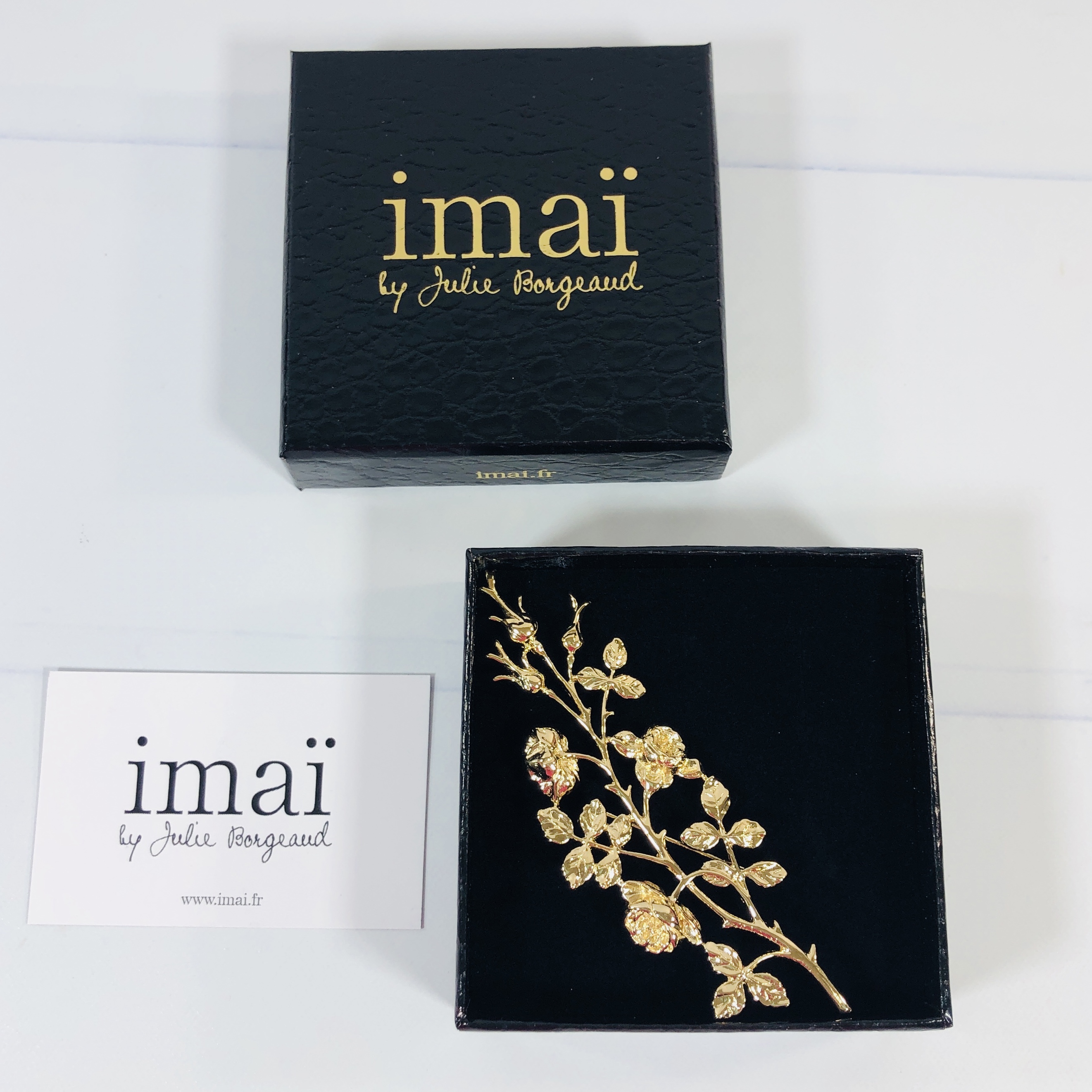 It's a stunning brooch!
The brooch is gilded in 24k fine gold and is 3.5″ long.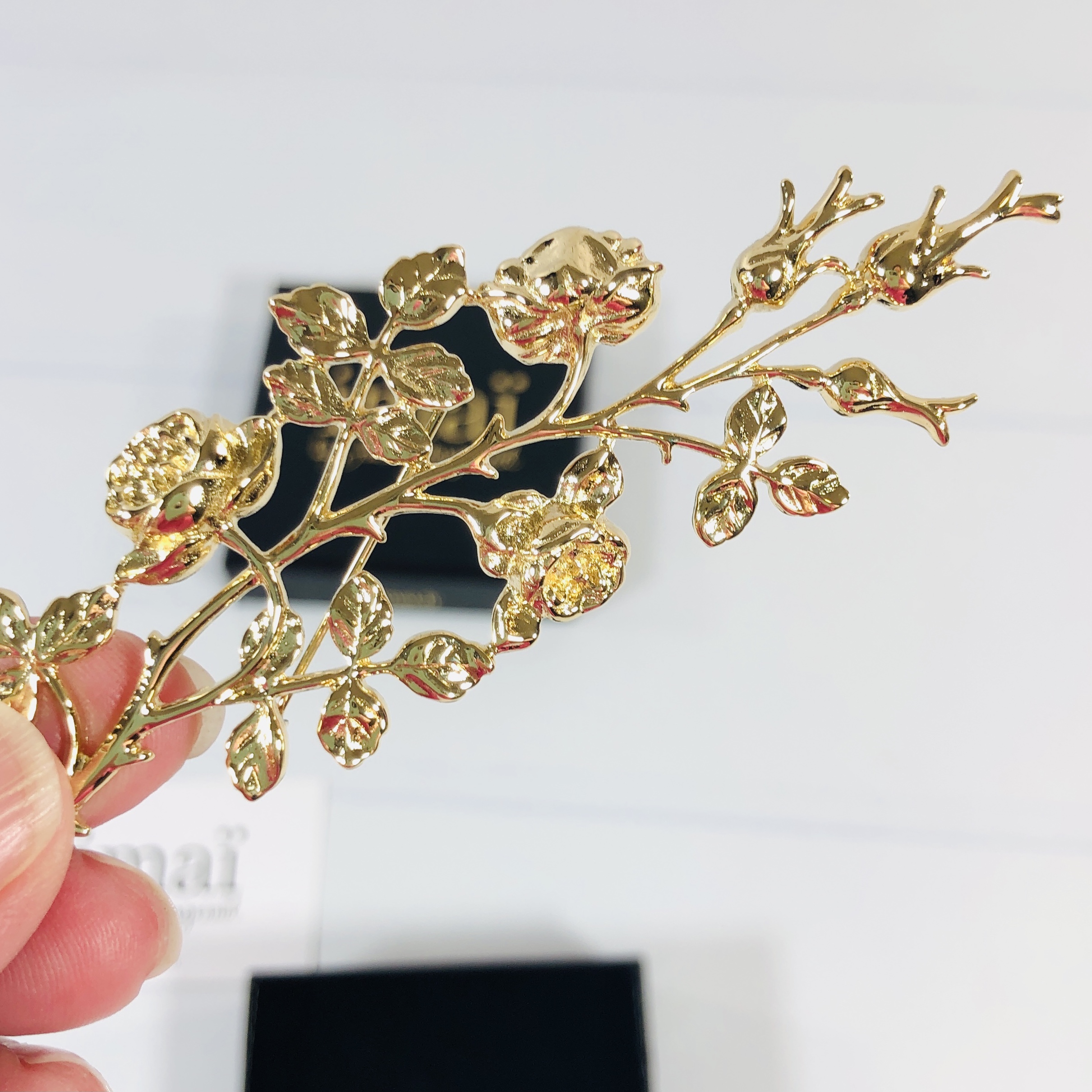 The style is a rose branch, including flower buds. There is a pin on the back and I am looking forward to wearing this on a blouse for my next outing.
Michelle Charrier Art Print ($20 for similar) Every box includes a print from a featured artist. This year the artist is Michelle Charrier and by the end of the year we will have a coordinated set of 4 prints.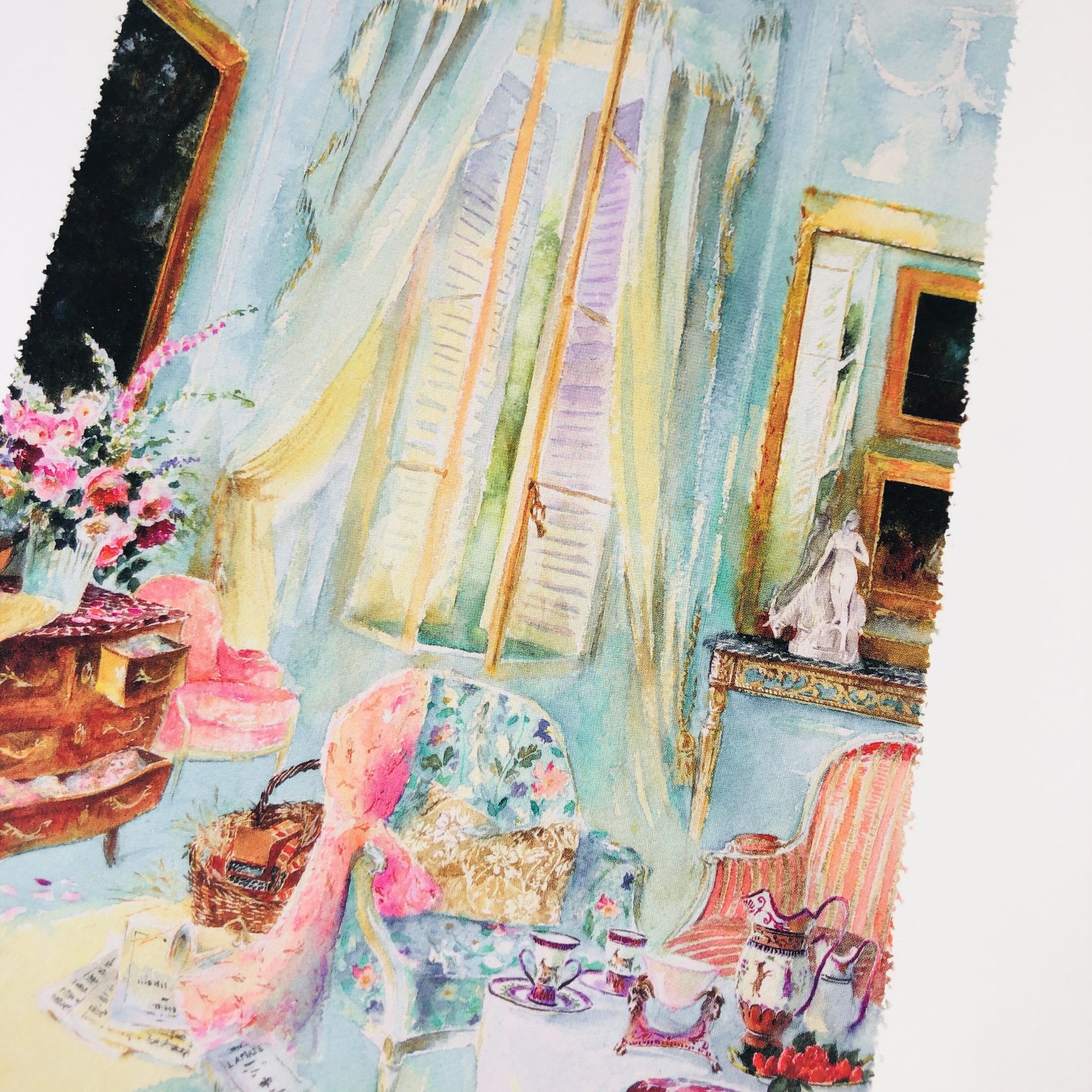 I love the colors the artist used and his style makes me think I am there in the room, a light breeze coming through the window. The print is 8″ x 10″ and it is on high quality matte paper.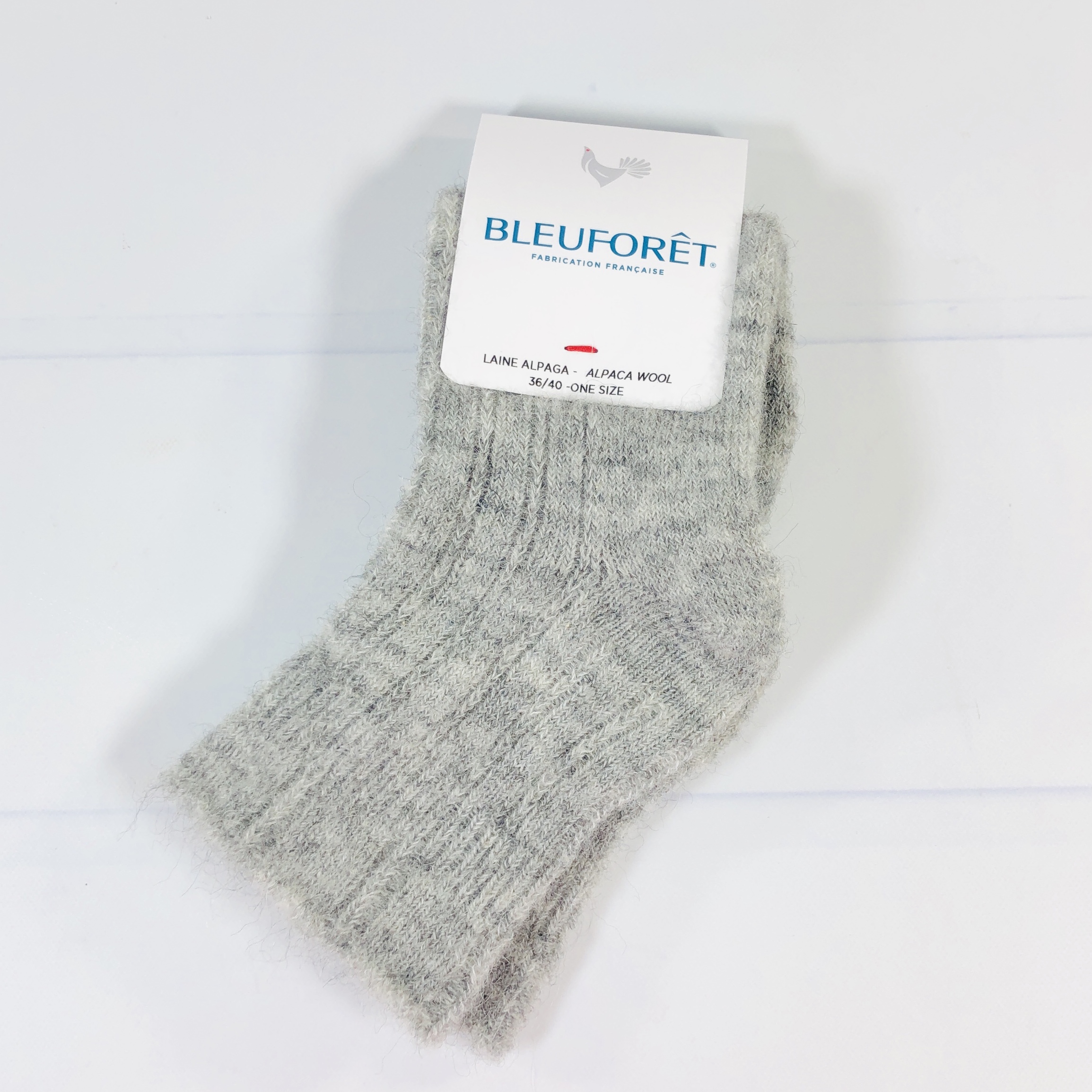 Bleuforêt Alpaca Socks in Light Grey (€18, about $22) I've never owned anything made of alpaca wool!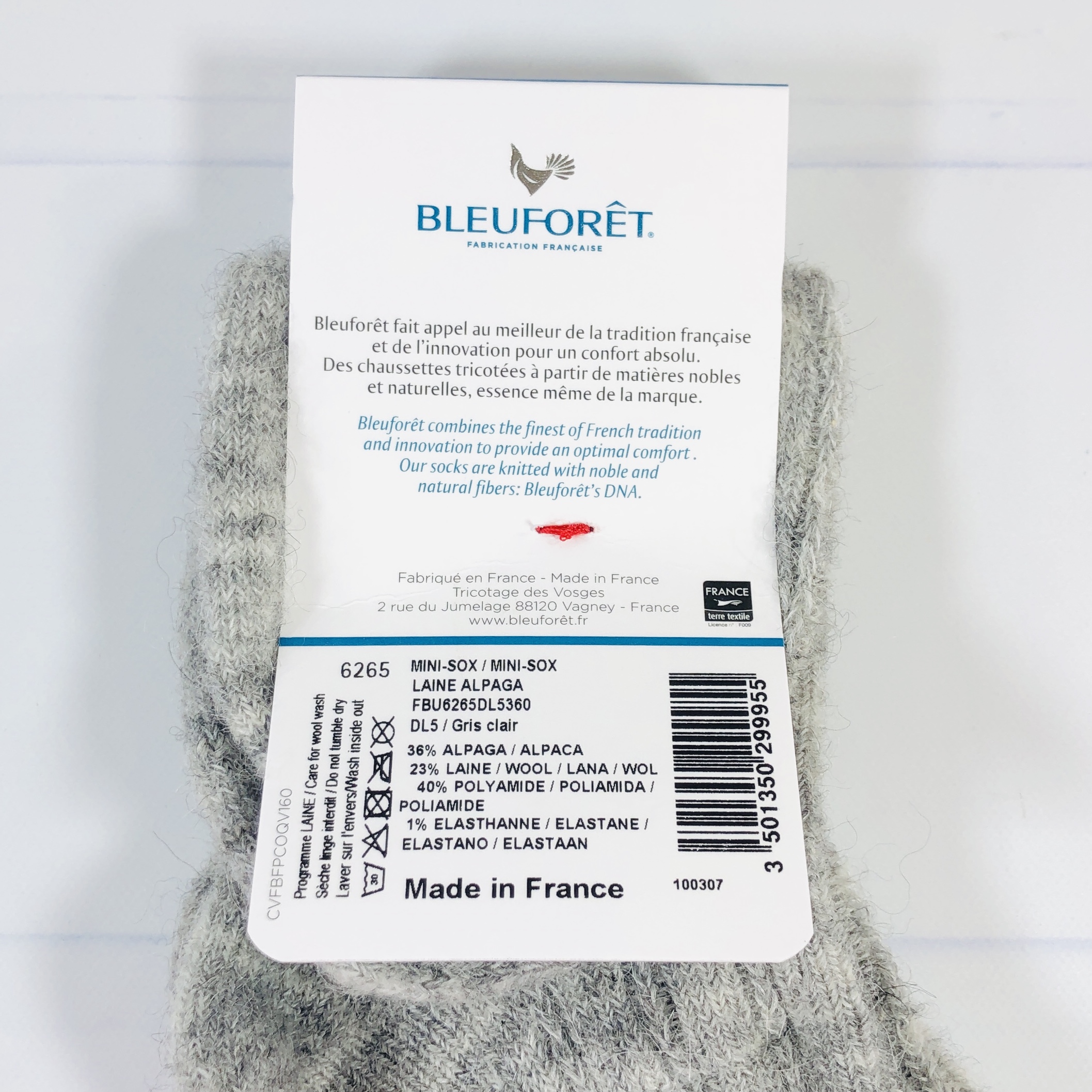 The socks are not pure alpaca, there's also sheep's wool, polyamide, and elastane. I would suggest washing these in cold water and line dry.
The brand's website talks about how comfy these are for winter, and since it's sandal season, I will tuck them away for the next few months.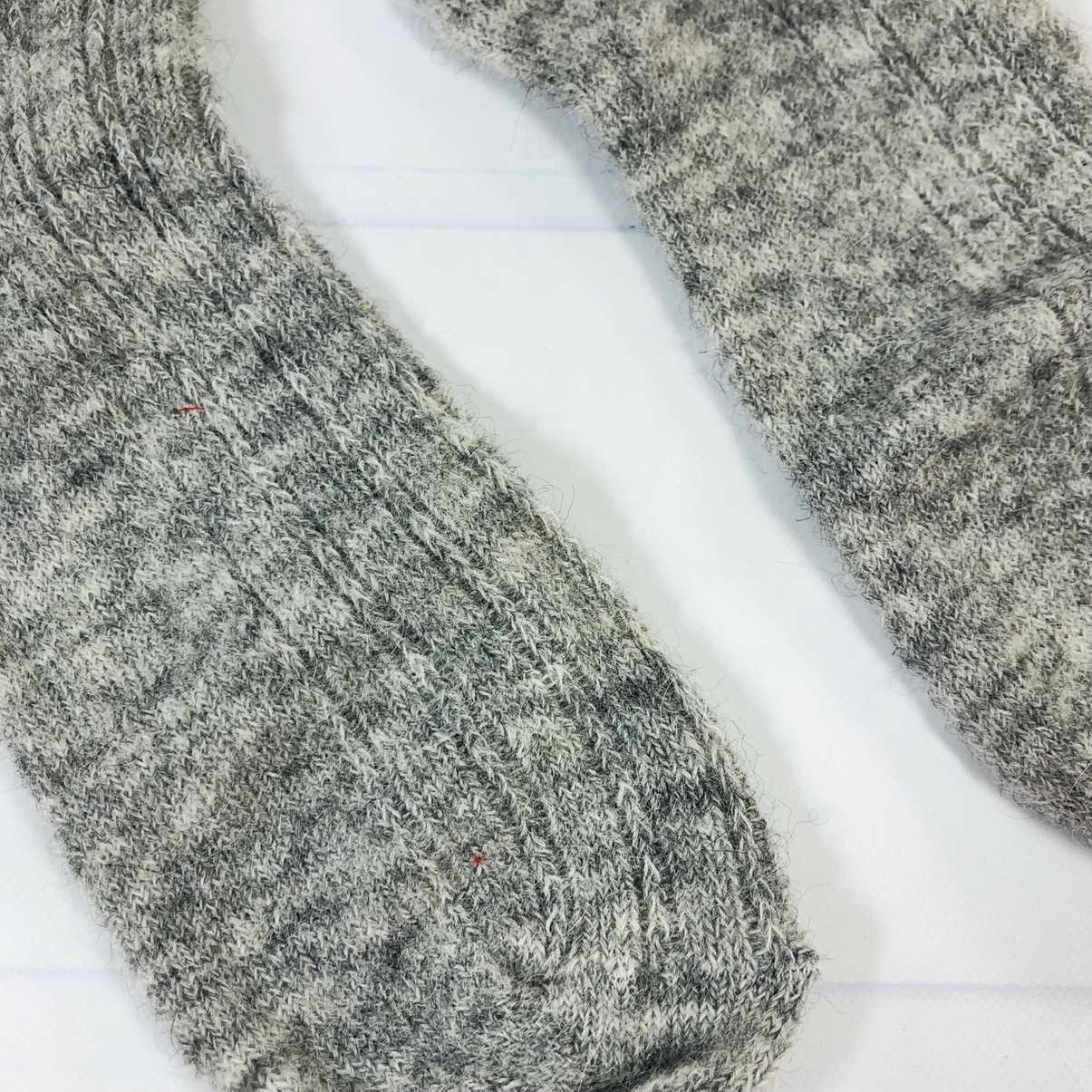 Here's a close up of the colors, although I don't think they look as dark as suggested here.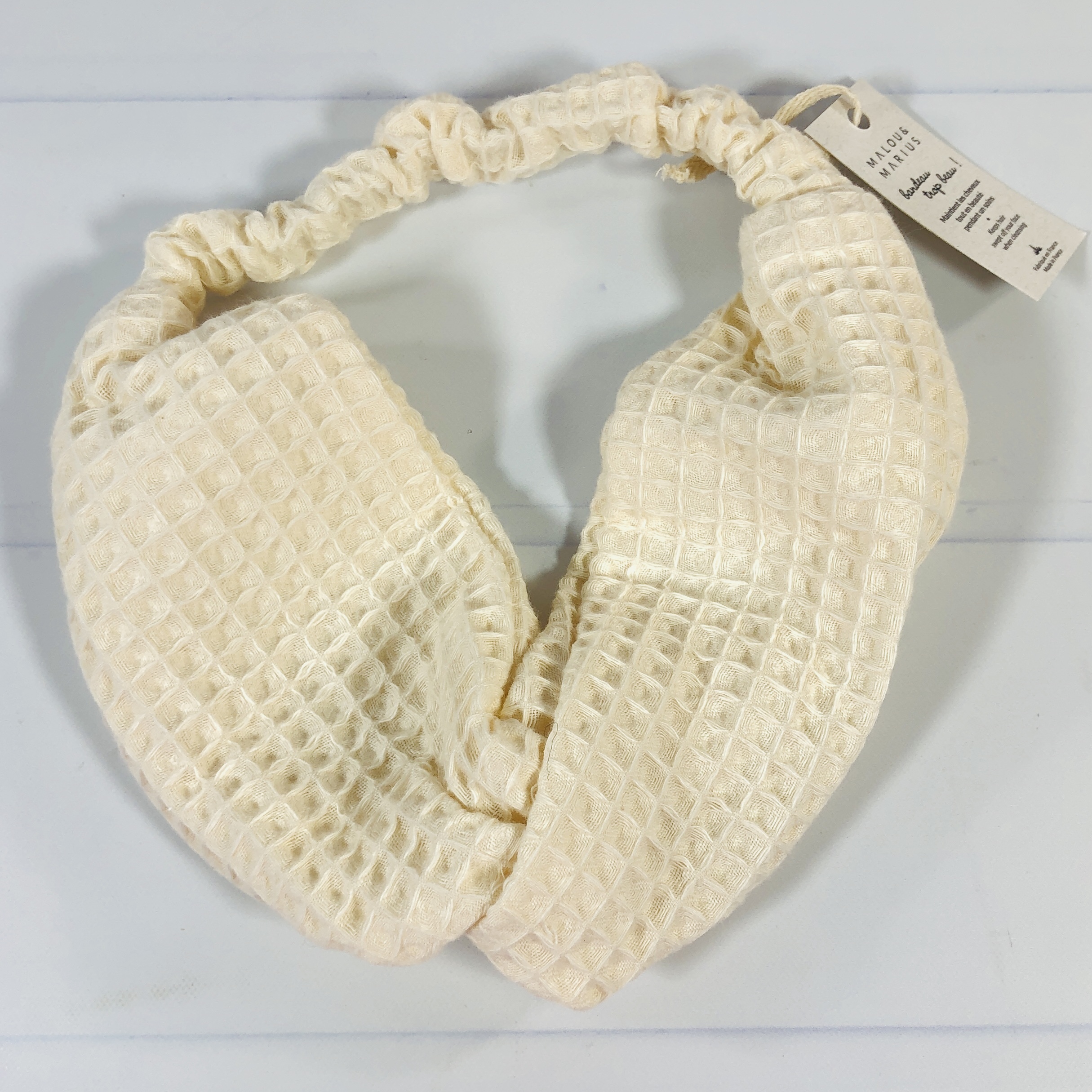 Malou & Marius Ecru Headband (€25, about $30) What a lovely headband! It is made of 100% cotton that has a waffle weave.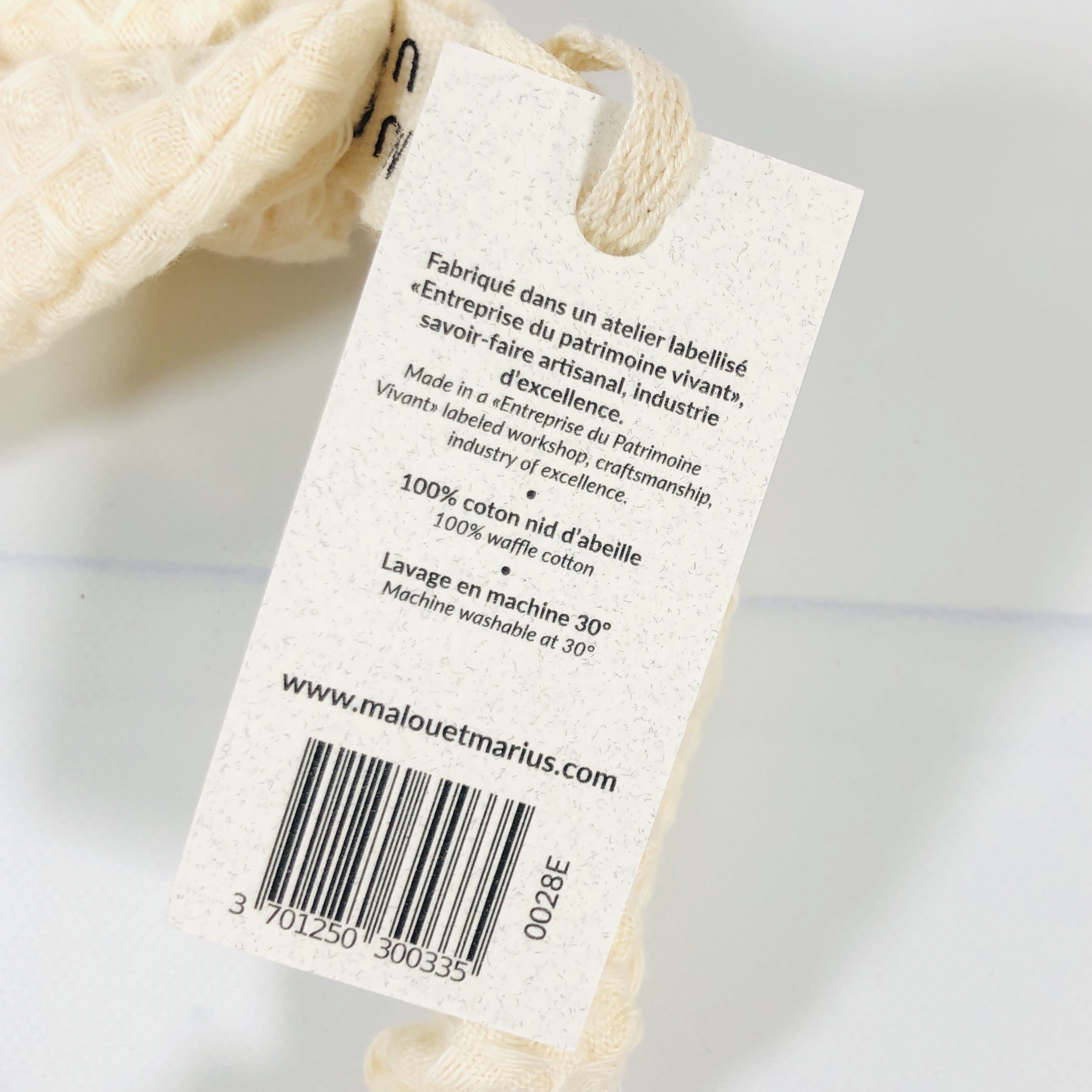 The headband is meant to be used while applying makeup, wearing a face mask, or relaxing in the tub. There is an elastic band in the back so it can be stretched over the head and should work for all head sizes.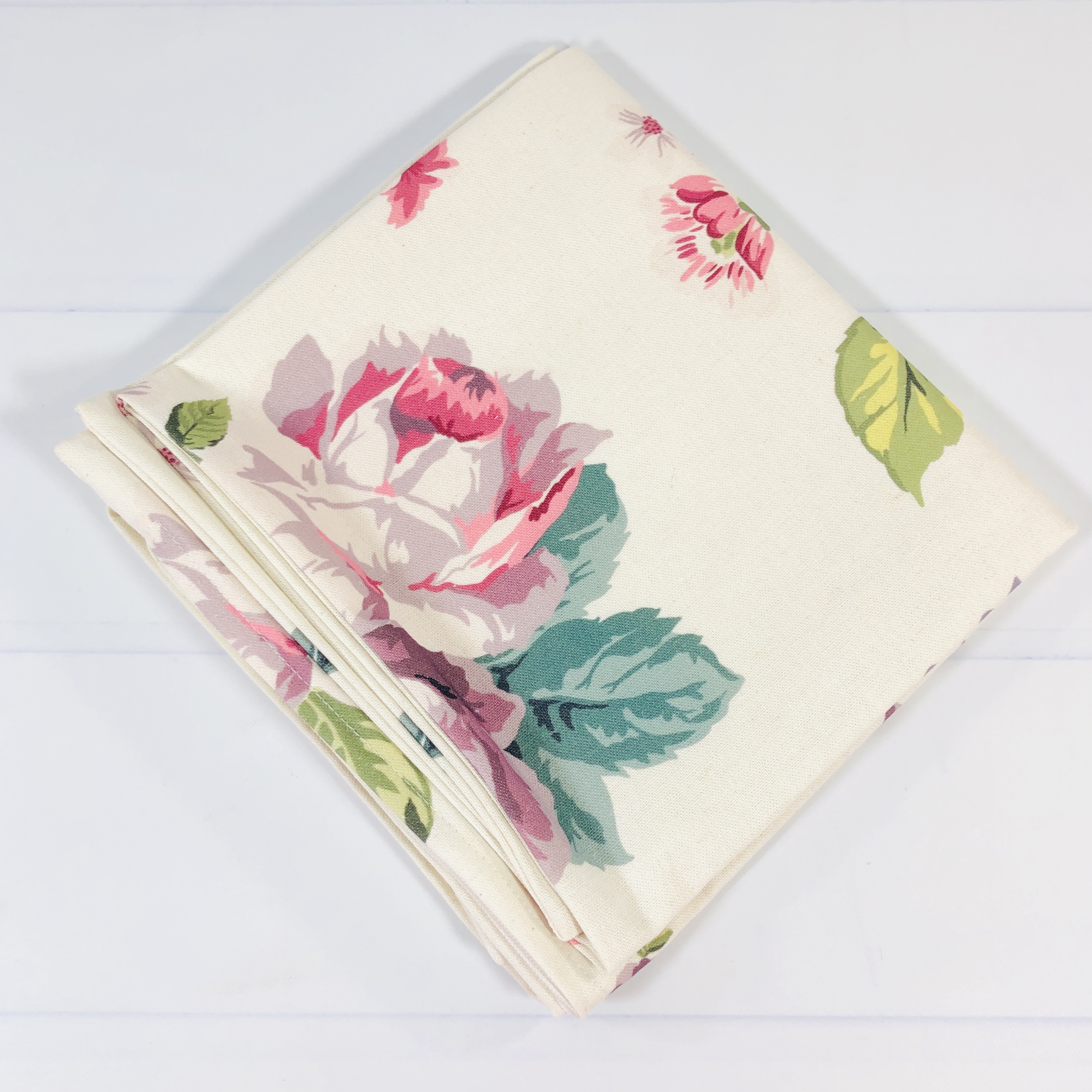 MFCH Floral Pillow Sham by Charvet Editions ($95) is an exclusive item and is available at the MFCH website.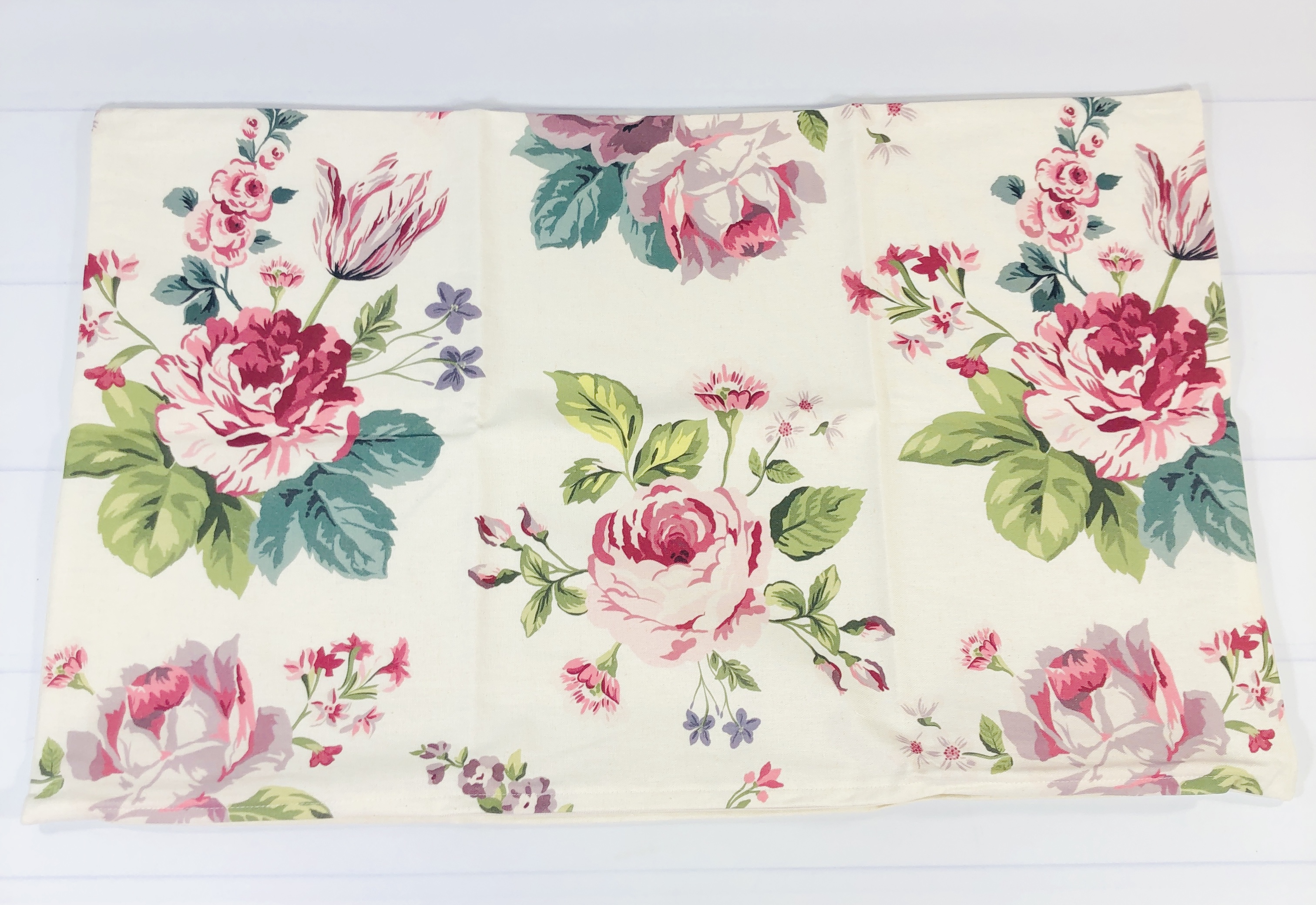 I love the design, I'm a sucker for florals, and these are big beautiful blooms.
Here's a closer look. There is a zipper along the bottom of the sham.
The sham is made of 60% cotton and 40% linen. It measures about 25″ x 16″ and should fit a standard rectangle pillow. I can't wait to put this in my bedroom, it's going on my reading chair!
As always I was thrilled with the French-made items in the latest My French Country Home Box! This box is a special treat for sure and every time I open it I am amazed at the high quality of the items as well as the uniqueness of each one. The me-time theme was perfect, especially as I've had a busy couple of months but I think everyone can use a special treat after the past year we've had. I love tea and was excited to try a new-to-me brand, and the cup and saucer elevate my afternoon tea into a special occasion. The head wrap is perfect for those times when I'm doing my makeup, I like to keep my hair out of my face then. The serum felt wonderful on my skin. The pillow sham is just my style as is the brooch. I'm going to stash the socks away until it gets cold again and I'm going to frame the print and hang on my wall. I included values for everything I could find, and all of that adds up to over $350, not including the antique cup and saucer or the tea collection.
Any thoughts about My French Country Home Box? Let me know what you think of the Moi-Meme theme! 
Visit My French Country Home Box to subscribe or find out more!