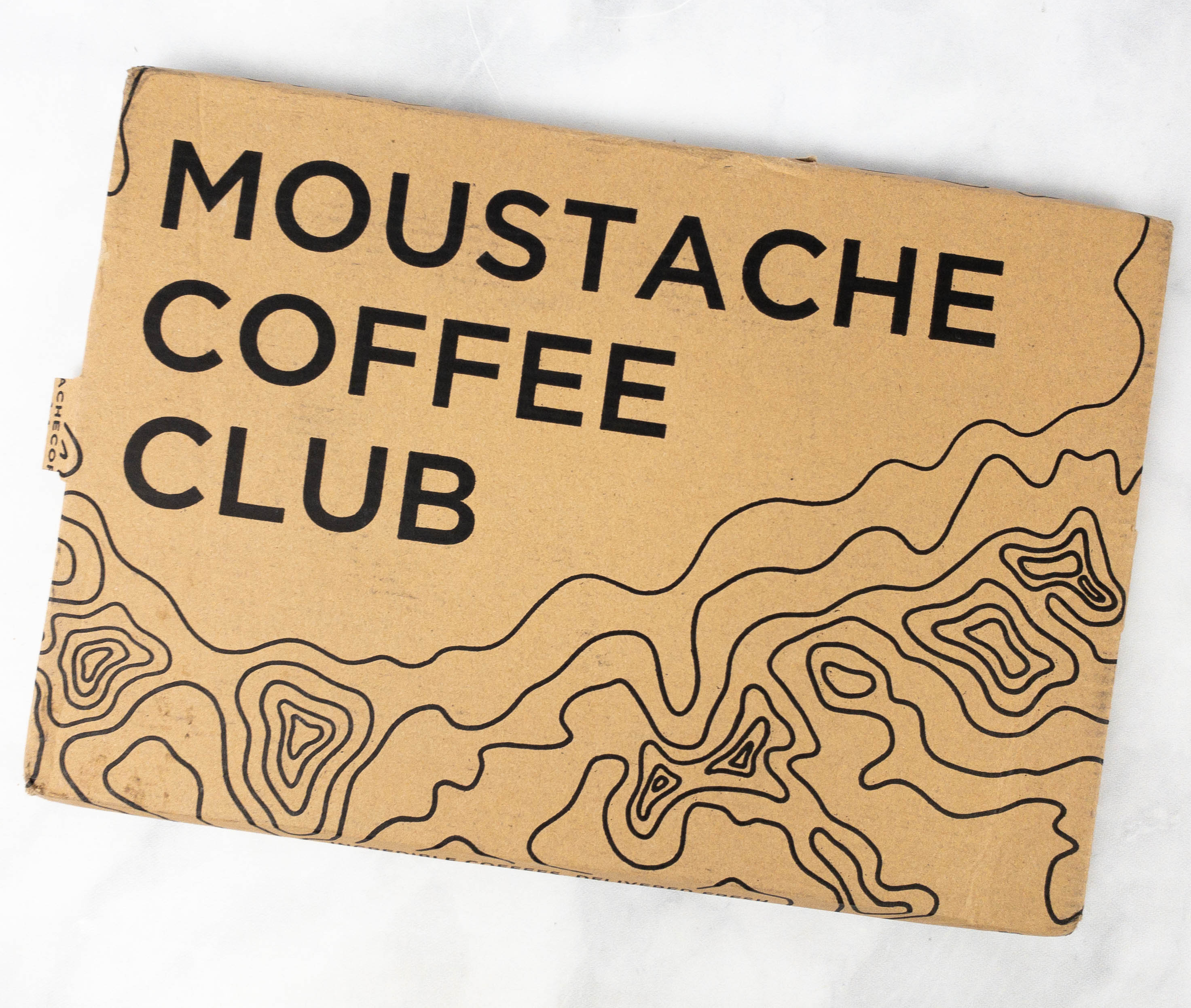 Moustache Coffee Club is a subscription featuring premium, single-origin coffees from various growing regions around the world. These coffees are expertly roasted and shipped on the day they are roasted, which means they arrive at the peak of freshness. Subscriptions start at $13.
Deliveries can be customized depending on your coffee needs. They offer 12oz and 6oz coffee bags, and you can also choose whether you want it shipped weekly, bi-weekly, or monthly. Another way to try their coffee is to sign up for a free trial (for US based members only), they'll ship you 6oz of coffee and after the trial ends, you'll be on their Solo Artist plan which ships 12oz every two weeks.
They also offer office coffee subscriptions, Canadian coffee subscriptions, and international coffee subscriptions!
The coffee beans arrived in a brown box.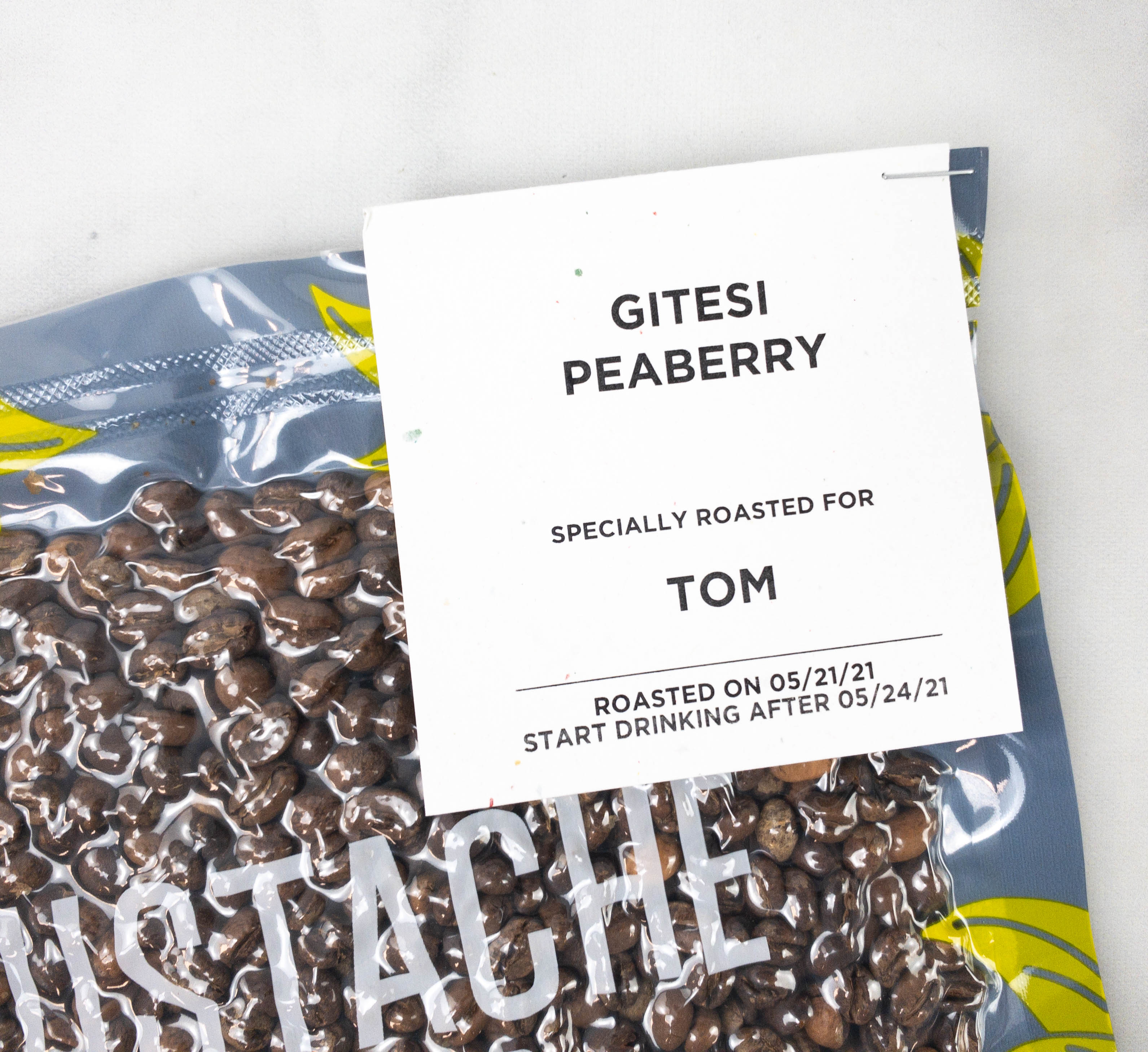 This month's premium coffee is Gitesi Peaberry. There's a card that indicates the roasting date and when I can start enjoying my coffee.
This 12 oz whole bean coffee was roasted in Portland, OR.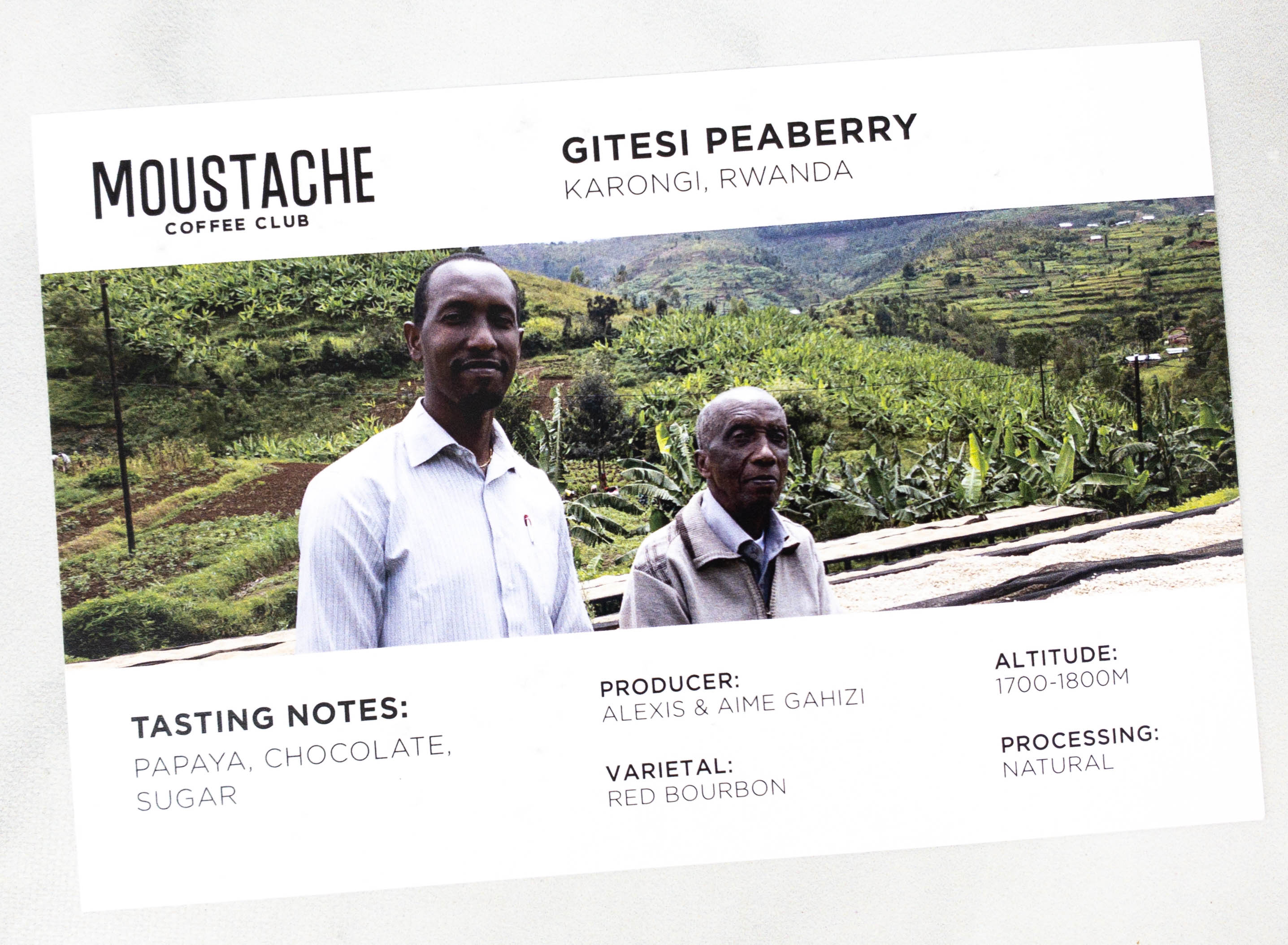 This card features all the information you need to know about the coffee beans including their tasting notes, producer, varietal, processing, and many more!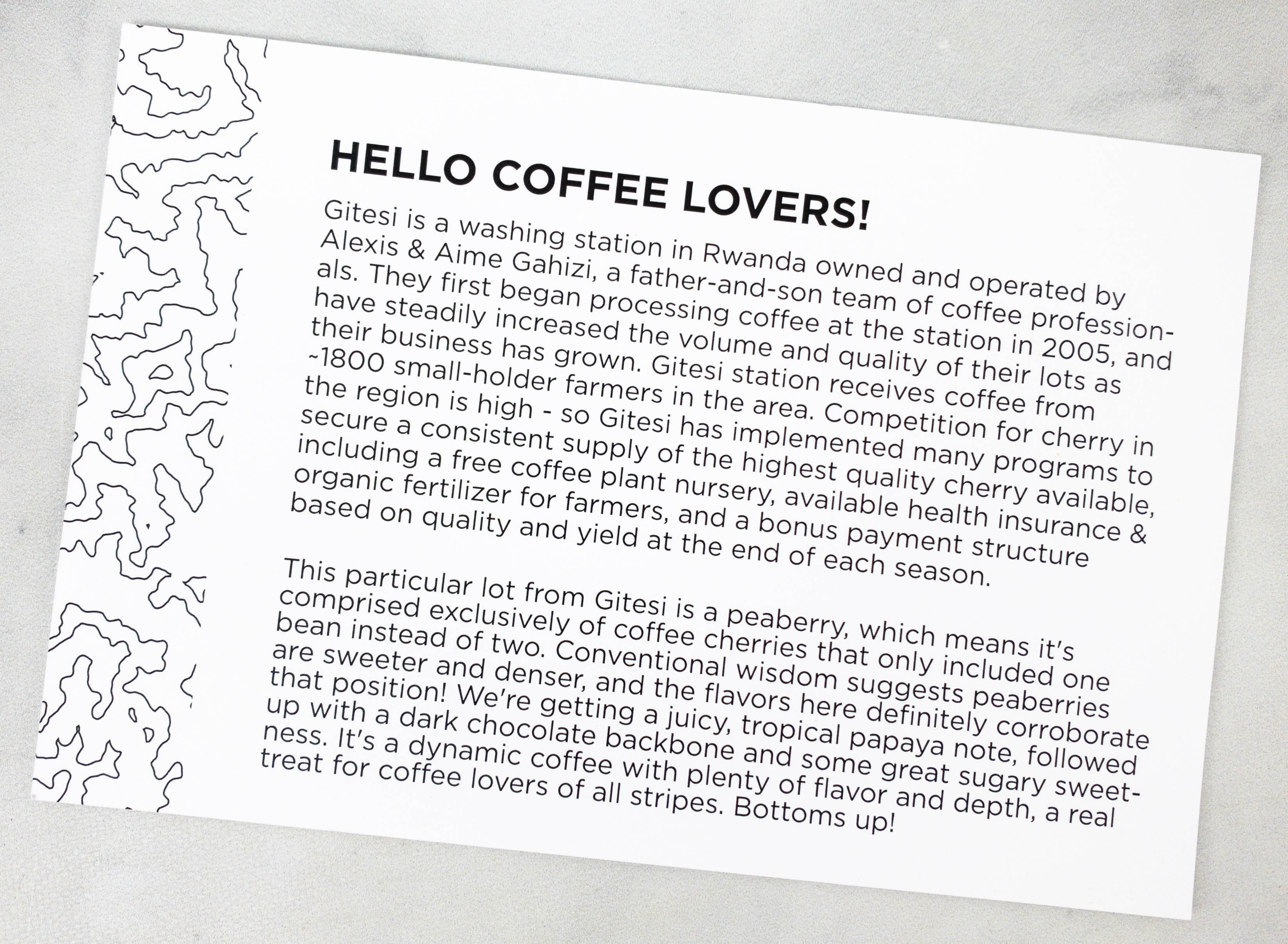 The back of the card gives us more information about Gitesi.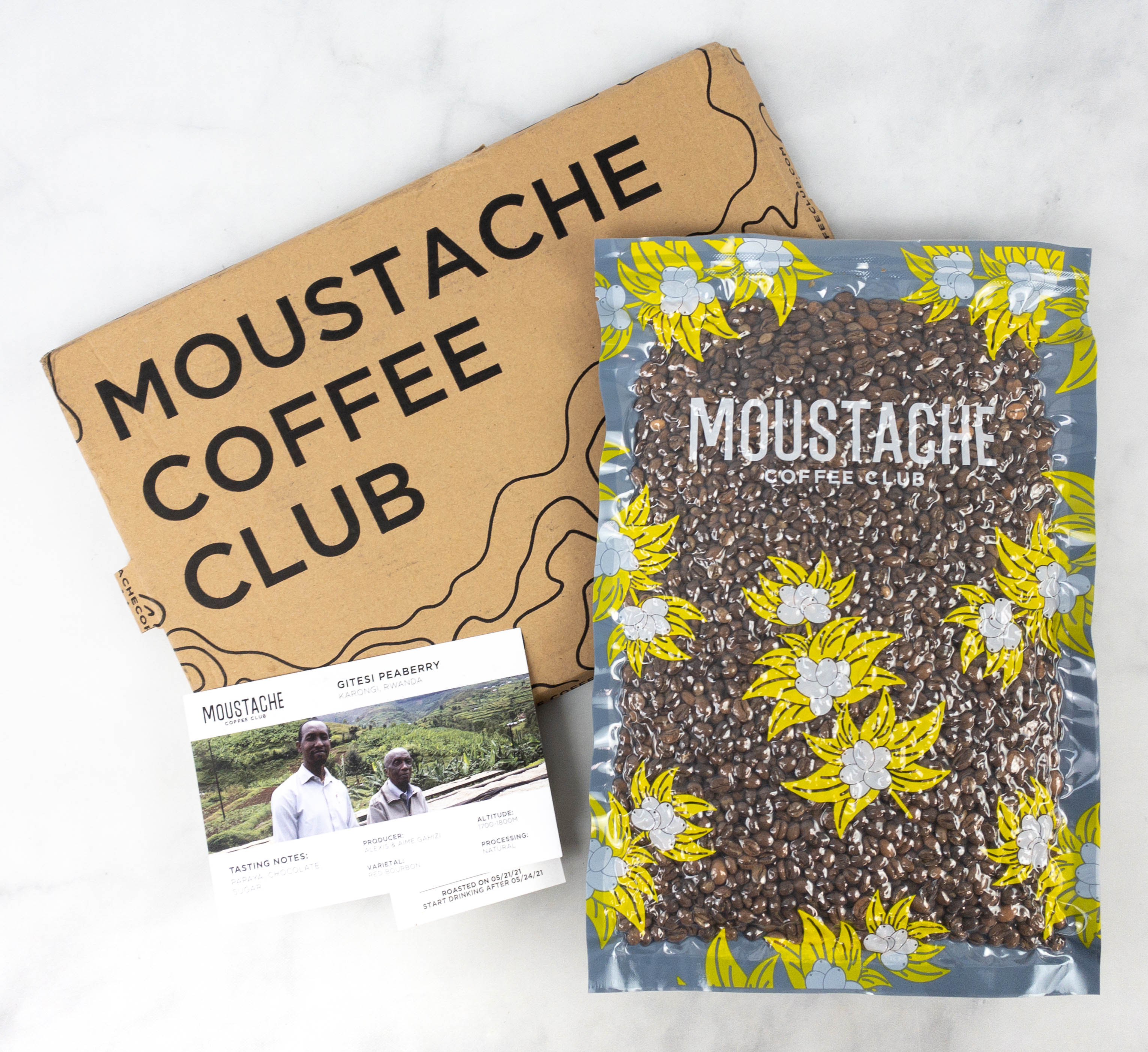 Everything in my June 2021 pack!
Gitesi Peaberry ($28.90) This month's coffee variant is Gitesi Peaberry from Gitesi in Karongi, Rwanda. Owned by Alexis & Aime Gahizi, their washing station acquires coffee from 1,800 small farmers in the area. They are known to produce peaberry, which is composed exclusively of coffee cherries that only contains one bean instead of two.
Moustache ships the coffee in a hermetic, vacuum-sealed bag so the coffee is always fresh when it arrives.
These beans smell so good! The aroma of coffee is strong, and subtle notes of papaya and chocolate can be noticed as well.
Here's a closer look at the freshly roasted beans!
According to the card, the tasting notes include tropical papaya fruit combined with chocolate and sugar.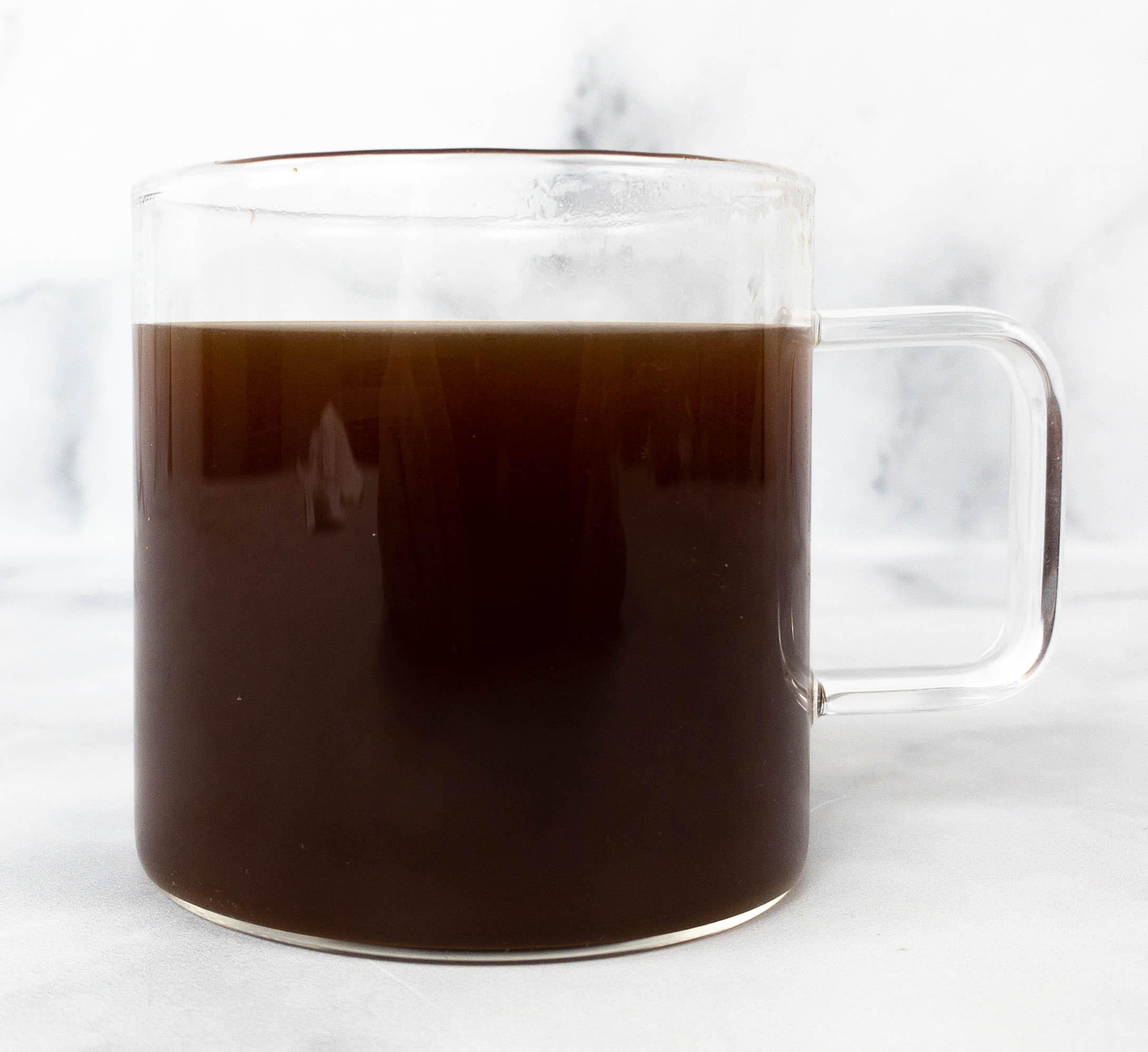 The tasting notes are true to what's written in the card and they don't overpower each other. This coffee is lighter than my regular coffee but I still like it.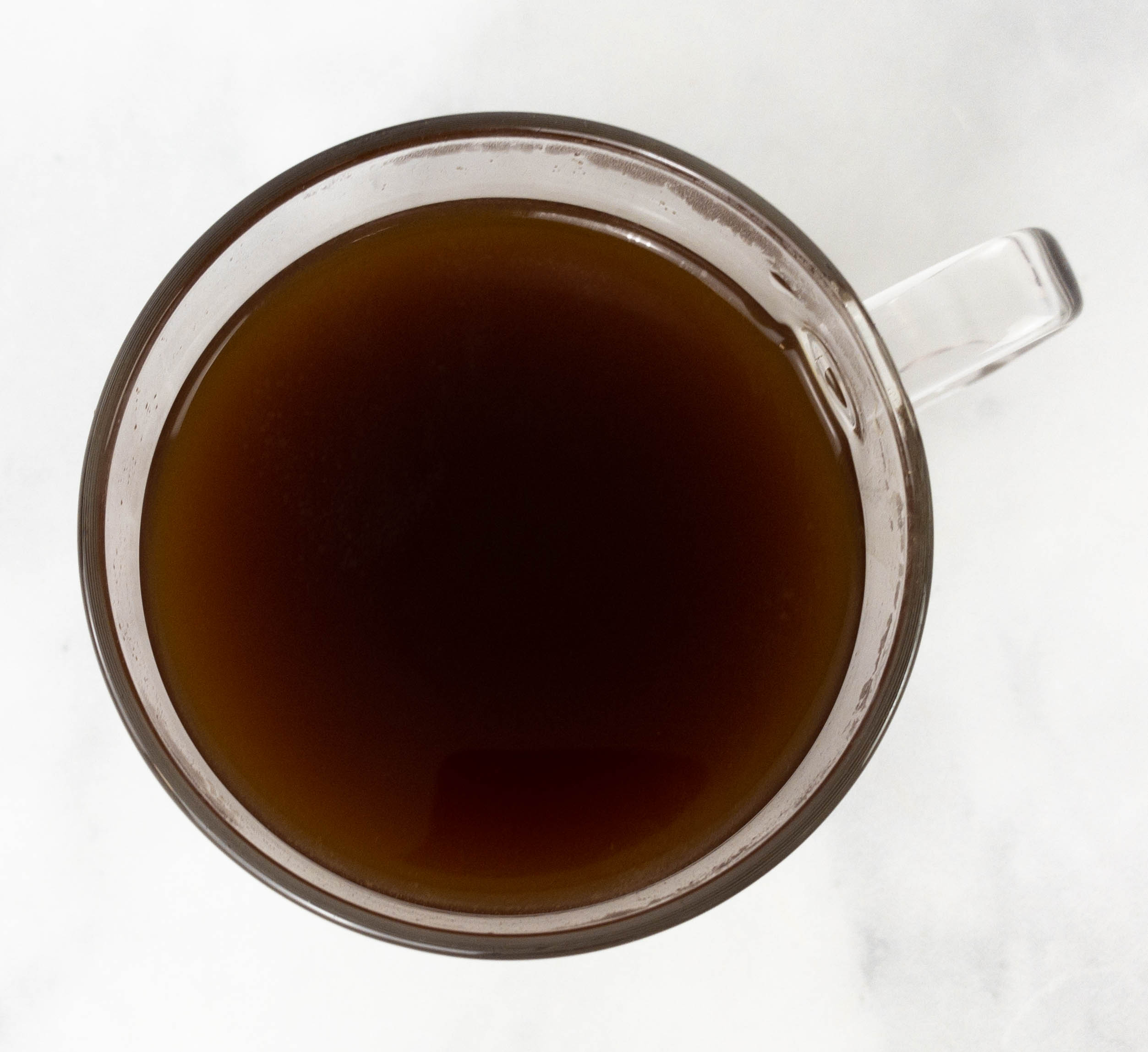 I enjoyed it hot, but it's a good idea to make cold brew using this one as well.
Moustache Coffee Club is great for fans of single-origin coffee. The featured coffee this month is from Rwanda, and I'm so happy because it was fresh when it arrived on my door. It was aromatic! These coffee beans are easy to grind as well. Coffee beans with papaya tasting notes are not so common, and they really nailed it with this one. For coffee lovers who are keen on trying different kinds of coffee from around the world, this subscription is an inexpensive way to do so!
Are you a coffee lover? What do you think of this box?