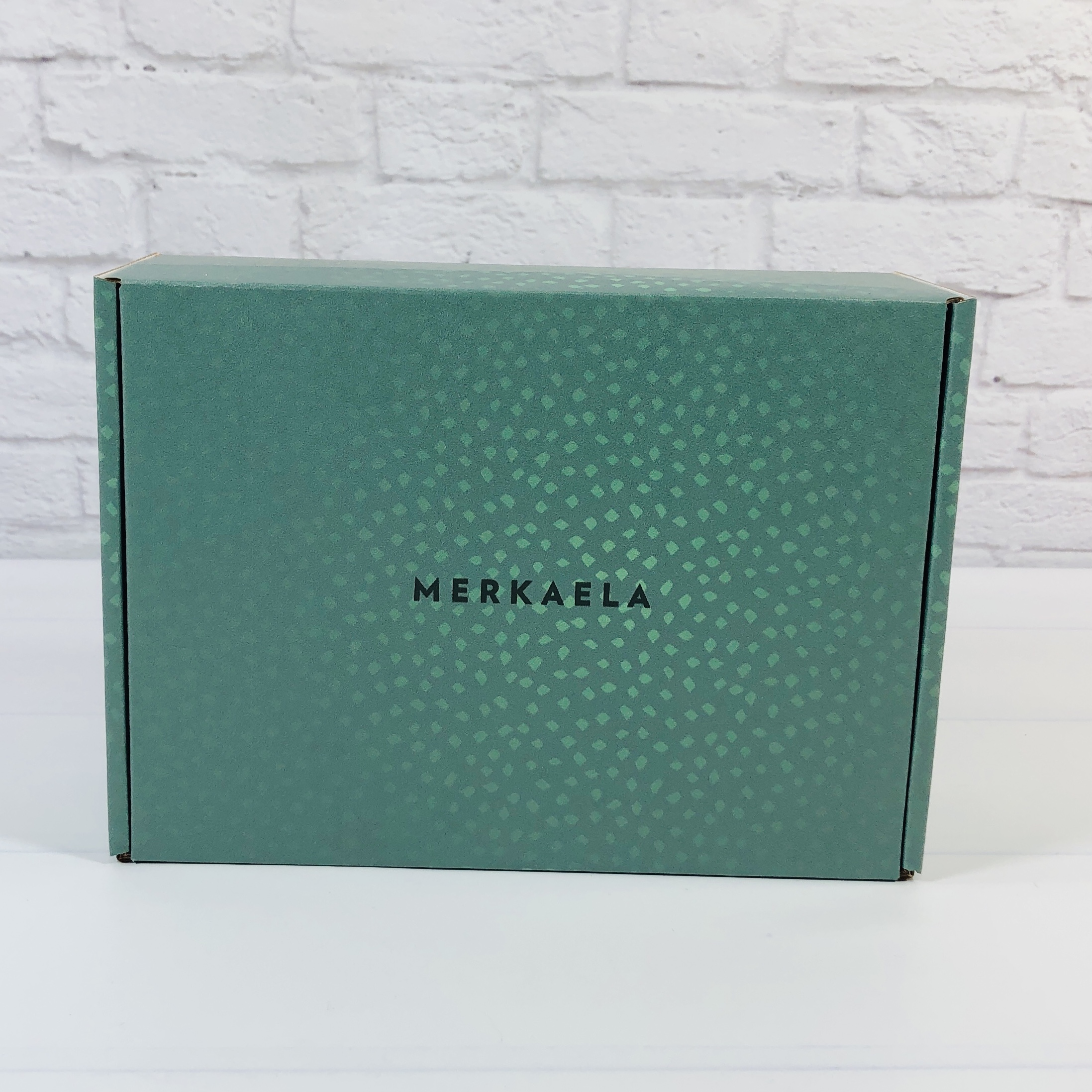 Merkaela is a quarterly box that sends natural bath, beauty, and meditation products curated to a theme as well as the season. Merkaela's items are made in-house although they may occasionally send a product from high-quality collaborators. All of the items are cruelty-free and there is a vegan option that you can choose at sign up. The ingredients are clean and in some cases organic. You can feel good about putting these items on your skin! Our readers agree – they voted it as one of the best bath and body subscription boxes for 2021!
In our Deluxe box, you will receive 6-9 products (Essential box includes 3-5) built on the theme of the season. In addition, you will gain access to our thought-provoking content and a playlist that pairs with the products for that season. Our goal is to provide you with everything you need to be on your way to a holistic approach to a clear mind, body and spirit.
DEAL: Use code NEWMOON to save 22% on all subscription plans.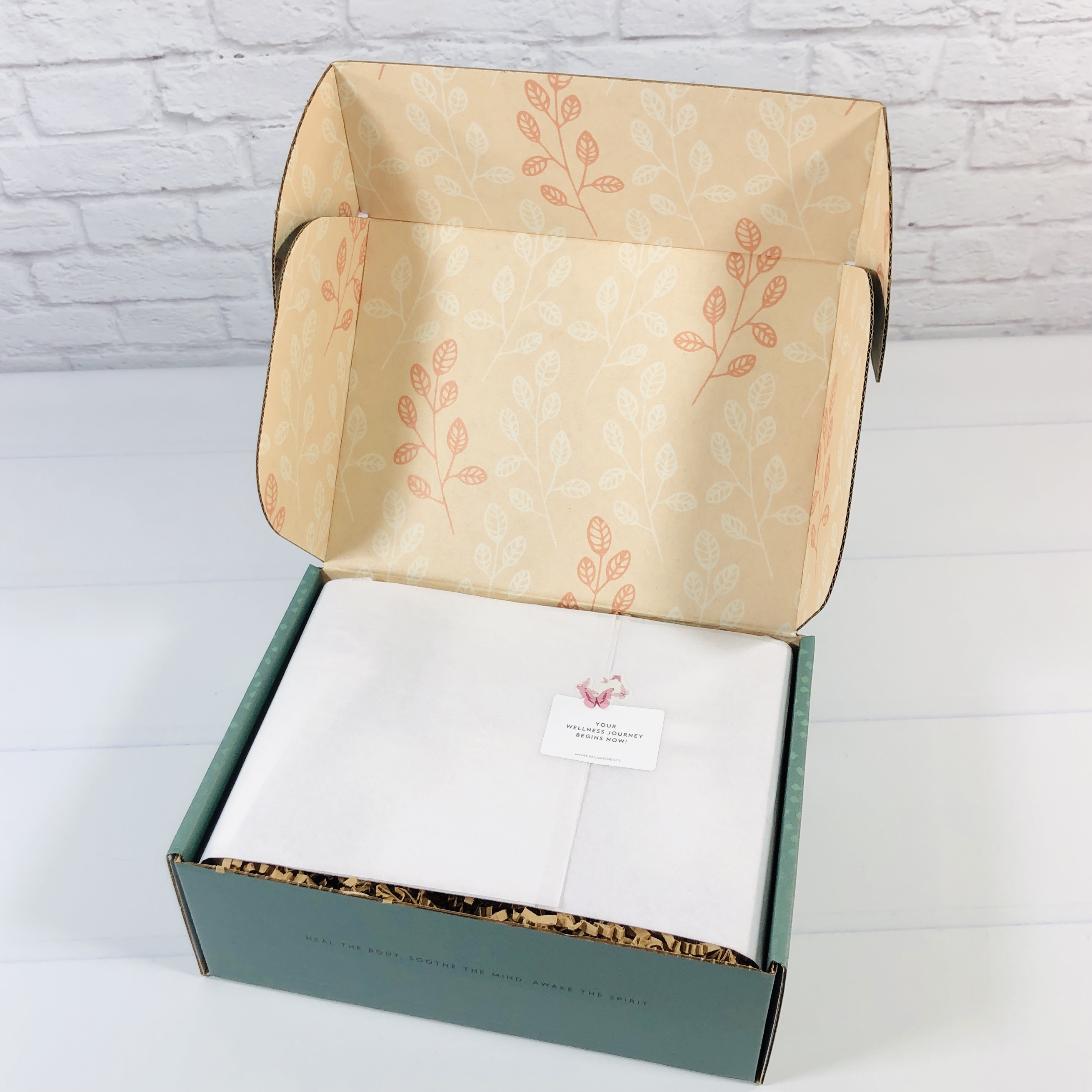 Merkaela has two different subscription levels. One is the "Essential" box ($40), which mainly has the meditation products, while the "Deluxe" box ($80) includes both the meditation products and self-care items. I am reviewing the "Deluxe" box. Keep in mind that shipping is extra. Recently added is a quarterly Soap Subscription, which is $25, and a Body Butter/Oil Subscription, which is $28. Now they even have a Smudge Stick Box ($18). Prices drop for longer subscription terms.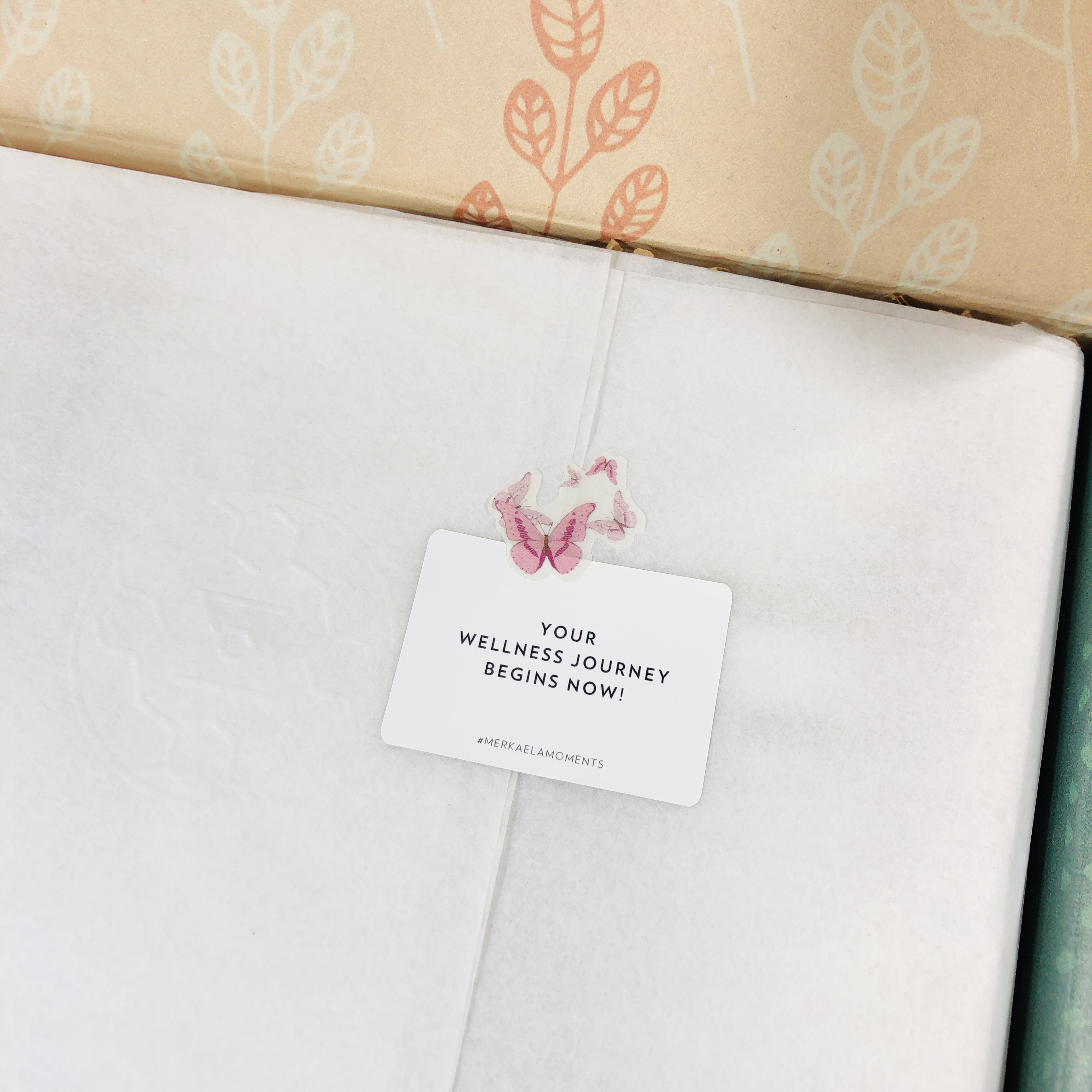 "Your wellness journey begins now!"
My items were tucked into shredded paper squiggles. The products come in glass containers and when you open the box, it smells relaxing, like I stepped into a luxurious spa. It's already having a positive effect on me!
I received an envelope with some papers inside. The theme for this box is Spring.
There was a poem about spring, which is typically a time of rebirth.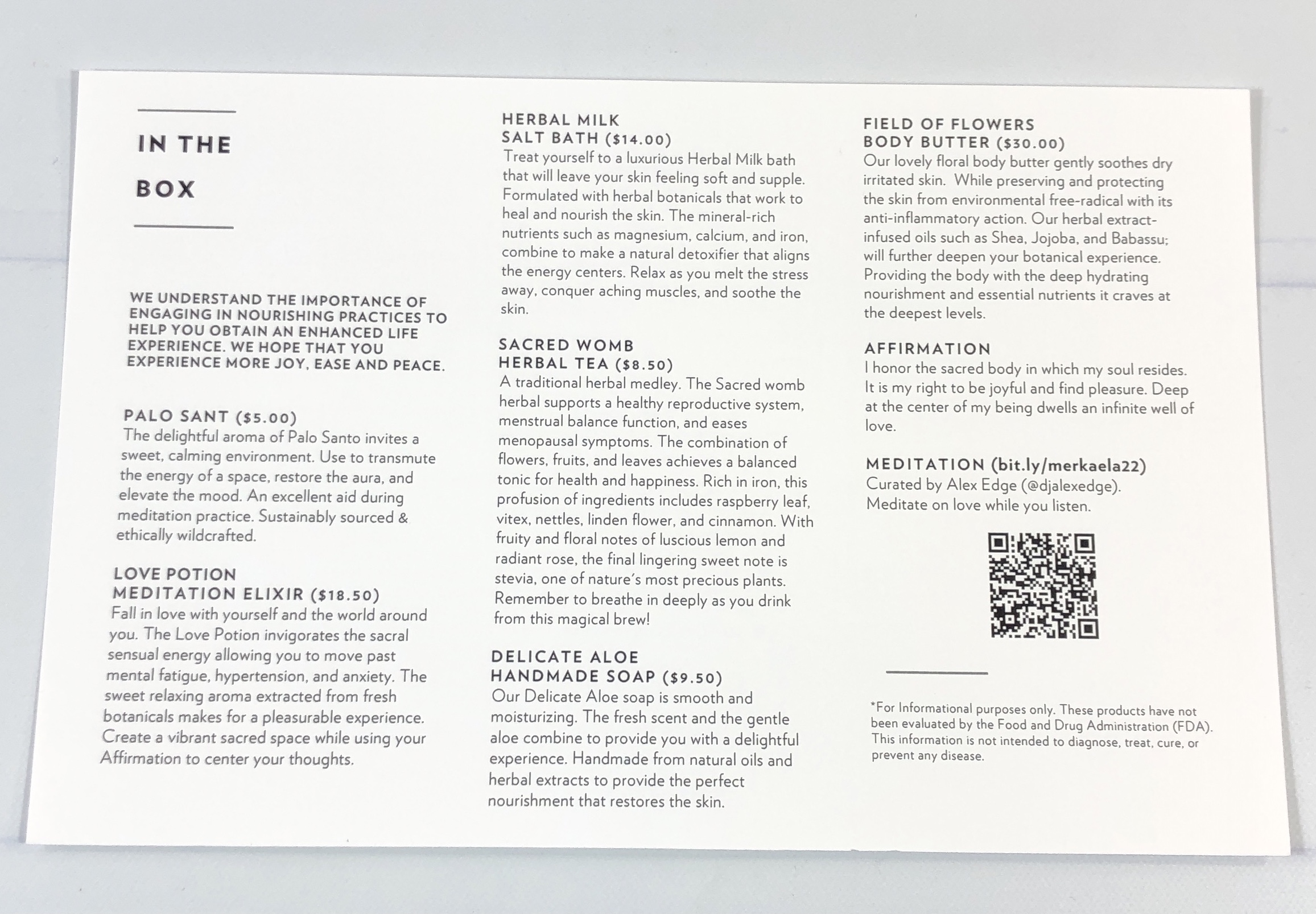 A list of the items plus their MSRP's was on the back of the card. A brief description was also noted.
There was a QR code to scan to play the Meditation Playlist on Spotify, or follow the address listed on the info card. There was also an affirmation card.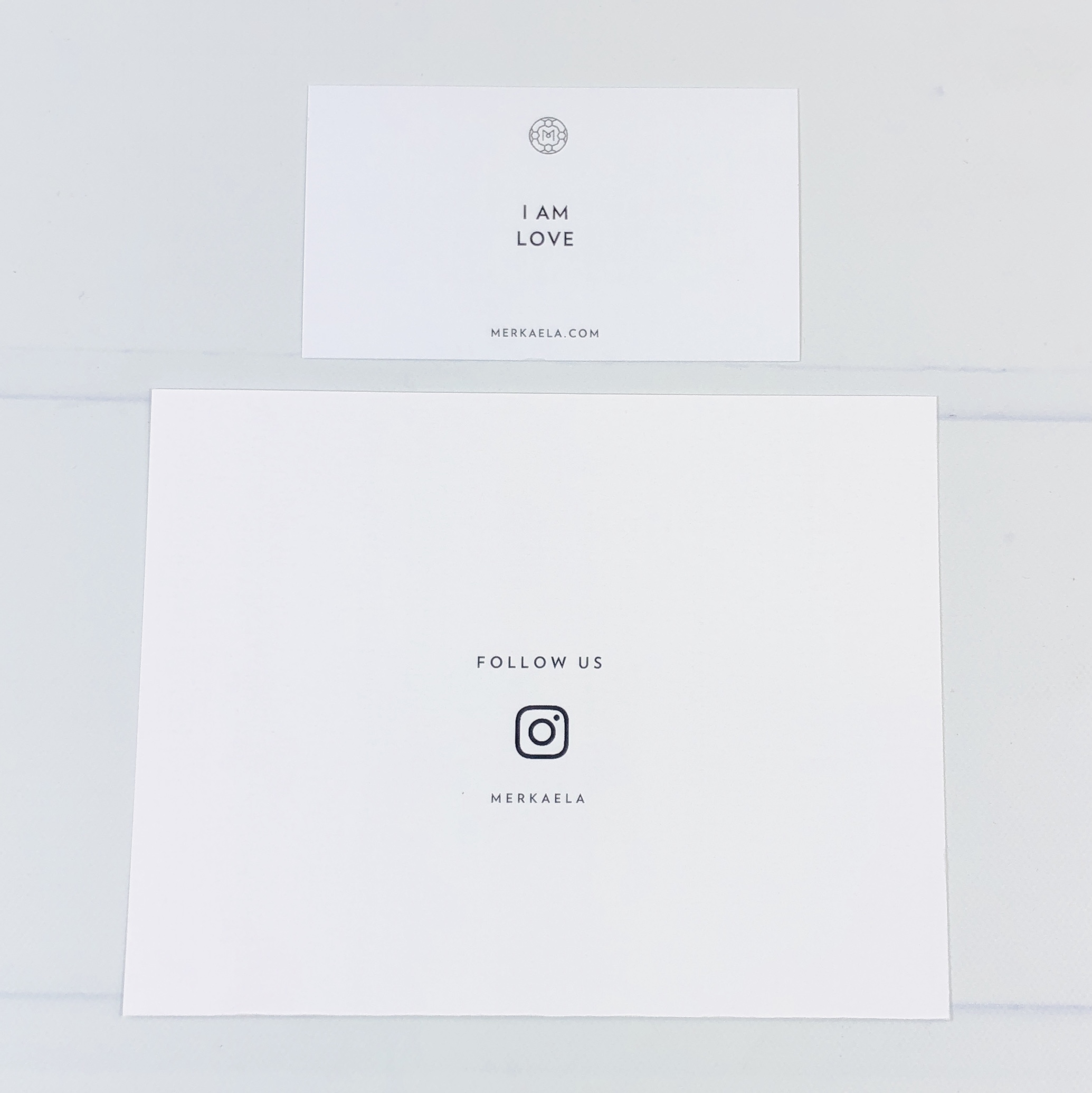 Here are the backs of those cards.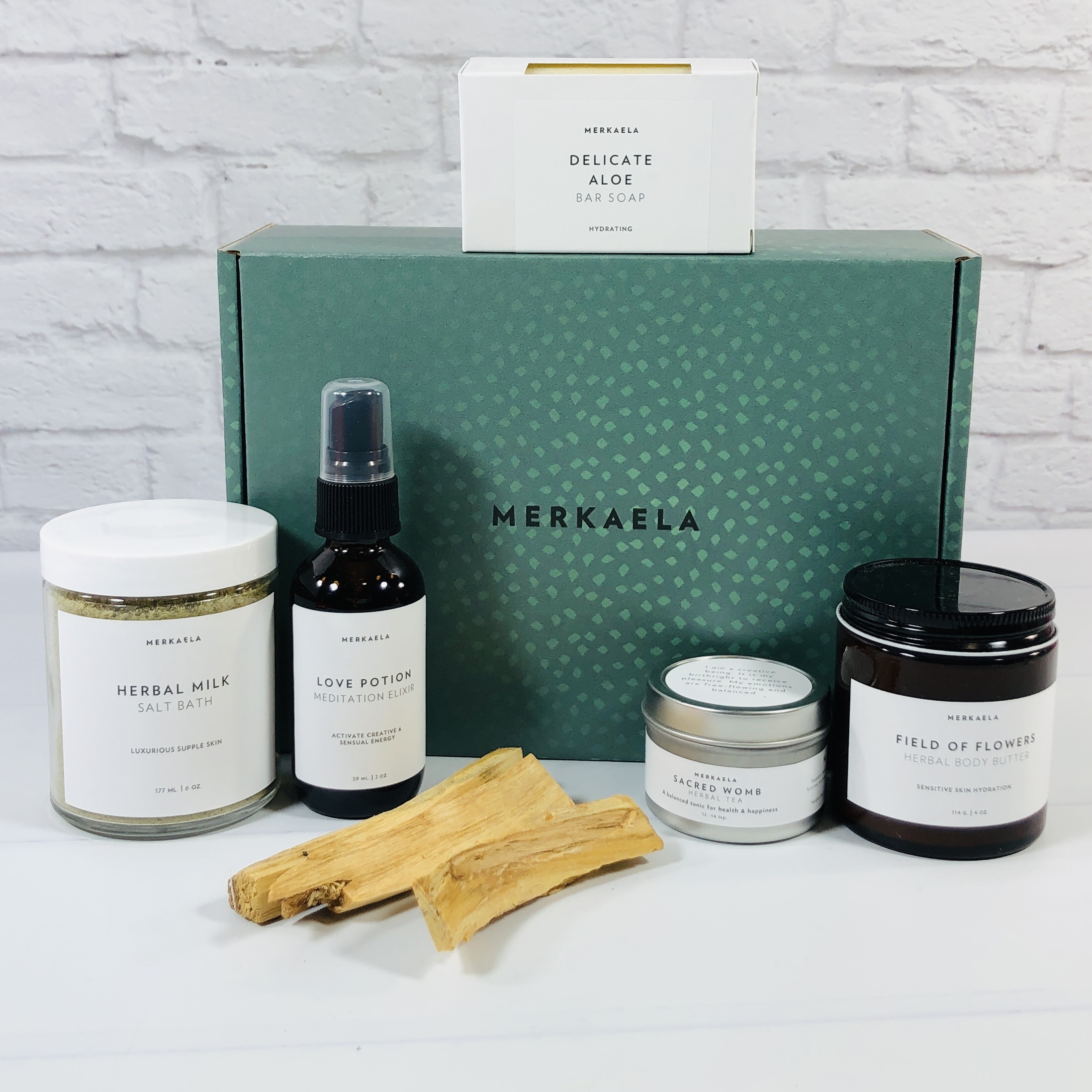 Everything in my box! Doesn't it look beautiful? I think the packaging of Merkaela's products is lovely and classy. They even have mini-affirmations on them. Most of them are in glass jars/bottles, except for the tea and soap.
Merkaela Herbal Milk Salt Bath ($14) I feel like this is a unique and new offering from Merkaela, I can't remember there ever being a milk bath before!
The ingredients include four different types of salt, coconut milk, oats, and herbal stuff that makes it green.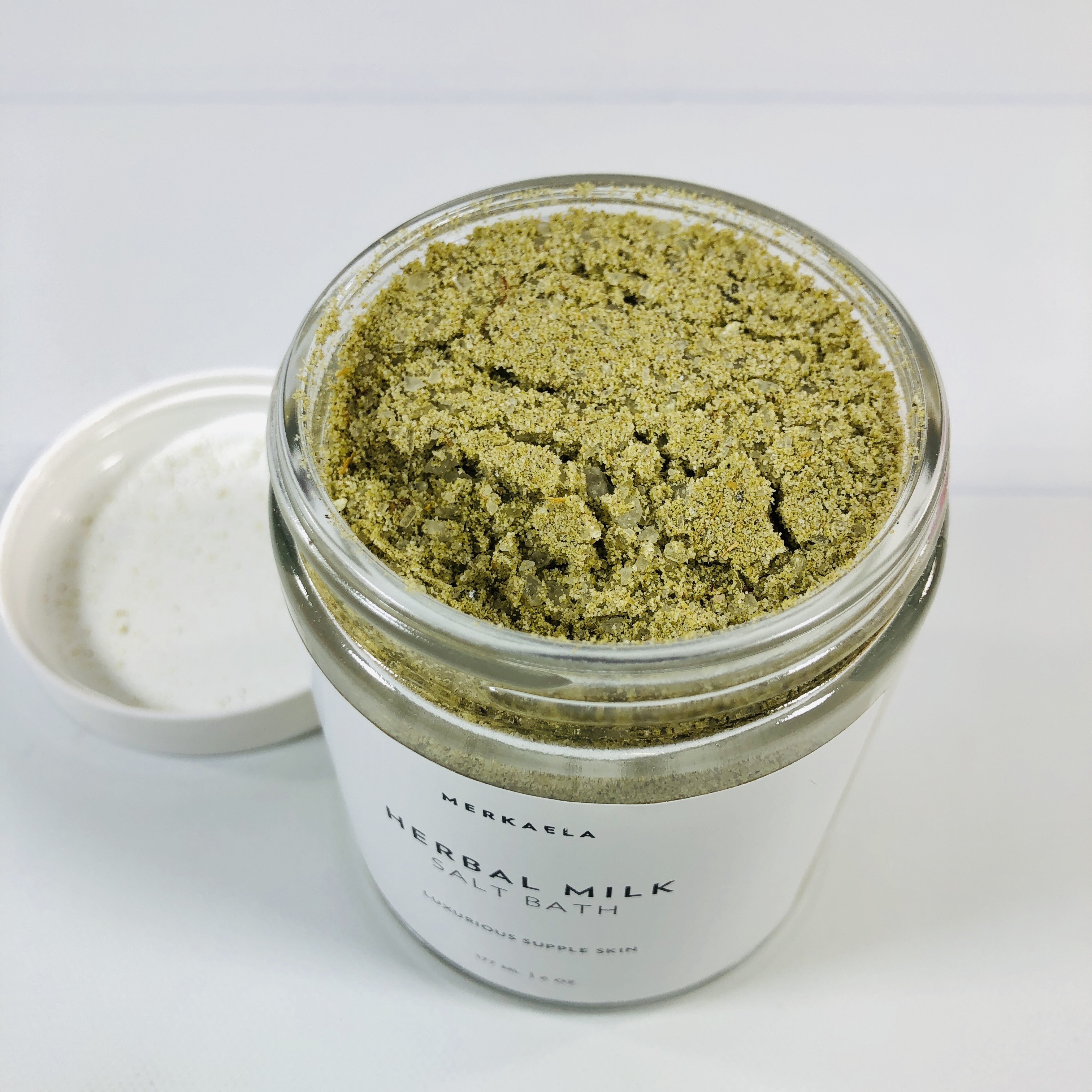 The scent is a blend of the coconut and ylang ylang, creamy and sweet, and very unique. I would suggest using about 2 tablespoons in a bath and see how that does and you can always add more.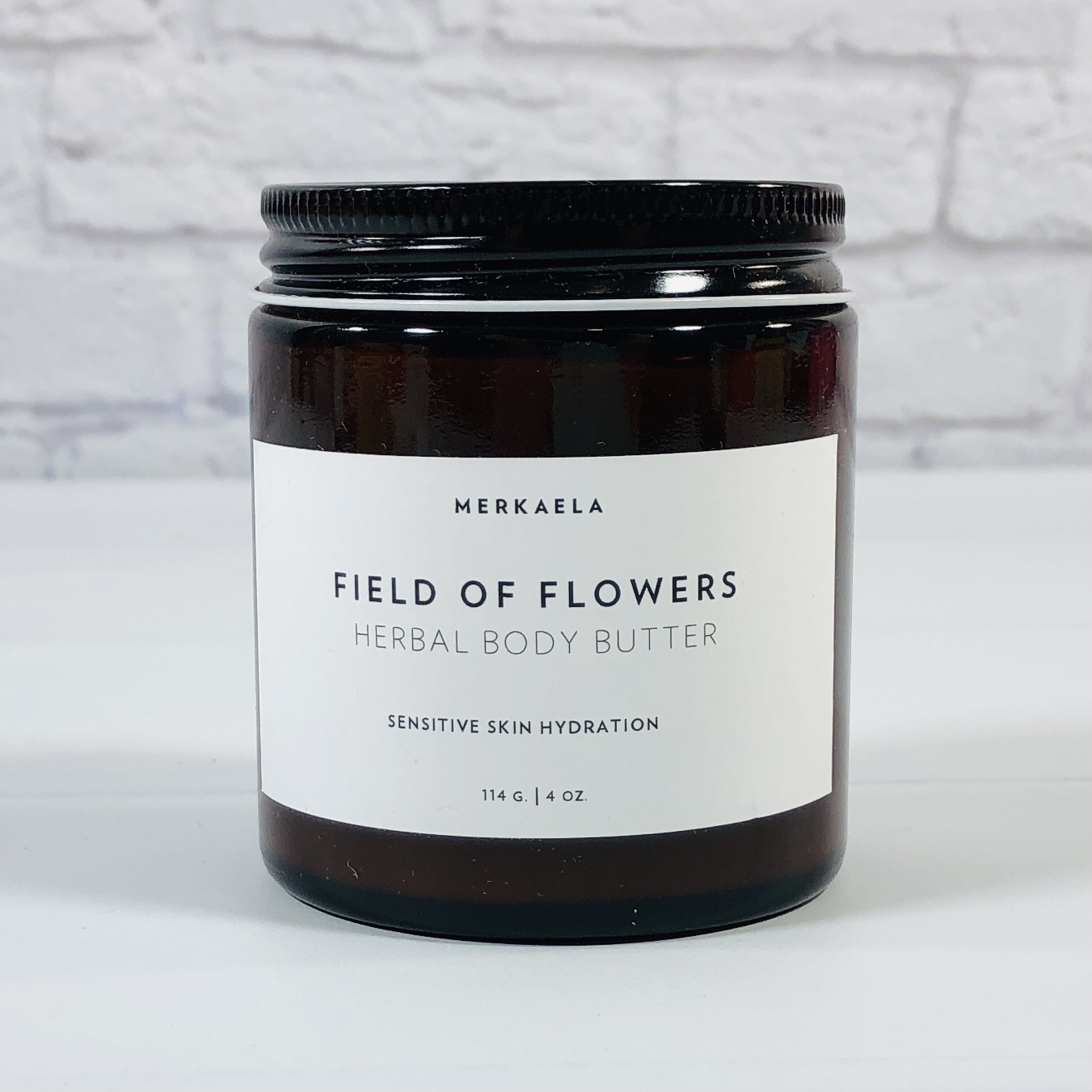 Merkaela Field Of Flowers Herbal Body Butter ($30) Merkaela makes the best body butters, they are super rich and smell lovely.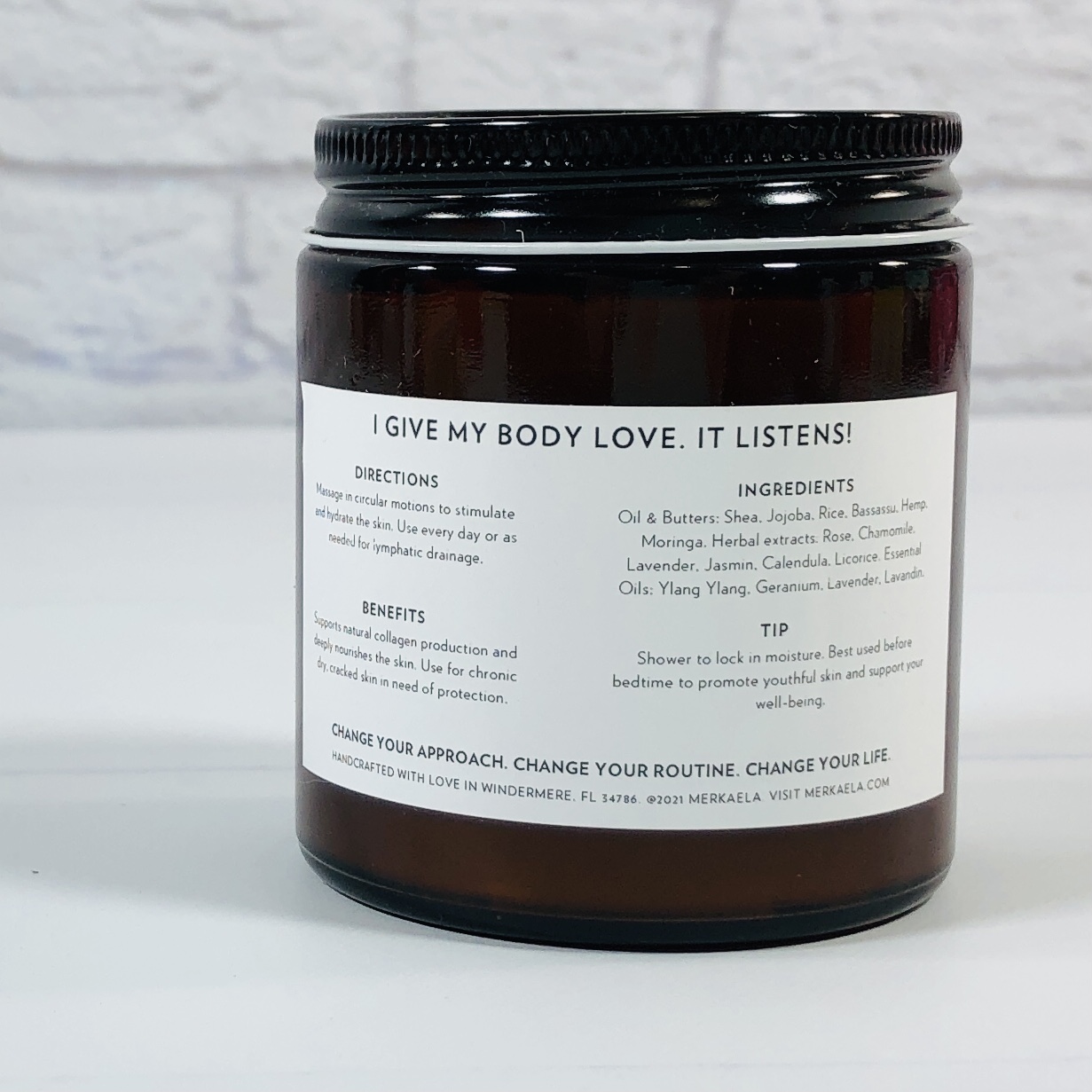 Shea butter forms the base and there is jojoba, hemp, and moringa oils. There are a variety of herb extracts and essential oils such as lavender and jasmine.
The body butter is smooth as silk, no graininess at all. I used it on my arms and it left them smooth and soft. I think it smells most of the chamomile and jasmine but it isn't a super strong scent, it is just right.
Merkaela Love Potion Meditation Elixir ($18.50) A meditation elixir is simply a spray that you use to clear the air before meditating or you could spray it on your pillow before bed. It can also be used on your body.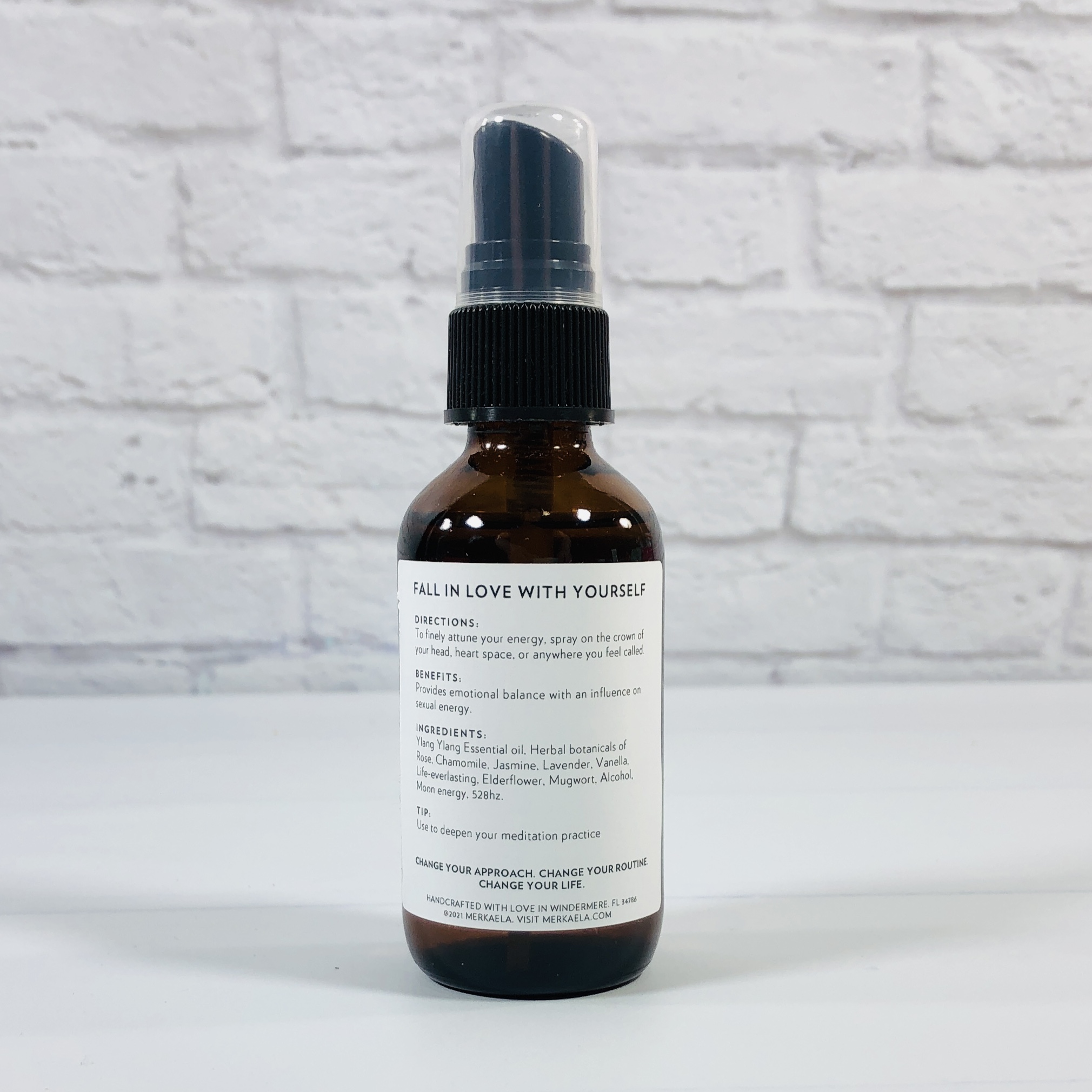 The base is water and alcohol and it has plant essences such as elderflower and mugwort plus ylang ylang essential oil. This is a very light scent, it disappears almost as soon as you spray it and isn't strong, but a deep cleansing breath can initiate a relaxing effect on the body and so breath deeply!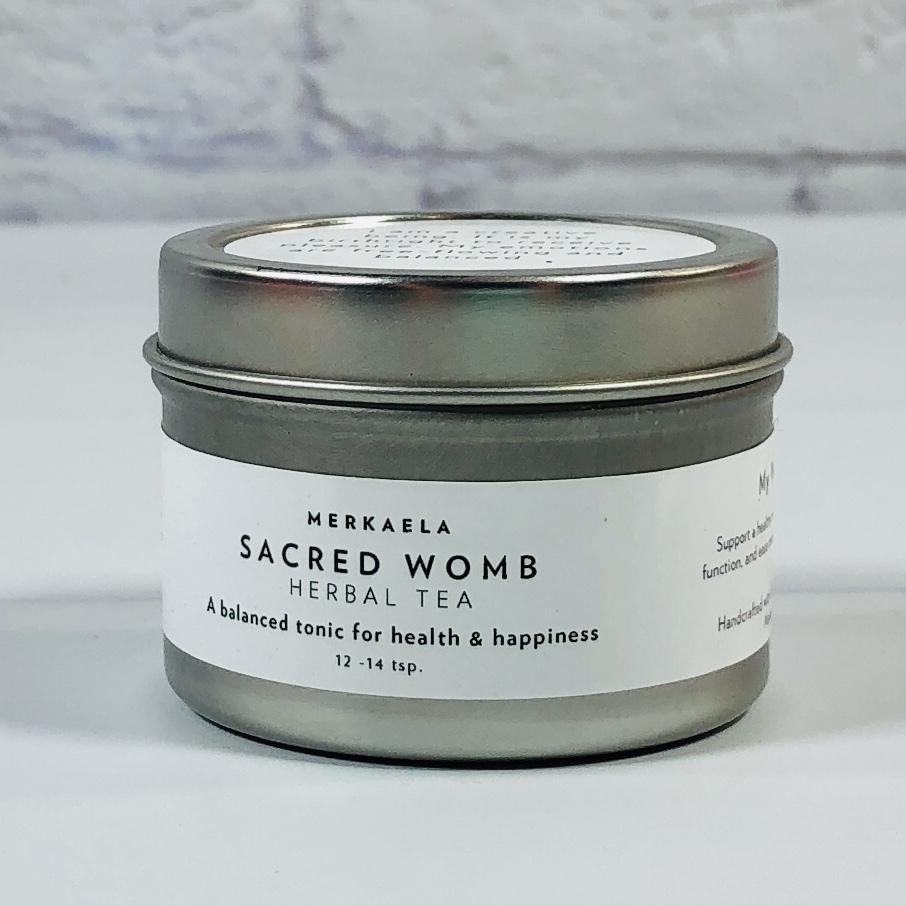 Merkaela Sacred Womb Herbal Tea ($8.50) I love tea and this was one of the best herbals I've ever tried!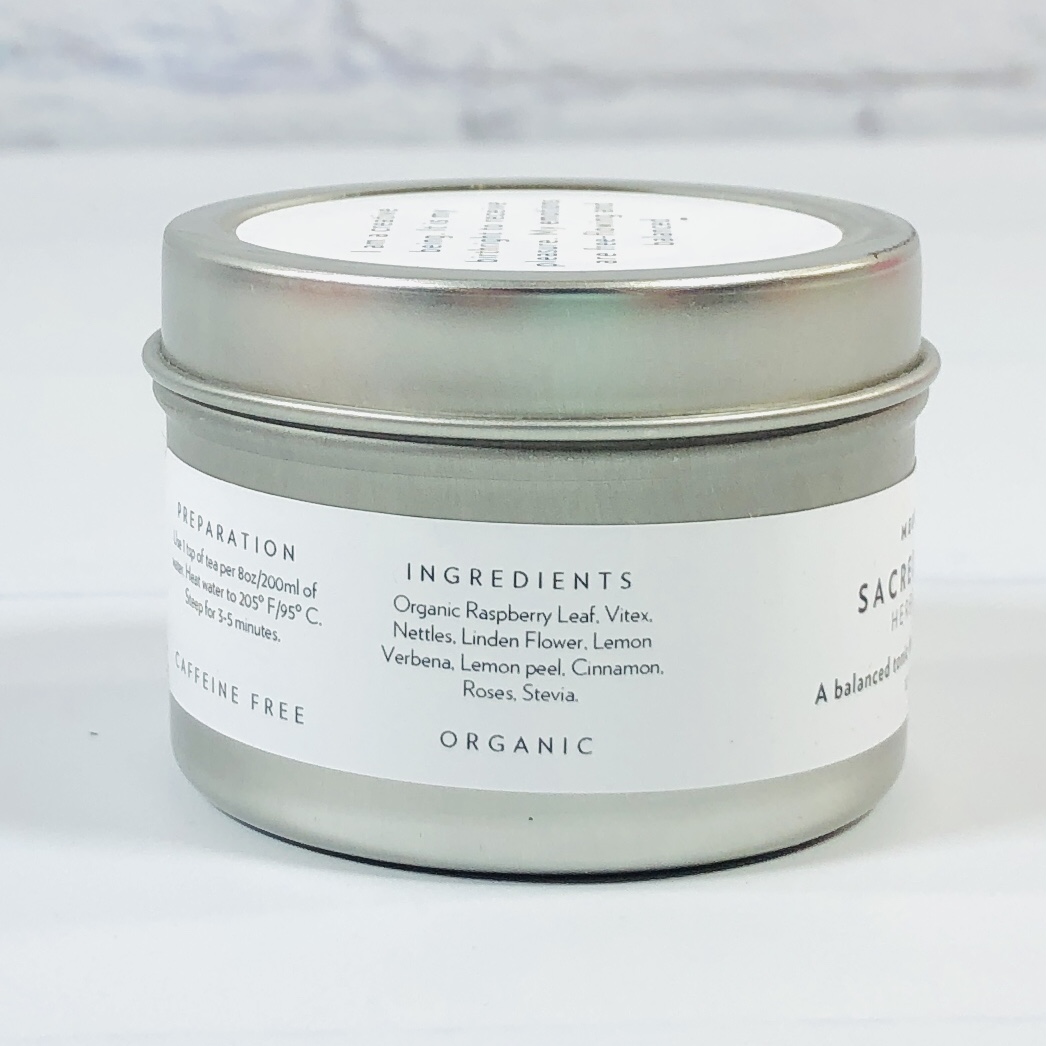 It has raspberry leaf, which is said to ease menstrual woes, and the same is said about the vitex. Lemon peel, rose, and stevia are a couple of the other ingredients.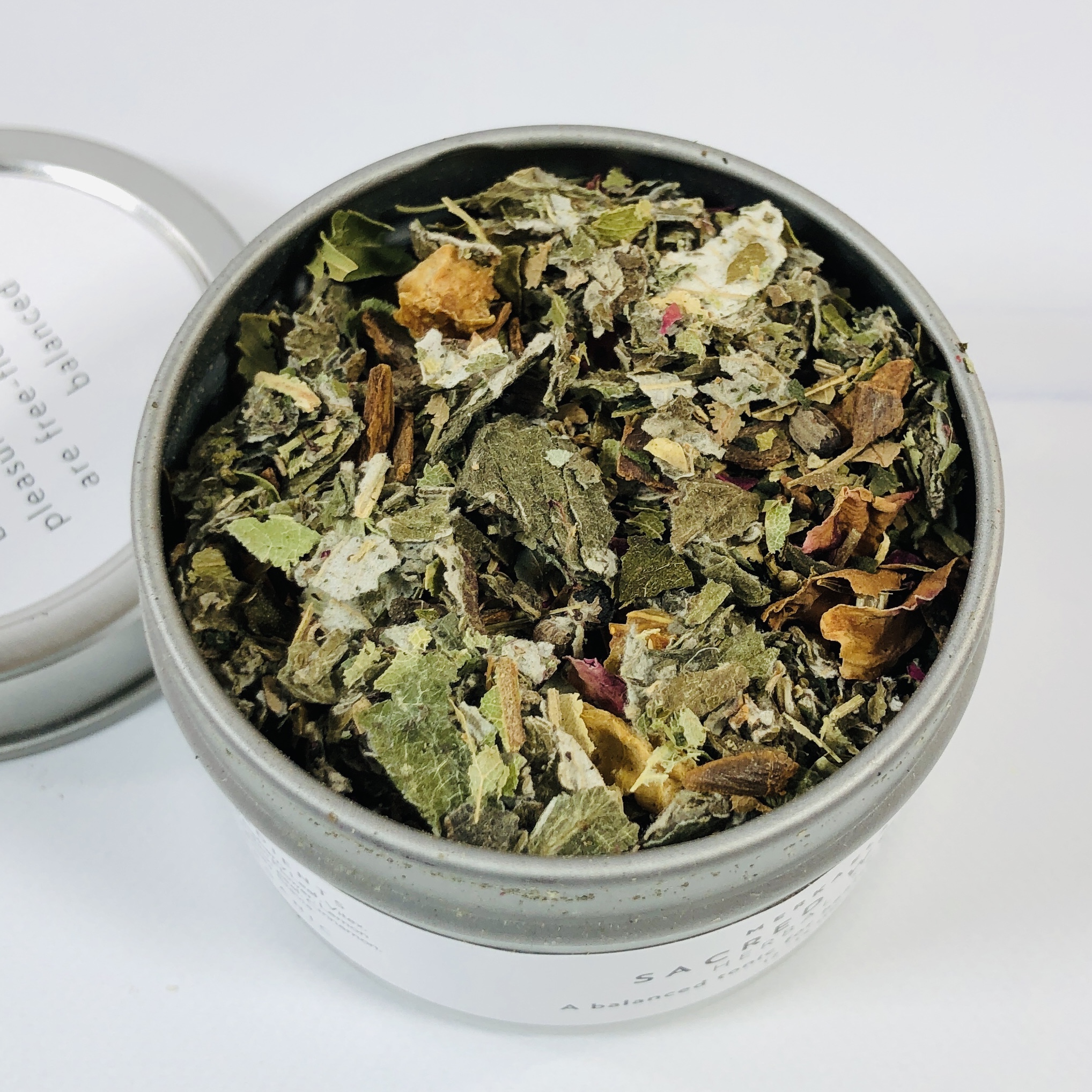 I thought the tea had a light cinnamon flavor and I added a bit of sugar and there was no bitterness. It's a winner with me!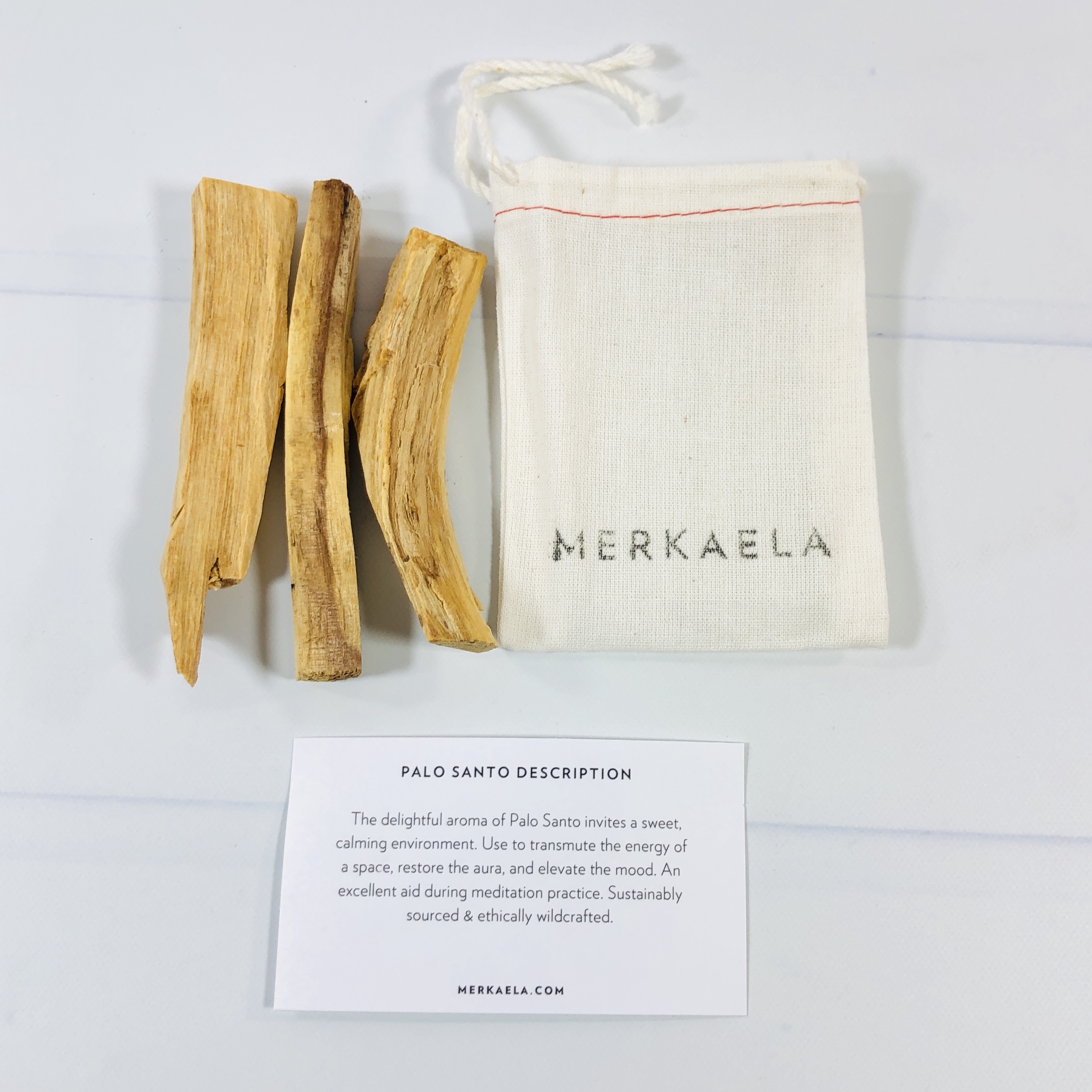 Merkaela Palo Santo ($5) Merkaela usually sends something that can be burned such as a candle or sage. This time around it's Palo Santo. There were three sticks inside the bag and you probably would only burn part of one each time. According to the card, this is sustainably sourced.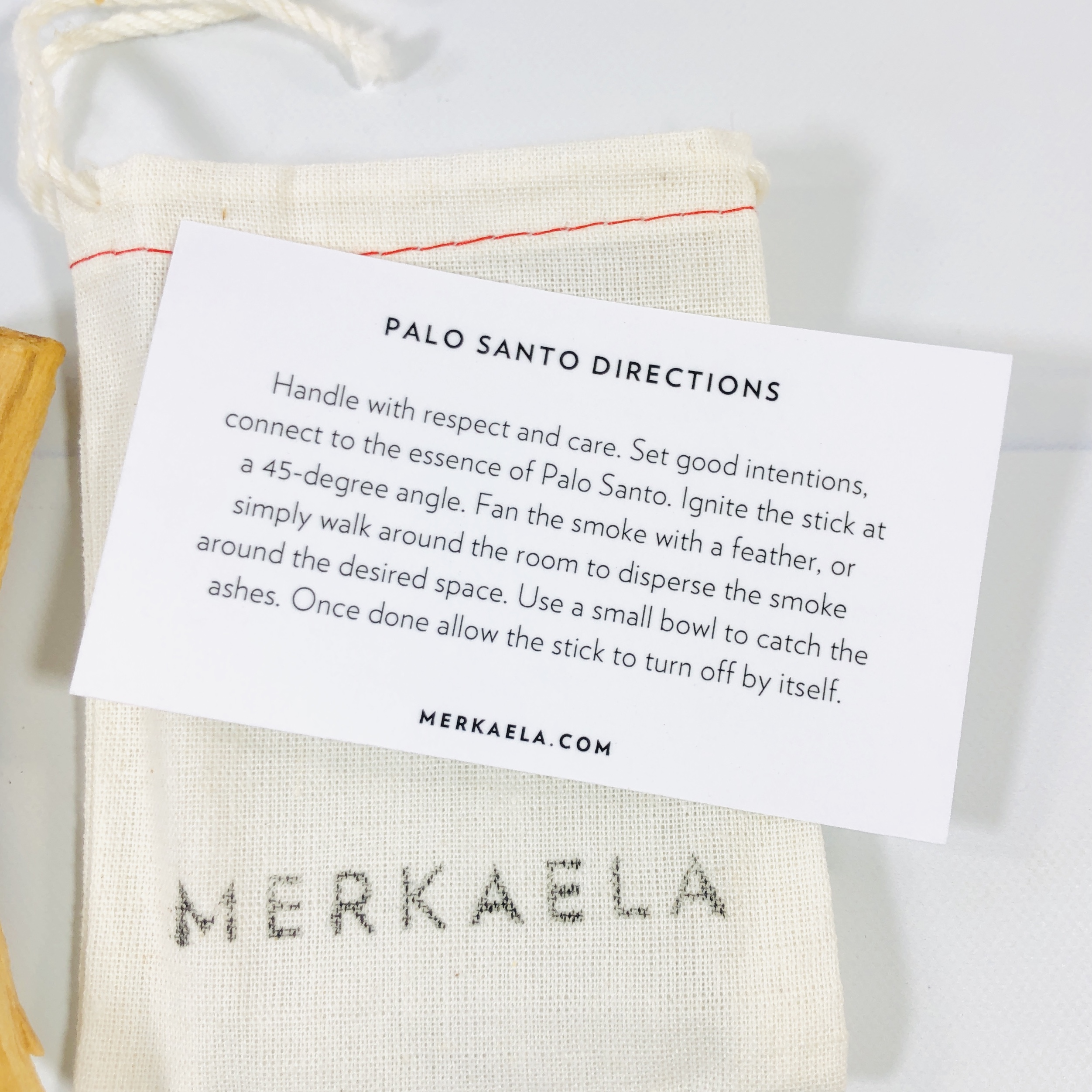 The card had directions on the back. You light the stick and then carry it around your house, cleansing the air with the smoke. It helps to have an open mind and you can say a prayer or mantra if you like as you walk around. I think it smells sweet and warm and for some reason it makes me think of root beer!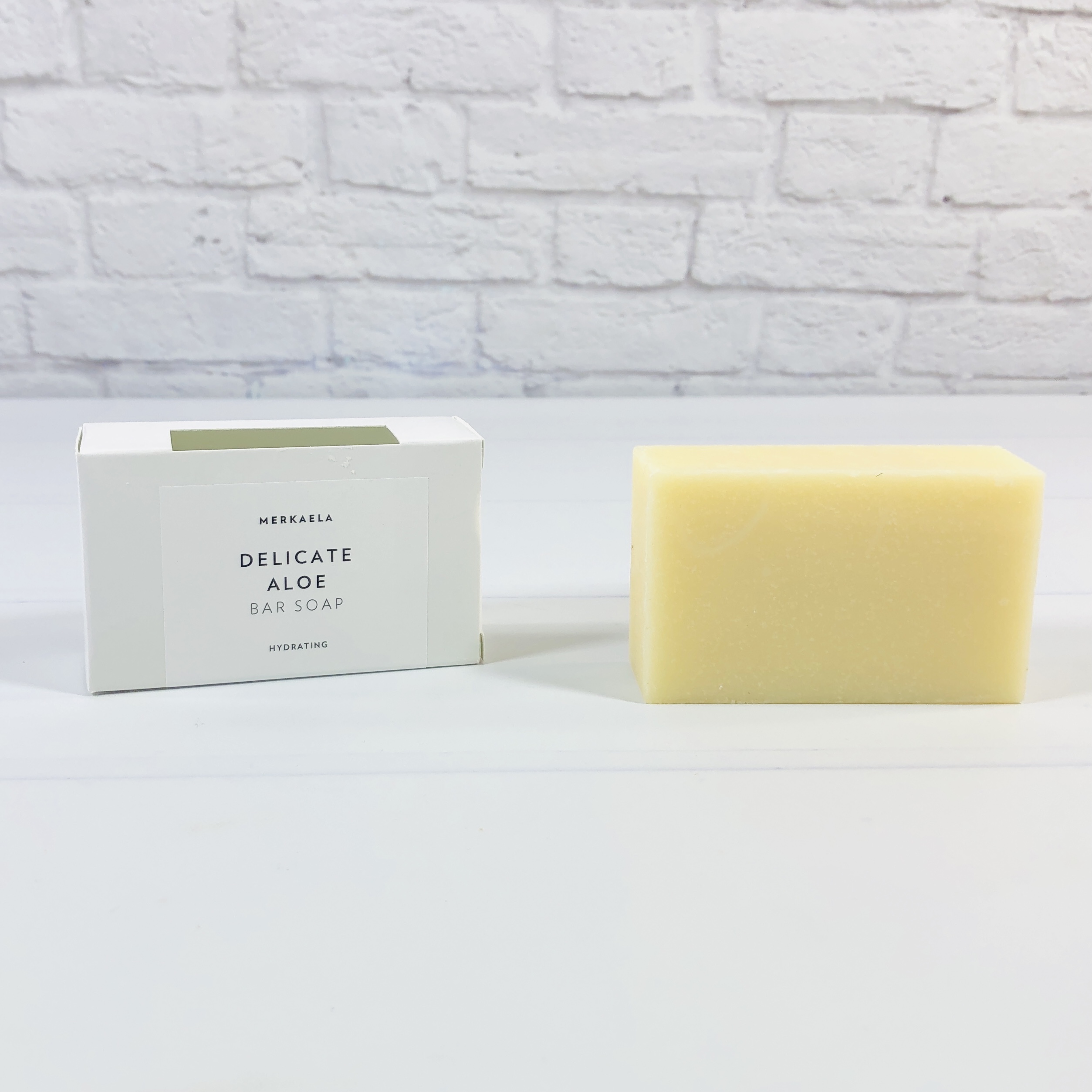 Merkaela Delicate Aloe Bar Soap ($9.50) Merkaela makes the very best bar soaps I've ever tried! They smell good but not too strong, lather well, and rinse completely off.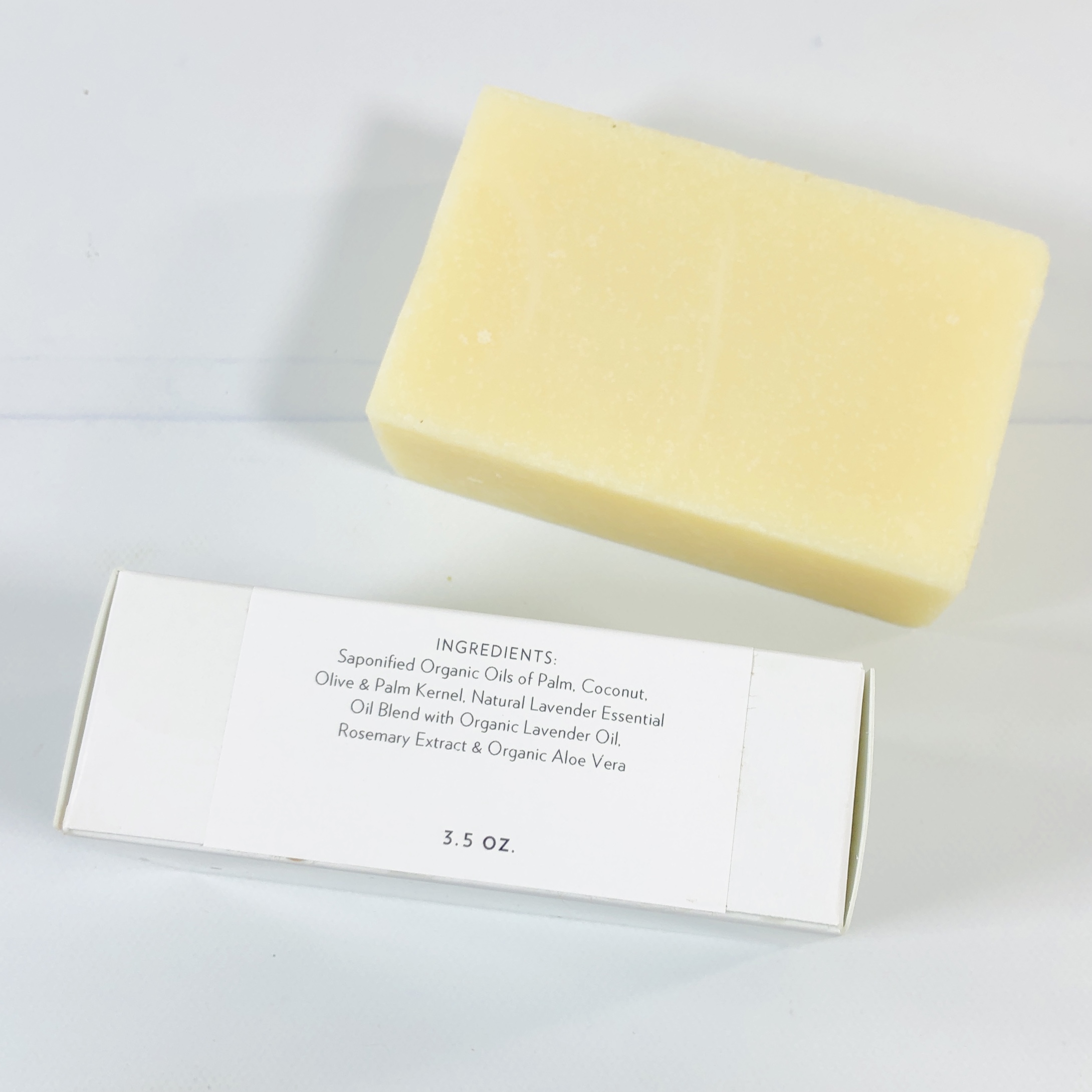 The soap is made of saponified plant oils and the essential oil blend includes lavender and rosemary, plus of course aloe vera is in there too. I picked up the lifting scent of the rosemary, it was almost mint-like. I keep Merkaela soaps next to my kitchen sink because they last longer there and the light scent doesn't interfere with my cooking and cleaning — I can handle raw meat, wash my hands, and not worry that the next thing I pick up will smell like perfume.
Merkaela is one of my favorite boxes and it is so luxurious, a real treat for the mind, body, and soul. They have, hands down, the best body butters and bar soaps that I've ever tried — the shea butter is always smooth and the soaps are excellent. The herbal bath soak smells heavenly and the meditation elixir is light and doesn't linger for long. The tea was one of the best herbals I've ever sipped, and the palo santo is an interesting way to bless the home, it always smells good afterwards. I didn't see any of these products listed in the online shop for now so we linked to similar items and these might be added in the future.
What do you think of the Merkaela Spring Box? Let me know if it helps you connect your mind, body, and soul in the comments!