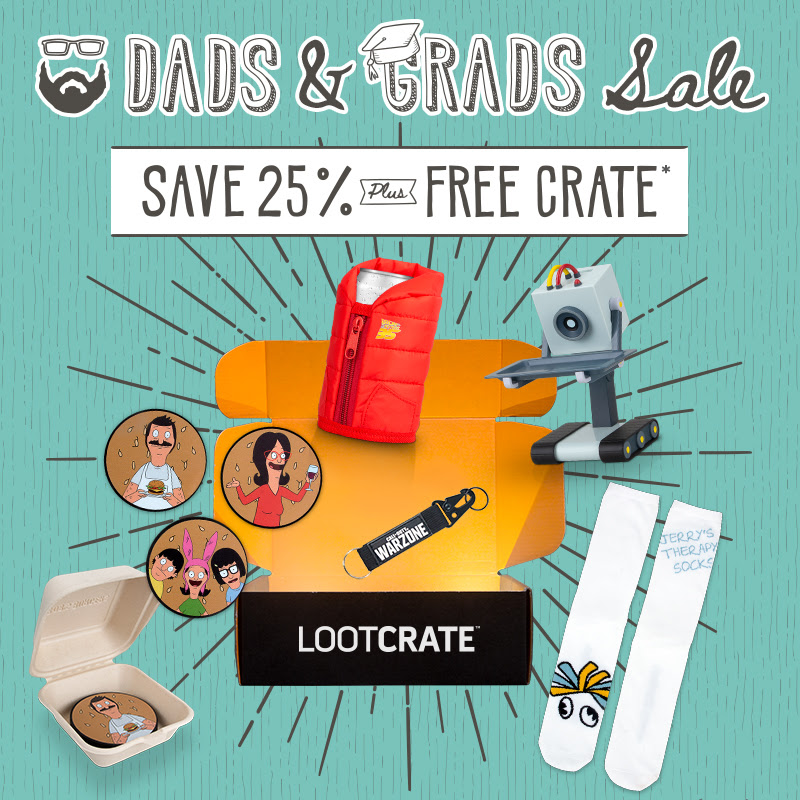 Loot Crate has a new sale on most crates this Father's Day (great gifts to Grads, too!)
SAVE 25% on 1-, 2- and 3-crate plans + Get Dad a FREE bonus crate!
Get 25% off on new monthly, bimonthly, or quarterly Loot Crate, Loot Crate DX, Loot Socks, Loot For Her, Loot Tees, Loot Undies, Loot Wearables, Loot Anime, Loot Gaming, Loot Fright, Deadpool Merc Club, Hello Kitty and Friends, Fallout Crate, Firefly Cargo Crate, Crunchyroll Crate, Elder Scrolls Crate, Marvel Gear + Goods, Rick and Morty Crate, Wizarding World Crate, and Sci-Fi Crate, plus get a FREE Crate when you use the coupon code DADRULES! Ends 6/20.
Save 25% on select Loot Crate subscriptions!
Excluded:
*DADRULES discount code can be applied to new U.S. and international Loot Crate, Loot Crate DX, Marvel Gear + Goods, Deadpool Club Merc, Rick and Morty, Loot Gaming, Fallout Crate, The Elder Scrolls Crate, Wizarding World, Firefly Cargo Crate, Loot Sci-Fi, Loot Fright, Loot Anime, Crunchyroll Crate, Hello Kitty and Friends Crate, and Loot Wear subscriptions only. Valid while supplies last. Subject to change. Offer ends 6/20/21 at 11:59pm PT.
See all the boxes in the Loot Crate Family or visit Loot Crate to subscribe!
Find more Father's Day gift ideas in our complete guide!