Kinder Beauty Box is a vegan and cruelty-free subscription box that sends skincare, hair care, makeup, and accessories. Each month you will receive more than $85 worth of products. The items are compassionately curated by Daniella Monet and Evanna Lynch. All Kinder Beauty Box products are guaranteed to be 100% vegan and cruelty-free. Kinder Beauty Box is $26 a month, with free shipping to the US, $5.95 elsewhere. Price drops to as low as $23 a box with a prepaid 6-month plan. A portion of all sales will go towards benefiting the founders favorite animal rights and environmental causes.
Every product that goes into a Kinder Beauty box is 100% vegan, and every brand we work with is completely cruelty-free. This means the products and ingredients are never tested on animals, the products aren't sold in China or any other countries that mandate animal testing, and the brands aren't owned by any parent companies that test on animals.
DEAL: Use coupon code HELLO5 for $5 off your first order!
Kinder Beauty's subscription box made the list in our 2021 readers' choice picks of best skincare subscription boxes!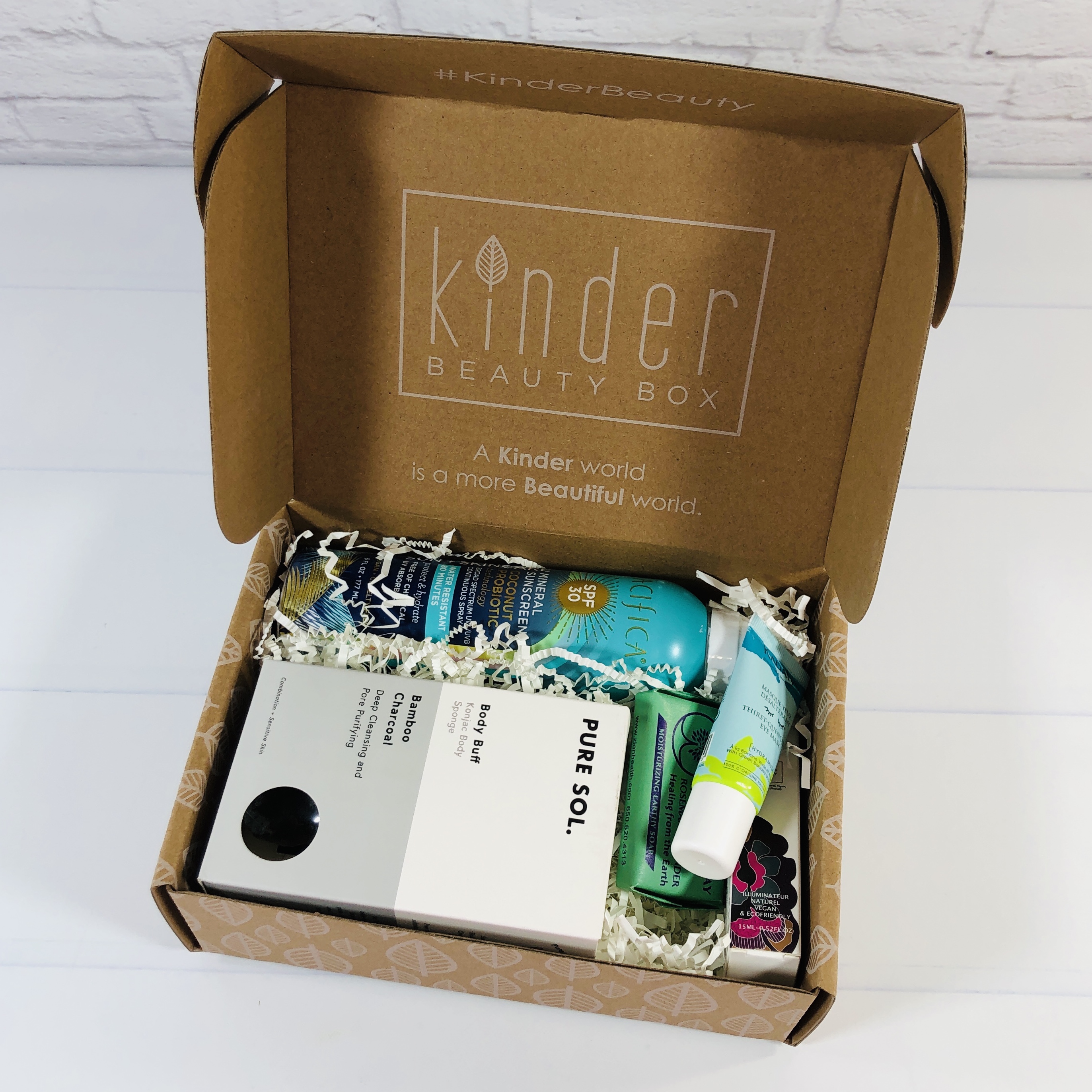 First look! Kinder Beauty Box sends out two box variations each month.
Each month, it will be a surprise which of the two boxes you'll be receiving, but you can rest assured knowing that they are always each going to be incredible in their own ways.

Wondering what happens if you really, really, really want one of the monthly collections in particular, but you receive the other? Got FOMO on your brain? We feel you.

No worries! At the end of the month, if we have any boxes remaining, we'll offer them to members only at a special price in our exclusive monthly Add-On Shop. This way, you won't miss out.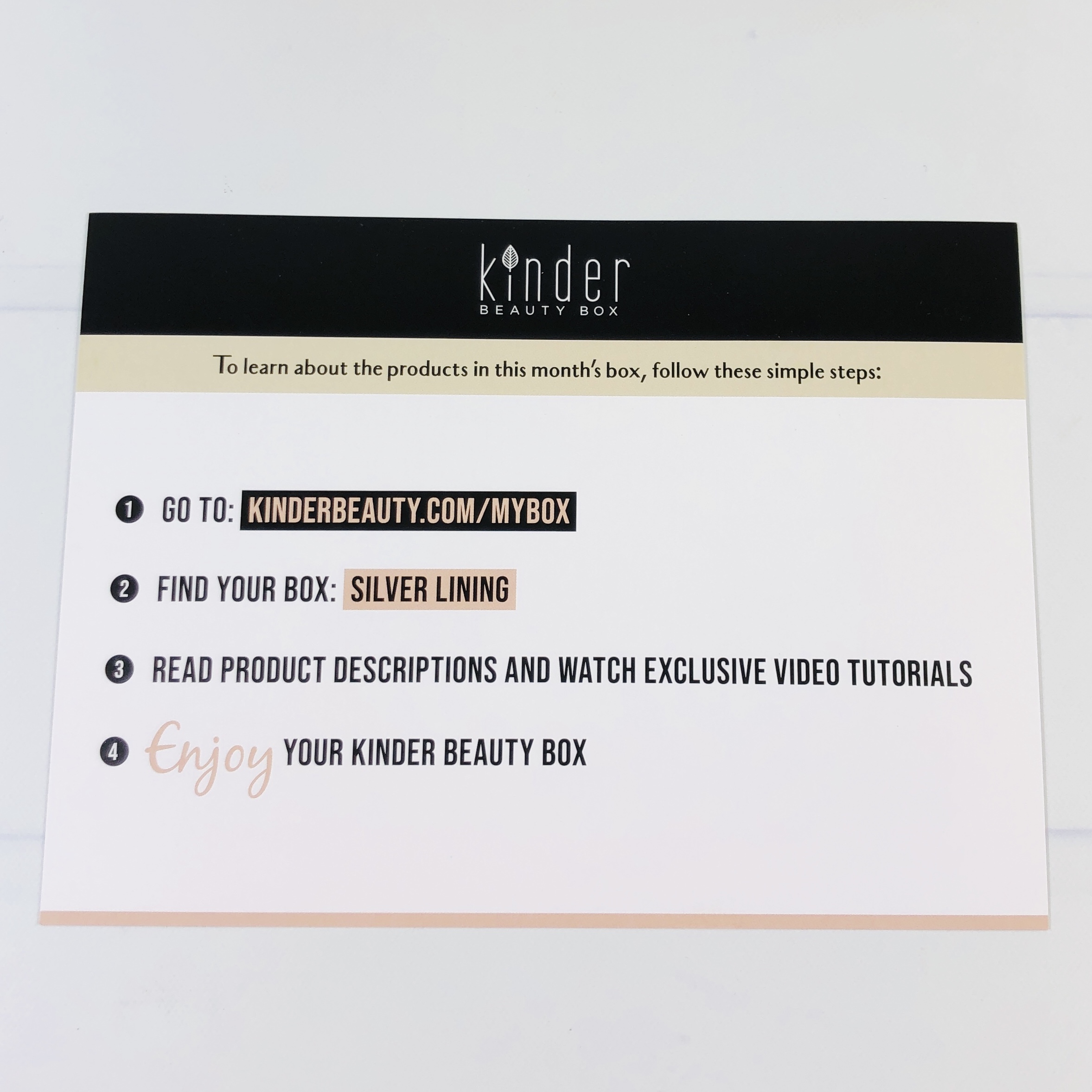 Kinder Beauty will no longer ship a product info card, but you can find more info about your products online! The June collections were called The GOLDEN HOUR Collection OR the SILVER LINING Collection. I received the SILVER LINING Collection. It is important to know that when you sign up, your first box will most likely be a Kinder Favorites box, which is shown on their main page and is different from what is in this review. The differences between the two main collections this month are the sunscreen type, the highlighter color, the soap scent, and the sponge.
From illuminating hibiscus oil to nourishing bananas to detoxifying charcoal and clay, June's box celebrates the power of nature to make us look and feel beautiful. This month, subscribers will receive a natural eye cream that utilizes banana bio-actives, a mineral sunscreen that hydrates as it protects, a charcoal body sponge, a therapeutic essential oil body soap, and a natural highlighter for the perfect beach glow. Welcome to summer.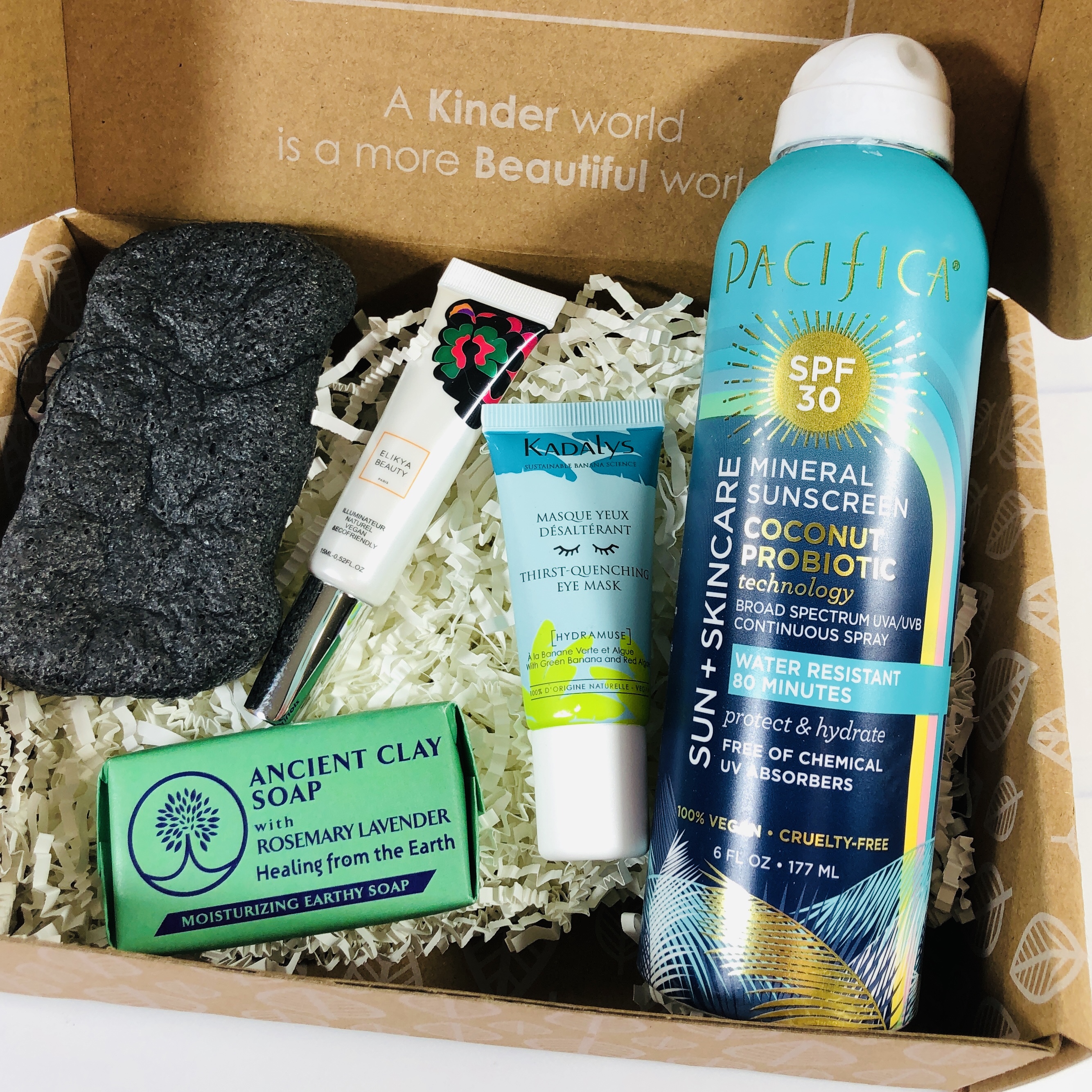 Everything in my June Silver Lining Collection! My items were tucked into paper squiggles to stay safe on their journey.
Let's see what we got!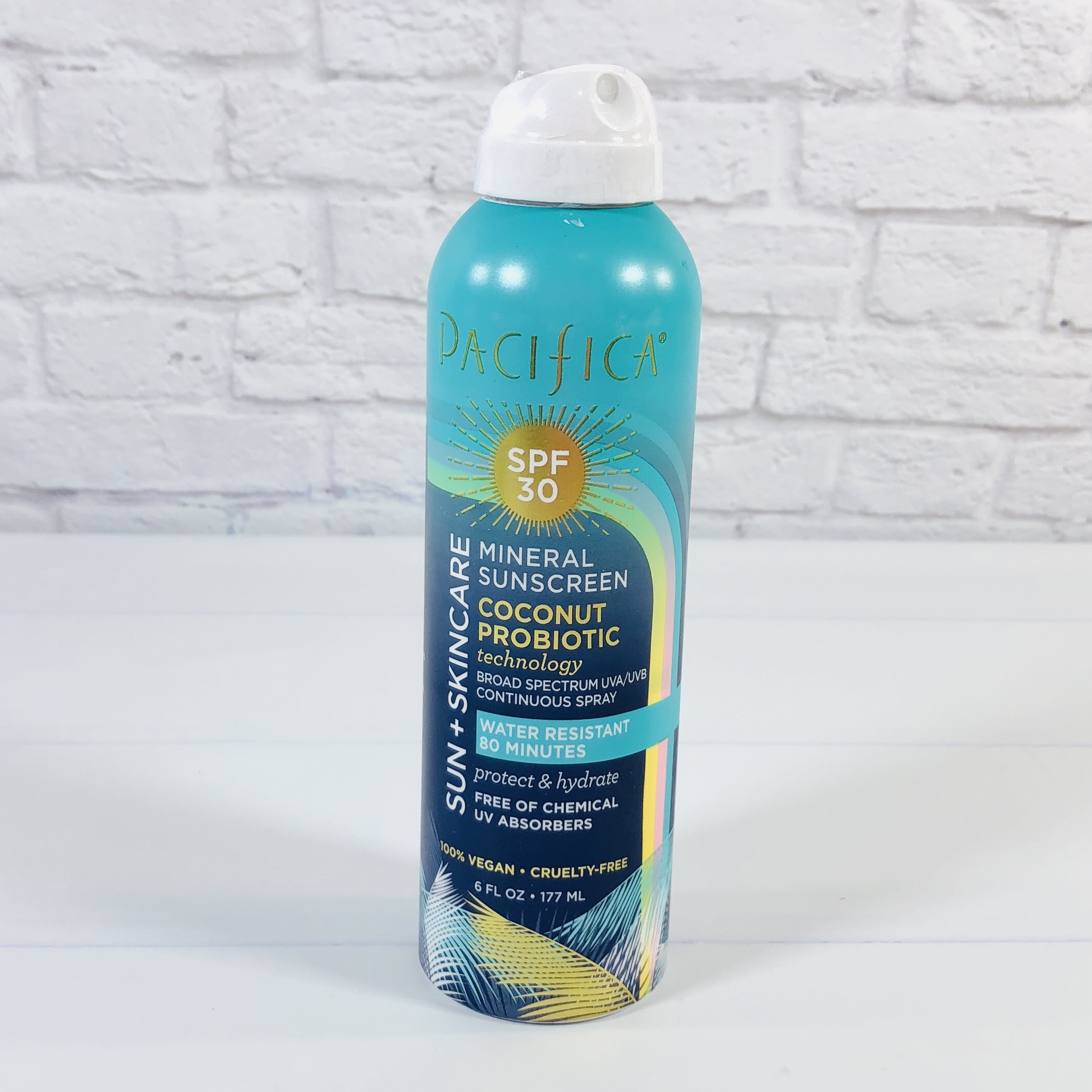 Pacifica Coconut Probiotic SPF 30 Mineral Sunscreen Spray ($15.55) I couldn't find this item on the Pacifica website so perhaps it's been discontinued but mine doesn't expire until 2/2022. I have light skin and usually use SPF 50 so I don't think this will go on vacation with me but will be put to use when I won't be outside for long.
The active ingredient is zinc oxide, which is a physical sunscreen that sits on top of the skin to repel the sun's rays. Caffeine, safflower oil, and glycerin are a few of the other ingredients. This product is water resistant for up to 80 minutes. It doesn't explicitly say reef safe but it says surfer approved and I didn't see anything that is considered dangerous to the reefs and it is free of nanoparticles. Unlike chemical sunscreens, it goes on white and stays that way, you have to rub it around after applying. I'm not sure about the scent, it's not my favorite, but that won't keep me from using it up.
Pure Sol Body Buff ($12.99) I've received plenty of konjac sponges in beauty boxes before, but they are usually for the face. This is the first time I've received one for my body!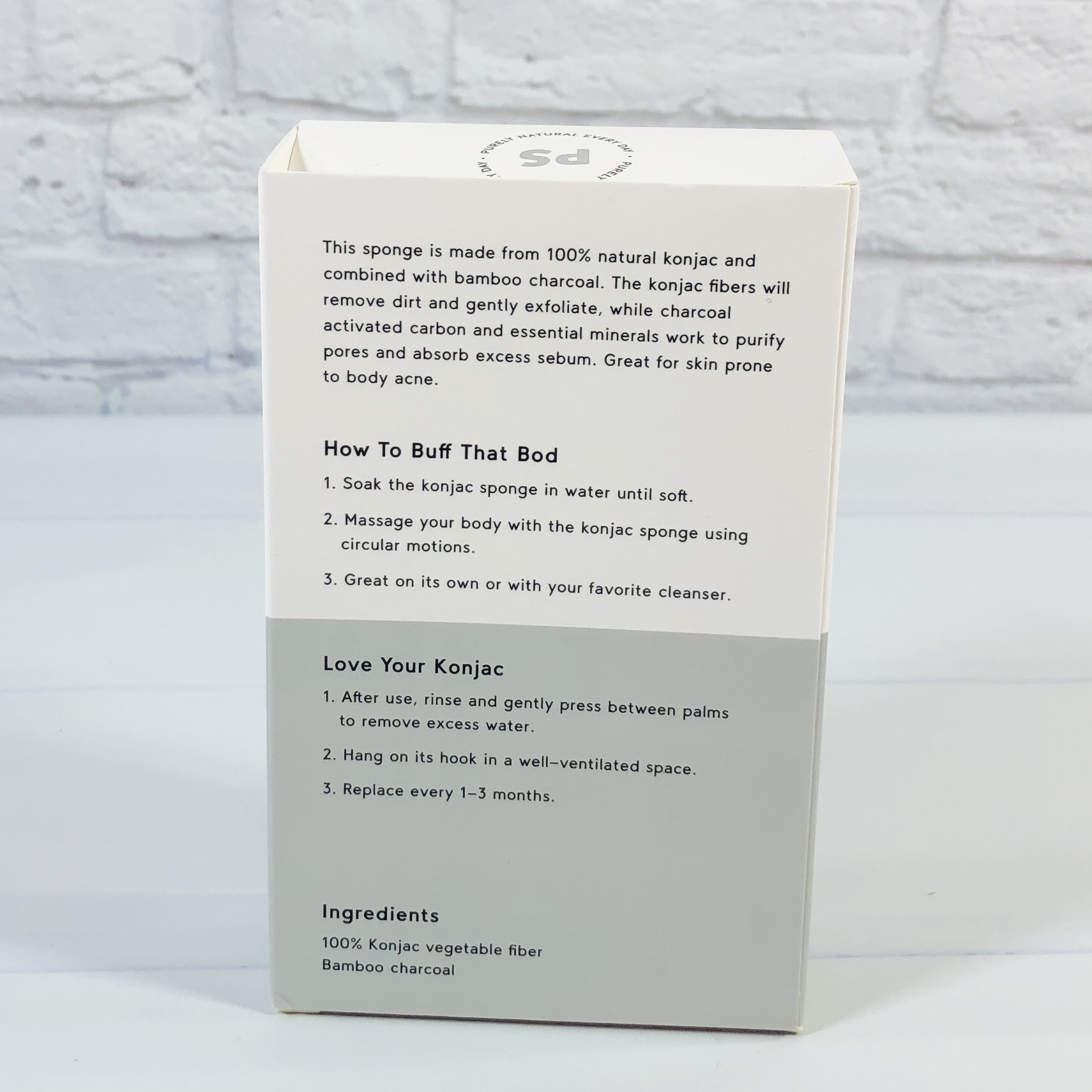 The sponge is made from a plant root and this version also has bamboo charcoal embedded in the fibers.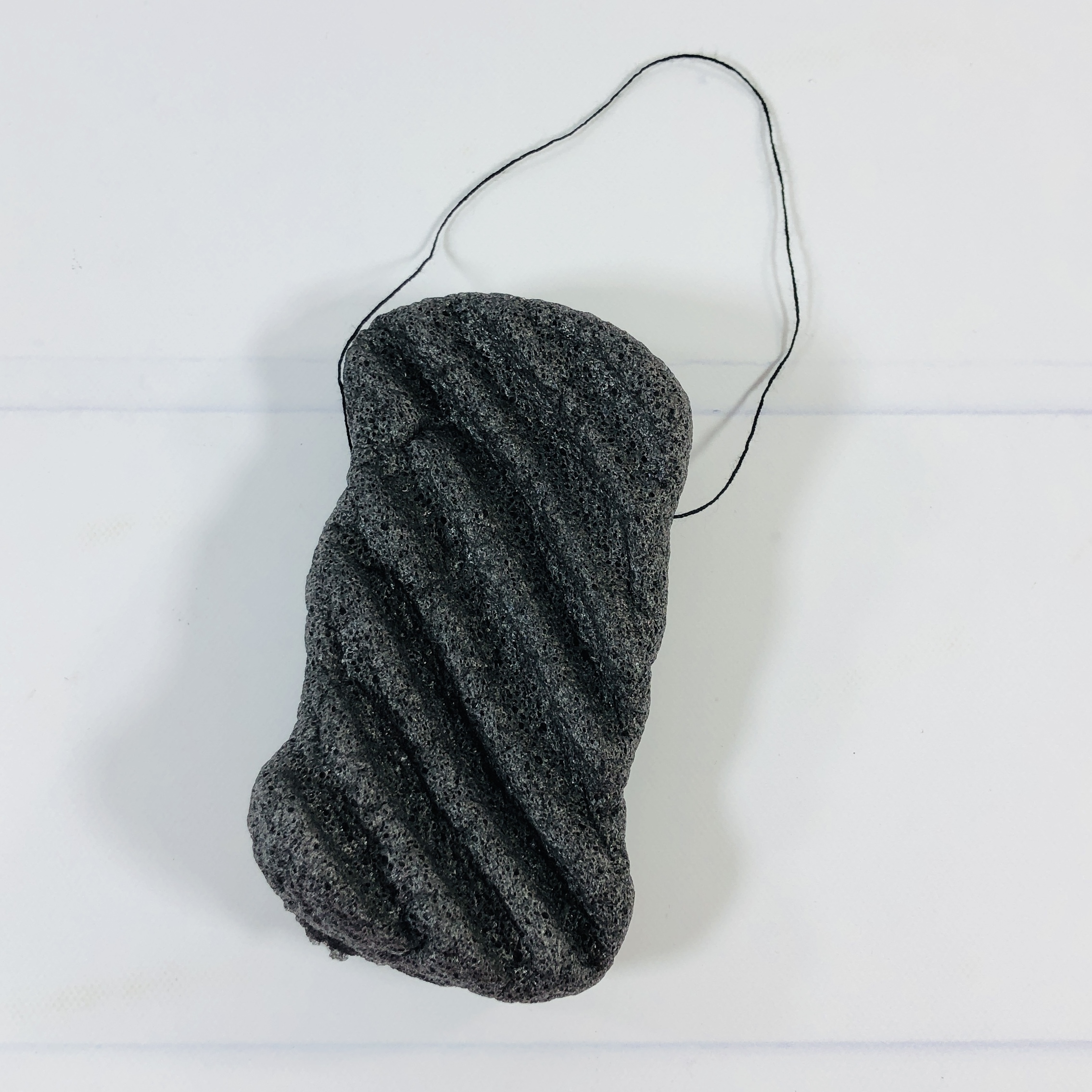 This size fits  in the palm of my hand. It feels hard at first but as soon as you soak it in water it puffs up and goes all soft, it almost feels gelatinous. I don't feel like it did much for my body but when I used some shower gel on the sponge it did create a lot of bubbles, but it didn't feel like my body was exfoliated. If you are into using sponges on your body instead of a washcloth then I think this does the job well.
Kadalys Banana Eye Cream (29€, around $34.66 USD) is an under eye gel that is supposed to moisturize and awaken that delicate area.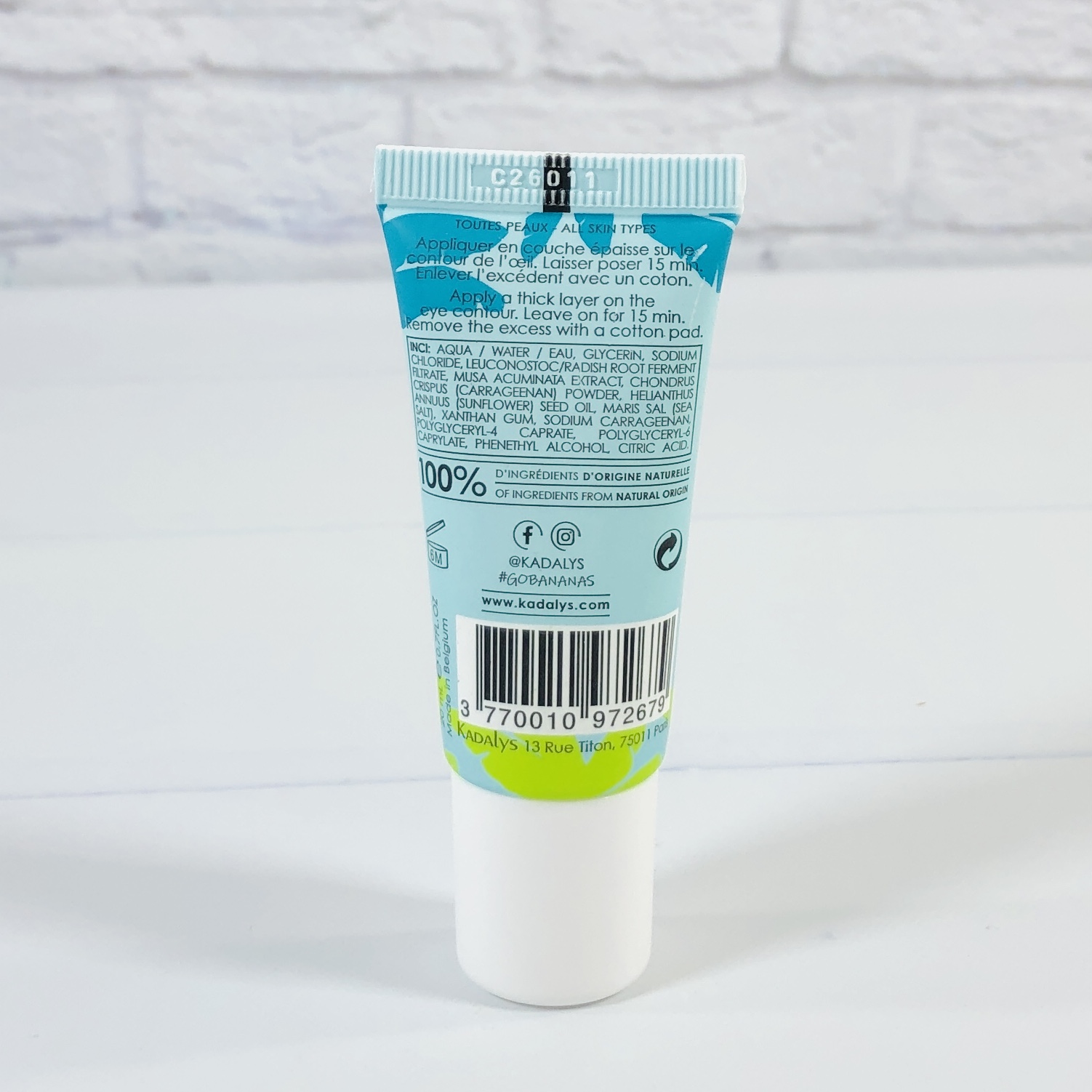 Water, glycerin, salt, and radish root ferment lead the list of ingredients. Musa acuminata is another name for banana and the brand claims that bio-active green banana is supposed to provide antioxidant benefits. The texture is a gel and the instructions say to apply a thick layer and then "tap with your fingertips to activate the circulation". I found it felt cool in that area after applying and the scent isn't heavy. It's fragrance free but it still smells pleasant. It felt sticky, even after it dried.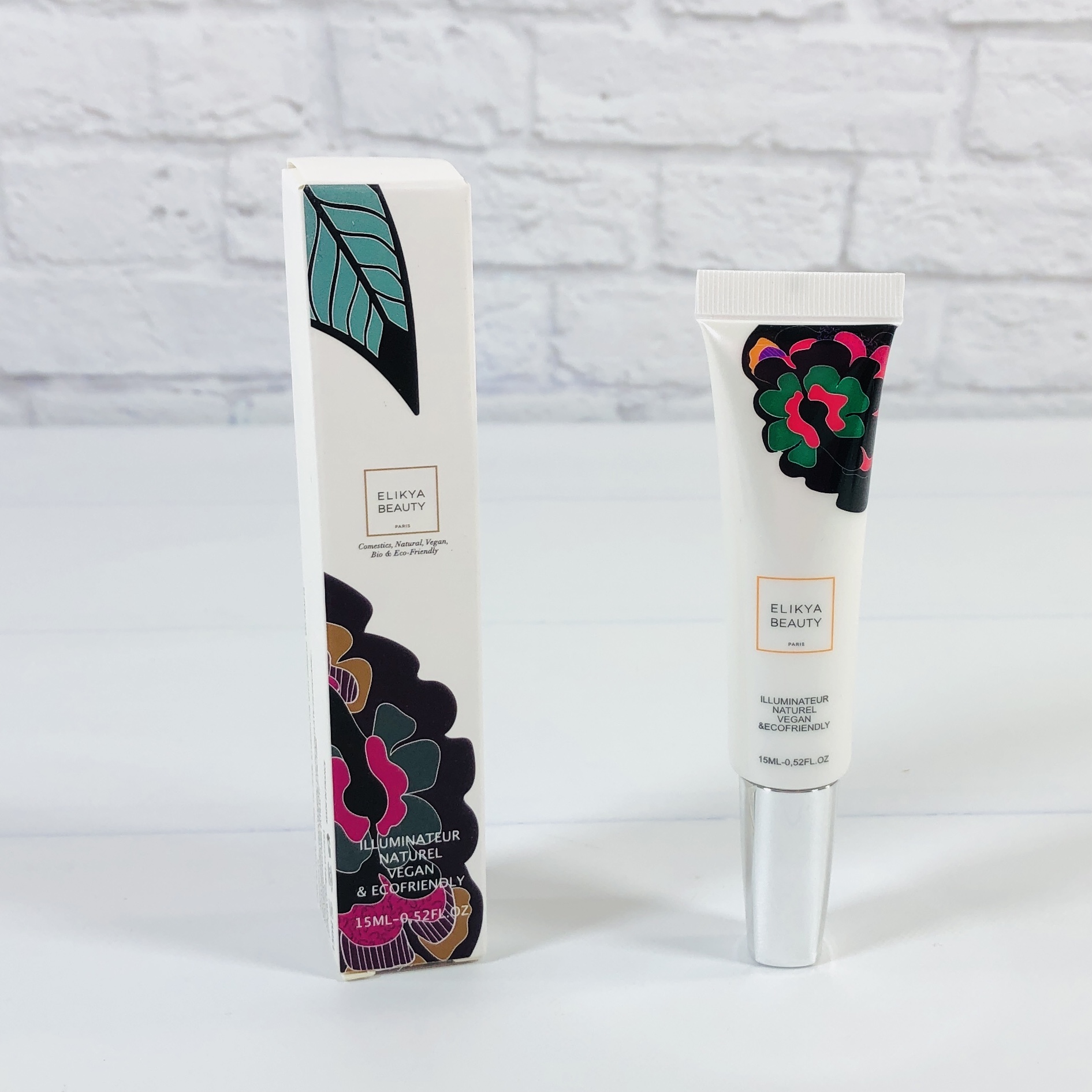 Elikya Beauty Illuminator in Silver ($17.50 listed value, find similar item here) I found an item with the same exact ingredients on the Elikya website but it's in a glass dropper bottle rather than a plastic tube. I watched a model use it on the brand's Instagram page and I didn't have the same experience as she did. Mine was watery and it separated, but it is easy to wash off with water. It is very subtle but I didn't like the feeling that it left behind on my cheeks, like I had mucus smeared there (sorry). This might work better if mixed into a moisturizer or foundation before applying for an all over glow.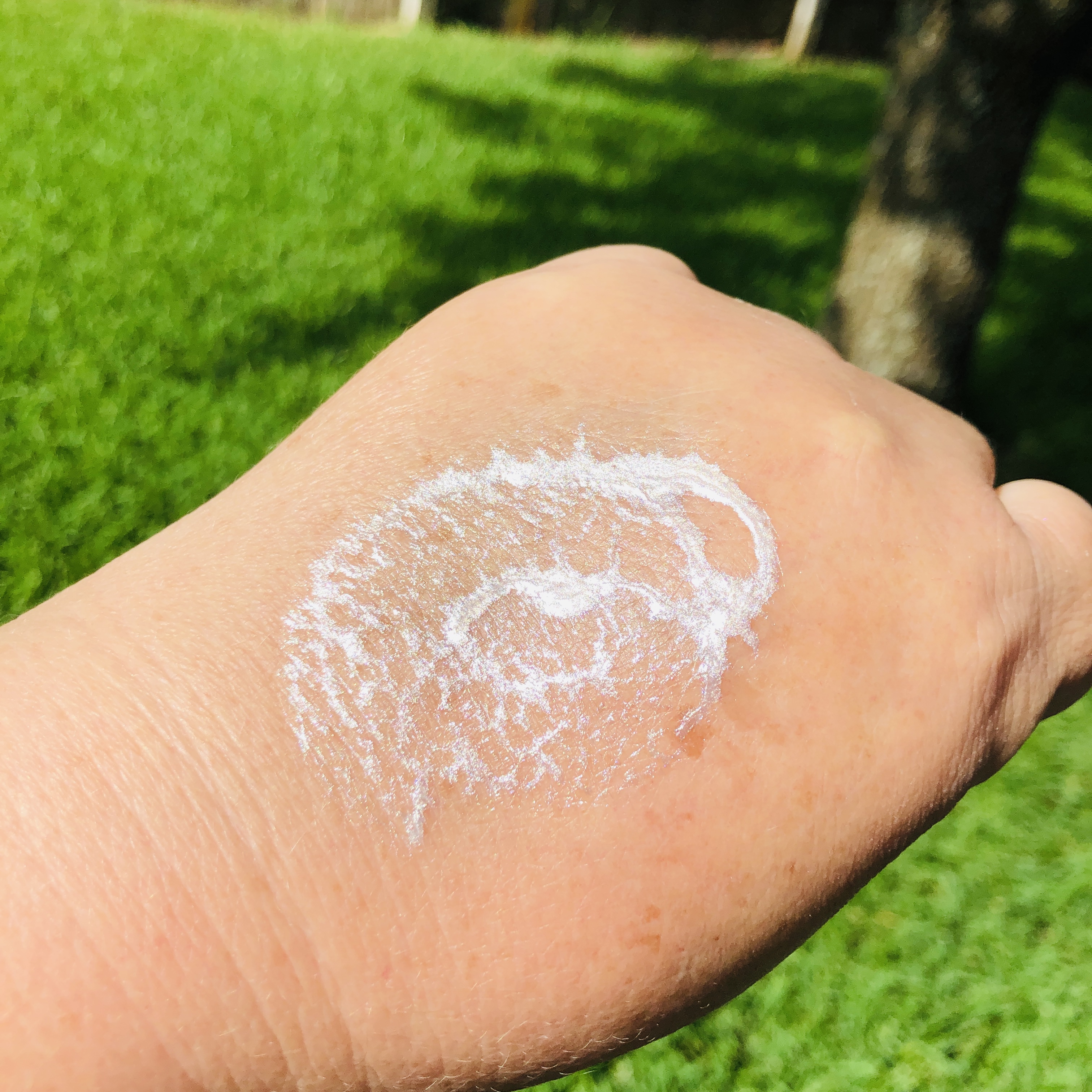 Here it is on the back of my hand.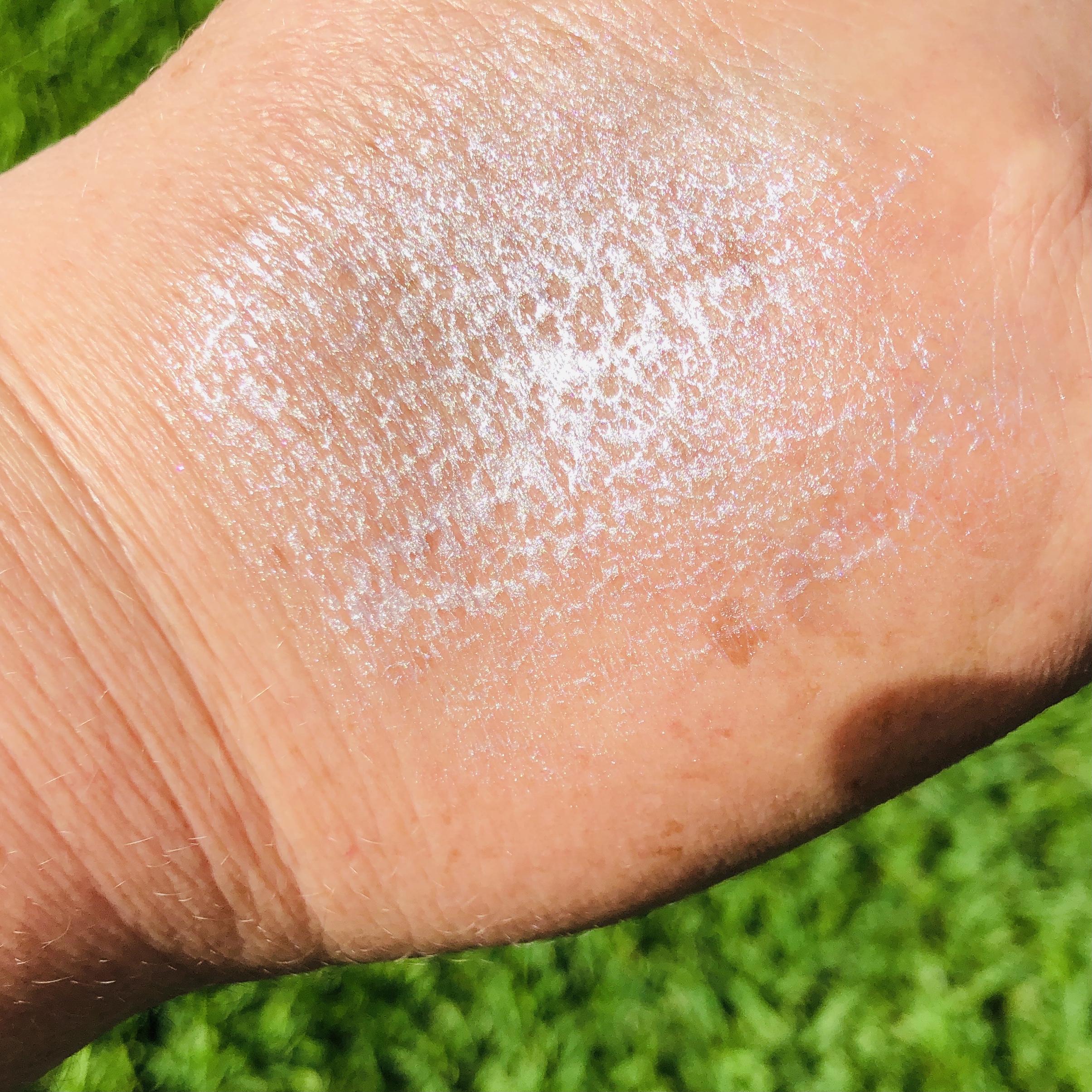 Here's what it looked like as the water started to evaporate (after rubbing even more).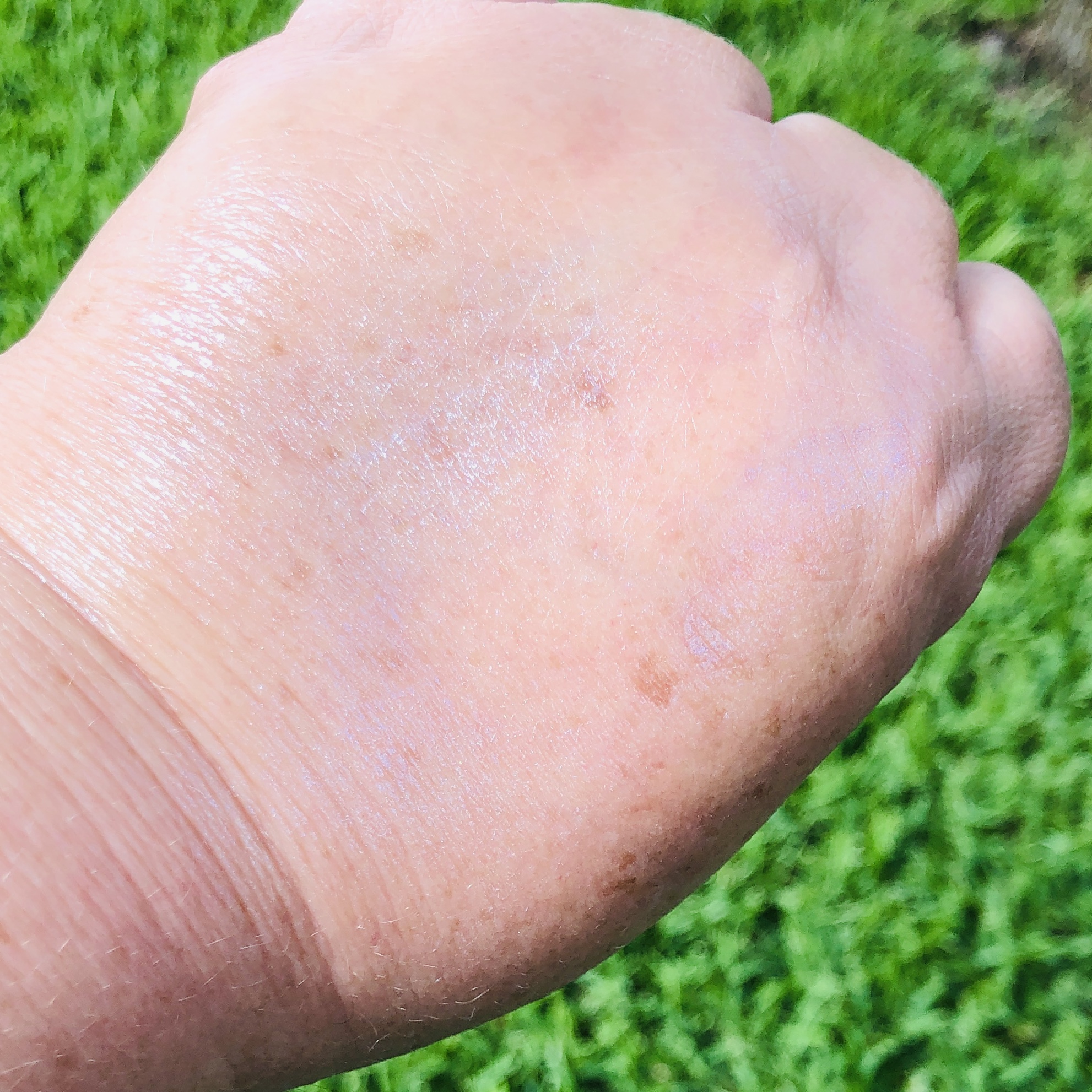 Here it is fully rubbed on. I guess it's better to just try to pat it on until the water evaporates but again, the model spread it around on her hand before applying and it didn't separate the way mine did.
Zion Health Ancient Clay Soap with Rosemary Lavender ($1) is a small soap bar (think motel sized) that is made with clay, coconut oil, shea butter, and essential oils of rosemary and lavender.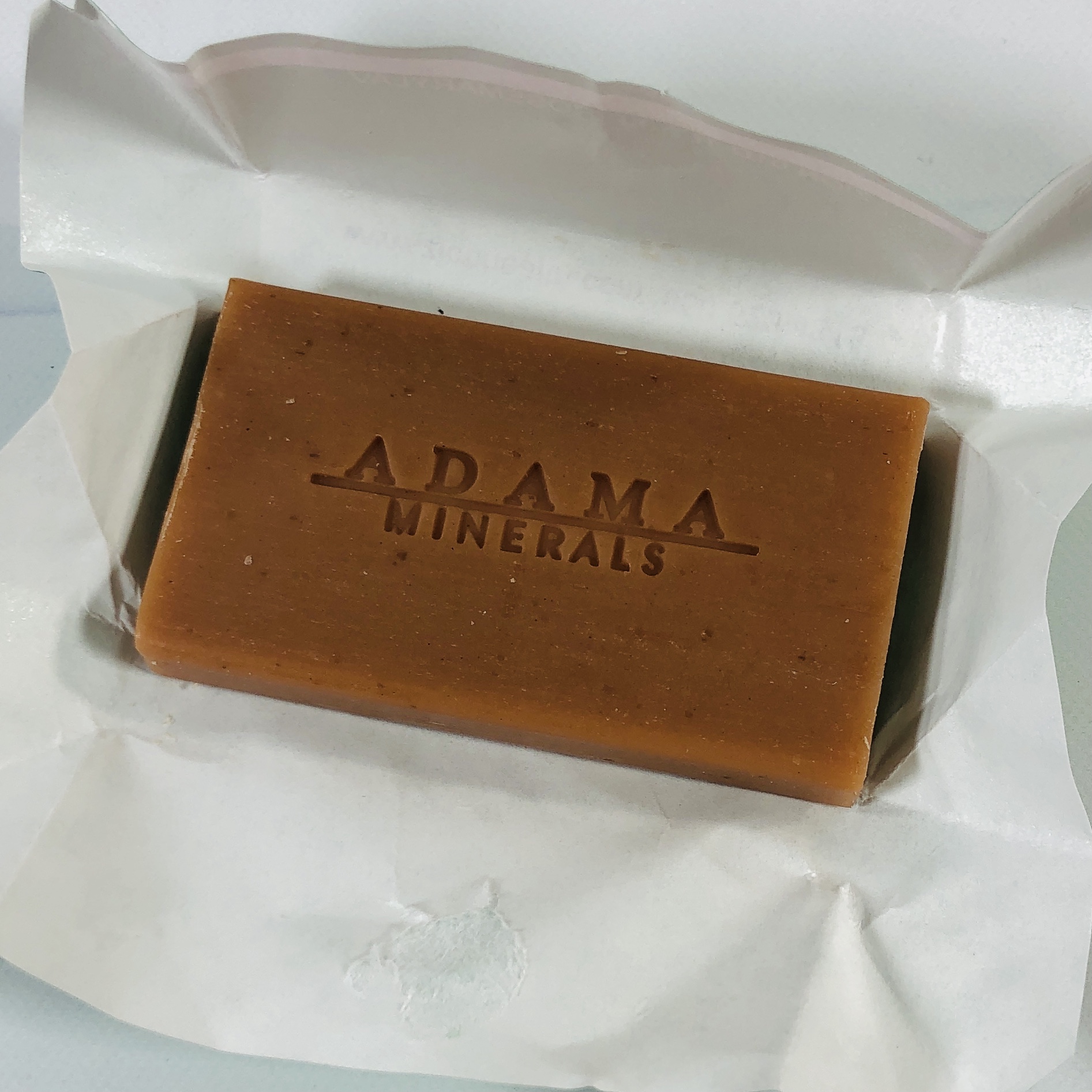 This stuff had suds for days, just like grocery store bar soap, and there was an additional scent that again, reminded me of traditional bar soap, kind of a powdery scent, like old fashioned soap. It rinsed away easily too.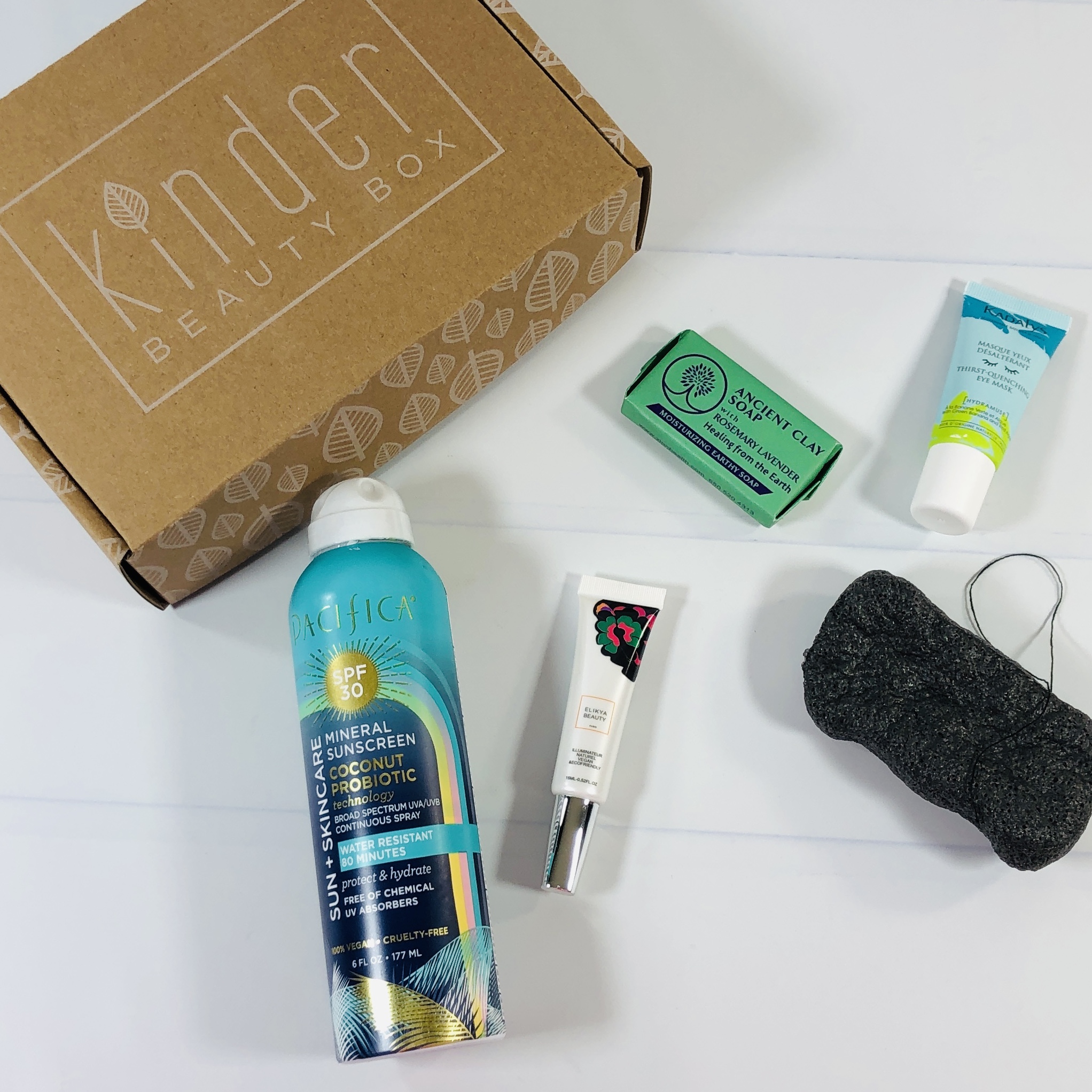 The Silver Lining Collection in my June Kinder Beauty Box had some interesting products for me to try! I am most appreciative of the sunscreen, I can't get enough of it and use it all year round. I haven't quite figured out how to use the highlighter effectively but then I usually use a powder version because that's my preference. The soap and sponge go together like peanut butter and chocolate, and my undereye area needs all the help it can get. The value for my box was around $82!
What do you think of Kinder Beauty Box?