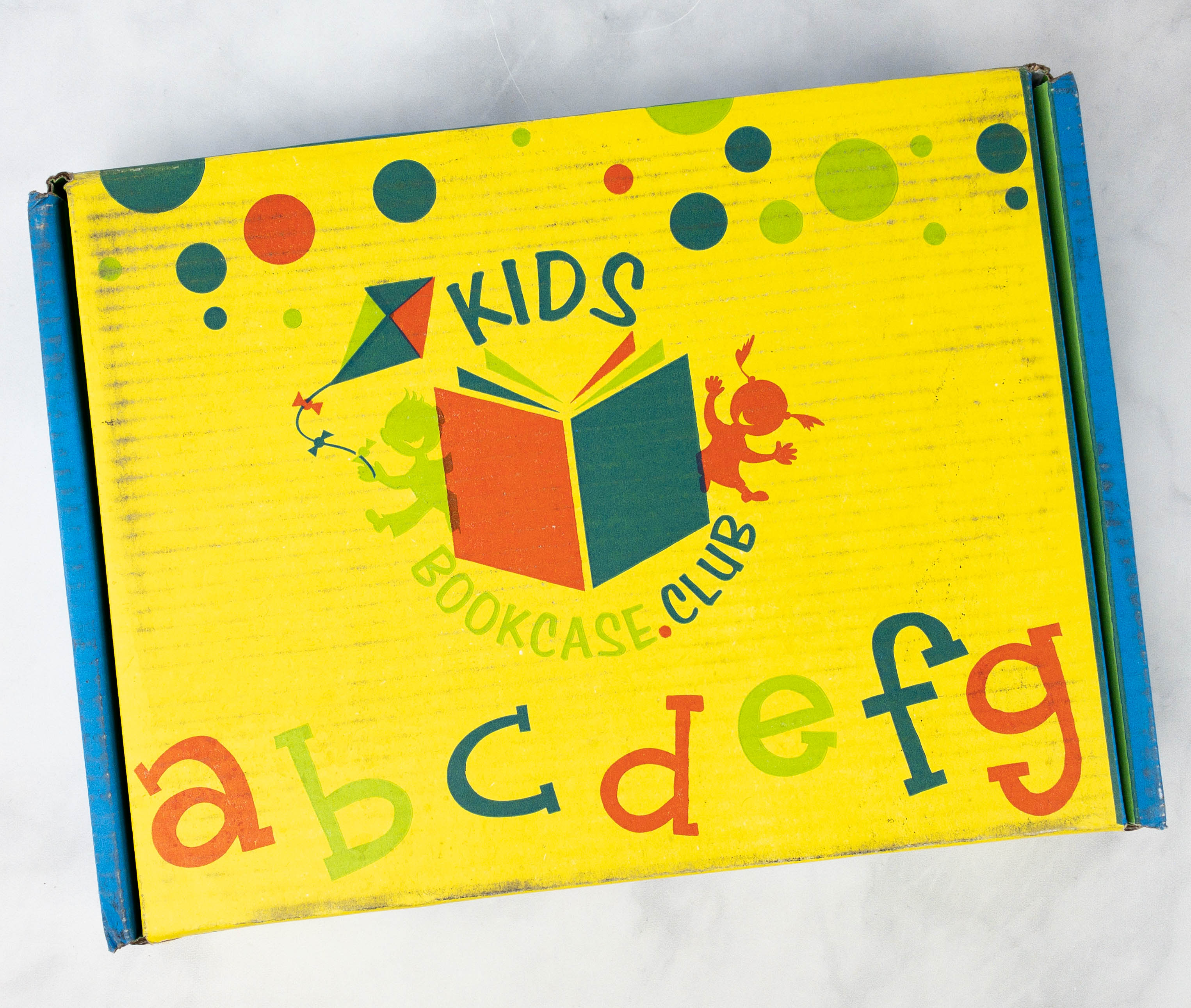 BookCase.Club now has a subscription for children of all ages – the Kids BookCase Club! Starting at $9.99 each month, you'll get a monthly shipment of handpicked kids books that you and your kids will surely love. Each BCCKids case comes with three handpicked children's books, chosen to ignite the imagination and inspire creativity.
You can customize the subscription depending on your child's gender and age range. Available age categories are newborn to 2 years old, 2 to 4 years old, 5 to 6 years old, 7-8 years old, and pre-teen.
This is the review of the BOYS 5-6 YEARS OLD!
DEAL: Save 50% on your first month! Use coupon code HELLOSUB501M. OR Get 10% off your entire order! Use coupon code HELLOSUB10.
BookCase.Club's kids box made our readers' choice list of best book subscription boxes for kids!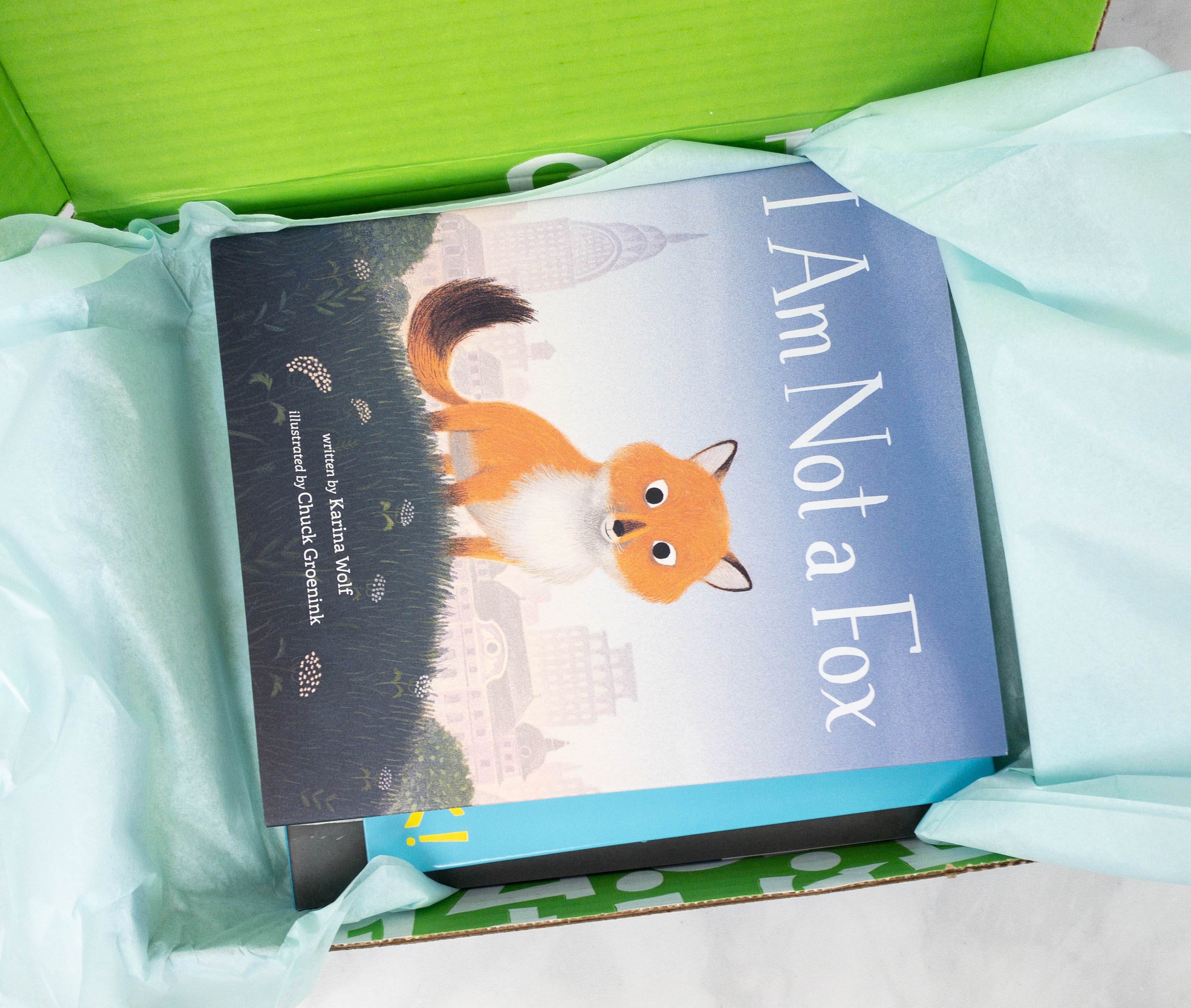 The books were wrapped in tissue paper.
Everything in my box!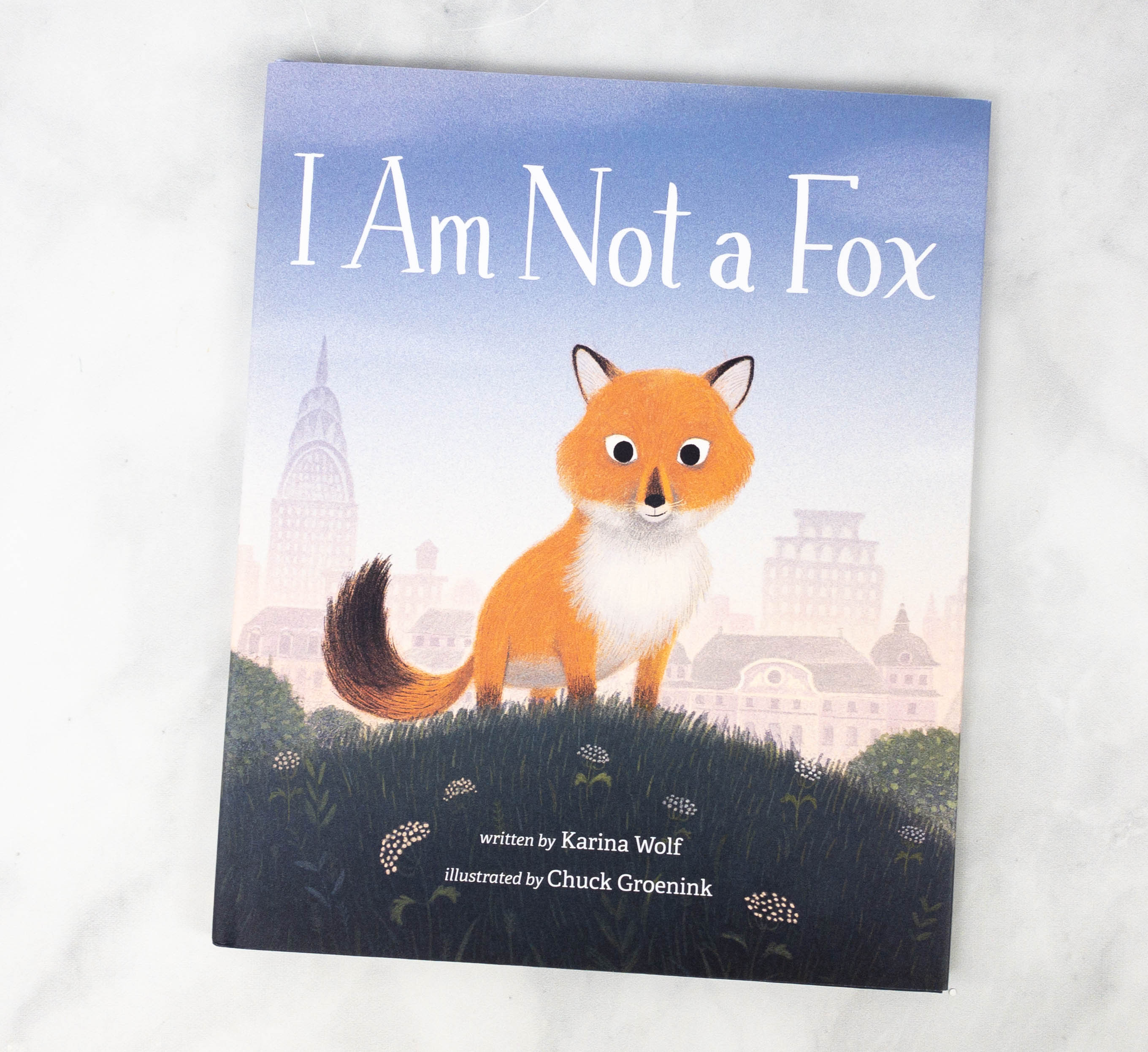 I Am Not a Fox by Karina Wolf ($16.99)
A curious creature that looks like a fox but acts like a dog sets out to find where he belongs in this charming tale of self-discovery and friendship perfect for fans of Gaston and Not Quite Narwhal.

When Luca first arrives at the dog park, the other dogs turn him away. "You're not a dog," they say, "You're a fox." But . . . Luca likes to chase cats. He likes to yip at mailmen. And he likes sniff other dogs you-know-where. Still, Luca has to admit, he doesn't look like the other dogs. So . . . he must be a fox, right? But when Luca finds a trio of foxes in the forest and asks to join them, they don't think that Luca is a fox at all. After all, Luca acts just like a dog. Luca can't seem to find anyone quite like him, but then he meets a caring little girl and finds something even better–a friend. In this heartwarming tale, Karina Wolf and Chuck Groenick remind us that you don't need a label to find just where you belong.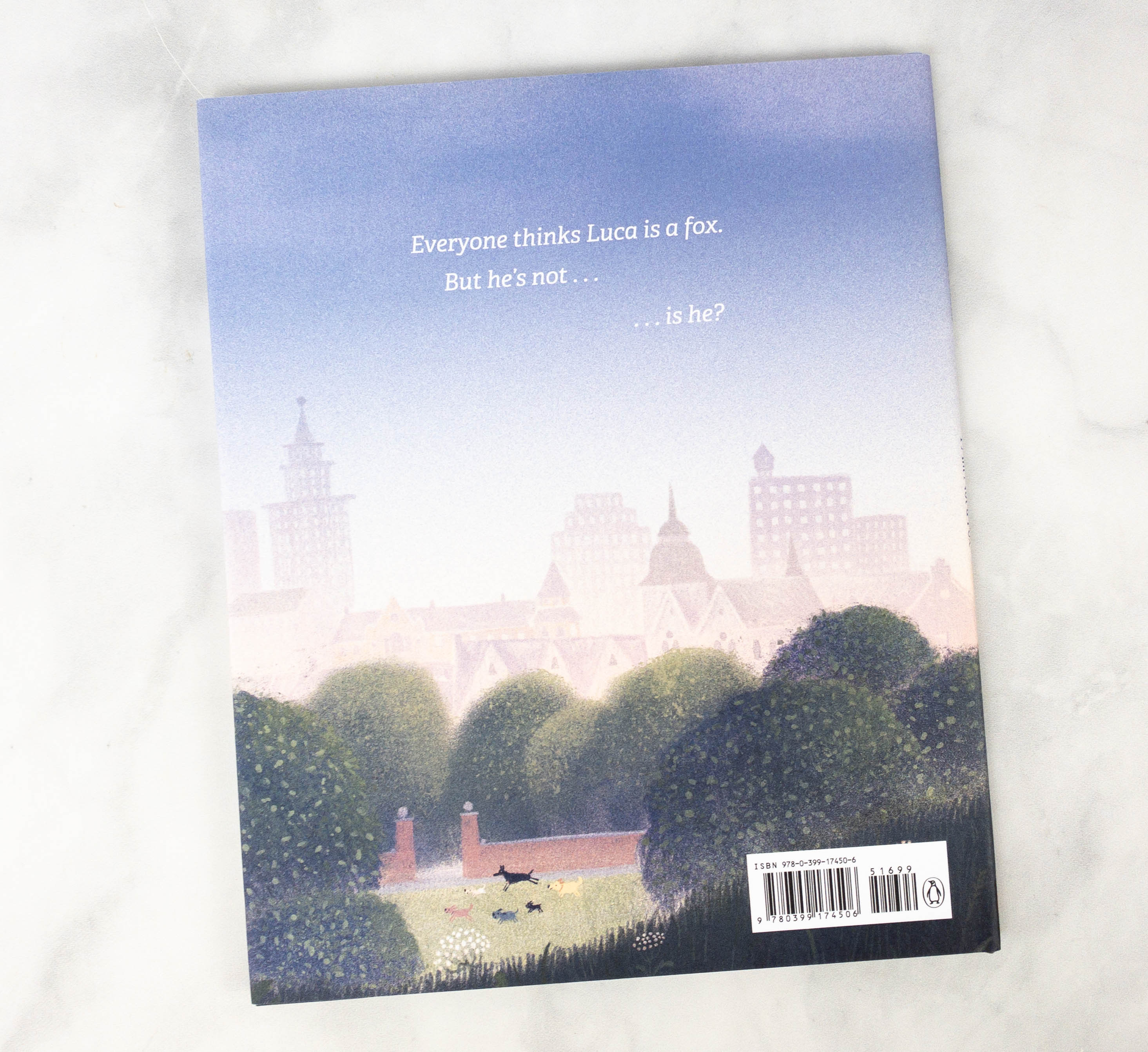 The front cover features the protagonist of the story, Luca the fox. At the back, there's a dreamy scenery which gives kids an idea about the setting of the story.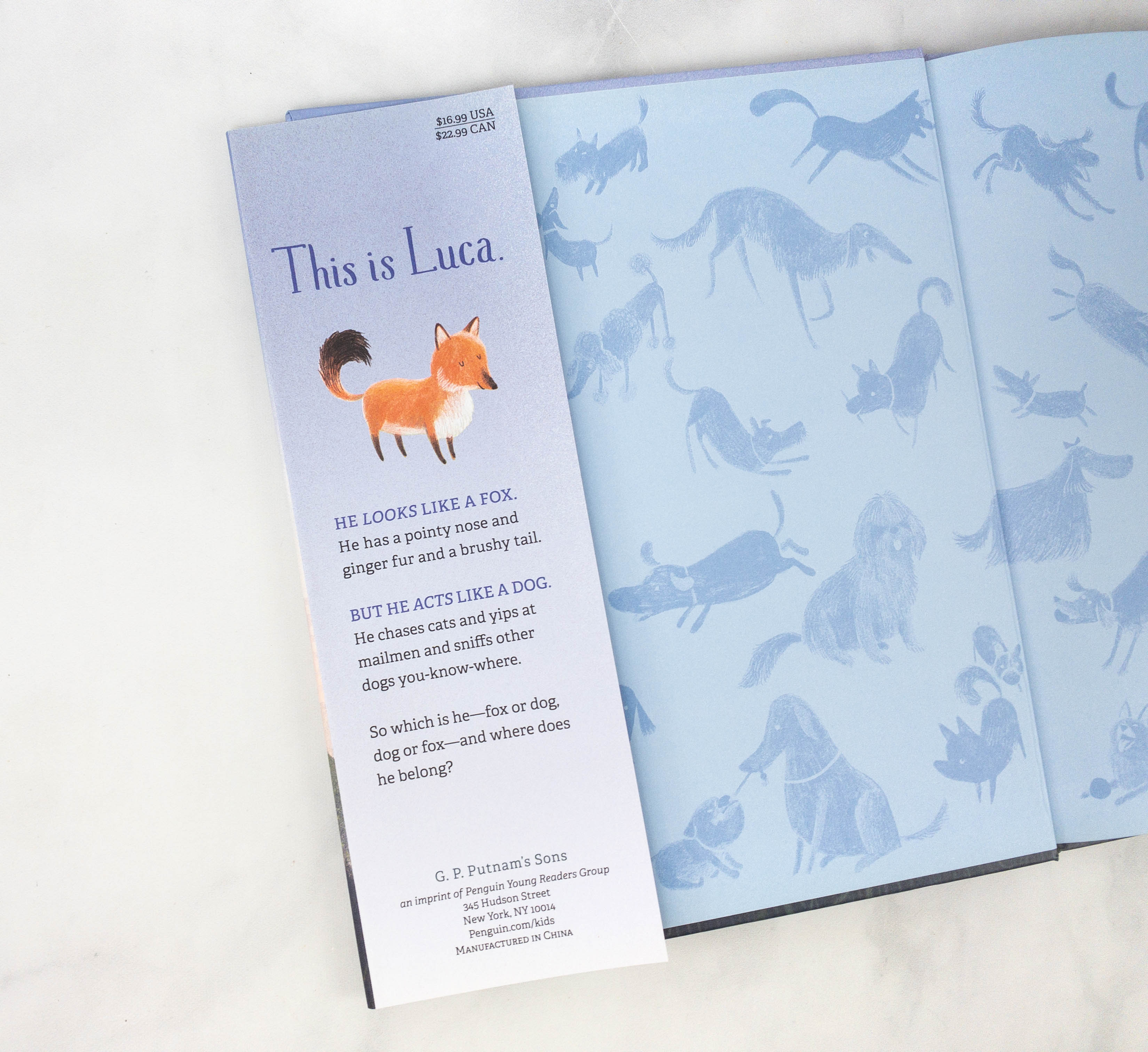 Even the endpaper is filled with cute dog drawings!
The illustrations inside the book is just as dreamy as the ones on the cover. Some pages have full color illustrations, and my kids love them!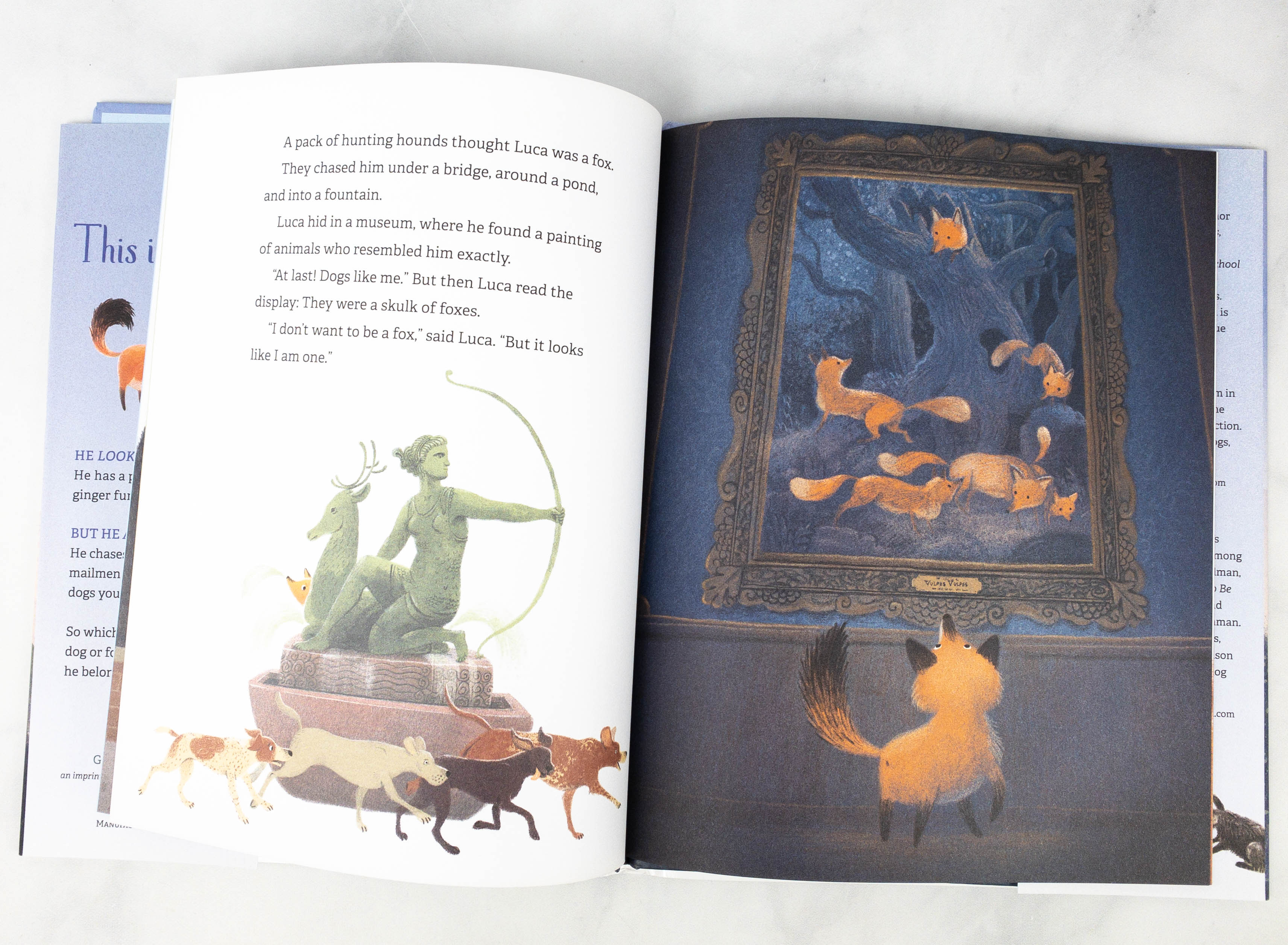 This is a great bedtime read! It teaches readers about the importance of learning to accept yourself and that everyone deserves to be loved no matter how different they are.
Don't Blink by Amy Krouse Rosenthal ($12.09)
This interactive book may seem to be on your side, reluctant sleeper — but it's truly a bedtime book in disguise! New from New York Times bestselling author and illustrator Amy Krouse Rosenthal and David Roberts!

Here's how it works: if you can avoid getting to the end of this book, you can avoid bedtime, simple as that. (It's a pretty sweet deal, actually.) But each time you blink, you have to turn a page. Those are just the rules. So whatever you do, DON'T BLINK!

From New York Times bestselling author and illustrator Amy Krouse Rosenthal and David Roberts comes a playful, super-duper interactive bedtime story, narrated by a cheeky stuffed owl. Kids love a challenge, and you can bet they'll do their darndest to rise to the one set out in Don't Blink!…especially when bedtime is on the line!
It's a fun and interactive book! The front cover features the owl, who is the narrator. At the back, the owl is shown with a zebra.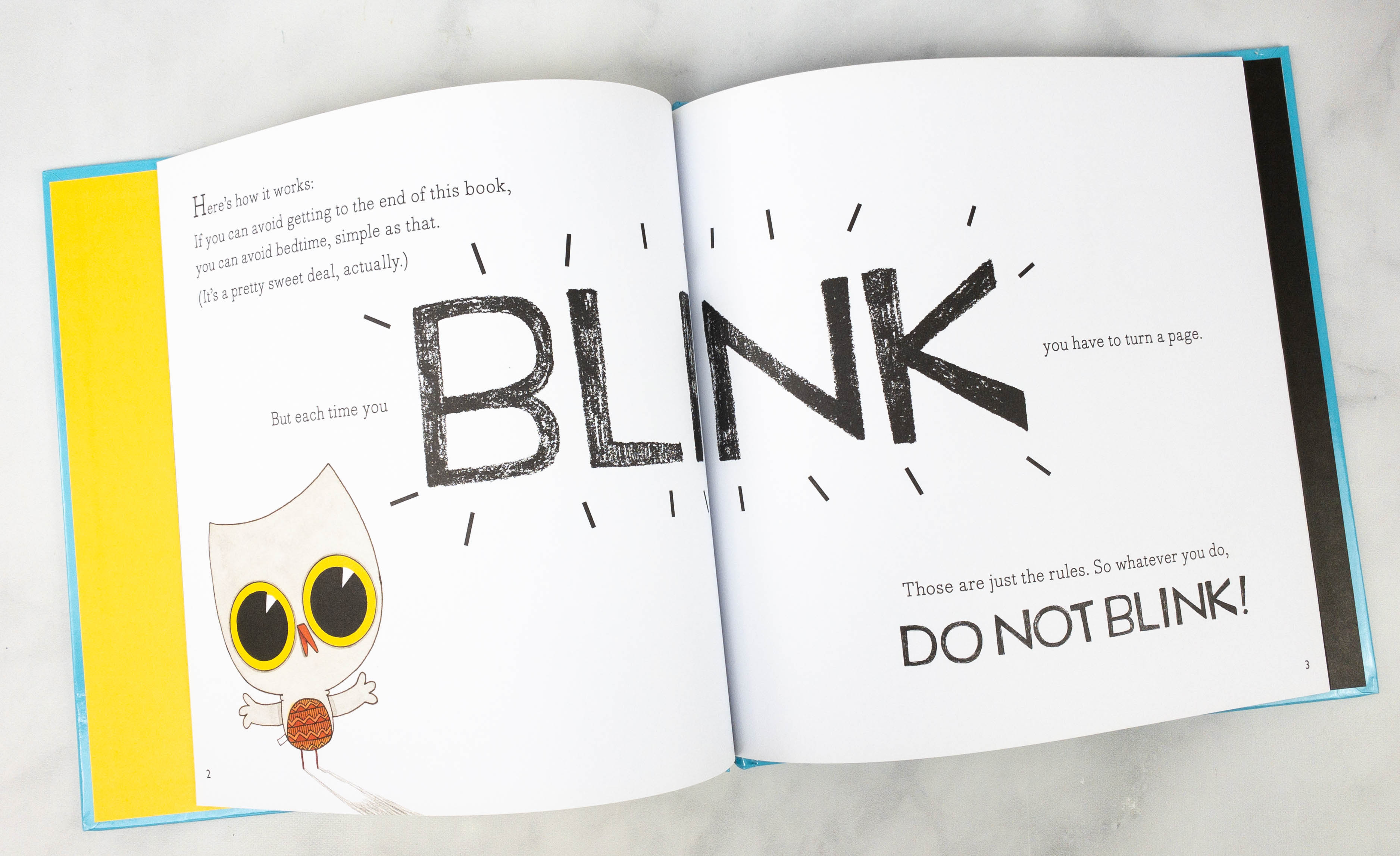 The book has a challenge for the young readers. If they don't blink their eyes, then they don't have to go to bed. However, if they blink their eyes, they have to turn a page. My kids thought that it's exciting!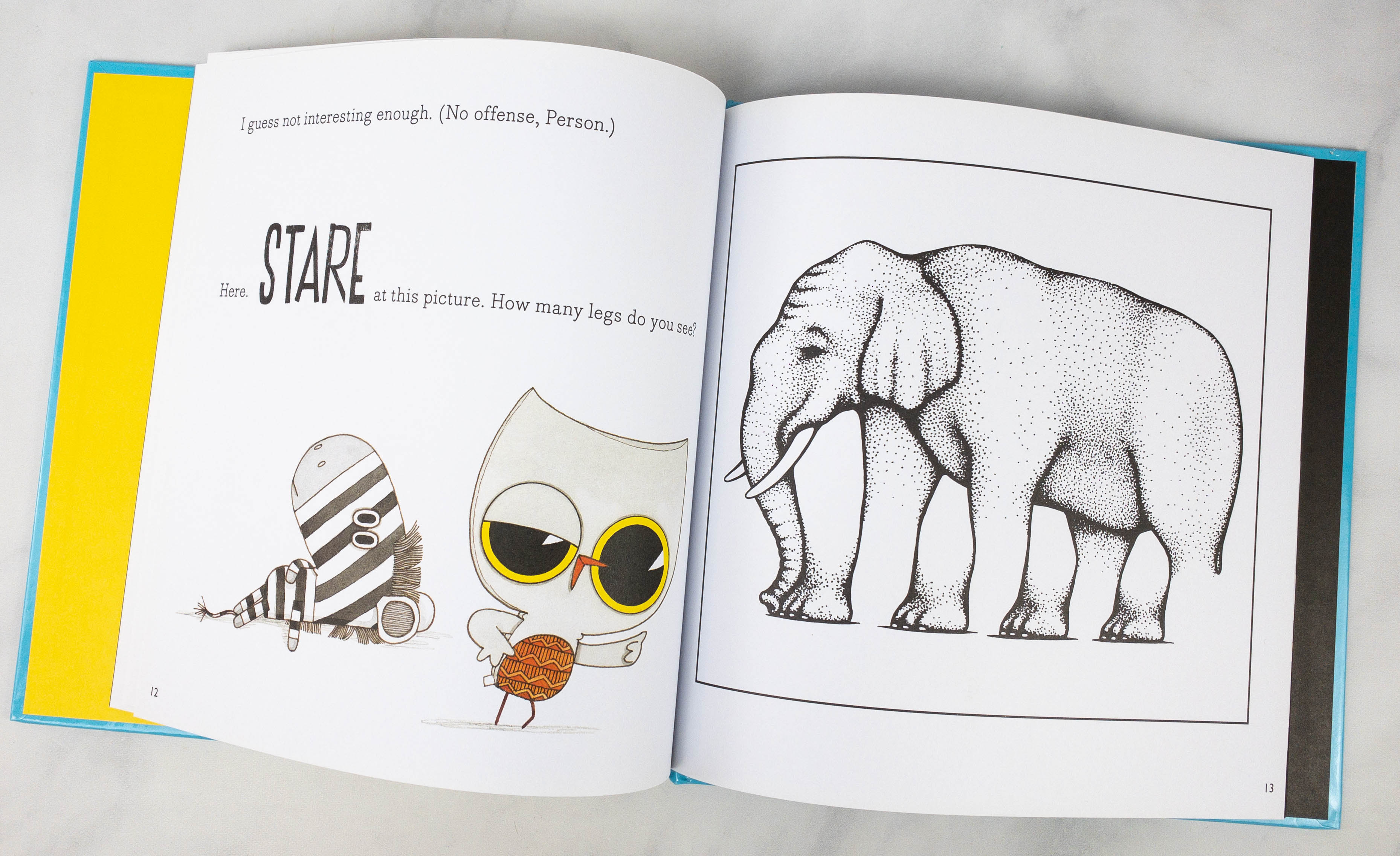 There are also challenges on each page, as well as optical illusions! In the end, my kids couldn't help but blink while looking at the photos and had to go to bed afterwards. Still, it's a fun book for bedtime reading!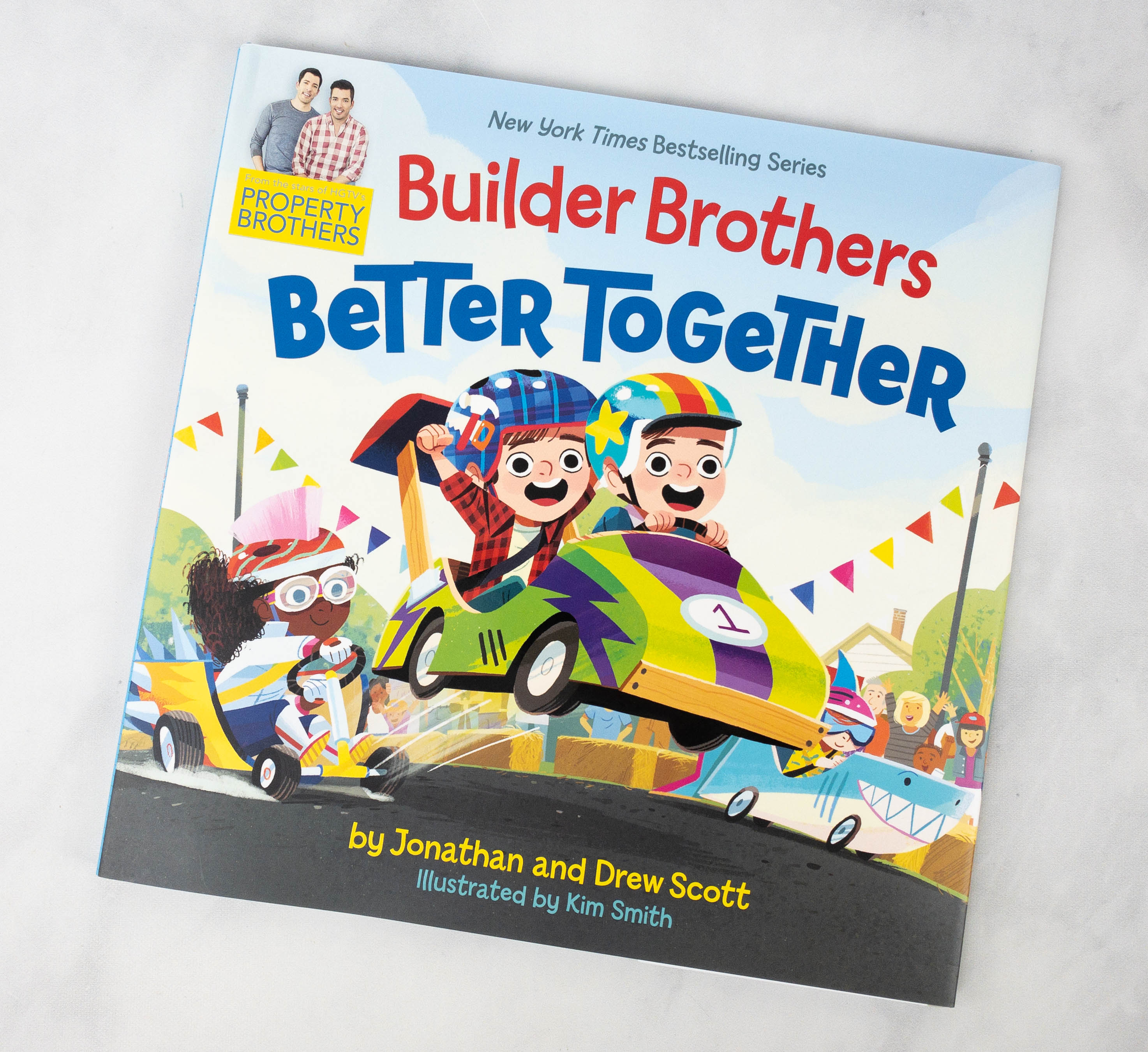 Builder Brothers Better Together by Jonathan and Drew Scott ($8.99)
Drew and Jonathan Scott, New York Times bestselling authors and hosts of the Emmy-nominated hit HGTV show Property Brothers, prove that everything is better when you work together, in their second picture book full of imagination, humor, and elbow grease.

In the second picture book by the authors of the New York Times bestseller Builder Brothers: Big Plans, young Drew and Jonathan do everything together, whether they're building birdhouses or dreaming up big plans for their future. They're not just twins; they're best friends. So when their town sponsors a soapbox derby race, Drew and Jonathan are first in line to enter.

But when the rubber hits the road and the brothers just can't agree on how to build the best car, they wind up competing against each other! Can one of them win without the other?

This hilarious and heartwarming story from television's favorite twins comes complete with a do-it-yourself project to build an original miniature race car!
This book is by written twins Jonathan and Drew, who are also known as the hosts of Property Brothers. Their photo is featured at the back cover, along with the book characters inspired by themselves.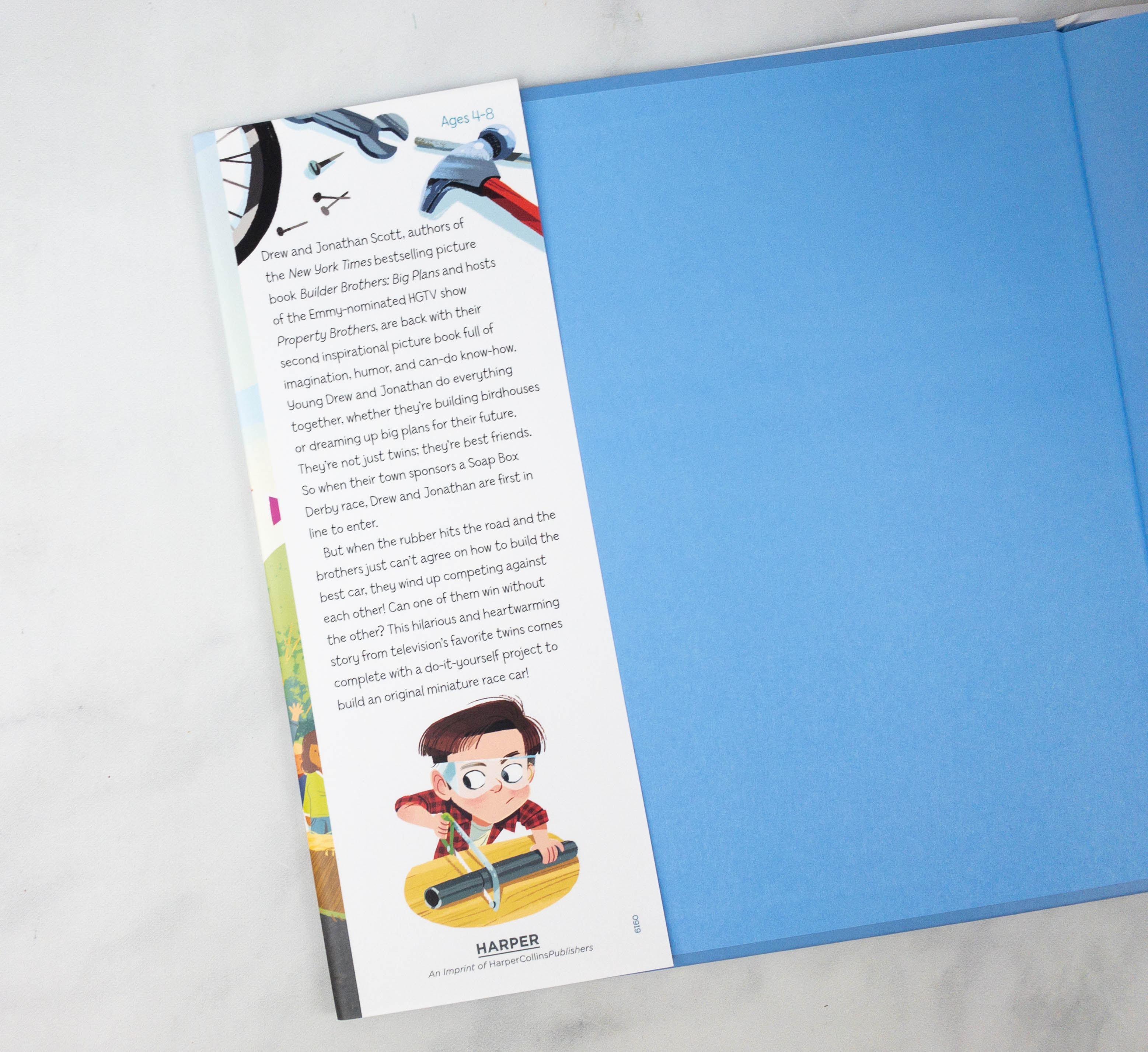 The synopsis is printed on the flap of the dust jacket. Kids who love to tinker would love this story as well!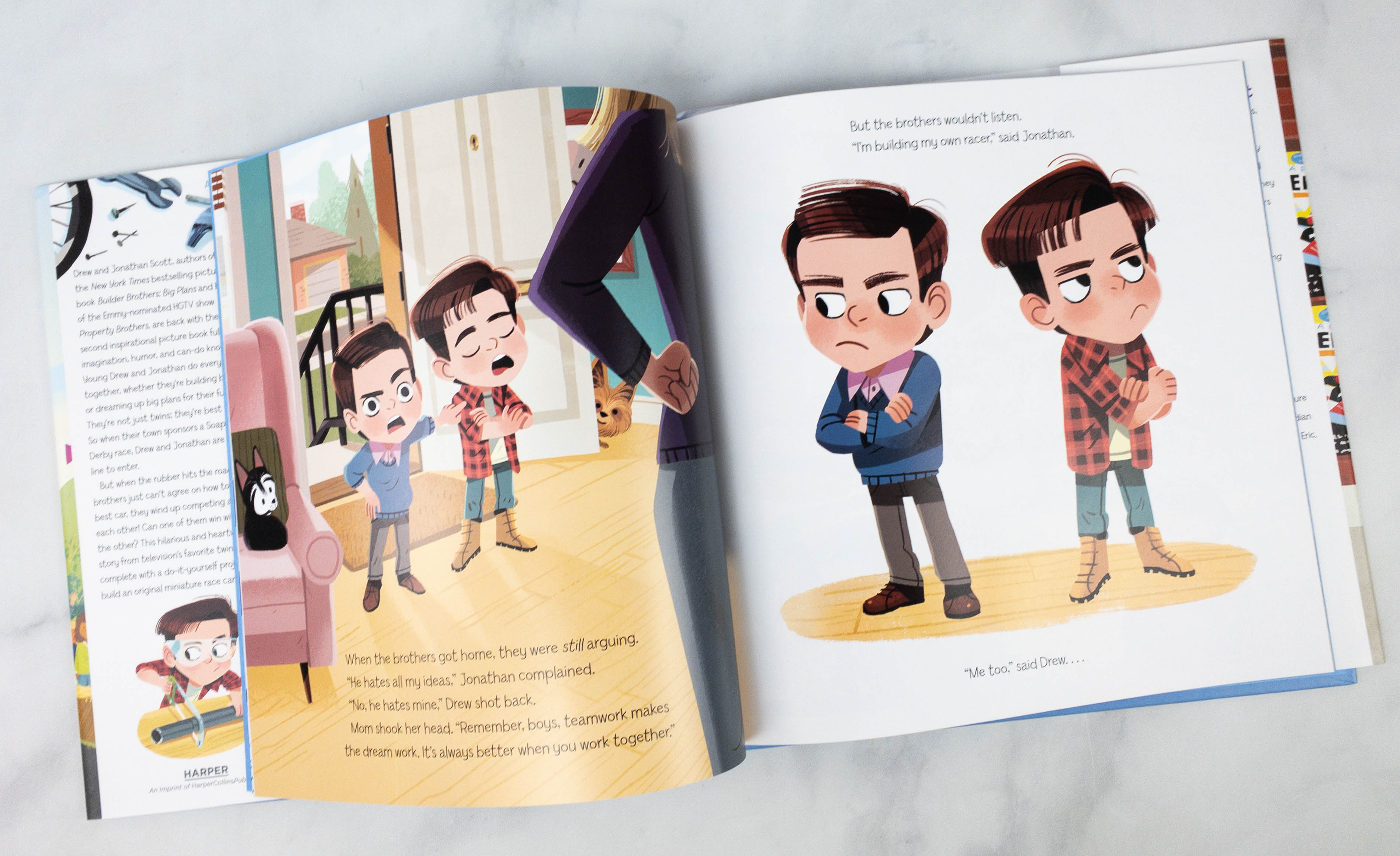 The illustrations are fun and colorful, and the texts are simple and easy to understand. At the end of the story, there's even a DIY project that kids can work on.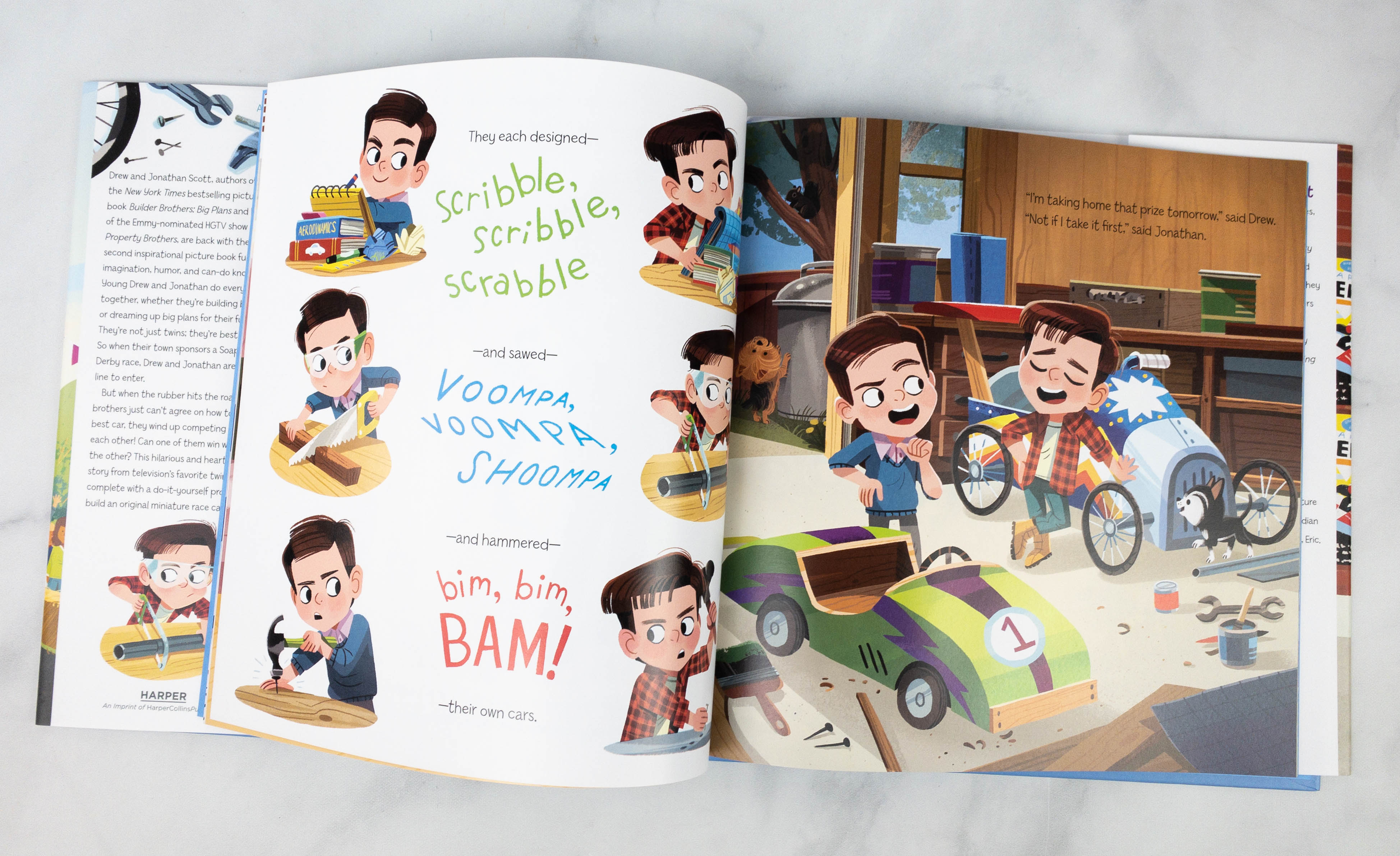 Another thing we love about this book is that it teaches the readers valuable life lessons, including the importance of teamwork. Indeed, things are always better when people work together!
This month's featured books from Kids BookCase Club are a hit with my kids! The picture books are fun and my kids can't get enough of them. They love re-reading them, especially the story about a fox who seems like a dog. They also loved the interactive book for bedtime, which contains fun challenges. The no blinking rule surely gave everyone a good laugh! Everything is also age-appropriate and worth adding to our mini home library. If you're looking for a subscription that offers books for different age groups, this one fits the bill!
Are you getting Kids BookCase Club?