Finders Seekers is a monthly puzzle subscription box for anyone who loves puzzles, escape rooms, Sherlock Holmes, mysteries, or anything requiring a little brainpower. Finders Seekers features a new destination each month, so in addition to the puzzle/escape room experience, you get a mini travel experience, too, exploring a new city and its culture every month.
Finders Seekers' escape room subscription box made the list in our 2021 readers' choice picks of best pop culture subscription boxes!
DEAL: Save $5 on your first box! Use this link and coupon code BRAINQUEST.
FYI – there are SPOILERS in this post!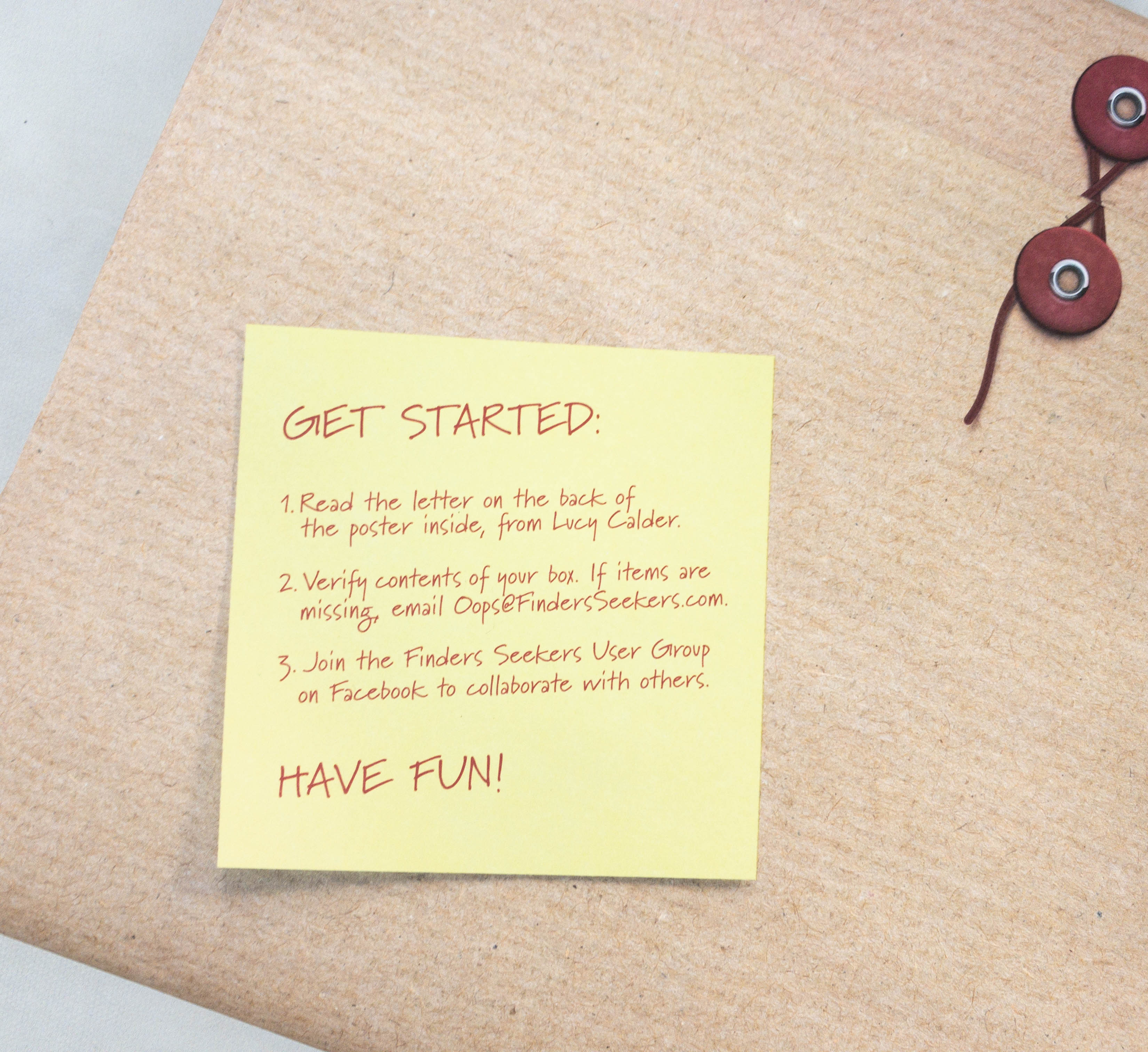 Everything is packed in a string-tie envelope.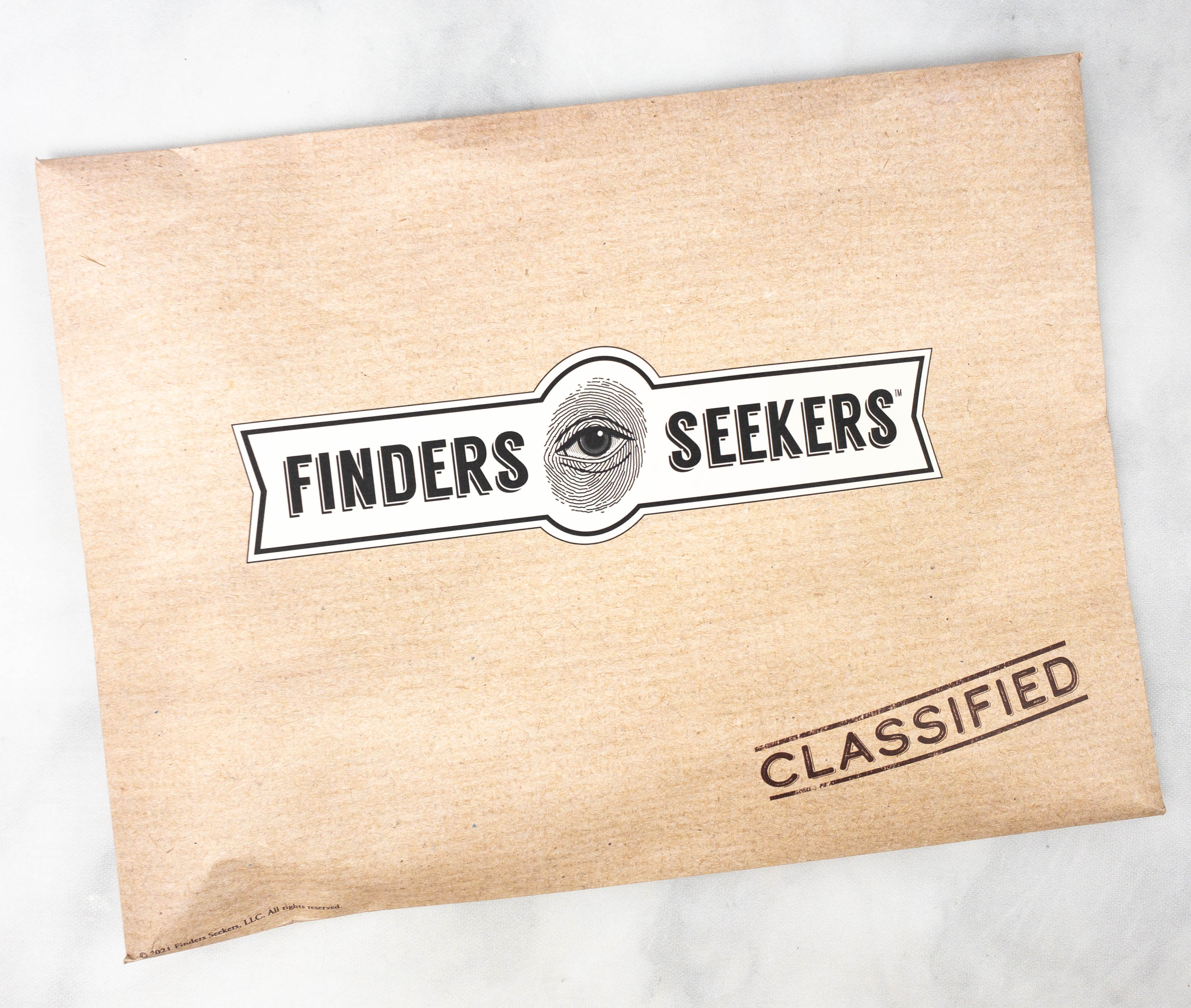 As a subscriber (limited numbers can join each month), you are invited to join the Society of Seekers, a group of like-minded puzzle friends who use their heads and a little bit of internet-search know-how to explore a city and solve a mystery each month. This month's destination is GREECE!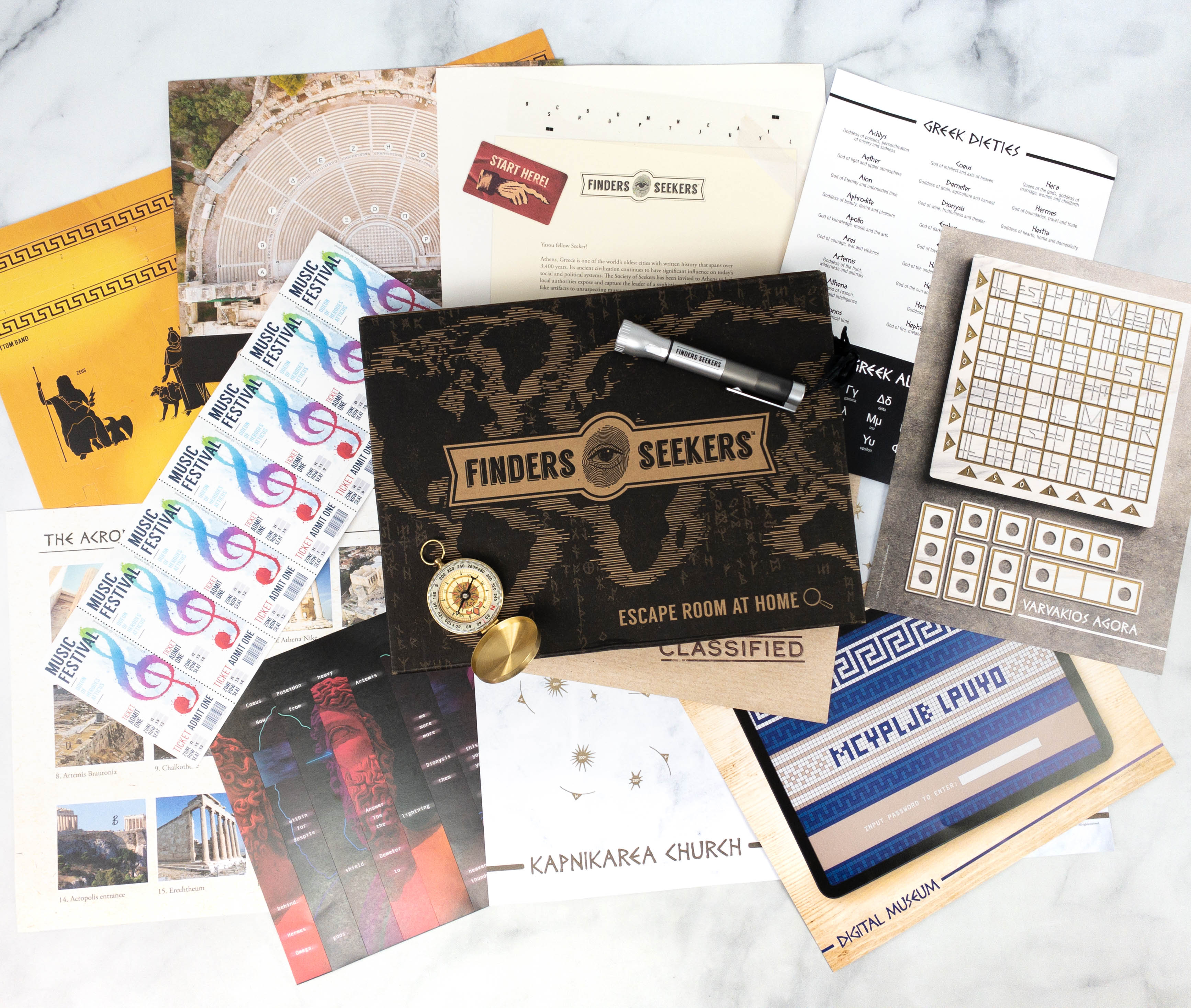 Everything in the box!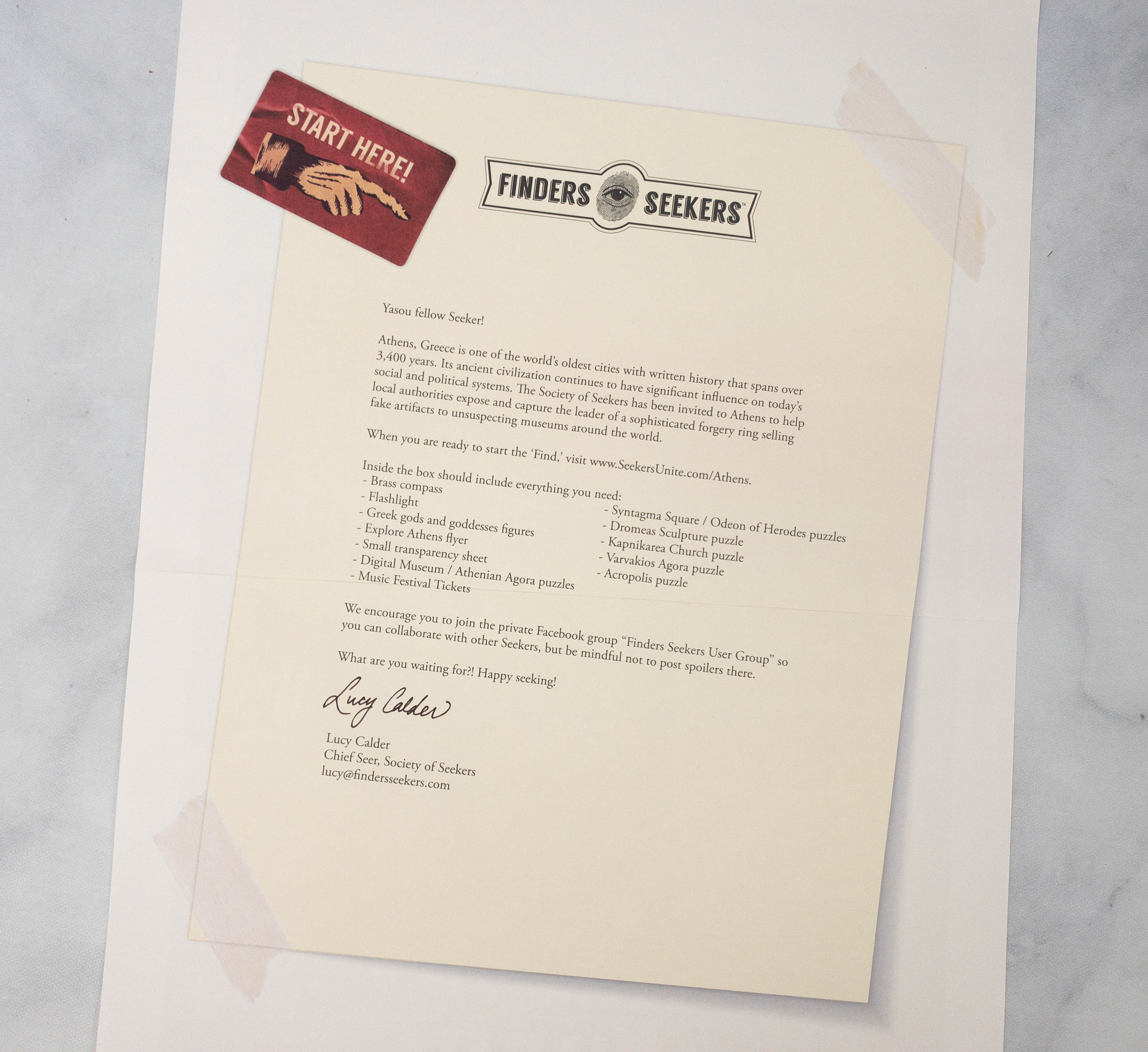 Included in the envelope is a welcome letter and checklist of every item that should be inside the package, plus all the clues needed to solve the mystery. This month, we need to help the local authorities of Greece to expose and capture the leader of a sophisticated forgery ring selling fake artifacts to unsuspecting museums around the world.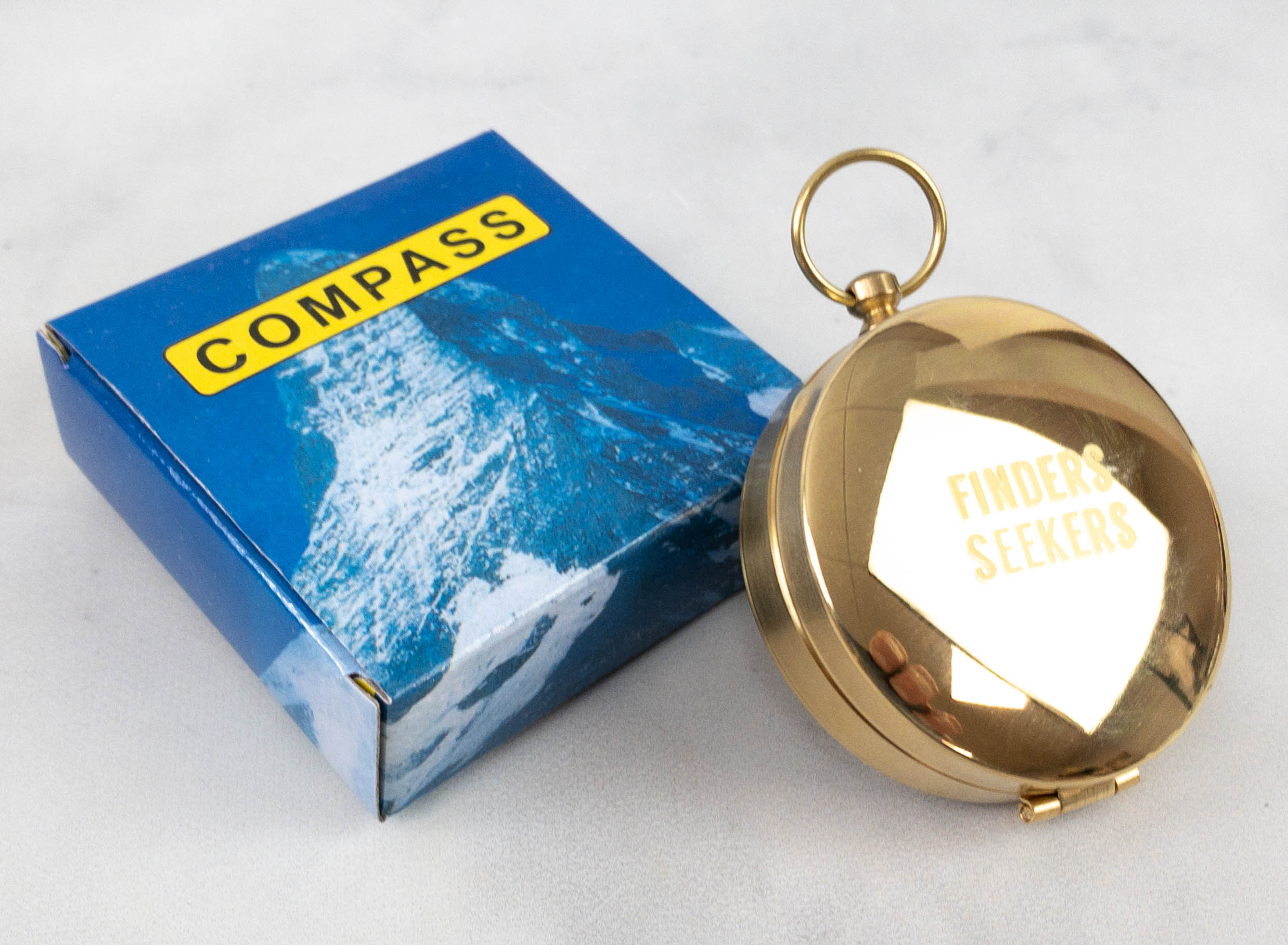 Brass Compass. People have used the compass to determine directions and find locations for hundreds of years. This month, this instrument played a vital role in solving the Acropolis and Kapnikarea Church puzzles!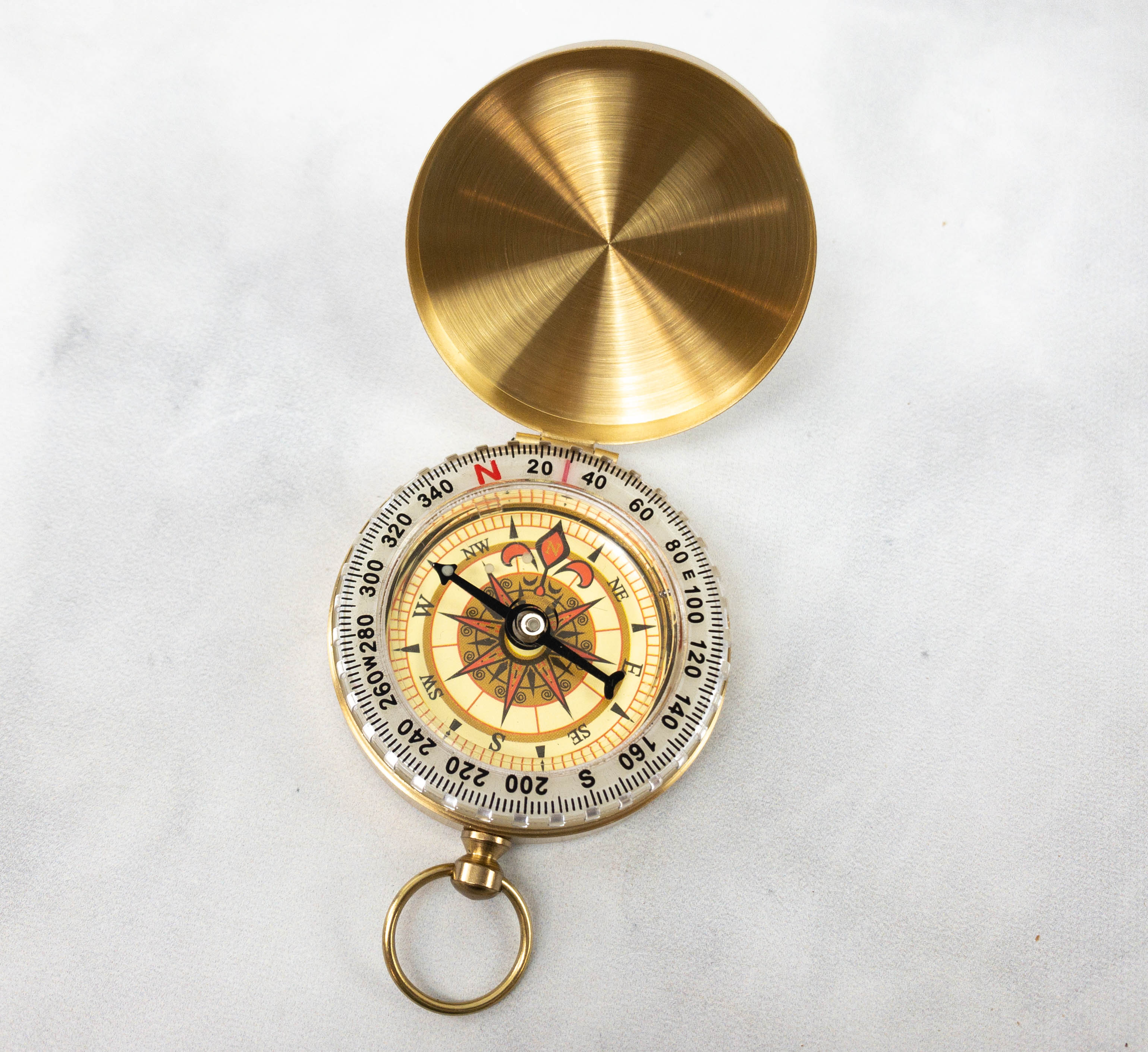 There are several types of compasses. The one included in the box has a freely rotating magnetized needle that indicates magnetic north in order to detect an accurate direction.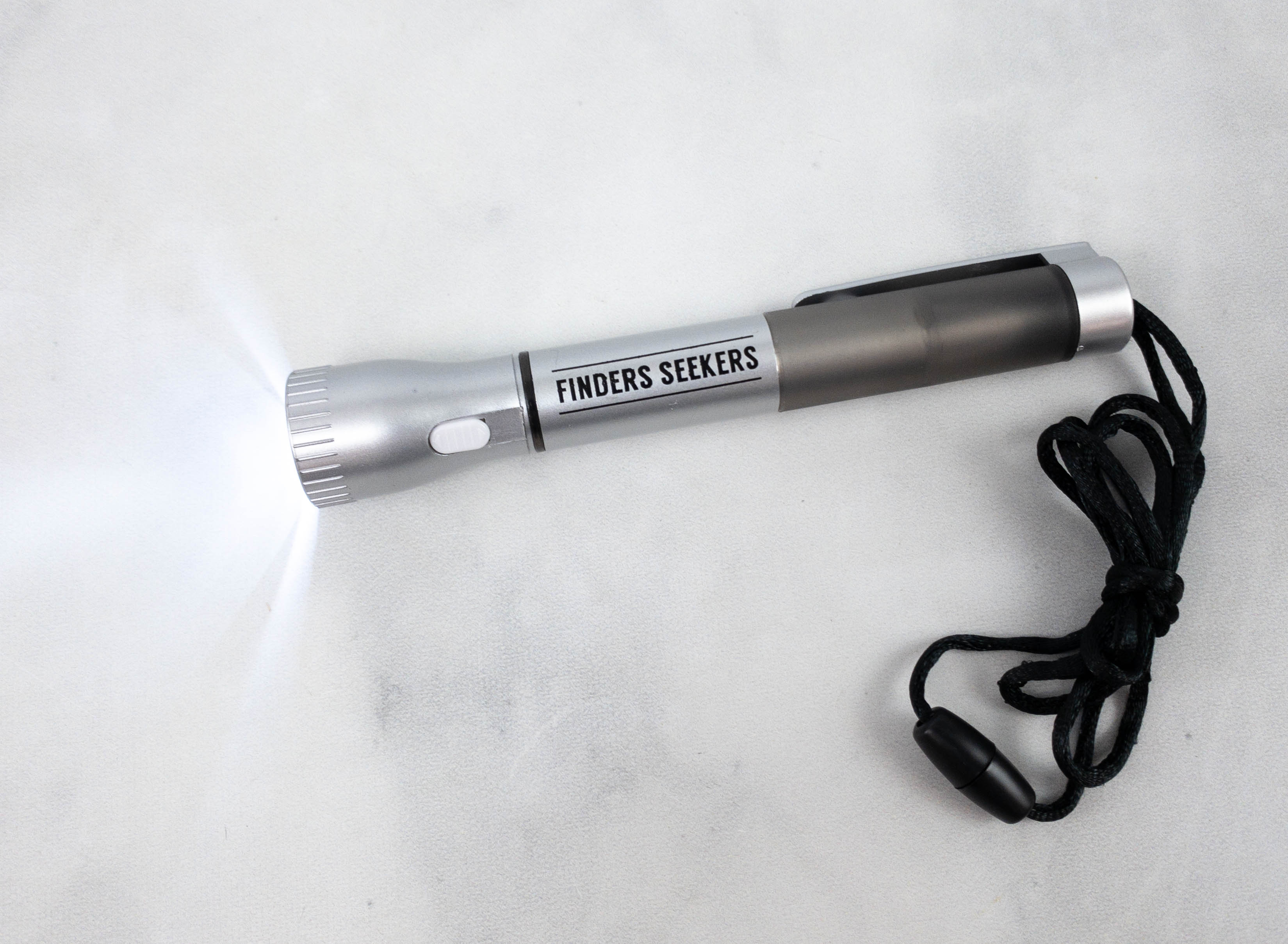 Flashlight. To help us with this month's puzzles, they also included a handy flashlight along with the puzzle materials.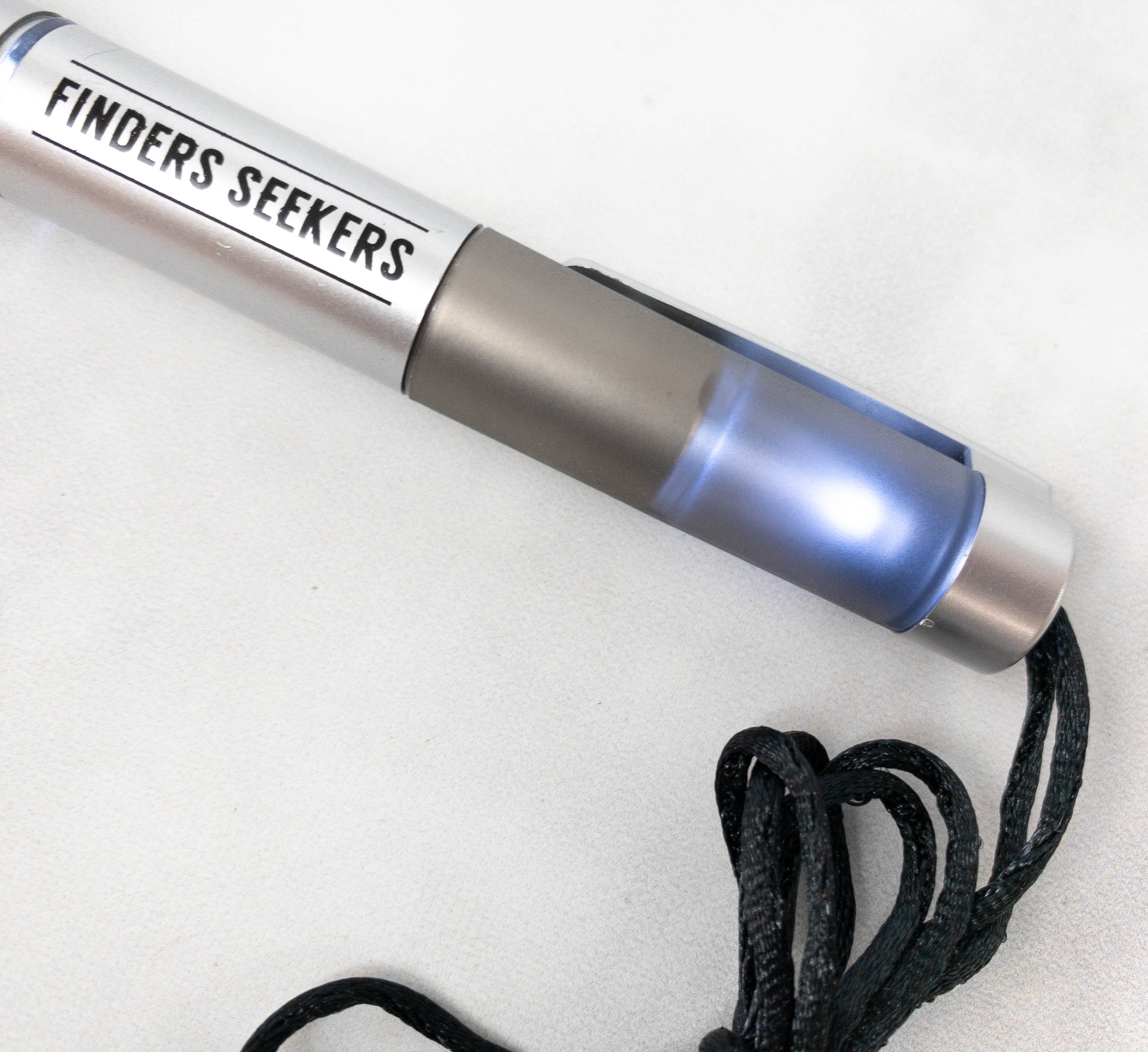 It has a Finders Seekers branding printed on its body.
The flashlight has a pen as well.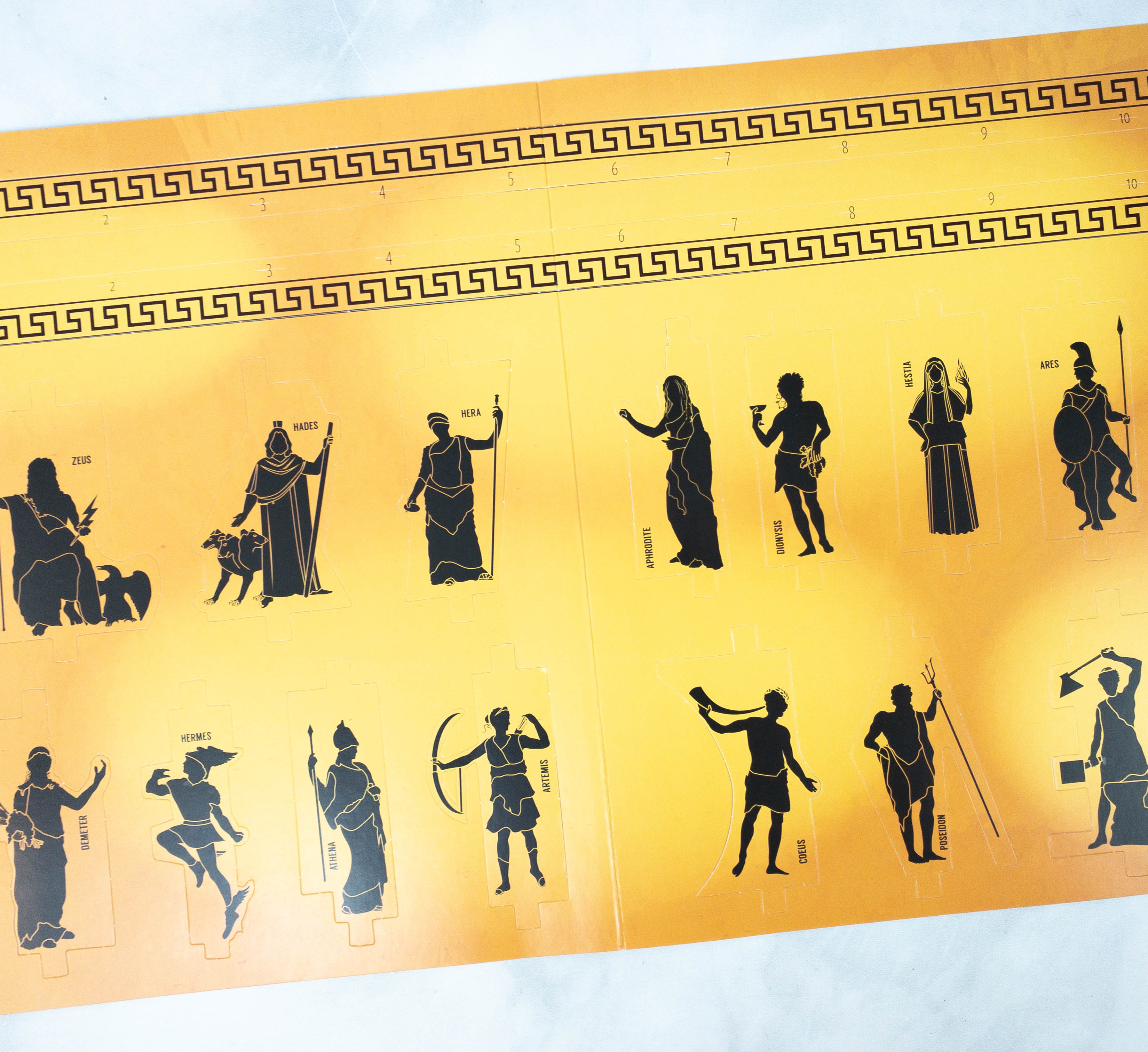 Greek Gods and Goddesses Figures. These figures represent Greek gods and goddesses. Arranging them in order will reward us the answer to complete the puzzle.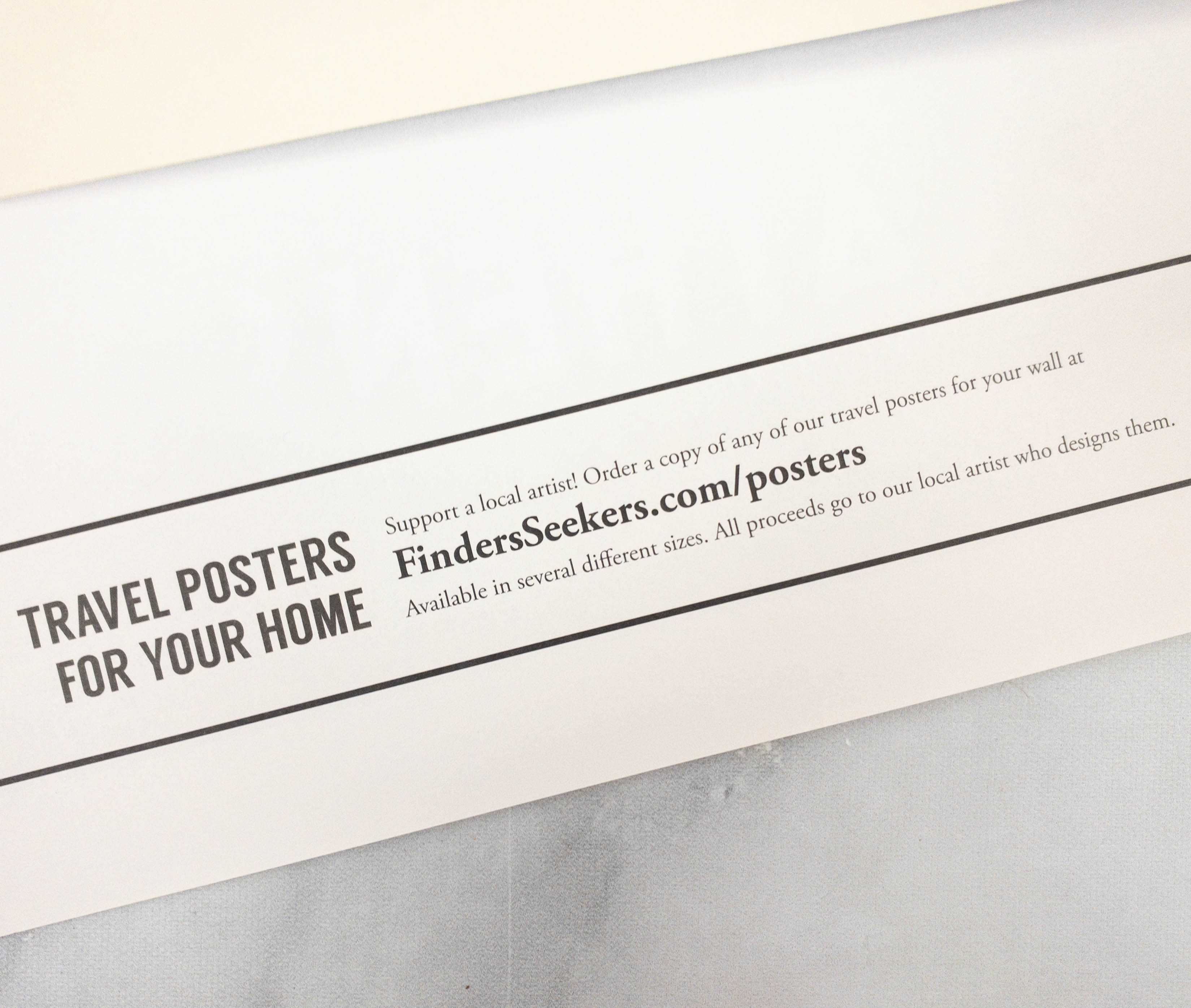 Travel posters made by local artists can also be bought through Finders Seekers website.
Explore Athens Flyer. Here's a flyer of the featured location for this month's Finders Seekers, Athens.
The flipside features a beautiful scenery!
Small Transparency Sheet. This transparent sheet with letters placed on different locations is a deciphering tool that can be used to finish the Digital Museum and Athenian Agora Puzzles. Placing it on top will produce a trail of letters that can be used to form an answer, so we can proceed with the next challenge!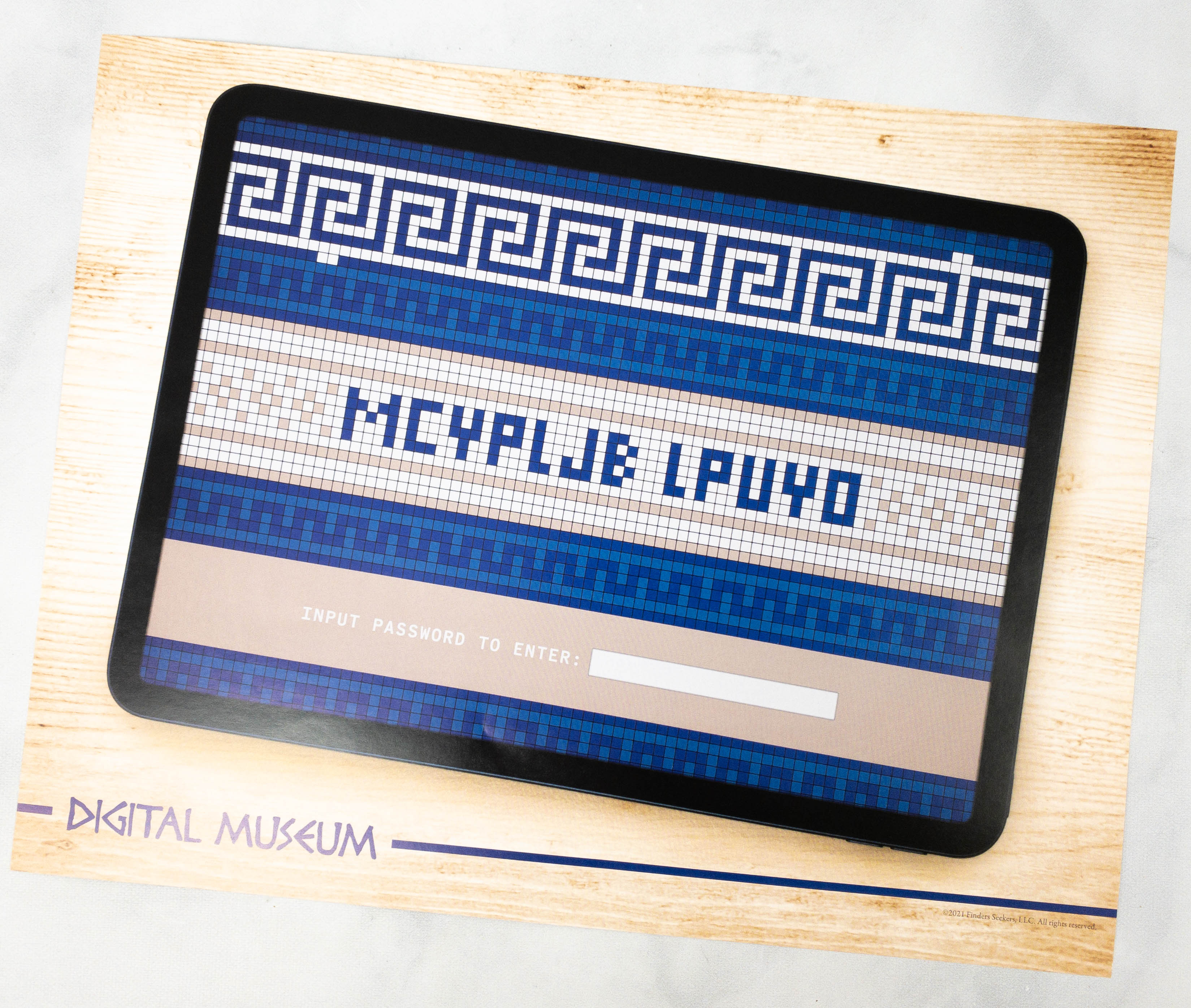 Digital Museum. It took me a few minutes to understand the pattern provided. I thought it was an easy task, but I honestly almost gave up on this!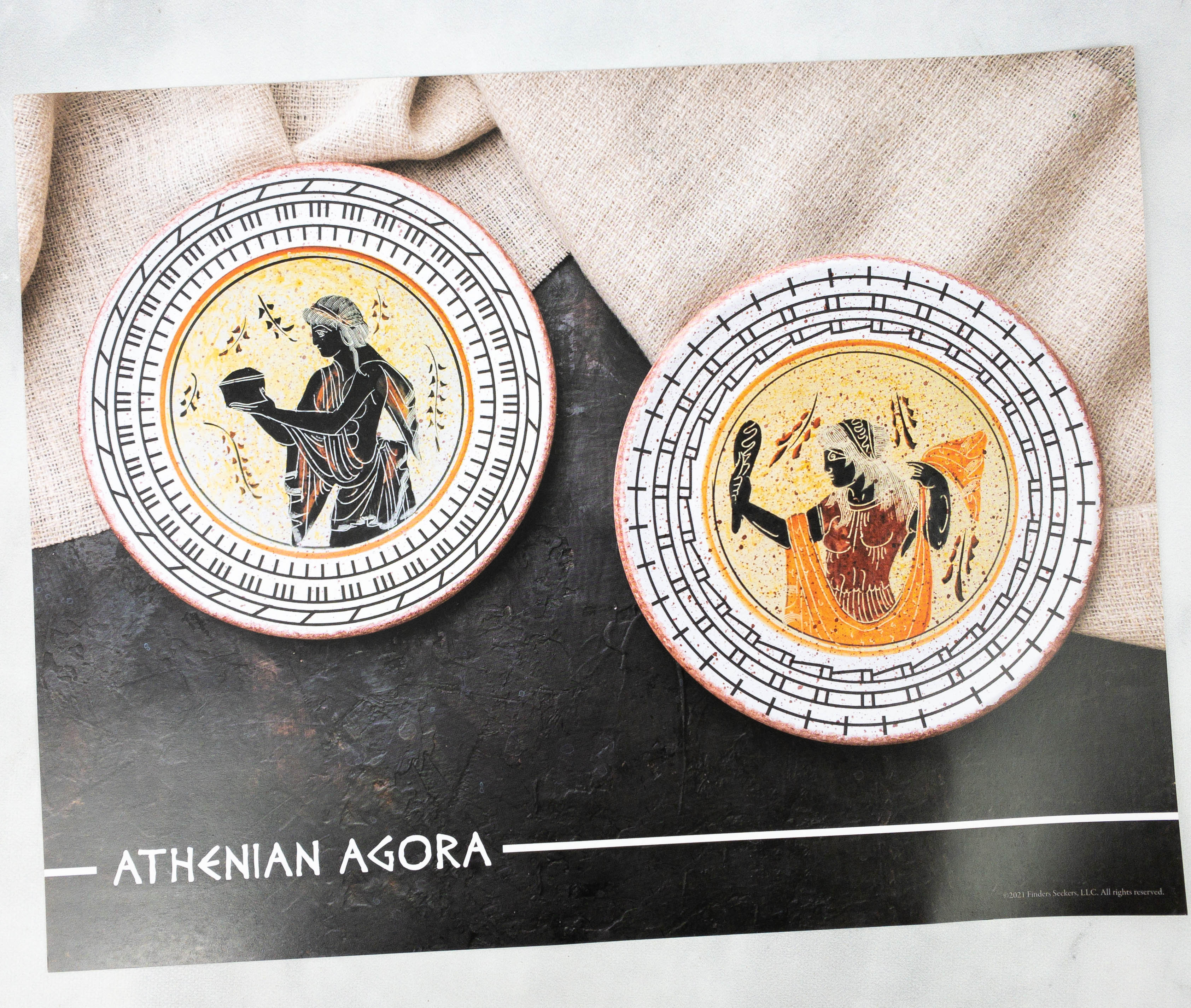 Athenian Agora Puzzles. Carefully inspecting the patterned rings on the plates gave me the letters needed to come up with the answer. It was a bit tricky at first but I knew that the designs have something hidden beneath them!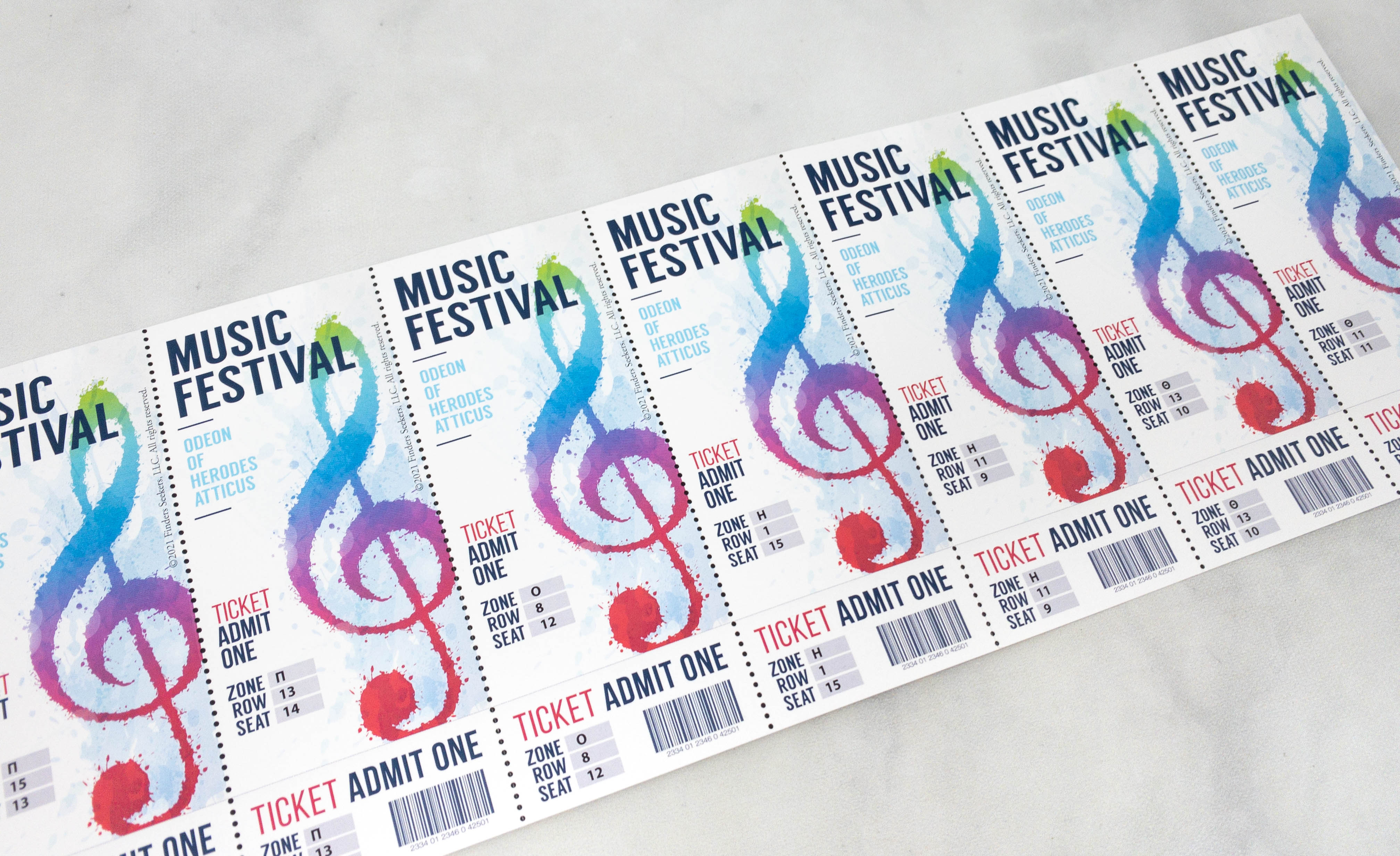 Music Festival Tickets. These are tickets intended for the Music Festival. They may look normal tickets, but there are hidden clues on every piece that will help solve the Odeon of Herodes puzzle.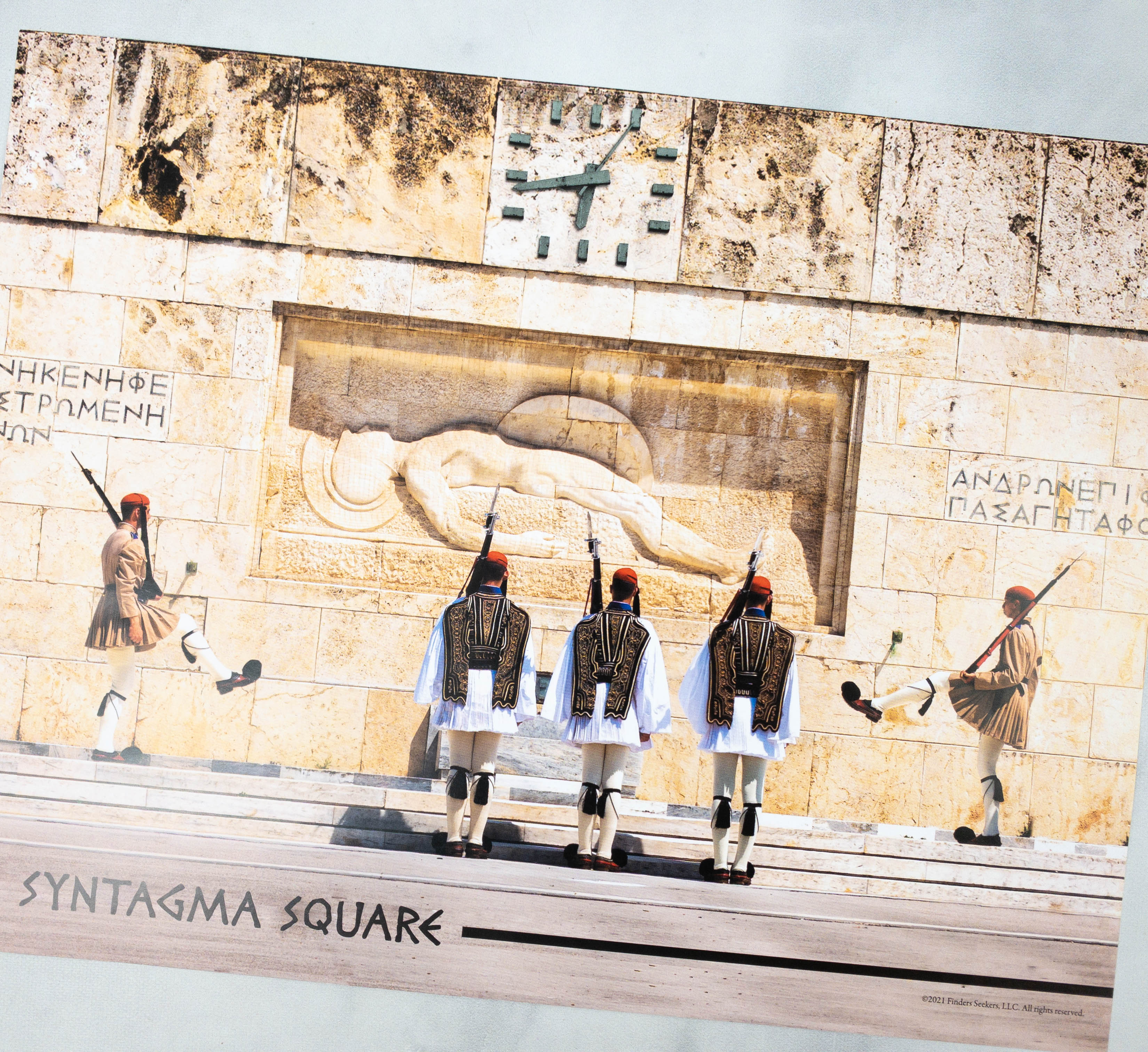 Syntagma Square Puzzle. A nice photograph of Syntagma Square is shown at the front part of the card.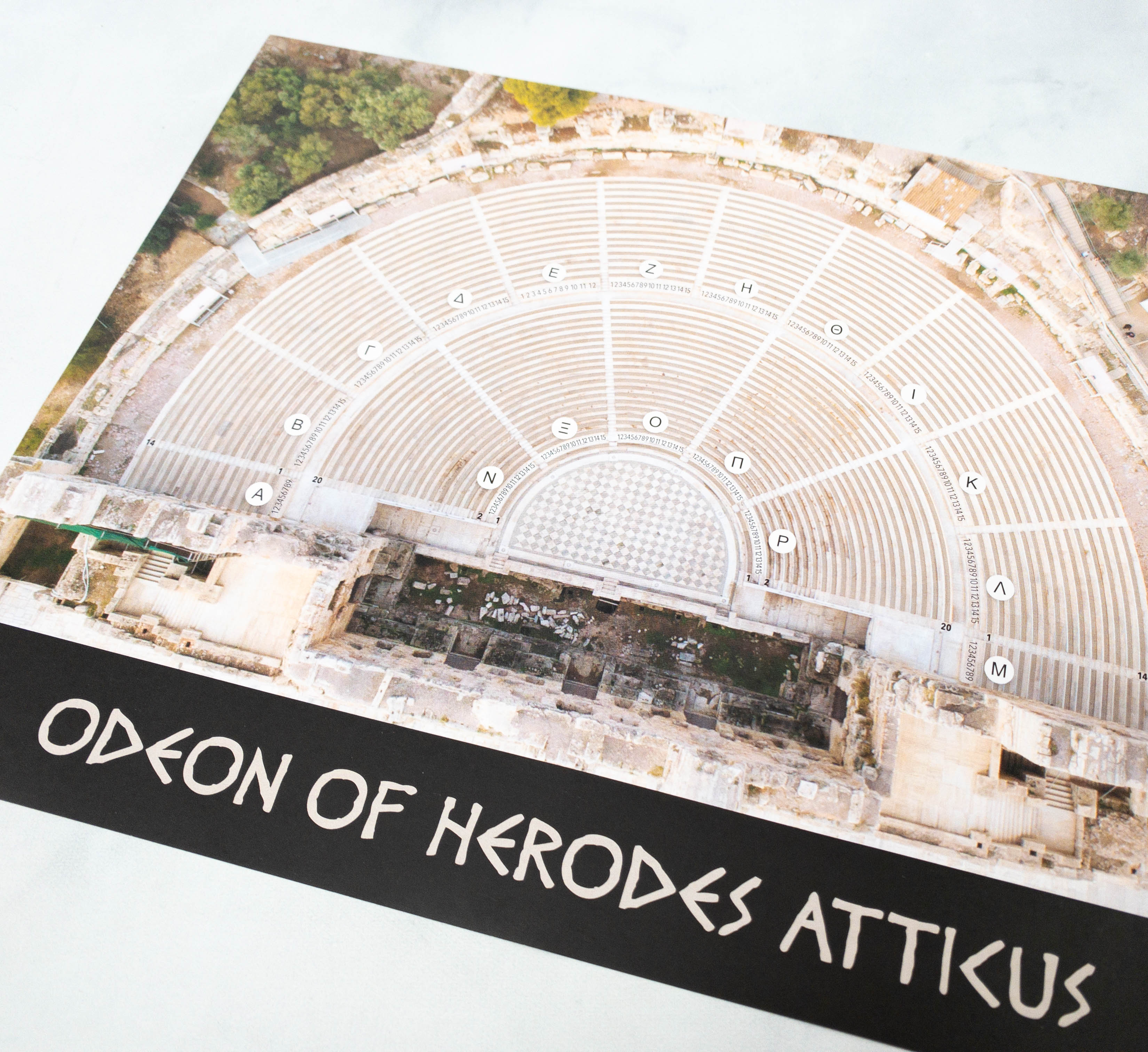 Odeon of Herodes Puzzle. At the back is the Odeon of Herodes puzzle. This part won't be a problem if you look closely at the information on the tickets and position of seats.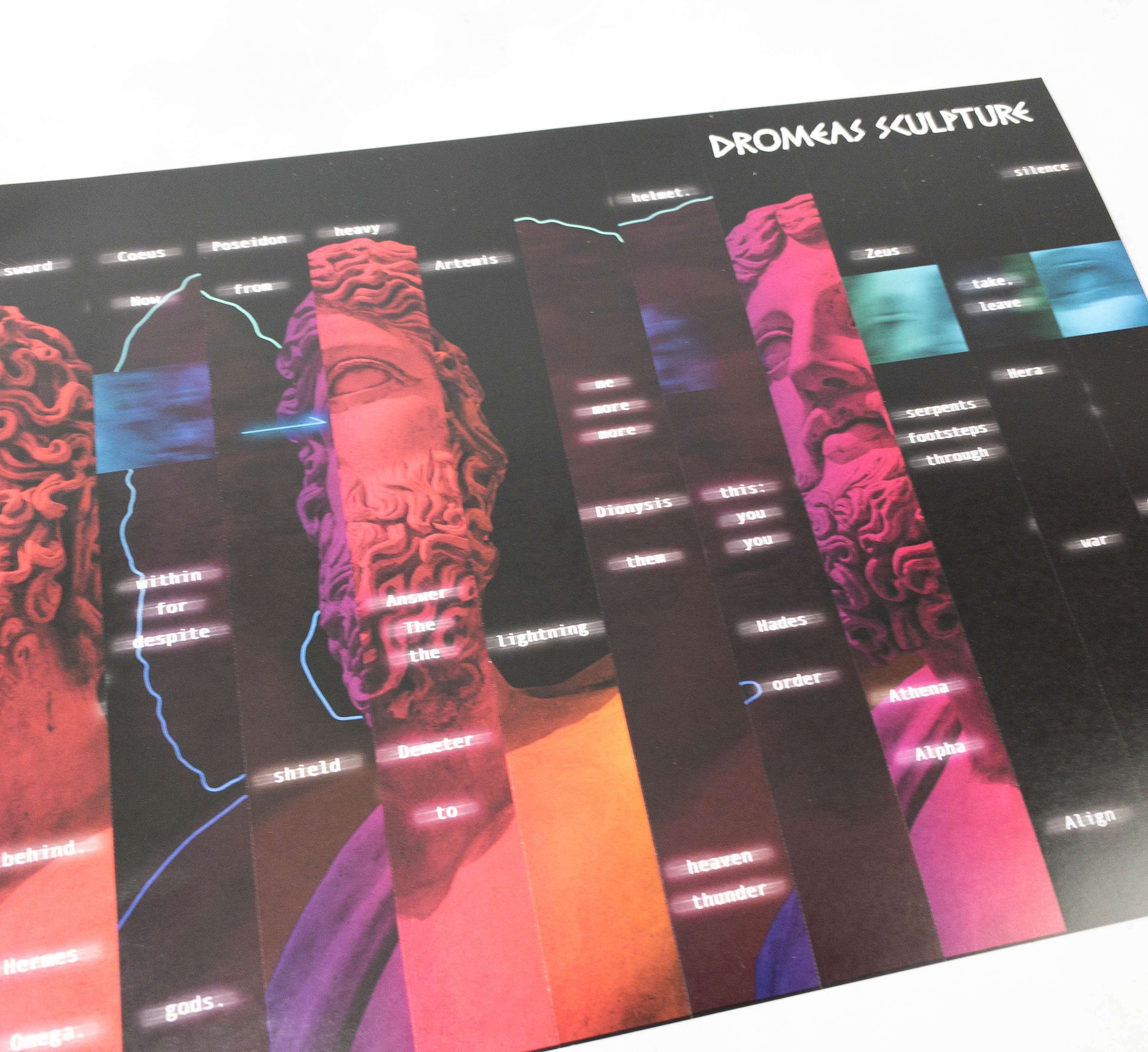 Dromeas Sculpture Puzzle. Arranging the sculptures in order according to the English alphabet helped me get through this puzzle!
Kapnikarea Church Puzzle. This puzzle requires the use of compass and carefully observing the dial. It took me a while until I figured out that they are actually clues that I can use to connect the stars and finally reveal the answer that I'm looking for!
Varvakios Agora Puzzle. Solving this problem needed a lot of patience because it involved a lot of trials and errors. Finding a starting point is the key and disregarding the zeros made it easier for me to complete the puzzle.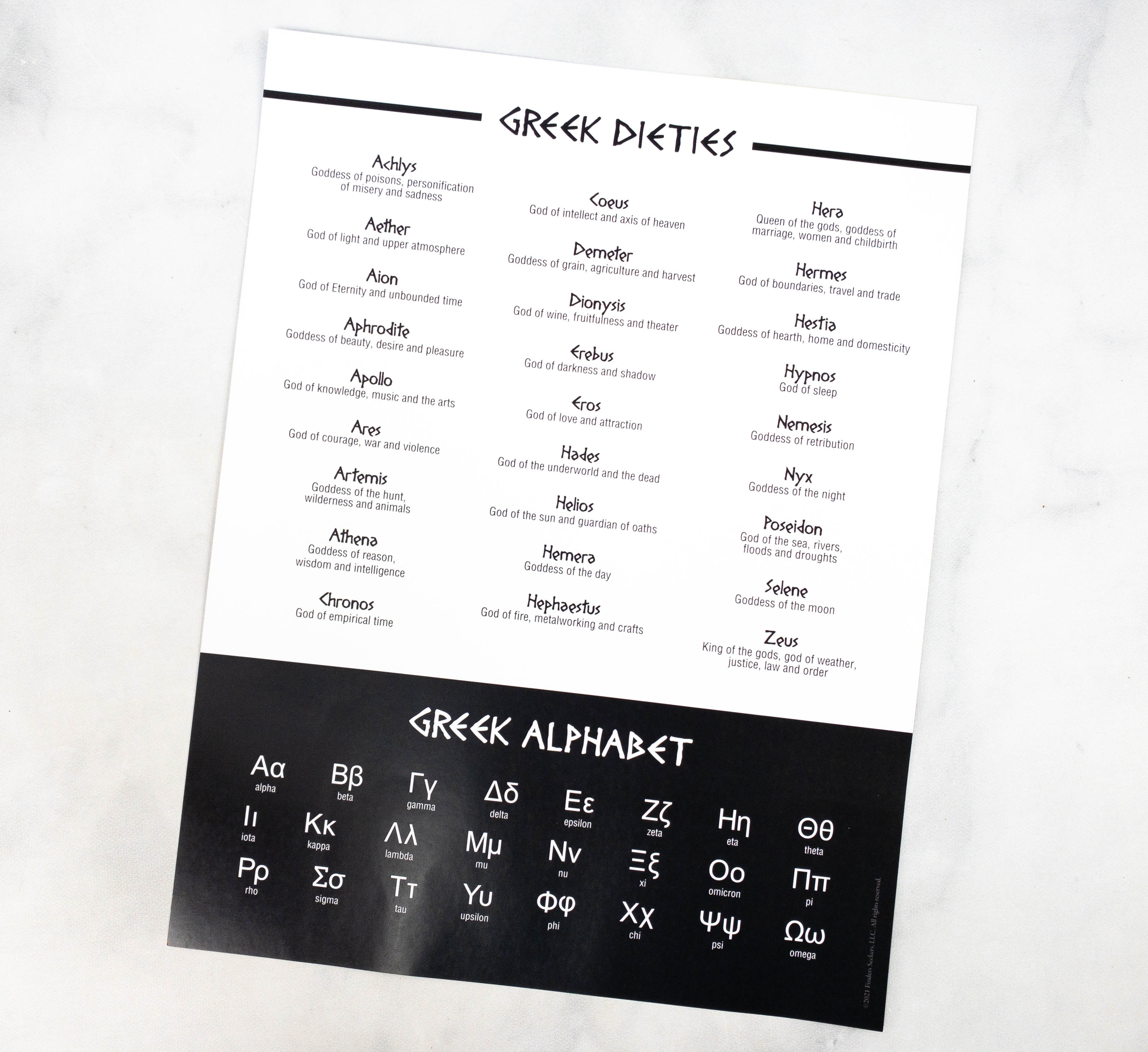 At the back is a list of Greek deities and alphabet.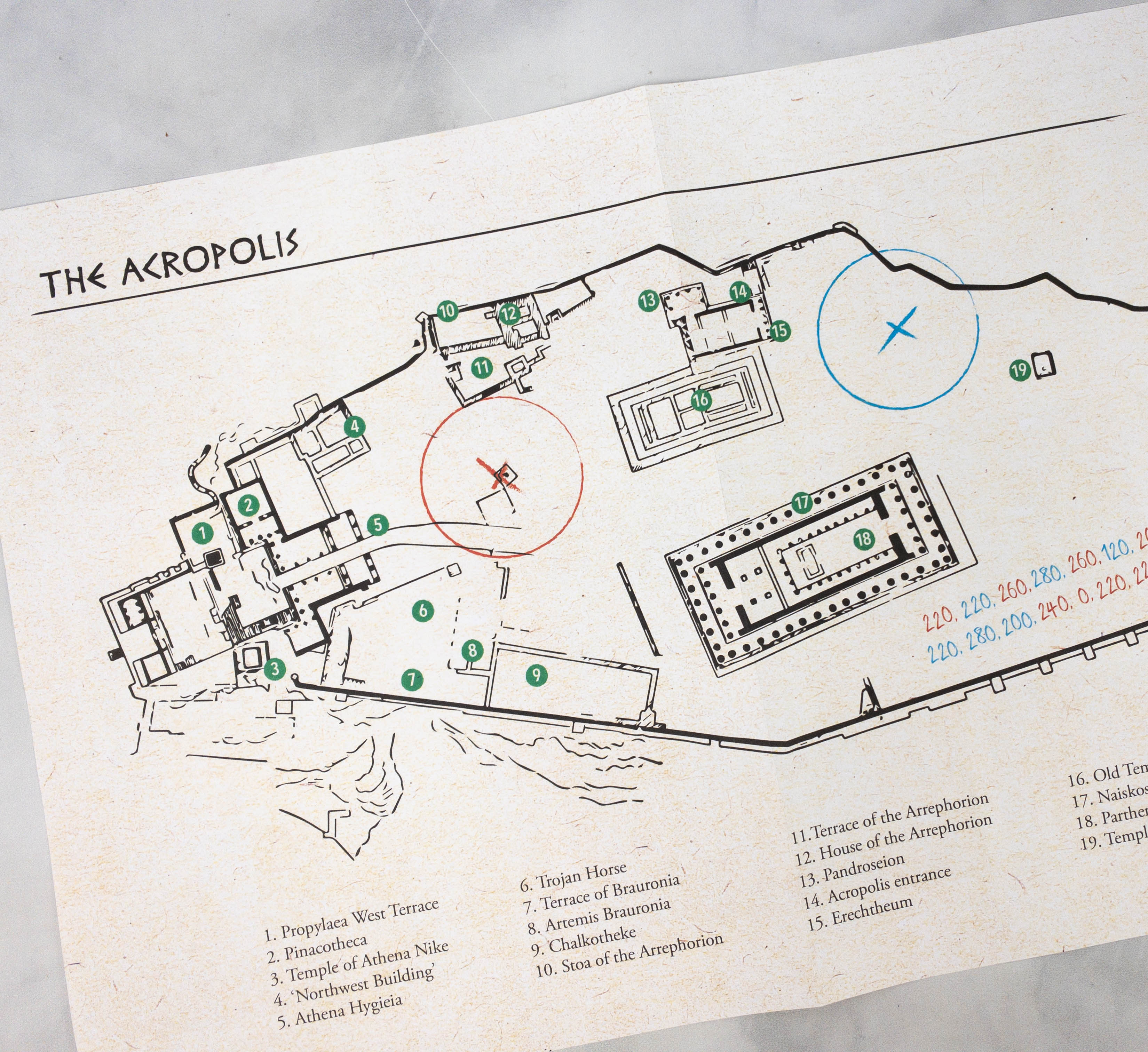 Acropolis Puzzle. Using the compass, every clue in the puzzle revealed a location with a corresponding letter. The letters produced will form a word to accomplish the puzzle.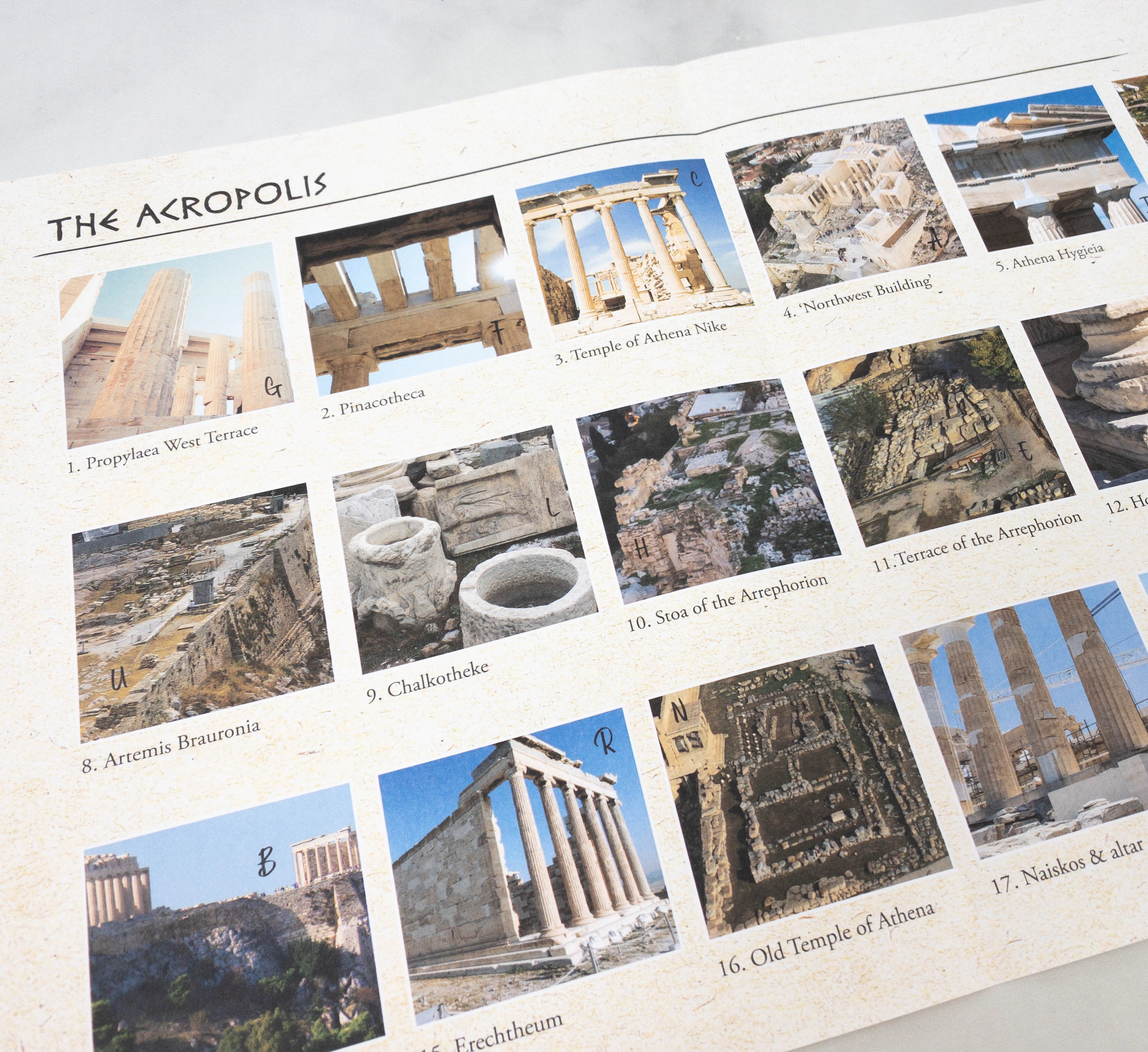 At the back of the puzzle are amazing locations.
Finders Seekers took me to Greece this time and I had fun with the puzzles. They highlighted a lot of beautiful locations and I learned so much about the country's culture, history, and people. As always, they provide everything needed to solve the mystery. Although there are some difficult puzzles, I was able to go through them smoothly with the help of the clues. If you love puzzles, mind exercises, or solving mysteries, this subscription is for you. The puzzles can be done individually or as a group, so it's pretty flexible! It's also perfect for a game night at home!
Did you solve the mystery? How long did it take you? Let us know in the comments below!