Desk Stash is a quarterly subscription box to level up your workspace with fun, creative, and unique products. Whether it's at the office, the classroom, or just to keep around the house, they curate a selection of funky but functional products. The box ships every three months. You can pay quarterly for $45 USD or annually (four boxes) for $170. They currently only ship to the US.
DEAL: Get 10% off your first quarterly or annual subscription box! Use coupon code HELLO10.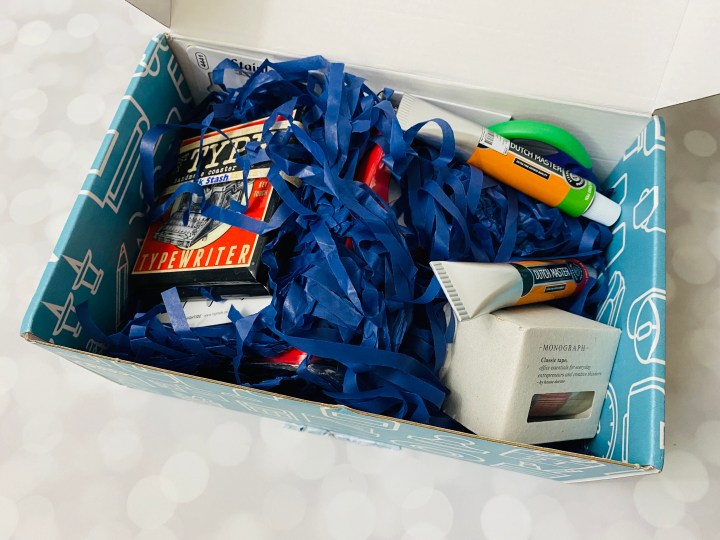 First look!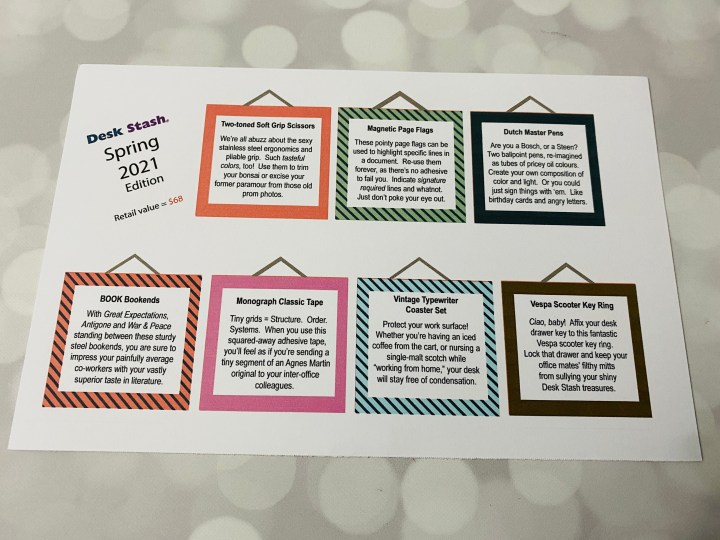 This is the Spring 2021 box!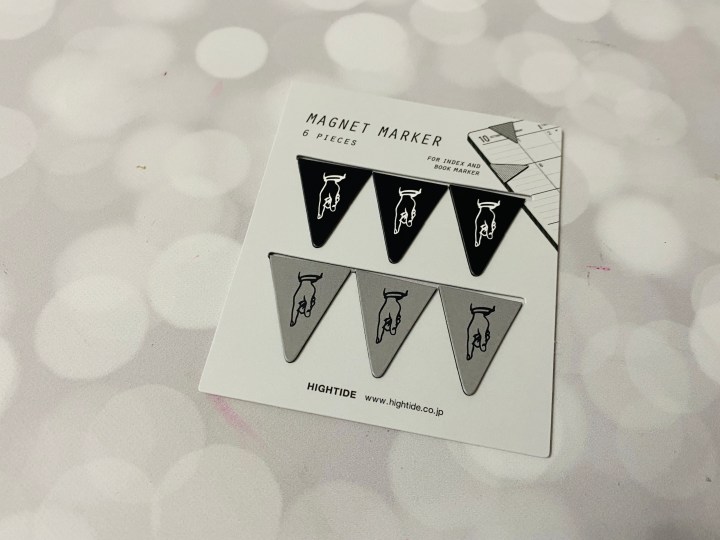 Magnetic Page Flags. Perfect for marking your page in a book, pointing to a spot that needs a signature, and more. These are nice and small, and the magnet holds place securely. I like using these as bookmarks because you can point at the line you left off when you paused reading!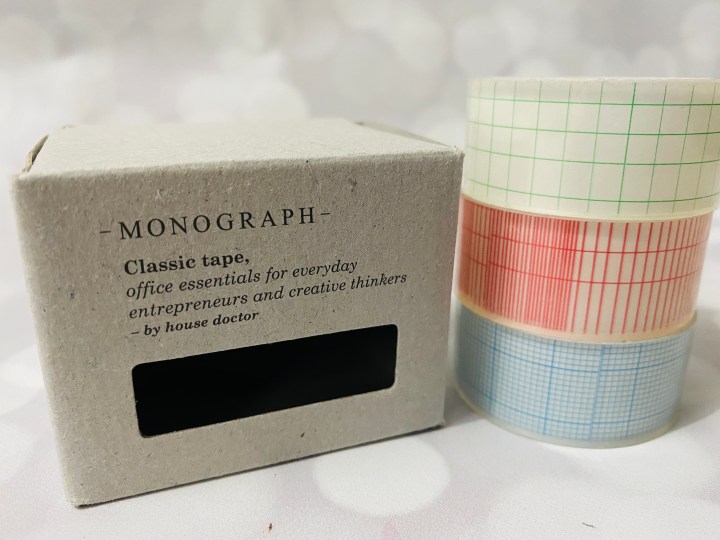 Monograph Classic Tape. A set of scotch tape in geometric patterns. I love the simple sign of these and the different scales of patterns from the tiny blue grids to the larger green grids. These pop into your tape dispenser easily and are great for adding a pop of colour!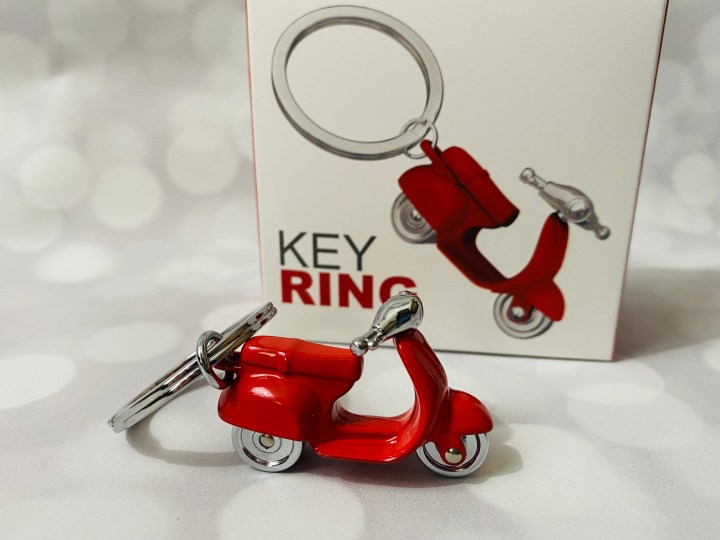 Vespa Key Ring. I love anything miniature and I am obsessed with this keyring! I desperately needed a new one and this one is soooo cute! The wheels spin and the handlebar turns as well. The bright red colour is so cheerful and I can easily spot my keys in my purse!
Bookends. I am OBSESSED with this bright cherry red colour again same as my new key ring! This set of metal bookends are perfect for keeping your shelves tidied. I can't get over the colour!
Custom Typewriter Coasters. These coasters were made custom for Desk Stash! I love when Desk Stash gets some great custom items for the box, as they are always super cool and unique. I often have a drink at my desk when I'm studying, so these cool vintage typewriter designs will keep everything clean from drips.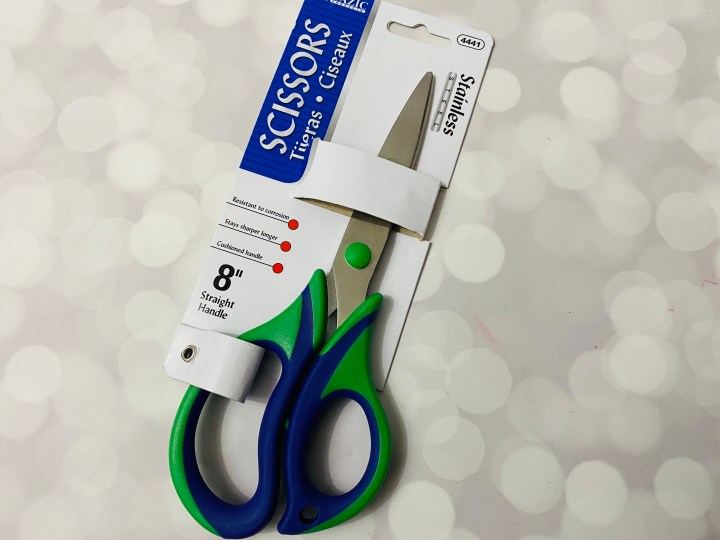 Scissors. I always need scissors around my house and these are some great ones. They're really comfortable to hold and the bright colours mean I can find them easily. The stainless steel blades won't rust which is great.
Paint Pens. Disguised as tubes of paint, these are actually pens! Despite being short in size they are comfy to hold and write really smoothly. I received red and green which are great to add a pop of colour to my notes or a card!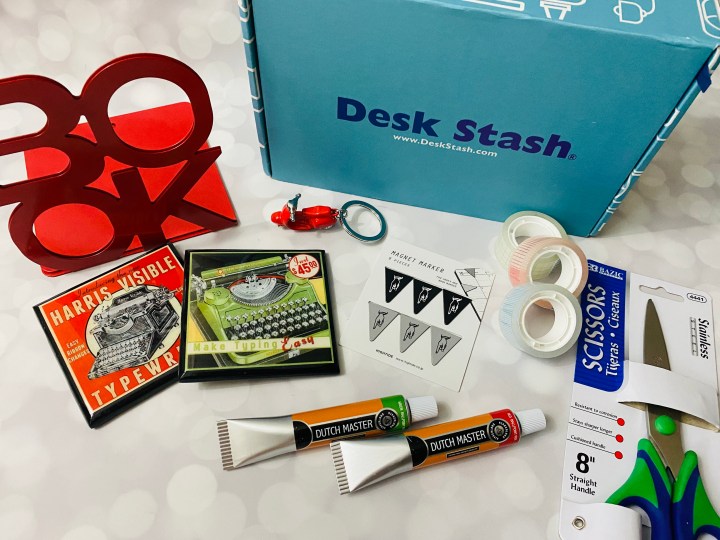 The Spring box was FULL of colour! That's my main observation about the box this time around and I love it. From red to green to blue, cute tapes, scissors, bookends, coasters, and more – it feels like we're embracing spring and getting into summer with bright colours. Desk Stash always comes up with some surprising items that I get so much use out of, and in general are just great quality and design. It's never boring to unbox Desk Stash because there's always so many cool things to try!
What do you think of Desk Stash?