With two resident tea fanatics, we couldn't share this box with just one of our reviewers! Both Deb & Valerie wrote this review – Deb is more of a David's newbie, and Valerie is a decade+ fanatic!
DAVIDsTEA Tea Tasting Club is a new tea subscription from a Canadian brand known for their blends and shops. Sign up and receive 4 seasonal boxes per year delivered right to your mailbox. This subscription is $140 for the entire year and will have a value of around $220, plus shipping is free. NOTE: Those who signed up before April 10, 2021 will continue to have an annual subscription while new subscribers will have an Endless subscription and you can skip, pause, or cancel your subscription at any time.
Valerie: David's Tea is one of Canada's most well-known tea houses, with a huge catalog of every kind of tea. From black tea, to mate, to traditional matcha, I have been a loyal customer for over a decade and a half. Their teas are sourced from all over the world and many are given a unique twist or taste. My cupboards at home are full of their colourful tins, steepers, and their beautiful mugs! So when I read they were doing a quarterly subscription, I knew this was the perfect tea subscription for me. The box is $35 CAD quarterly.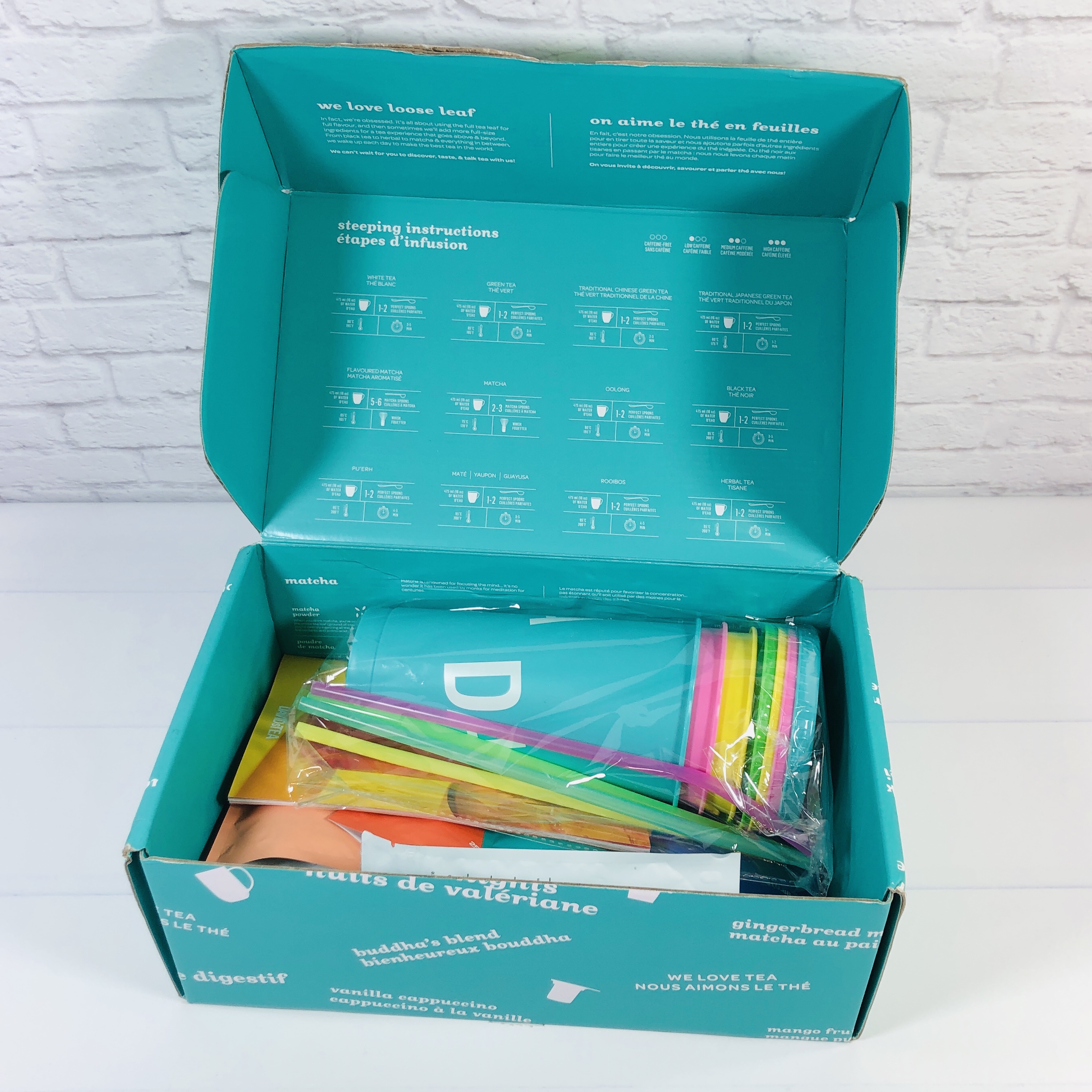 Valerie: The box is the traditional David's Tea teal, and inside are colourful packets of tea. The interior of the box includes a guide to steeping for all of their tea types, including ideal temperature and steeping time.
Debbie: The items were simply placed in the box, no special fanfare or extraneous wrapping. The box itself had all kinds of notes on steeping on the inside, even a crossword puzzle was printed inside the bottom of the box!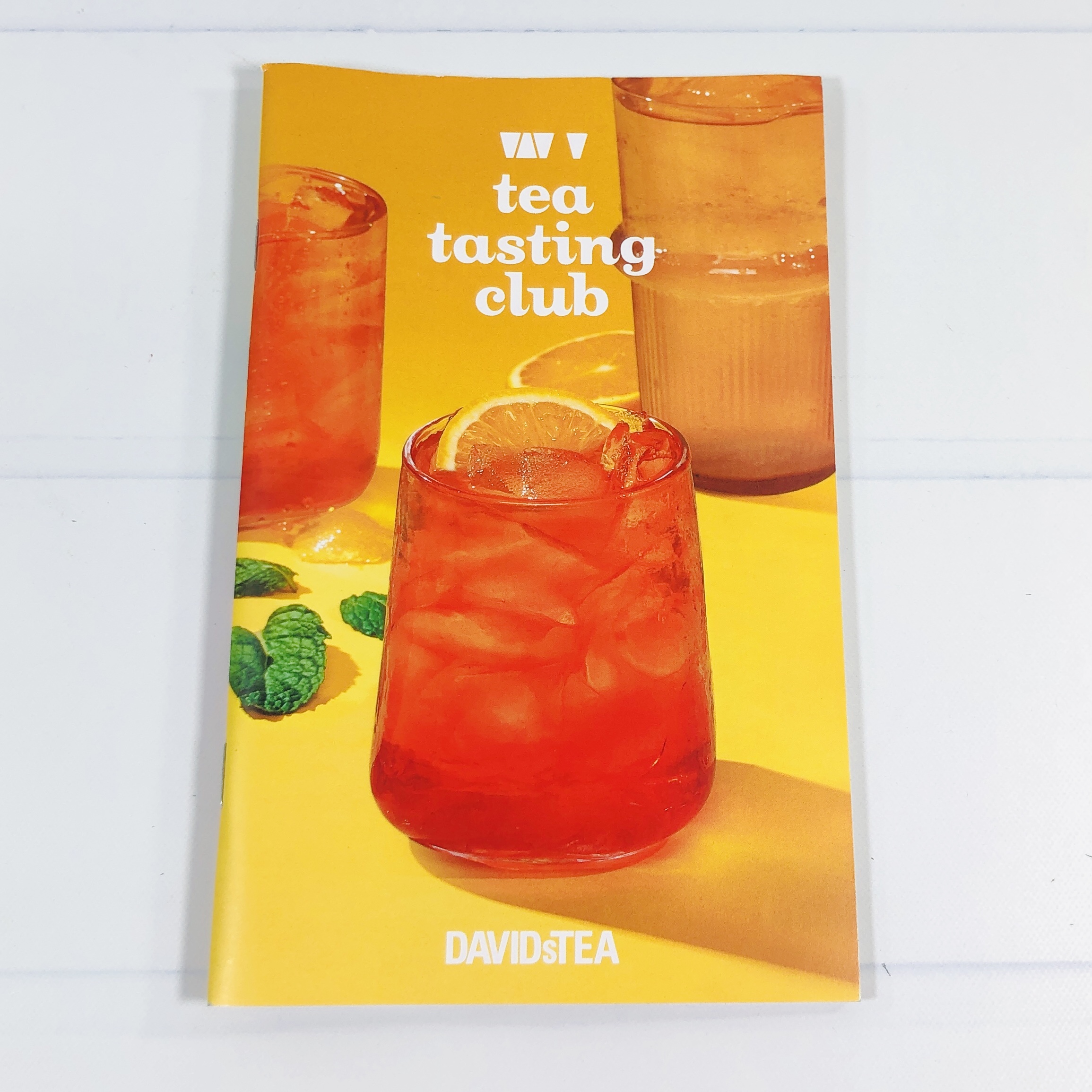 There was a super informative booklet inside.
Valerie: The magazine included is a beautifully glossy, properly bound booklet — one side is English and the other is French.
Debbie: DAVIDsTEA is from Canada so you will find everything in French too. The booklet can be flipped around for those who prefer that language.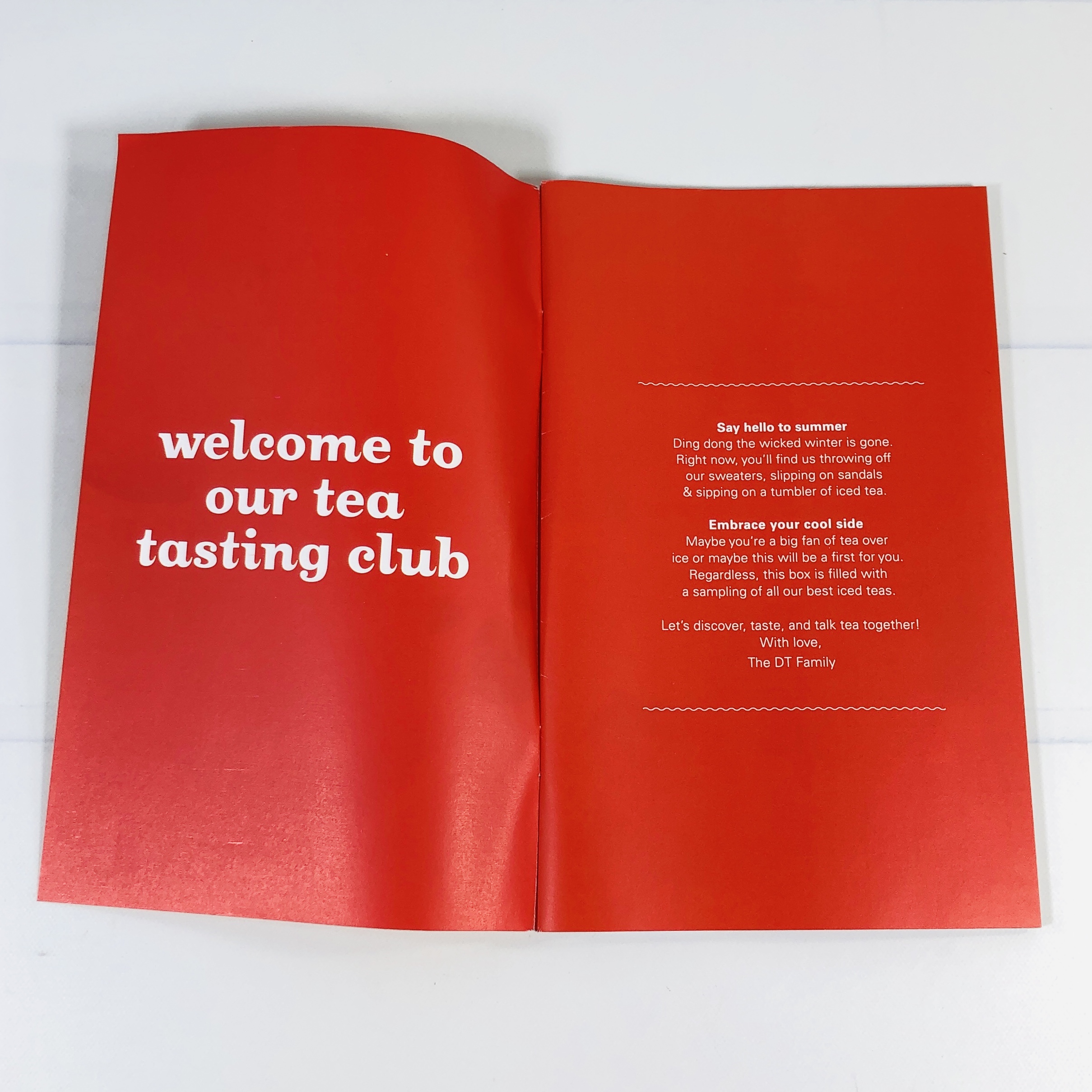 Valerie: I like how the booklet is in English and French!
Debbie: This is only the second box from DAVIDsTEA. The booklet had 34 pages so we're going to be here for a while.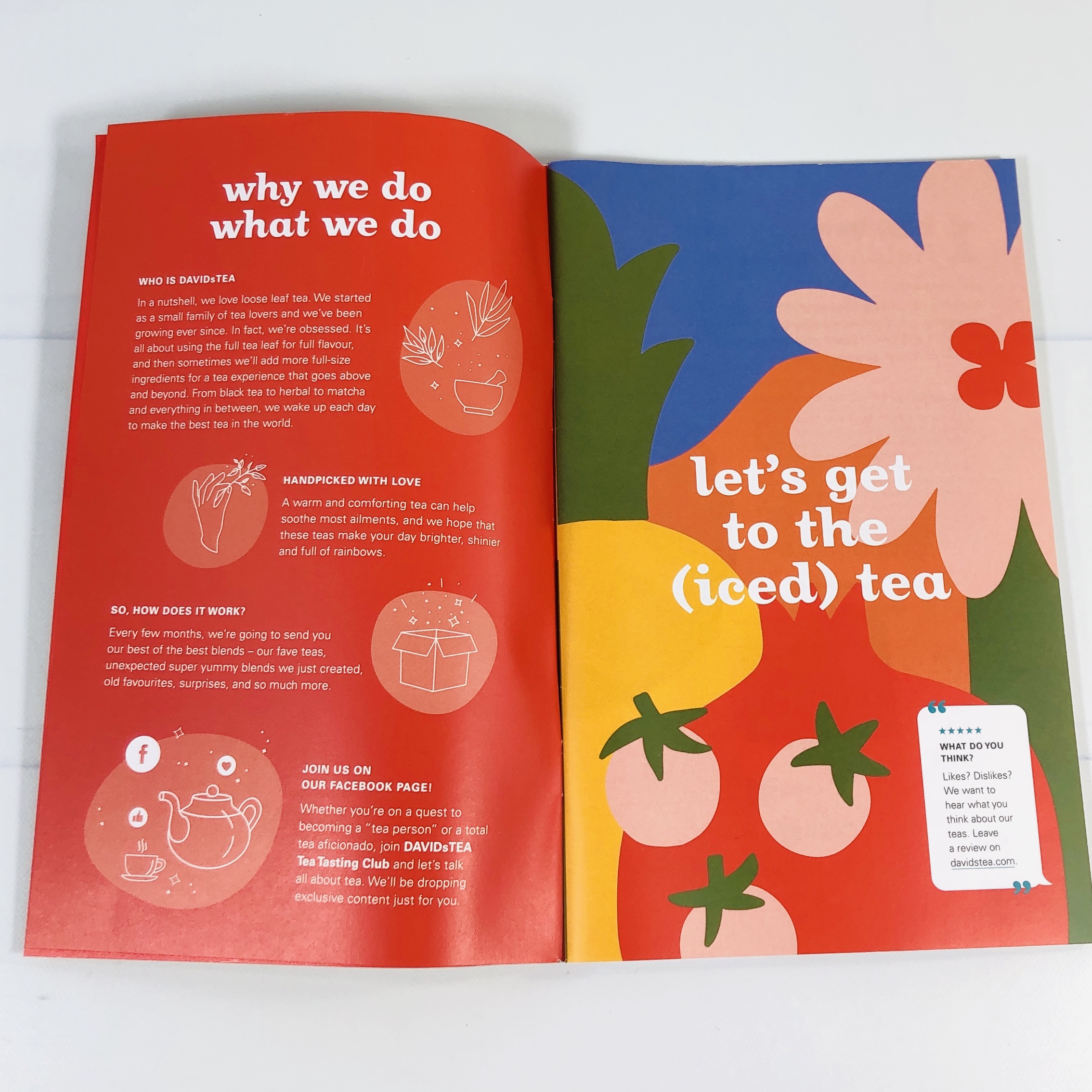 Valerie: The amount of detail and information packed into this booklet is exactly what I'd expect from DT!
Debbie: A little bit about the brand was mentioned and as you can see, this is a box all about iced tea for summer!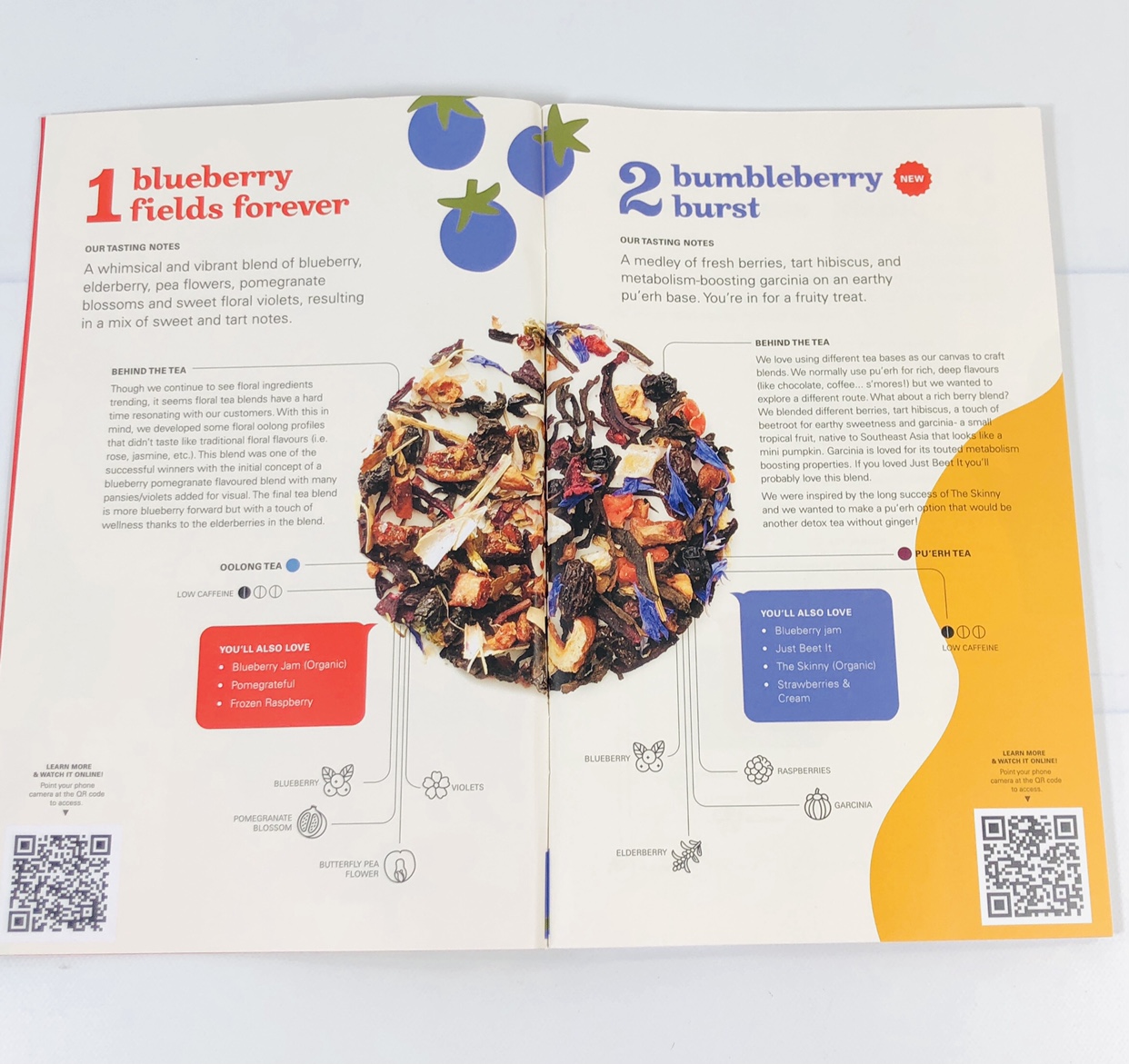 Valerie: Each tea gets a full write up including ingredients, details, and my favourite feature which gives suggestions for other DT teas to try if you like it. There's also a QR code which links to a video of some of the R&D team chatting about the teas and why they chose them.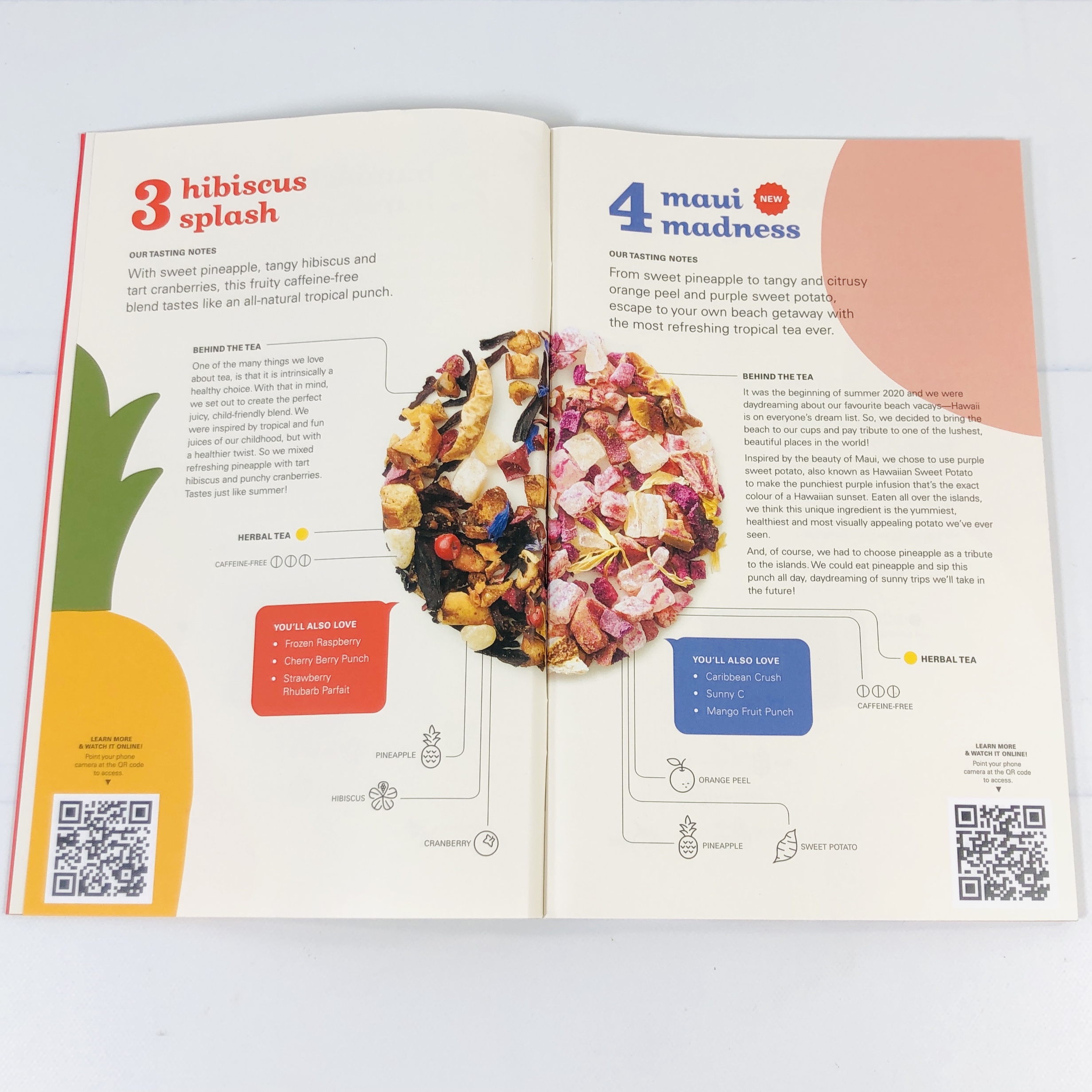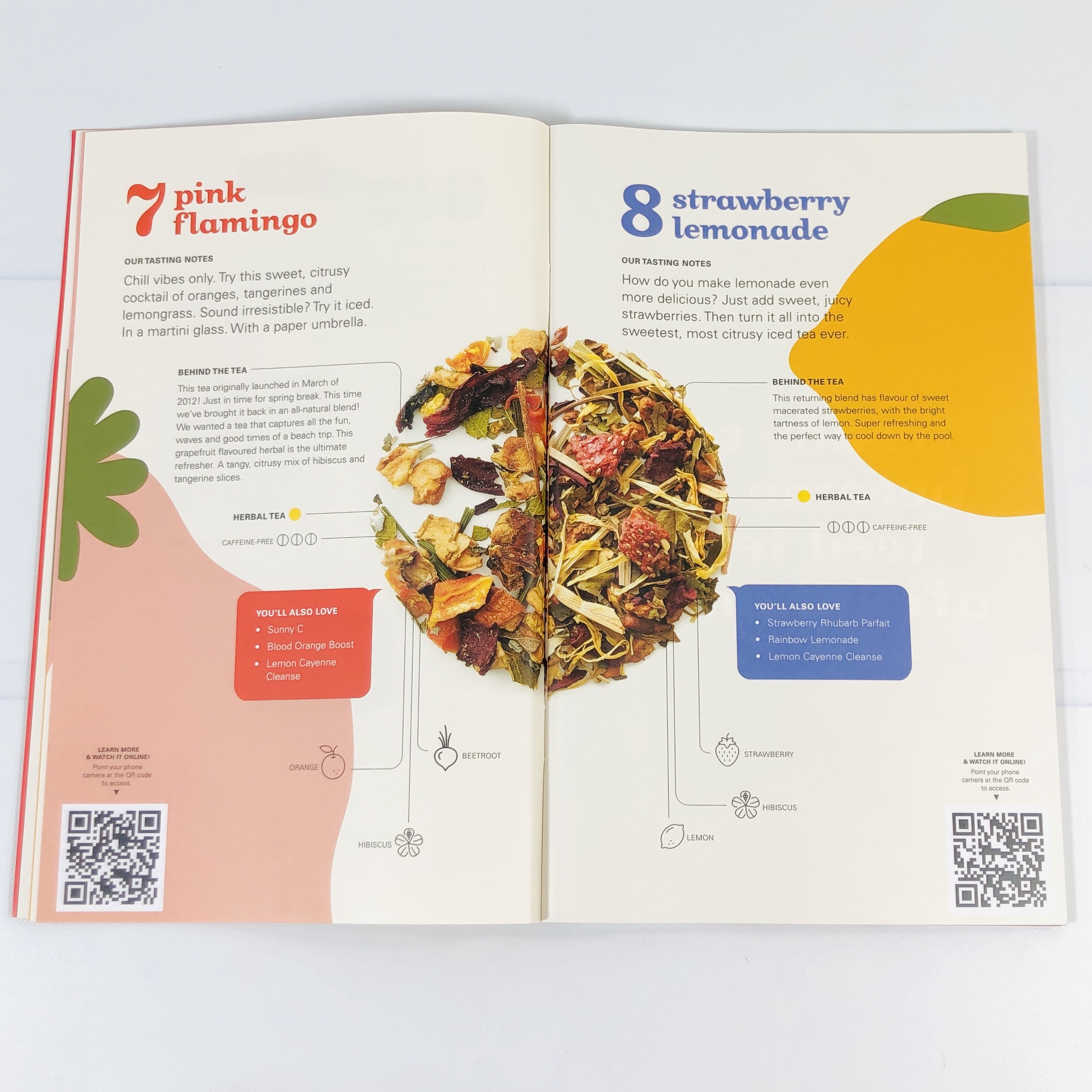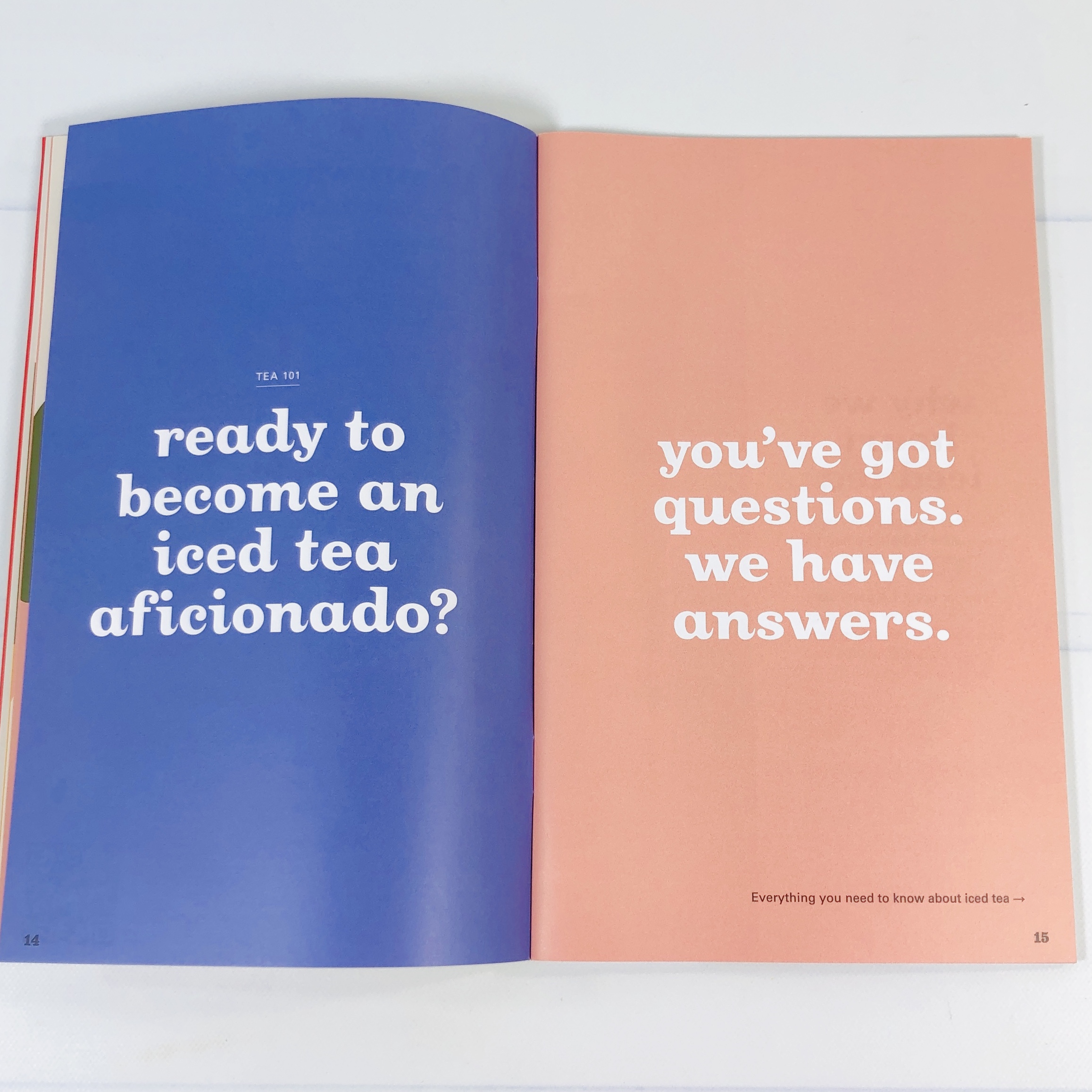 Again, the focus for the summer box is iced tea.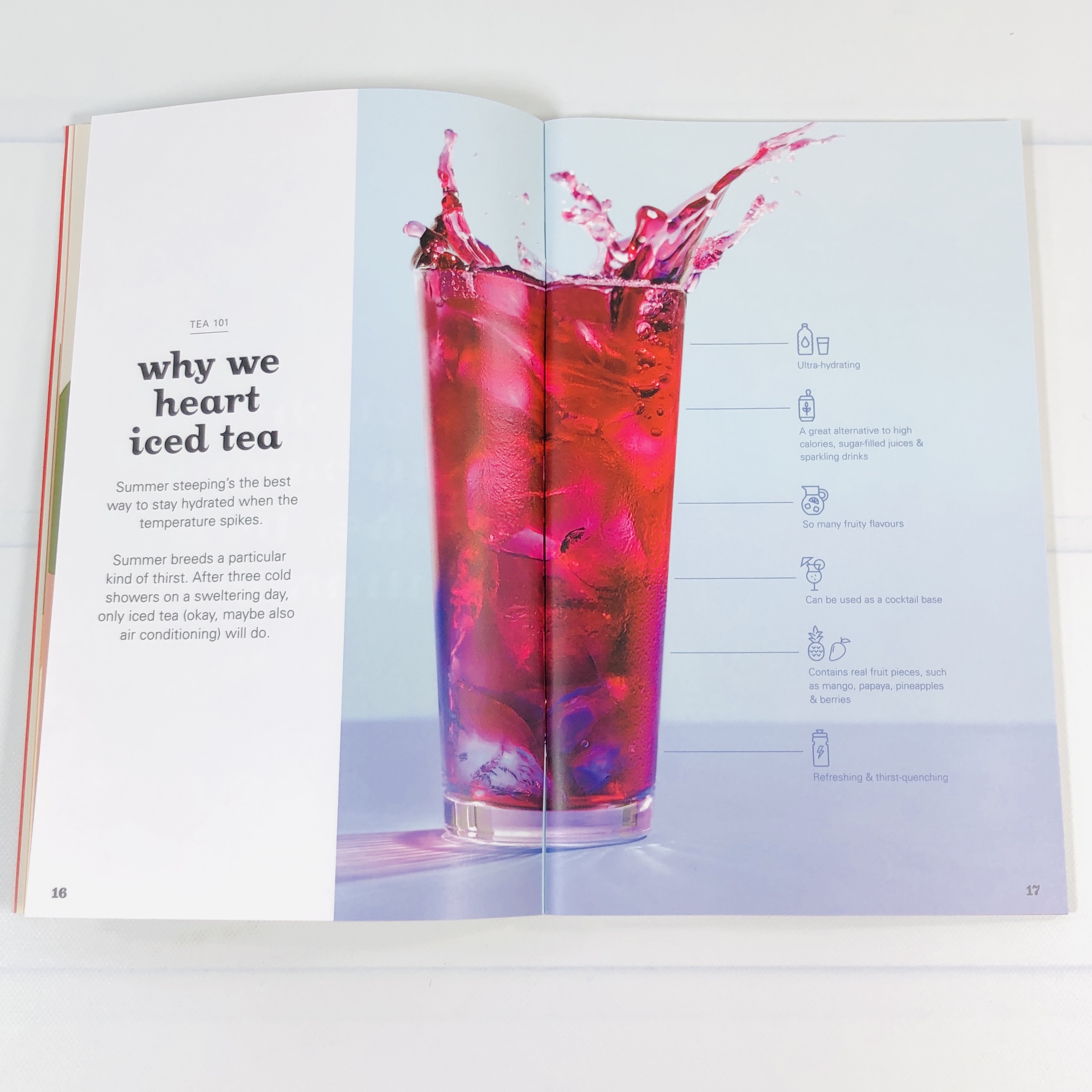 Here's the reasons DAVIDsTEA loves iced tea so much.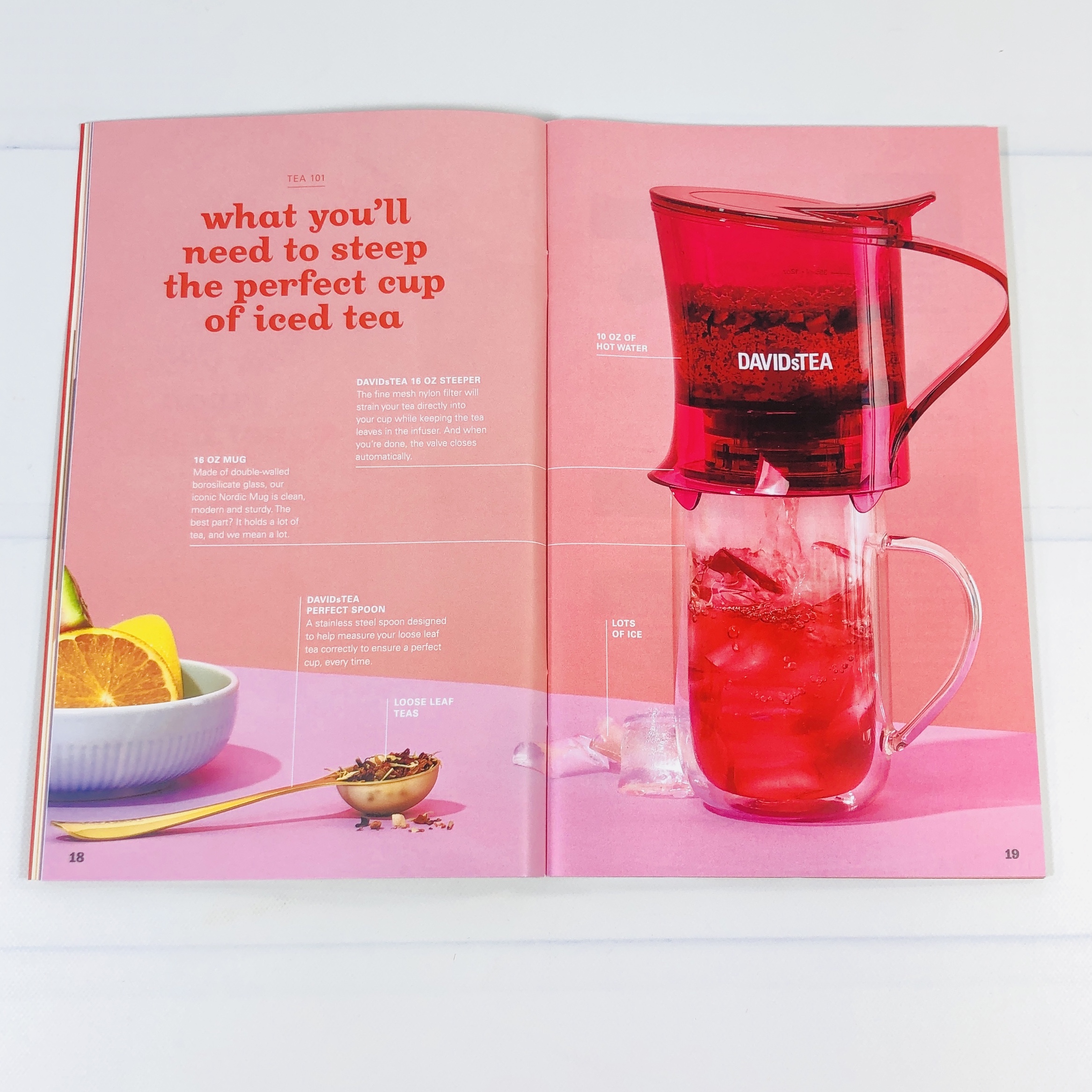 You need just a few things to make iced tea, and if you don't have a fancy tea steeping contraption like this then a strainer will work well too.
Depending on what the tea is made of, you might need to use different water temps and steeping times when making your tea.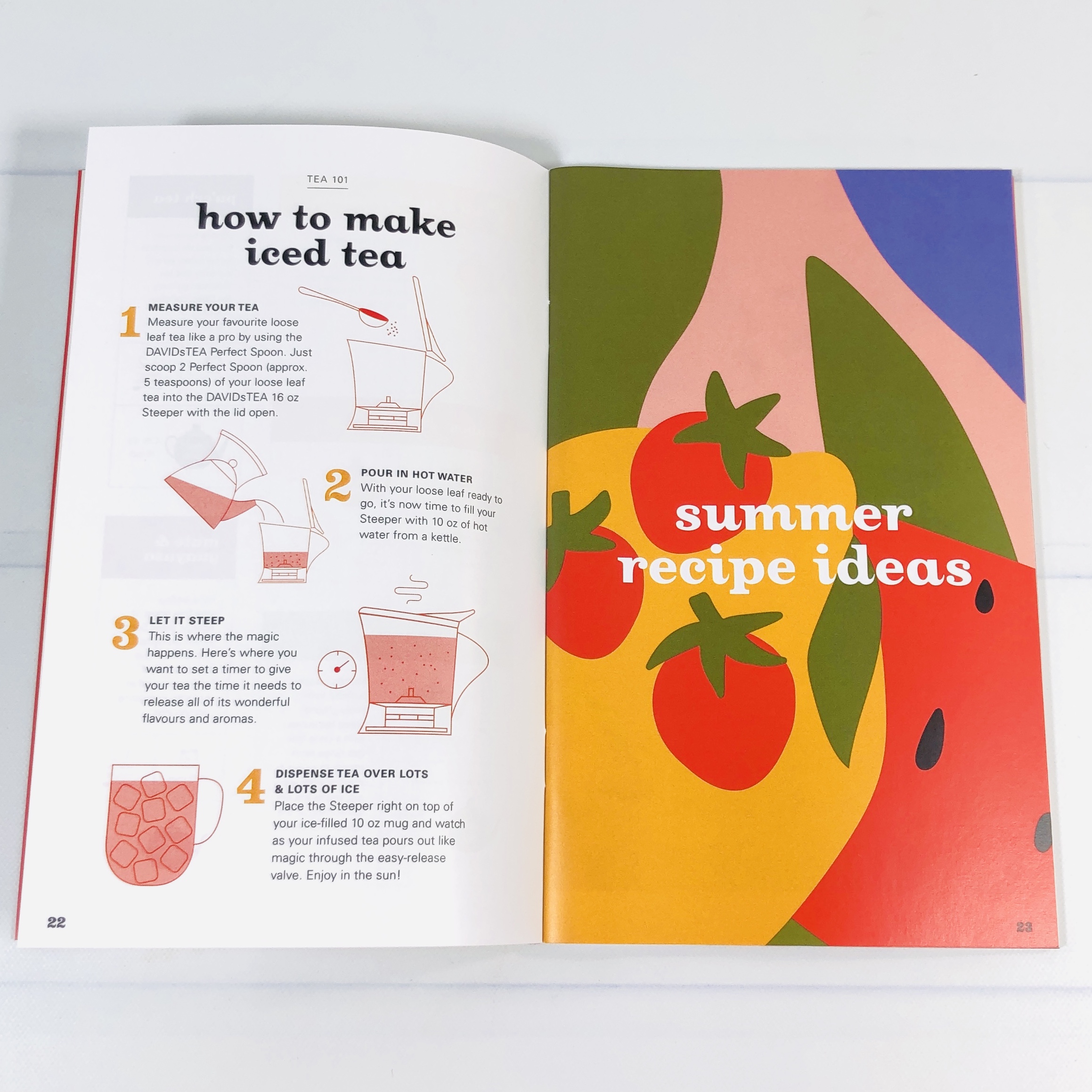 More instructions.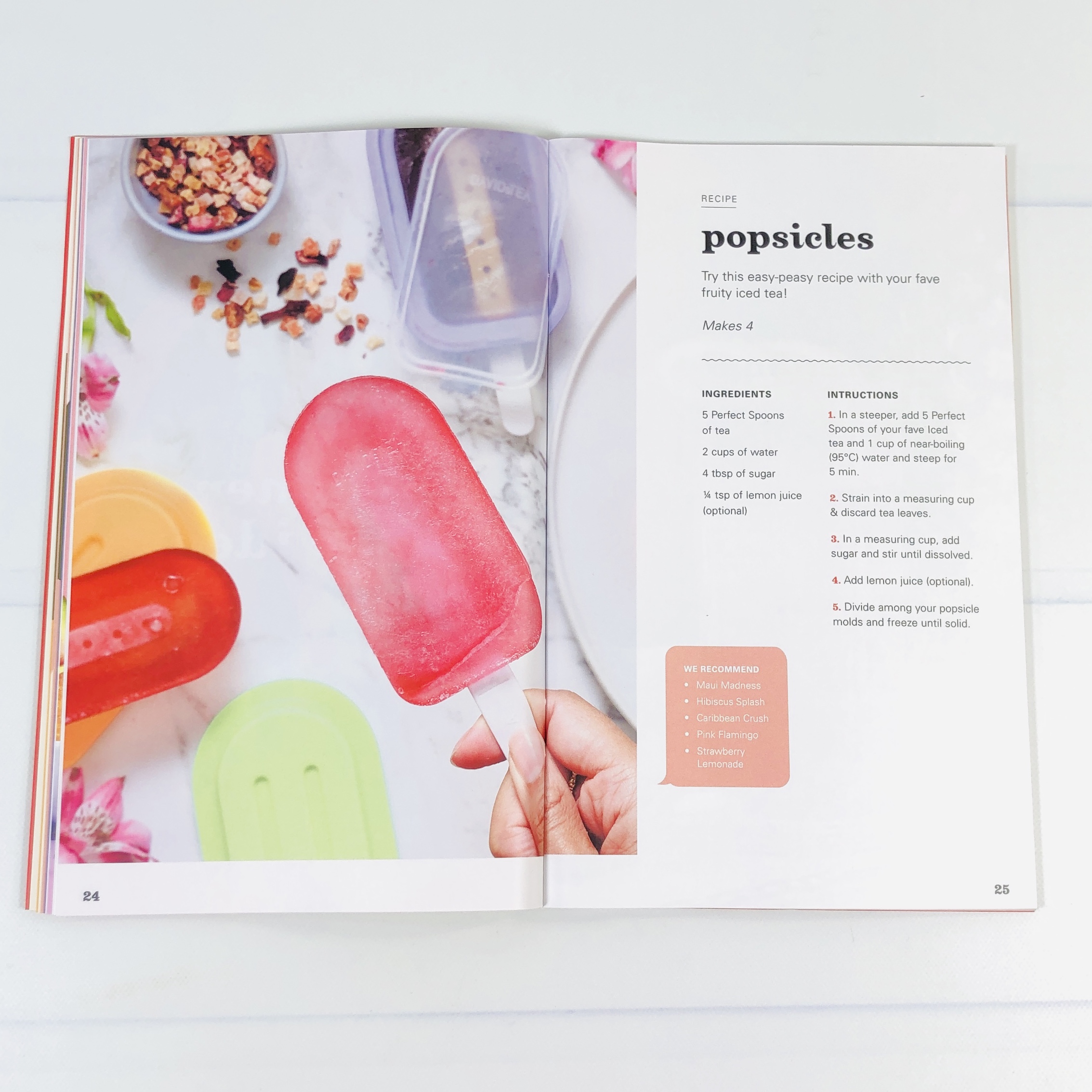 Now we're into the recipe section.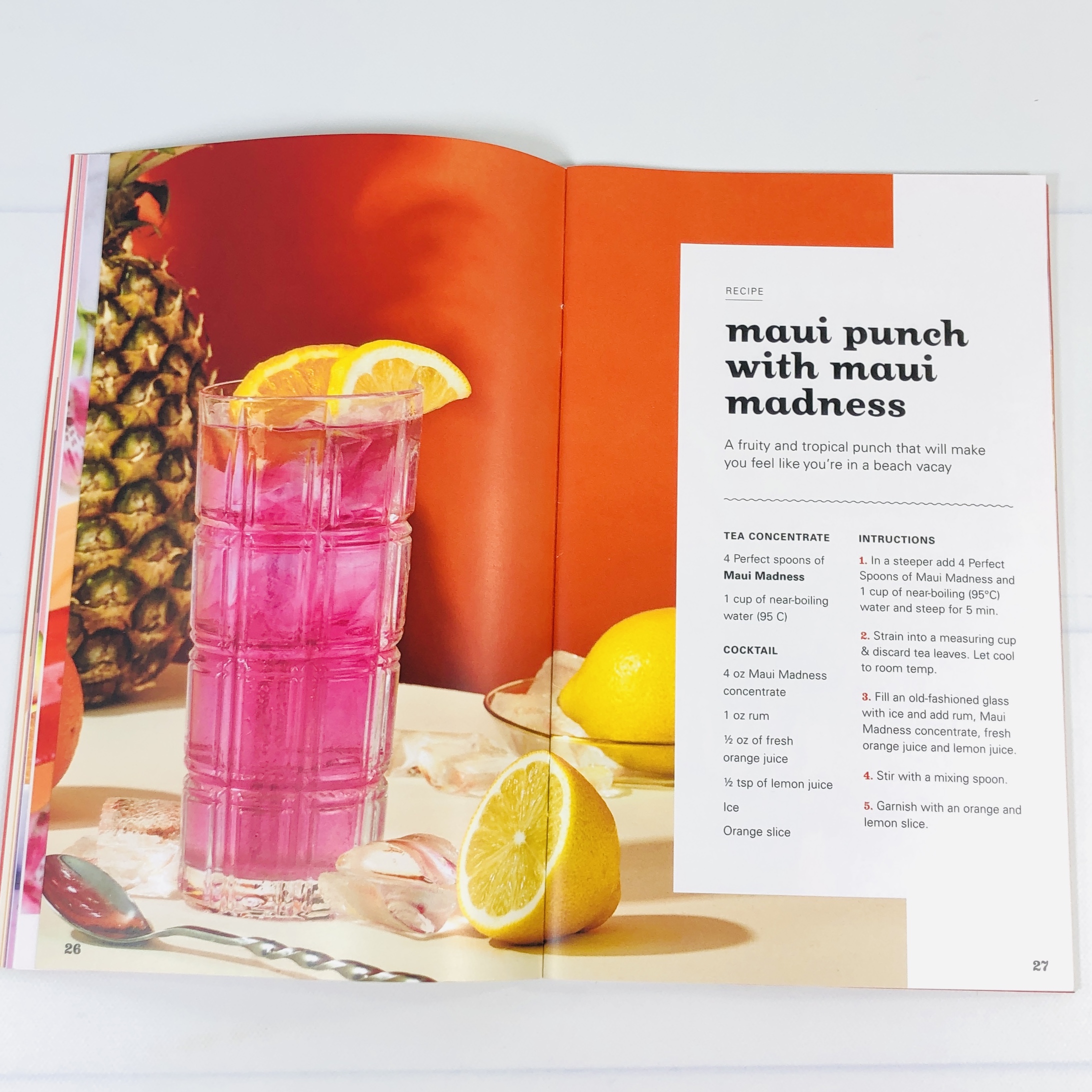 Each of those recipes uses the included teas. Maui Punch? This looks delicious.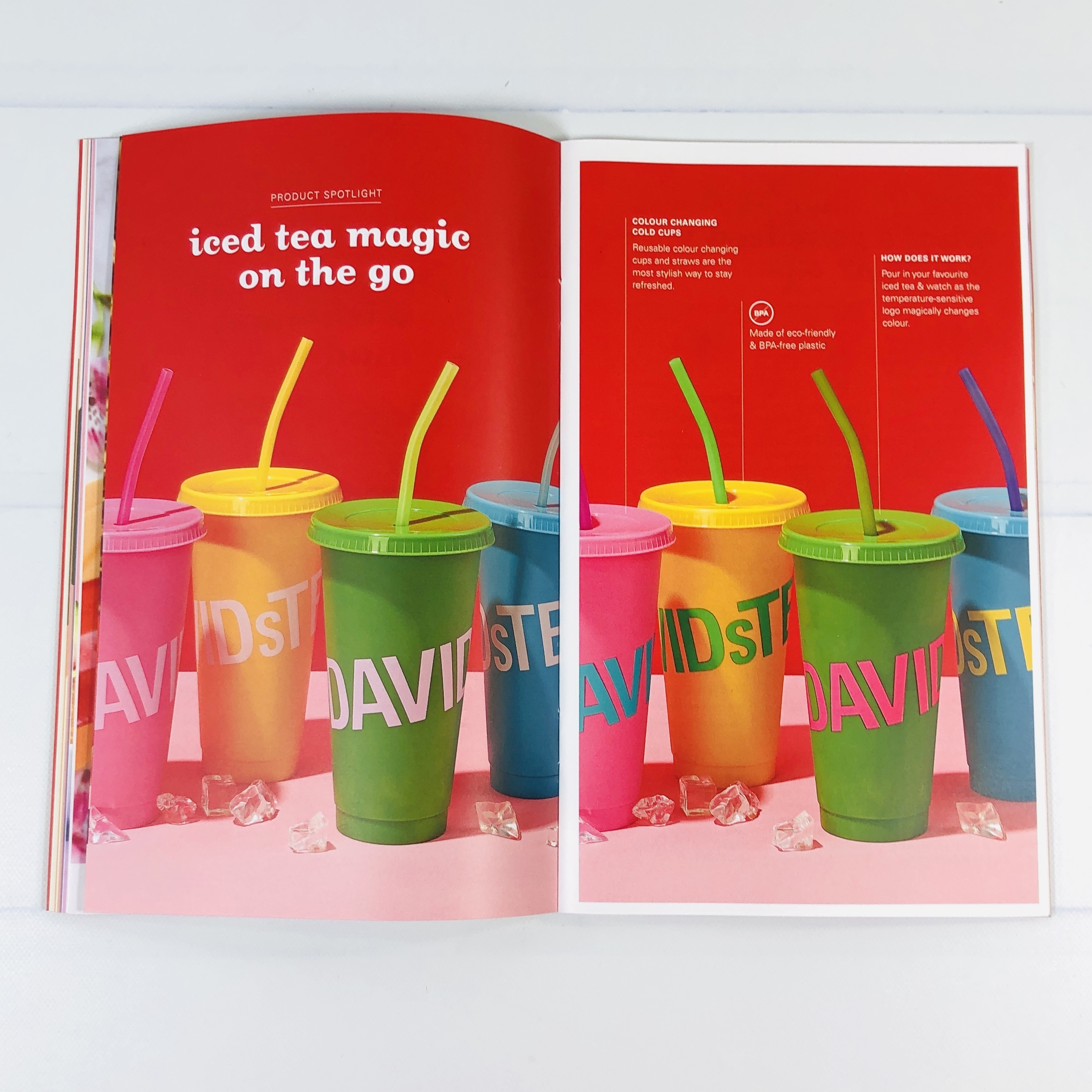 The gift this time around are color changing cups.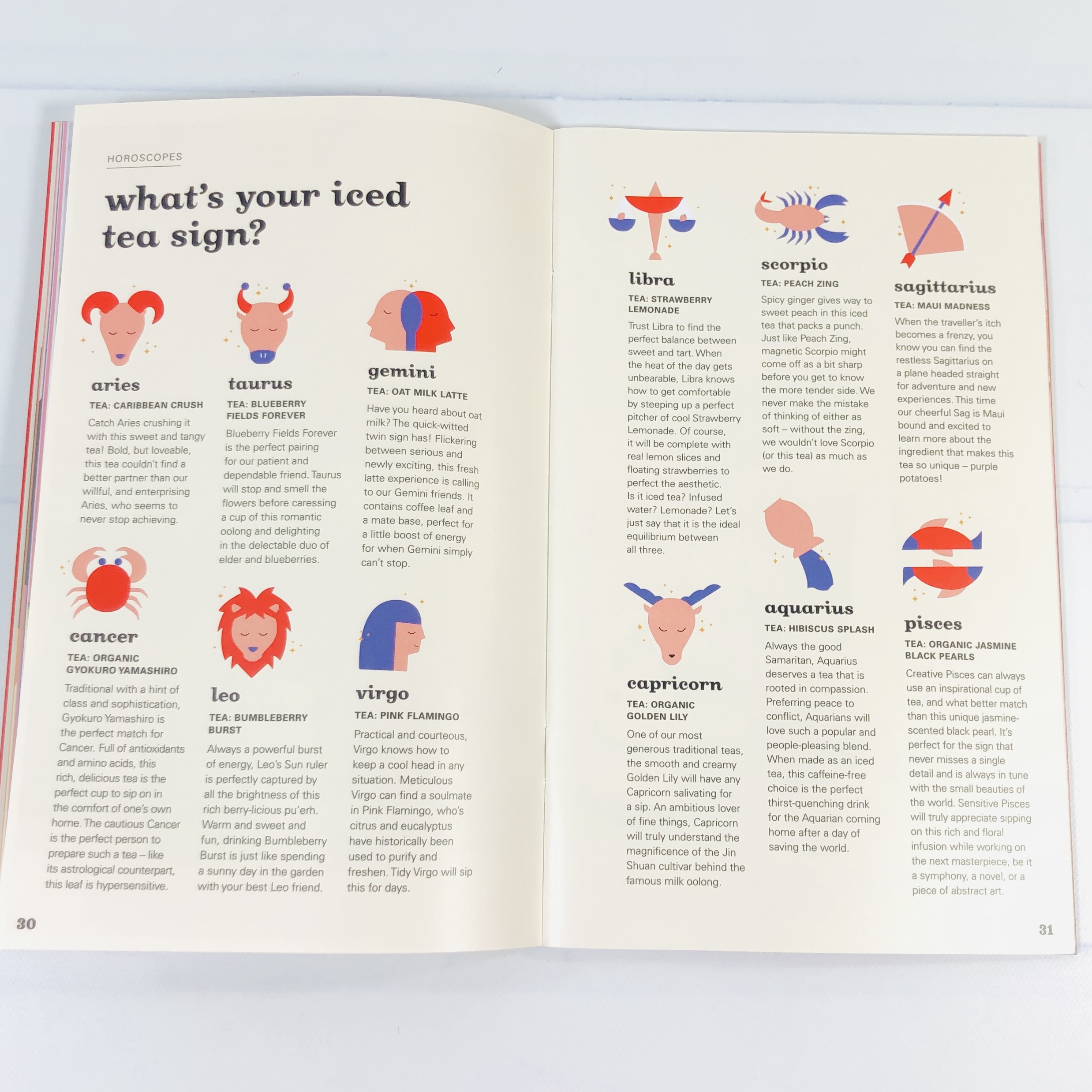 What's your iced tea sign? I'm a libra.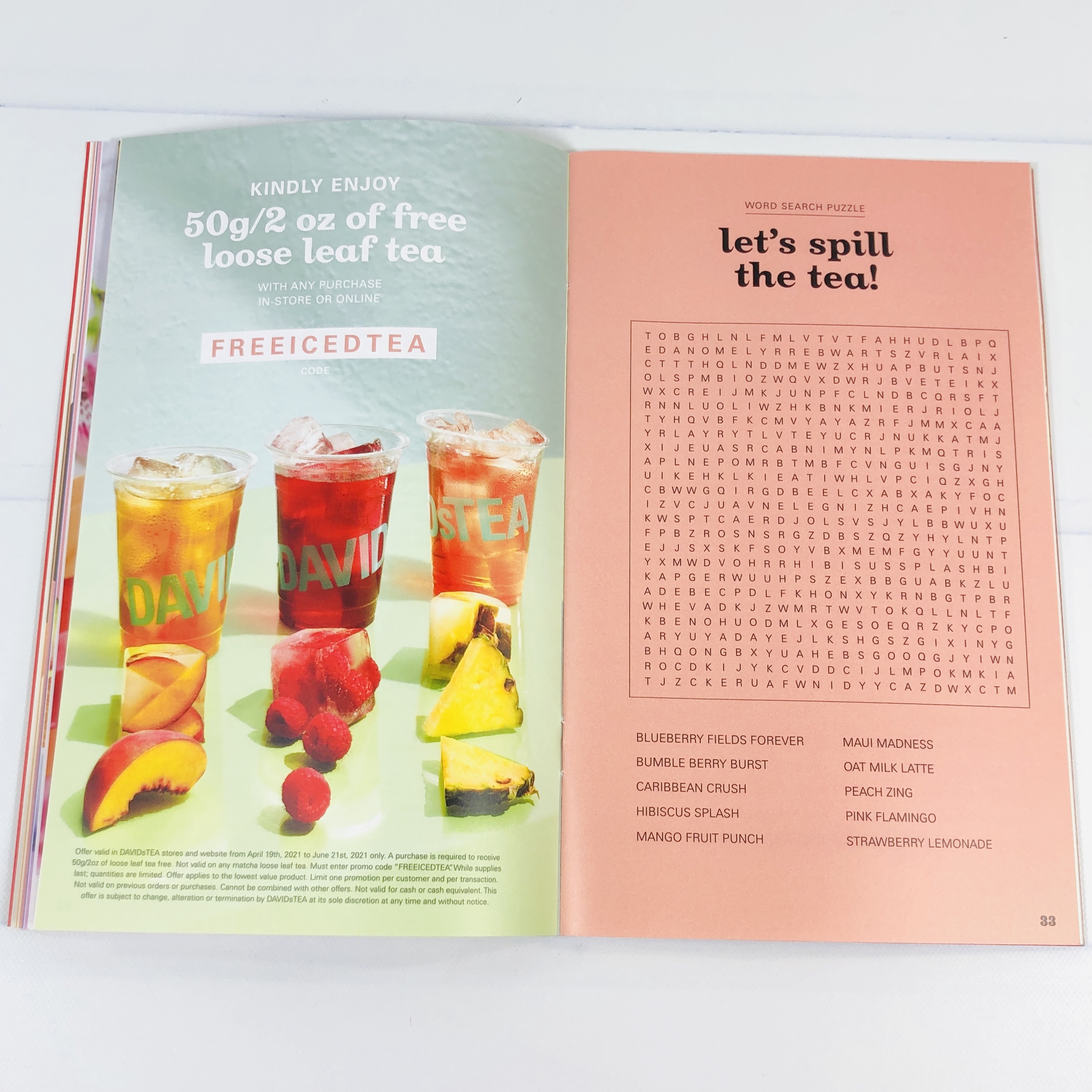 A coupon code is a highly sought after aspect of this subscription according to the Facebook group. Finally, we have a word search puzzle…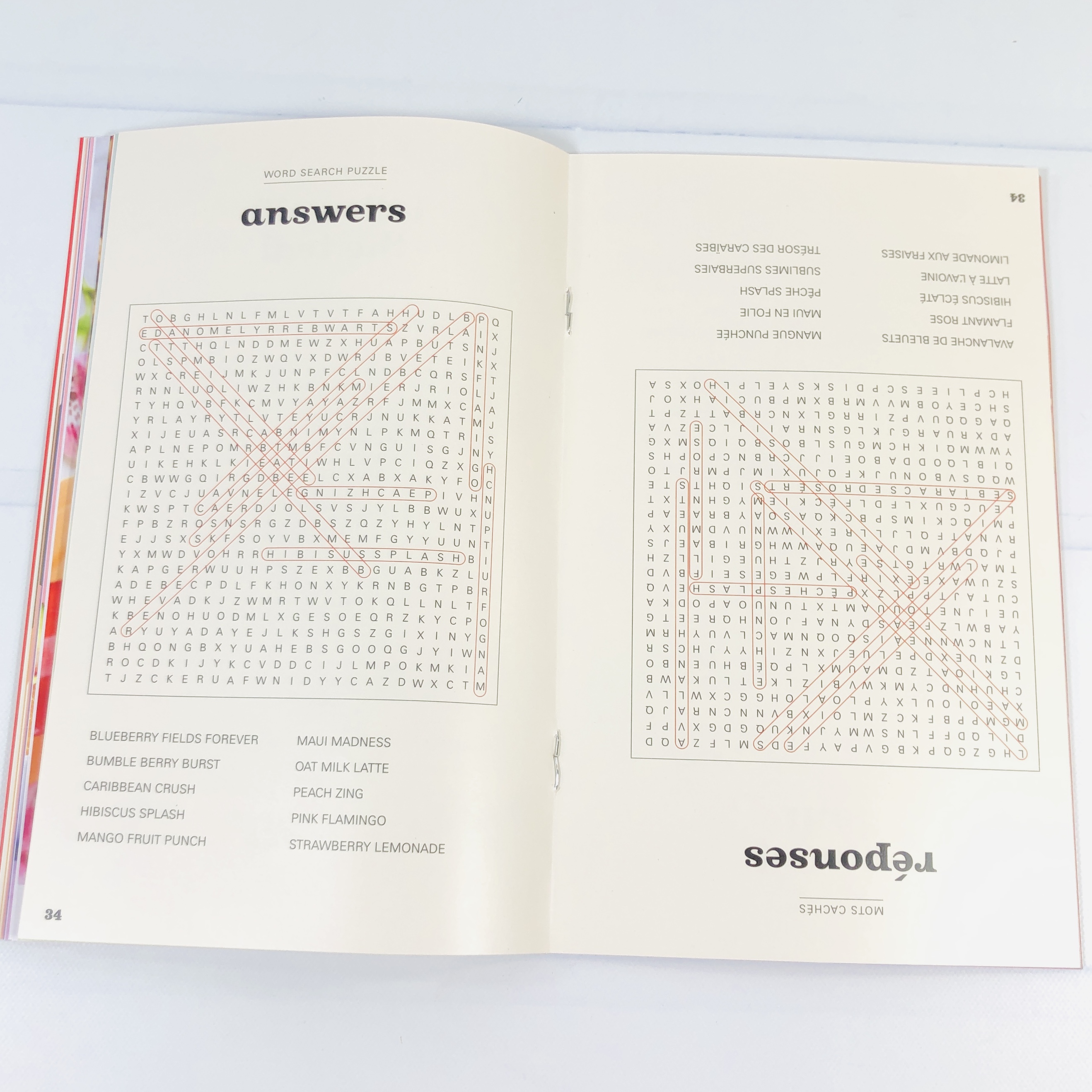 …along with the answers.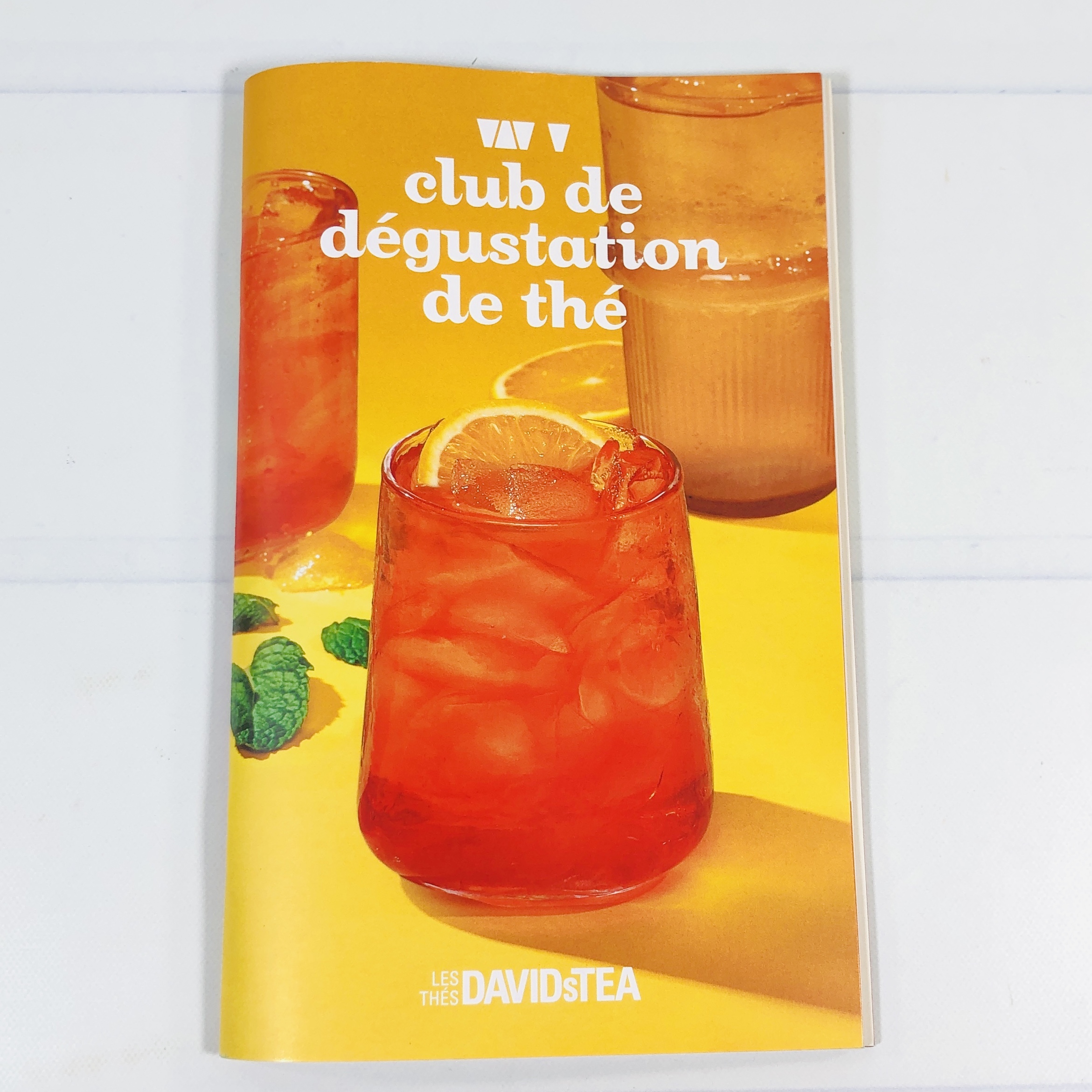 Flip the book to read it all in French!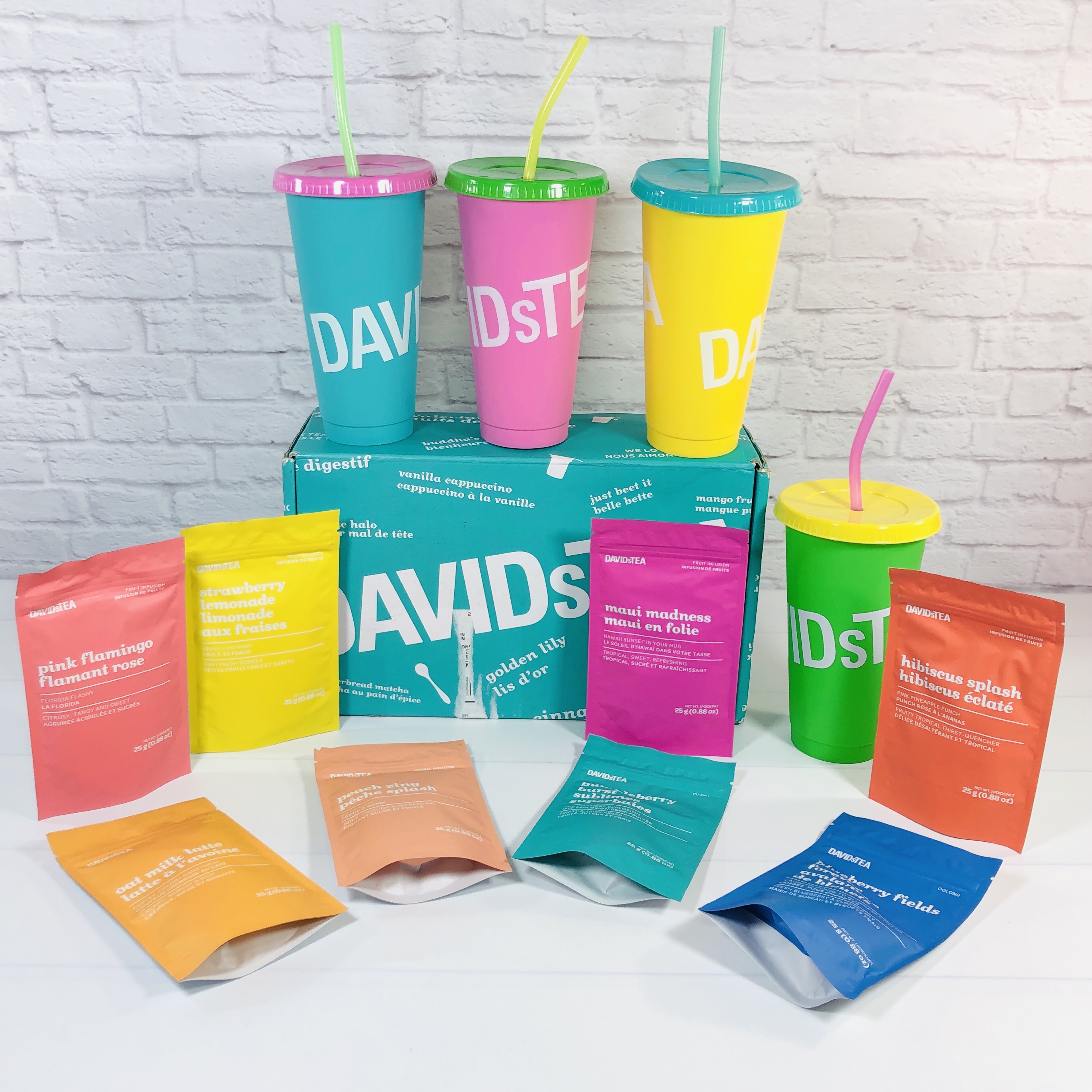 Everything in my box!
Color Changing Tumblers (Find similar item here for $16) The bonus item for the quarter is a set of reusable color changing cups and straws in pretty pastels that can be mixed and matched or sort them into a single color. I'm partial to rainbows so I mixed them all up.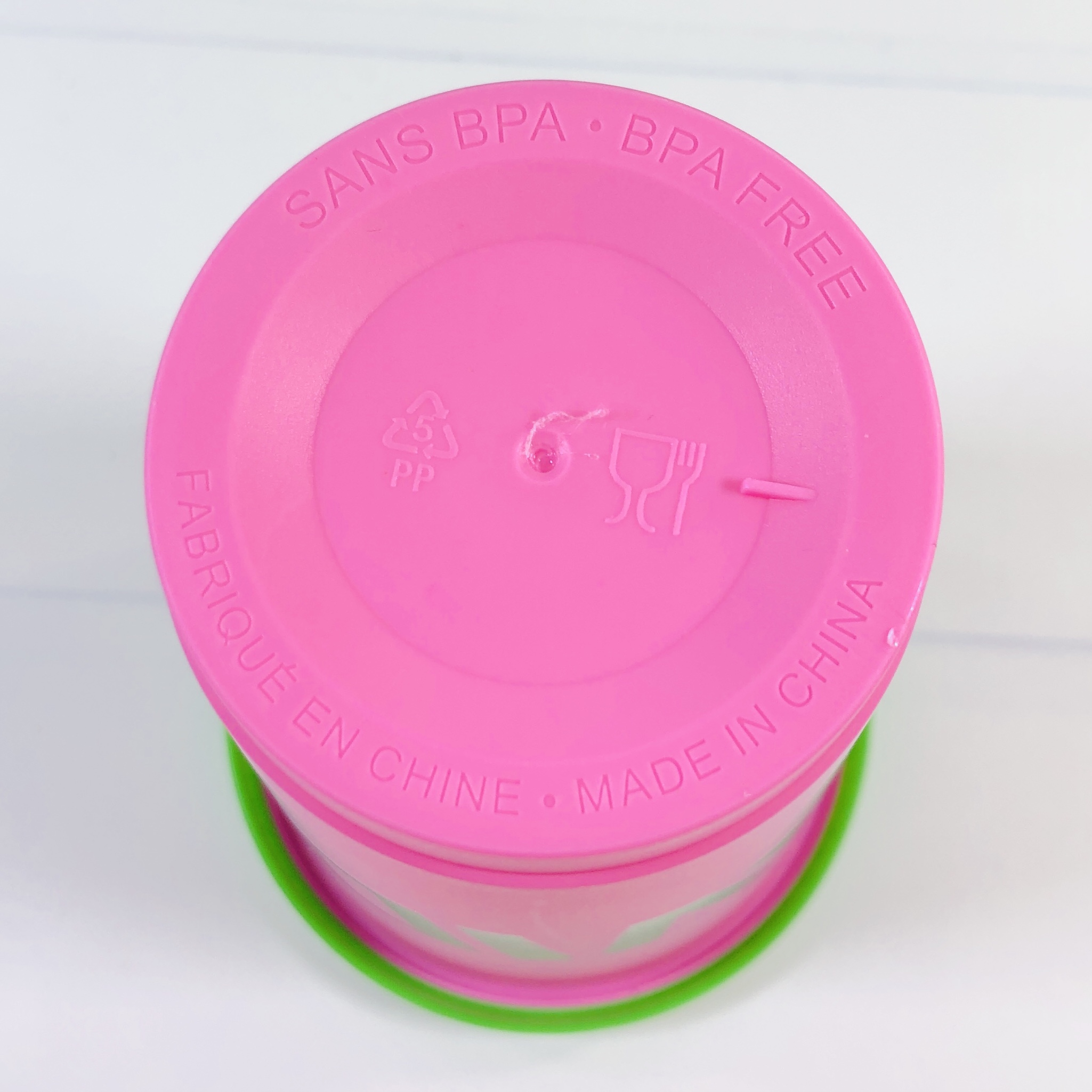 The cups are made of BPA-free plastic and are not meant for the dishwasher or microwave.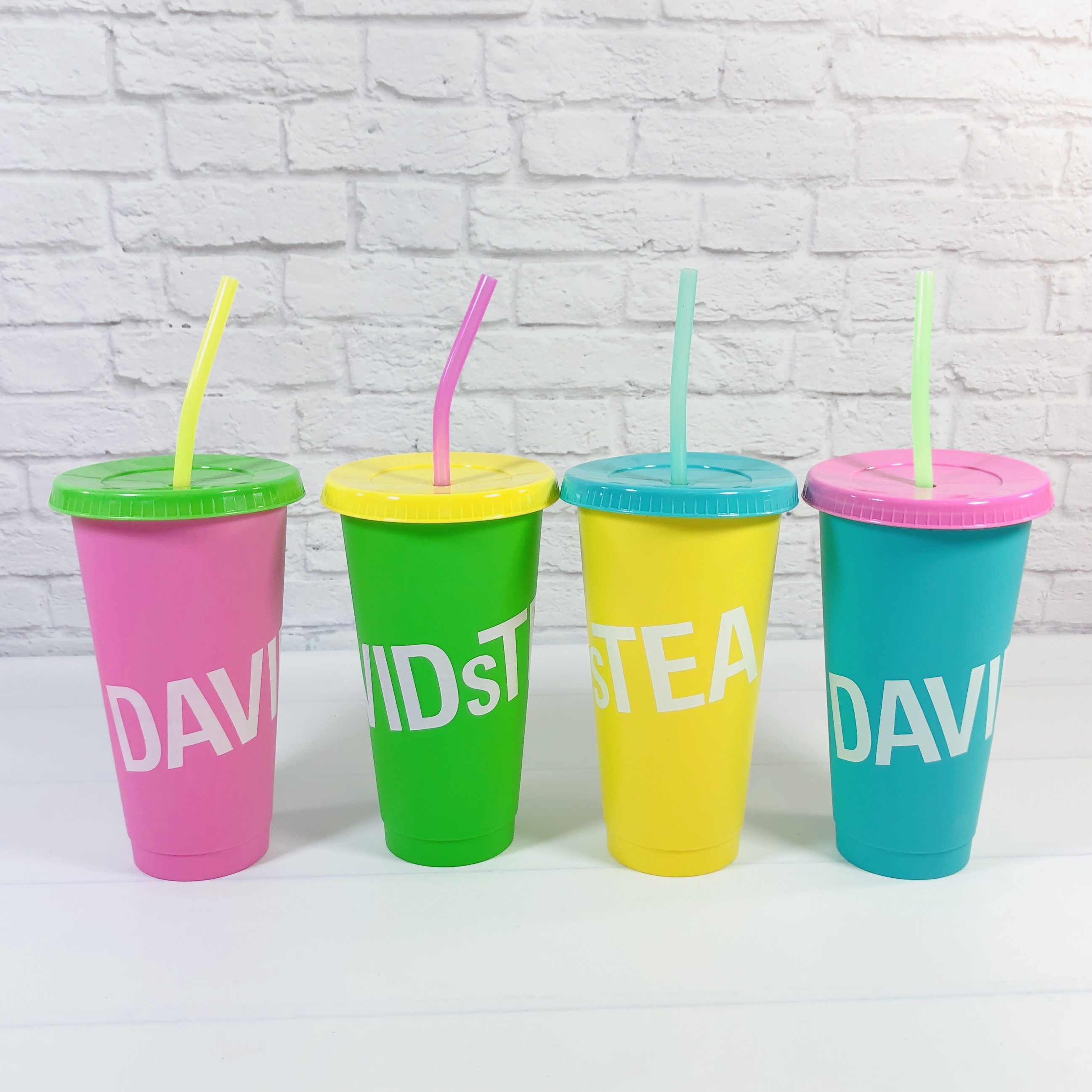 The straws are supposed to look bent and the wording says "DAVIDsTEA" all the way around. They smell slightly of mothballs and will need to be washed and aired out before using. They seem pretty sturdy to me.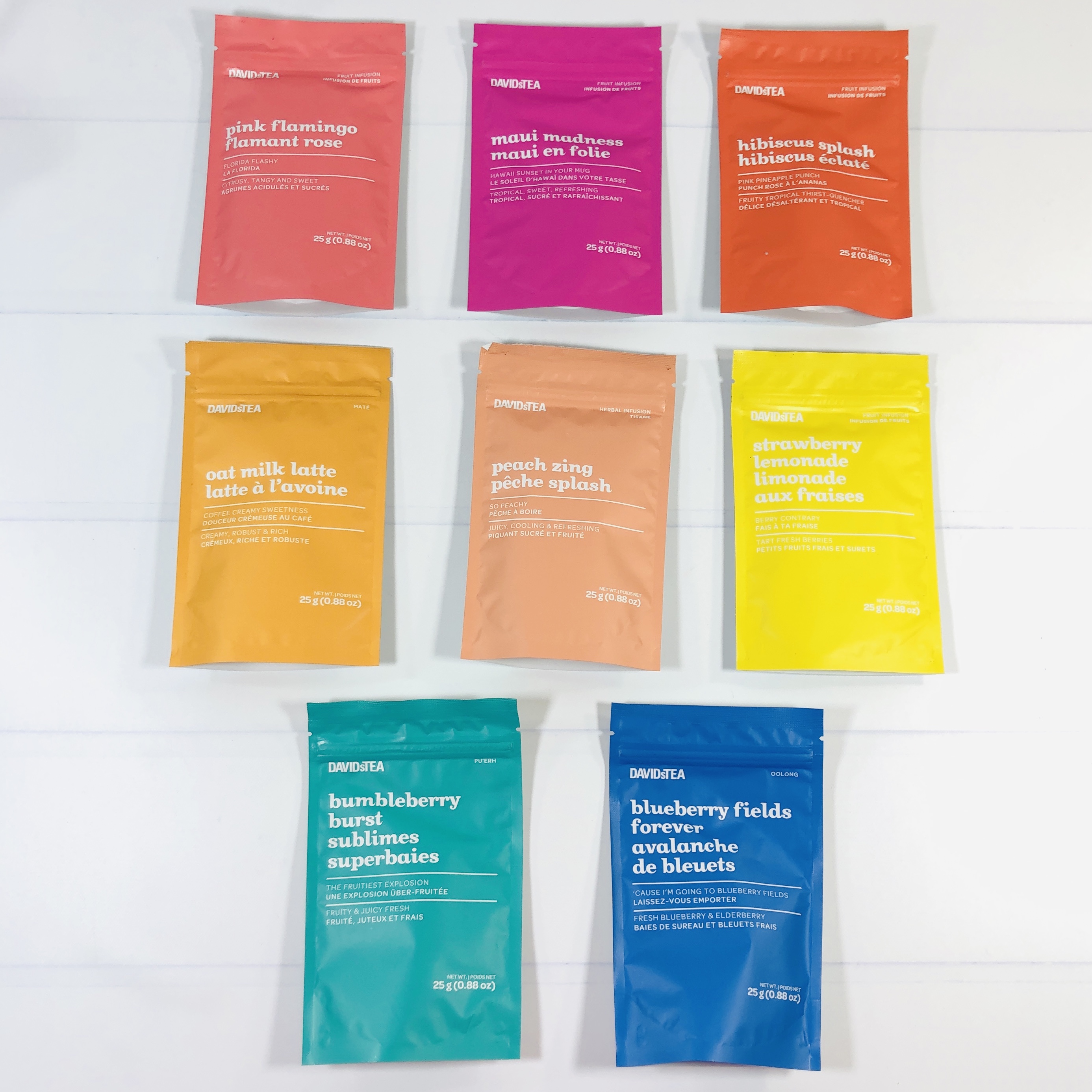 Here are the 8 tea blends for Summer 2021. Most of these teas are fruit infusions or herbal tisanes that don't actually contain any real tea and five of these blends have stevia extract.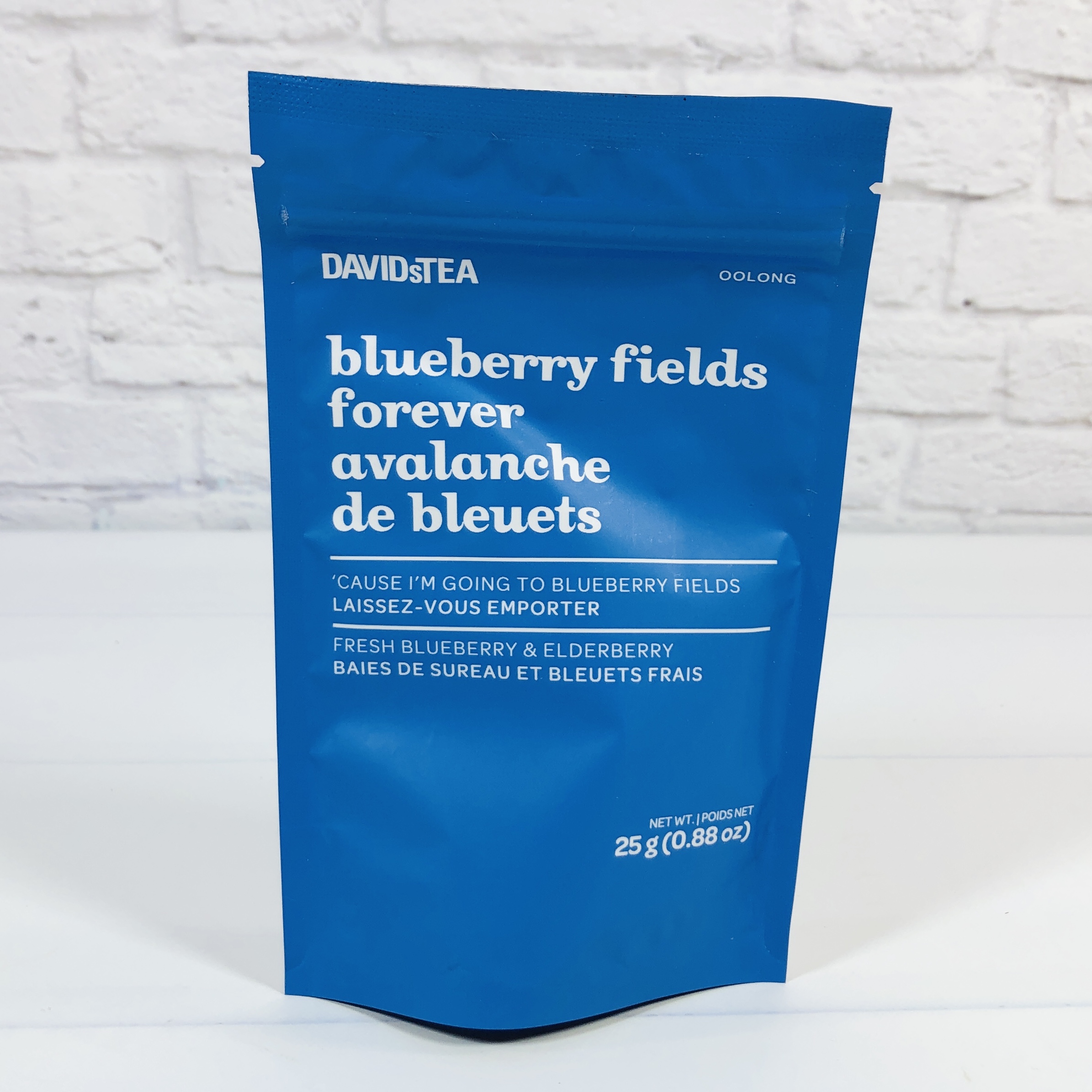 Blueberry Fields Forever ($5.27) has a base of oolong tea, which is a type of tea that falls in between green and black on the oxidation chart and the caffeine level is in the middle of that spectrum too.
A whimsical & vibrant blend of blueberry, elderberry, pea flowers, pomegranate blossoms & sweet floral violets, resulting in a mix of sweet and tart notes.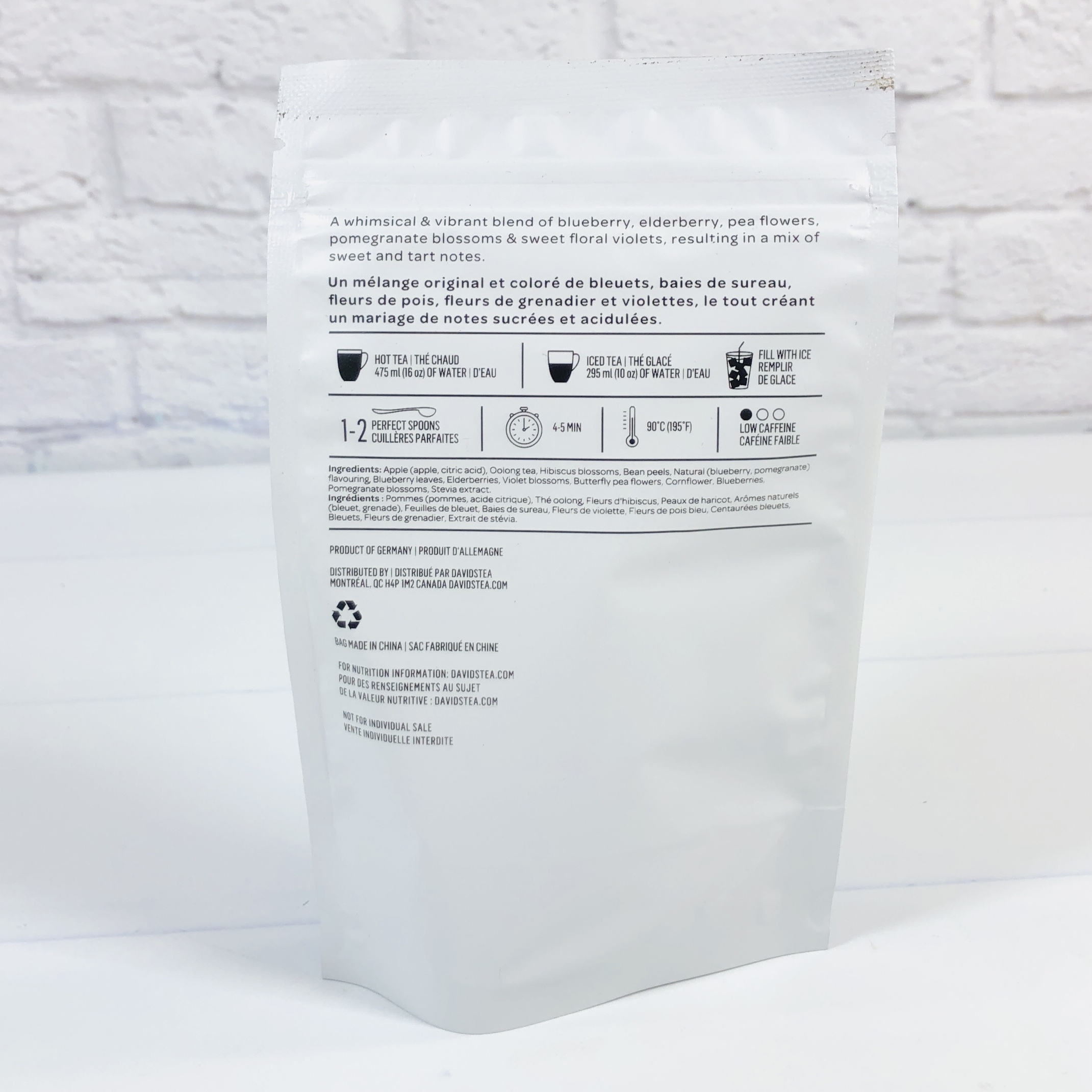 Along with the oolong it also has apple, hibiscus, blueberries, and elderberries. It also has stevia.
Hmm, I tried this flavor after the one below. The one below supposedly has pu-erh, which is a unique flavor and which wasn't present in my tea. This tea was supposed to have oolong but it took me about two sips before I realized that what I was tasting was definitely pu-erh. I don't know if they somehow got switched around during packing or what but the rest of their ingredients are somewhat similar. You can see the elderberries, butterfly pea flowers, and apple pieces, but I know my pu-erh and that is what the tea base is here. (I opened the packets one at a time and just before preparing a cup, so it wasn't operator error.)
Valerie's Notes: I agree with Deb — this didn't taste anything like an oolong to me! Pu-erh has an earthy flavour to it (with big, gorgeous leaves) so I'm not sure what DT got wrong. I still enjoyed it, but pu-erh is not one of my favourites so I was disappointed this wasn't a true oolong.
Bumbleberry Burst ($4.83) is a low-caffeine tea with a base of pu-erh, a fermented black tea that usually has an earthy, musty flavor but that isn't bitter.
A beautiful blend of macerated dark berries—not too sweet, with a delightfully tart acidity.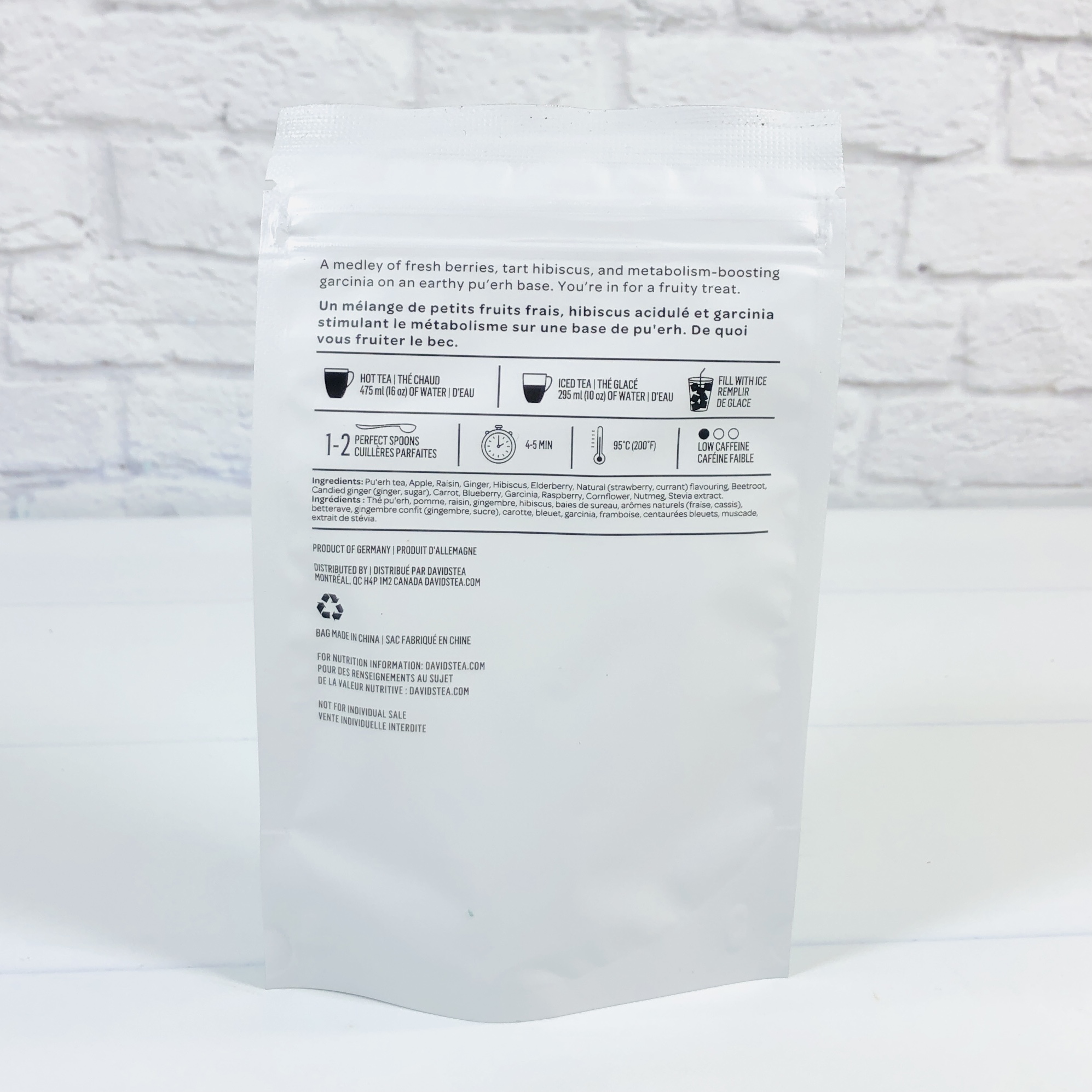 Other ingredients include hibiscus, which almost always results in a tart cranberry juice effect on my tongue, plus apples, raisins, and elderberries. It has garcina, which has been studied for weight loss and come up short, but it also may lead to some health problems. Please look further into it, especially if you take meds for diabetes or have liver problems, although I wouldn't imagine that the amount in this tea would be a problem.
I think you can forget about associating the classic earthy, musty flavor of pu-erh with this particular blend, because it isn't there. Instead, it is a burst of berry with hints of ginger, yet without the burn. It actually coated my tongue in the same way a juice might. I added sugar so it ended up tasting like fruit punch.
Valerie's Notes: I normally don't enjoy pu-erh but I actually enjoyed this. I was a good girl and didn't add any extra sugar and it was definitely on the tart side but it wasn't as hot as I expected.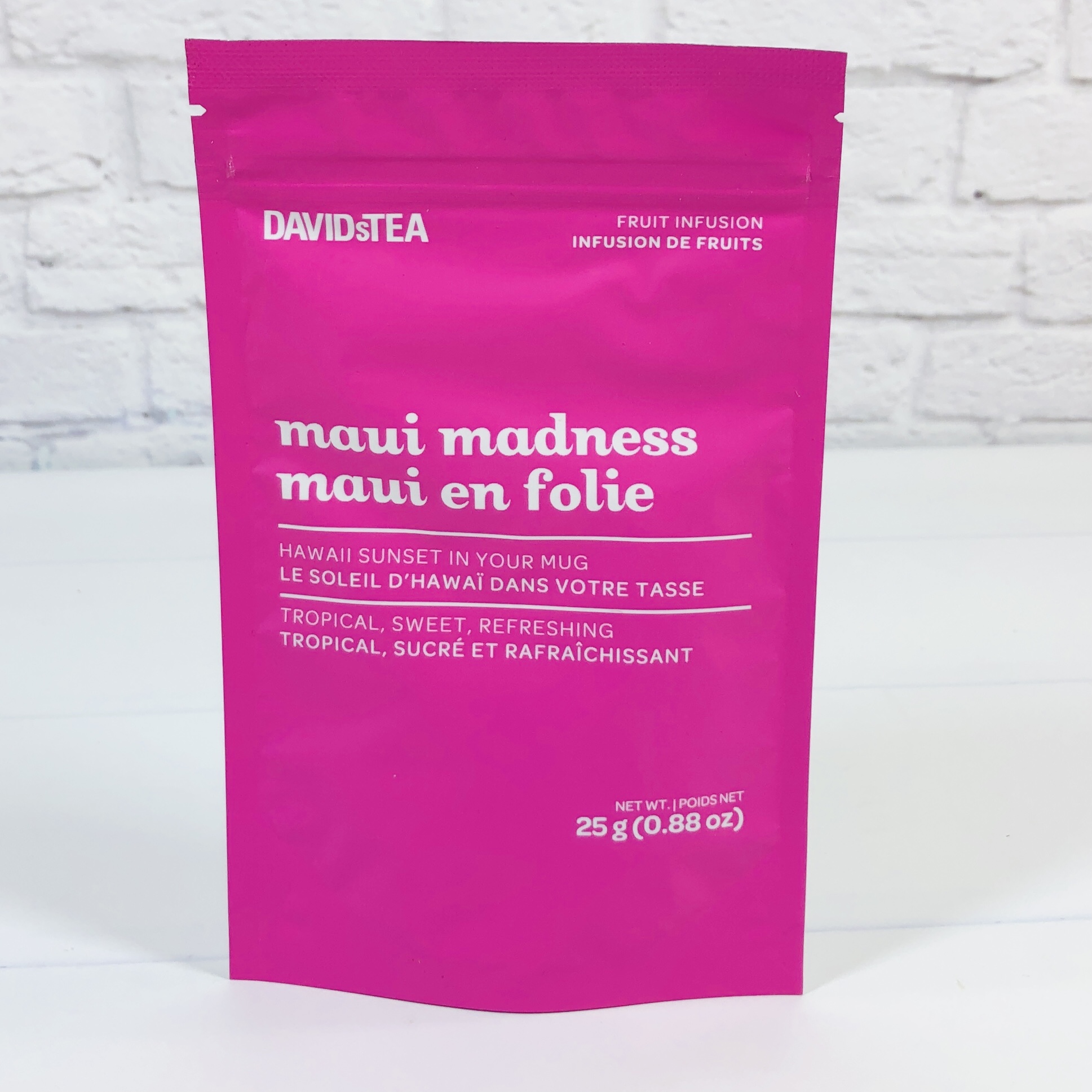 Maui Madness ($4.83) is a fruit infusion that is caffeine-free and is supposed to be a tiny tropical getaway in a glass.
We're daydreaming about the perfect beach vacay, so we brought the beach to our teacups with this refreshing, tropical iced tea. Take in the scents and sights of a sunset with this light purple tea. And just how did we achieve the colour you ask? With a little help from the Hawaiian purple potato.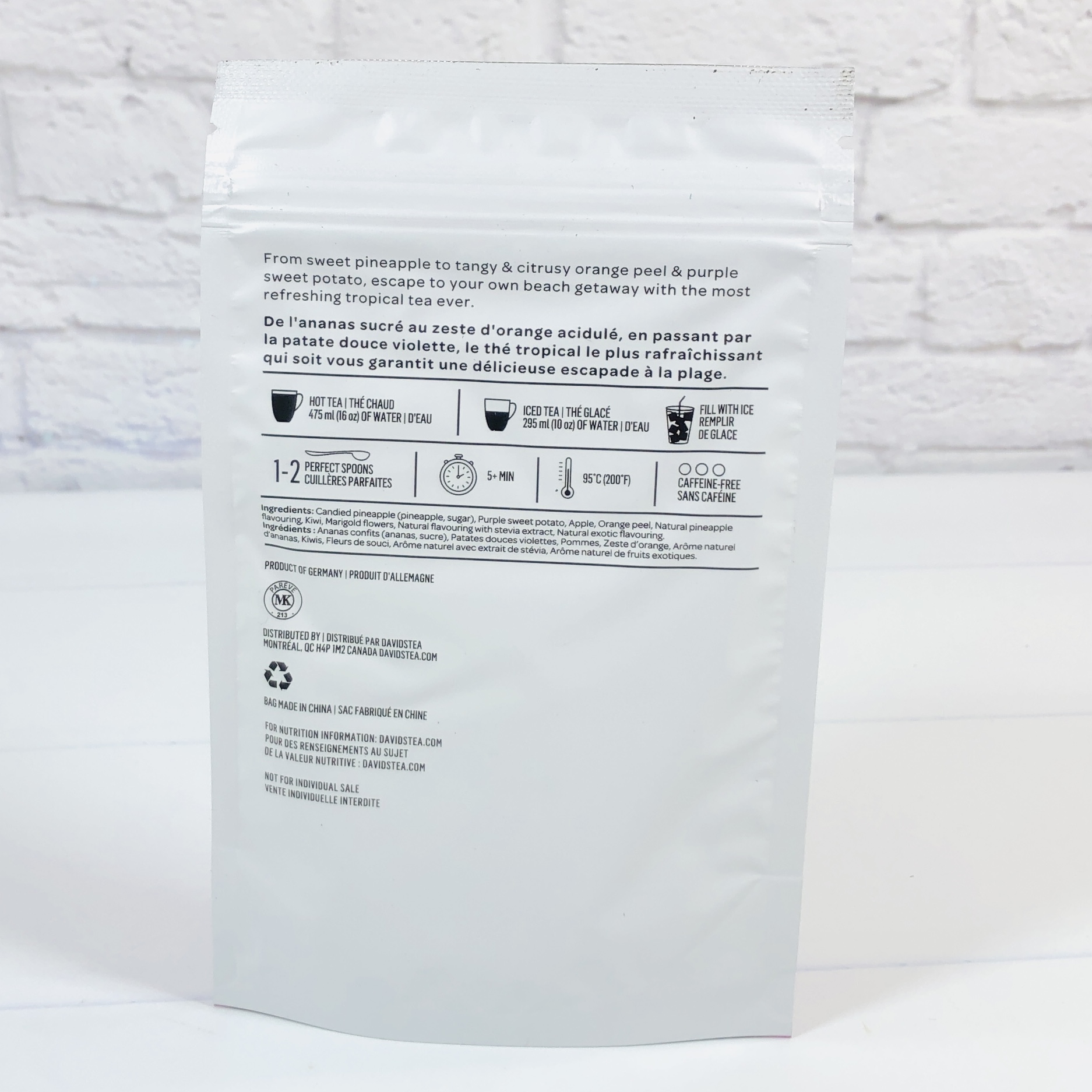 Candied pineapple, apple, and orange peel start off the list and the purple color comes from purple sweet potato! There is stevia in this blend.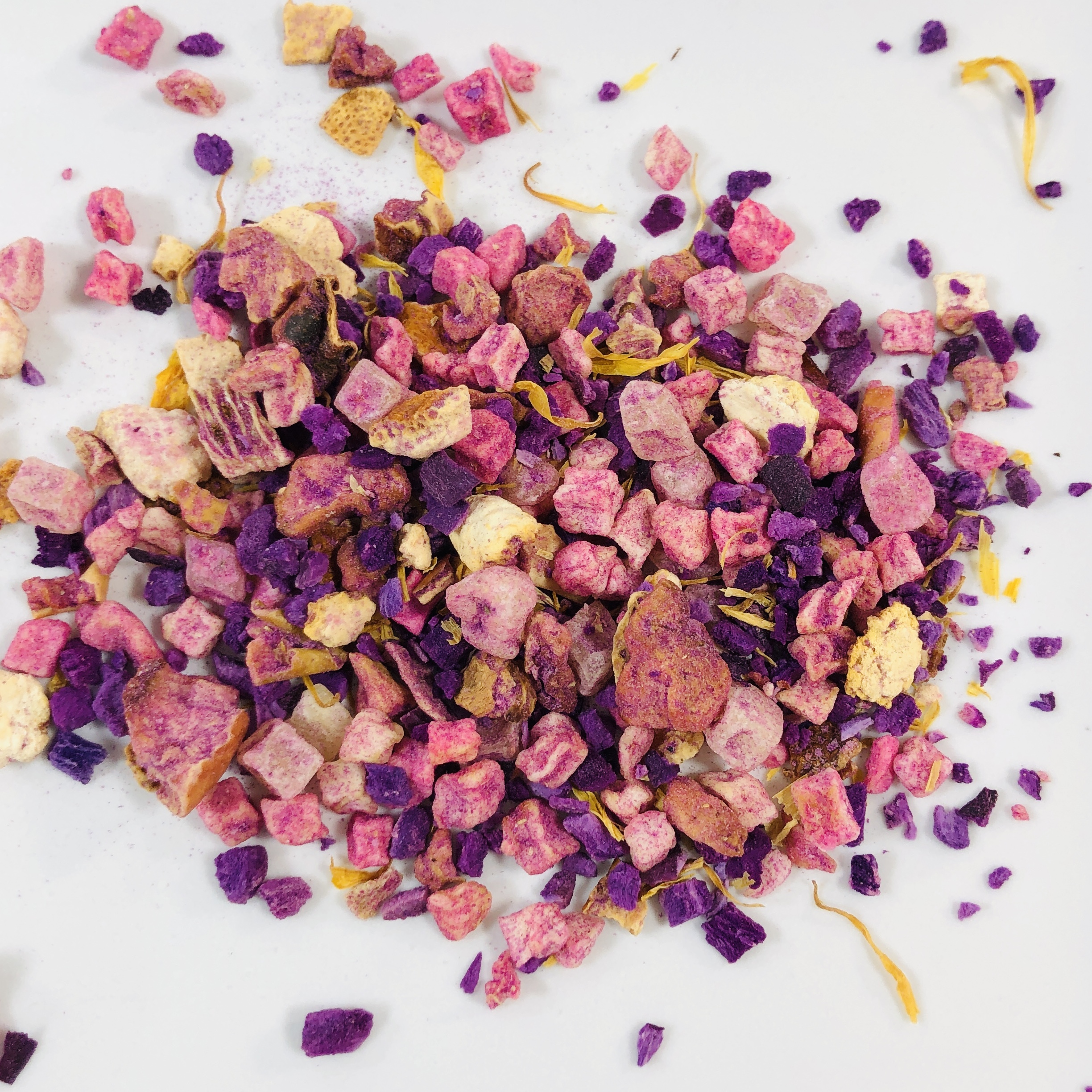 It's certainly pretty to look at! I had a drink that was a light pink shade in my cup and I have to say, this reminded me of tropical fruit punch!
Valerie's Notes: Try this one iced! It did nothing for me when it was hot but really shone when I poured it over ice! The stevia flavour in this blend doesn't change the taste too much, which I was happy for as DT tends to go overboard with the stevia…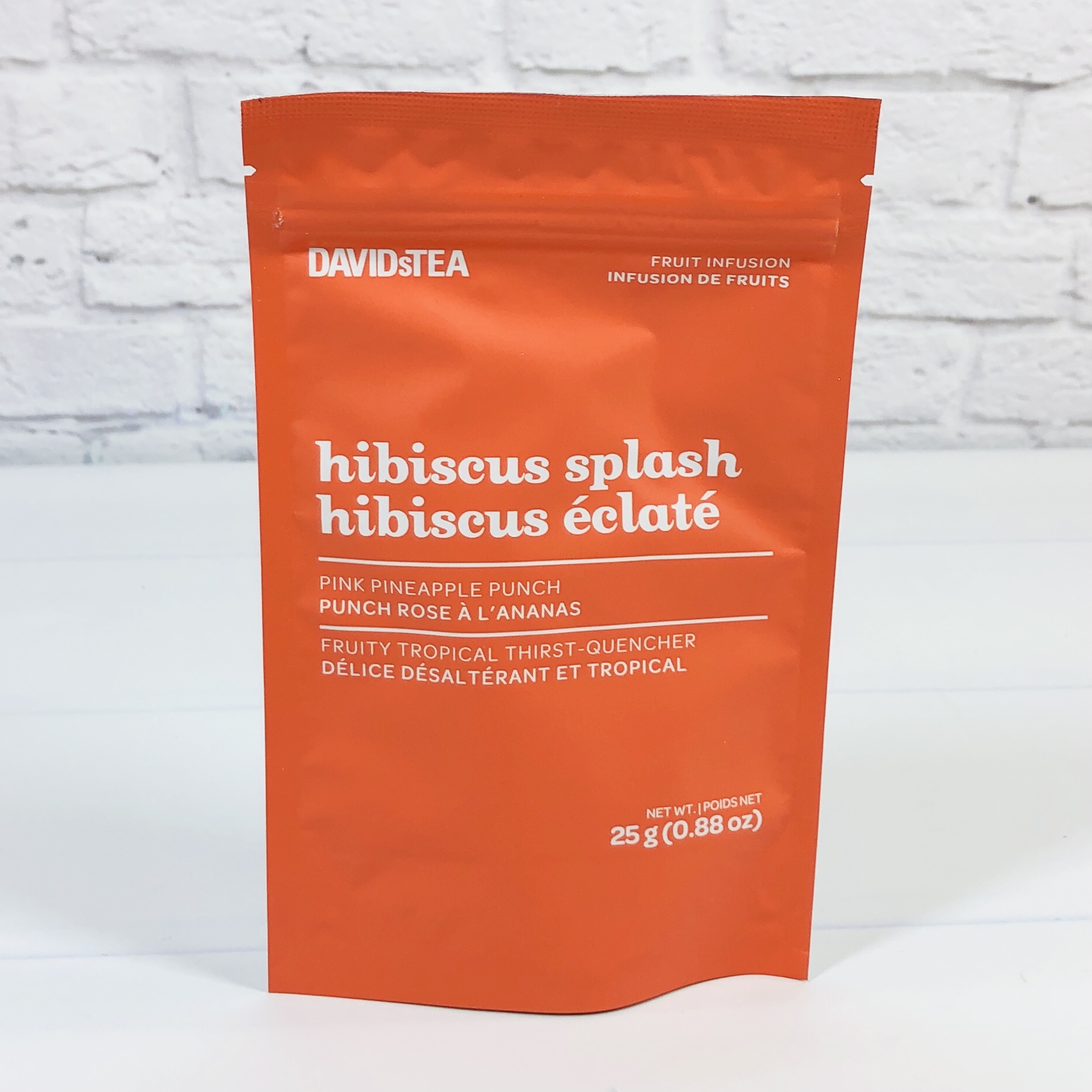 Hisbiscus Splash ($4.39) There are a lot of herbal teas this quarter and they are reminding me of when I used to drink Kool Aid as a kid. This would be the cherry flavor.
Thirsty for something super refreshing? Dive into this fruity all-natural blend. With sweet pineapple, tangy hibiscus and tart cranberries, it's a delicious caffeine-free infusion that tastes amazing both hot and iced. Kids go crazy for its cherry-packed tropical punch flavour – but then again, so do we. Taste it yourself and find out why it's one of our most popular blends.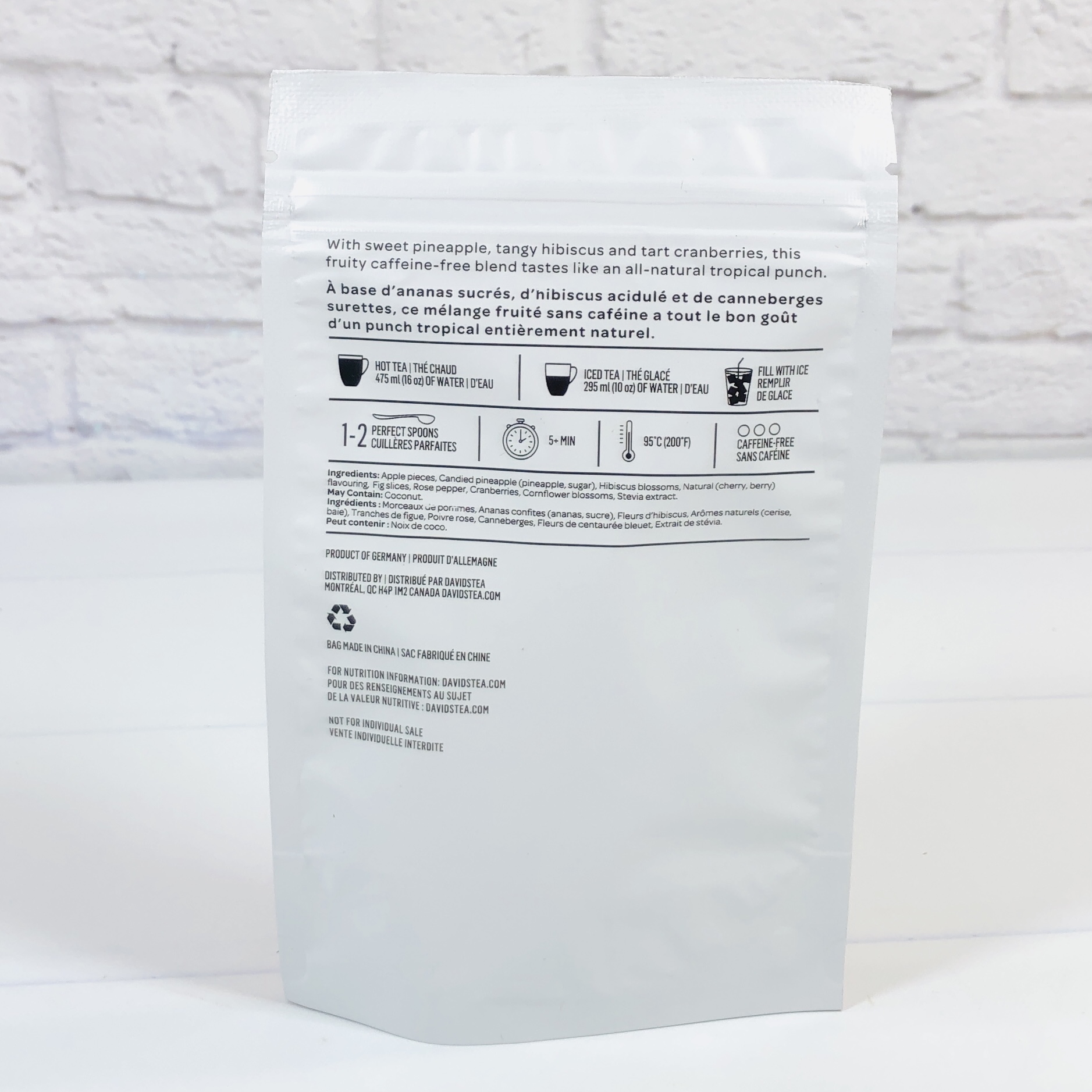 Apple, pineapple, hibiscus, and cherry flavoring are some of the main ingredients and there is stevia.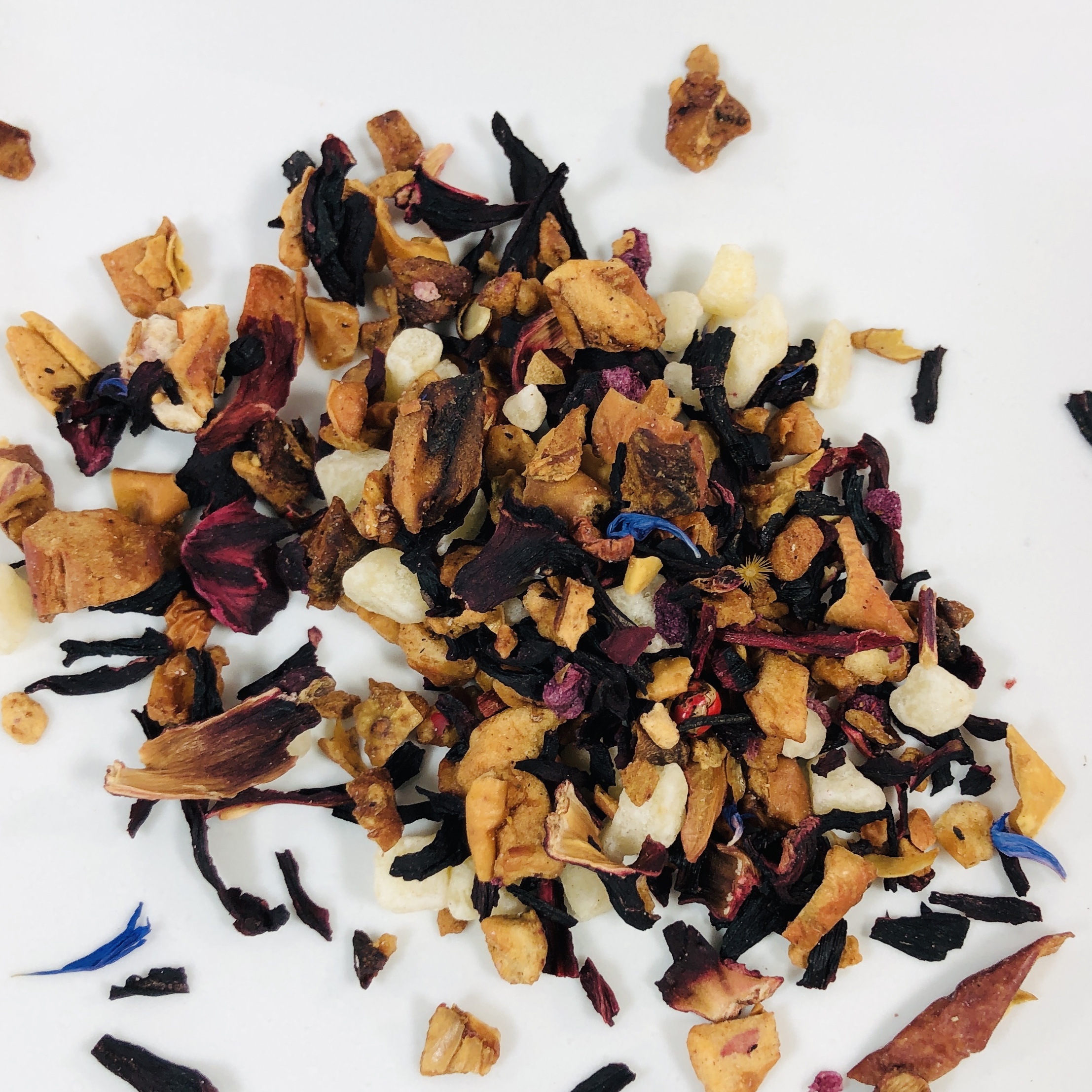 This steeped into a bright cherry red color and it has that thick feel from the hibiscus, that stuff has heft. It was very tart and I added sugar and it was still so. I think this could be steeped regular strength and still be poured over ice without loss of flavor.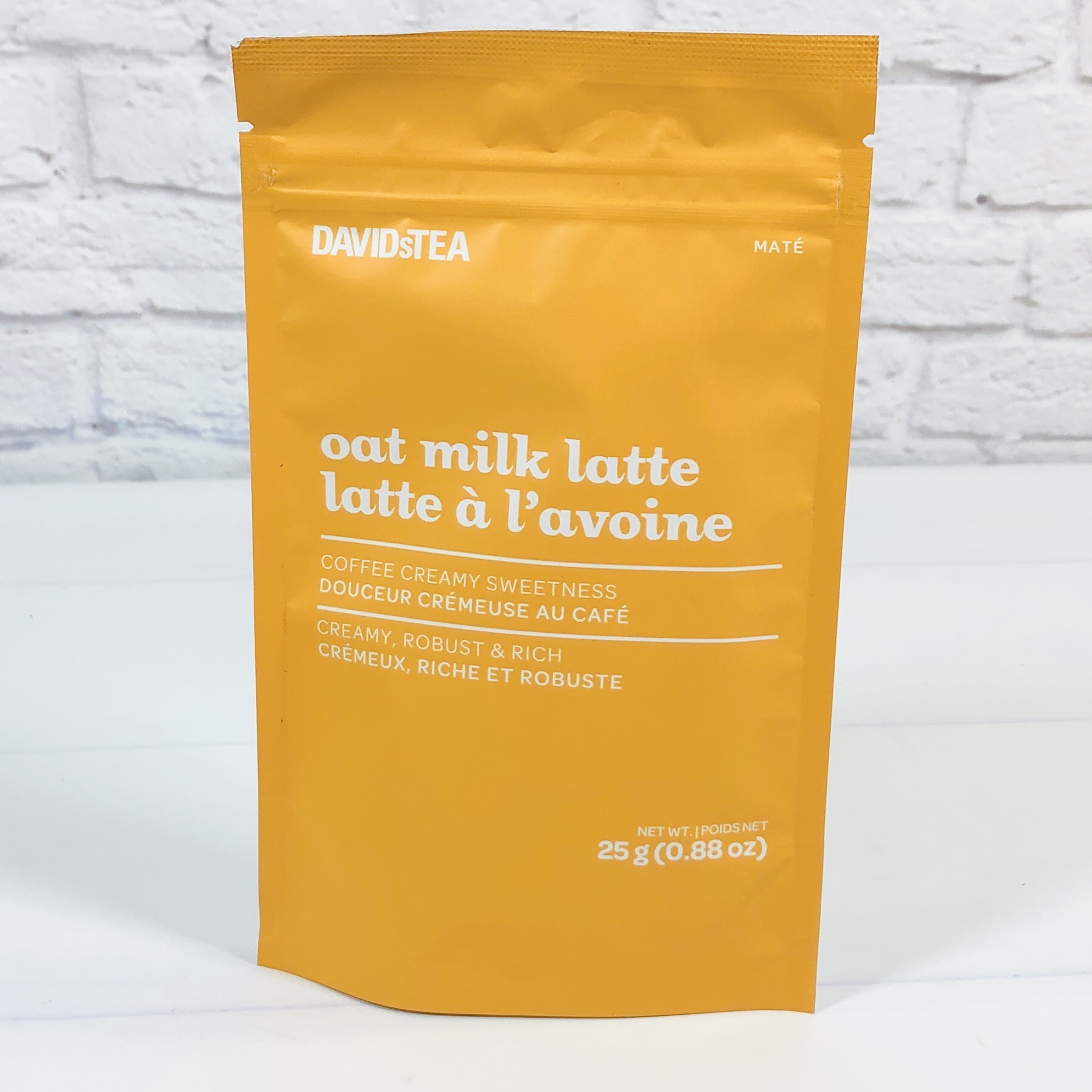 Oat Milk Latte ($4.83) I think the idea behind this blend is to provide a coffeehouse experience, sort of like ordering a latte at your favorite bean grinder.
Trendy lattes aren't just for the coffee shop—our Oat Milk Latte blend has all the sweet, creamy flavours of oat milk blended with rich, dark roasted coffee. Plus, this tea is made with coffee leaf—a sustainable ingredient that provides a natural boost of clean energy.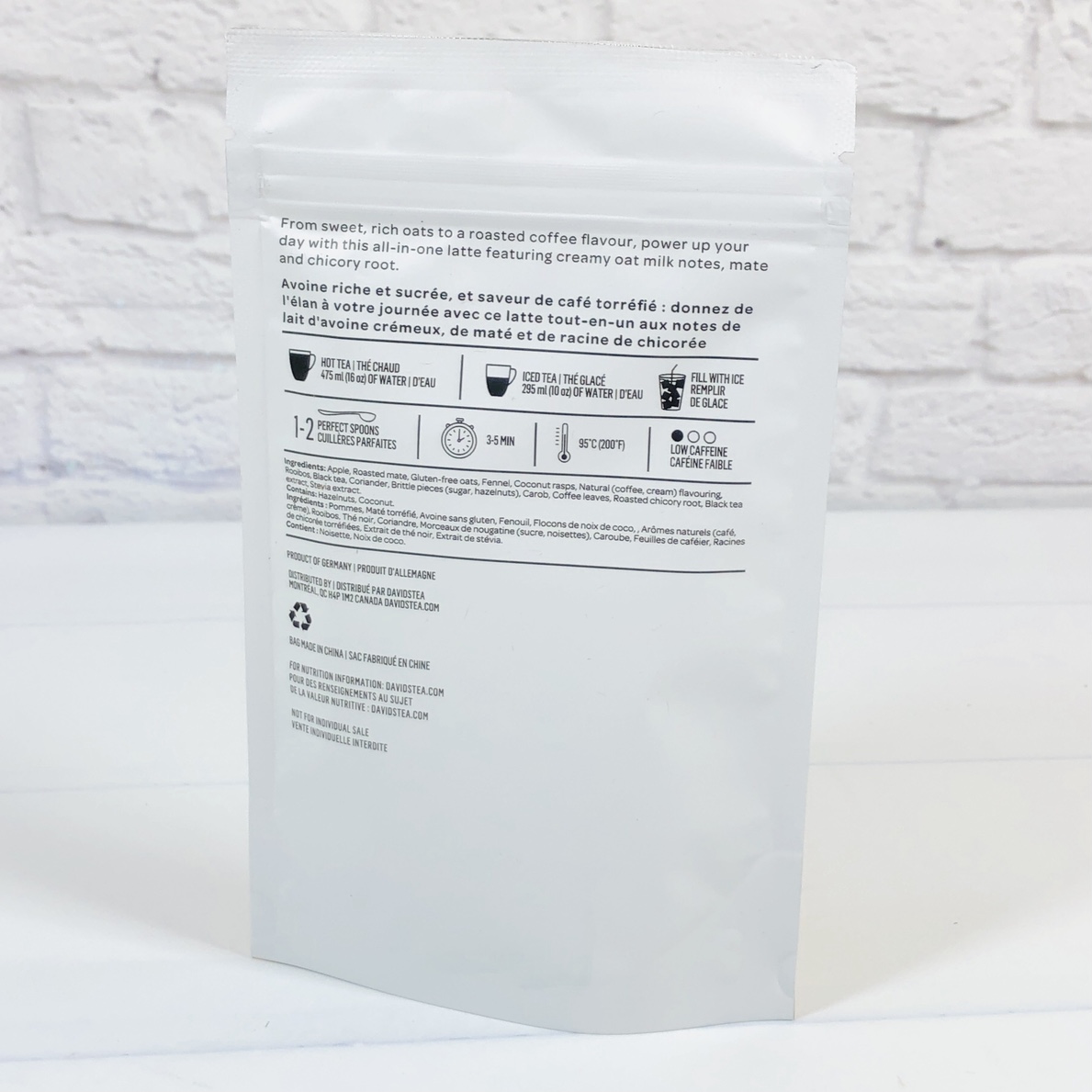 It has yerba mate, which is a caffeinated plant related to holly, plus oats, fennel, black tea, carob, and stevia.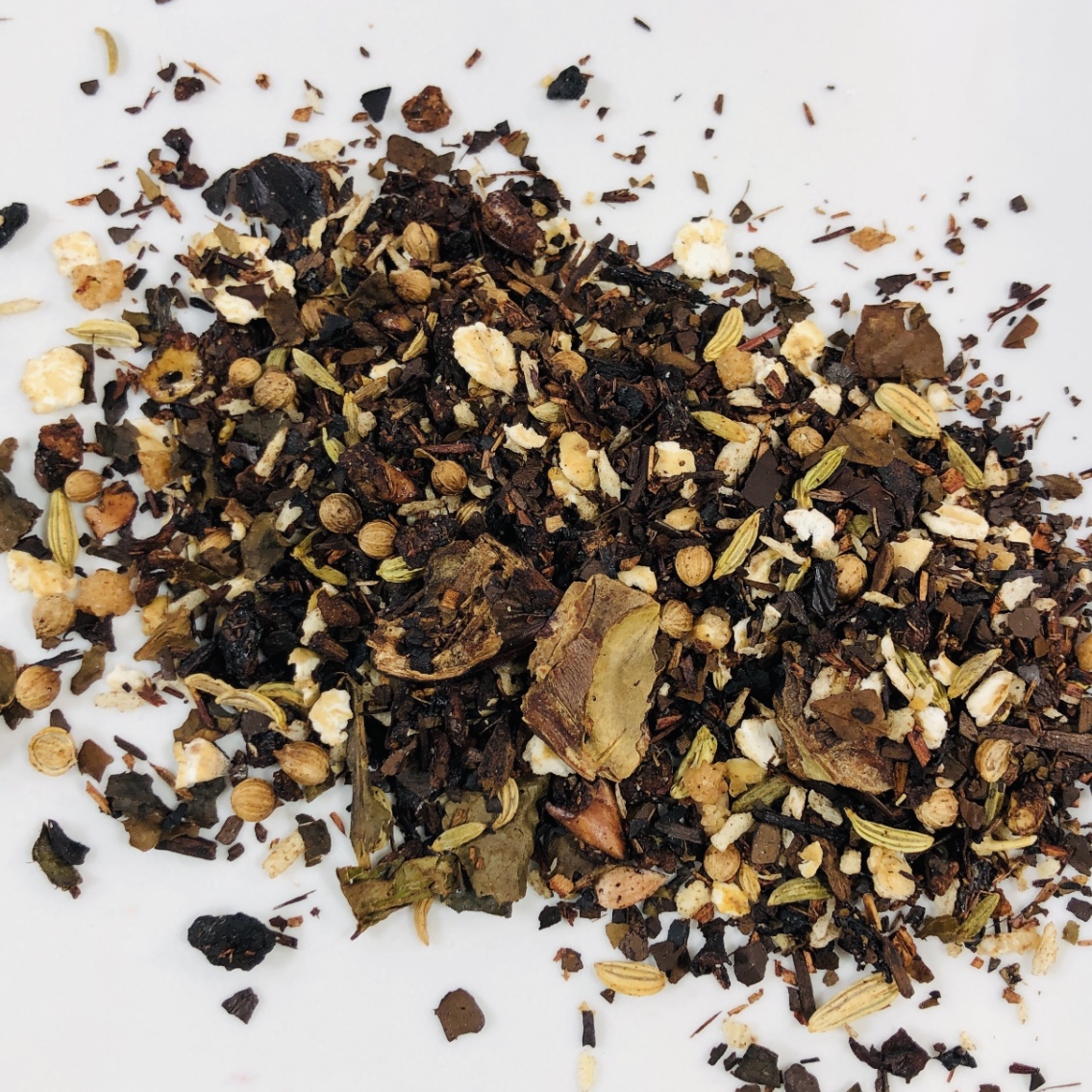 I was excited when I saw this had black tea but it wasn't very tea-like, it had none of the tannins I usually associate with black tea. It also had the strongest stevia taste out of all of the teas. I added sugar and milk and I guess it was similar to a caramel latte, one that has had all of the bitterness removed. After seeing all of those coriander and fennel pieces I was expecting it to taste like chai but nope, they weren't really present at all.
Valerie's Notes: I guess a chai wouldn't really suit hot summer weather but I was still expecting something a bit spicier than this. It wasn't bad at all, and definitely woke me up (mate + coffee will do that…) but I was also hoping for something a bit more complex.
Pink Flamingo ($4.39) I tried Strawberry Lemonade (shown later in the review) first and then tried this and I thought they were very similar.
Chill vibes only. Try this sweet, citrusy cocktail of oranges, tangerines and lemongrass. It's got hibiscus and beetroot to turn it a natural shade of hot pink, plus blackberry leaves and carrot for extra sweetness, and eucalyptus leaves for kick. Sound irresistible? Try it iced. In a martini glass. With a splash each of orange liqueur and gin. And a paper umbrella. Caffeine-free.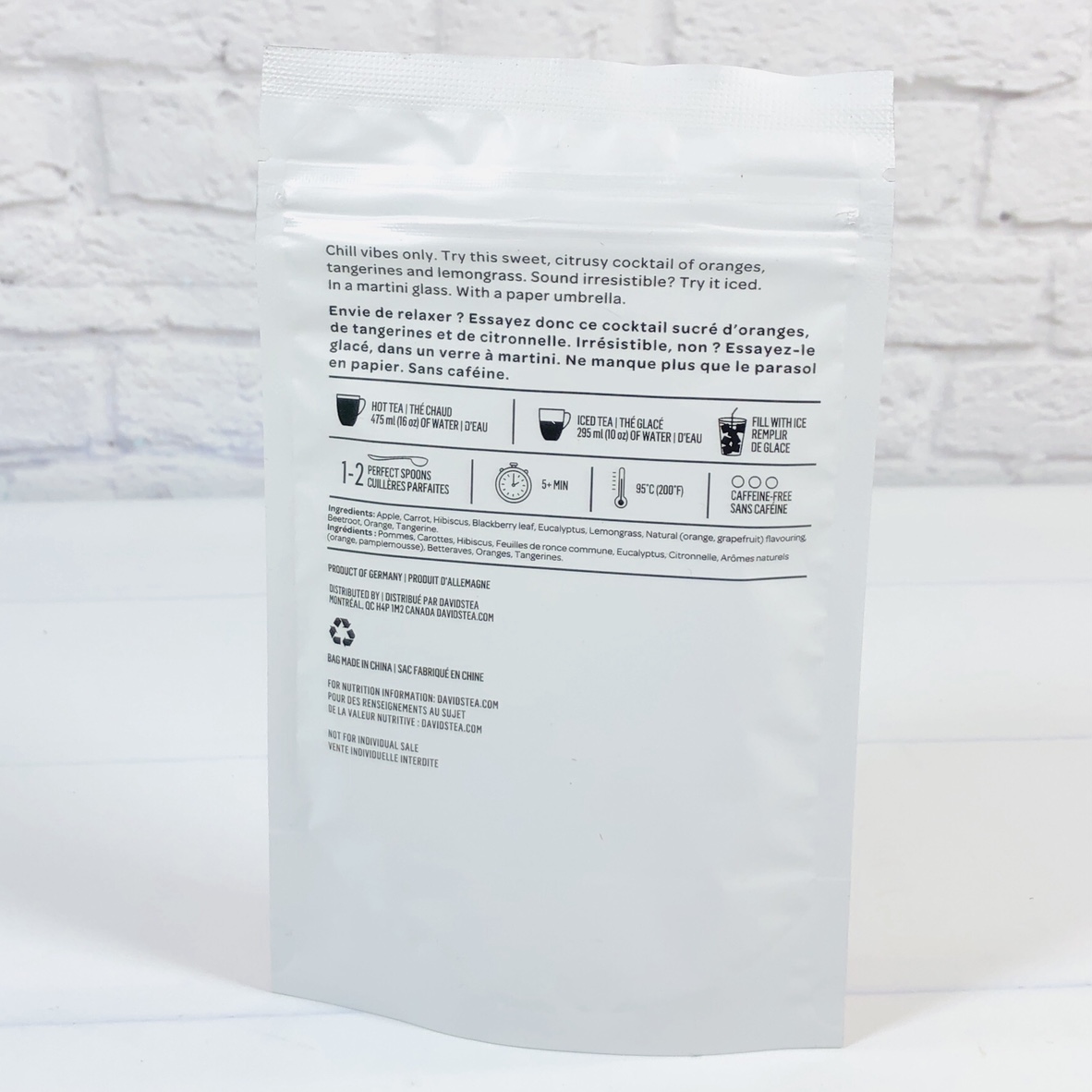 Both teas have hibiscus, apple, lemongrass, and blackberry leaves and let's face it, hibiscus and lemongrass are two strong flavors and will stand out in any blend. This mix also has additional citrus flavors (orange, tangerine, and grapefruit).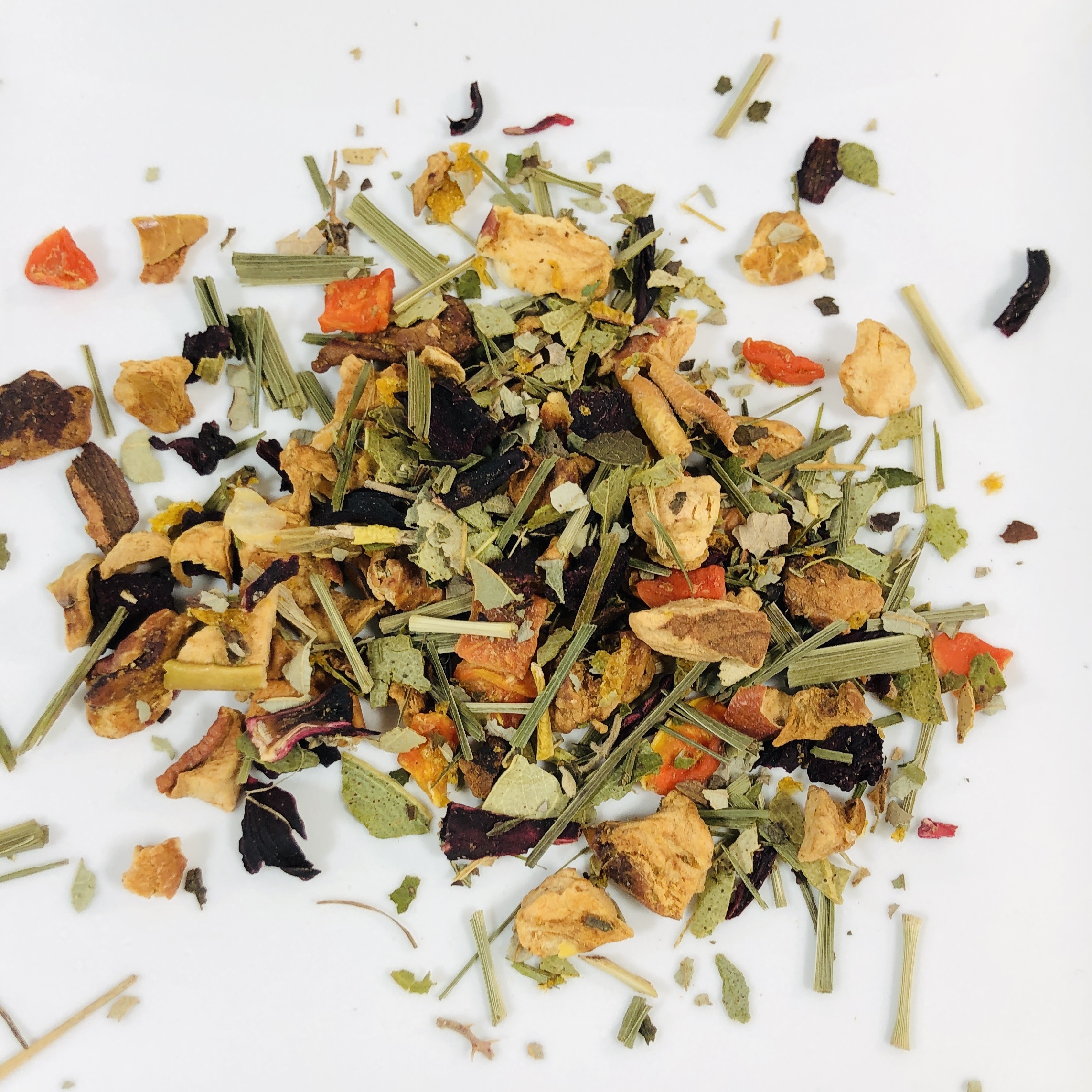 I thought this tasted like a juicy, tart lemongrass tea! I added sugar to balance it out and it really made it more juice-like.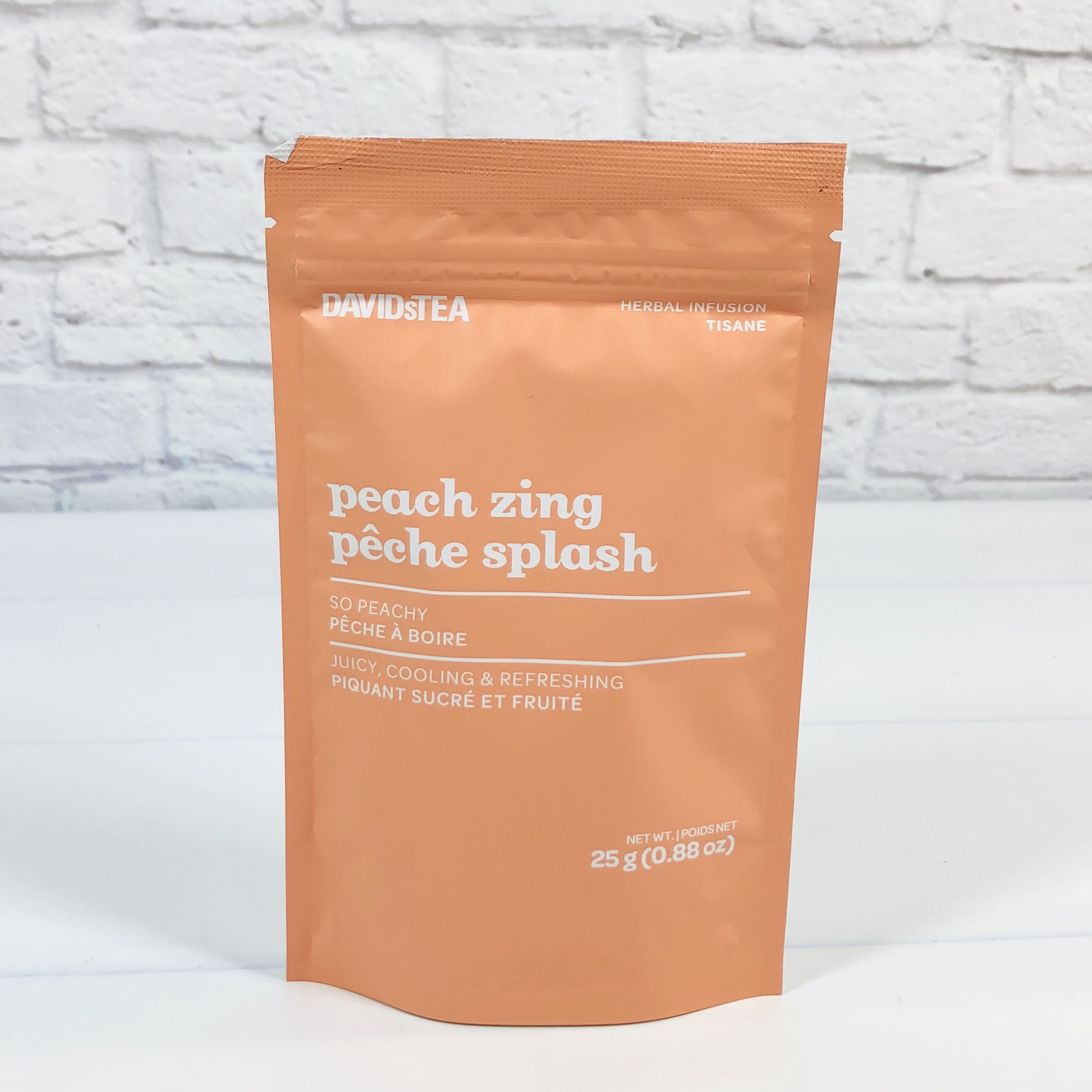 Peach Zing ($4.39) is an herbal infusion so no caffeine here and it is free of stevia.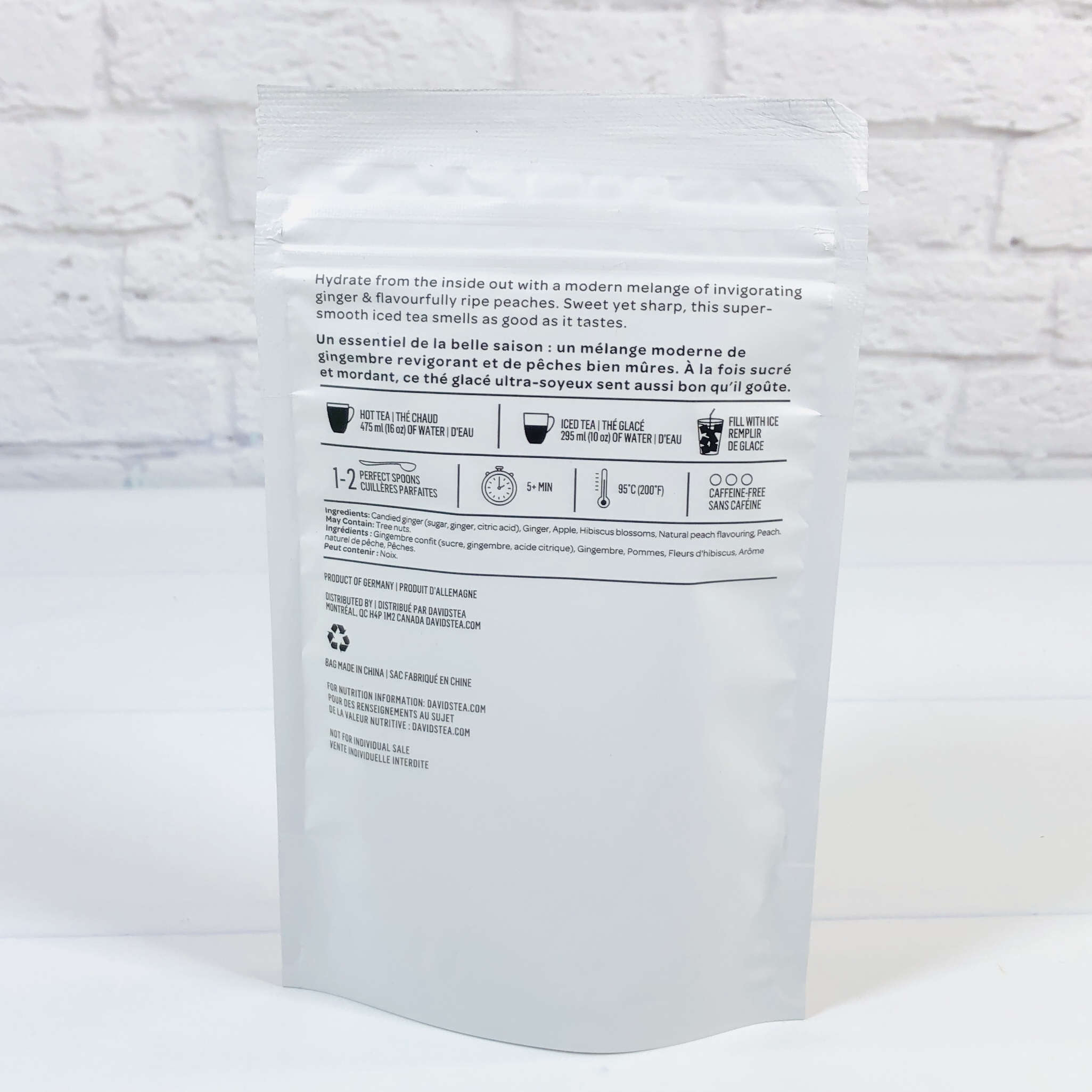 Candied ginger is the main ingredient here but there's also apple and hibiscus and some peach.
I liked the tanginess of this tea and added sugar because it was pretty tart. I like ginger but sometimes it burns my throat but I didn't have that problem with this drink. I don't know that it tasted all that much like peach but it was fruity and perfect for a hot afternoon treat. I ended up making iced tea with Lipton's, another brand of apricot black tea, and a sizeable amount of this and it was amazing, this added tartness to cut the sweetness of the sugar I added (it was half sweet tea).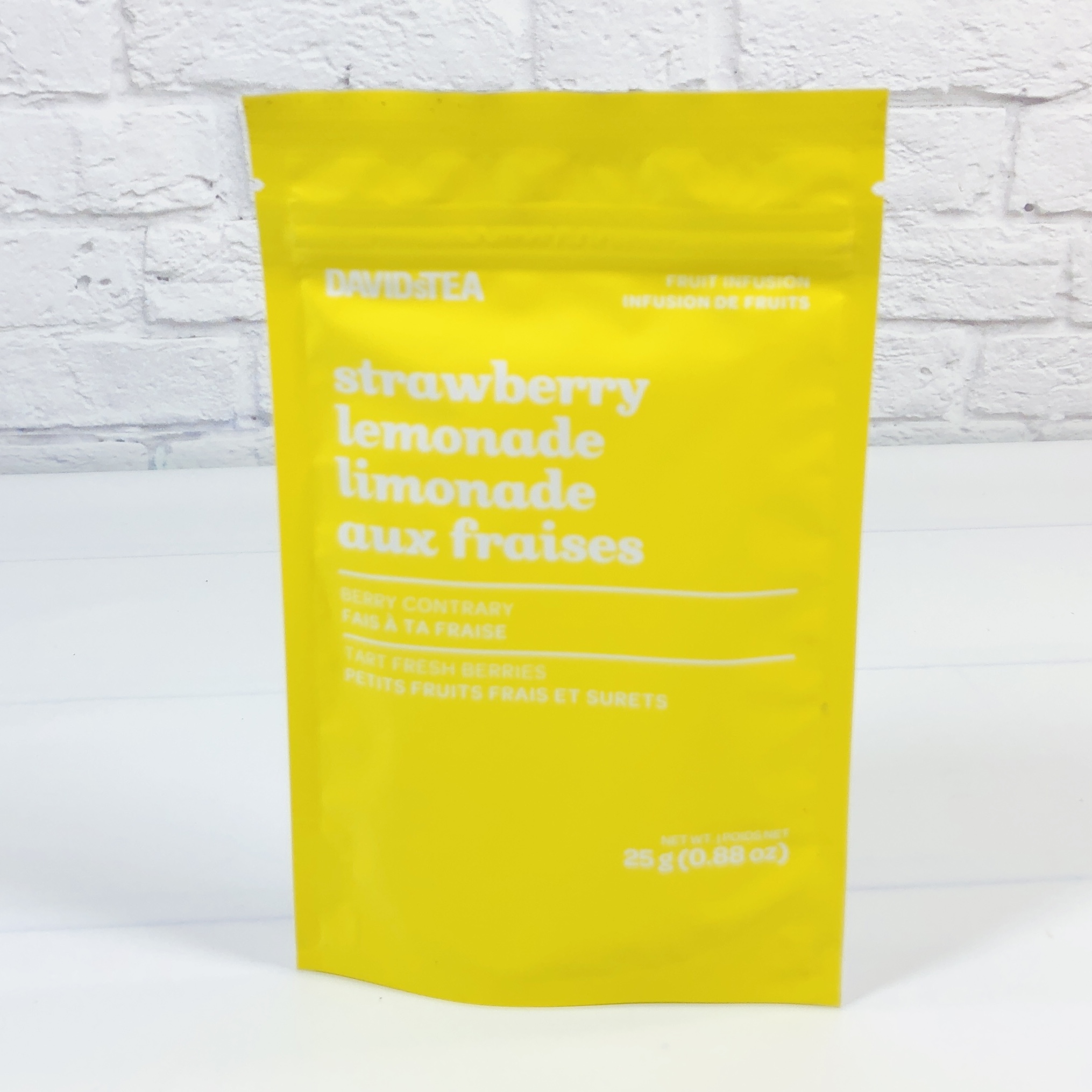 Strawberry Lemonade ($4.39) The idea behind this blend is that it is supposed to taste like strawberry lemonade!
How do you make lemonade even more delicious? Just add ripe, juicy strawberries. Then turn it all into the sweetest, most citrusy iced tea ever. This refreshing infusion has all the bright tanginess of our favourite summer drink, plus a fruity twist we can't get enough of. Serve it on ice with fresh berries or brew a crowdpleasing pitcher spiked with a little somethin' extra – it'll totally knock their sunhats off.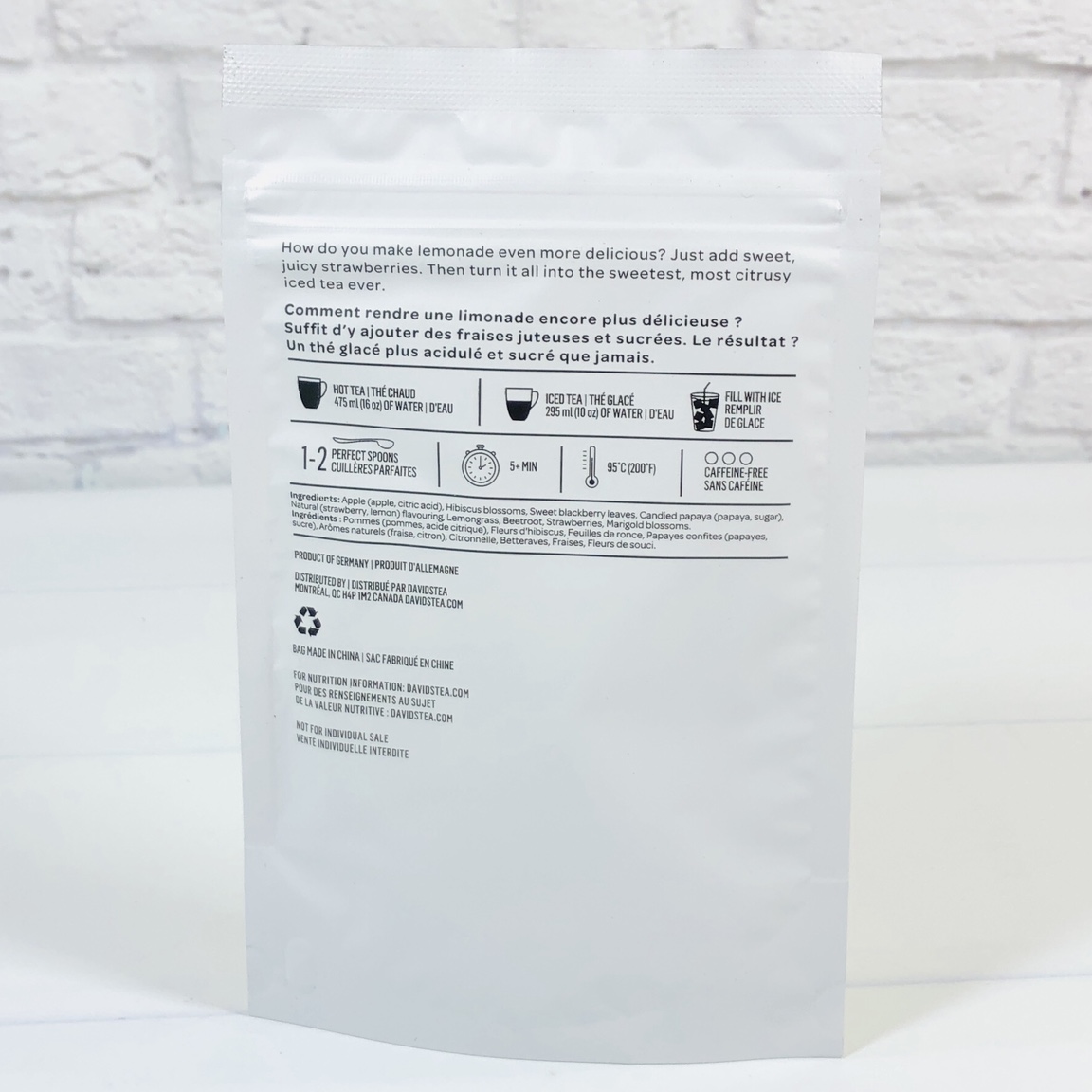 Apple, hibiscus, blackberry leaves, lemongrass, and strawberries can be found in this blend.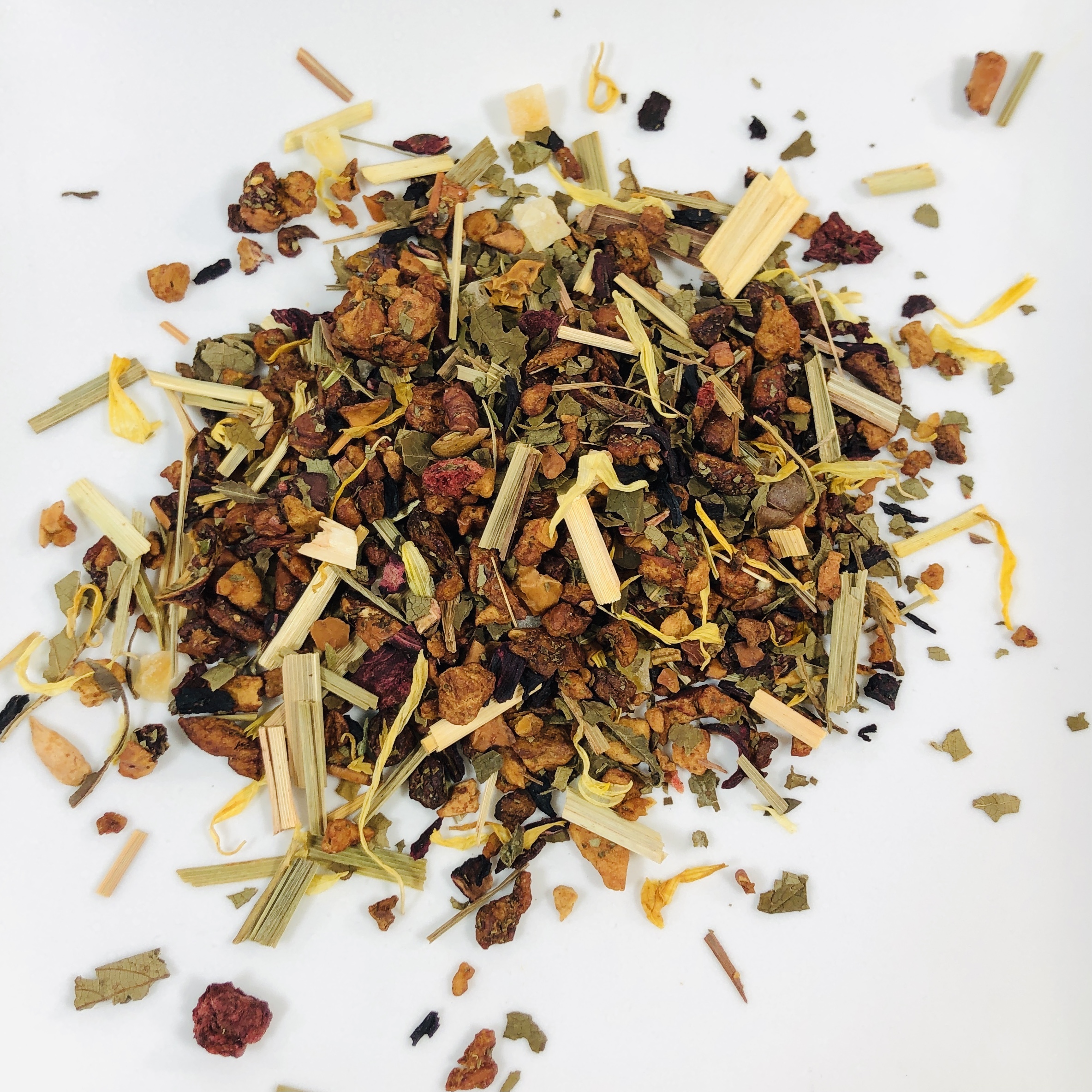 Like most of the teas, this was very fruit punchy with a burst of citrus and lots of mouth puckering was going on.
The Summer box from DAVIDsTEA was an interesting one, that is for sure! At first I tried drinking these as traditional cups of hot tea, but then I realized they tasted better cold, and almost all of them reminded me of some version of fruit punch, whether tropical, berry, citrus, etc. There was very little in the way of actual tea, which was disappointing, I mean where is the green, white, or black teas? I guess most of us have standard black tea in our kitchens so here's what I will do: I will either drink these iced, like punch, or steep them with Lipton's if I want a flavorful black iced tea (which is all I drink, all summer long). I'm also thinking of steeping a cup of tea, keeping it in my fridge, and adding it to my drinking water by the tablespoon to add flavor. The color changing cups were cute, although I prefer drinking out of glass. I was expecting some of the teas to be exclusive to the box, for subscribers only, but these were all available online and in some cases they are older teas that have been given a new name. I am looking forward to the next box, which will hopefully have some chai teas, maybe some spiced blends, but hopefully a couple more black teas!
What do you think of DAVIDsTEA Tasting Club?
Visit David's Tea Tasting Club to subscribe or find out more!