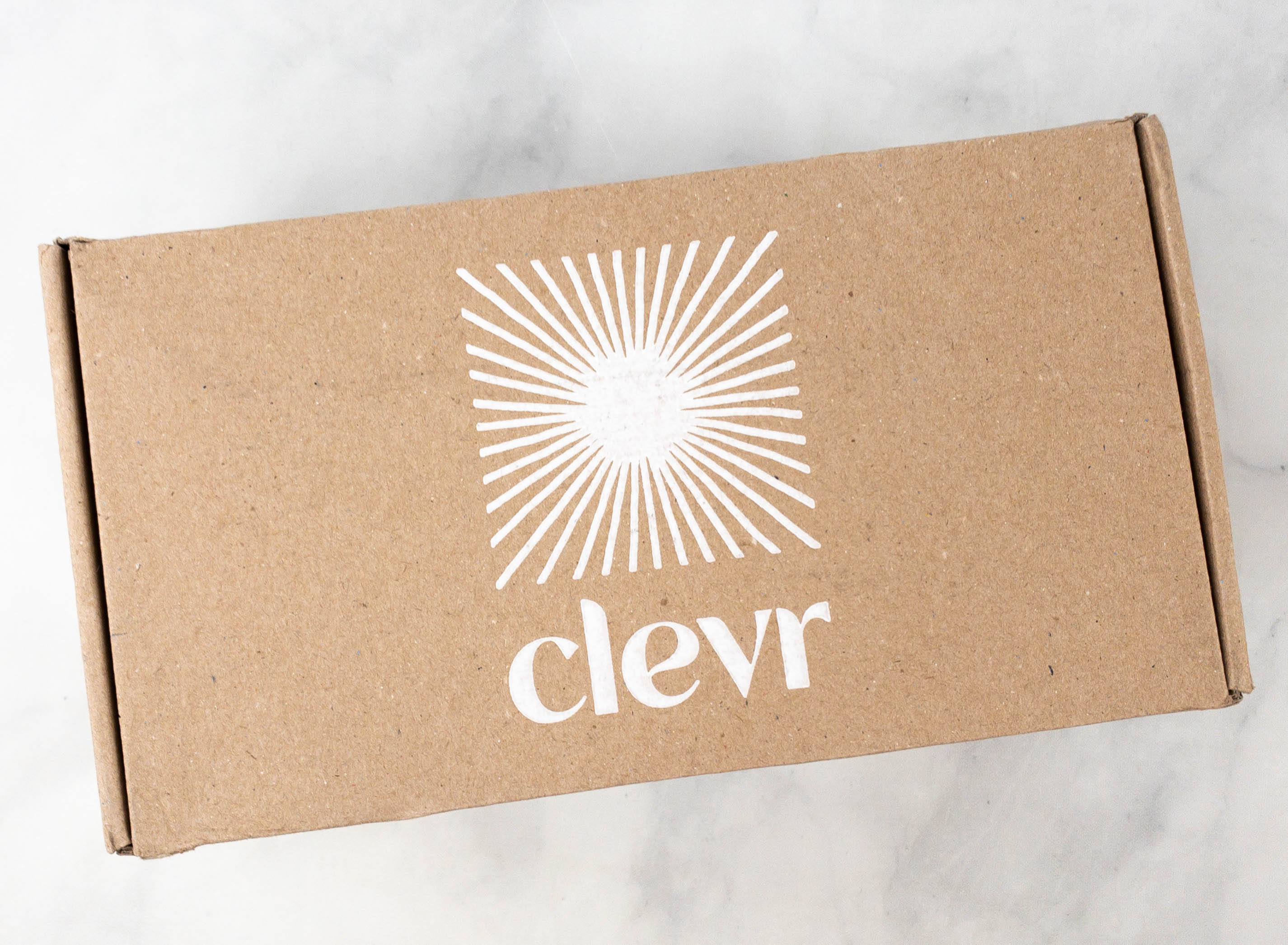 Clevr Blends makes SuperLattes, or healthy latte mixes made with adaptogens and probiotics. It's an upgraded version of your favorite coffee shop drink, with brain-boosting, mood-lifting, and mind-clearing properties. It also contains creamy plant-based milk, so all you need to add is water. You can get the SuperLatte on a subscription which ships every 1 month or 2 months. Currently, the available flavors are Matcha SuperLatte, Chai SuperLatte, Golden SuperLatte, and Coffee SuperLatte. They are priced at $23.80 for each bag. They also offer limited edition latte flavors from time to time, as well as items for a one-time purchase like the Clevr Frother ($18), Clevr x Fellow Latte Thermos ($35), and Wooden Latte Measuring Scoop ($5).
This is the review of 3 regular SuperLatte flavors (Matcha, Chai, and Golden) plus 1 limited edition flavor (Rose Cacao).
DEAL: Get 10% off on your order! Use the coupon code PLANTPOWER at checkout. Does not apply on subscriptions.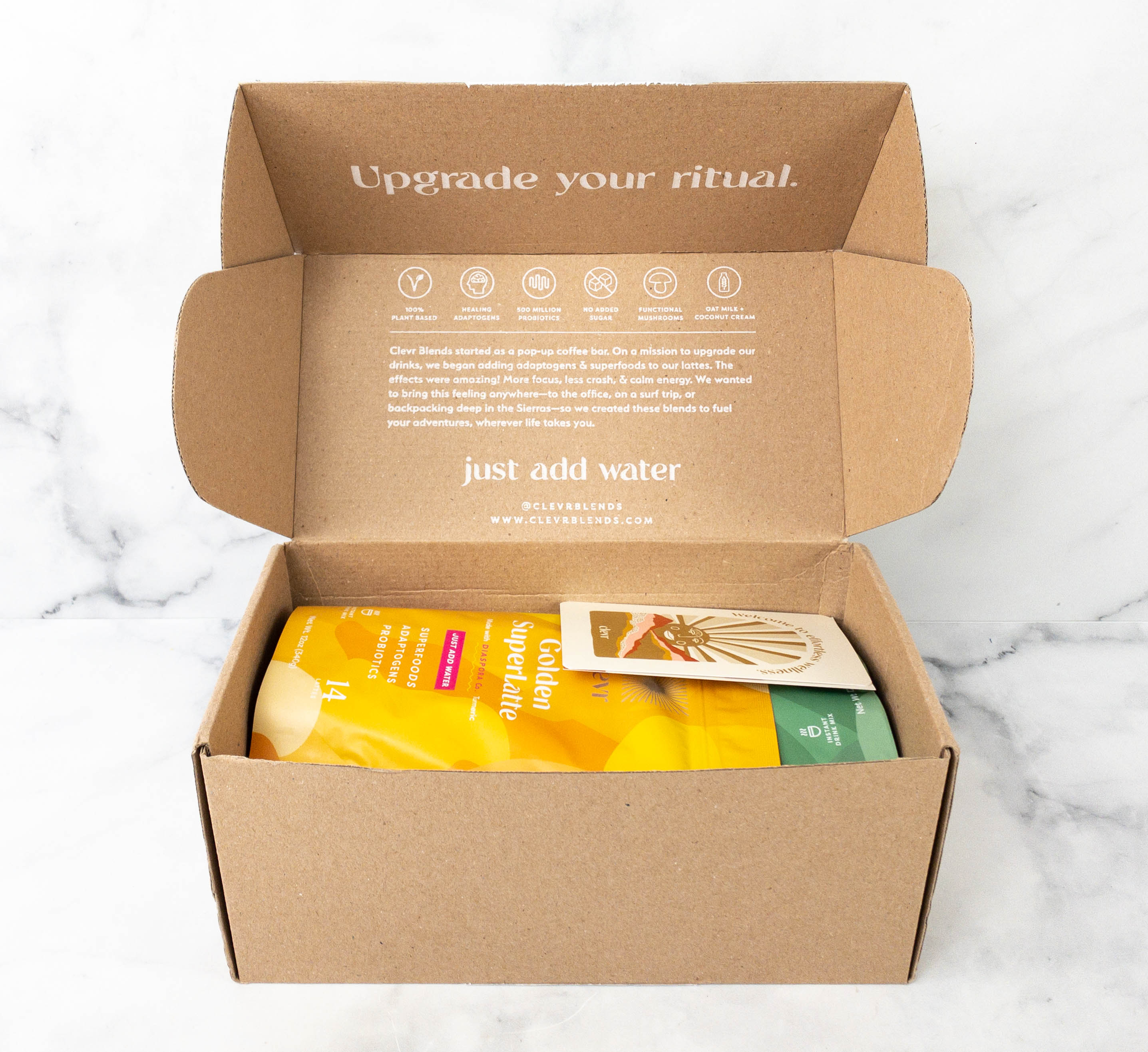 The lattes came in a simple brown box.
Clevr Blends started as a pop-up coffee bar. On a mission to upgrade our drinks, we began adding adaptogens & superfoods to our lattes. The effects were amazing! More focus, less crash, & calm energy. We wanted to bring this feeling anywhere—to the office, on a surf trip, or backpacking deep in the Sierras—so we created these blends to fuel your adventures, wherever life takes you.
All of Clevr's shipping materials are 100% post consumer recycled and 100% recyclable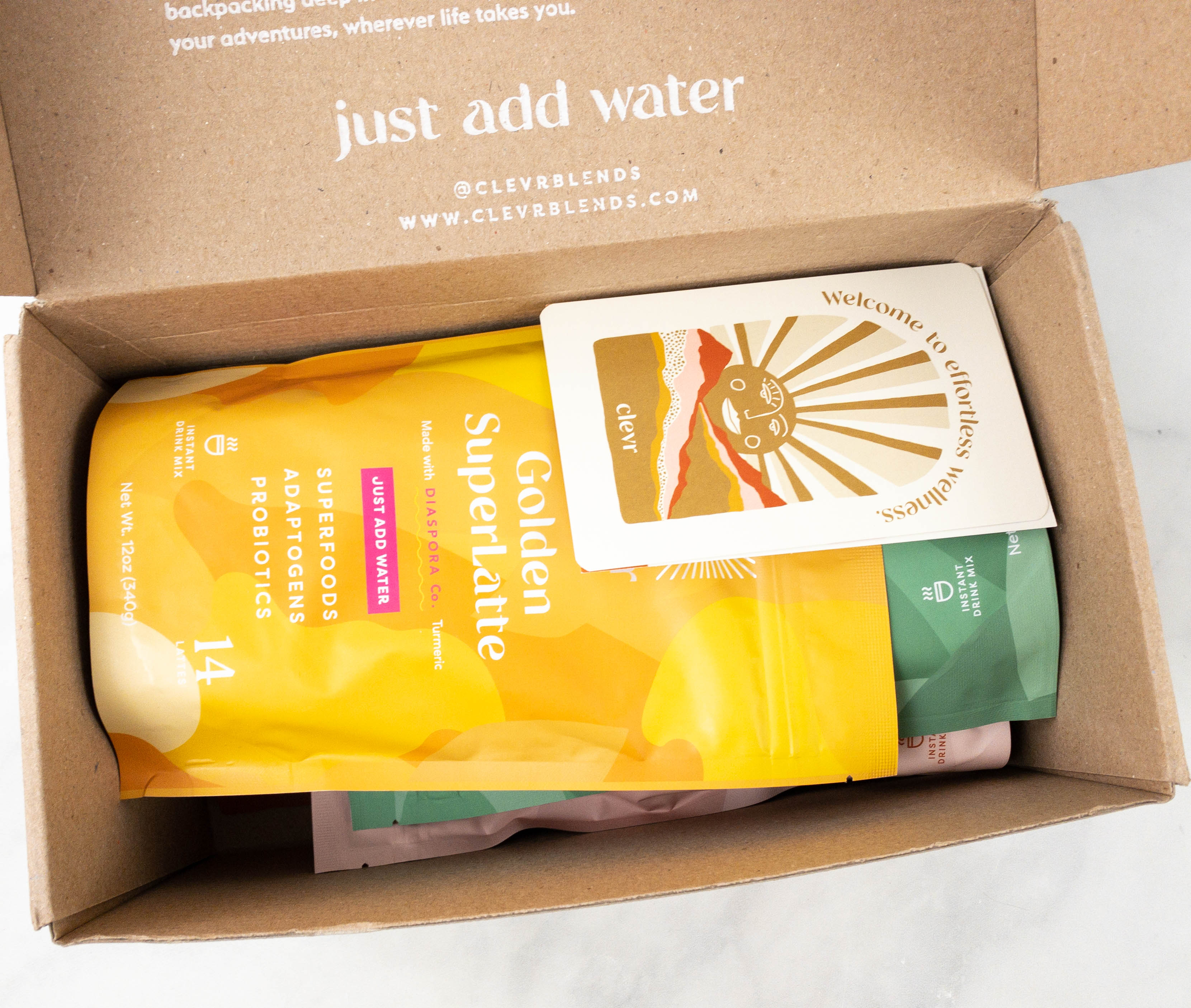 The SuperLattes are plant-based. They don't contain sugar, so they are diabetic-friendly. Instead, they are sweetened using monk fruit, with a zero glycemic index.
Clevr Blends, in addition to being 100% plant based, just need to add water miracles, also contain probiotics, adaptogens, functional mushrooms, and other superfoods! Adaptogens are said to help the body recover from stress, and the effects are cumulative, so this is a great way to sip them in with your regular routine (plus the drinks are ever so tasty!). Additives like ashwaganda, lion's mane, and reishi help add clarity and focus along with stress relief – and no mushroom taste!
For gluten-free folks, the oat milk used in the blends is not yet certified Gluten Free, but they hope to switch soon.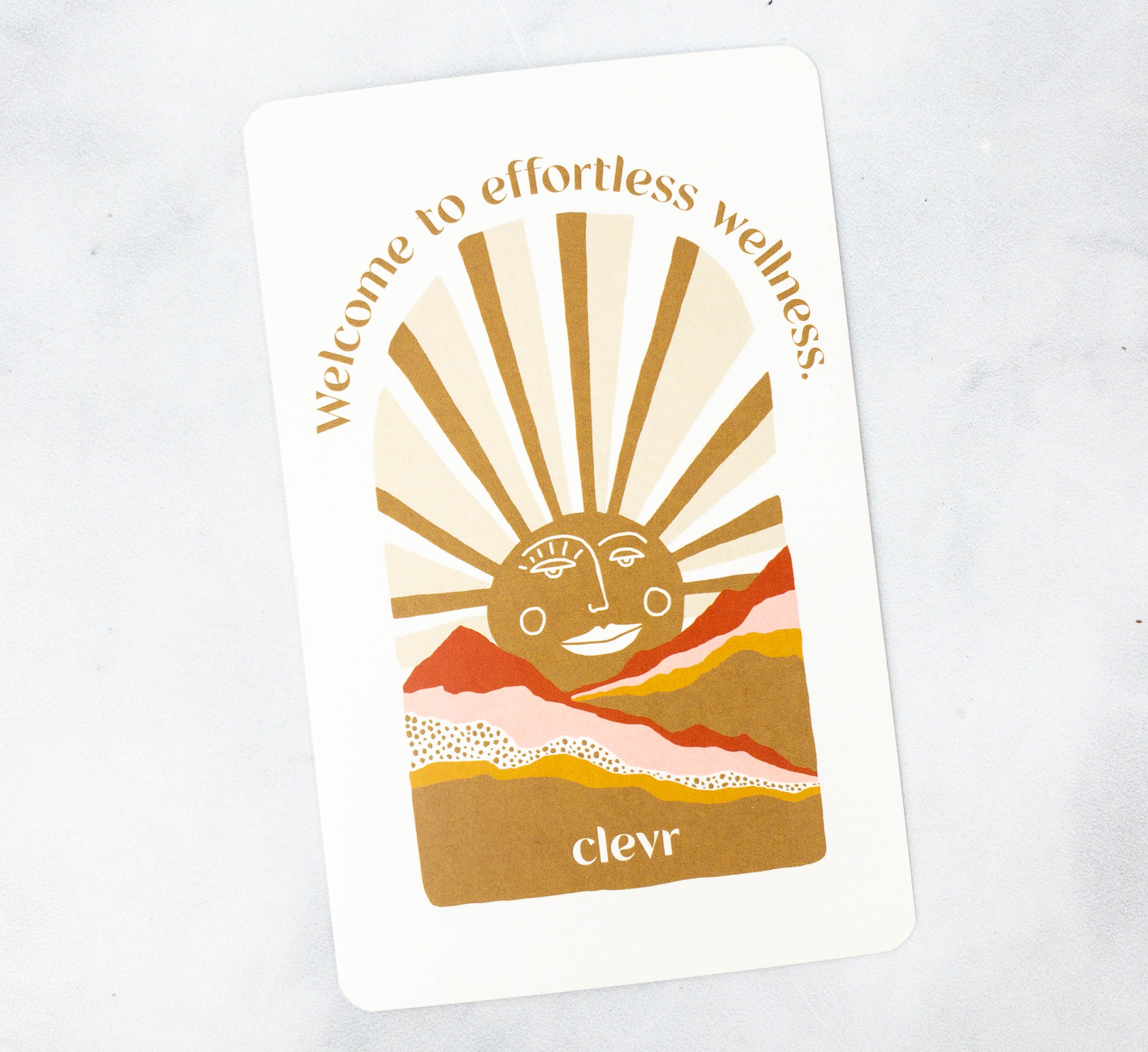 An information card was also included in the box.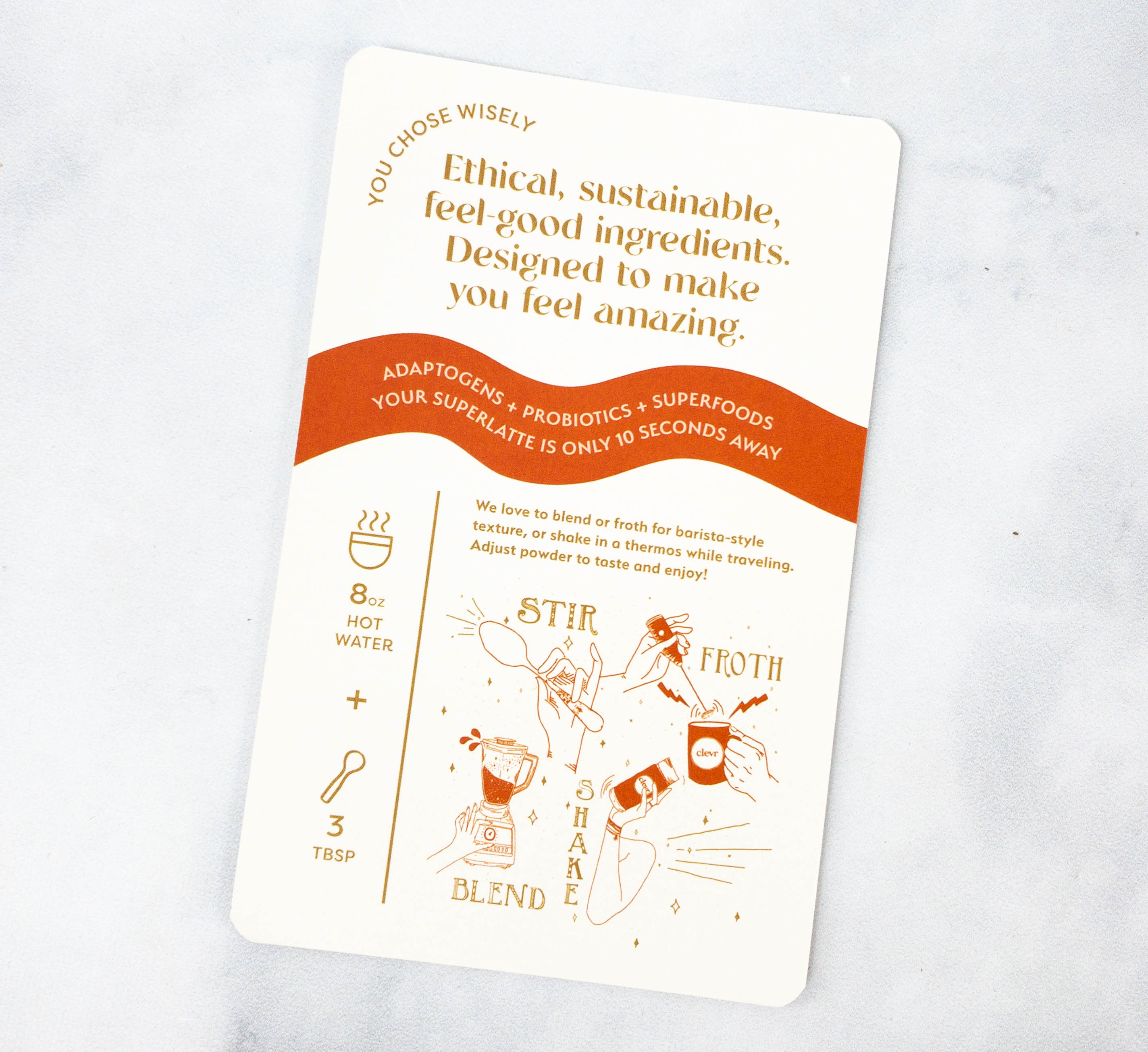 There are 4 ways to prepare these lattes! You can froth them with hot water using a handheld milk-frother, stir with water, shake with water in a thermos, or blend on low. Super easy!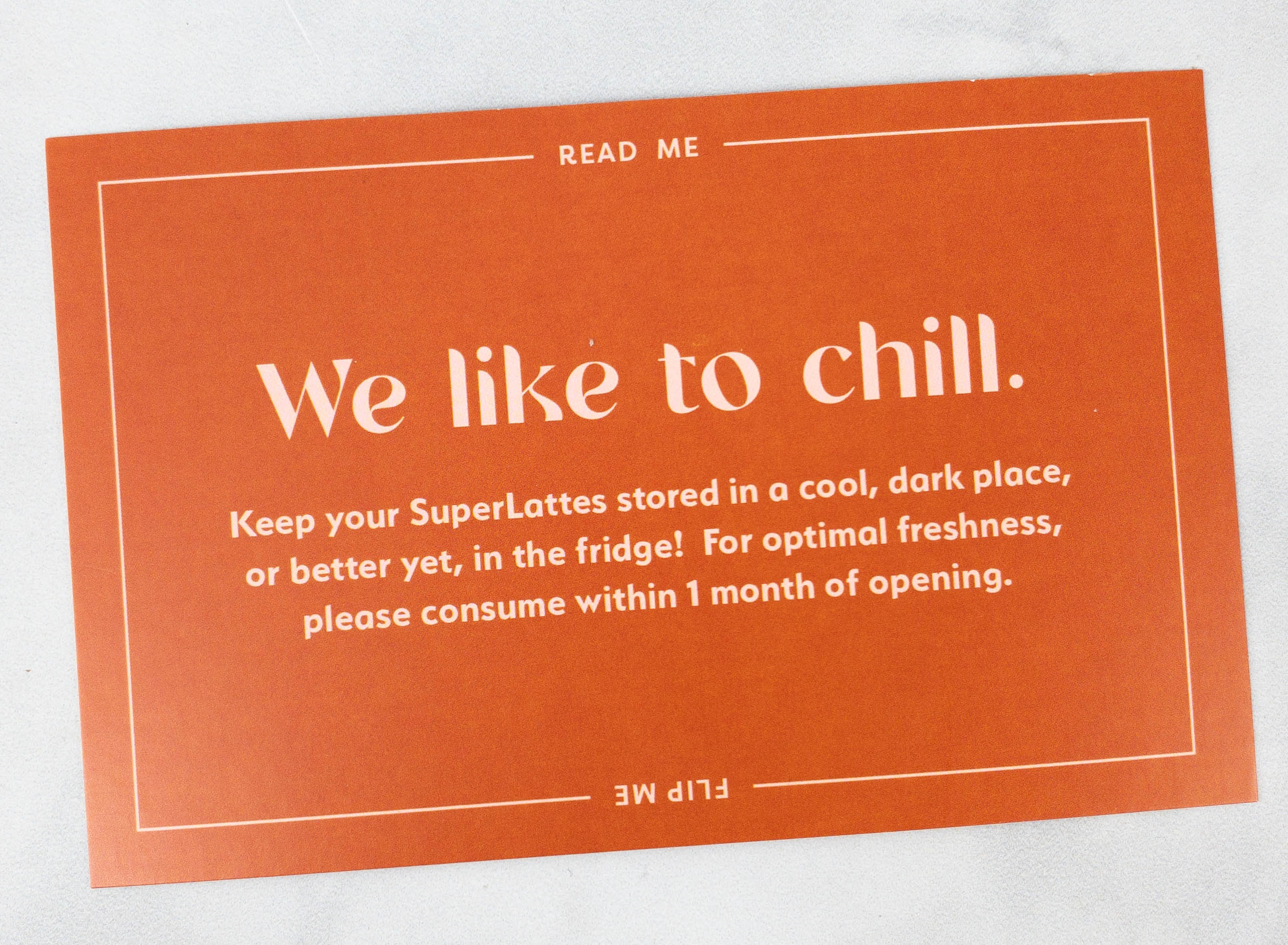 Storing the lattes are also easy. You can put them in the fridge or in a cool, dark place. They also recommend consuming the lattes within one month of opening to ensure freshness.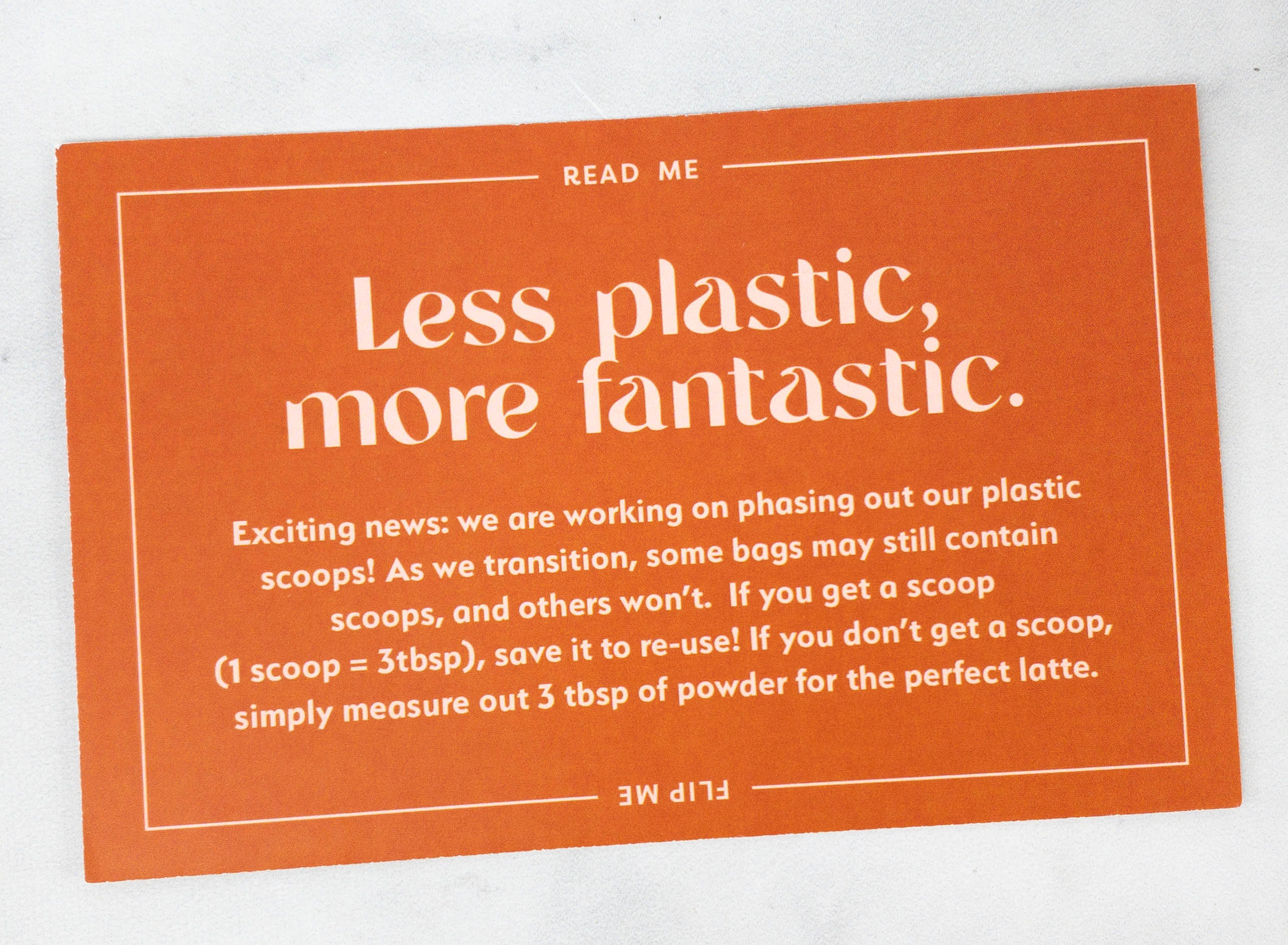 This card has an important note regarding the scoops in their latte bags. They're phasing out scoops to be more planet-friendly, you just need 3T of powder. You can grab a wooden scoop in their shop for $5 – a great, sustainable choice.
Exciting news: we are working on phasing out our plastic scoops! As we transition, some bags may still contain scoops, and others won't. If you get a scoop (1 scoop = 3 tbsp), save it to re-use! If you don't get a scoop, simply measure out 3 tbsp of powder for the perfect latte.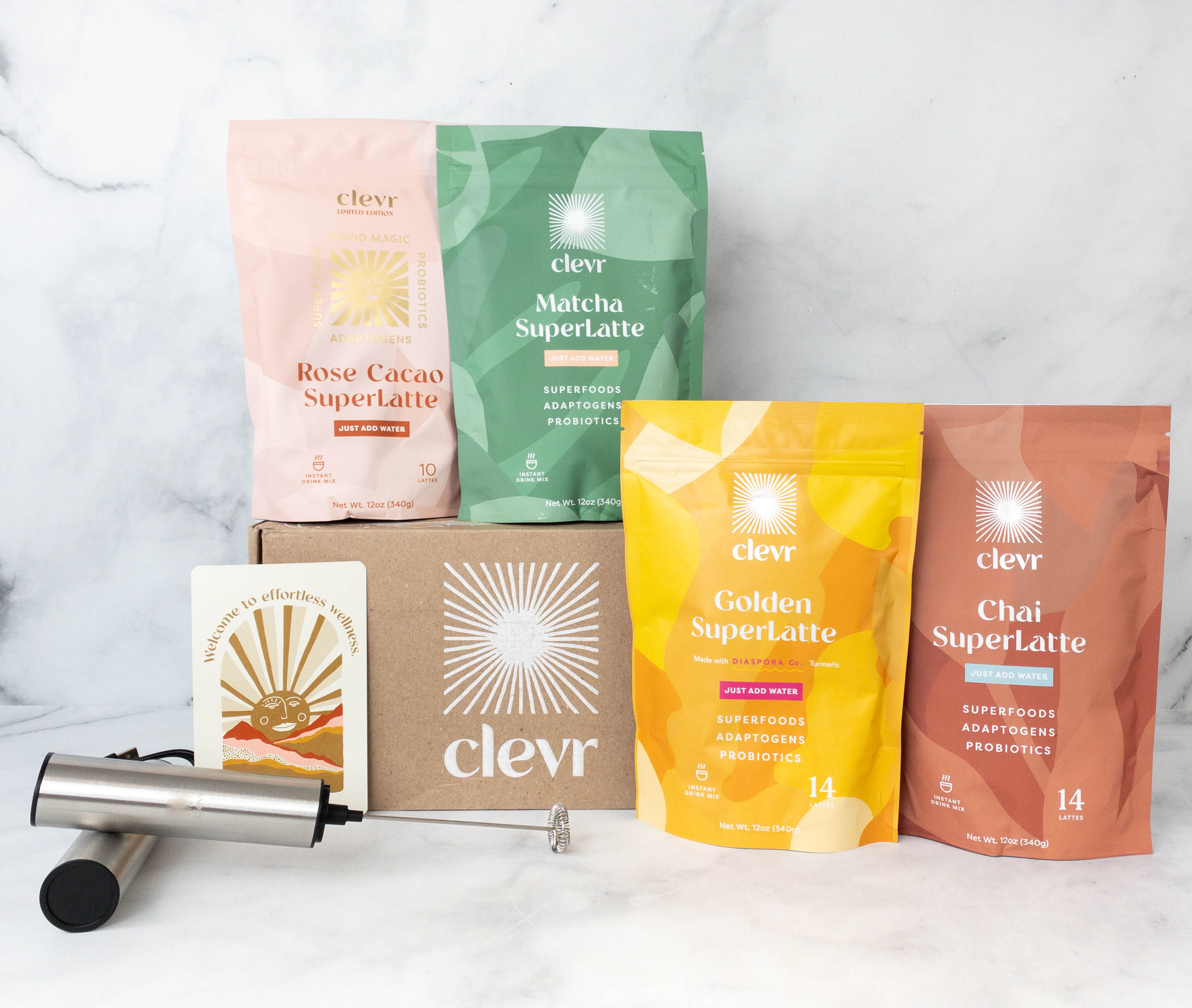 Everything in my box! Clevr is available as one time purchases, but you can save 15% if you get the latte bags on a subscription instead.
Frother for Perfect Latte Prep ($18) This rechargeable milk frother can be used for preparing SuperLattes! It's rechargeable, so you don't need batteries. This is also available in the $69 Starter Kit and the $129 Latte Lovers Bundle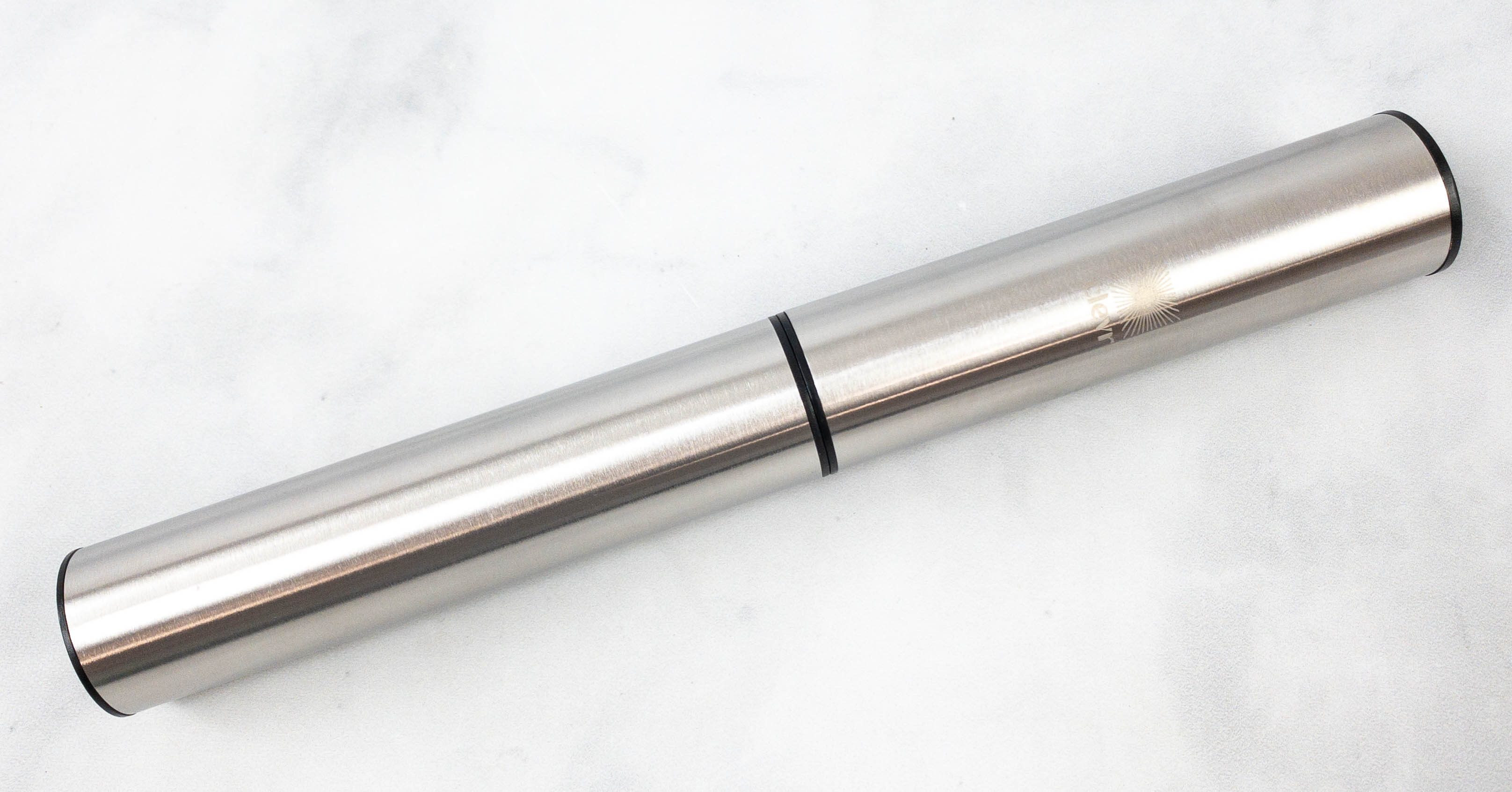 It features a sleek and compact design, making it portable. Cleaning it is also pretty easy since you just have to rinse it after use. I love the container so it doesn't get bent in my coffee cabinet.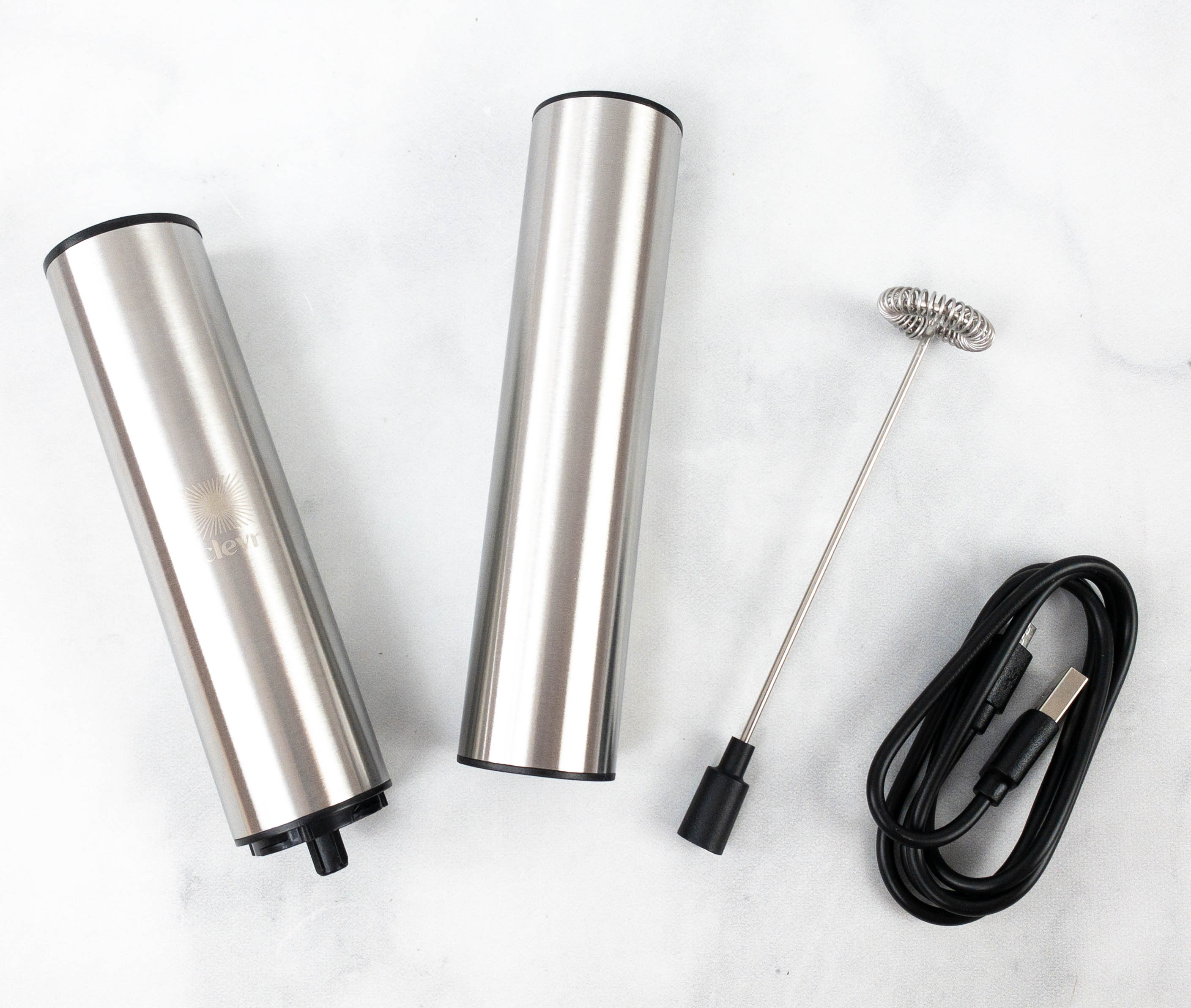 The frother comes in 3 parts: the base, the whisk, and the cover. Of course, it also includes a charger cord.
This cord enables the tool to be charged directly on a power supply.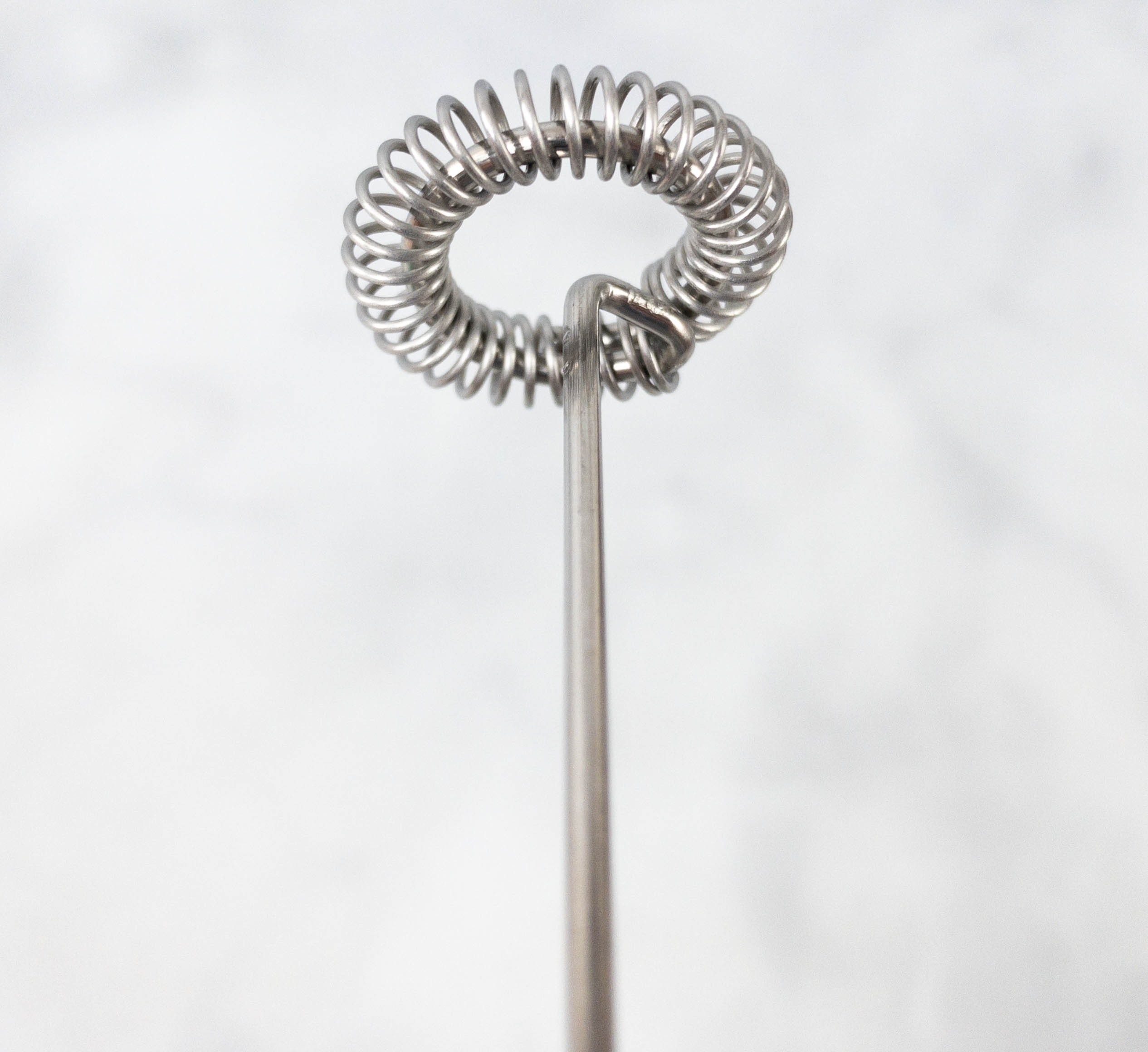 Here's a closer look at the whisk attachment. It's the key to making smooth, foamy, and delicious SuperLattes!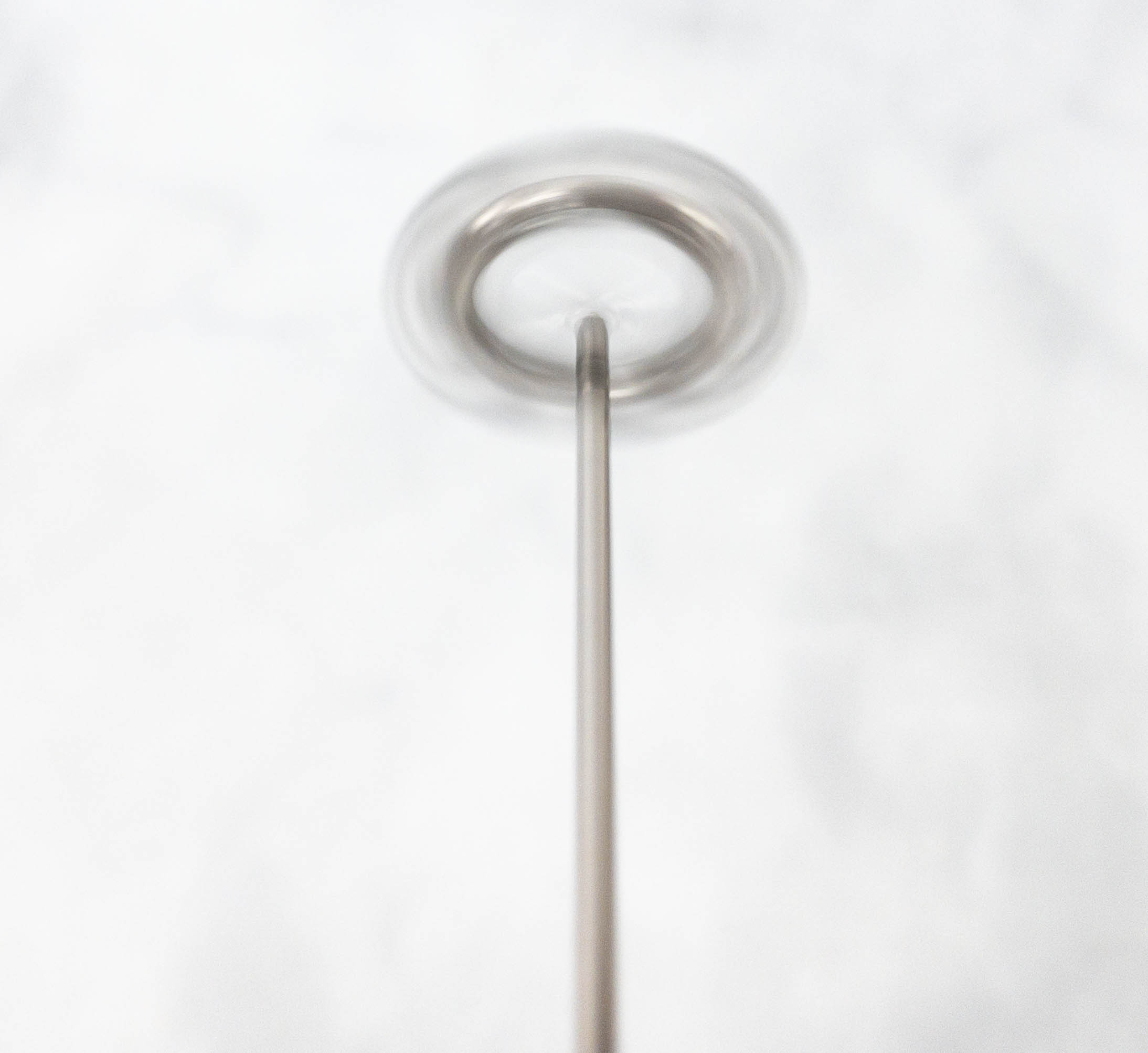 This frother has enough power to make lattes within 10 seconds!
Matcha SuperLatte ($28) For matcha fans, here's a latte mix made from organic shade-grown matcha! It's healthier than the usual matcha latte mixes because it uses oat milk and coconut cream. Also, it can be prepared whether hot or cold. Other ingredients include ashwagandha that helps reduce stress, lion's mane that boosts brain health, and reishi for immunity. All SuperLattes contain prebiotics to aid digestion.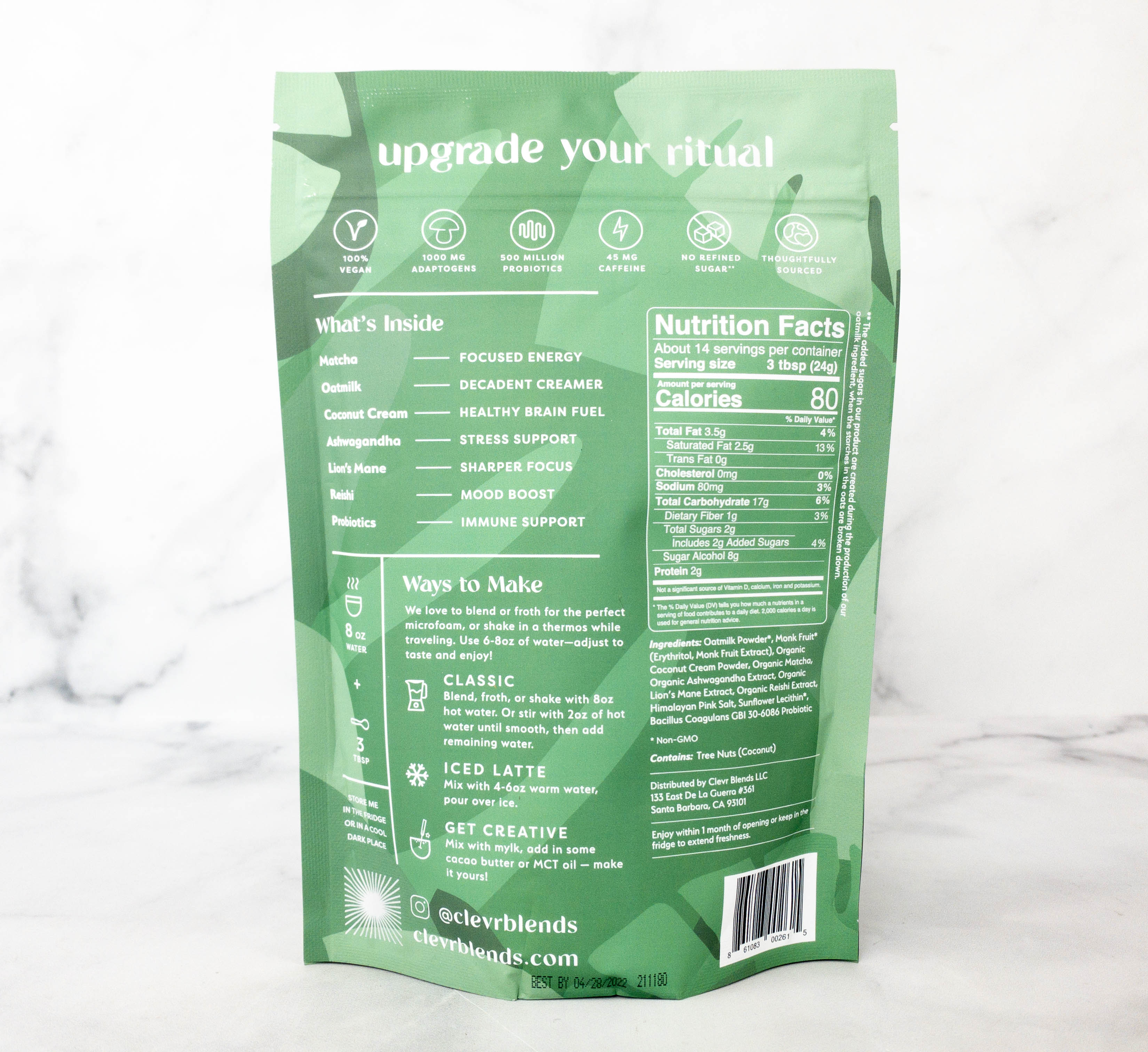 Ingredients: Oatmilk Powder*, Organic Coconut Milk Powder, Monk Fruit* (Erythritol, Monk Fruit Extract), Organic Matcha, Organic Ashwagandha Extract, Organic Lion's Mane Extract, Organic Reishi Extract, Himalayan Pink Salt, Bacillus Coagulans GBI 30-6086 Probiotic

*Non-GMO

Contains: Tree Nuts (Coconut)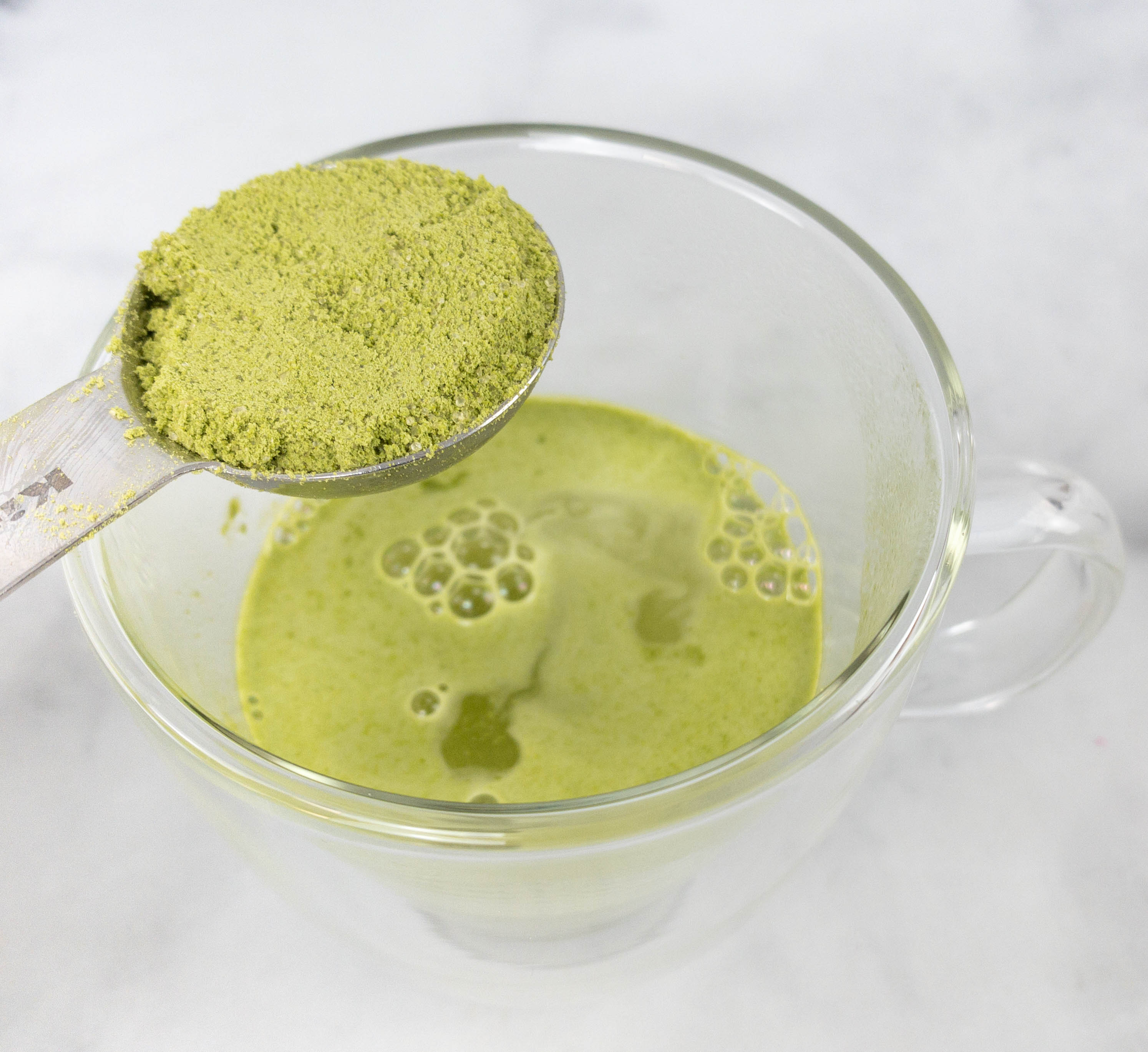 To prepare, I just added 3 scoops of Matcha SuperLatte to 8 oz of water.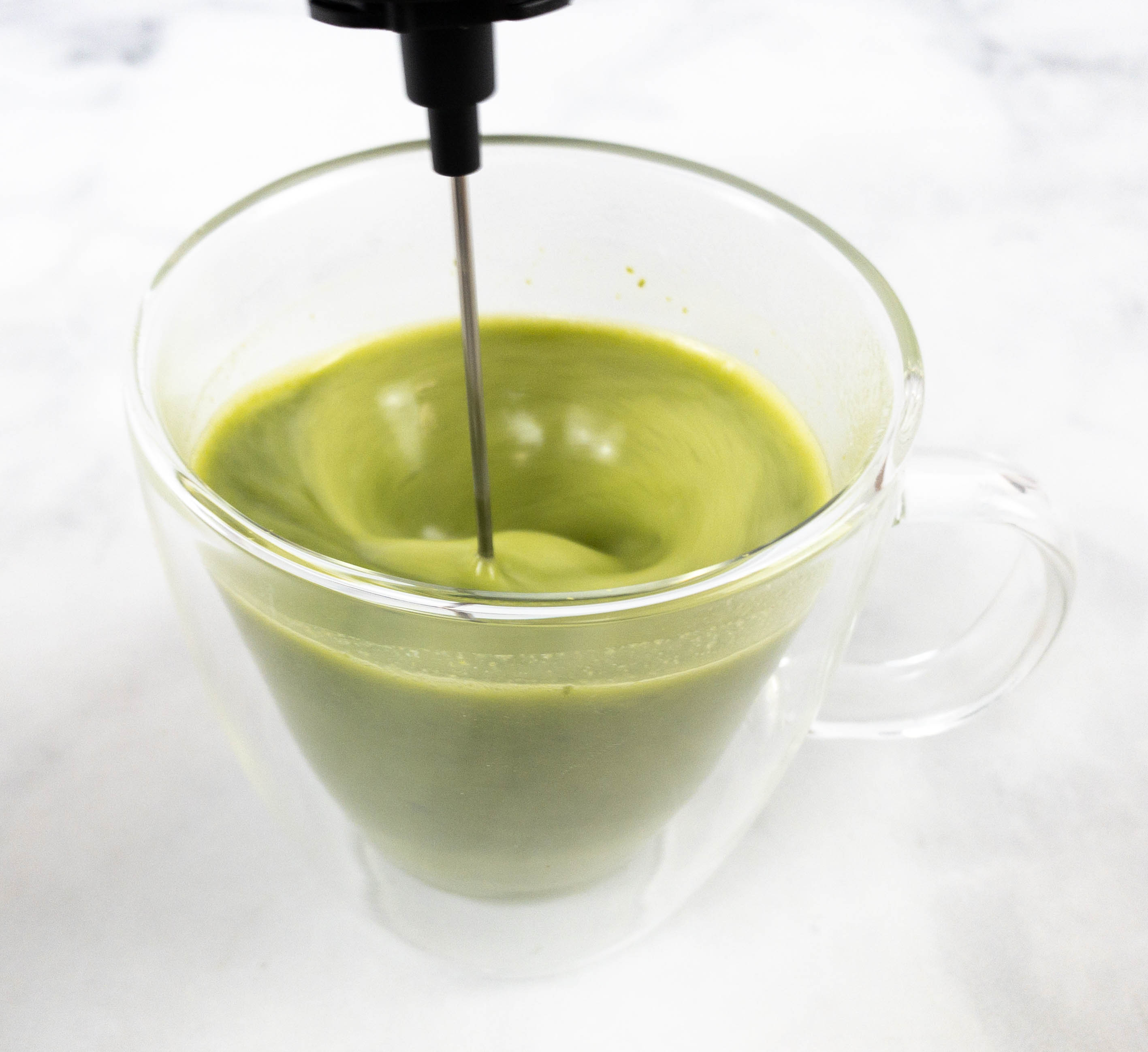 Then, I used the Clevr milk frother for 10 seconds to mix all the ingredients. It's that quick! No need to add milk or creamer because it's already incorporated into the mix.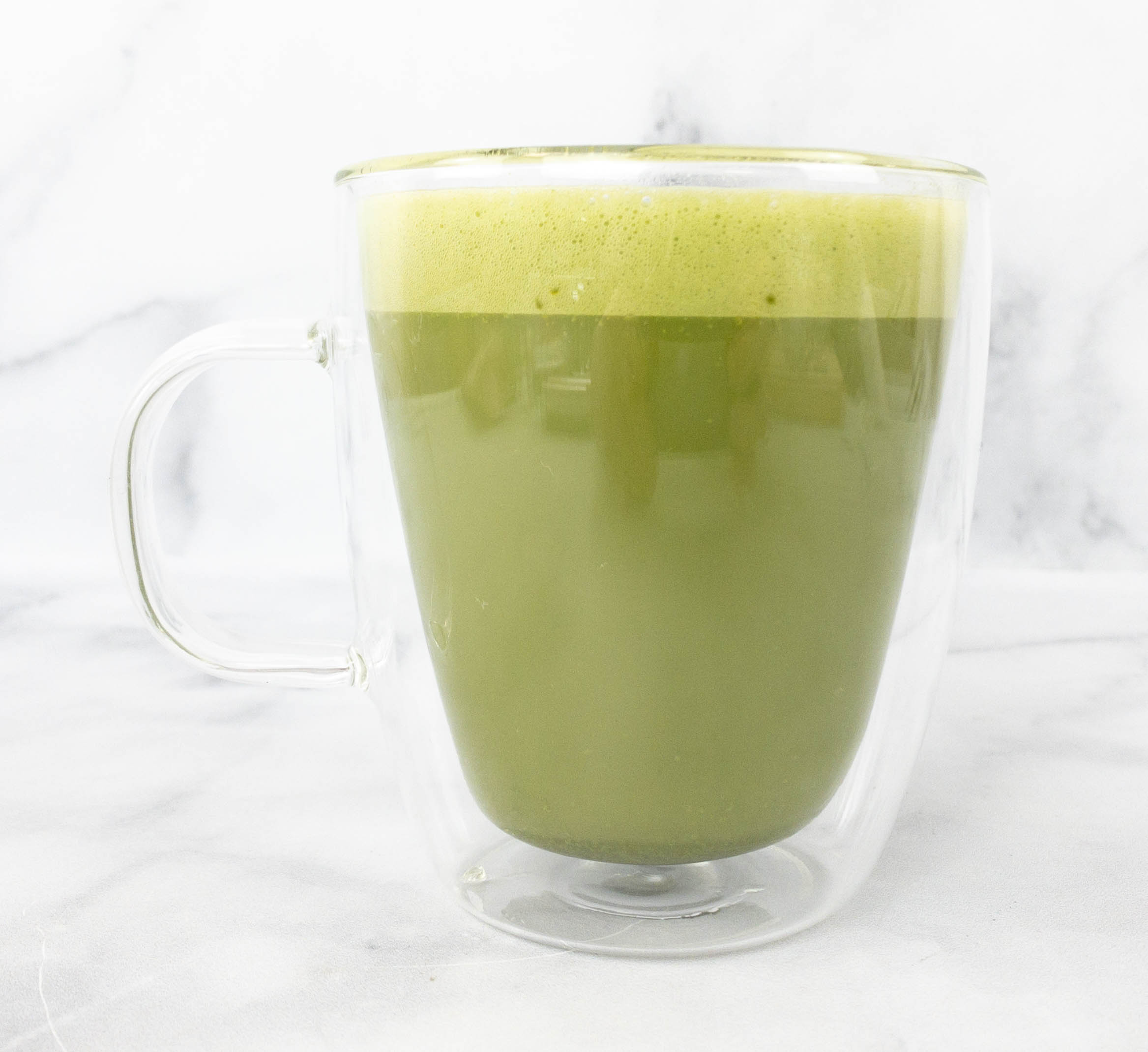 The result is a smooth and foamy cup of Matcha SuperLatte!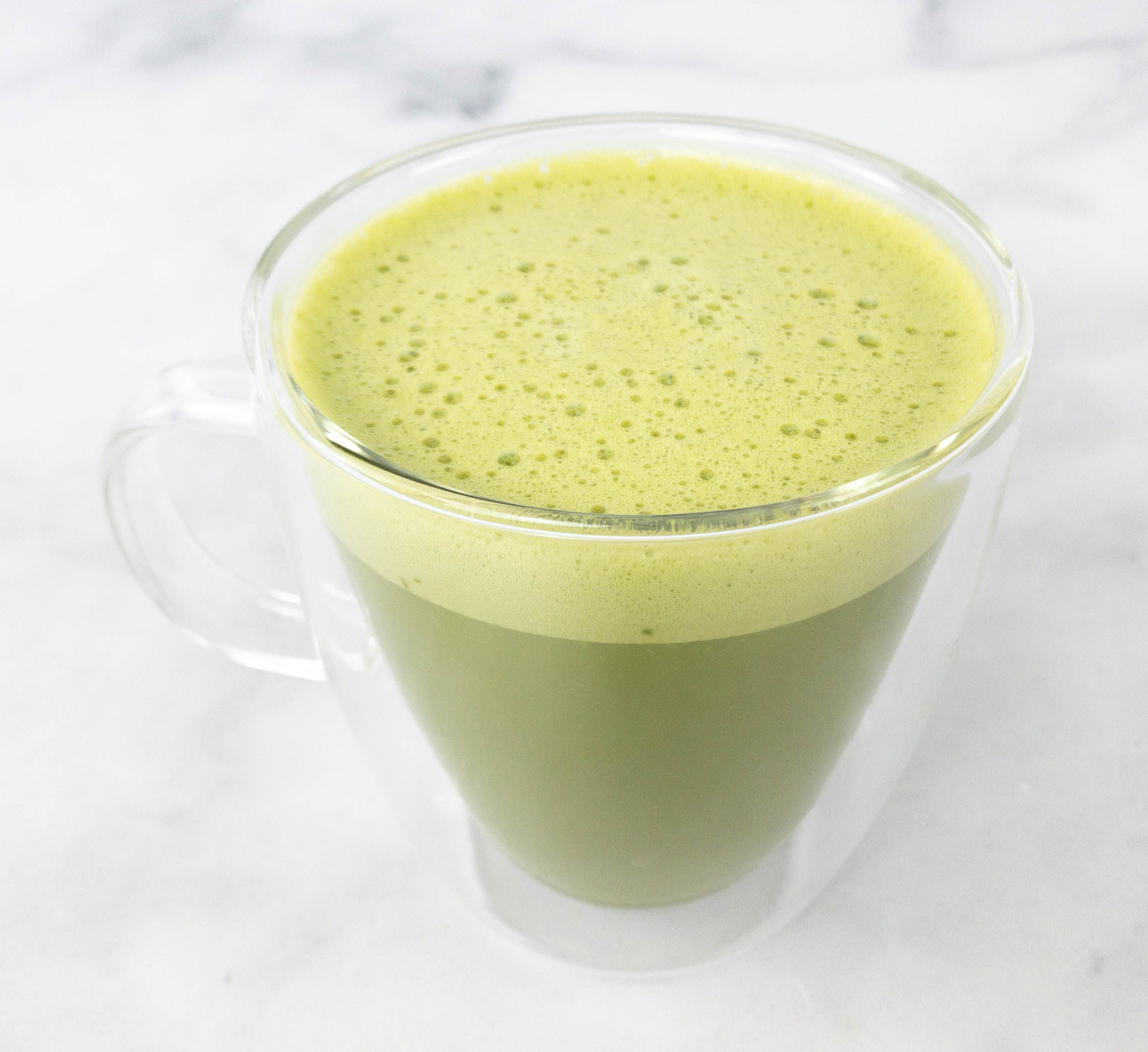 It's a café-quality matcha latte, but healthier! It goes down smoothly and each sip is just satisfying.
Each pack of Matcha SuperLatte can make 14 delicious latte servings. I'm not even a huge matcha fan and I liked this drink! Is it the oatmilk? The coconut cream? Whatever it was, this was tasty and satisfying and we think matcha lovers will be head-over-heels for this drink!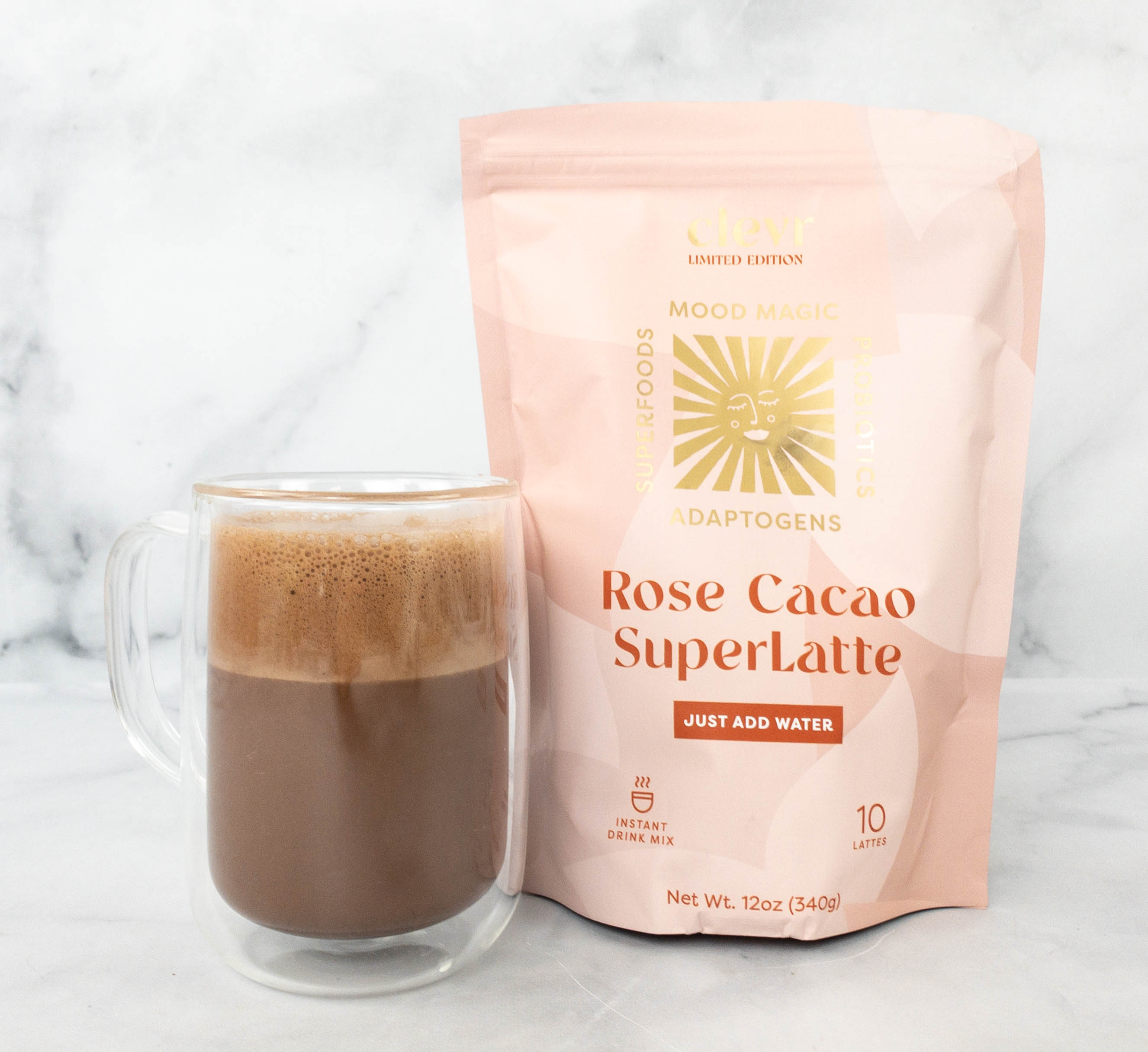 Limited Edition: Rose Cacao SuperLatte ($28) This rose cacao latte mix is a limited edition offering from Clevr Blends. It's a velvety latte, made with dark chocolate and organic rose petals. The regenerative cacao they used is a great mood enhancer. It was sourced from Ecuador and it's also a fair trade product!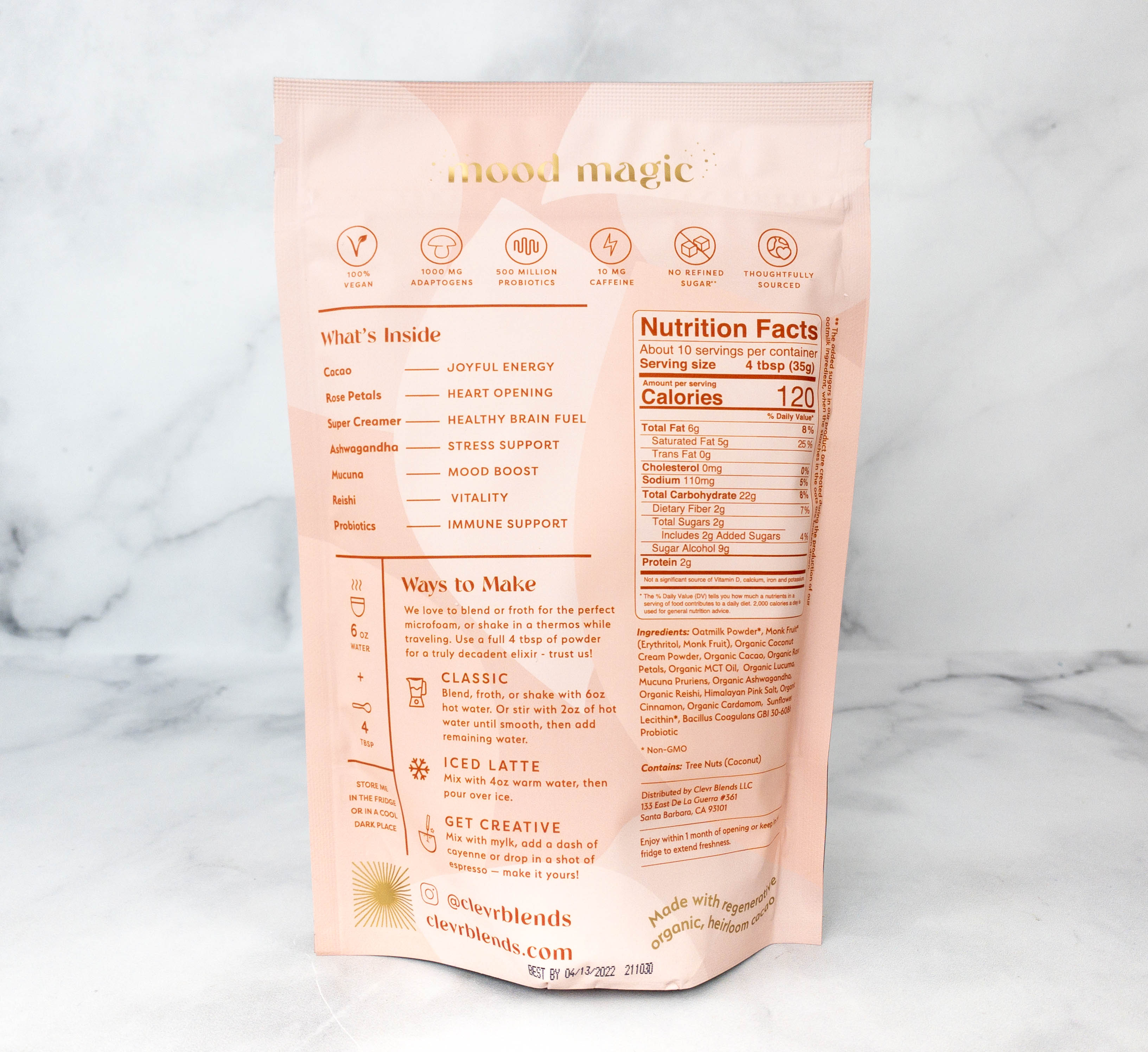 Ingredients: Oatmilk Powder*, Monk Fruit* (Erythritol, Monk Fruit), Organic Coconut Cream Powder, Organic Cacao, Organic Rose Petals, Organic MCT Oil, Organic Lucuma, Mucuna Pruriens, Organic Ashwagandha, Organic Reishi, Himalayan Pink Salt, Organic Cinnamon, Organic Cardamom, Sunflower Lecithin*, Bacillus coagulans GBI 30-6086 Probiotic

*Non-GMO

Contains: Tree Nuts (Coconut)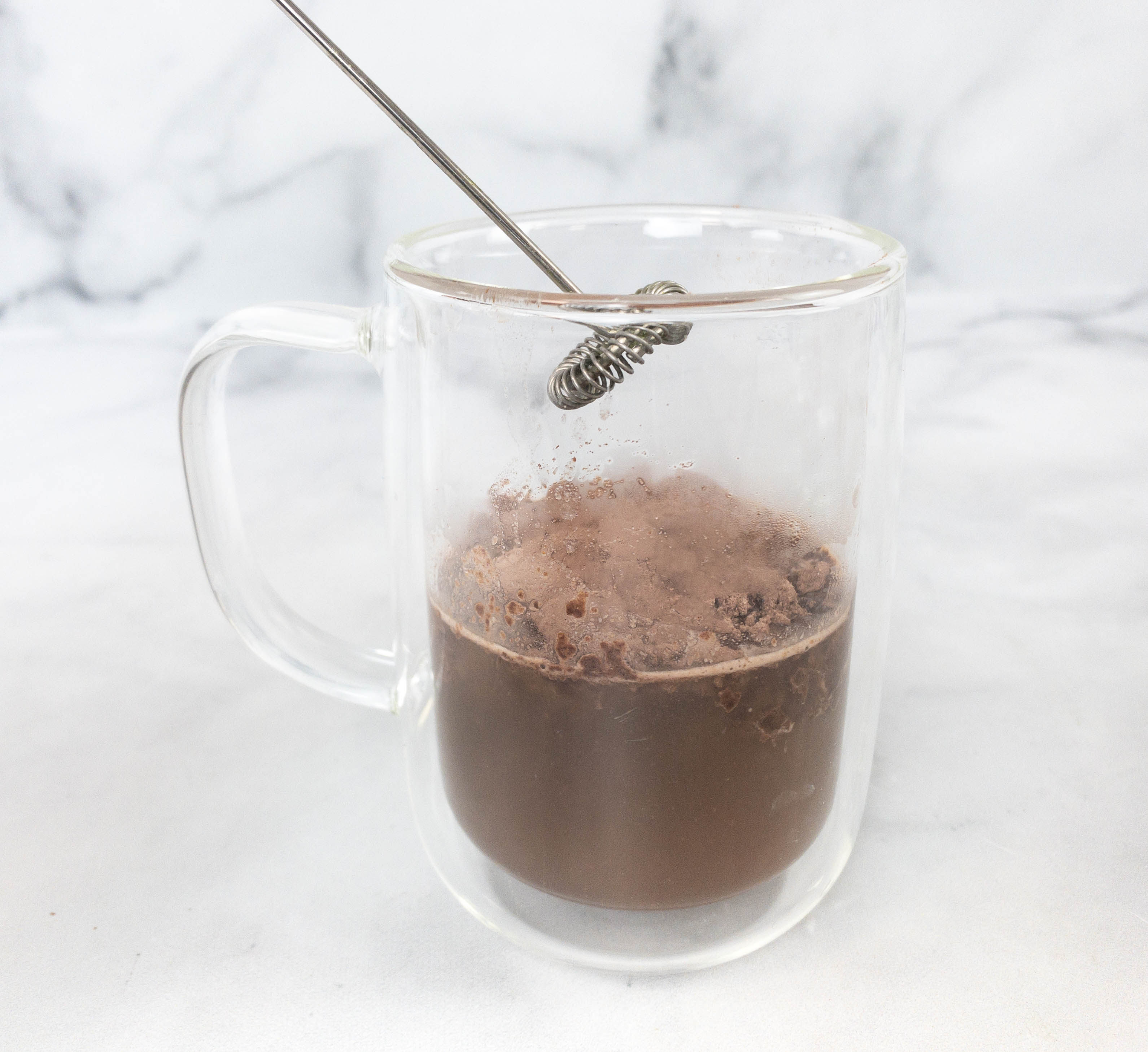 Other ingredients are organic adaptogens for stress support, organic probiotics for a healthy gut, and mucuna pruriens which is a dopamine booster.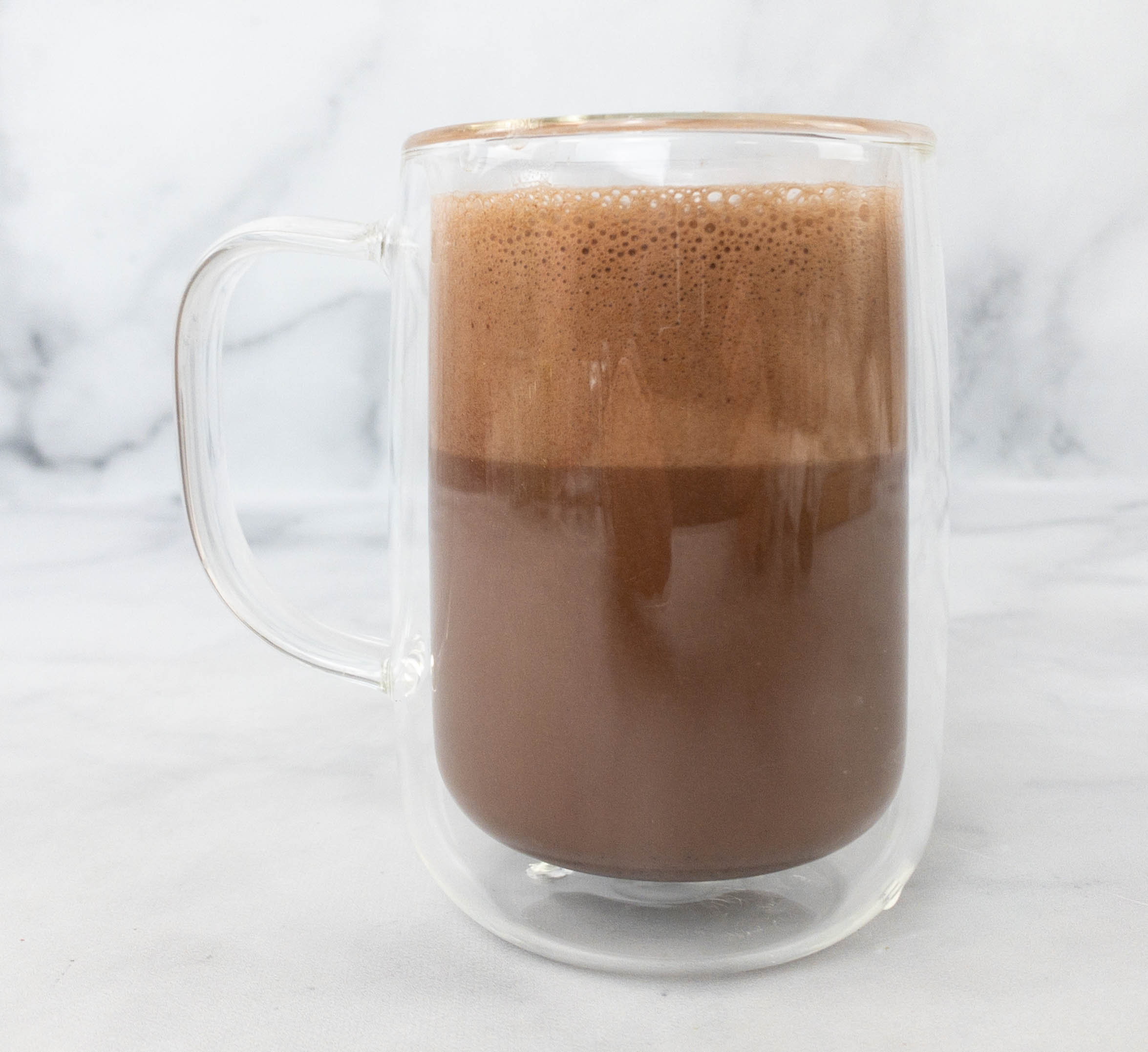 Here's how it looked like after mixing it with water and mixing using the frother! This blend can be enjoyed cold as well.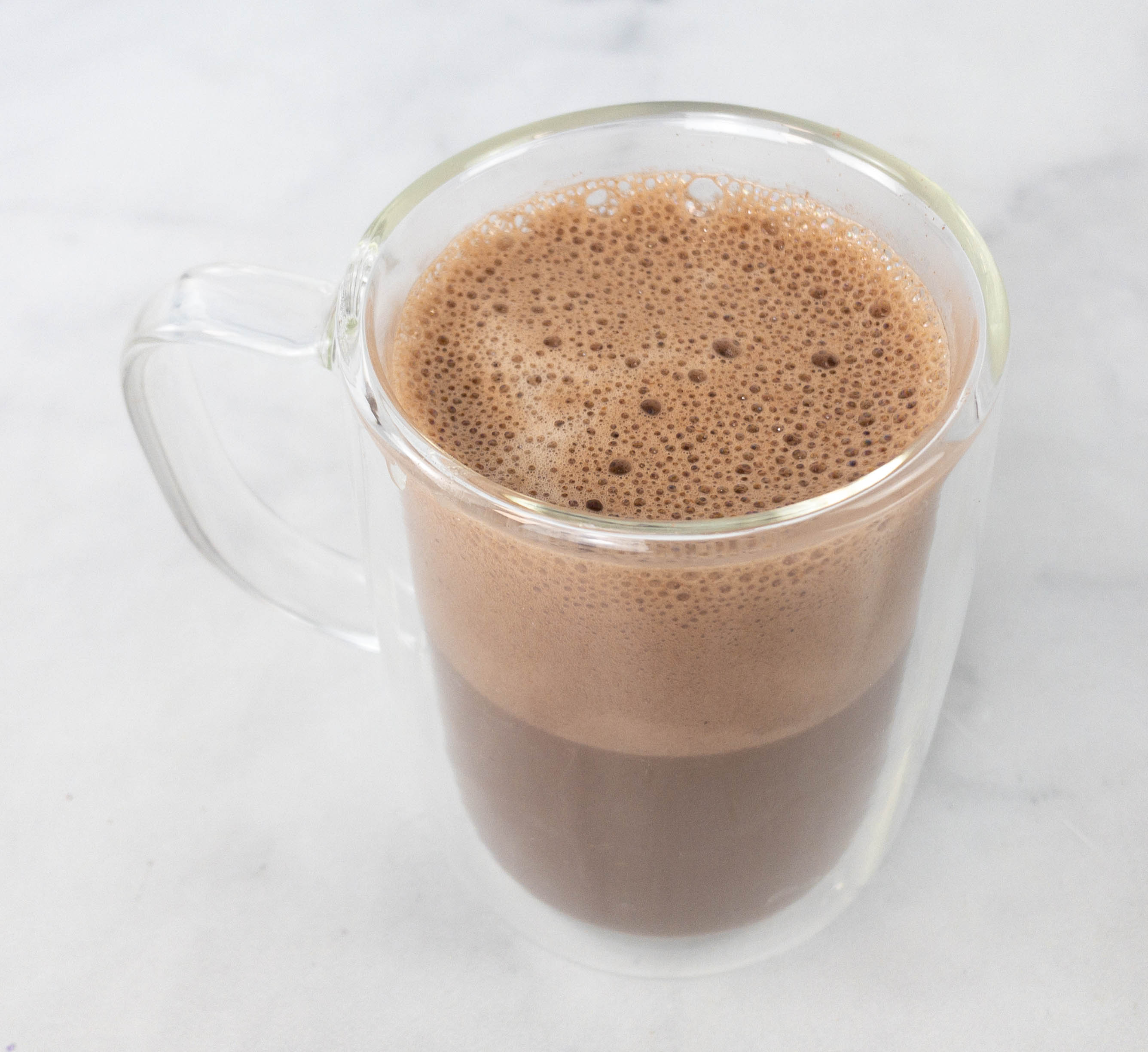 I love the rich flavor and smooth and foamy texture of this Rose Cacao SuperLatte. It's great to sip on a cold day or whenever you need a mood booster. I can also taste hints of cardamom and cinnamon in there!
Each bag of Rose Cacao SuperLatte can make 10 lattes.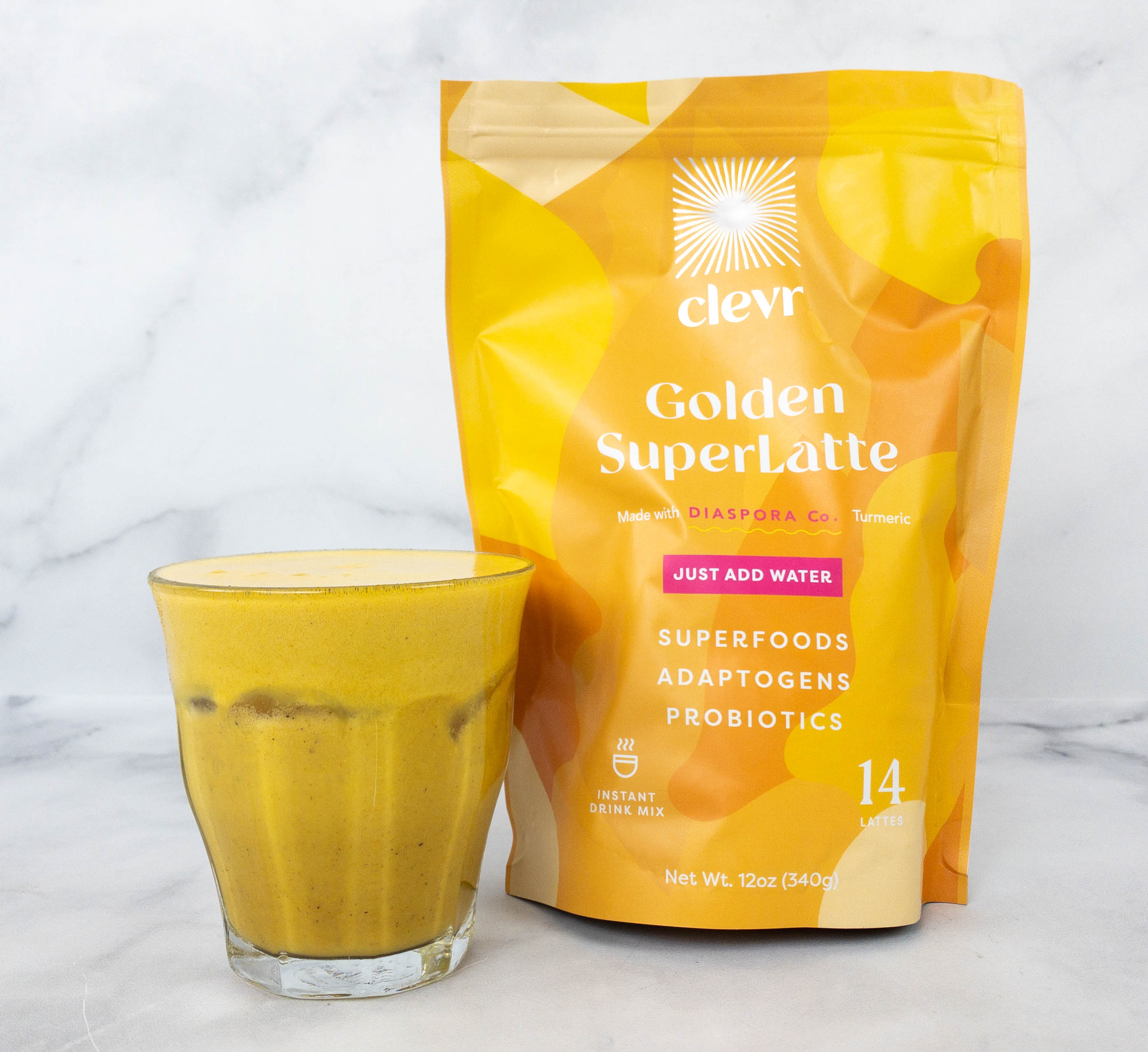 Golden SuperLatte ($28) This caffeine-free latte mix is made with Diaspora Co. single-farm turmeric, plus organic spices, oat milk, and coconut cream. It's a calming and soothing blend. Other ingredients are organic ashwaganda, organic lion's mane, organic reishi, and probiotics.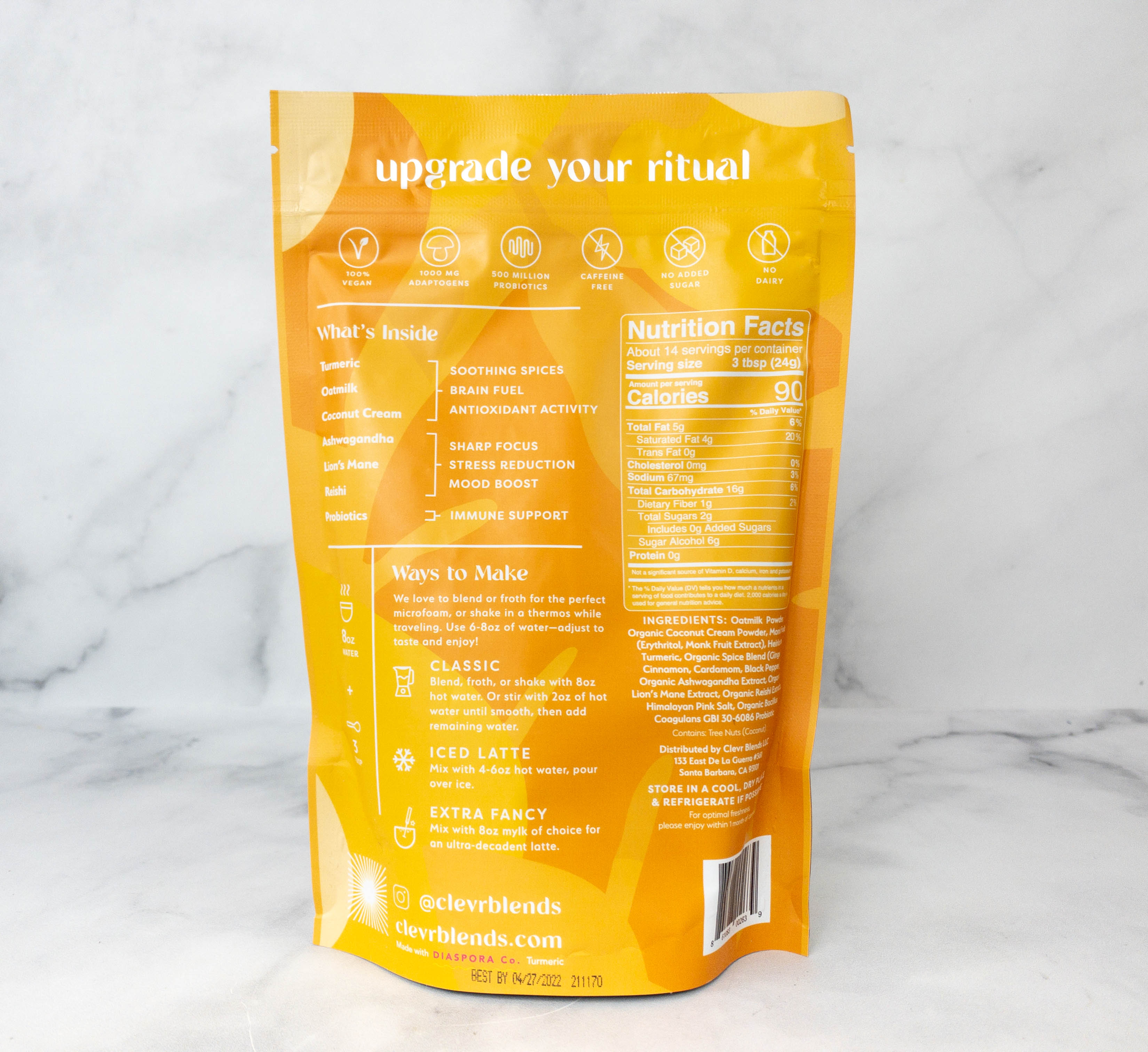 Ingredients: Oatmilk Powder*, Organic Coconut Milk Powder, Monk Fruit* (Erythritol, Monk Fruit Extract), Heirloom Turmeric, Organic Spice Blend (Ginger, Cinnamon, Cardamom, Black Pepper), Organic Ashwagandha Extract, Organic Lion's Mane Extract, Organic Reishi Extract, Himalayan Pink Salt, Bacillus Coagulans GBI 30-6086 Probiotic

*Non-GMO

Contains: Tree Nuts (Coconut)
If you're craving for a spicy and earthy drink, Golden SuperLatte would be the perfect choice!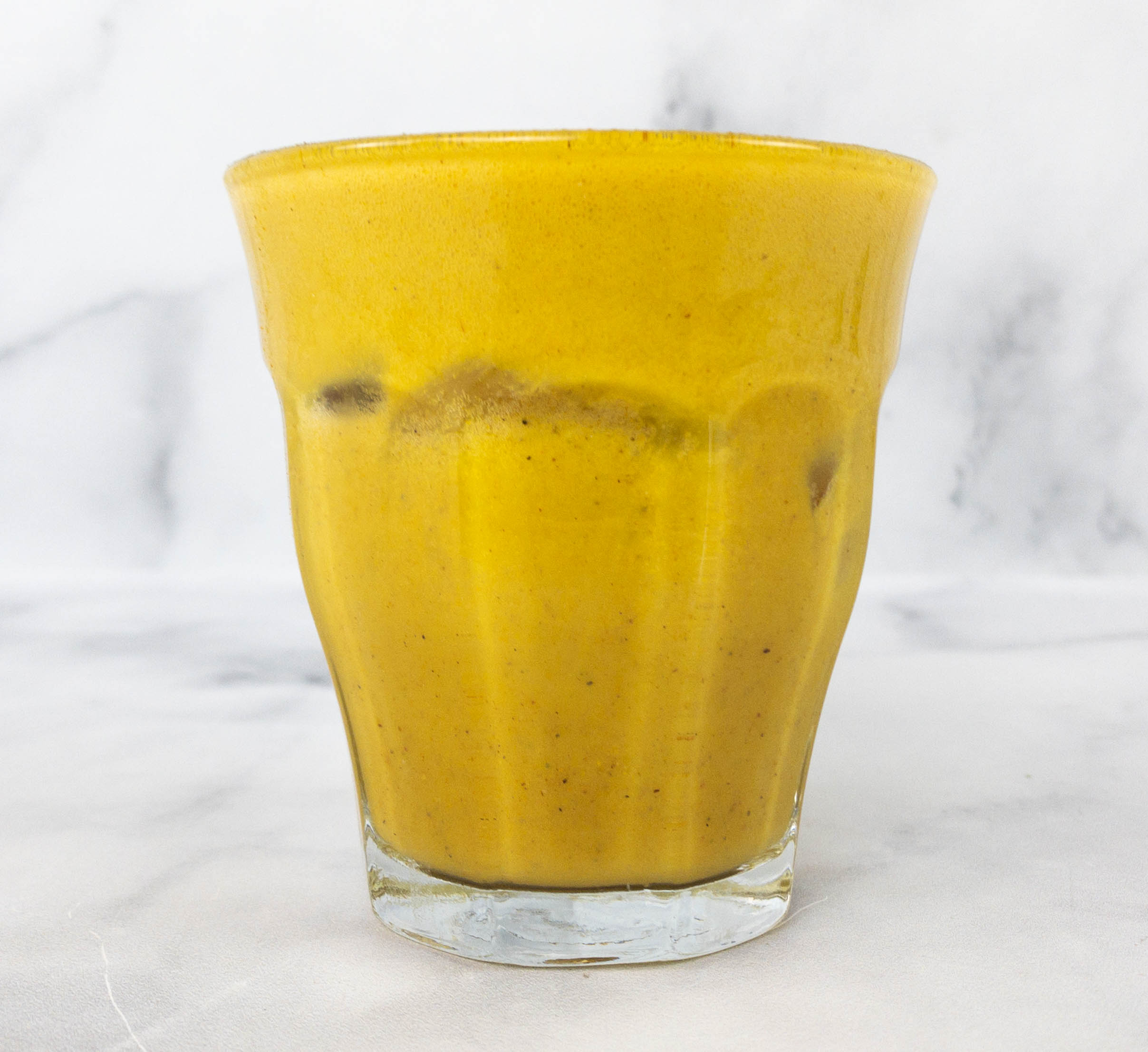 It has a beautiful golden color! If you're looking to add turmeric to your routine, this is your pick! For the Golden SuperLatte, I prepared it cold and it turned out smooth and refreshing.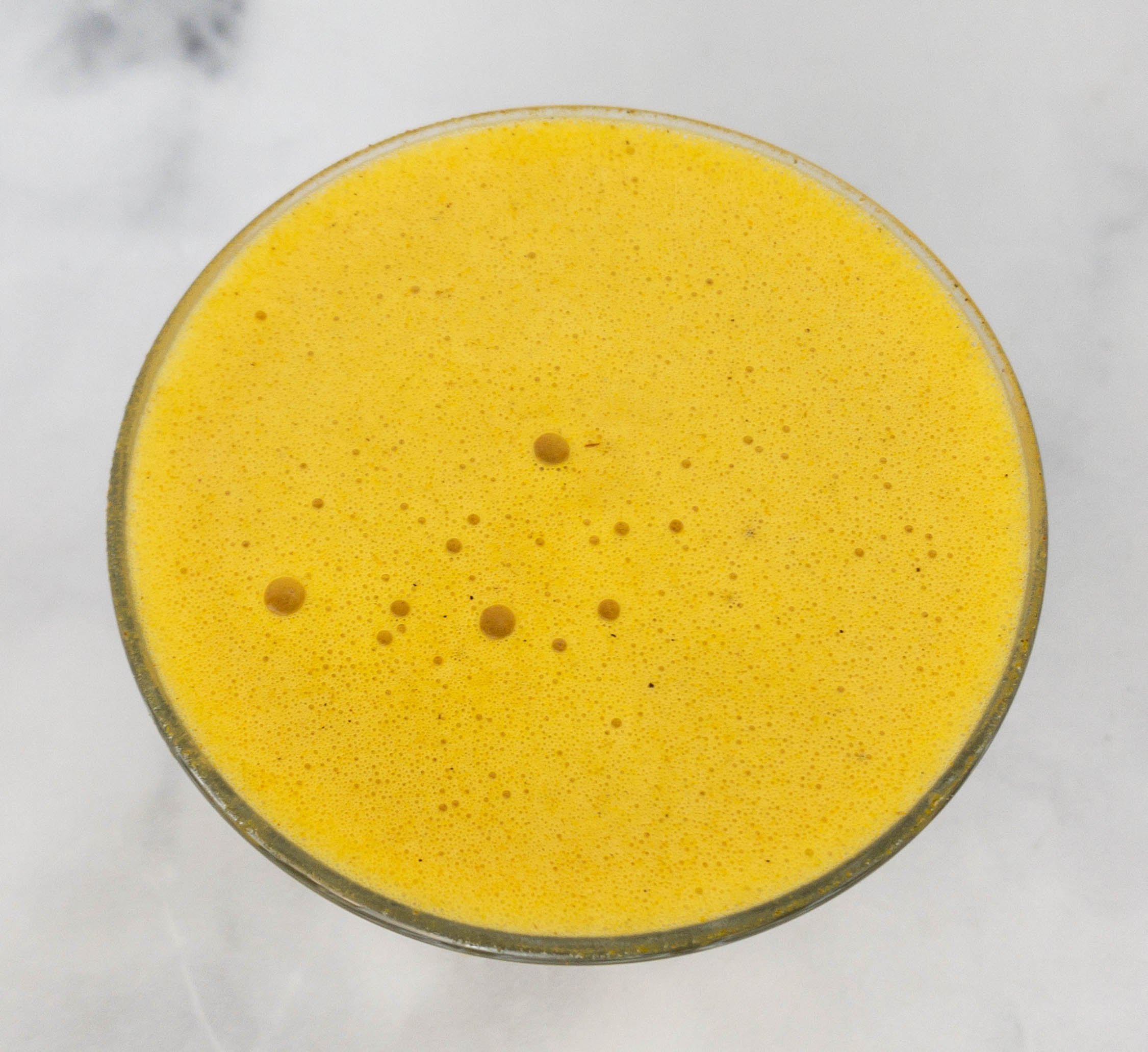 There was also a hint of sweetness to it, but definitely not like the regular sugary lattes.
According to the packaging, one bag of Golden SuperLatte can make 14 servings. I have dreams of using this with some yogurt to make a lassi. I loved the well-balanced flavors and can't help but think it would be perfect with a meal.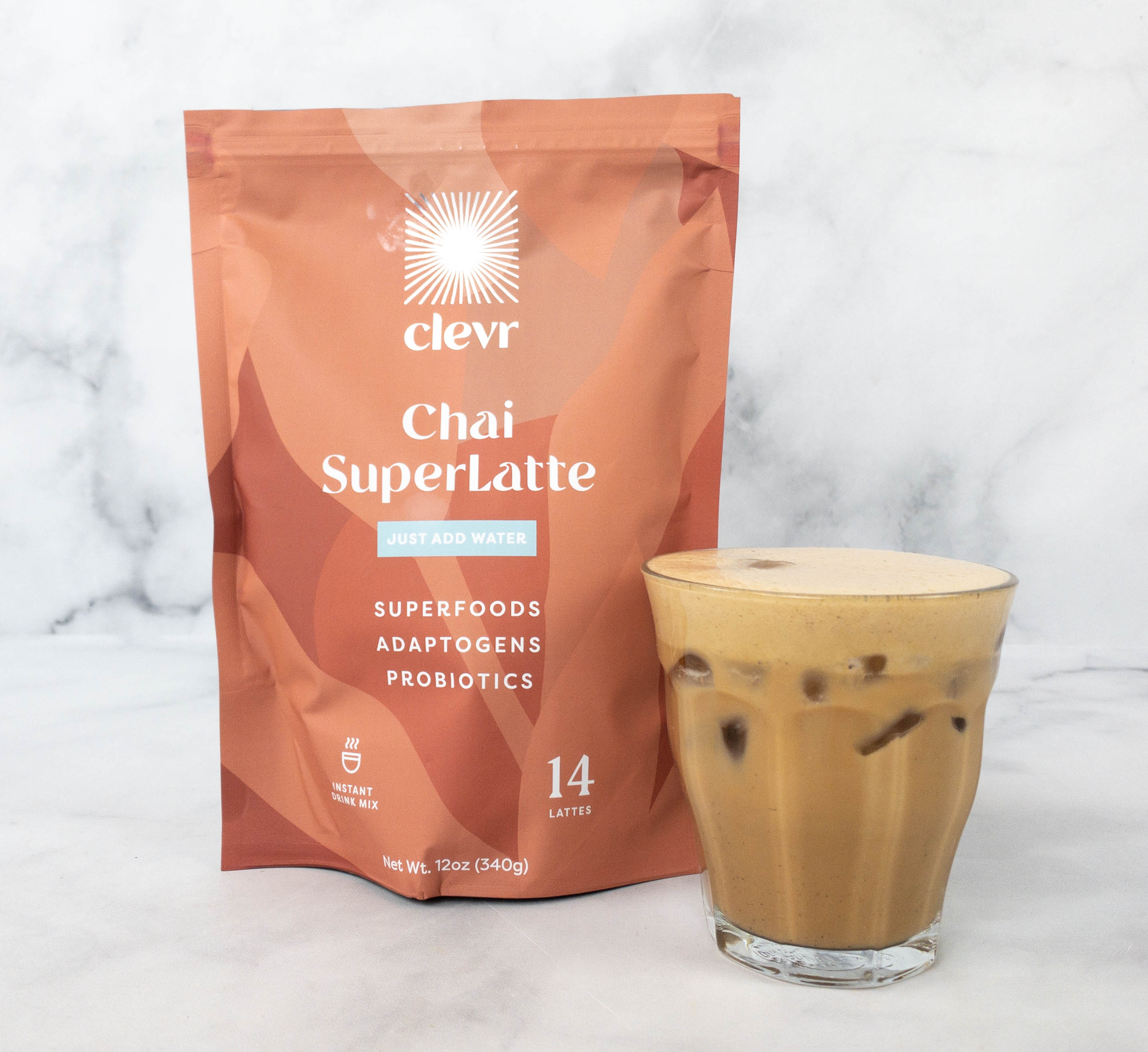 Chai SuperLatte ($28) This healthy chai latte mix helps boost energy minus the crash or jitters. It's made with naturally brewed and flash dried black tea, plus organic spices.
Ingredients: Oat Milk Powder*, Organic Coconut Milk Powder, Monk Fruit* (Erythritol, Monk Fruit Extract), Organic Spice Blend (Ginger, Cardamom, Nutmeg, Black Pepper, Cinnamon, Cloves), Organic Ashwagandha Extract, Organic Lion's Mane Extract, Organic Reishi Extract, Black Tea Powder*, Himalayan Pink Salt, Bacillus Coagulans GBI 30-6086 Probiotic

*Non-GMO

Contains: Tree Nuts (Coconut)
It came out really creamy, although I only added water!
After thoroughly mixing the powder and water, I added a few ice cubes to make this a refreshing drink!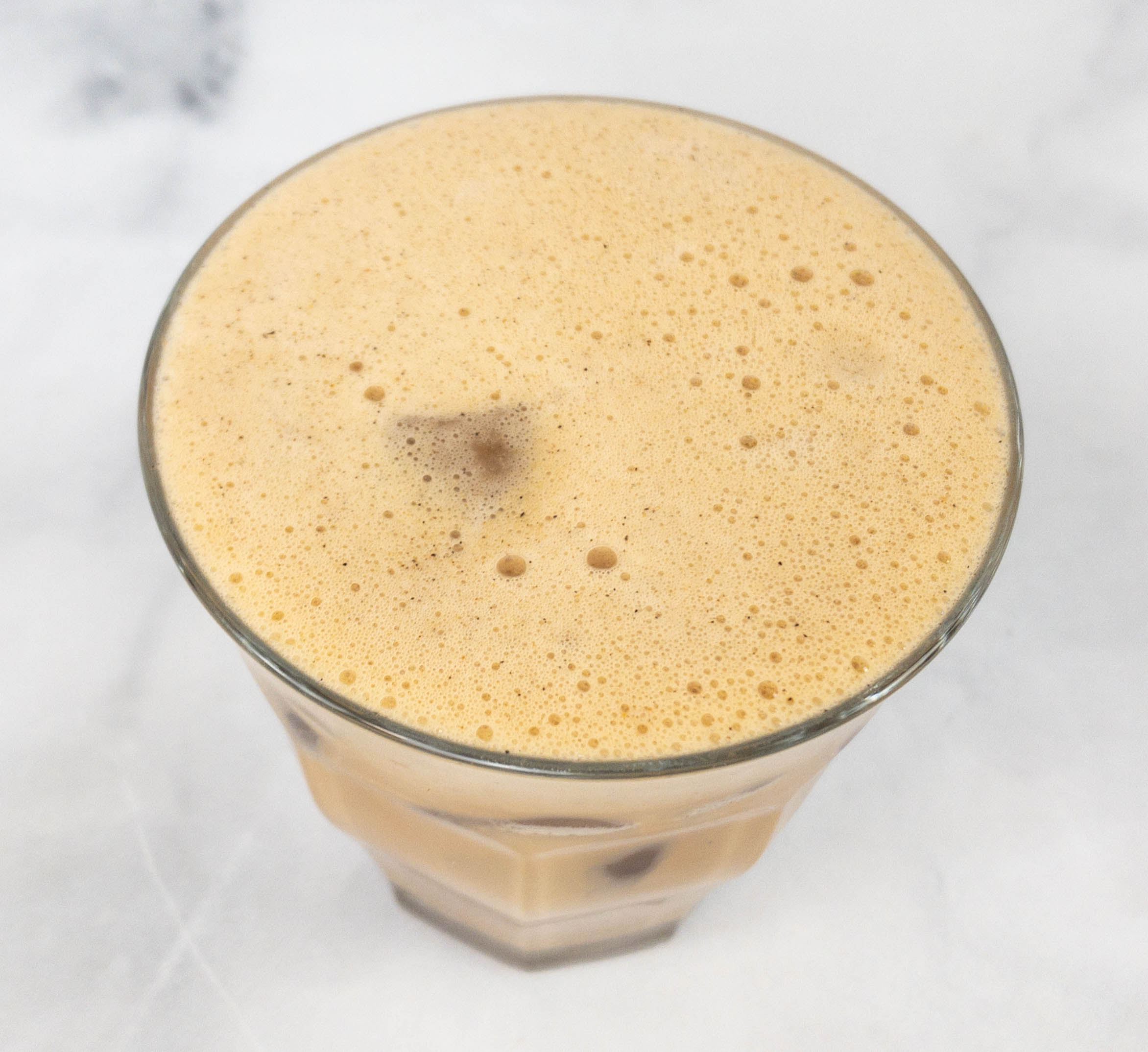 Each sip has the perfect balance of sweetness and spiciness!
One bag of Chai SuperLatte can also make 14 servings!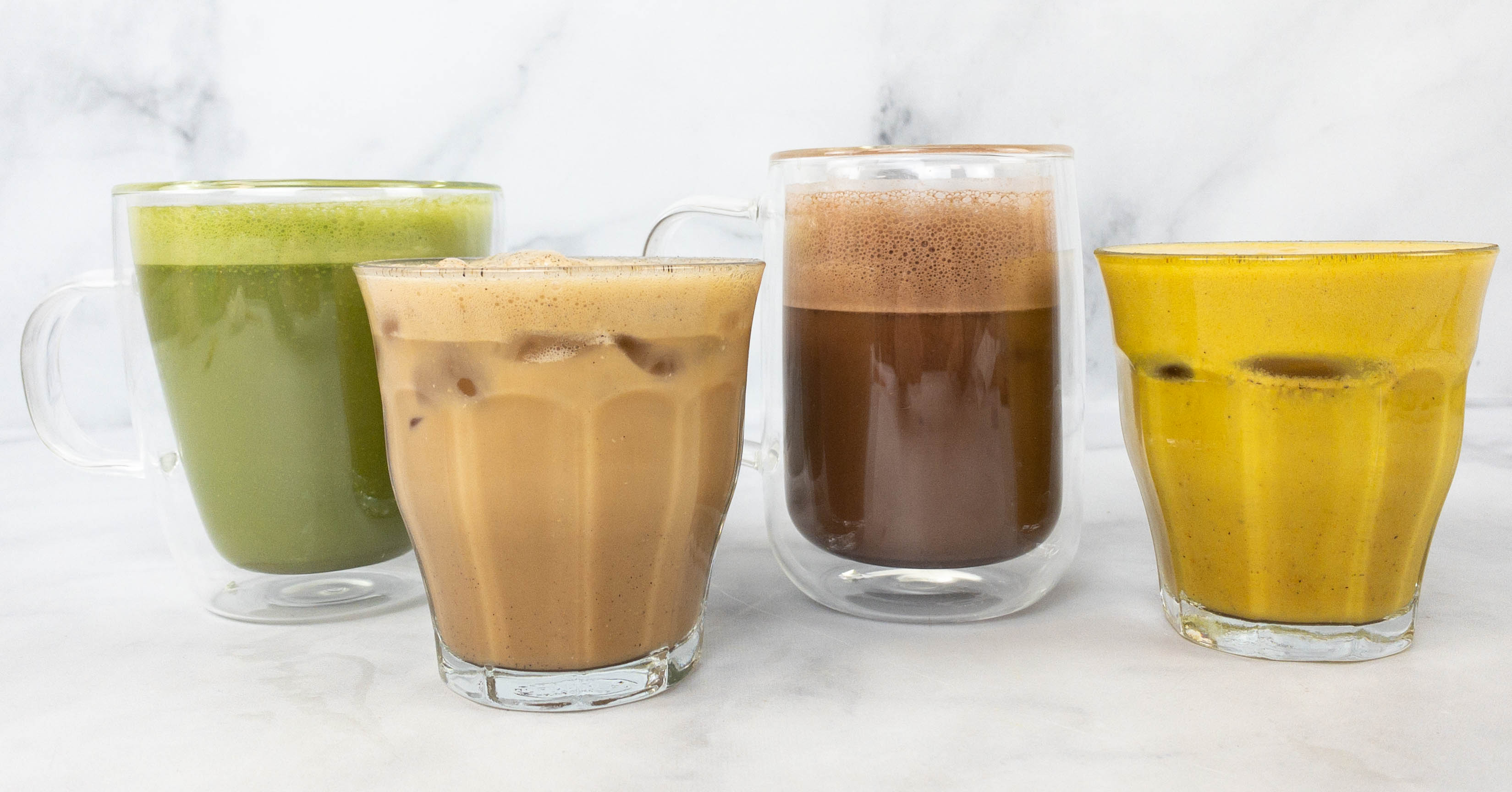 Here's a look at all the SuperLatte flavors from this box! If the flavors sound appealing to you, we're pretty sure you will love these, because they're all flavorful and scrumptious.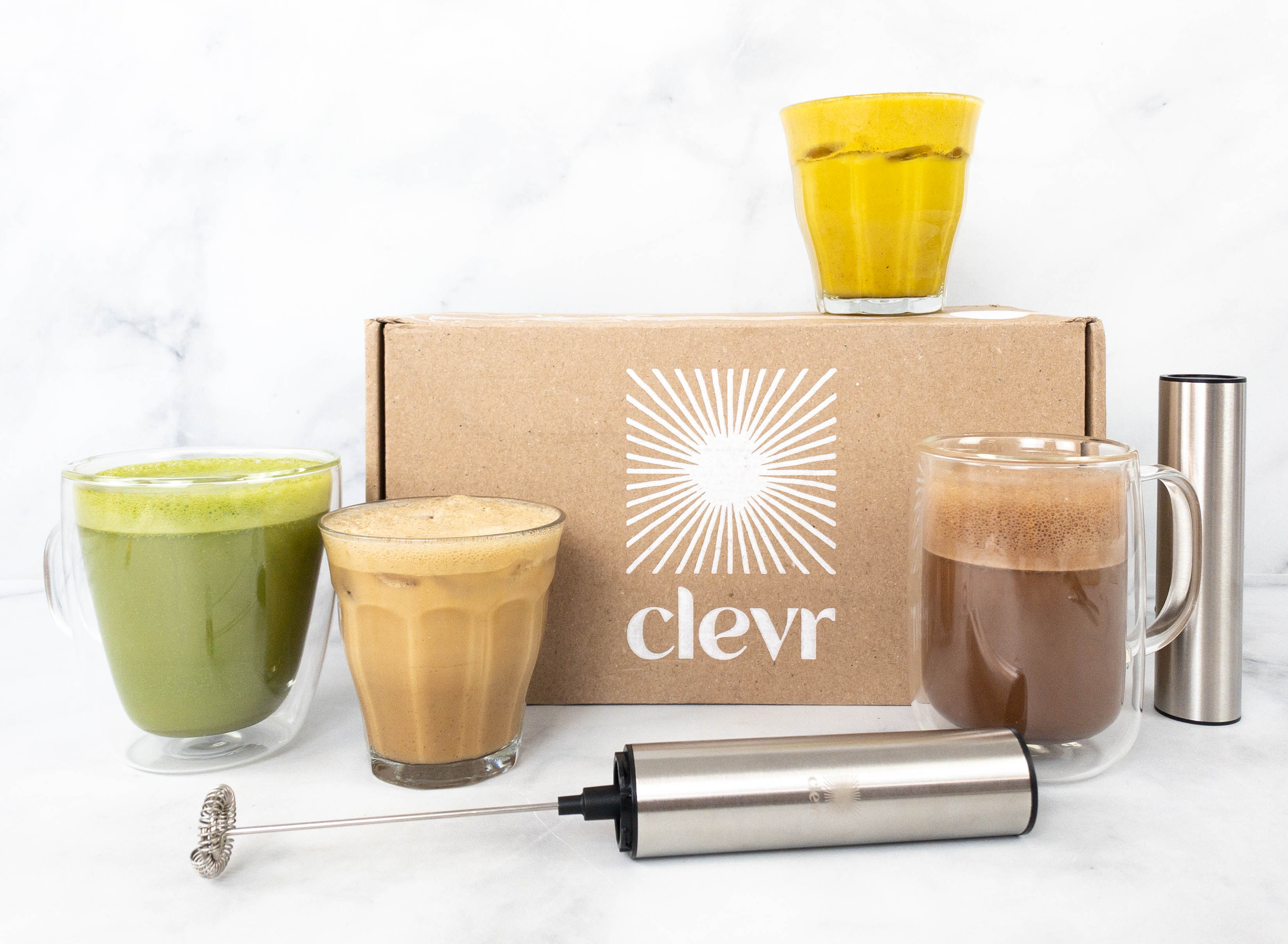 According to Clevr Blends, it can take a couple of weeks to feel the benefits of the adaptogens found in these drinks. They also recommend to take a day off from your adaptogen routine each week, and one week off every six weeks. Doing so helps the body to re-set and feel the full effects of the herbs.
I can now have the perfect brain-boosting and mood-lifting latte at any time of the day using Clevr's mixes and, of course, the portable frother.
Clevr Blends proved that lattes can be enjoyed without guilt and without taking too much time for preparation! Their latte mixes are plant-based, containing adaptogens and probiotics that are good for the body. And, they taste amazing! There's no need to add milk because oat milk is already incorporated into the drink, which really makes it all that much easier (and creamier). They have different latte mix offerings, and among the 4 flavors I've tried, my favorite would have to be the limited edition Rose Cacao. It's rich and smooth, plus it's a great mood booster whether for a busy mornings or for an afternoon pick-me-up. If you're looking for an alternative to the usual sugary lattes, this would be a great option. Also, getting a bag of SuperLatte is cheaper than lattes from cafes. It isn't just good for the body, it's also a good way to enjoy your favorite drink without breaking the bank.
I really preferred the flavors cold – and my kids preferred them warm. I think this is a personal preference. These were all super delicious and one thing of note – I didn't feel they weren't sweet (the natural monkfruit sweetener was perfect) and I didn't feel like I was glugging superfoods. They all tasted exactly like the flavors, and not like supplements. These drinks wowed me and get my highest recommendation for both flavor and functional nutrition. I also really recommend the frother – I love the cover, that it's rechargeable, and I felt it was really top-notch. But if it's not for you, these magic elixirs blend great without it.
What do you think of Clevr Blends?