BOXYCHARM is a makeup and beauty subscription box that sends out 5 full-size items every month. Products include makeup, skincare, and beauty tools and each box has an average value of around $175. BOXYCHARM is $25 a month with discounts for those who prepay for longer terms.
Charmers will receive specially curated products from well-known, popular, chic and up-and-coming brands. Our beauty experts carefully select each item based on current and emerging trends, so you're always in the know about the latest shades and styles. With BoxyCharm and BoxyCharm Premium, we like to focus on beauty! That means makeup, skincare, haircare, and much more. To add lifestyle items to the mix, we offer the dreamy BoxyLuxe upgrade. Being a Charmer is where it's at!
DEAL: Subscribe now and get a free gift: PLUS $10 credit to June PopUp!
Use this link and coupon code CELEBRATESKIN to get a FREE Georgette Klinger Vitamin C Mask OR use the coupon code DAZZLINGEYES to get a FREE HIPDOT Cenote Eyeshadow Palette AND get your exclusive $10 Popup code via email within 24 hours of subscribing.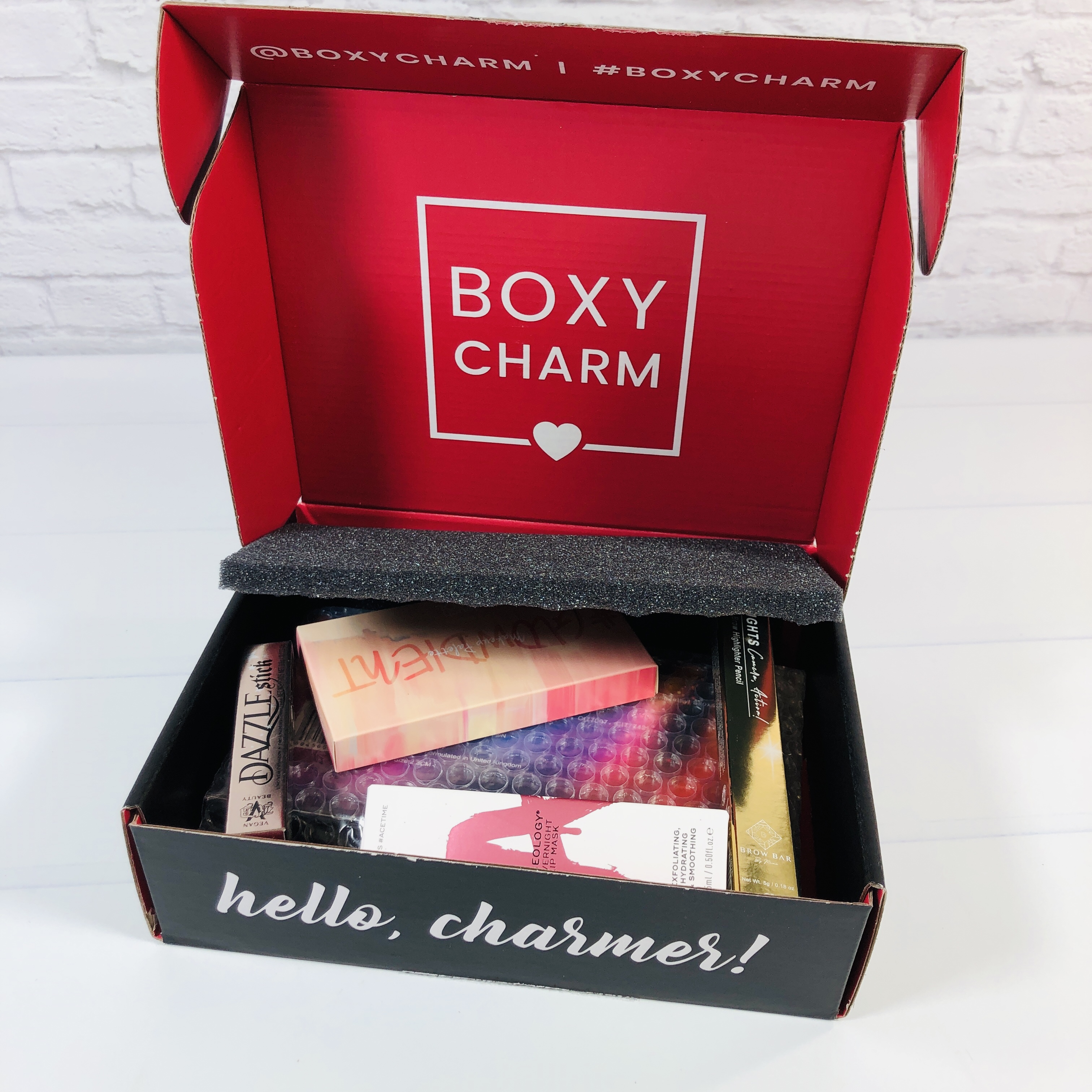 The foam insert kept everything in perfect order during shipping.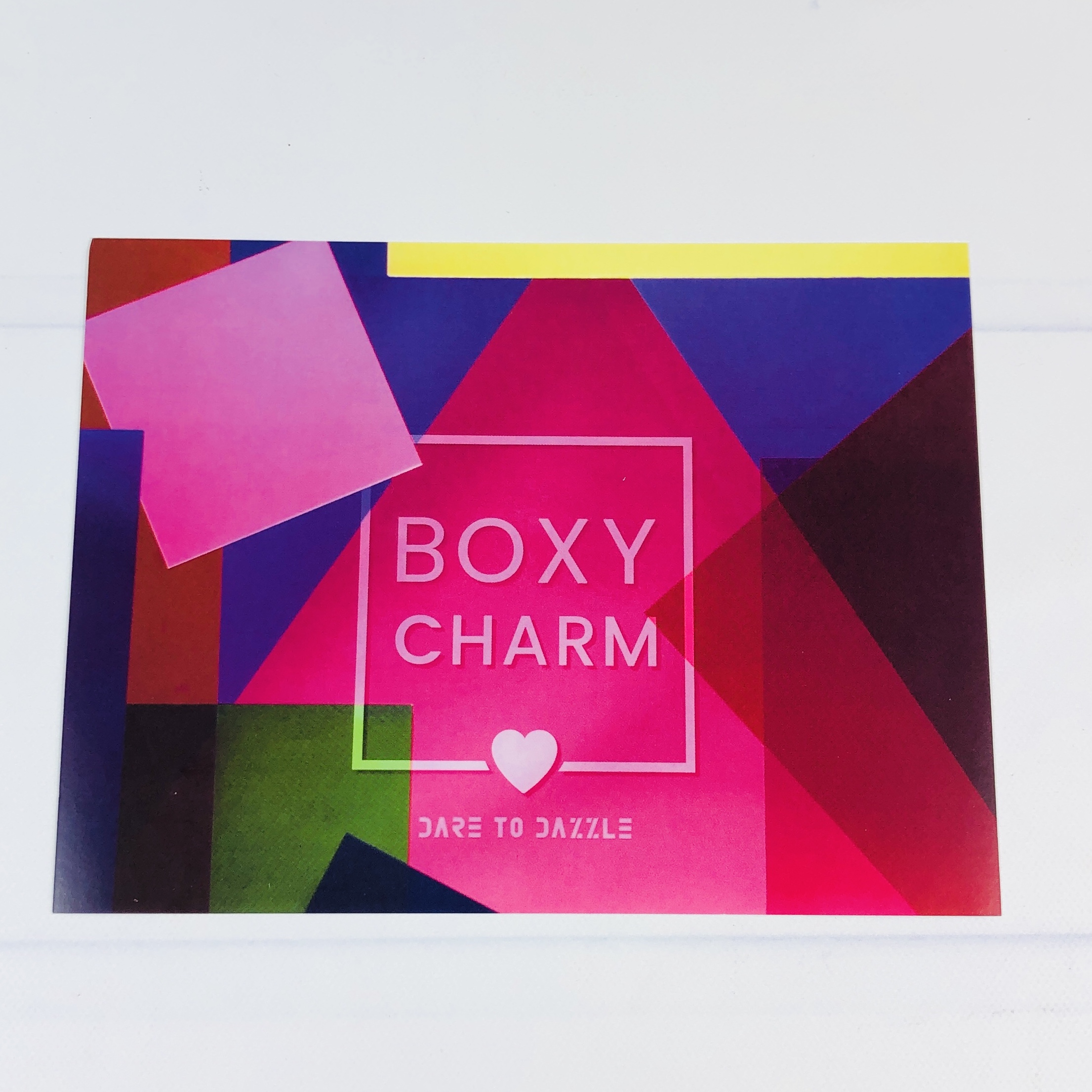 I received a card with the theme — Dare to Dazzle!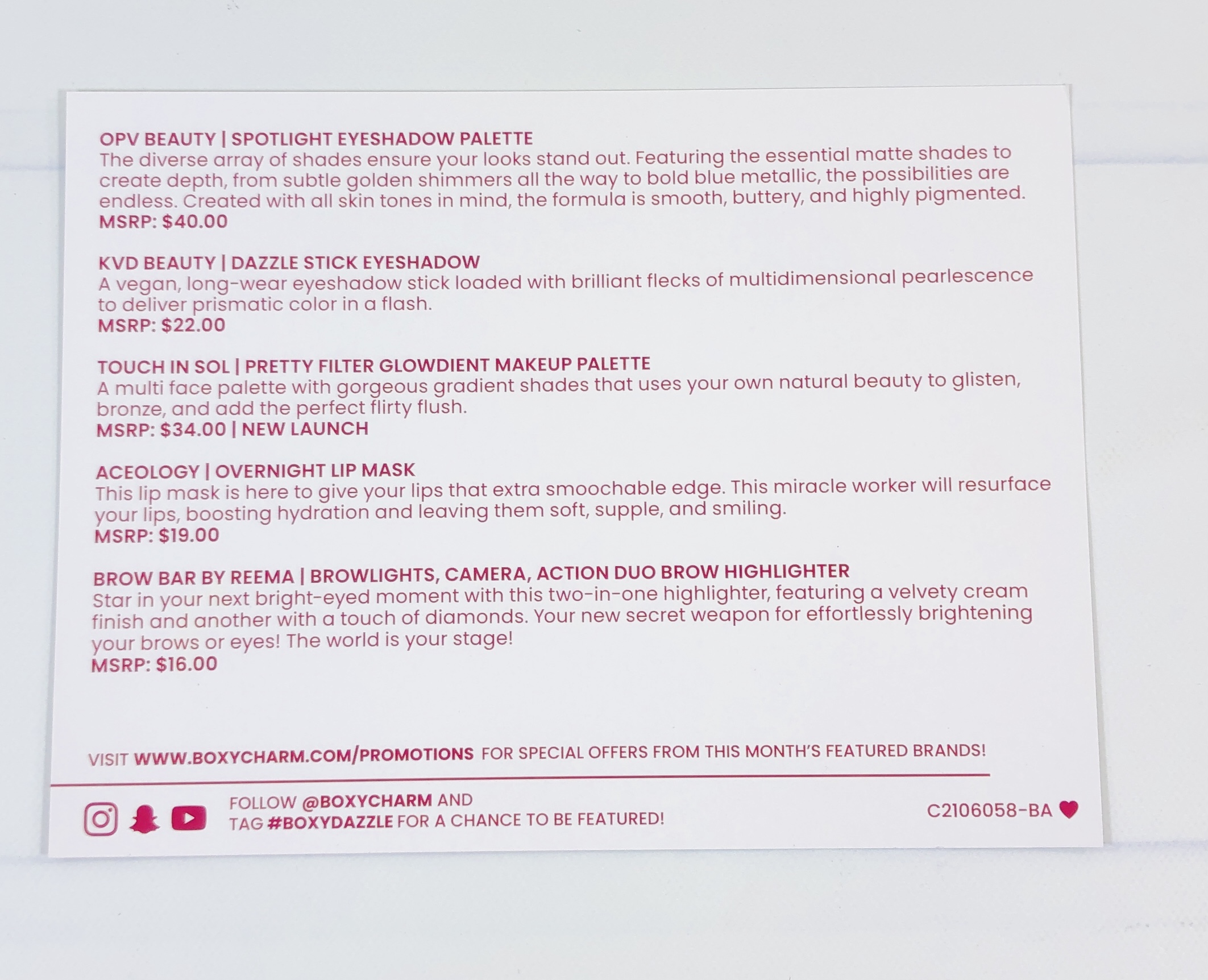 The back of the card listed the items and MSRP's plus a brief description.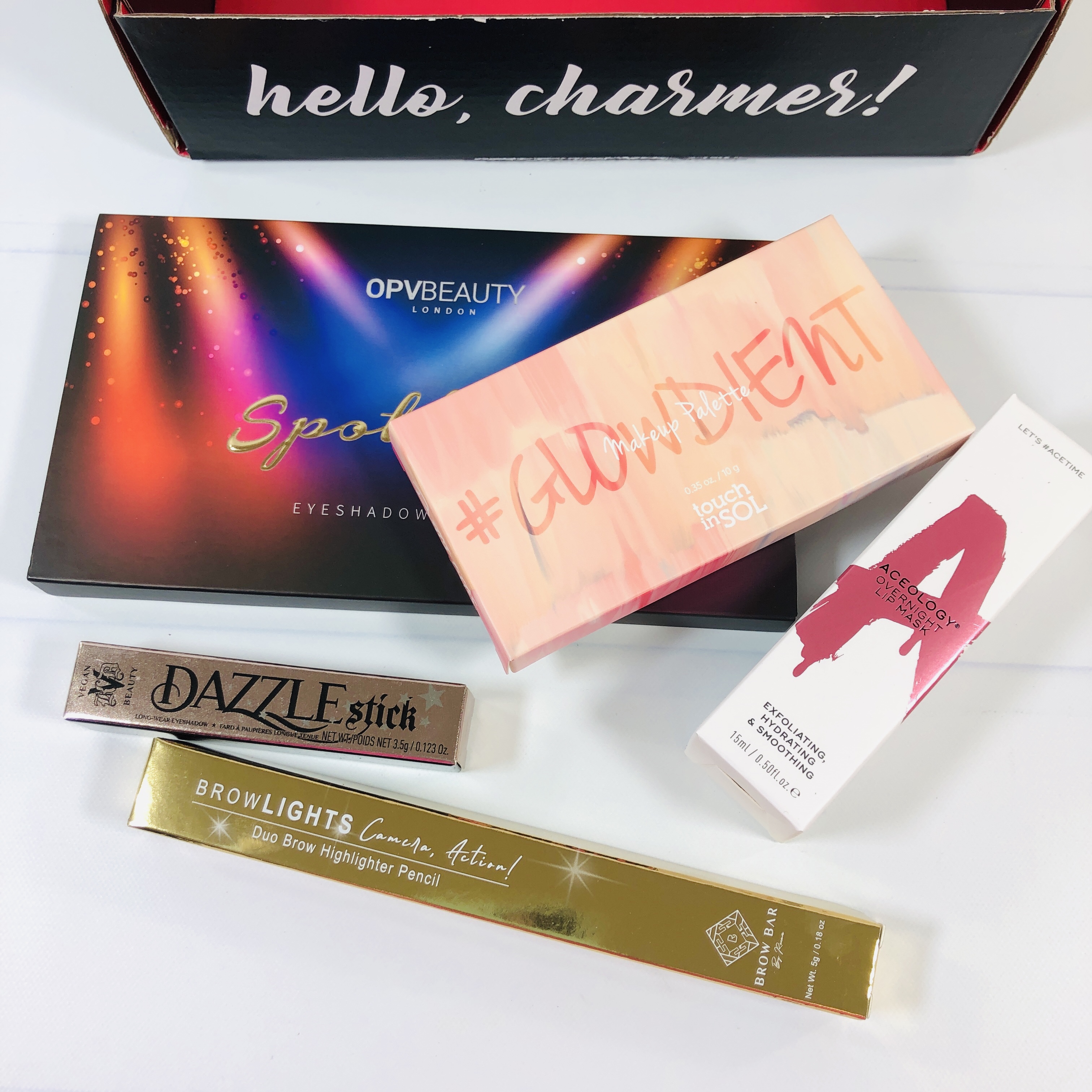 All of the items came in their own boxes!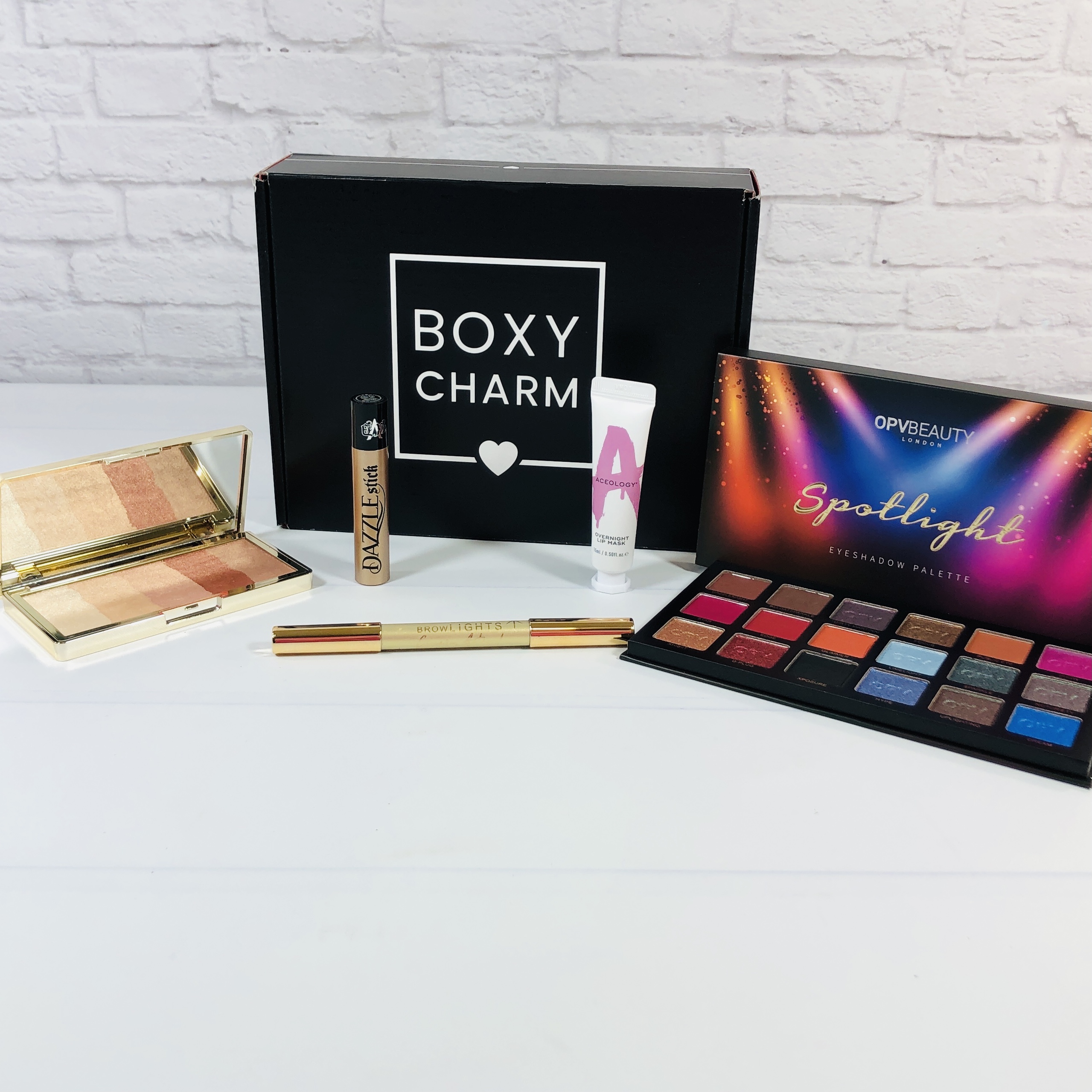 Everything in my June 2021 BOXYCHARM! Keep in mind that BOXYCHARM sends many box combos so your box items and value may be different than mine. There are variations in the box – see them here.
ACEOLOGY Overnight Lip Mask ($19) is a lip jelly that tastes like coconut and that can be worn at any time of day, not just before bed. In fact, it can even be worn on cuticles, elbows, or other dry spots too! Castor, olive, coconut, and macadamia oils are a few of the ingredients and it feels like a lighter version of Vaseline, and of course it smells better too. Squalane is in here and it's supposed to provide fatty acids and antioxidants and keep lips moist.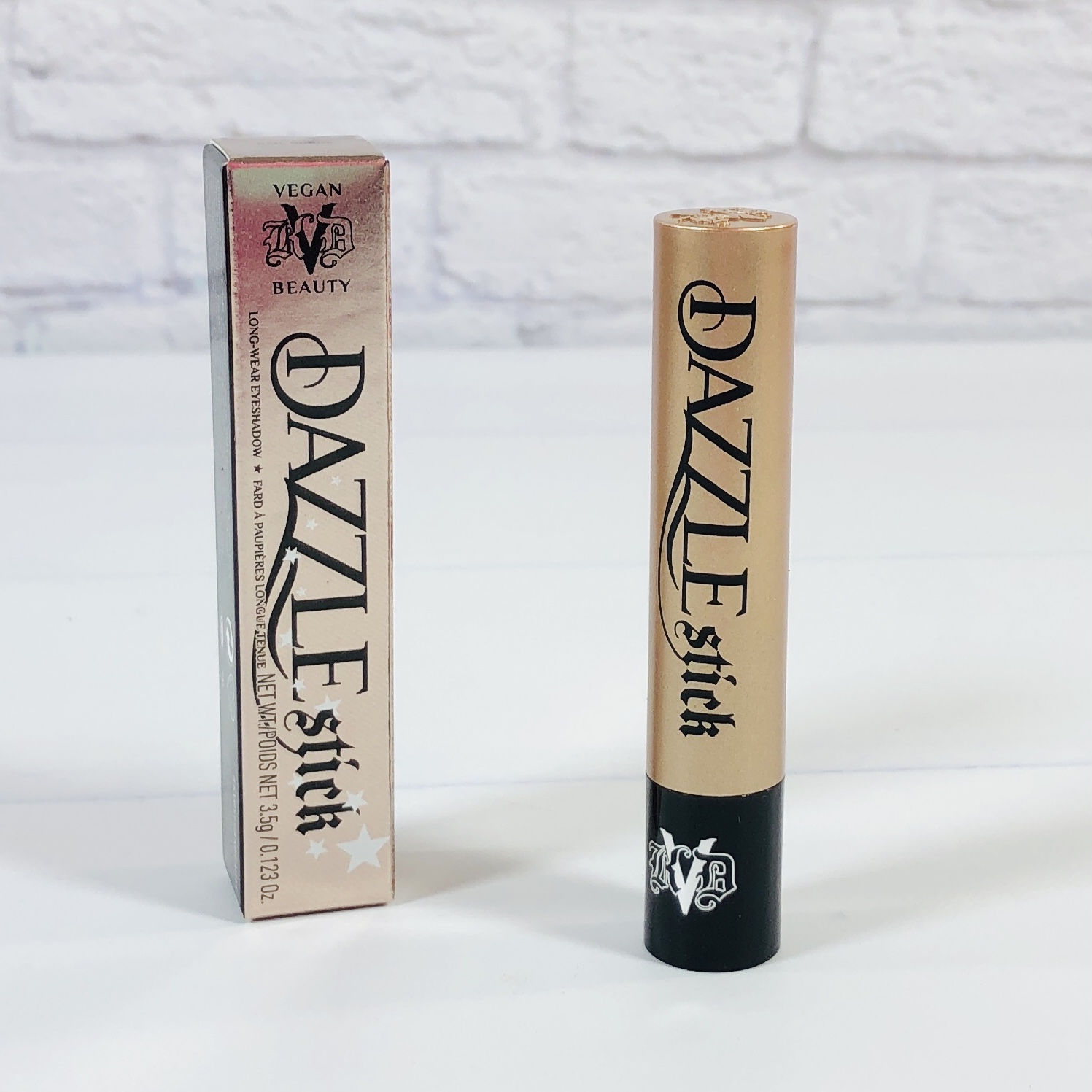 KVD Beauty Dazzle Vegan Eyeshadow Stick in Hail Surge ($22) I was excited about this at first because I thought it would be a creamy, long lasting base shadow but it was a super glittery paste that had me worried about how safe it might be if it got into my eyes.
I swiped on this creamy stick and then smudged it with my finger. I looked later and found glitter everywhere around and under my eyes. Don't get me wrong, my lids looked great, but it also migrated.
I tried using it as highlighter but my favorite look was when I dabbed it on my lower lip and then spread it out a bit. This was a cute look but yeah, Tinkerbell would be jealous of all my glow.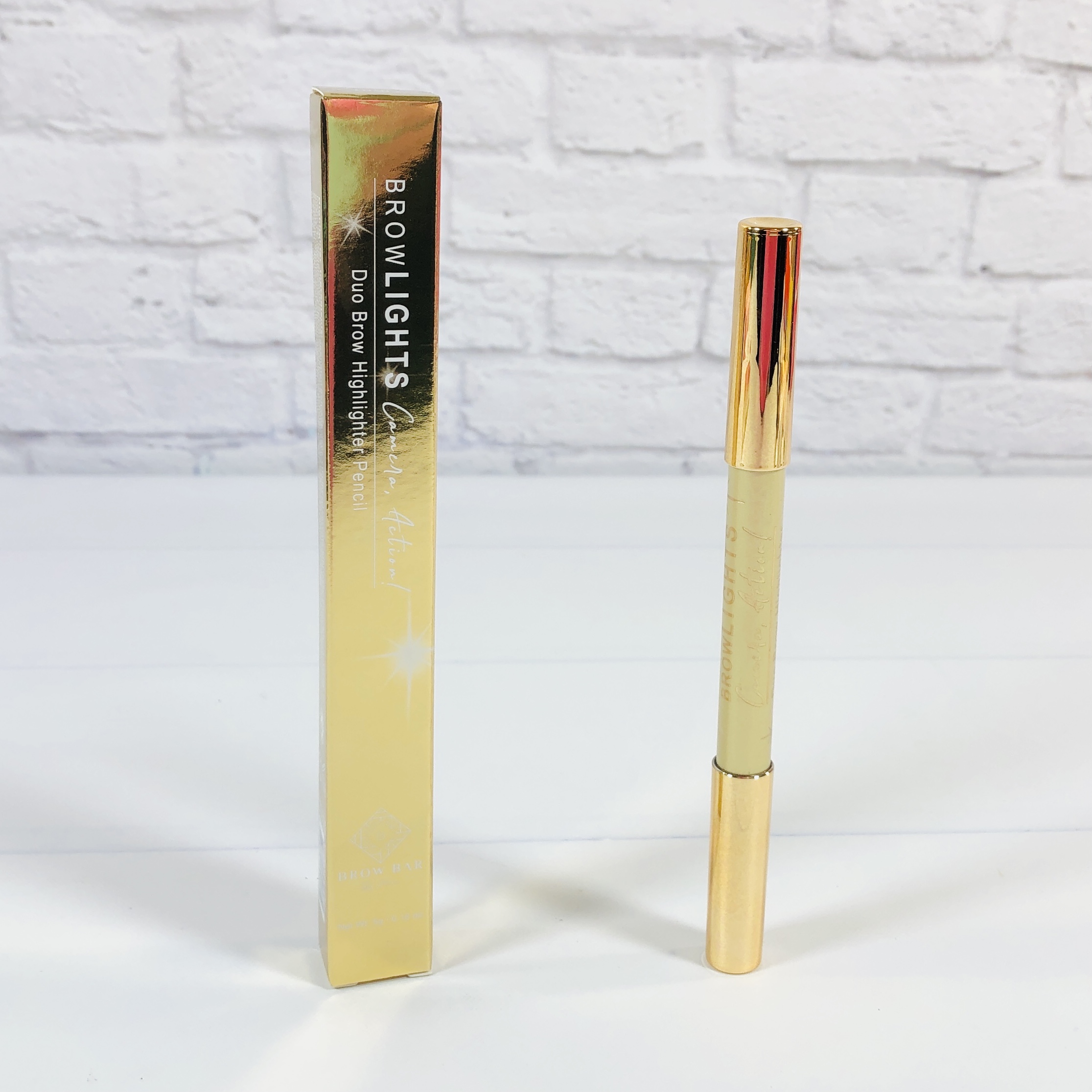 Brow Bar By Reema Browlights, Camera, Action Duo Brow Highlighter in Light ($16) I guess the idea behind this duo is that one side is matte and creamy, like concealer, and the other end is a shimmery highlighter.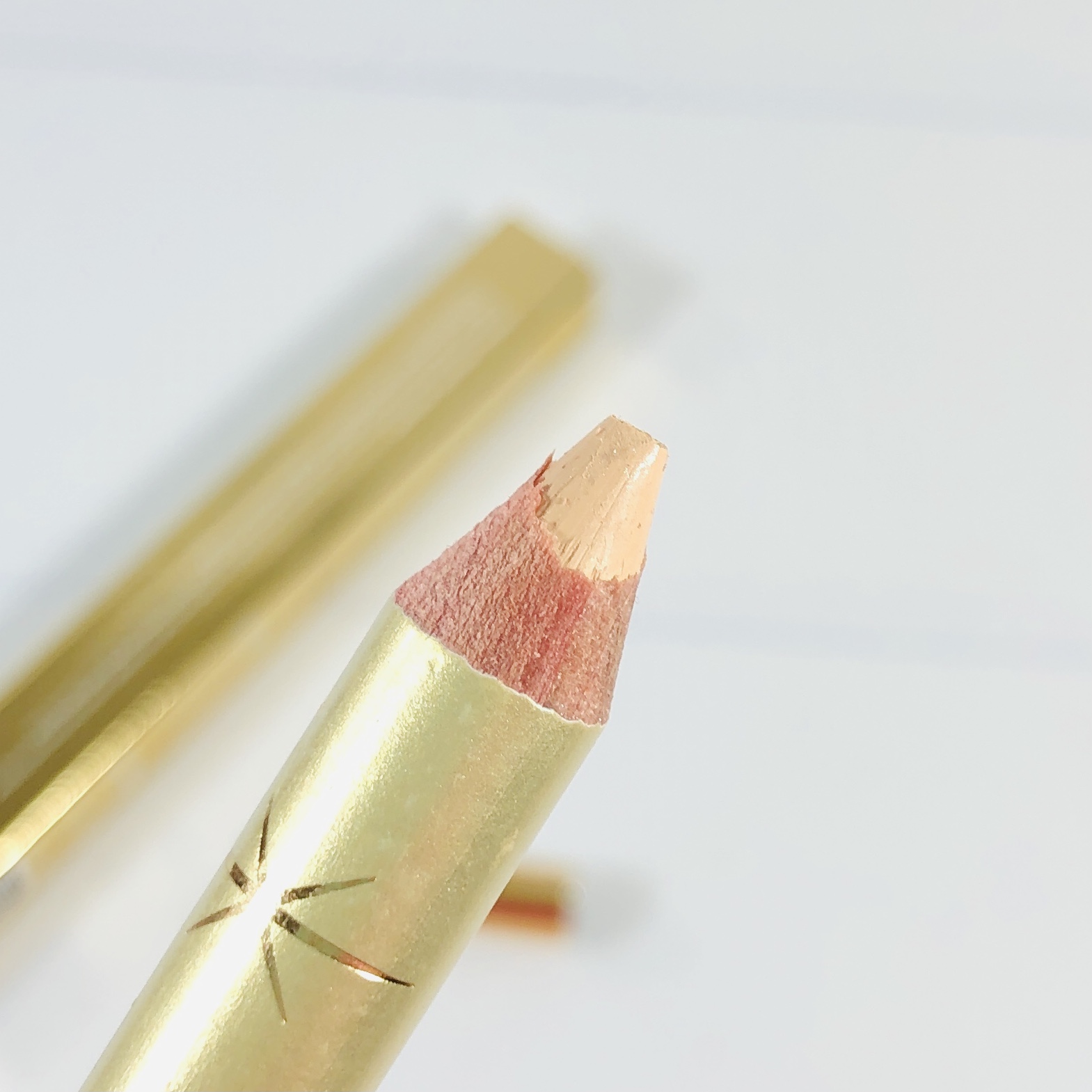 You apply the creamy part just below the brows, but this is indeed similar to concealer, and I thought it needed blending because otherwise it looked kind of weird.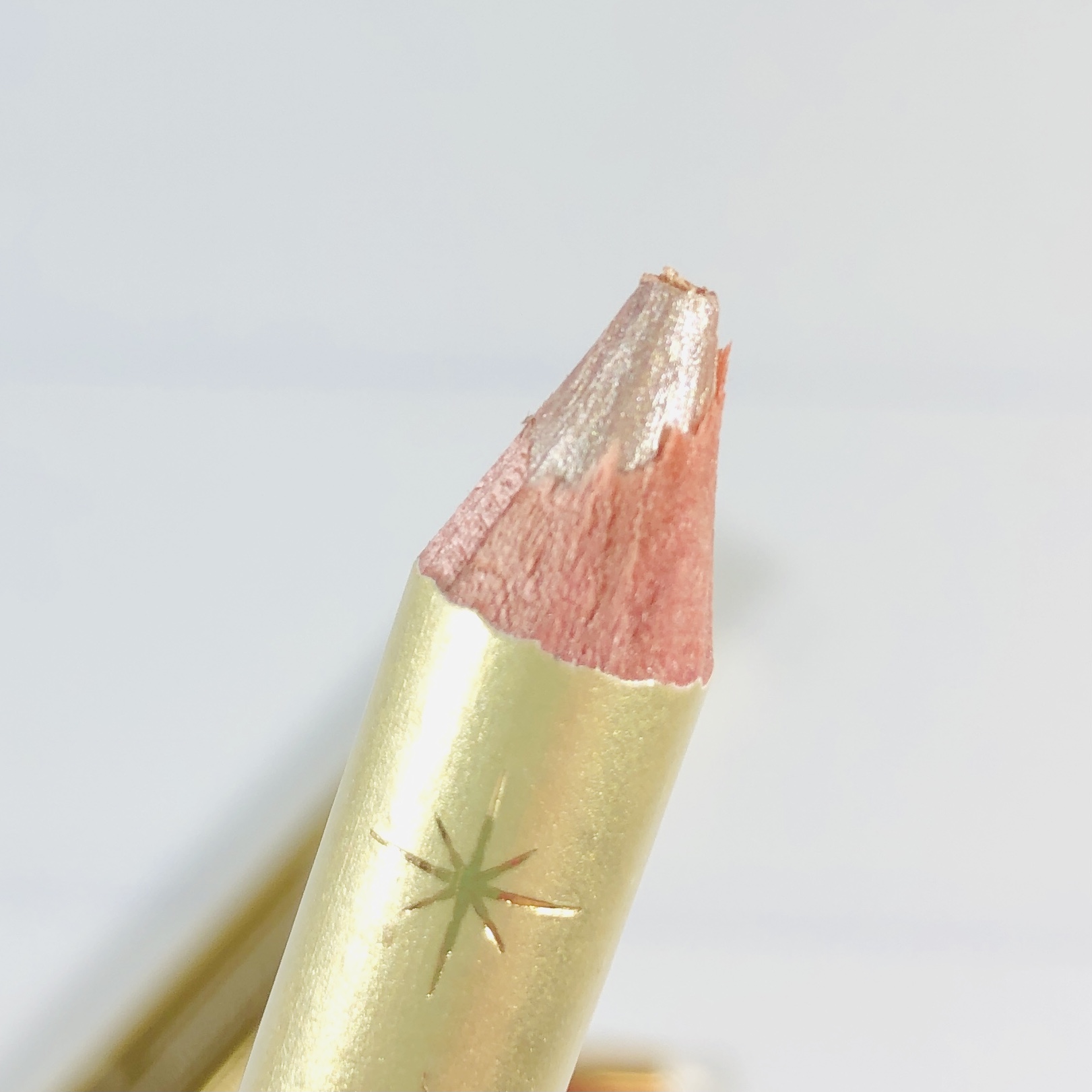 The other end is a highlighter that you apply over top of the concealer. I guess I need to play around with this duo longer to get the right consistency, because I feel like it's too thick to just sit there but if you touch it it melts off. I had no luck using the two products elsewhere on my face.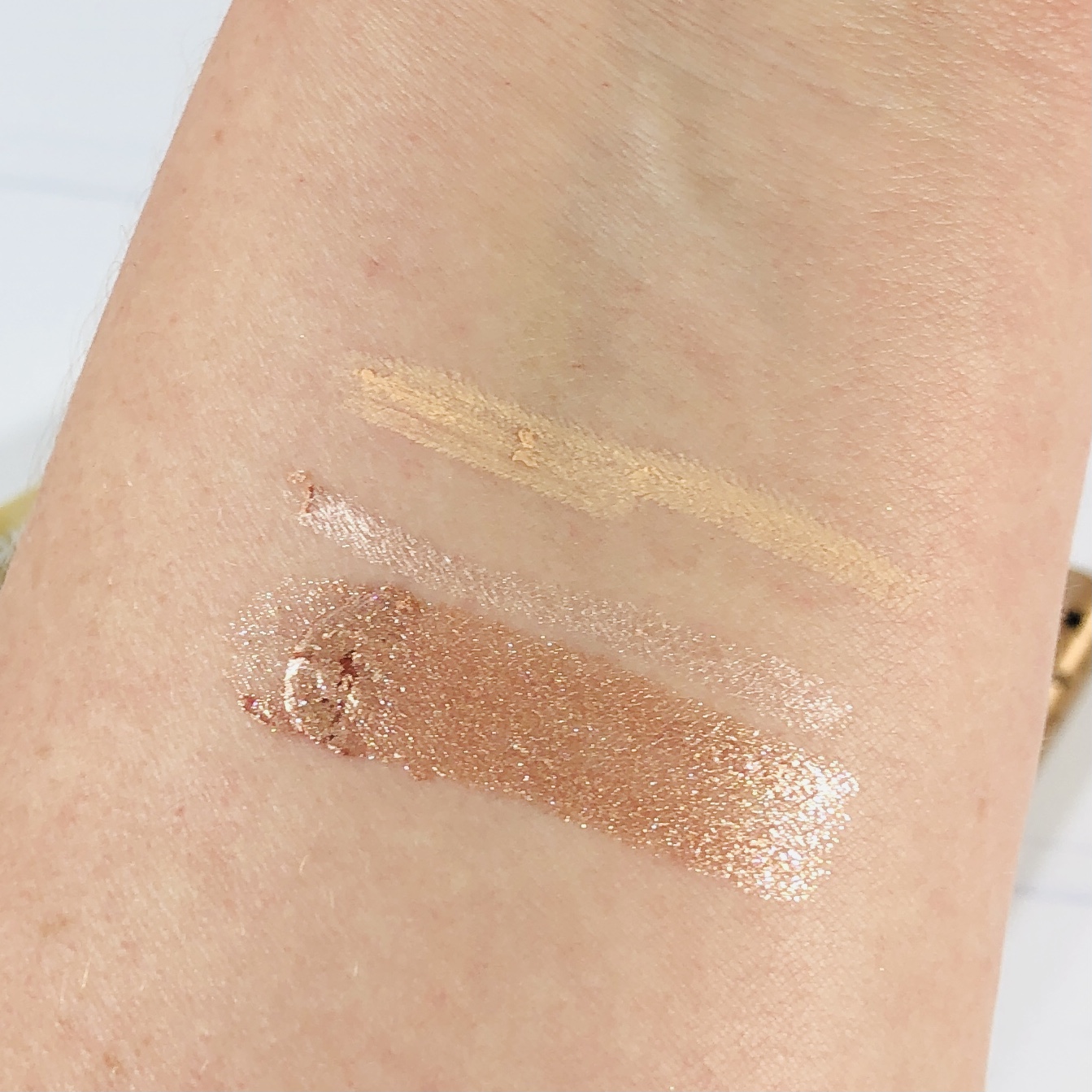 Swatched on top is the matte concealer, follwed by the shimmery highlighter, and then the KVD shadow is on the bottom. Once you spread out the KVD it is an explosion of rainbow shimmery sparkles. You can see that a good chunk of it came off with that first swipe.
Touch In Sol Pretty Filter Glowdient Makeup Palette ($34 listed value, new launch) This is a pretty palette but it doesn't seem to be available at the brand's website. Hopefully it will show up soon!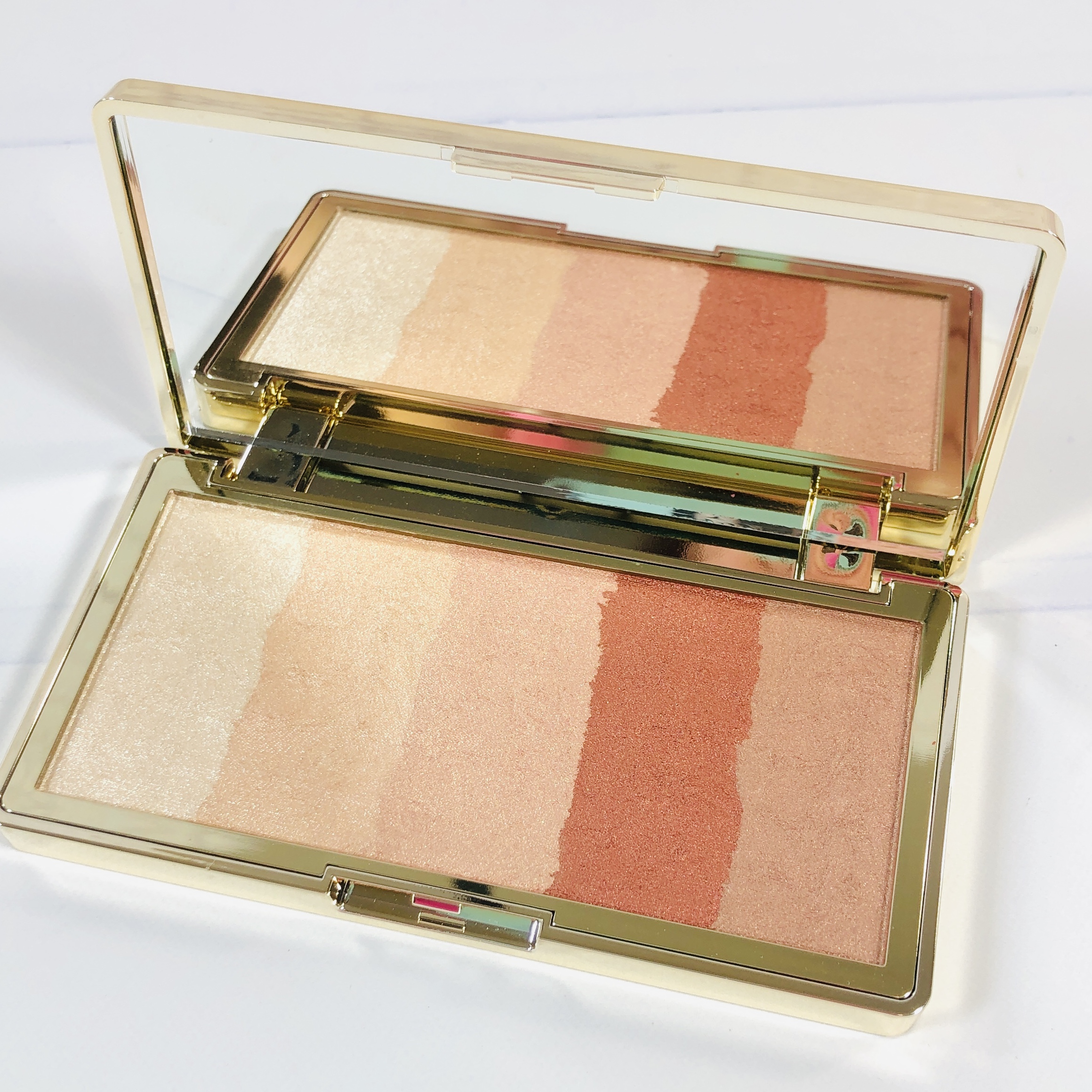 It's a set of five different highlighters/bronzers, and all with some serious sparkle. Of course, it kind of has infinite color combos because you can mix and match however you like. I tend to sweep my fluffy brush from one end to the other and then swipe it over my nose, cheeks, and forehead.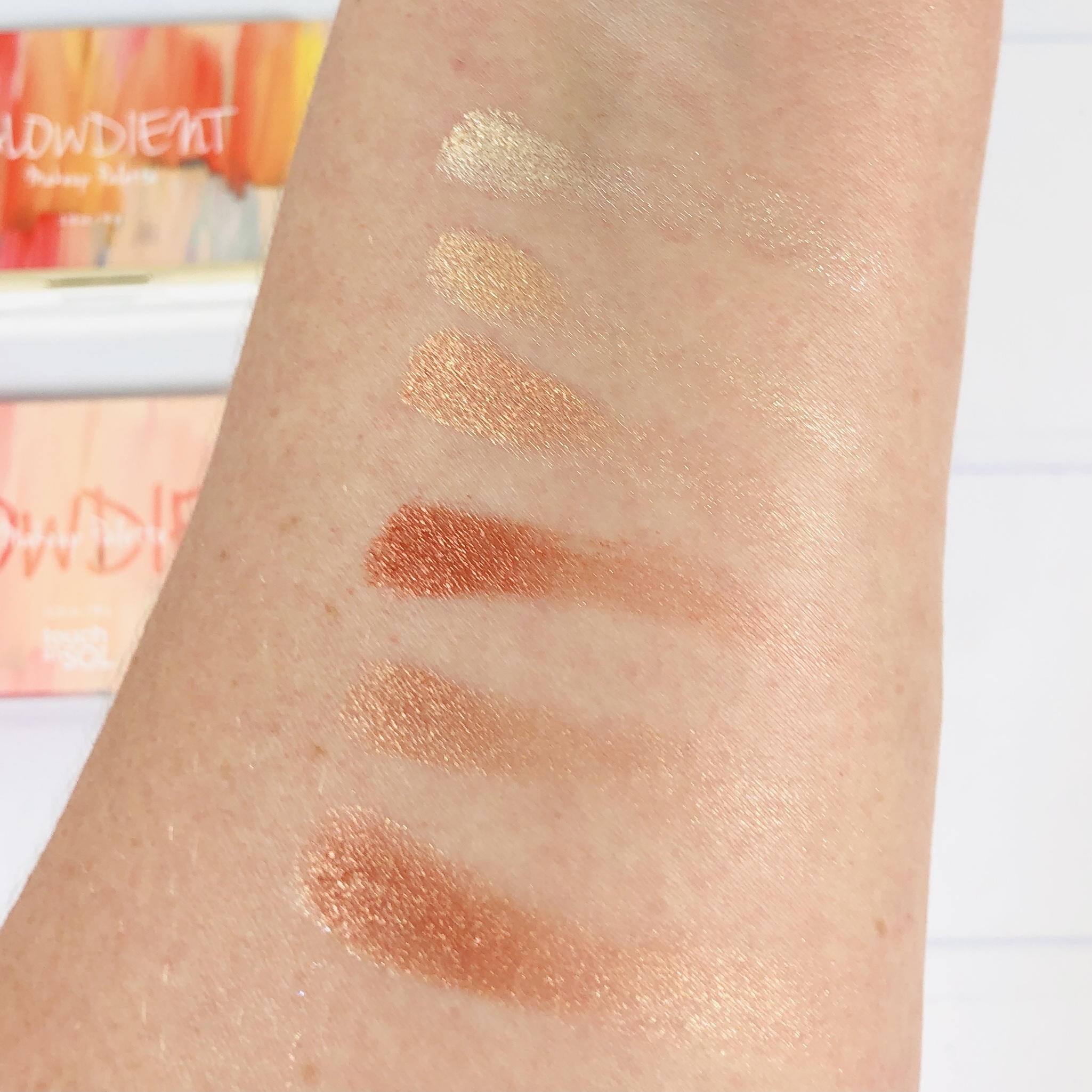 Swatched in order from the top, but the bottom color is a finger swipe through the whole palette.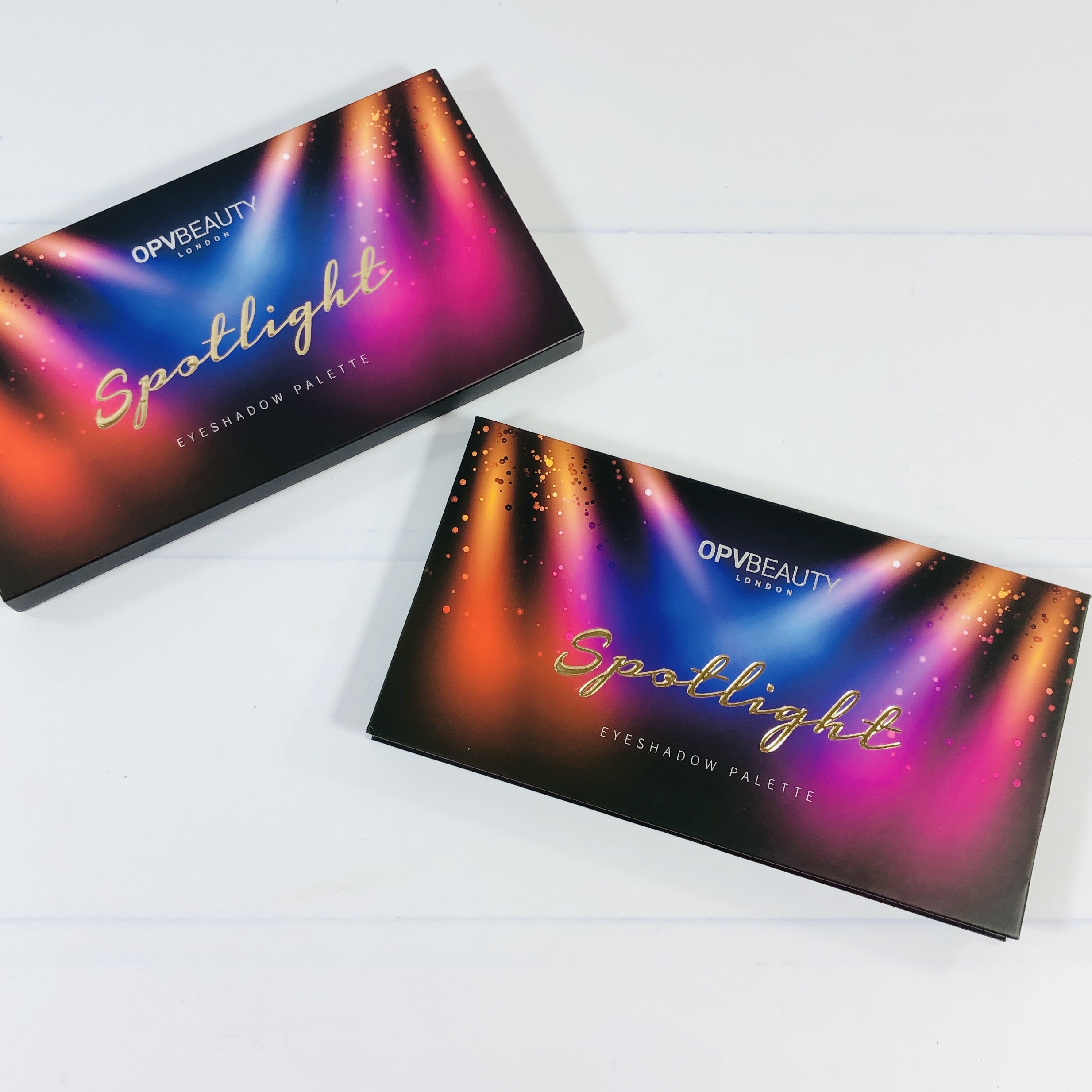 OPV Spotlight Eyeshadow Palette (£29, about $41 USD) The final item is a highly pigmented palette for the eyes.
There are 18 colors in all and they are pretty darn bright for the most part. I applied Xhibit to my lid, used Dazzelnight in the crease, and then placed Dirty Martinni on the outer corners.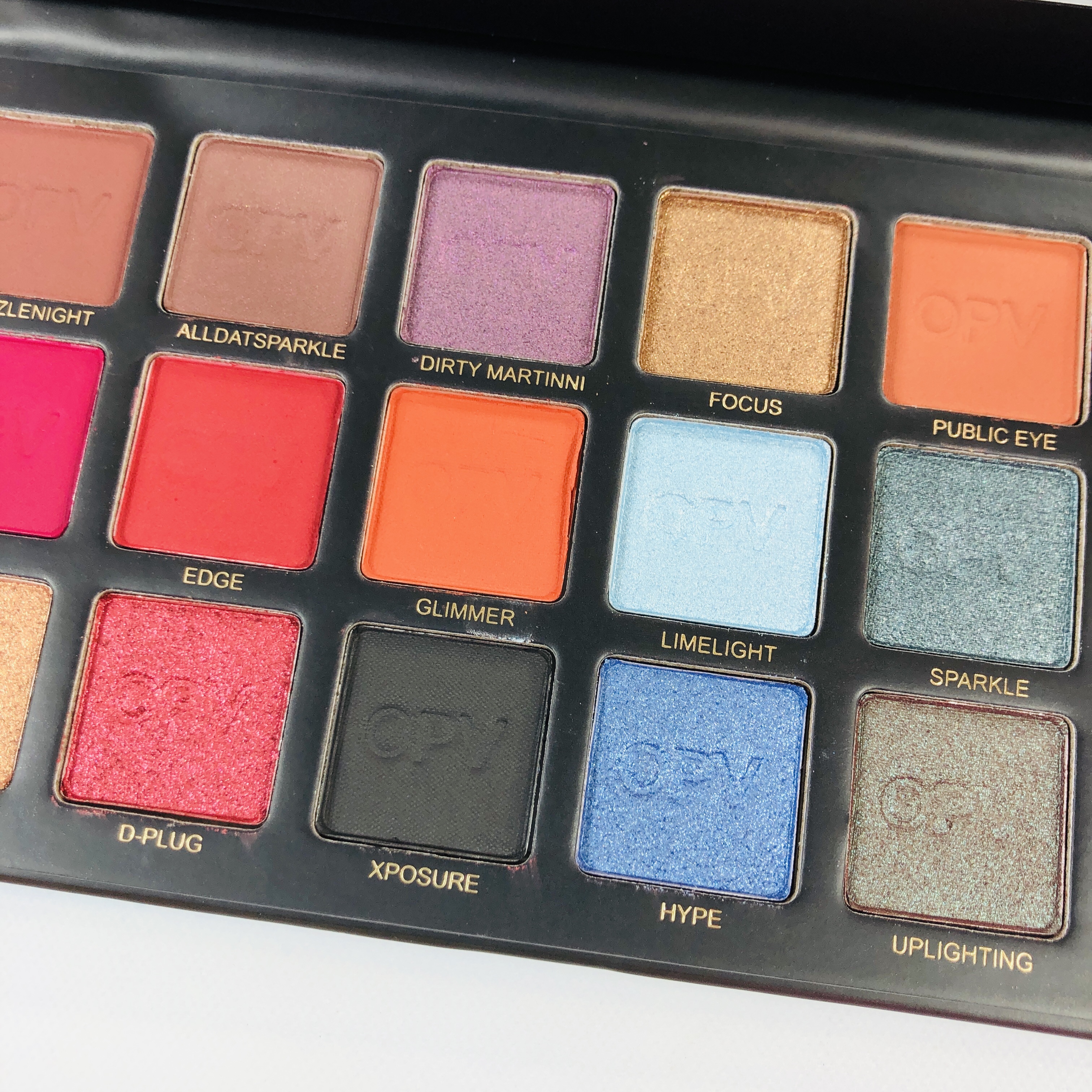 It's a combo of mattes and sparkles and there's even a duochrome.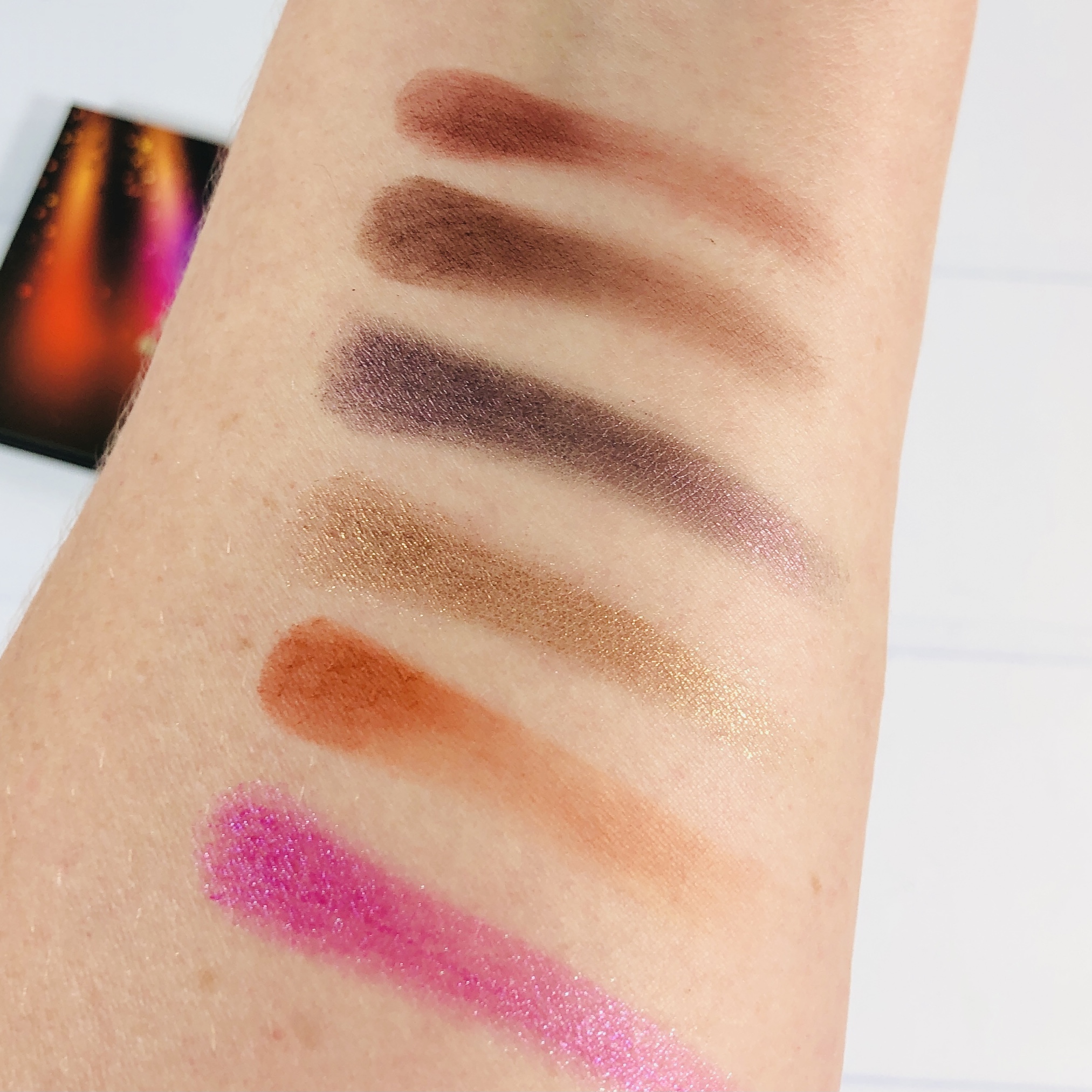 Here's the top row swatched.
Here's the second row. Limelight was the least pigmented of all of the shades, here I used two swipes and it still barely showed up.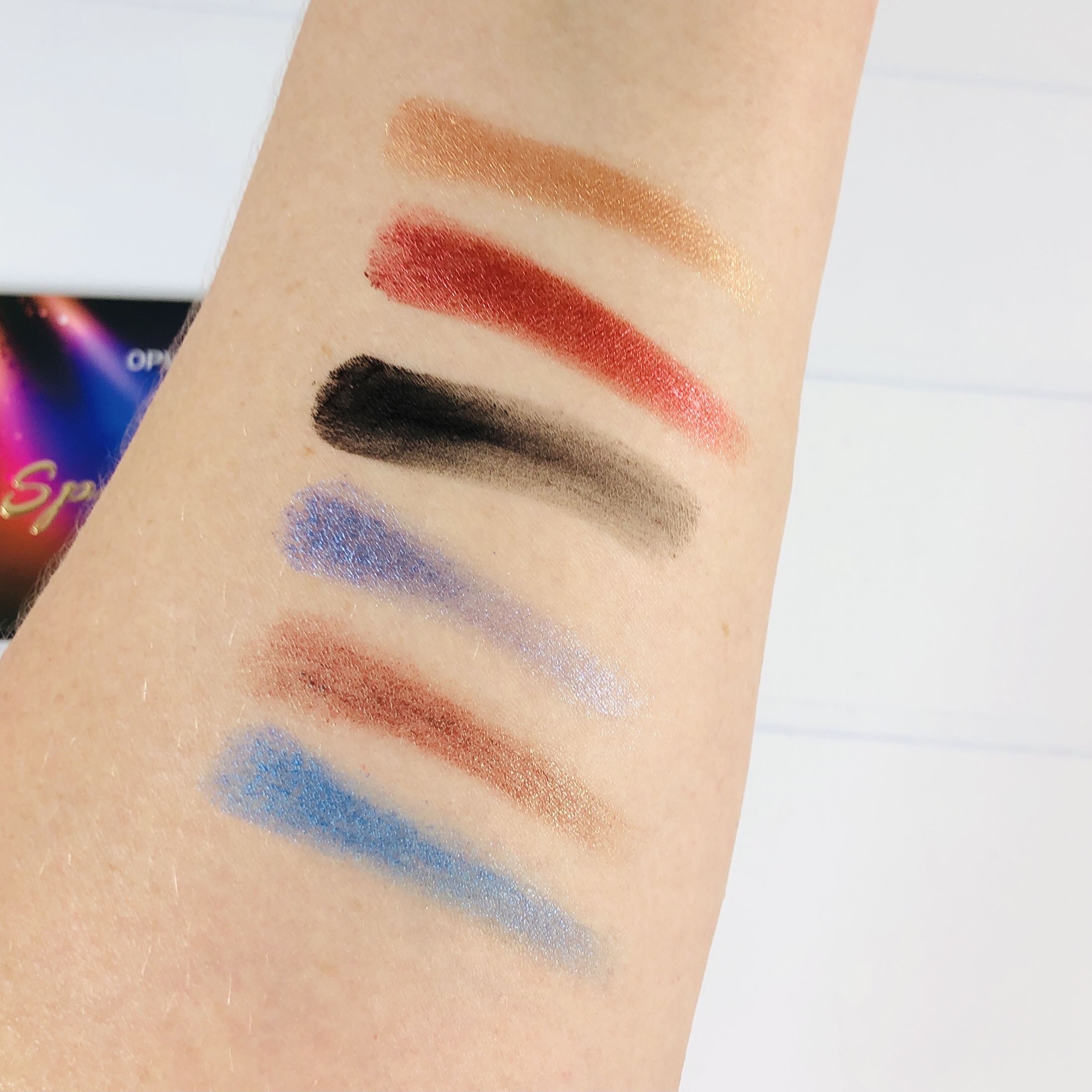 Here's the bottom row. I had a bit of fall out but it was easy enough to wipe off with my fluffy brush.
Wow, four out of five of the items in my June BOXYCHARM were makeup items! Also, four out of five items had serious glitteriness, and even the lip balm was glossy, so I have my glow on for summer. The palette might be better suited for fall, as I tend to go lighter in the summer, although some of the shades will work for now. The highlighter/concealer pencil was ok, I may need to use it a few more times to see if I can a better result. I like the Dazzle Stick but am also worried about my eyes, but it looked pretty while I had it on. The lip balm felt soothing to my lips. The Glowdient palette was my favorite item — with a swipe of my brush I can get endless color combos and they all look pretty to me. The value for my box combo was around $132!
What's your favorite item in this month's BOXYCHARM?