BookCase.Club is a monthly book subscription box offering different genres: Children's, Young Adult, Mystery/Thriller, Sci-Fi/Fantasy, Romance, and Historical/New Age/Contemporary Fiction. Each box contains 2 hand-picked books, except for the Children's box, which includes 3 books. It costs $9.99 per month, making it one of the most inexpensive book subscriptions out there.
This is the Popular Romance case, formerly known as the Booking For Love case.
DEAL: Save 50% on your first month! Use coupon code HELLOSUB501M. OR Get 10% off your entire order! Use coupon code HELLOSUB10.
When you sign up, you'll pick the genre.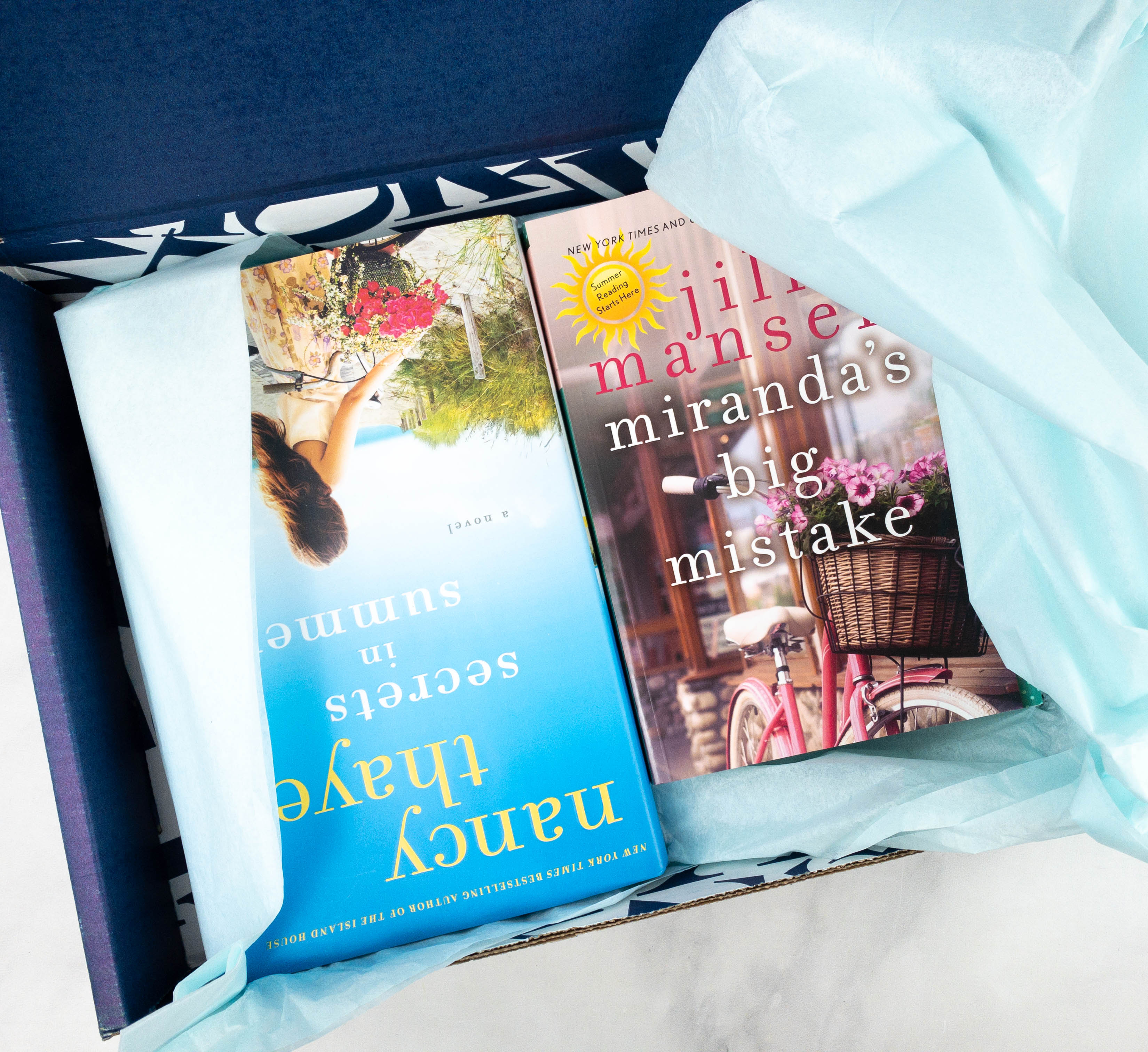 This month's Popular Romance book picks are Secrets in Summer by Nancy Thayer and Miranda's Big Mistake by Jill Mansell.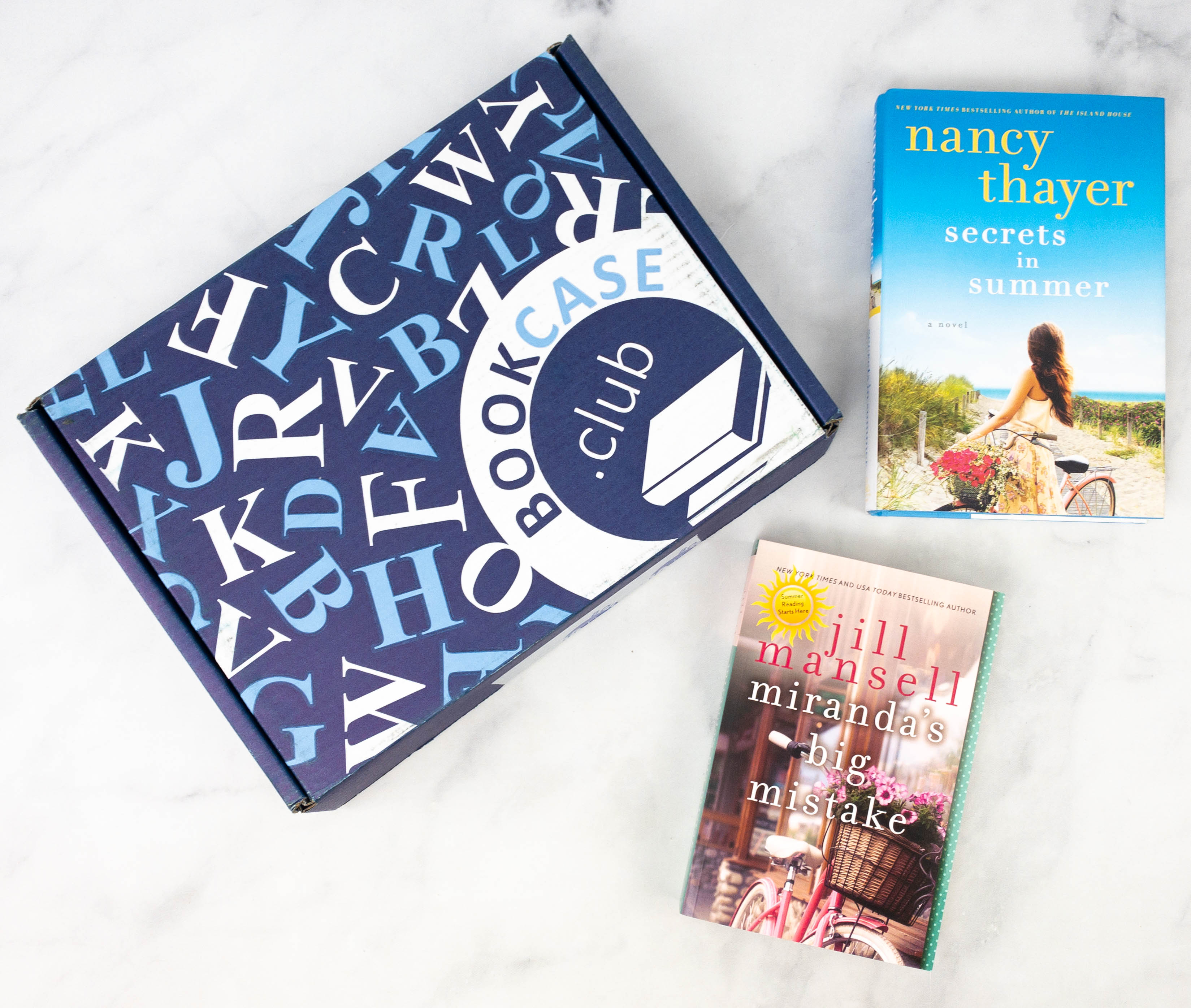 Everything in my box!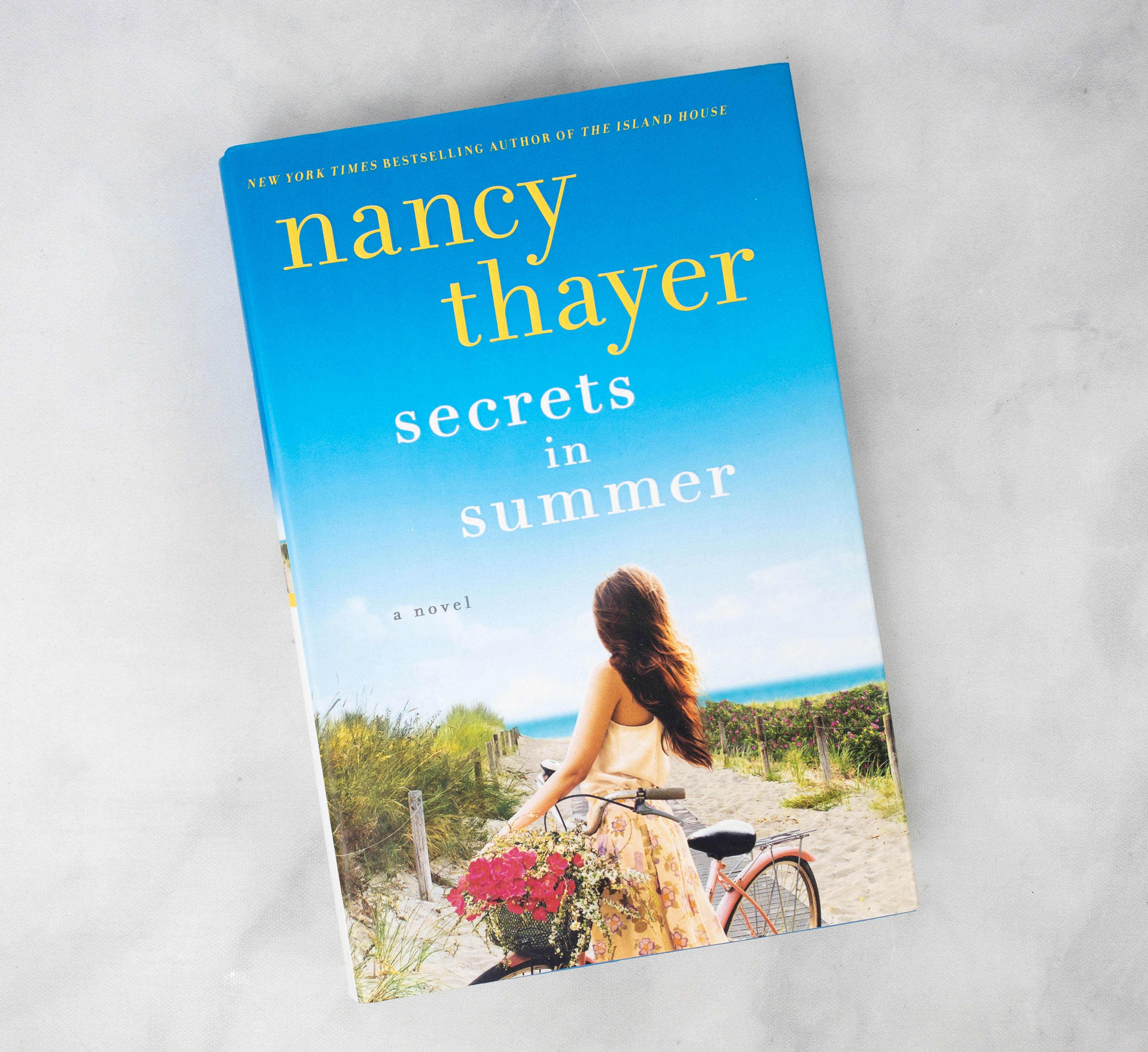 Secrets in Summer by Nancy Thayer ($12.48)
"The queen of beach books" (The Star-Ledger) returns to the shores of Nantucket in a novel about one memorable summer when flirtations flourish, family dramas play out, and scandalous secrets surface. Memorial Day weekend means that seasonal visitors have descended on the glamorous island of Nantucket. For year-round resident Darcy Cotterill, it means late-night stargazing in the backyard of the beautiful house she grew up in and inherited from her beloved grandmother. It's also Darcy's chance to hit the beach and meet her new summertime neighbors. But the last person the thirty-year-old librarian expects to see staying next door is her ex-husband, Boyz, along with his wife, Autumn, and stepdaughter, Willow. Darcy must also navigate the highs and lows of a new romantic relationship with local carpenter Nash Forester even as she becomes smitten with handsome vacationer Clive Rush, a musicologist in town to write a book and visit family. And she finds herself pulled into the concerns of Boyz, Autumn, a charming elderly neighbor, and an at-risk teen. As the season nears its end, Darcy must decide her next move: retreating to the comforts of her steady and secure island life, or risking it all for a chance at true happiness. Praise for Nancy Thayer The Island House "A touching story about friendship, family, and the uncertainty of love."—Bustle "Quick-paced, thoroughly engaging, and heartwarming."—The Insatiable Reader The Guest Cottage "A sweet book with romance, laughter, and love after loss . . . Thayer knows her Nantucket history, and it shines in this book."—RT Book Reviews "It's a pleasant escape to a state of mind in which rebuilding a life is as simple as pitching an umbrella and spreading out a towel."—Kirkus Reviews Nantucket Sisters "Thayer obviously knows her Nantucket, and the strong sense of place makes this the perfect escapist book for the summer, particularly for fans of Elin Hilderbrand."—Booklist "Thayer keeps readers on the edge of their seats with her dramatic story spanning the girls' childhood to adulthood. This wonderful beach read packs a punch."—Library Journal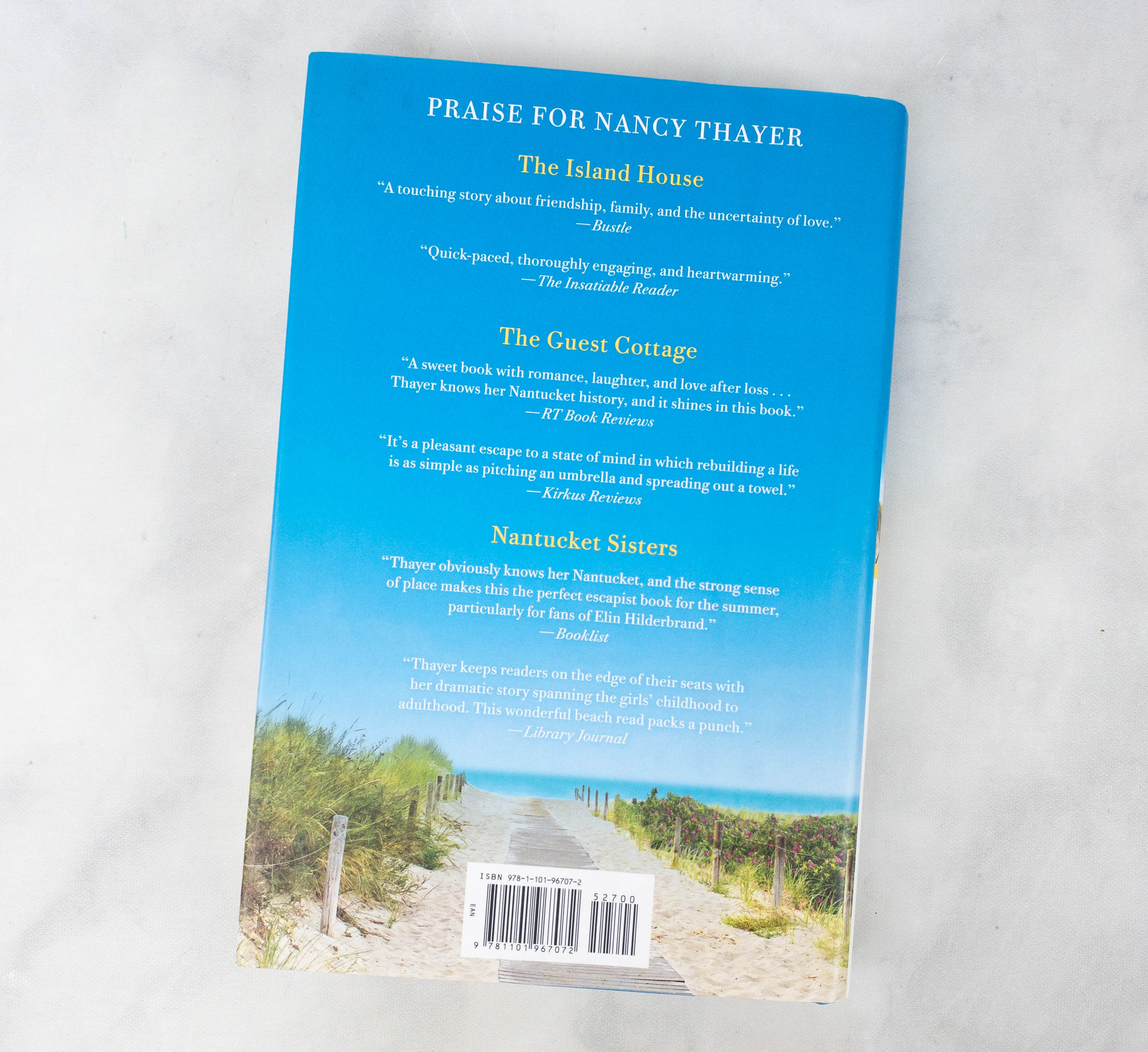 The cover features a beautiful summer scenery!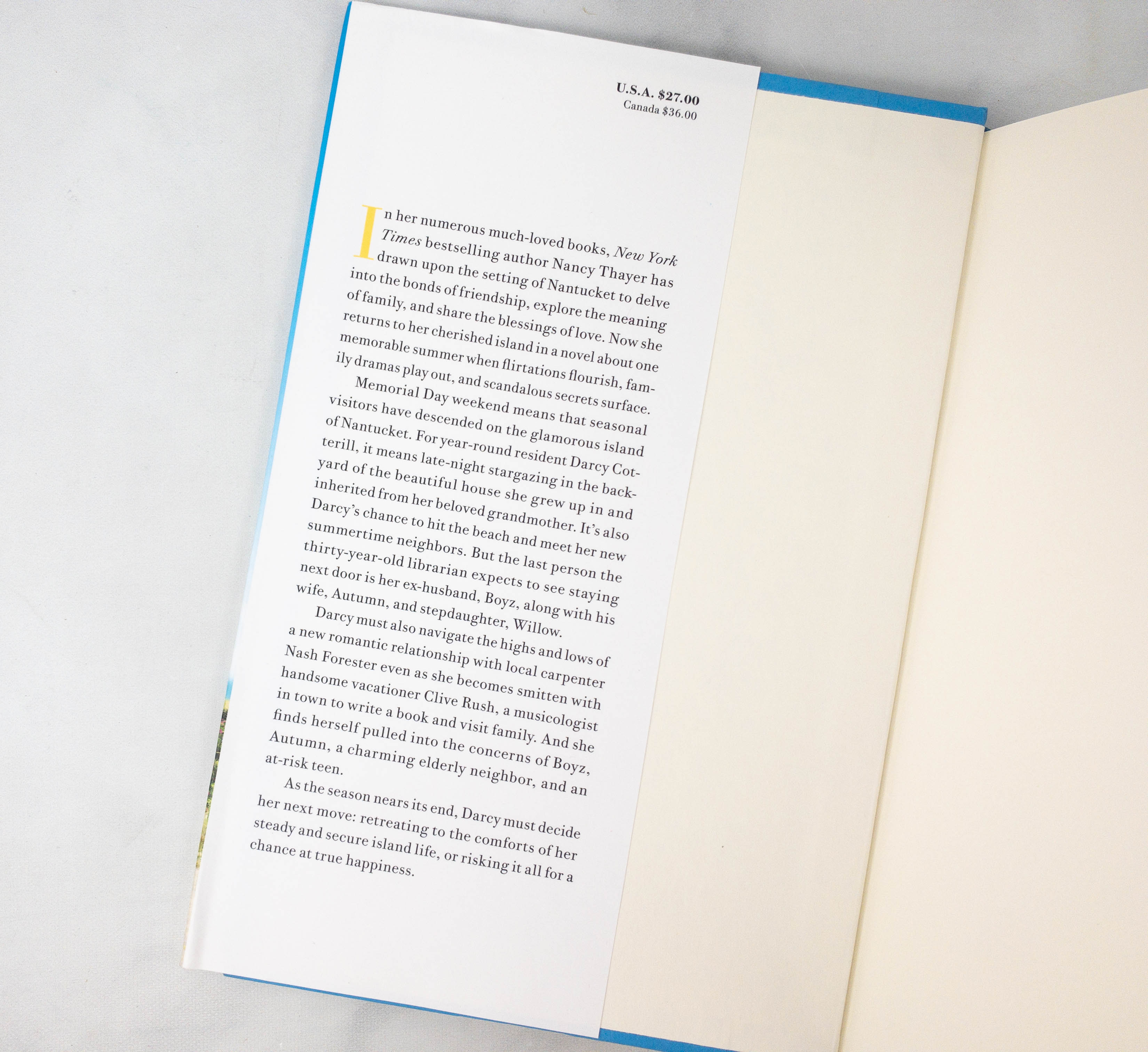 The story synopsis is printed on the dust flap jacket.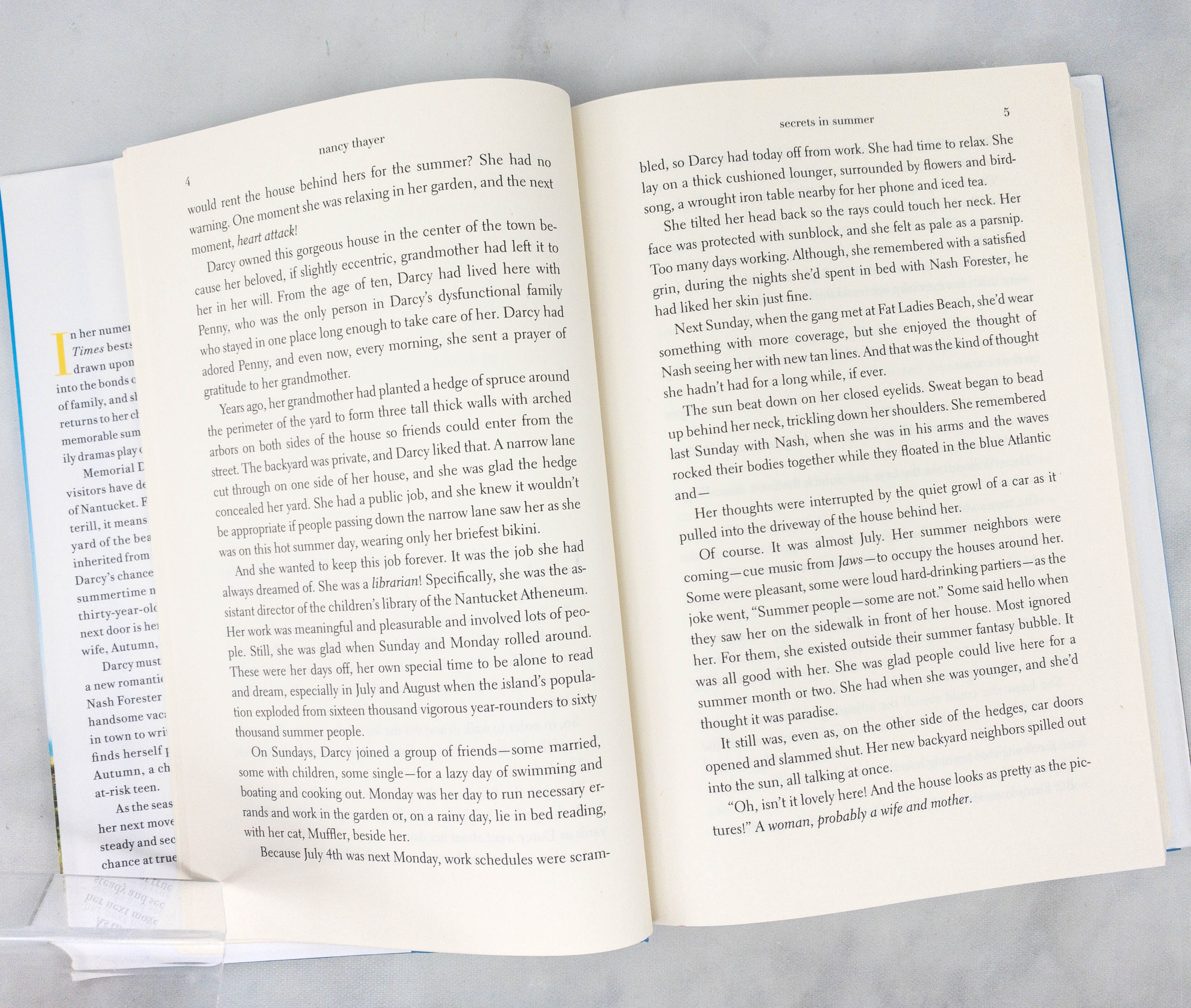 This is a light and quick read! The story is set in summer and I just love how it depicted Nantucket really well. It made me miss traveling!
It follows Darcy, a divorced librarian who is a year-round resident of Nantucket, seeing her way through the summer with a lot of new people and tourists around that are there to spend their time. The story has several twists and turns, including meeting his cheating ex and the woman he cheated on her with! This book has a great story about friendships and relationships that I really enjoyed!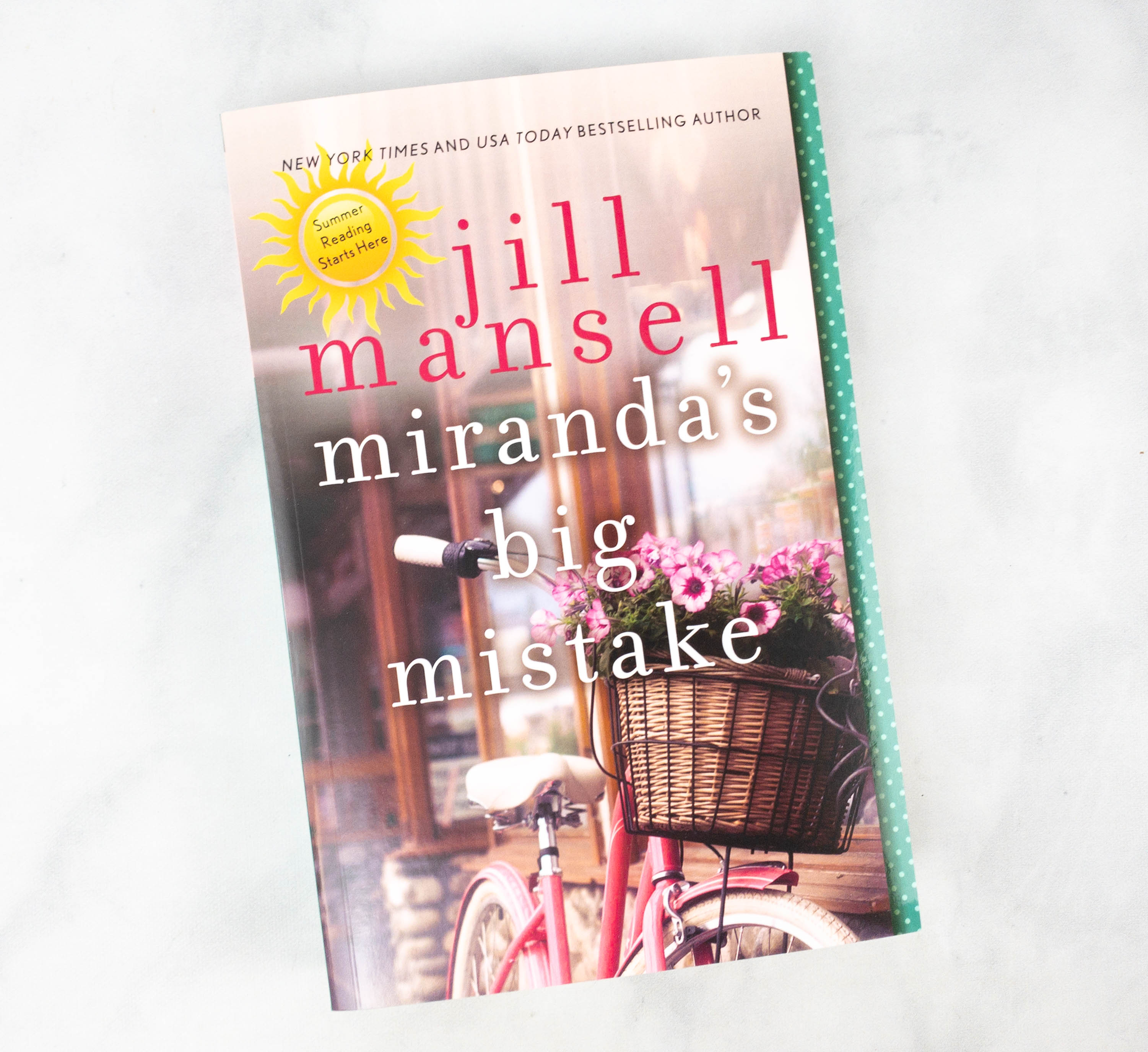 Miranda's Big Mistake by Jill Mansell ($9.99)
International bestseller Jill Mansell delivers an irresistibly feel-good story about friendship, family, and finding love where you least expect it.

Revenge is a dish best served sweet…
Miranda's most recent male-related catastrophe is the seemingly perfect Greg. He's gorgeous, witty, and they're on the brink of falling madly in love…until Miranda finds out he's just left his pregnant wife.

With the help of her friends, Miranda plans the most delicious revenge a heartbroken girl can get. But will Miranda learn from her mistake, or move on to the next "perfect" man and ignore the love of her life waiting in the wings?

What Readers Are Saying About Jill Mansell:
"A book by Jill will make you happy. Trust me."
"There's something magical about Jill's writing."
"When I pick up a Jill Mansell book, I know I'm in for a treat."
"Her stories make me believe in happy ever after."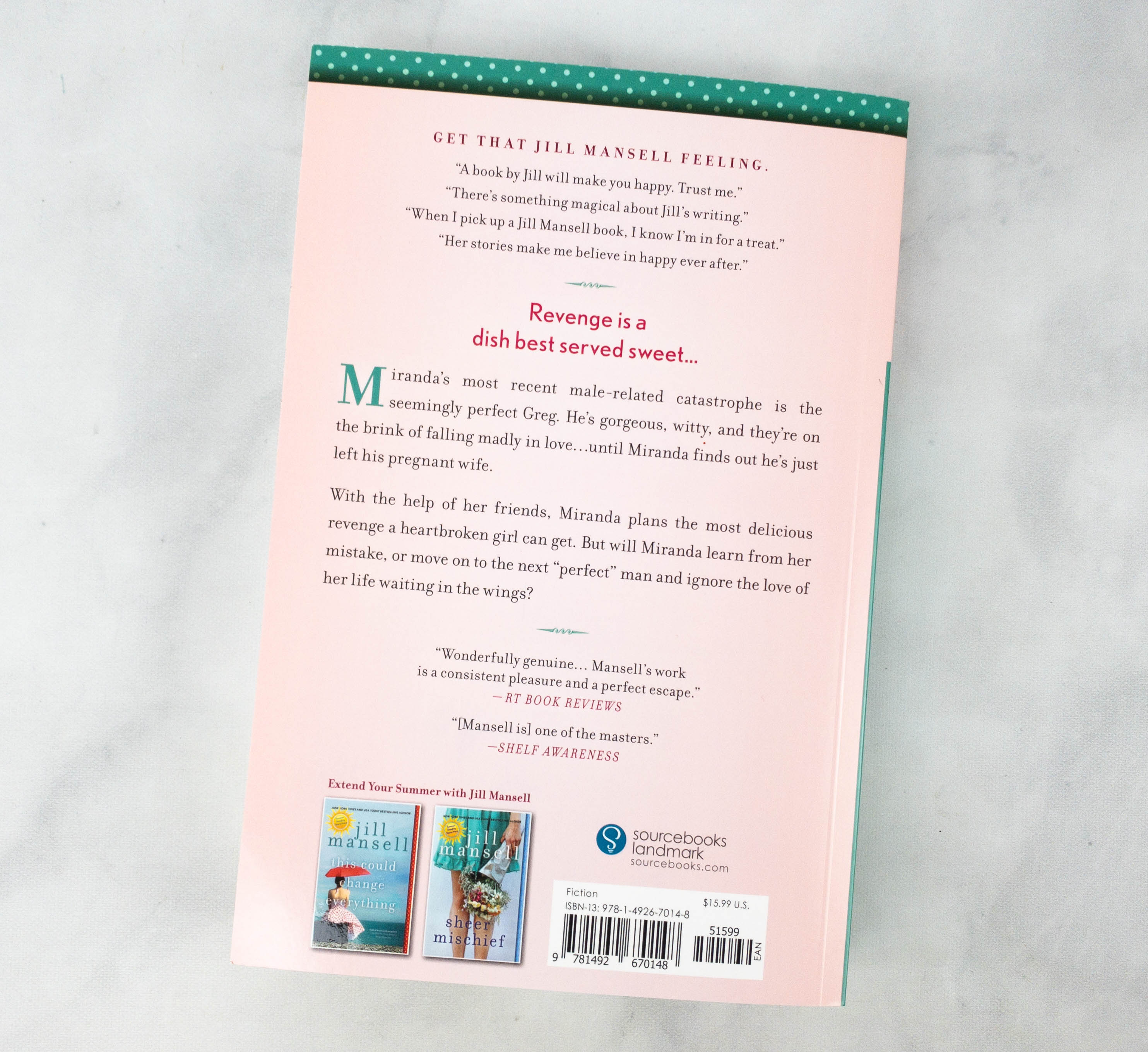 Here's another summer read! The back cover has a few reviews about the book, along with a short synopsis.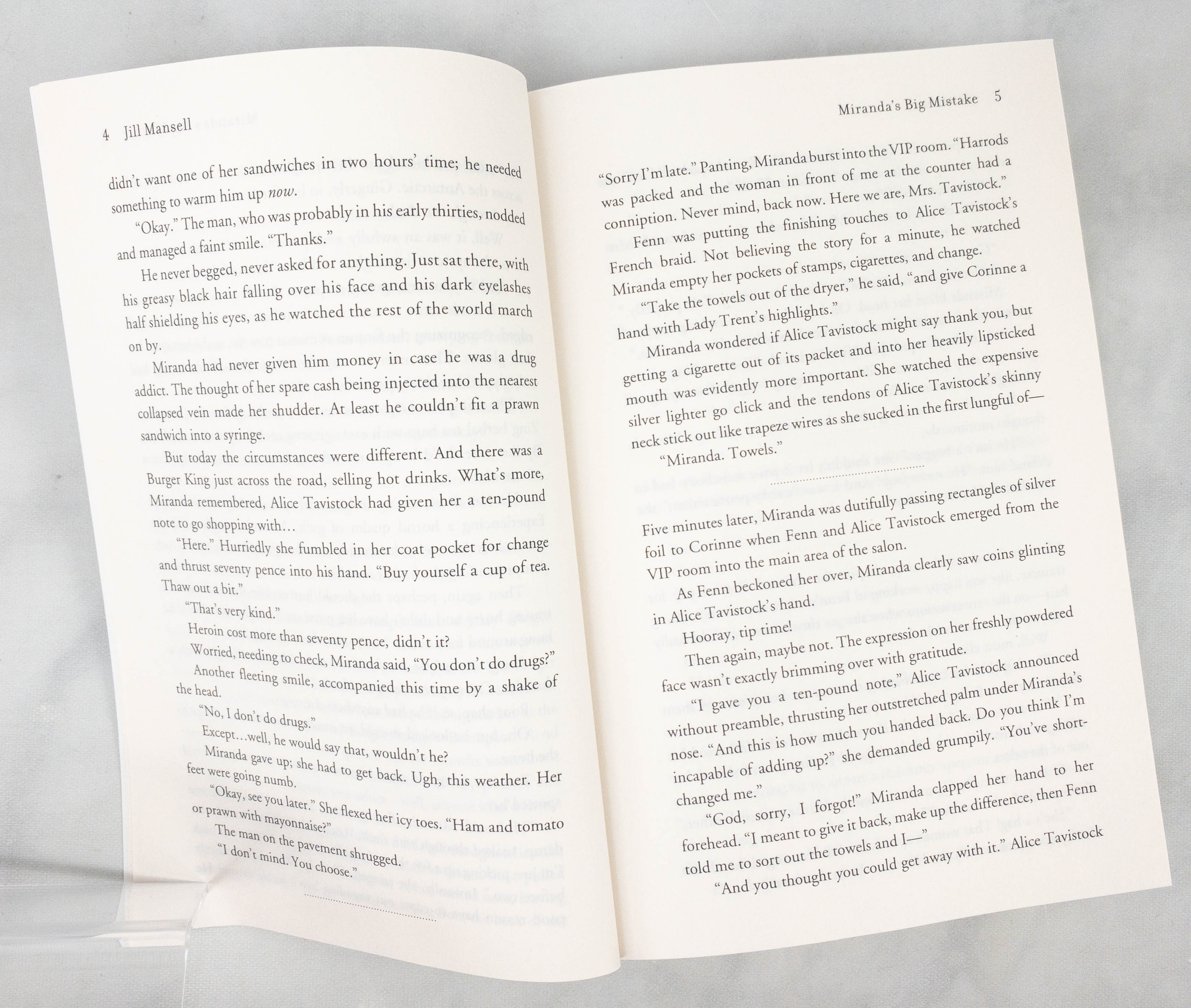 This one is quite long, but I don't mind because the characters are loveable. I love how the author were able to link all the characters up in one way or another. The story focuses on Miranda who works at a trendy hair salon, but her friends Chloe and Bev also had interesting romances!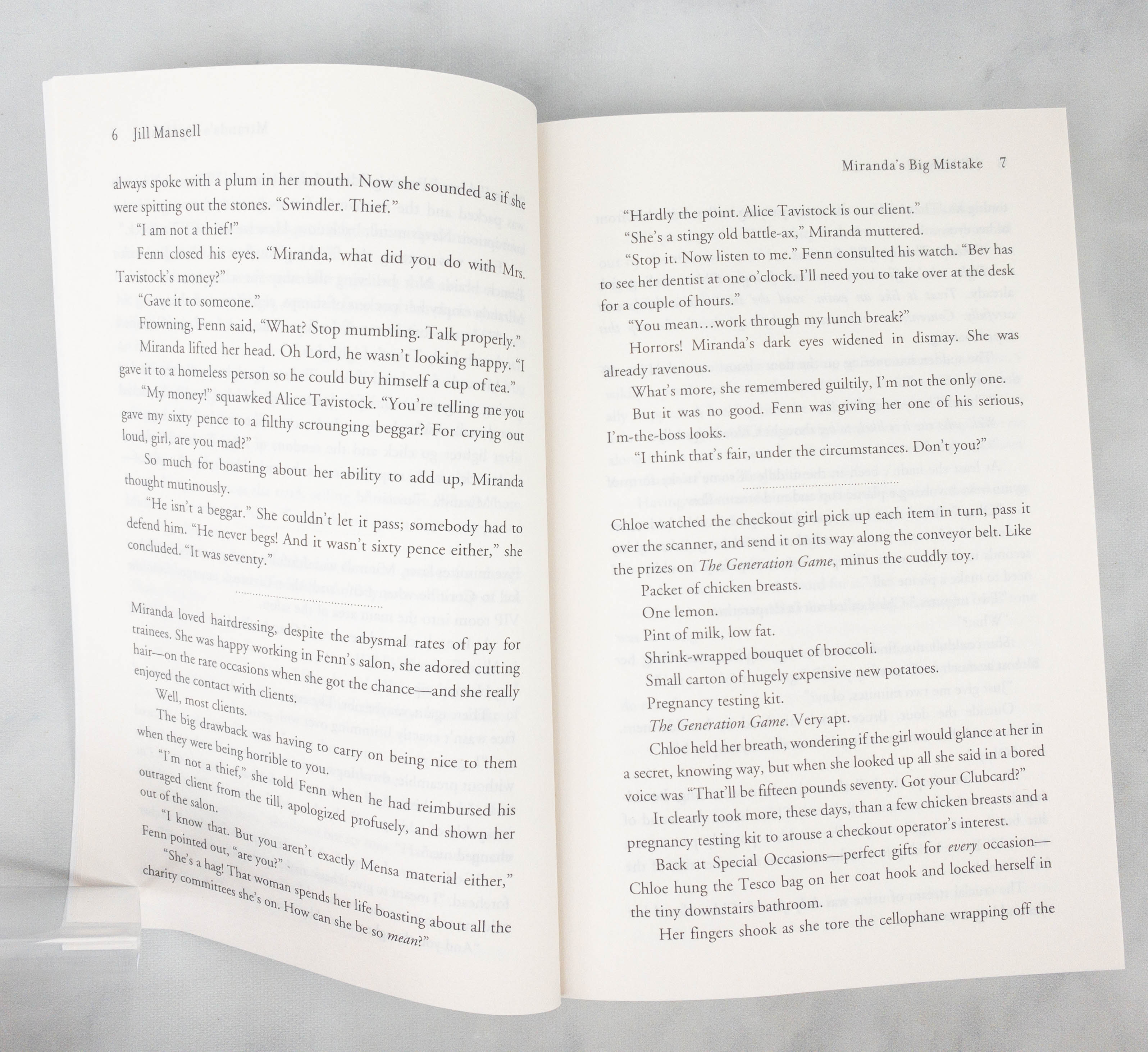 The story is told from multiple perspectives. There are some unrealistic parts but overall, it's still a fun read!
This month's Popular Romance titles are good summer reads! One is set in Nantucket, while the other is set in London. The respective authors did a great job of transporting readers to these locations. Each book also had loveable characters! BookCase Club is a great subscription if you love to read or want to rekindle your love for reading. They send 2 new books every month, and you can pick and switch genres each month, depending on your current mood and preference. If you're having trouble figuring out which book to read next, this would be a great help!
Have you tried BookCase.Club? What are you currently reading?