Want the very best deals on the very best subscriptions and boxes? They're right here!
Whether it's a promo code, free bonus item, or coupon, we are always on the hunt for a great deal for you to try out a new favorite subscription! Whether you're looking for kids' boxes, fashion finds, beauty products, fine wines, delectable snacks, lifestyle items, or home decor, we have the best deals to spice up your subscription experience!
So grab the best deals, promo codes, free bonus items, and discount offers and take advantage of them to save more bucks and time! It's your pass to some great goodies and experiences!
Still want more? Check out the newest subscription box deals!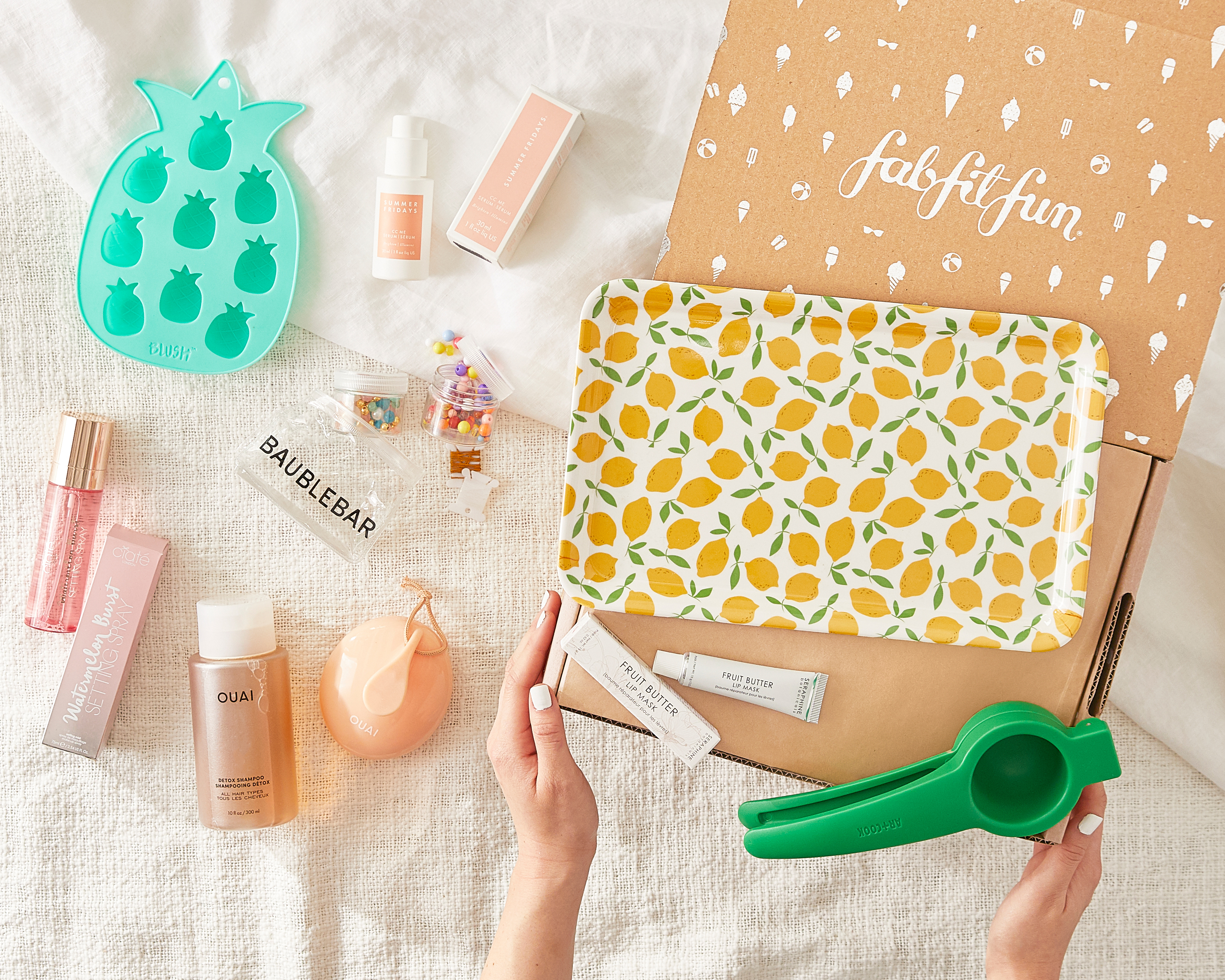 FabFitFun has a great deal for new subscribers that select a yearlong subscription.
Through 6/21, use this link and coupon code FIRSTBOX at checkout to get a FREE first box with an annual subscription! Your first box will be the Summer 2021 box. This is a $45 savings - you will be billed $134.99 annually for your first year. The subscription will renew at $179.99 (exclusive of taxes and shipping). This deal ends 6/21.
Get a FREE first box with FabFitFun annual subscription!
Only want to do quarterly? New members can save $10 on your first box with code FAB10!  
Check out the FULL spoilers for the Summer 2021 FabFitFun!
---
Annie's Kit Clubs has a flash sale coupon for all of their crafting clubs through July 11.
FLASH offer: 75% Off the first month of any Annie's Kit Clubs subscription with code SHARE75!
Save even more on this club!
---
Care/of personalized daily vitamins has an amazing deal for new subscribers!
For a limited time, save 50% on your first Care/of personalized daily vitamins purchase with coupon code VITAMIN50!
OR grab any of these deals:
Just take the Care/of quiz and they'll recommend personalizations to their signature box of 30 daily vitamin packs along with picks from their line of collagen, protein, and supplements powders chosen just for you. You're in complete control of your plan - you can add and remove items from their line to meet your exact needs.
---
The ButcherBox FREE Bacon Deal is back that will gift you FREE BACON IN EVERY BOX! 
 (Sorry, we get excited about bacon)
ButcherBox is giving away FREE BACON FOR LIFE in every box that you get during the life of your subscription- their biggest promo ever! No coupon needed – just use this link to activate the offer! (you won't see this offer on the ButcherBox homepage!). Ends 7/11.
---
CURATEUR has curated the Summer 2021 Welcome Boxes to start your new subscription (Summer 2021 box has sold out)! The CURATEUR Summer 2021 Welcome Boxes are $34.99 each, and you can pick from 3 choices - Weekend Retreat, Chic Escape, and Glow Getter! We have a deal to bring it down to $25 - just visit CURATEUR to pick it up with coupon code WELCOME10!
After receiving your welcome box, your next box will be the Fall 2021 CURATEUR box! This membership will renew as a seasonal membership ($99.99).
Get the CURATEUR Summer 2021 Welcome Boxes!
---
Craftsy has an amazing deal for new subscribers to their subscription video service packed full of instruction and tutorials on a wide variety of crafts, hobbies, fabric arts, cooking, and more - there are thousands of videos!. Stay inspired with a community of passionate crafters and stay connected with weekly newsletters, live events, and more. Craftsy's 1500+ videos include everything you need from basic instruction to advanced techniques from quilting or cooking, baking or painting, more than 20 categories!
Get your Craftsy Premium Membership for only $2.49 for your first full year (normally $79.99) - that's about 97% off! No coupon needed - the deal applies automatically, just use this link to subscribe.
After your first year, you'll be charged $79.99 annually.
Craftsy offers a wide variety of online classes; some of the most popular projects are Coffee-Shop Cakes, Quick Quilted Gifts, Fair Isle Fundamentals, Sewing Wallets, Crochet in the Round, Asian Dumplings, and Thank-You Cards. Craftsy classes start at $19.99 each if you're not a member, so this is a pretty awesome deal!
---
SinglesSwag women's lifestyle subscription has a new coupon for their monthly box!
Use this link and coupon code SUNFUN to save 40% off on any subscription length!
---
Beachly (formerly Coastal Co.) has a new coupon!
For a limited time, get $30 off your first box! Use the coupon code BEACHDAY30 at checkout!
For a limited time, get a FREE Beauty Bonus Box ($100 worth of extra goodies) when you use the coupon code BEACHLYBEAUTY at checkout
OR Get a FREE BONUS BOX ($100+ value) with your Summer Box! Use the coupon code BONUSBOX at checkout!
Beachly offers two subscriptions - the Men's and Women's surf subscription box! Each quarterly box includes beach-inspired apparel and accessories worth $250+.
And ICYMI, Beachly has just launched the Beachly Beauty Box! Beachly's Beauty Box includes 4-6 carefully curated, beach-inspired cruelty-free, clean beauty products to add a dose of vitamin sea to your regimen. The Beauty Box is $29 per month, with a promised $75+ retail value in every box. The first box ships free; thereafter, future boxes have a $2.99 shipping charge.
See all our Beachly reviews to find out more!
---
Barkbox Super Chewer has a new deal to welcome new subscribers to their dog subscription box for heavy chewers!
Get a FREE Pride Bundle including Some Bear Over The Rainbow and Rainbow Tug Toys when you subscribe to a multi-month plan (we always recommend 6 or 12 months for the best value) - just use this link to subscribe- no coupon code needed! Ends 6/17.
Get a FREE Pride Bundle with Super Chewer Box!
OR when you subscribe to a 6- or 12-month SUPER CHEWER plan with this link get FREE Extra month of BarkBox SUPER CHEWER!
See all our Barkbox Super Chewer Reviews to find out more about this great dog subscription box for heavy chewers! Looking for the regular box deal? Check out the Barkbox upgrade offer!
---
Amazon has a HUGE Prime Day special  - FOUR months FREE trial to their Music Unlimited service! Normally $7.99 per month or $79 per year for Prime members, or $9.99 for non-Prime Members, Prime Members' first 4 months are FREE! If you're not an Amazon Prime member, you'll get 3 free months!
There's no coupon code to get the deal, just use this link to sign up!
Get 4 FREE Months at Amazon Music Unlimited!
NOTE: If you've tried Amazon Music Unlimited in the past, you will NOT see this free offer.
TIP: mark your calendar for a few days short of 4 months from today to remind you to evaluate your subscription before it renews!
Amazon Music Unlimited offers tens of millions of songs and thousands of expert-programmed playlists and stations, including the hottest new releases from today's most popular artists.
---
Allure Beauty Box has a new free gift offer with subscription for June 2021!
New members will get a FREE MAC Magic Extension Mascara AND Natasha Denona Eye Shadow Single AND a full-size The Nue Co. Topical C! Be sure to scroll down here and check that this offer is still available.
GET FREE Gift from Allure Beauty Box!
---
---
Scent Box is a great and fun way to try out new designer fragrances each month. They're currently offering 50% off your first box! Use coupon code SCENT50.
Scent Box is a unique designer fragrance subscription box service. Every month consumers can choose from over 850 fragrances and get them delivered right to their door! Save money and discover new scents on your terms with Scent Box!
Your first month of a premium subscription will be ONLY $9.98! Standard subscription? $7.48!
Check out all our Scent Box reviews to find out more about this subscription box!
---
RocksBox has an amazing exclusive offer for Hello Subscription readers to try out their jewelry rental subscription - FREE!
Get your first month FREE! Use the coupon code MOMMYSPLURGEXOXO to get the deal!
Rocksbox is a designer jewelry rental subscription service. For a flat monthly fee of $21, you can have as many boxes as you can ship with 3 fabulous pieces of jewelry to try out and experiment with, and return when you're done and get your next set (free shipping both ways!). You can also keep the pieces you want to love forever at a discount off retail.
See our Rocksbox reviews to see the awesome jewelry we received in the past.
---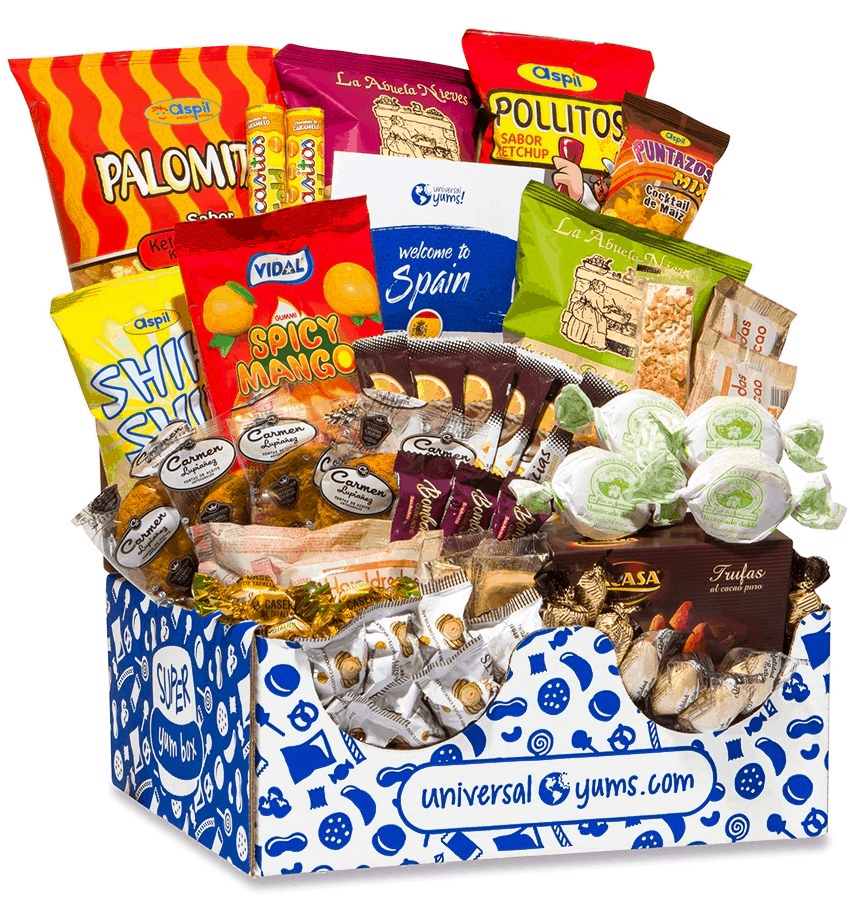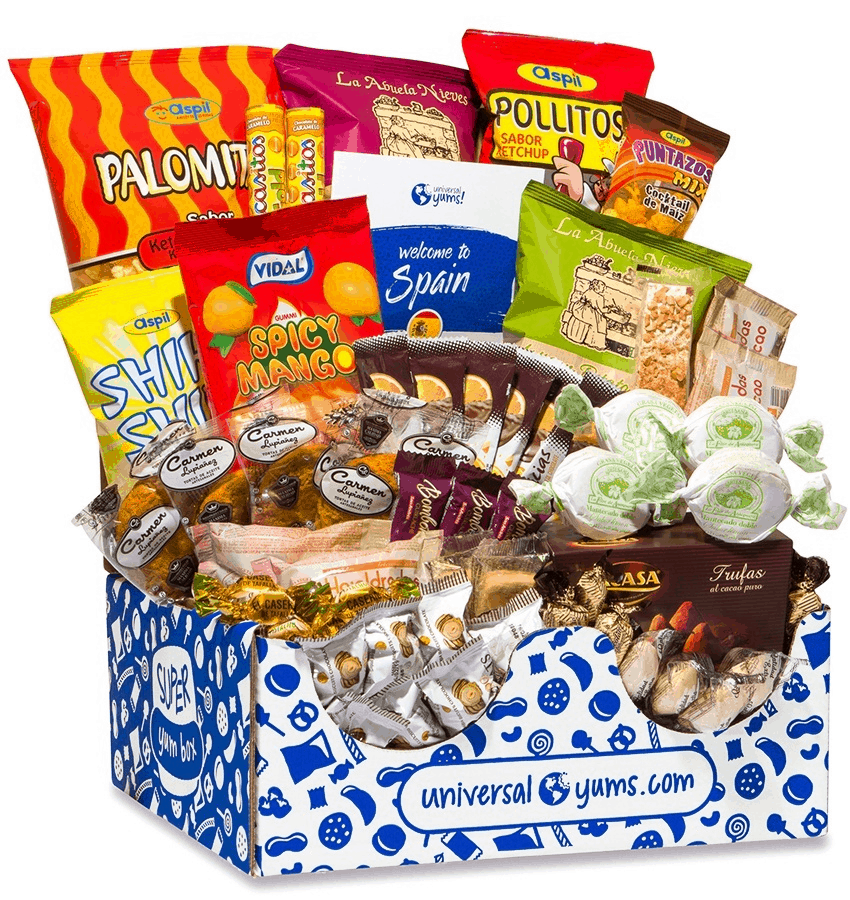 Taste the World - with a subscription box!
Universal Yums has a great deal to sign up for their around the world snack subscription box with a delicious and unique variety of snacks from a new country each month. Each box also comes with an interactive guidebook to steer your adventure – including trivia, games, recipes, culture, and more!
Get $5 off your first month when you sign up for a Super Yum Box subscription! Or, get a FREE month when you subscribe for a year! No coupon needed, just use this link to subscribe!
Get $5 off & More at Universal Yums!
Every month explore a new country's culture, history, music and most importantly: food! You'll find dozens of new flavors and taste experiences in every box, plus a fun booklet with highlights from the featured nation. Each box includes a mix of sweet and savory snacks with unique flavors and spices. You can join the adventure and vote for your favorite snacks, too! It makes an amazing gift, a unique family experience, or just a fun movie night treat.
See all our Universal Yums reviews to find out more about this subscription!
---
MEL Science has a coupon code just for Hello Subscription readers to try out their STEM subscription box for kids!
MEL Science brings monthly science kits straight to your door - and makes science cool and fun for kids! If you want to pass your best memories of your chemistry kit to your kids, or ensure that the kids are prepared for STEM learning, it's the perfect subscription! The MEL science kits - they offer chemistry and physics over a range of ages - are REAL science  with an app and cool VR features, too! Your kids will learn to experiment using real science and terminology.
Save 25% on your first month of MEL Chemistry, MEL Physics, or MEL Science Kids when you use coupon code HELLO25!
Everything in MEL Science comes with clear and concise instructions - and there's full guidance on the apps too. The subscriptions come with stands for your tablet or phone, making it easy to follow along with the instructions. Some experiments require parental supervision (like the ones with fire!) but you'll love these kits too! They're just so fascinating and engaging. As parents, we love that the kits are safe (with that parental supervision!) and easy to use - and that they have clear warning labels and disposal instructions. You can get 2-3 experiments out of most of the sets, making them perfect for siblings or small groups or pods - whether you're homeschooling, virtual schooling at home, or looking for some educational enrichment.
---
Second Nature's air filter subscription has a great deal for new subscribers.
Air filters delivered when it's time to change them. Change your filters on time, every time. No hassles, just fresh air.
Get your first air filter shipment FREE when you subscribe! Use coupon code HELLOSUBS and use this link to get started!
FYI, in addition to the traditional "flat" HVAC filters in 1", 2" and 3-6" inches in width, Second Nature also offers Aprilaire and accordion style filters!
First shipment FREE at Second Nature!
Second Nature has also launched Fridge Filters! The fridge filter subscription starts at $29 per month, and you can choose from two filtration options Each Sip and It Matters!
Get 50% off on your 2nd & 3rd fridge filter shipments! Just use this link and use the coupon code IMPACTFFP to grab the deal!
Get 50% off Fridge Filters at Second Nature!
See our Second Nature Air Filter review to find out more!
---
KiwiCo has a new great deal for new subscribers  – help young innovators build and make all year long! All of KiwiCo's crates are designed for young learners (and the young at heart) to help them grow in creative confidence and learn to build, make, and do with high quality materials and easy to follow just challenging enough instructions. Both parents & kids love these fun craft kits!
Save 50% off your first box on KiwiCo Crate subscriptions - Kiwi Crate, Koala Crate, Doodle Crate, Tinker Crate, Panda Crate, Atlas Crate, Eureka Crate, or Maker Crate! Deal applies automatically, just click here!
Your first box will be $9.95 - there's an additional cost for Eureka Crate and Maker Crate.
You can get as MANY lines as you want with this deal! Need Koala & Kiwi Crate? You got it. Tinker & Doodle are a GREAT pair! Eureka & Maker for your teen? Yep. The Hello Subscription kids have been doing these boxes for years and they've never gotten tired of them (and KiwiCo has grown up with them too!) – they beg for them! Making and doing is so much better than toys – and they will learn along the way! Both prepaid and gift subscriptions are easy to manage for the recipient and you'll also have access to all the digital goodies KiwiCo provides. Plus, there's always extensions – way to keep the learning going. We can't say enough it's not just what's in the box – you'll want to check out the recommended books from the libraries, explore more on YouTube, and really dig deep, because these boxes are so engaging!
---
Grove Collaborative has a new subscriber deal!
When you start your subscription with a $30 purchase you'll get a new subscriber Babyganics Bath Time Set FREE.  
Read our Grove Collaborative reviews to find out more, but come back to this post and use this link in order to grab this deal.
---