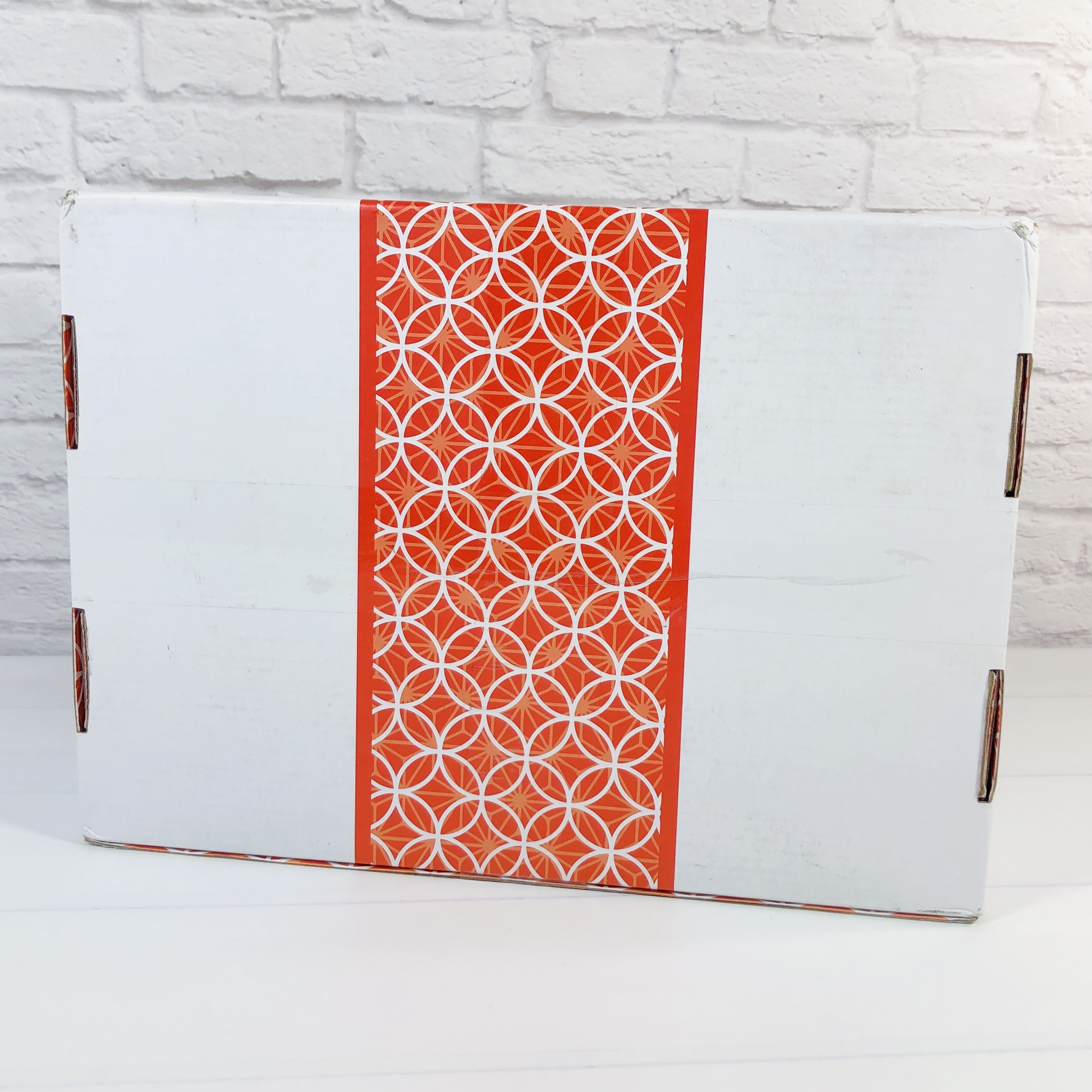 WOWBOX is a subscription from Japan that sends delicious snacks and sweets. They offer two choices: The Tabi Box and the Omiyage Box. I am reviewing the Omiyage Box. This is the May box, which is no longer available. If you sign up from now until the end of May, you will receive one of the June Setouchi and Shikoku boxes.
Tabi means journey or travel while Omiyage means souvenir in Japanese. Tabi Box will take you on a journey to different cities every month with premium treats selected from local artisans and historical shops. Omiyage Box has mix selection of local shops and national brands with limited regional flavors that'd be a perfect monthly 'omiyage' from Japan to you!

Both Omiyage Box and Tabi Box will feature a new city or special theme every month, taking you to explore Japan's 47 prefectures unique flavors.
The presentation is simple, my items were shipped in a box with bubble wrap to keep everything from shifting.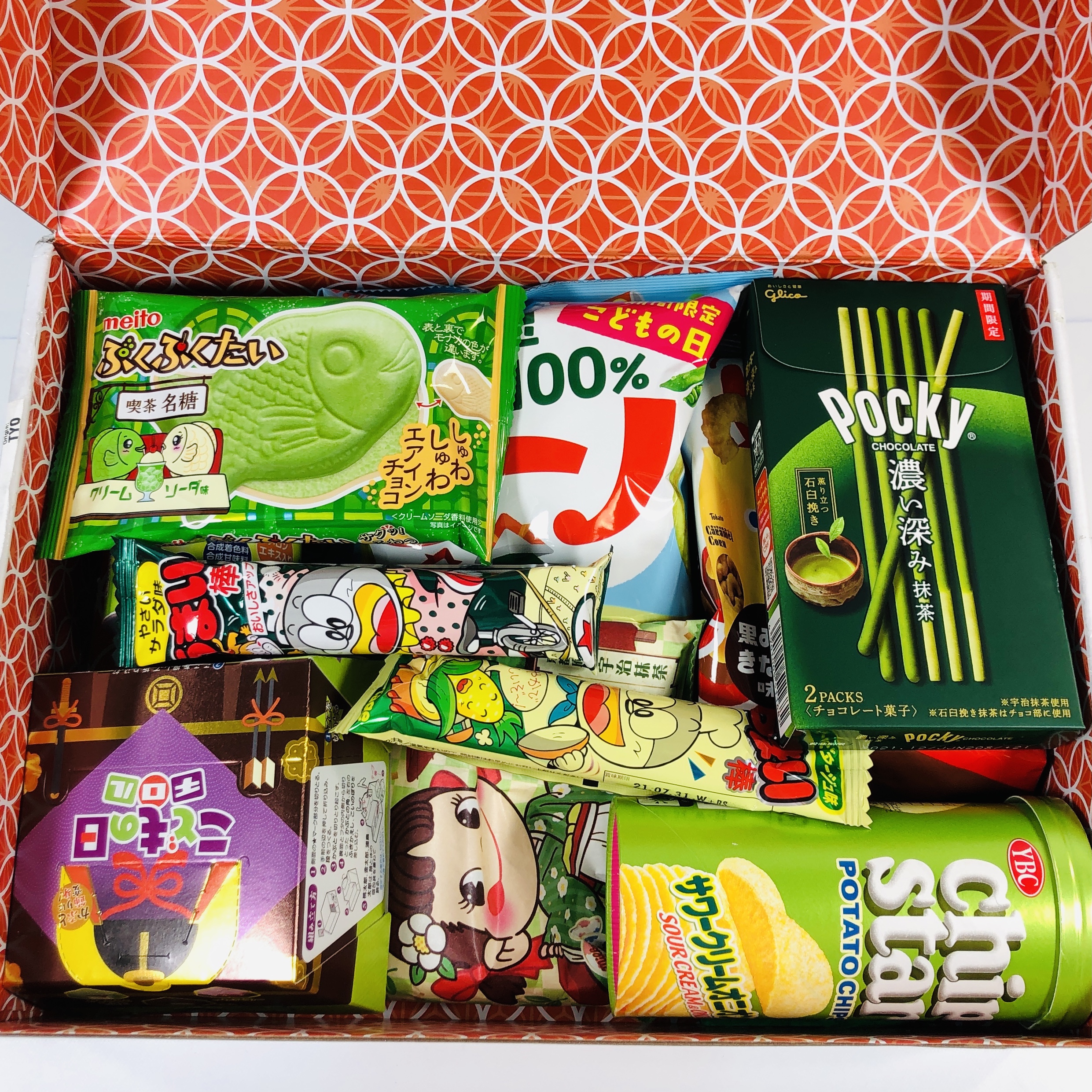 So colorful!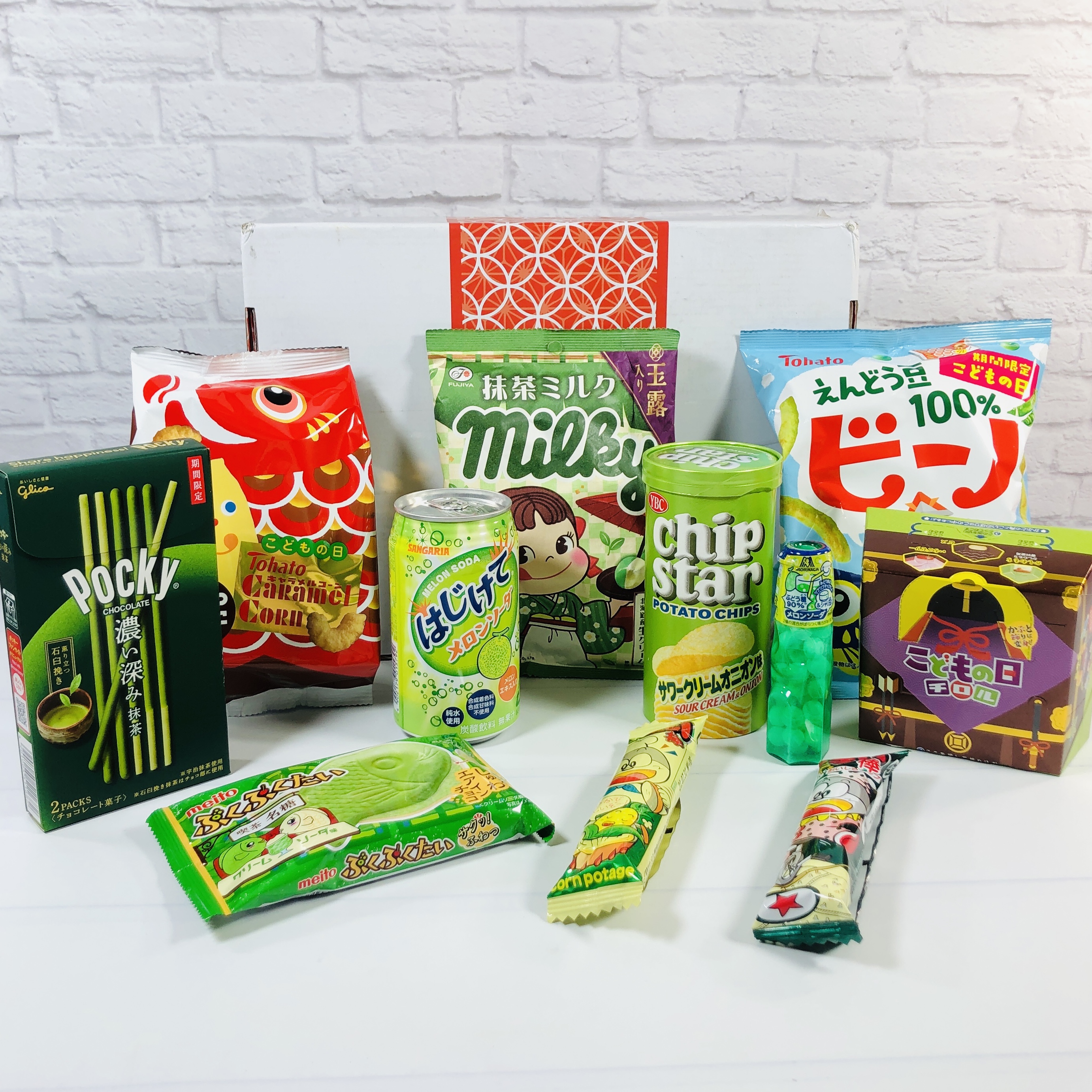 Everything in my box!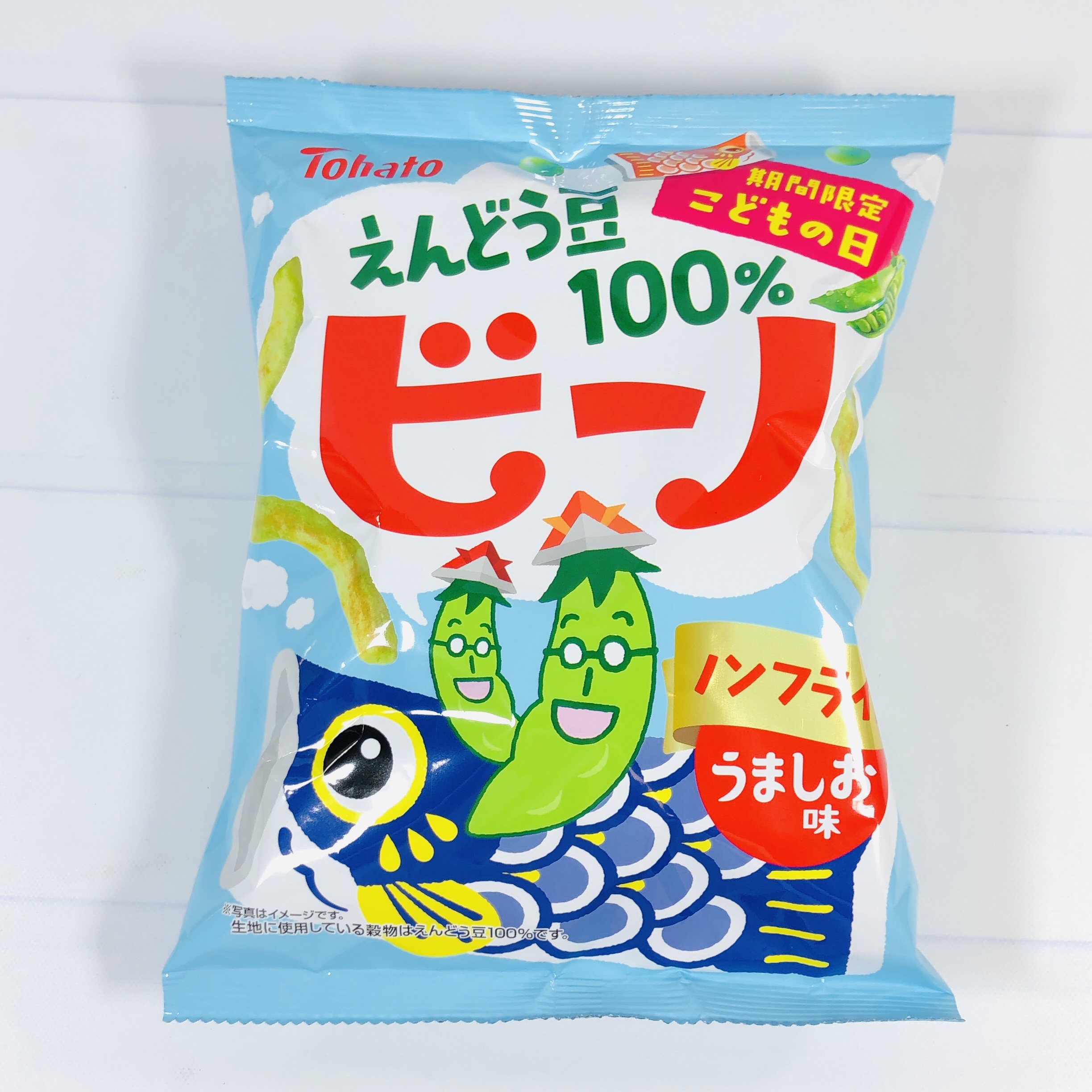 Tohato Bean Children's Day
A delicious, flavorful, and crunchy textured snack that uses 100% crushed peas in their dough! Also enjoy for the first time the spring limited package that celebrates Children's Day with the carp streamer!
I think these are similar to other pea based snacks except they are lighter in texture and flavor and they are easy to chew. The flavor is mild and these are lightly salted and I prefer them to any other pea snacks I've ever tried before!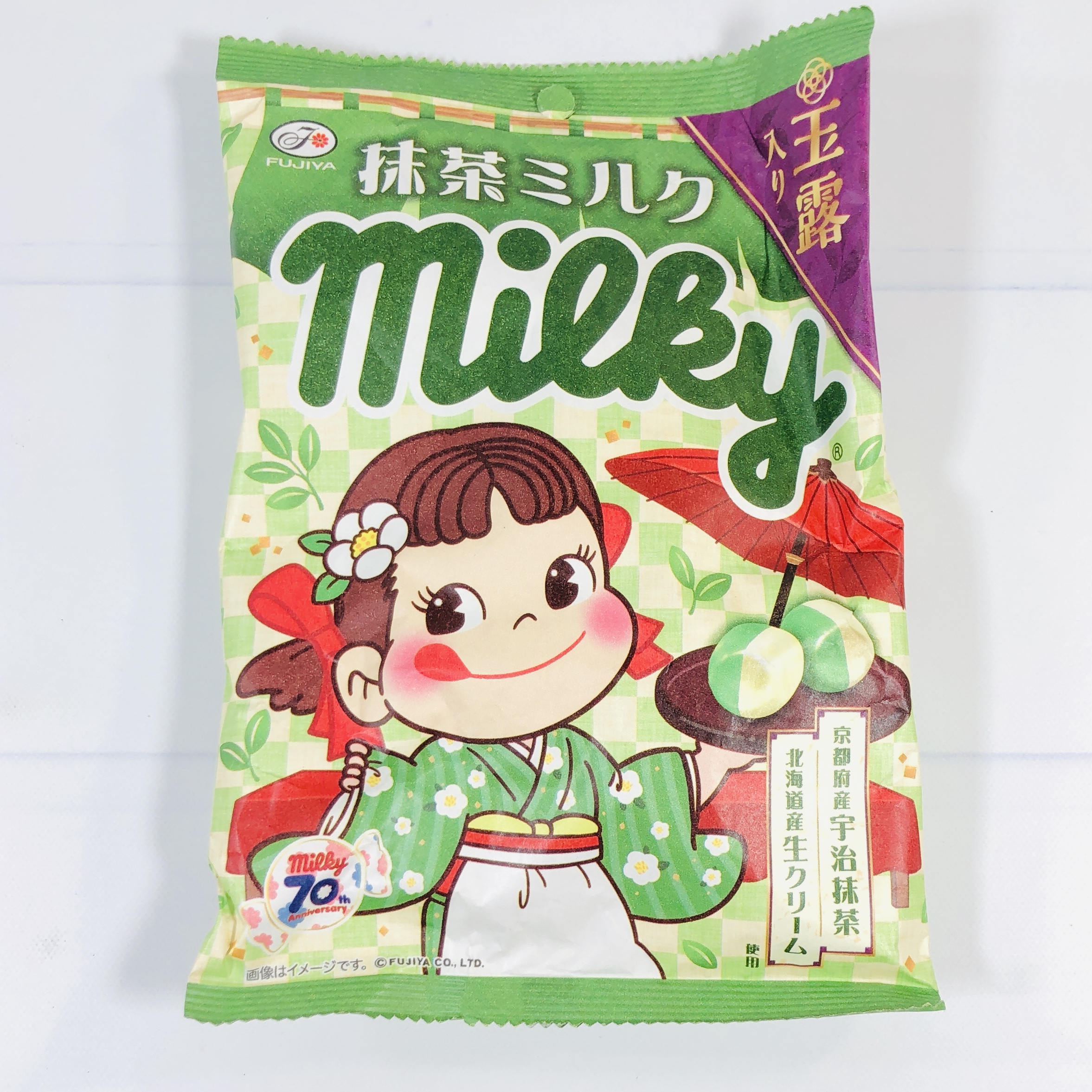 Fujiya Matcha Milky Candy 
A candy that is half matcha and half milky, a combination that you can enjoy in one treat! Taste the mellow sweetness with the rich taste of matcha using Uji Gyokuro from Kyoto Prefecture, while the milky taste comes from the Hokkaido cream!
There was a ton of these candies, all individually wrapped, inside the bag. They are sweet and creamy – imagine having a matcha latte in candy form. The matcha is strong in this candy and tastes like the real deal.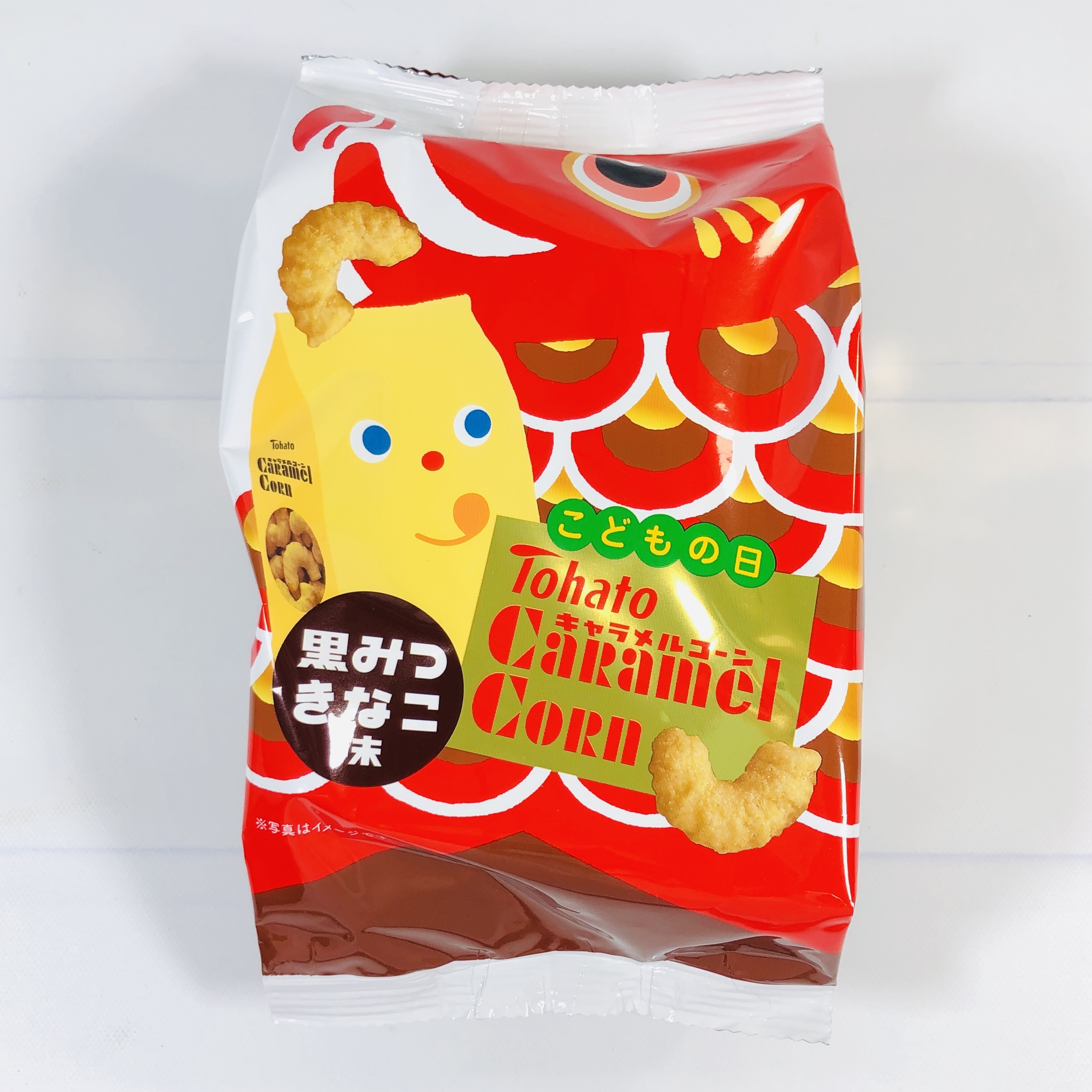 Tohato Caramel Corn in Black Kinako Flavor
This limited edition snack uses kinako made from Hokkaido soybeans with black honey added to it! You can enjoy the fragrant and flavorful taste of black kinako on the popular crispy corn chips! The package celebrates Japan's Children's Day holiday with the carp on its colorful package!
I could almost imagine pouring milk over this and eating it like cereal, similar to Cap 'n Crunch but with a slightly toasty note. It's a flavorful take on caramel corn and I liked it!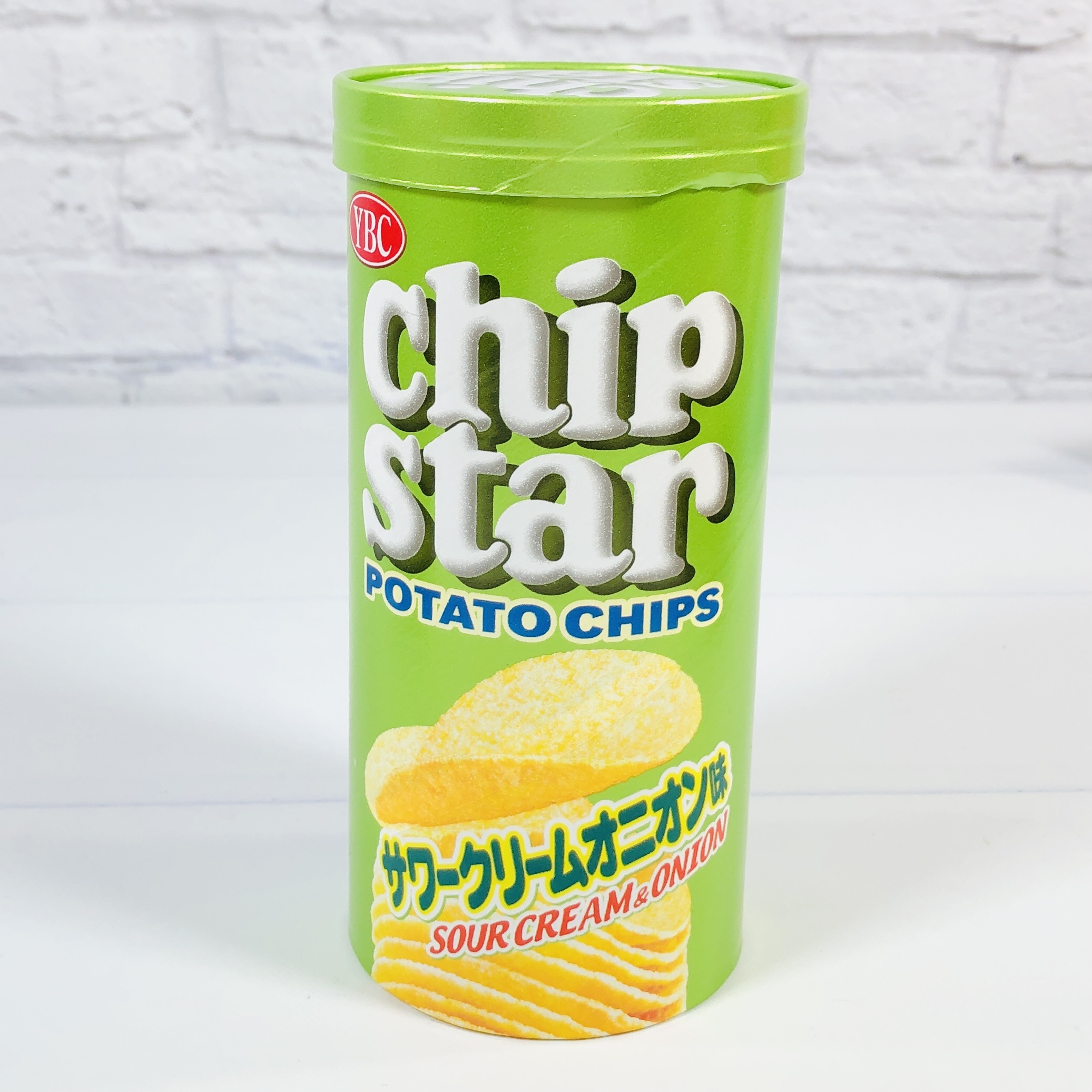 Chip Star Potato Chips in Sour Cream & Onion.
An addictive crunchy chips with the refreshing taste of sour cream and onions! This time Chip Star uses onion paste, which has been kneaded into the dough and then carefully fried until the dough becomes amber. This quality finish makes the onion taste simply delicious!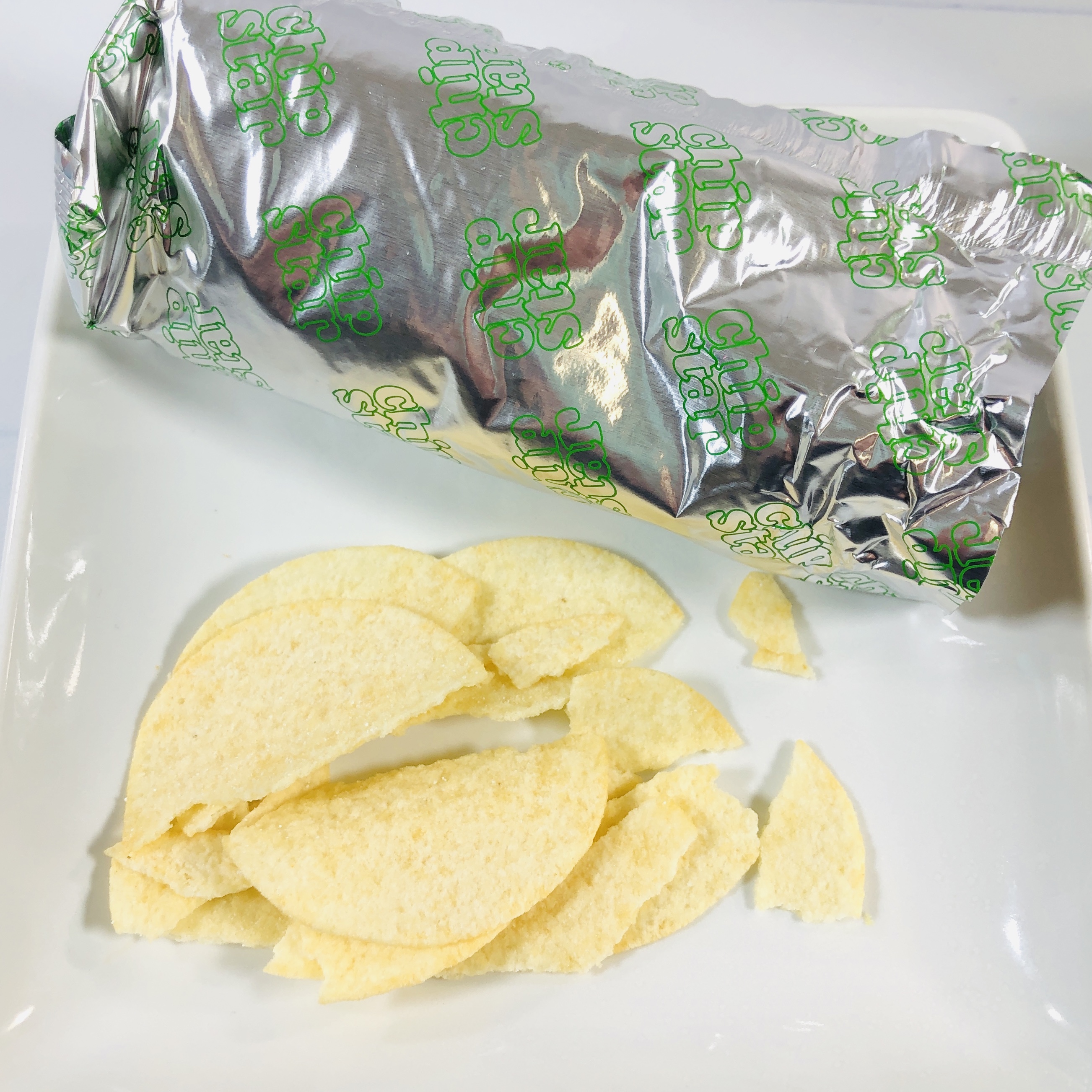 I'm not a Pringles snacker but I have the feeling these are very similar, in texture at least if not in flavor. As far as the flavor goes, it's really tasty and there is the occasional hint of sweetness. These came in a foil wrapper inside the container and the first quarter or so were crushed, but I'm just happy that they have a lid so I can eat them at different times.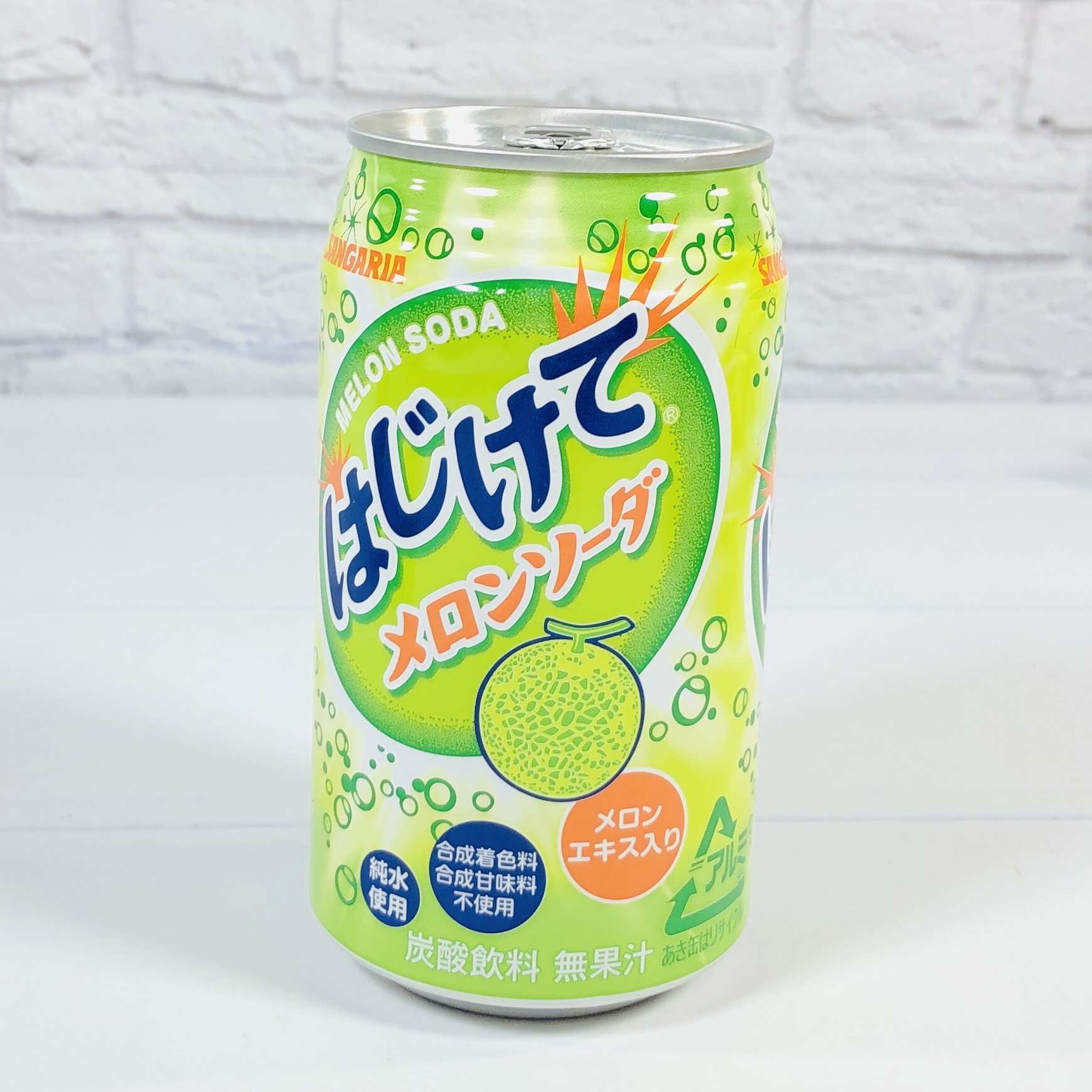 Sangria Pops and Melon Soda
A melon flavored, bursting, refreshing drink that is delicious! It has a taste that you wont get tired of even if you drink it every day! No artificial colors or sweeteners!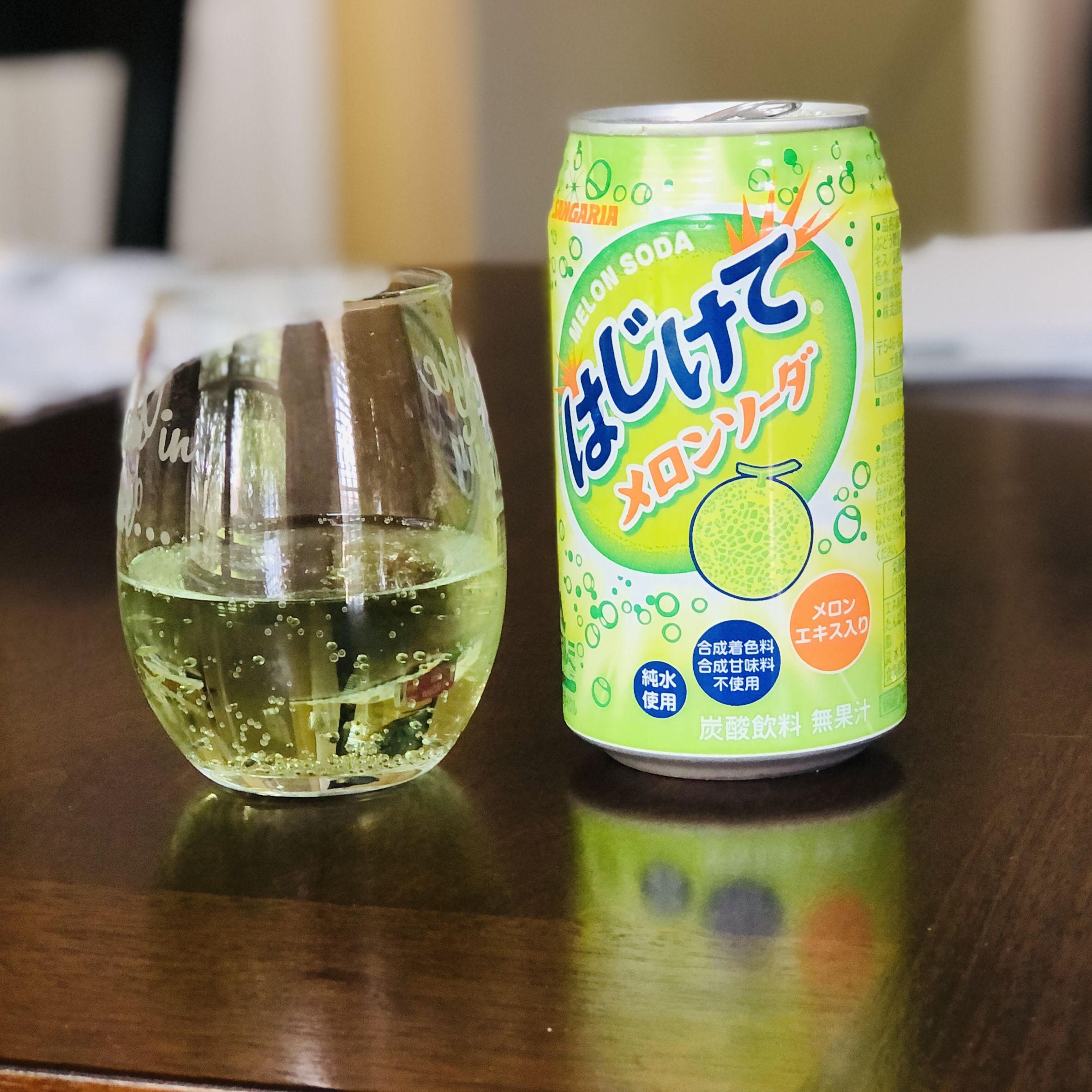 My daughter and I had to agree to disagree on this soda. I thought it tasted like really, extremely sweet, fizzy honeydew melon juice. My daughter, who refuses to eat honeydew, enjoyed this soda, but I don't think I could drink this again.
Deep Matcha Pocky
Enjoy the deep, strong flavor of Japanese matcha with this spring-exclusive Pocky! Both the pretzel stick and the chocolate uses the elegant matcha full of umami and richness!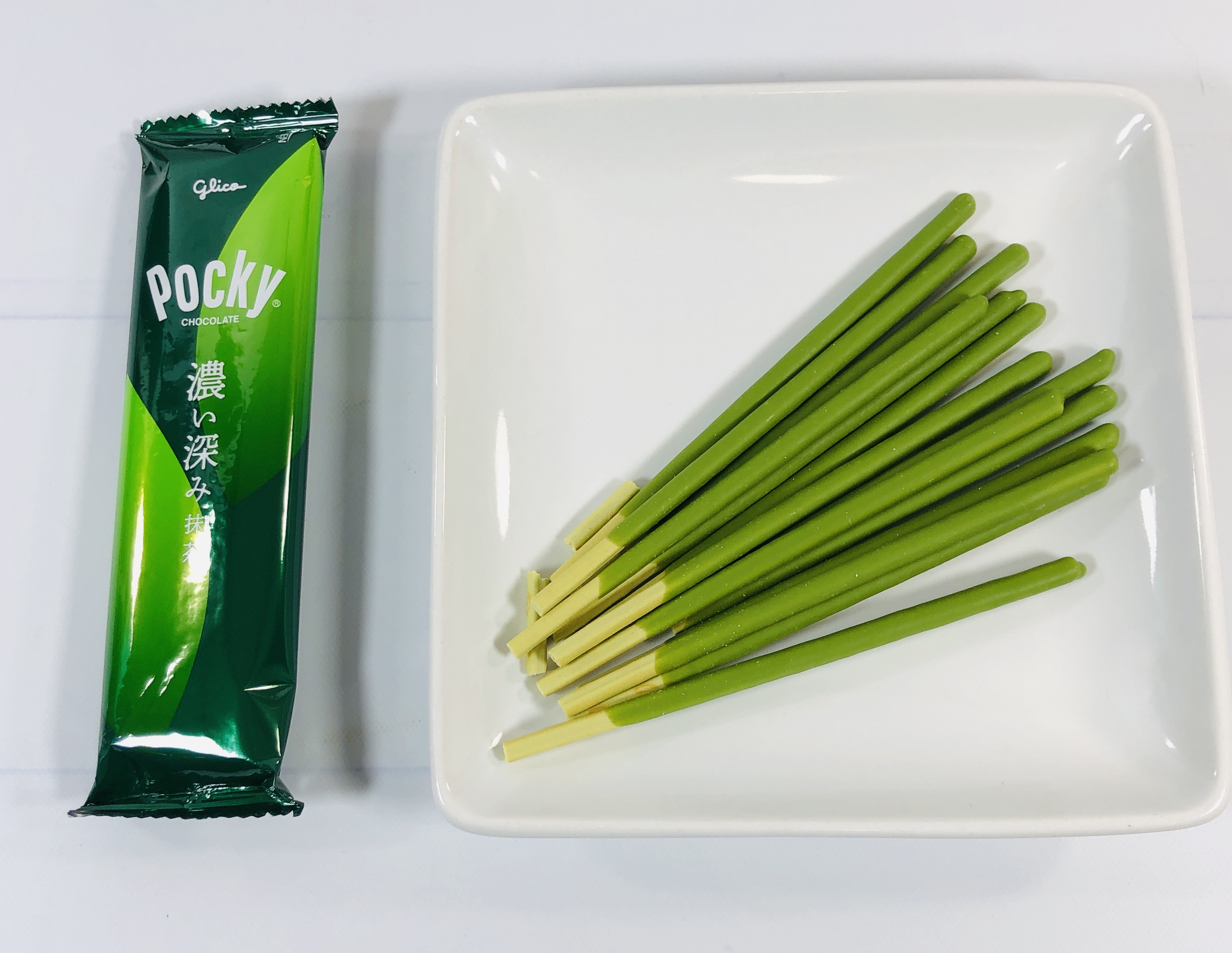 There were two individually wrapped packs of this classic snack stick in the box. The stick is a lightly sweetened cookie, similar to animal crackers, and the coating is matcha-flavored white chocolate. I liked the flavor, it wasn't too strong for my preferences.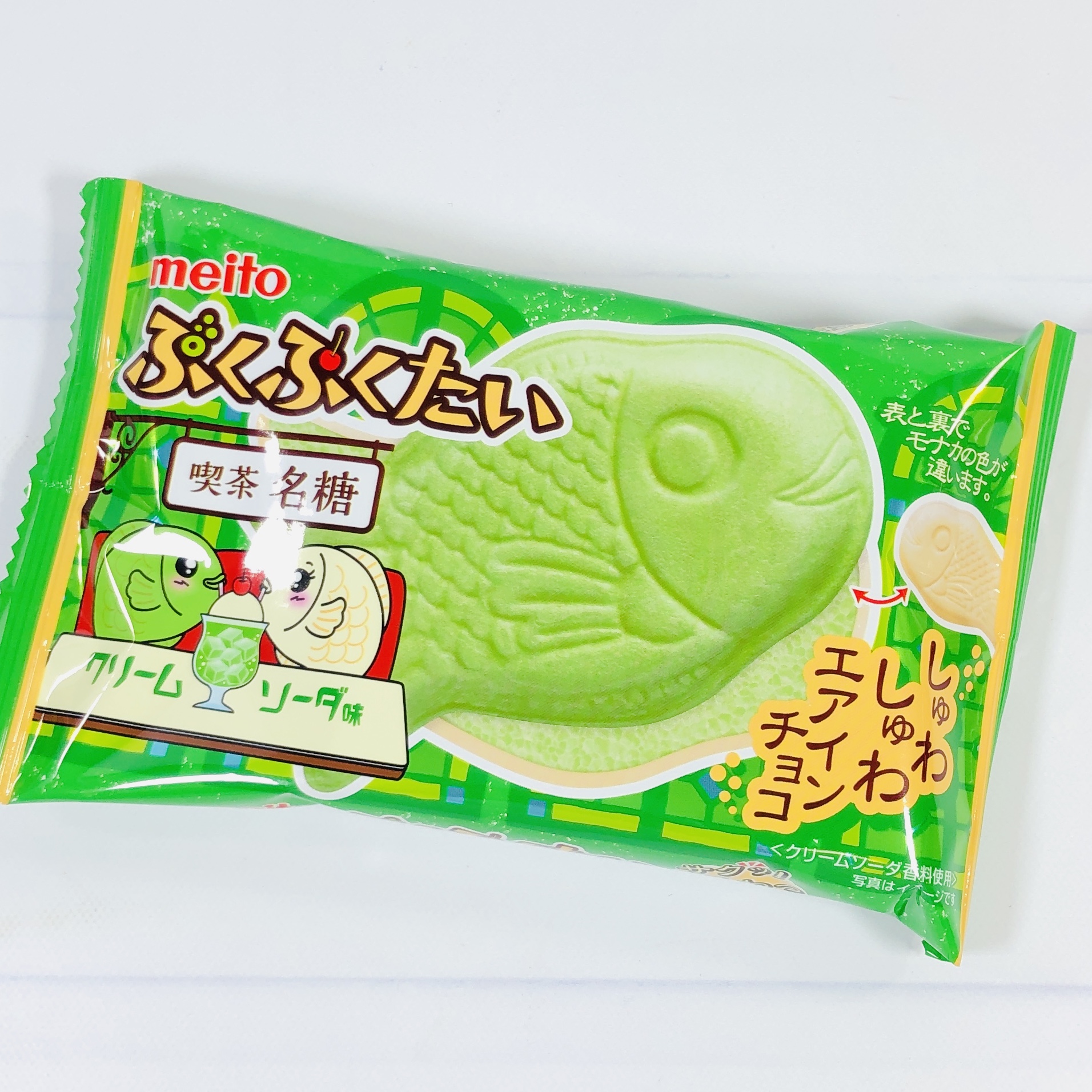 Meito Puku Pukutai Cream Soda
A unique air-in chocolate snack in the shape of a fun taiyaki-shaped wagashi. Inside this crispy treat you will find yummy cream-soda flavored chocolate that is simply delicious!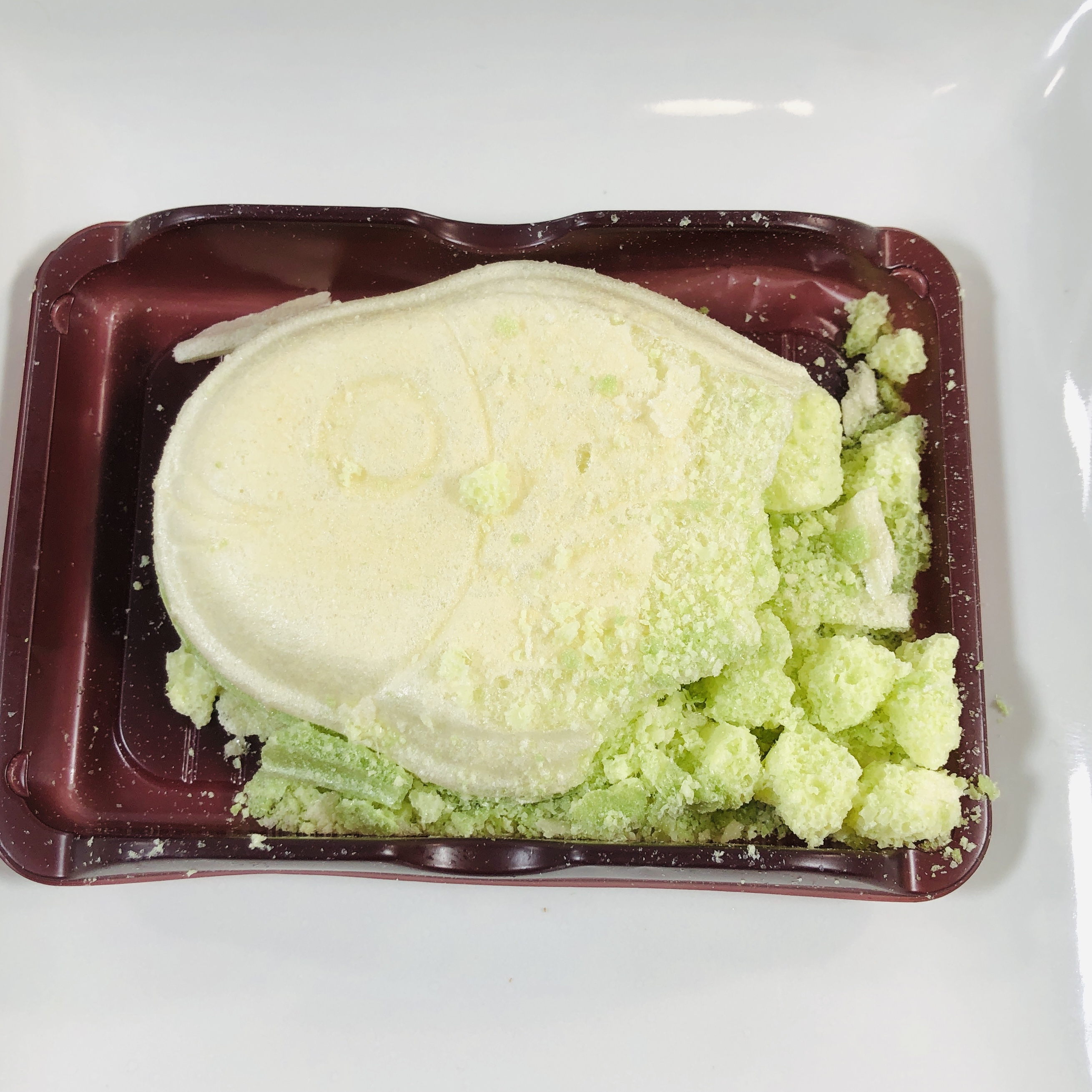 My snack came crushed but was still flavorful. The outside is a wafer while the inside is aerated white chocolate and everything had a melon candy flavor, including the tang of citric acid, and it was weird and also interesting.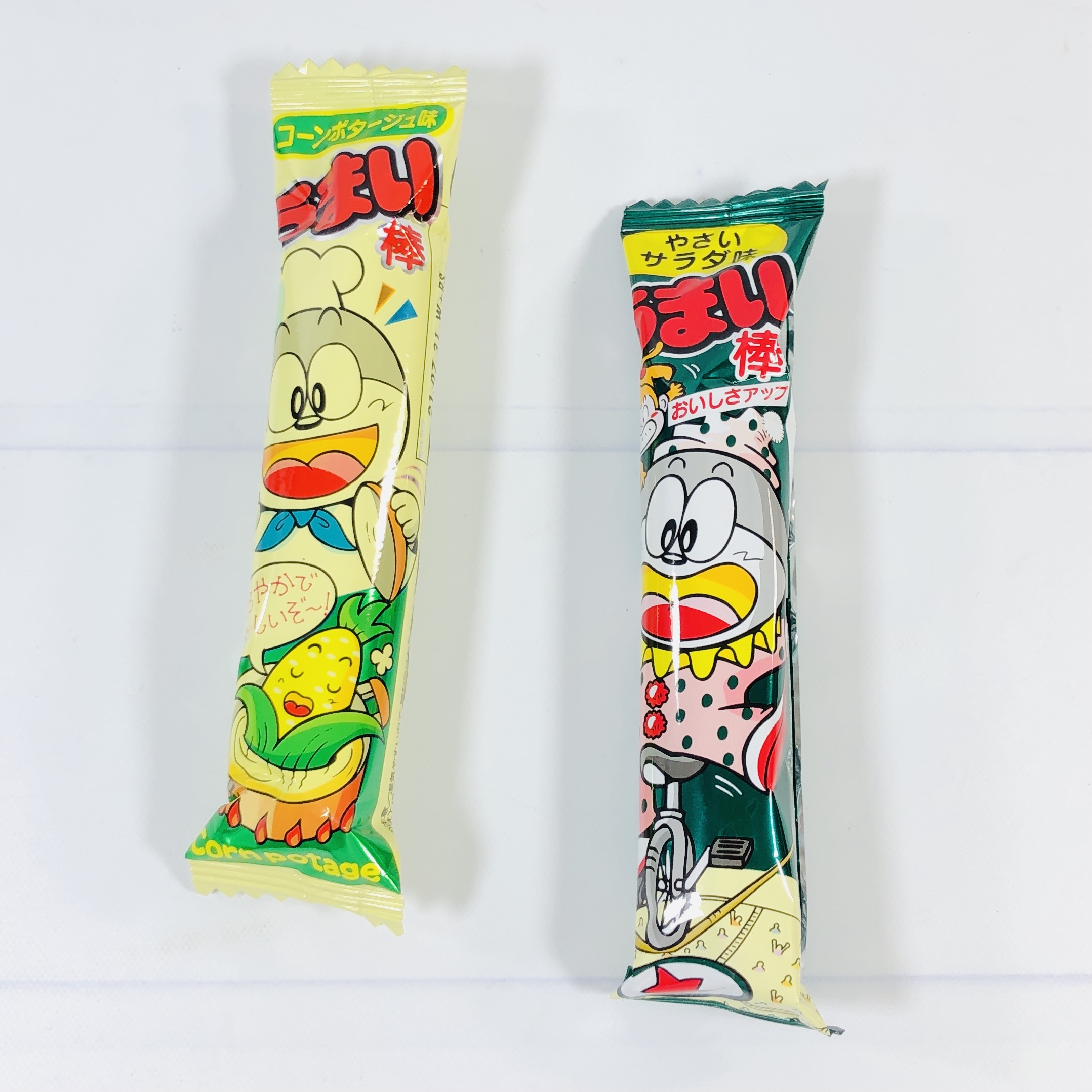 Umaibo in Corn Potage and Yasai Salad
A puffed corn, bite-ready snack in the most popular in a popular corn potage flavor! Tasty and simply delicious savory treat!

A delicious puffy corn stick that is savory and delicious! One bite of this crunchy treat will make you feel like you are eating a vegetable salad with croutons!
Salad Dressing Flavor is on the left, Corn Potage on the right. These are big puffy corn snacks and my favorite is the salad dressing flavor, it is a bit sweet, salty, and umami. Corn potage taste like corn soup!
Ramune Melon Cream Soda Candy
A refreshing ramune candy that melts in your mouth! Taste the melon soda-flavored ramune in this pleasant crispy textured candy that is popular among children!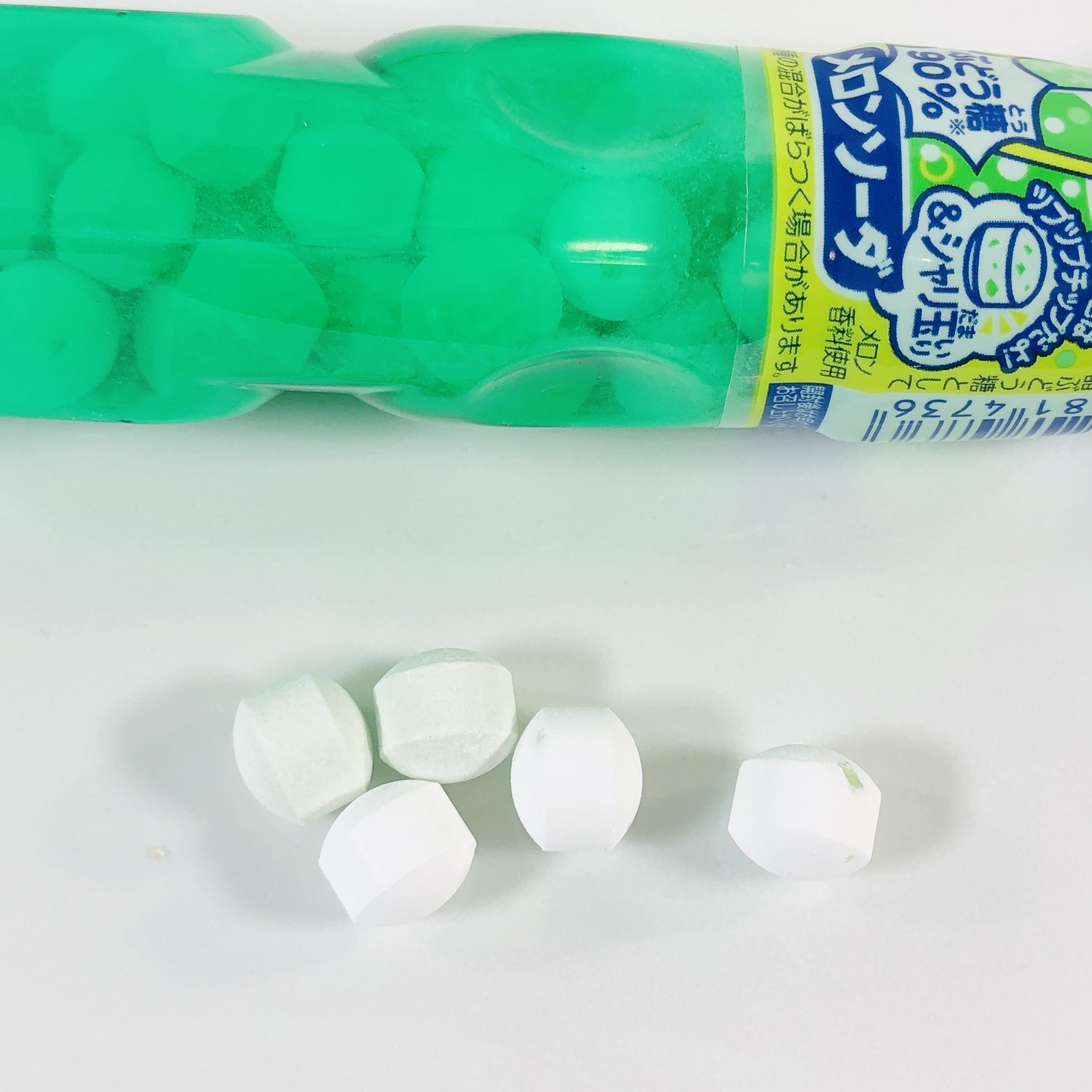 It's kind of hard to tell from the picture but some of the candies are white with green flecks and some are just green. I think the green kind are melon flavored and white are lemon lime soda flavor. The consistency is almost effervescent, like a real soda.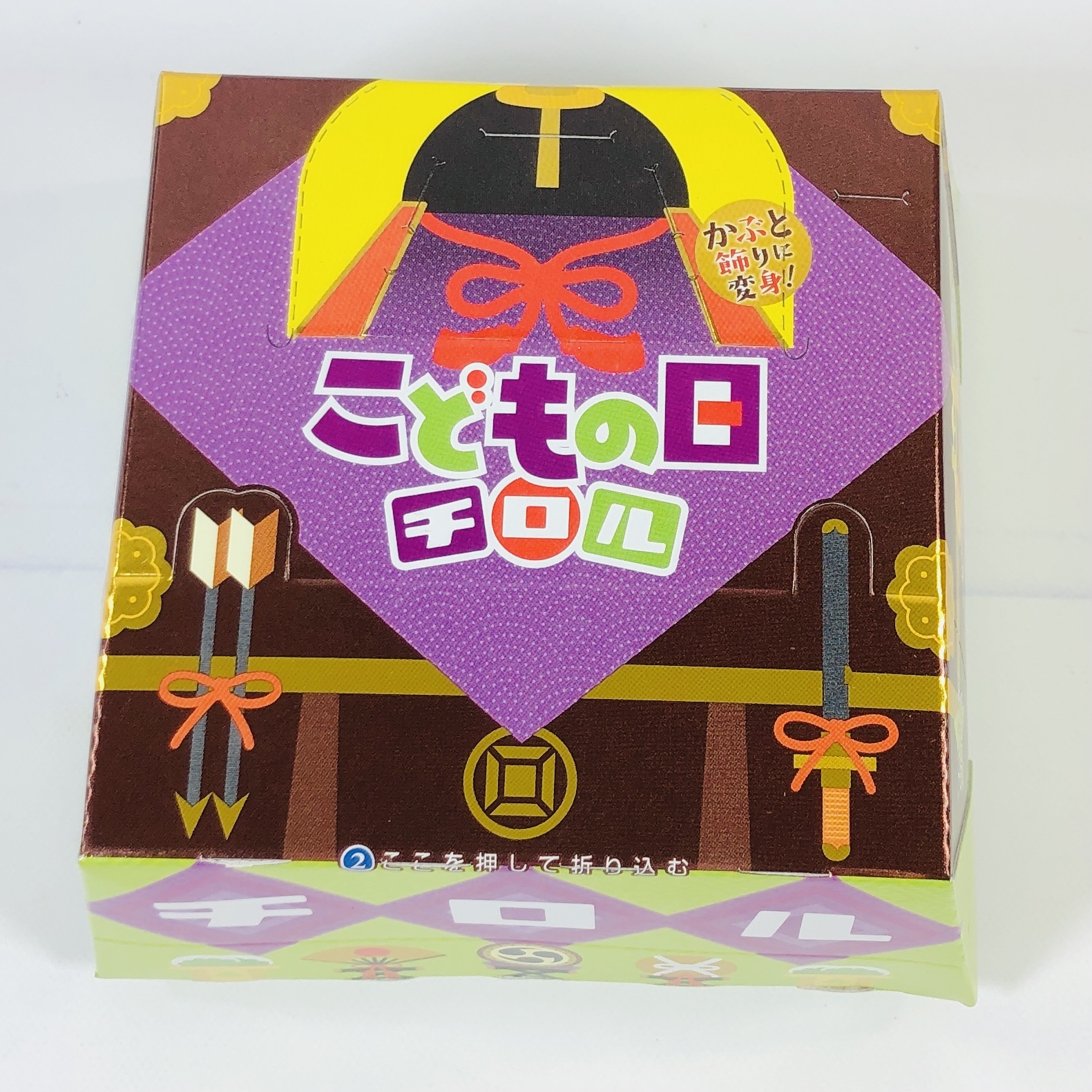 Tirol Choco Children's Day
Tyrolean is celebrating Children's Day with a package of 20 chocolates pieces! Inside you will find chocolate biscuit flavor, pink chocolate with strawberry jelly, and kashiwa-mochi flavor! Kashiwa-mochi is a sweet eaten during Children's Day, and Tyrolean replicated it into chocolate form, as they use ogura paste and mochi gummies! The fun part is that you can assemble and build your Children's Day box with individual wrapping of Momotaro, Kintaro, and Urashima Taro, popular Japanese folklore characters.
I know this box is supposed to turn into a samurai but I couldn't figure it out, and even my daughter tried using Google translate, but no luck.
The candies are individually wrapped and there are three different flavors.
The pink top has strawberry flavored jelly inside and white (er, pink) chocolate and milk chocolate outside — it reminded me of Neopolitan ice cream! The green cube has a flavor I've never heard of but it's pretty much white (um, green) chocolate on the outside and a chewy mochi inside that may be red bean flavored but that reminded me of peanut butter. The larger square on top has a cookie on the inside that reminds me of the cookie part of a Twix, and then the outside is a deep milk chocolate. All were super delicious and the quality of the chocolate was excellent.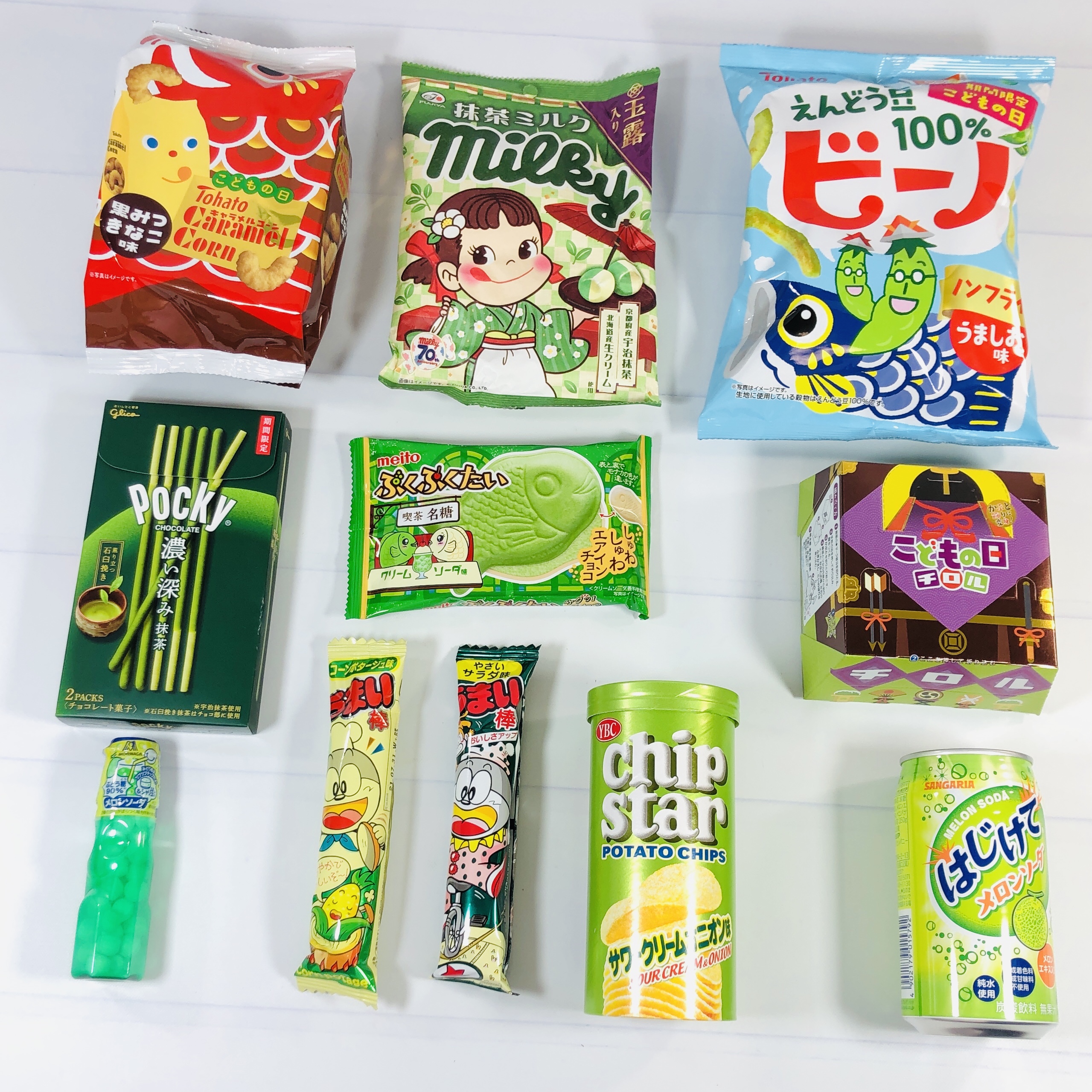 What a fun box this month, it was so colorful and tasty! I discovered so many new snacks and a couple of old favorites but all of it was interesting. I'm having a hard time picking a favorite but the Tirol candies were of such amazing quality and the salad dressing umaibo stick is my favorite stick flavor of all. Plus the melon ramune was a tasty twist on a favorite of mine, with it's hint of effervescence. WOWBOX does a great job of curating such a cool box and I can't wait for the next shipement!
What do you think of this box?