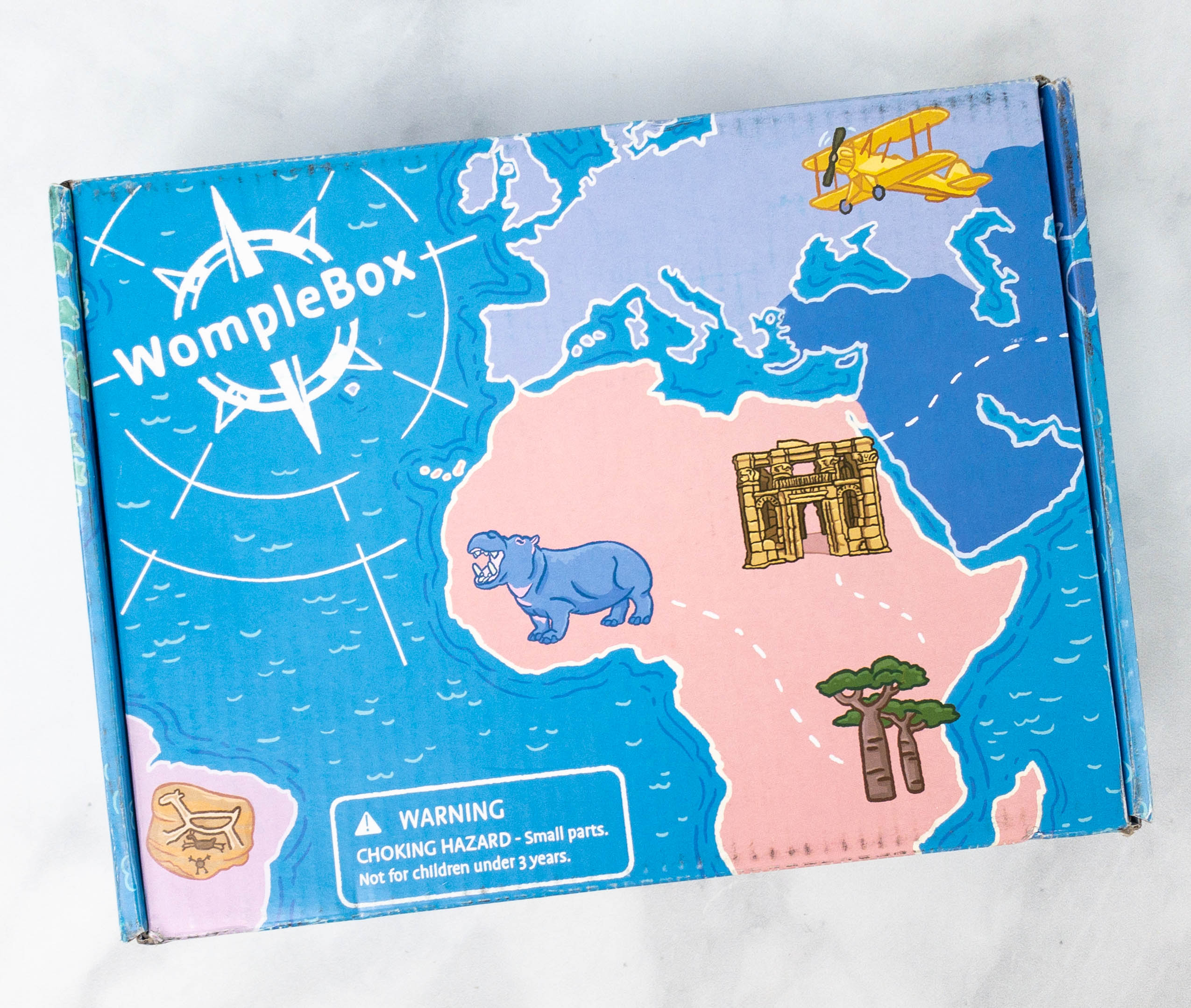 WompleMail is a monthly snail-mail subscription intended for kids who love new adventures! The box costs $24.99 each month, and you can save more when you subscribe for 3, 6, or 12 months, plus it comes with free shipping. Each month, a traveling pen pal sends fun letters and engaging activities about a new off-the-beaten-path place in the world. The box also encourages reading through storytelling and teaches kids about different cultures and destinations. This subscription is ideal for kids age 6-11.
DEAL: Get $5 off any subscription Use coupon code HELLOWOMPLE.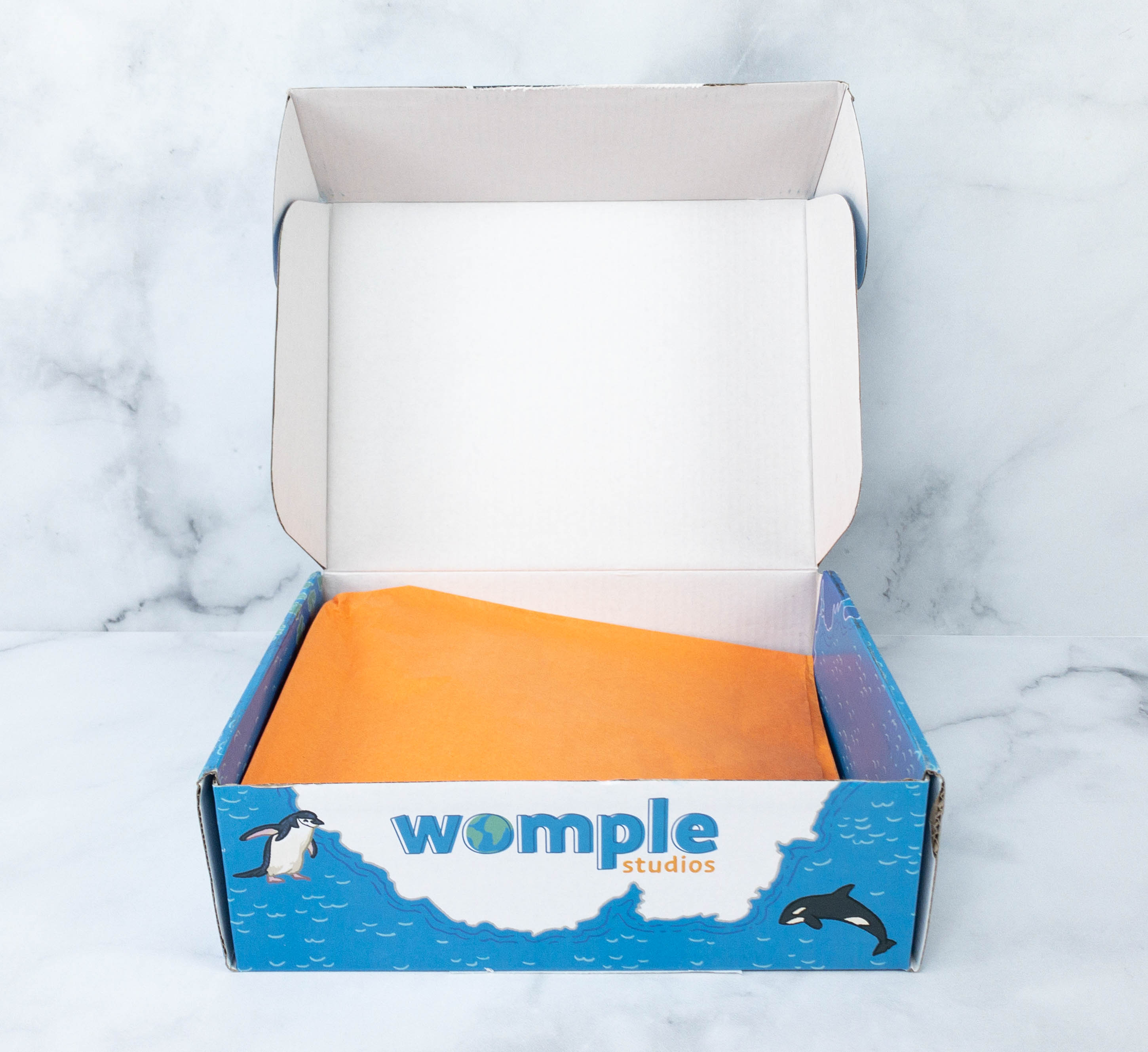 The items were wrapped in orange tissue paper.
Some of the materials were wrapped in plastic.
Everything in the box!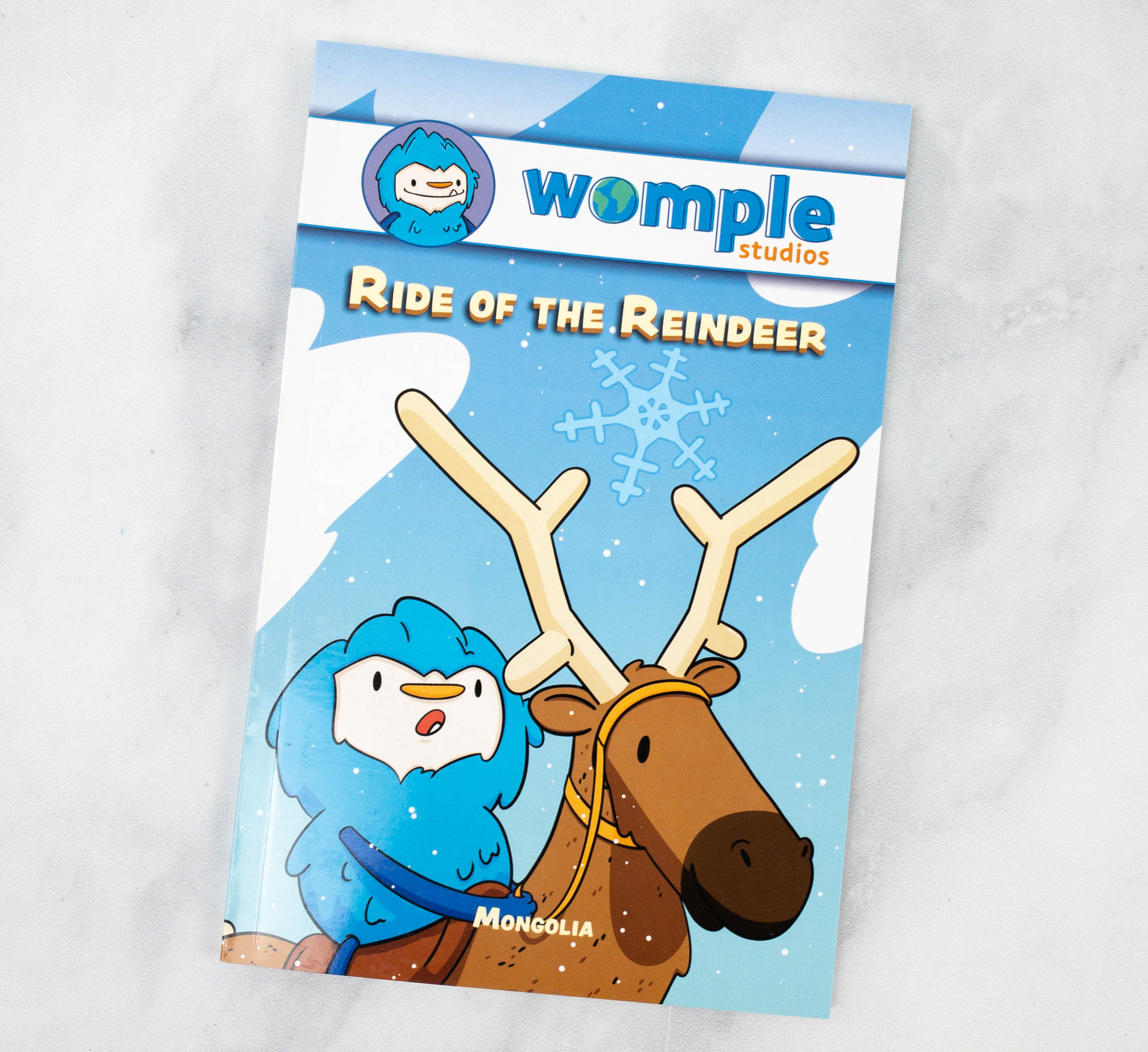 It's another box full of adventure. Mongolia is the featured country for the month!
When my friend's favorite reindeer goes missing, it's up to us to find him. The only problem is, we don't know where to look! Join me and my reindeer-herding friends as we make a midnight escape, venture through mysterious forests and into icy mountains, steal from some thieves, and make a discovery so GREAT that no one will ever believe us. Welcome to Mongolia!
My kids loved reading the monthly booklet from Womple Mail Kids!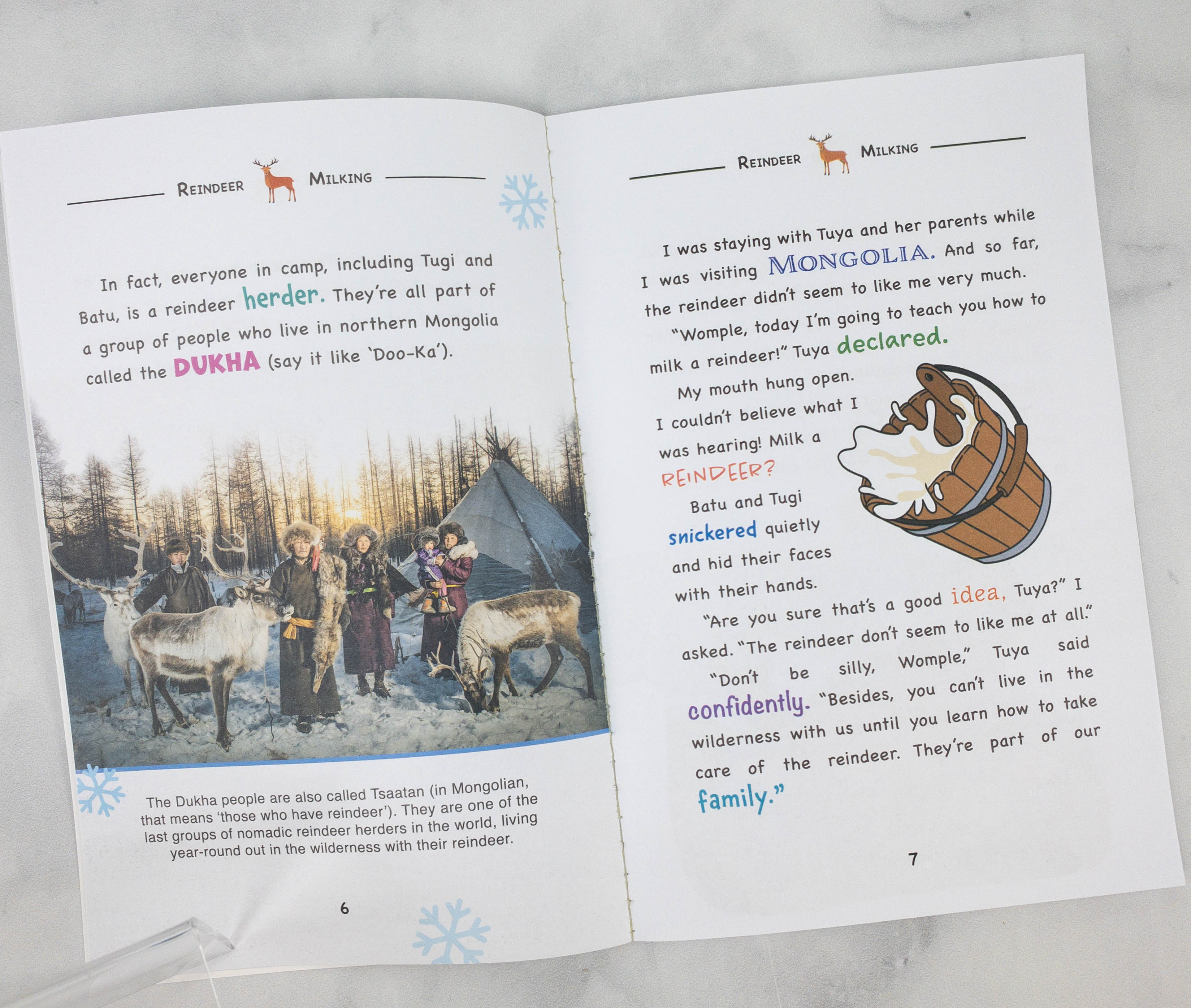 This part of the booklet features Dukha, a group of people who lives in northern Mongolia.
It also has a fun fact about Golden Eagles.
Golden eagles have large wings that measure 6 to 7 feet across! Their powerful wings, excellent eyesight, and sharp talons make them skilled hunters.
My kids also love the artworks and photos included in the booklet.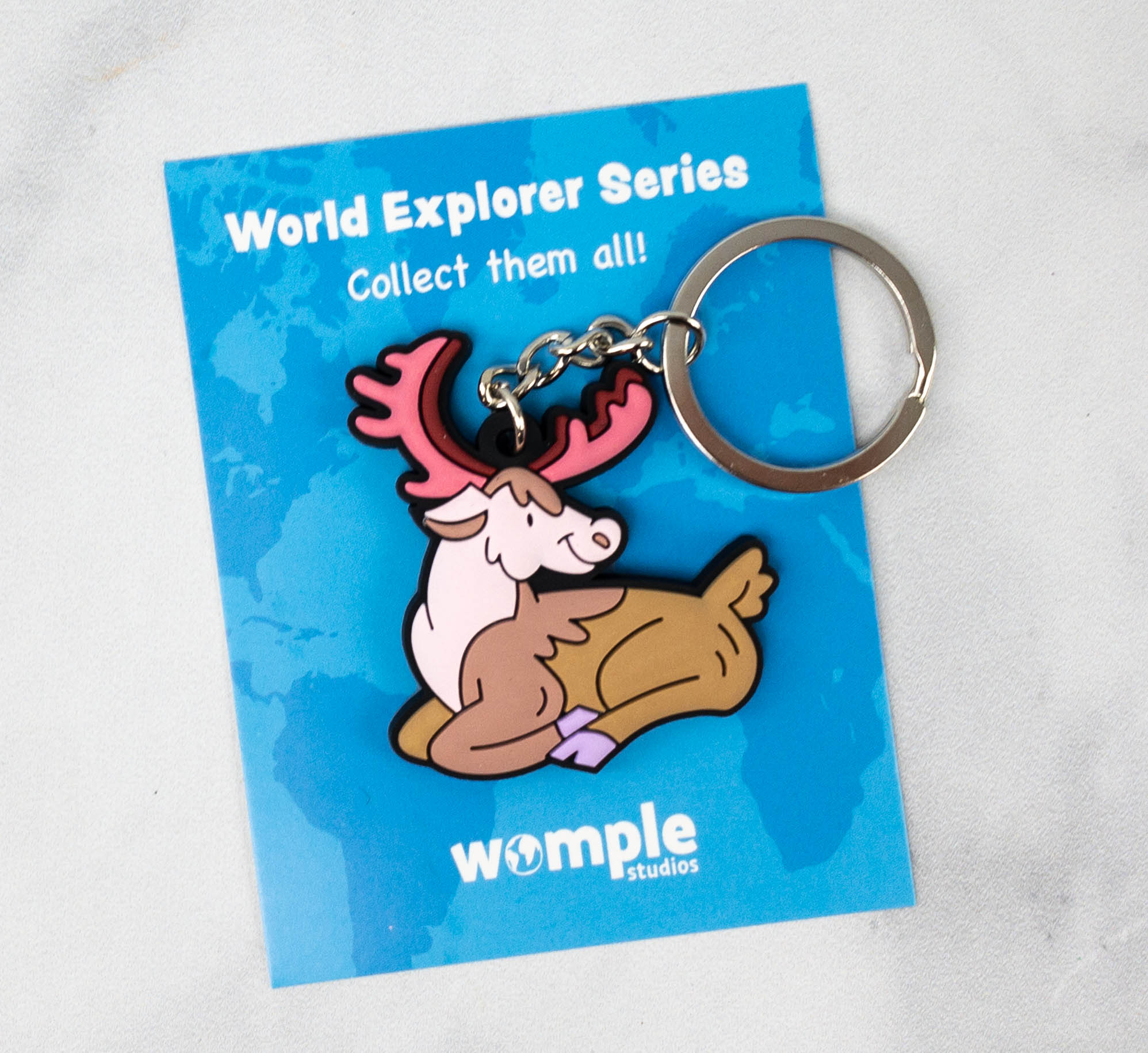 Keychain. This month's featured keychain is a reindeer!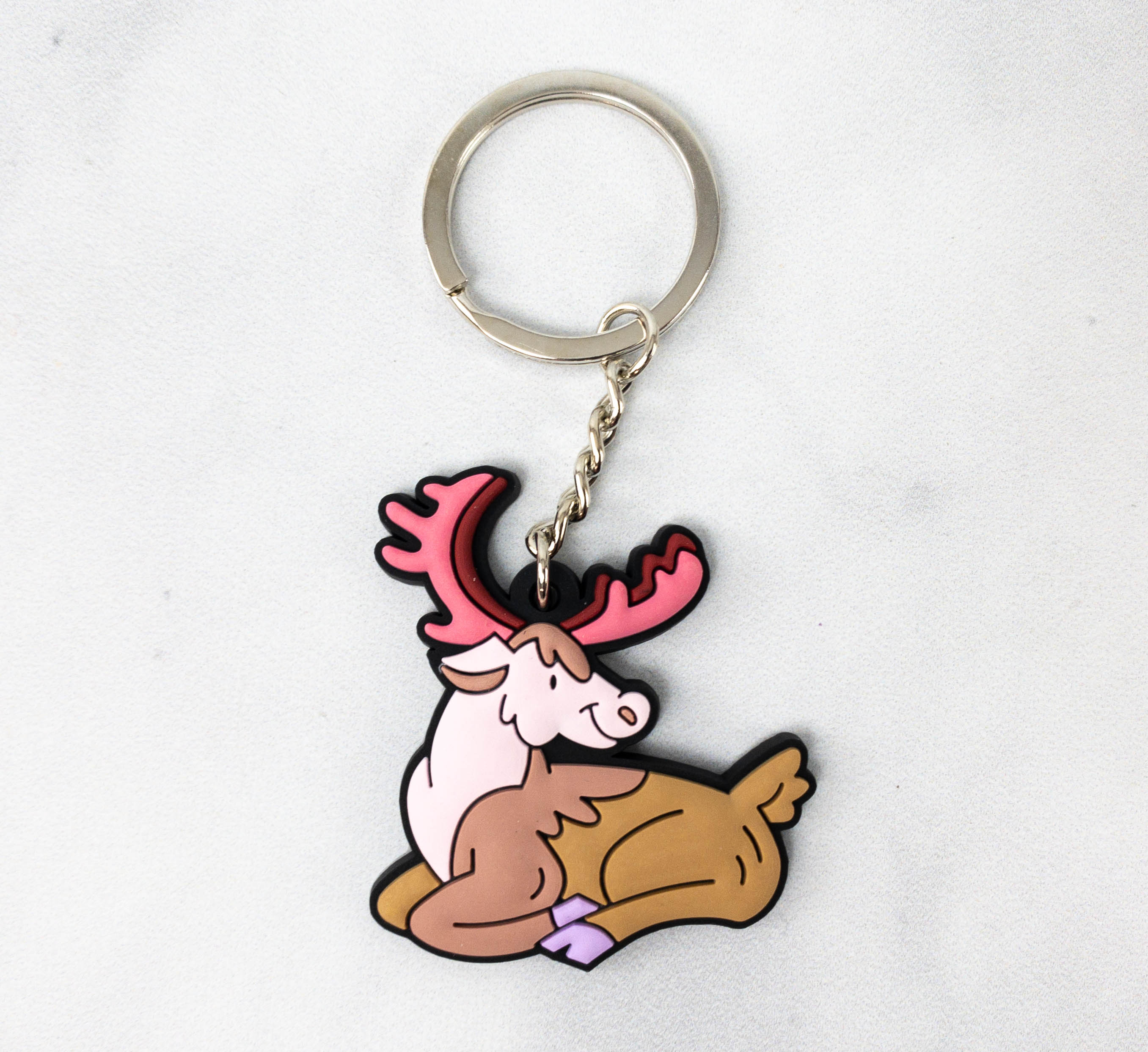 It's a part of Womple's World Explorer Series keychains.
Stickers. This sticker sheet features iconic people, things, and animals from Mongolia, including Genghis Khan, Golden Eagle, Ger, Reindeer, Dukha Boy, and Ortz. These are meant for matching to the map provided in the box.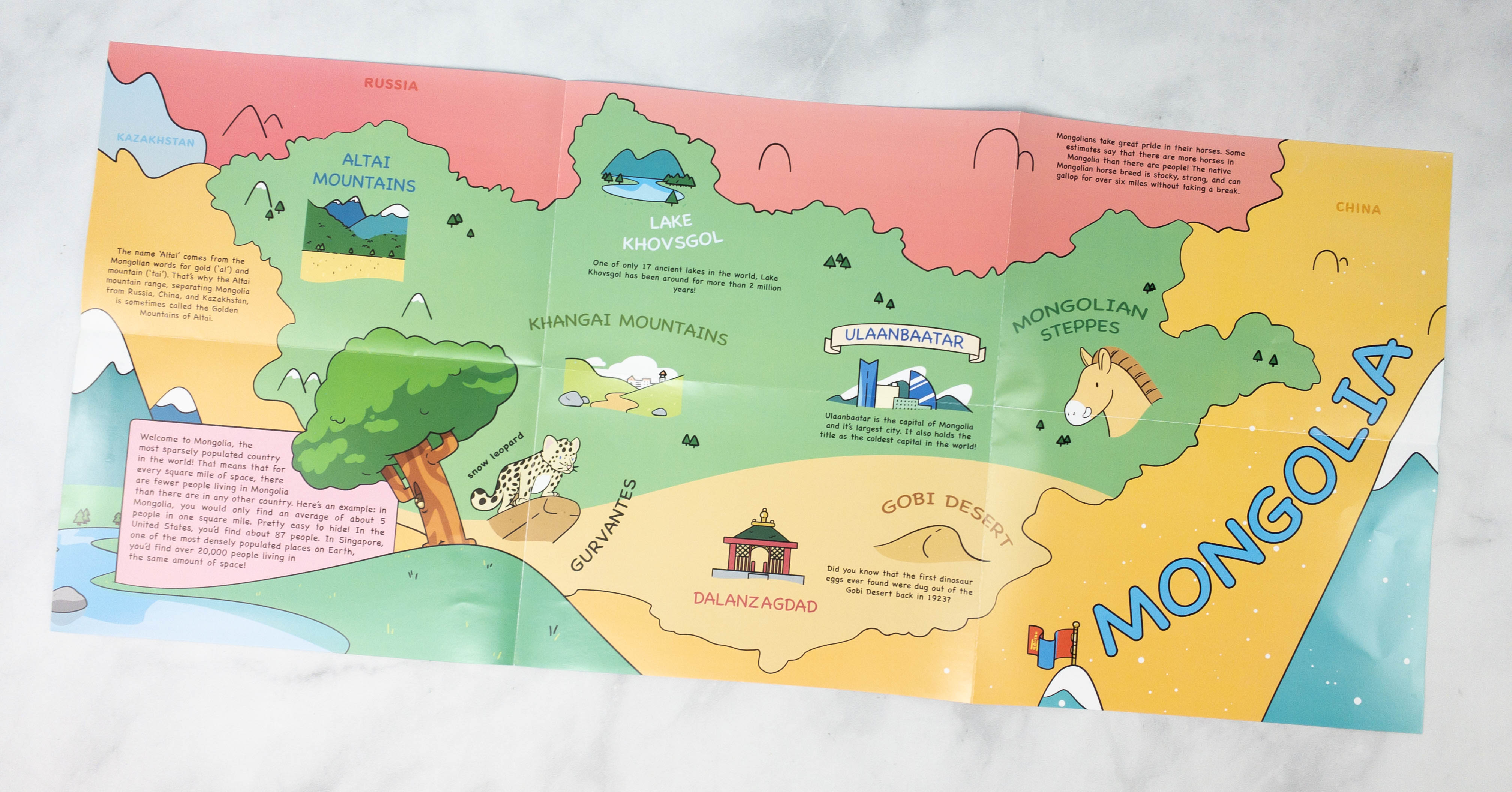 Here's the included map of Mongolia!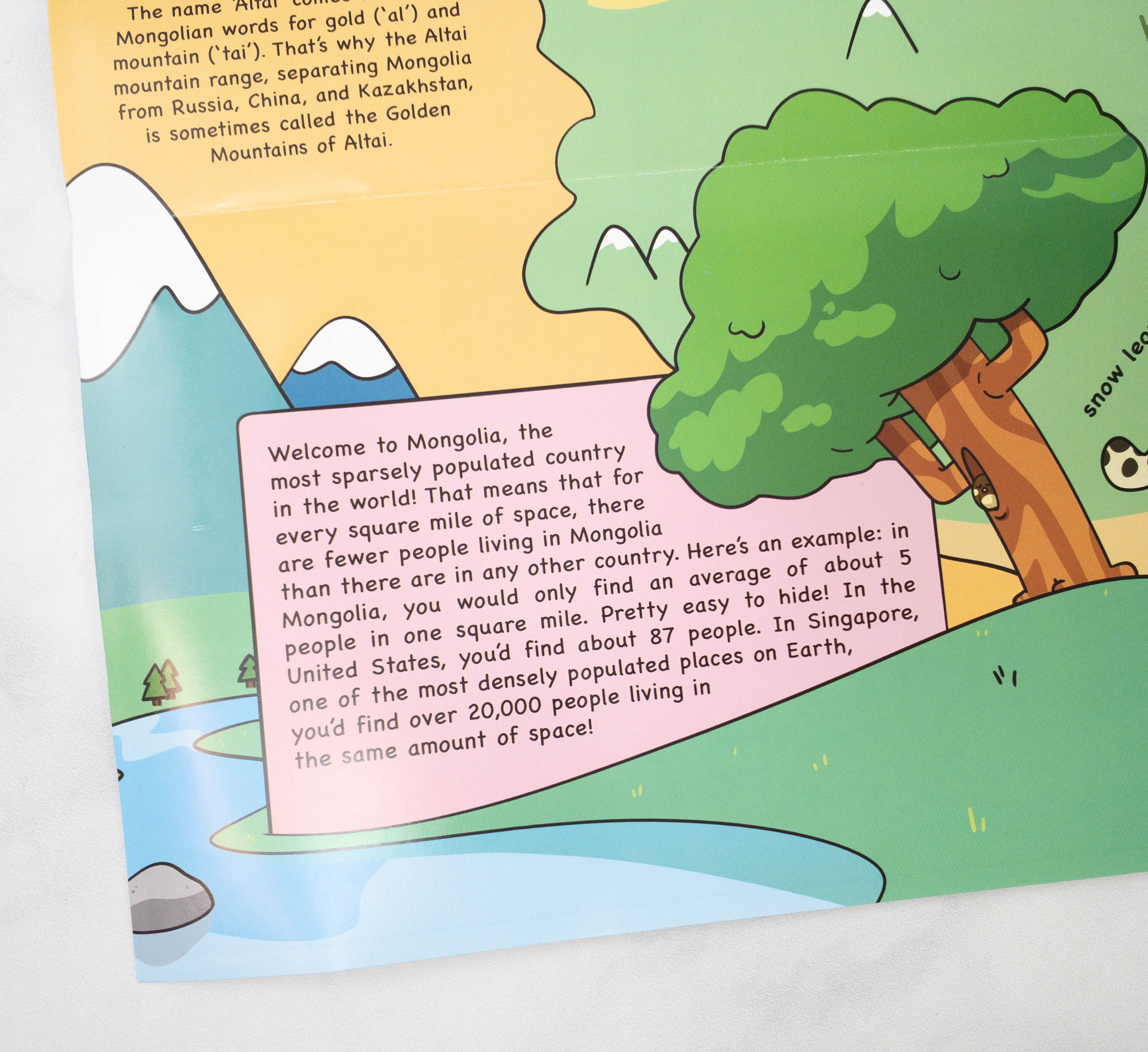 Welcome to Mongolia, the most sparsely populated country in the world! That means that for every square mile of space, there are fewer people living in Mongolia than there are in any other country. Here's an example: in Mongolia, you would only find an average of about 5 people in one square mile. Pretty  easy to hide! In the United States, you'd find about 87 people. In Singapore, one of the most densely populated places on Earth, you'd find over 20,000 people living in the same amount of space!
My kids read the descriptions on the map to determine where they will put the reusable stickers.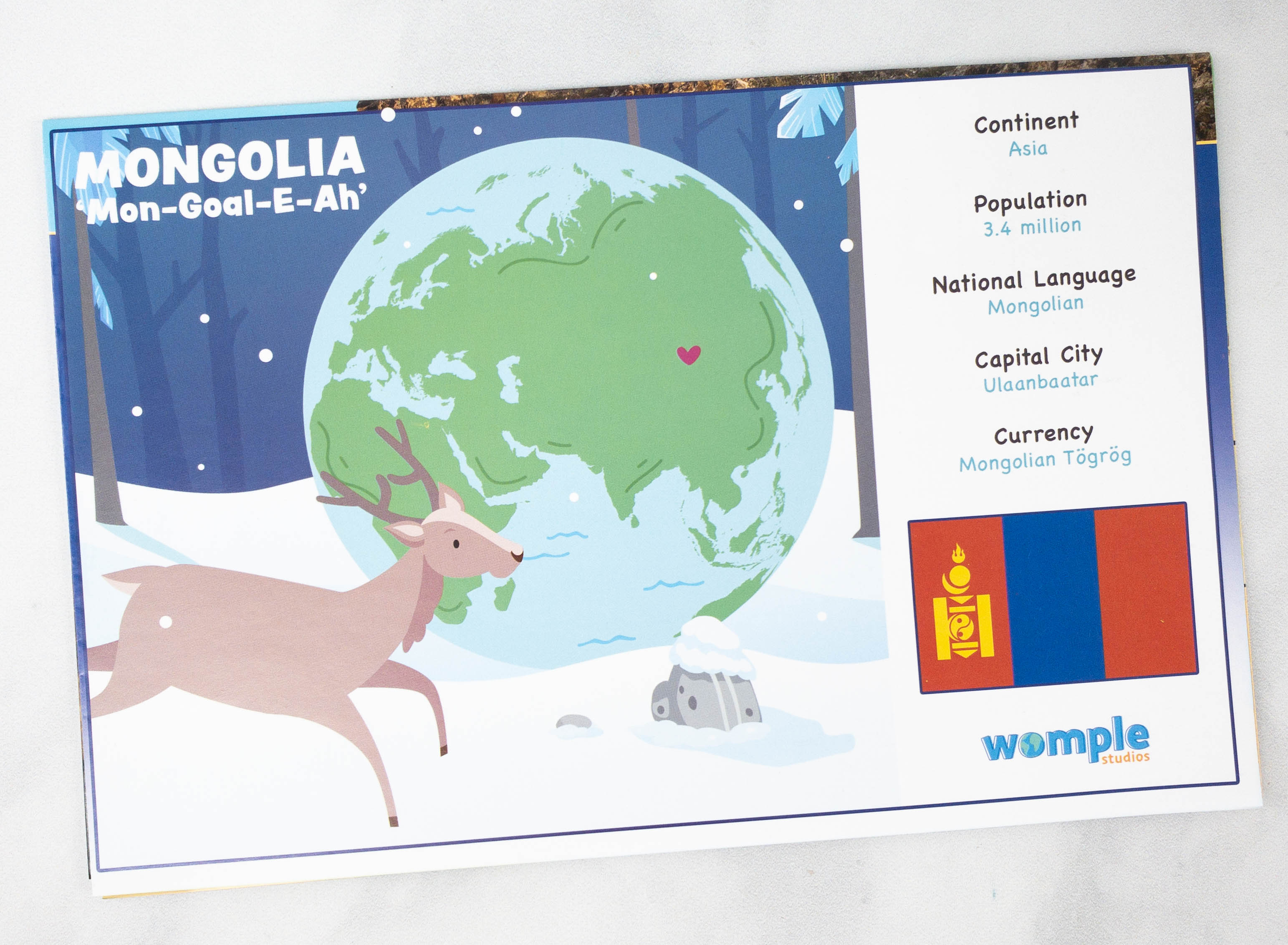 This card contains some important information about the country like population, national language, capital city, currency, and the continent that it belongs to!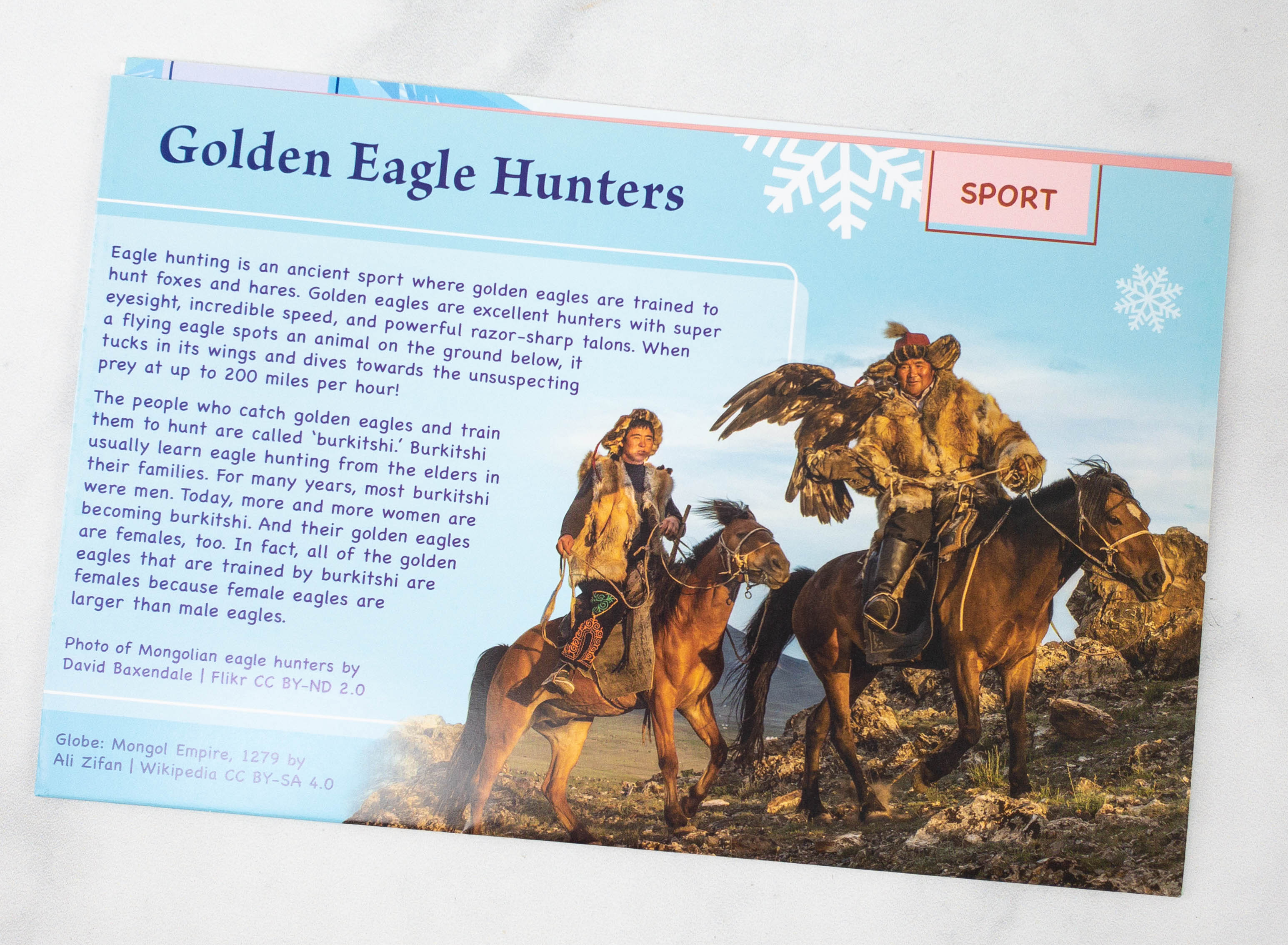 Eagle hunting is also featured on this card. It's an ancient sport involving golden eagles hunting foxes and hares.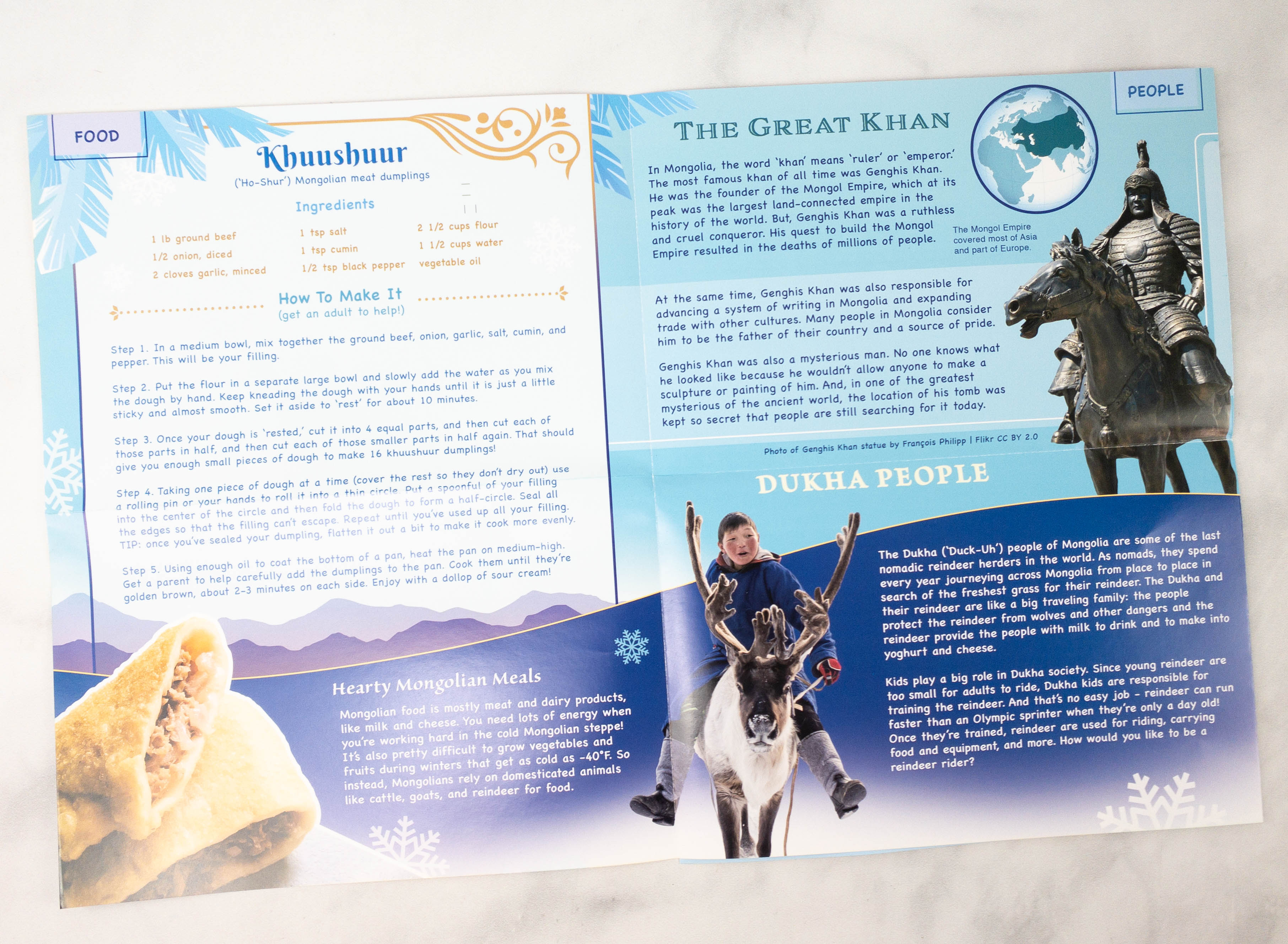 The next feature is about Genghis Khan, Mongolia's most famous ruler or emperor of all time.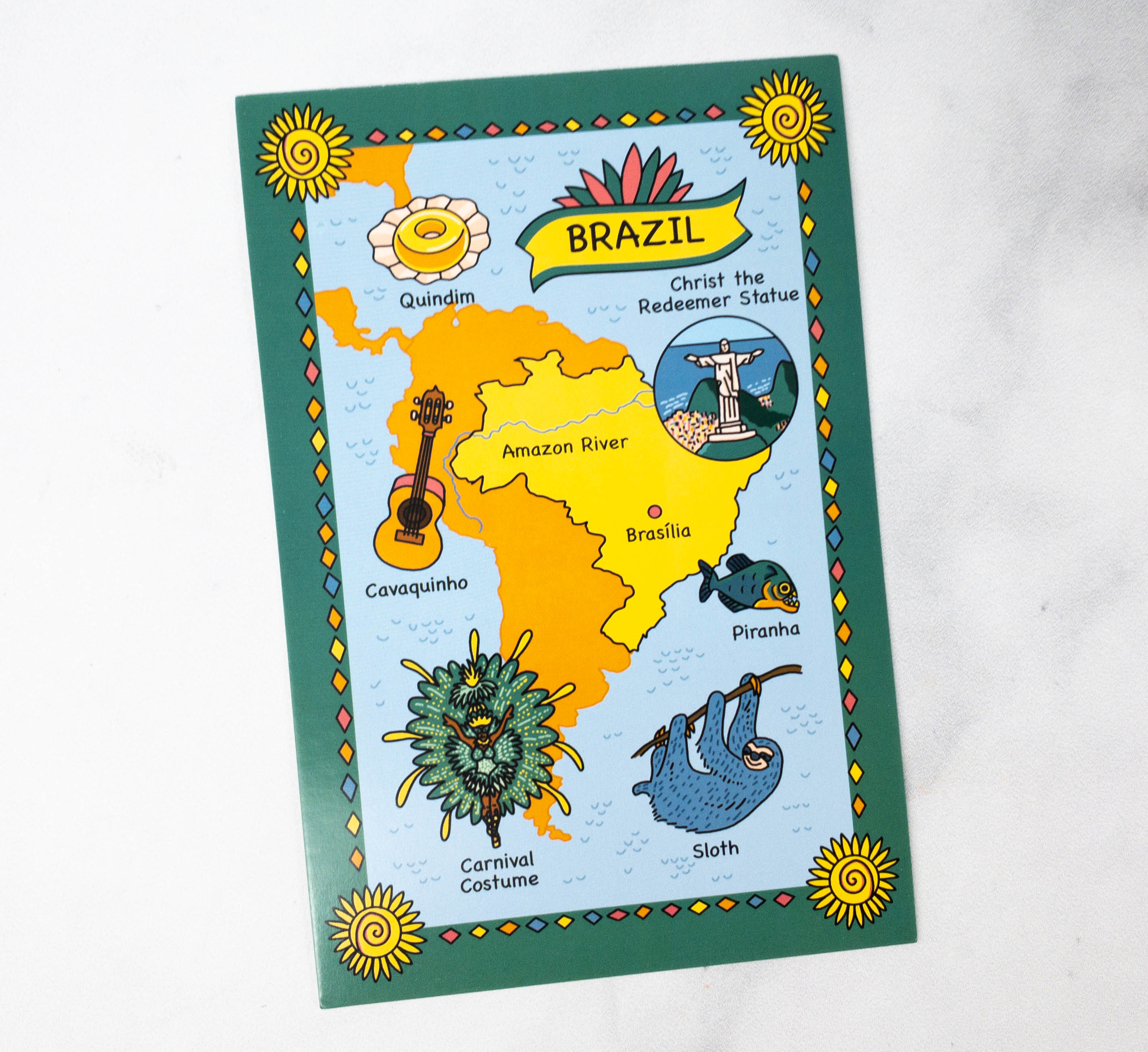 Postcard. A Brazil postcard was also included in the box! It features a map of the country as well as its popular tourist attractions, activities, and animals.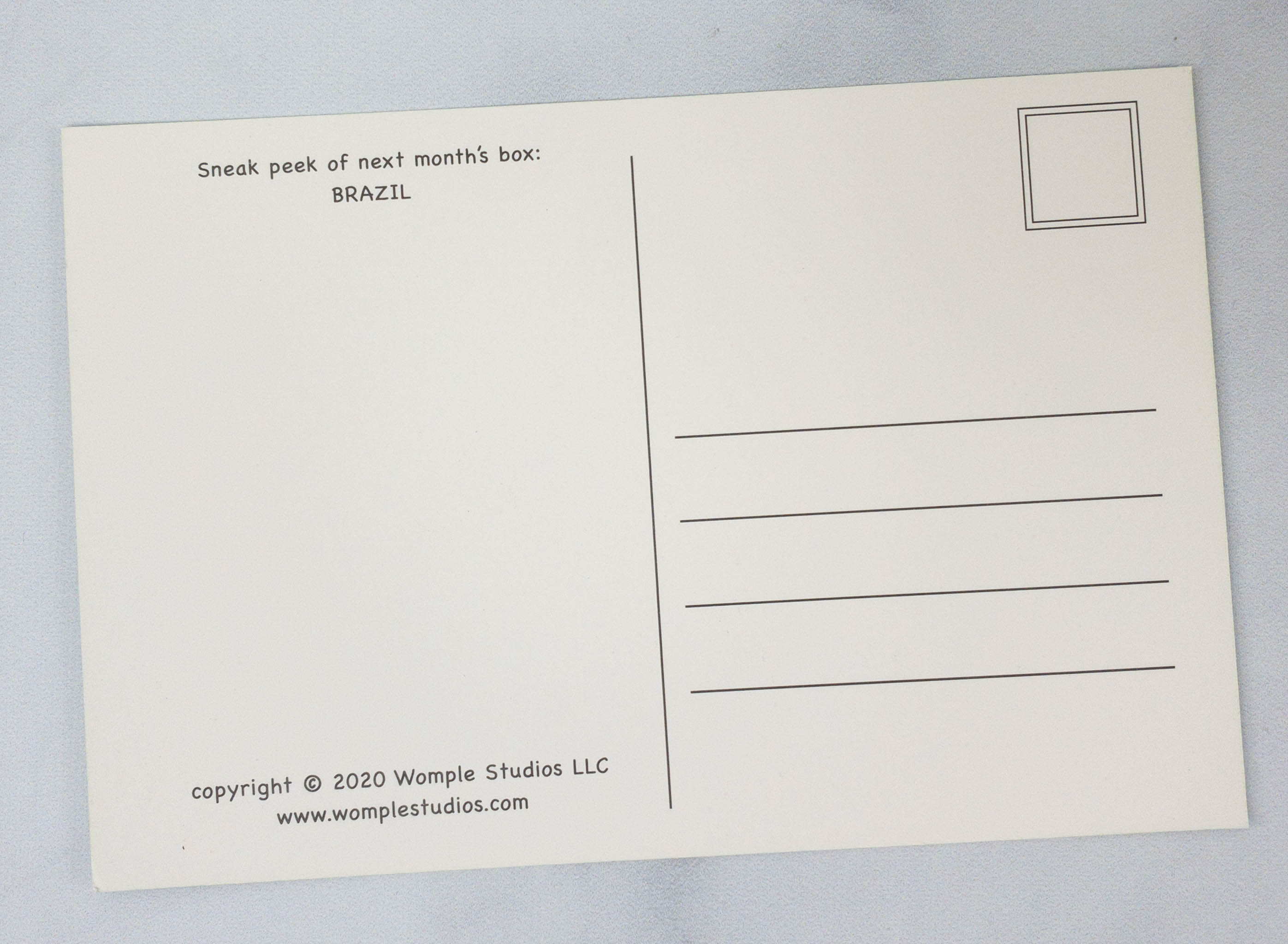 The flipside reveals that this card is actually a sneak peek for the next box!
Here are this month's activities!
Dukha Reindeer. The first activity is about making a Mongolian reindeer figure.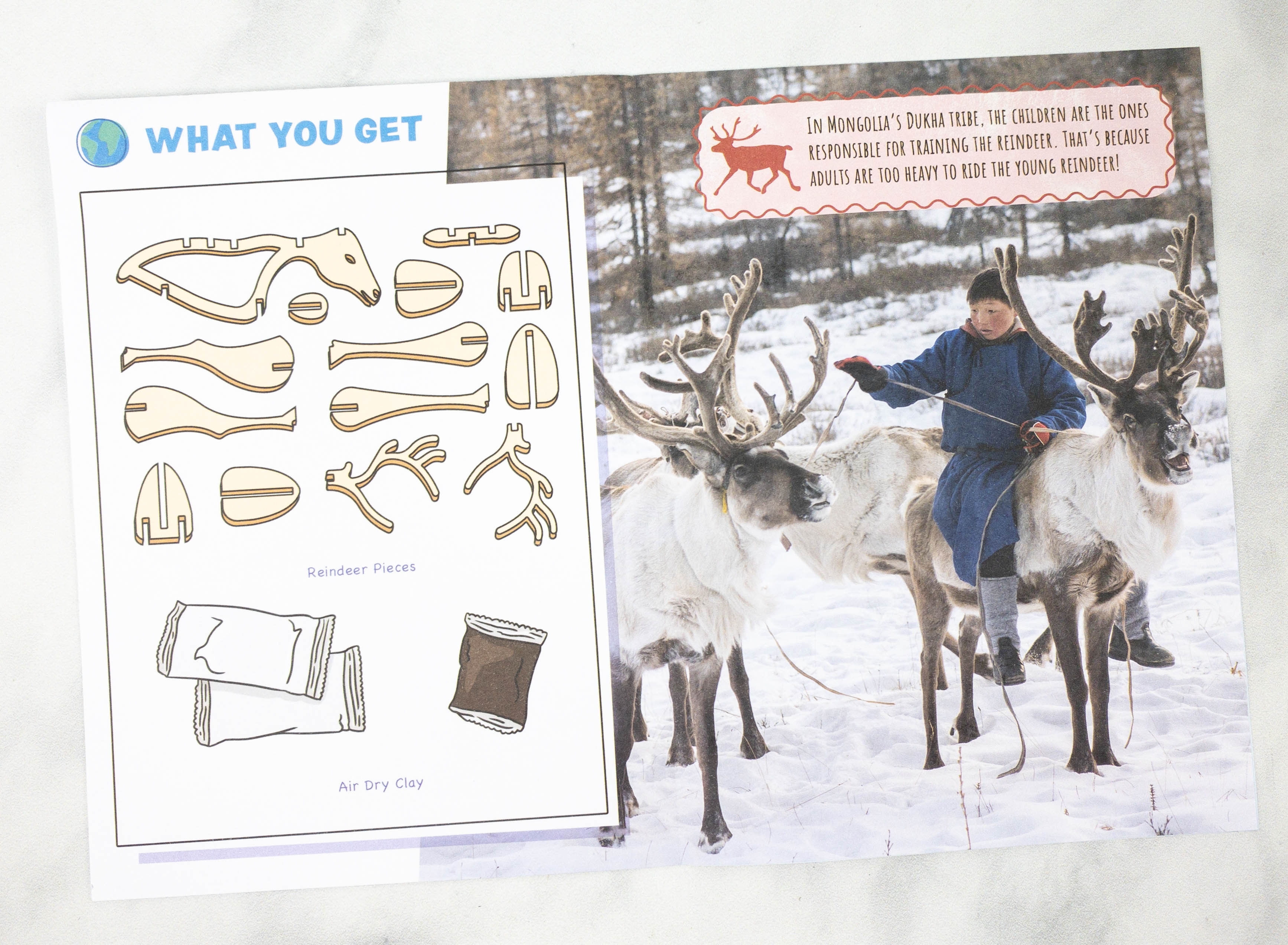 This sheet lists all the materials included in the kit.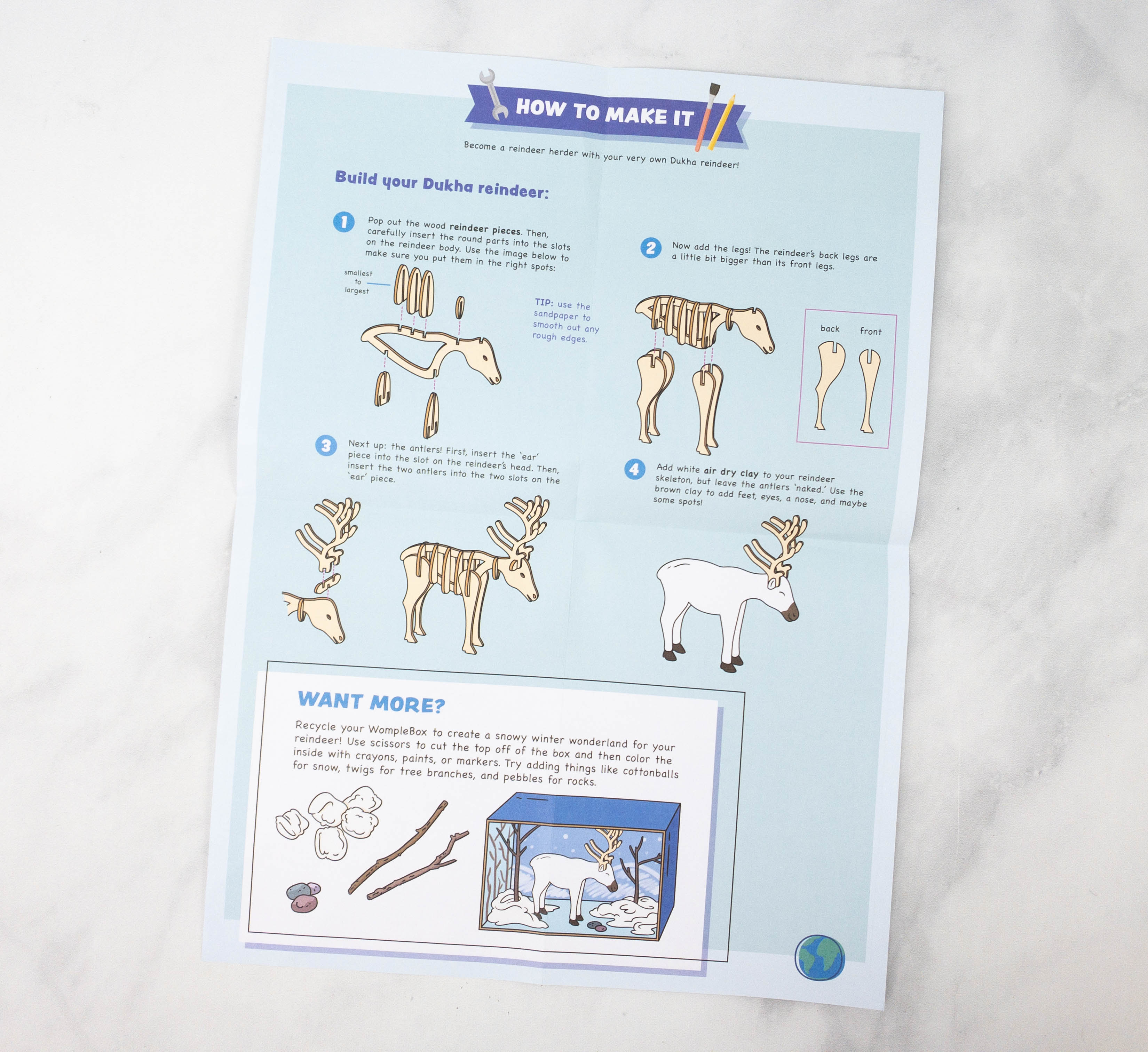 A list of instructions with illustrations are also provided at the back.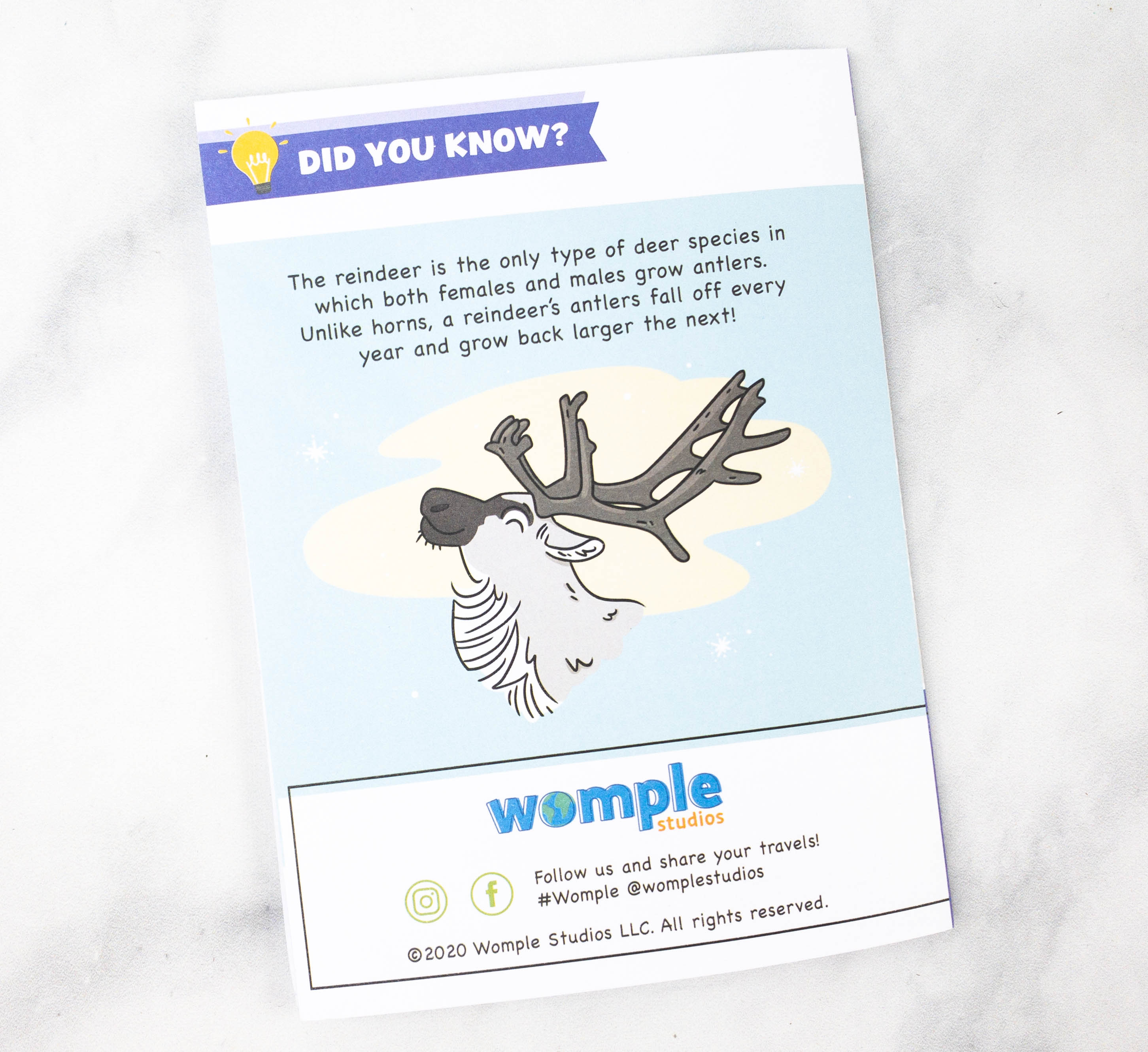 There's also a fun fact about reindeers!
The reindeer is the only type of deer species in which both female and males grow antlers. Unlike horns, a reindeer's antler fall off every year and grow back larger the next!
My son started by assembling the body of the reindeer figure. When it was done, he also attached the legs and the antlers.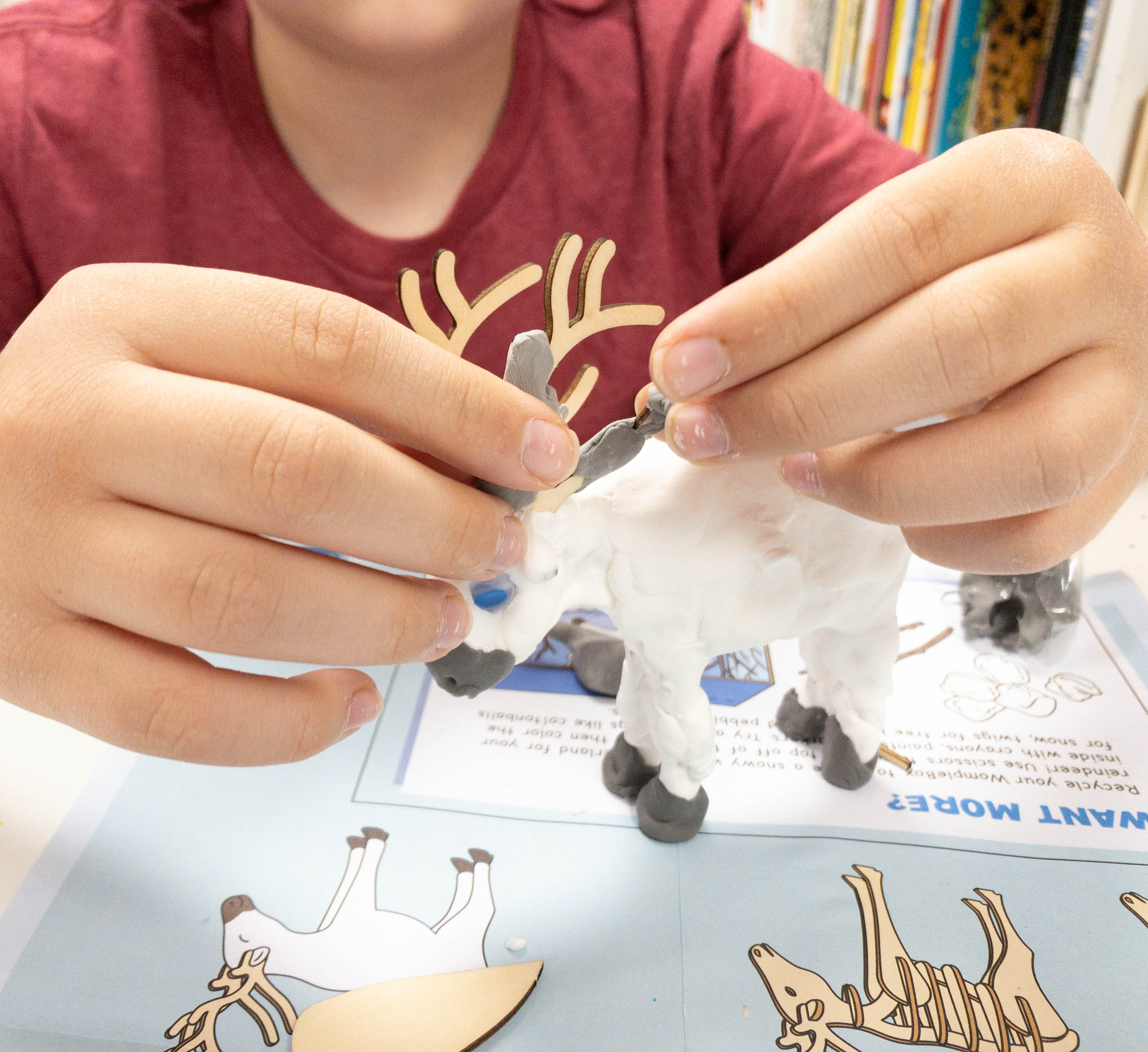 After putting everything together, it's time to cover the skeleton with air dry clay.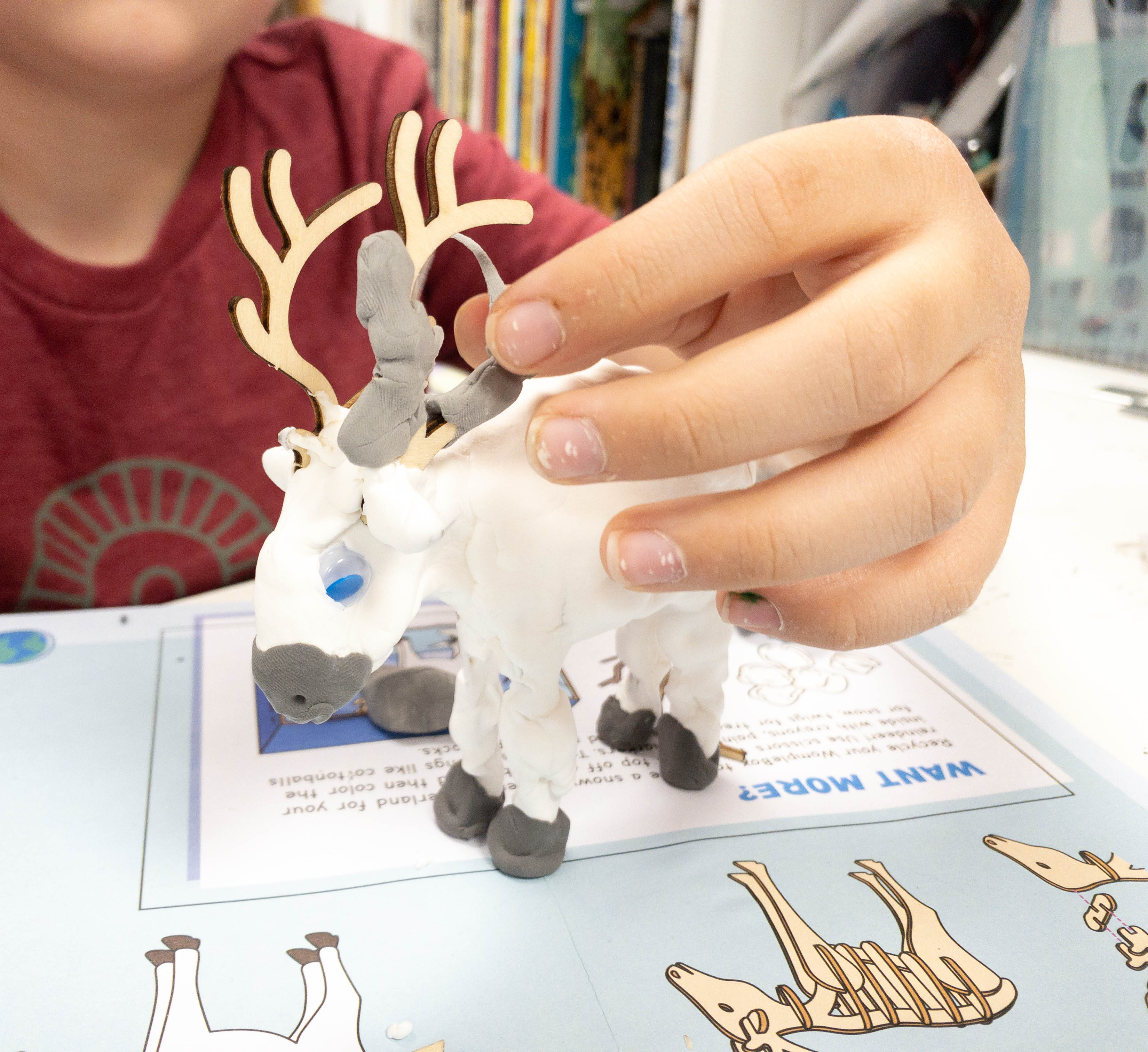 The white clay goes to the body, while the brown clay is for the feet, eyes, and nose.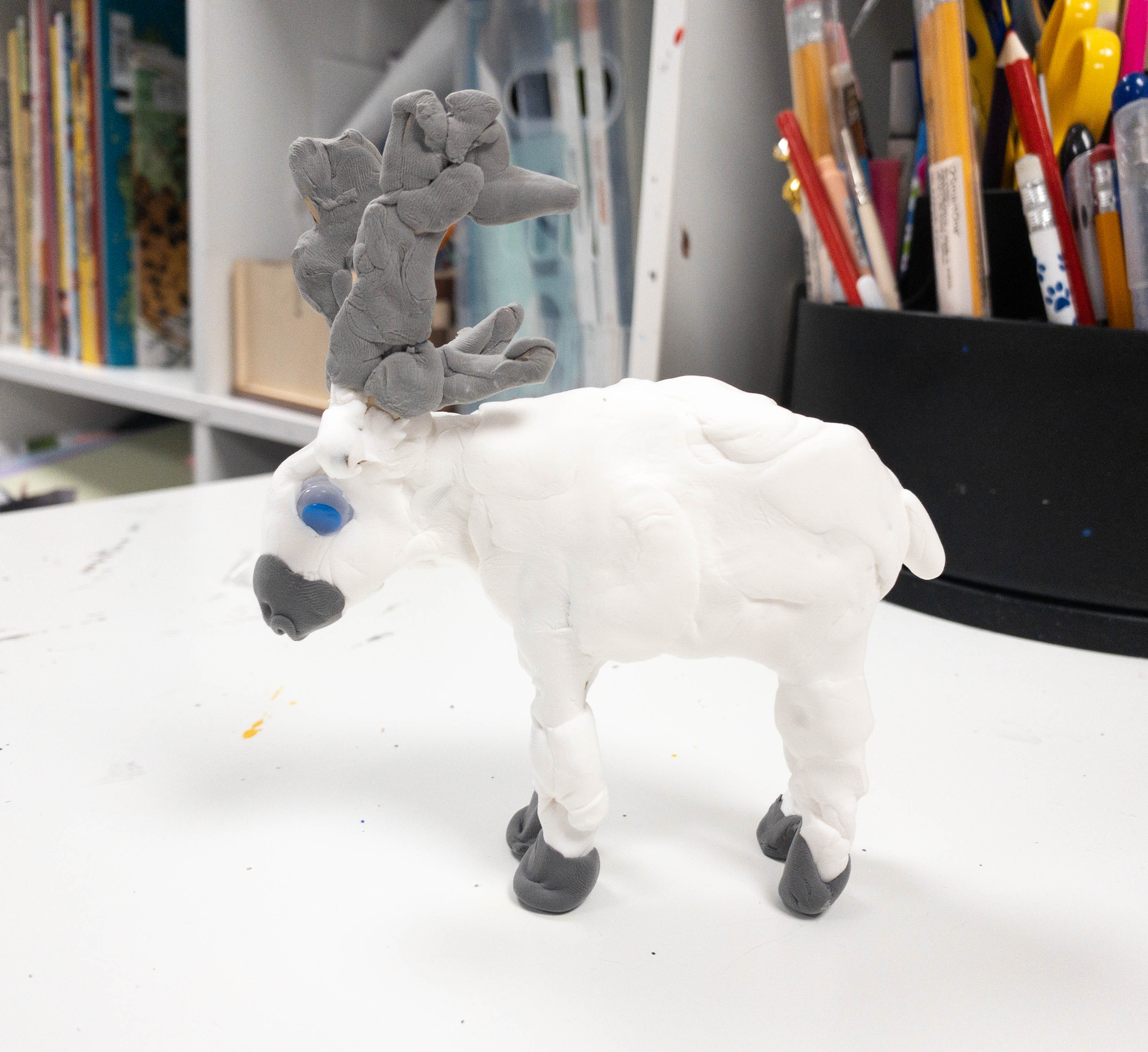 Here's the finished reindeer figure!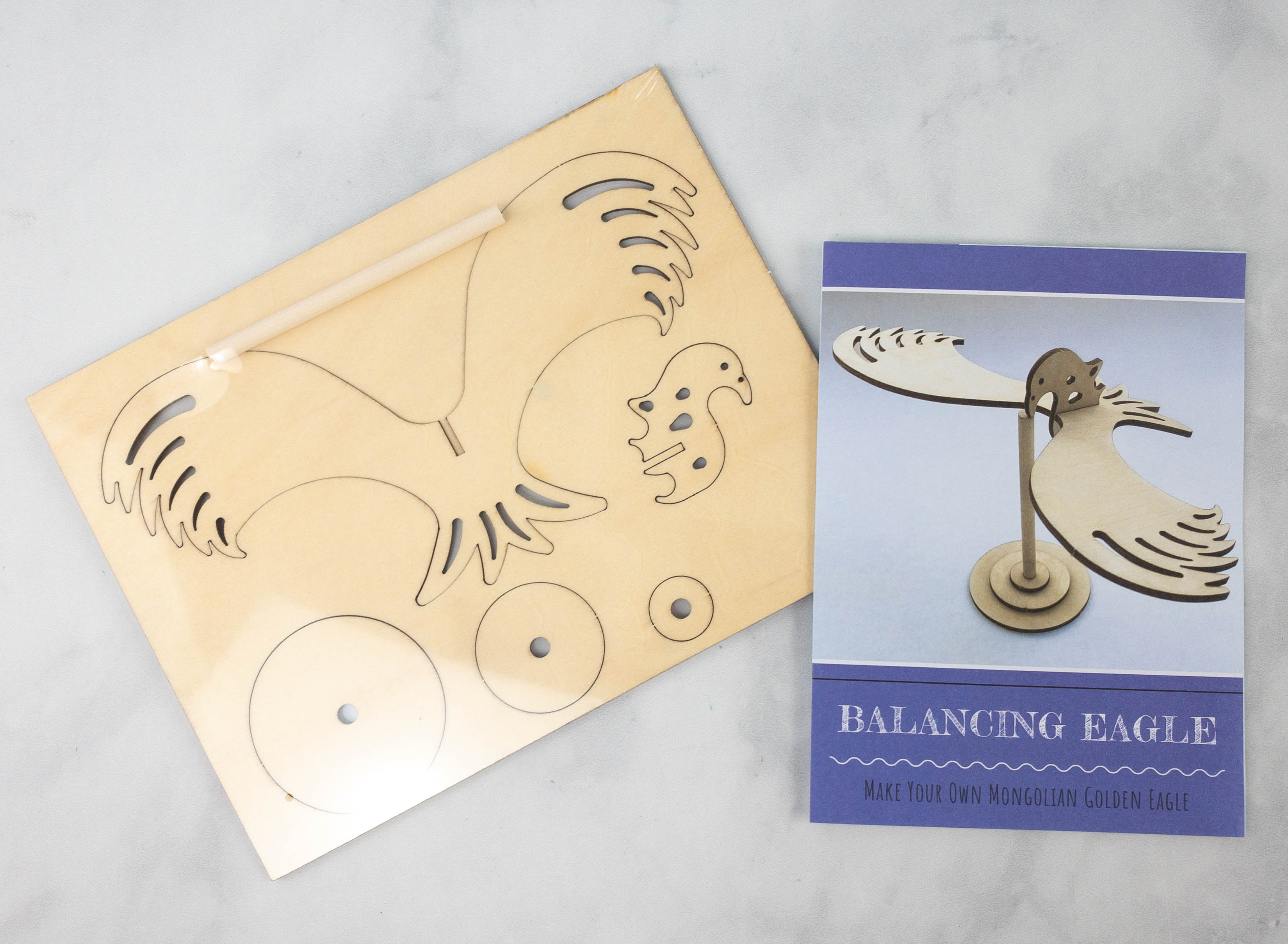 Balancing Eagle. The next activity is about making a balancing Eagle!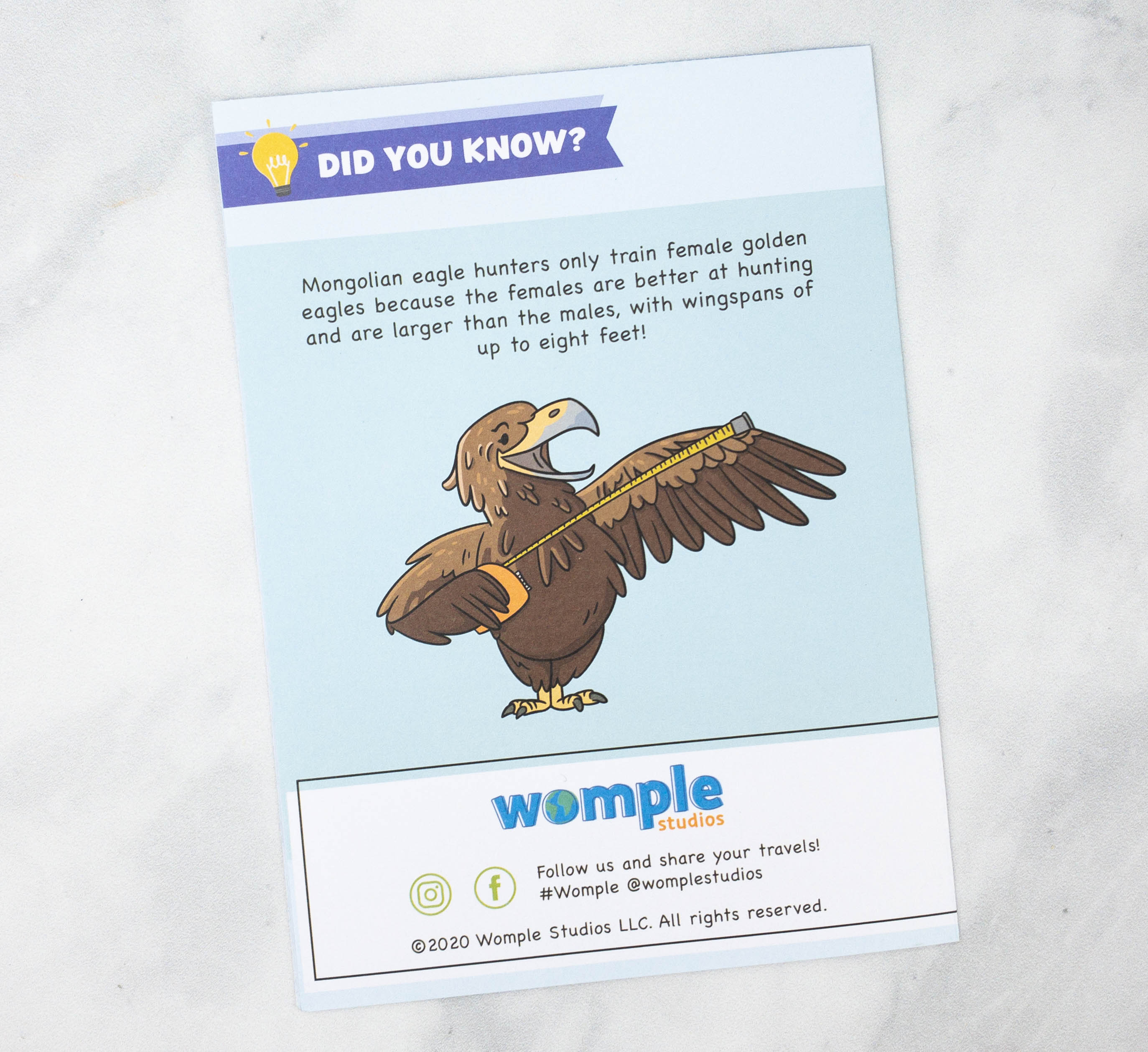 Here's another card that contains a fact about Mongolian Golden Eagles!
Mongolian eagle hunters only train female golden eagles because the females are better at hunting and are larger than the males, with wingspans of up to eight feet!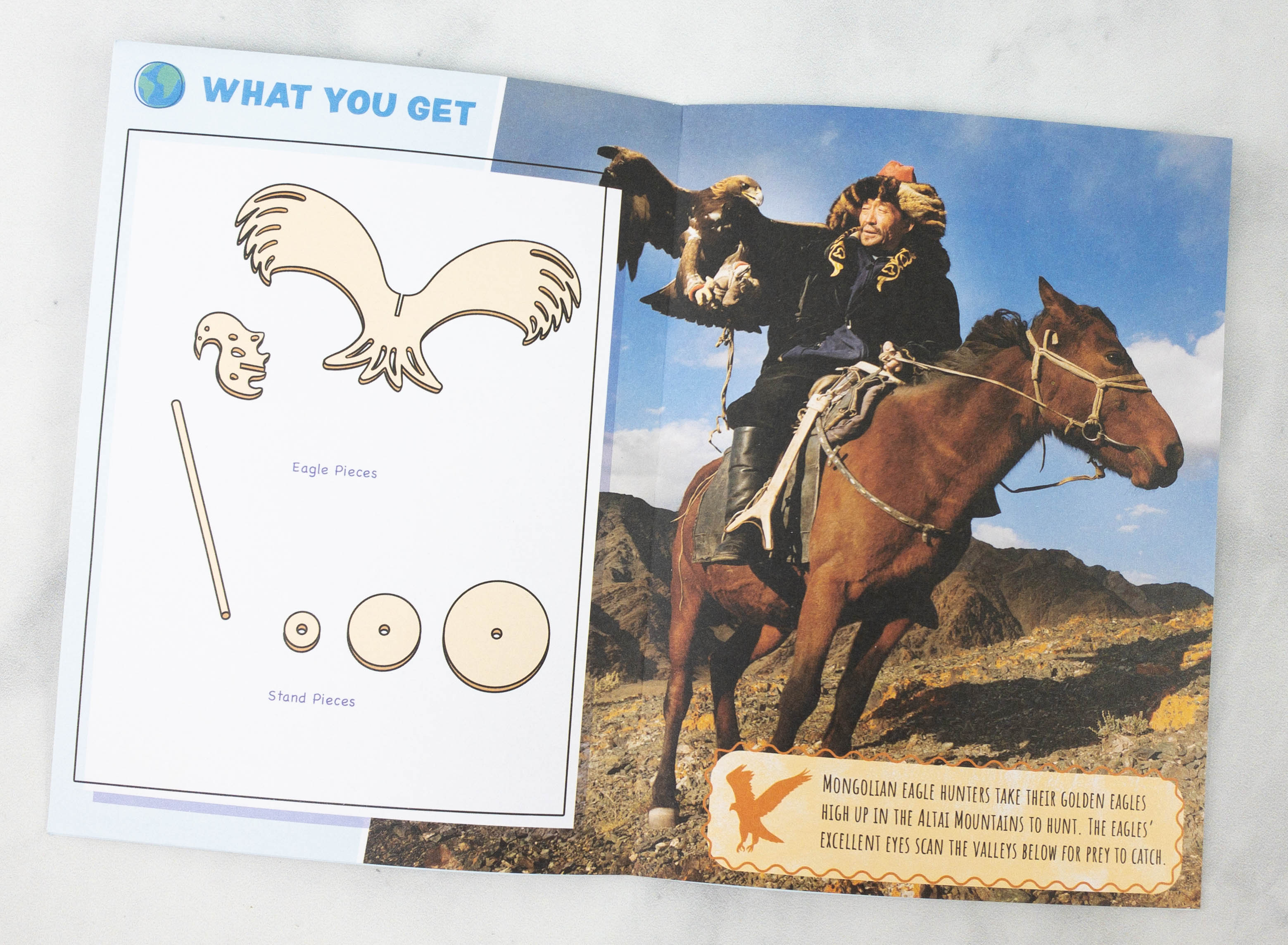 This sheet listed all the parts needed to construct the balancing eagle.
It also included easy to follow instructions with illustrations!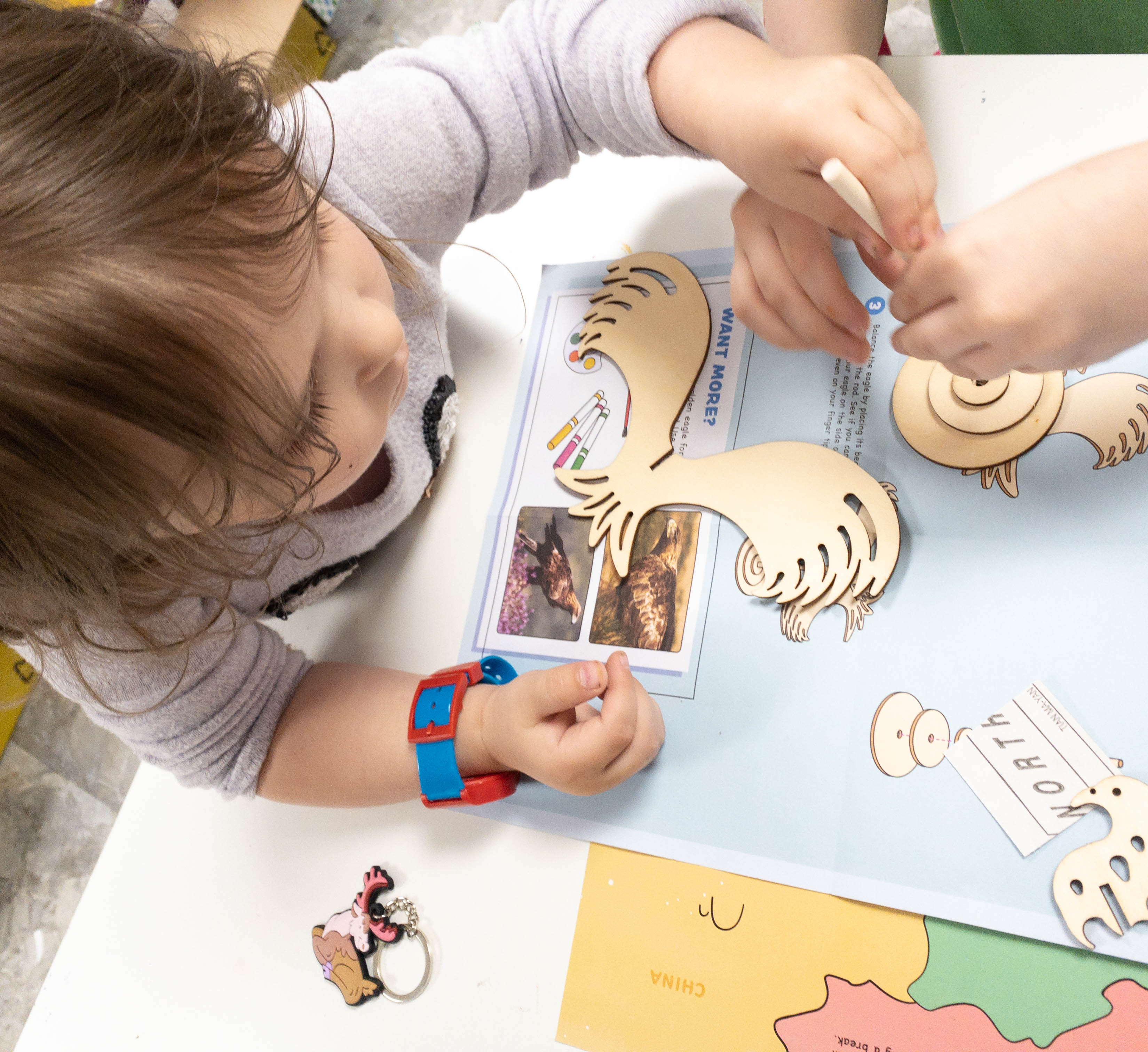 The kit included simple parts that can be easily attached to each other, so even younger kids can do the activity.
The instruction sheet was really helpful.
The balancing Eagle was completed in no time and it works perfectly!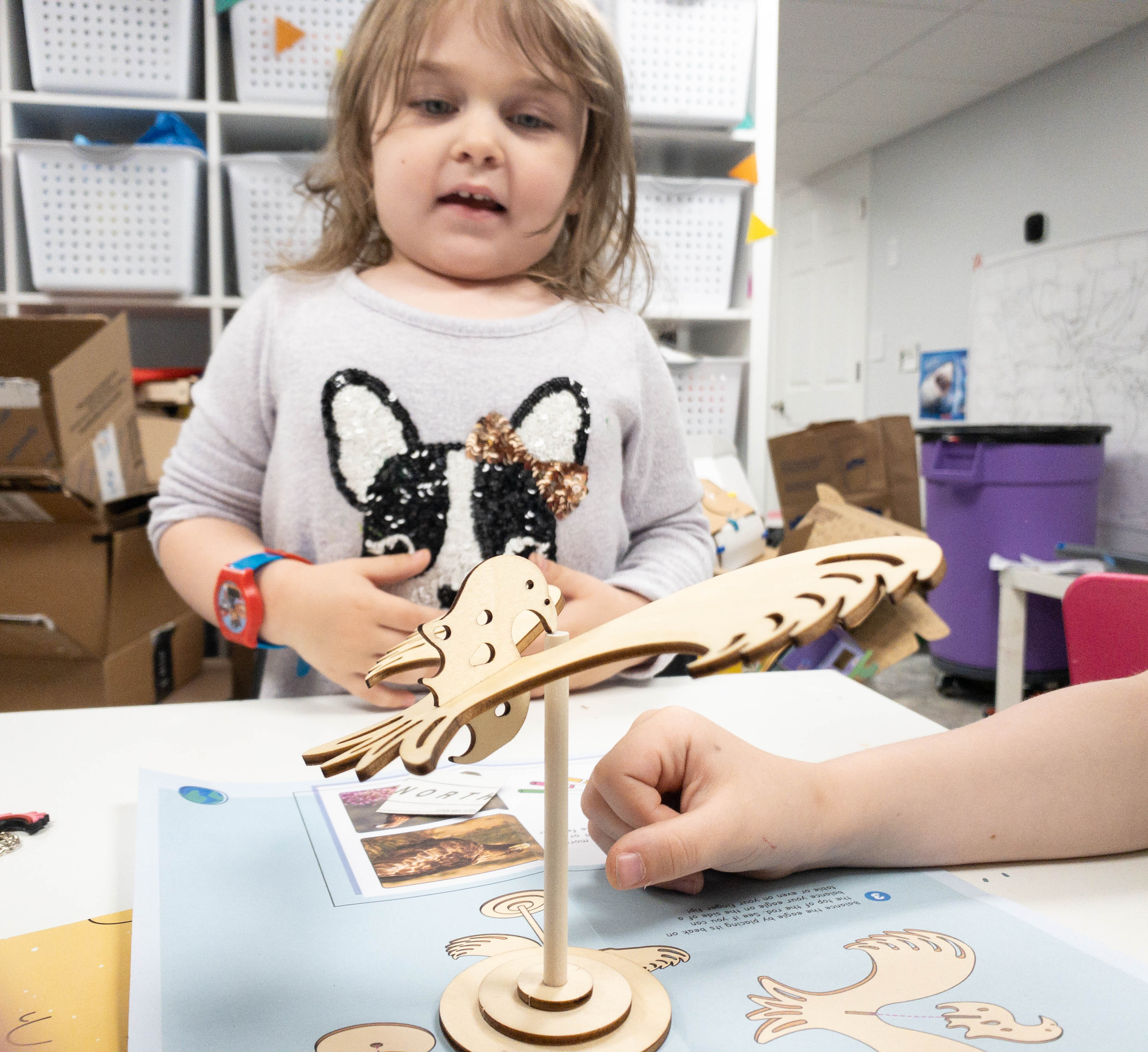 To balance the eagle, place the eagle by placing its beak on the top of the rod.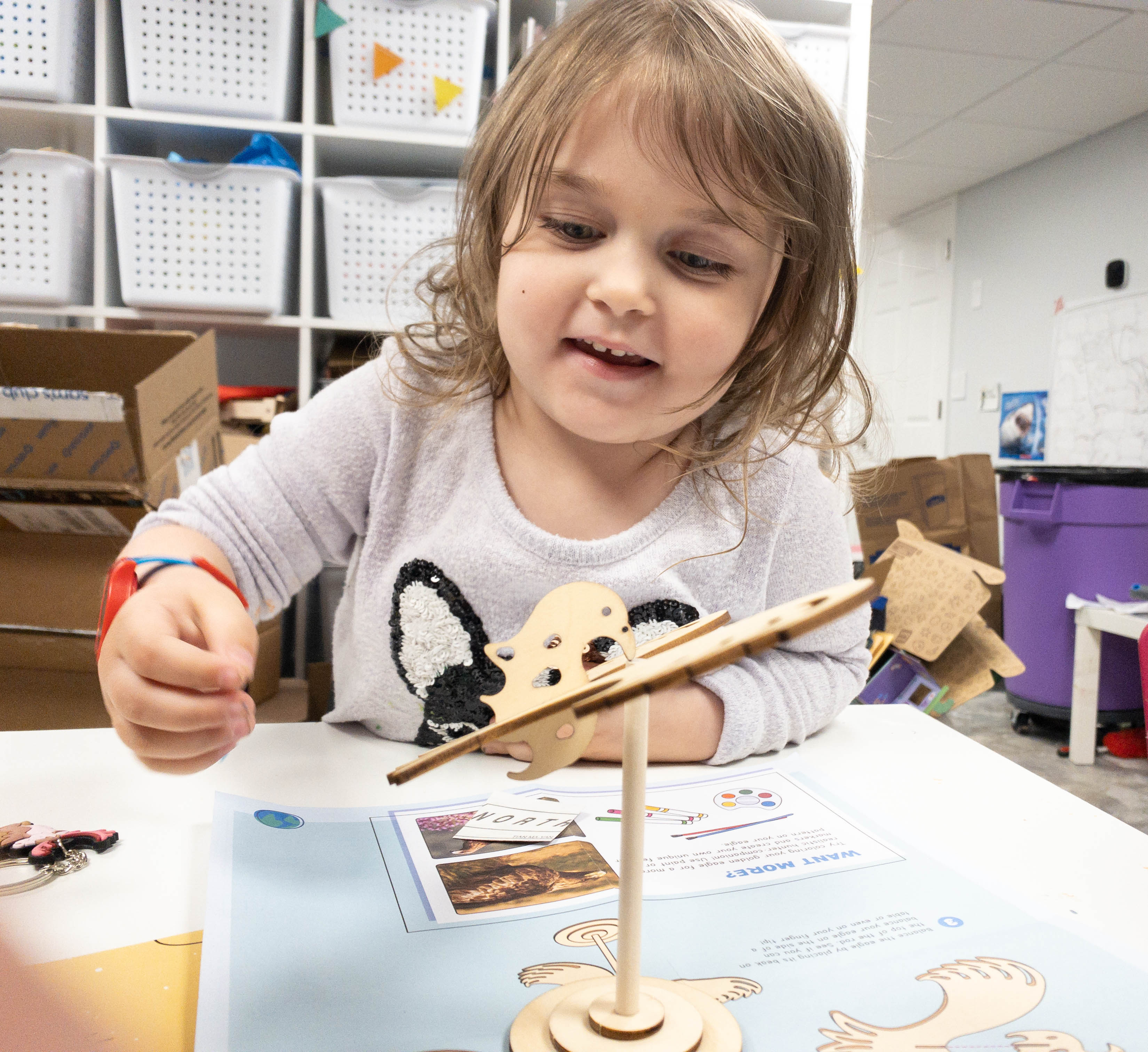 My daughter was really amazed on how it balances on its own! According to Womple Mail, this balancing eagle can also be colored using paint or markers from home.
WompleMail took my kids to another beautiful country! This box focused on Mongolia and is filled with information about the country's culture, history, people, animals, and more. My kids had so much fun with the reading materials, as well as in doing the activities that involved making a reindeer figure and a balancing eagle. My kids were satisfied how everything turned out. The activities were a also good practice for their art skills and problem solving skills. If you're looking for a fun activity box for school age kids, this one is a good choice. It's a good way to learn about other countries and cultures, while developing their skills as well.
What do you think of this box?