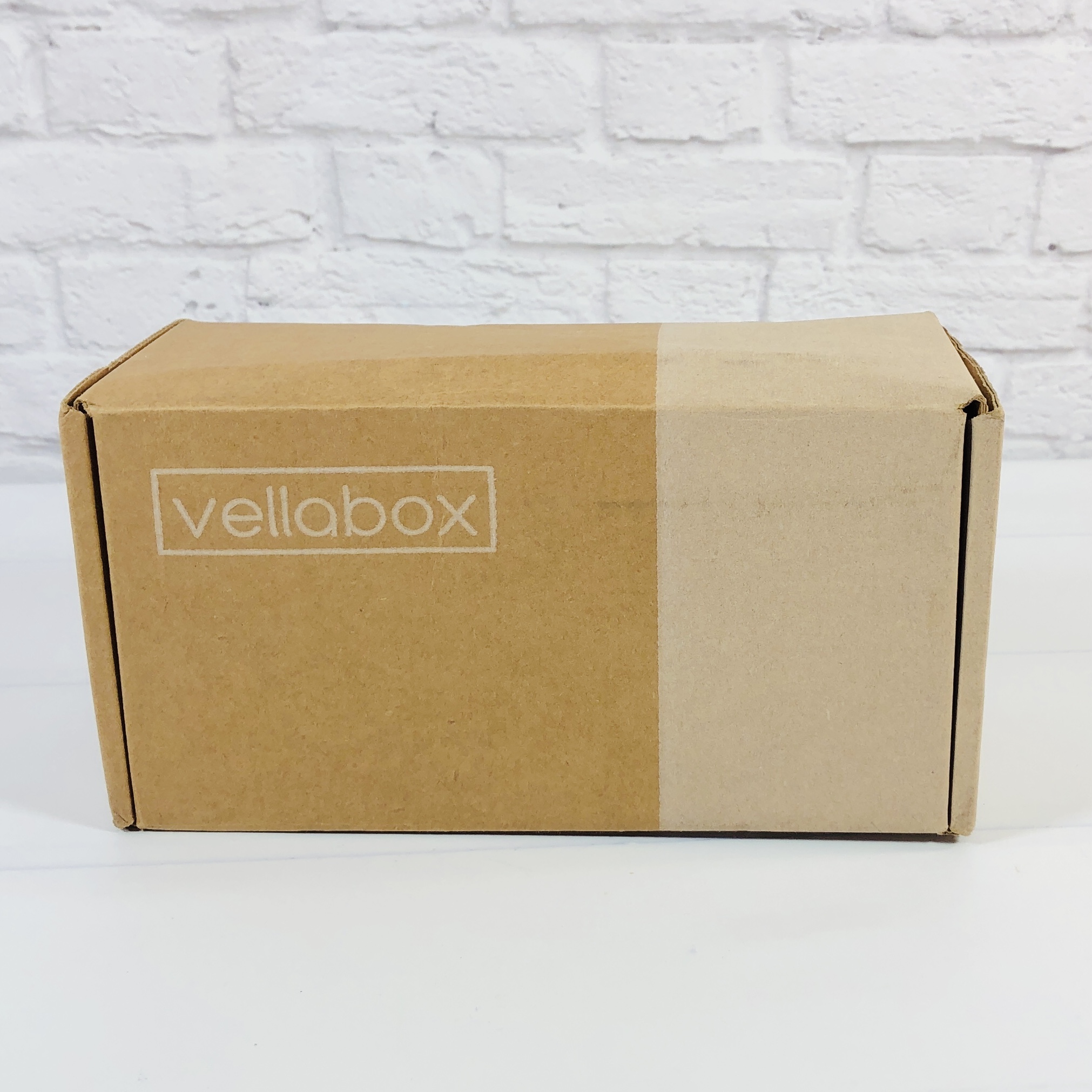 Vellabox is a monthly natural candle subscription box. The candles are always in seasonally inspired scents and are created by the finest American artisans. Each box features a different candle brand. The candles are from small businesses and are made of all-natural wax, cotton braided wicks, and premium fragrance oils. Vellabox also includes a surprise lifestyle gift in every box.
Our Vellabox Candle Curator handpicks the candles and guarantees that they are always all-natural, seasonally relevant and bound to bring warmth and joy to any space. The surprise gift in your box each month is chosen carefully to align with our team's health-centric values.
The Vellabox candle subscription box made the list in our 2021 readers' choice picks of best home and decor subscription boxes and as a favorite affordable subscription!
DEAL: Save 50% on your first box! Use coupon code HELLOSUB50.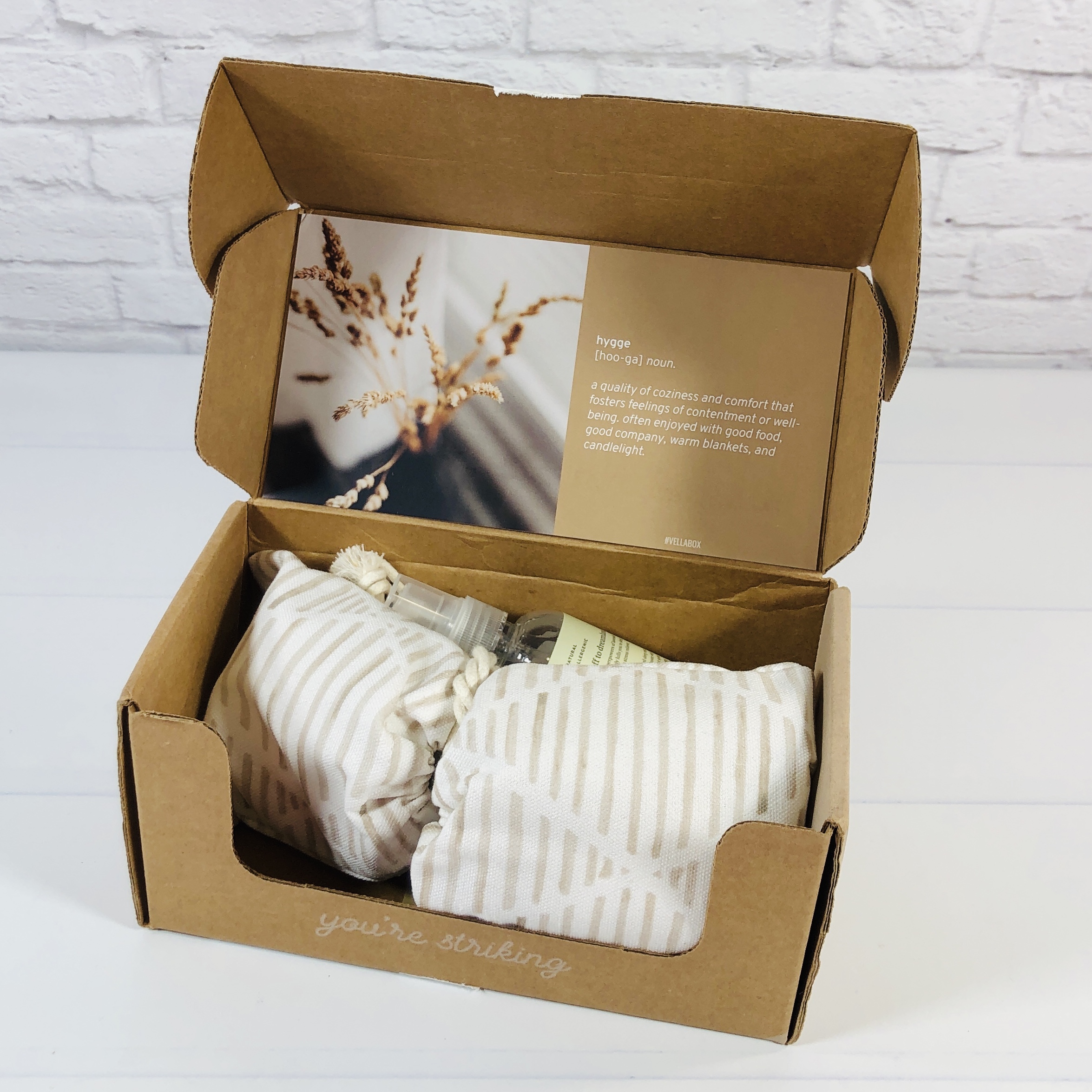 The first thing you need to do is decide which level you prefer. You can choose from The Lucerna Box ($10) which includes a 4 oz candle monthly, The Ignis Box ($20) with an 8 oz candle monthly, and The Vivere Box ($30) with an 8oz + a 4 oz candle monthly. Each level receives the bonus lifestyle gift. Shipping is $3 per month for Lucerna and Ignis to the US, and free for Vivere. Vellabox now ships to Canada for $8 per box. I am reviewing The Vivere Box.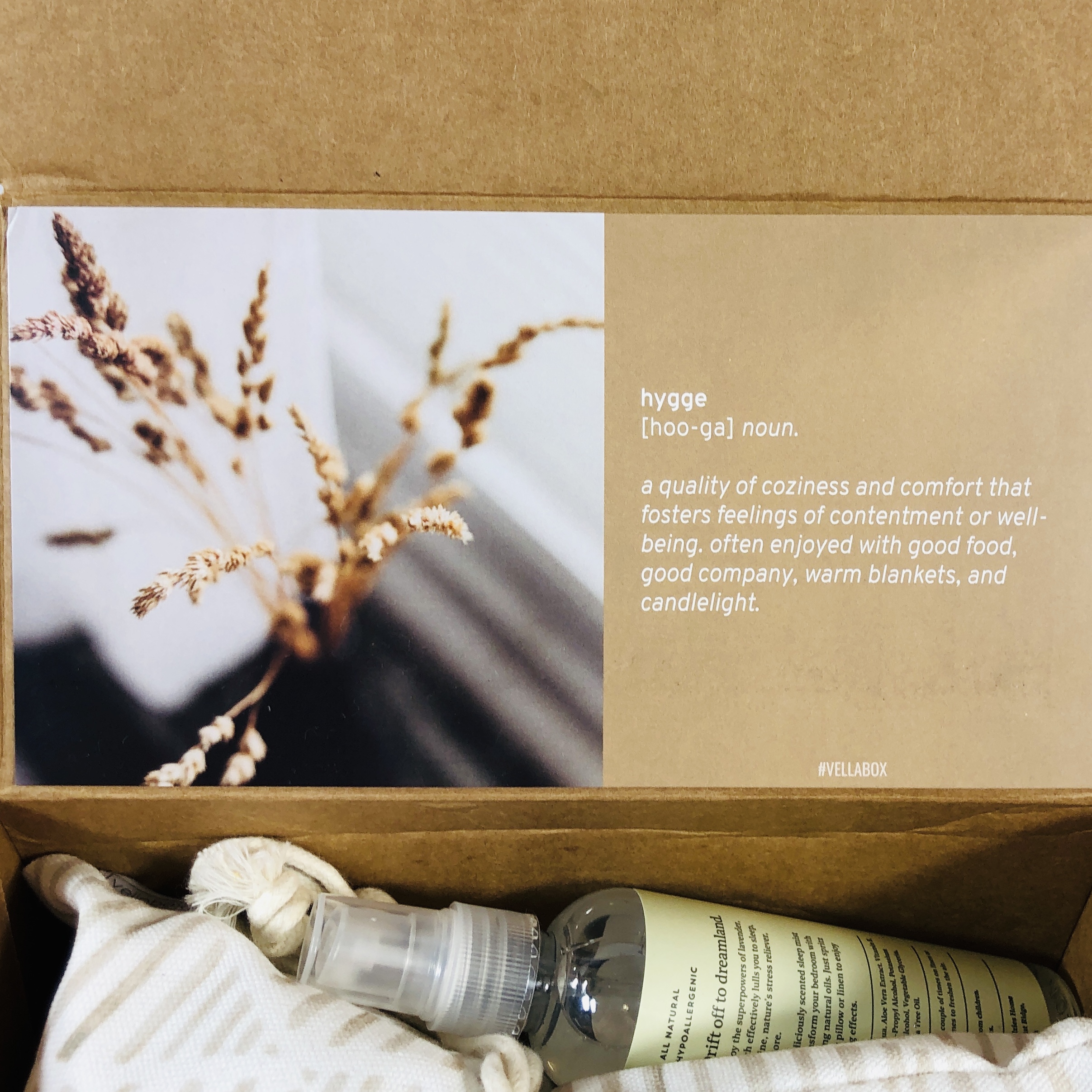 The inside of the box had a card with the definition (and pronunciation!) of hygge, which is about self-care and coziness and all around happiness. Candles are one of the main components of hygge.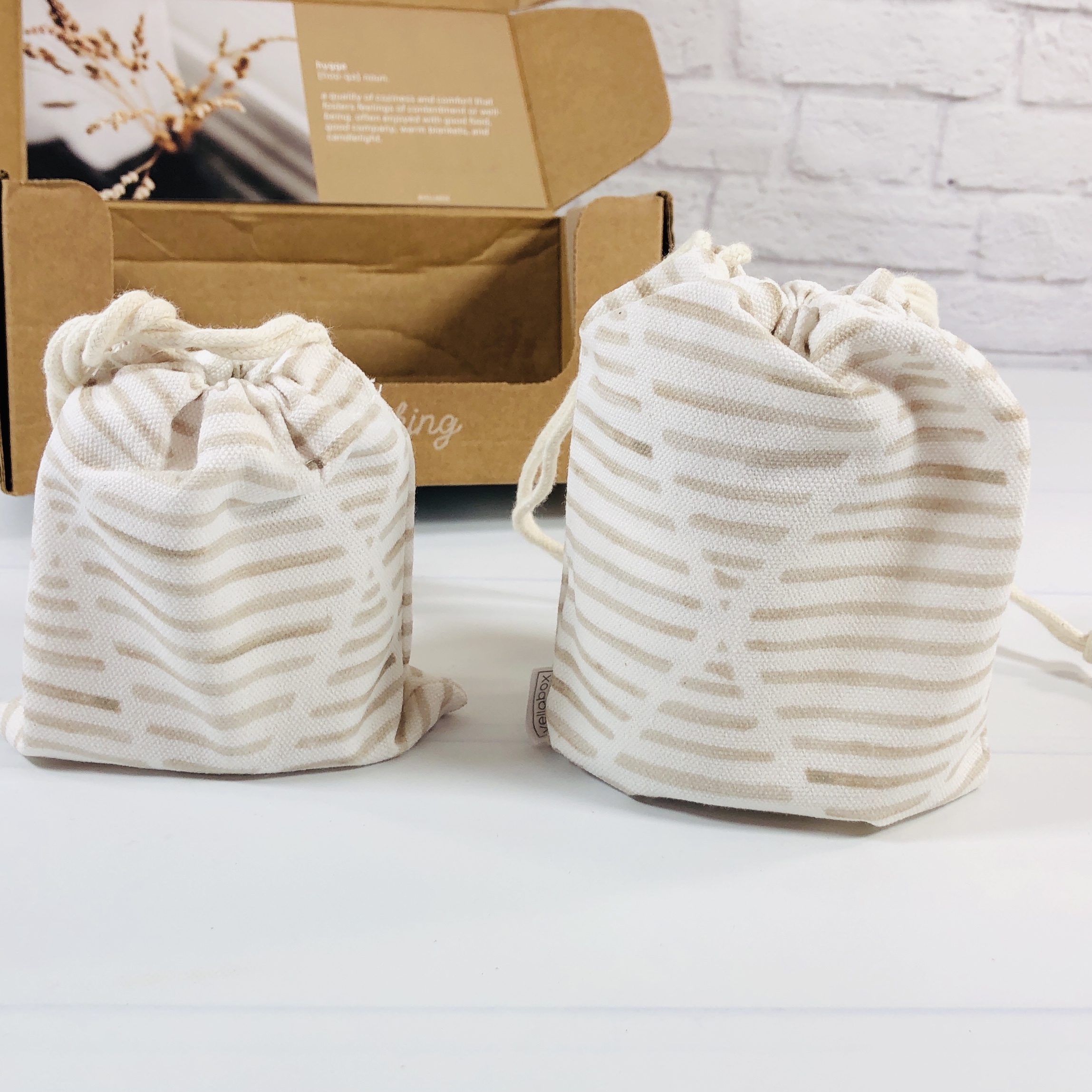 The candles were in reusable drawstring canvas bags. The bags can hold items like jewelry or other trinkets.
There was a card with info on the featured candle brand, Wax and Wane Candles, and a coupon code for future purchases from that brand!
With a passion for creating eco-conscious and premium scented candles, Wax & Wane can be found at independent boutiques and shops throughout the world.  Every candle is hand-poured and mixed in small batches of just eight to ensure quality and attention to detail.  Our scents are carefully curated and always phthalate free. We believe in using healthy and environmentally friendly ingredients. All of our candles are vegan and fragrances are never tested on animals.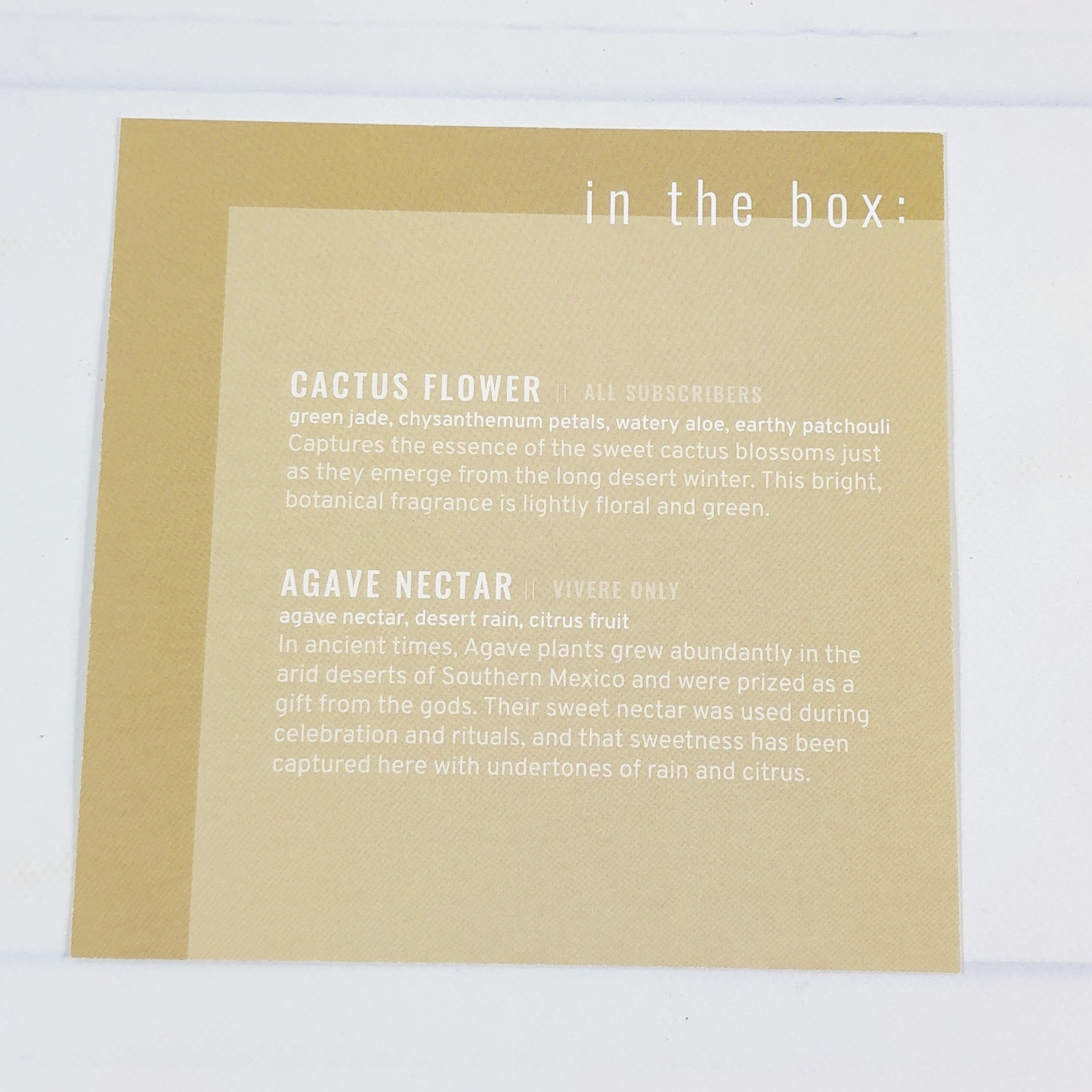 The back of the card listed the scent notes and description for the featured candles.
Here's everything in the box!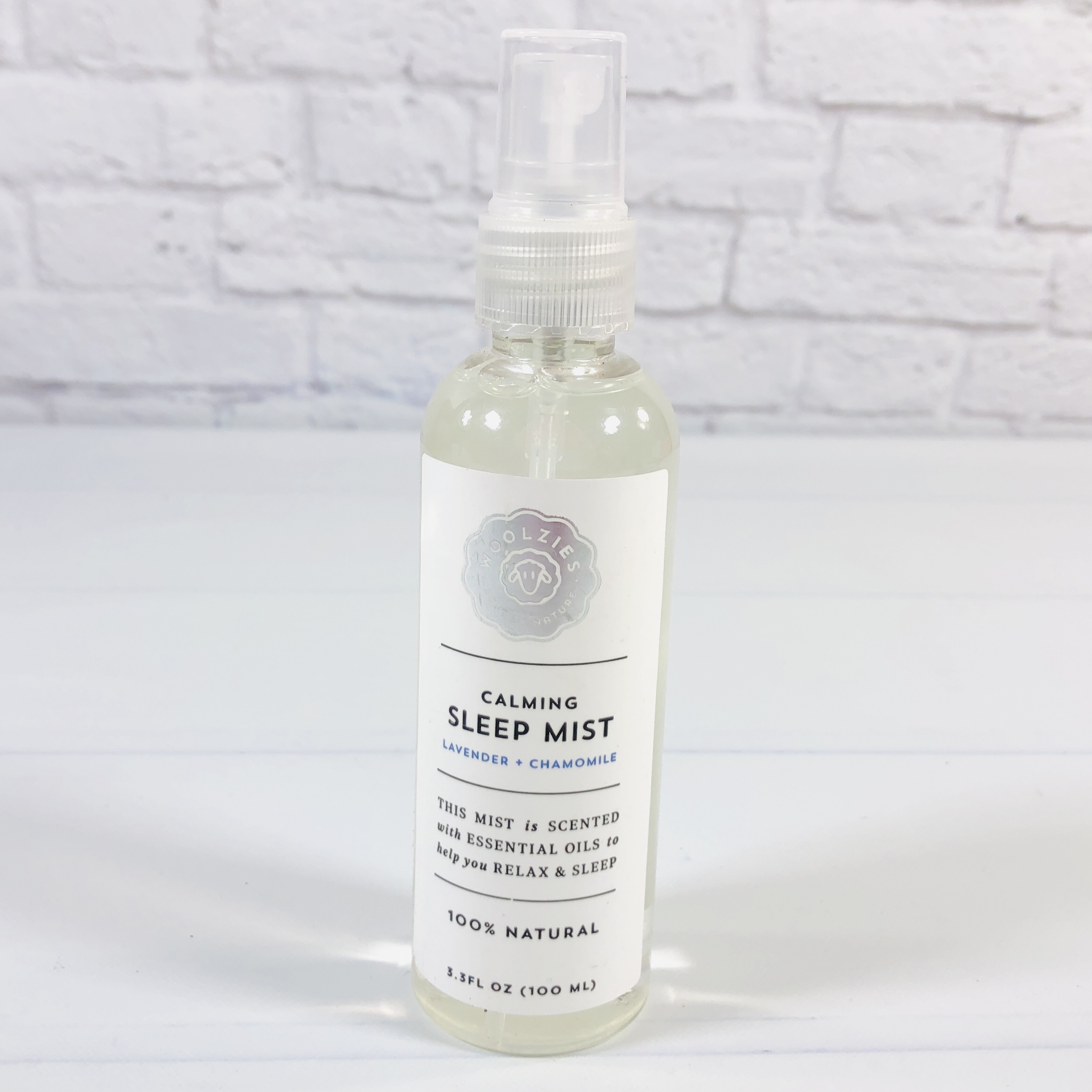 Woolzies Calming Sleep Mist ($6.60 value) I enjoy spritzing a bit of a sleep-inducing mist before retiring for the night. It makes my bedroom smell good and when my head hits the pillow I feel extra relaxed, probably thanks to taking several deep breaths of whatever it is that smells so good.
Water, aloe, witch hazel, alcohol, and glycerin are a few of the ingredients. It lists lavender and tea tree oils as scents but there is more at work here. It's actually a deeper scent than I was expecting and doesn't really smell at all like the listed fragrances. It smells a little like clean soap or laundry and I like the fragrance, it's very interesting.
Wax and Wane Candles Cactus Flower Candle ($20) The 8 ounce candle has a burn time of 50+ hours and is hand-poured soy wax that is scented with phthalate-free fragrance. It has scent notes of aloe, chrysanthemum, agave, sweet jade, and patchouli. I probably couldn't tell you what any of those things smells like alone, well, except for the patchouli.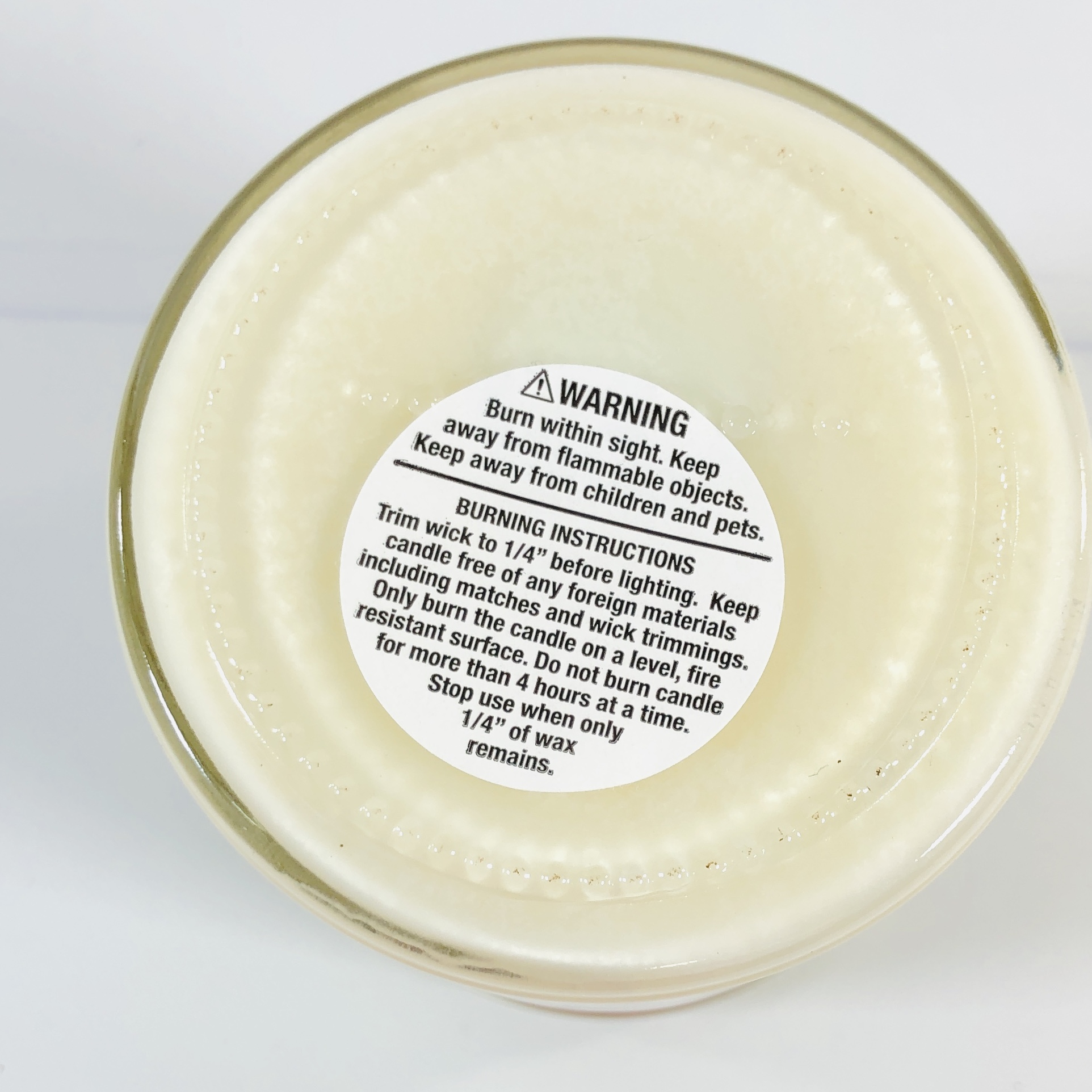 Keep lit candles out of the reach of pets and children!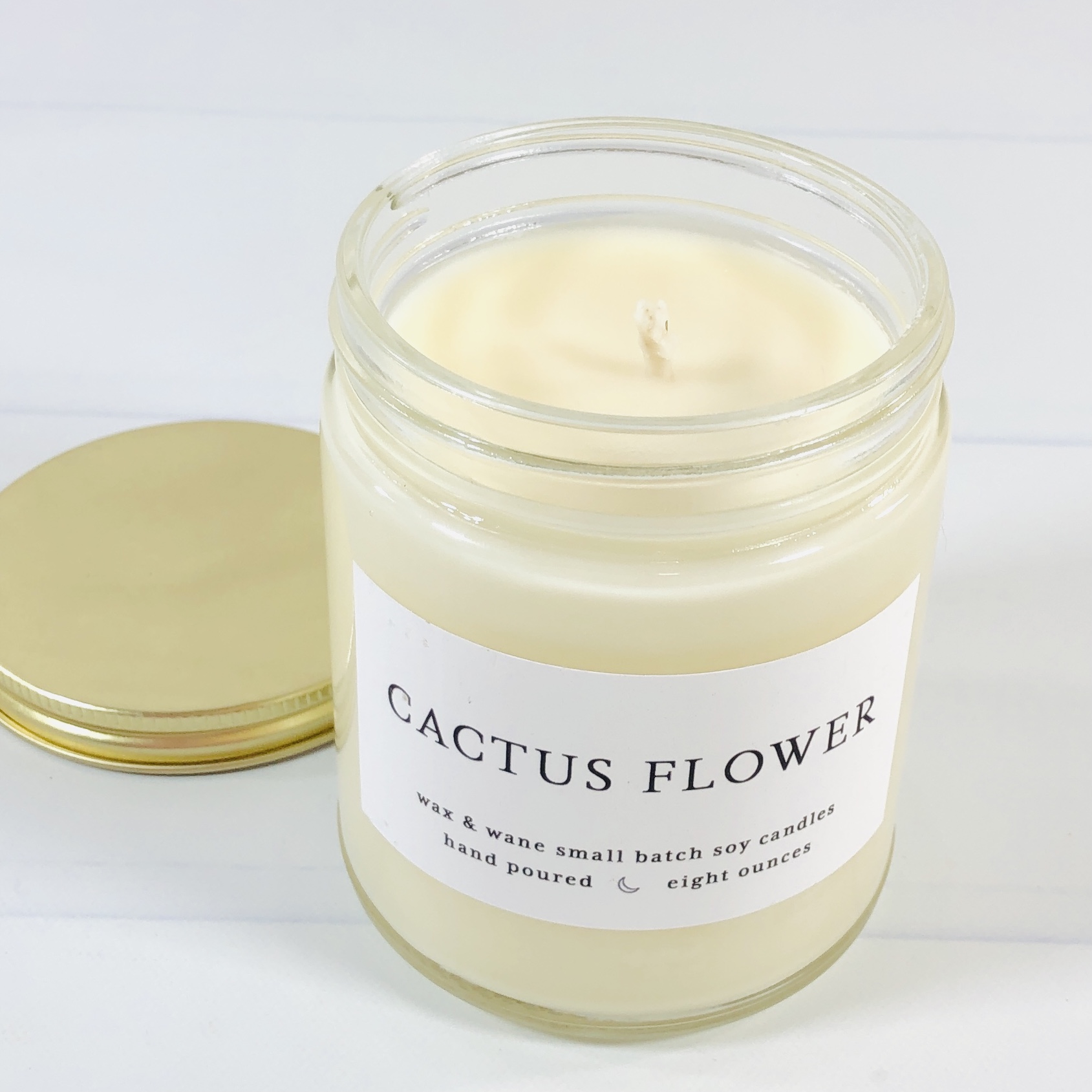 To my nose this candle is sweet, green, and clean with a mild floral note and a hint of a deeper note here and there. I've started burning my candles in my small office to see how much throw they give off and this one was pretty good. If I left my office for a few minutes I could smell it when I returned.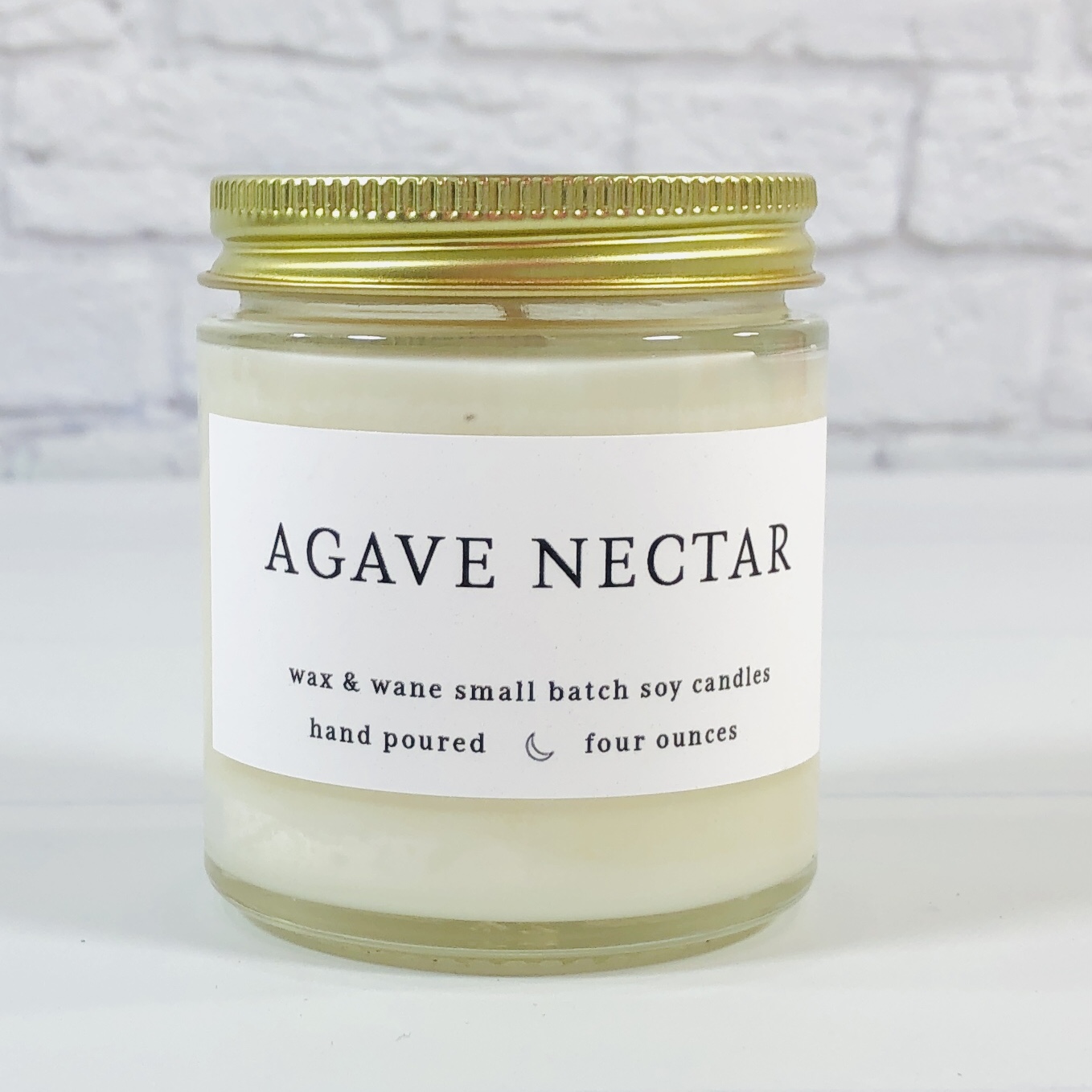 Wax and Wane Candles Agave Nectar ($10 value) I think this smaller candle size was made especially for Vellabox. Agave Nectar has notes of agave, desert rain, and citrus fruit.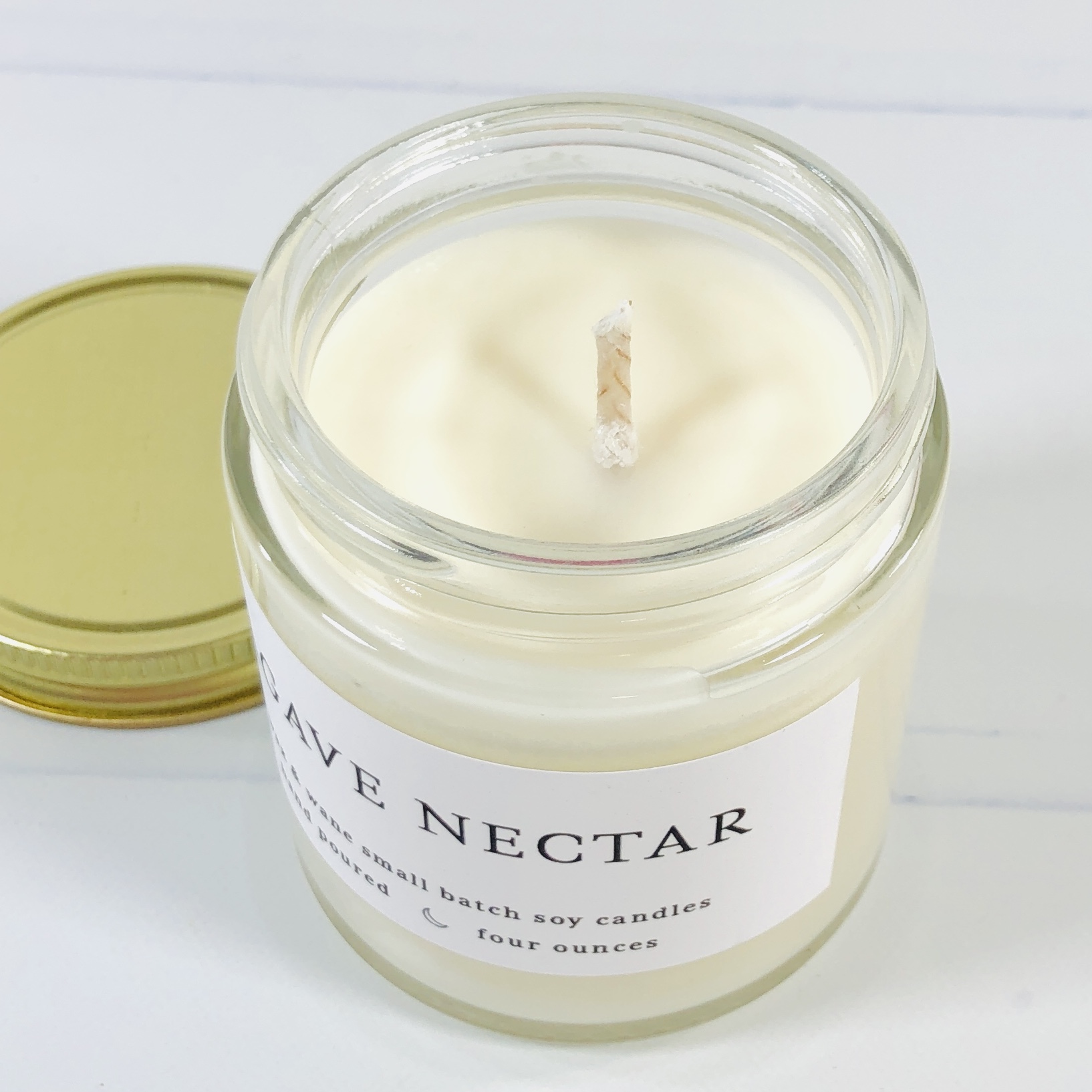 I think this candle smells like sweet, sugared citrus and while it didn't have the throw of the other candle it still smelled good in the immediate area.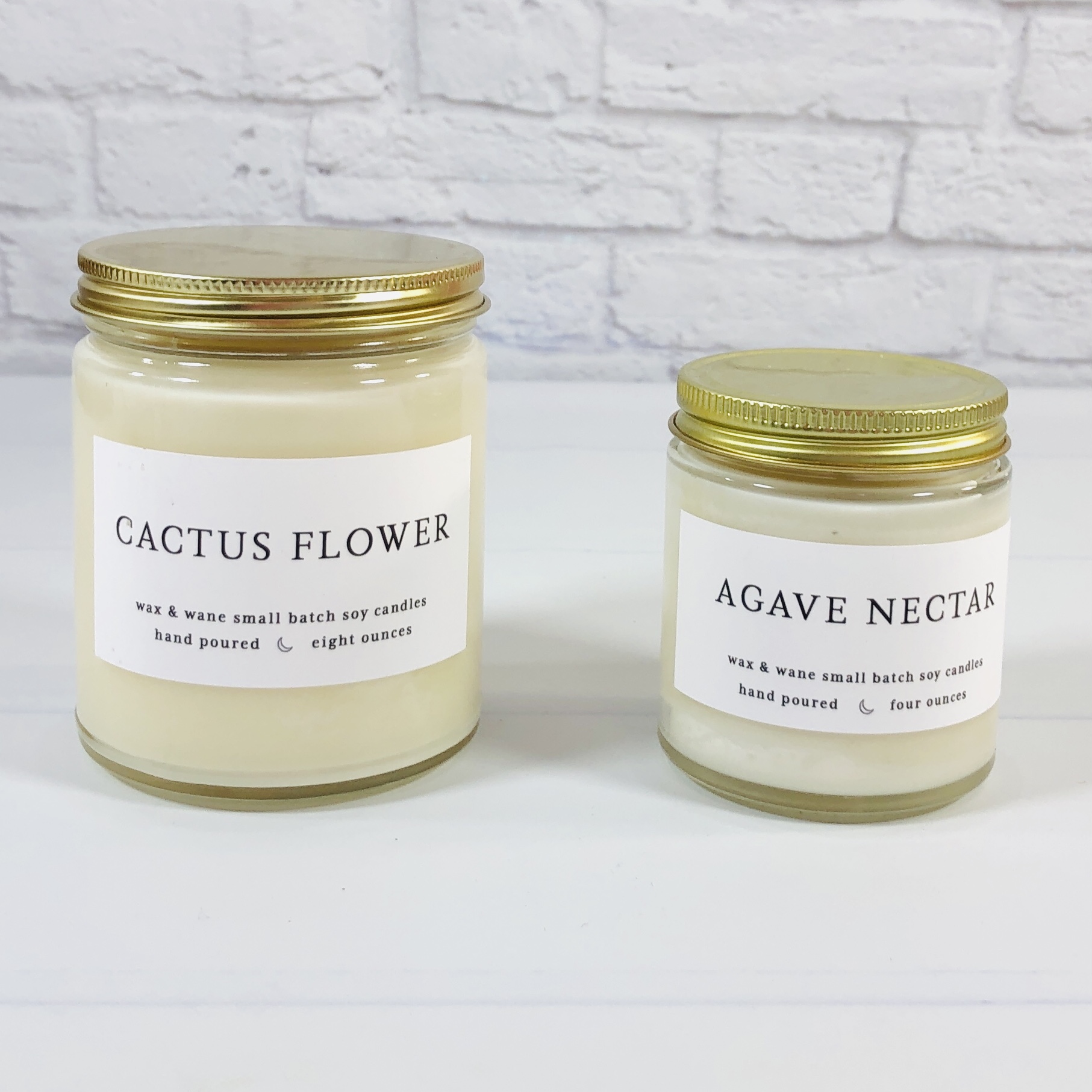 Vellabox is one of my favorite monthly subscriptions! I love seeing it in my mailbox, I know I'm about to enjoy a lightly fragranced candle and it promotes a relaxed and cozy atmosphere, because I am all about hygge. We have a rainy week ahead and although I burn candles all year round, there's just something extra special about a having a lit candle on a dreary day. The larger candle was more noticeable while burning but the smaller candle was pleasant too, just not overly strong. I think Vellabox is perfect for those who prefer a lighter, more natural candle experience. Both scents are perfect for spring and summer, with a clean scent profile.
What do you think of this box?