Try My Snacks is a unique subscription box that delivers snacks from a different country every month. Each box contains anywhere from 5 – 20+ snacks per box (depending on the plan), a 12+ Page booklet that includes fun facts about the country, snack information, puzzles, and more. They also include a coin from the country in every box & offer FREE shipping to the USA. A portion of every order is donated to the ASPCA to help end animal abuse.
Start by choosing which subscription level fits your needs. Then answer a few questions like whether or not you like coconut and if you want a drink ($4.95 upcharge). There are additional charges in the questionnaire, like if you want rush delivery ($5) or a chilled ice pack so your chocolate doesn't melt ($4.95). You can also tell them if you are allergic to peanuts and there is a place to write in other allergies.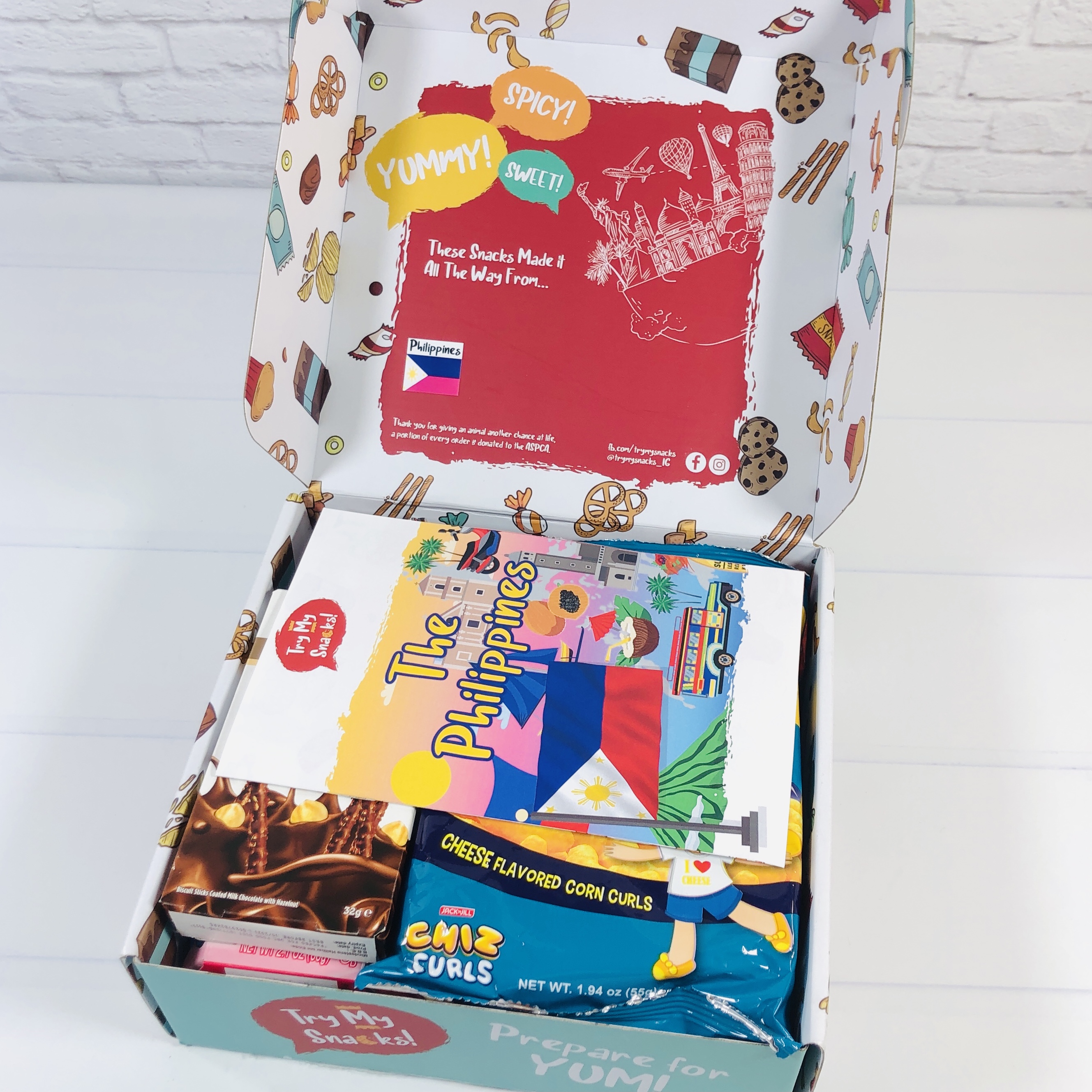 This box was completely packed to the top!
Guess where these snacks are from? The Philippines!
As I unpacked this box with my daughter we were super excited, we couldn't wait to see what was inside!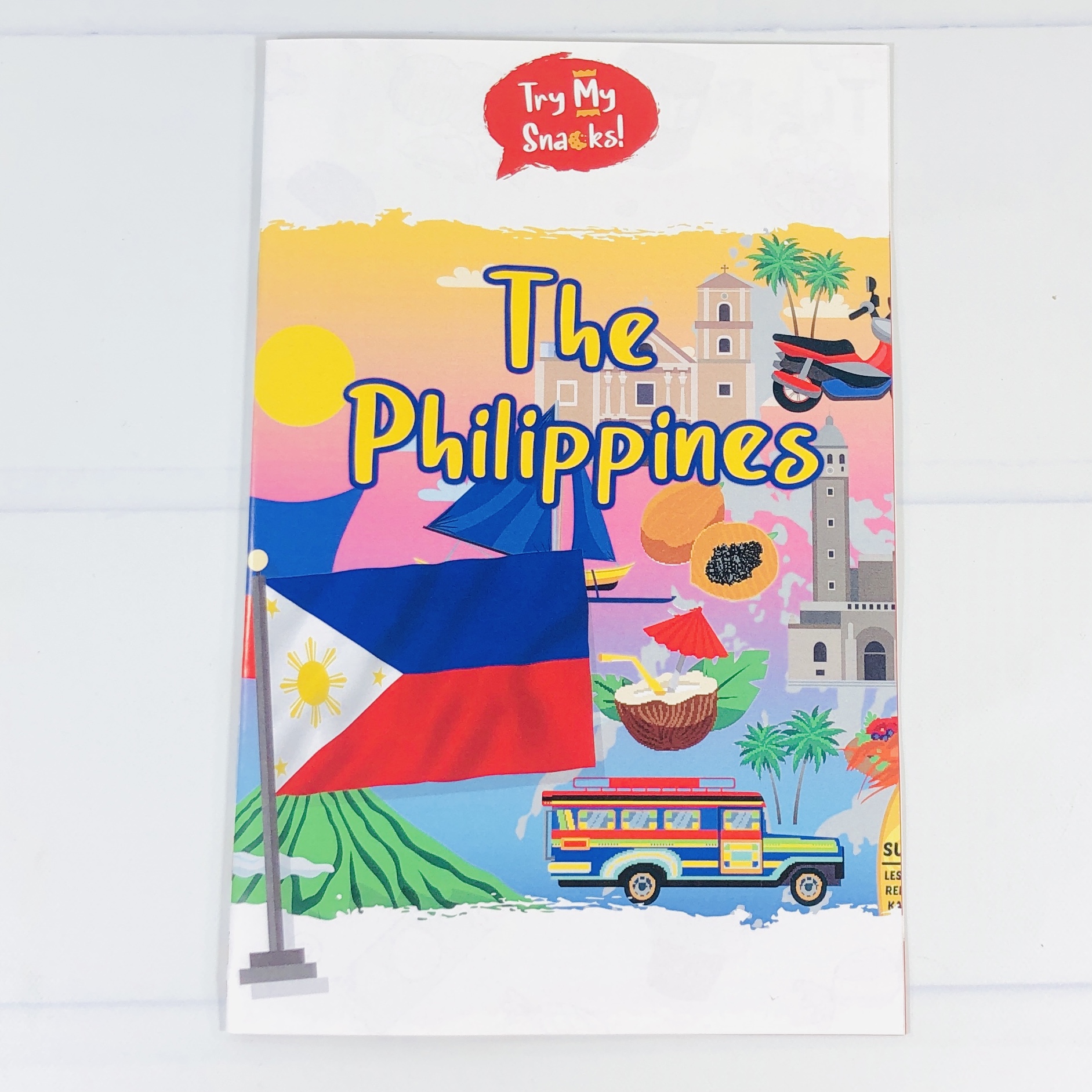 Each box comes with a mini booklet.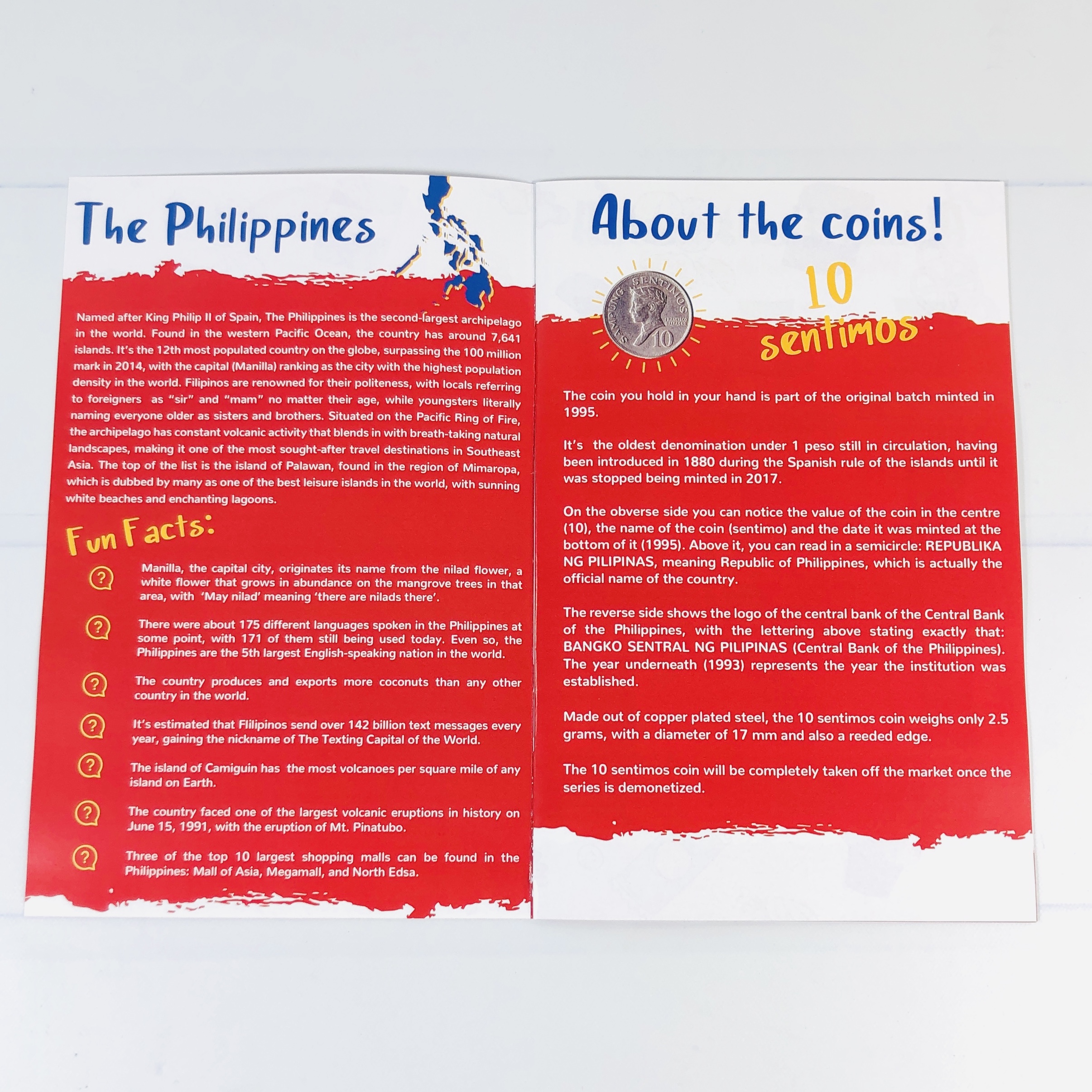 It mentioned a few facts about The Philippines and described the included coin.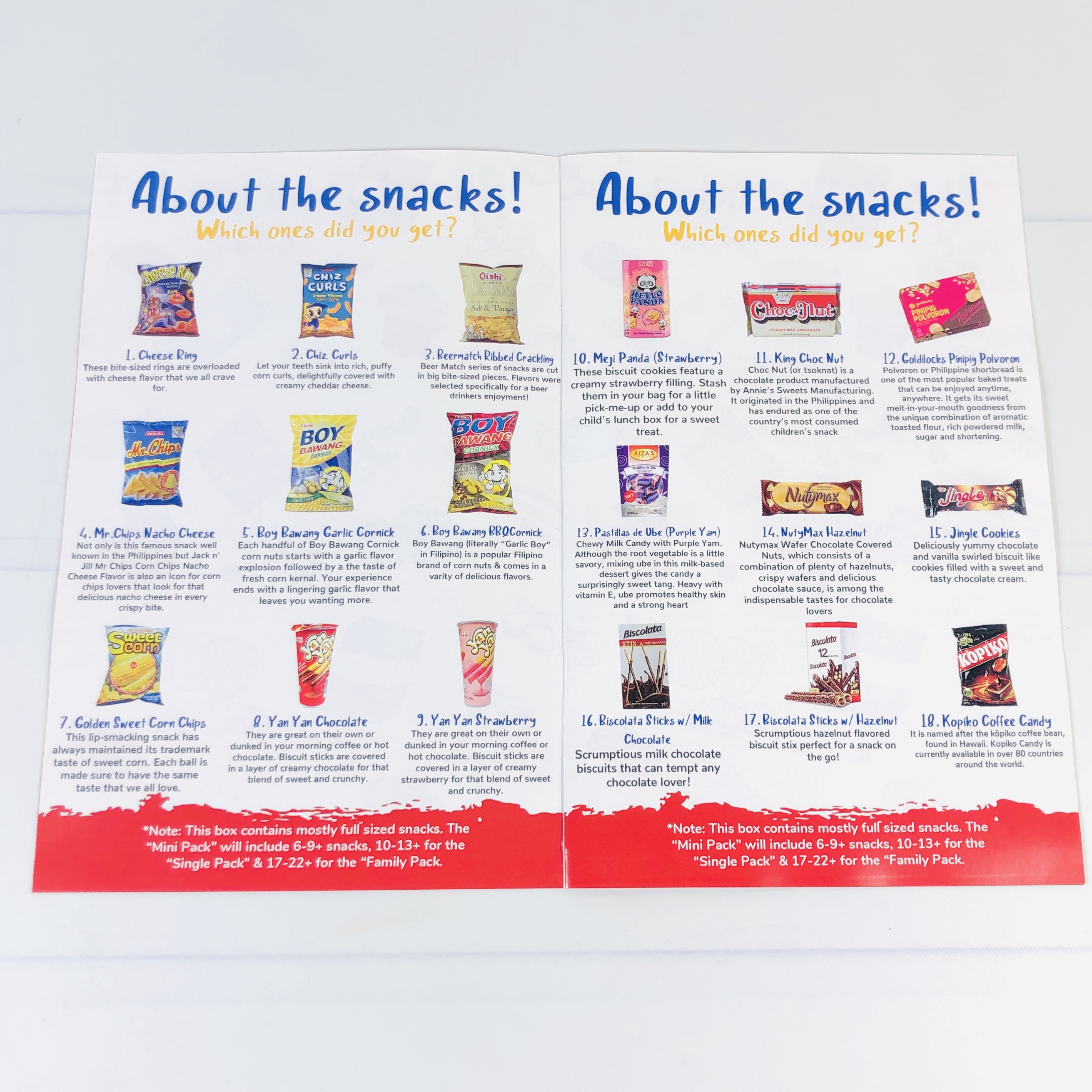 Next we learned about all of the possible snacks that may have been sent. You will receive an assortment based on the answers you gave to the quiz upon sign up.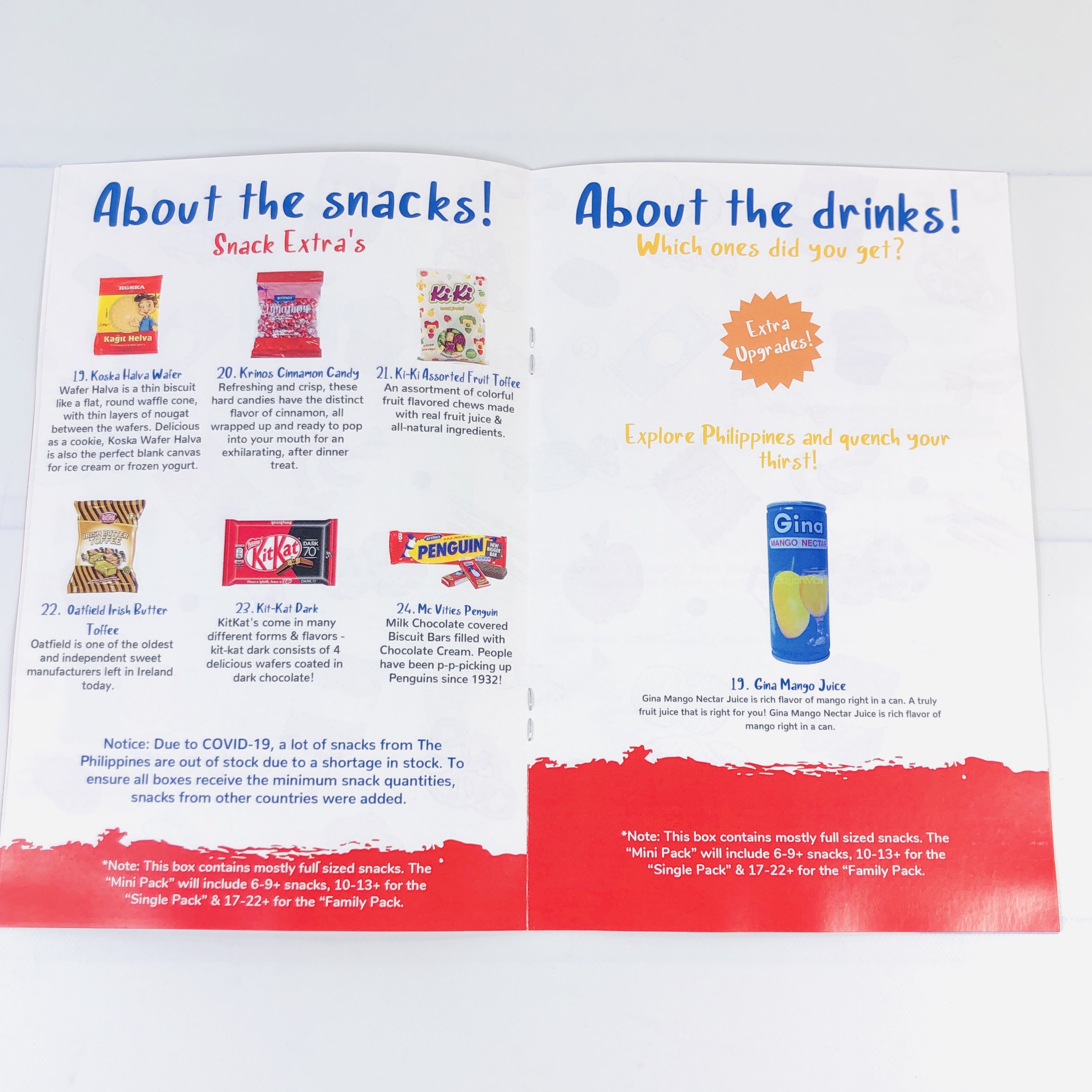 Here's the rest of the possible snacks! There was a note that said that due to COVID shortages, they had to supplement this box with snacks from other countries. I find that it happens pretty much every month, but I am ok with that.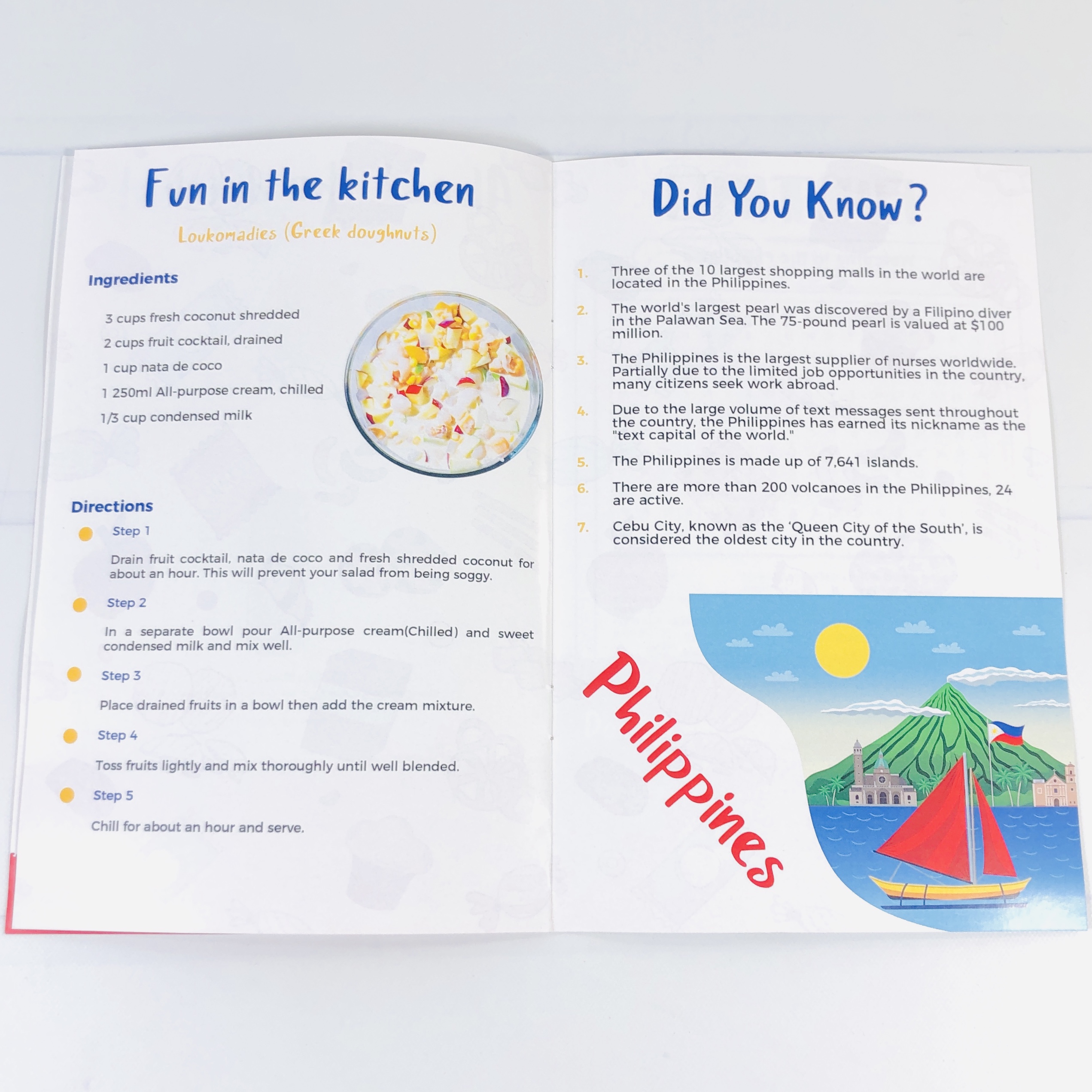 A recipe and more facts were listed. It looks like the recipe name and ingredients don't match up. This isn't a recipe for doughnuts, but it does look like a recipe for fruit salad.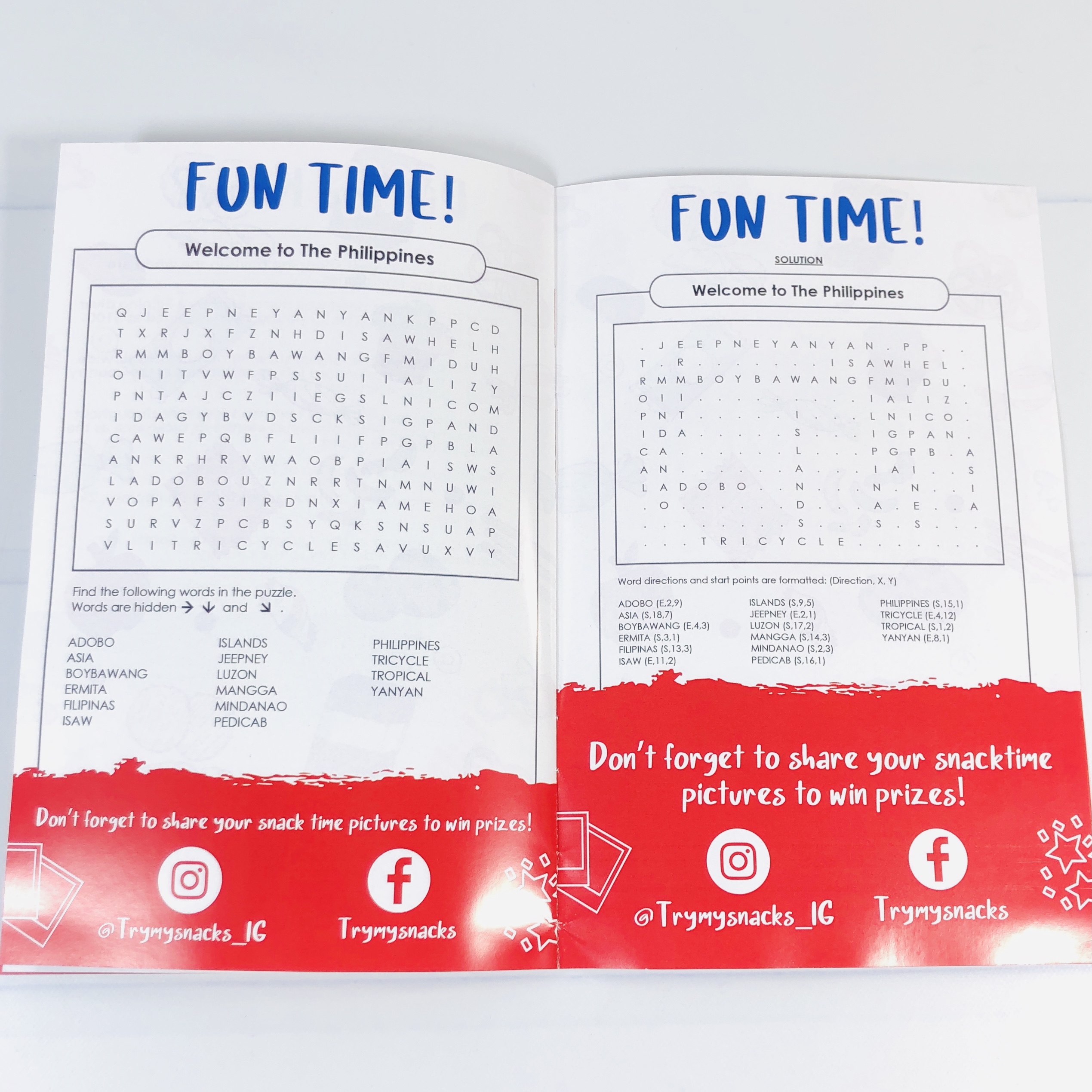 There was a puzzle.
Here's the back page.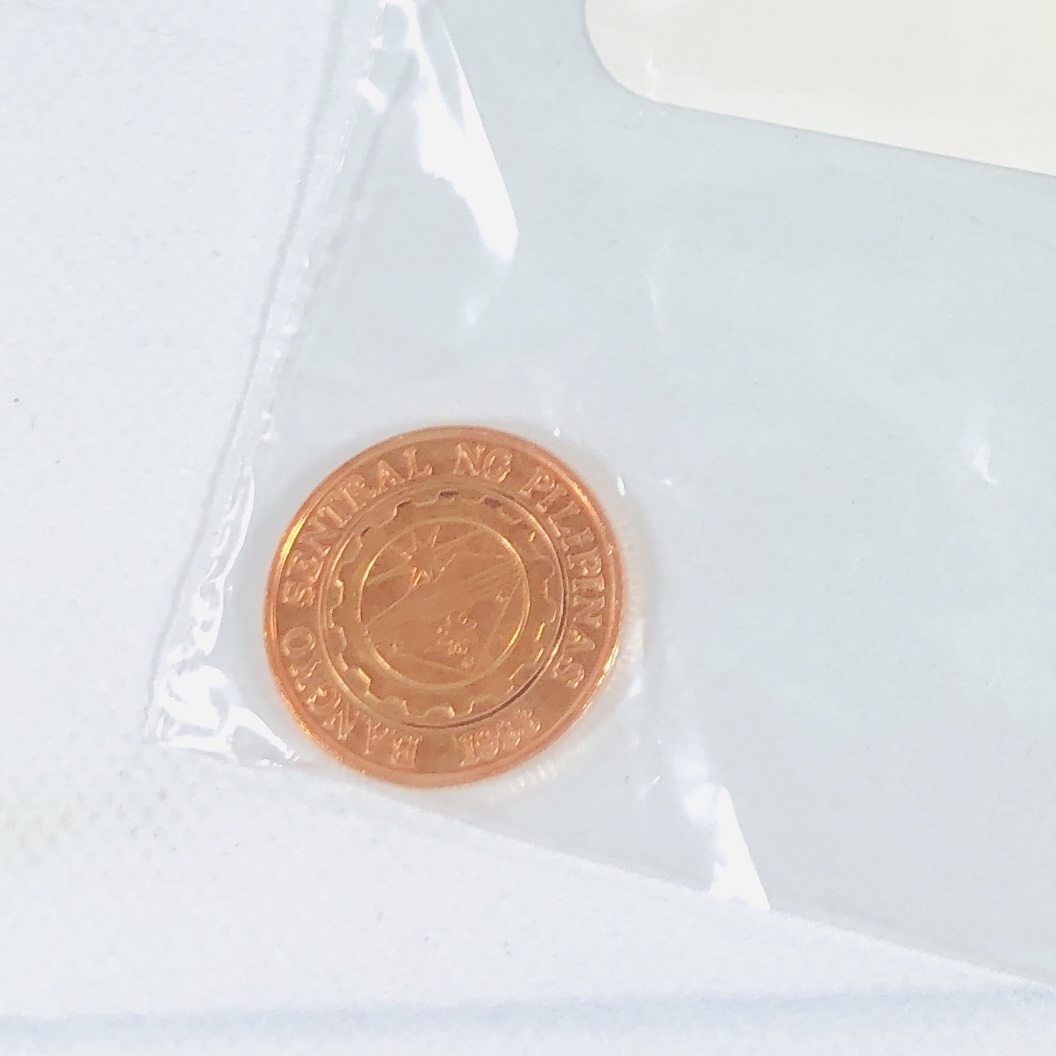 Each month we receive a coin from the featured country. This is 10 sentimo coin.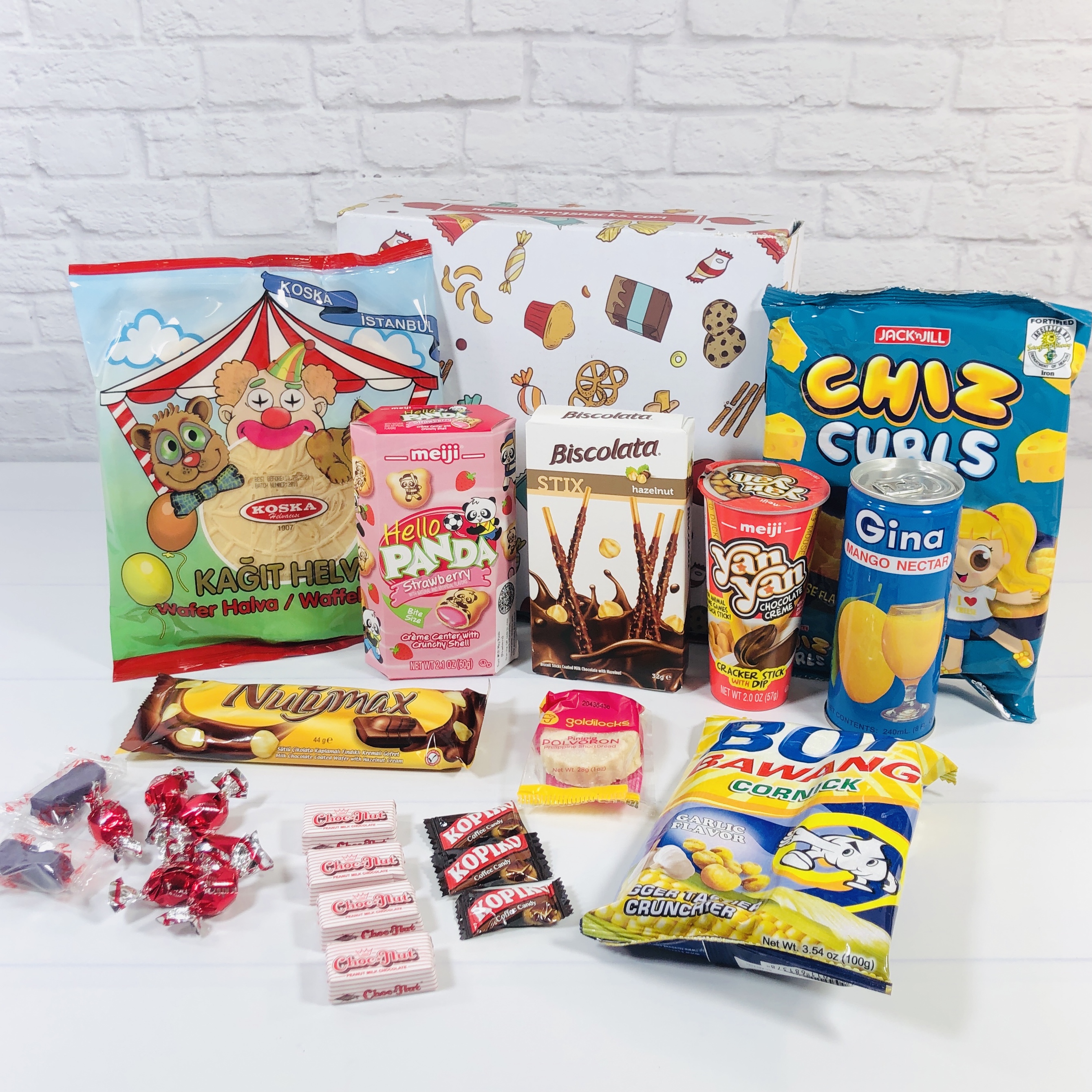 Everything in my box! It's going to take my family of four a while to try all of these but we always enjoy the challenge!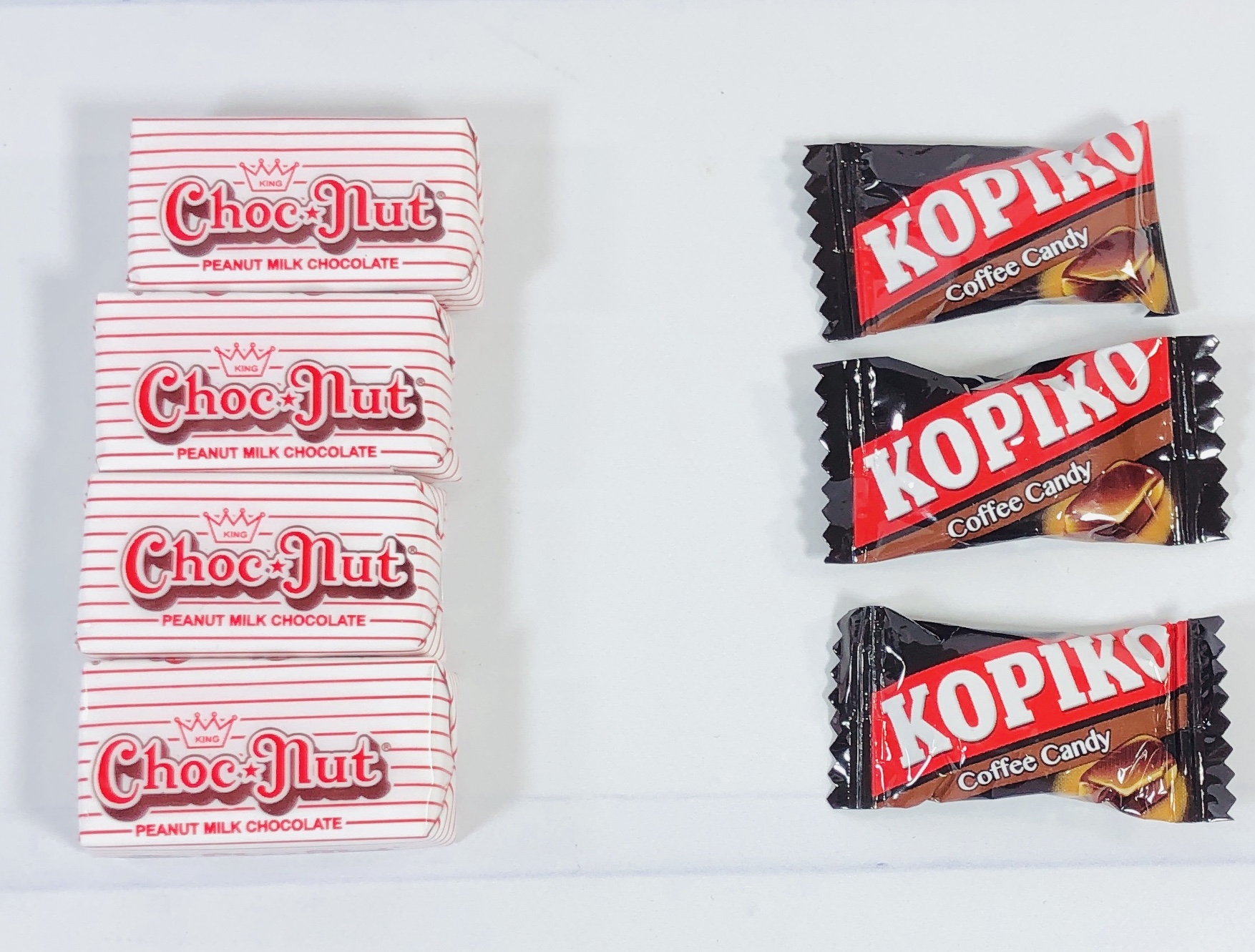 King Choc Nut is a small piece of peanut and chocolate mixed together, and it is crumbly and melted quickly in my mouth. I'm not sure what to compare it to. A Cadbury Flake? A soft Butterfinger? Maybe a combo of the two. Product of The Philippines.
Kopiko Coffee Candy I've bought bags of this hard candy before, my daughter likes coffee-flavored candies and this one is smooth and without any bitterness. I'm not a fan of coffee but even I like these candies! Product of Indonesia.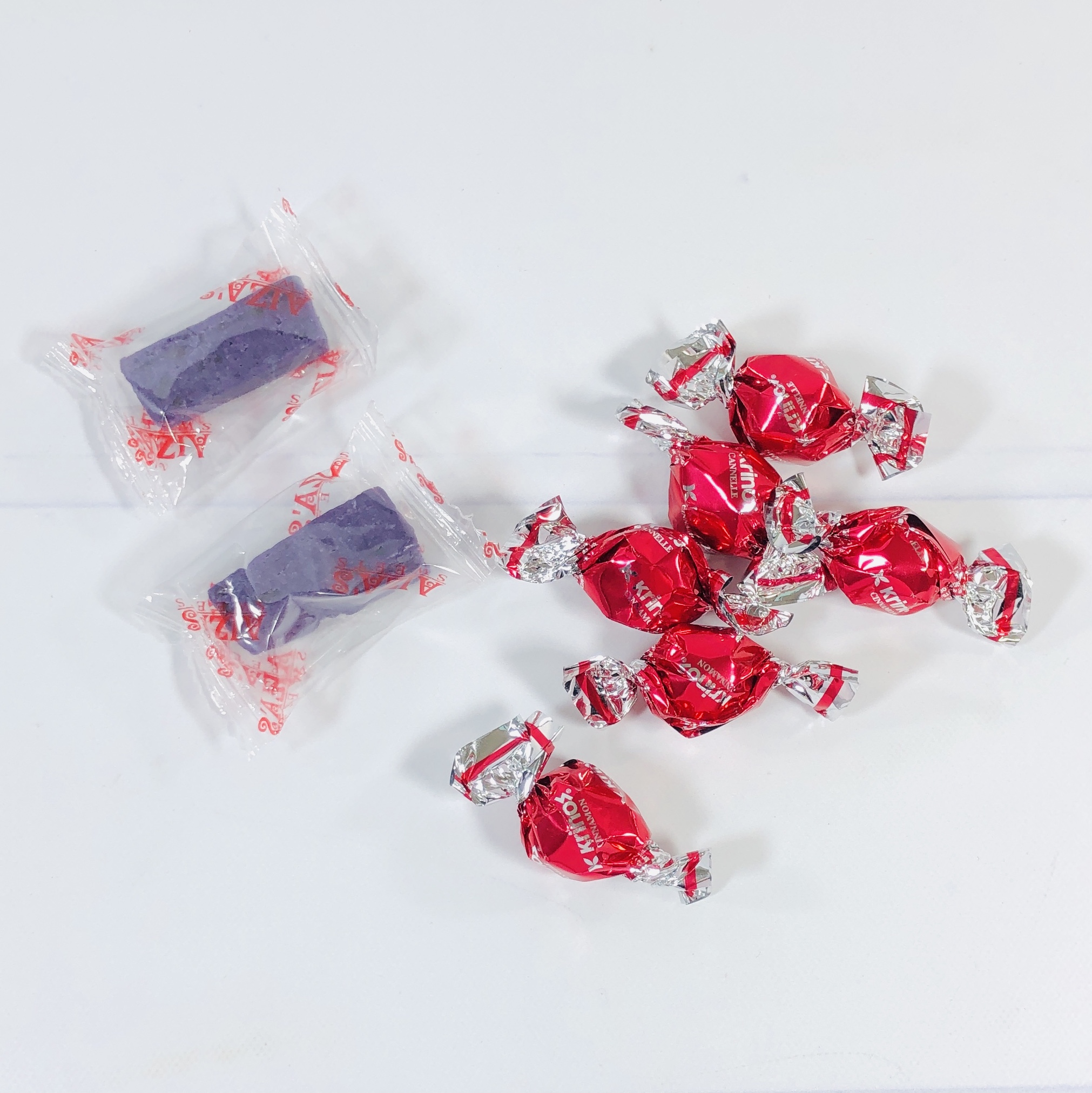 Aiza's Sweets Pastillas De Ube (Purple Yam) is a chewy candy that is possibly made with sweetened condensed milk and purple yam. It's not overly sweet and it also doesn't really taste like yams or sweet potatoes, and although I've tried Japanese yam snacks, it doesn't taste like that either. I liked it, and I wish I had more than one to try (my daughter ate the second one). Product of The Philippines.
Krinos Cinnamon Candy We tried these a few months back and I was actually really happy to get them again, they are my favorite cinnamon hard candies! They are sweet and warming but they don't burn my mouth the way other red hot candies can, and they don't leave my cheeks and lips swollen either. Product of Greece.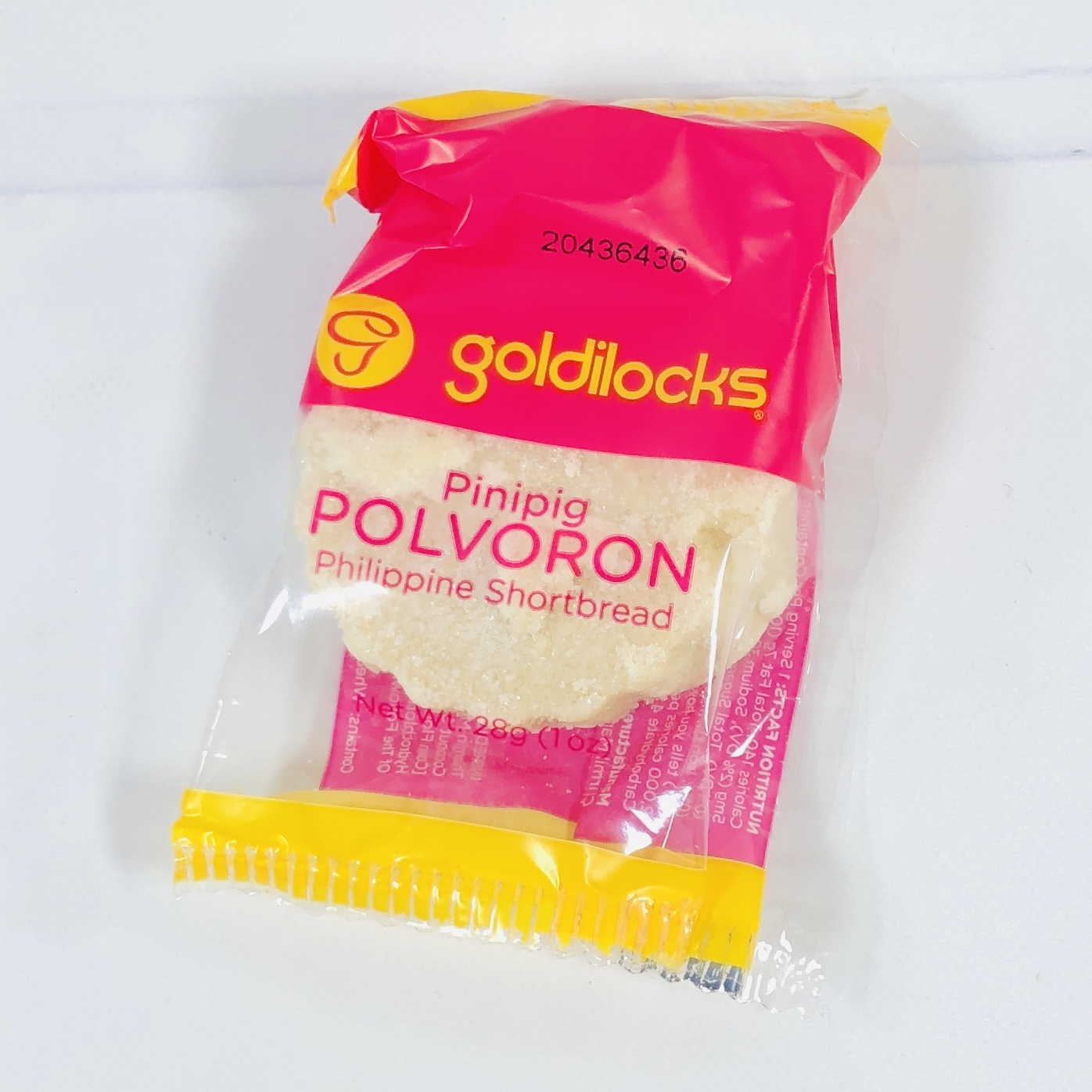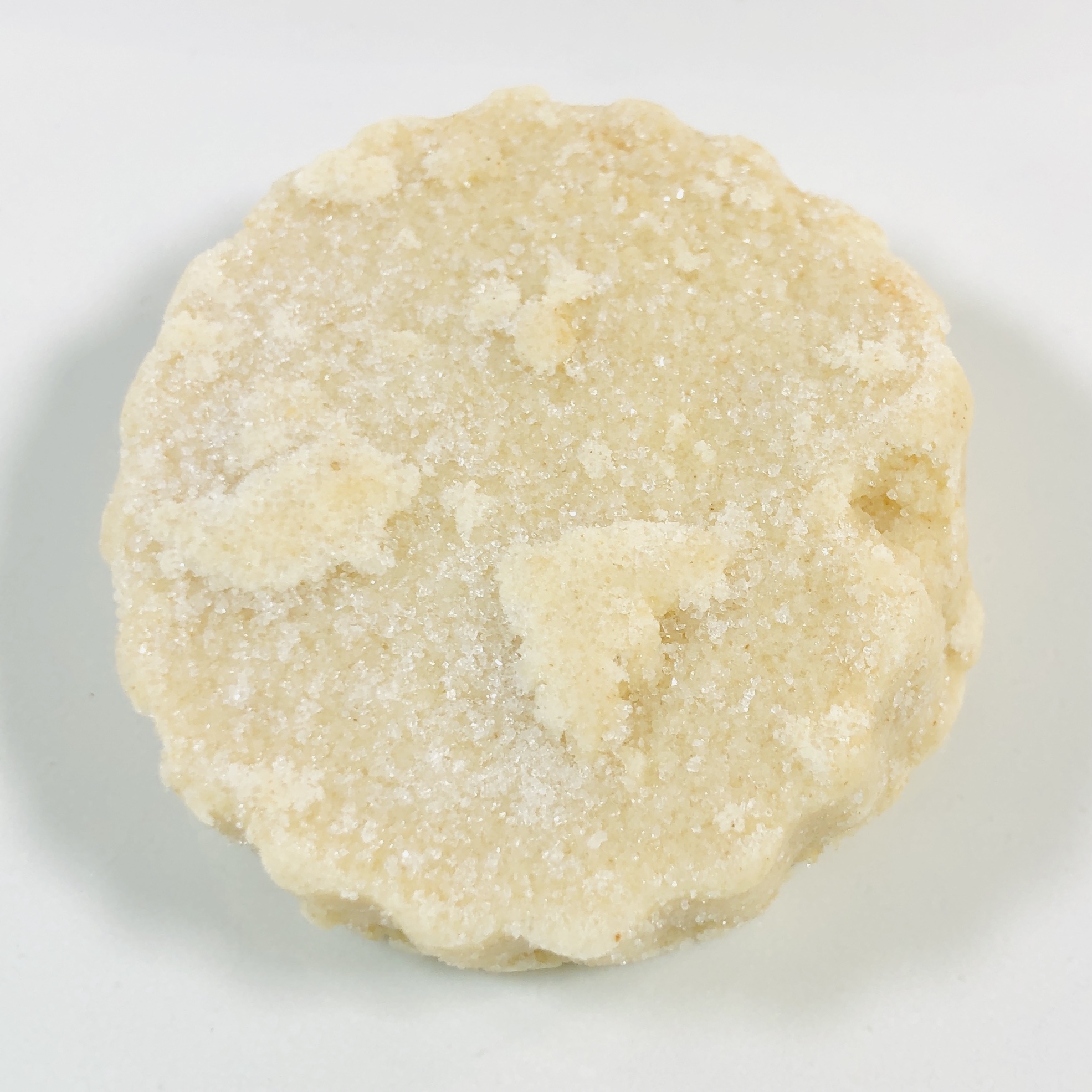 Goldilocks Pinipig Polvoron I'm kind of sad that I shared this little cookie/candy hybrid with my family because it was super delicious, but I think they appreciated just as much as I did. It's kind of like an extra rich shortbread cookie but it has crispy rice pieces that give it some texture and reminds me of halva. It's sweet, oddly milky, and gone too soon.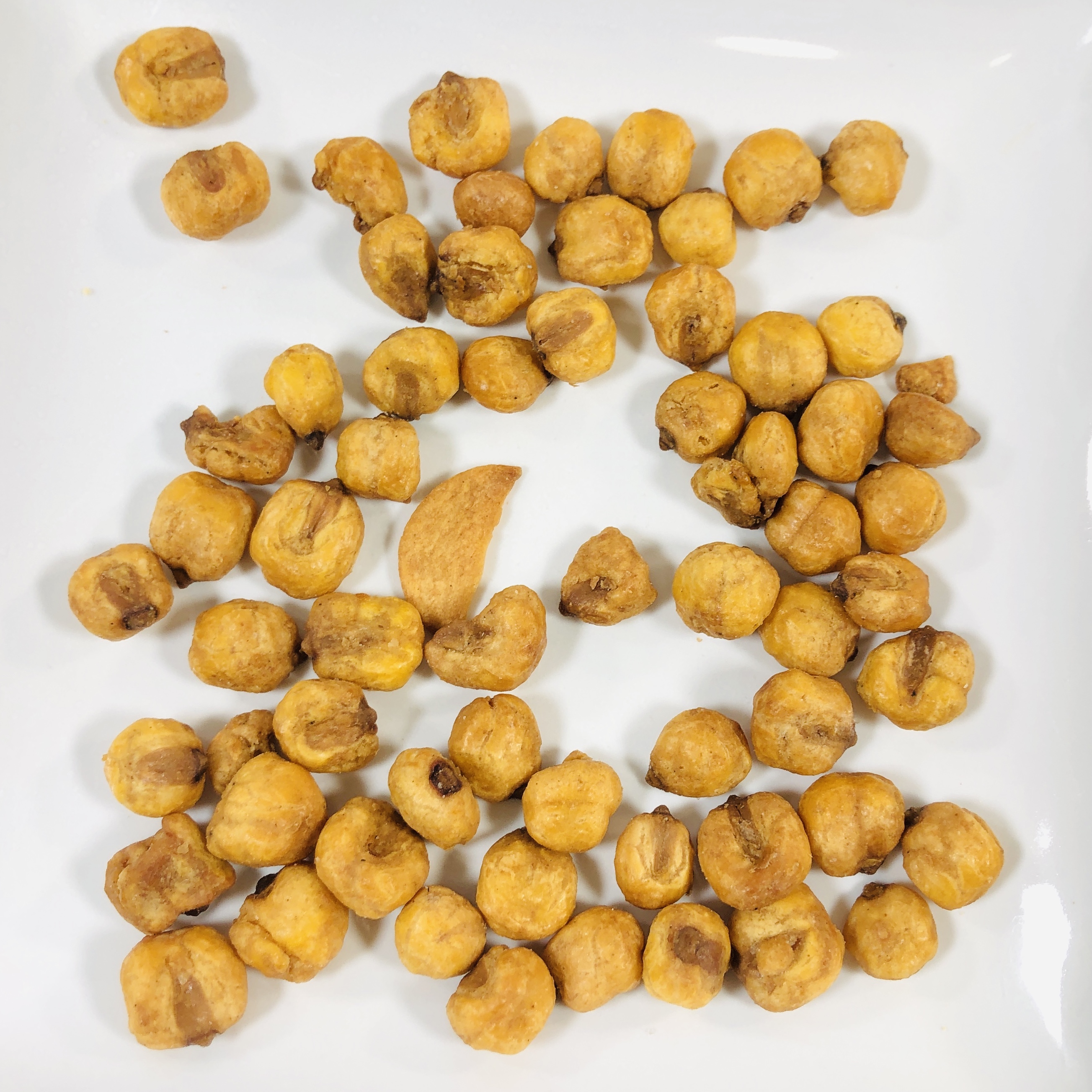 Boy Bawang Garlic Cornick is a corn nut snack that is lighter in texture than the kind I find in the corner store. The roasted garlic flavor is authentic and there's even pieces of roasted garlic in the bag (although I just ate a bitter burnt piece, blech). Product of The Philippines.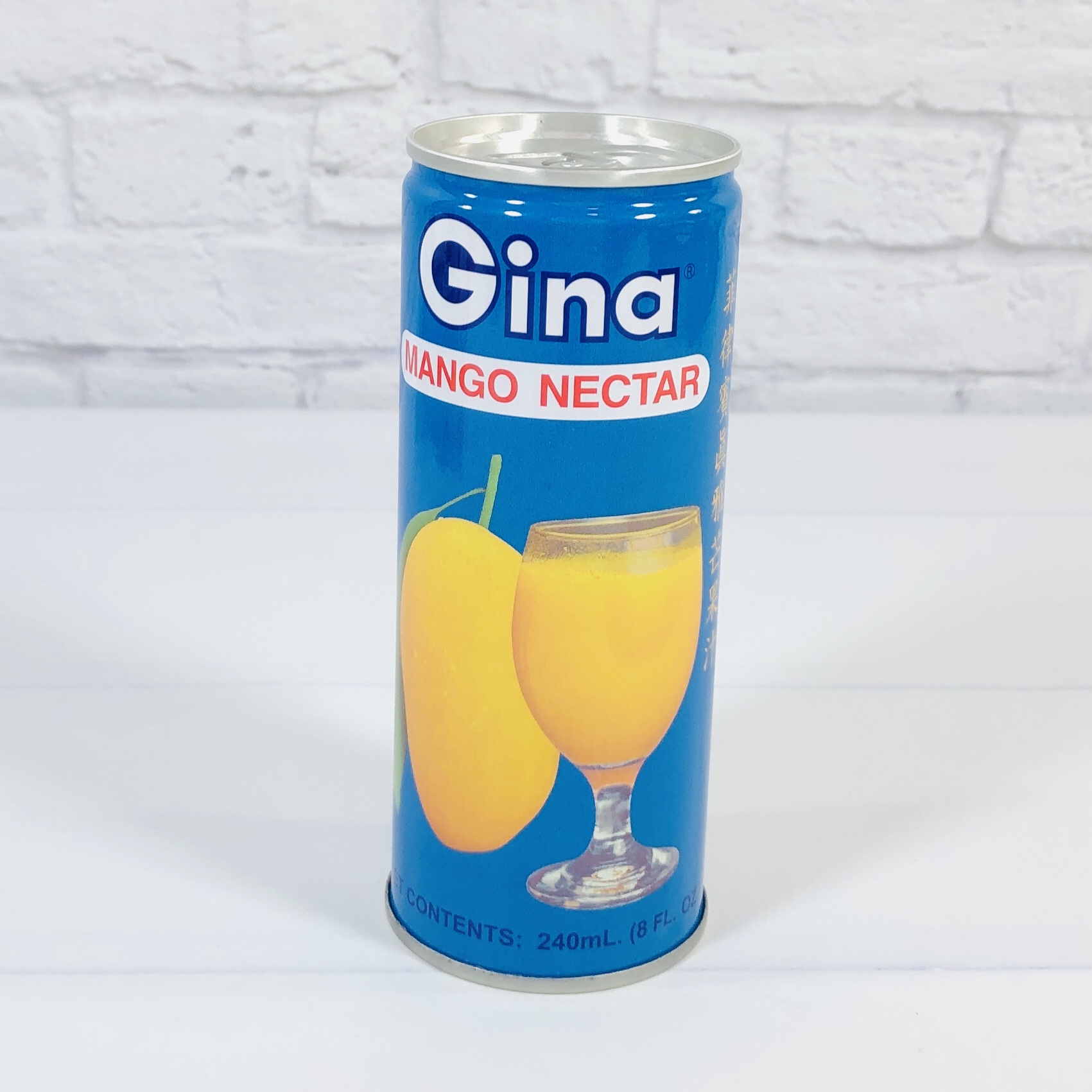 Gina Mango Nectar is a combo of mango juice, sugar, citric acid, and water. I poured this into three glasses and then topped it with ginger ale to make a refreshing drink and it was so good, even better than the mango nectar from my grocery store!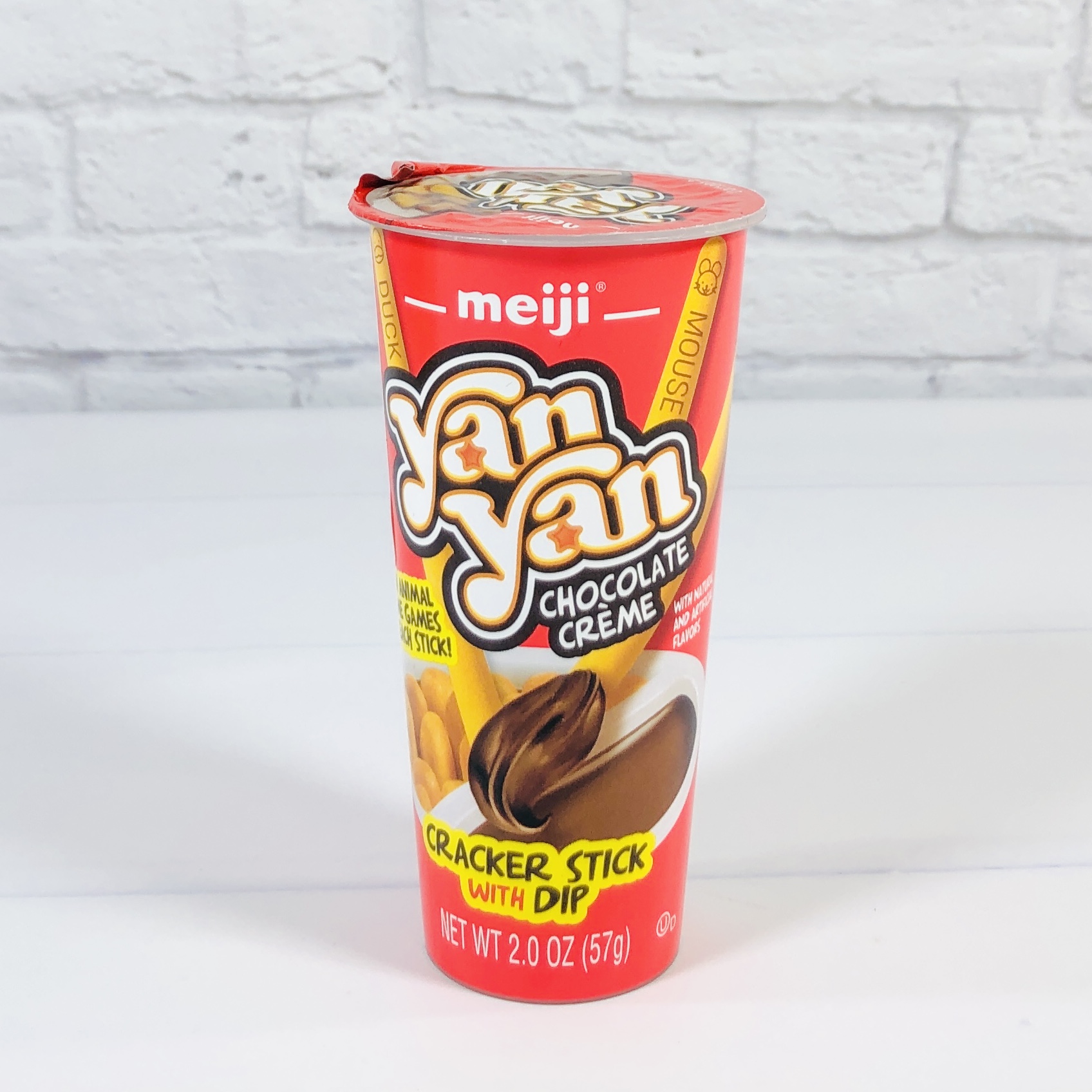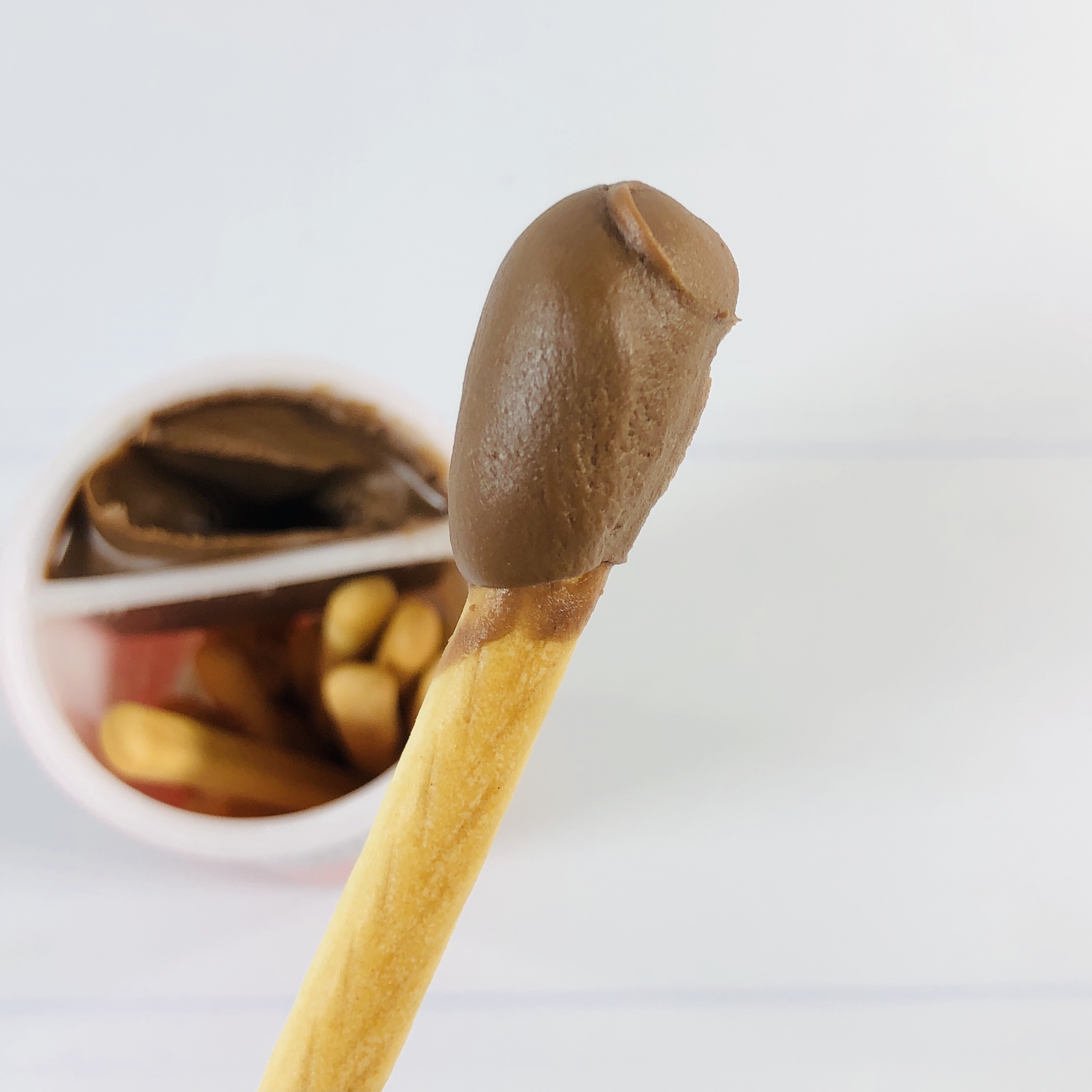 Yan Yan Chocolate is made by the same company that makes Hello Panda cookies (see next item in review). The cookie stick isn't too sweet, sort of like an animal cracker, but then there's a mini tub of chocolate icing to dip it into. Kind of like a DIY Pocky.
Most of the sticks were broken but they did have cool animal facts on the sides. Product of USA.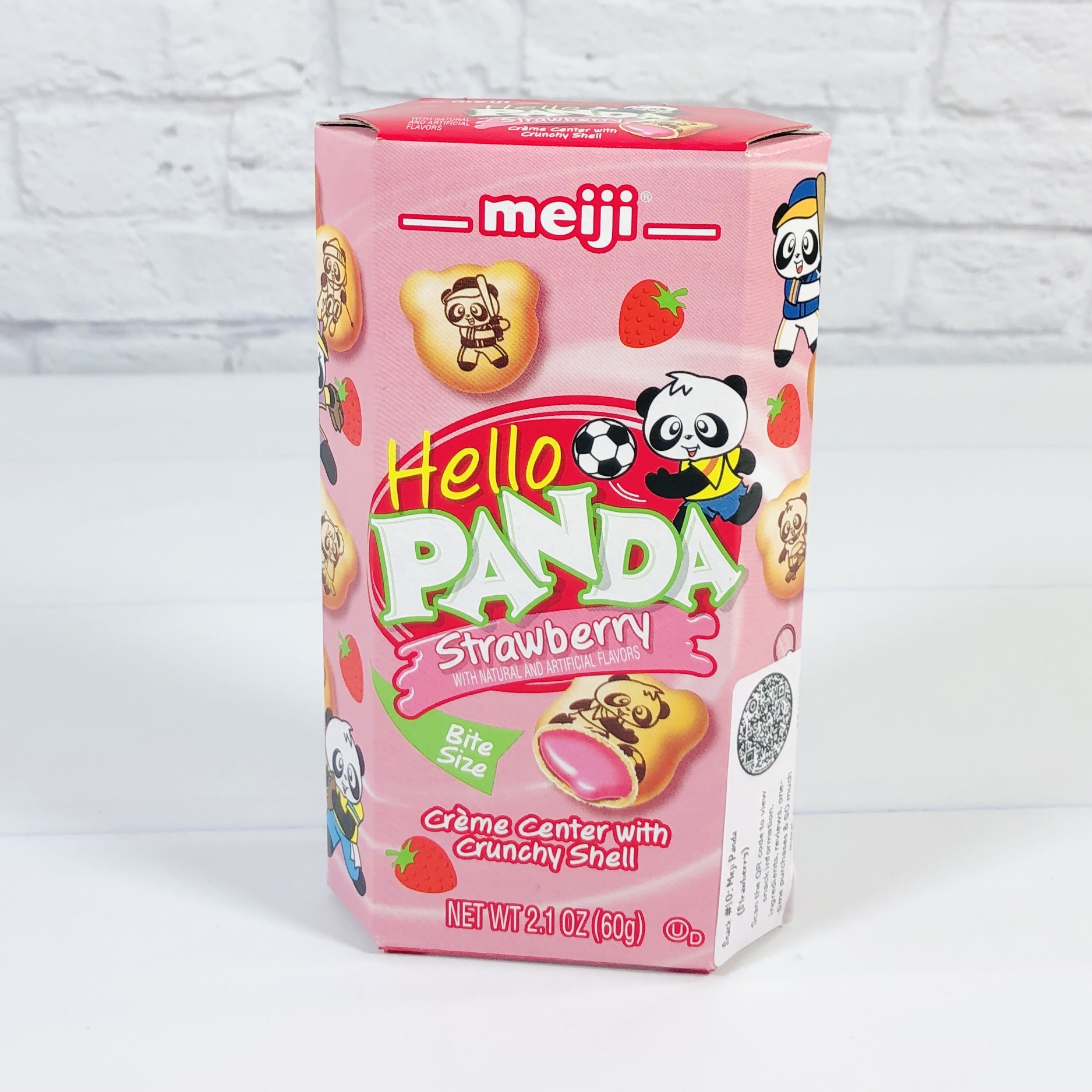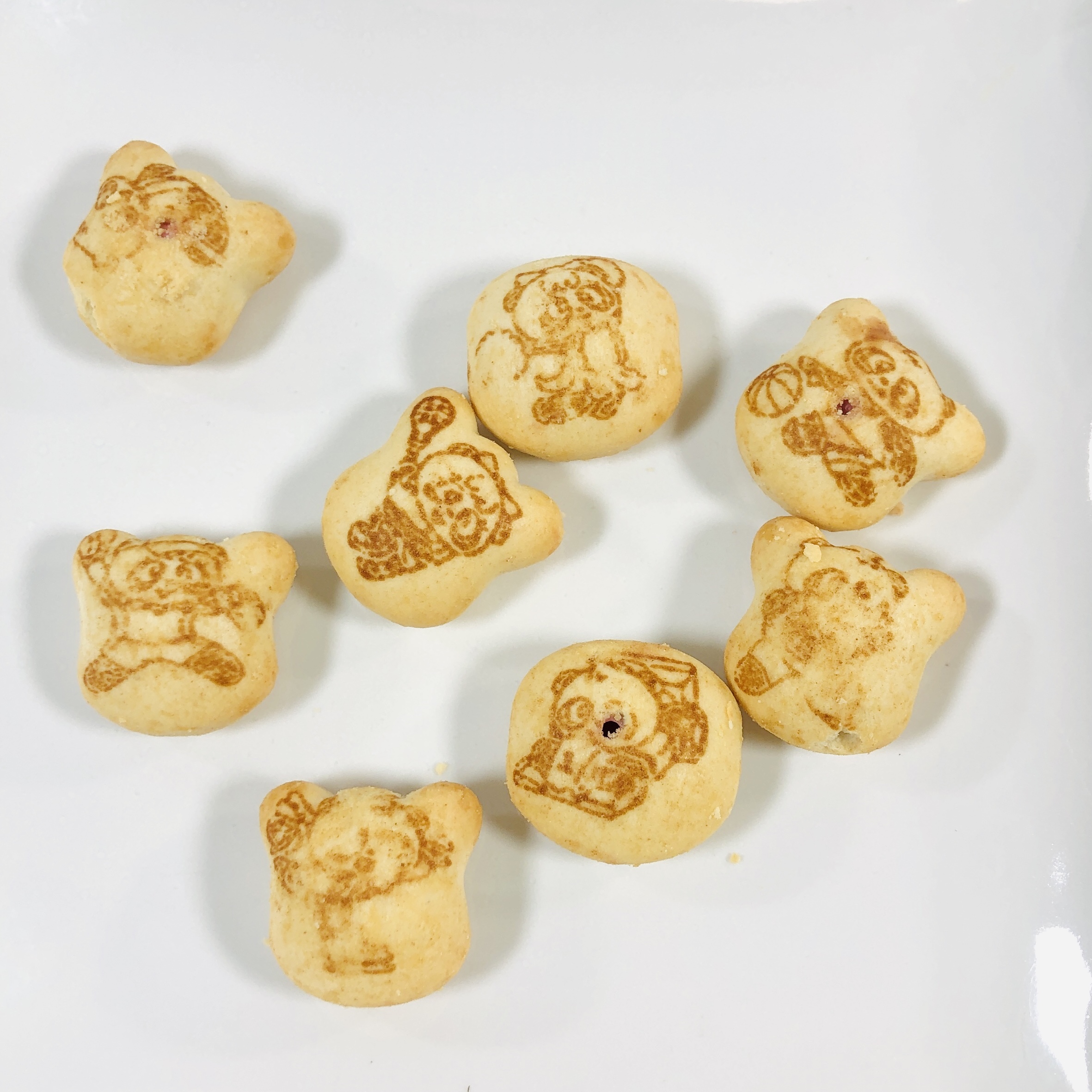 Meiji Hello Panda (Strawberry) I tried a different brand of a similar snack the other day and I must say, this one is far superior. The cookie is tasty, the strawberry flavor isn't as fake as the other brand, and I just really enjoyed these sweet little treats. Product of USA.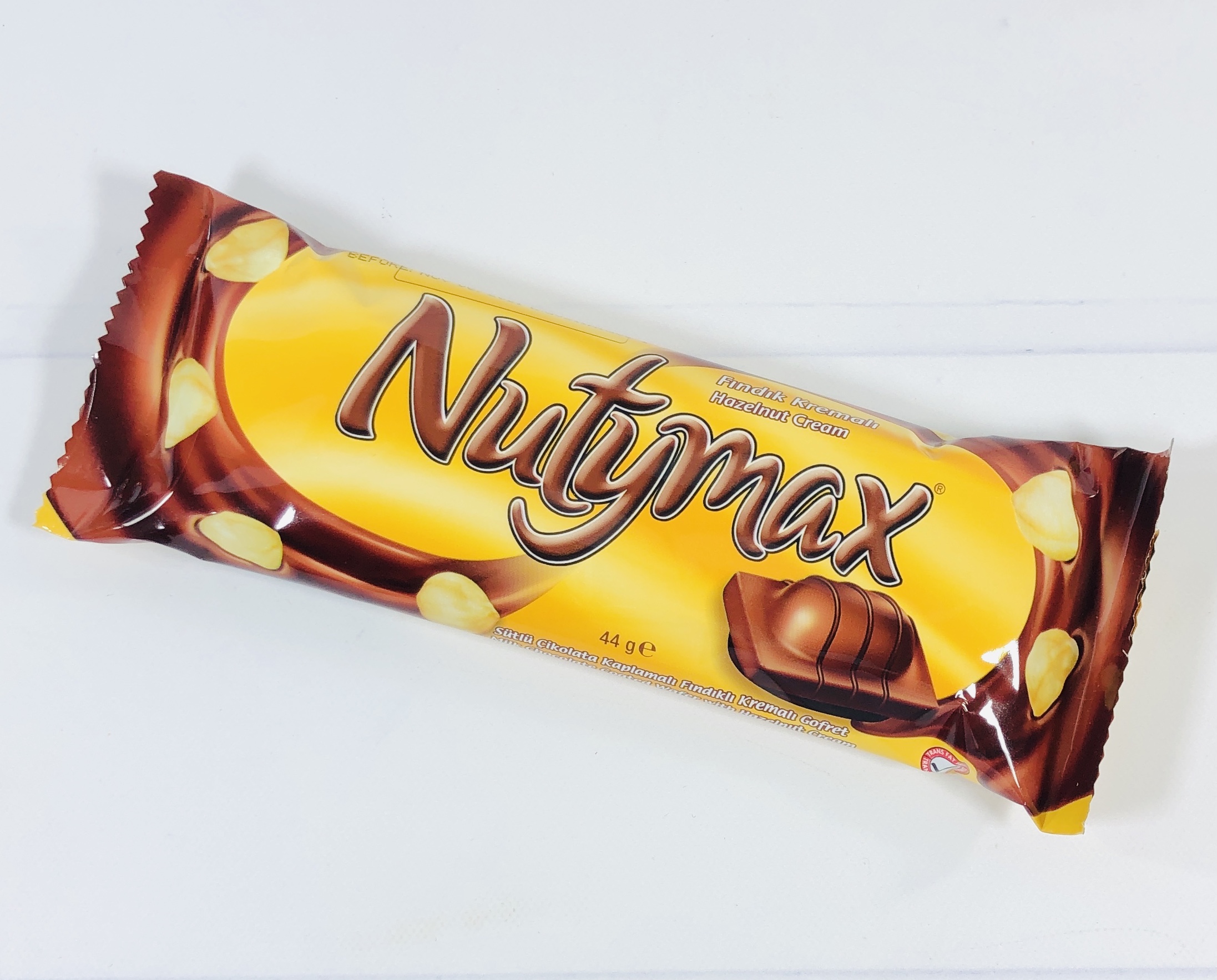 NutyMax Hazelnut is a wafer cookie with hazelnut cream/fudge in the middle, and then it's all covered in chocolate. So rich! There were two individually wrapped packs so I can have another one tomorrow!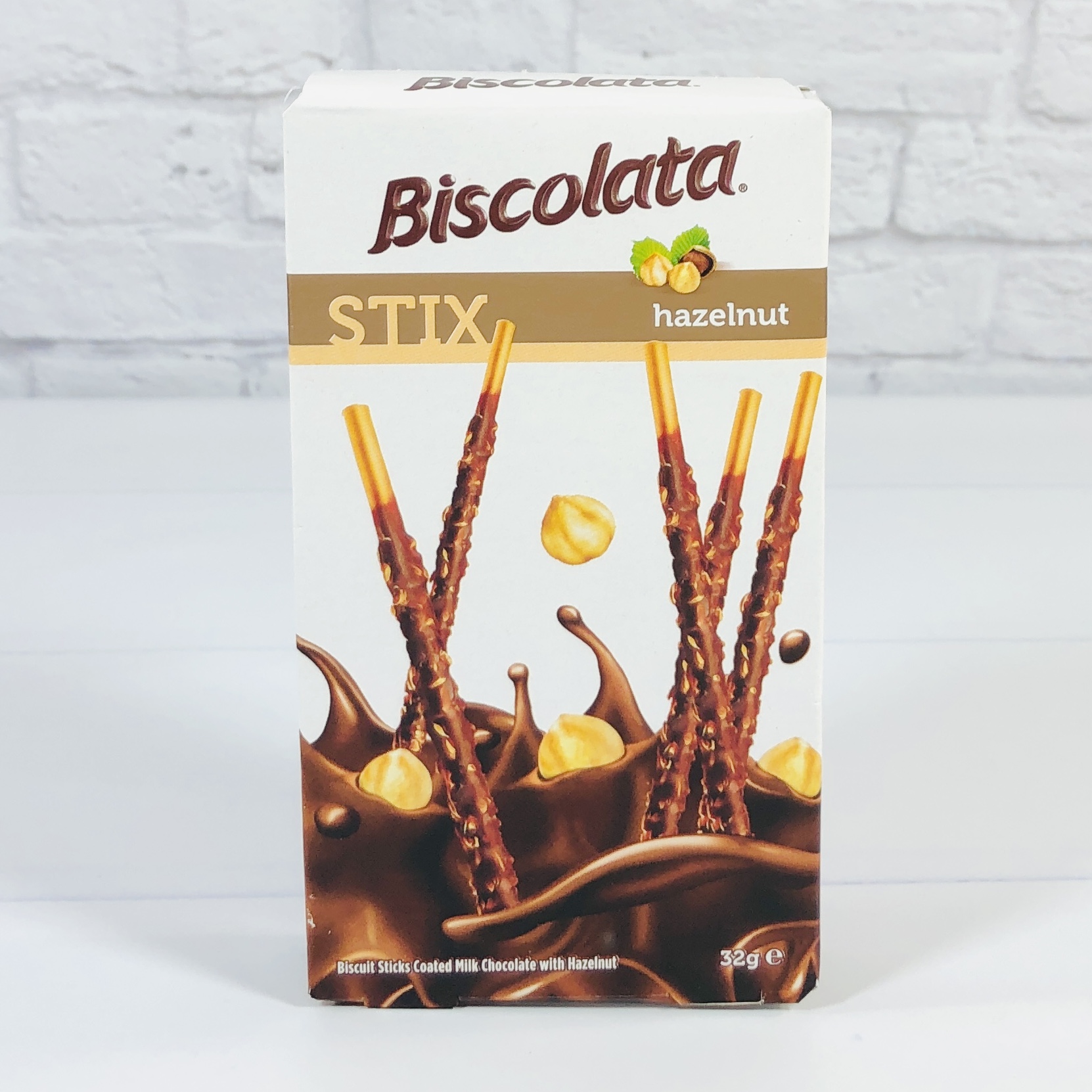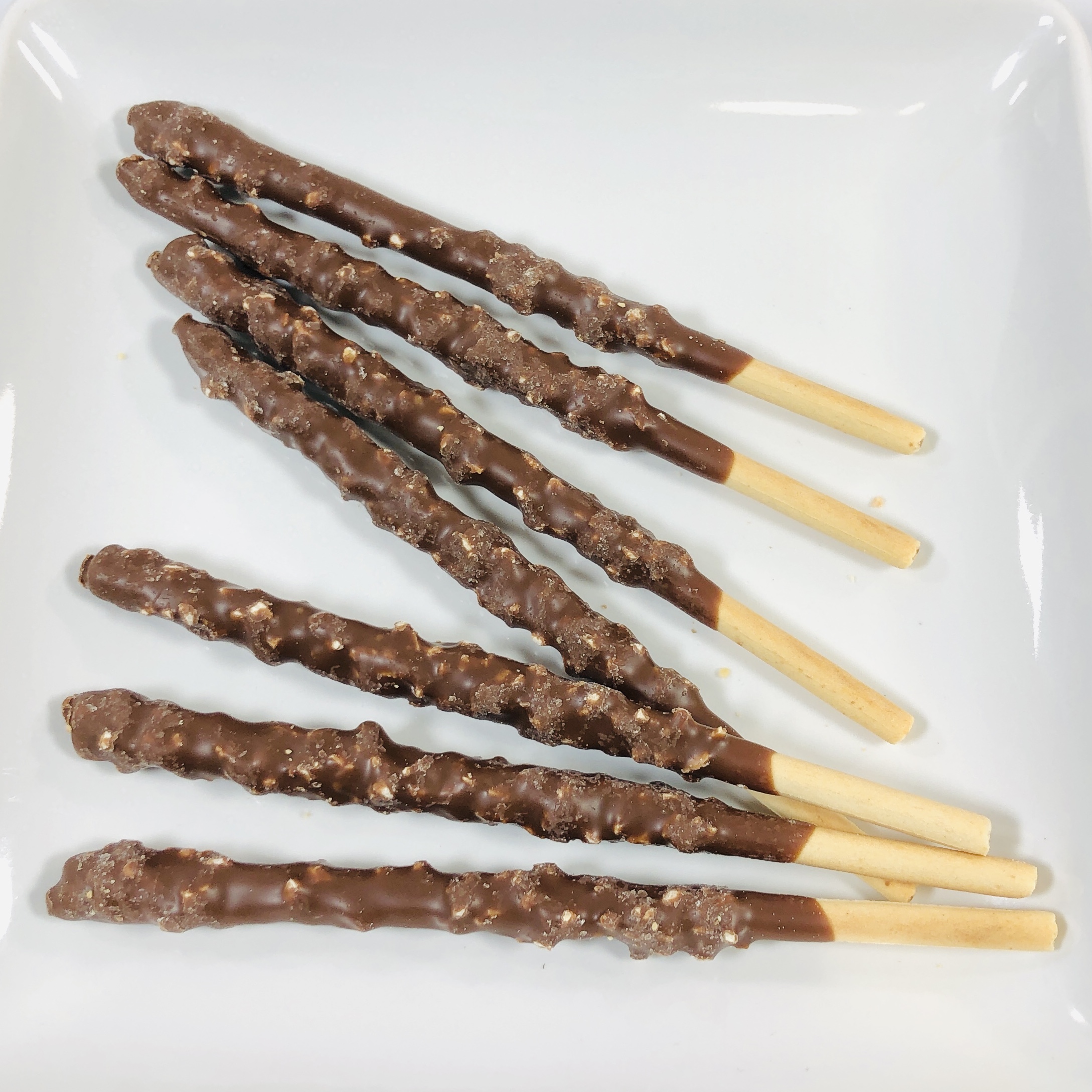 Biscolata Sticks with Milk Chocolate Here is another one of my favorites from this box! It's sort of like a Pocky, with a bland sweet cookie stick covered with milk chocolate and roasted hazelnuts. Like a frozen banana but without the banana, and with hazelnuts instead of peanuts. And with chocolate that tastes good. Ok, not like a frozen banana at all I guess. Product of Turkey.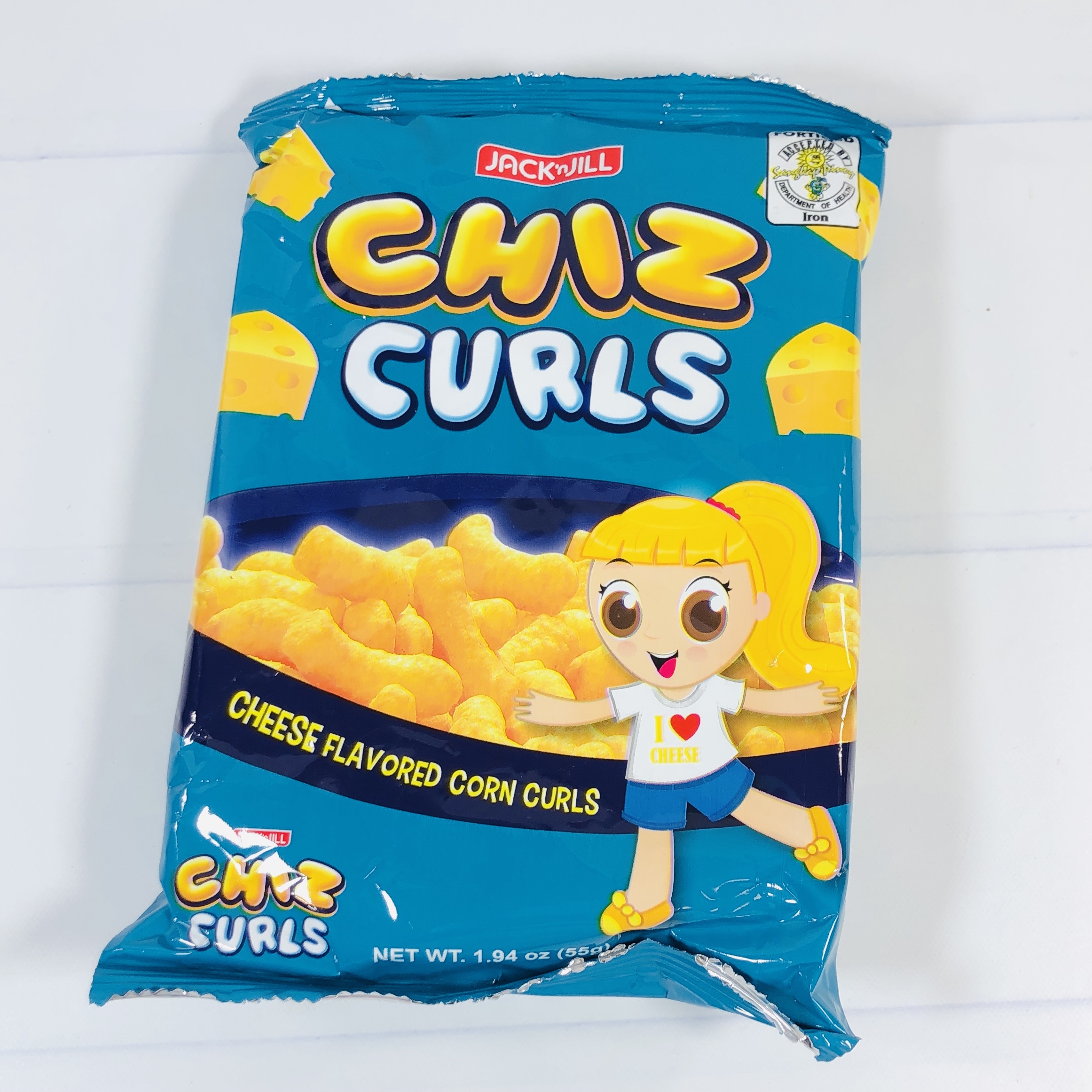 Jack 'n Jill Chiz Curls Chiz Curls gets my vote for best name that would also work for a rock band. These are classic corn curls that melt as soon as they hit your mouth. I think the cheesy coating reminds me of Kraft Mac and Cheese powder. Product of The Philippines.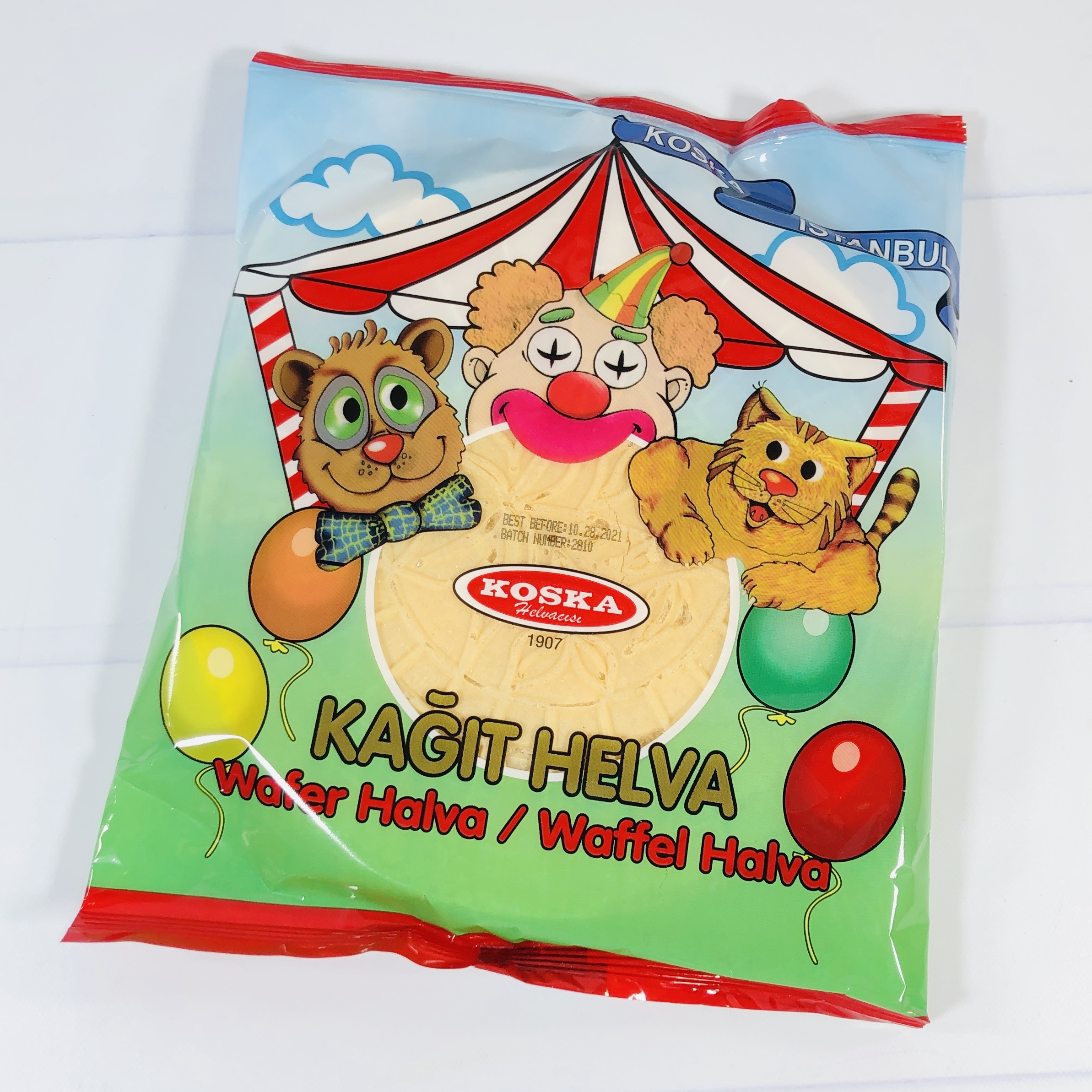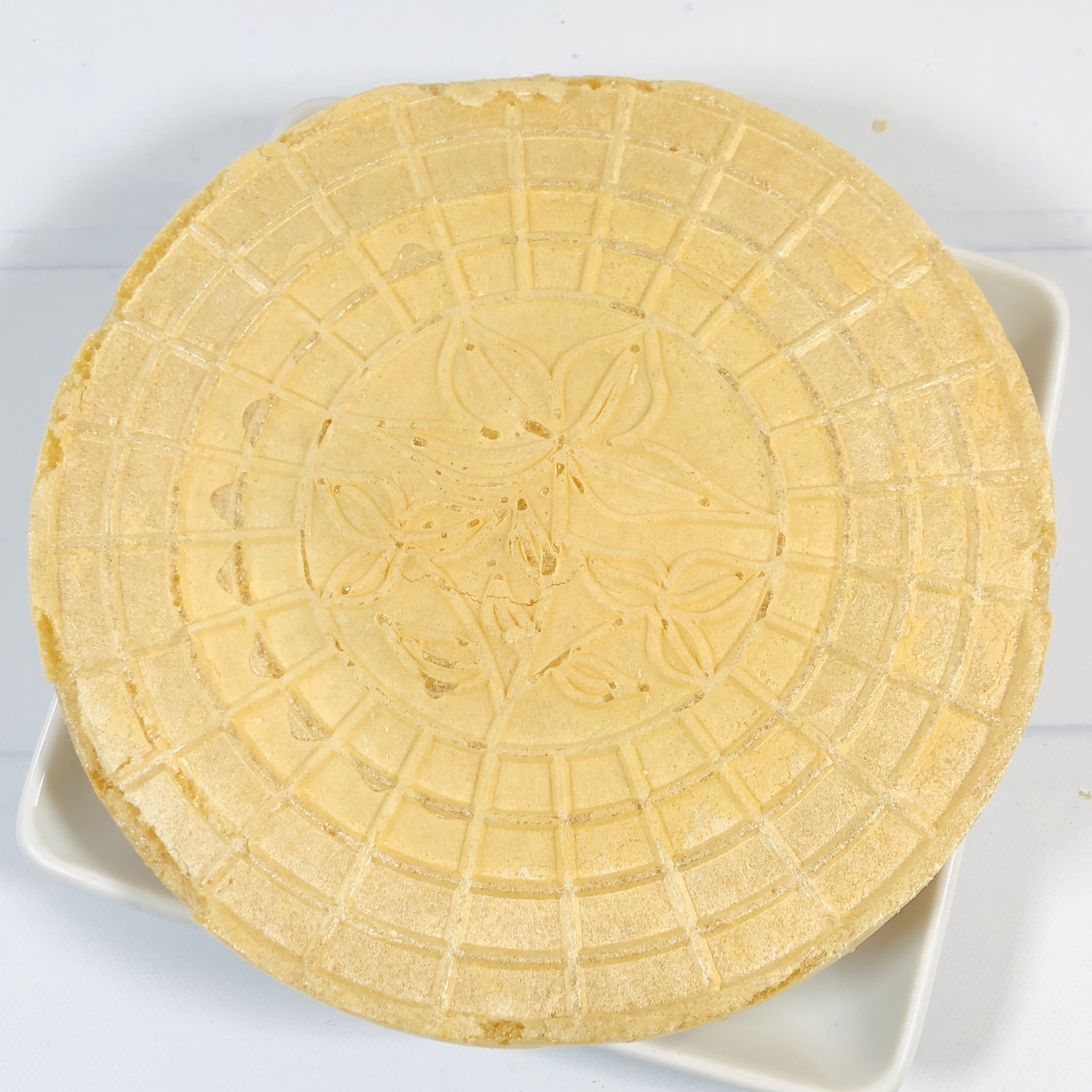 Koska Halva Wafer When I think of halva, I think of a crumbly sesame seed snack, but this isn't it. This is a giant ice cream cone wafer with banana flavored sticky filling in the middle. I'm not a fan, but then I don't much care for wafers or banana candy. Product of Turkey.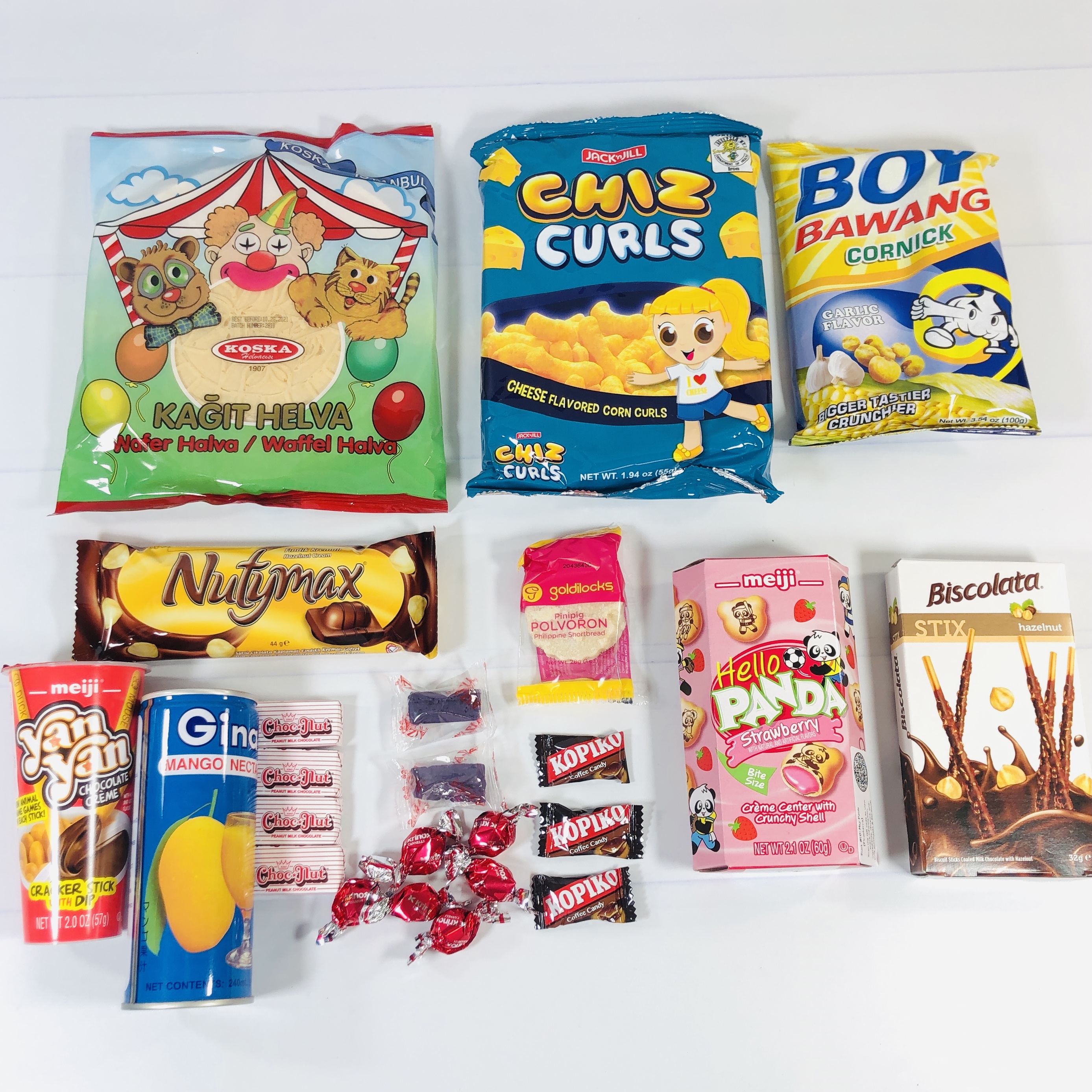 I was excited to try all of the snacks in my Try My Snacks box, and a good number of them were from The Philippines! I understand that they are having trouble getting items from other countries due to the pandemic, so not all of the snacks are from the featured country, but everything was still tasty and in perfect condition. The Hello Panda cookies and Biscolata sticks were probably my favorite of the bunch, and I've started stocking up on mango nectar since trying the brand sent, which was very flavorful. My family had their own favorites, so there was truly something for everyone and nothing is left over. I can't wait to see which country is featured next!
Any thoughts about this box?
Visit Try My Snacks to subscribe or find out more!