We have June 2021 spoilers for Stickii's sticker subscription clubs! Join by 5PM Pacific on the 7th!
Hello friends! Our Cute theme for June is "Cutie Fruitie"! 🍉🍑🍋🥝🍇 Check out the refreshing sweet treats we have in store for you to start off summer:

🥝 Few things top cute animals with fruit outfits honestly, and @patatoni__ is here to give the people what they want. If the kiwi bird with the kiwi hat doesn't make you 🥺, nothing ever will.

🍉 June means that watermelon season is officially HERE! Watermelon ✨everything✨ by @creamsherryart (with a matching notepad!) will make sure you're stocked up for the whole summer.

🍇 If you ever froze grapes as a kid for a cool summer treat, these stickers by @imaginstation are for you! Adorable penguins chillax-ing with their favorite fruity flavor.

🍑 Who's thirsty? Grab one of these adorable fruity drinks from @laecheng ! Why not have a cat orange or a bunny peach while you're at it?

🍎Party at @pusheen 's! This berry cute sticker sheet is sure to satisfy your sweet tooth, featuring the adorable Pusheen & her friends serving up treats!.
It's time for another spoiler reveal! Say hello to 🌊 "Deep Blue Sea," 🌊 our Vintage pack for June! Get your scuba gear and let's dive right in:

🧜‍♀️ Explore the beauty of the coral reef with your new mermaid girl gang from @gigichong_art !

🐋 Commune with nature under the moonlight with @muriel_a.r.t 's humpback whales!

🏺 Get your ancient Greek on with @harkenback 's black figure pottery-esque ichthyology sheet with matching seahorse stamp!

🌊 Classic Japanese ukiyo-e ocean prints, exclusively from STICKII!

🎁 …and lots more surprises, for pack subscribers' eyes only!
Who's ready for a tea-time that's magically delicious? Introducing 🥐✨"Bakecraft,"✨🥐 our Pop theme for June! Pick out your coolest pointy hat and check out what's in store:

🌙 @shiroiroom 's little witches have found little teacups perfectly suited to their personalities and for lounging!

🥐 Even witches need a snack break! Spellbinding coffee, croissants, and patisserie from @mmumechii with sparkling gold foil accents.

🕷️ Speaking of snacks, @erinwallaceprint has created some witchy snacks for the most adventurous spellcasters, featuring mushroom, spider, and gravestone accents on adorably pastel goodies.

👻 Check out @coco__glez 's kitchen witches brewing up some magical study break snacks (with help from some very fluffy kitties and happy spirits.)

💀 We really wanna hang out with these high-fashion, manga-style witches from @cherririi doing witchy things. Brooms, kitty familiars, and skulls abound, along with two matching paper clips!

🎁…and lots more surprises, for pack subscribers' eyes only!
Stickii Club is $10 per month, and has 3 subscription themes you can choose from – Cute, Pop, and Vintage!
Check our Stickii Club reviews to find out more!
About Stickii Club: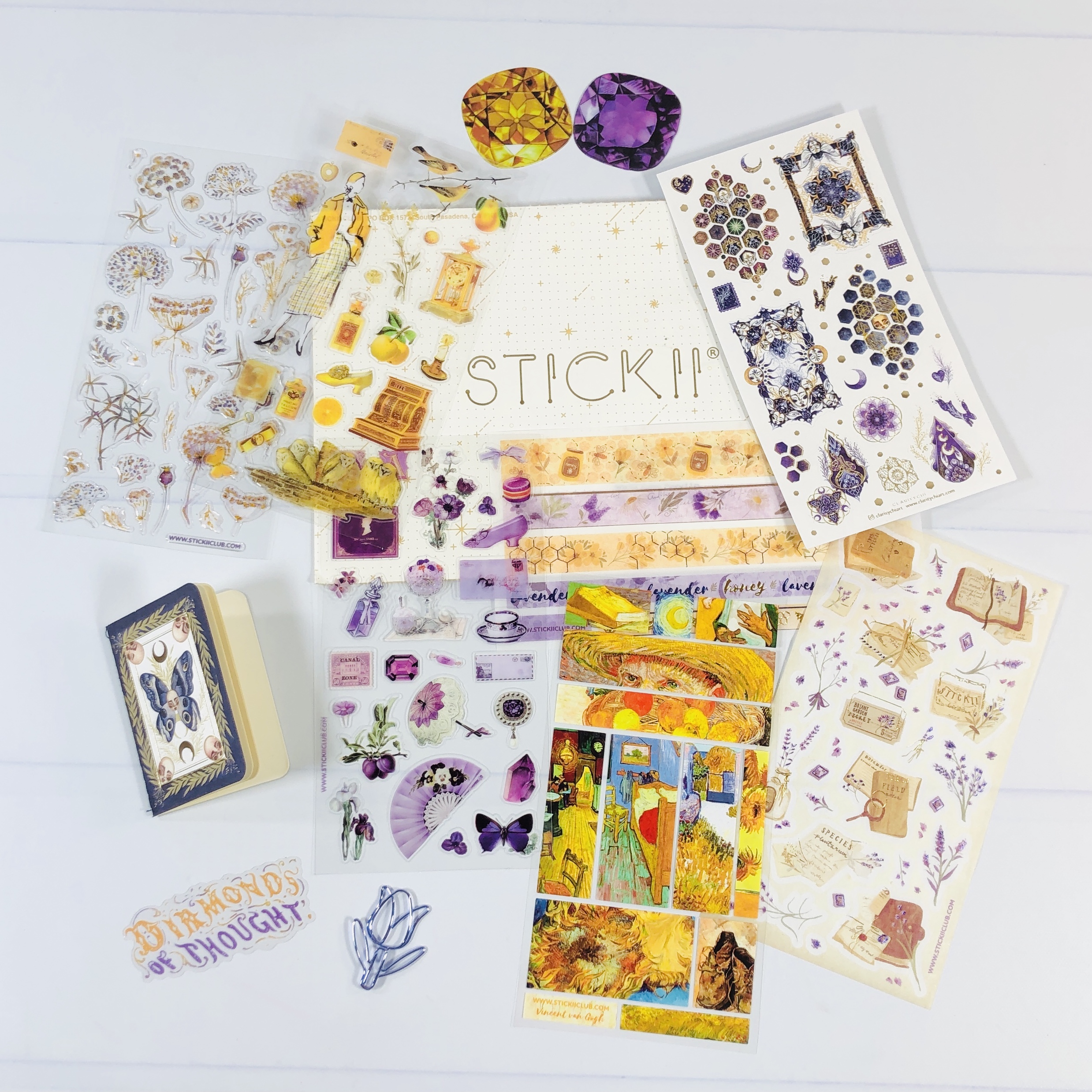 At STICKII, we're all about creating beautiful stickers for you to love that are more like miniature works of art. We have different subscription options so you can choose your packs based on which theme you like and get a cohesive set of stickers and stationery that is perfect for decorating your journals, cards, planners and anything else!