SnackFever is a monthly subscription box that delivers all your favorite Korean snacks, as well as other hard-to-find Korean treats. Snack Fever is available in two boxes, the Original box ($30) which contains 8 to 11 full-size snacks and Deluxe box ($40) which has 10 to 13 full-size, bigger, more premium snacks. Your subscription auto-renews and you can pause or cancel anytime. Shipping per box is only $5 worldwide.
This is the review of the Deluxe box.
DEAL: Save $3 off your first box (Mini, Original, Deluxe). Use coupon code HELLOSUB3.
NOTE: Due to shipping related issues, SnackFever are canceling all the SnackFever Original Box subscriptions, and every subscription to Europe (except UK, Germany, Norway, Switzerland, Estonia, Denmark, and Sweden) and Asia (except Japan). If you still have any boxes remaining in your plan, they will issue refunds. Deluxe boxes remain available.
SnackFever's social media handles are printed on the box. On the side, there's even a Korean sentence which means "You're so pretty when you eat"!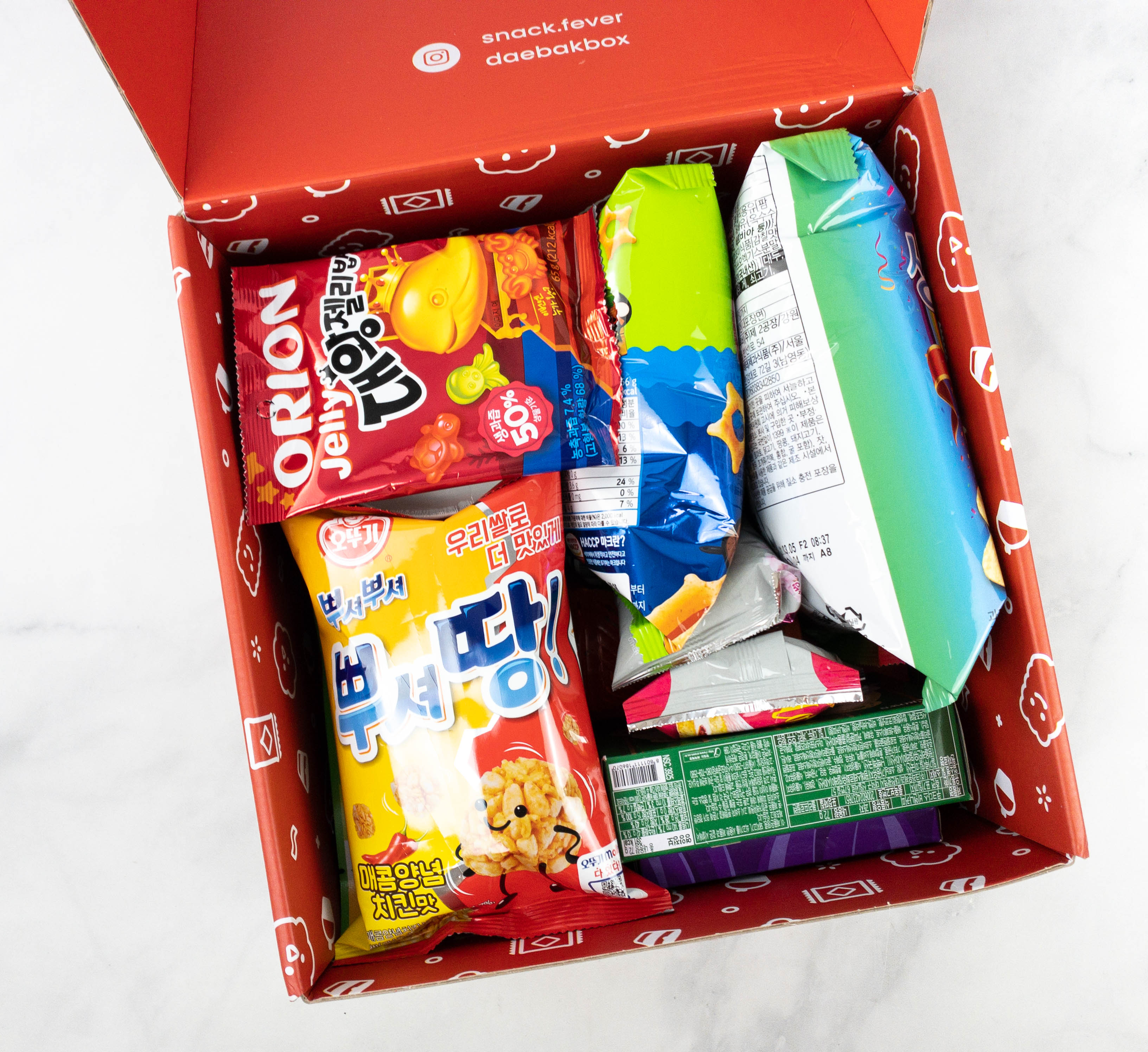 There is no extra packaging, just the snacks!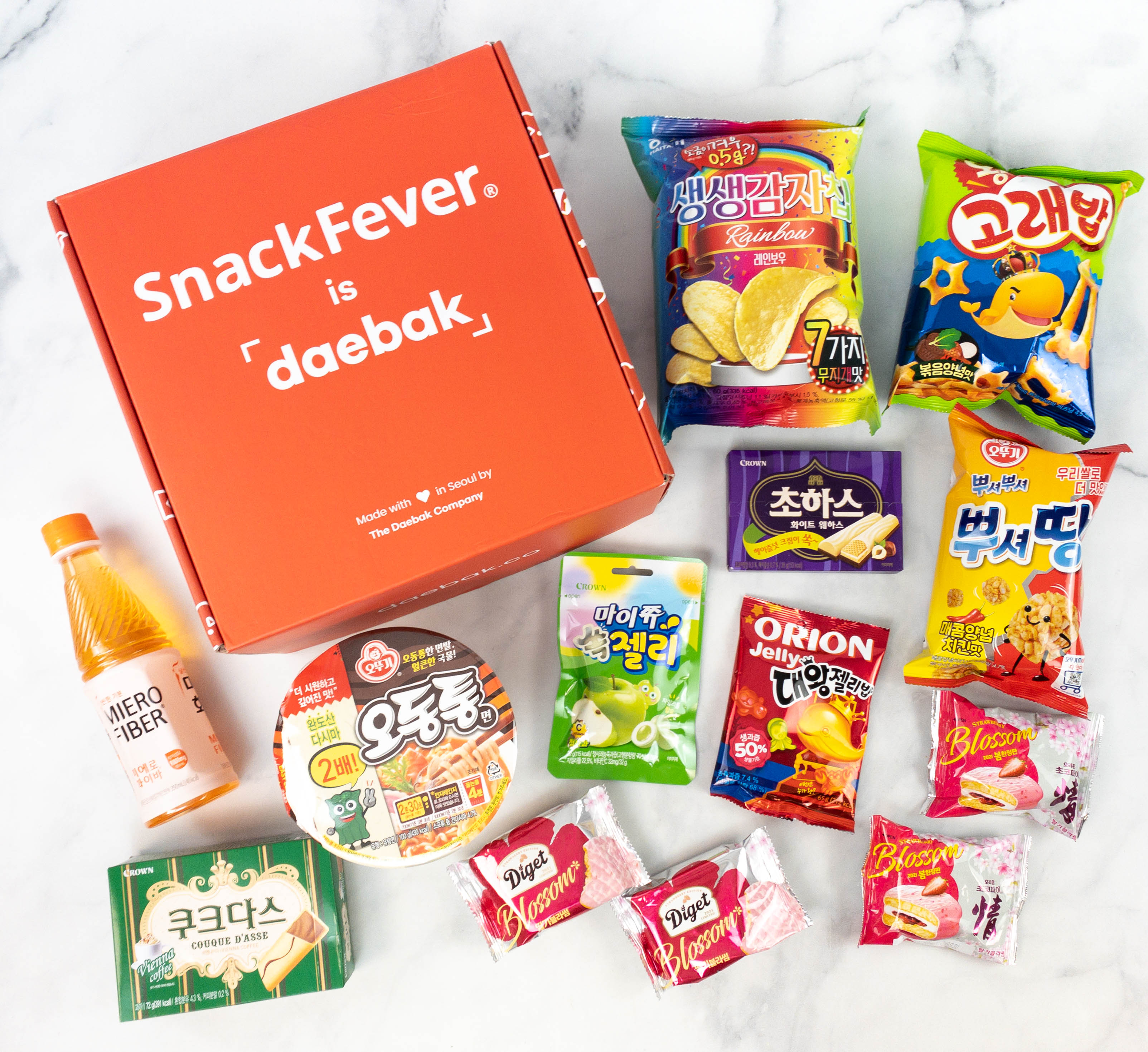 Here are the full contents of the Deluxe box.
Haitai Rainbow Chips. This bag of potato chips has 7 delicious flavors that include shrimp, kelp, squid, mushroom, fish, crab, and clams. Each piece is also perfectly crispy! I love that it's not too salty but I can really taste all the flavors in every bite.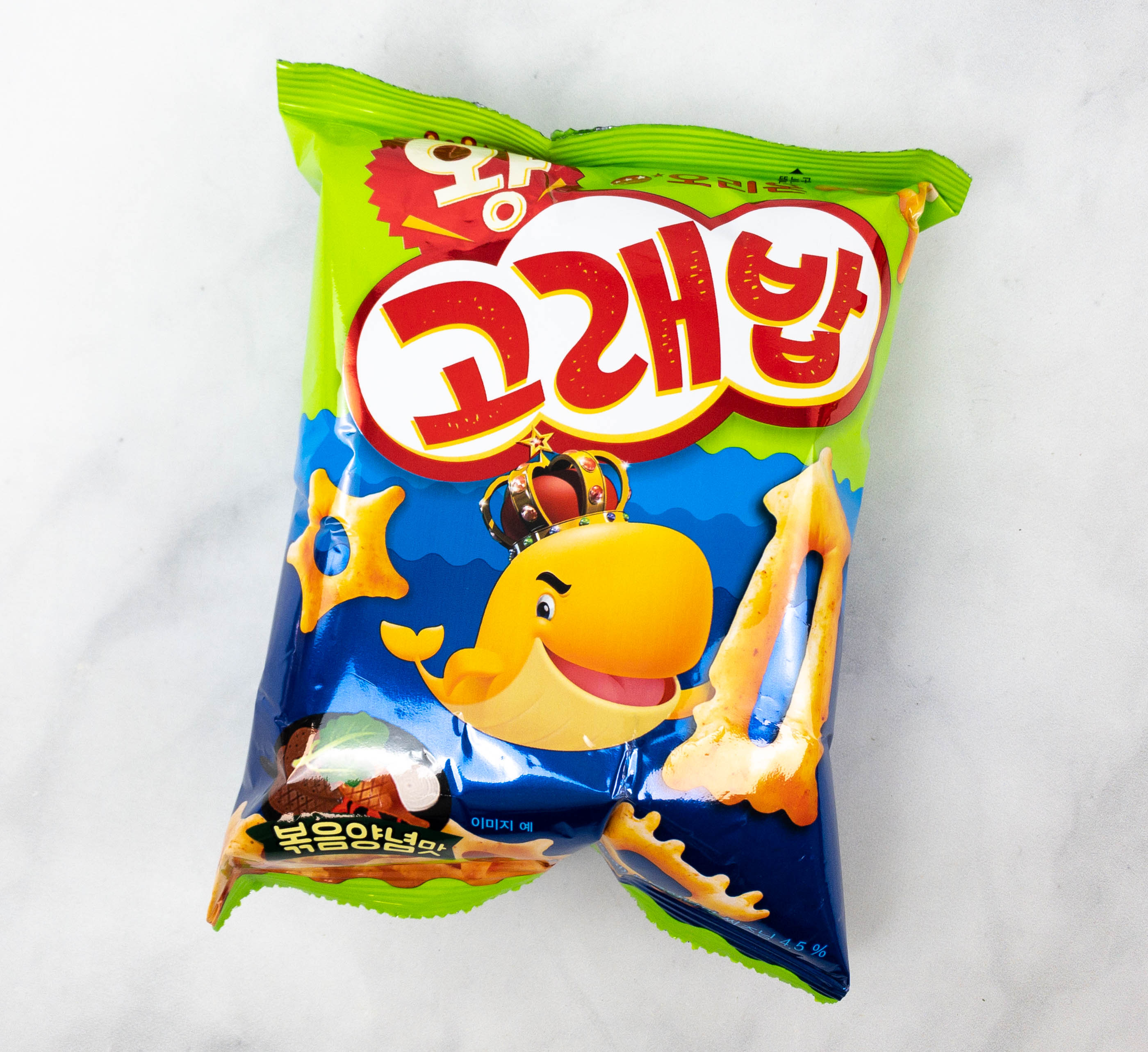 Orion Goraebab Seafood Shaped Snack. These crackers are seafood shaped and seaweed flavored! Some of the seafood shapes included in this pack are fish, octopus, crabs, turtles, starfish and squid. The seaweed flavor is mild, so it's not overwhelming on the palate.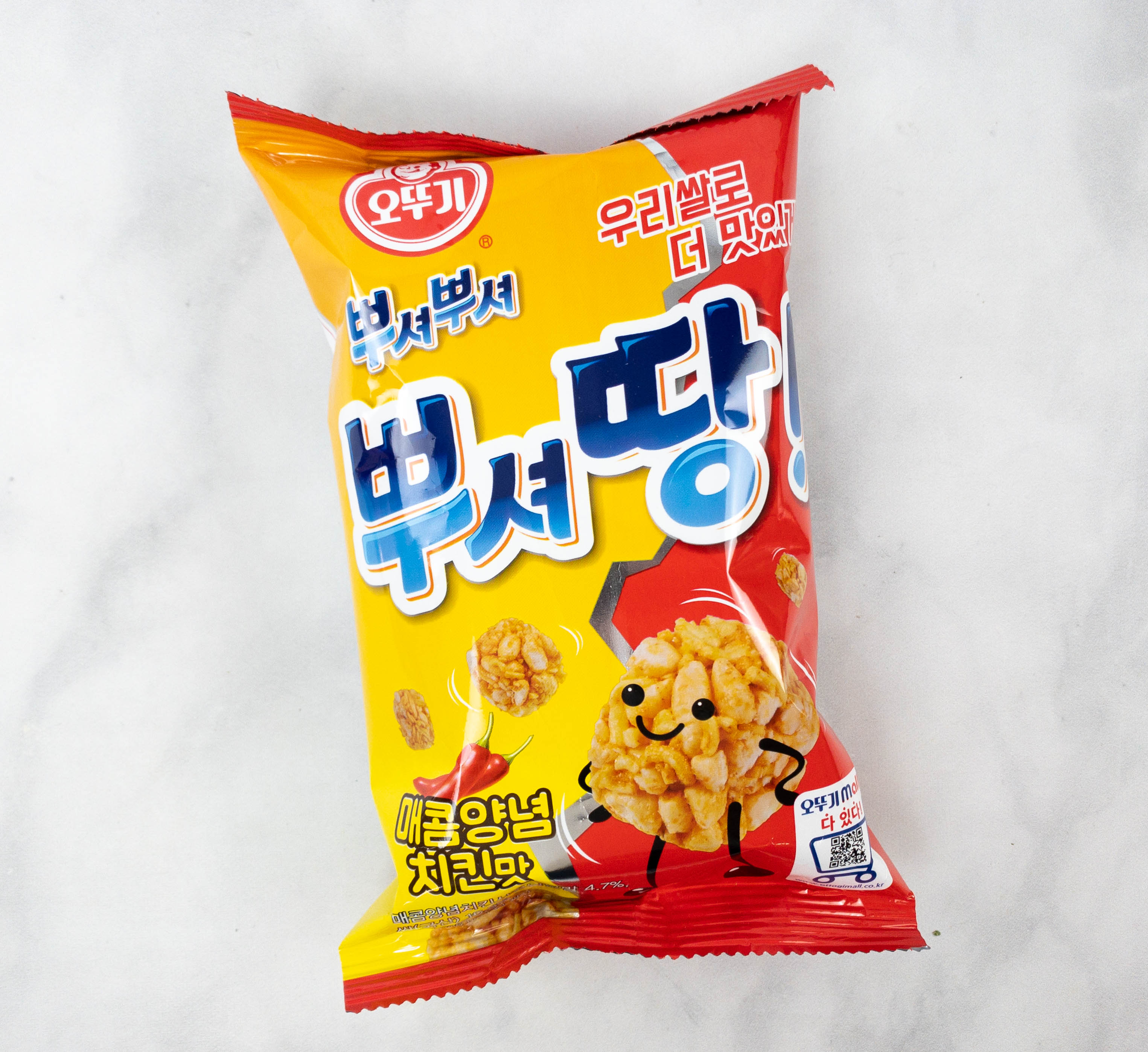 Ottogi Spicy Chicken Rice Cracker. This one is for the spicy snack lovers! It's a rice cracker snack infused with a savory chicken flavor with a kick of spiciness in every bite. Better have your favorite refreshment beside when enjoying this snack!
Orion Jelly. Here's another seafood shaped snack that I enjoyed! This time, they are fruity jellies and they are shaped like whales, octopuses, turtles, and crabs. They were soft and easy to chew on, plus they don't stick on my teeth. Flavors include apple, strawberry, and pineapple.
Crown My Chew Jelly. It's a pack of jelly like treats with a refreshing green apple flavor. The soft, chewy, and yummy pieces make it a nice snack at any time of the day!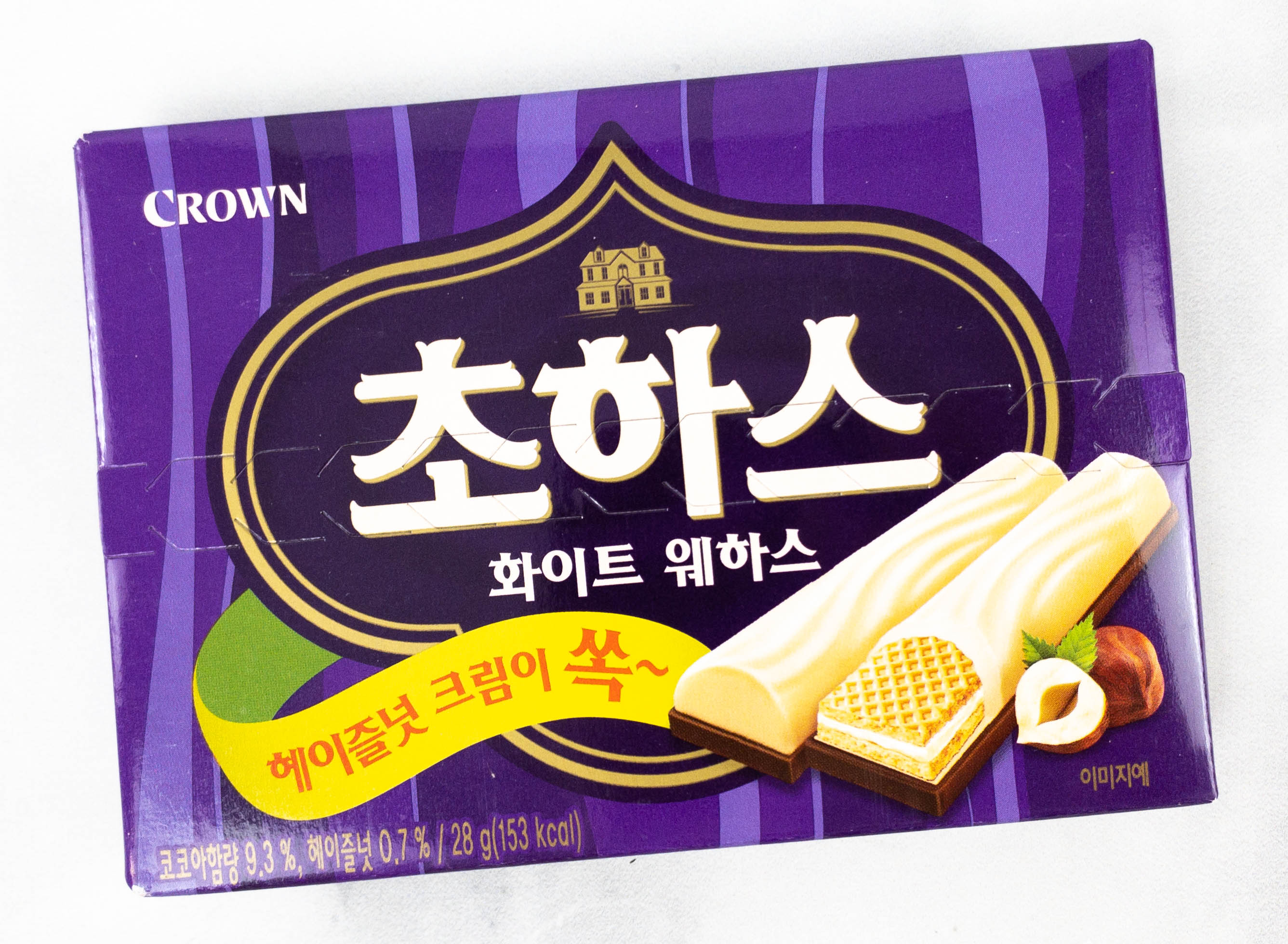 Crown Chohas Hazelnut Cream Wafer. This crispy wafer snack is filled with a smooth hazelnut cream. It's also coated with white chocolate and placed on top of a rich chocolate base. It's perfect for when you're craving for something really sweet!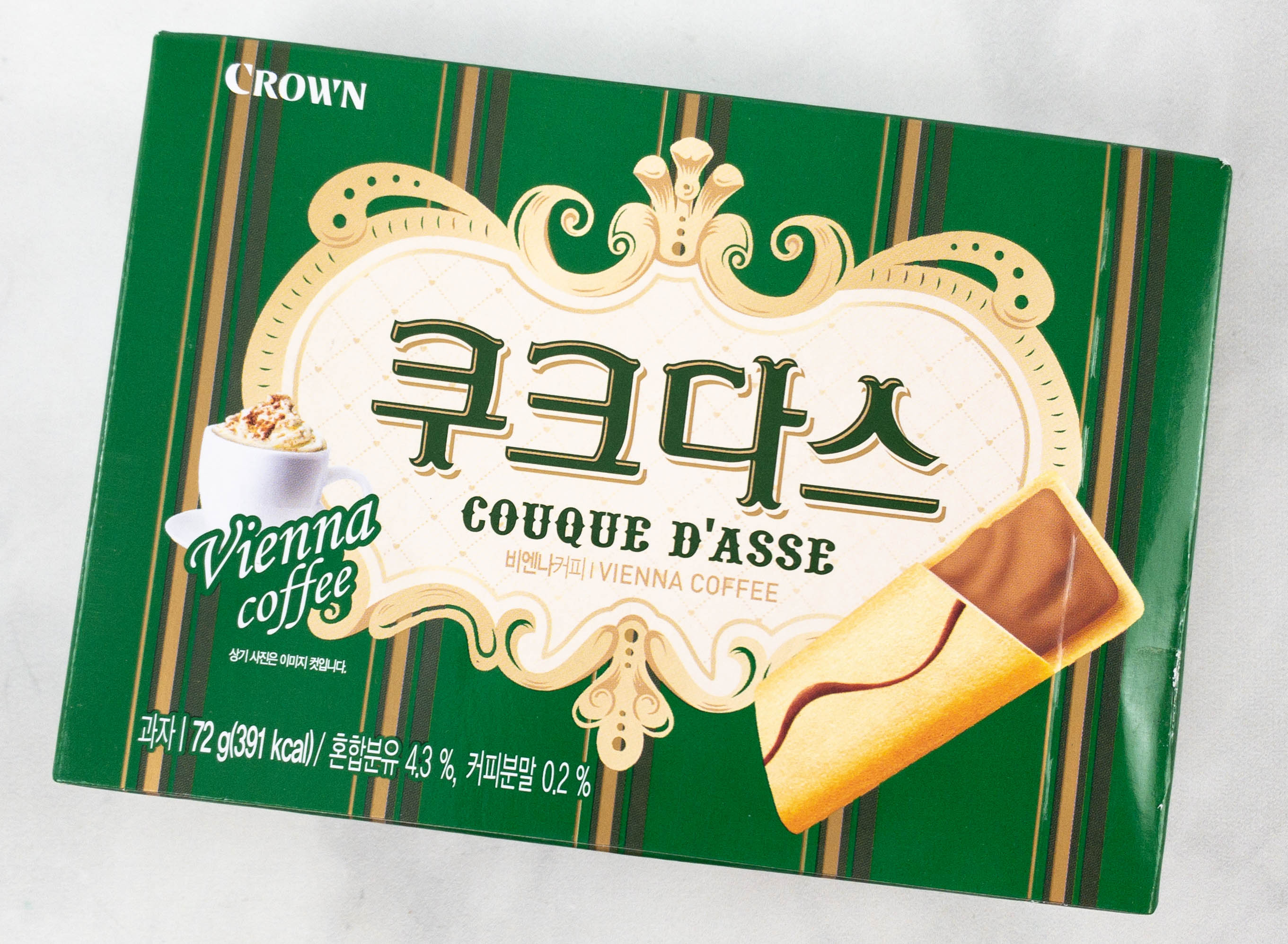 Crown Vienna Coffee Couque D'Asse. For coffee lovers, they included these coffee cream filled wafer cookies, inspired by the flavors of Vienna coffee. I'm not a fan of coffee, but my husband loved the balance of sweetness and coffee flavor in every bite. The cookie itself is buttery and has a soft texture.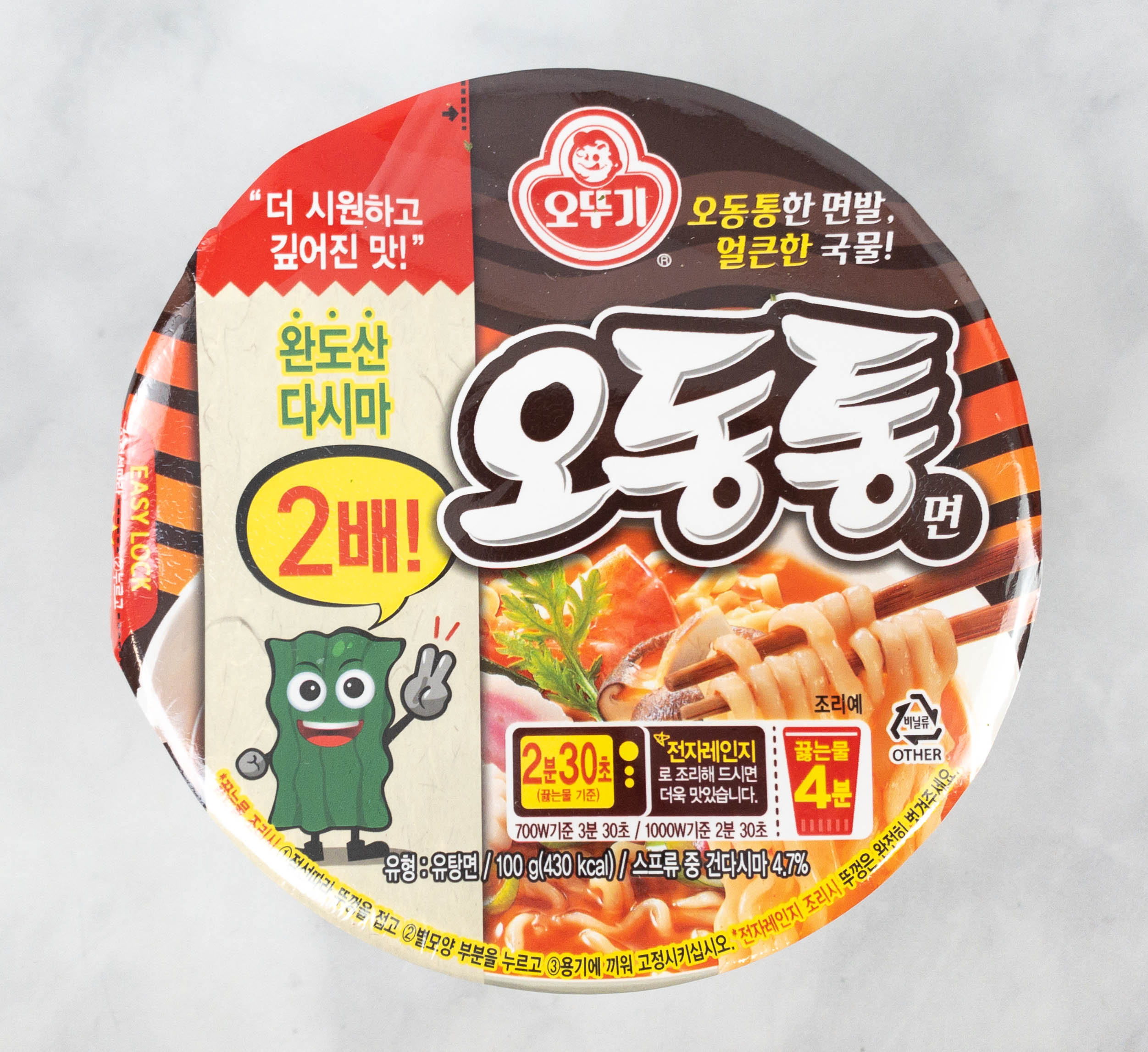 Ottogi Odongtongmyeon. This cup of spicy seafood noodle is the perfect way to warm up on a cold day. Ingredients include pure seaweed, katsuo, squid, shrimp, and seaweed to make sure every sip and mouthful is flavorful and satisfying!
The rich broth and tasty noodles easily satisfied my cravings!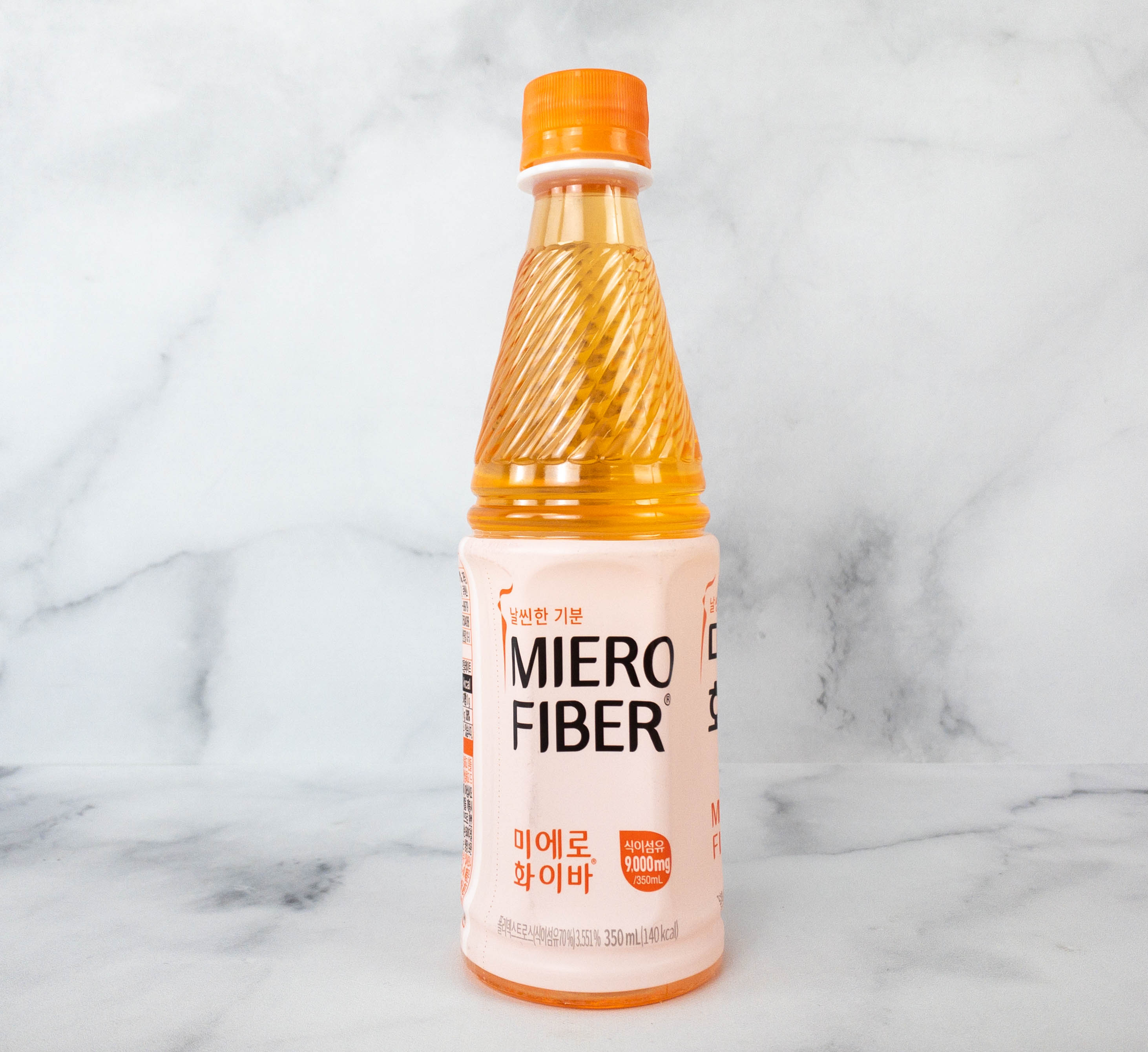 Miero Fiber Vitamin C Drink. As always, each box includes a beverage to complement all the snacks. This month, it's Miero Fiber, a drink that claims to help boost metabolism. It's high in fiber and also loaded with vitamin C.
If you want something sweet, but still low in calories, this drink is for you.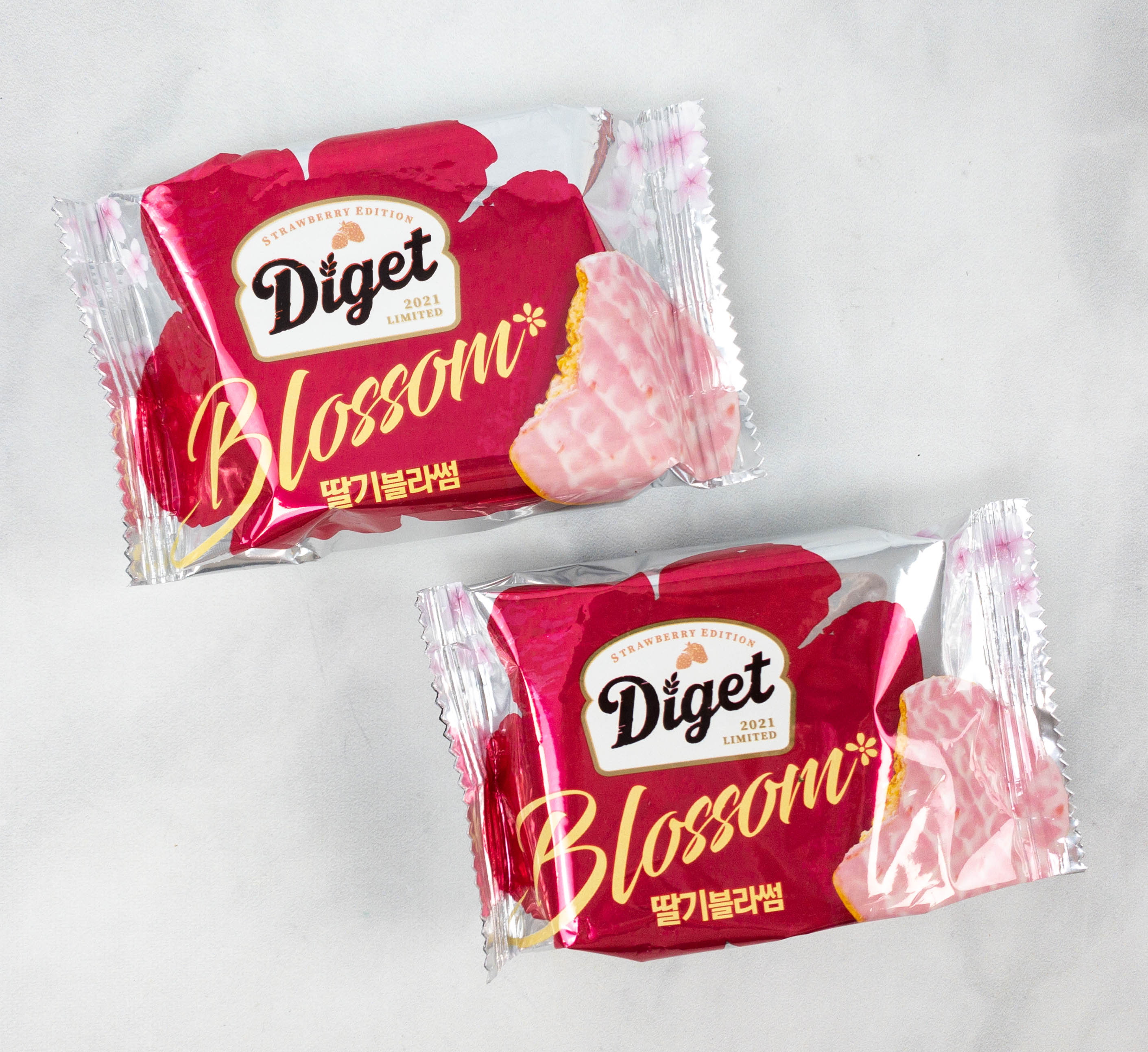 Orion Blossom Digestive Cookies Strawberry. A limited edition spring snack, these digestive biscuits come with a strawberry flavored coating on one side!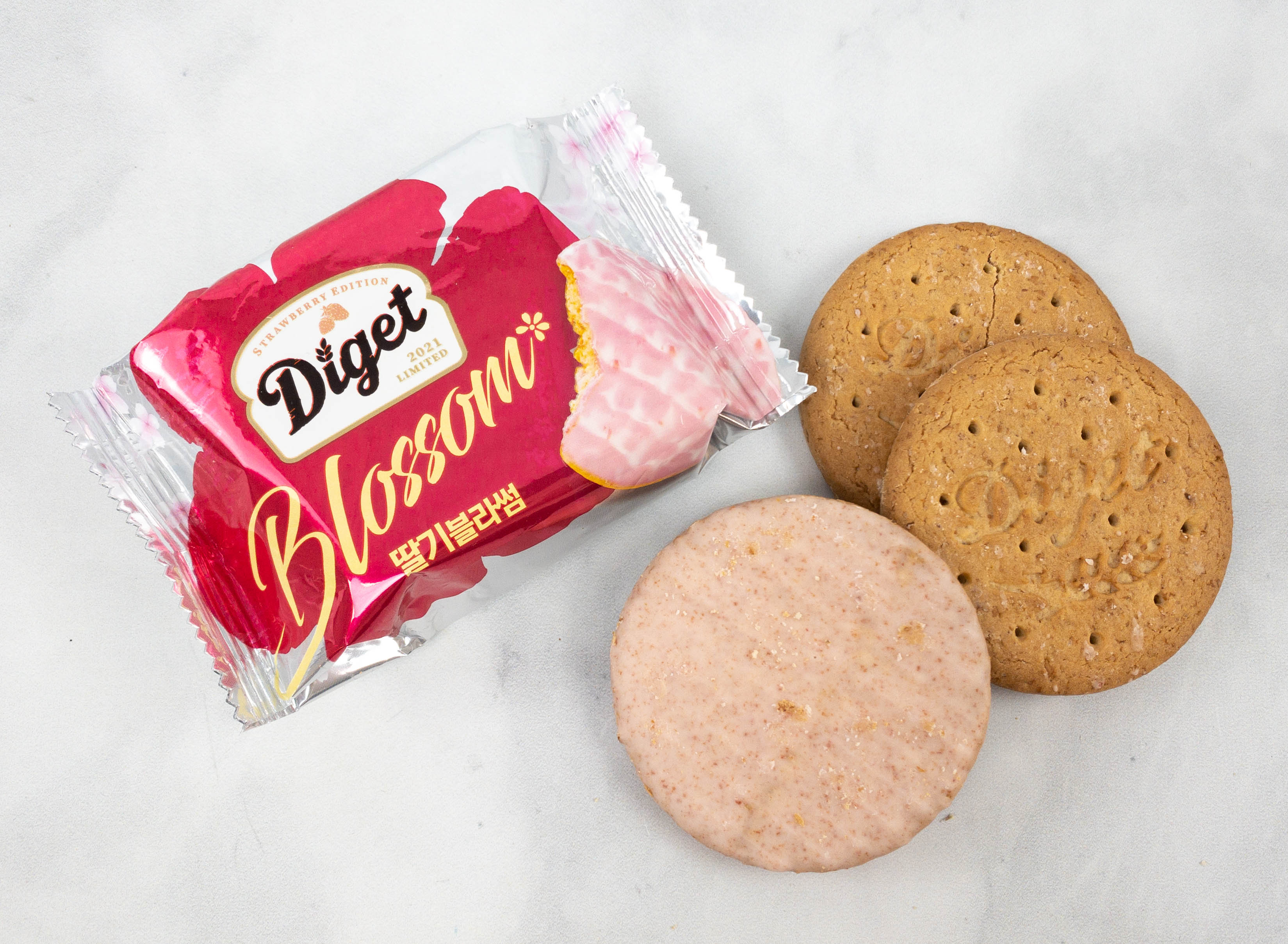 Each pack contains 3 cookies! They make a perfect go to snack at any time of the day!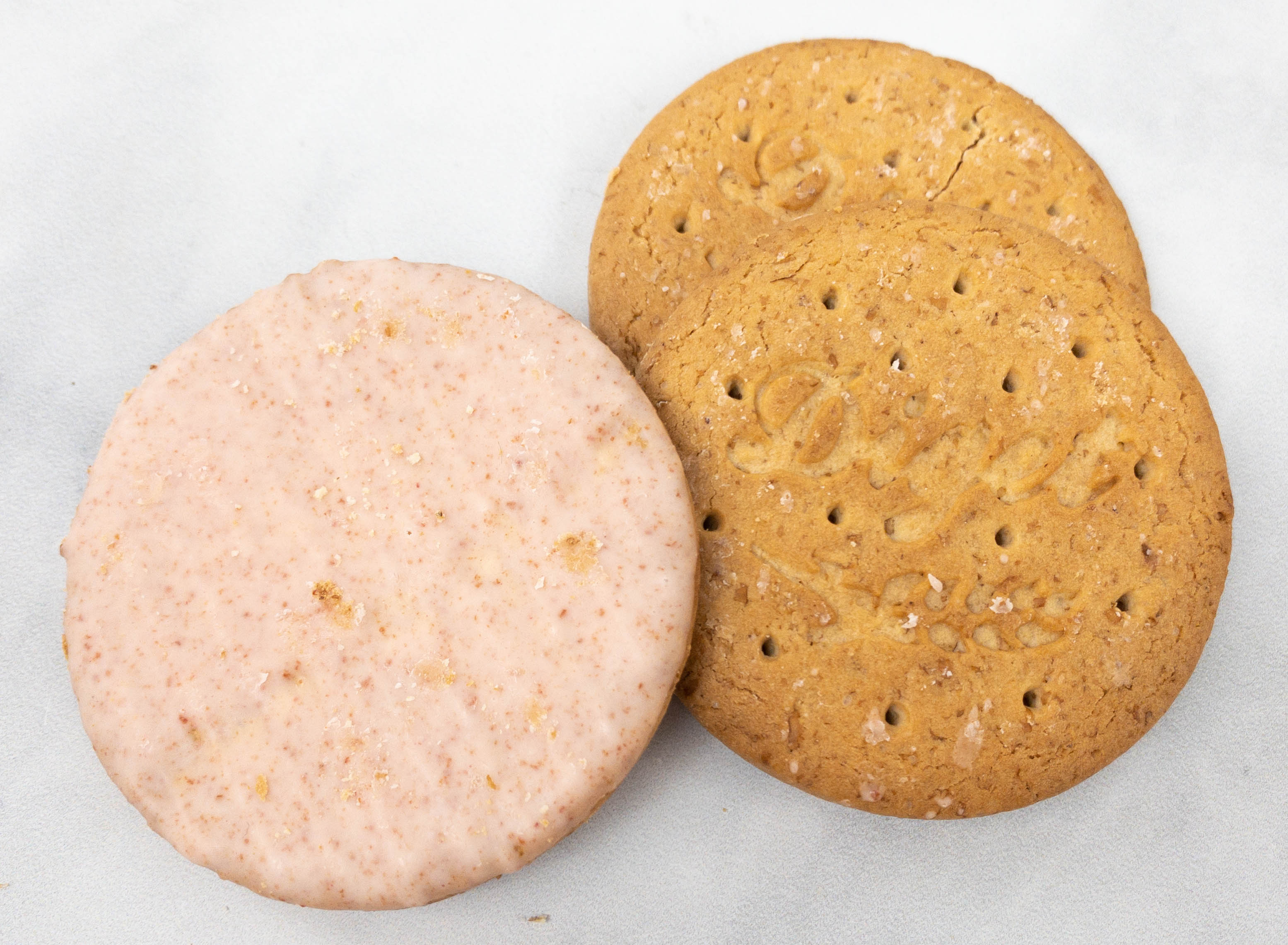 It was sweet, although the coating is not too thick. The taste also reminds me of a strawberry Pepero!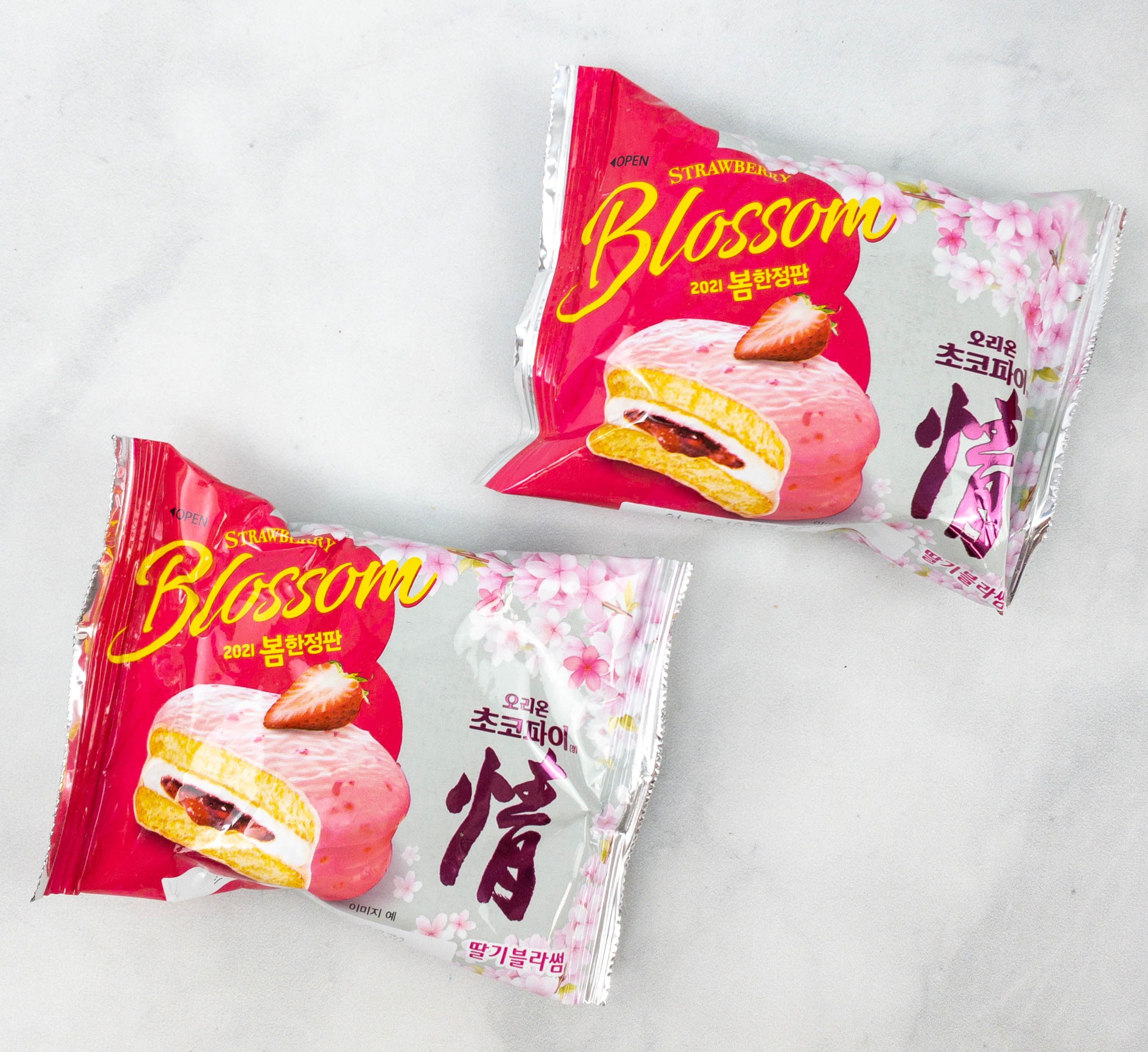 Orion Blossom Strawberry Pie. Choco pie is a well known snack in Korea. This one is a limited edition version, which contains a strawberry filling and a strawberry flavored coating. The cake was also soft and moist, making it really enjoyable. This would be great as a dessert or afternoon snack paired with tea.
This month's Snack Fever box includes a good mix of sweet, fruity, and spicy snacks from Korea. There are even seafood flavored and seafood shaped snacks, plus limited edition goodies like the cookies with a strawberry coating the the strawberry pie. Among all the items, my favorite is the crunchy wafer with a hazelnut cream filling. It was satisfyingly sweet and it's also a great snack to enjoy on the go. The cup noodles and the high fiber drink are great inclusions as well. It was another jampacked box and I'm here for it! Whether you're curious about Korean snacks or you just like trying out new snacks in general, this would be a good way to get those goodies delivered to your doorstep every month!
Have you tried Snack Fever?