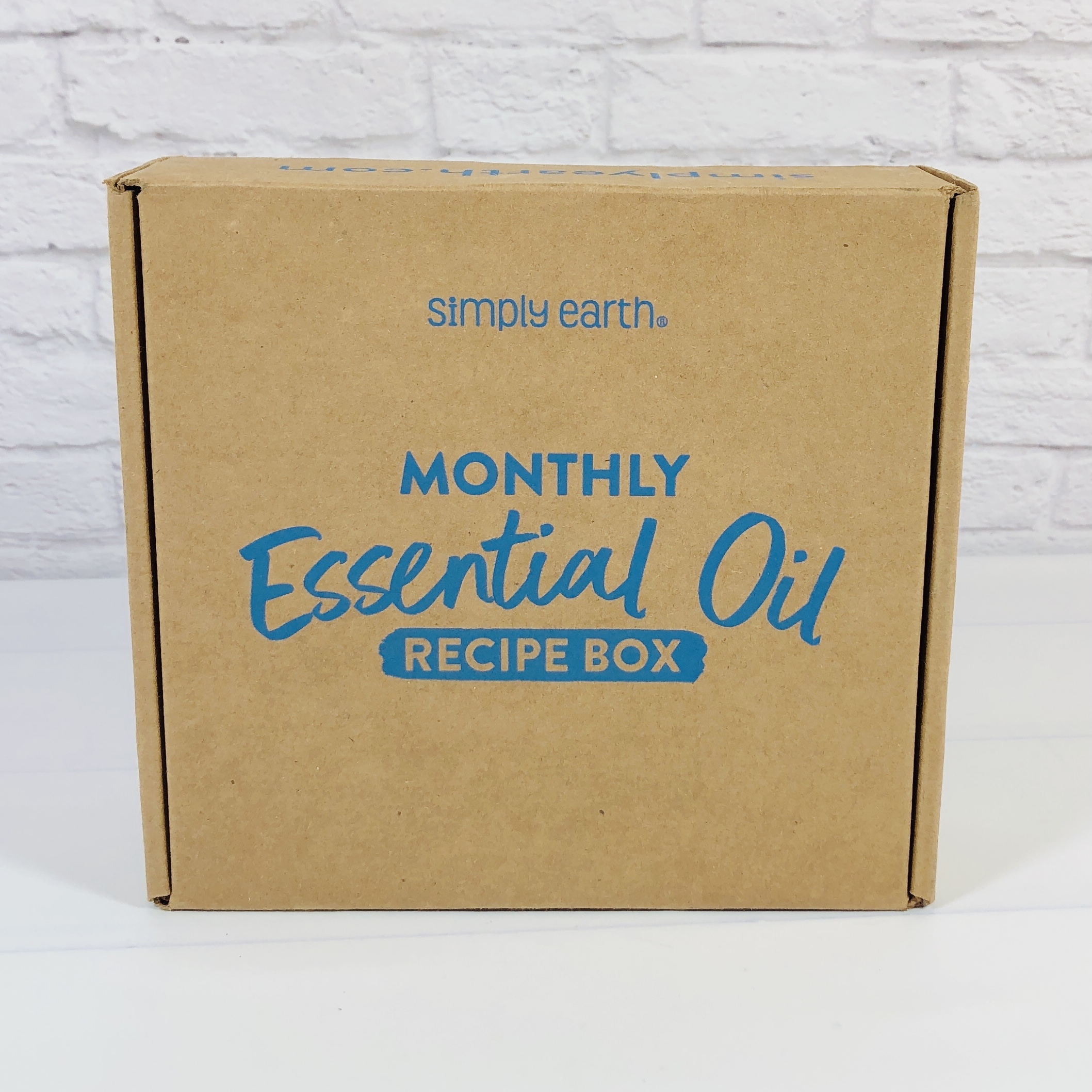 Simply Earth is a monthly subscription that sends high-quality essential oils along with recipes and ingredients to make natural beauty and home products! Each box comes with 4 essential oils, containers, extra ingredients to make the recipes, and 5 – 7 recipes on recipe cards. When you sign up (and every 6 months thereafter) you will receive a free Bonus Box full of extra containers and ingredients needed for the recipes, such as carrier oils and beeswax. Simply Earth is $39 a month. They feel strongly about giving back and donate 13% of all profits to help end human trafficking.
Every month is designed around a new theme with ingredients, containers, and extras you need to make 6 natural recipes (this includes 4 full-sized bottles of essential oils!) … delivered right to your doorstep.

We loved making our own natural products and knowing what was in them, so we created. With the essential oil recipe box, you get everything you need to make your home natural; easy and fun recipes to follow, honest prices, and products that work. It puts you in charge and you can enjoy time together making natural recipes with friends and family.
DEALS: Receive a FREE Big Bonus Box with your first box. Deal applies automatically, just VISIT AND SUBSCRIBE. Plus, get a $40 gift card you can use for your next box or future purchases!
Simply Earth's essential oil subscription made the list in our 2021 readers' choice best green & eco-friendly subscription list!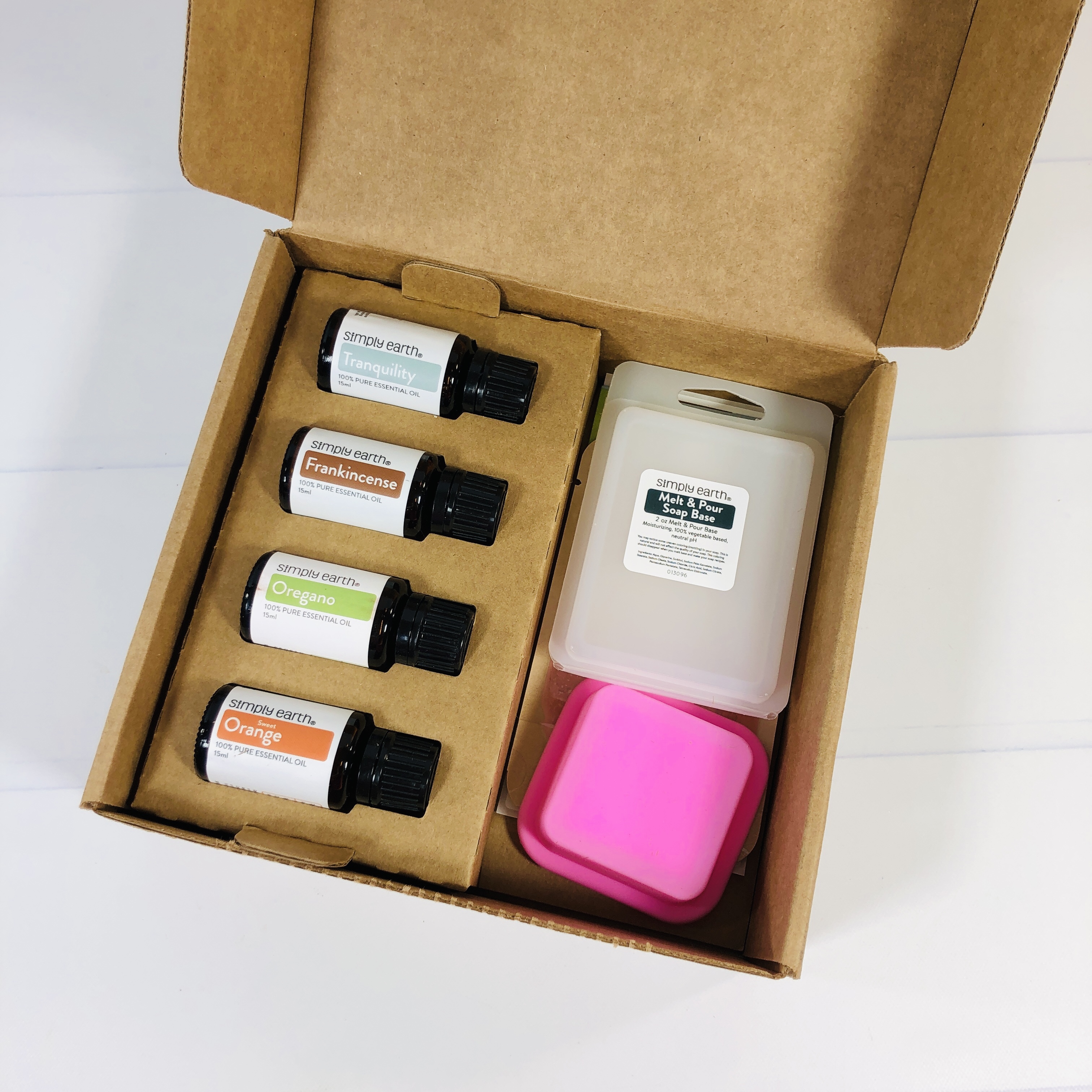 The bottles were on one side, the extra supplies on the other, and the cards were placed on top.
Everything in my box! Subscribers also receive free access to the online Essential Oil Hero Course to learn even more about how to use the products.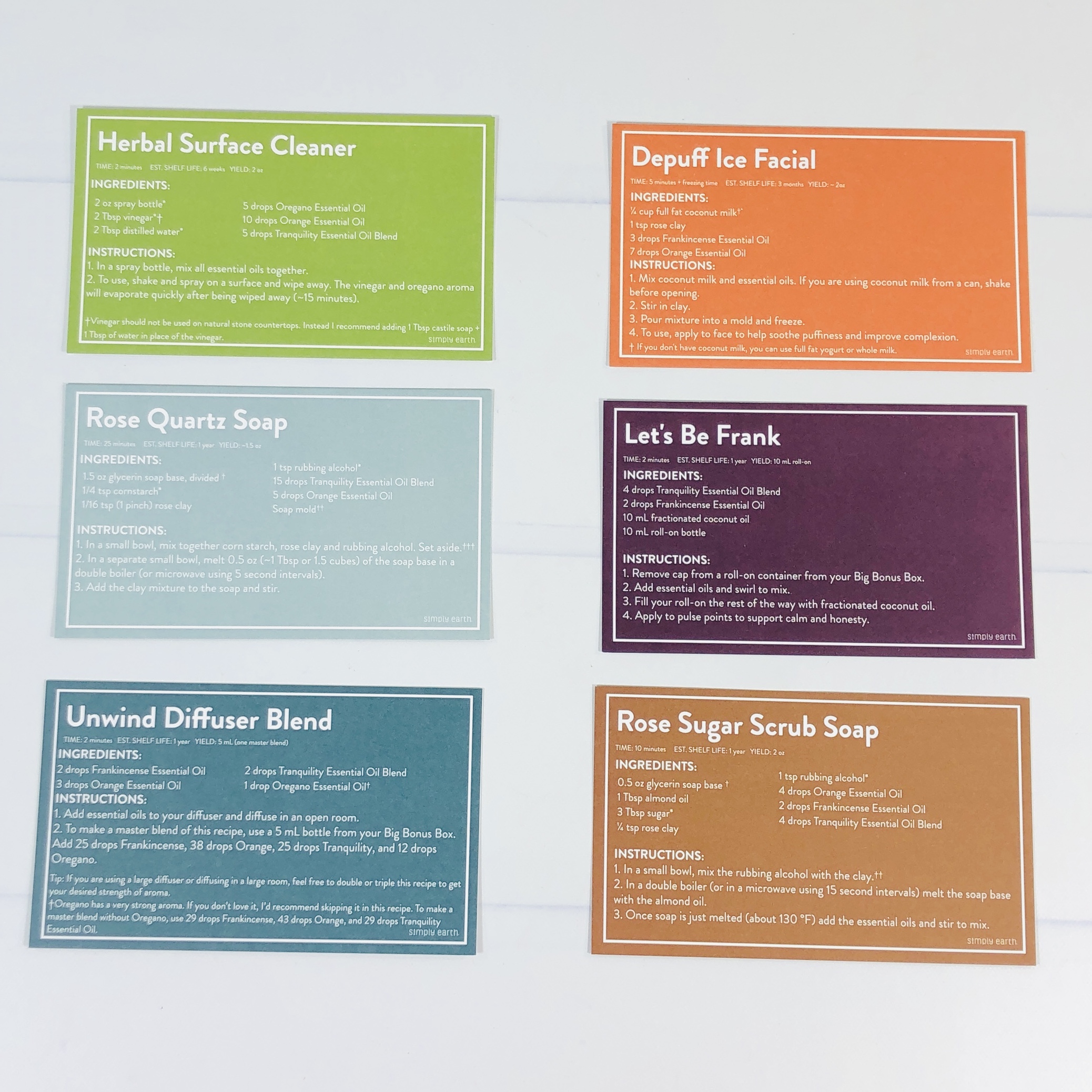 There were 6 recipe cards included, and the cards have either the rest of the recipe or subscription information on the back.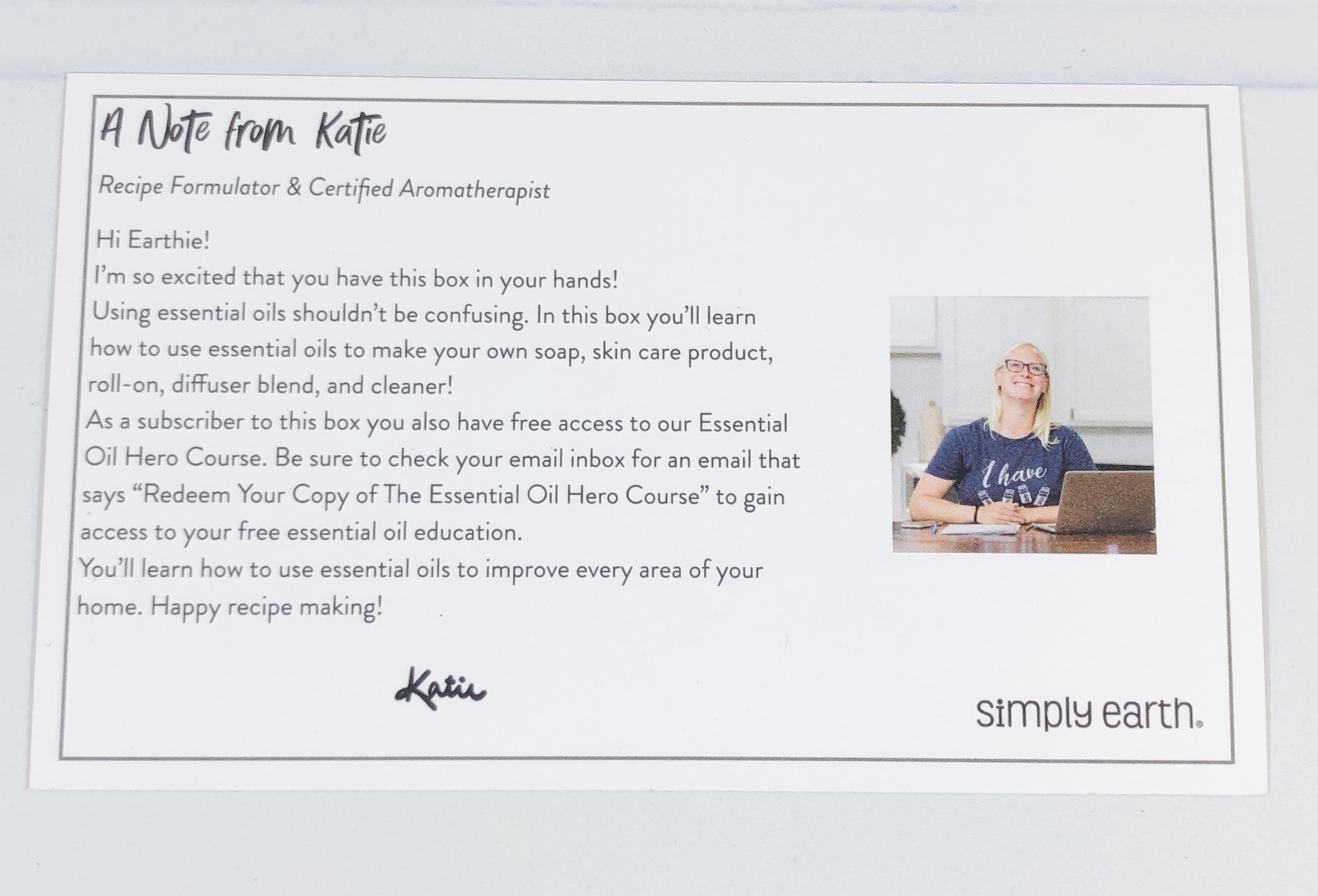 One card had an introduction from Katie, who is the face of Simply Earth. She does the super helpful how-to videos of each project and you can find these on the Simply Earth website or YouTube.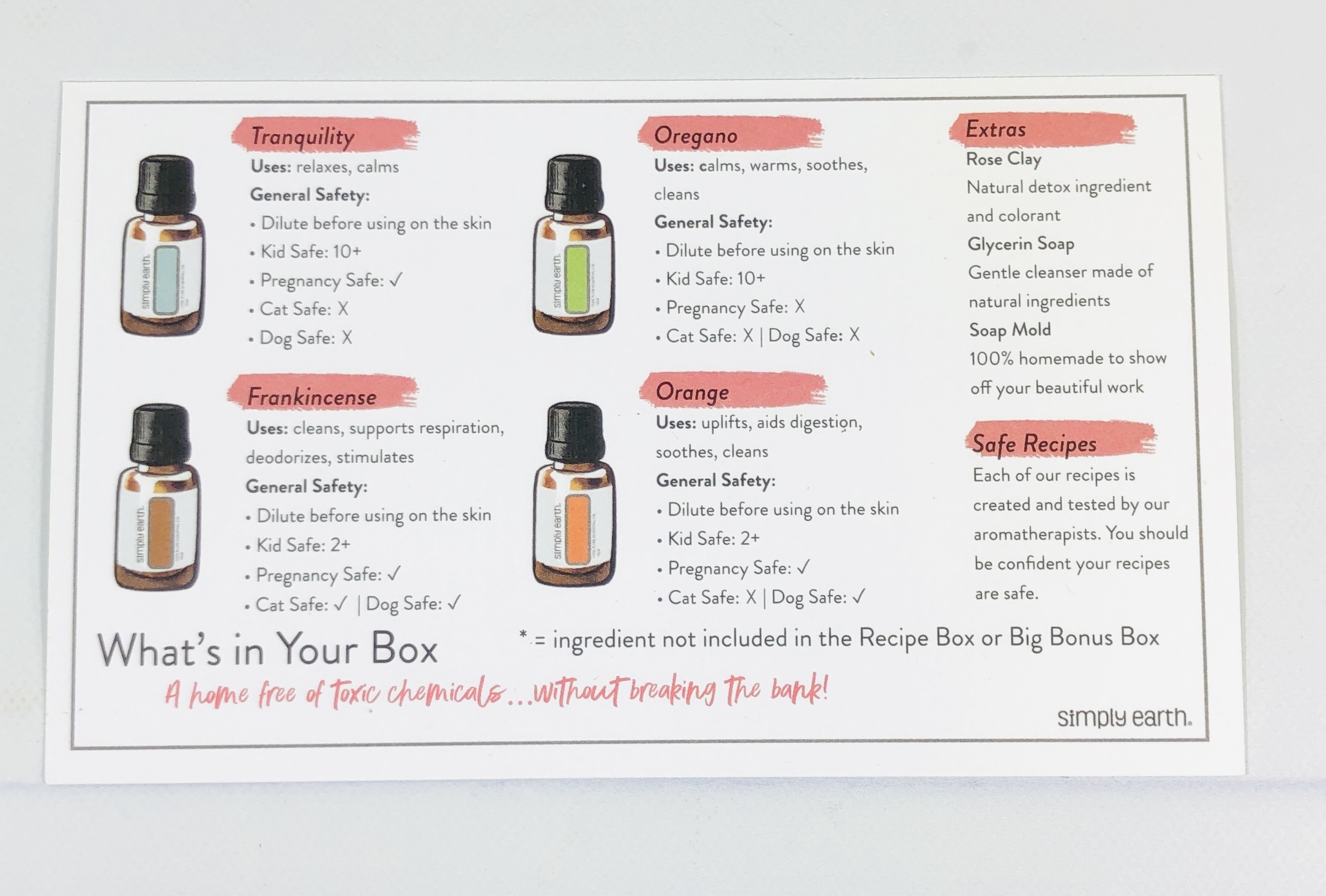 A second card listed all of the oils and supplies in this box.
Simply Earth donates to groups that work to fight human trafficking.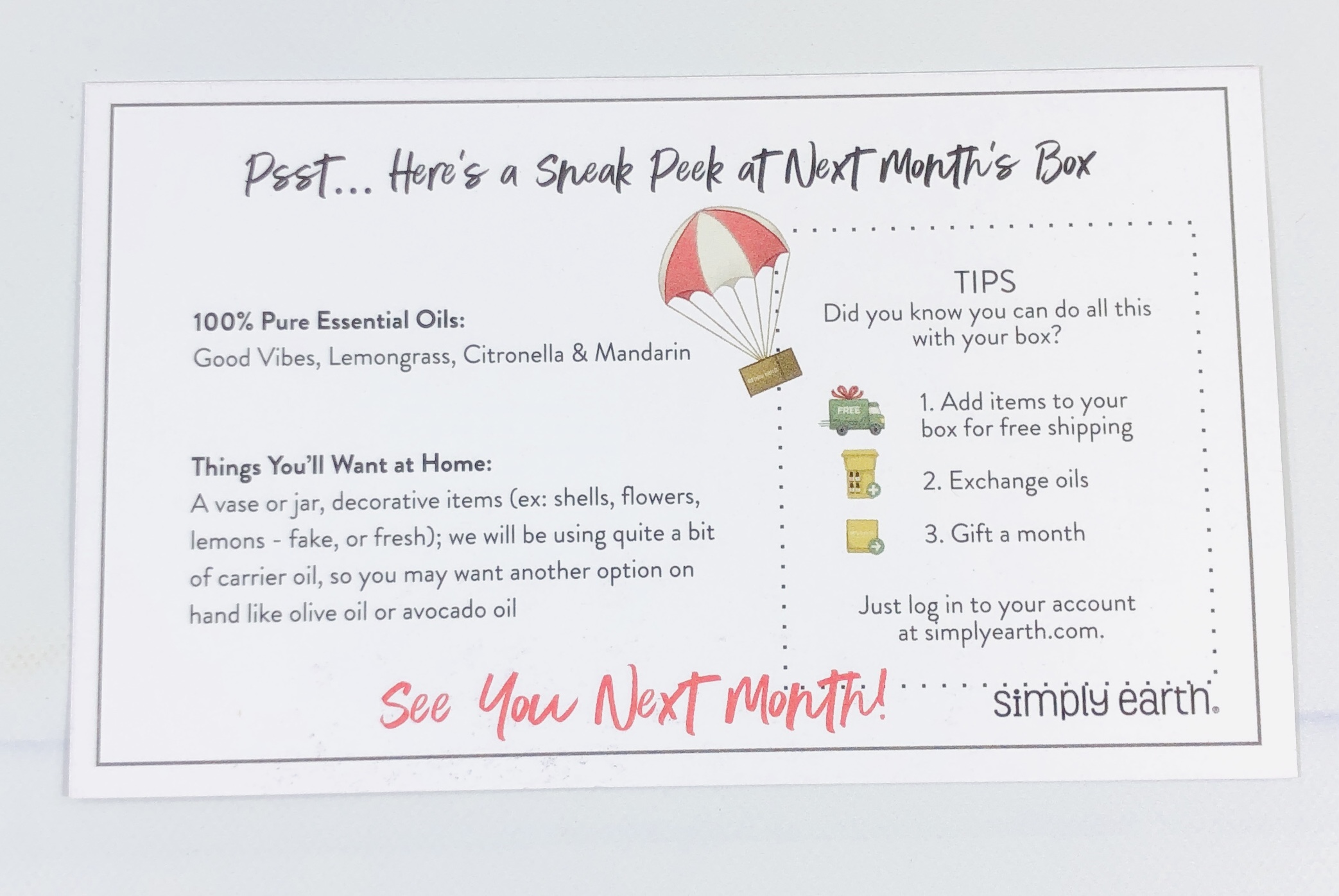 Here's a sneak peek at next month's box, sounds like an uplifting box to me! It also mentions the additional items to have on hand to complete future projects.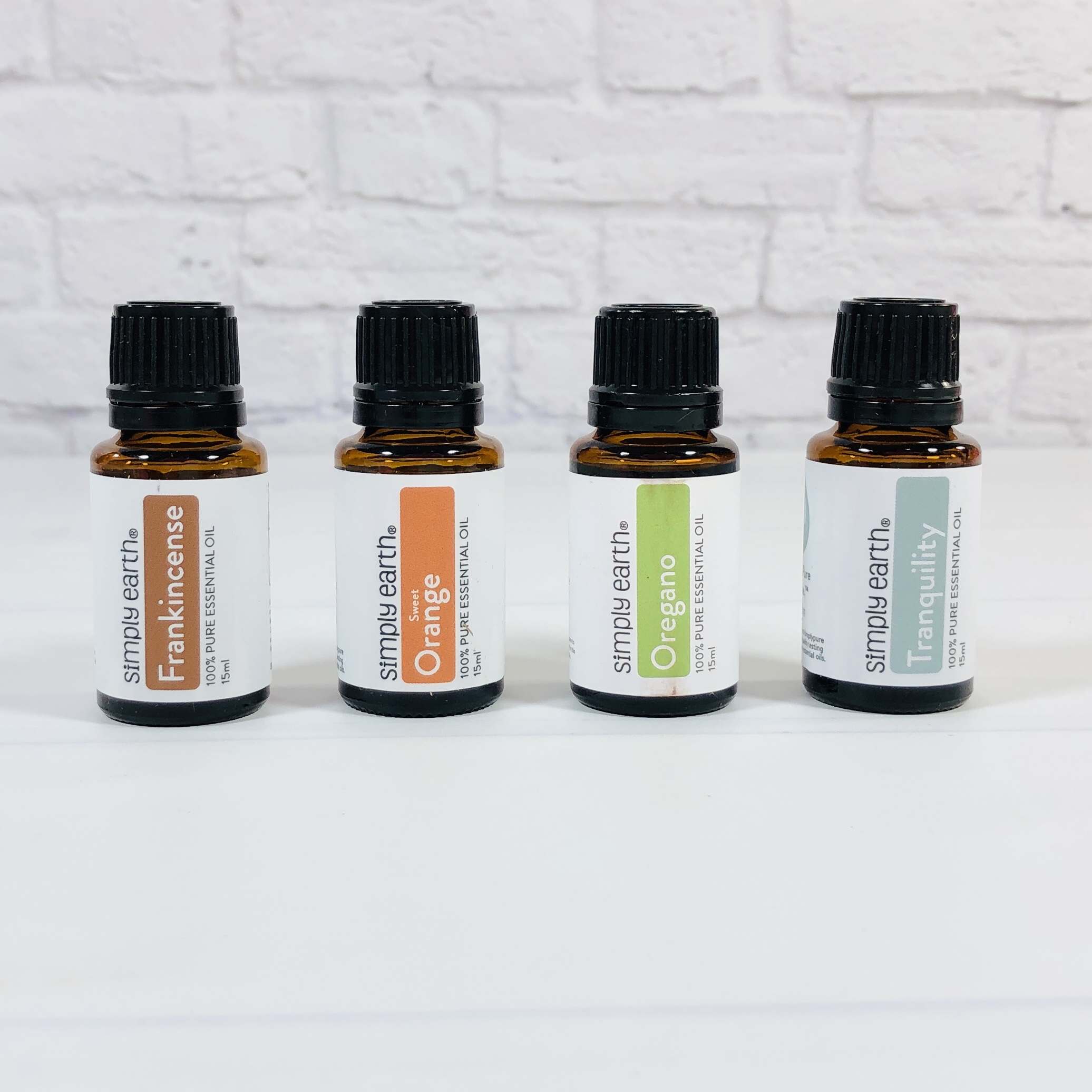 I received 3 single oils and one blend. Before you start making the recipes I would suggest that you watch the online videos (found on YouTube and the Simply Earth website) to get an idea of how they work, especially if it's something like soap making.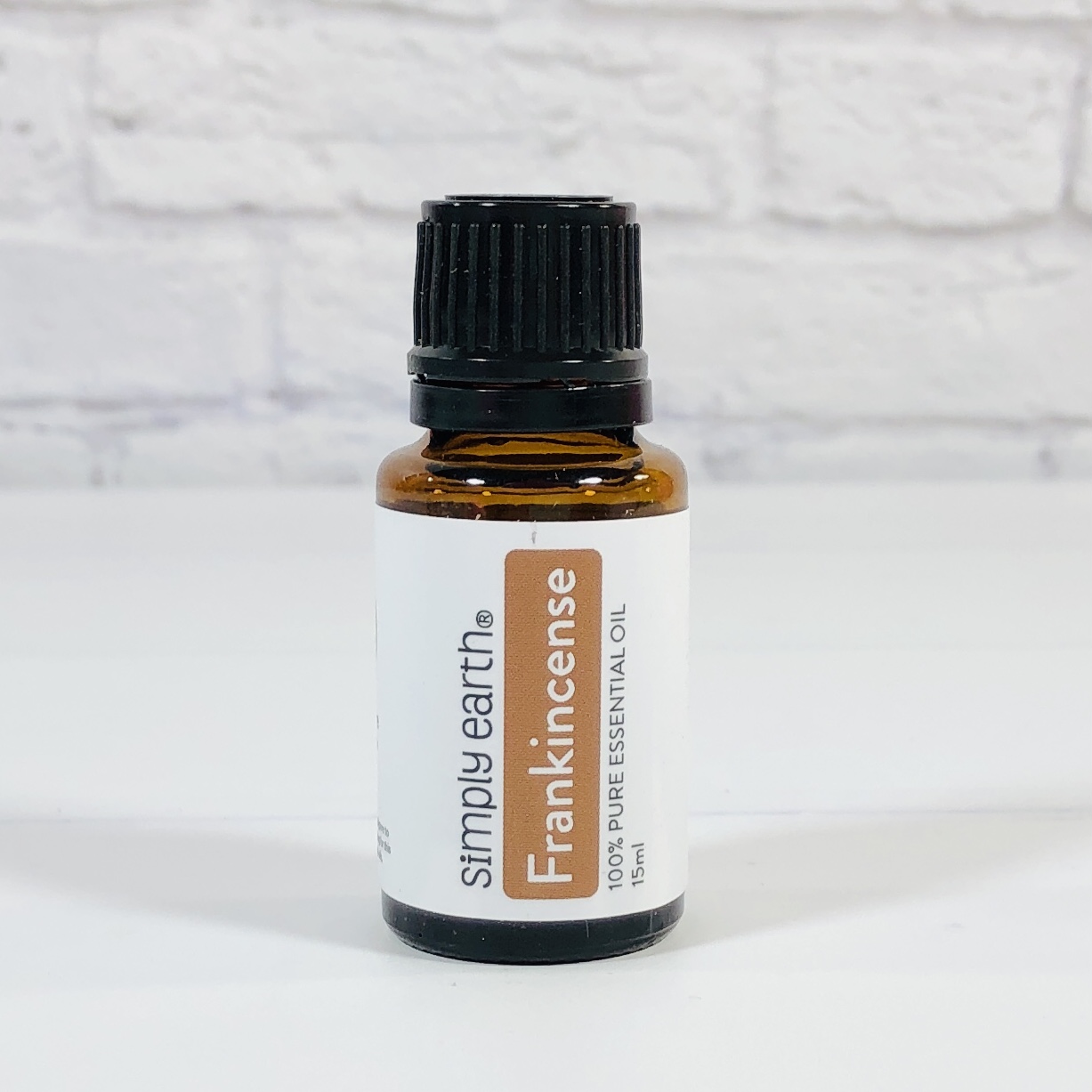 Frankincense Essential Oil ($19.99) Frankincense has been used for a long time and is even mentioned in the Bible. It is used in skincare as well as perfumery.
Frankincense is a resinous sap from a tree and it has a strong, warm, and woody scent.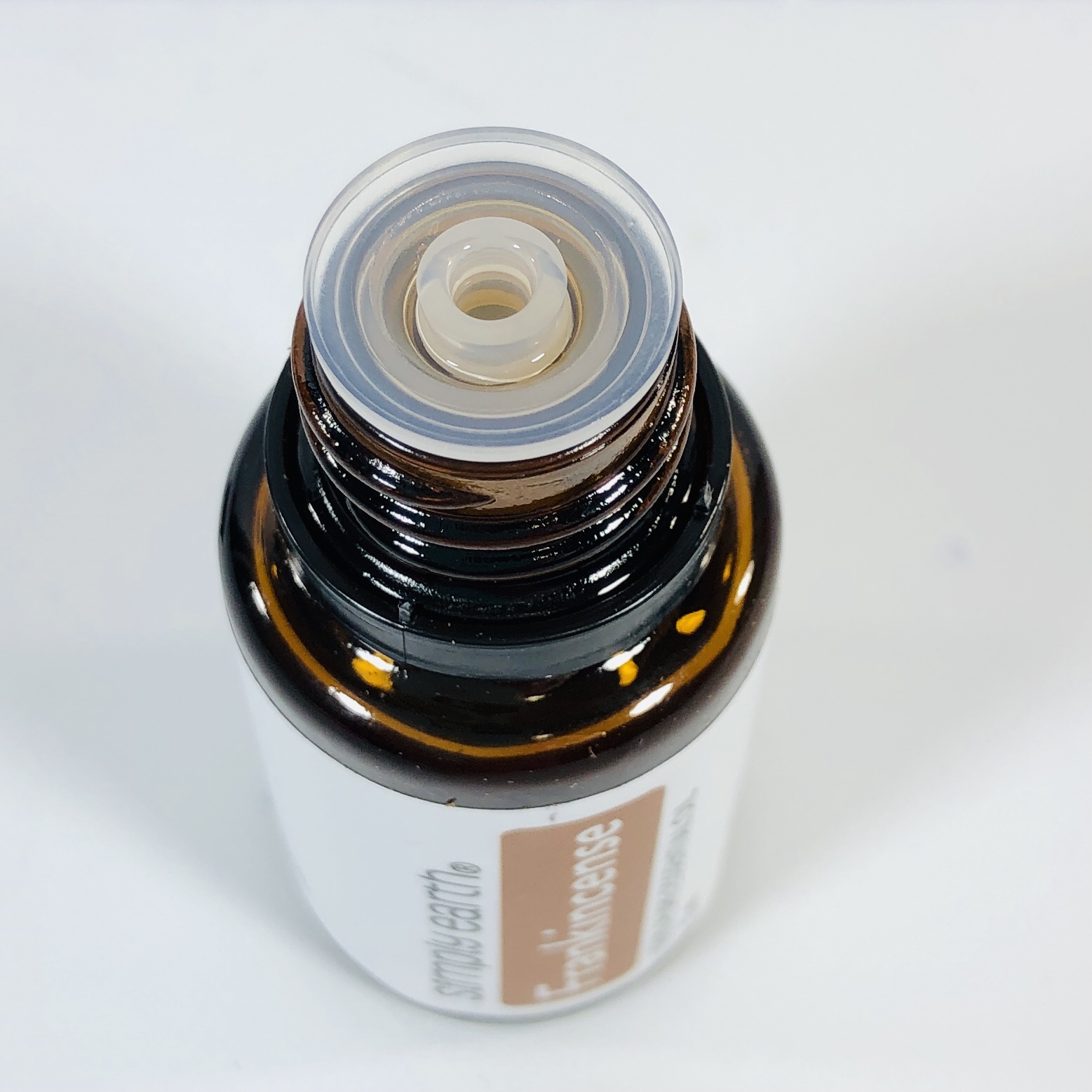 Each of the oils comes with this special dropper that helps it come out one drop at a time.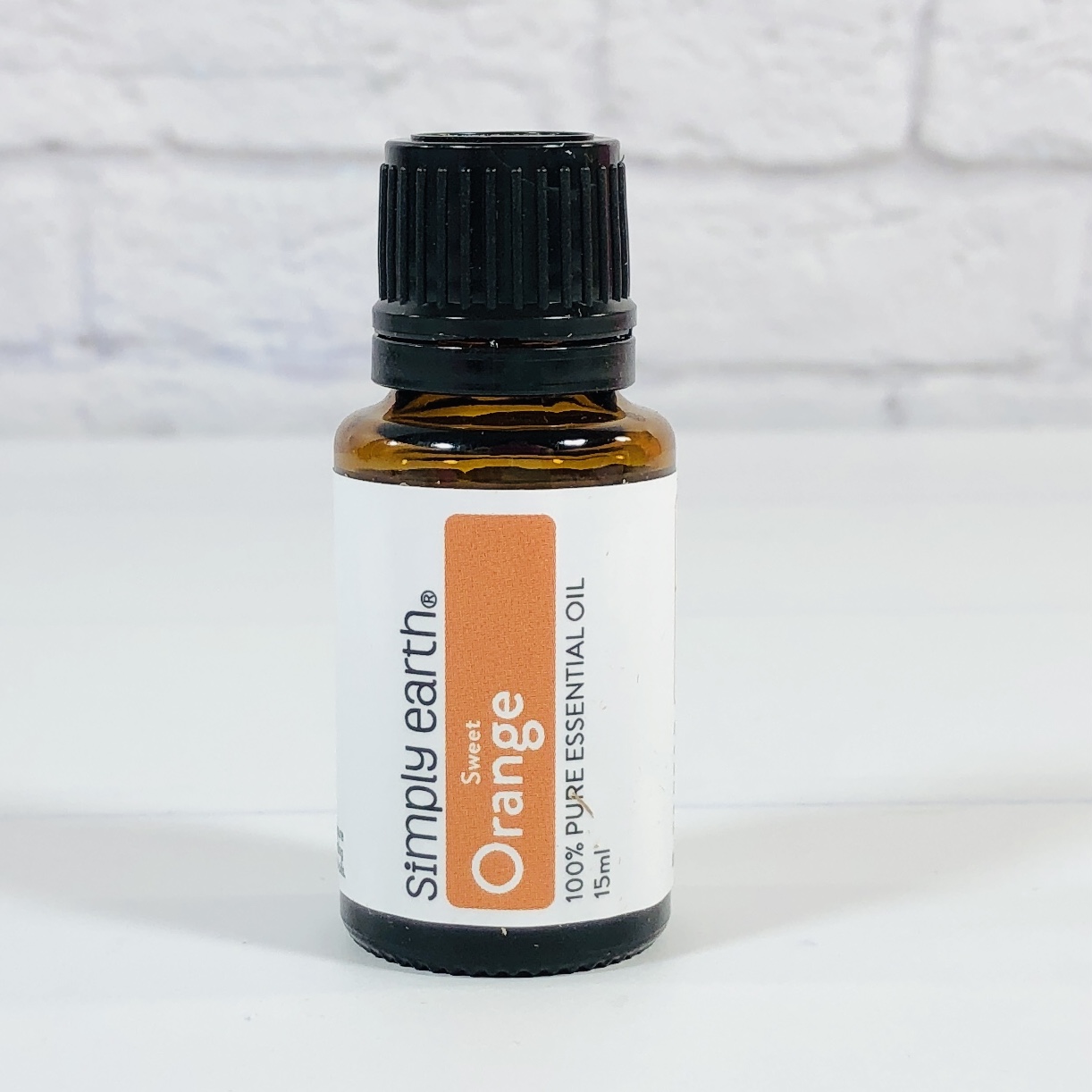 Sweet Orange Essential Oil ($7.99) I love the brightness of orange essential oil, it smells just like a fresh cut orange! It can be used in cleaning products and of course is an excellent choice for aromatherapy.
The oil comes from the peels of oranges and smells as expected.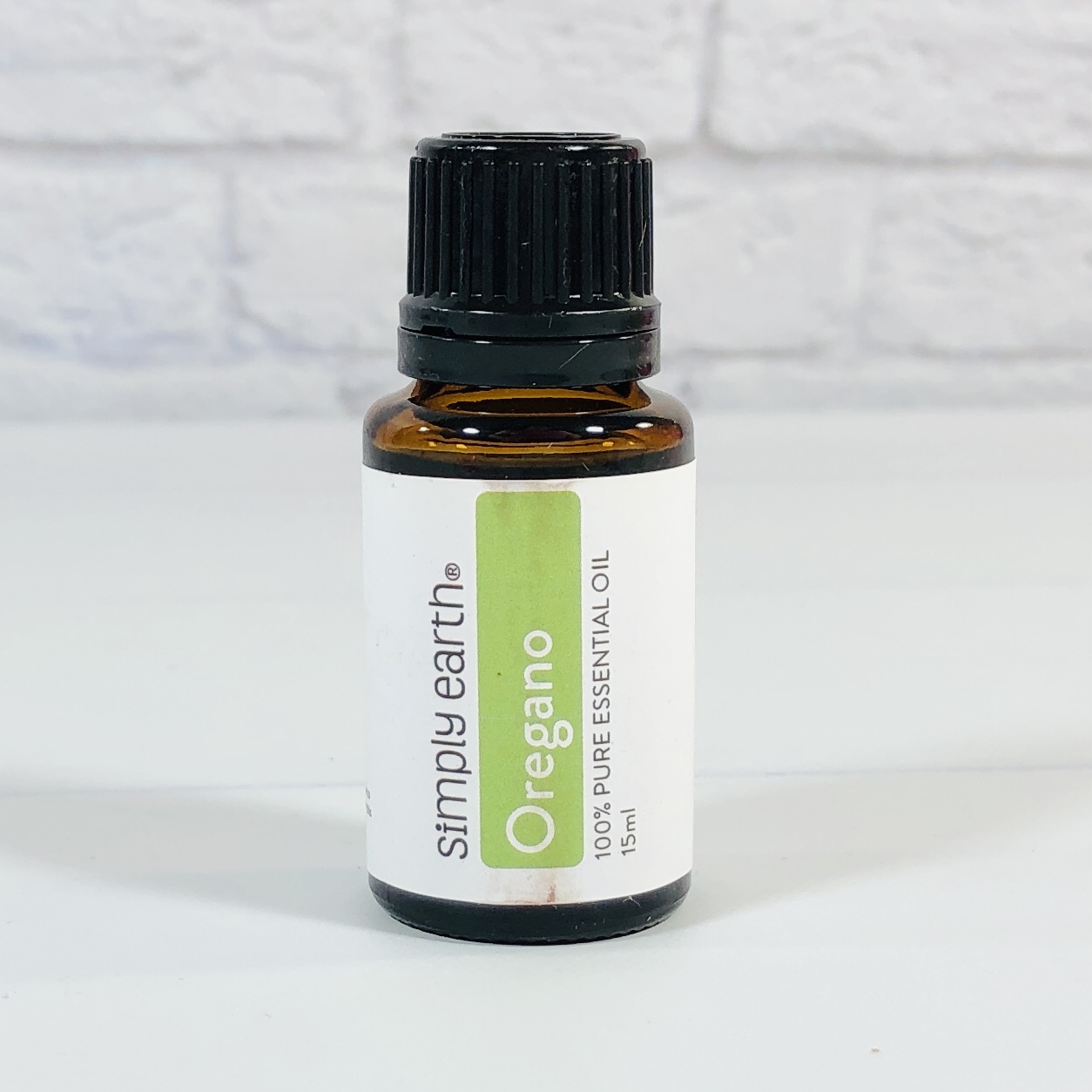 Oregano Essential Oil ($14.99) I once tried to describe this herb to an English co-worker and she had no idea what I was talking about until I spelled it out. "Oh, you mean ore-ah-ghan-o!". I had never heard it pronounced that way before but over 30 years later I still think of that when I use it in recipes. Don't even get me started on how they pronounce Van Gogh.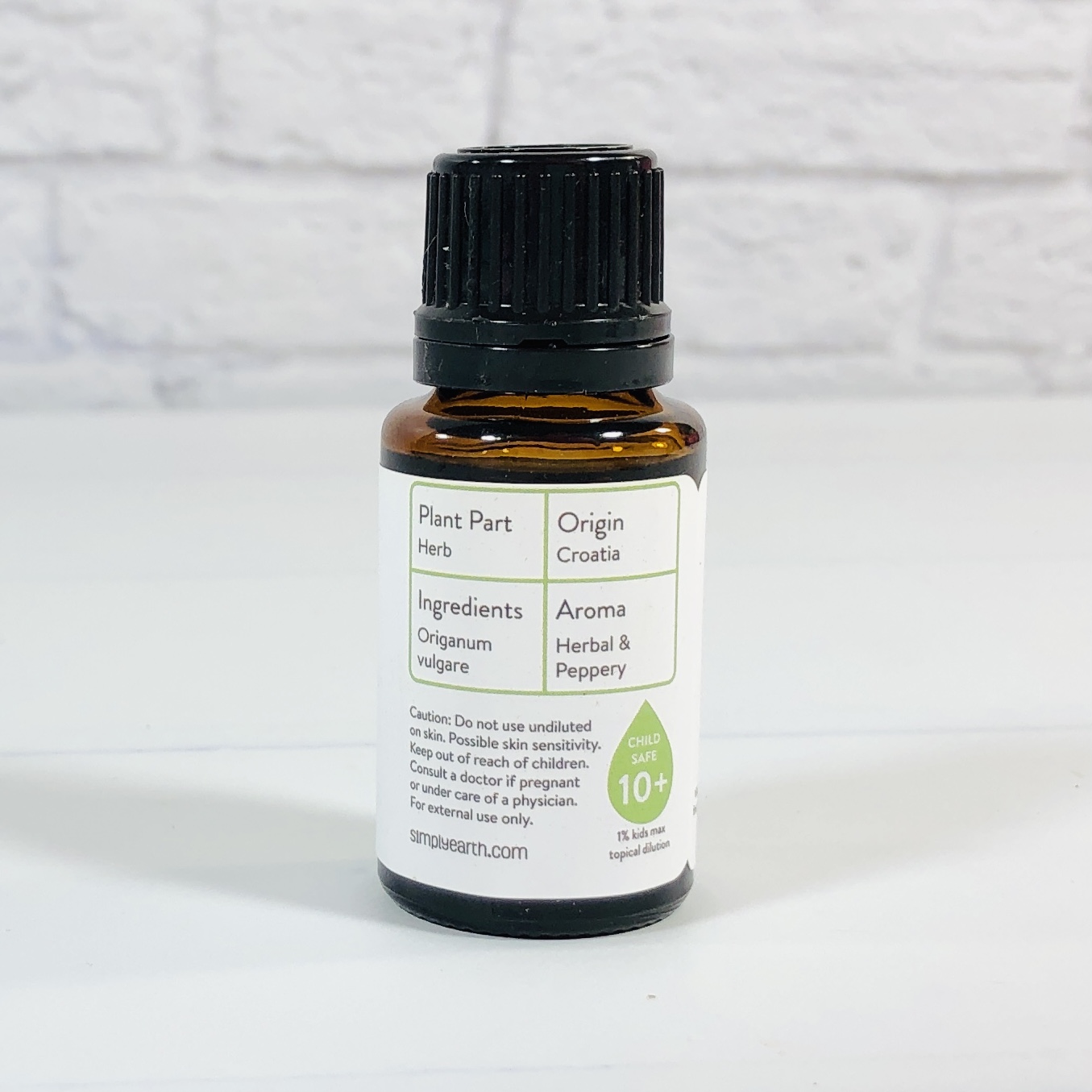 Oregano smells very strong and herby and it can be used for cleaning purposes and muscle rubs.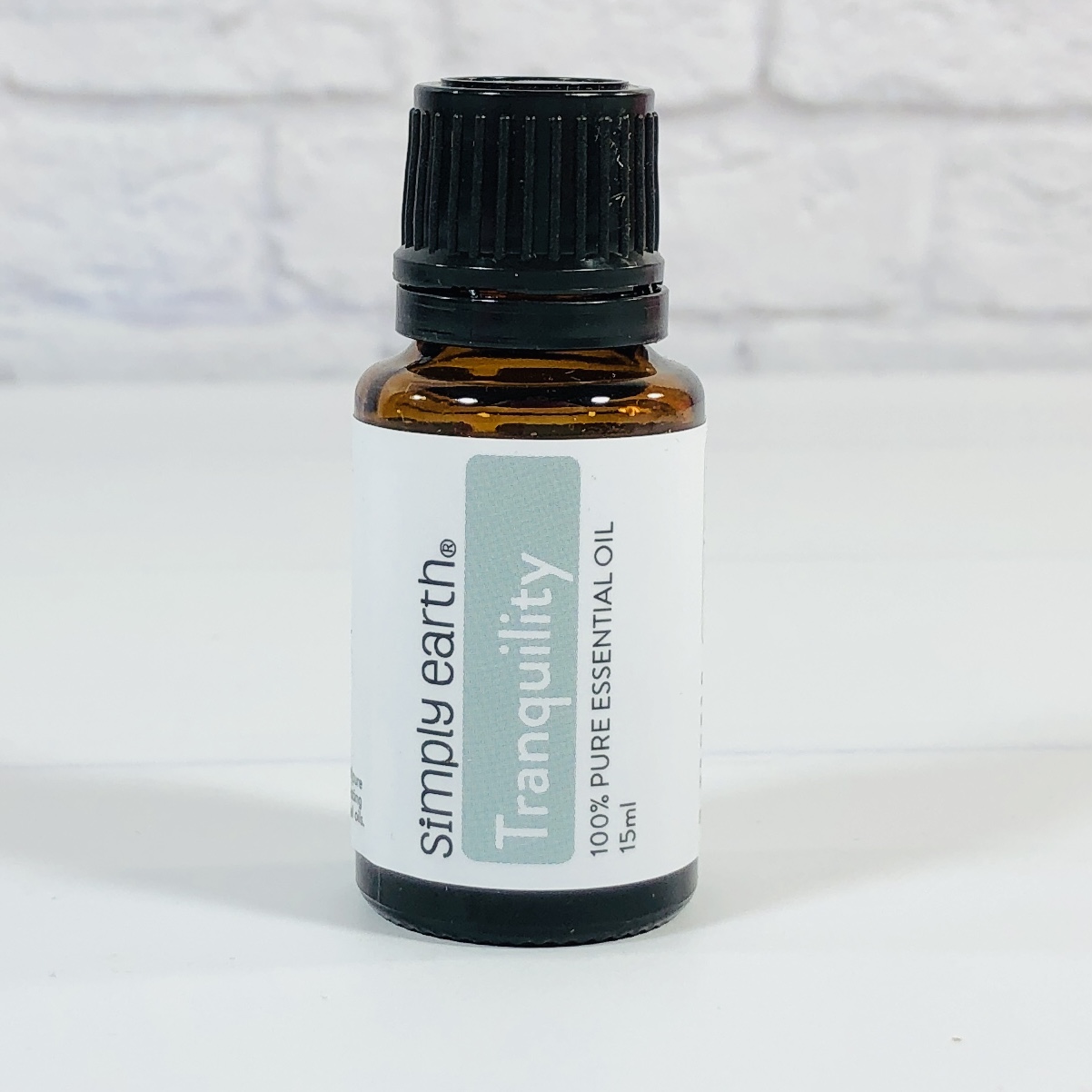 Tranquility Essential Oil ($12.99) Tranquility is a blend that may promote a relaxing effect on the body when diffused. Taking deep breaths is a good way to calm the body and it helps when there is something magical in the air, rather than last night's dinner smells.
It's comprised of orange, lemon, patchouli, ylang ylang, and amyris essential oils and has a warm and comforting scent profile that reminds me mainly of the ylang ylang.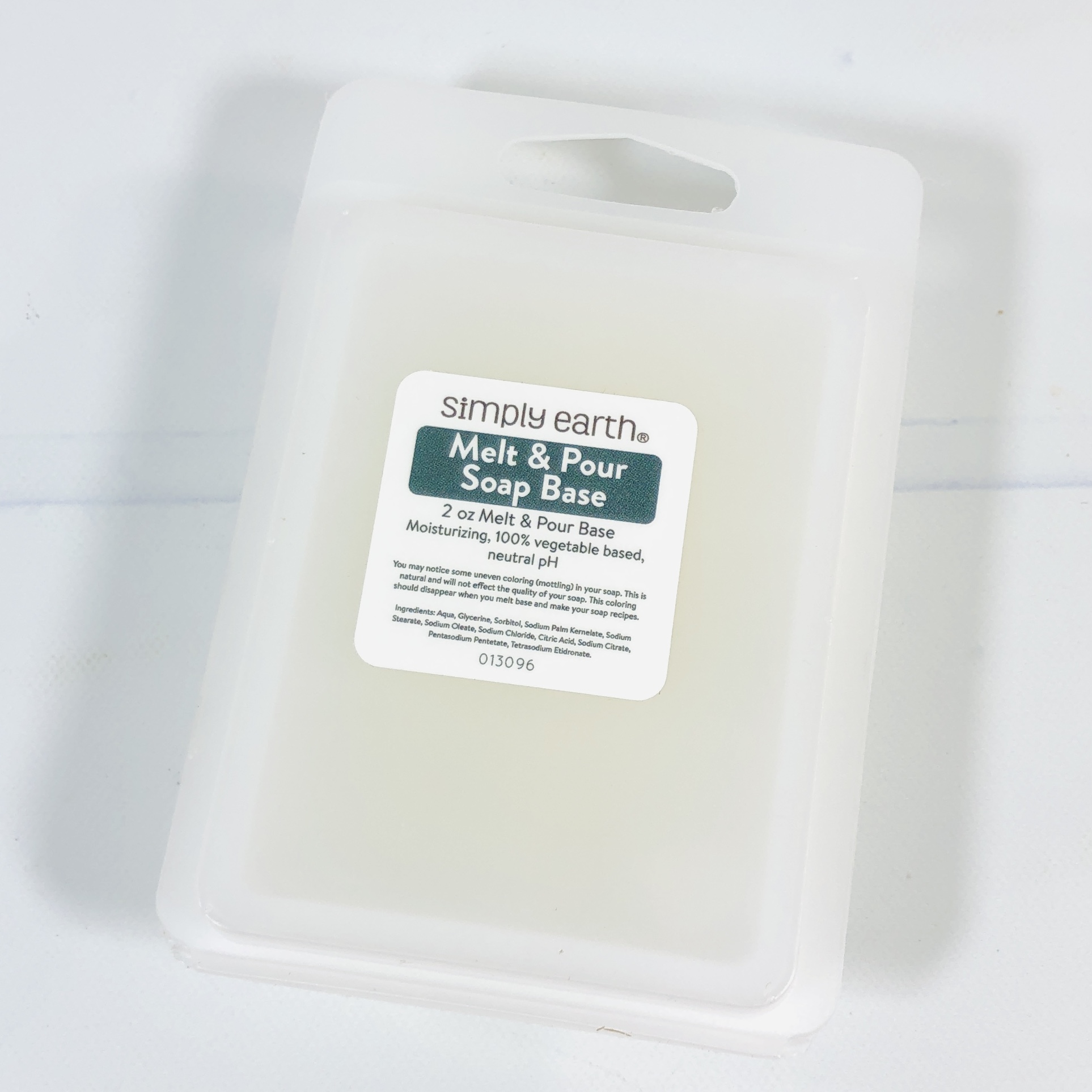 Glycerin Melt & Pour Soap Base Simply Earth included some of the components of this month's recipes, like this glycerin soap base.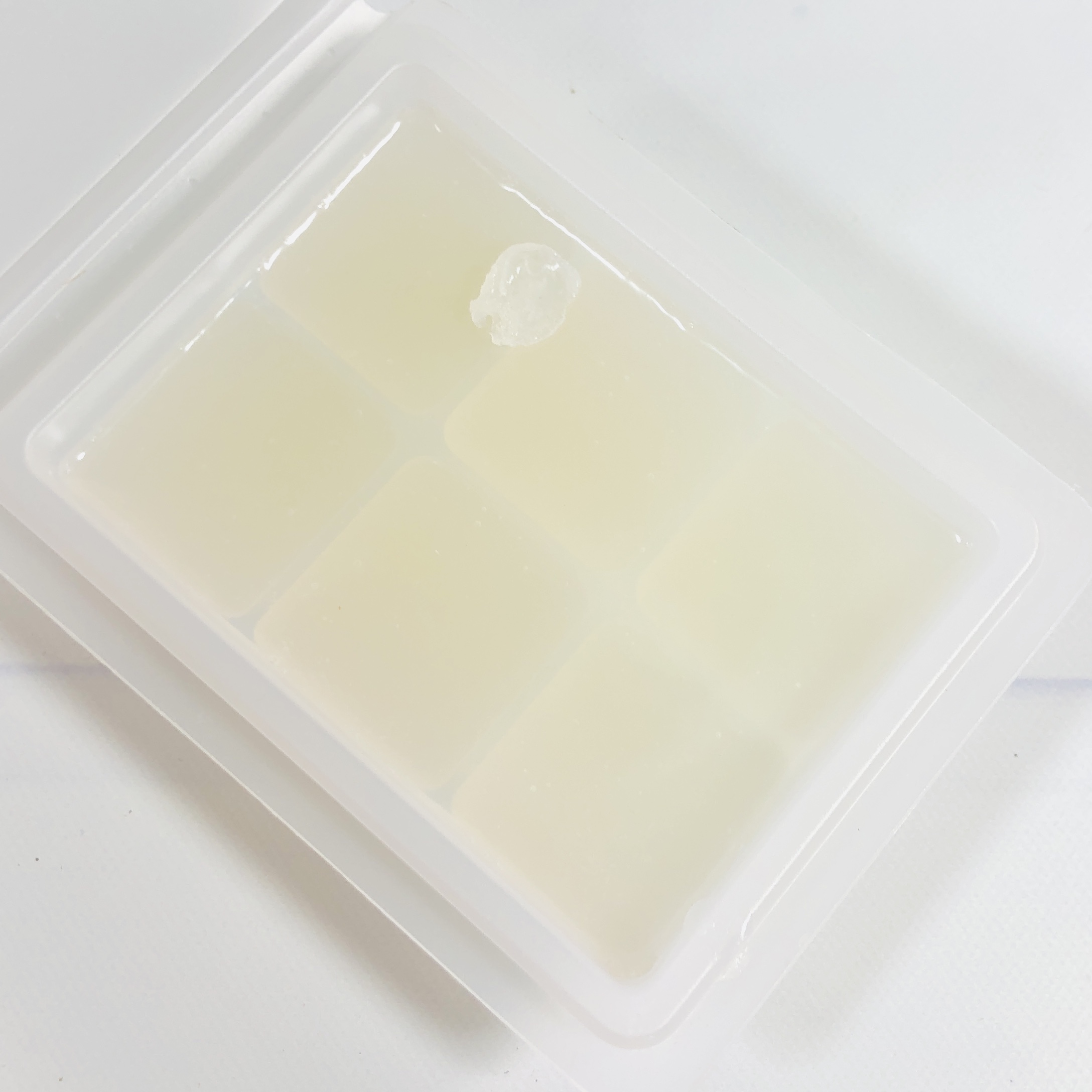 There are 6 cubes and pay attention to those recipes, some only call for 1.5 cubes.
Rose Clay is used to add natural color to a couple of the recipes, plus, it may help draw out impurities from the skin, like oil.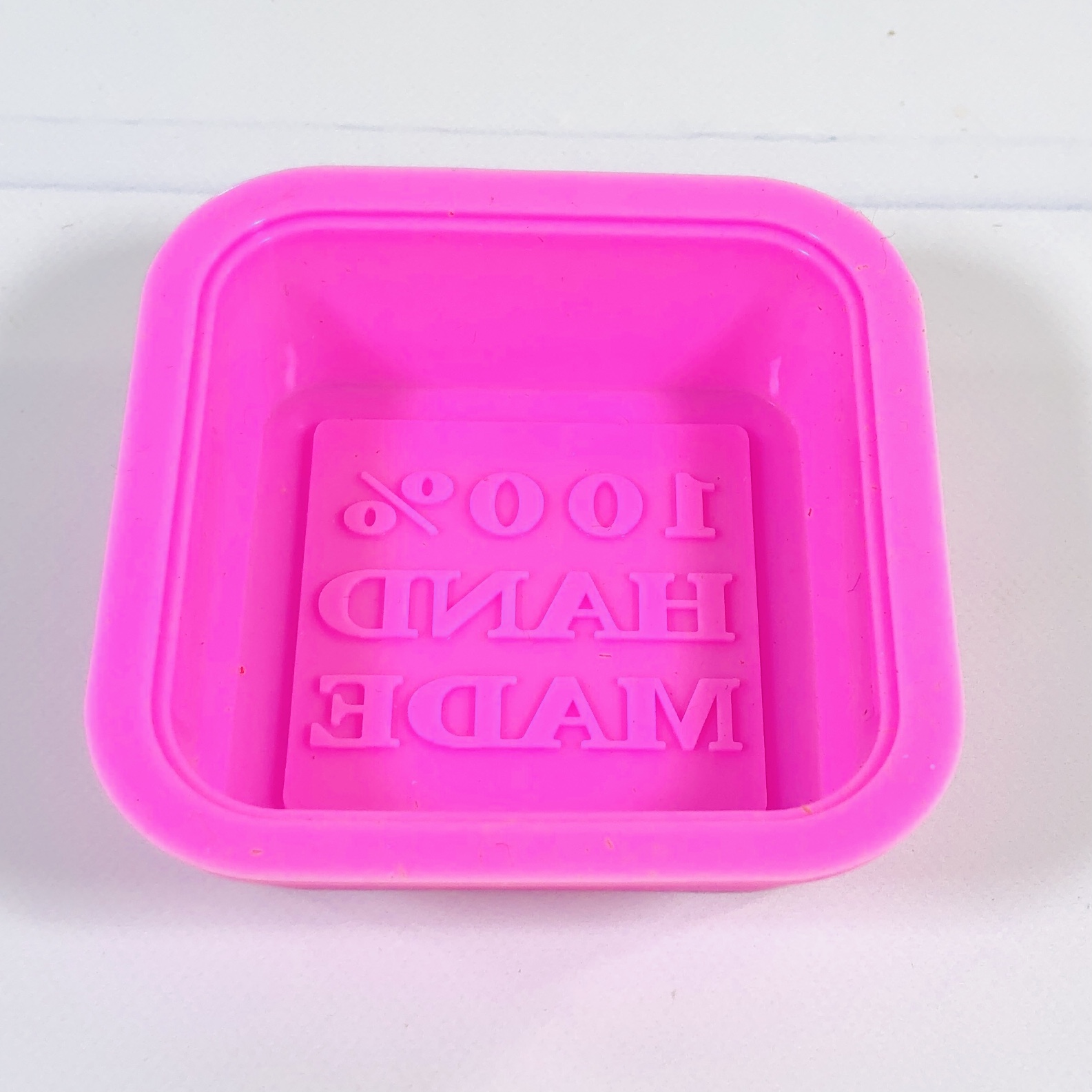 Soap Mold Since we're making a couple of soaps this month we received a mold for those two recipes.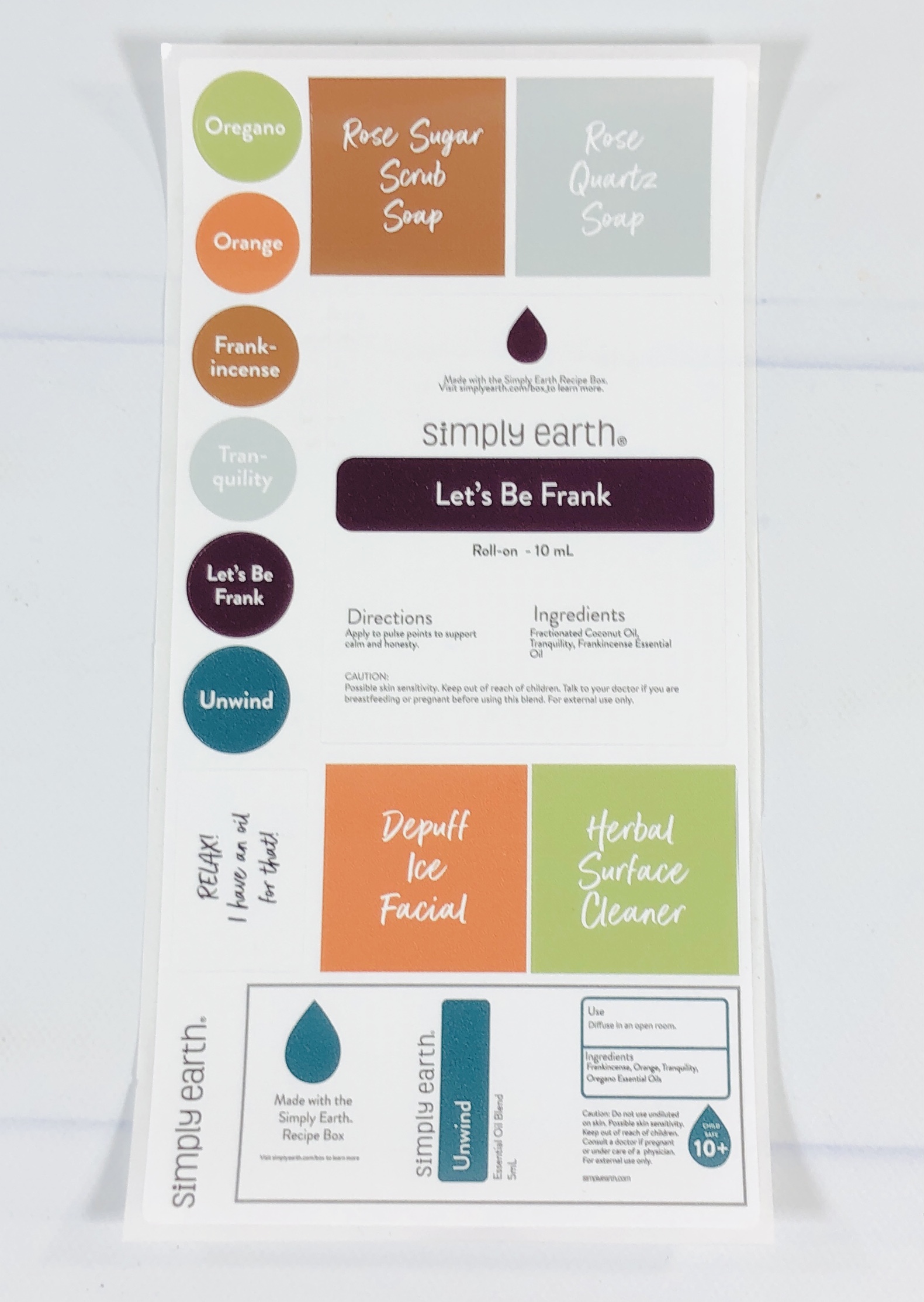 Sticker Sheet A sticker sheet has labels for all of this month's recipes and they are already scored, just peel and stick!
The easiest recipe each month is always the diffuser blend. I just mixed the required number of drops in my diffuser, added water, and pushed on. If you really love the blend then you can grab a mini dropper bottle from your Big Bonus Box and mix up a master recipe, then you just have to add a couple of drops from that blend and you are good to go. This blend wasn't for me, I didn't care for the oregano aroma, which was the strongest to my nose. I will try it without the oregano in the future.
Next I made the Herbal Surface Cleaner. It called for distilled water and vinegar from my pantry.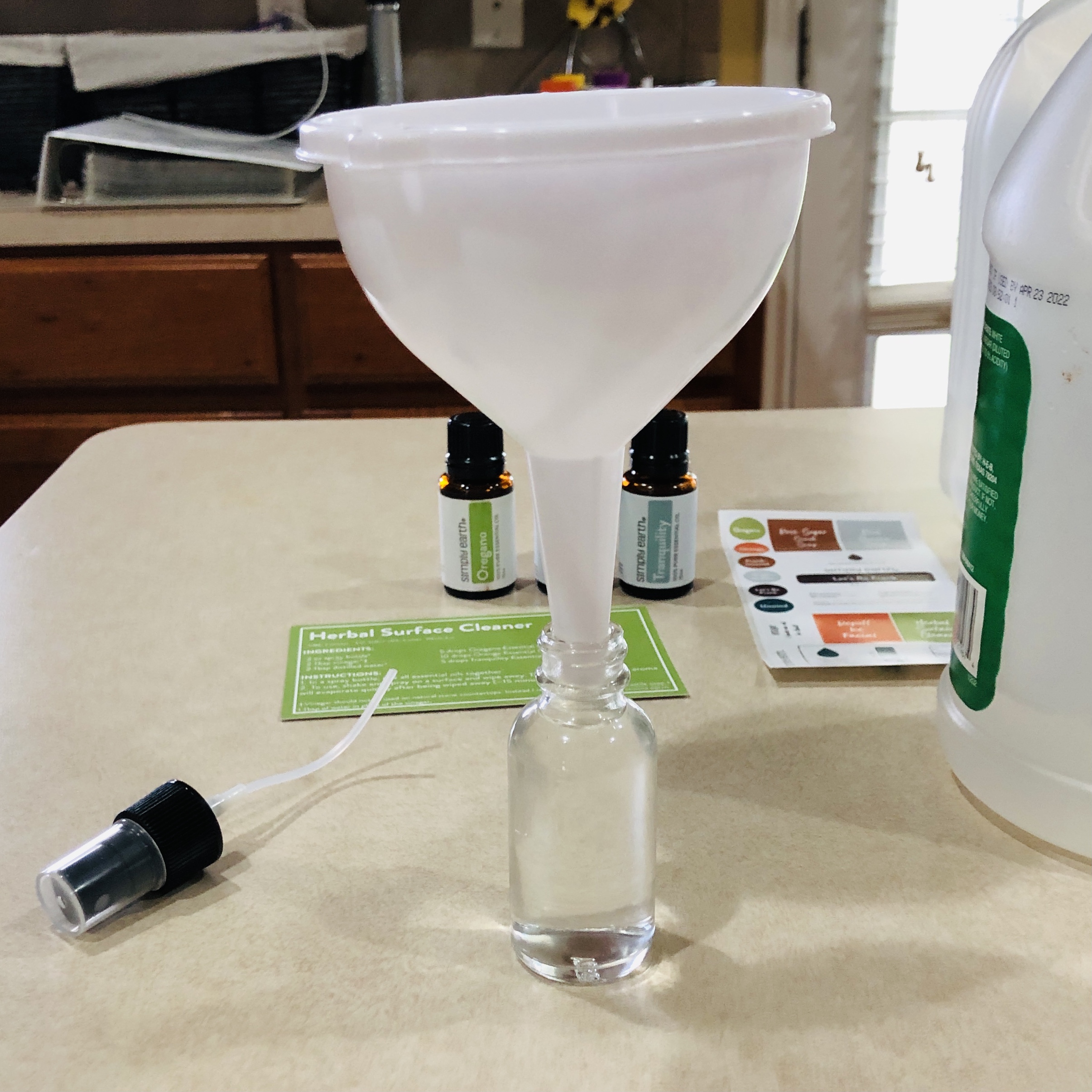 It also called for a 2 ounce spray bottle but all I had on hand was 1 ounce so I cut the recipe in half. It is suggested that you use a funnel to get the ingredients into the bottle and that was helpful. The instructions missed a step. After you add the essential oils you should add the vinegar and water.
The spray will need to be shaken really well before using. The scent lingers for a time after using, leaving behind a clean, herbal smell. It won't replace my antibacterial cleaner for germy messes like those from raw eggs or meat, but I think this is perfect for when I want to help the kitchen smell good. Please note that this recipe shouldn't be used on natural stone countertops but it is suggested that you can use castile soap and water in place of the vinegar.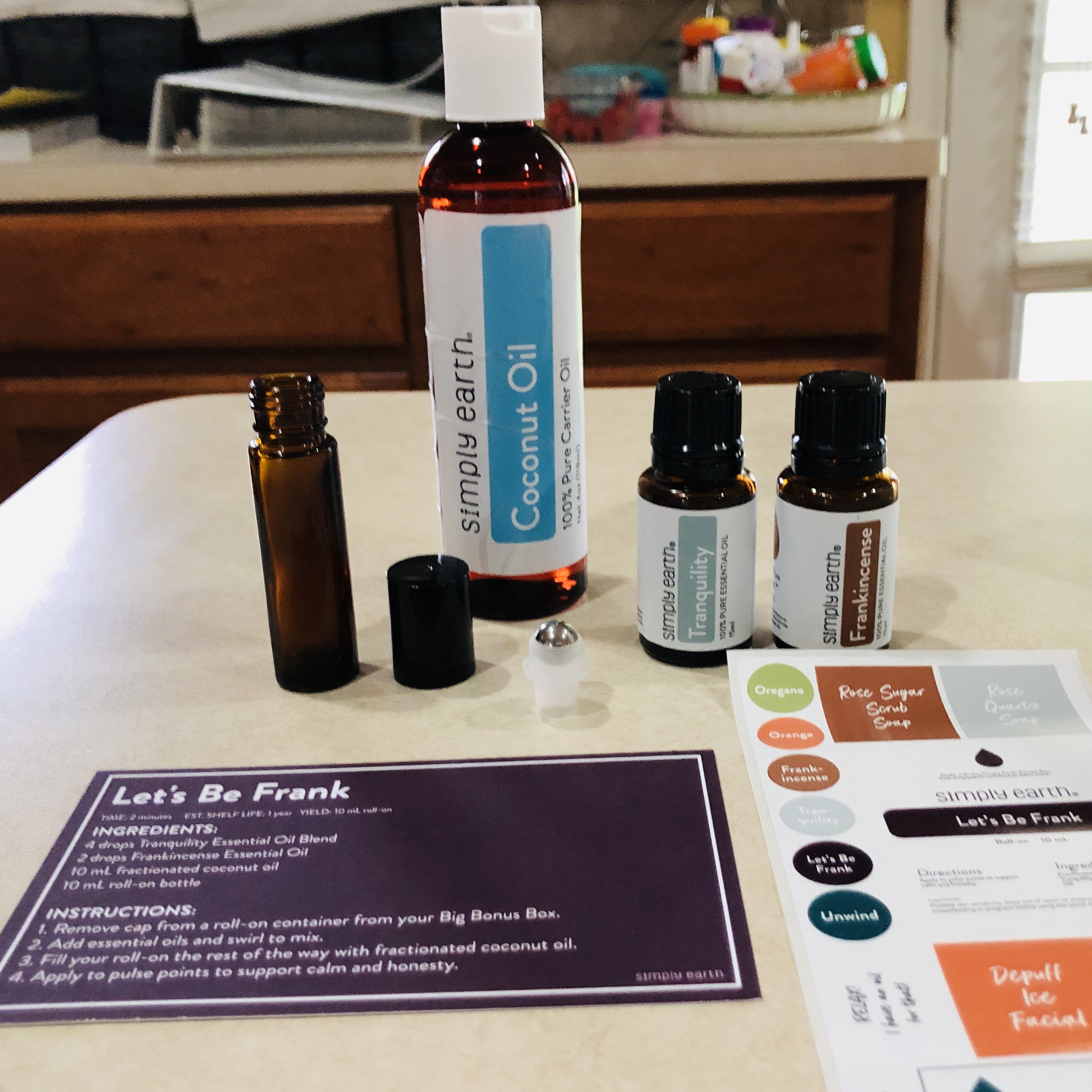 I love the rollerball blends, they are always interesting and I can quickly grab one and roll it over pulse points for a hint of scent.
I added the required drops of essential oils to the bottle and gave them a swirl, then topped it off with coconut oil before capping. I added the label and gave it all a good shake before rolling on my wrists. At first the frankincense is strongest but then that fades and I can smell ylang ylang. Nice!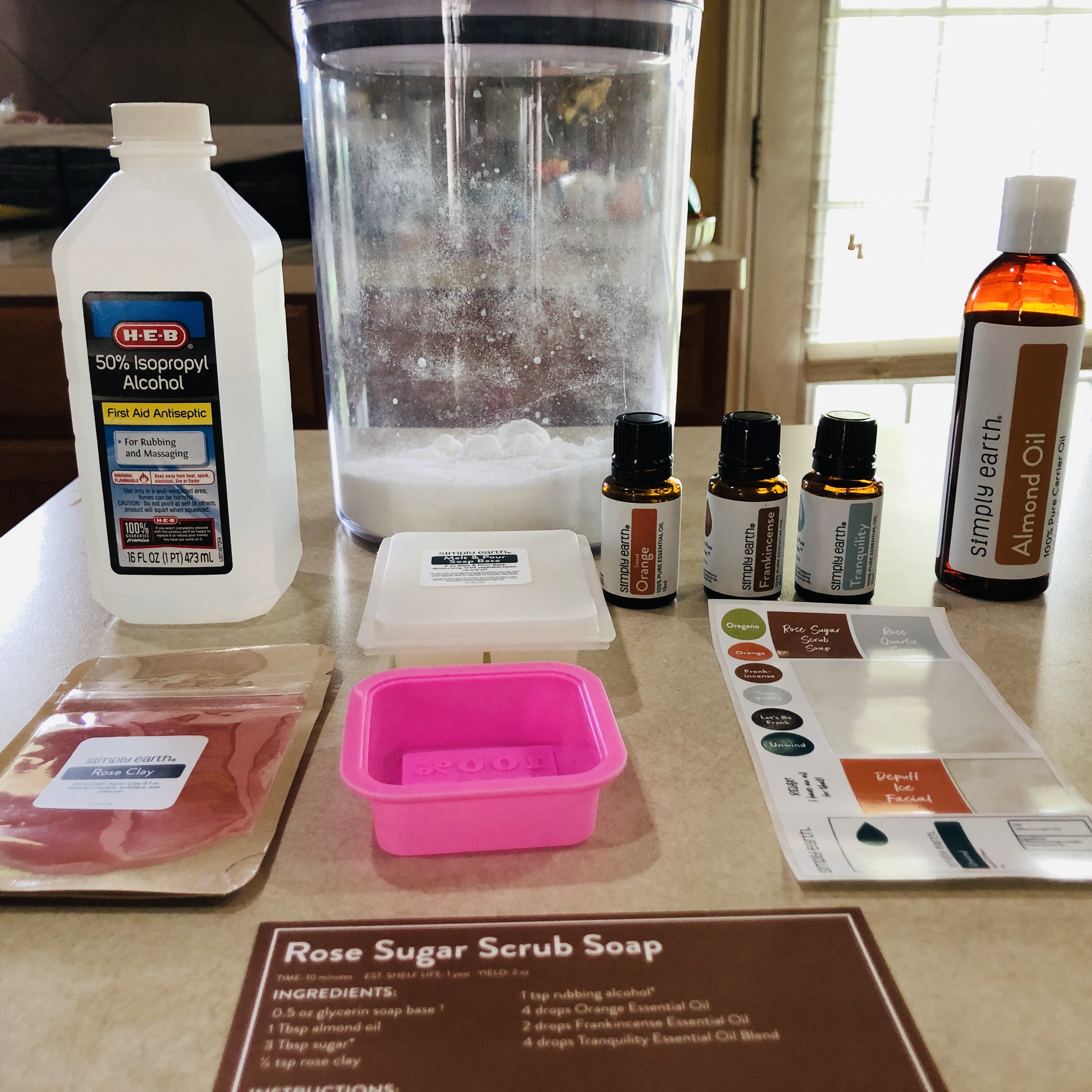 Here are the ingredients for Rose Sugar Scrub Soap, which called for sugar from my pantry, rubbing alcohol from my medicine cabinet, and almond oil from my Big Bonus Box.
I mixed the alcohol and rose clay together so they would easily disperse in the soap.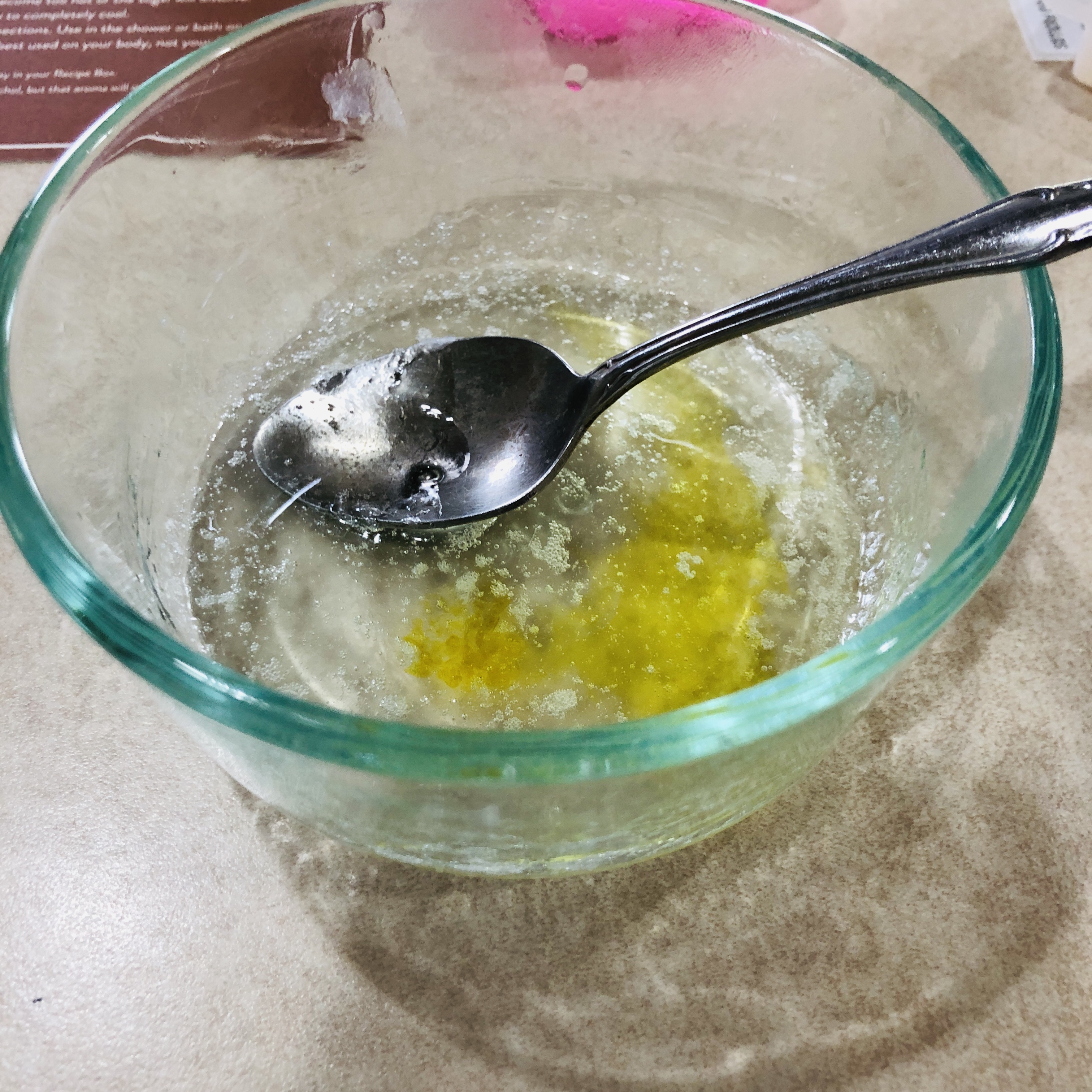 I heated the soap base and almond oil for 15 seconds and they were melted in that amount of time. I stirred in the required amount of essential oils.
Next I added sugar.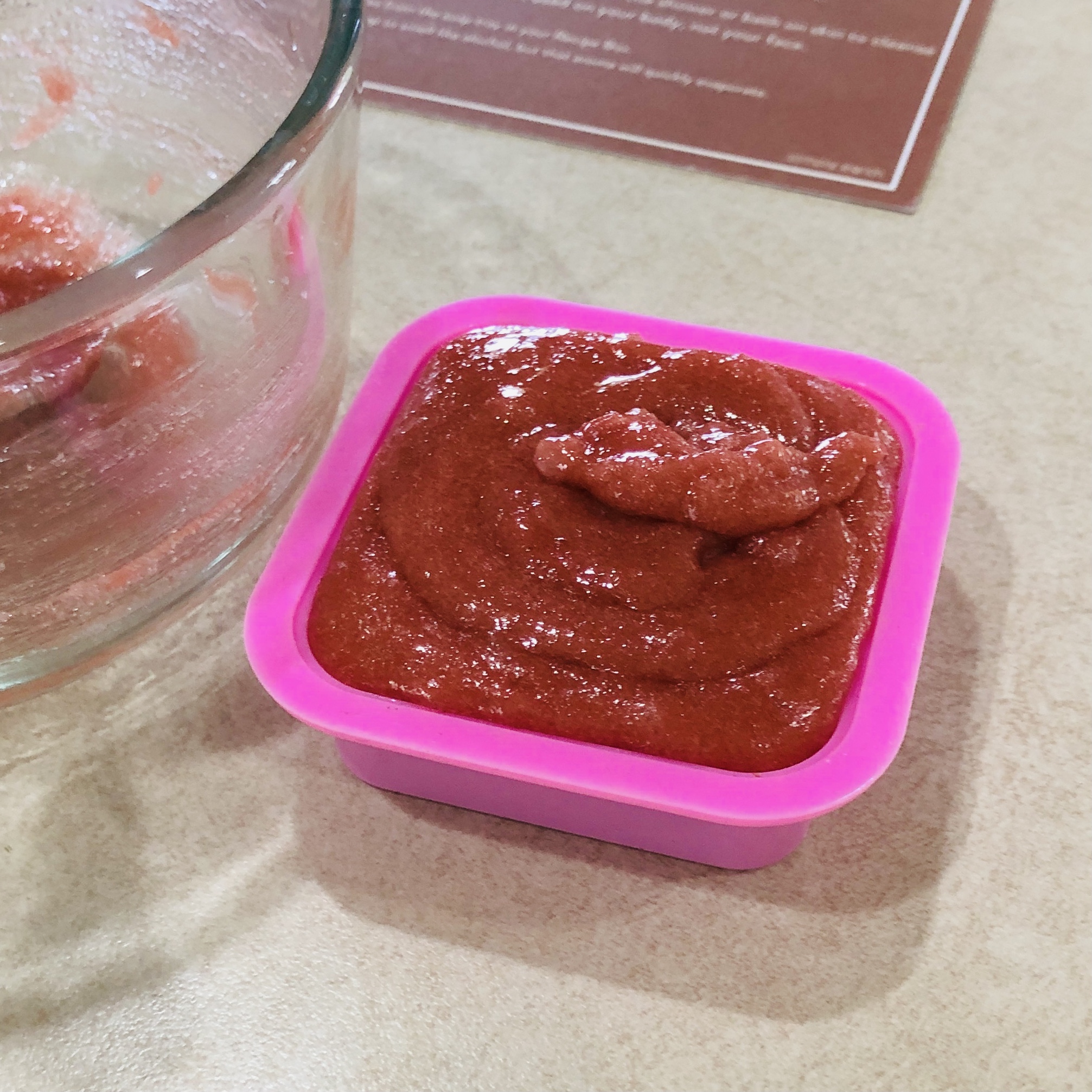 It was practically overflowing from the soap mold!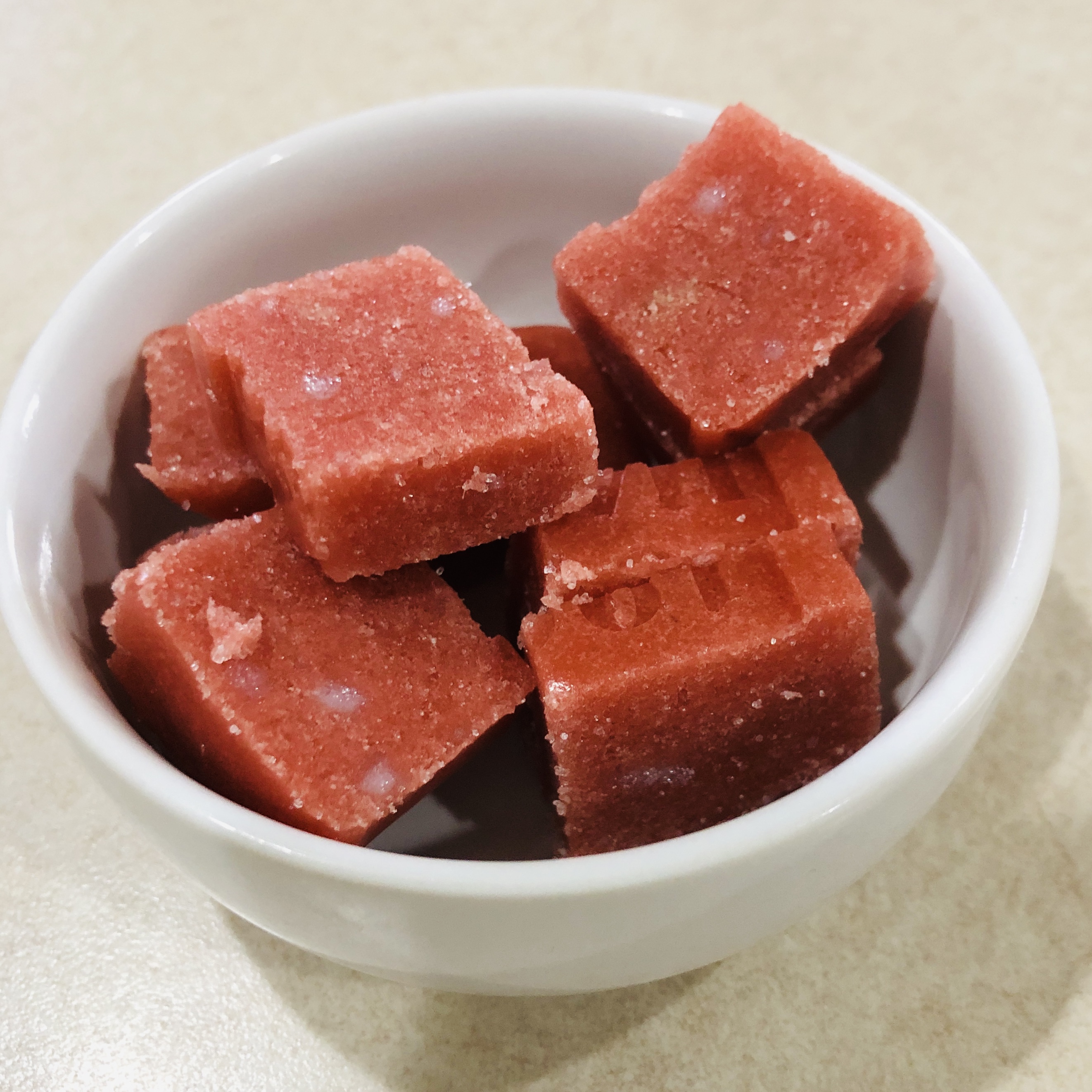 I let it sit before cutting it into pieces to be used in the shower or for washing extra dirty hands. It lathered really well.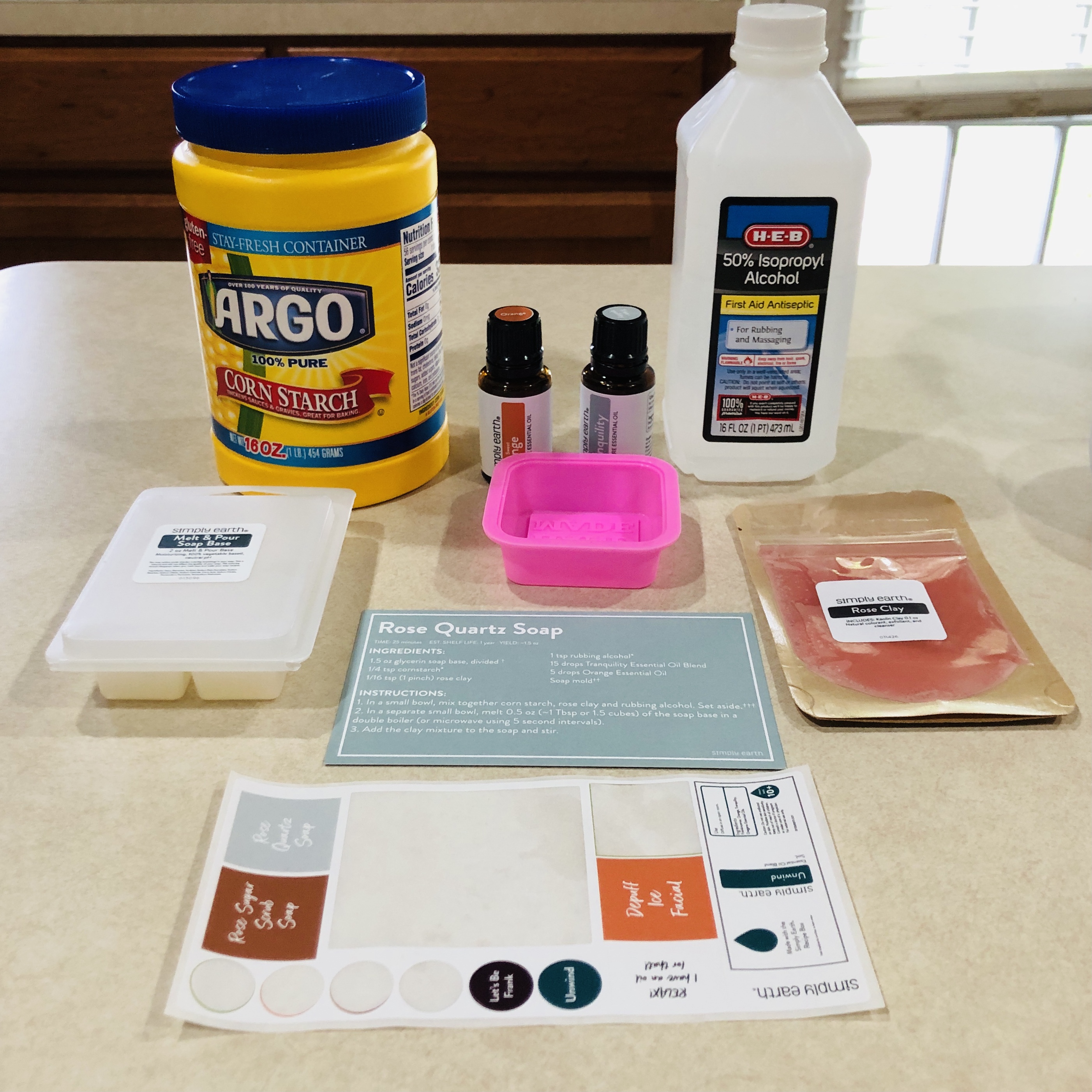 The final recipe I made was the Rose Quartz Soap. I needed cornstarch and rubbing alcohol from my stash.
I mixed the cornstarch, rose clay, and alcohol together and added it to some of the melted soap base.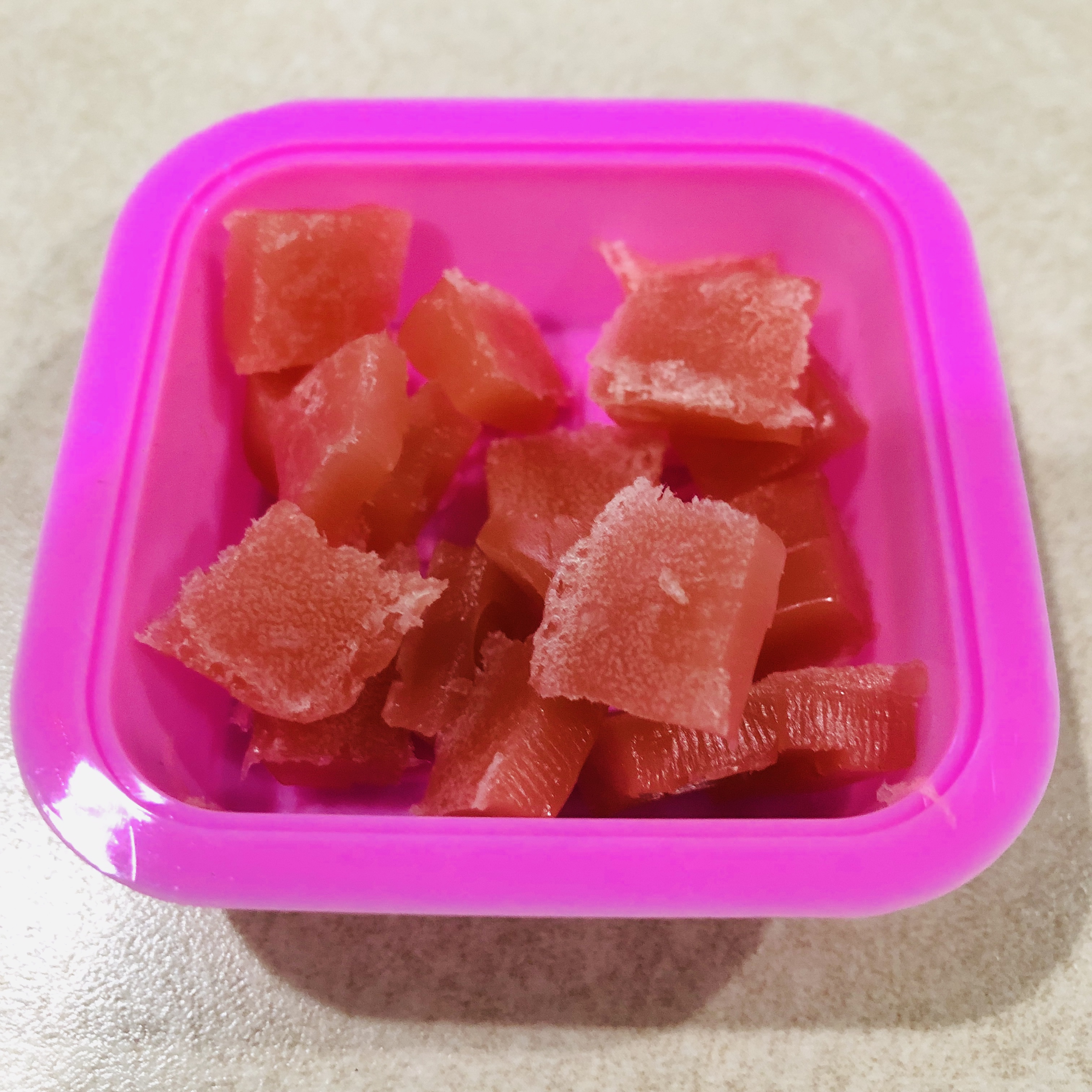 I poured it into the soap mold, let it dry, and then cut it into chunks. I placed those back into the soap mold.
I melted the remainder of the soap base and stirred in the essential oils.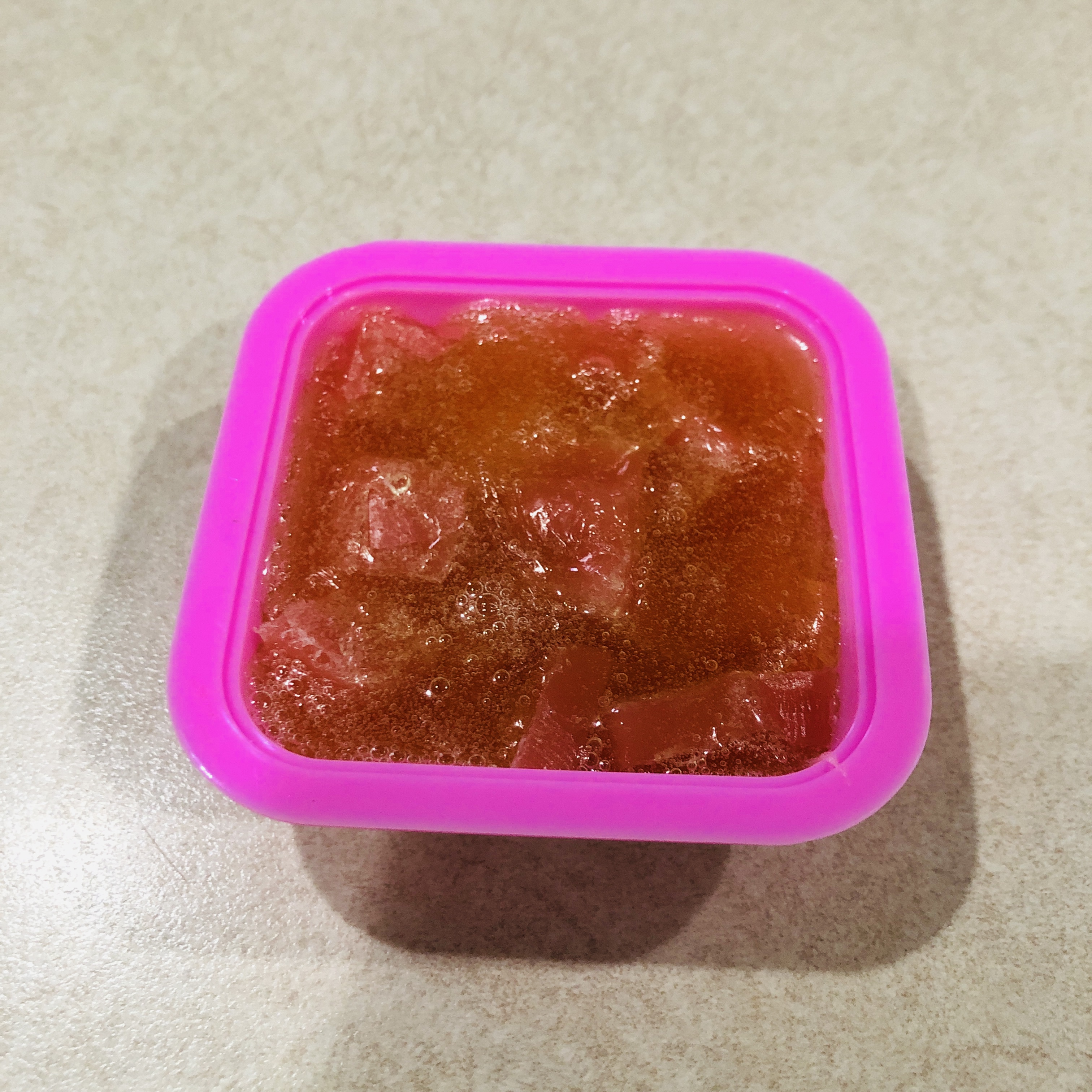 I poured it over the soap chunks and let it dry.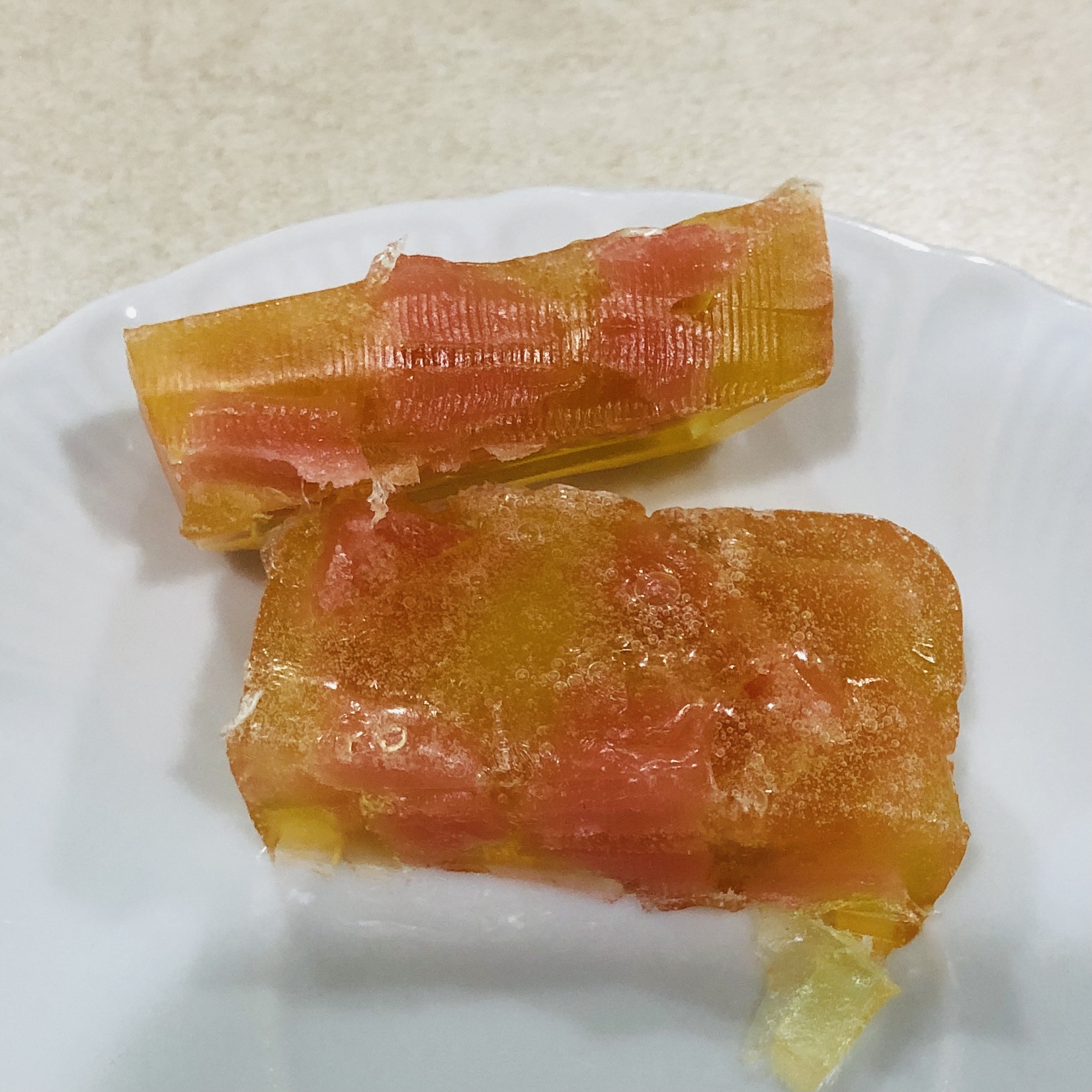 Here's a cross section of the soap. It's supposed to look like gems inside a clear-ish base but the essential oils were pretty dark and so the pink "stones" don't show up very well but it still works well as soap and it smells really nice.
I enjoyed making soaps and a cleaning spray with my May Simply Earth Recipe Box! The recipes were easy to follow and I was happy with the results. I took the time to watch the video instructions on the Simply Earth website to make sure I didn't miss any helpful pointers. The only recipe I didn't make was the Depuff Ice Facial Cubes because I didn't have coconut milk on hand at this time. Everything else was either in my recipe box, the Big Bonus Box, or my pantry. I look forward to coming up with different uses for the essential oils I received in my box but diffusing is probably the #1 way I use them, and I do that pretty much daily.
What do you think of the Simply Earth box?