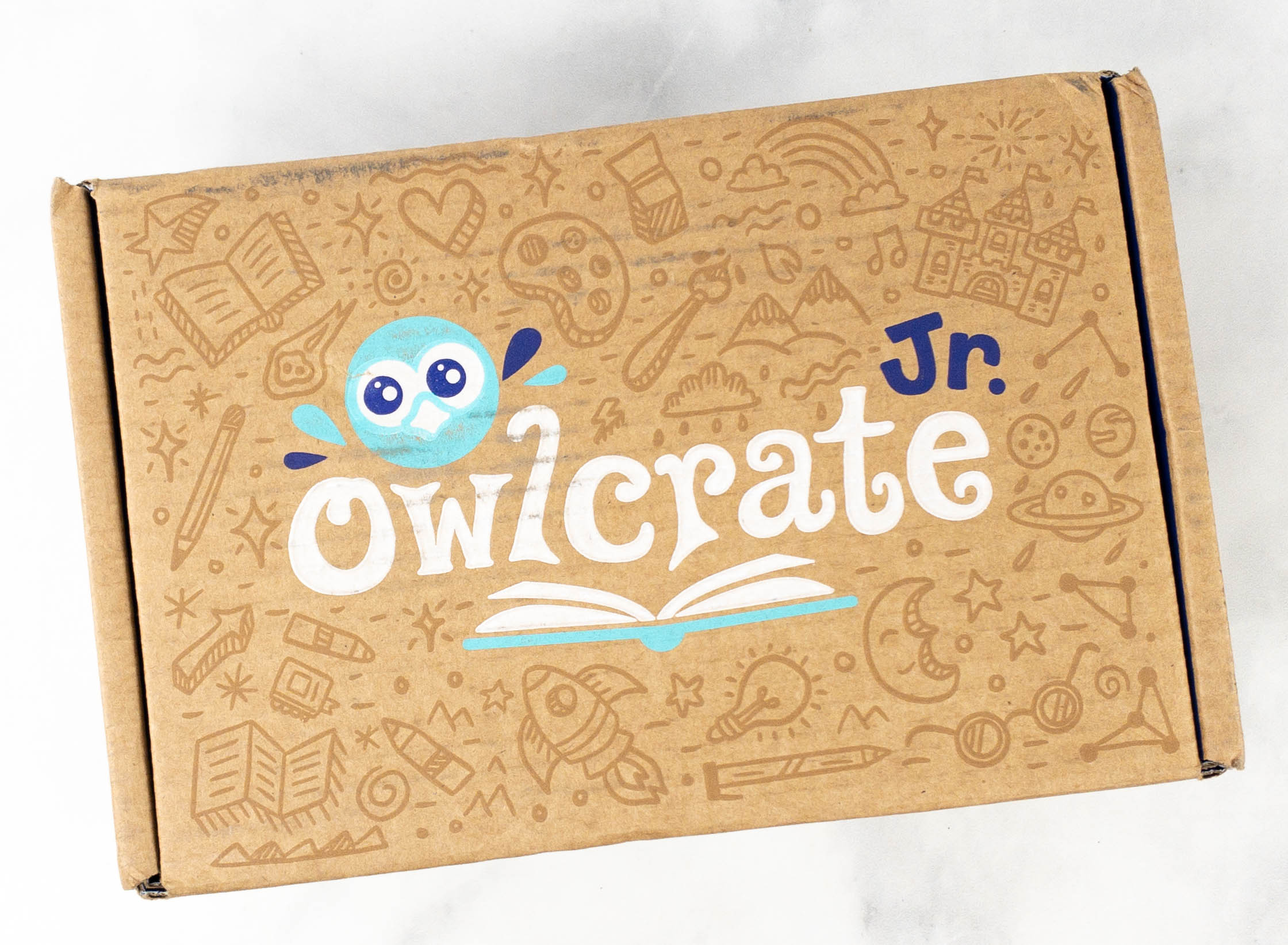 OwlCrate Jr. is a monthly book subscription box for young readers ages 8-12 with a middle-grade book plus fun gender-neutral bookish items designed to enhance your little reader's experience. It's from OwlCrate, a super popular YA (young adult) fiction subscription.
Owl Crate's middle grade readers box made our readers' choice list of best book boxes for kids!
DEAL: Save 15% on your first 1, 3, or 6-month subscription or gift with the promo code HELLO15 at checkout.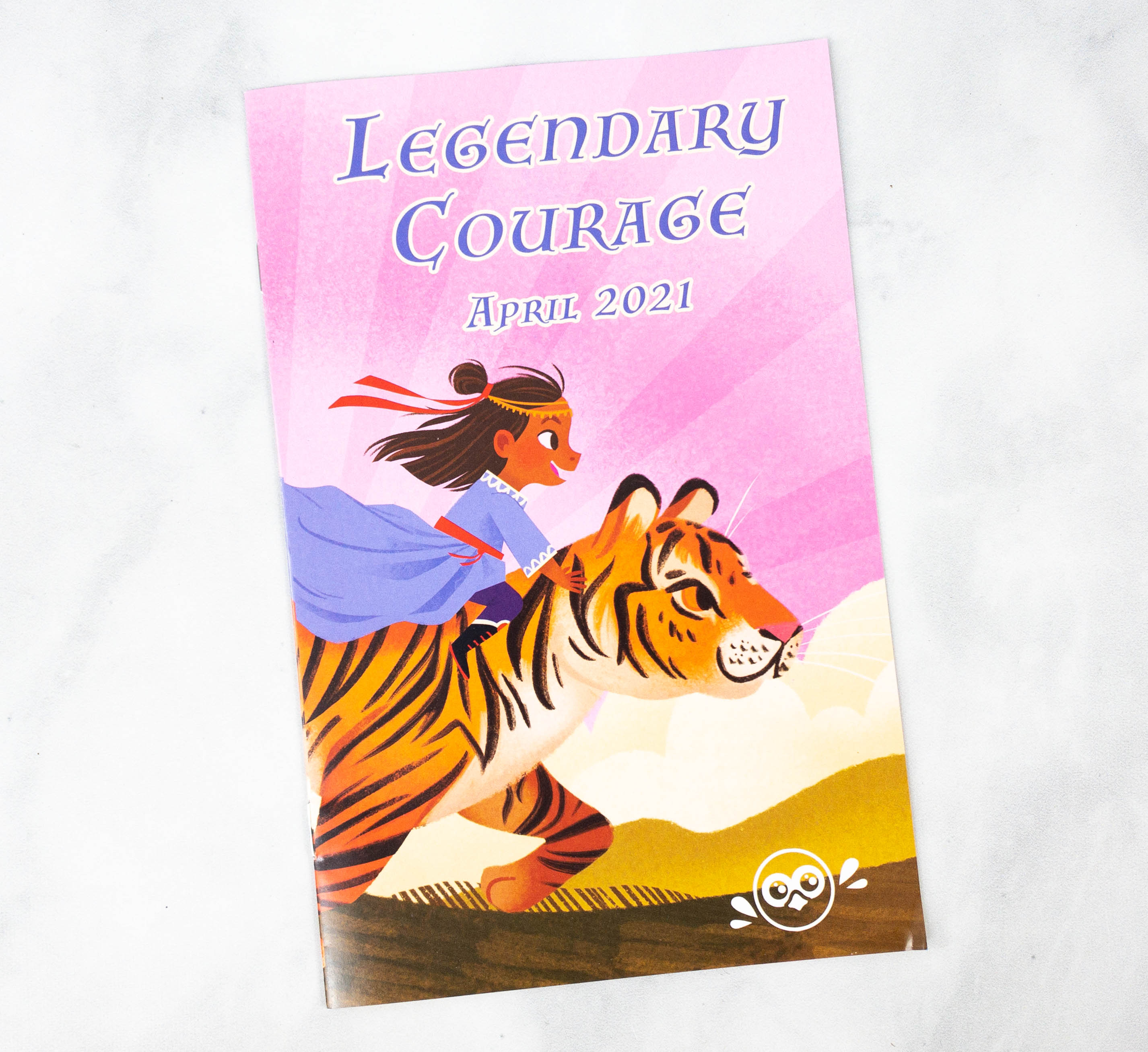 The theme for the April 2021 OwlCrate Jr. box is LEGENDARY COURAGE!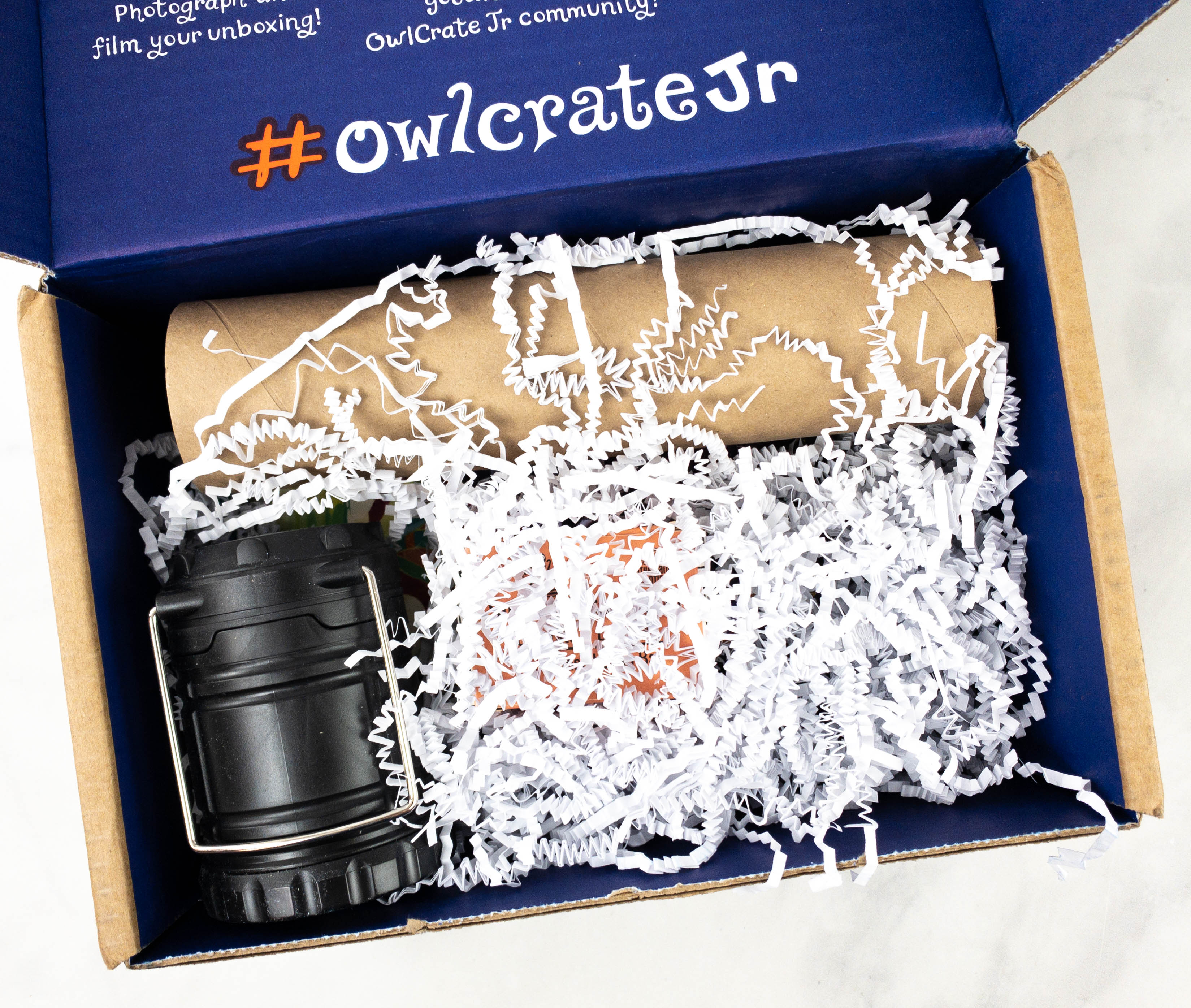 The items were packed with white squiggles.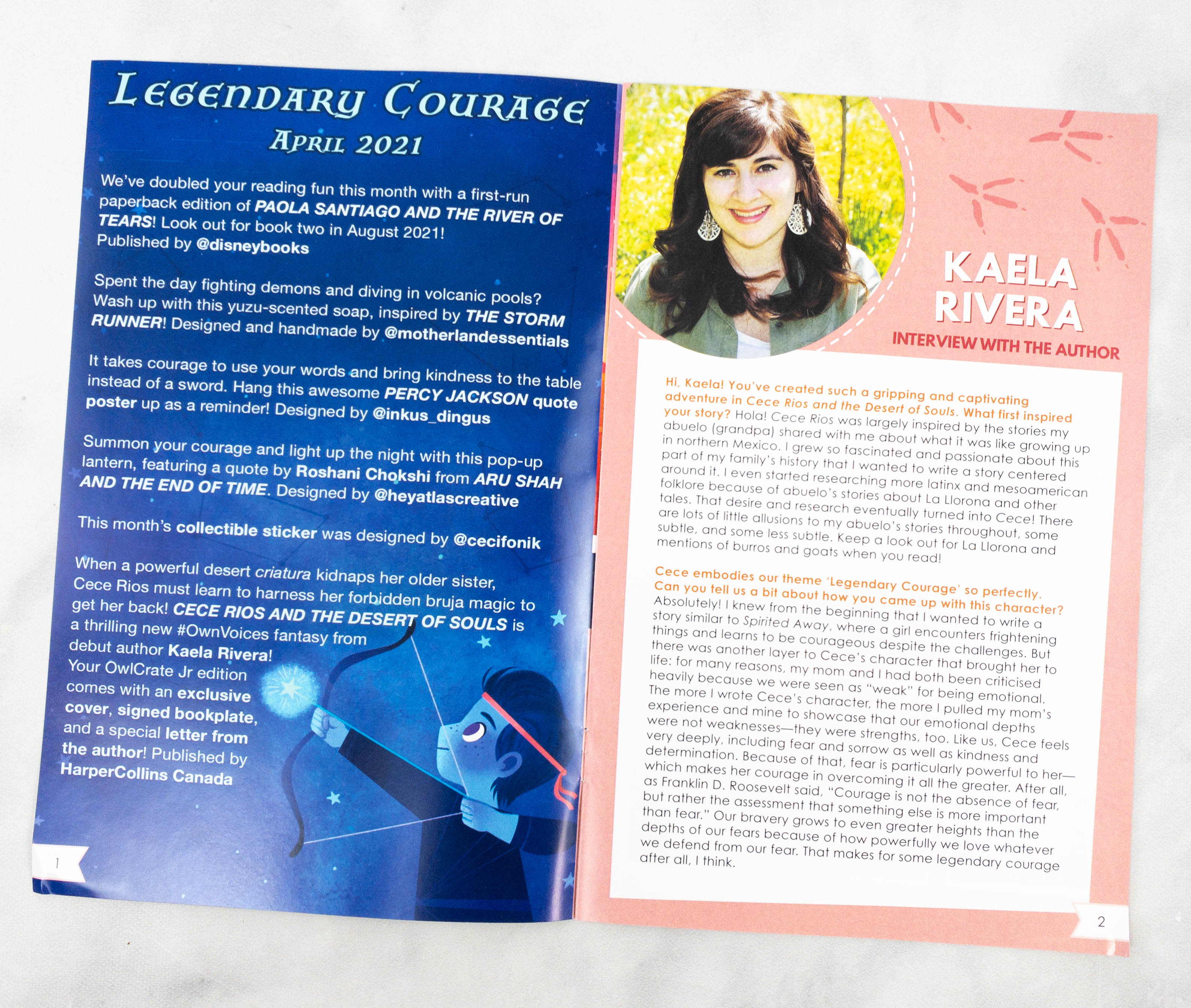 Inside, there's a list of all the items in the box, as well as an interview with this month's featured author Kaela Rivera.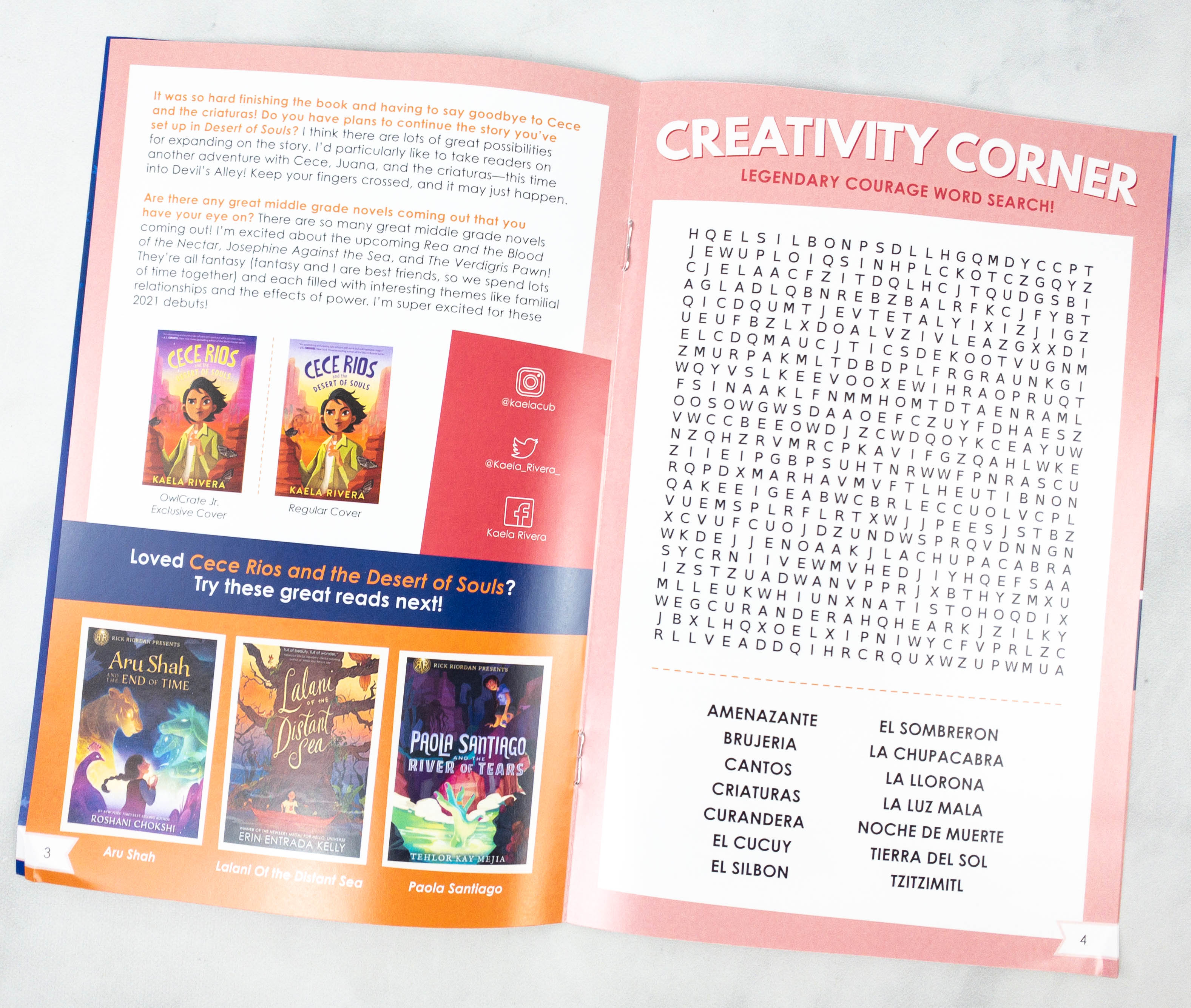 Knowing what inspired the author to pen a story can help children understand the book better.
They also suggested some titles for further reading, especially if you love this month's book: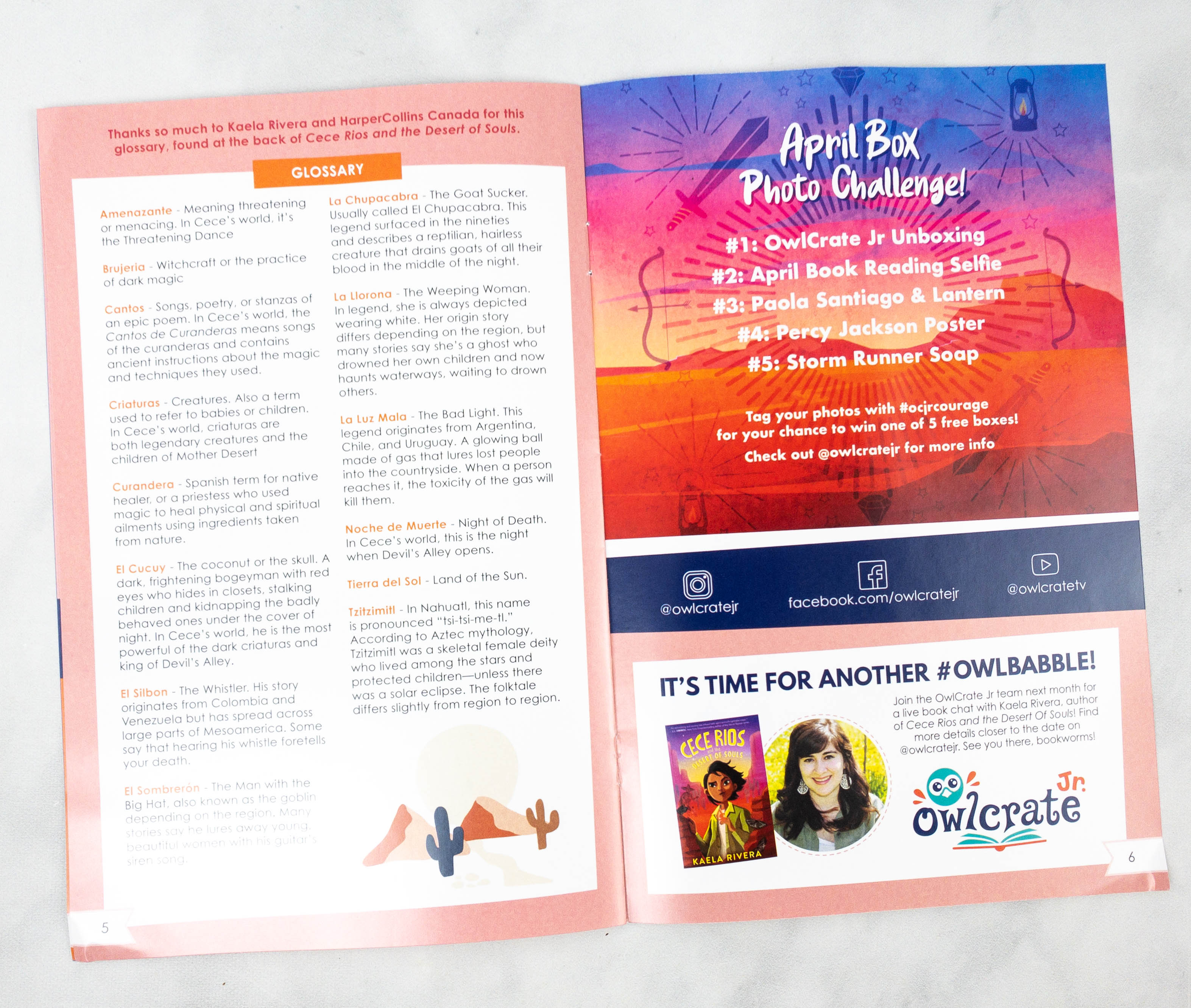 The next page is a community feature. They also provided info for the April Box Photo Challenge!
Everything in the April 2021 OwlCrate Jr. box!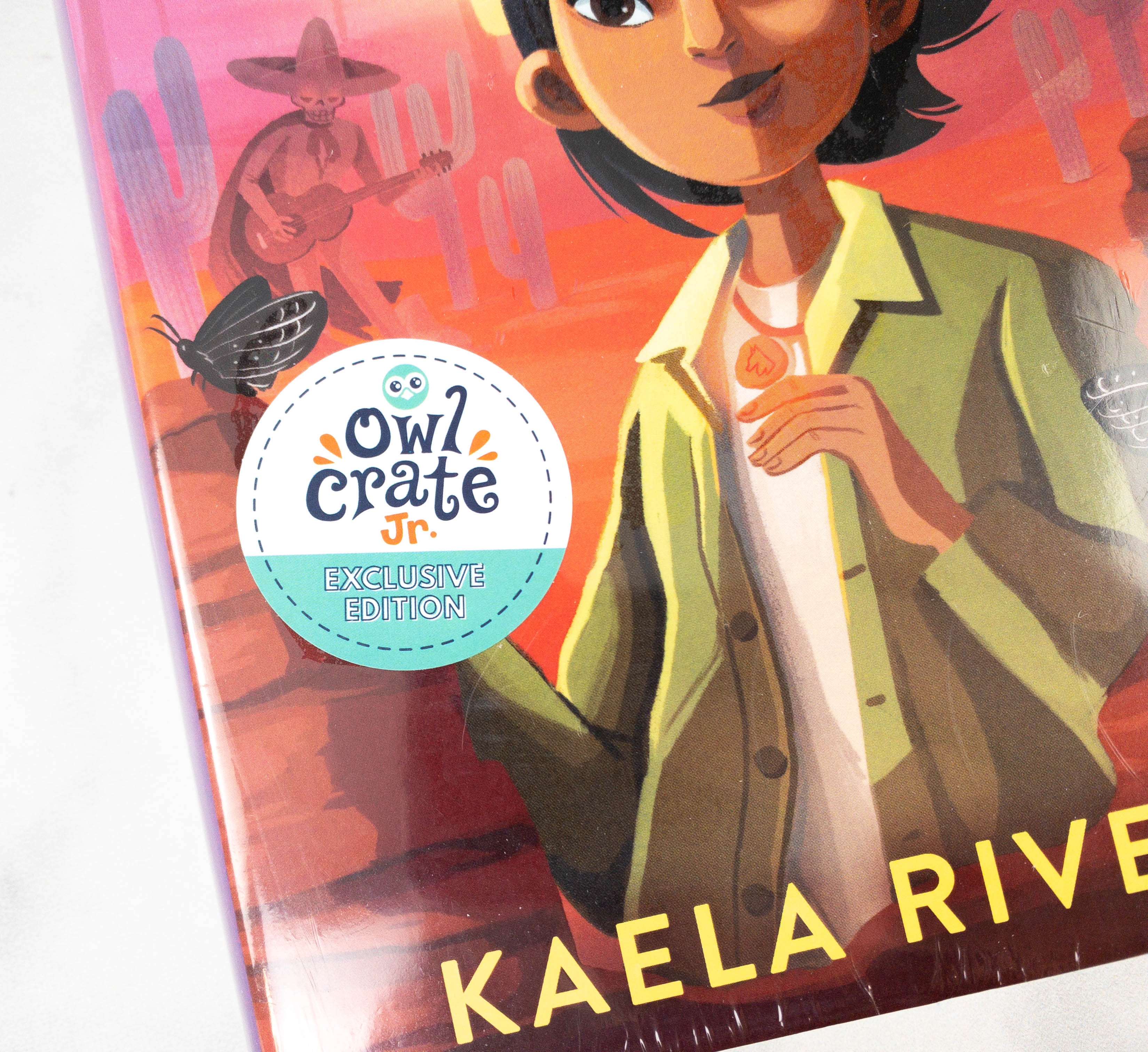 A sticker on this month's book indicates that it's an Owl Crate Jr. exclusive edition!
This card's design features this month's book cover.
At the back is a message from the author, Kaela Rivera.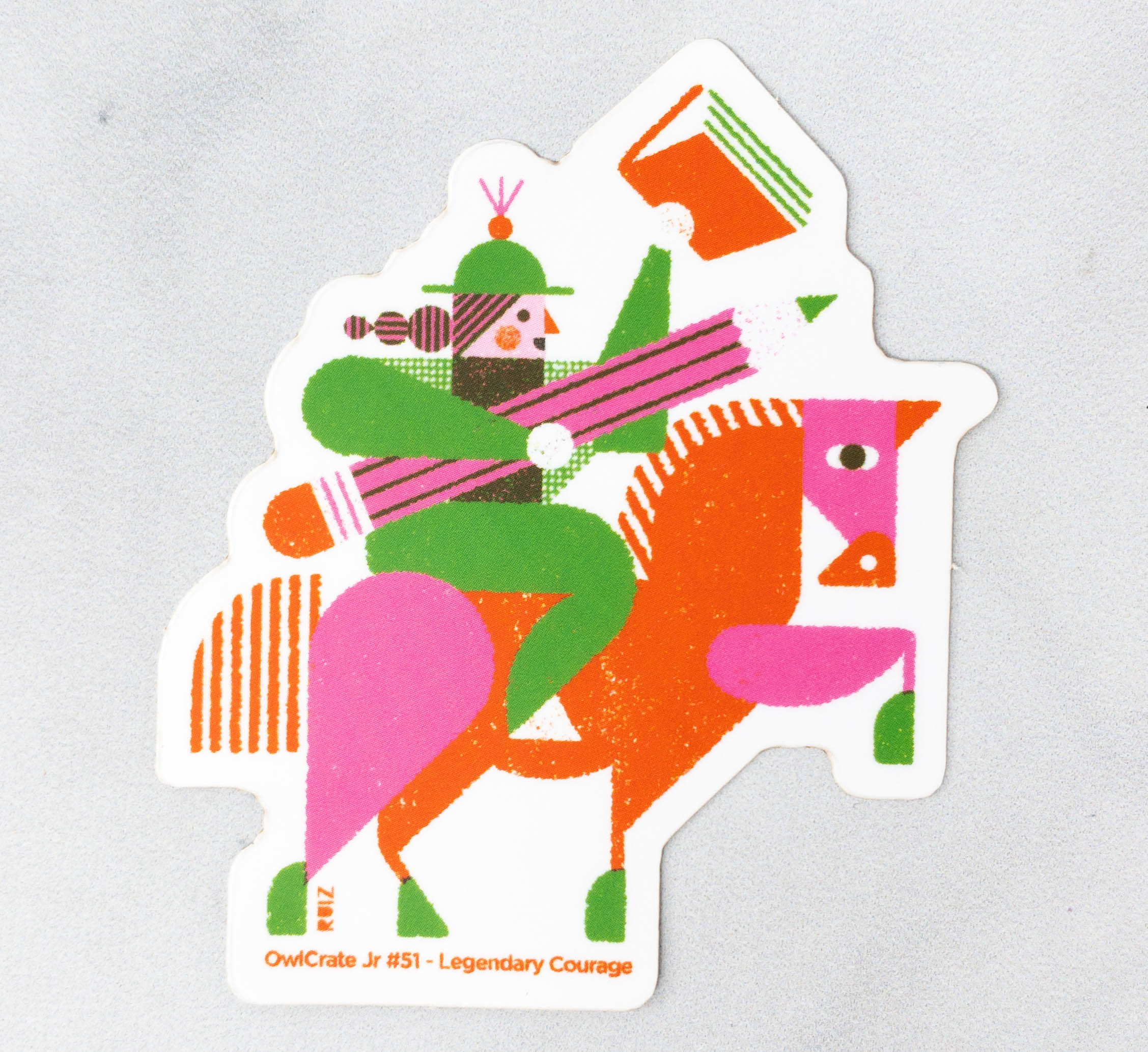 Sticker. This month's box included a beautiful sticker to go along with the theme. The design features a knight equipped with a book and pencil as his weapon and shield.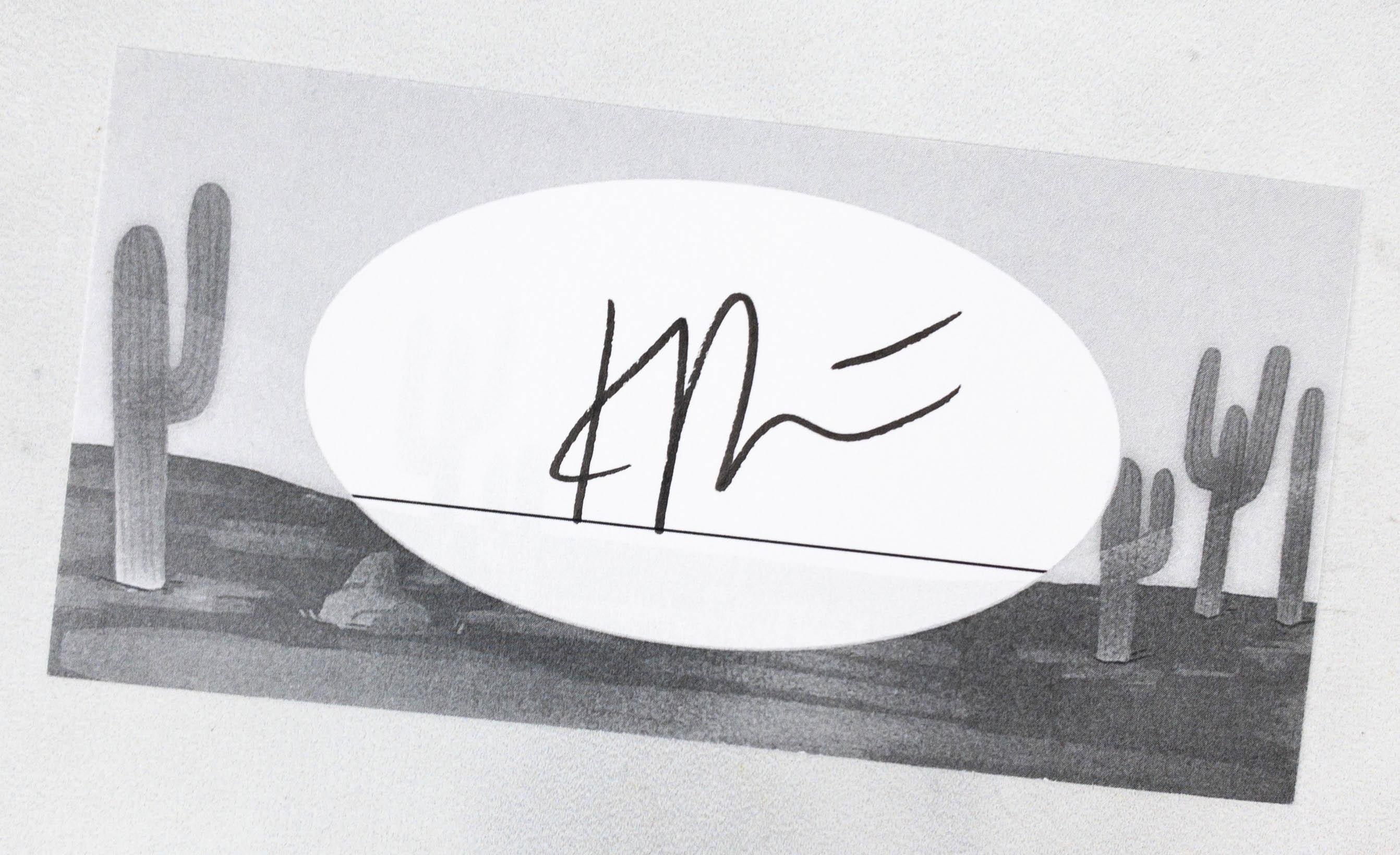 As always, the featured book comes with a signed bookplate!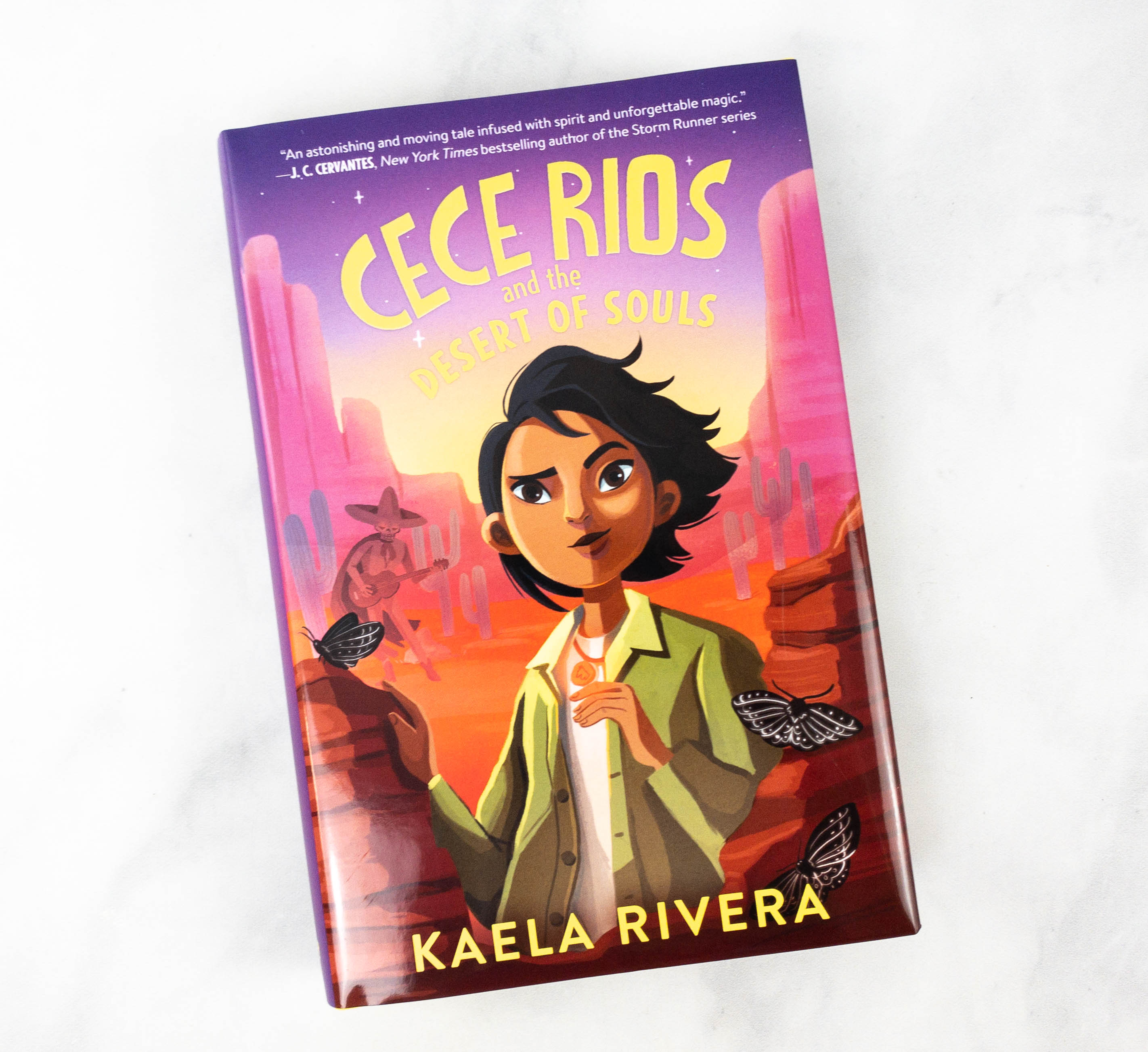 Cece Rios and the Desert of Souls by Kaela Rivera ($13.79)
When a powerful desert spirit kidnaps her sister, Cece Rios must learn forbidden magic to get her back, in this own voices middle grade fantasy perfect for fans of The Storm Runner and Aru Shah and the End of Time. 

Living in the remote town of Tierra del Sol is dangerous, especially in the criatura months, when powerful spirits roam the desert and threaten humankind. But Cecelia Rios has always believed there was more to the criaturas, much to her family's disapproval. After all, only brujas—humans who capture and control criaturas—consort with the spirits, and brujeria is a terrible crime.

When her older sister, Juana, is kidnapped by El Sombrerón, a powerful dark criatura, Cece is determined to bring Juana back. To get into Devil's Alley, though, she'll have to become a bruja herself—while hiding her quest from her parents, her town, and the other brujas. Thankfully, the legendary criatura Coyote has a soft spot for humans and agrees to help her on her journey.

With him at her side, Cece sets out to reunite her family—and maybe even change what it means to be a bruja along the way.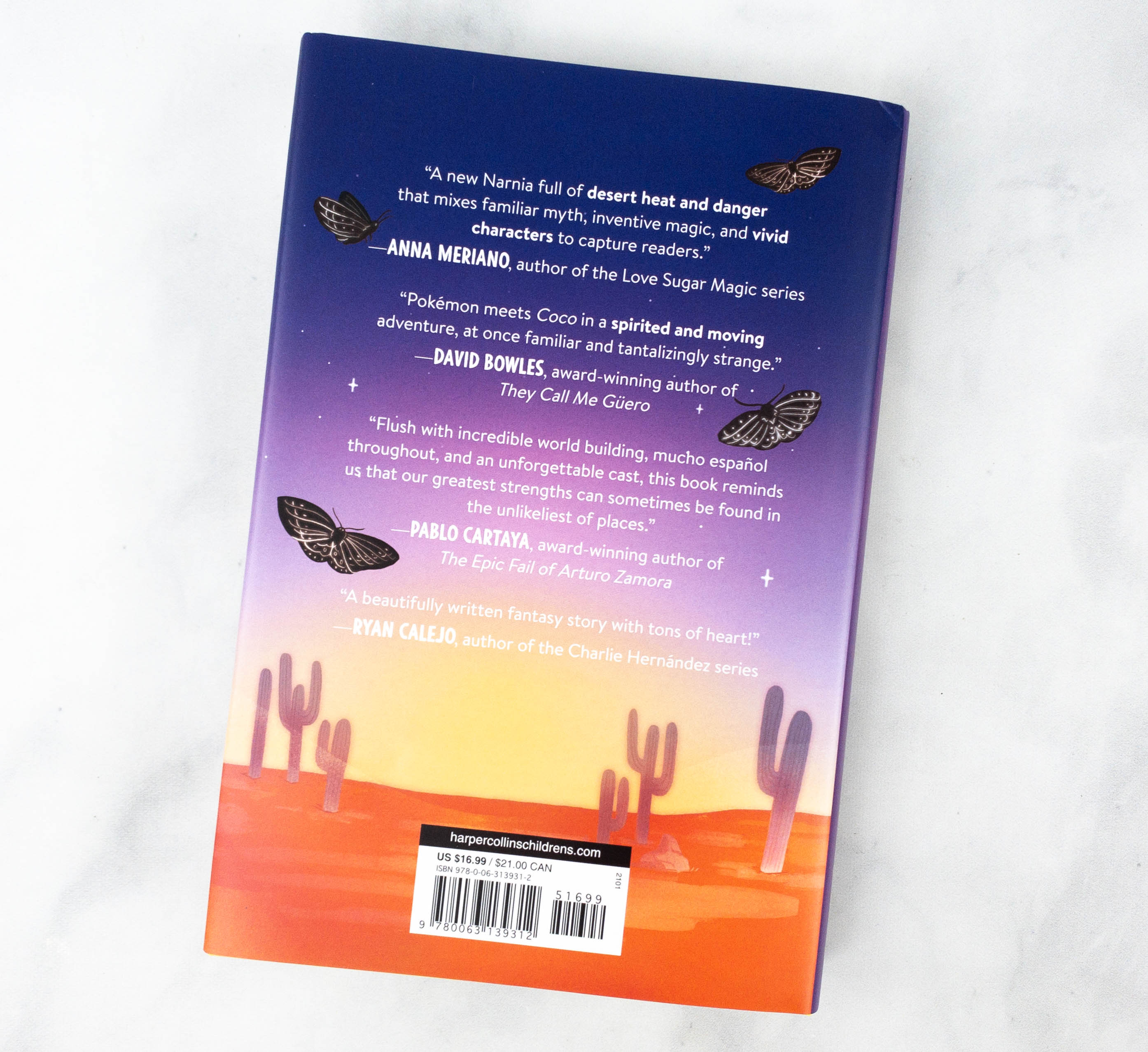 The cover illustration featuring the protagonist is lovely. At the back, it has brief reviews from other authors.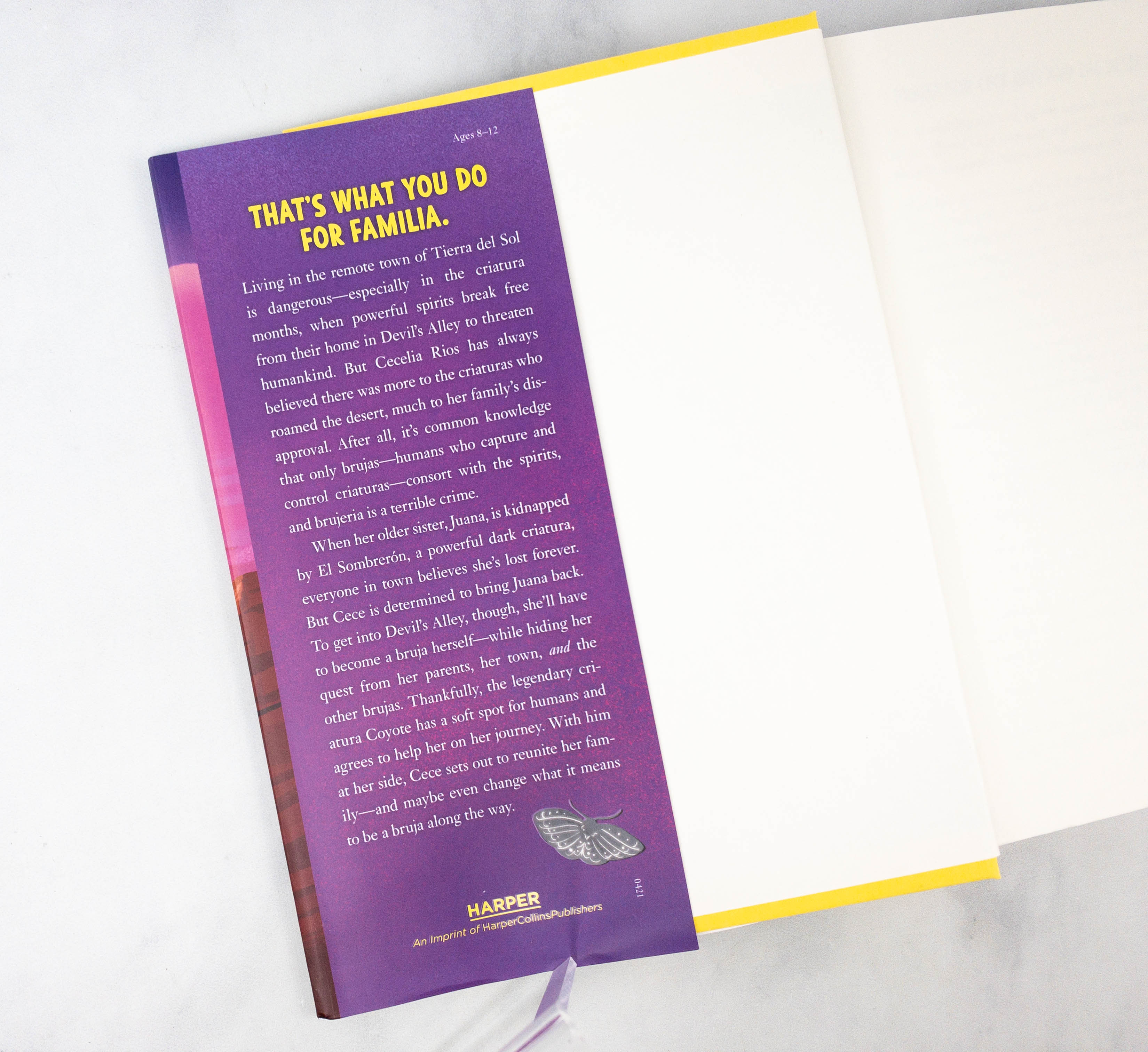 This is a great read for fans of middle grade fantasy! The synopsis can be found at the inner flap of the book.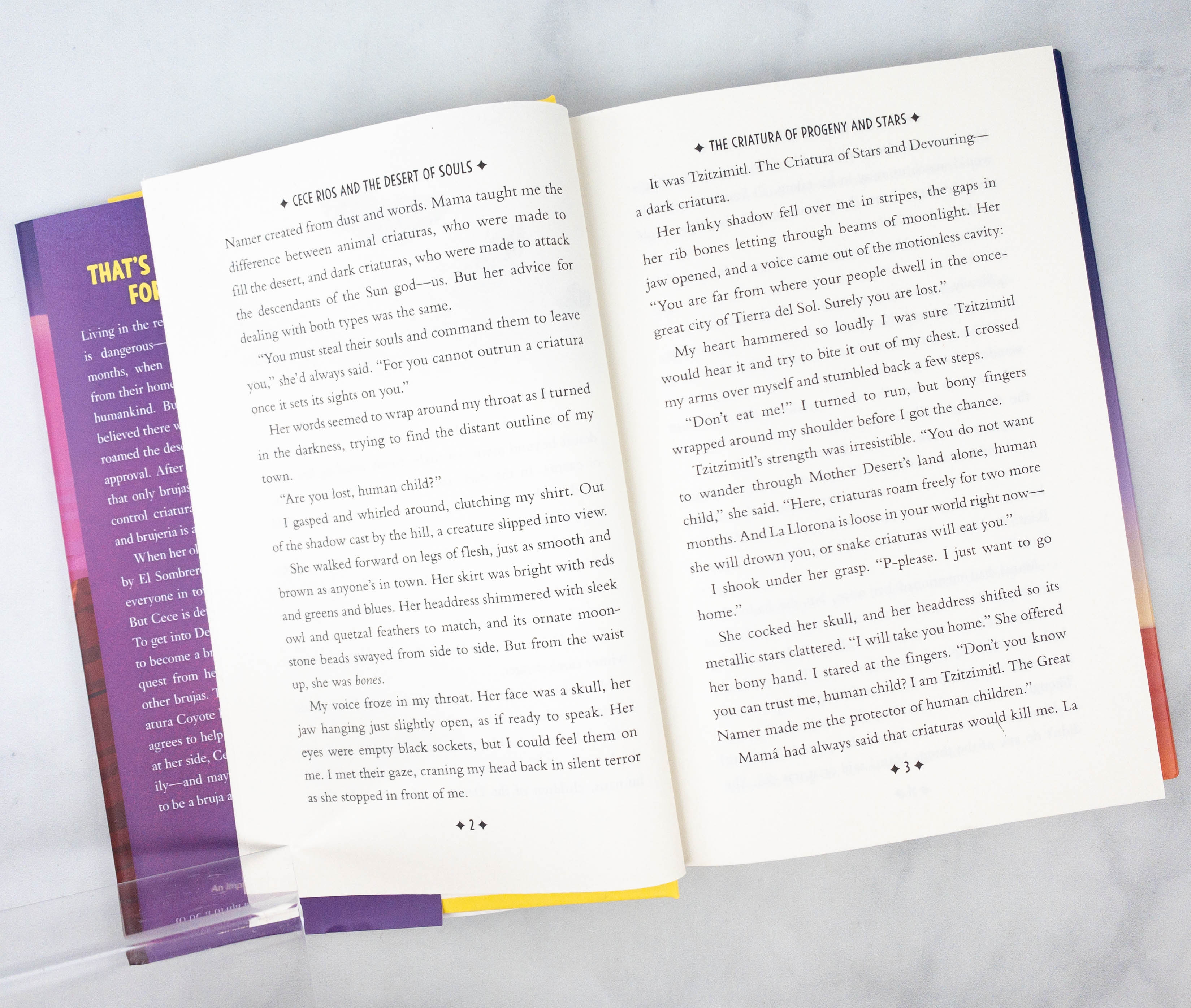 The story revolves around Cece Rios and his adventure on rescuing his sister Juana. In order to accomplish the mission, he has to learn how to use forbidden magic.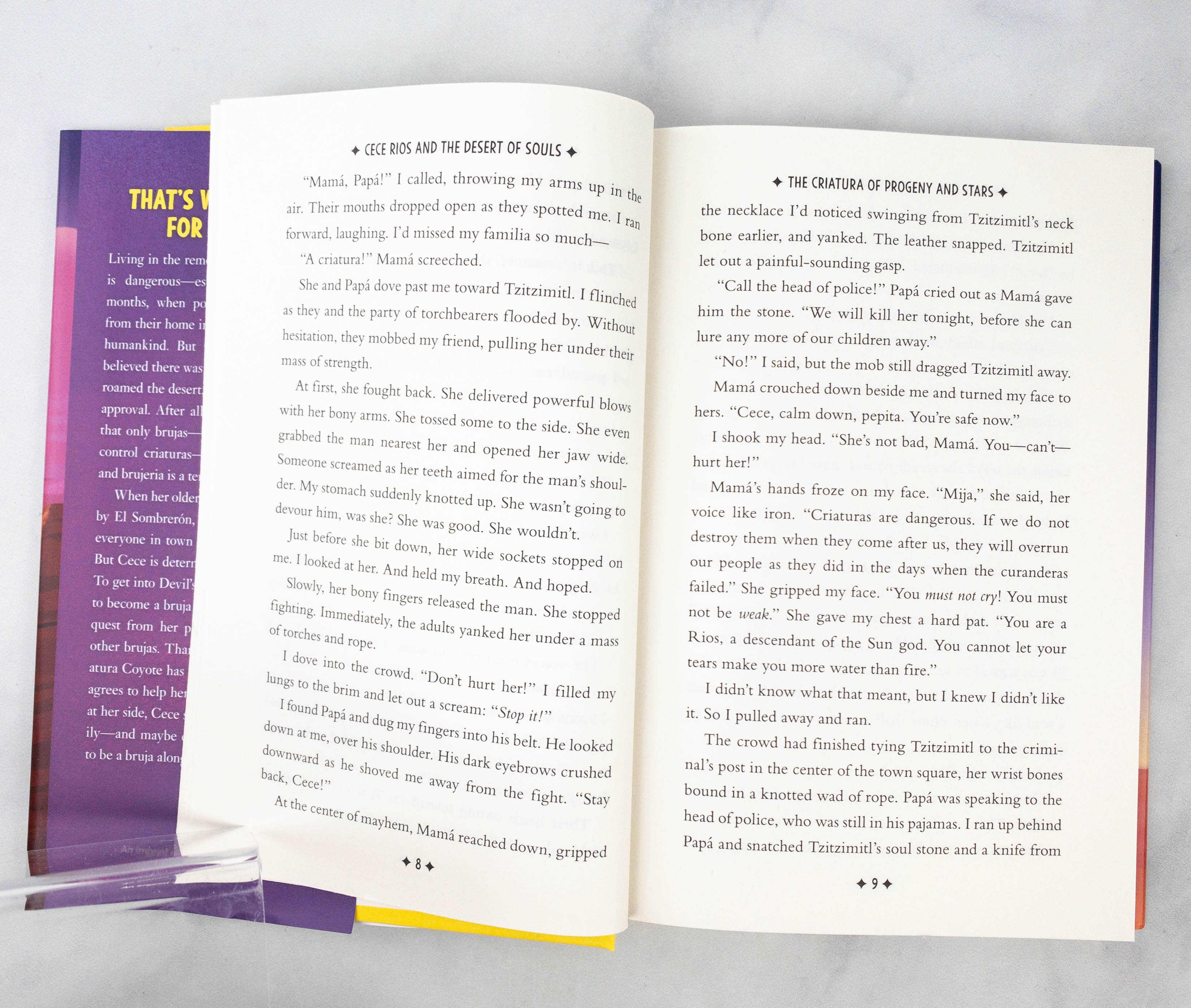 It's a book full of magical adventures that also teaches kids the importance of family and sacrifice. My kids loved the story and were inspired by the main character's courage and love for his sister.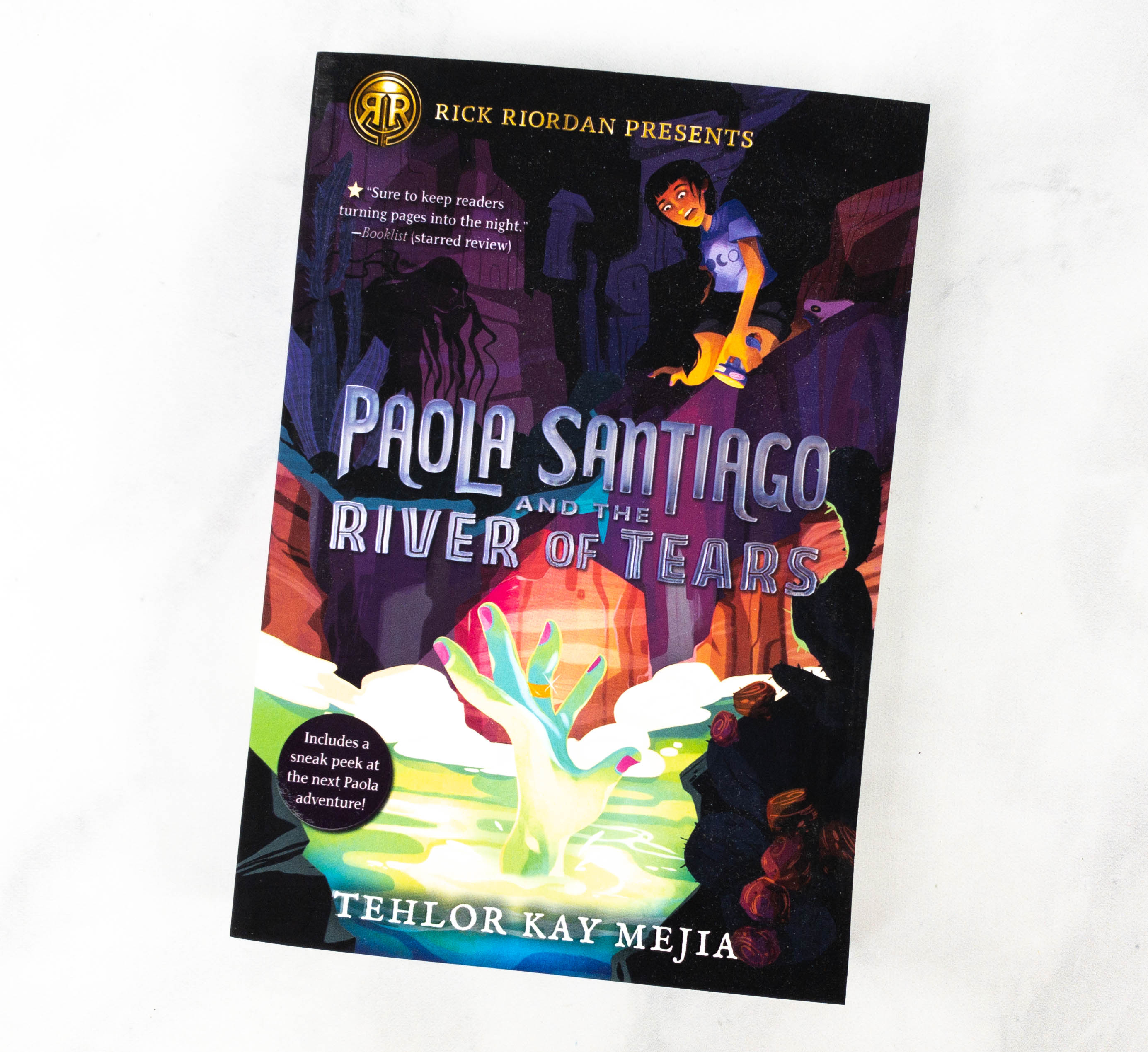 Paola Santiago and the River of Tears by Tehlor Mejia ($16.99)
Best-selling author Rick Riordan presents author Tehlor Kay Mejia and her thrilling fantasy adventure based on the Mexican legend of La Llorona (the Crying Woman).

Space-obsessed 12-year-old Paola Santiago and her two best friends, Emma and Dante, know the rule: Stay away from the river. It's all they've heard since a schoolmate of theirs drowned a year ago. Pao is embarrassed to admit that she has been told to stay away for even longer than that, because her mother is constantly warning her about La Llorona, the wailing ghost woman who wanders the banks of the Gila at night, looking for young people to drag into its murky depths.

Hating her mother's humiliating superstitions and knowing that she and her friends would never venture into the water, Pao organizes a meet-up to test out her new telescope near the Gila, since it's the best stargazing spot. But when Emma never arrives and Pao sees a shadowy figure in the reeds, it seems like maybe her mom was right. . . .

Pao has always relied on hard science to make sense of the world, but to find her friend she will have to enter the world of her nightmares, which includes unnatural mist, mind-bending monsters, and relentless spirits controlled by a terrifying force that defies both logic and legend.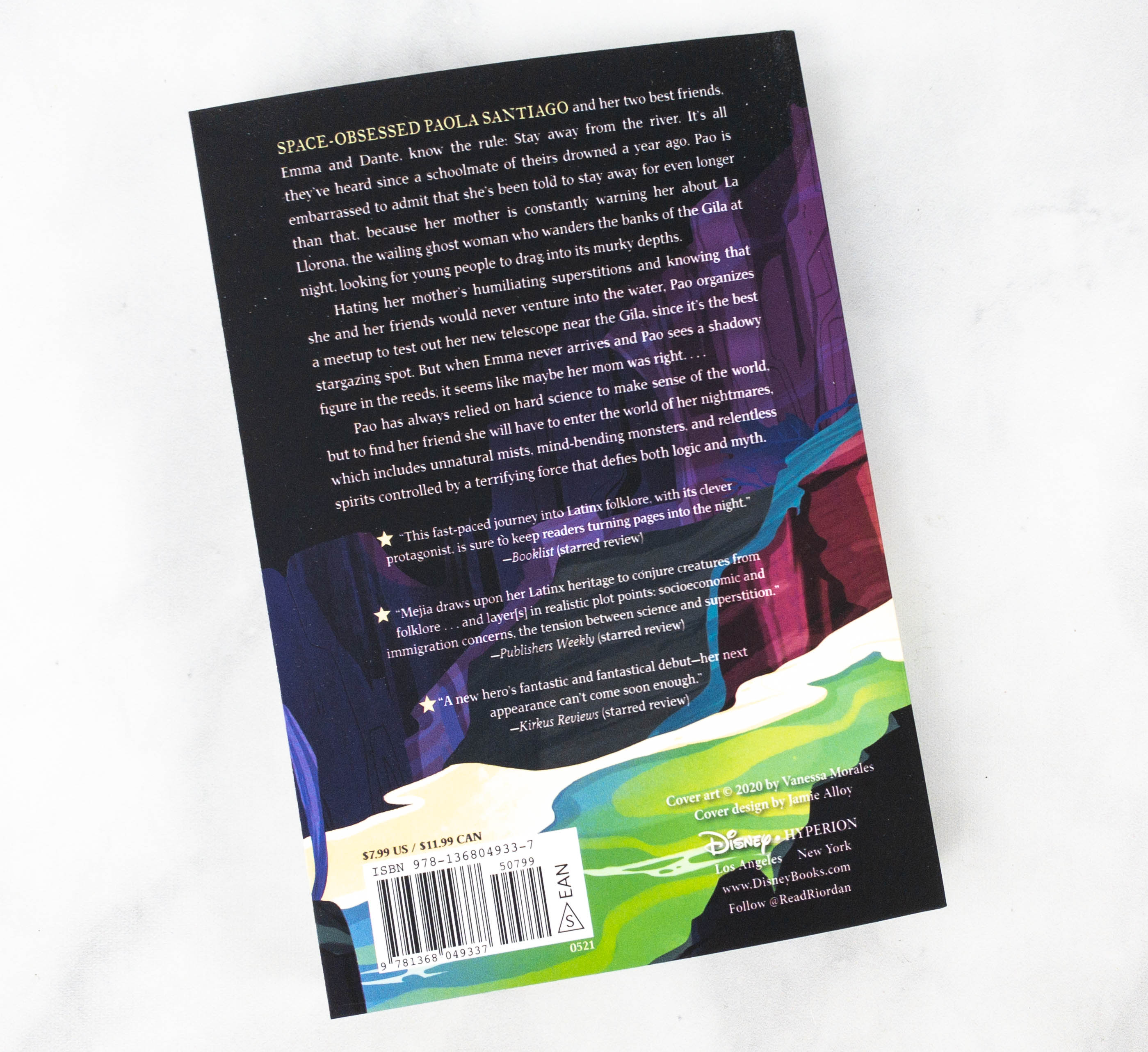 This is another great middle grade fantasy novel, and it involves mythology and a bit of mystery!
This story is inspired by the Mexican legend of La Llorona (the Crying Woman). It's about 3 best friends named Paola, Emma, and Dante, and a river that took the life of their schoolmate the previous year.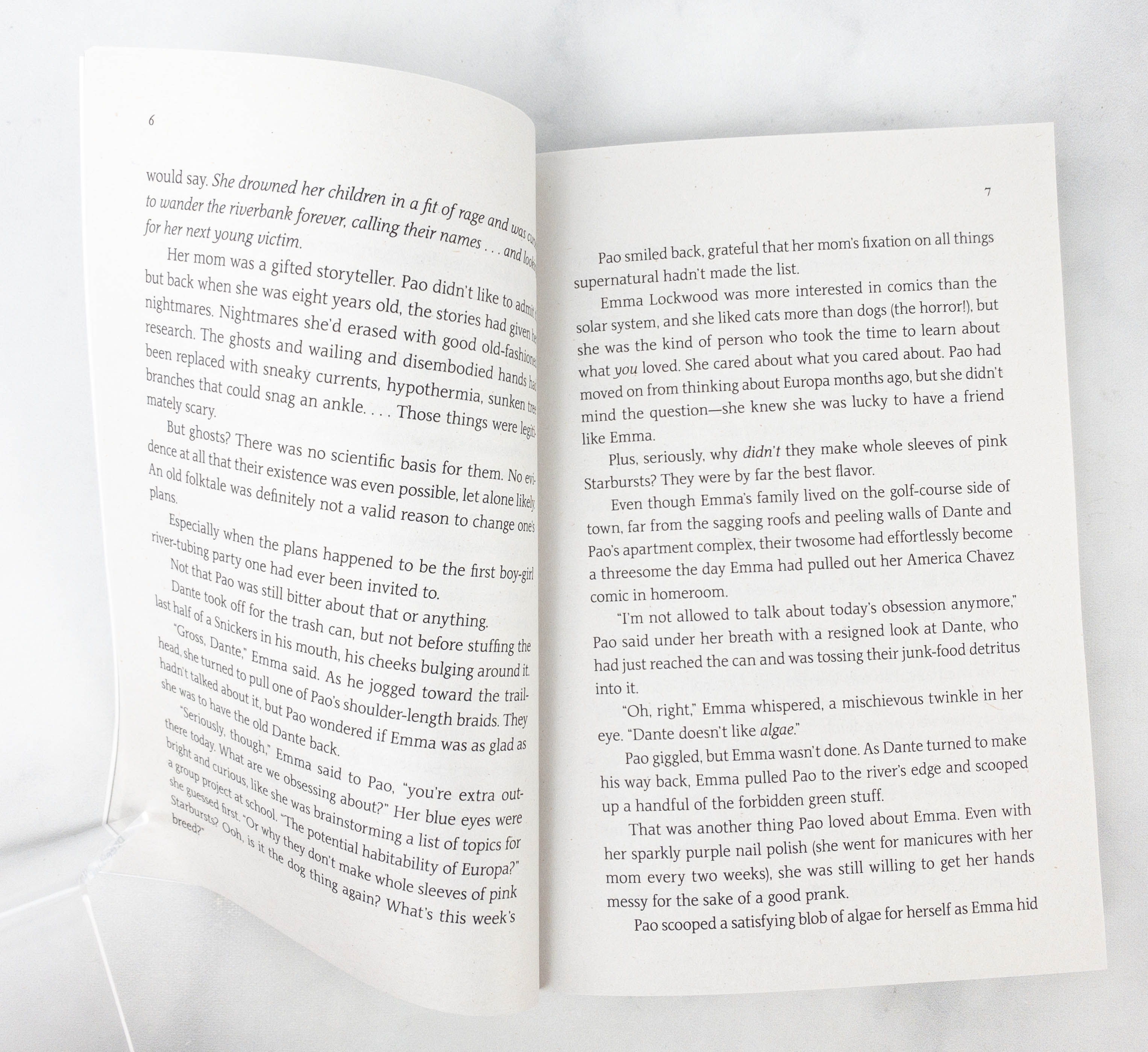 This is such a thrilling and well-written book. It also teaches a valuable lesson about friendship and facing your fears for your loved ones.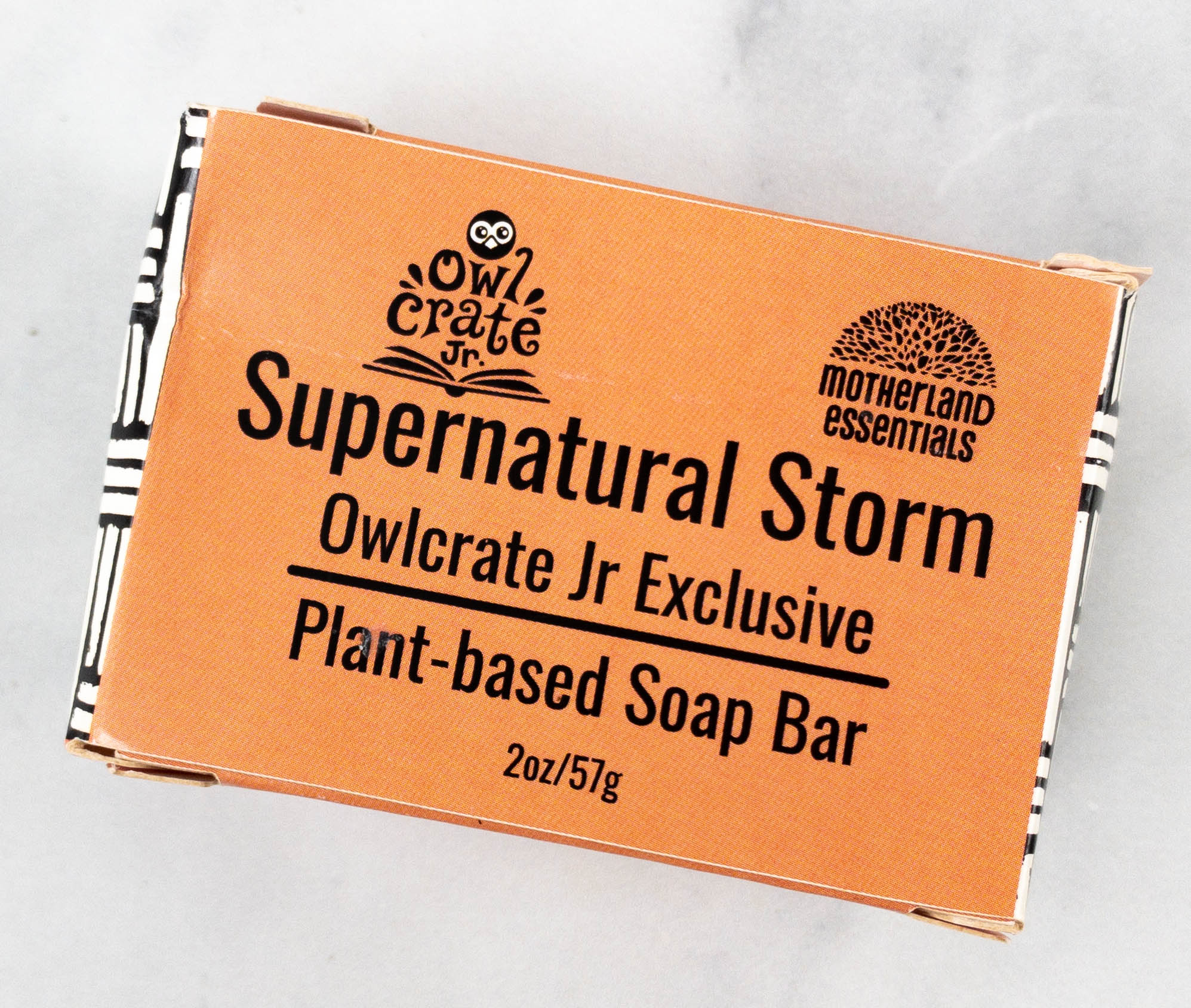 Soap. The box also includes a plant-based soap from Motherland Essentials. This is an exclusive item made specially for Owl Crate Jr. subscribers!
Soap is something every kid needs, and this fun swirly soap makes skin soft and moisturized, and smells great too!
The back of the packaging has a list of ingredients, which includes olive fruit oil, coconut oil, palm oil, shea butter, castor seed oil, and natural fragrance.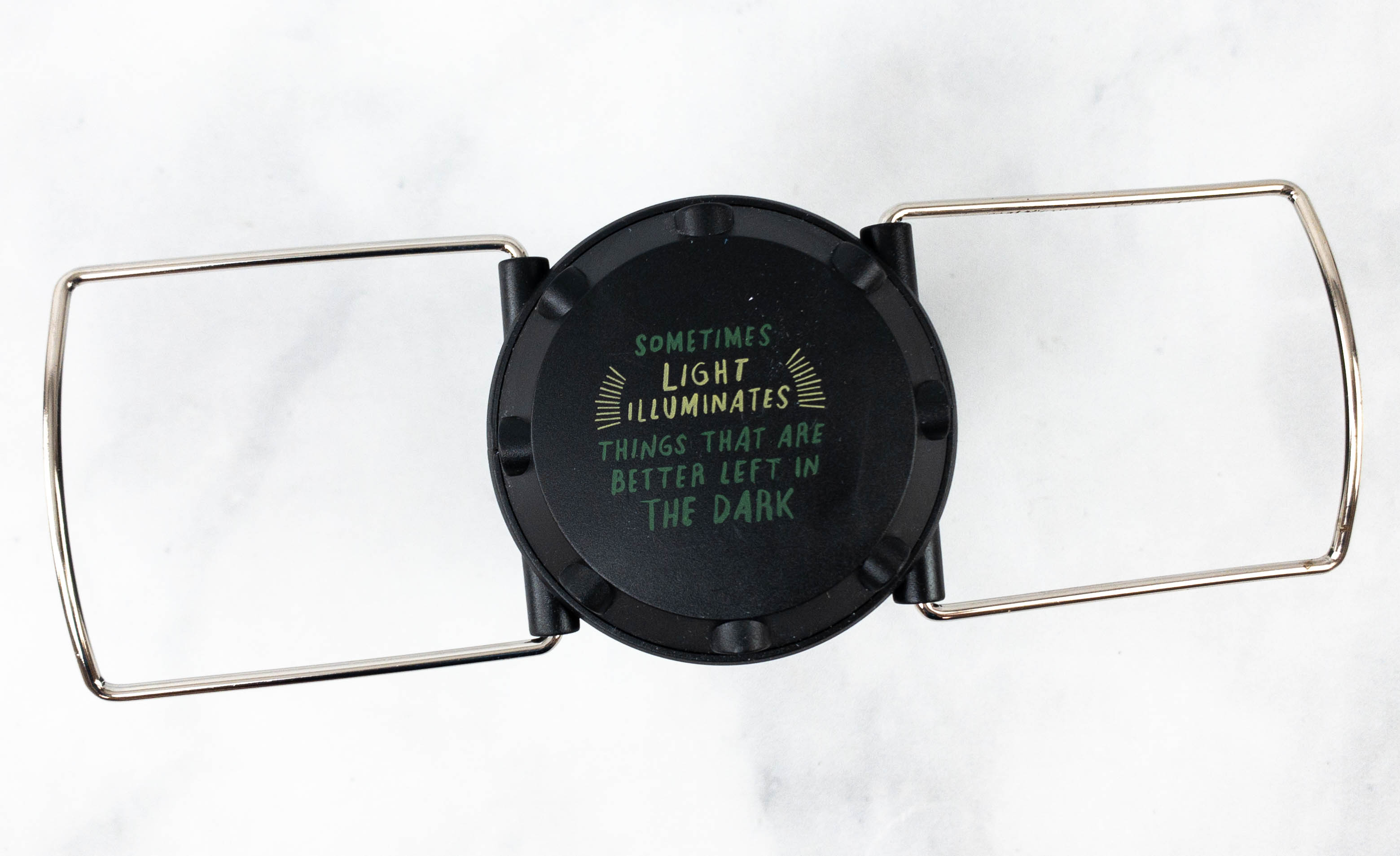 Pop-Up Lantern. Here's a nice compact lamp that provides a bright light that will surely illuminate dark places (real or imaginary!).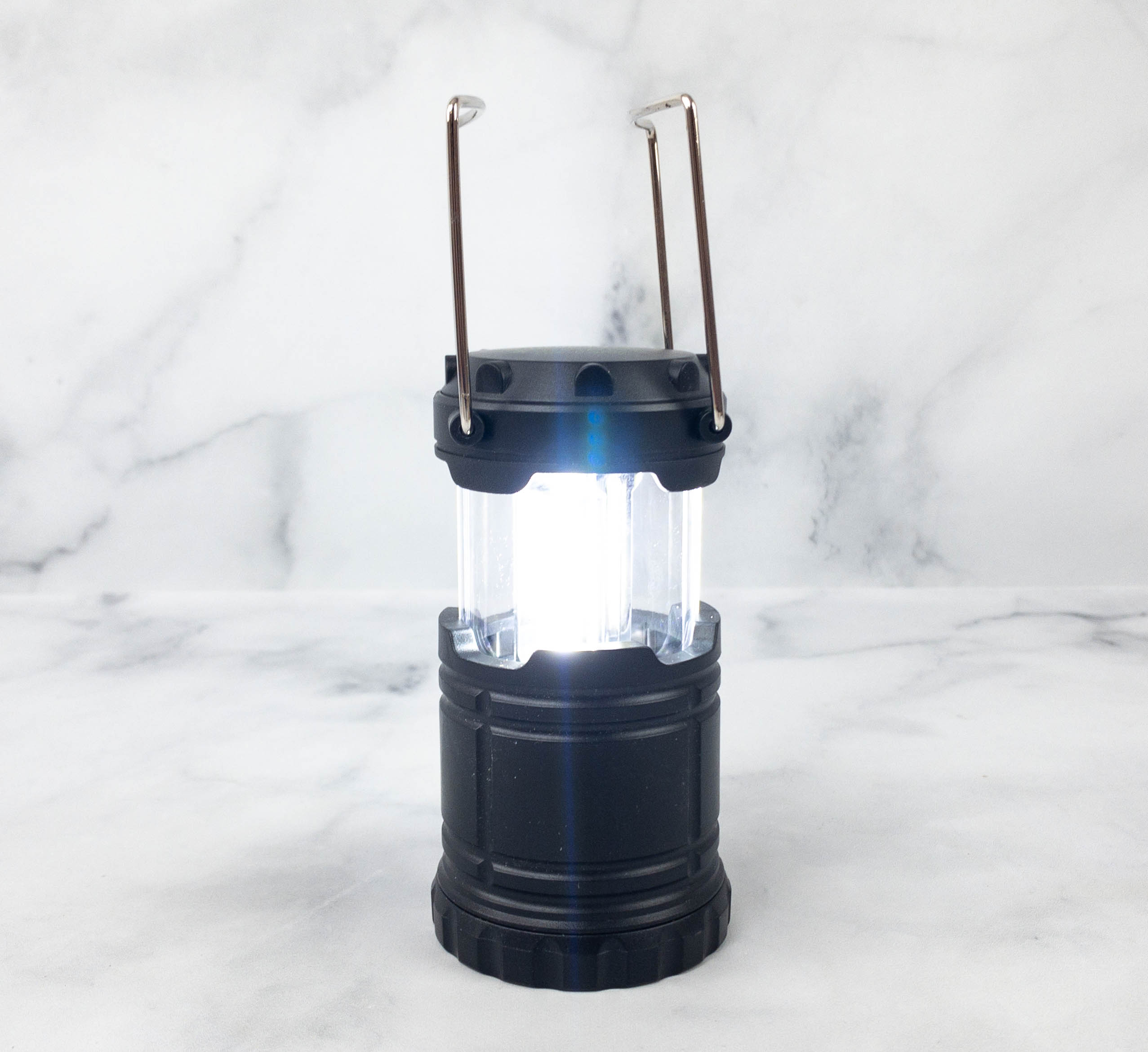 There are also 2 handles that can be used to hang it or carry the lamp conveniently.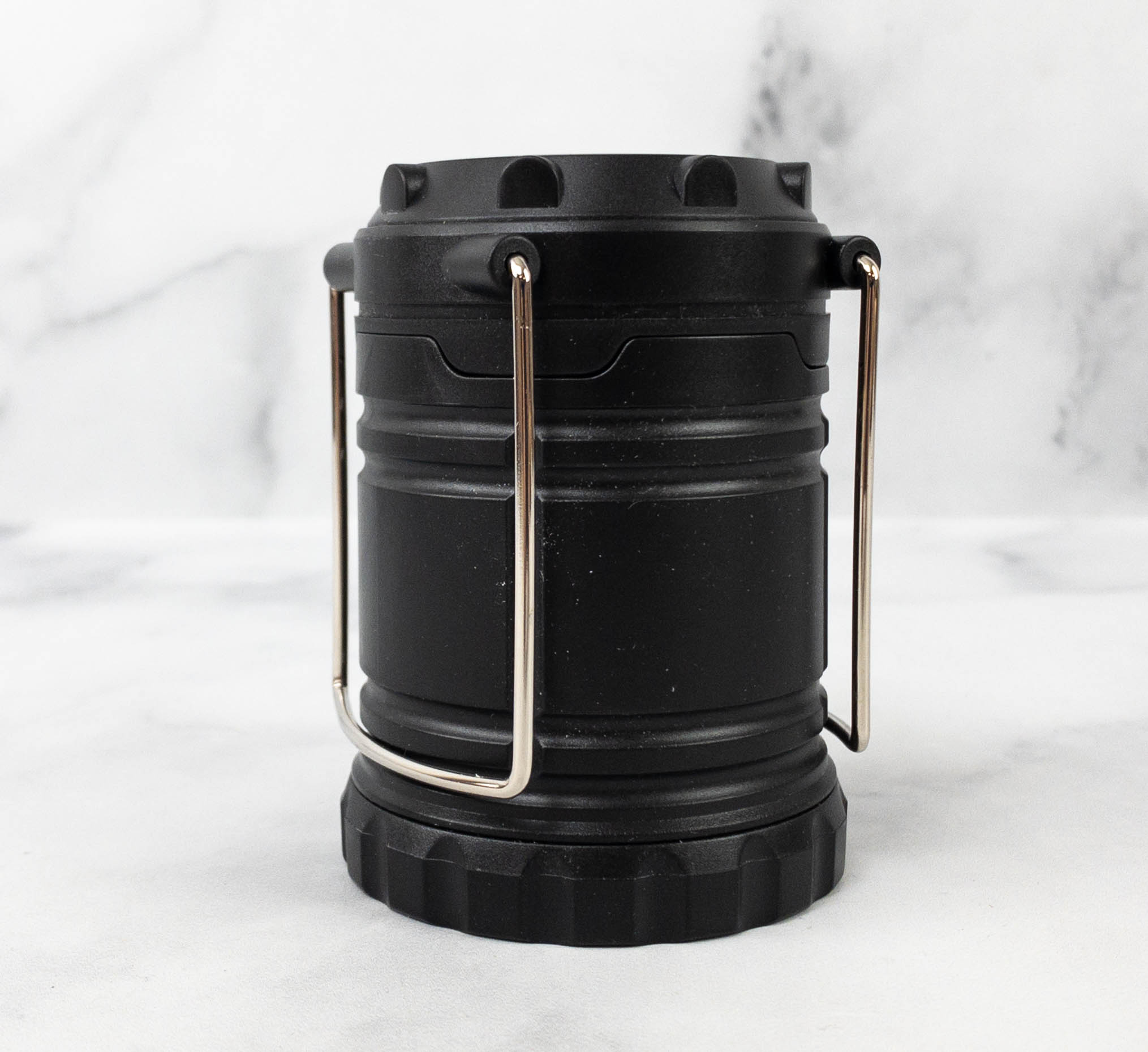 The case can also be retracted when not in use. I like that it becomes compact for storage and packing purposes.
Percy Jackson Quote Poster. There's also a beautiful poster featuring a quote from the Percy Jackson series!
A kind act can sometimes be as powerful as a sword.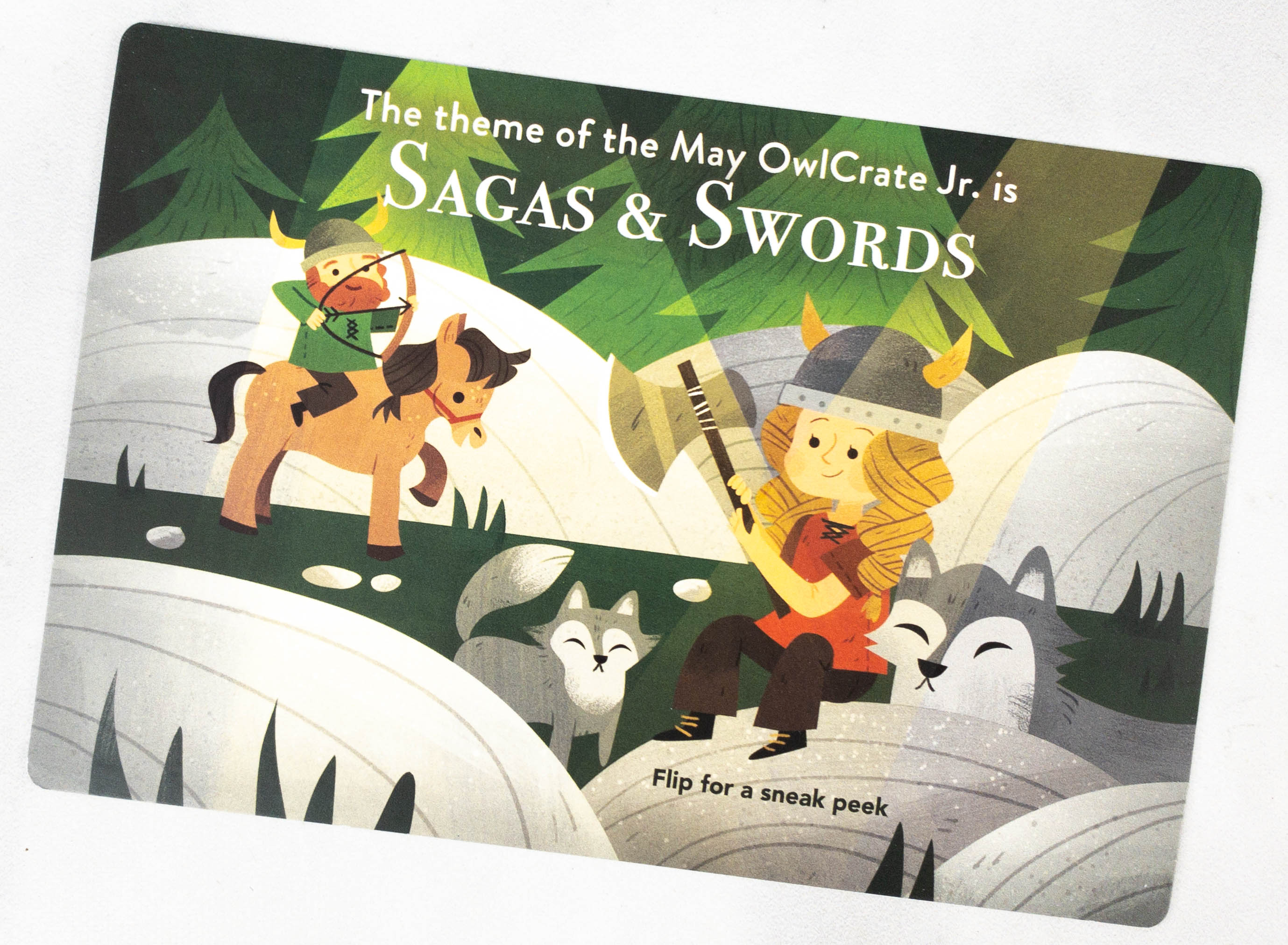 This card features next month's theme!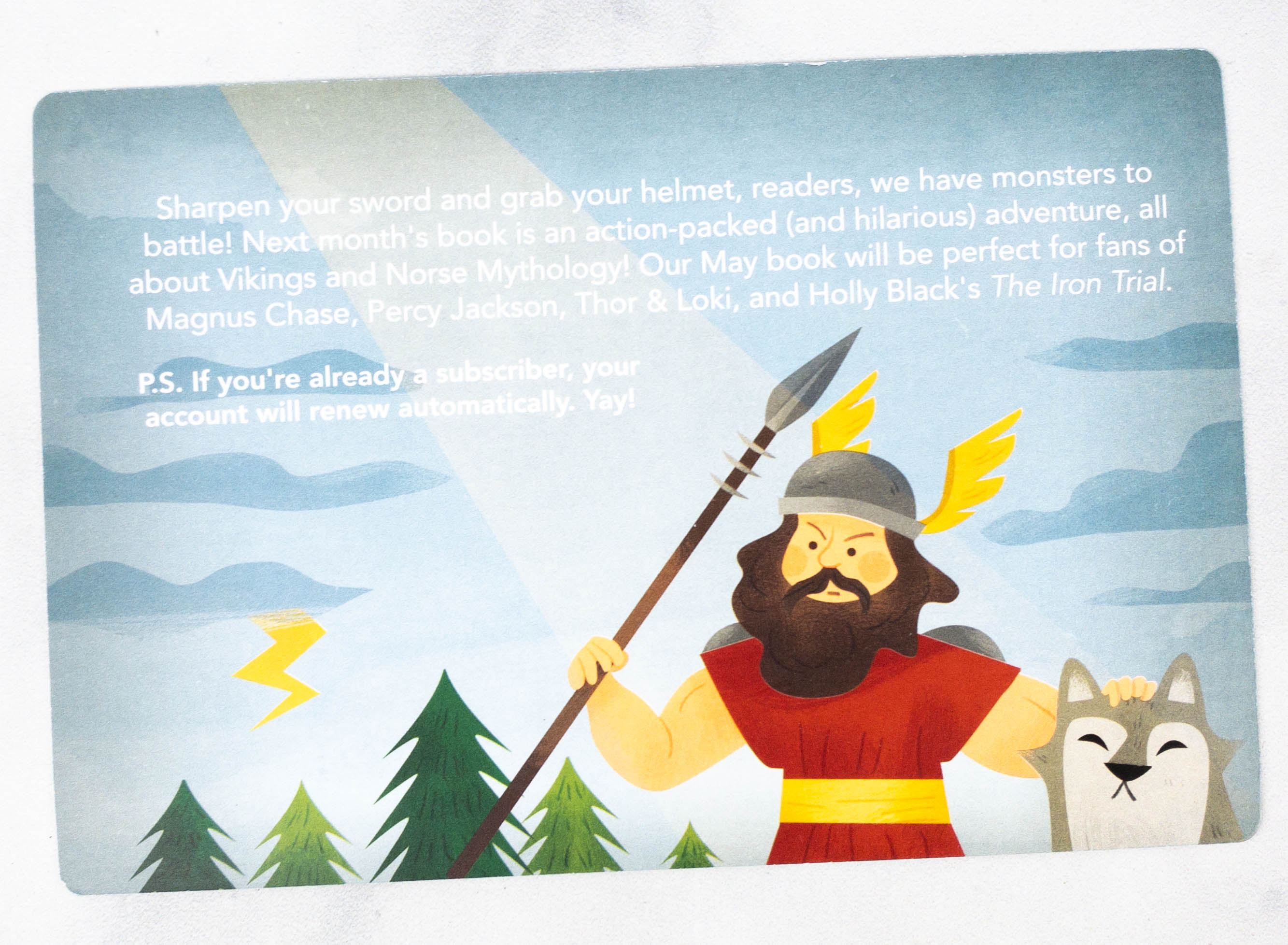 Sharpen your sword and grab your helmet, readers, we have monsters to battle! Next month's book is an action packed (and hilarious) adventure, all about Vikings and Norse Mythology! Our May book will be perfect for fans of Magnus Chase, Percy Jackson, Thor & Loki, and Holly Black's The Iron Trial.
This month's Owl Crate Jr. contains not just one but two books! Both are fantasy novels which my daughter really loved. Aside from taking the readers to a fun adventure, they also impart valuable life lessons about courage, sacrifice, and love for family and friends. Of course, the box also includes other surprises, like the moisturizing soap and the pop up lantern that my kids can use when camping and "camping". Everything is appropriate for middle graders and the theme is really fun!
What did you think of the OwlCrate Jr. box this month?
Visit OwlCrate Jr. to subscribe or find out more!