Madalyn et Rose sends a box of lovely, gourmet breakfast items sourced from France. The shipment comes directly from France every other month and will include one of a kind French handcrafted artisan products as well as other luxuries. The subscription is $100 for one non-recurring box, and the price drops if you subscribe for a longer term. Save 10% on your first box and all boxes ship free worldwide.
Madalyn et Rose is for all my fellow Francophiles around the world who want an authentic taste of France. If you want to know how to make an easy French go-to recipe or wondering about the French language then you are in the right place and I am here to help personally deliver a piece of France to you.
This is my first box from Madalyn et Rose!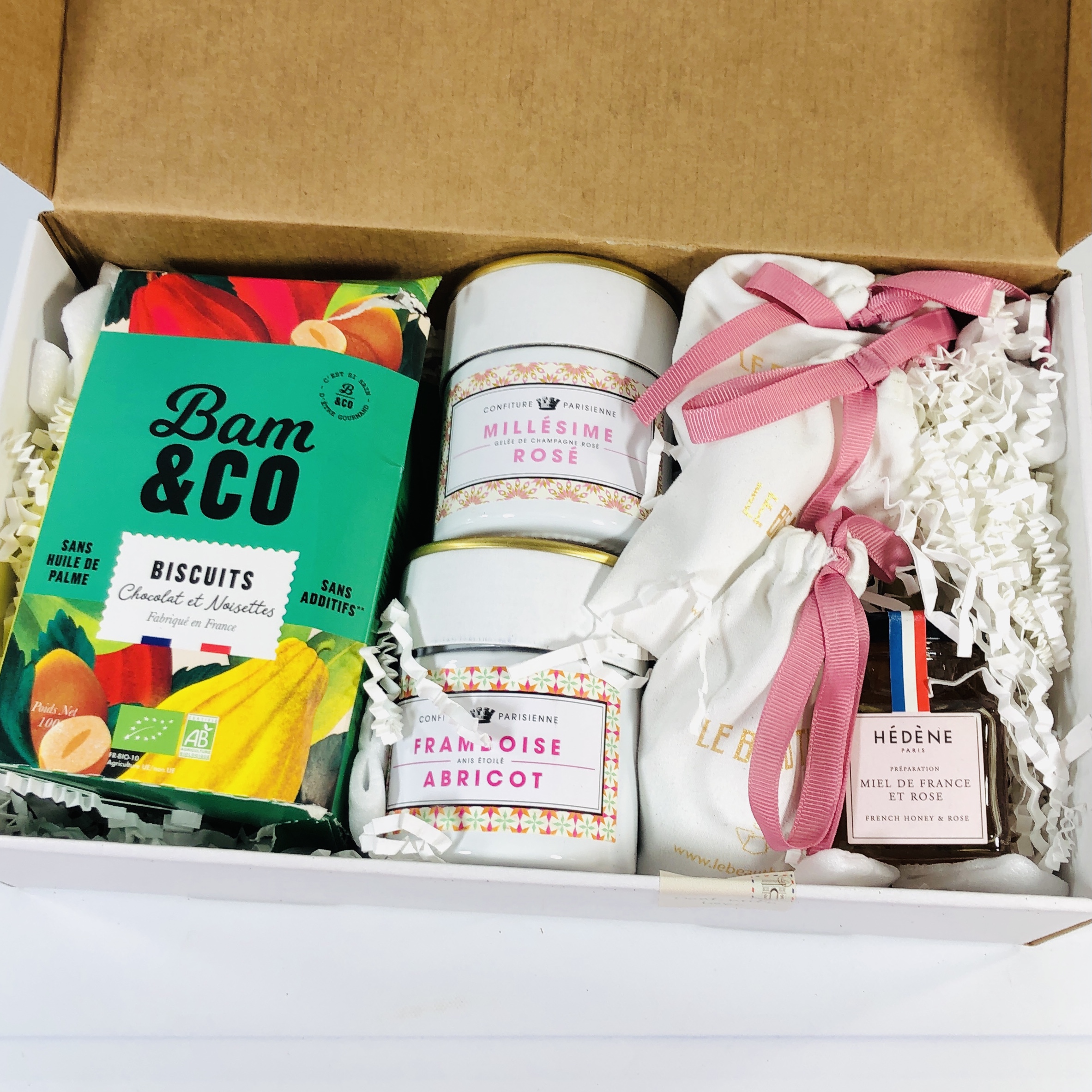 The box was delivered right to my door and the items were tucked in shredded paper squiggles.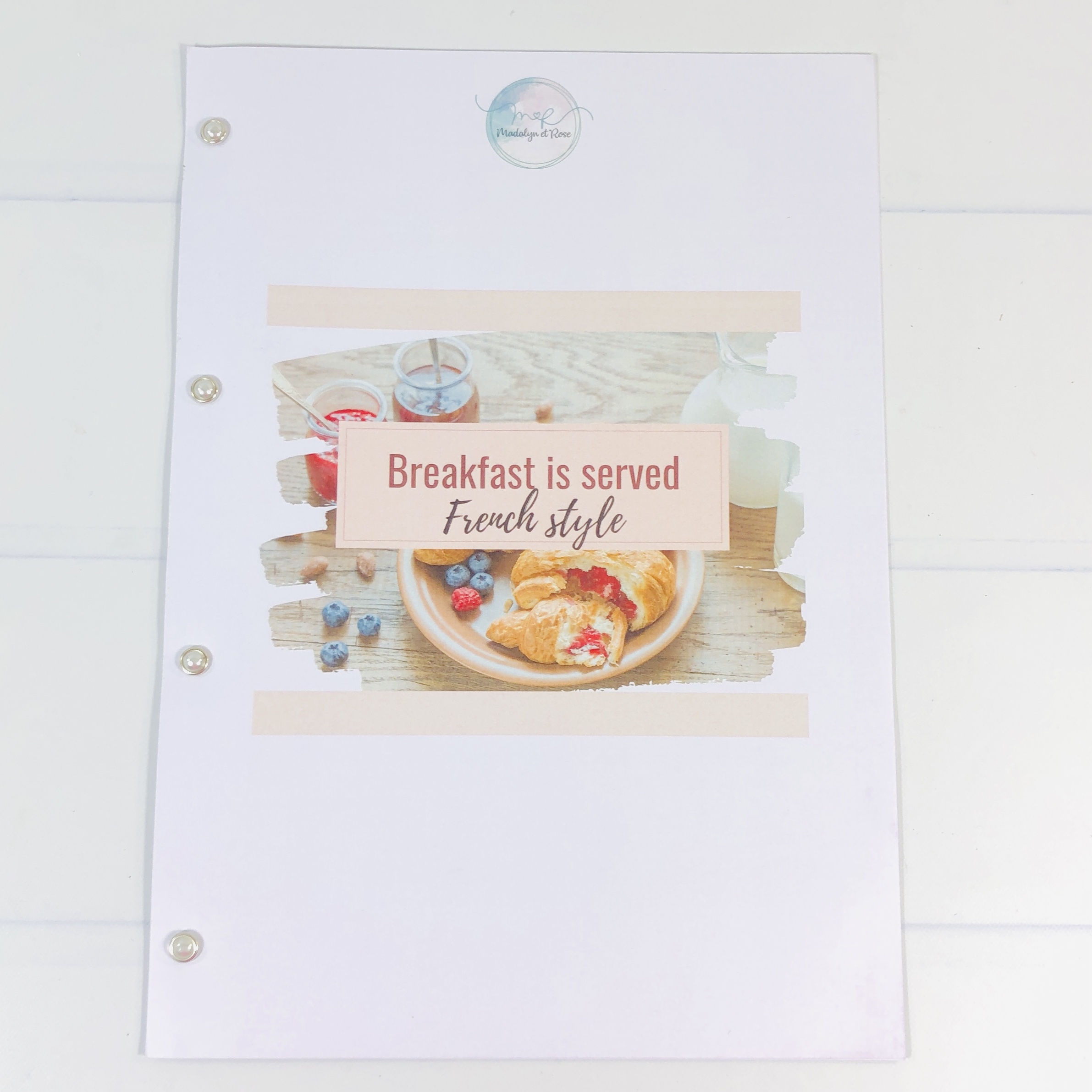 I received a large handout that had beautiful pearlesque brads holding it together.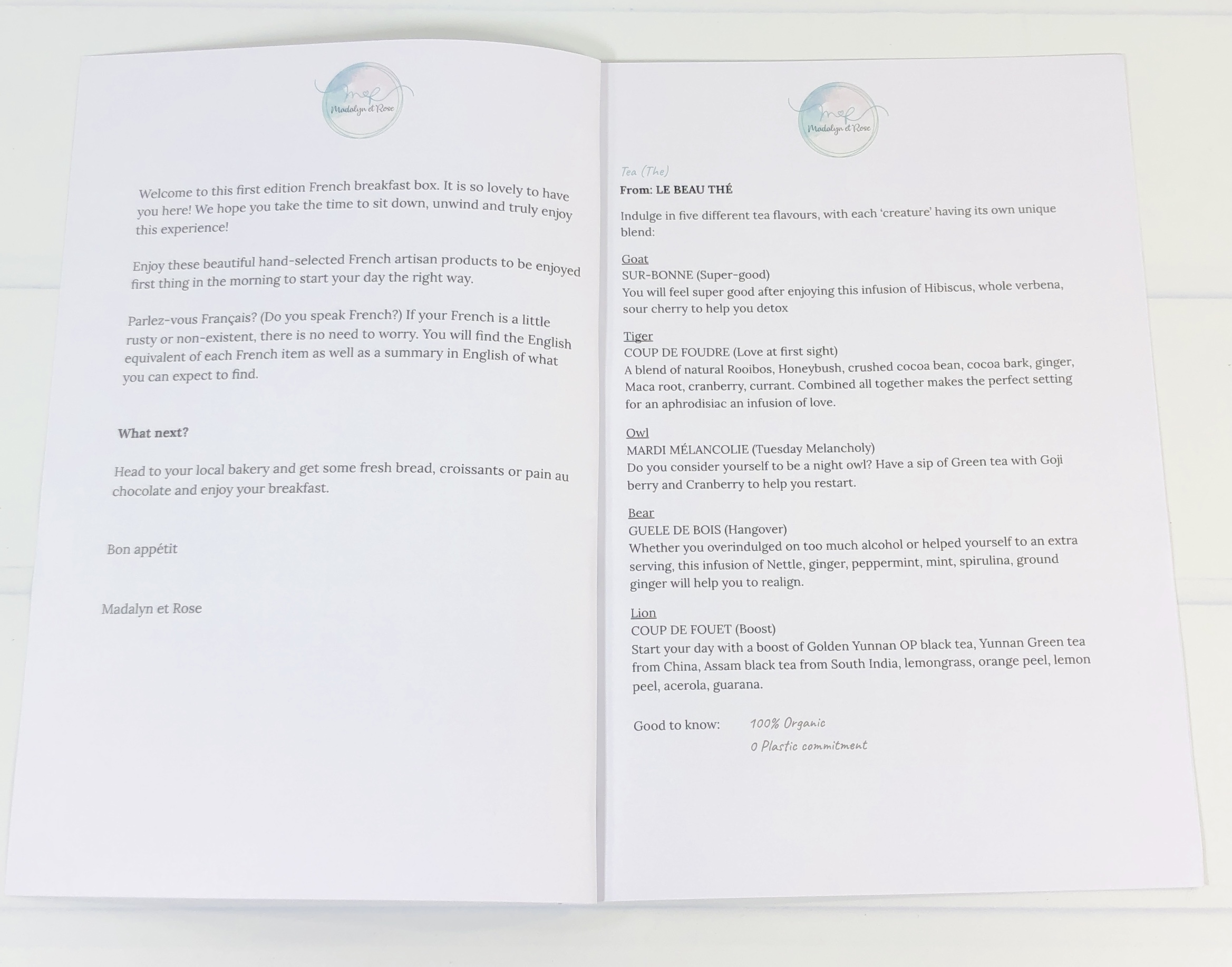 It turns out this is the debut box from Madalyn et Rose!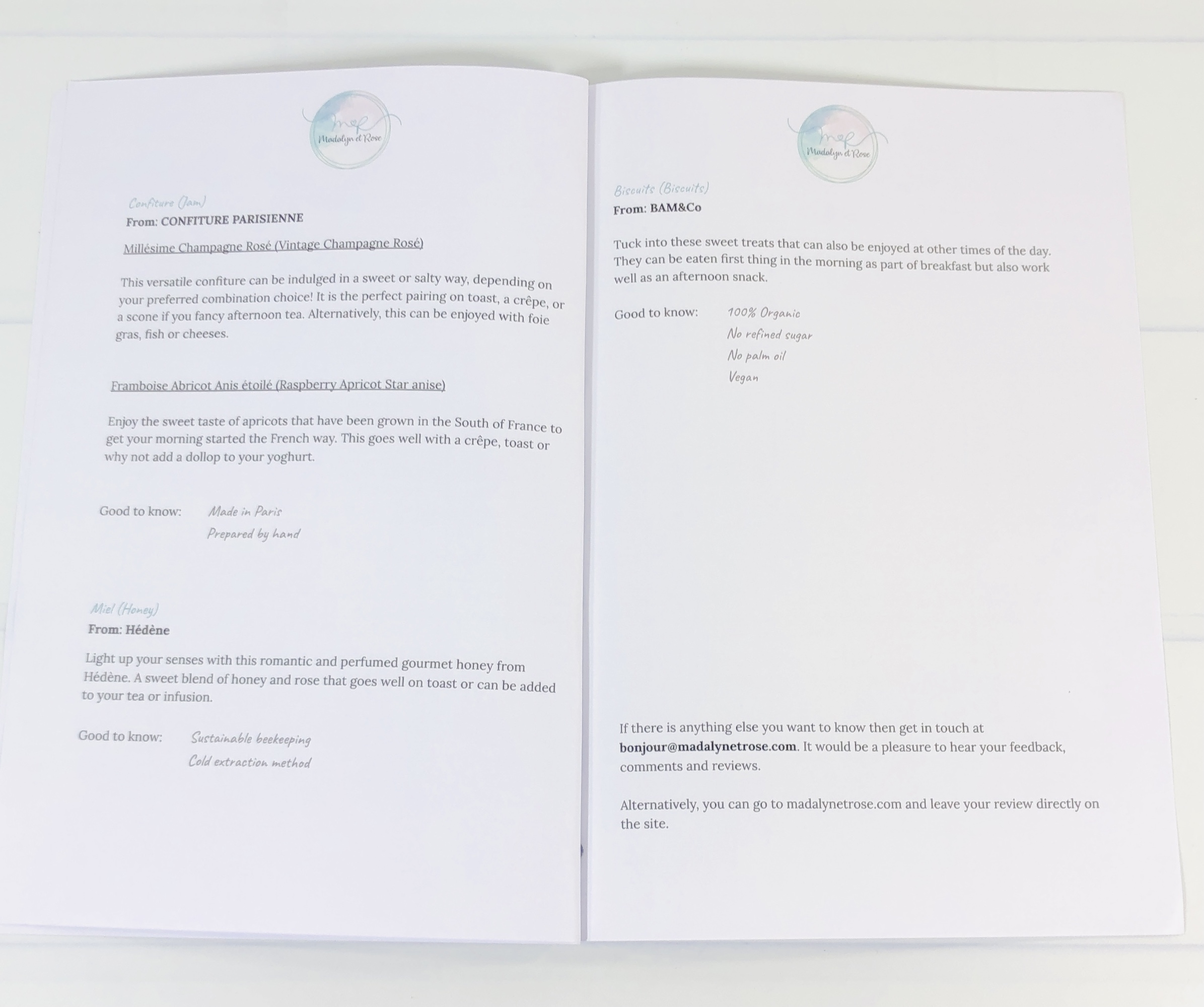 Each item was described and I appreciated seeing the "good to know" notes below each product. Contact info was shown too.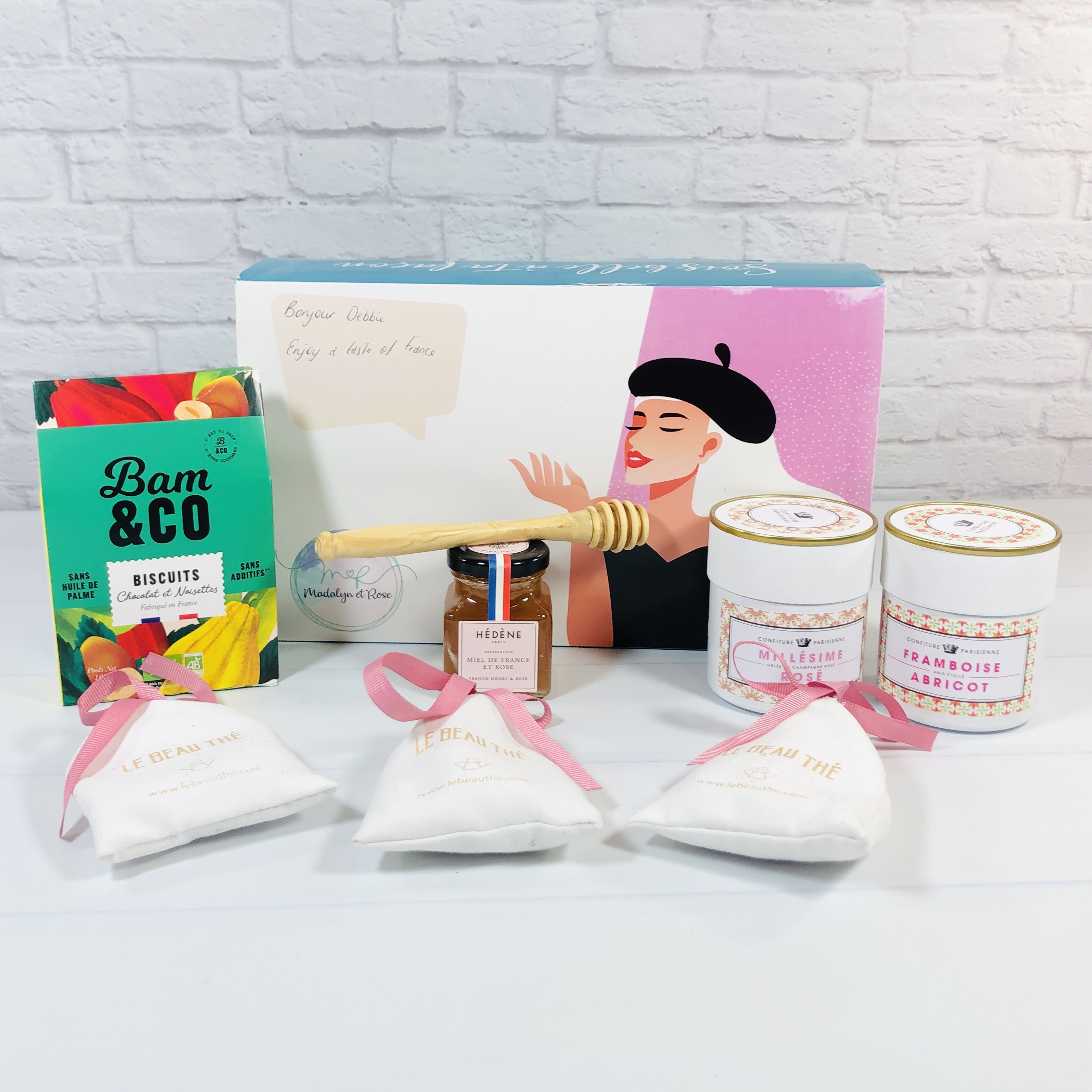 Everything in my box!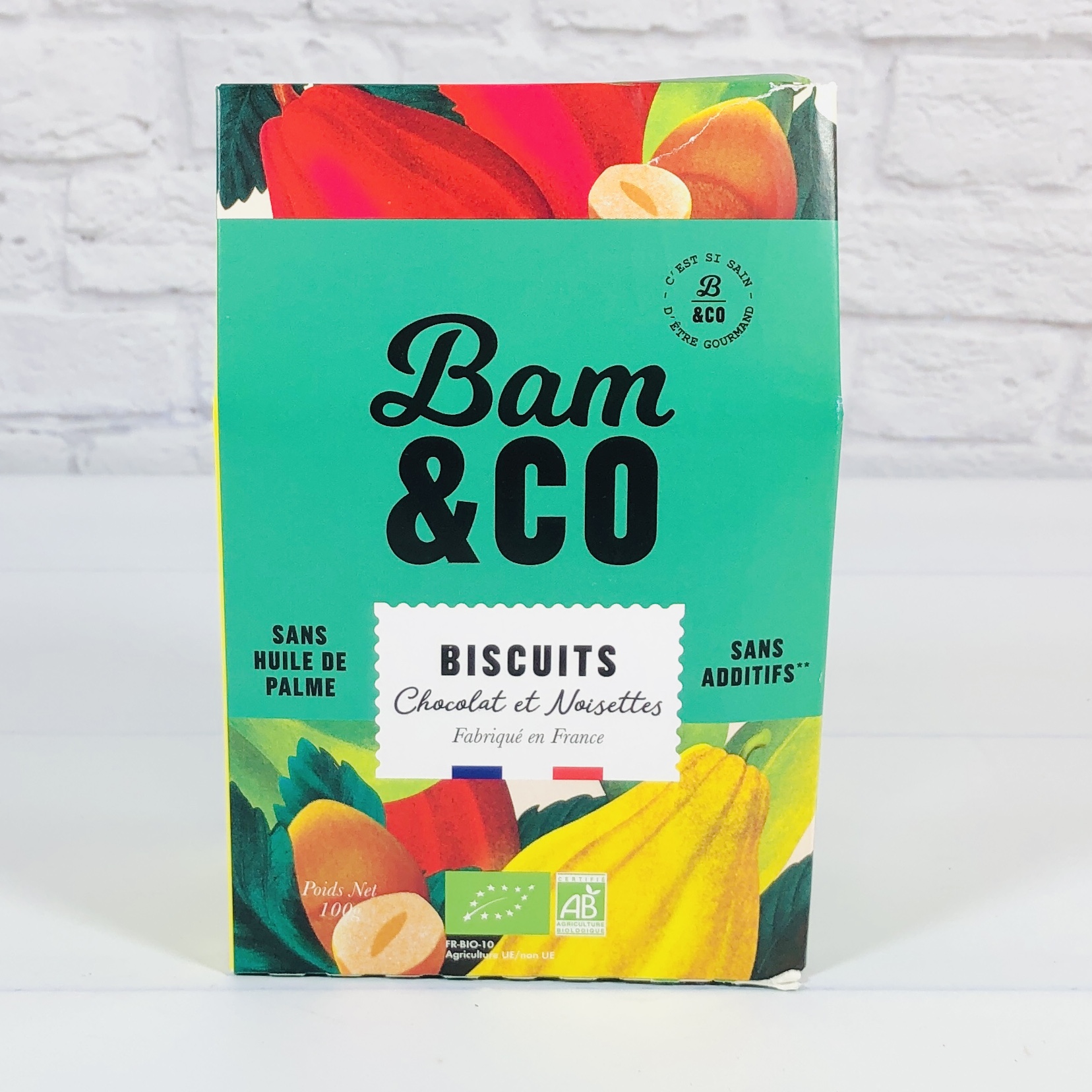 Bam & Co Chocolate & Hazelnut Biscuits (€5,50, about $6.08) The biscuits in this box are the sweet kind, what we in the States call cookies.
They have a brown rice base, applesauce, almond puree, and of course chocolate and hazelnuts. What they don't have is palm oil, refined sugar, and wheat flour.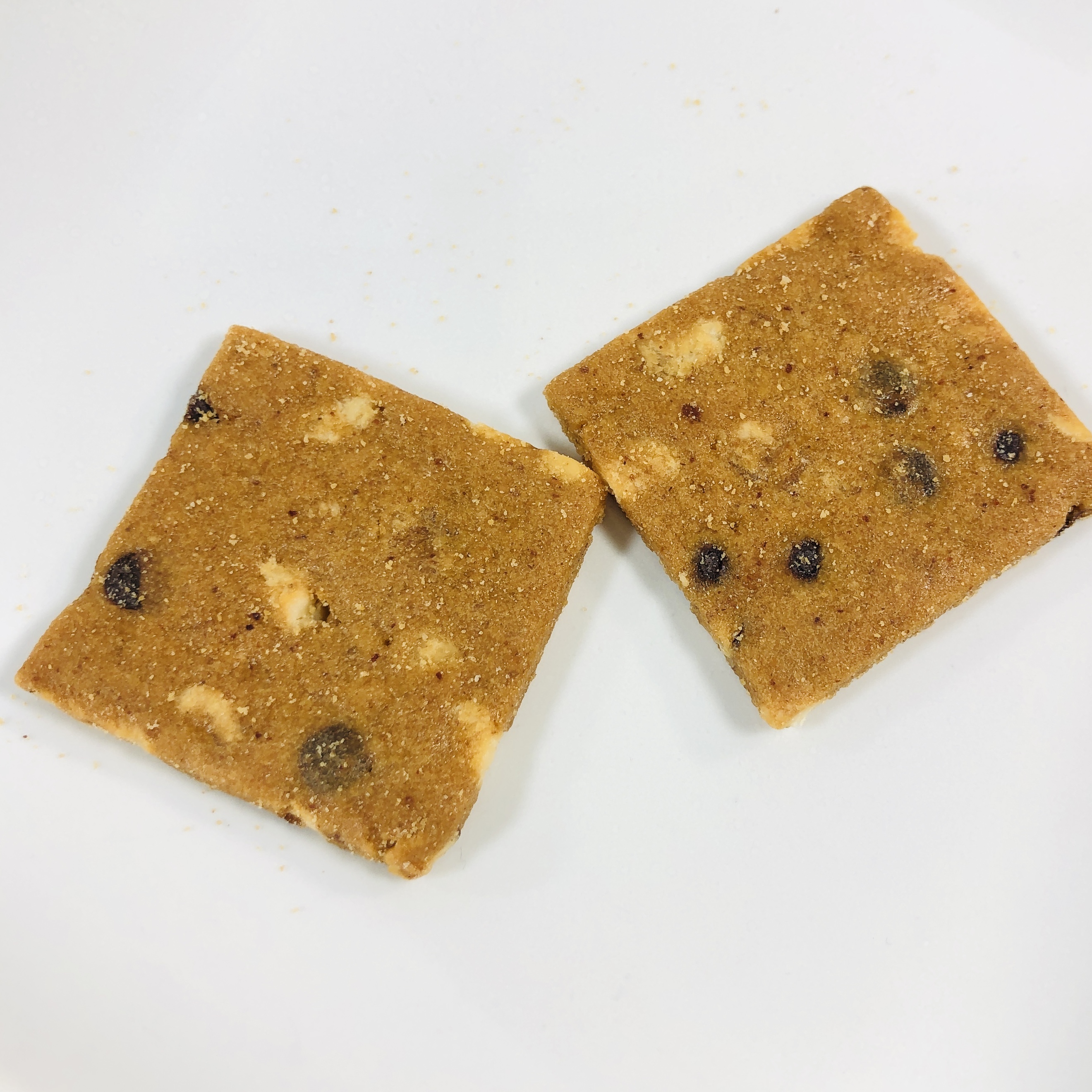 The squares were only lightly sweetened and I must say I wasn't a fan of the texture, which wasn't crisp like shortbread, but was what I would usually call stale. Of course, that could be the the way they are supposed to feel, I'm not sure since this brand was unknown to me, but I bet they would be good crushed and sprinkled on ice cream or pudding, or mixed with melted butter to make a no-bake pie crust.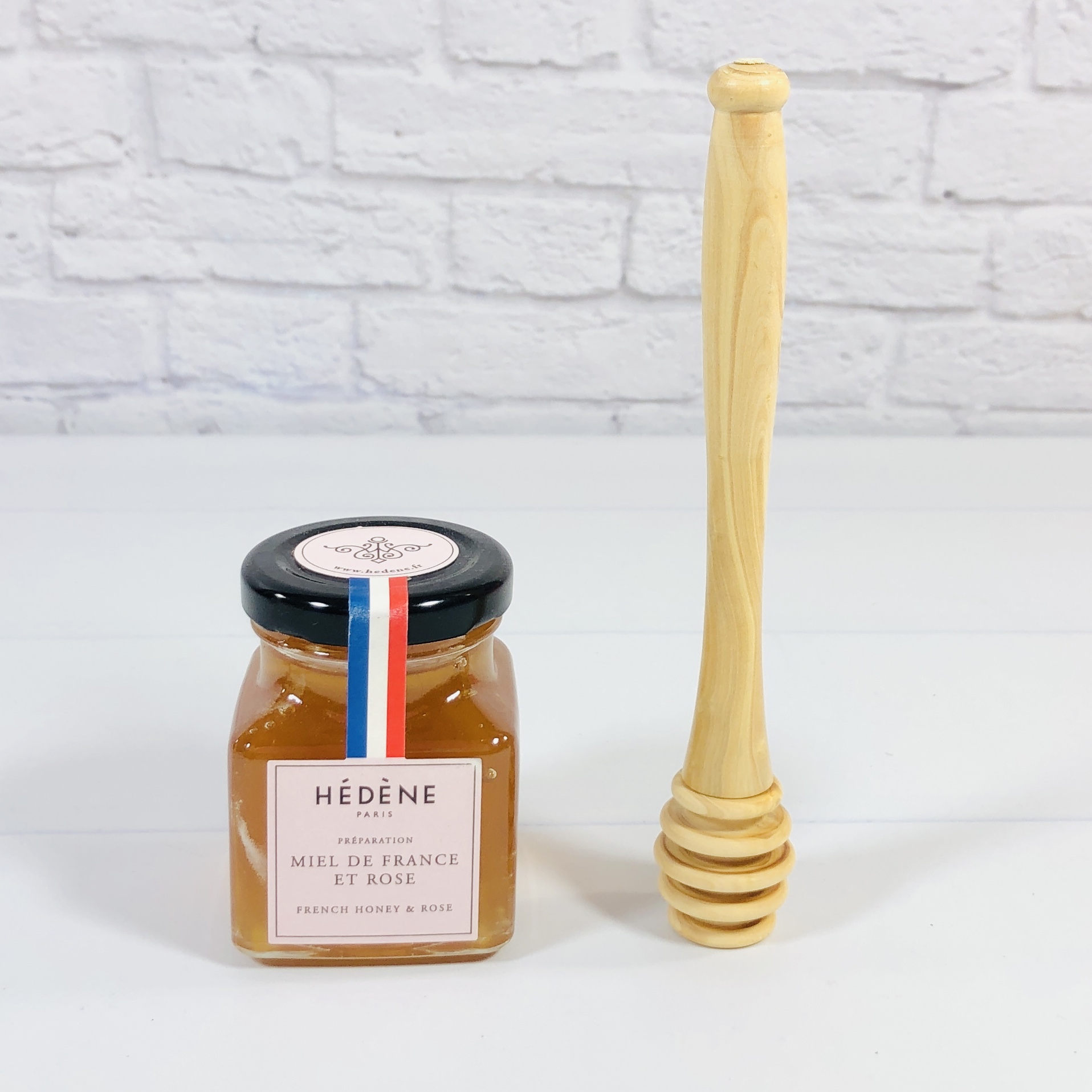 Hedene Paris French Honey & Rose (€9,90, about $12.15 USD) and Honey Dipper (€3,90, about $4.74 USD) Honey is the perfect topping for biscuits, especially with lots of salty, creamy butter. It is delicious on cornbread or in hot tea and if it has a unique note like this one it can add an extra layer of flavor to those treats.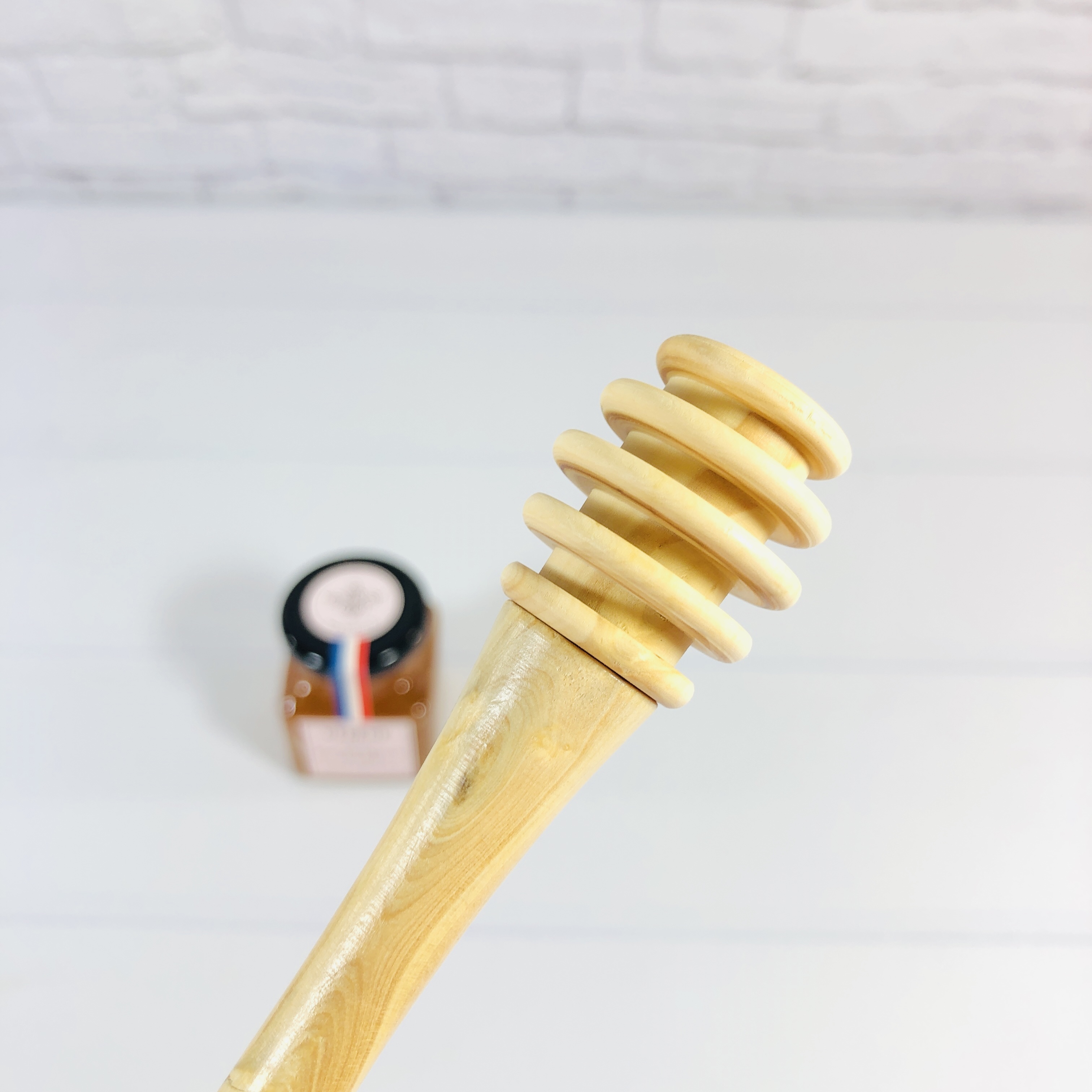 A honey dipper was included and it's the nicest one I've ever tried, plus, it's made of boxwood!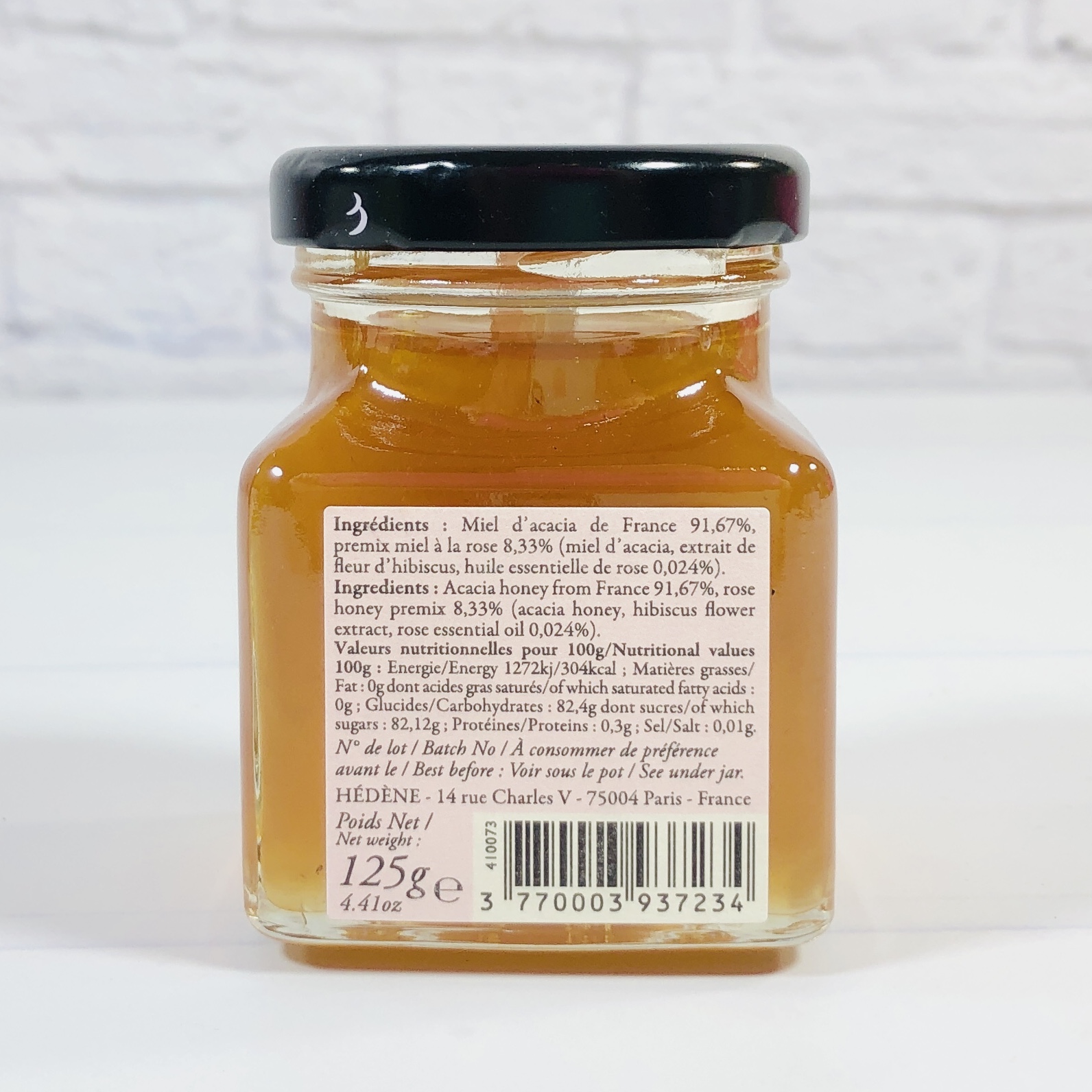 The honey has notes of acacia, hibiscus, and roses. I didn't even know that rose honey was a thing!
Acacia honey is supposed to take longer to crystalize but I don't think that's going to be a problem here, we go through honey pretty quickly in my home. The flavor notes are exquisite, with a floral and almost perfumed taste that is super interesting and tasty.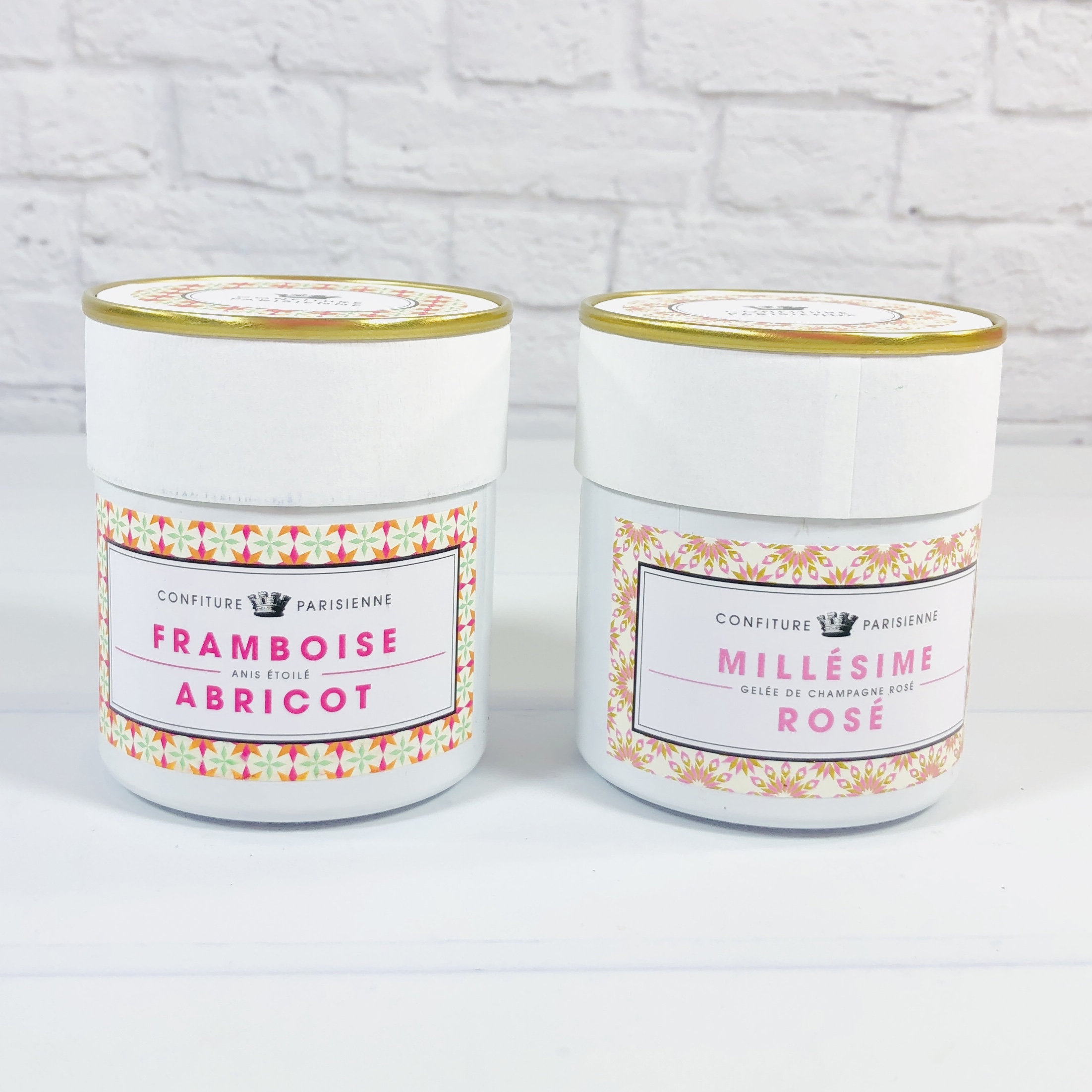 Confiture Parisienne Framboise Abricot (€14,90, about $17.90 USD) and Confiture Parisienne Millésime Rosé (€19,90, about $23.11) I was thrilled when I saw not one but TWO jars of preserves from this company, as I've been lucky enough to try Confiture Parisienne before and these are two different flavors from what I've tasted in the past.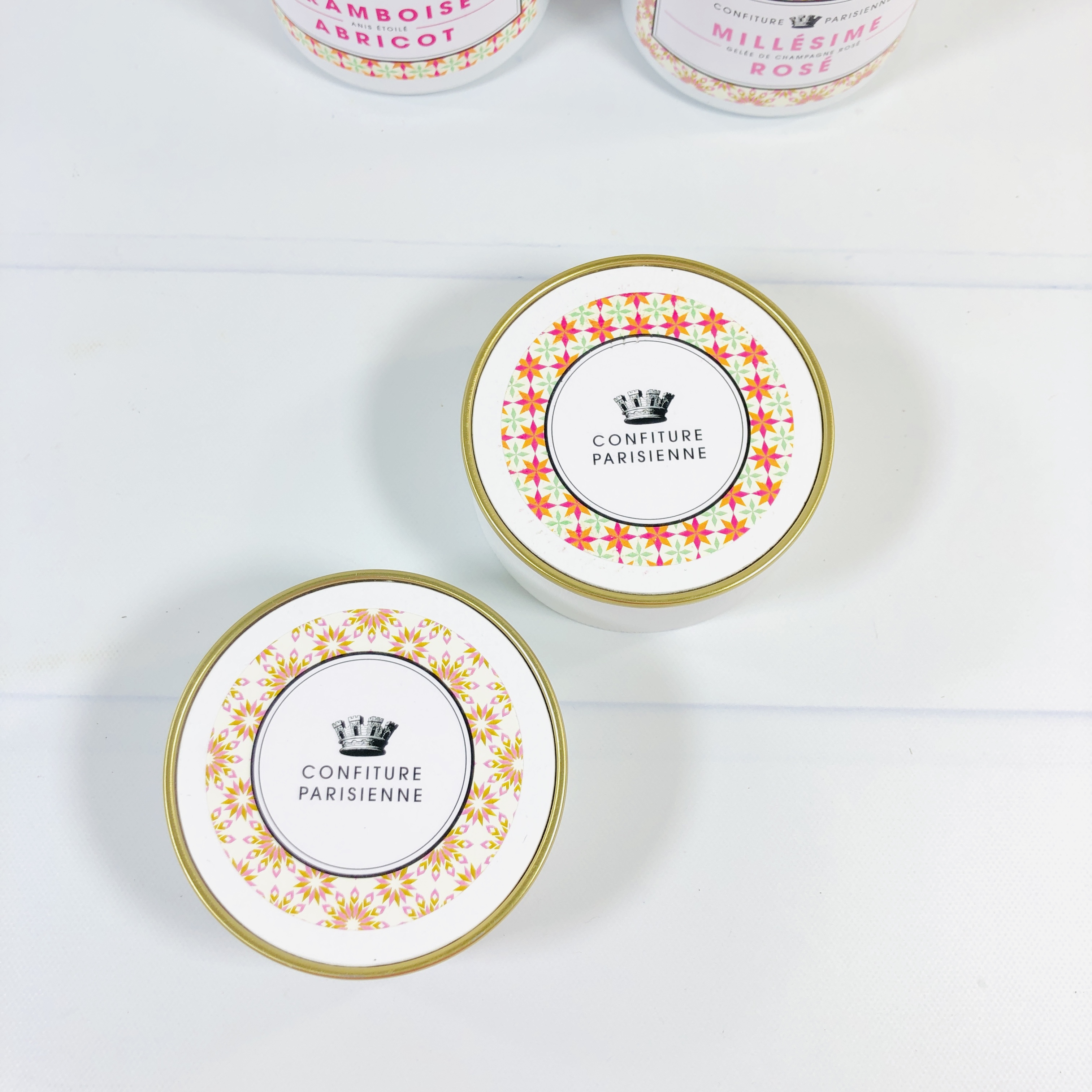 They had these cool lid covers over top, maybe to keep the seals from popping during shipping?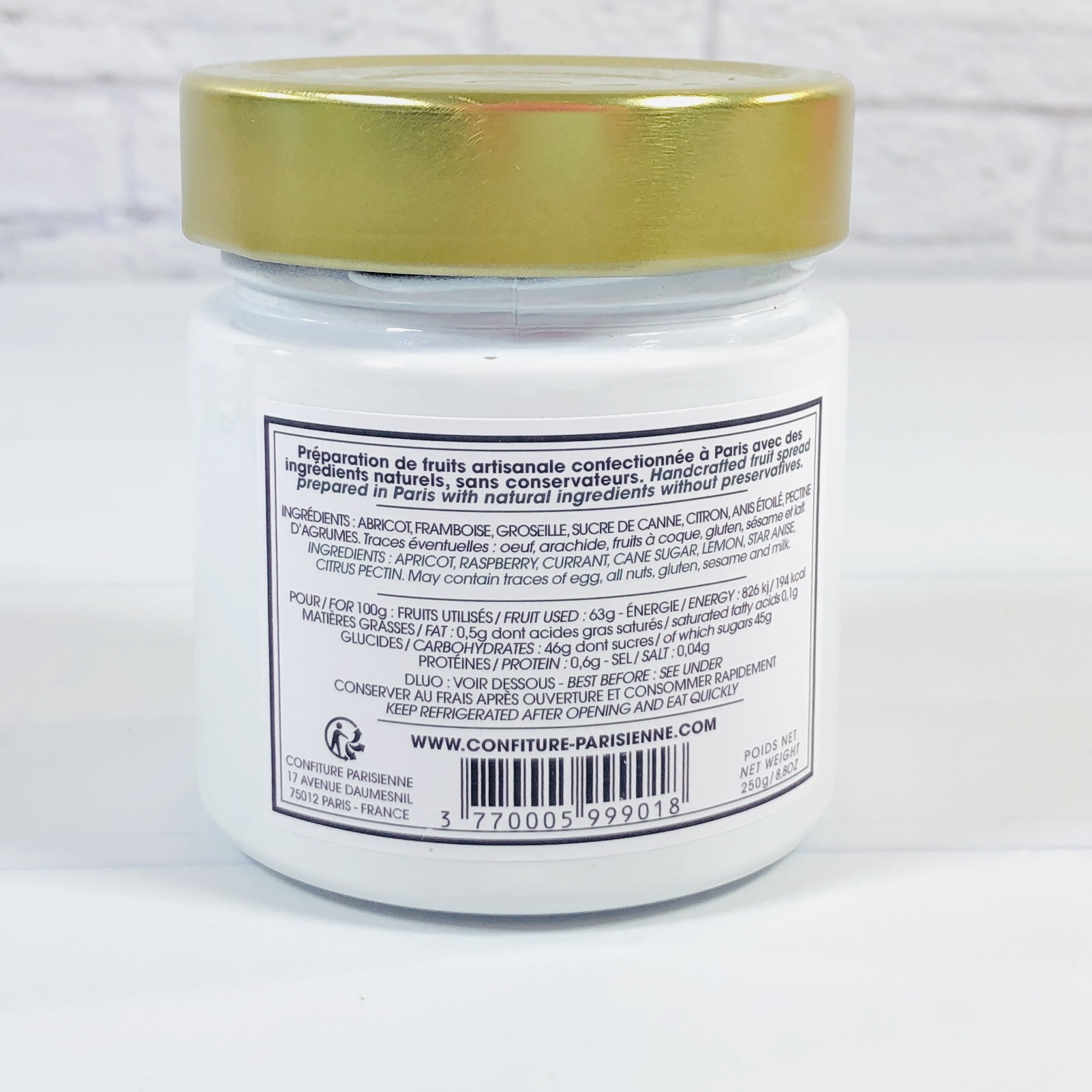 The ingredients are listed on the back in English and are minimal.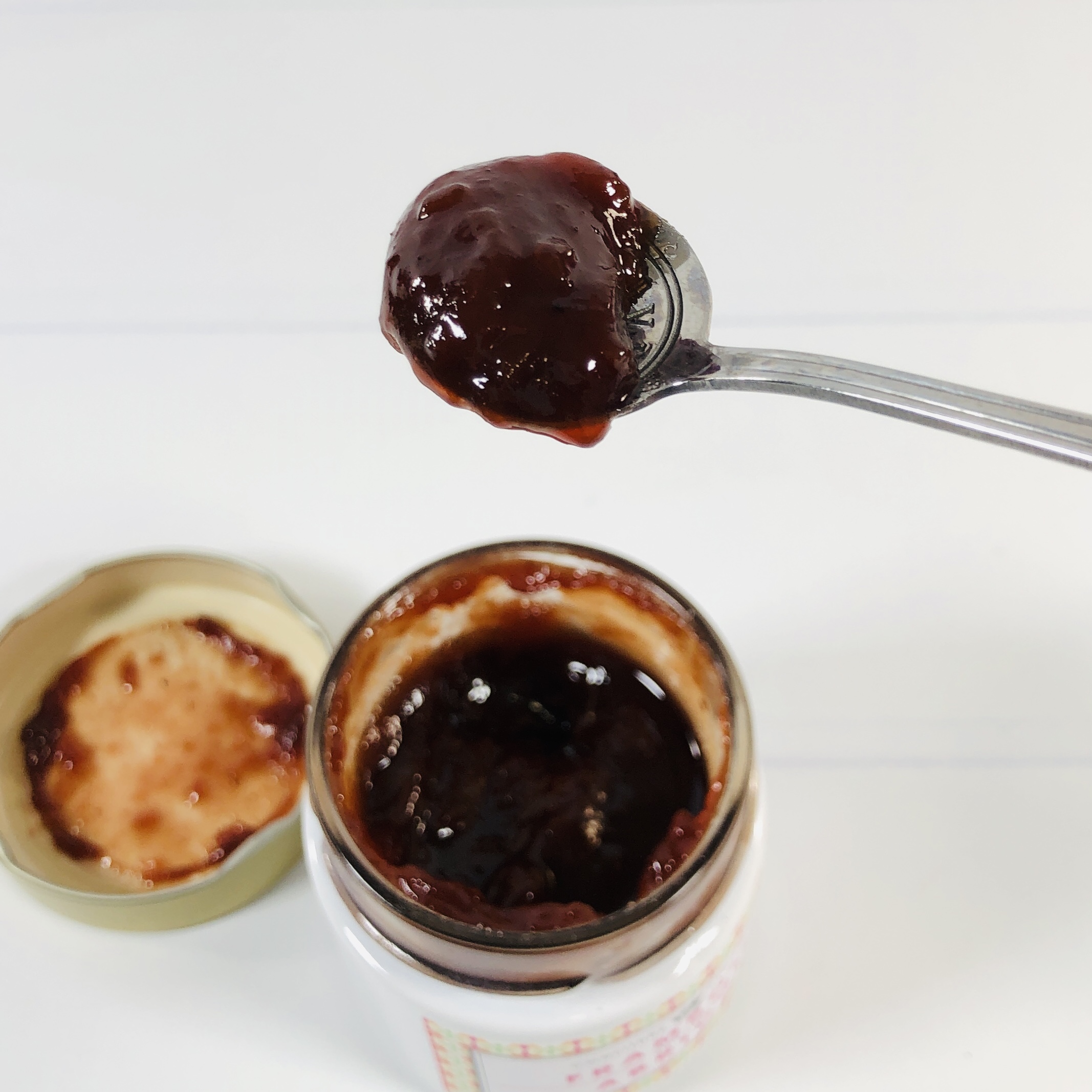 The texture of Raspberry Apricot brings to mind a combo of traditional fruit-filled jam and pureed fruit butter. As soon as I tried it I looked at the ingredients because I have never tasted anise in a jam and yep, there it was on the list! It is fruity and would work well with toast or soft cheese and crackers.
Our second jam is made with rosé champagne plus grapes and vanilla.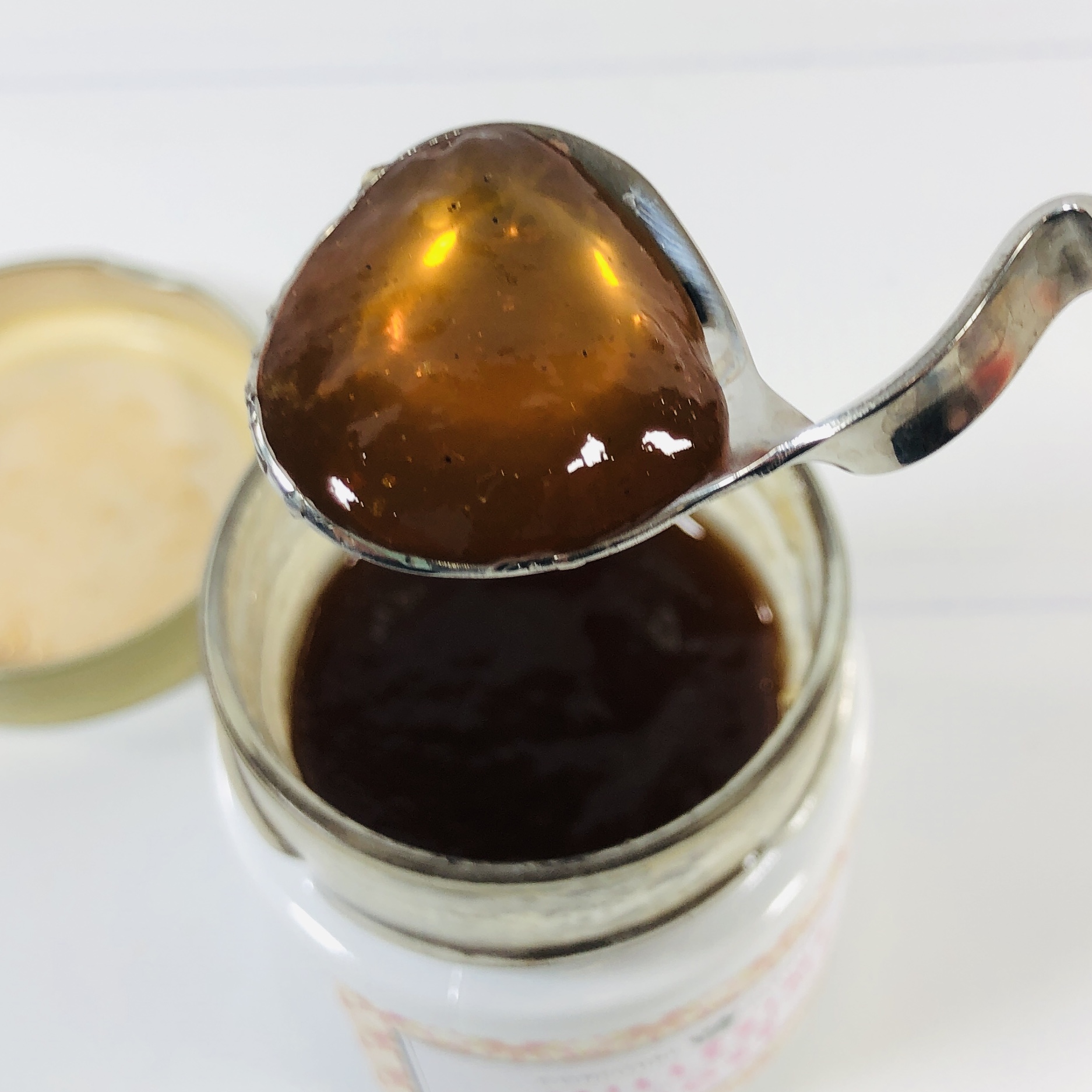 The texture was unique, like biting into a treat and having juice burst onto the tongue. The flavor was mild and interesting and almost seemed like a gelatin dessert. I think I would like this on a scone.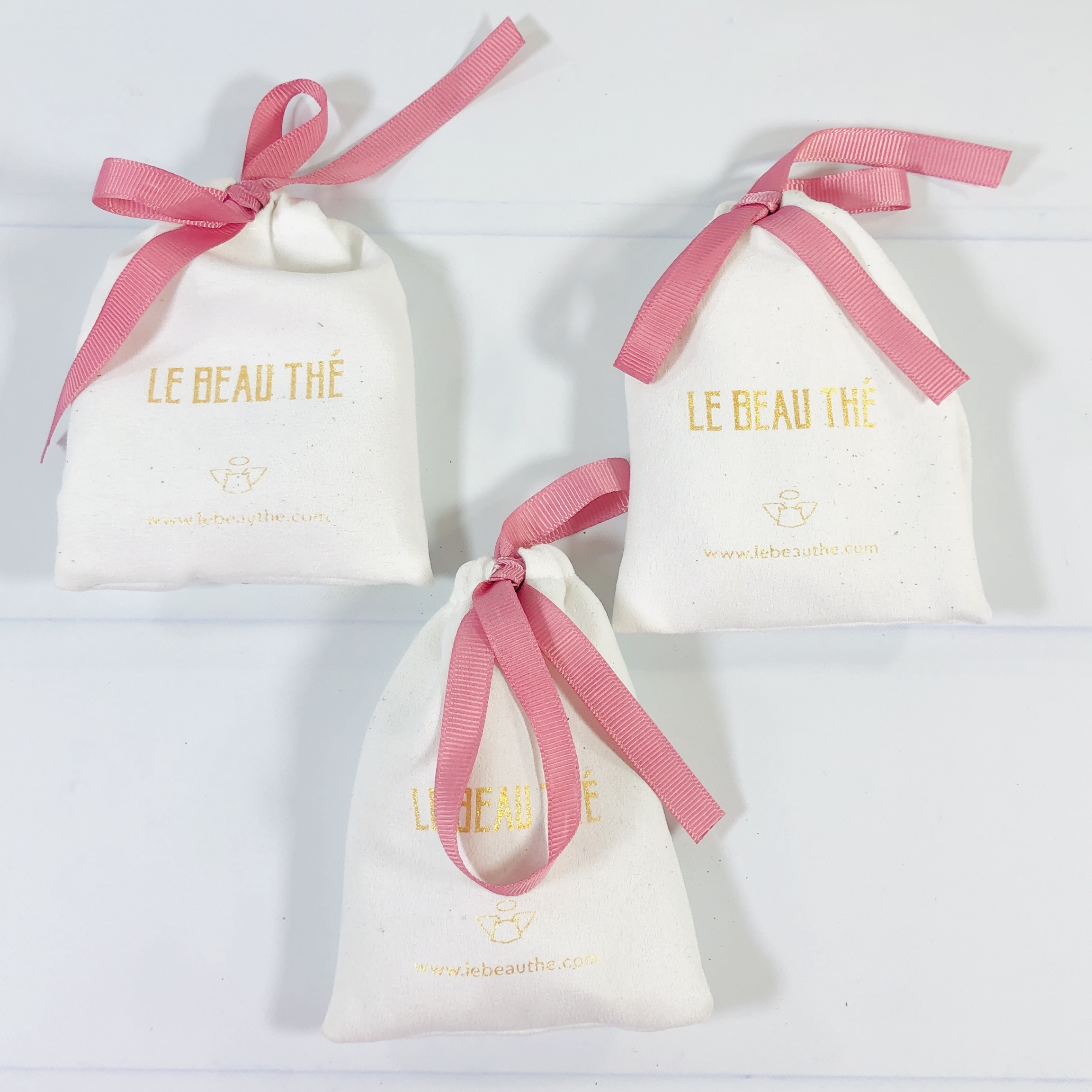 Le Beau Thé "Tasting kit of 5 recipes from the classic collection For the love of our vices" (€10 each, about $36.49 total) I had to put in the Google translation of the name of this item because I simply adored the wordiness of it!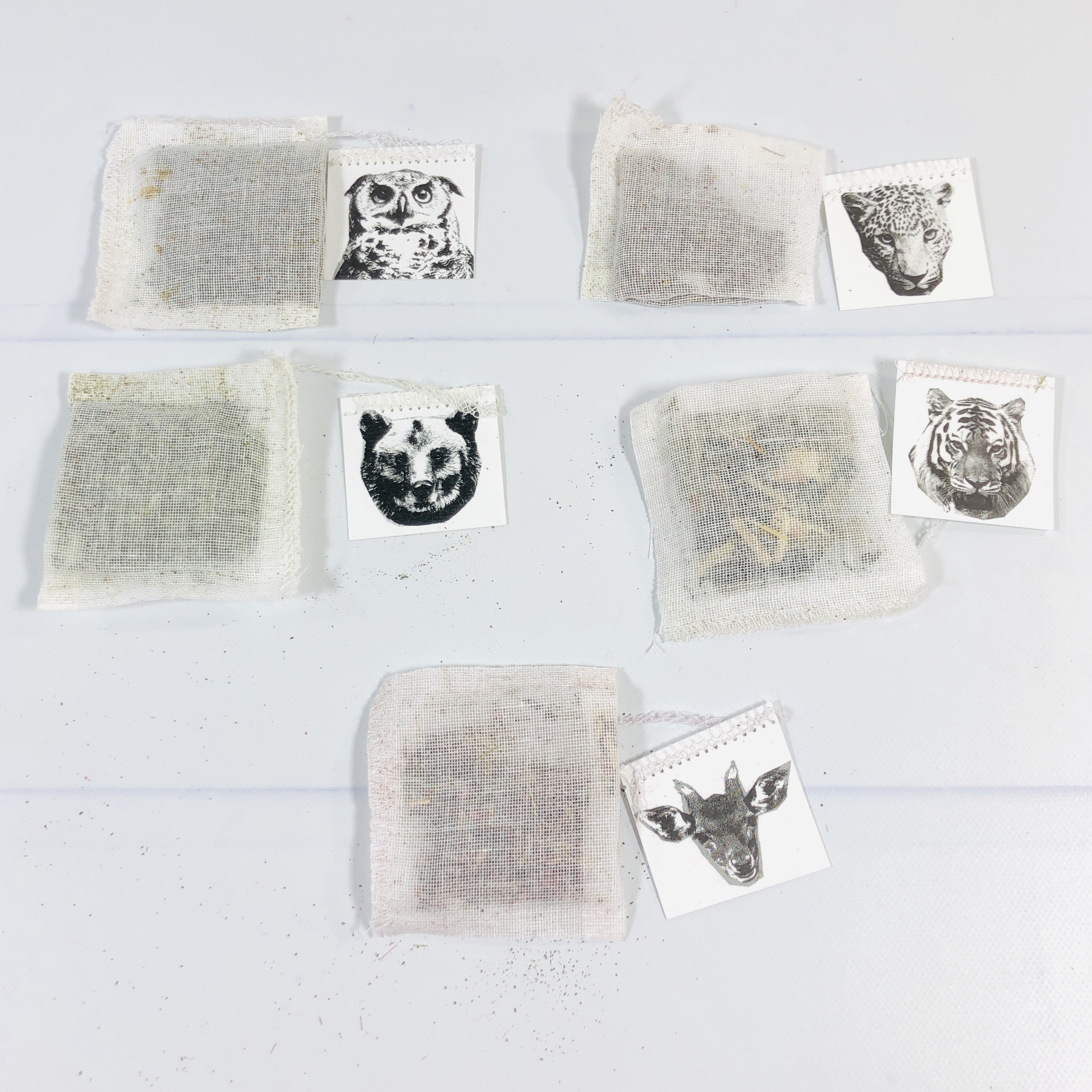 There were 5 different teas in each of the larger white bags and they have animals on the tags, plus each of the individual bags are made of muslin. The flavors and ingredients were described in the handout and so far I have tried (and loved) Coup de Fouet (Whiplash), which is the bag with the tiger. It has black and green tea, lemon and orange peels, and lemongrass, which gives a citrus boost to a tea that is not too strong (no milk needed) but not too light either, it had plenty of flavor. I can't wait to try the other bags, and then I can repeat, I have enough tea for 3 workweeks!
What a delightful and fun box! I was impressed with my very first box from Madalyn et Rose and even though it was billed as a breakfast box, it would also work well as an afternoon tea assortment too. I was intrigued with the rose honey, I've never had a flavor like that before! The jams were also unique, with one having champagne and the other with its hint of anise. The honey dipper is the sturdiest I've ever met, and while the cookies weren't for me as a treat, they will work in a dessert. I've only tried one of the tea flavors so far and it was very pleasant and flavorful, I can't wait to try the others. As for the value, this box was worth approximately $100.47, and that doesn't even include additional shipping costs to get all of these items from their various brands in France to my home in Texas. What an amazing value!
What do you think of the Madalyn et Rose box?
Visit Madalyn et Rose French Artisan Box to subscribe or find out more!