Made for Learning: Age and Stage based essentials kits designed by experts to help your child grow!
Lovevery has a deal for their montessori-inspired baby, toddler, and preschool play kits designed by experts to be the best developmental play products for kids' growing brains.
Save up to $48 when you pay upfront for longer length plans! No coupon code is needed – the deal applies automatically, just use this link to join!
You'll save $12 when you prepay for a 3-kit baby plan, and $40 when you prepay for a 5-kit baby plan! For toddlers up to 4, you'll save $18 when you prepay for a 3-kit plan, and $48 when you prepay for a 4-kit plan!
Check out our Lovevery Baby Play Kits reviews and Lovevery Toddler Play kits reviews to find out more about this amazing subscription for littles!
Lovevery features the best play products designed by child development experts. The toys are customized by stage and thoughtfully crafted using sustainably forested wood, organic cotton, and baby-safe plastics. We can also safely say that they are the biggest subscription boxes you'll probably ever receive, with more items than you thought possible! Lovevery is our readers' favorite subscription box for babies!
Here's an example of a Baby Play Kit: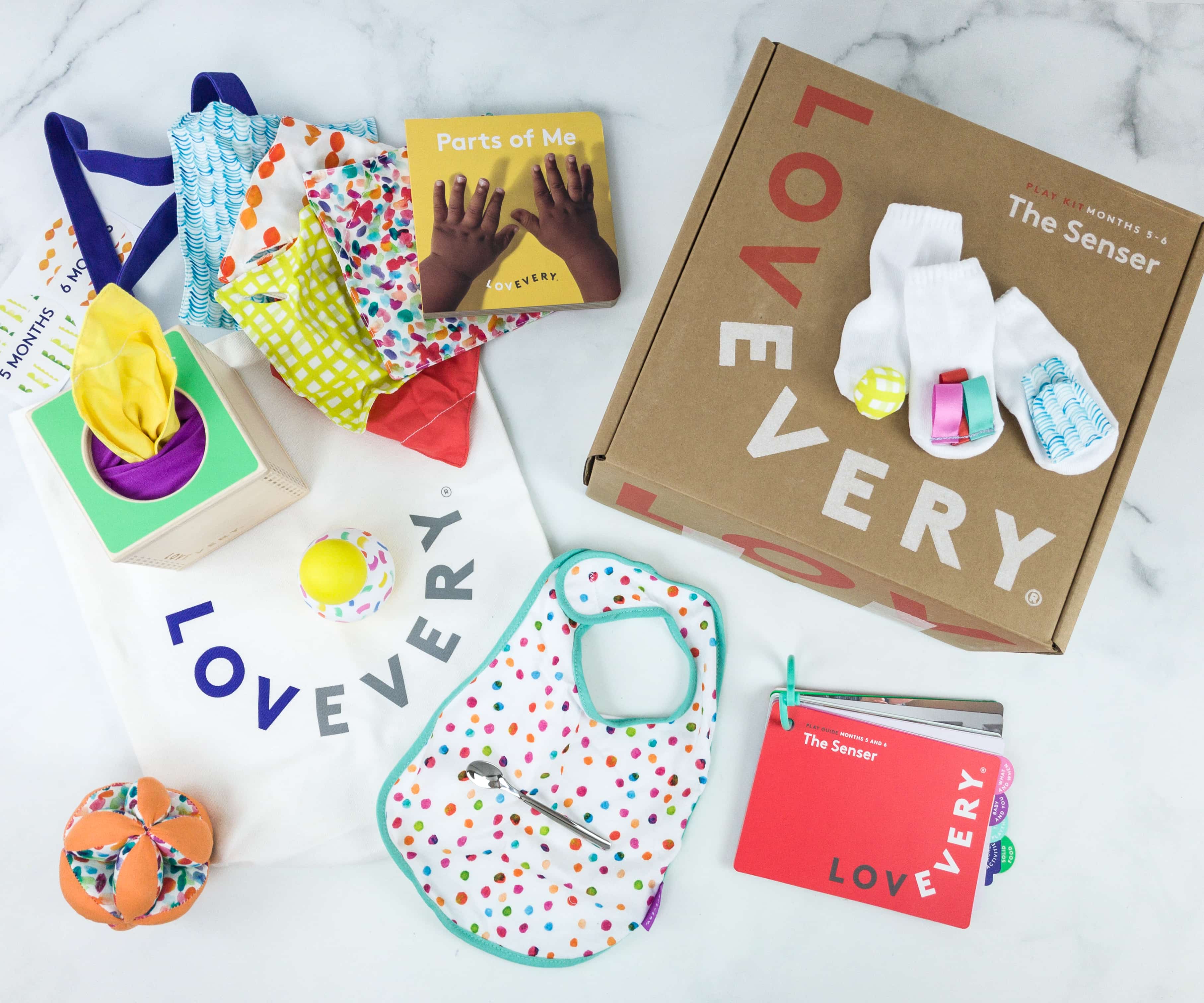 The Senser Play Kit for babies 5-6 months included:
SPINNING RAINBOW Perfect for practicing fine motor skills and reaching with both hands at once
MAGIC TISSUE BOX Babies love to pull tissues out and put them back in as they explore containment
MAGIC TISSUES Linkable tissues for the tissue box—also fun for peekaboo and mouthing
ORGANIC COTTON RAINBOW BALL Purposefully designed to be easy to grasp and move, to help build dexterity and coordination
'PARTS OF ME' BOOK Help your baby expand their vocabulary by learning the names of different parts of the body
PLAY SOCKS You found your feet! Build leg strength and body control with these playful socks
TUMMY TIME WOBBLER Make tummy time more fun while building core muscle strength for crawling and walking
PLAY GUIDE MONTHS 5‑6 Ideas for how to play during months 5‑6, backed by all the research you don't have time to read
And here's an example of a Toddler Play Kit: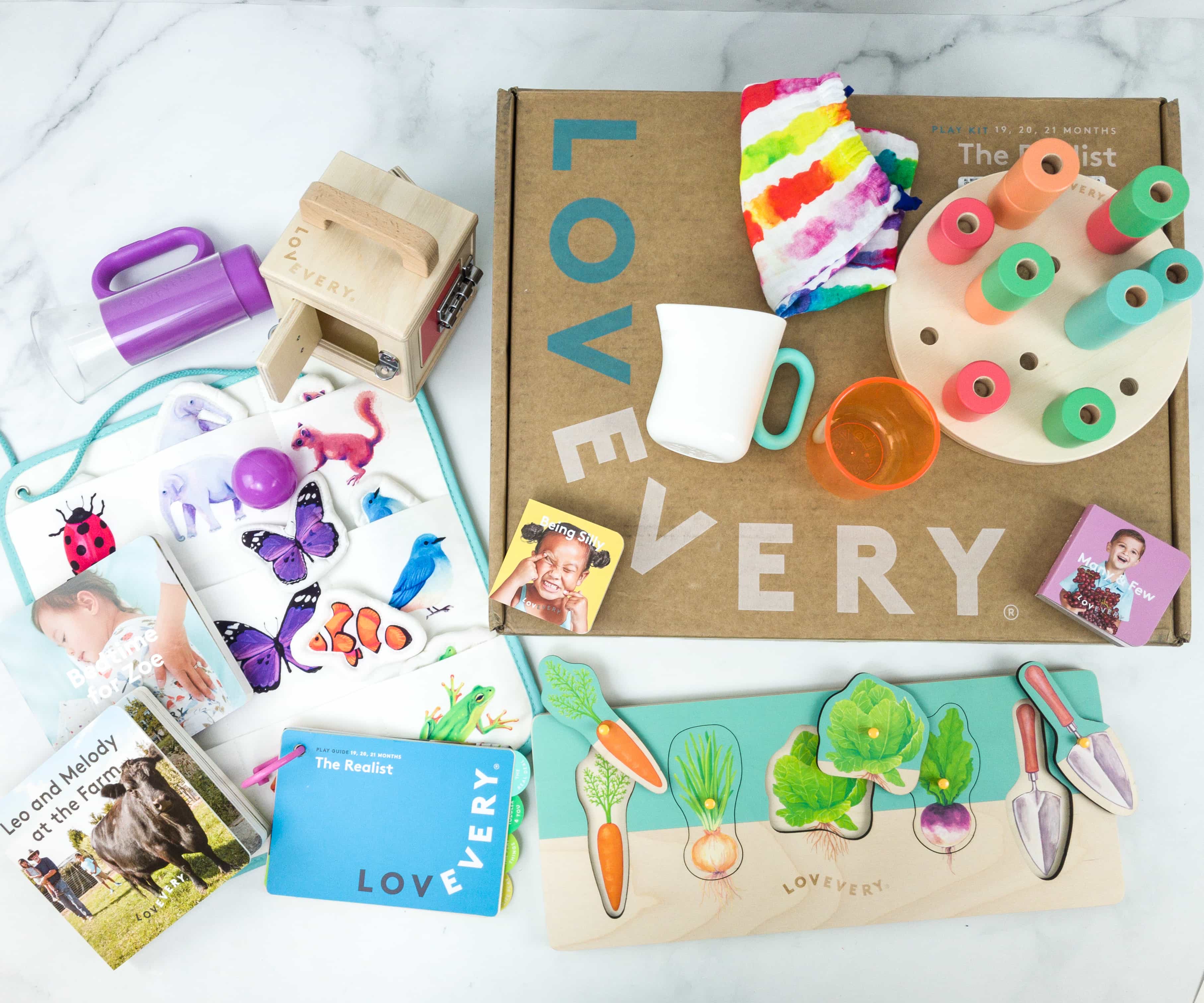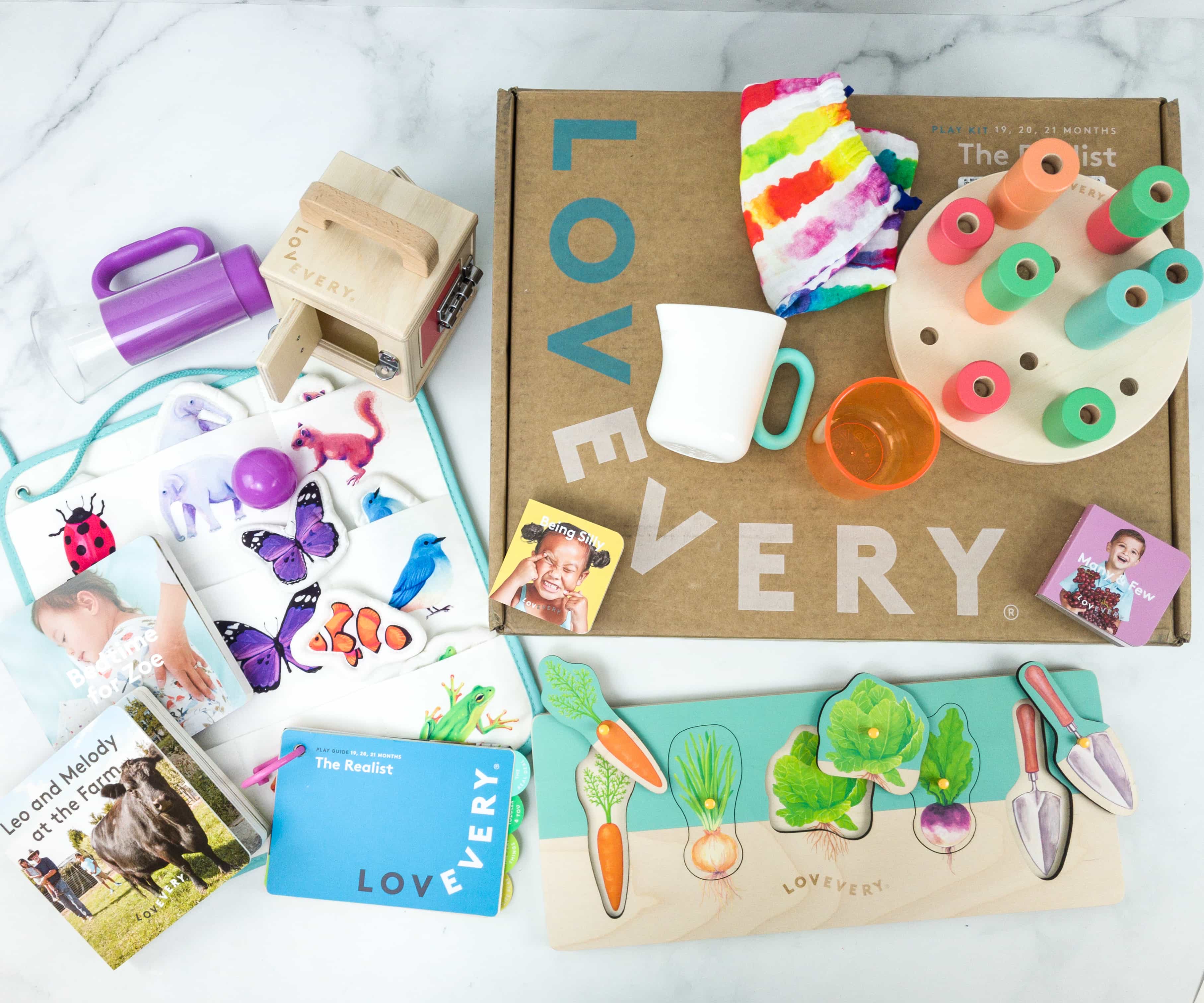 The Realist Play Kit for toddlers 19, 20, and 21 months includes:
THE LOCKBOX Tinkering with mechanical thinking all on his own—and perfectly portable for problem-solving with little hands
COUNT AND SLIDE RING CHUTE How many rings go in before one slides down?
GEO SHAPES PUZZLE A 3-D puzzle to practice cradling and nesting complex shapes
'BEA GETS A CHECKUP' BOARD BOOK Going to the doctor can be fun—so long as we're prepared!
QUILTED CRITTER POCKETS Matching and tucking the organic cotton critters takes focus, dexterity, and tenacity
REALLY REAL FLASHLIGHT A toddler usable flashlight
GROOVED PITCHER AND GLASS A Montessori classic we've perfected—pouring practice helps develop hand and eye control
PLAY GUIDE MONTHS 19, 20, 21 Ideas for how to play during months 19, 20, 21
The Observer Play Kit – 37, 38, 39 months:
Explore routines with pretend play
Practice nesting with early exposure to architecture concepts
Set expectations by planning their day
Encourage independence and self care