Loved + Blessed is a monthly membership and Christian subscription care package for women who want to live life encouraged. Aside from the box of encouragement, subscribers will also receive access to a blog article, a 4-week life appreciation workbook, 4 video lessons, an online fellowship in their private community, and access to their library of past videos and workbooks. A month-to-month subscription costs $25 and you can also opt to get a 3-month prepaid subscription for $60, which means you'll save $15!
DEAL: Get $5 off your first box! Use coupon code HELLO5. Cannot be combined with other offers.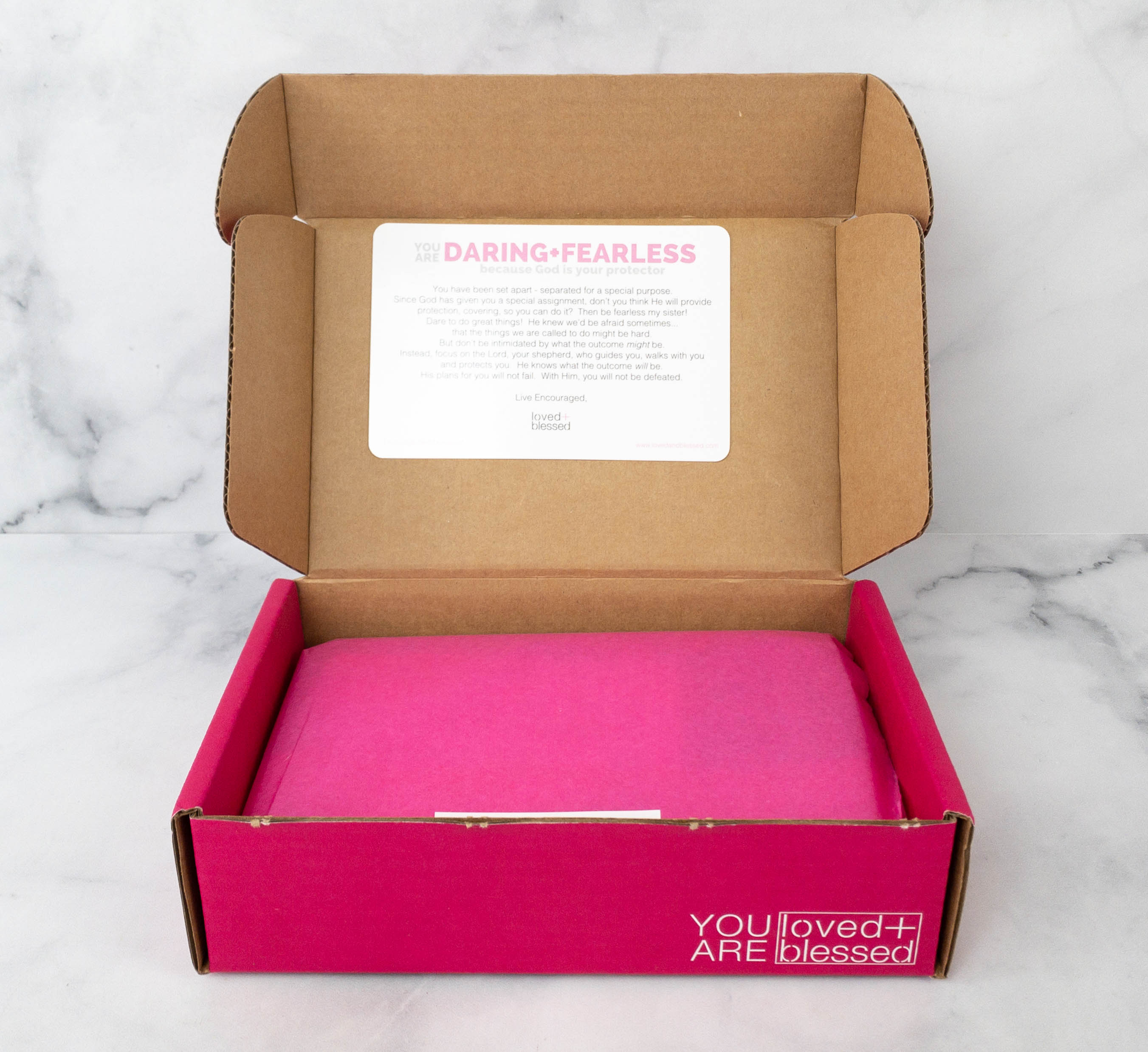 The items were packed with bright pink wrapping paper.
This month's theme is DARING + FEARLESS.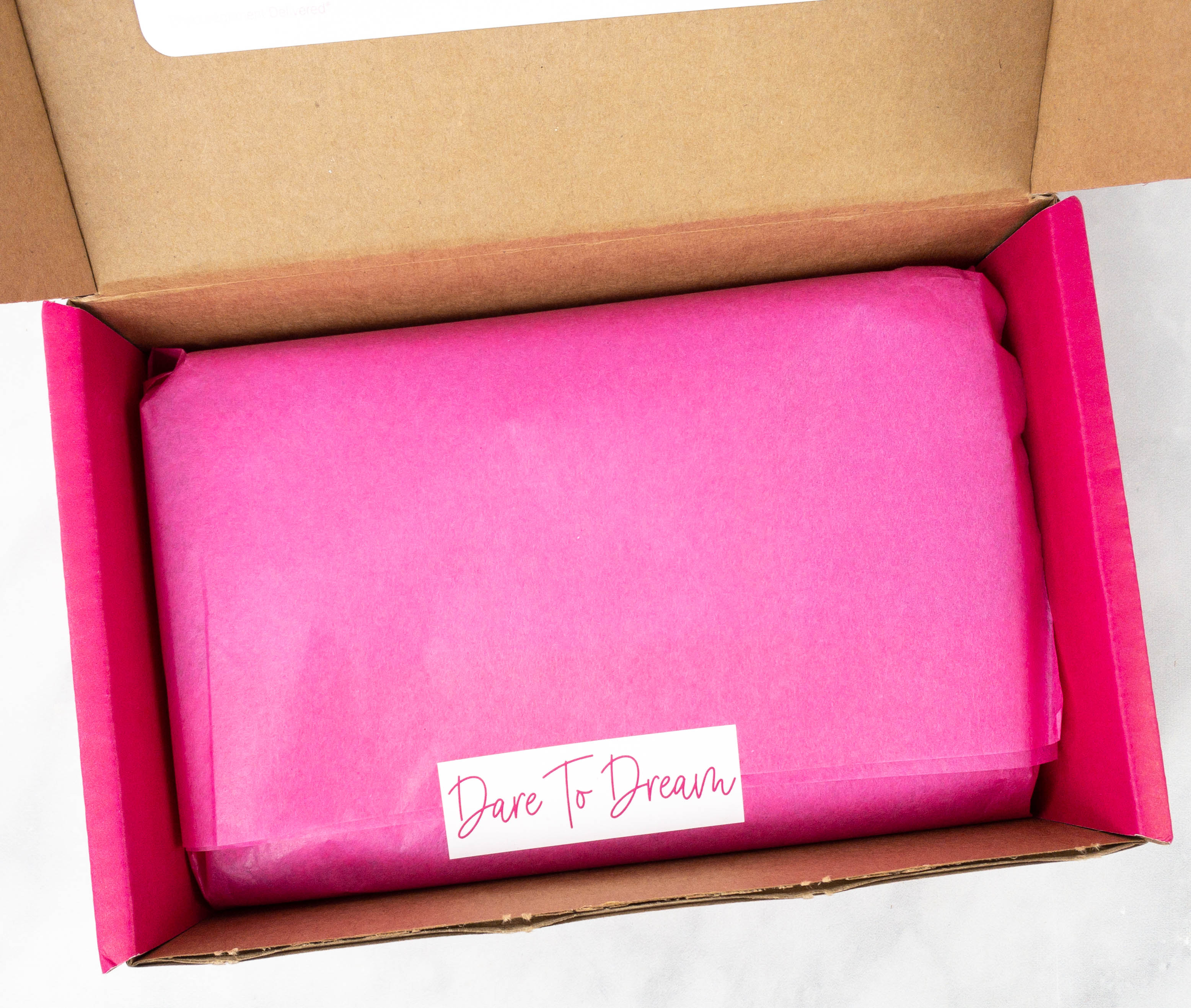 There's a sticker that seals the wrapping paper. It says "Dare To Dream".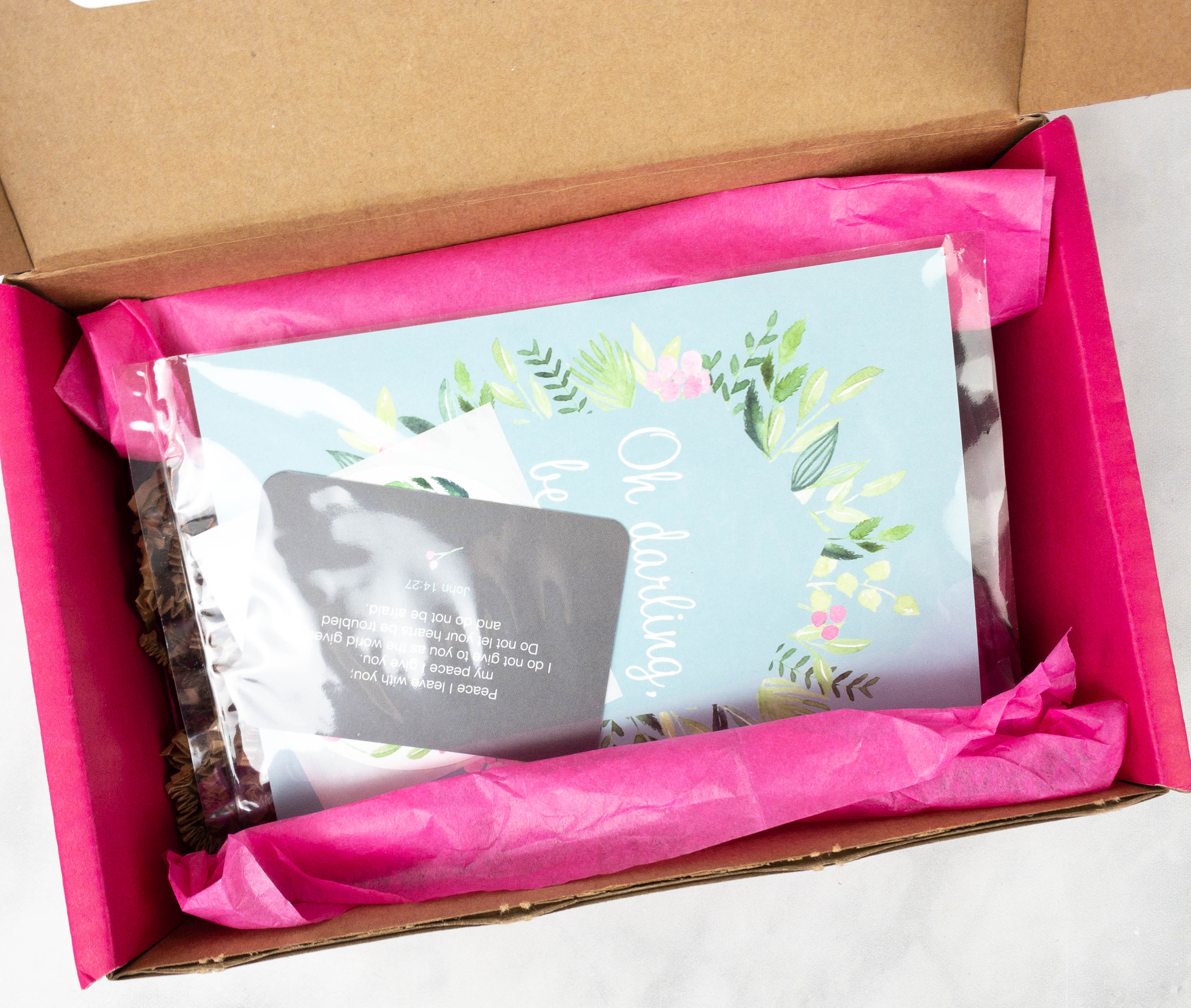 The items were also cushioned with brown squiggles.
The card features a lot of nice things about this month's box and theme.
Listed at the back of the card are some reminders about the items inside the box.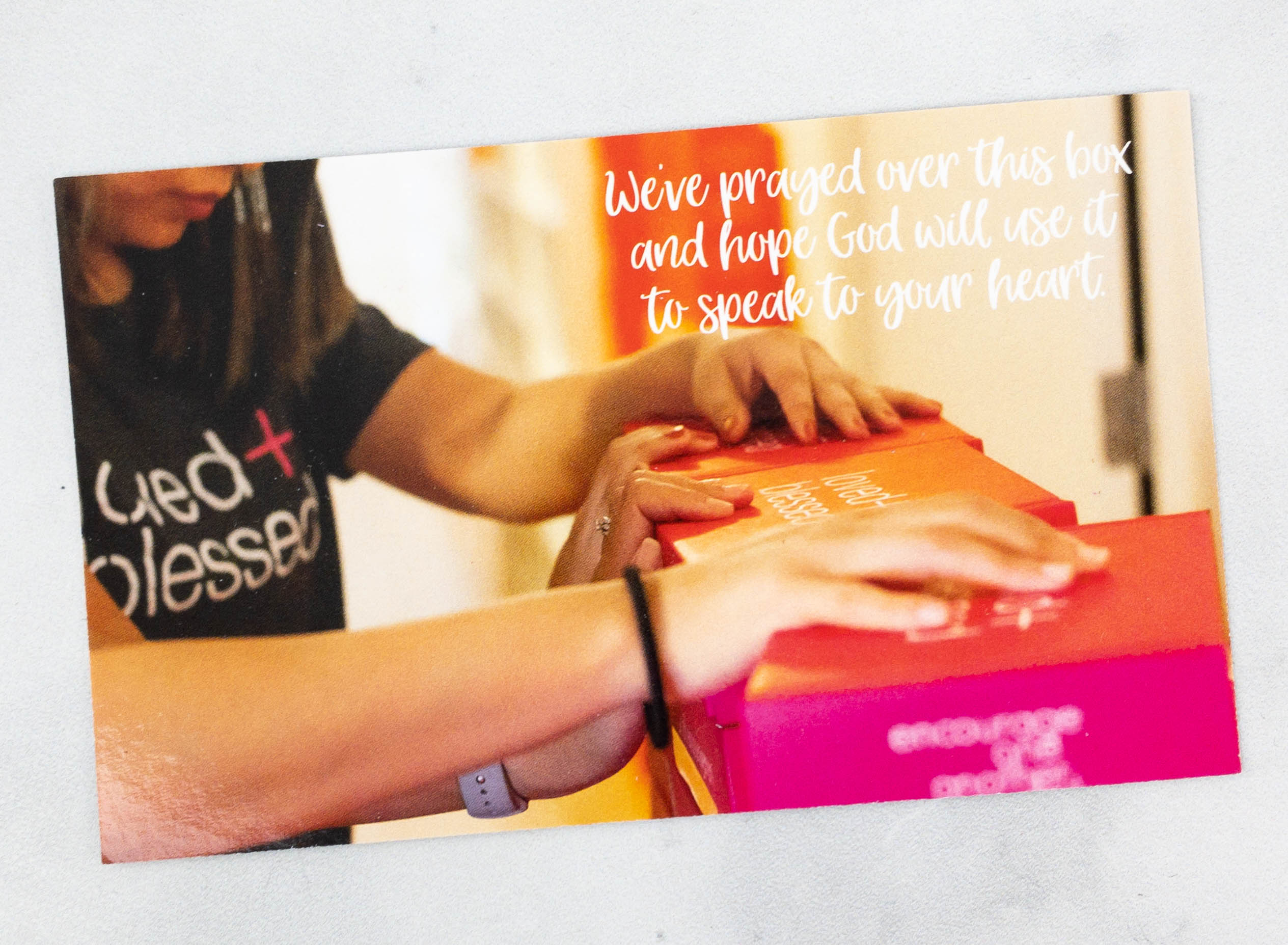 Here's another info card! It features a heartwarming message:
We've prayed over this box and hope God will use it to speak to your heart.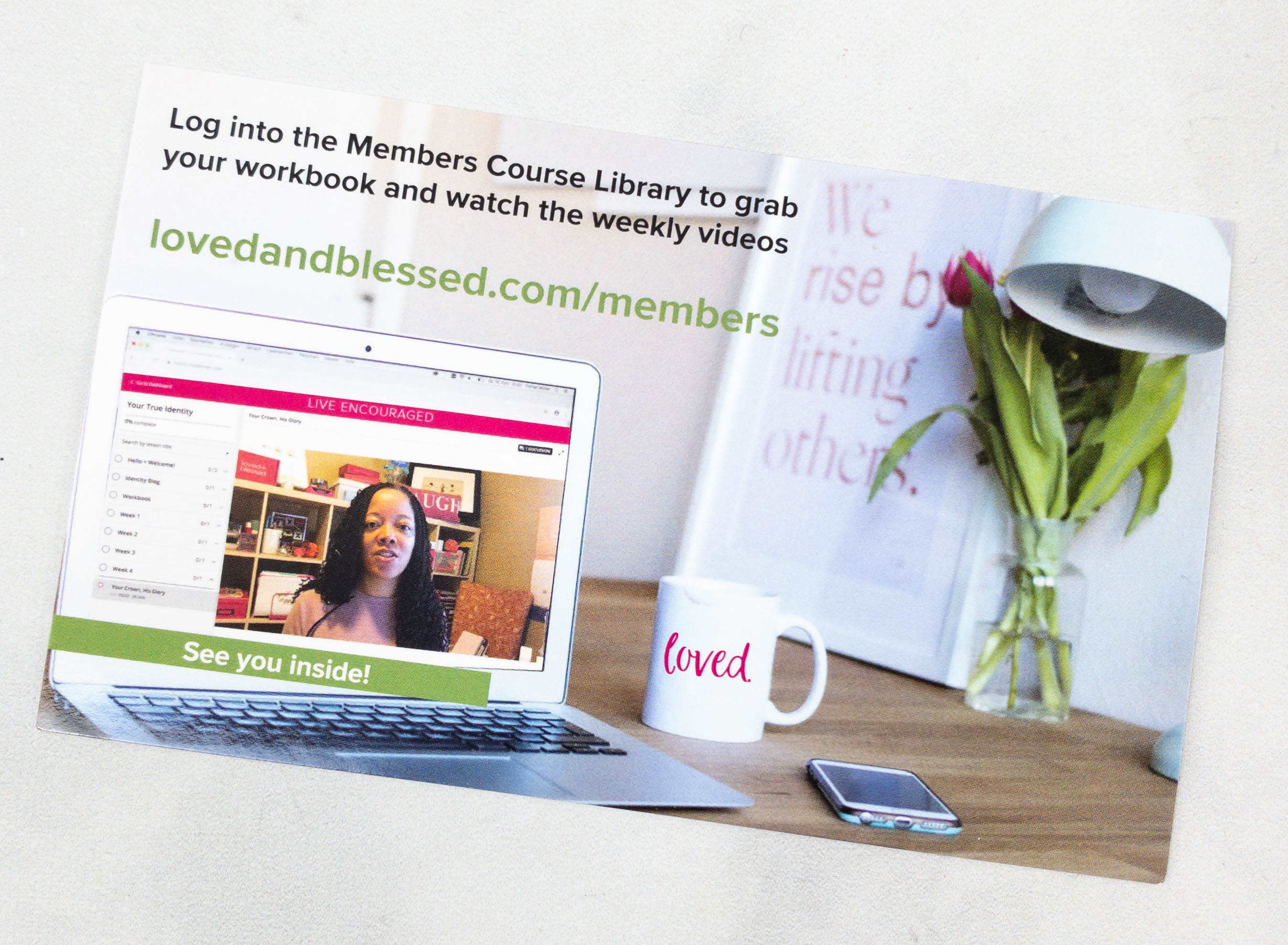 On the other side of the card, there's a reminder to log into the Members Course Library!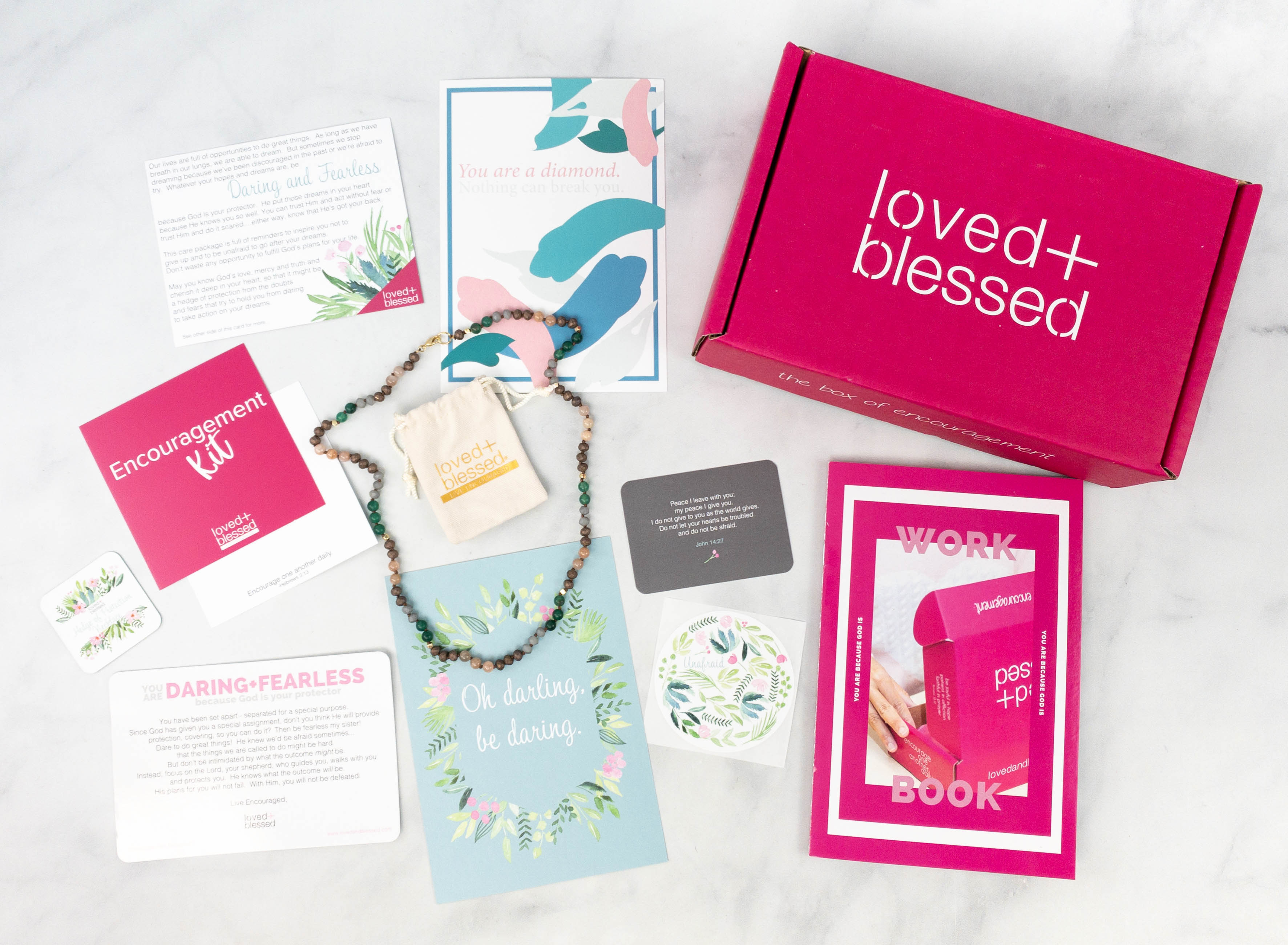 Everything in the May 2021 box!
Scripture Card. Every box contains a scripture card. This month, it features a beautiful leaf and floral pattern.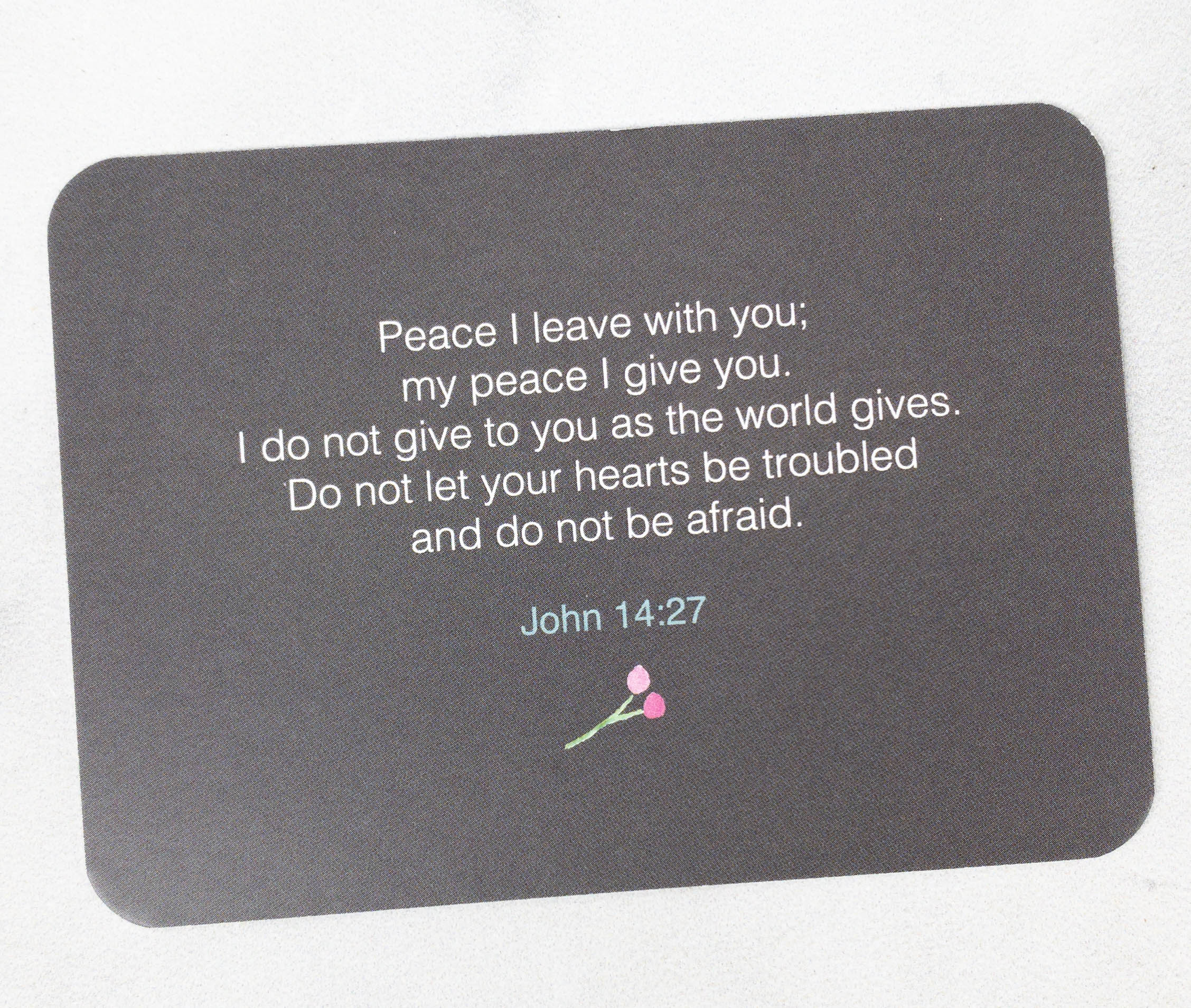 The scripture on the flip side is from John 14:27.
Peace I leave with you; my peace I give you. I do not give to you as the world gives. Do not let your hearts be troubled and do not be afraid.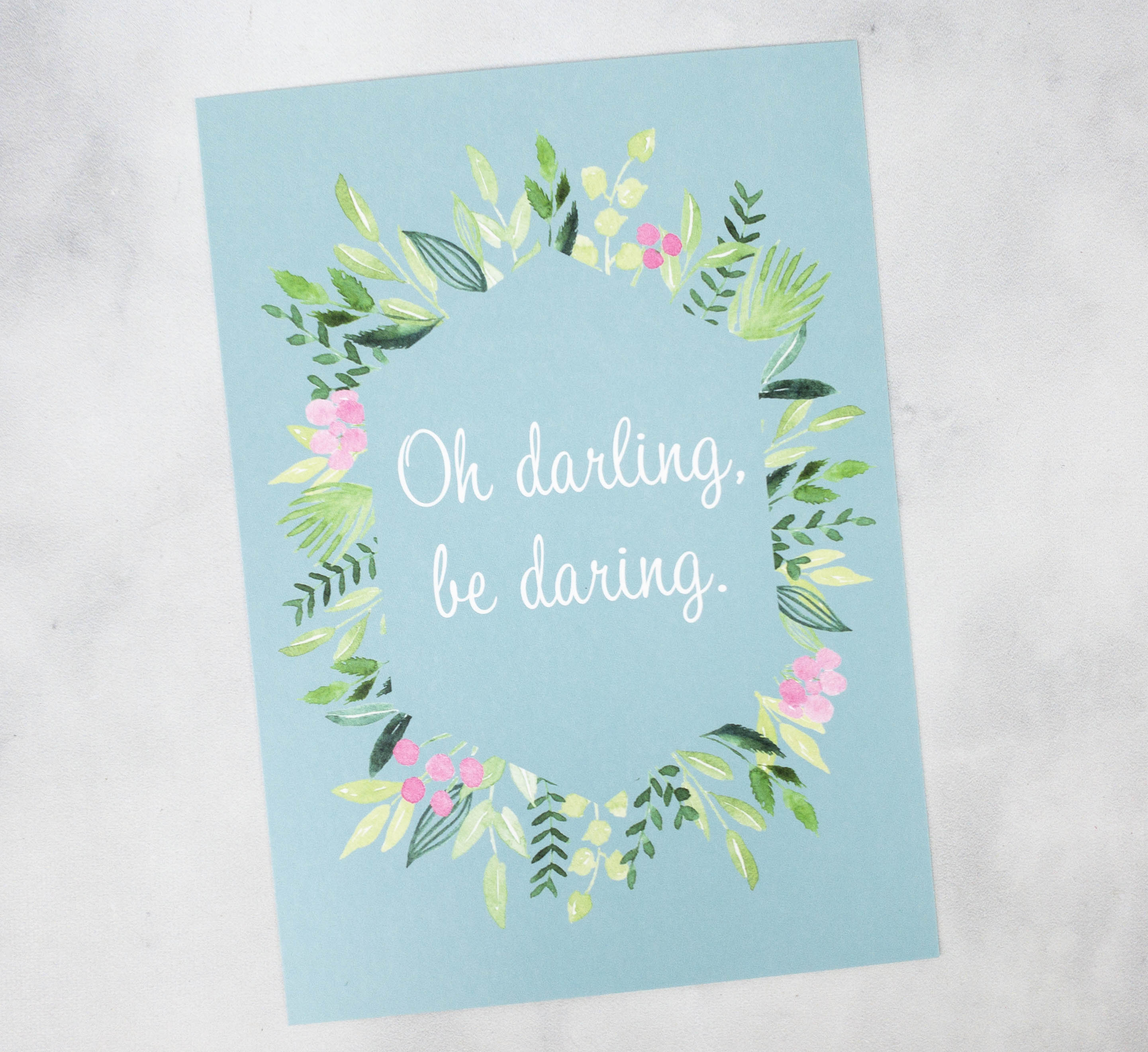 Poster. There's also a poster included in each box. It has a the same floral elements as the scripture card, but this one is shaped like a circle. I like the contrast of the green leaves against the light blue background. At the center, it has a message reminding us to be brave and take risks.
Oh darling, be daring.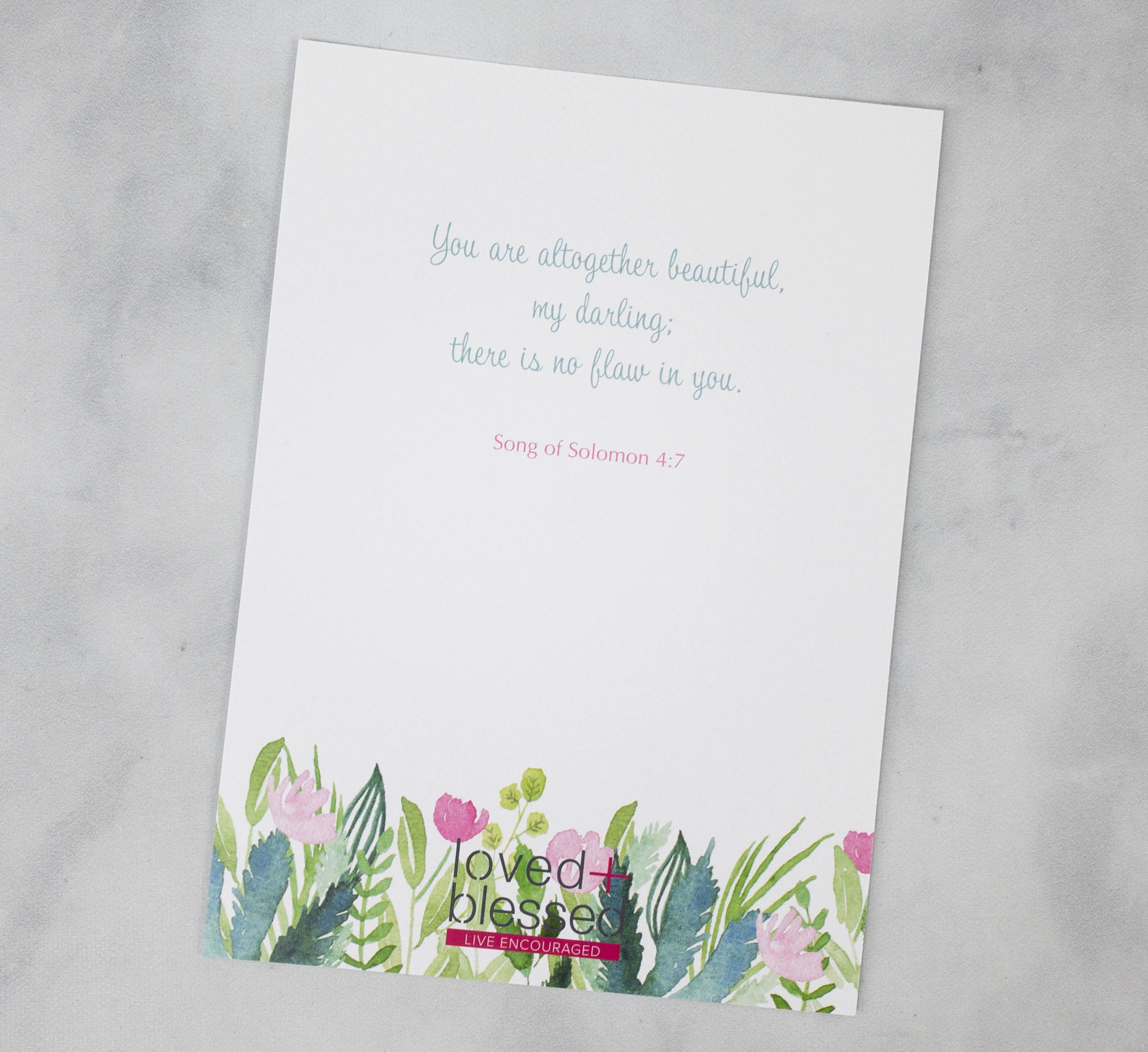 There's another inspiring message at the back:
You are altogether beautiful, my darling; there is no flaw in you.

– Song of Solomon 4:7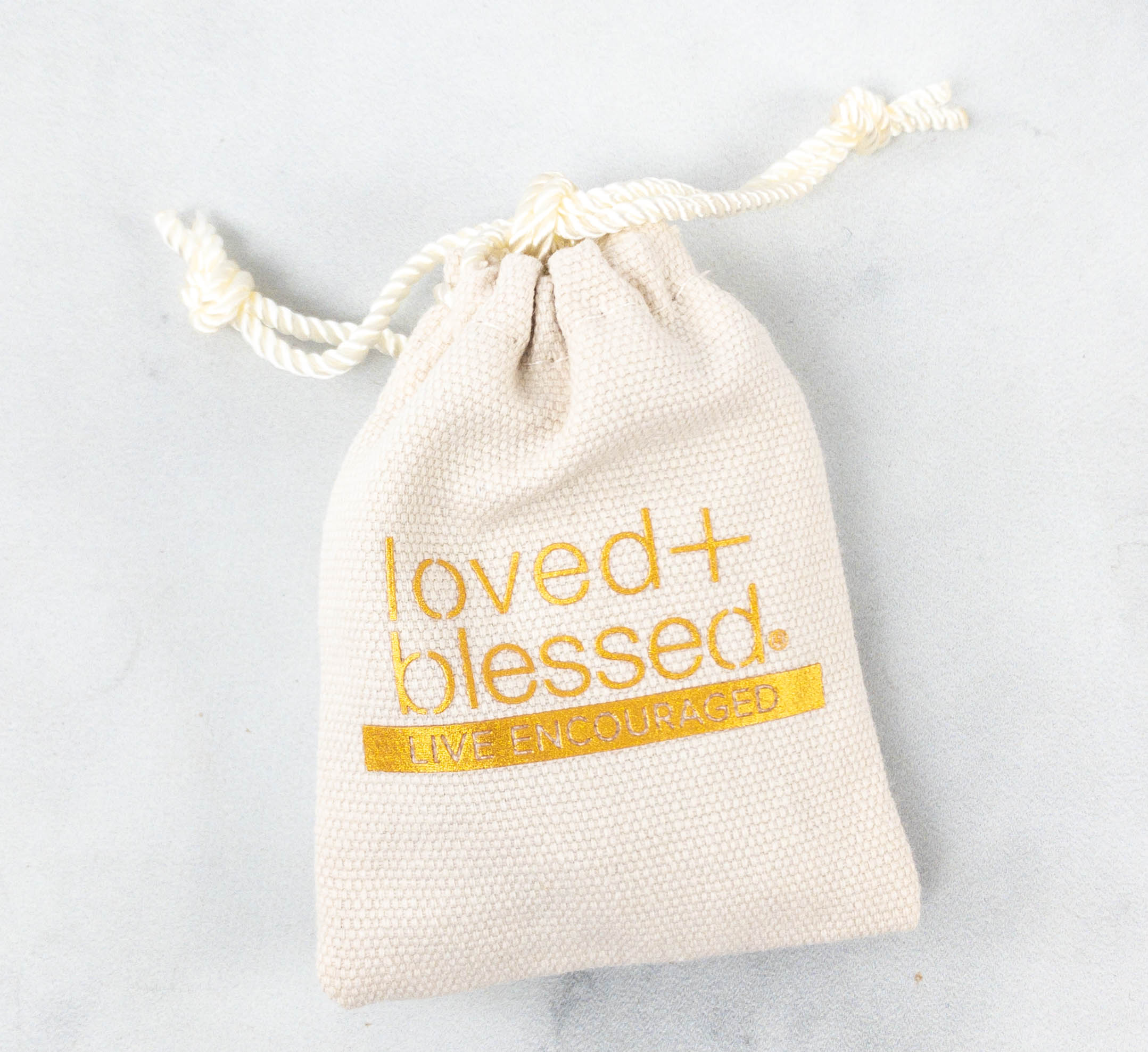 Bead Necklace. This month's fun gift was packed inside a reusable drawstring pouch with the Loved+Blessed logo on it.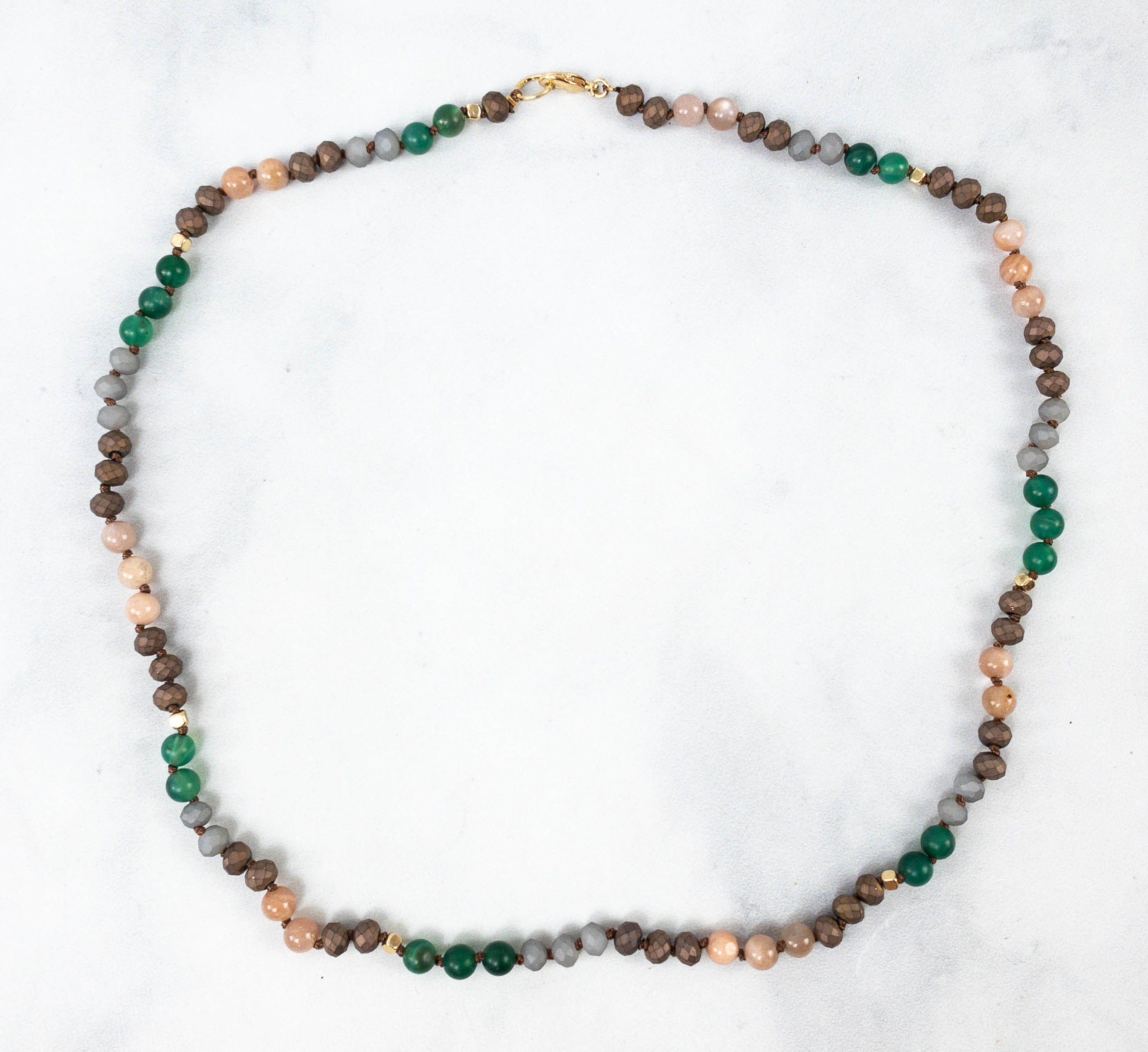 It's lovely bead necklace! It's simple and it has a rustic charm that I like.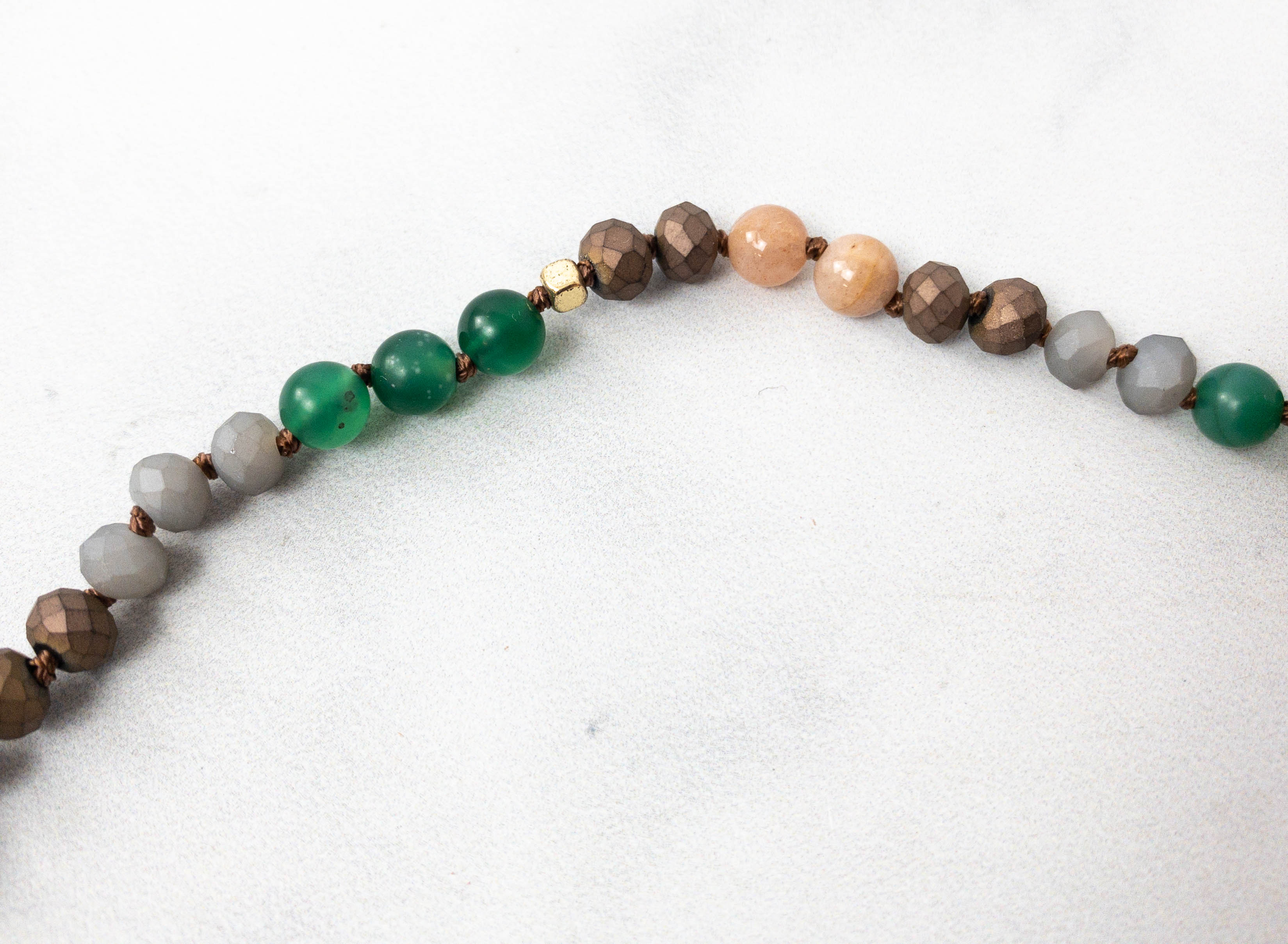 I also like that the beads are earth-toned, complete with beautiful browns and gorgeous greens.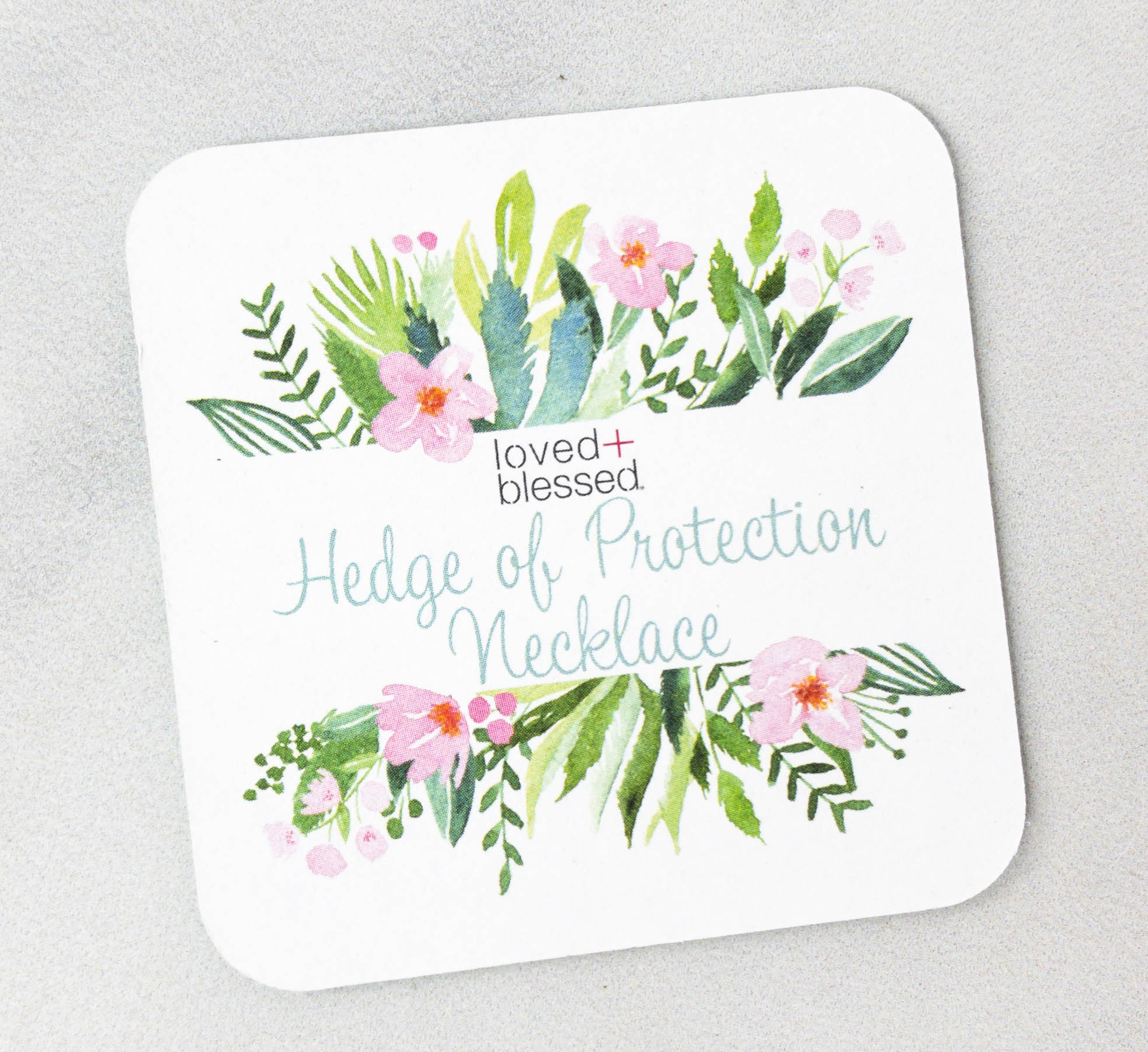 It also came with a small card that contains some information. The card says that this piece is called the "Hedge of Protection Necklace".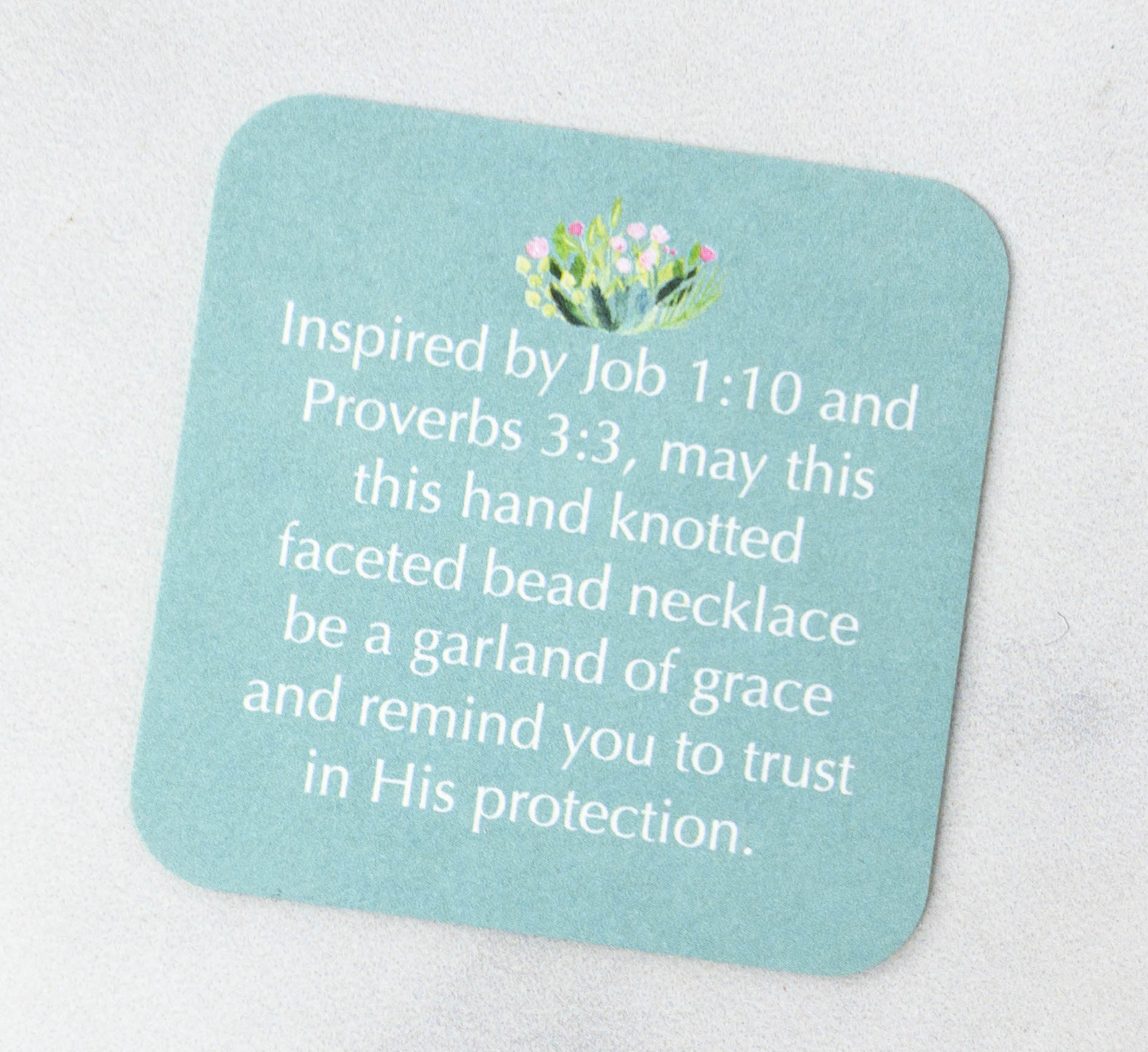 At the back, it tells us more about it. I love knowing that this necklace is inspired by bible verses and that it's a reminder to always trust in Him to protect us.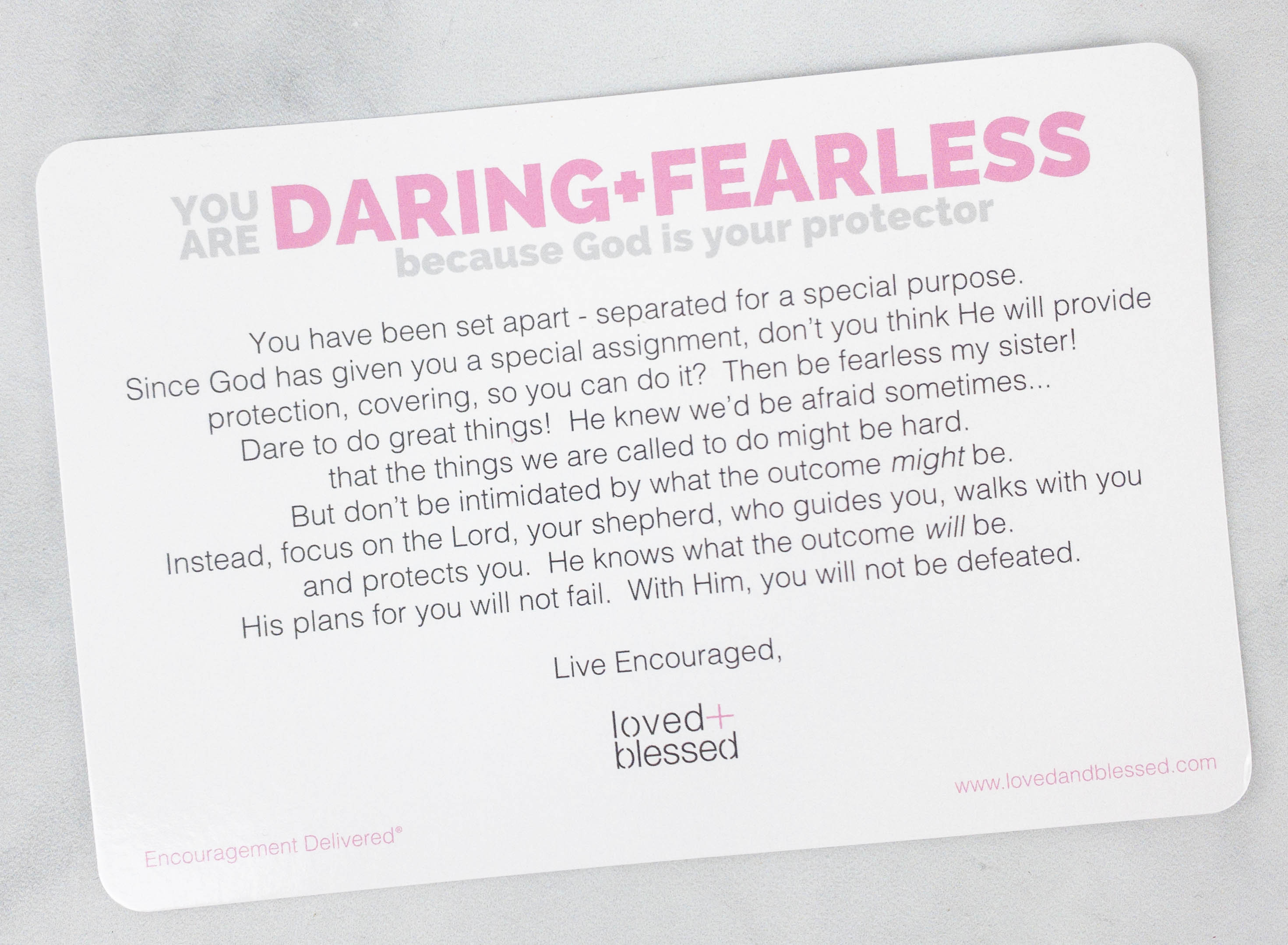 Keepsake Themecard. Next is a keepsake theme card! This month, it reminds us that the reason why we sometimes feel like we're all alone is because we have been set apart for a special assignment. Also, no matter what happens, He is guiding us and He will provide. We just have to keep the faith and dare to do great things in life!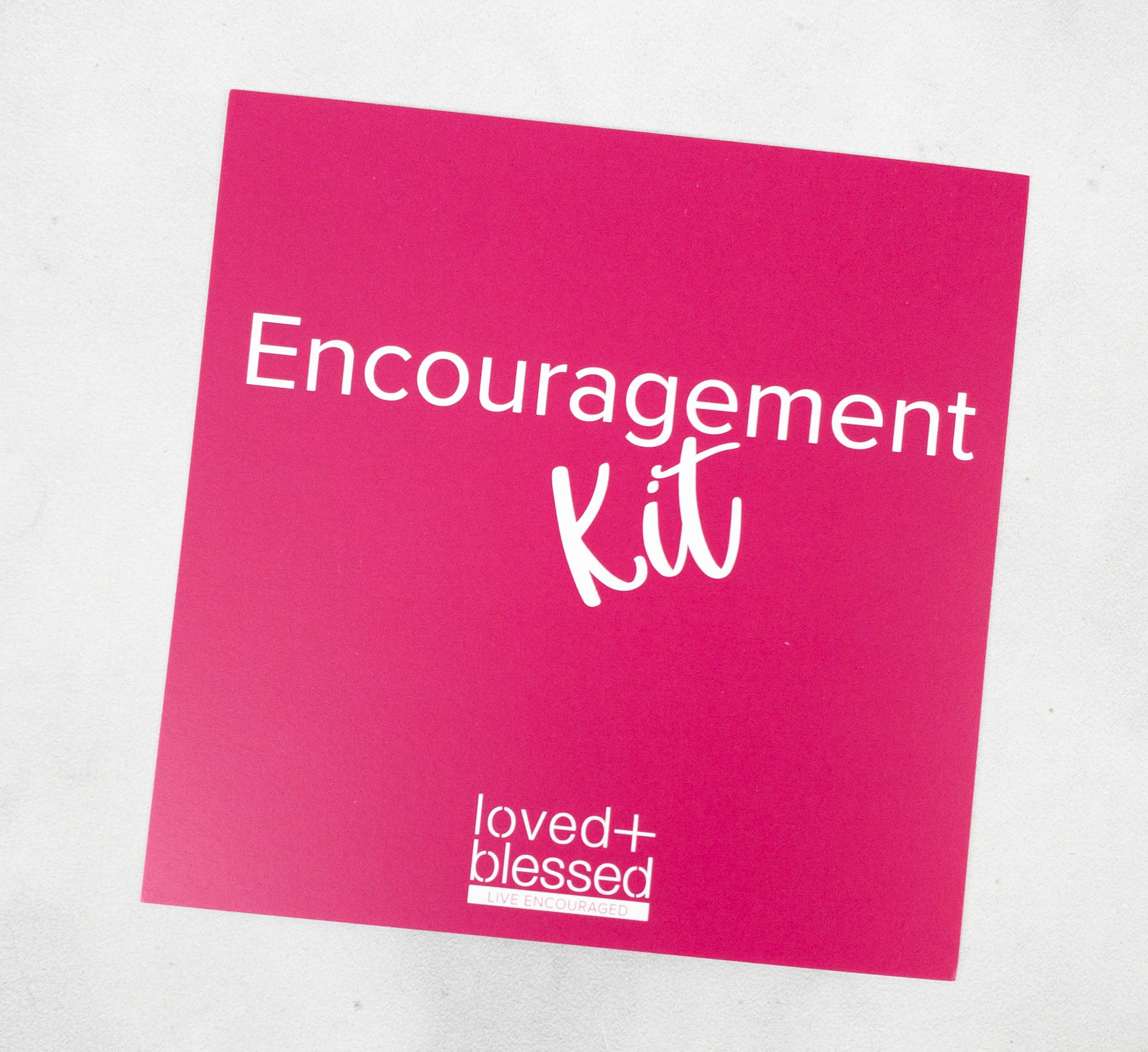 Encouragement Kit. This kit is great for sharing with a family member, a friend, or even a stranger!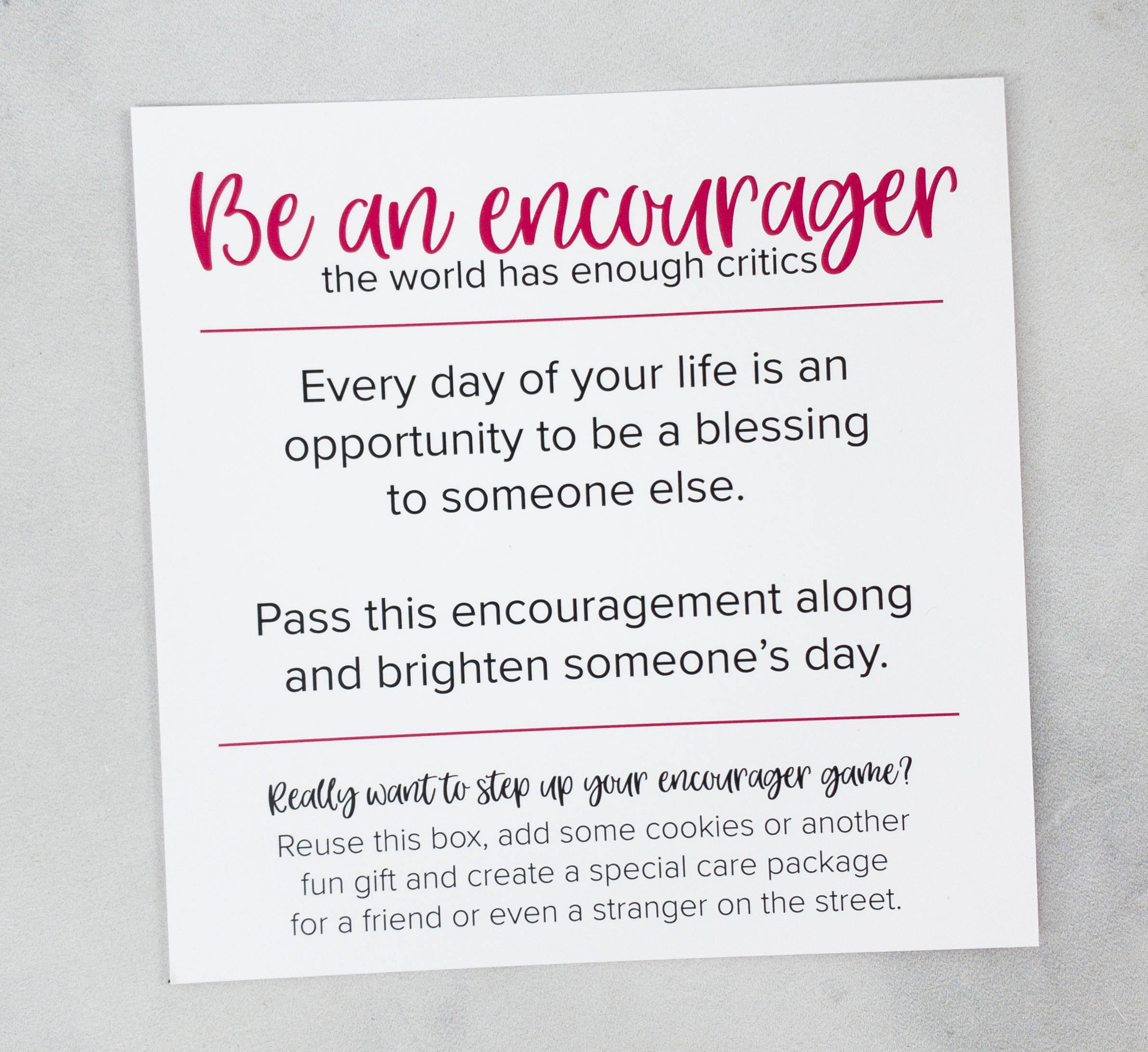 This card tells us to be an encourager. It also suggests to reuse the box and add some goodies to create a special care package for someone who might need it!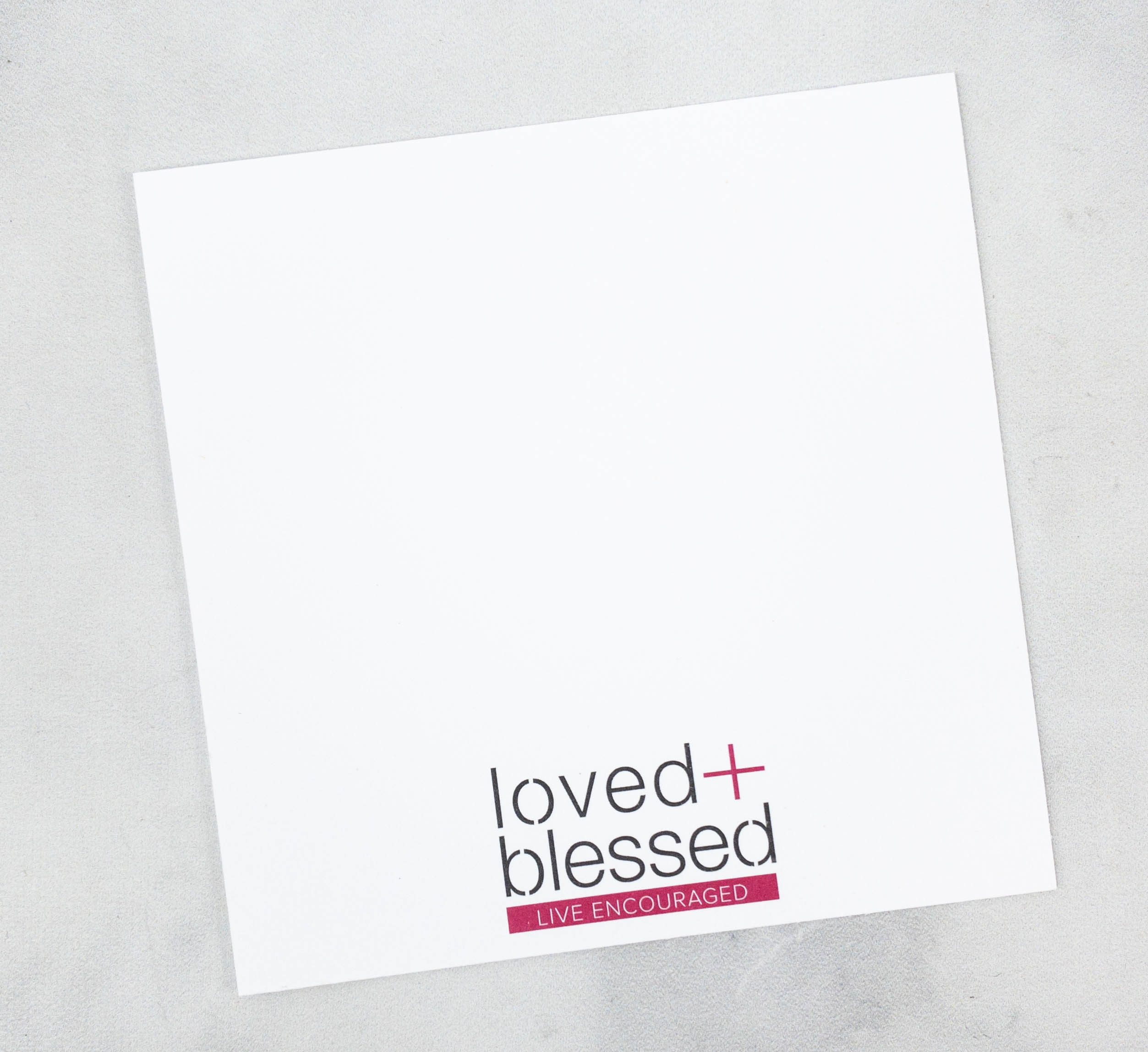 Included in the encouragement kit is a blank card.
The flip side is also blank, and it is so spacious! At the bottom is a scripture from Hebrews 3:12.
Encourage one another daily.
There is another poster included in the box. It came in a polka dot paper pouch.
Poster. This poster has a nice abstract pattern with lovely hues of blue, accentuated by a nice pink shade. It has an empowering message that says:
You are a diamond. Nothing can break you.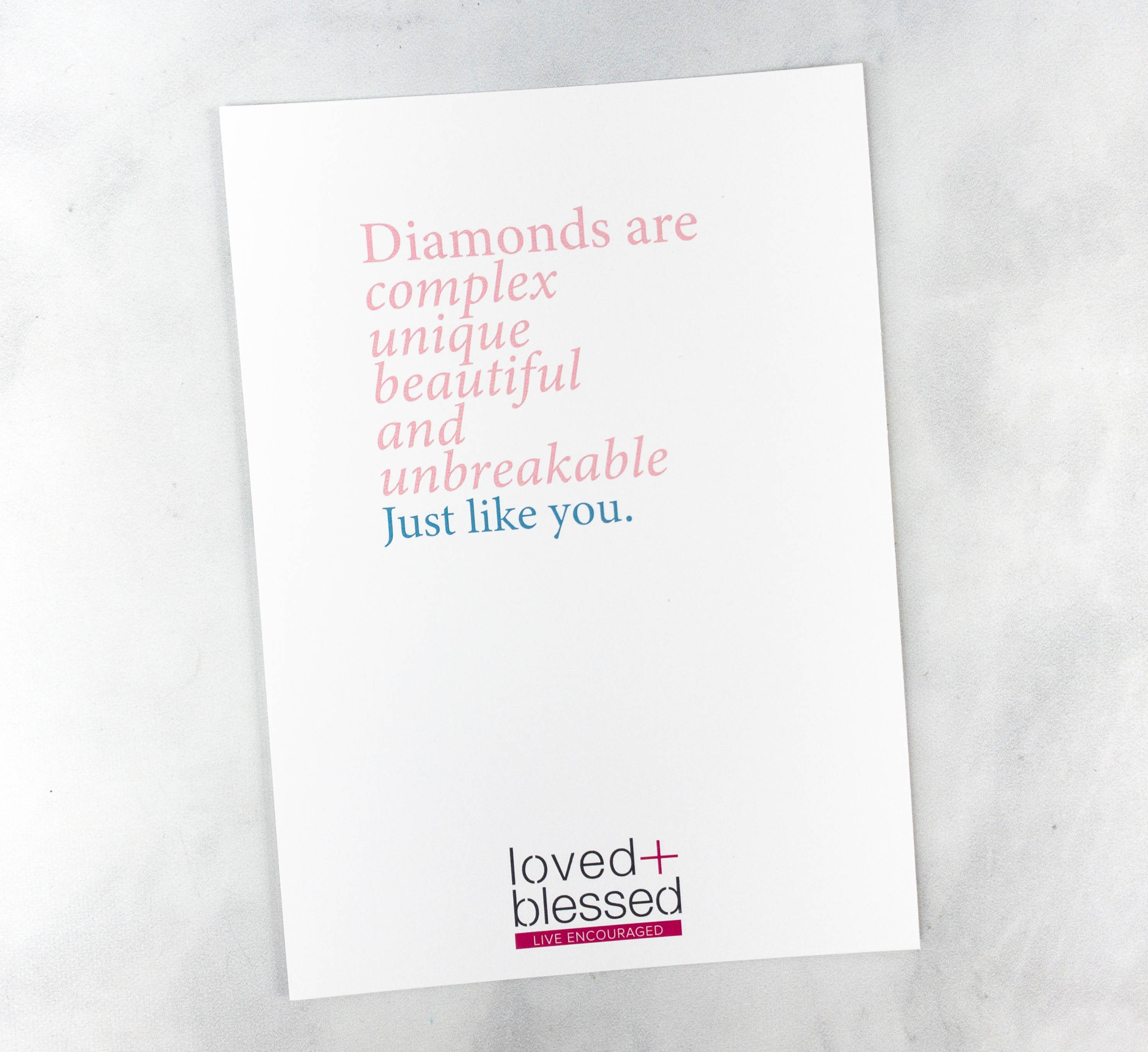 There's also another inspiring message at the back.
Diamonds are complex, unique, beautiful, and unbreakable just like you.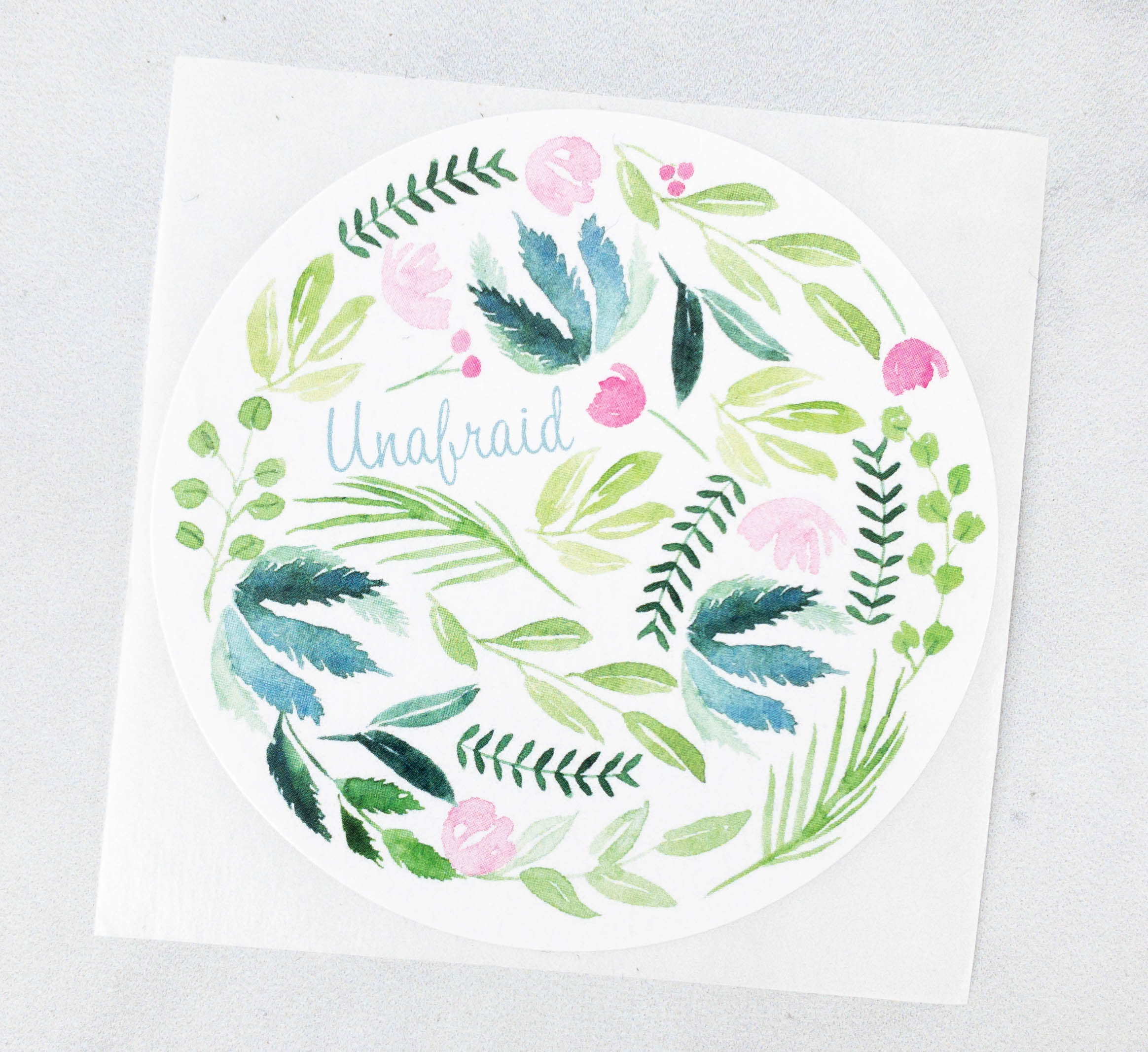 Repositionable Sticker. They also included a sticker in this month's box. It has the same leafy floral pattern that I like and I love how this sticker says "Unafraid".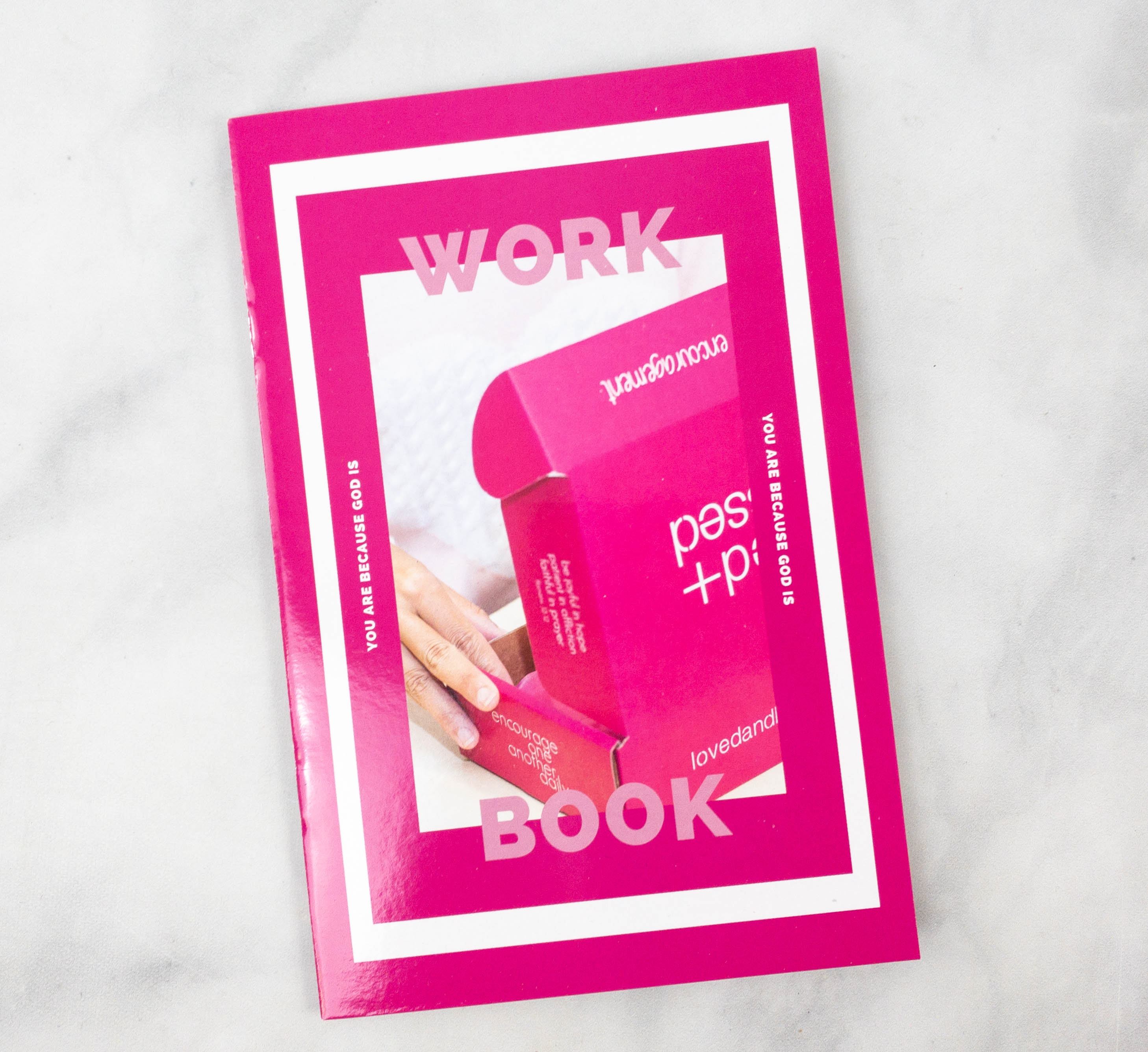 Work Book. This workbook can be used like a journal. It's a perfect gift for friends and family, or use it for your personal reflections.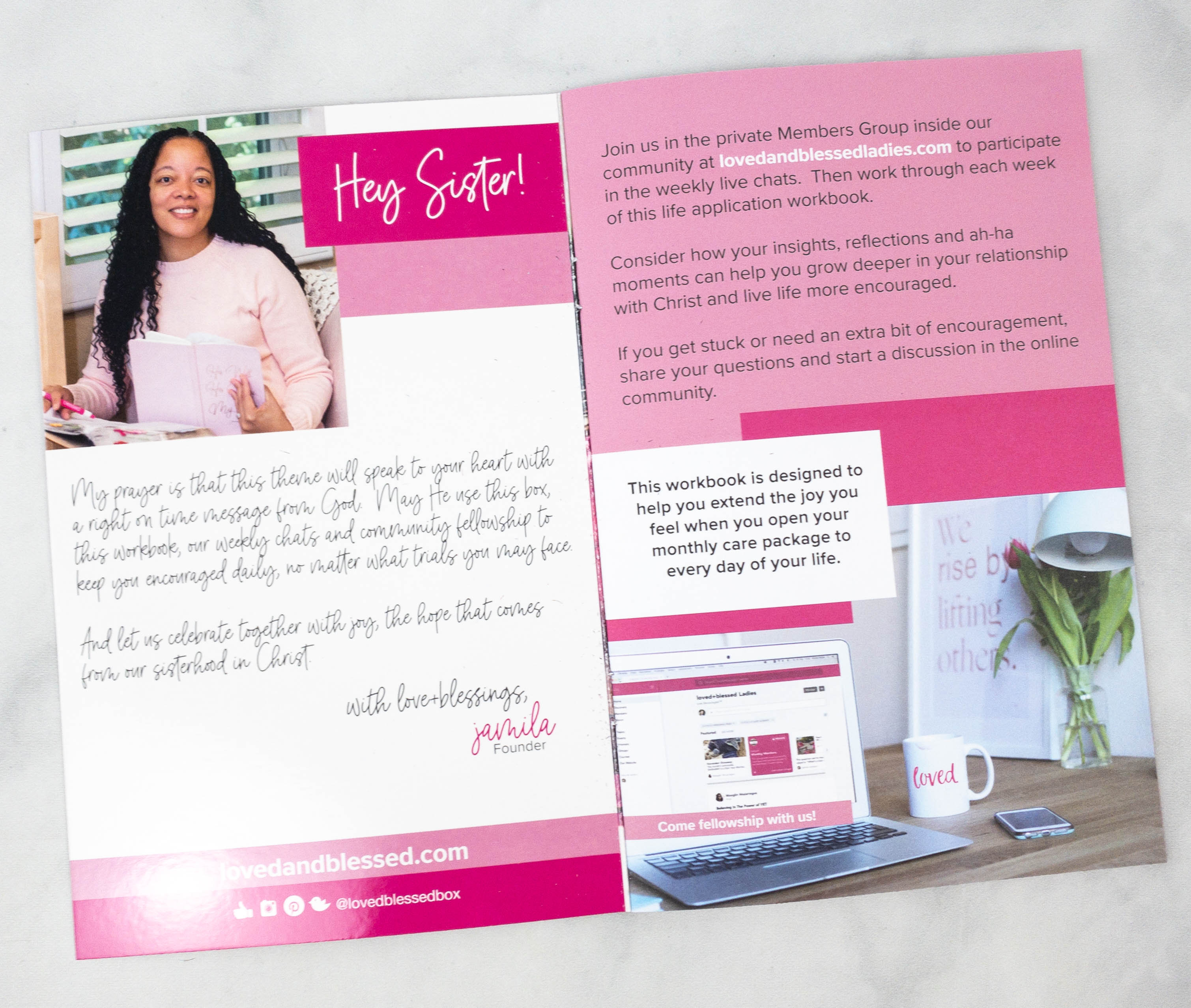 Inside, there's a message from Loved + Blessed founder, Jamila.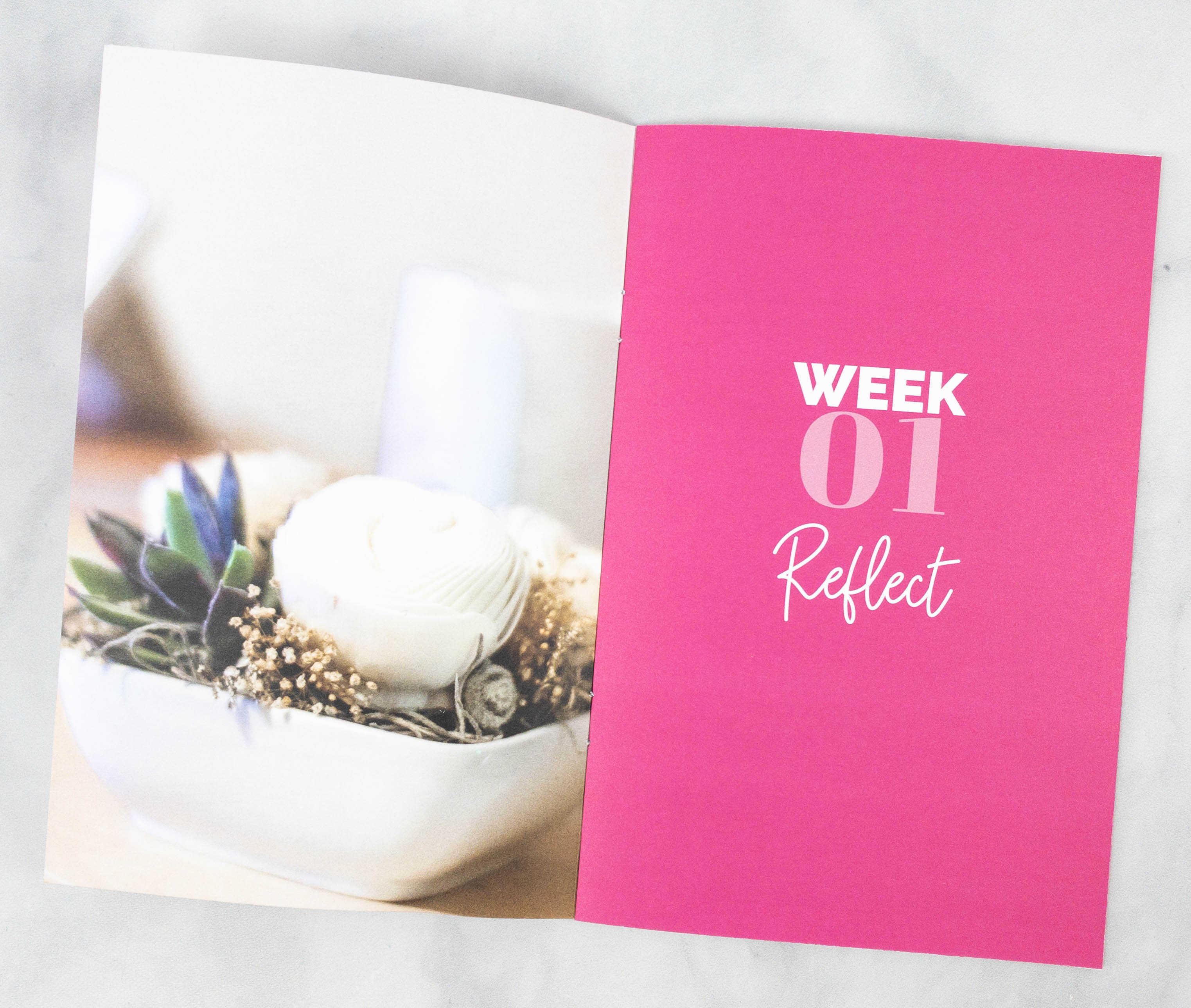 It is divided per week, and each week has a theme.
There's ample space where you can write down your feelings and reflect on them.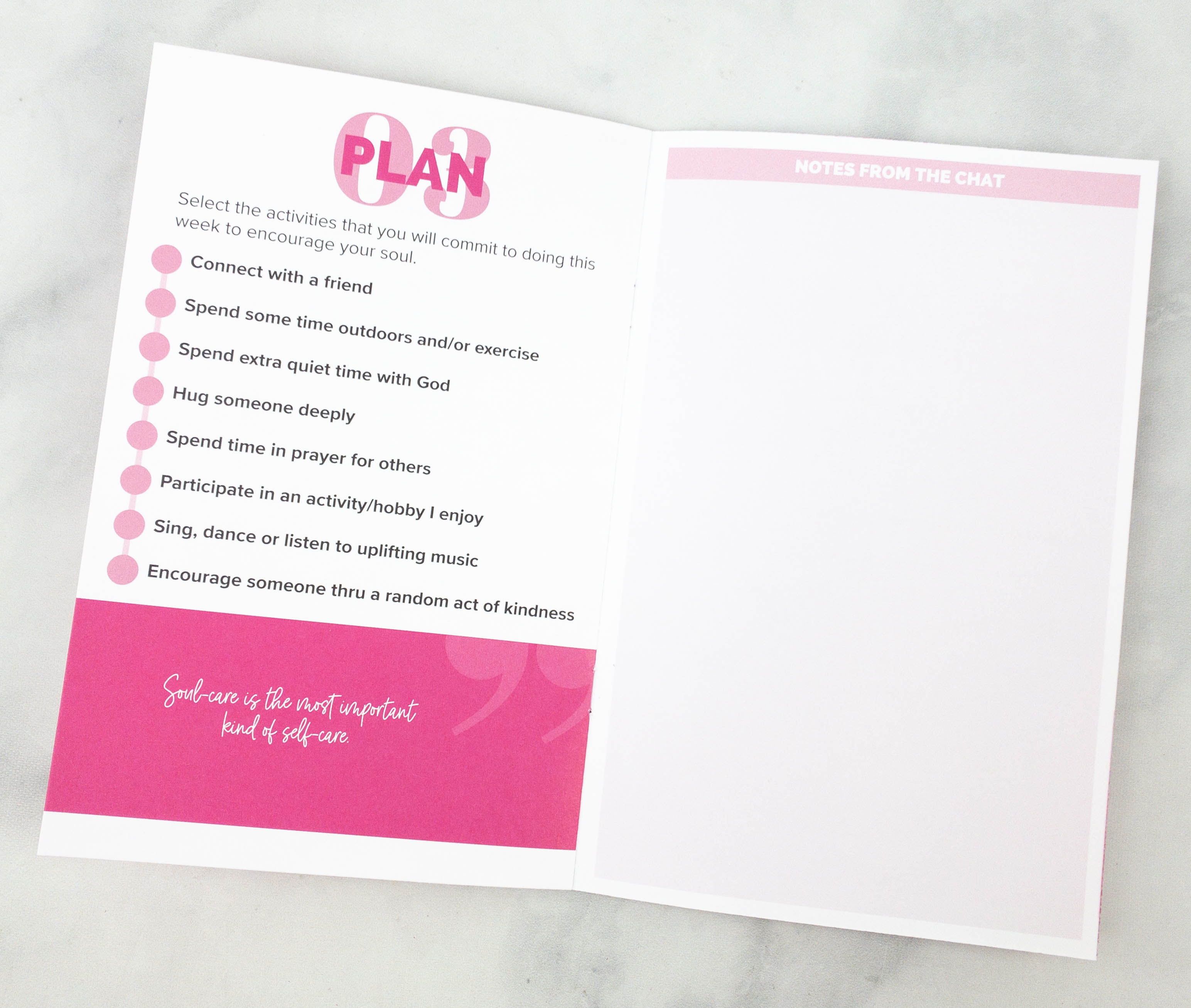 There are also some checklists inside as well as space where you can jot down notes from the weekly live chats in the Loved + Blessed private Members Group on Facebook.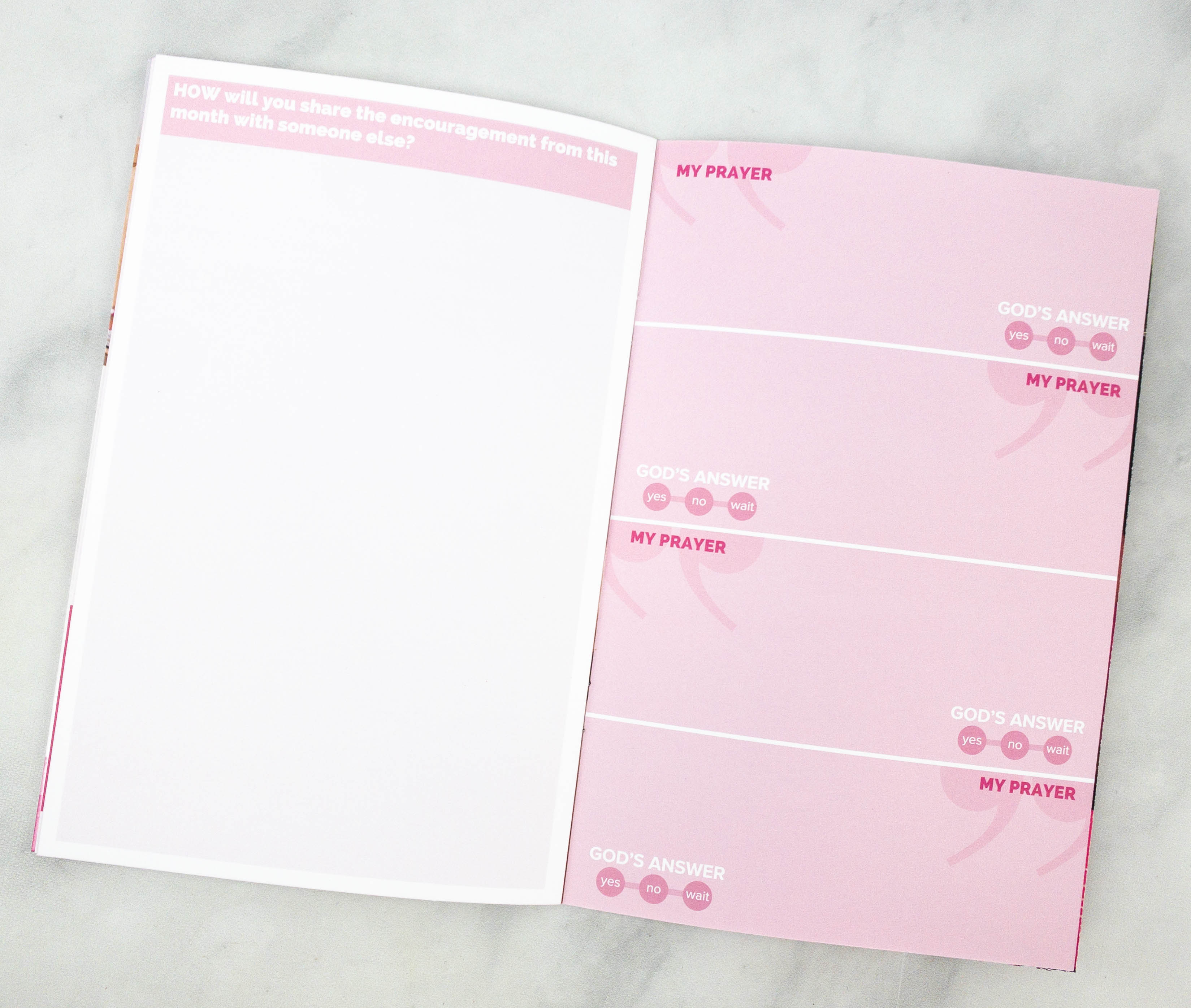 I really like this part of the workbook where I can write my own prayers!
This month's message of encouragement is simple but powerful. It reminds us that even through dark times, we should always have faith in Him and that we should also always dare to be a better version of ourselves. They also sent a lovely beaded necklace that I can wear as a reminder that He is always there to protect me. Loved+Blessed is a great subscription especially if you want to take a minute each month to reflect on things that are happening in your life. I think this will also make for a great gift to family and friends who are feeling down because of everything that's happening now and may need a bit of encouragement.
What did you think of Loved + Blessed this month?